Cranberry Lime Curd Tart: A Canadian Foodie Original Recipe Made Effortlessly with Thermomix®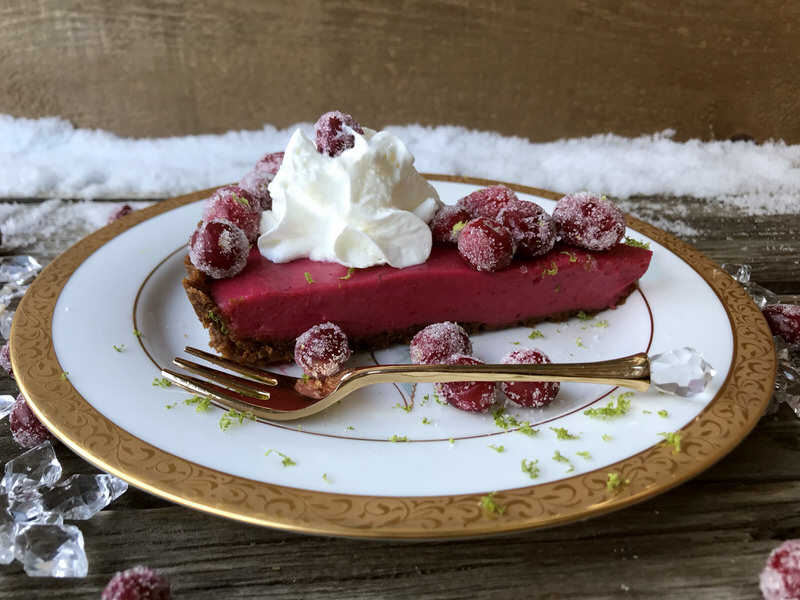 Happy 2020! What a learning curve this last year has been! I am so happy to be launching my new 2020 project via this Cranberry Lime Curd Tart with my daughter, Ragan.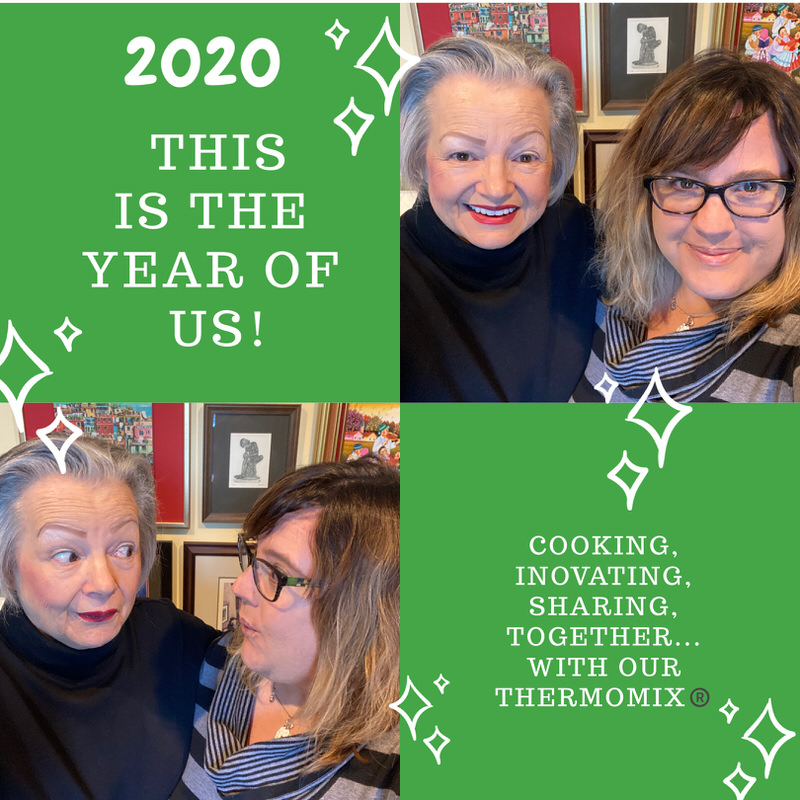 Partnering with her in the kitchen last year as we ventured into the realm of better health for our family was so gratifying that partnering with her now in my Thermomix business can only bring greater joy. See the evidence, above? Oh, my goodness!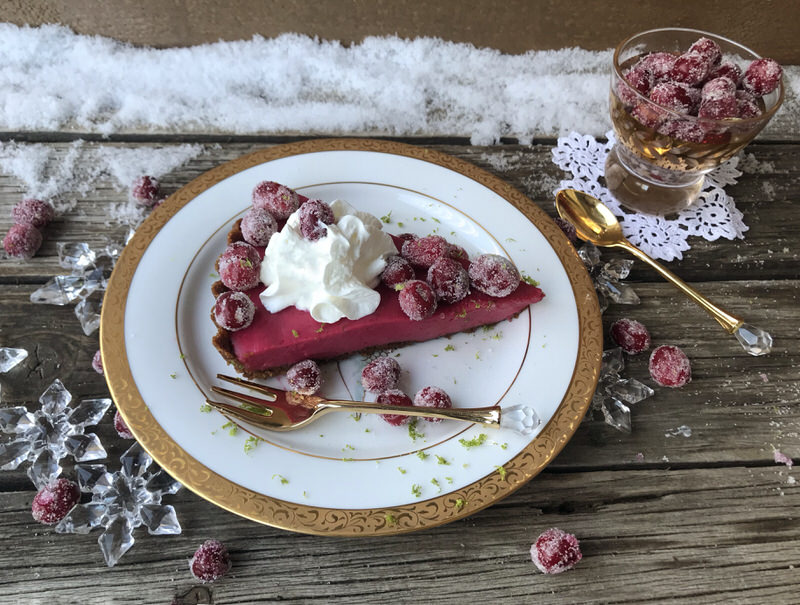 The vibrant colour represents our passion for 2020.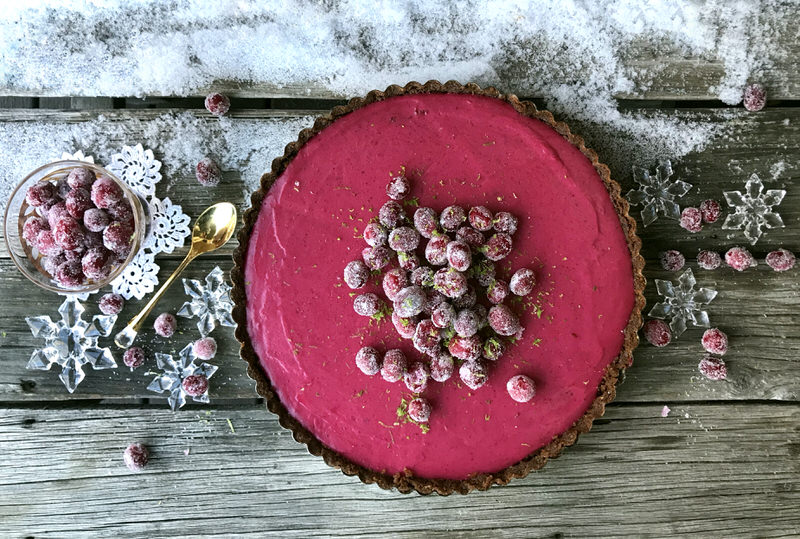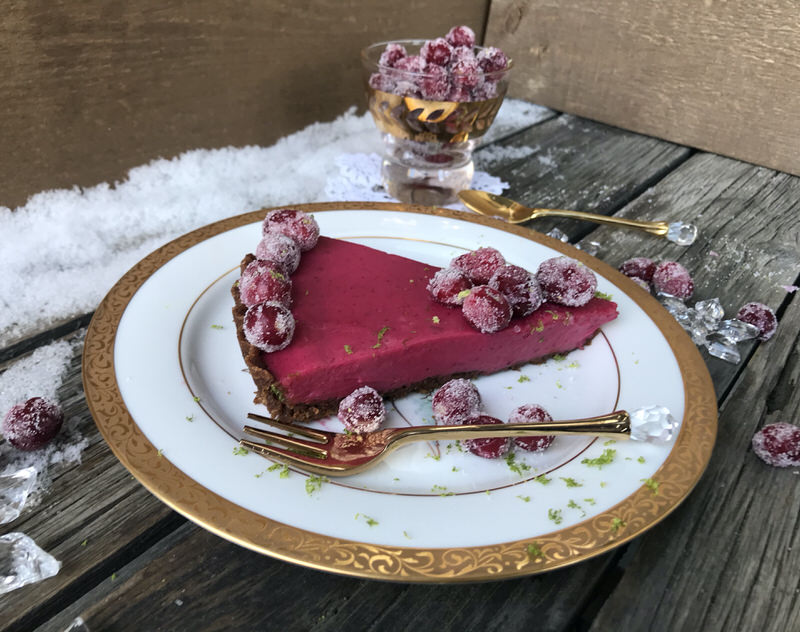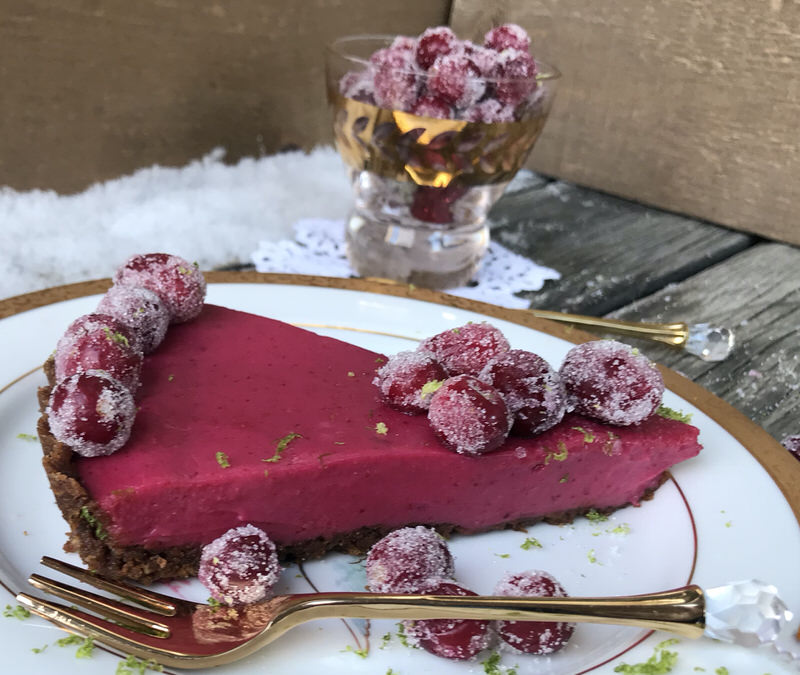 The texture of this luscious cranberry curd is sublime: the substantial luxurious velvet offering countered with a light bright citrus sparkle.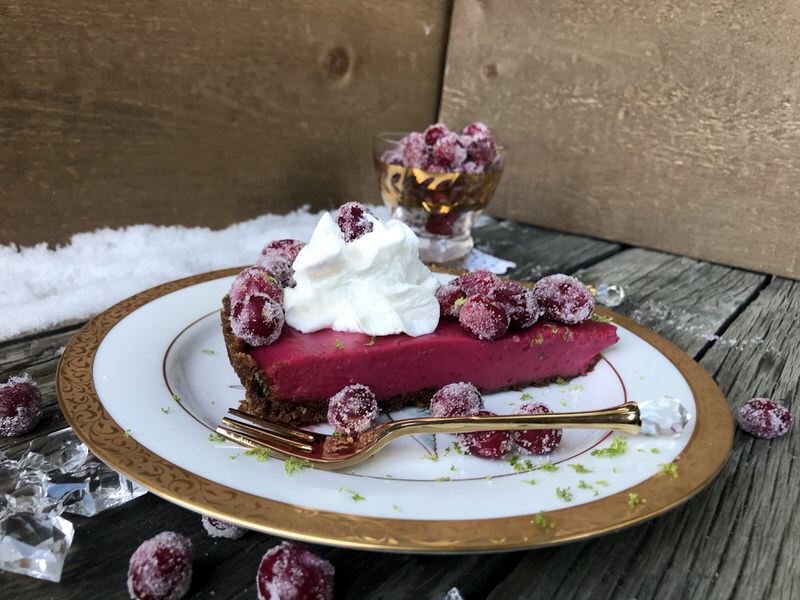 I am so tickled with my ability to be able to develop this recipe for Thermomix® owners to enable such a festive finale so effortlessly, and with such consistency. That is the beauty of the most versatile kitchen appliance on the planet. Of course, I also provide instructions for those of you that do not own a Thermomix® but cannot promise effortlessness and consistency.
Cranberry Lime Curd Tart: The Cranberry Purée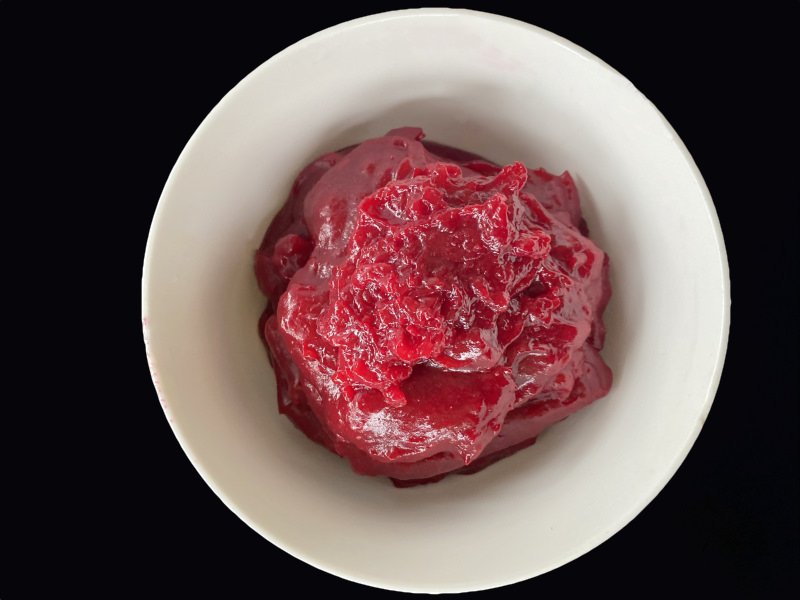 The consistency of the purée is key to this recipe. This thick lush dollop of brilliant fuchsia purée presents a deeply delicious brightness of flavour proudly expressed with the vibrancy of colour equivalent to the vibrancy of flavour.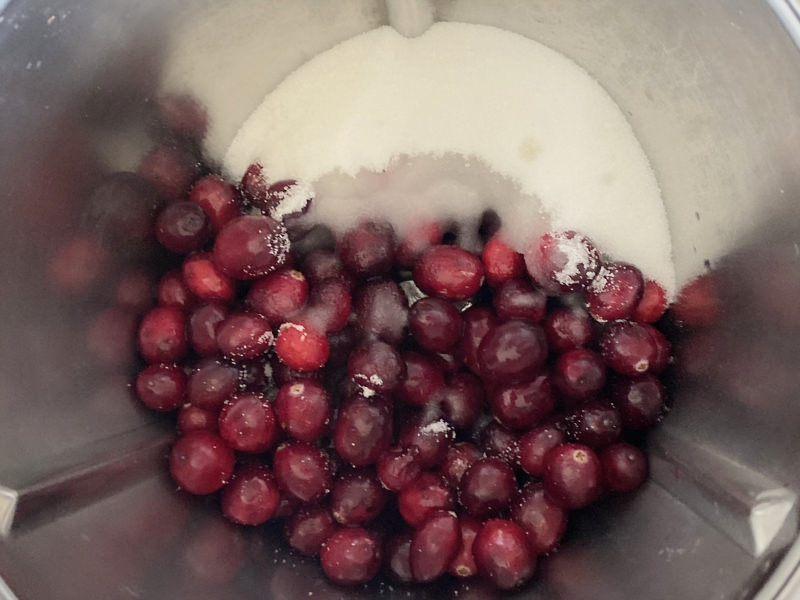 Fresh whenever possible; frozen will work, as well. Cranberries are native to Canada's Atlantic provinces and are sometimes known as "marsh apples.". Our aboriginal people have a long history of using them in their food in a variety of fresh, cooked, dried and preserved forms. Canada is the world's second-largest producer of the cranberry and I don't know a Canadian table that doesn't have a bowl of cranberry sauce beside their holiday turkey meals throughout the year.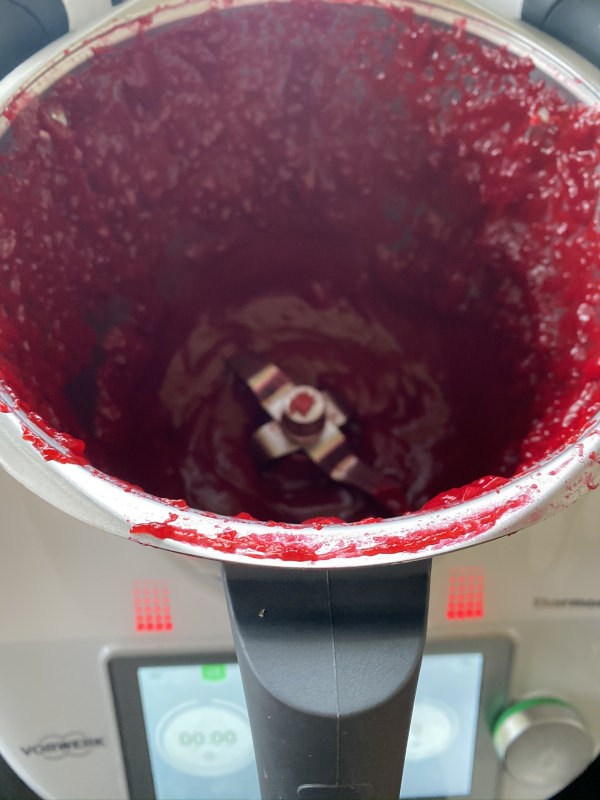 The berries are cooked with water and sugar for 15 minutes at 100˚C on speed Soft, then puréed until glossy, smooth and translucent, as you can see, below. It was intentionally cooked until thick and gelatinous to provide a stable foundation for the curd.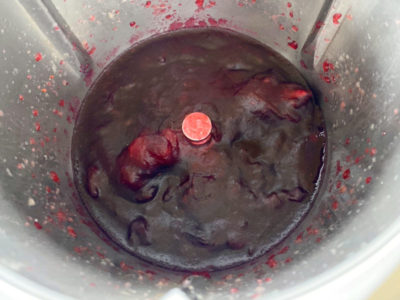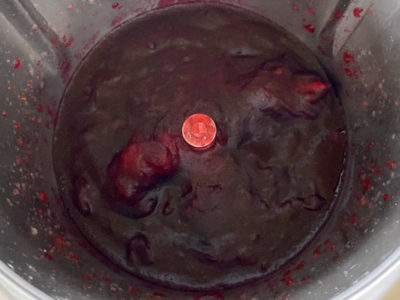 I can think of so many other uses for this purée! Homemade ice cream or sorbet, a gelatine layer in a chocolate cake, fruit gelée treats gelée centres for a very special cake or dessert. Add it to whipped cream for a flavourful concoction!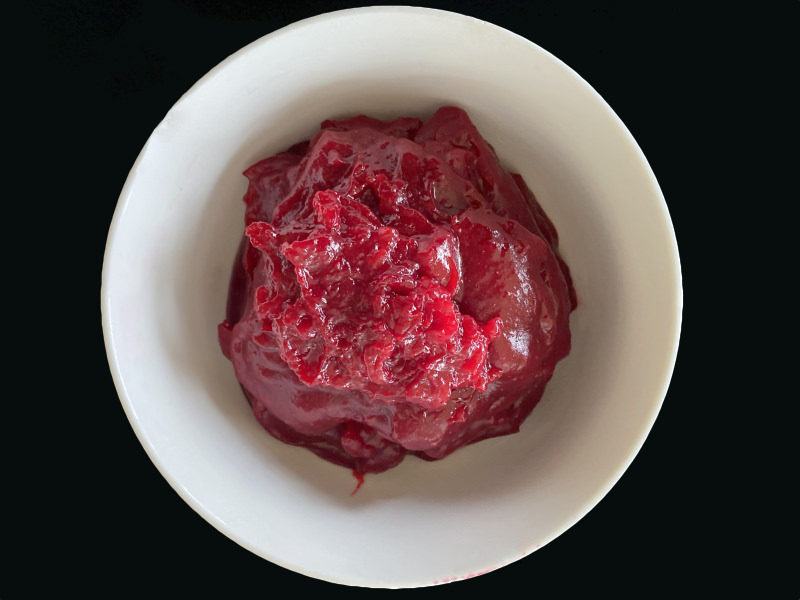 On this day, it is the base for our Winter Holiday Tart!
Cranberry Lime Curd Tart: The Crust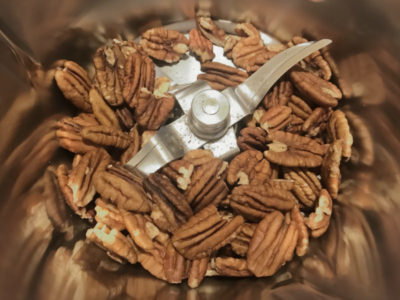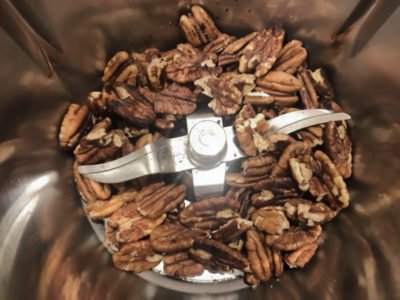 Toasting pecans enhances the flavour and it is my hope there will be a nut roasting recipe on Cookidoo for the Thermomix® TM6 high heat mode, but currently, pecans must be toasted on the stovetop.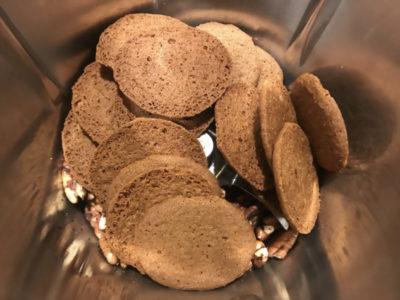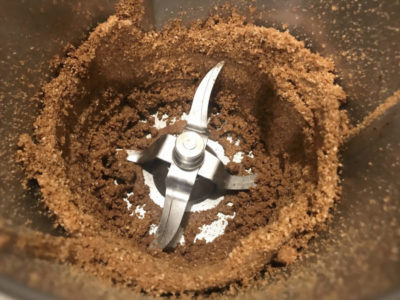 The crust can also be gluten-free simply by purchasing gluten-free ginger cookies and it is my goal to make a pecan ginger crust from scratch. That should not be too difficult with all of the great ginger cookie recipes I have in my recipe vault. It'll just be about finding the time to do it. Making everything from scratch is always my goal – but this year, oh, my! I did not have the time to experiment with developing the crust recipe for this tart any further than this.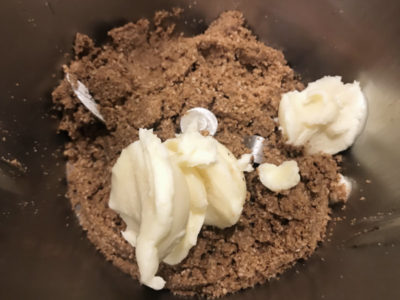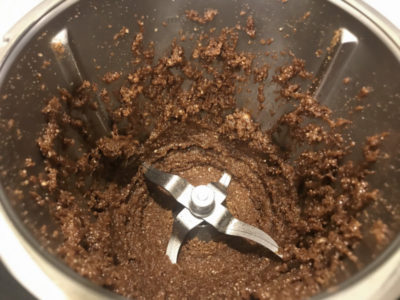 It's a very simple combination of toasted nuts, ginger cookies, butter and brown sugar.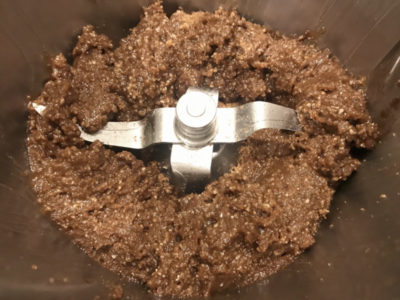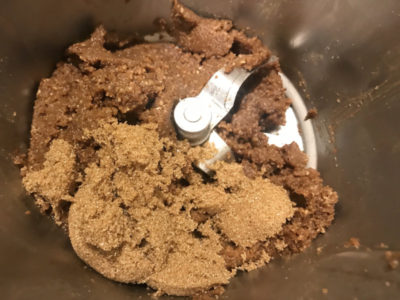 Whiz it all up and pat the moist ingredients into the tart shell.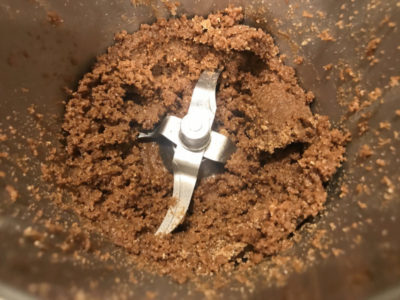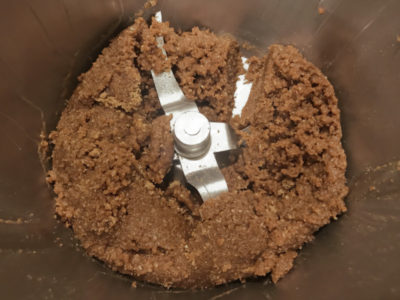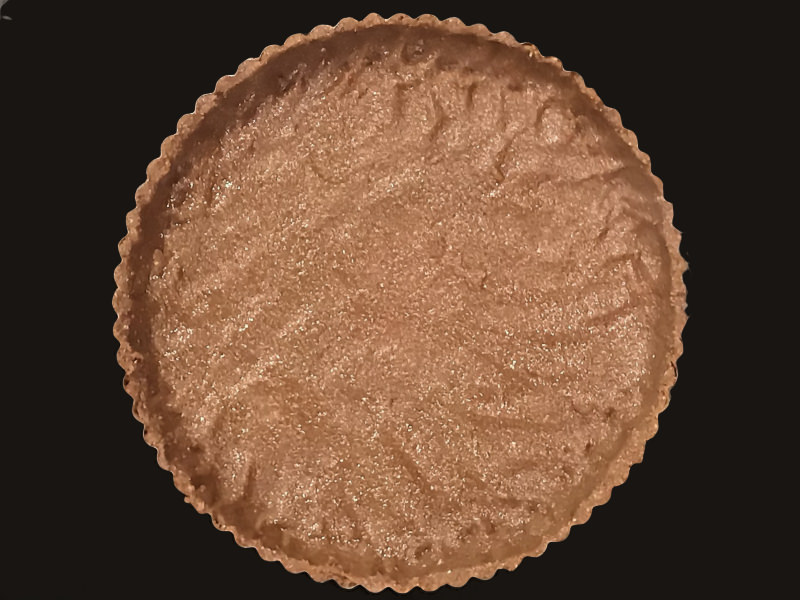 Above is the unbaked shell and below, the baked crust.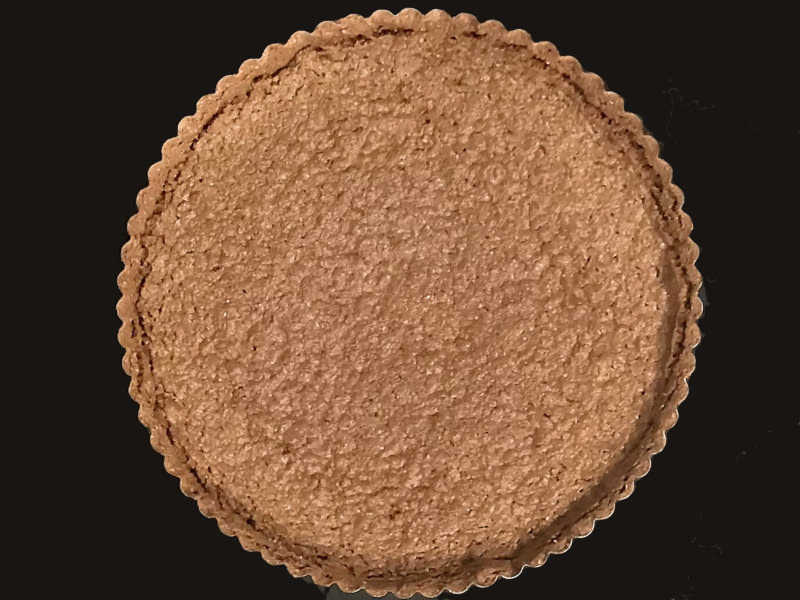 The crust is flavourful but tender. When removing the tart from the tin, the edges do tend to crumble a bit.
Cranberry Lime Curd Tart: The Curd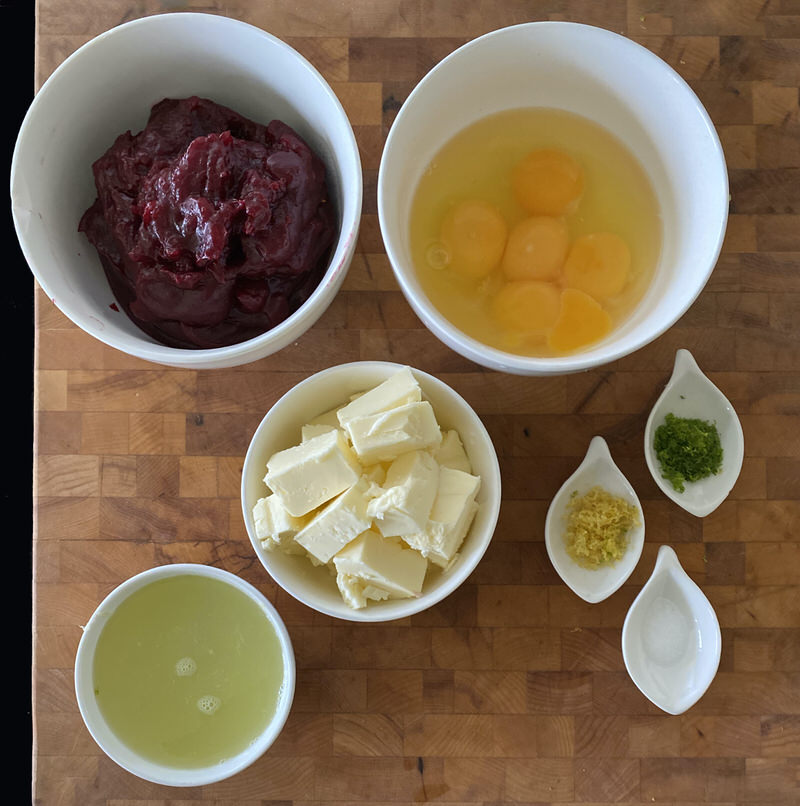 I find seeing the ingredients that go into a recipe gratifying as I'm such a visual learner. Of course, with Thermomix® it is completely unnecessary to gather ingredients together pre-measured in this fashion, but it is always my practice when presenting a new recipe.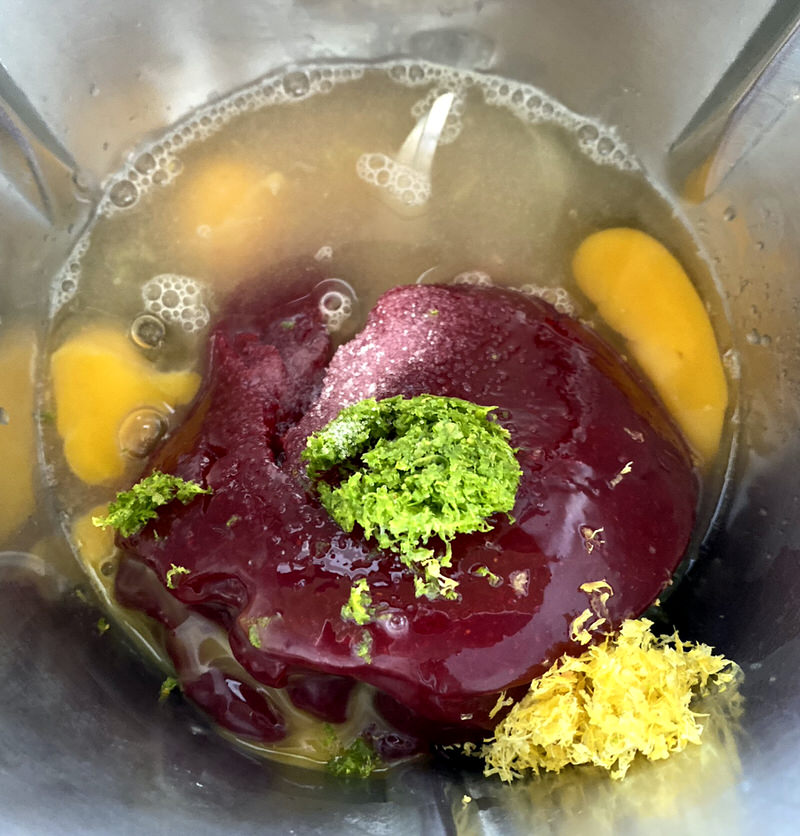 All into the mixing bowl, except for the butter for 6 minutes at 98˚C at speed 2. What could you do differently? After you taste this, you will have so many ideas. Though there is only 1 teaspoon of lime zest and only 1/2 cup or 115 grams of freshly squeezed lime juice, the lime flavour is assertive. As a lover of the fresh, bright citrus fragrance and flavour of lime, this was a very appealing addition, particularly with a winter berry like the cranberry. However, the personality of this curd could be altered considerably by using fresh orange juice in the place of lime. I found that using cranberry juice certainly presented a beautifully textured cranberry curd that was lovely, but it did lack the brightness the lime presents. What would you do differently?
Such a vibrant concoction needing only the unctuous addition of butter to be finished.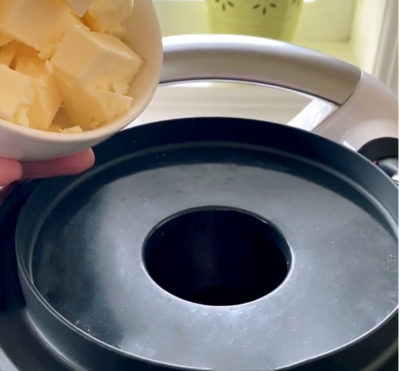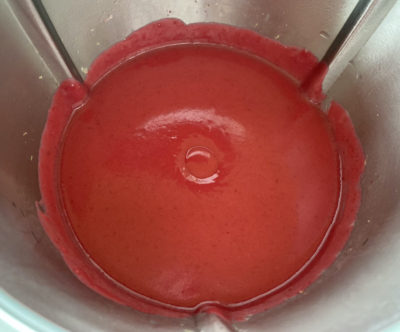 Through the hole in the lid of the mixing bowl set for 5 minutes at speed 2 without heat, the butter is dropped onto the blade, bit by bit until fully incorporated and to puréed into silky submission. Oh, my.
Video is not really in my wheelhouse, but I am forcing myself through this learning curve this year as it is long past due. I promise to improve, but either way, seeing the texture and process is always helpful.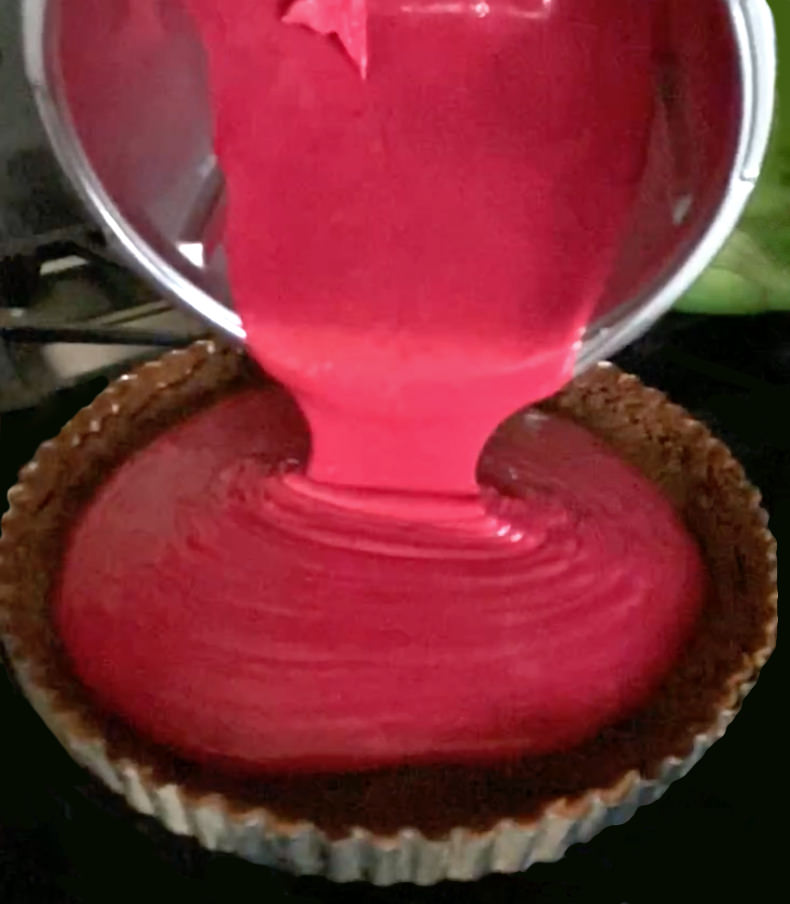 Poured into the shell immediately upon completion, the tart sets in the refrigerator for a minimum of two hours before service.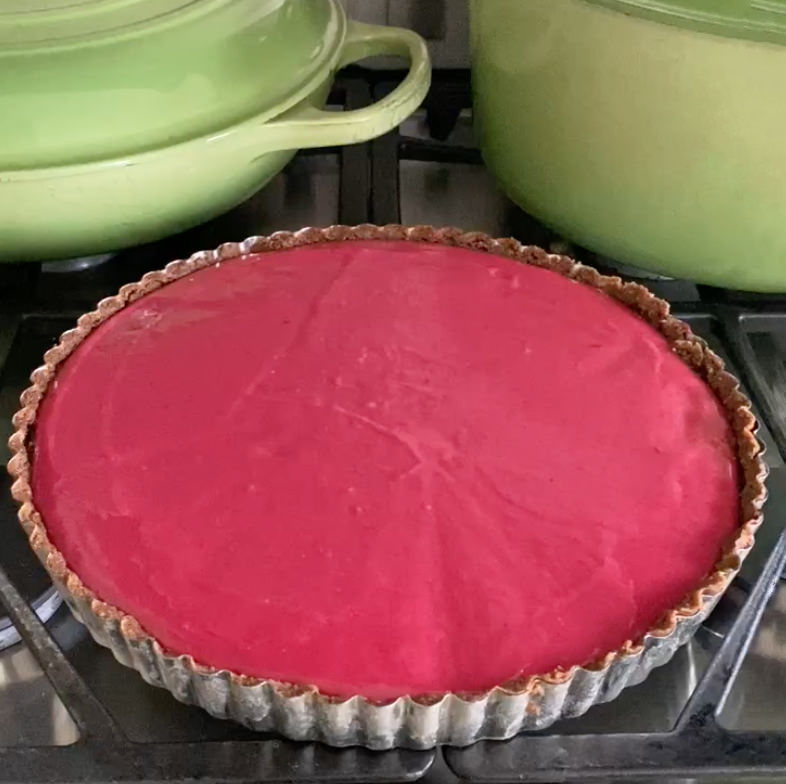 At this point, it can also be covered well and kept up to two days in advance. One day is preferable if there will be leftovers, but two days will work well if there are eight guests. After three days, the curd is still delicious, but the crust becomes soggy.
Cranberry Lime Curd Tart: Sugaring the Berries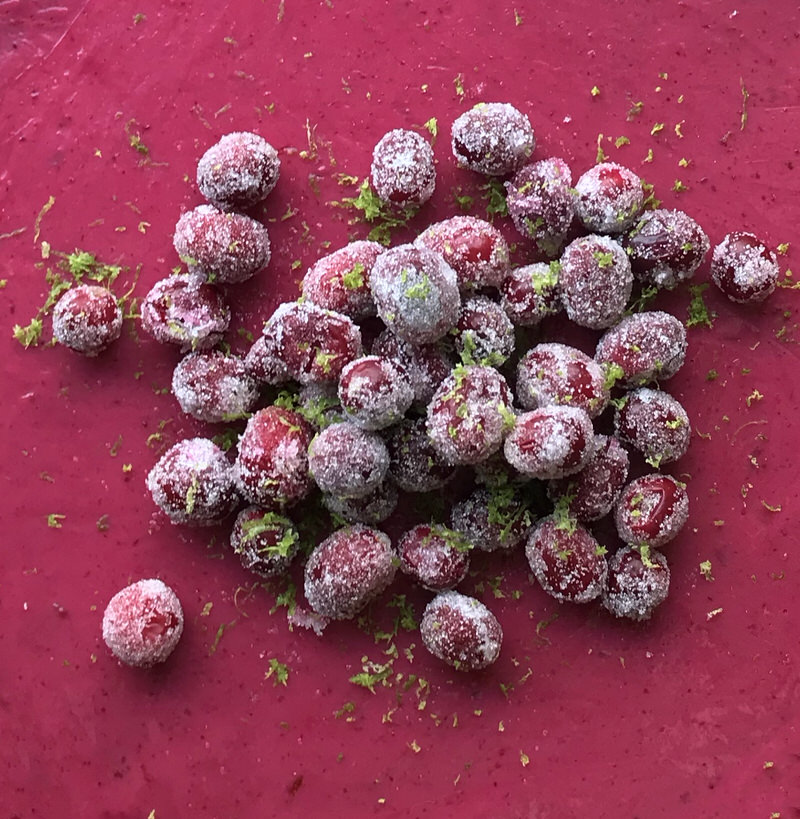 Oftentimes, the garnish is optional, but not this time. These sugared jewels not only add a noble finesse to the finished tart, but they add a zippy crunch that is quite delightful and unexpected to the taste experience.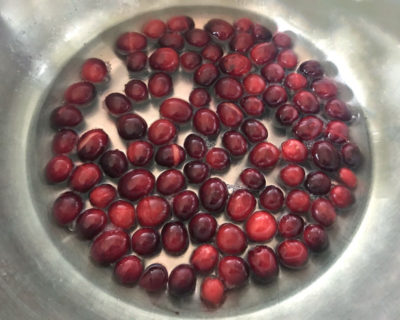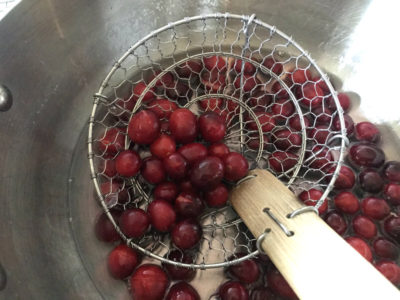 Melt sugar in water to create a light and simple sugar syrup; immerse the berries into it at low-simmer for barely a minute, then drip dry on a wire rack until set.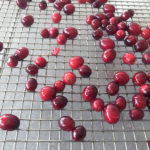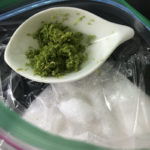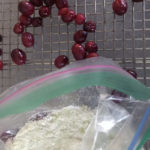 Meanwhile, mix the fragrant lime-zest with the sugar. Roll each berry in this mass when dried and set; set aside in a bowl in the fridge until just prior to service.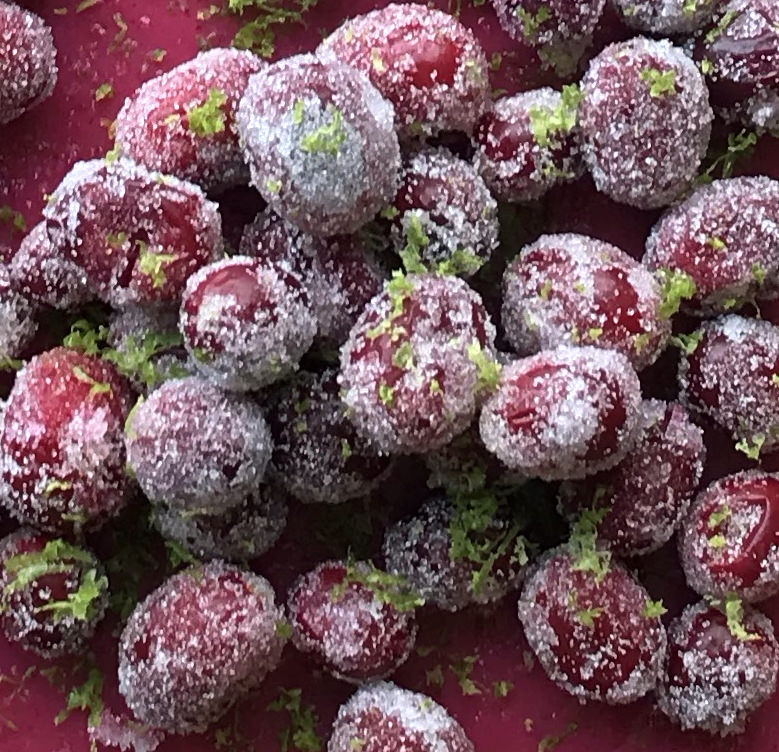 Garnish with that added zest of lime for colour, fragrance and that bright "full of life" flavour that only lime manages to offer.
Cranberry Lime Curd Tart: Putting it all Together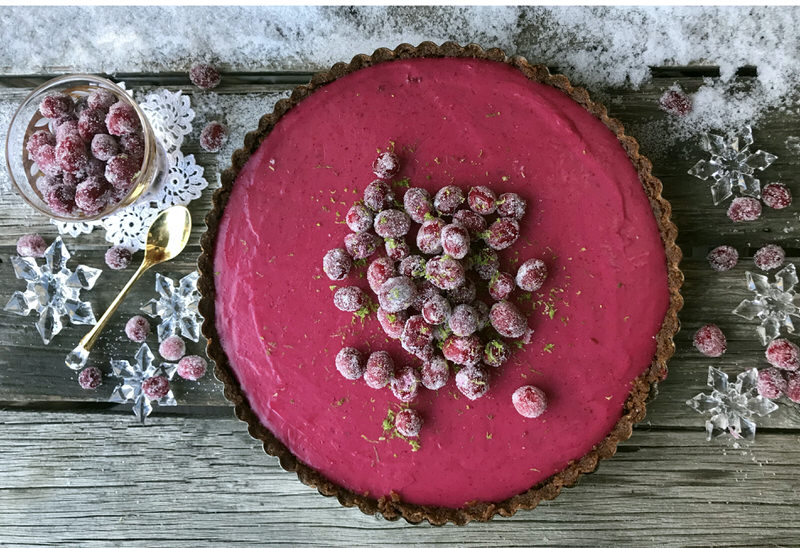 Berries and lime crown the curd.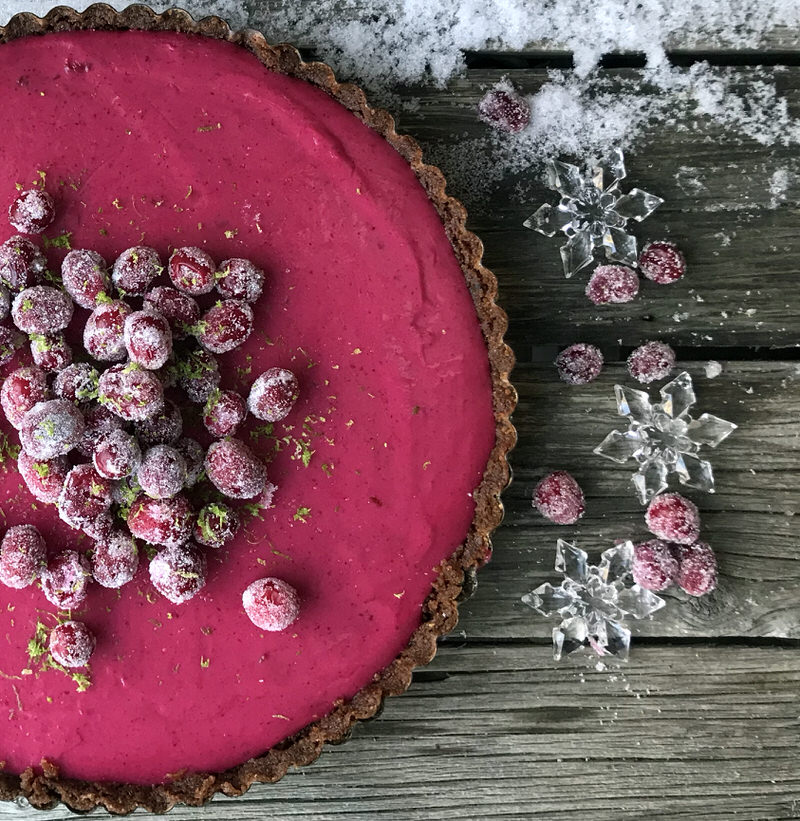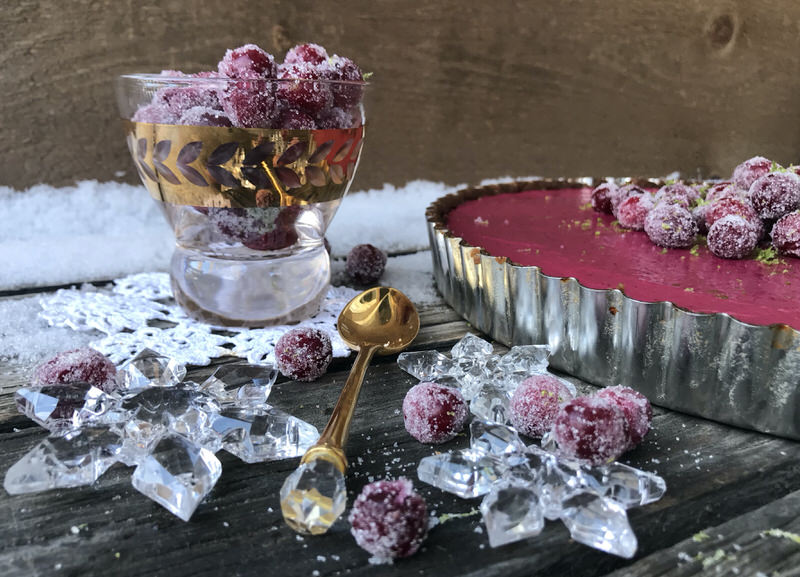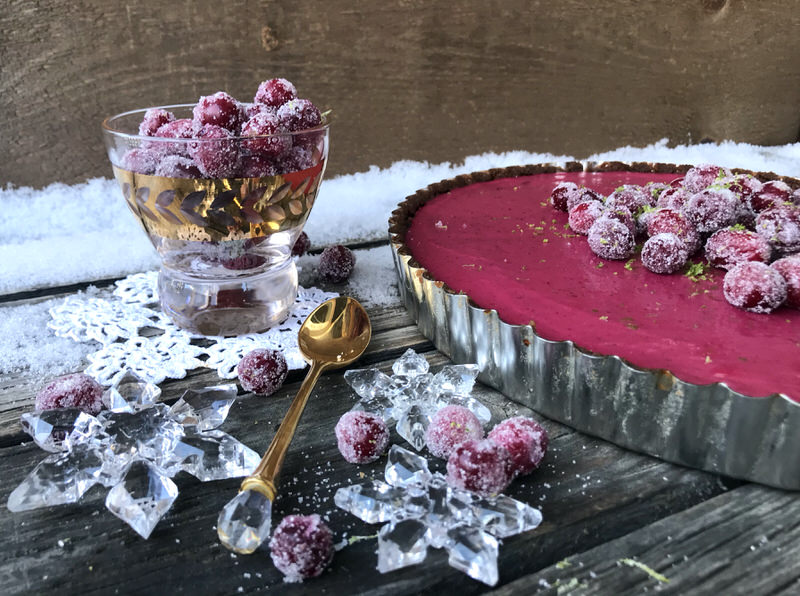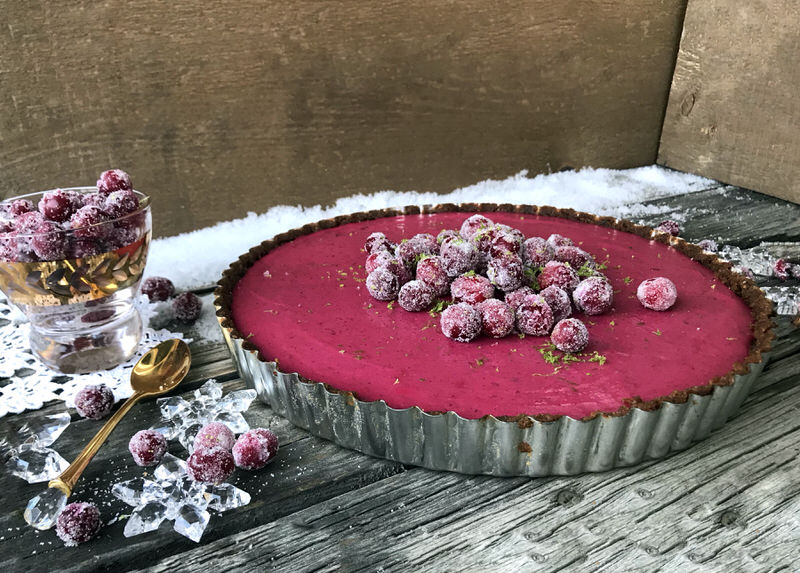 Remove the tart ring and place it on a pedestal, presenting the entire tart, for effect.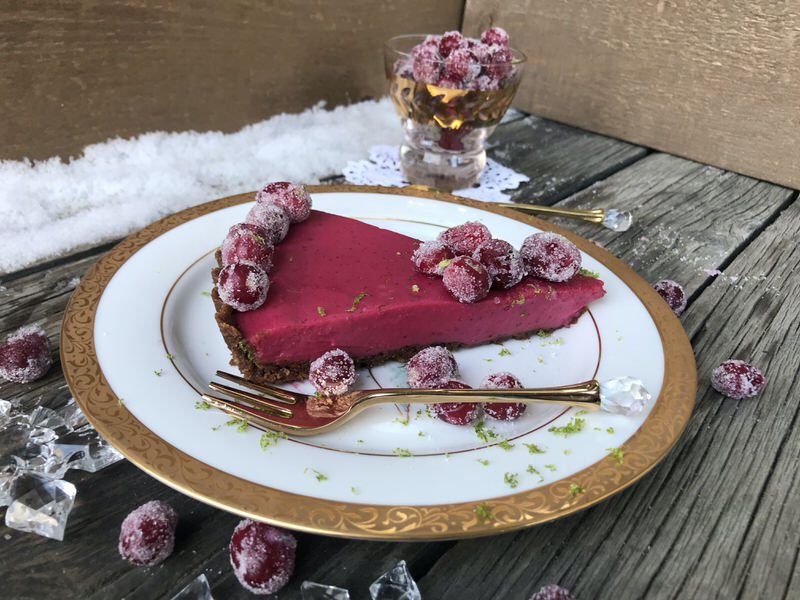 Slice and ensure that there are plenty of sugared berries on each plate.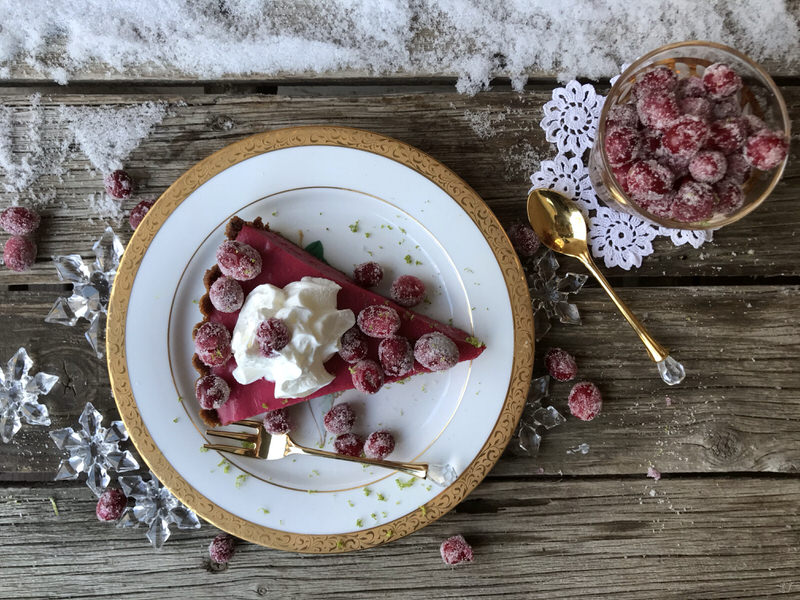 Garnish with whipped cream, lime zest and a great big dollop of hostess-with-the-mostest warmth. Be prepared for your guests to linger longer into the evening lavishing within that rare sensual moment when one's irresistible desires are served onto a plate. Who wants to leave? No one. More, please.
Cranberry Lime Curd Tart: Video Tutorial
It's a 4-minute 19-second video. Grab a coffee. If you make it, let me know how it goes. If you watched the video and can offer me advice, please do! One item of many on my list of 2020 goals: learn how to make professional 2-minute educational videos. If you have read this far, please chime in and share your feedback (comment below!).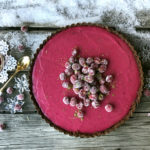 Cranberry Lime Curd Tart with Pecan Ginger Crust
Total Time
2
hours
45
minutes
Ingredients
Ingredients for Pecan Ginger Crust
115

grams

gingersnap cookies

120

grams

pecans

toasted

55

grams

unsalted butter

melted

40

grams

golden brown sugar
Ingredients for Cranberry Purée
350

grams

fresh cranberries

200

grams

sugar

50

grams

water
Ingredients for Cranberry Curd
1

batch of Cranberry Purée recipe

above

3

large eggs

2

large egg yolks

1

teaspoon

finely grated lemon zest

1

teaspoon

finely grated lime zest

115

grams

fresh lime juice

Pinch

of kosher salt

170

grams

chilled butter

unsalted and cubed (not cold butter)
Ingredients for Sugared Berries
115

grams

fresh cranberries

200

grams

sugar

halved

118

grams

water

1

teaspoon

lime zest
Instructions
Instructions for Pecan Ginger Crust
Preheat oven to 350°; toast pecans on medium-high heat, stirring constantly until fragrant and starting to brown

Place pecans and ginger cookies in mixing bowl; combine for 5 seconds at speed 6-8 until fine

Add melted butter and brown sugar; combine for 5 seconds at speed 4 until fully incorporated (ingredients will be moist)

Transfer to a deep 9" French Tart pan; press into pan and up sides

Bake until firm and slightly darkened in colour, approximately 15 minutes. If crust slides down sides, gently press back up
Instructions for Cranberry Purée
Place cranberries in mixing bowl with sugar and water; cook for 15 minutes at 100˚ C on speed soft

Purée for 30 seconds x 3 at speed 10, until smooth; scrape down sides of bowl each time
Instructions for Cranberry Curd
Place cranberry purée, eggs, egg yolks, lemon zest, lime juice, salt, and lime zest into mixing bowl; cook for 6 minutes at 98˚C on speed 2

Set time for 5 minutes and speed to 2; add butter through hole in mixing bowl lid over 3-4 minutes, bit, by bit, until fully incorporated

Pour curd into crust and chill until firm, about 2 hours
Instructions for Sugared Berries
Meanwhile, bring ½ cup granulated sugar and ½ cup water to a simmer in a small saucepan over medium heat, stirring to dissolve sugar

Add 115 grams cranberries and cook until barely starting to soften, about 1 minute

Remove berries with slotted spoon and set on wire rack over parchment-covered baking sheet; chill until no longer sticky (about 20–30 minutes)

Toss remaining granulated sugar with lime zest in small bowl; toss cranberries in lime-sugar

Top pie with cranberries just prior to service, zest a little fresh lime over all and serve with whipped cream
Recipe Notes
Crust can be baked 1 day ahead. Store tightly wrapped at room temperature.
Pie (without topping) can be made 2 days ahead. Cover once filling is firm and keep chilled. Let sit at room temperature 2 hours before serving.
I  like to present it on a pedestal with sugared berries and lime zested freshly over the surface. Best to do this immediately prior to service. A dollop of soft whipped cream is a lovely compliment to the bright tart on the tongue.