CharCut Top Chef viewing in Calgary Monday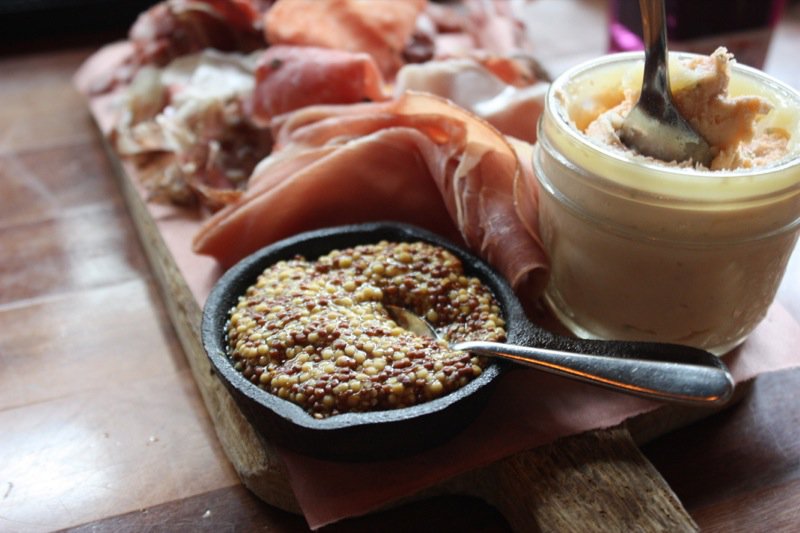 Oh, what a night it was, it really was! Let's do the Math: Connie and John (aka CharCut Roast House) + Tourism Calgary = A Hootin' and Howlin' best vittles and vials in town Good Time! Two past Calgary Top Chef Challenge Contestants and the three that participated in Season Three this year, all stand strong, below, after just judging a great mixology competition that opened Monday's event.
Adorable "food on your shirt" T-shirts designed by Calgary's own foodcentric designer: Pierre Lamielle. (we each got one to take home, too!)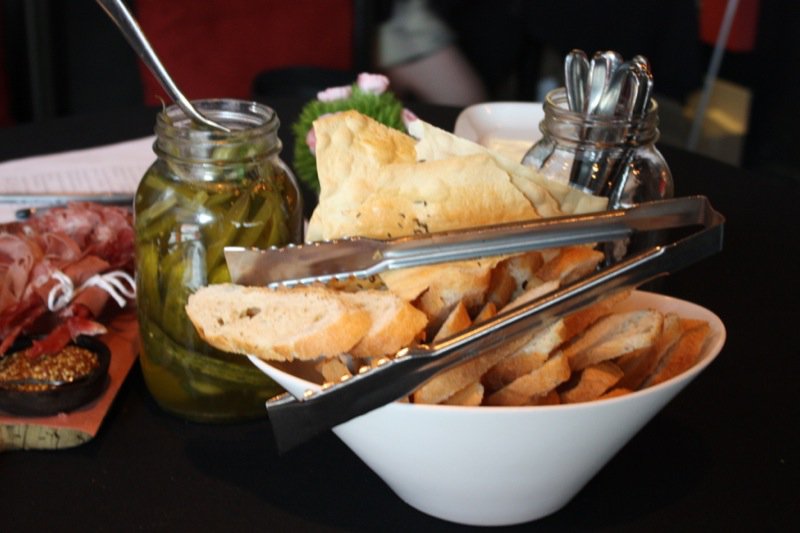 Karlynn accompanied me and we entered a bit early: the room already teeming with that palpable vibe of the beginning of Summer… and a great evening about to unfold. Massive boards laden with a variety of house-made charcuterie and preserves positioned themselves prominently throughout the room. Servers frequented the floor with icy platters of frothy beer and cold cocktails. Hello? Was there any desire left unquenched?
Imported mortadella is nothing like that of Bologna, the mortadella capital. Nothing. Vanja and I feasted on the whisper-thin slices of it there alongside copious arrays of charcuterie a couple of seasons ago. Then we ate Connie's: hand-made with pistachios, truffles, and only the best of ingredients, cured in a pig head; as you rest it on your tongue, it melts into an unctuous concoction of addictive savoury savvy-ness.
The shrimp gezpacho was served upon arrival and refreshed my palate. There is something to be said about leaving one wanting. It was just a little… just enough… but, the light bright dance of the season was awakened and my palate was leading the way.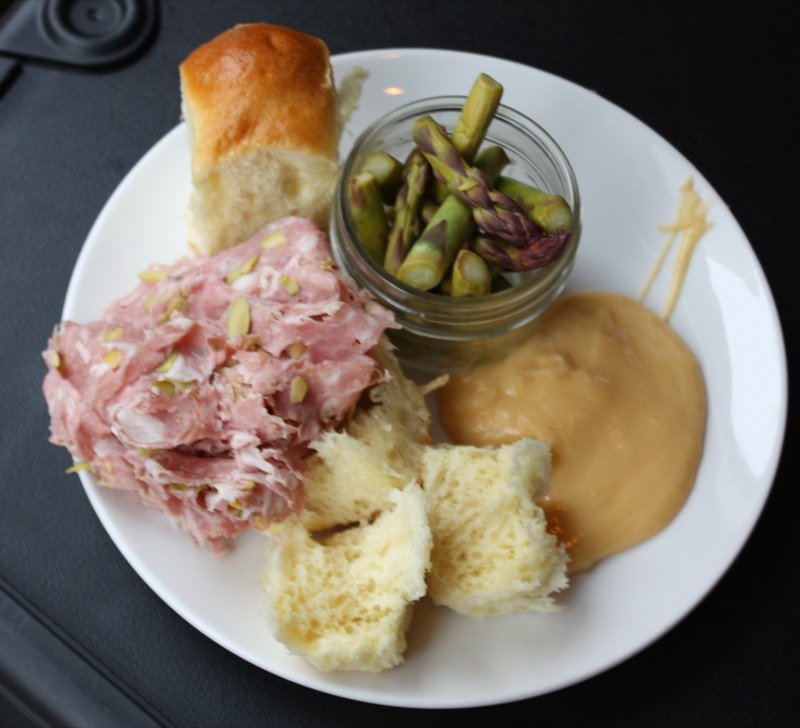 I have had CharCut's brioche before. It is an unforgettable puff of butter-breath. Tonight, served with freshly pickled Edgar's Asparagus: lemon thyme, and the best cheese fondu I have ever dunked, dipped and dabbled in. How can a cheese fondu be so rich and cheesy, yet light, at the same time? I found myself going back for more too many times trying to figure out how they mastered that combination. And with the crisp delicate lemon thyme pickles? Divine bliss.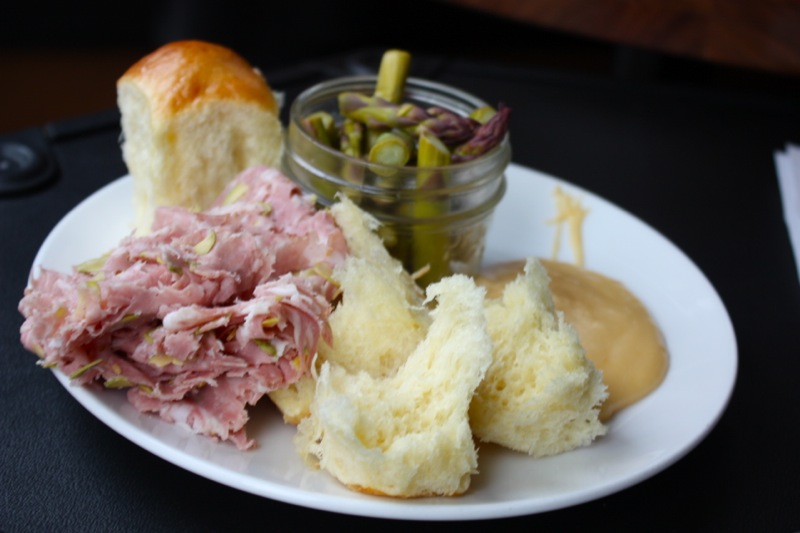 I was alone in the room with that asparagus and cheese more than once and would warp back to the party when spoken to. Whatever was said, my first response was, "You must try the asparagus!" I was interrupting conversations: "Have you tried the asparagus? Dip it into that cheese sauce for an unforgettable taste experience."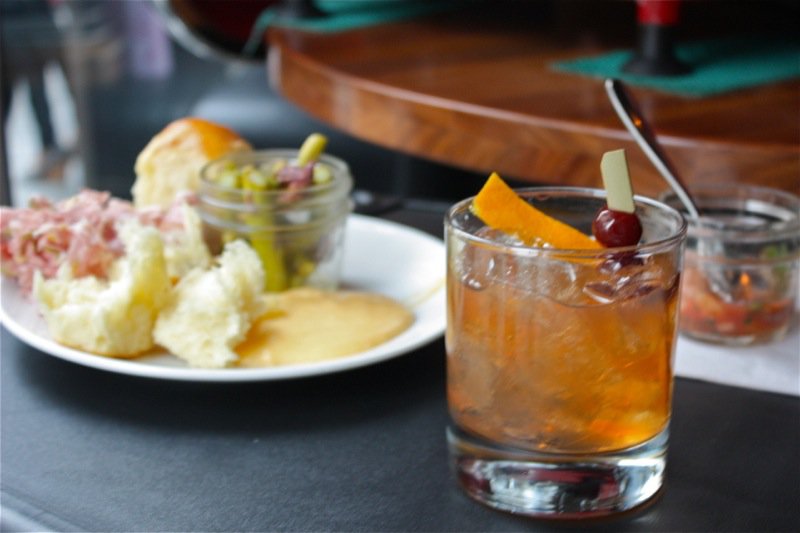 Karlynn enjoyed a "Ginlett".
I meant to try the potted lake trout. The bee pollen rubbed and dry-cured bar sticks caught my eye, too. This is my kind of candy. Seriously, another must have if you stop by for a drink. And the Brassica grainy mustard made right in Calgary, served in the mini-cast iron pans is the perfect condiment to compliment the cured meats.
Karlynn and I bought a big jar of the mustard at Janice Beaton's (both hubbies love it) and have ordered the frying pans. Can never have too much of a good thing. Like Dan, from Dan's Good Side, Host for the evening and a vital part of the warmth that exuded throughout the space.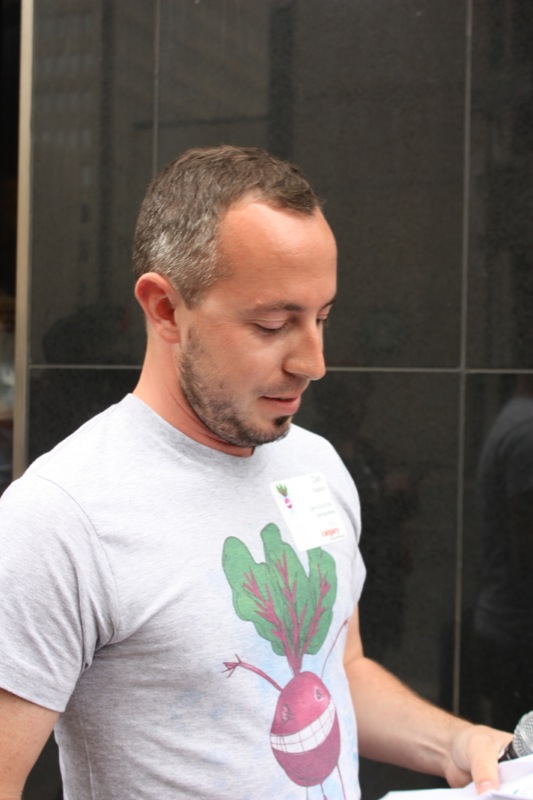 I knew there would be a surprise. I got wind of it early on, but everyone was tight lipped. Halfway through the viewing of the show (which, sadly, could not really be heard) the announcement was made! The finale will be in Calgary. Kudos to Calgary Tourism for Making this Happen. One thing I learned long ago, wishing and hoping and yearing and willing don't work well. Hard work does. Calgary Tourism clearly has it going on as they were able to not only have the finale happen in Calgary, but able to make it happen and keep it all under wraps until now. What a coup for Alberta and for Calgary.
The words: "It's about time!" Flashed across my inner peripheral vision. "Hello, Toronto and Ontario. Hello, Canadian TV. Hello, Food Network Canada! Another aspect of Canadian food culture is alive and thriving on the Alberta Prairies, yet to be showcased across our great nation."
Hope I have tickled and teased your palate with these photos. Thanks, Tourism Calgary for the invitation. Go, Nicole!
TOP CHEF CANADA SEASON THREE FINALE HEADS WEST: Finale Airs June 10 at 9pm ET/10pm PT
Food Network Canada and Insight Production Company Ltd. in partnership with Tourism Calgary are bringing the season finale of Top Chef Canada to new territory for the first time in the series' history. As the backdrop to the third season finale of Canada's fiercest food fight, Calgary is a young, edgy city home to over one million people and growing faster than any other in North America. Calgary is also a new culinary hotbed in Canada with renegade chefs in impressive restaurant and food truck kitchens, making it the ideal setting for the cutthroat culinary competition.
The season finale will showcase some of Calgary's landmarks such as Prince's Island Park on the river in the heart of the city. Here, the Quickfire Challenge tasks the chefs with creating and executing their very own food truck concept. The Elimination Challenge takes place in Rush Restaurant and Bar in the city's downtown business district where the chefs must each prepare a stellar five-course meal that best reflects their talents. Special guest judge for the Elimination Challenge is the culinary queen of Calgary and Top Chef Canada season 1 finalist Connie DeSousa, co-executive chef and co-owner of CHARCUT Roast House. Joining Connie as guest tasters for the challenge are JUNO Award winning Singer/Songwriter and proud Calgarian Jann Arden and Rush Restaurant owner Lance Hurtubise President of the Vintage Group.
After an intense nine weeks of gruelling competition in the kitchen, only six of the initial 16 chefs are left standing:
Nicole Gomes, 34, Calgary, AB (Originally Richmond, BC)
Jonathan Goodyear, 34, Toronto, ON
Geoff Rogers, 31, Calgary, AB
Danny "Smiles" Francis, 27, Montreal, QC
Matthew Stowe, 30, Vancouver, BC (Originally Cloverdale, BC)
Dennis Tay, 34, Toronto, ON (Originally Windsor, ON)
At stake for these victory-hungry chefs is the grand prize of $100,000 sponsored by SpongeTowels® paper towels, a GE Monogram kitchen worth $30,000, a custom installation by Caesarstone Quartz Surfaces worth $25,000 and the title of Canada's Top Chef.