And a gorgeous recipe for Queso de Flan from Tres Carneles!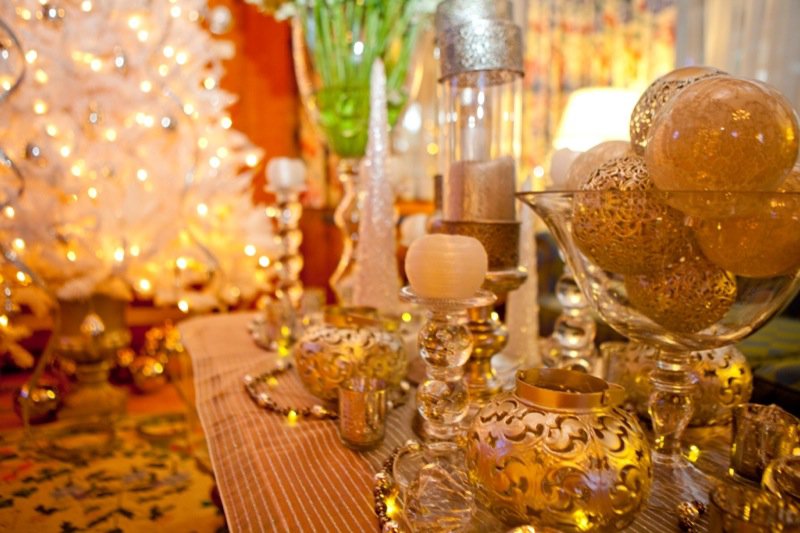 OK. Get out your calendar and circle June 6, 2014. Registration opens that day for Christmas in November 2014. Meanwhile, decide which date you will attend of these three possibilities:
3 Nights (weekend) – November 7-10, 2014 from $999 per person
3 Nights (midweek) – November 11-14, 2014 from $949 per person
2 Nights (weekend) – November 14-16, 2014 from $849 per person
No complaints about the cost. I have heard too many people say, "It's so expensive." I am not an elitist, or a Princess, by anyone's imagination, and this is really great value for your money. On this gorgeous sunny day at the lovely Hotel Mcdonald on my favourite patio restaurant in the city The Fairmont Jasper Park Lodge launched its stellar line up for this fall and I was absolutely honoured to be invited. I am going to fill you in, and share this incredible recipe from Edmonton's own Tres Carnales with you for Queso de Flan.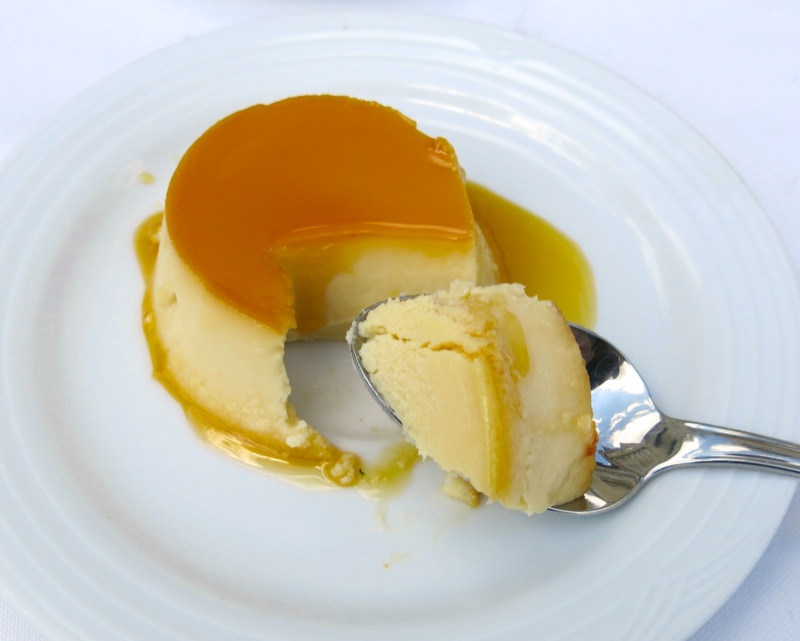 This dessert was a sumptuous, silken golden gift presenting everything one wants in a dessert.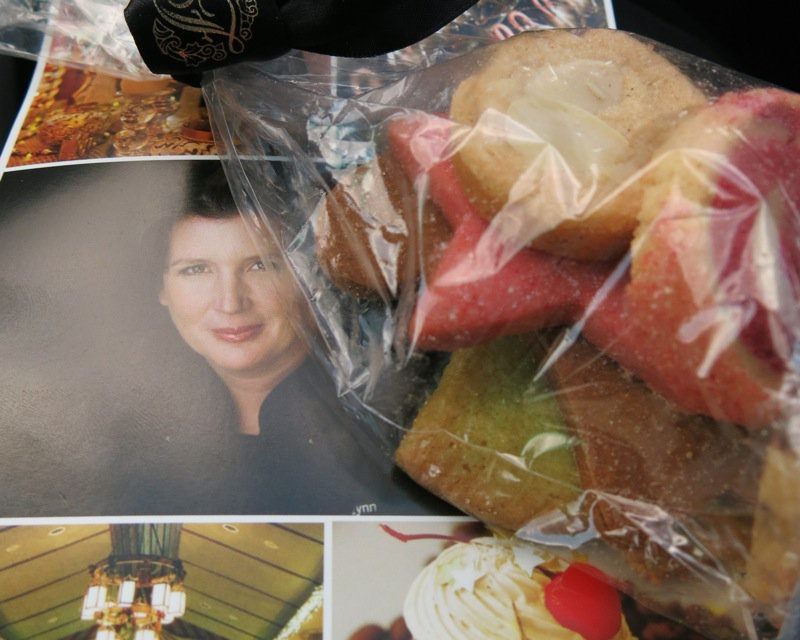 Lynn Crawford will be attending and presenting at all three sessions this year. I met Lynn at Lunch with Lynn Crawford at NAIT this year. She will not remember me, but I will never forget her. She is just as you would expect and I am confident she will add the most sparkle to the event this year in Jasper.
Christmas in November is a place for meeting new friends and taking your old ones. Every year, this has happened. Last year I met a crew that was hilarious. I thought we were going to be best friends forever, then we all got busy. We will certainly be best friends at CIN this year!
Let's talk about the food for a minute. Everything you can imagine is available for you at Christmas in November, just like it was today for the guests of this event. I am going to share these photos with you so you can get a little window into what you are in for when you go.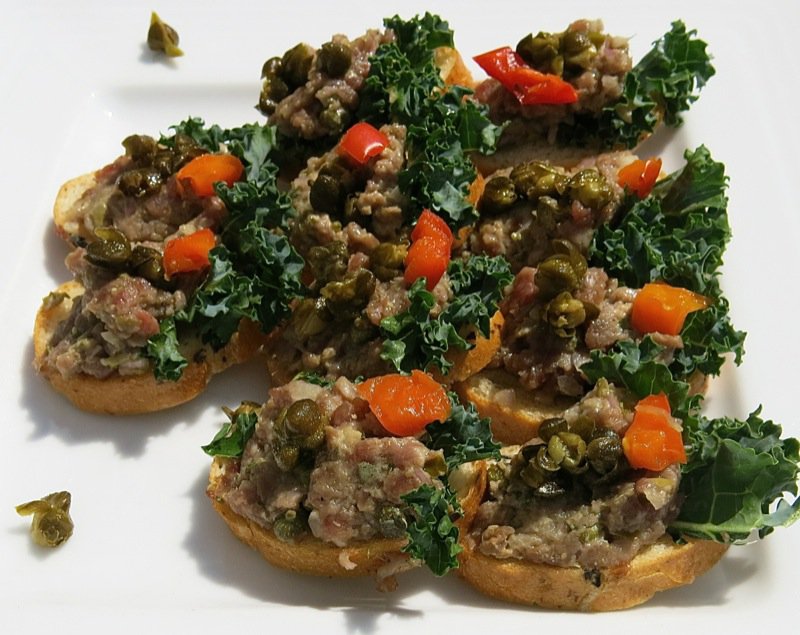 This may be just a bite on a piece of bread, but it was my favourite bite of the day, and I will remember it for a long while as I torture myself trying to recreate these flavours. As Christmas in November, all of the recipes are shared.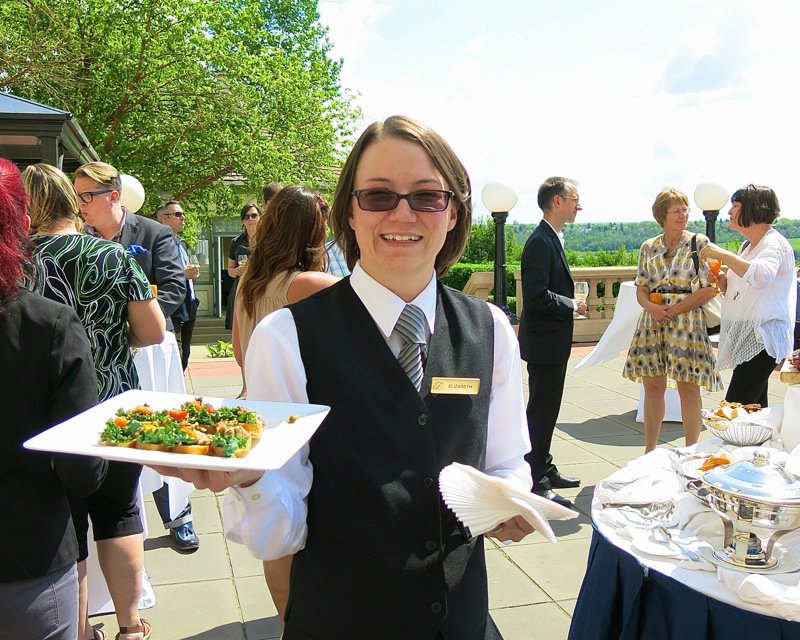 Today, the service was truly exemplary. Above, is Elizabeth. It was very, very hot out; she and the entire staff were genuine in their warmth and service. There is a little magic at Christmas in November. Seriously. The staff at that event are like a family. They care about one another, their work and especially their guests. It shows, and it feels really good.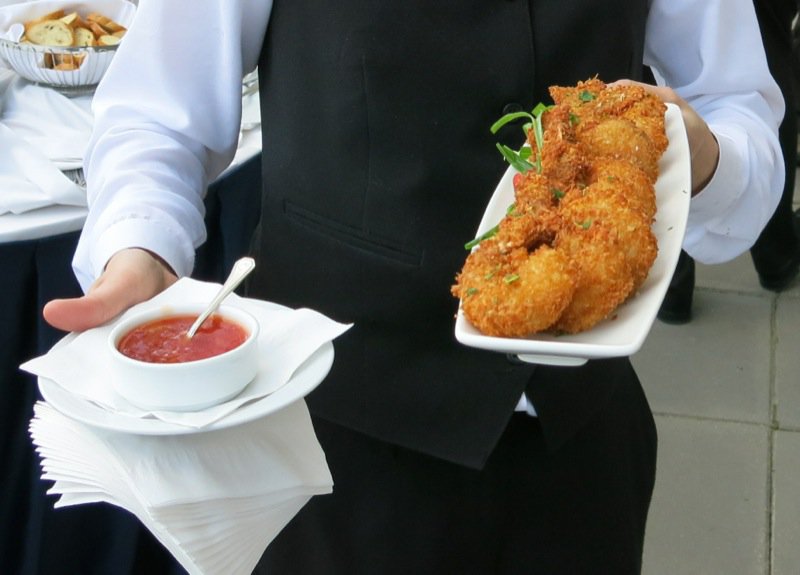 Who can resist a shrimp?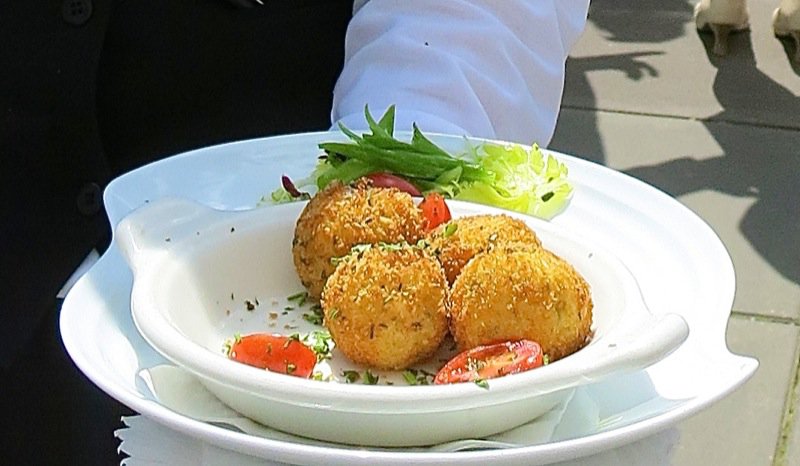 Or a cheesy arancini ball. OH-MY. Oh my.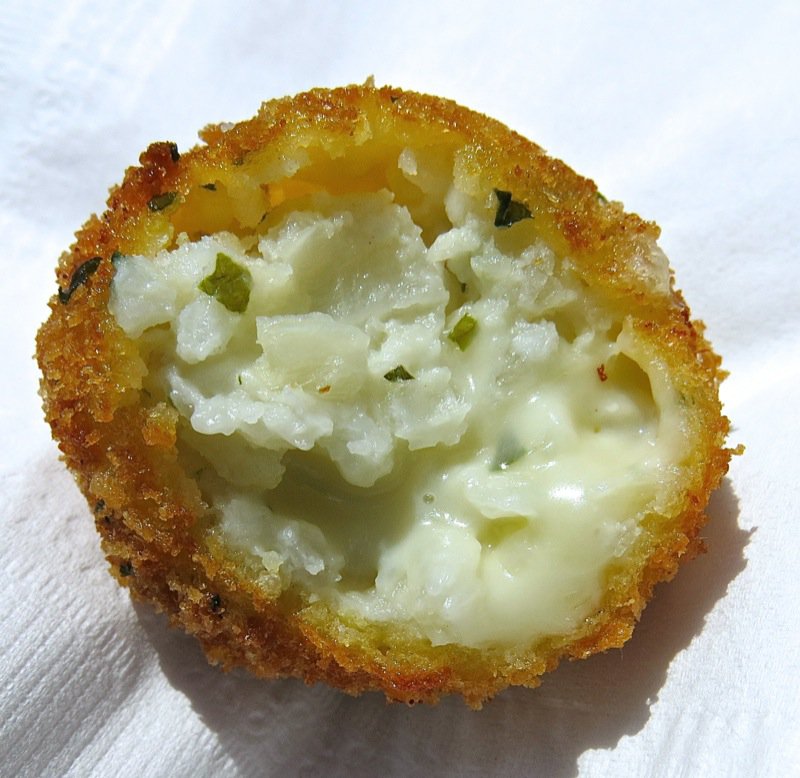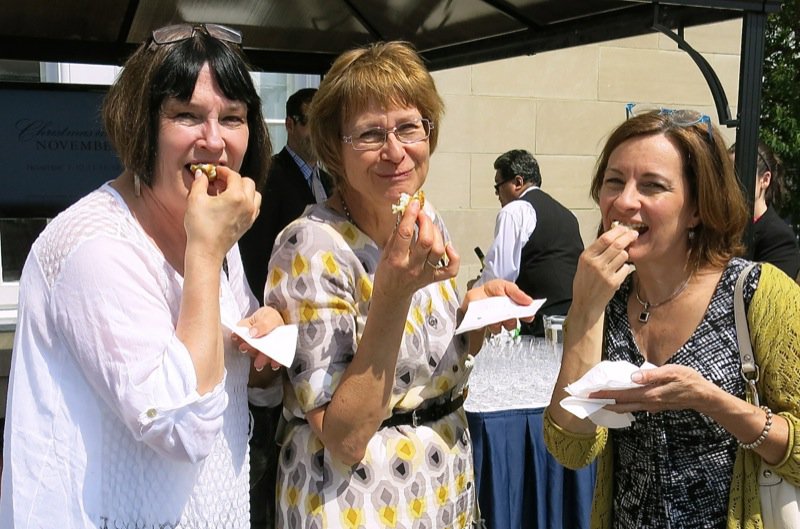 Did I mention you'd make friends? And they will eat their cheesy balls for you to take a photo. That is just what Christmas in November is like. Too. Much. Fun.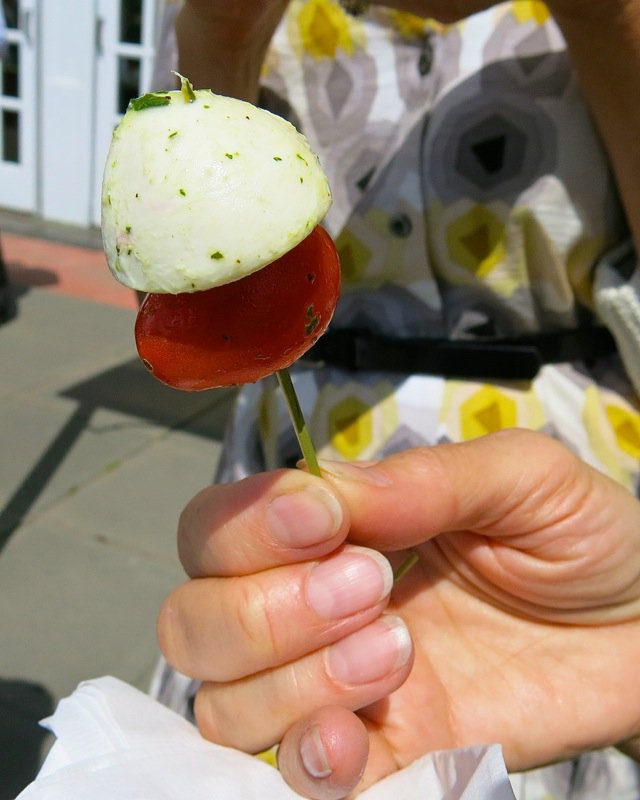 Have you taken note? Deep fried to healthy little bites that just keep coming and each is better than the last.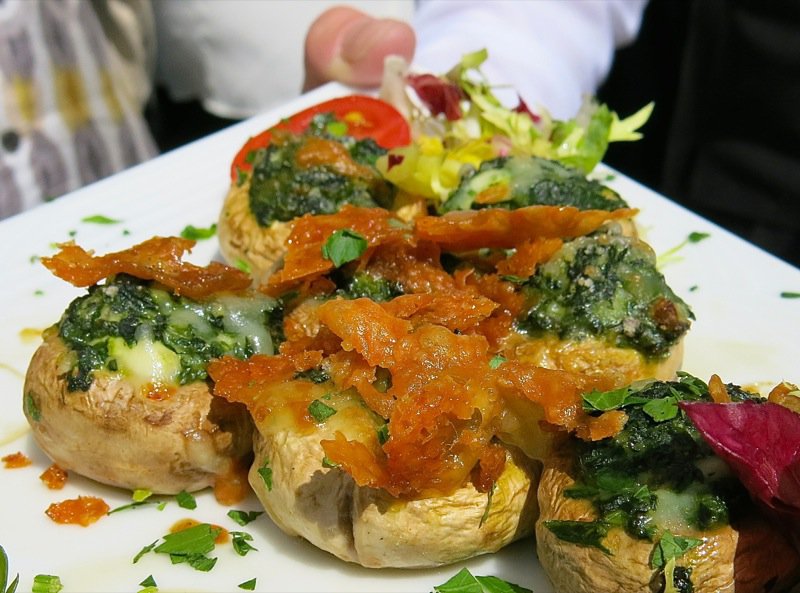 Until you can eat no more. It is just too much. Yes, who can resist these cheesy mushroom morsels. The pavement was almost steaming and I still had one of these.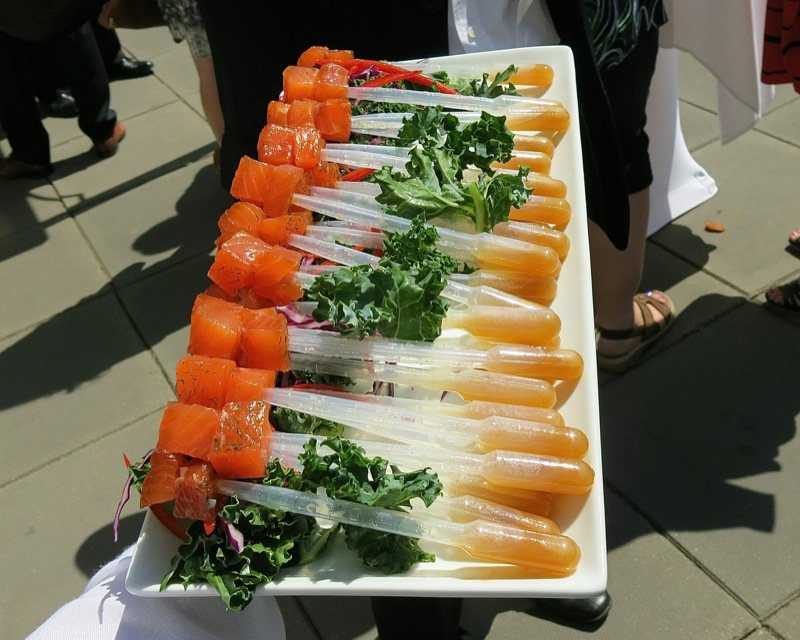 And then the molecular gastronomy tray appears. Gorgeous Pacific Salmon injected with a miso citrus dressing. Eat with your head tilted up, and push the dressing into the salmon as you pull it off the syringe.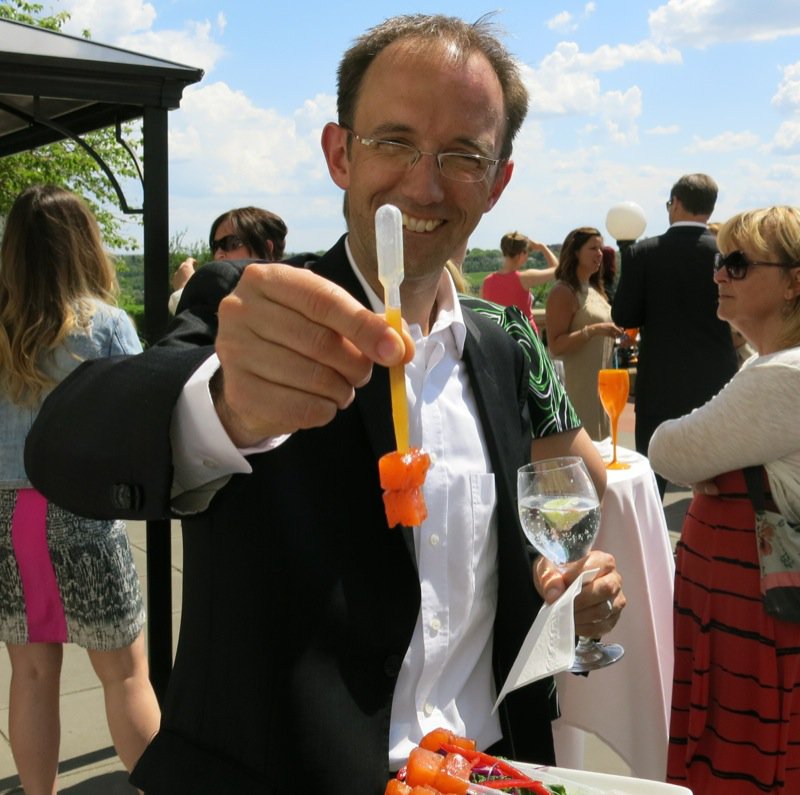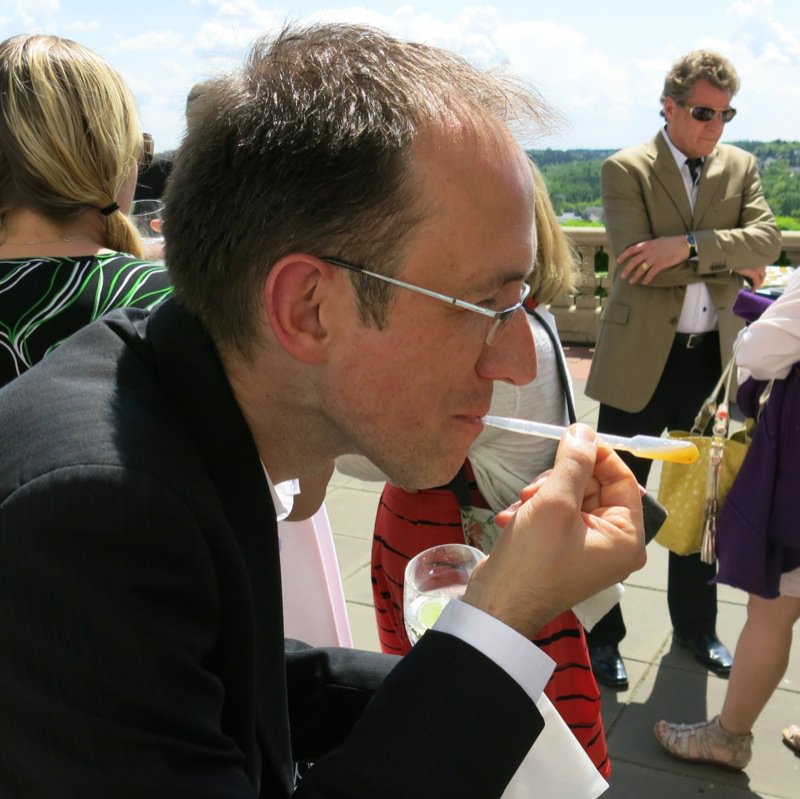 Head back, Uwe! Head back! Uwe Walters glows. He just glows. The Fairmont Jasper Park Lodge are very fortunate to have him on their team.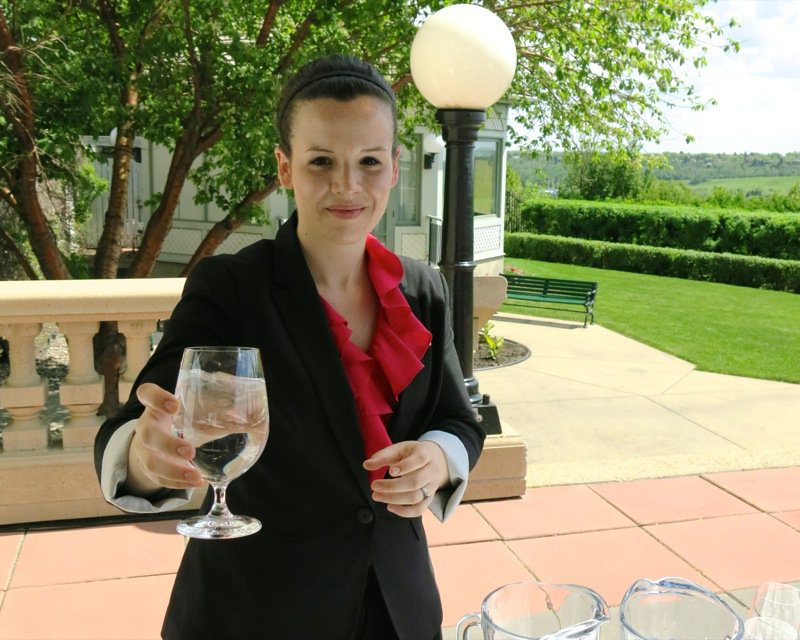 It was so hot, I could not drink enough water, and this young gal was so gracious. Service is second to none.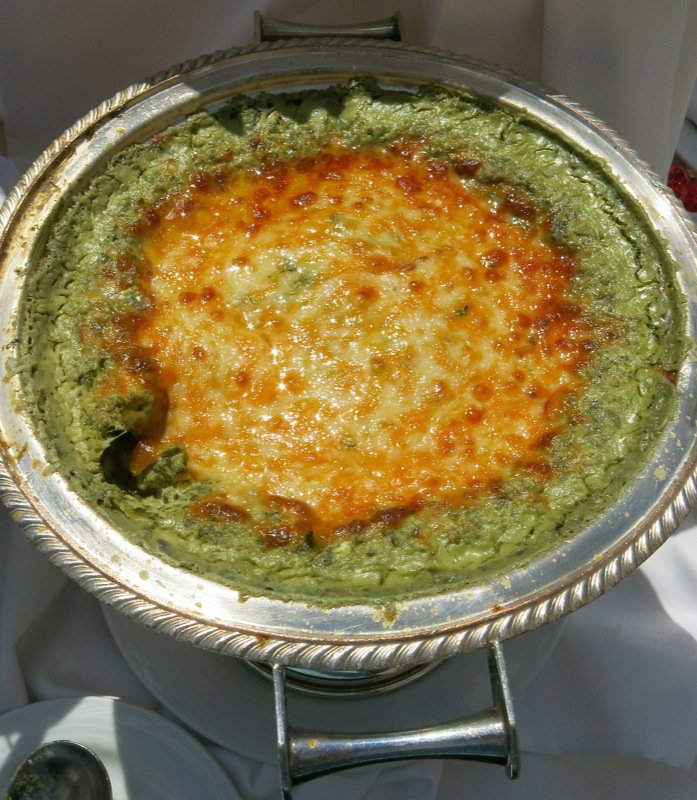 I would have loved to have taken this home with me. Last year, during the 2013 launch, the chef was kind enough to give me the recipe as about 5 of us spent the entire time grouped around this bowl, head bent and focused, until it was licked clean. It was too hot today to eat anything (almost). What did they do with it, I wonder. That will probably be my nightmare, tonight.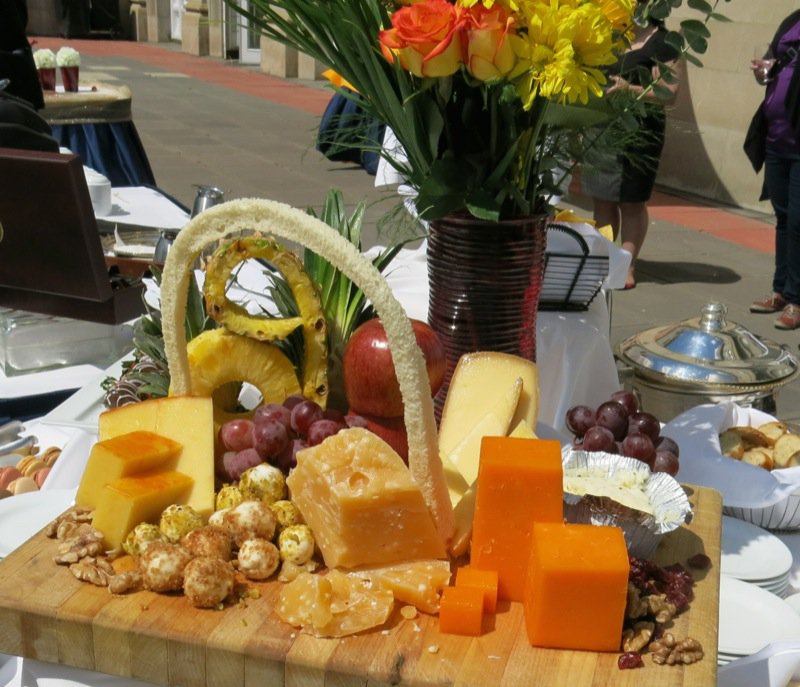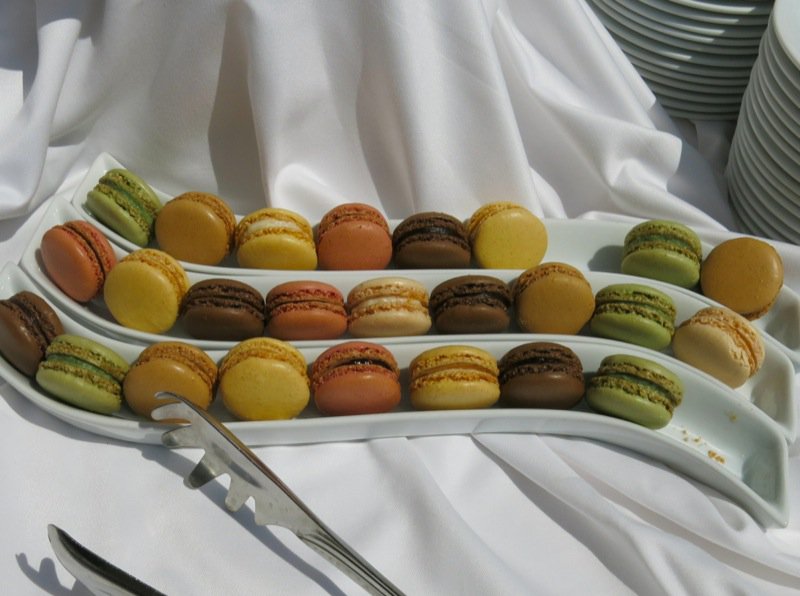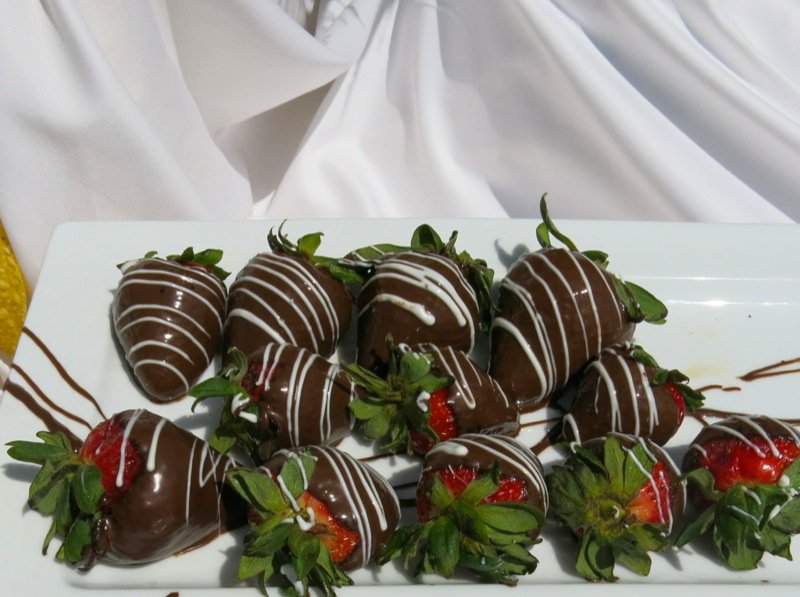 Are you getting the idea? Christmas in November is the time to indulge yourself and there will be everything there that you can possibly dream of to do just that.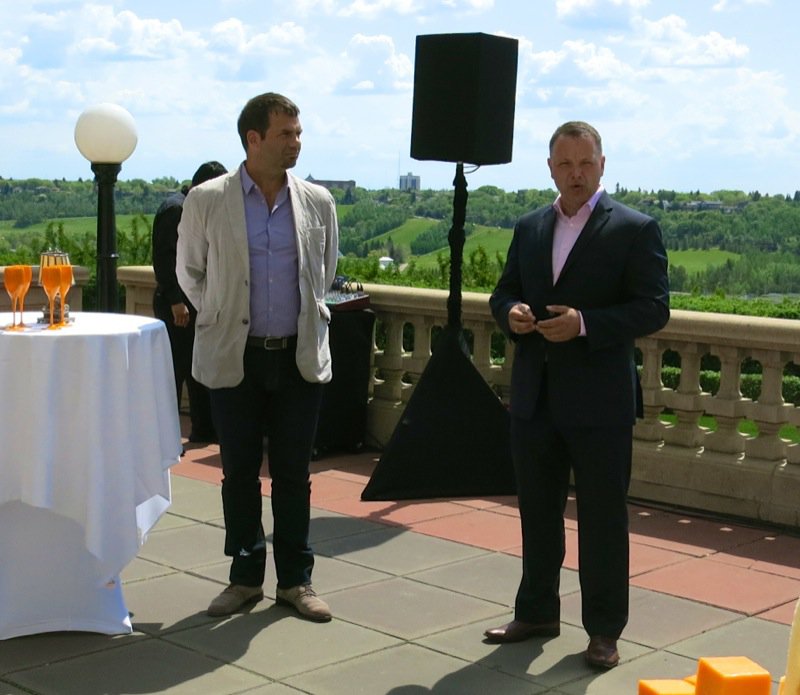 This year, Nik Manojlovich and Karl Lohnes were flown to Alberta for the launch. Nik will be co-host this year with Micah Dew, a Jasper Park Lodge CIN sensation. Michael Smith will not be attending for the first year of many. I am happy to see this refreshing change!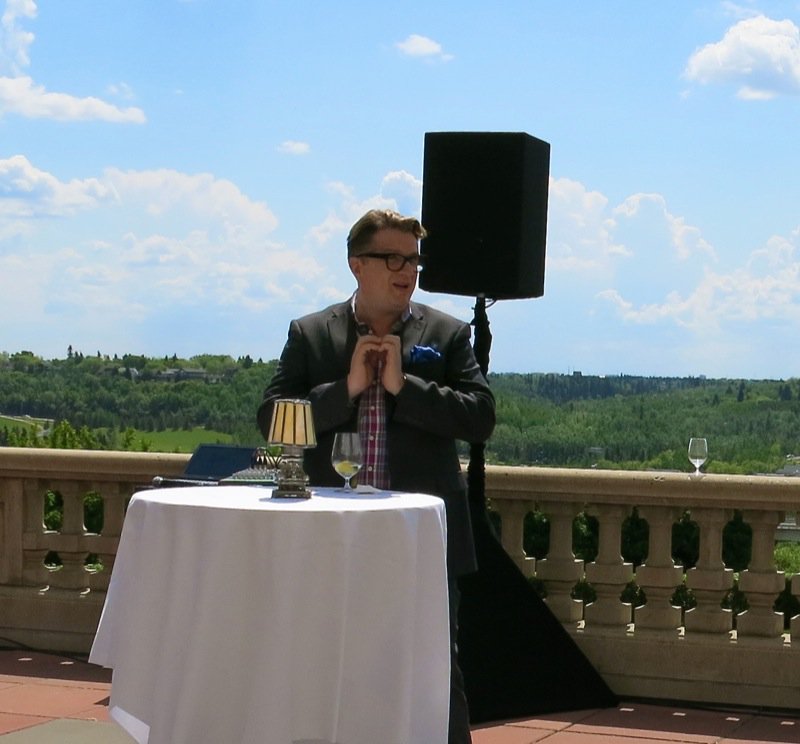 Karl was hilarious. I have never had a moment to chat with him before and truly enjoyed his company. Every woman wants to bring him home to decorate her house, and I am definitely on that list. He will be presenting this year, and doing a little craft, too, which sounds like so much fun. OH! I have only mentioned the food and the friendships. There is so much more. There are classes! Craft classes, and cooking classes, and trend classes, and I hear there are sometimes exercise classes. I have no evidence of this. There are tours, and tastings and Mixology classes. There is no way you can take them all in, and that is part of the fun. Learning from others what they got to do that you didn't.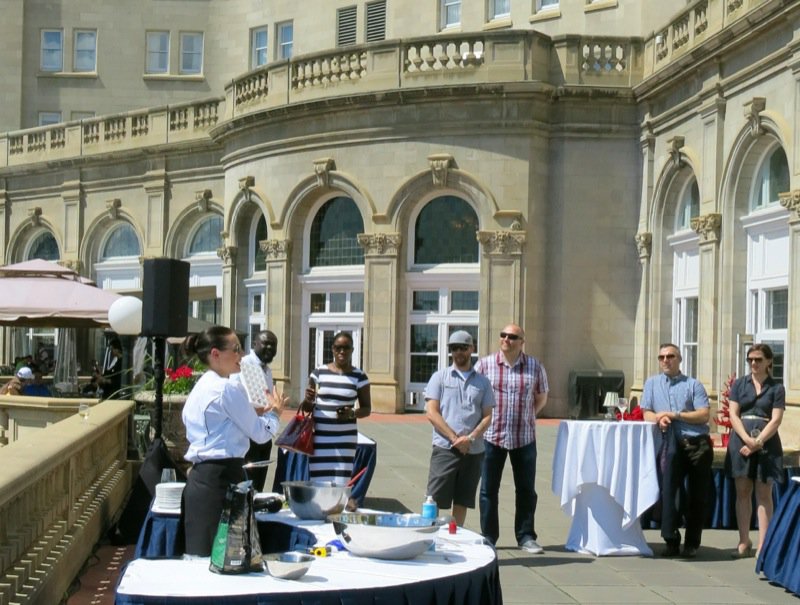 The launch today also included a couple of incredible learning experiences, or mini-sessions, so those that have not attended could get a sense of what the event is like. I was tickled pink to see our own Edmonton Chocolate Couture, Jacqueline Jacek's of Jacek Chocolate Couture. She is a world class chocolatier right here in our city and will be presenting at CIN 2014. I will be in the front row. Today's little ditty was not easy. She was in the sweltering heat with chocolate and pulled off her demonstration effortlessly – and I learned a great deal in those few minutes. That is what I love about CIN! Jacqueline uses little cotton balls to clean her chocolate moulds every time – and that is why the chocolates are so shiny. Who knew?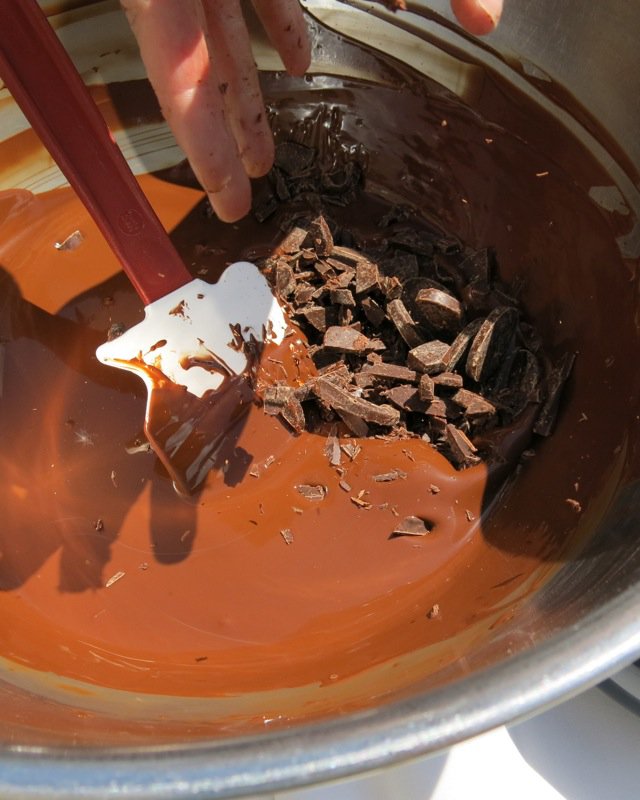 She demonstrated how to temper chocolate. I will not tell you how. You will need to attend her class to learn.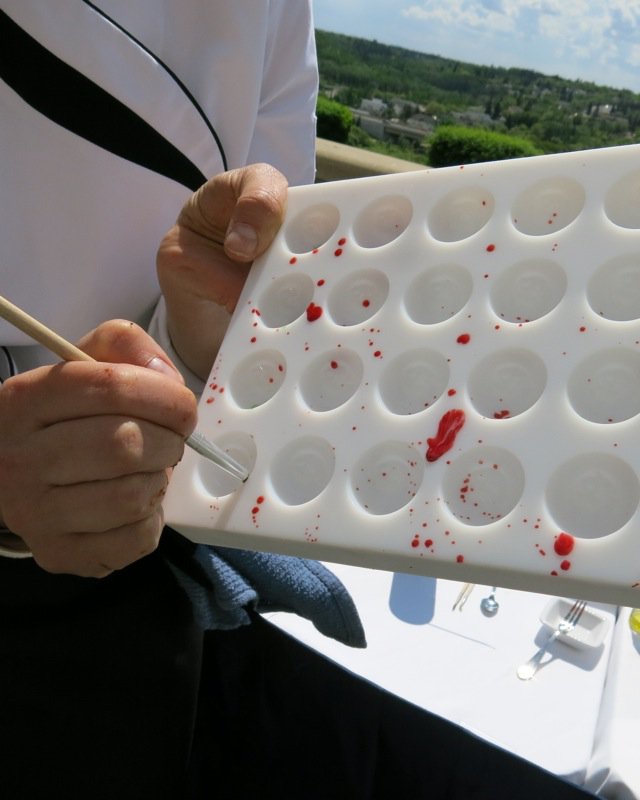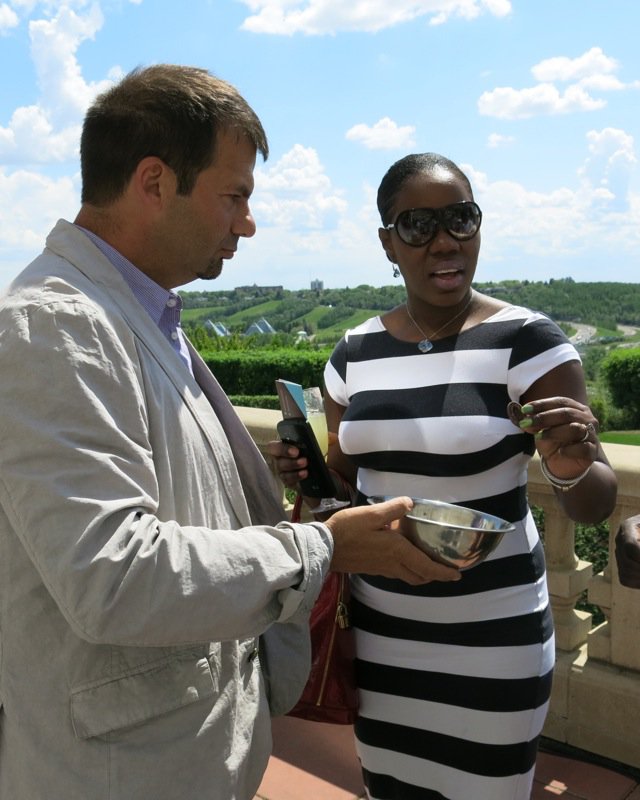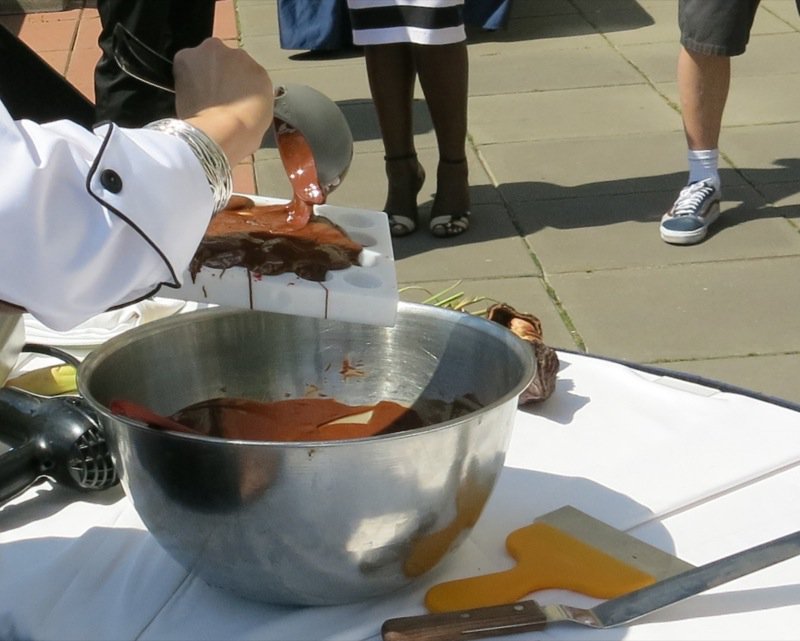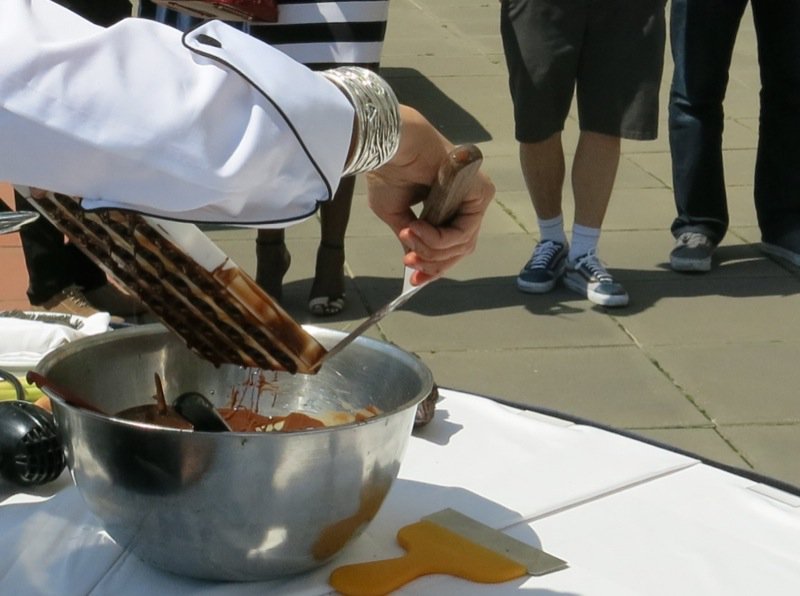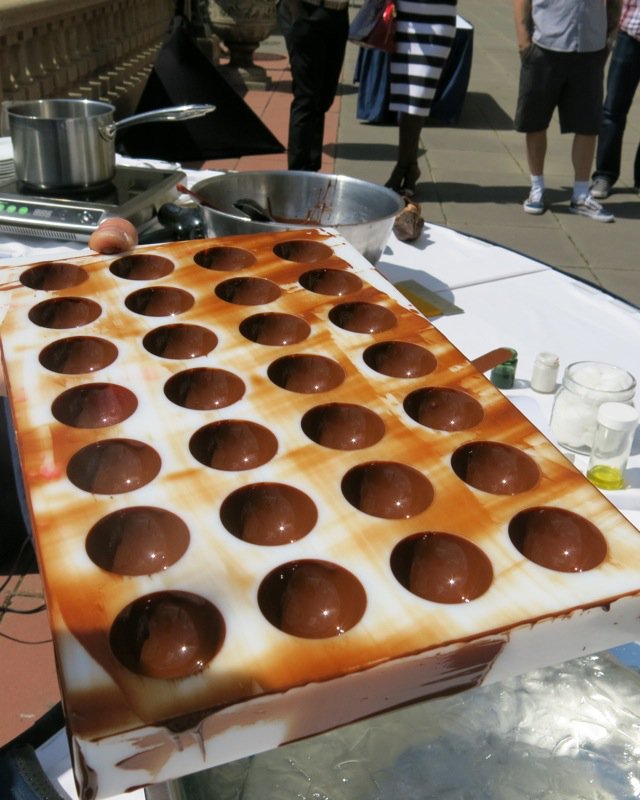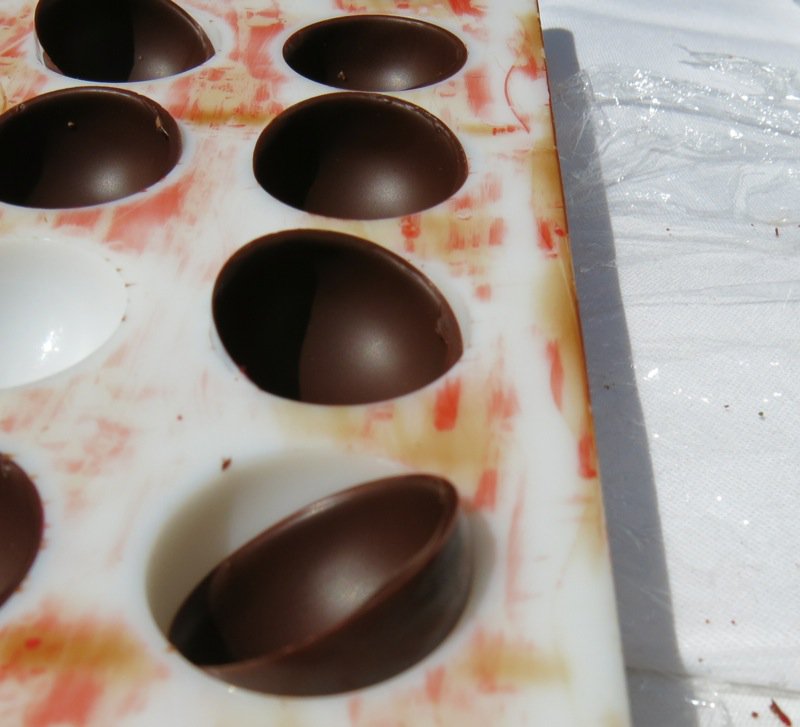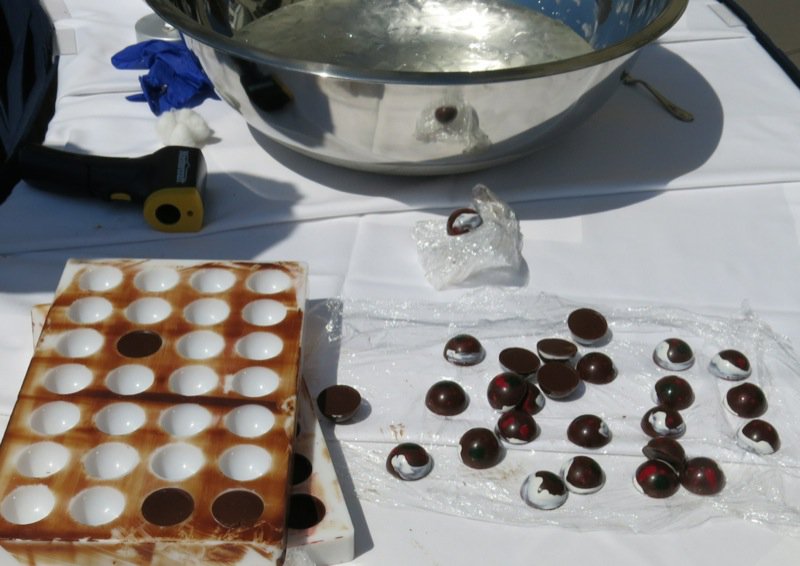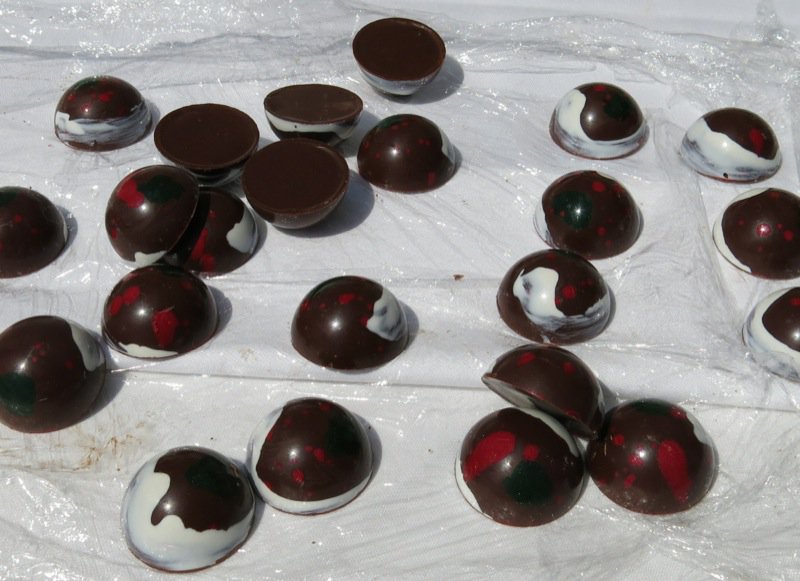 There is even a can of spray coolant that cooled the chocolate enough to release it from the mould almost immediately for this demonstration. If I can learn this much in a few minutes, imagine what can be learned at the sessions! Talk about value.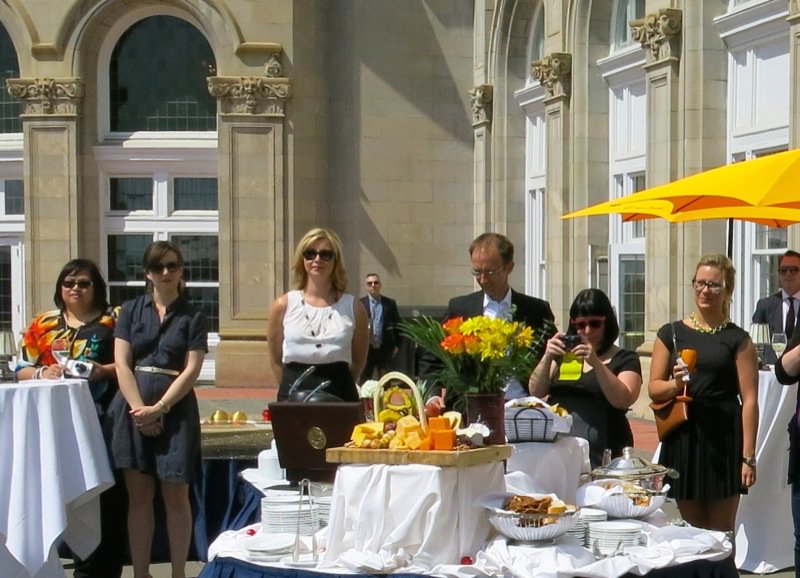 Spectators focused on the demonstration… or tweeting about it! In the middle of the photo, in blond hair with a white top is Stephanie Hamilton, the Marketing and Public Relations Manager at Jasper Park Lodge.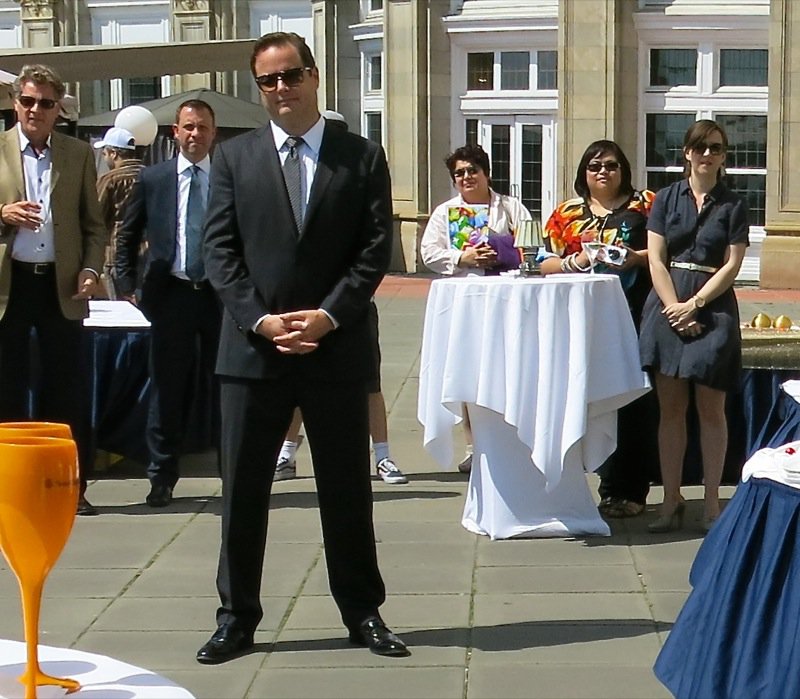 I couldn't resist including this chocolate focused photo of Robin Linden, Event Sales Manager and overseer of the entire event at the Fairmont Jasper Park Lodge.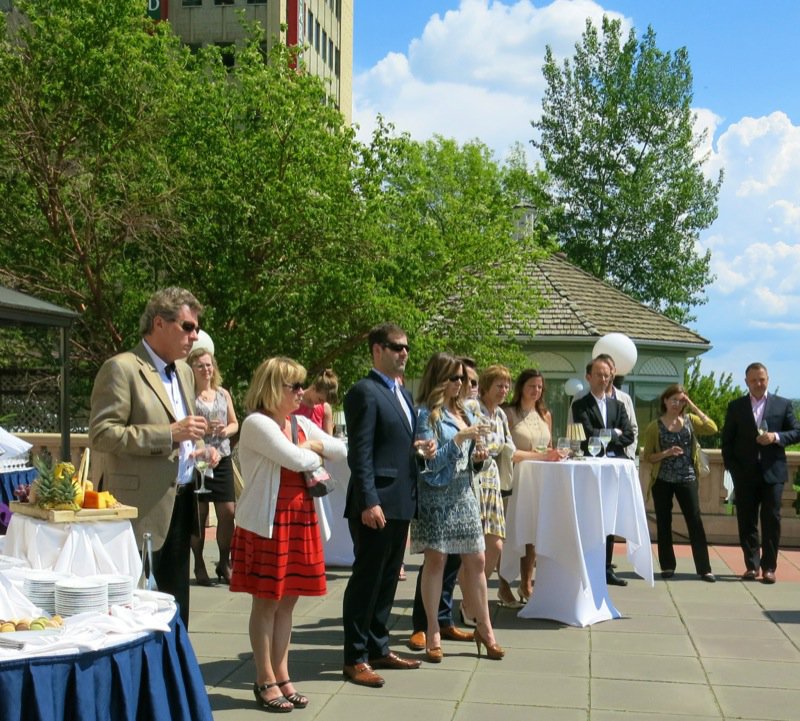 And then we all got to eat the chocolate, of course.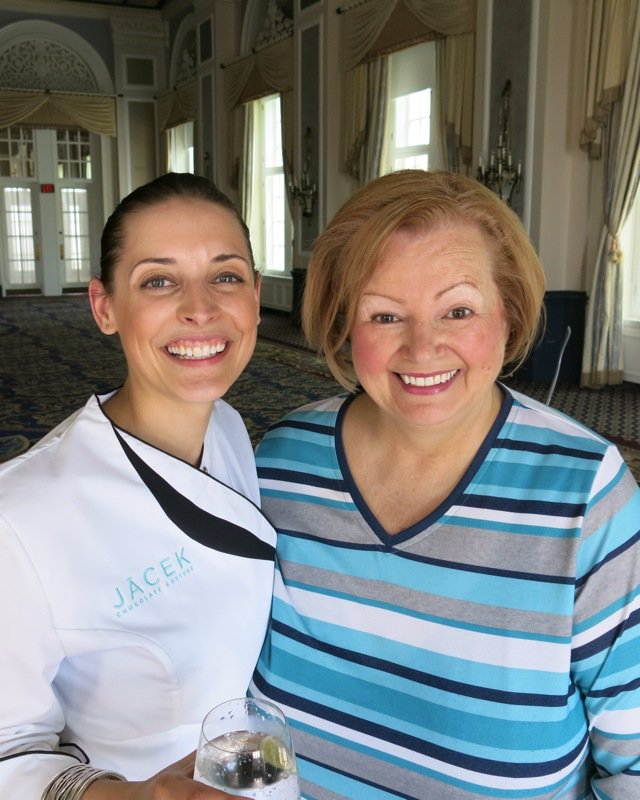 I also could not resist a minute with Miss Jacqueline Jacek, myself!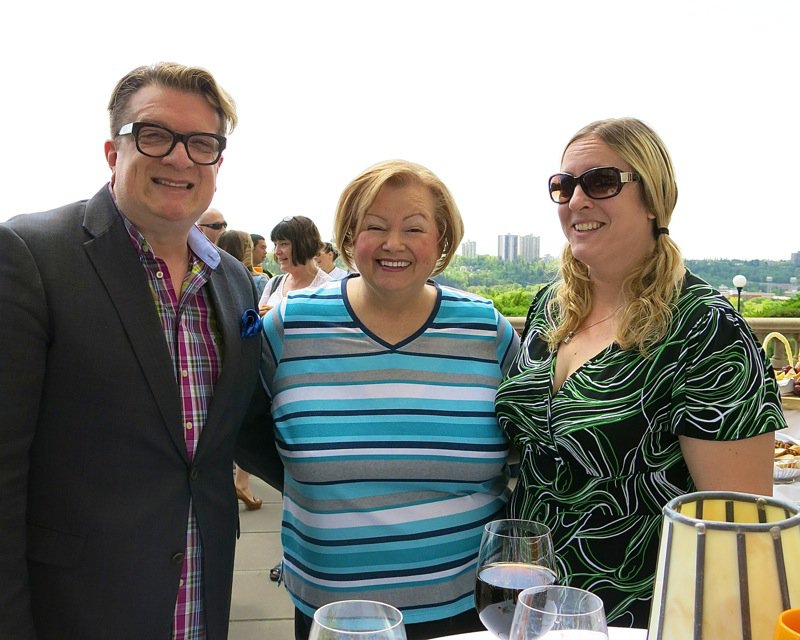 Or a photo opp with Karl Lohnes and Karlynn Johnson (The Kitchen Magpie). Another perk Christmas in November promises. Lots of time with celebrities!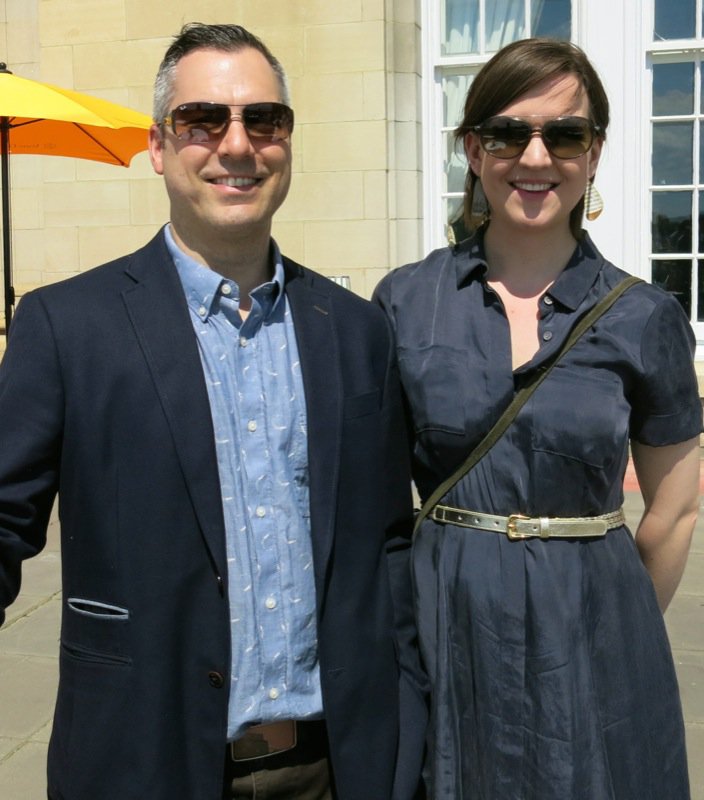 CIN is focusing on featuring more local personalities on their roster which is brilliant. Above, Chef Blair Lebsack and Caitlin Fulton from RGE RD. Blair will be presenting at CIN 2014!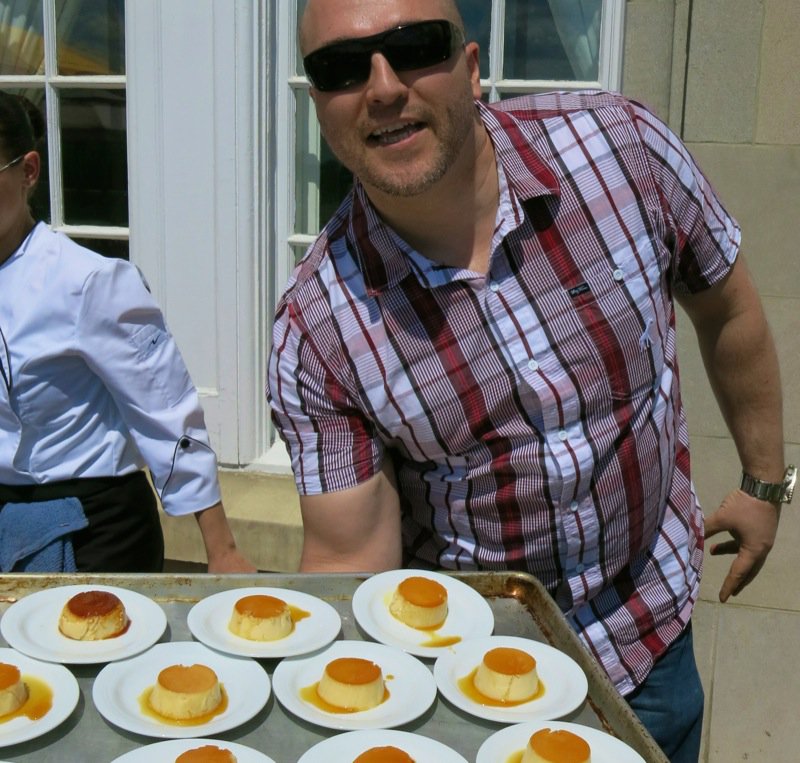 As will Tres Carneles, a fairly new Edmonton Mexican food institution. Above is Daniel Braun.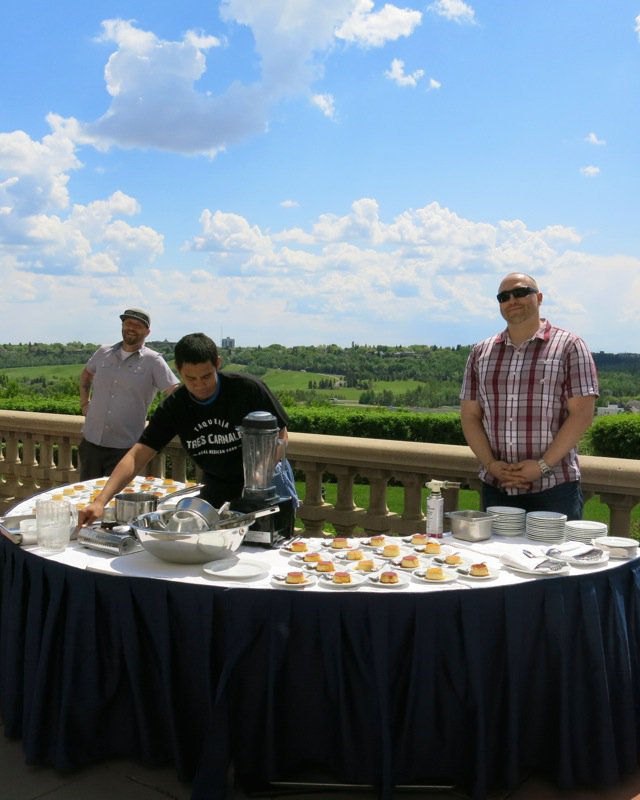 Another mini-class with Daniel Braun, Chef Edgar Guitterez and Chris Sills of Tres Carneles. And may I note this location at the Hotel Macdonald. World class. No place in the city would I rather be on a day like this, than here. So, a little recap: we've talked friends, food, and sessions at CIN… let's just talk location for a minute. The Fairmont Jasper Park Lodge in the Canadian Rocky Mountains: a World UNESCO heritage site. It does not get any better. Talk about value.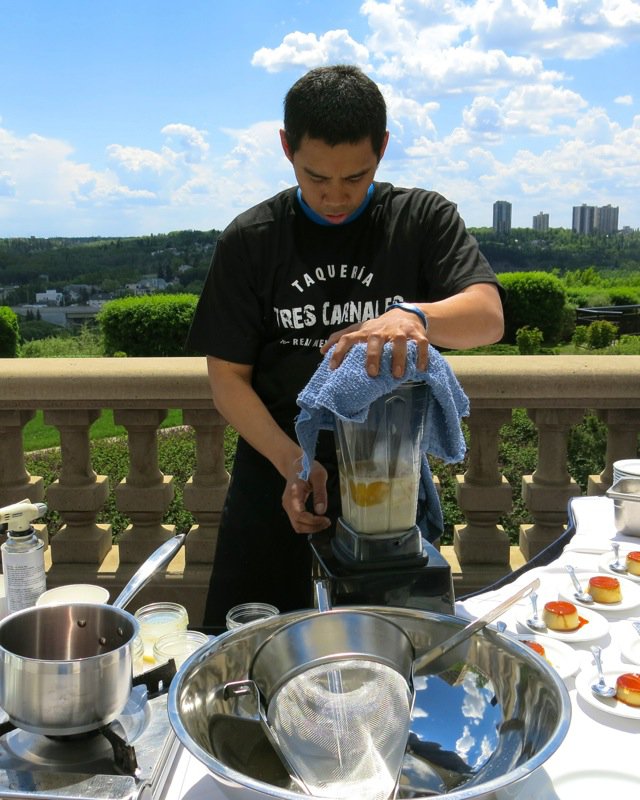 Chef Edgar Guitterez convinced me. Queso de Flan is easy to make. For those of us that cook. You, too, could make this incredible iconic Mexican concoction. This team very generously shared their recipe for all of us to enjoy. That is what happens at CIN! Everything you learn, you can take home and do! (Or, you can just enjoy everything being done for you there.)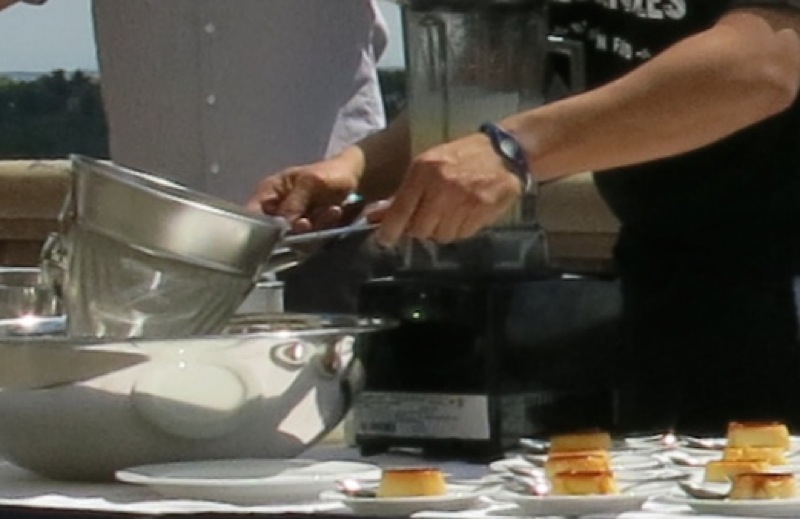 Yes, Tres Carnales will be presenting at CIN 2014!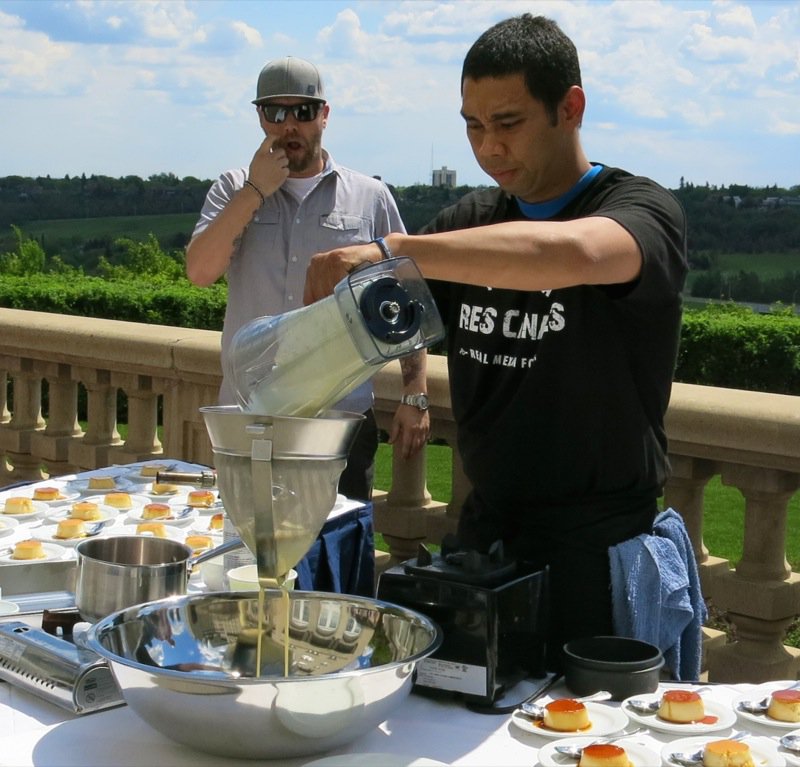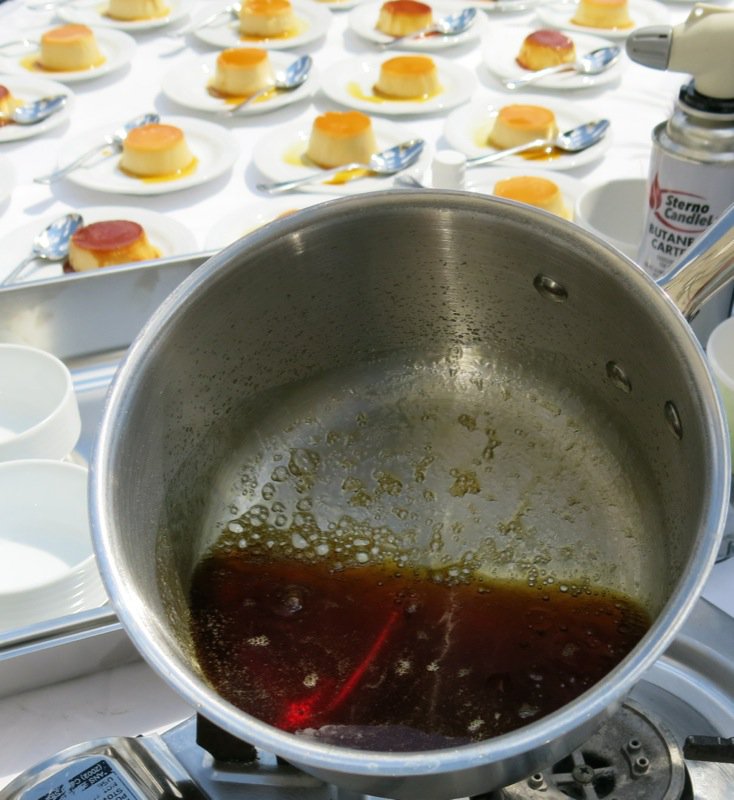 The photos will aid you when making the recipe, below.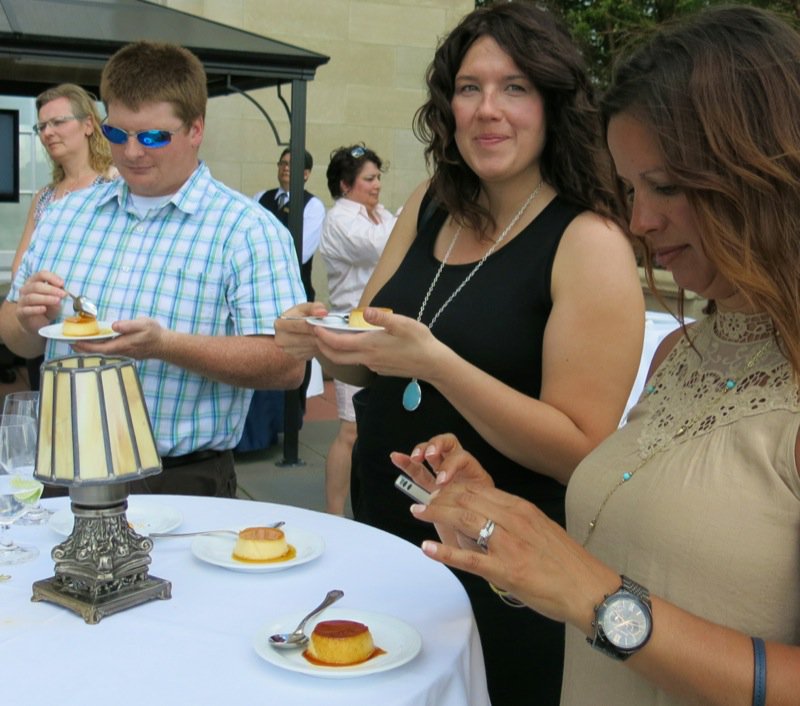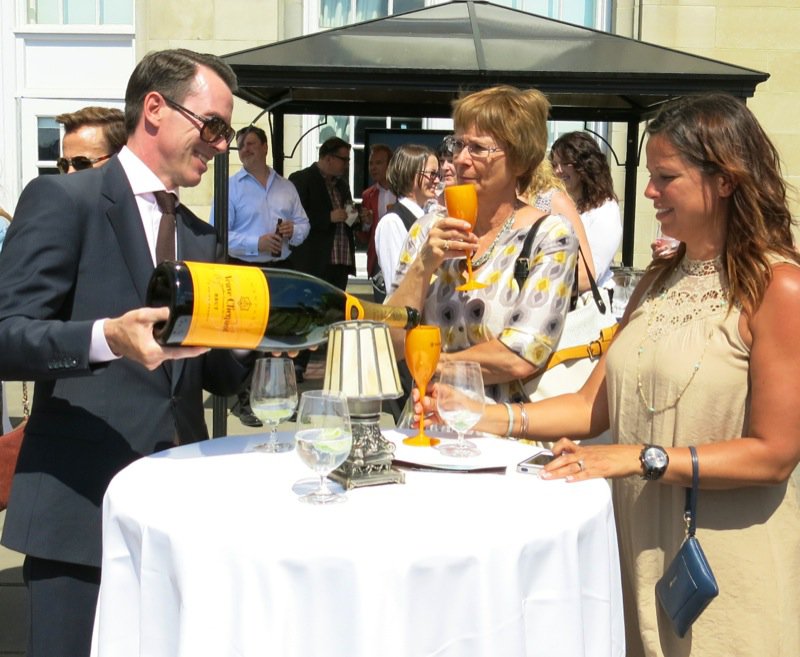 Champagne. Yes. Attention to detail. Every single detail. Nothing is left to chance and nothing is left off of the list. Nothing. What a gorgeous afternoon this was.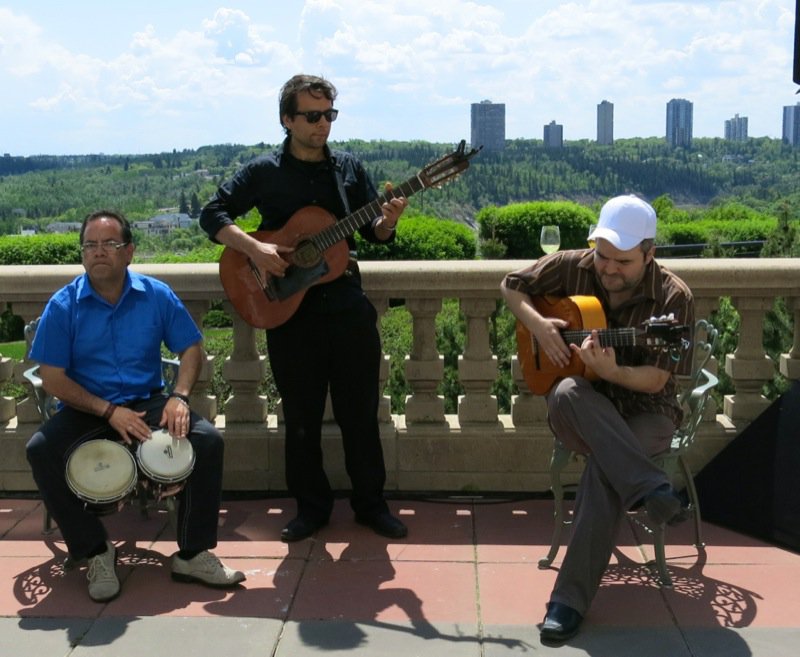 Did I say nothing is left off of the list. There is entertainment at CIN. Lots of it.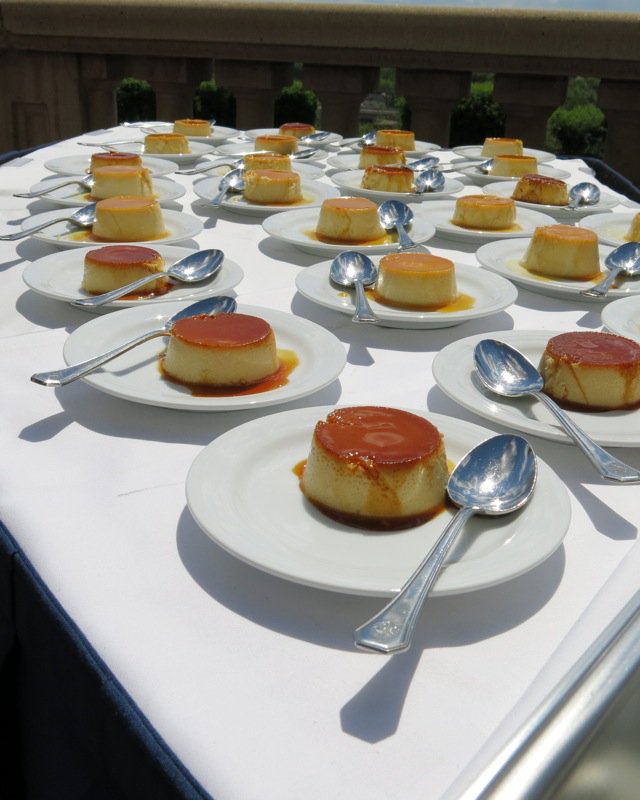 And I didn't yet mention that there are wine pairings with all dinners and lunches. Cocktails (yup, all you can drink) before every evening meal… and swag. If I have not yet convinced you, read this: Five Reasons to Attend Christmas in November.
Elizabeth Baird is coming again!
I am definitely attending Christmas in November 2014 this year with my mom. Wouldn't miss it. And hope to see you there. Chime in if you are coming! And to which session!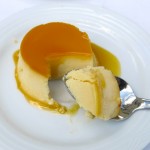 Queso de Flan
Edgar has deterred a smidgen from tradition by adding cream cheese to this super simple to make recipe that is the ultimate luxury on a plate.
Total Time
1
hour
15
minutes
Ingredients
8

oz

of cream cheese

(room temperature)

16

eggs

3

cans of Carnation Evaporated Milk

3

can of Eagle Brand Condensed Milk

1

tblsp vanilla extract

1

cup

of sugar

1/2

cup

of water
Instructions
Pre heat the oven at 350 F

Combine eggs, evaporated milk, condensed milk, vanilla and cream cheese in a blender (or a Thermomix, if you have one)

Blend for 3 minutes at medium speed, or for 30 seconds at speed 4 in the Thermomix

Strain the mixture and refrigerate for at least one hour
Instructions for the Caramel:
To make the caramel:
Combine sugar and water in a non-reactive pot; place on stove and simmer for 10 minutes or until golden brown

*do not stir and handle with care
Putting it all Together:
Pour caramel into 10 4 ounce moulds and let stand for 5 minutes

After sugar has set, pour cheese mixture into mould

Place in a baine marie and bake in the oven for 30 - 45 minutes

Place well covered in the refrigerator for 24 hours

Using a thin knife, run along the inside of the custard cup and flip the mould upside down onto a plate
First photo at the top of the page is from The Fairmont Jasper Park Lodge CIN website.