Every Year we try one or two new ones: 'Tis the Season!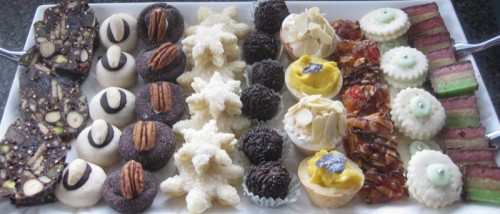 Shortbread Sandwich Cookies
These were inspired by my mom. She made shortbread every Christmas cut into more traditional rectangles. Buttery shortbread in the oven was the onset of Christmas in our house when I was a child. However, one Spring, I recall the most beautiful pink and green shortbread sandwiches on a tiered tray in the dining room. I had never seen anything so delicate and beautiful. I never thought of them again until many, many years later when I was a young mother going through mom's cupboard to borrow her rectangular cookie cutter when I came upon a round cutter and the memories of those precious dainties flooded back. She gave me the cutter which I have in my cookie cutter vault and our favourite of all favourite family traditions was born.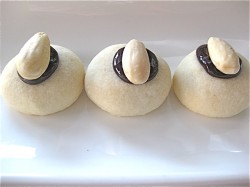 Brown Eyed Susans
There were inspired by my grandmother, Maude. She had Brown-eyed Susan flowers growing wild on her property when I was a child and when she first made these cookies, I was in awe. They were much bigger and flatter and so delicious. Everything grandma made was delicious – and big! I was captured by these because they looked nothing like the flower but always reminded me of it, just the same. It wasn't until my first year of teaching school, thirty years ago, when a mom brought these cookies to a party that I remembered grandma's. I got the recipe from Brenna's mom, changed the shape, and have made them every year since.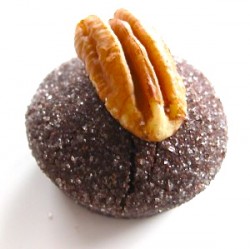 The Official Red Deer Cookie or Turtle Cookie
I like having a positive and a negative plated side by side. This is the perfect counterpart to the Brown Eyed Susan and it has a very personal story, too. I was born and raised n Red Deer, Alberta, just 100 miles South of Edmonton where I live now, and returned for a retirement party of a neighbour about twenty years ago and discovered this cookie on the treat table. It looked nothing like this as it was large and flat and round with ground pecans on top, but it was chewy and delicious. I learned that Red Deer had held an official cookie contest and this was the winner. It has a surprise caramel centre which makes it extra delicious. I had to add my heritage cookie to our plate!
Snowflake Sugar Cookie Sandwiches
These evolved from my grandmother Maude's recipe. Hers were thick and gigantic and the best in the world. I decided I needed a counterpart for the shortbread sandwiches and a cookie that had a winter theme and was not so specific to just Christmas.The crystal sugar makes them sparkle and we all love them!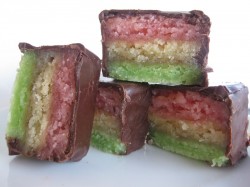 Venetian Rainbow Cookie Bars
These are an homage to one of my favourite cities in the world: Venice. I have been there three times, and still long to go back. I love marzipan and recalling the gorgeous sweets pressed against the glass windows in all of the narrow winding streets there I did a little research to find one I could make. This was it. It was not easy at first, but it is now. One batch is enough for the season and for gift giving. Everyone loves them and the family enjoys the additions to our traditional plate as the years go by.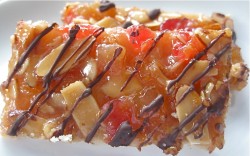 Florentines
Firenze is my favourite city. I want to live there. Apparently, these cookies do not hail from that region, but they do in my mind. They remind me of the ones I found in the small crowded shops; they are also an homage to my future retirement home. I hope. My dear friend, Rae, found this recipe. We did cookie baking together a few Christmases and it is difficult to find a Florentine that is not so labour intensive. This one is not so easy to make, but so worth it, and so much easier than many we read about. I make two batches of these as they are sensational.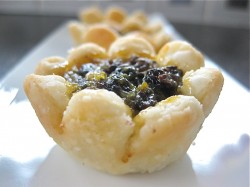 Butter Tarts
Ah, the butter tart! This is a traditional Canadian tart and my particular recipe comes from my great grandmother: Maude's mother. It has only currants in it and she changed it to add corn syrup when that came out sometime in the 1800's. I have never tasted a butter tart recipe as good as this one. The tart shell shape evolved about twenty five years ago when one of my students brought butter tarts to school that her grandmother had made looking very similar to these. I had to find the cookie cutter and I did in an antique store! I remember Grandma Maude, and her mother, and my little student, Jenny, every time I make these.
Lemon Curd Shortbread Tarts with Sugared Violet Garnish
I adore these! I squiggle and giggle every time I make them. The recipe is from the Western Canadian famous Best of Bridge series. The shells are very labour intensive to make. Watch a good movie. The filling is puckery perfect. And the violet? My tribute to my travels in France: Oh, how I love thee! I grow my own violets and taught myself how to sugar them. They are not tasty, like the ones in France, but they are boo-ti-full!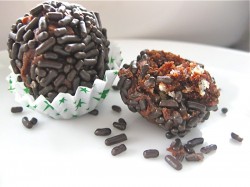 Rum Balls
These are have graced our table for the past five years and are the best rum balls I have every eaten. I never made them as I never liked them. I also used to made several different kind of truffles every year, so it was just too much to think of another round chocolate morsel. Rae's sister, Debbie, found this recipe. One batch makes enough for an army, so be prepared to gift some. They are extraordinarily moist, pack a powerful rum punch that is perfectly paired with the marzipan chunks and deep dark chocolate.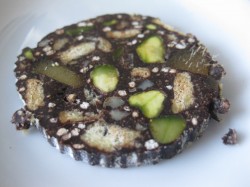 Chocolate Salami
I discovered this only last year through Helene at Super Kitchen Machine. I had seen it before on The British Larder's site, but just didnt find it as appealing until I saw Helene's version of it. This is the best gift I can give at Christmas. I love everything about it! It is easy to make, delicious, and has an atisan appeal that I adore. You might even say it is somewhat nutritious with all of the good nuts and grains that go into it! Did I say it was delicious? It is! It does help to have my favourite kitchen machine (The Thermomix) to make it with, but you can make it without one, too. If you don't bake traditional sweets, this is the one treat that I would definitely encourage you to try!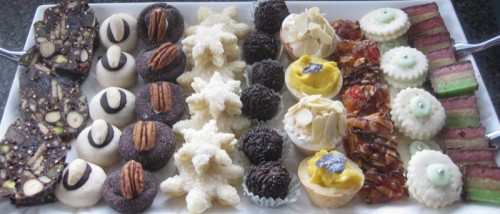 The criteria for our Traditional Family Favourites is simple: each has to be spectacular in its own right to make it to the plate. In my circle of family and friends, each of these meets that criteria.
Each comes from a special place in my heart and as I wish each of you a very Merry Christmas this season, I would love to hear about your family cookie traditions! It makes me so sad that fewer and fewer of my friends carry this tradition on at all. It used to be that we could go from house to house and the pride on the face of the hostess beamed as she offered you her wares wrapped in love during the season. Far too often now, everything is purchased. It is too easy. But, is there a story to tell? Is there a connection to the past on that plate?
Please share your Traditional Christmas favourites! There is still so much to learn and explore… and more traditions to build.
Merry Christmas, everyone. The season has begun!