Maple Pie: Inspired by The Canadian Food Experience Project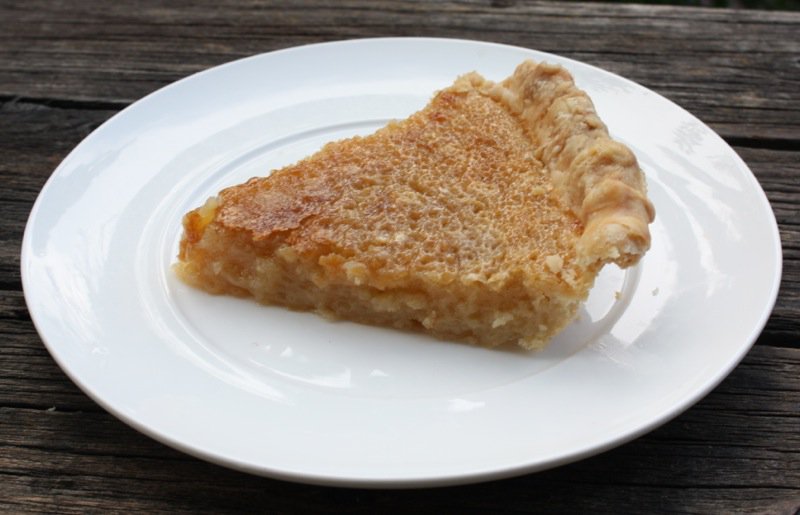 I experienced my first Canadian Sugar Shack in April 2011 visiting the Vallée de la Batiscan for a Slow Food Canada National Conference. It was as I had imagined inside my childhood memory created by the stories my teachers told. A long walk down a slushy path in a densely Maple treed forest led to a cabin in the woods, smoke swirling out of the chimney. It was white with red trim. The day was grey. Everything was grey and cold and wet. Opening the single door into the small dark cabin, warmth wrapped me in the scent of the wood-burning ovens coupled with the aroma of strong coffee brewing on the stovetops. There was no Maple Sugar Pie that day, but there was maple syrup all over the eggs and bacon from breakfast. I could not imagine such a combination, but it was sublime. It wasn't until the first round-up of The Canadian Food Experience Project when Liliana and Aube each wrote about their first authentic Canadian Food Experience by sharing their Maple Syrup Pie or Tarte au sirop d'érable recipe that I was compelled to make my own. I had never tasted this traditional French Canadian pie.
I made both: Liliana's recipe, above, left and Aube's recipe, above, right.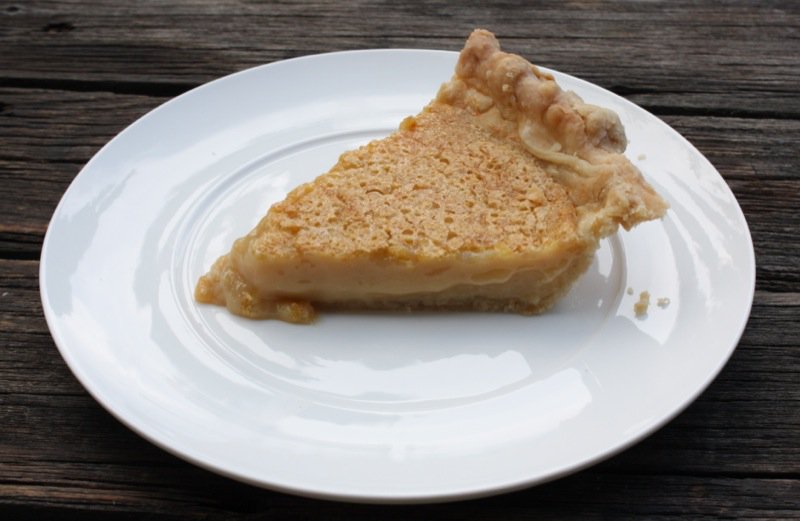 Liliana shared the recipe from the Gallant Sugar shack. See the silky smooth texture of that pie? Her photo of this silken texture had me salivating.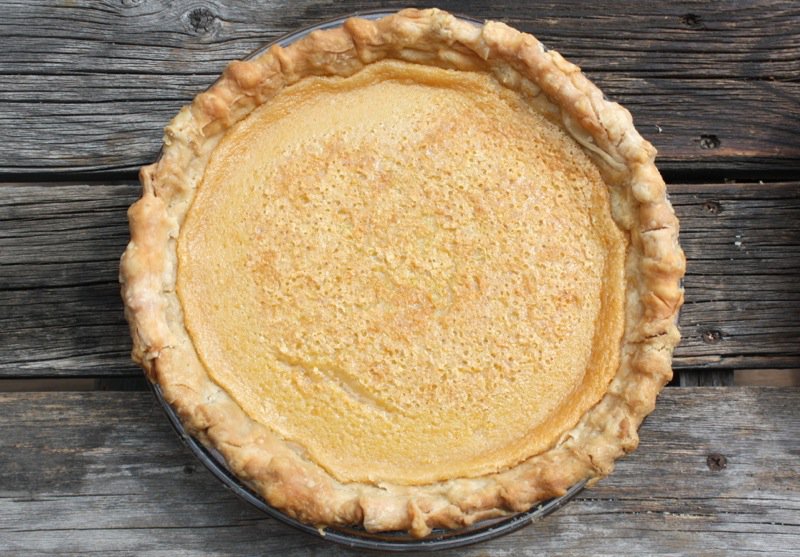 Aube's story through her video gathering Maple sap, from making the syrup to making the pie was pure Canadiana. I had to make her family recipe.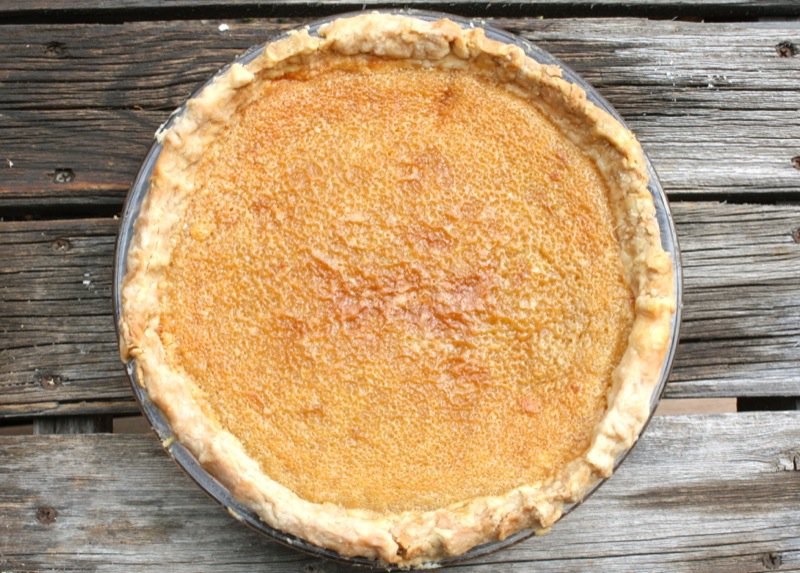 Maple Pie: The Origin of Maple pie or Tarte au sirop d'érable
And the origin of this Maple Pie? Tarte au sirop d'érable is a traditional Canadian pie from Quebec which is believed to have originated, in a similar form, in France or Belgium made with sugar as is the much more common Quebec specialty the Tarte au sucre or Sugar Pie. The North of France is the largest sugar-producing region in the country and the only region where people use brown sugar, or vergeoise, in desserts like the sumptuous Tarte au sucre with its golden brown-sugar filling as the settlers in the townships of New France imported brown sugar and molasses from the Antilles, (which Bridget elaborates on in this Canadian Food Experience Post). However, for most in the more remote areas of New France, maple trees were the only reliable source of sugar. Each spring, a year's supply of dark maple sugar loaves were produced, stored, and later shaved with a knife when the need for sweetener arose. As many of the French from this region emigrated to Canada, it is likely that they brought this traditional pie recipe with them and perhaps this is how the Maple Pie or Tarte au sirop d'érable evolved. Maple sugar pie often includes brown sugar to provide the depth of flavour that the original Tarte au sucre possesses.
Sweet delicious winter pies, made with everyday staples found in every larder in the early settling days were designed to fight the cold by bulking up on calories. Some of these old-fashioned favorites, include raisin pie, suet pie, and Tarte à la ferlouche, a molasses and raisin pie that translated means Plain Pie or Sullen Pie. However, the most Quebecois of all today, revered by grand-mères and grand-pères and their children alike, is Tarte au sucre traditionnelle, or the Traditional Sugar Pie. It appears that Tarte au sirop d'érable has not yet achieved the widespread status of the plain Tarte au Sucre Traditionnelle, though it is served with relish in great celebratory style every Spring in most Sugar Shacks across the region and found more on the table in family homes than in the restaurants.
Maple Pie: What is a Maple pie or a Tarte au sirop d'érable?
I had no frame of reference for Tarte au sirop d'érable, or the Tarte au sucre as I had only seen photographs of each, and had never tasted either. A description that I read said that "both resemble a pecan pie without the pecans." However, I beg to differ. Aube's Maple pie or Tarte au sirop d'érable possesses a depth of caramel maple flavour coupled with a tongue coating of this sweet smooth luxury that is addictive. Whipped cream or créme Anglaise oddly tempers the richness of this specialty and adds another pleasurable dimension to the experience. Liliana's pie from the Gallant Sugar Shack includes brown sugar and the not-so-traditional sweetened condensed milk. The texture of the pie is surprisingly light and very caramel custard-like. However, with the opportunity that few get for a side-by-side tasting, Aube's pie is surprisingly far more flavourful. Now, I need to find the quintessential Tarte au Sucre recipe to compare to the Tarte au sirop d'érable.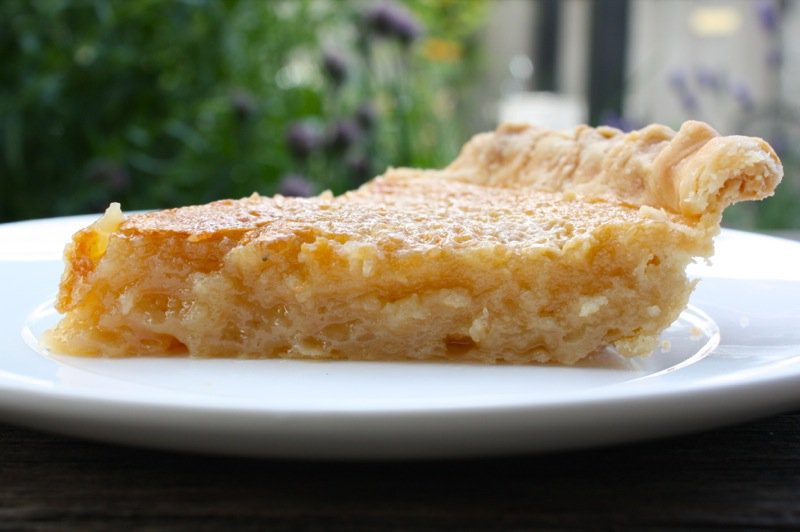 Either way, it is clear to understand why this pie is so popular. It is absolutely delicious and I am thrilled to have experienced another traditional French Canadian recipe.
Maple Pie: Making two Different Recipes for Tarte au sirop d'érable
I used my traditional pie pastry recipe and started with Liliana's recipe for the Gallant Sugar Shack Pie: so easy! Just stir together the ingredients and into the pastry they go.
Aube's recipe used only Maple Syrup for the sweetener, cream, butter and a little flour which is used in a Tarte au sucre. Cooking the syrup for 5 minutes, until it thickens is key.
Tempering the hot ingredients with the cold is also important before mixing them together.
The filling was more translucent. I roll the extra pastry dough under the edges and crimp.
Maple Pie: Let's Compare the Recipes!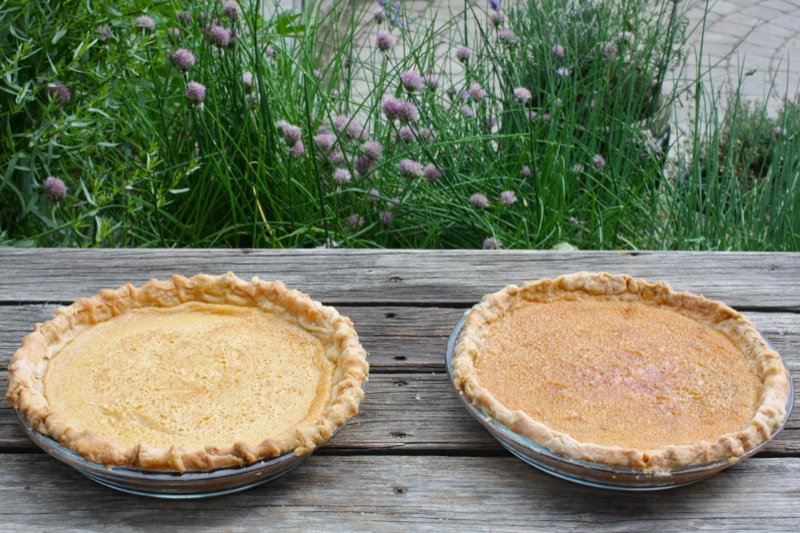 The Gallant Maple Syrup pie is on the left, and Aube's is on the right: Liliana's Gallant pie is also below.
Aube's Maple Syrup Sugar Pie follows. You can see the difference in the texture, though both are smooth. Neither is gritty.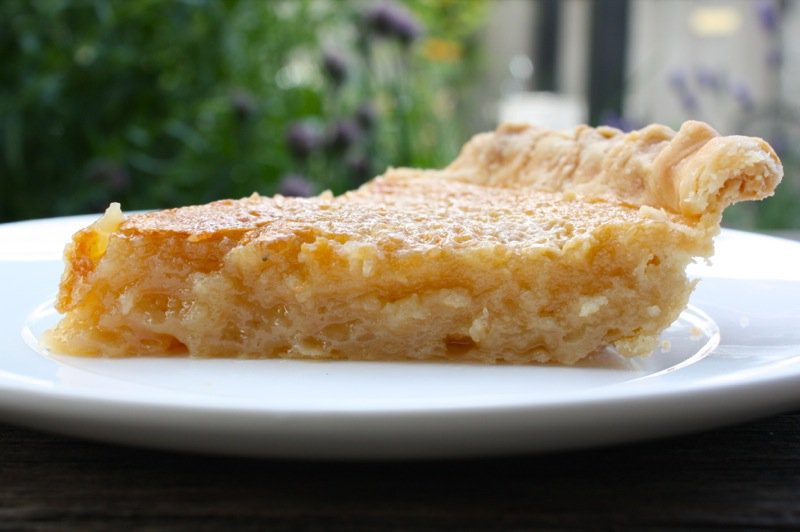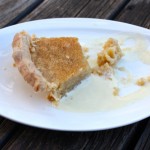 Traditional Canadian Maple Pie
Yield: One 9 inch pie Maple Syrup pie made with pure maple syrup from the Gallant Sugar Shack; this is the
Gallant Sugar Shack
's Sugar Pie recipe.
Ingredients
1

cup

medium or amber maple syrup

½

cup

brown sugar

¾

cup

2% Carnation condensed milk

2

eggs

1

unbaked pie crust
Instructions
Preheat oven to 350° F

Whisk the first four ingredients in a bowl until well blended

Pour ingredients into unbaked pie crust

Bake for 45 minutes

Remove pie from oven; center of pie will jiggle

The pie will continue to bake slowly resulting in a silky texture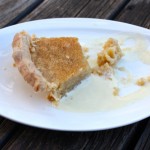 Traditional Canadian Maple Pie
This recipe differs slightly from the one shown in the video as this is the new and improved version of the recipe by
Kitchen Vignettes
.
Ingredients
1

batch of your favourite pie crust pastry

1 1/2

cups

pure maple syrup

1/2

cup

butter

1/2

cup

whipping

(35%) cream

2

tsp

all-purpose flour

1/4

tsp

salt

2

large eggs
Instructions
Roll out the dough and place it in a 9-inch pie plate; chill until the filling is ready

Preheat oven to 325ºF

In a heavy saucepan over medium heat, bring maple syrup to a gentle boil and cook, reducing the heat if necessary, for 5 minutes

Remove saucepan from heat; stir in the butter until melted

Stir in cream

Transfer 1/2 cup of mixture to small bowl; whisk flour and salt into it; add mixture back into saucepan

Continue whisking; allowing to cool slightly

Beat eggs; whisk into saucepan mixture

Pour filling into pie shell and bake until centre is golden brown, bubbly, and firm when lightly touched (about 45 minutes)