A Regional Canadian Food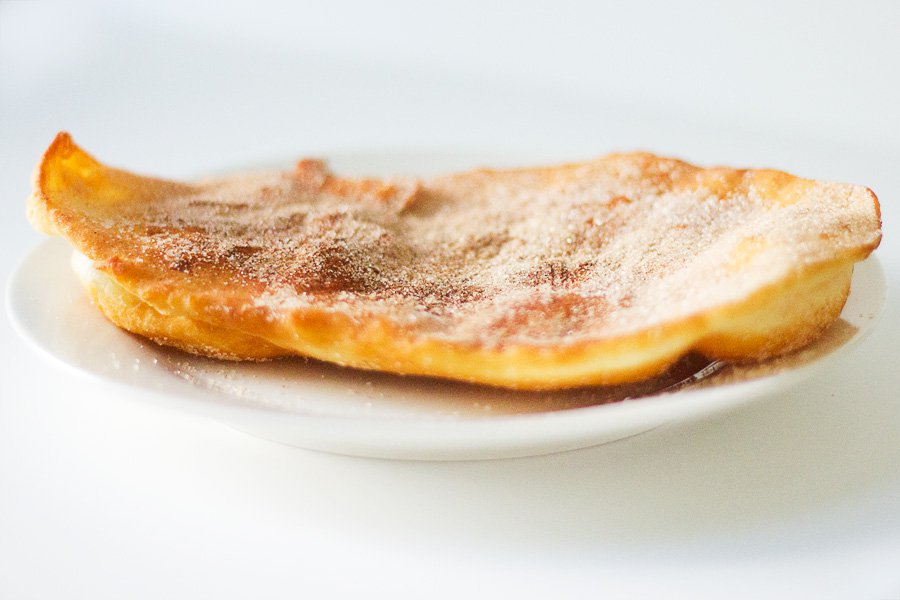 Thick into the heat of a Canadian prairie summer with dirt under my nails from weeding my thriving garden in the cooler early morning hours, I reflect upon each of you across our true North as you have shared regional foods this month for The Canadian Food Experience Project. I am grateful for each synopsis provided, as I was right: I have not completed all of the readings, yet. However, I am undaunted by the reading ahead. The question: "What is Canadian food?" that has consistently elicited muddled and confused answers has already sparkled toward a profound clarity through the sharings I have read within this round up. It is my wish that each of you would work through every post from every round up as that clarity will then reveal itself to you. Berries, stone fruits, and regional recipes predominate this round. I will add that contributions from the first round up have motivated me to make: The Canadian Maple Syrup Sugar Pie, Grandma Maude's Rhubarb Custard Pie, and this month's Fresh Cherry Slice. I have also added a Canadian Food category on my site menu bar and am sipping tea, pinky out this fine morning, exclaiming: "Only in Canada, I say!"
One more tidbit, after reading and commenting on all of these stories, the Canadian image for this month that still has me snorting and choking in my water is written by Phil at Baconhound: …. more Canadian than a Mountie riding a moose over a beaver dam.
Back to the opening photograph of The Canadian Food Experience Project: Round Up Two: Joanne at Cherry Bomb Kitchen from Renfrew, Ontario, writes about Beaver Tail traditions in Ottawa, our Nation's Capital. "Ottawa and Gatineau celebrate Winterlude for 3 weeks in February… You can't go to Winterlude without having a Beaver Tail and a hot chocolate." And, even though she made the gorgeous beaver tail you see above, she adds that looking forward to this specialty once a year, at Winterlude, is part of the magic, and that is how she plans to enjoy her beaver tails in the future.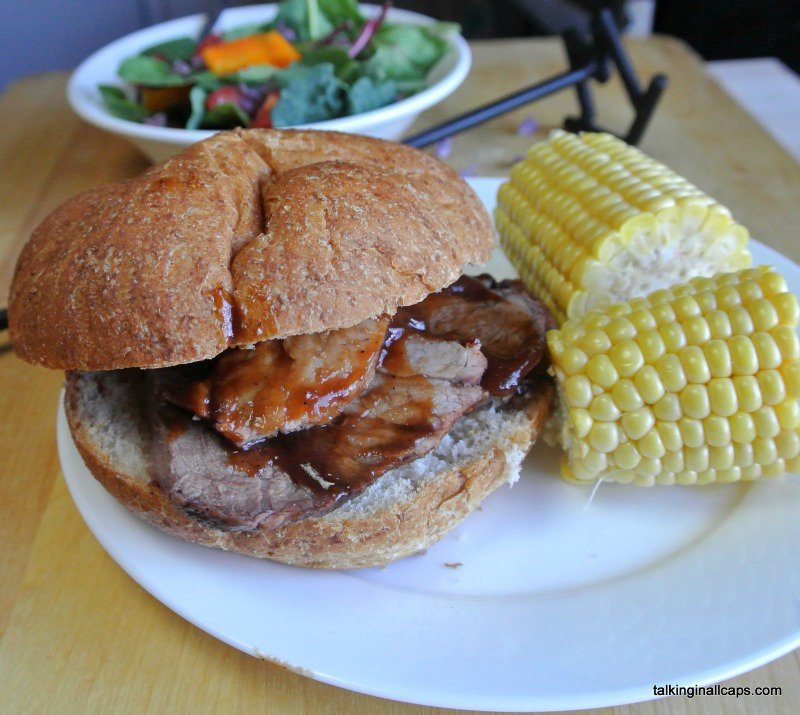 Dana at Talking in All Caps from Calgary, Alberta, writes about Barbecue Beef on a Bun, as "it's hard to think of food and Alberta without thinking Alberta Beef. With Stampede happening this July, Dana decided to share a recipe for Barbecue Beef on a Bun, a classic Stampede tradition.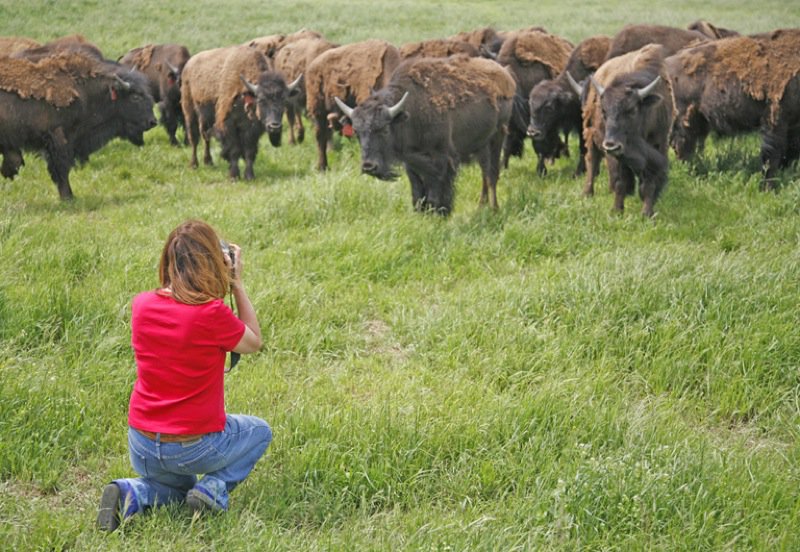 Deb at The Love of Food Waterloo, Ontario has identified the bison as an iconic Canadian food. She has produced a series called From a farmer to you – a series of real stories about real people and asked to share this segment: "Give me a home where the buffalo roam".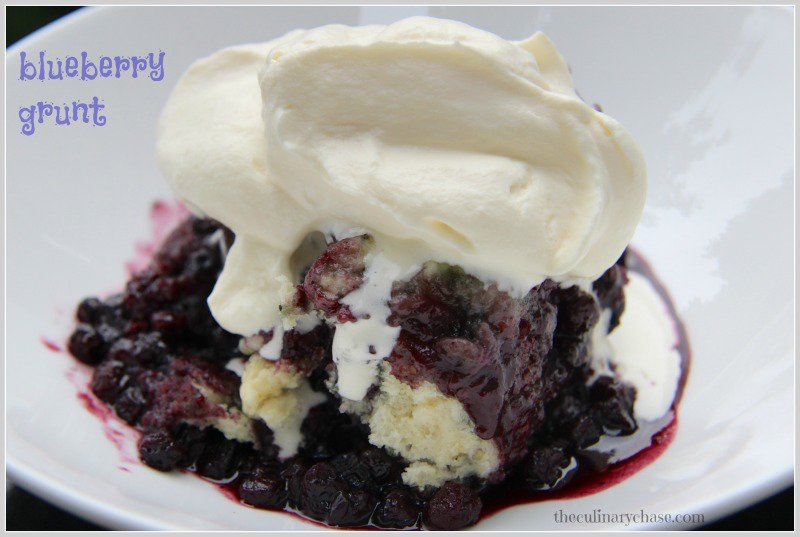 Heather at
The Culinary Chase
from Dartmouth, NS celebrates the
Blueberry Grunt
as a traditional Maritime dessert during blueberry season which happens to be right now! "This easy and basic dessert is called a grunt because the blueberries make a grunt-like sound while boiling under the dumplings." Ah-ha!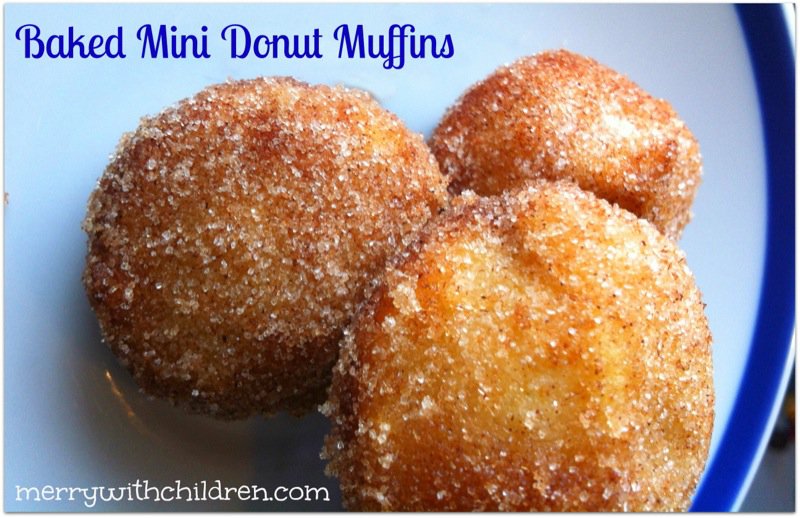 Merry at Merry With Children from Calgary, Alberta writes about the eclectic mix of people in the Calgary region which led her to feature the Stampede mini donut as an example of regional cuisine. Enjoy reading her convincing logic on this one, as well as collecting her recipe, pictured above, for mini donut muffins. Yup. Baked in the oven. Smart.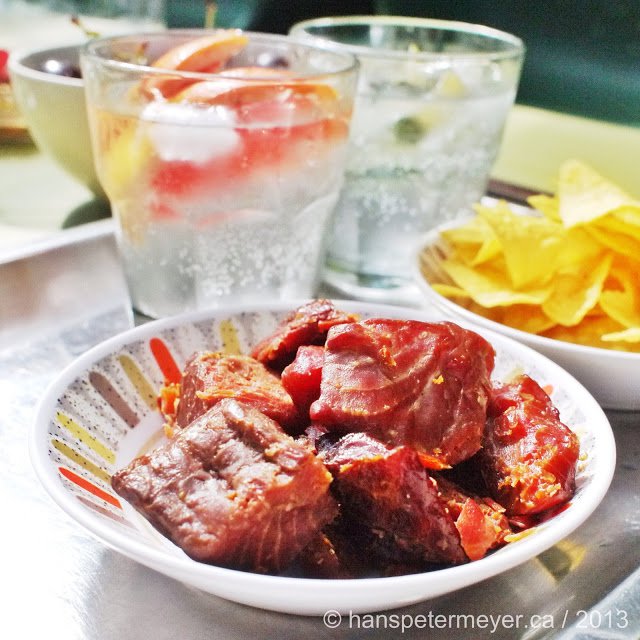 Nadia at Instantly Personalized Foods from Ottawa, Ontario, shares some thoughts on the topic. She mentions pouding chomeur (Poor man's pudding) and I would love to see a traditional recipe and photo for this old fashioned French Canadian dessert.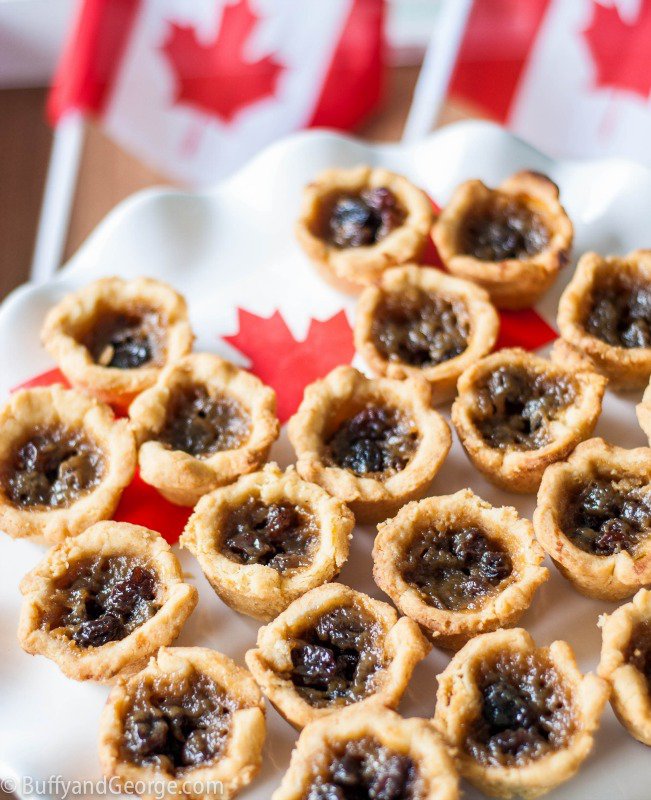 Christina at Buffy and George, originally from Barrie, Ontario, now living in Waterloo, Ontario, identifies maple syrup and highlights two festivals that celebrate this ubiquitous Canadian food icon: the Maple Syrup Festival held annually in her husband's hometown of Elmvale, just outside of Barrie, and the connection this has with Mennonite farmers in Waterloo Region. You must pop by to see her novel recipe for Maple Syrup Whisky Butter Tarts with a Gluten Free Crust. I have never known anyone to mess with this traditional bite of Canadian perfection, yet the addition Canadian Whisky somehow seems fitting, yet I think it should be aptly named: The Deviant Canadian Butter Tart.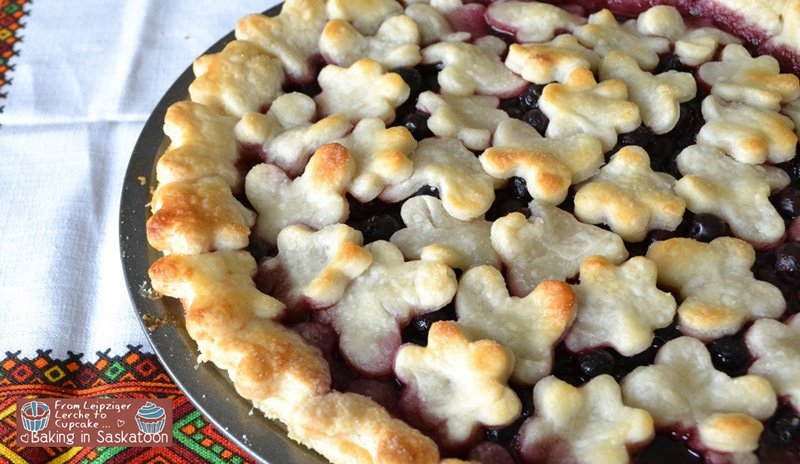 Andrea at Baking in Saskatoon from Saskatoon, Saskatchewan, asks: "How regional is regional?" Saskatchewan is twice the size as her home country, Germany, so she feels that identifying a regional food is a stretch. She has identified the Saskatoon berry as she is living in Saskatoon and reveals that the Saskatoon is actually not a berry but a pome, like the apple and the pear.. "Saskatoon berry pie is an iconic pie in the prairies, thus I have tried my hand at it – with home made crust of course!" And it looks absolutely stunning, doesn't it? Prairie Toons Orchard & Bakery adds that "at our orchard, we take our berry harvester out on our peek days when the sugar content is at its highest; it is also best to pick the berries first thing in the morning before the temperatures get too hot, then chill the berries right away."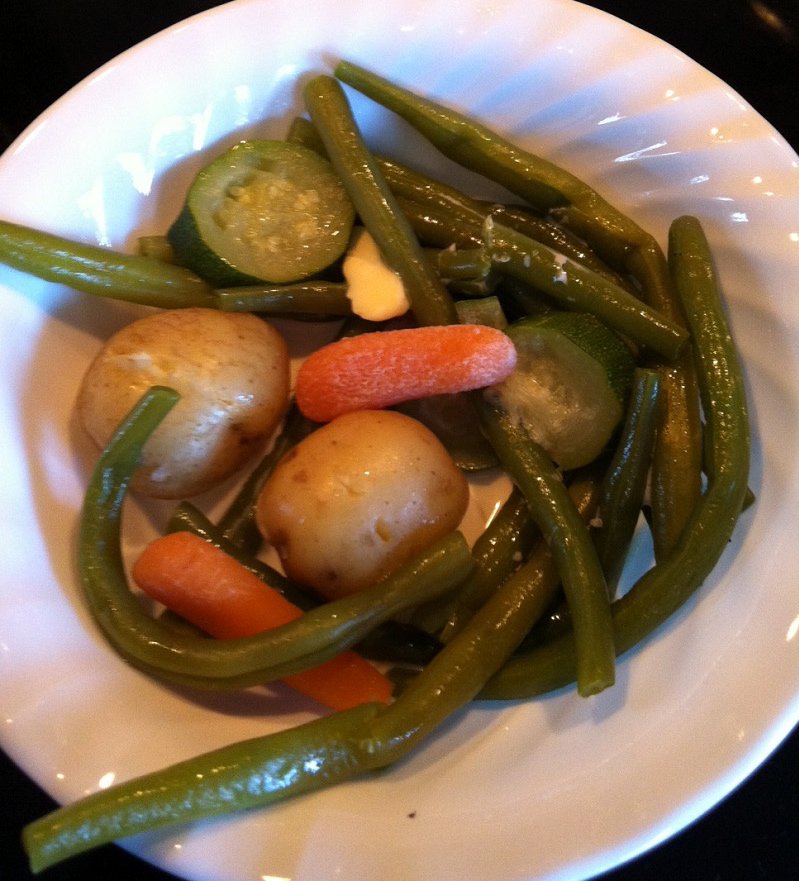 Deborah at Sustainable Slow Stylish from Edmonton, Alberta, asked her expat friends what regional Nova Scotia recipe they miss and found the Maritime summer staple, Hodge Podge, to be her story and recipe for this post. I am mesmerized by the regional foods from this area. I spent a considerable amount of time learning about Hodge Podge, where it originated, and how it is specifically a celebration of newly harvested summer vegetables slathered with milk and butter. I cannot imagine a better meal after a day in the garden.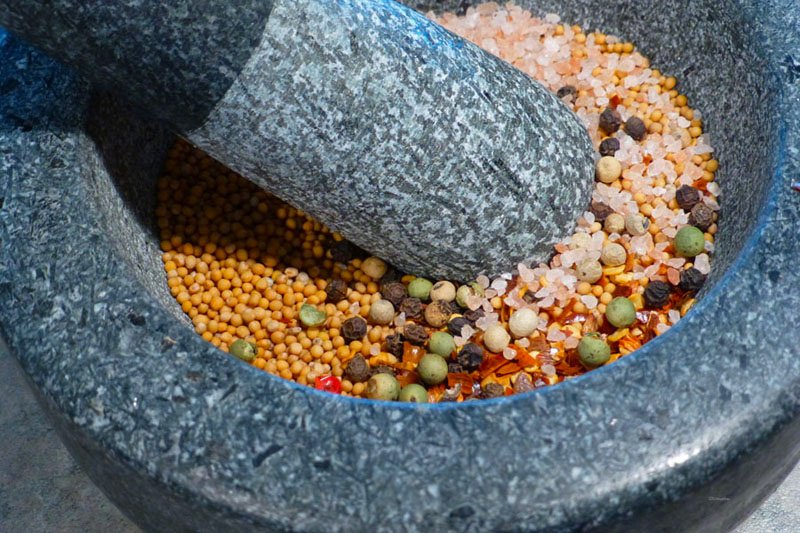 Deborah at In the Stewingpot from Saskatoon, Saskatchewan begins, "Ah mustard, the condiment that speaks hot summer days, barbecued hotdogs and burgers, plus yellow stains on kids' t-shirts!" as she showcases Saskatchewan's major export, mustard, and uses the seeds to make a rub for Saskatchewan wild boar ribs."Personally, I think of mustard as I would a good wine or chunk of cheese. There is always one more mustard I need to buy or one more recipe to try." Deborah is a woman after my own heart! Mustard seed! Of course that is rampant through the prairies and we also have an independent manufacturer of the most incredible mustards in Alberta. Dijon? Oui. And Brassica, too. I also have a collection…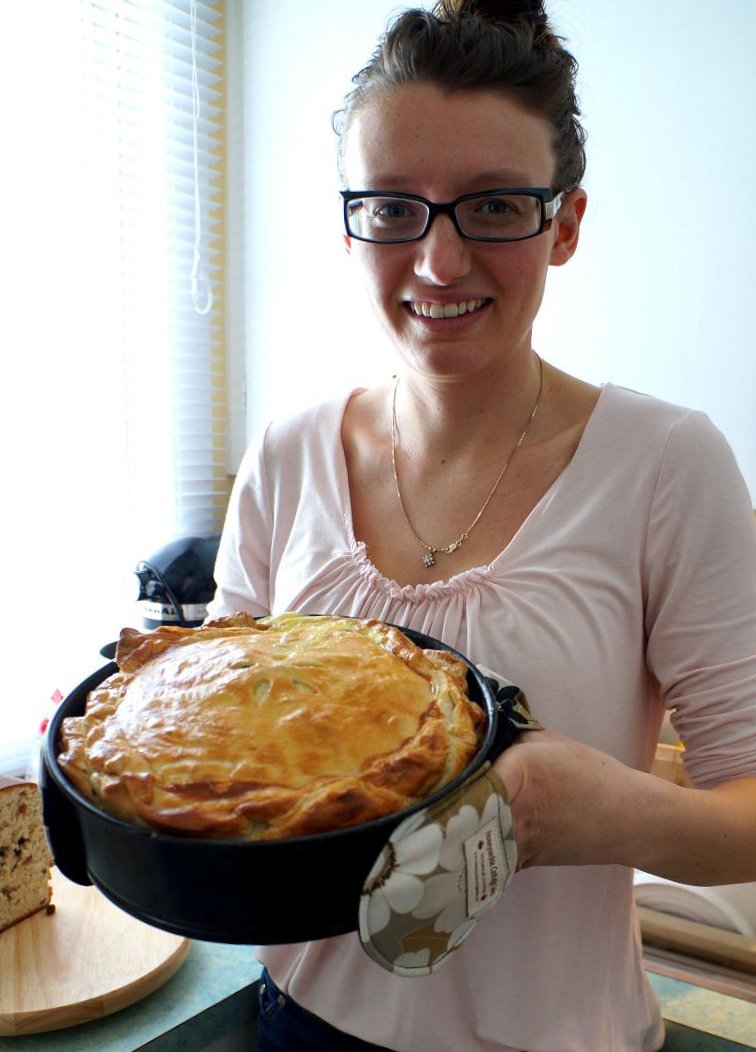 Elizabeth at Elizabeth's Gourmet Food Adventure from Edmonton, Alberta, writes about an amazing Brunch Bake that she made for her family's Easter brunch this year. This Brunch Bake is regional because of the local farm fresh eggs and market fresh vegetables, all of this combined with her family tradition of a brunch to celebrate Easter and springtime. Read on for a great brunch recipe that is sure to impress and her photos are excellent and help to understand how to put it all together. That would be a happy Easter morning and is an excellent recipe for celebrating fresh regional Spring produce.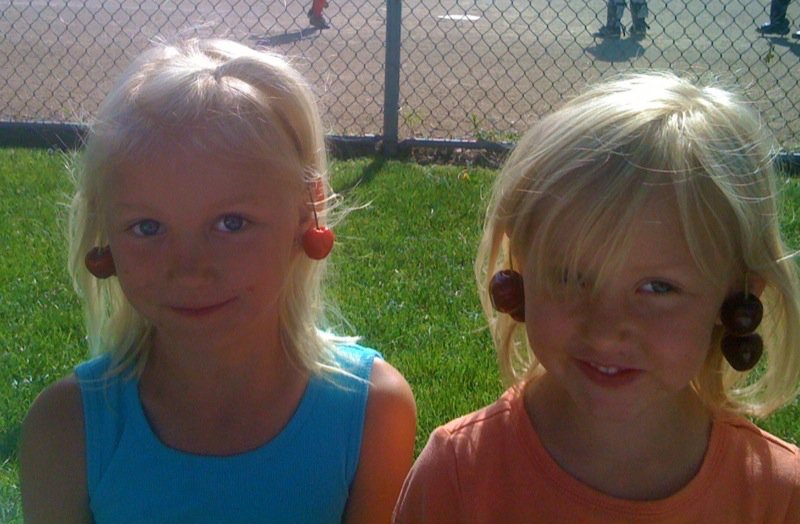 Jennifer at An Okanagan Cookbook from has writes about the Okanagan Cherry, in season now, in her guest post on my site as she is currently on holiday. I know there are hundreds of varietals of sweet cherries grown in the valley and am curious about any that may be of a heritage variety, or Jen's favourite. She includes an old fashioned recipe for a fresh cherry slice that I have made and added to her guest post.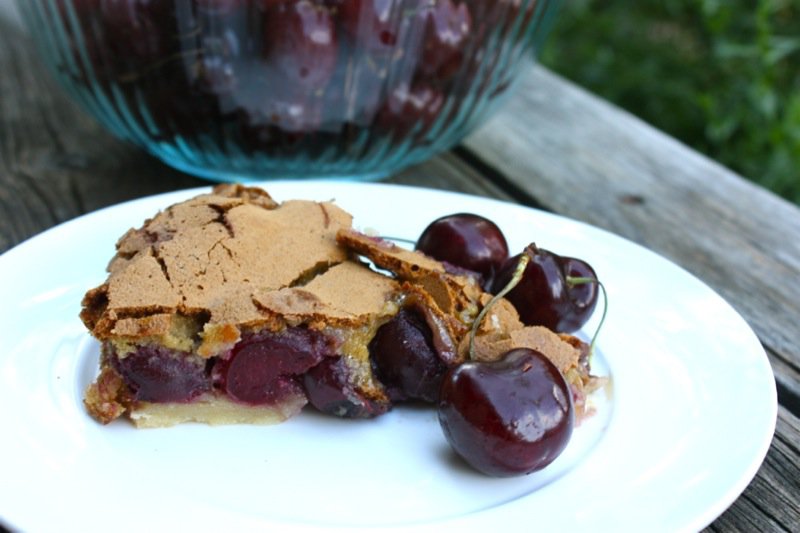 I will have to wait until she gets back from holidays to receive her feedback on "how I did" making her recipe. It was really yummy!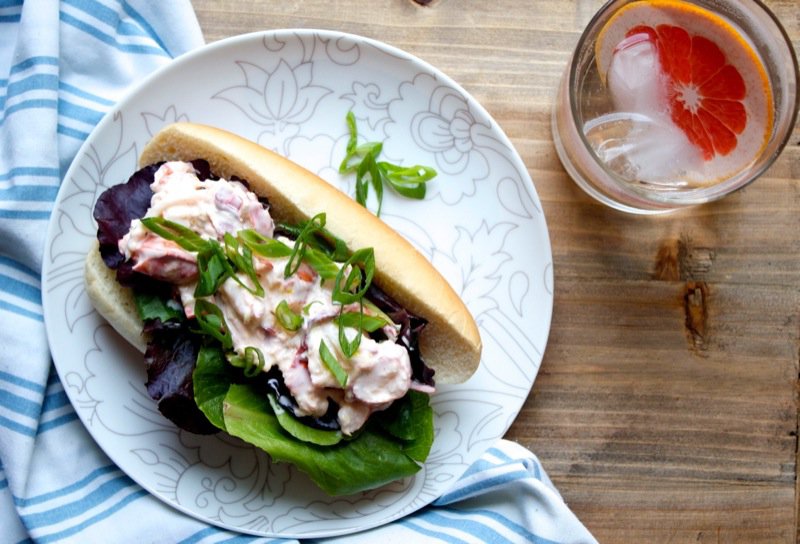 Kathy at Eat Halifax from Dartmouth, Nova Scotia has identified the regal and sustainable Atlantic Lobster as her regional Canadian food. Kathy writes, "If I was to ask you what food you believe screams Nova Scotia, I bet I'd know your answer. You got it, lobster. And it's true; here on the Atlantic Ocean, lobster is a big part of who we are as Nova Scotians. We all have at least one lobster fisherman friend and our parents and grandparent even grew up on the stuff. Other than the traditional lobster supper, there is nothing more Nova Scotian than the lobster roll. But, be prepared to get messy. Spread a ton of newspaper over a table, get out a sharp knife and some sort of pokey instrument like a fork, and get all up in that lobster. Just don't be surprised when you smell like lobster for the rest of the day. That's part of the charm." Kathy, what is a traditional lobster supper? I have heard about the famous lobster roll for so many years, but have never had an authentic one, yet. Reminiscing about her East Coast Canadian summers, Kathy paints water colour visions of wonder, ocean breeze included with a couple of cold beers, a beach fire and the iconic lobster.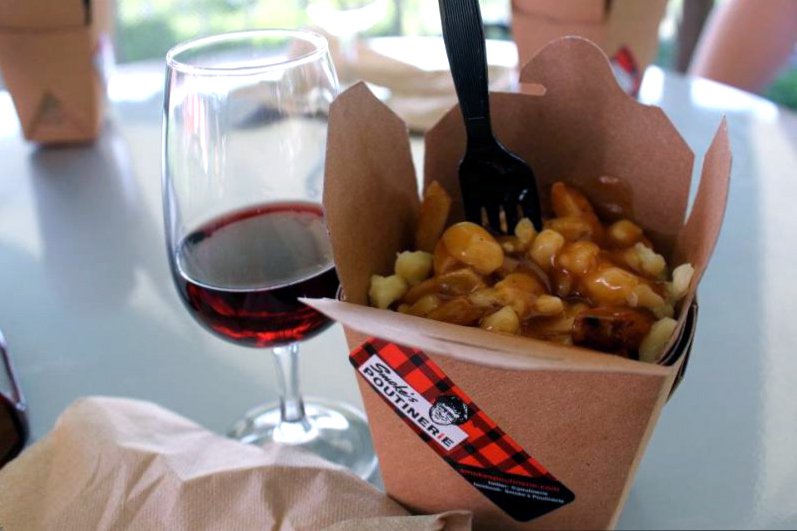 Shari, at Tales from a Small Kitchen in Grande Prairie Alberta, has identified the Summer roadside french fry as a regional Canadian food and takes us on a tour from Grand Prairie to Ontario critiquing her favourite haunts. I think her cross Canada trips can be measured by the distance between chip stands. This is a Canadian experience I haven't shared but was interested to read about. She has written an ode, in prose form: For the Love of Salt & Vinegar.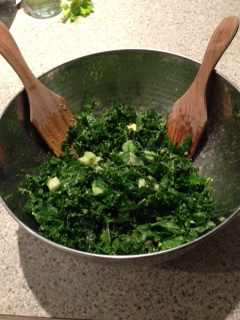 Shirley Plant from Ottawa Ontario, has posted her article on our facebook page, and writes about summer in Ontario and growing kale in her backard garden that she has transformed into a healthy, fibrous and flavourful summer salad.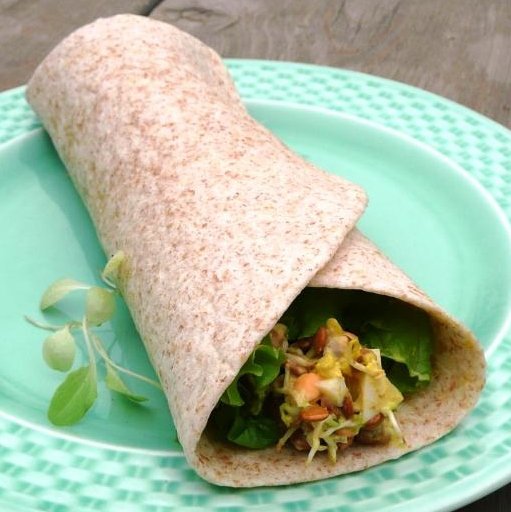 Amy Jo at Home for Dinner from Saskatoon Saskatchewan, identifies lentils as an important regional food and writes "Saskatchewan is known as the breadbasket of Canada. It is not known as the lentil basket of Canada – but it should be!…The sad fact is, people in Saskatchewan don't eat them! Well, not nearly enough." This is exactly what is happening in Alberta. Our legume and lentil production is vast, yet it is only the past three years that the public has become aware of Alberta as a leader in pulse production. "Everyday, people around the world sit down to a dish of lentils grown in Saskatchewan (now the world's largest producer of lentils). " Food columnist, Amy Jo Ehman, also acknowledges that this regional power food is not quite so familiar close to home. She proposes a crisp and fresh way to get more Saskatchewan lentils into your diet. Pop over to her site to discover her innovative idea.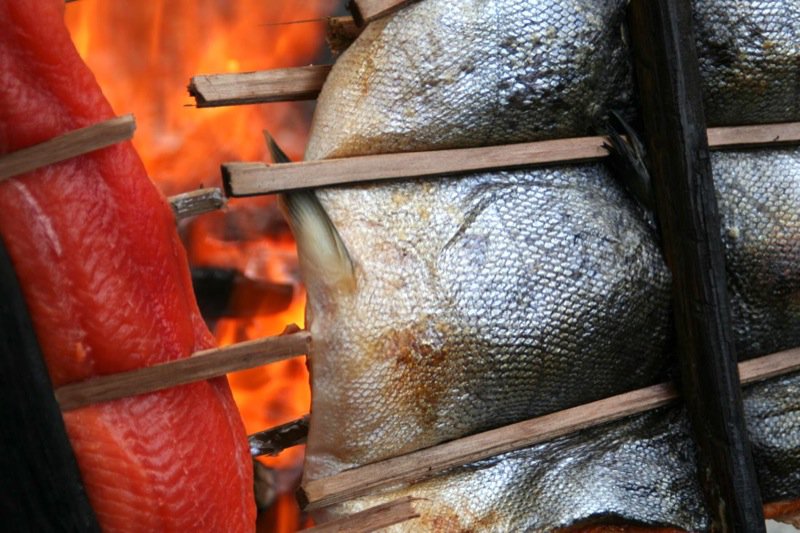 Dana and Lindsay at FEAST: An Edible Road Trip (www.edibleroadtrip.com) are from Vancouver, British Columbia, and traveling across Canada this next four months. We are so fortunate to have them join our project. Definitely take the time to watch their initial video. Dana writes about a traditional salmon feast prepared by members of the Kyuquot First Nations for the guests of West Coast Expeditions, an eco-tourism kayak expedition company based on Spring Island. I would do anything to be at this kind of an event and turned a brilliant shade of green immediately upon reading this post. I am Dana and Lindsay's number one fan.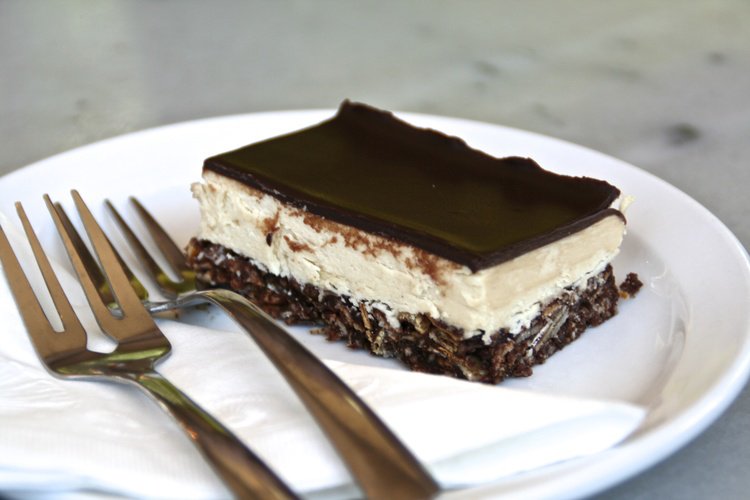 Dana and Lindsay at Feast: An Edible Road Trip from Vancouver, British Columbia, also recently hiked the Nanaimo Bar Trail on their journey across the country. Dana explains the establishment of the Nanaimo Bar Trail in 2010 by Chelsea Barr, in Nanaimo, British Columbia, as a way to celebrate this city's iconic dessert and the gals take us through each of the stops along the way, nanaimo-yummy photo by nanaimo-yummy photo.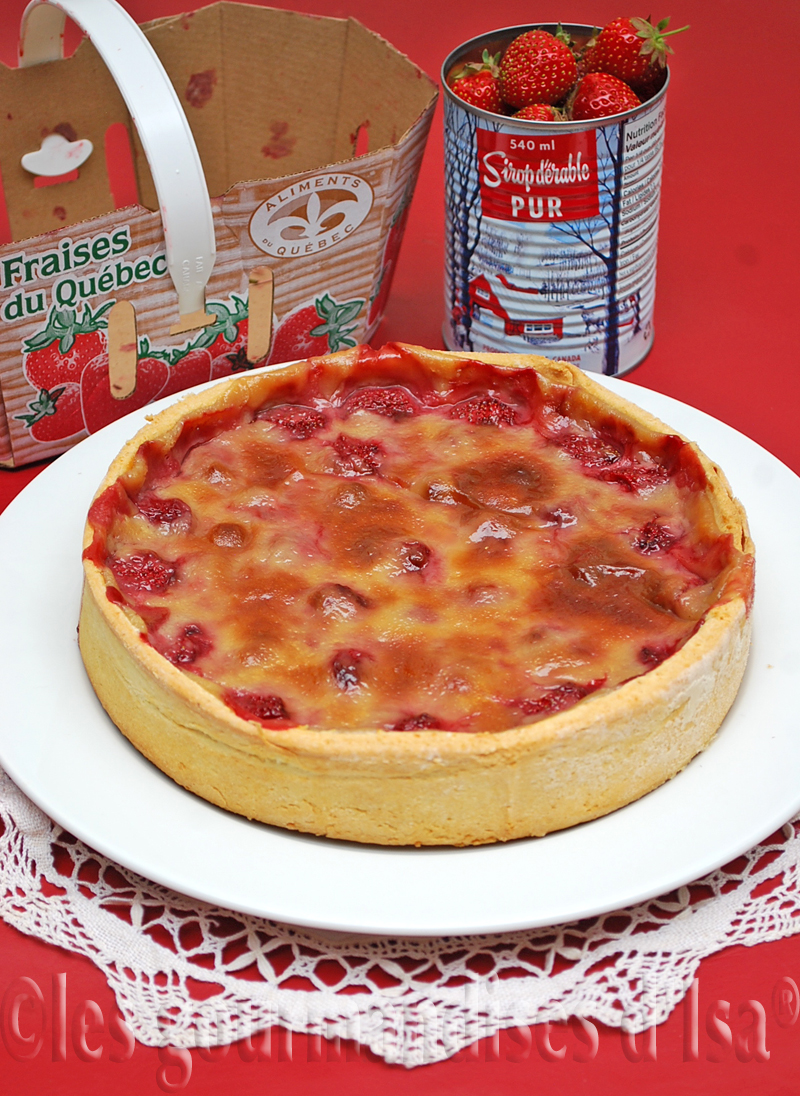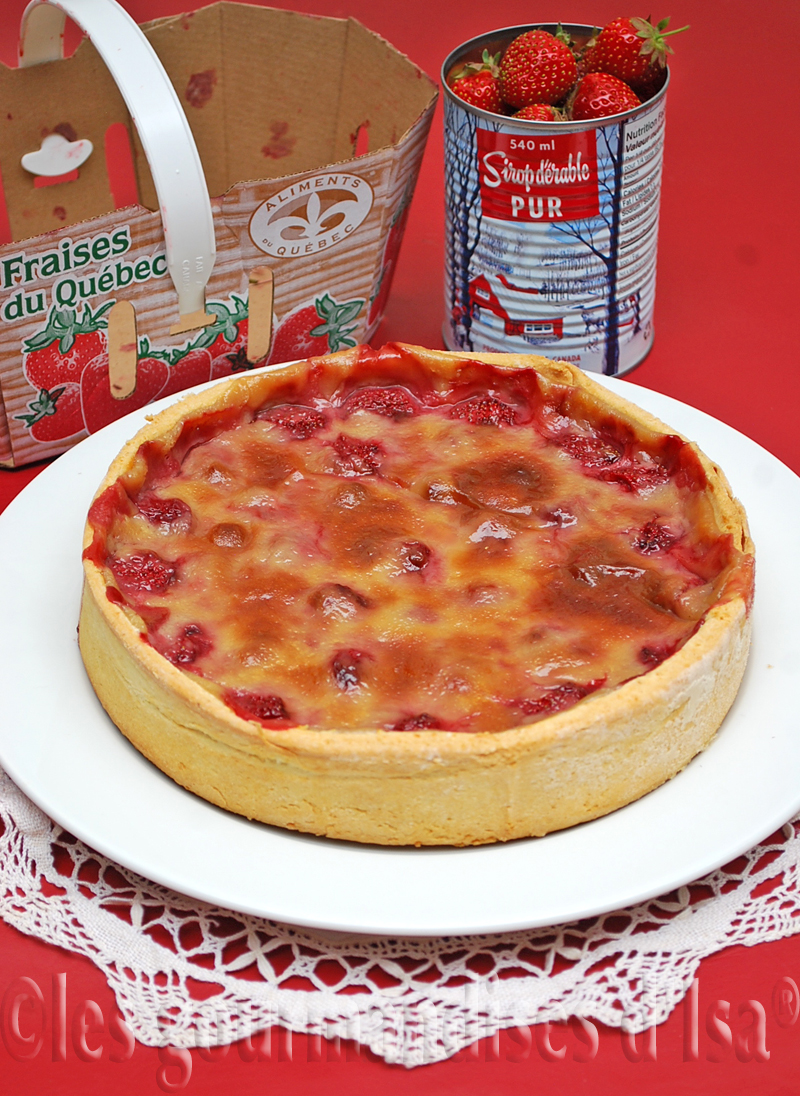 Isabelle at Les gourmandises d'isa from Rawdon, Québec, identified the strawberry as a regional delicacy this time of year in her area and celebrated it with her incredible recipe: Tarte aux fraises et sirop d' érable or Strawberry Pie with Maple Syrup which is a version of Tarte au Sucre or Maple Pie with strawberries. Isabelle is one of three francophones we are so fortunate to have participating in the project. It is the opening of strawberry u-picks around the Edmonton area in Alberta this week, so guess where I will be?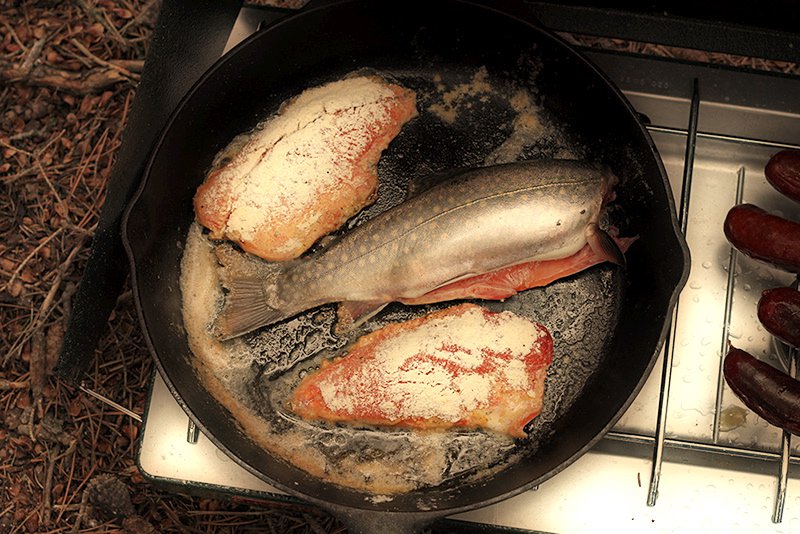 Filet o' Alberta, anyone? Karlynn at The Kitchen Magpie writes about wild fresh water Alberta Brook Trout. Karlynn chose Alberta brook trout as her regional food choice to explore more unknown prairie cuisine and highlight a food that is unfamiliar to most people due to brook trout being found in only a few lakes and rivers throughout Alberta. She writes about her fishing shore lunch and a BBQ brook trout recipe that is simple, yet spectacular, thanks to the Alberta "brookies" sheer beauty. I am so fortunate to have this knowledgeable she-woman hunter, fisher, gatherer as a dear friend!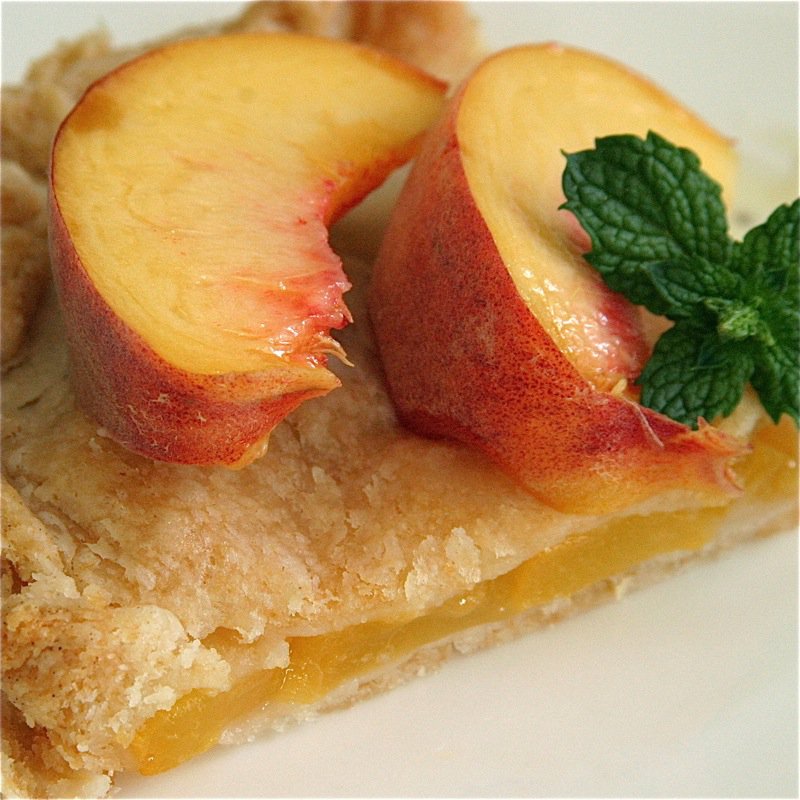 Sarah at All Our Fingers in the Pie from Swift Current, Saskatchewan shares Flat Pie, a regional specialty, from Southwest Saskatchewan. "It is very
common and was born out of necessity as it travels well to the field during seeding or harvest." And who doesn't want to learn how to make another Canadian pie? "Where I now live is not the part of Saskatchewan where I grew up. I cannot believe the difference that a 5 hour drive can make. The subtle differences include the diversity in ethnic cultures, the climate, the growing season, and, as a result, the type of farming." I found this uniquely local regional recipe particularly exciting as it is a logical remake of a Canadian favourite that just makes sense.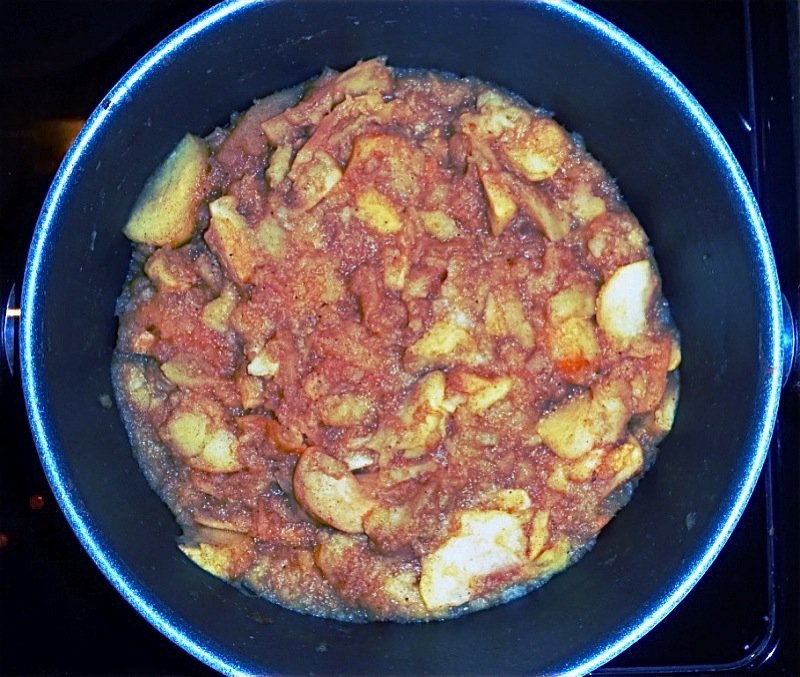 Ashley at The Localize Project Blog from Edmonton, Alberta, writes about her family's apple tree. Edmonton is definitely an apple tree city. Though her apple tree "stands quietly just off center along the wooden fenceline, it symbolizes fruitful memories of her childhood, family celebrations and recipes passed down through generations." It is the one part of her garden that has remained constant through the years.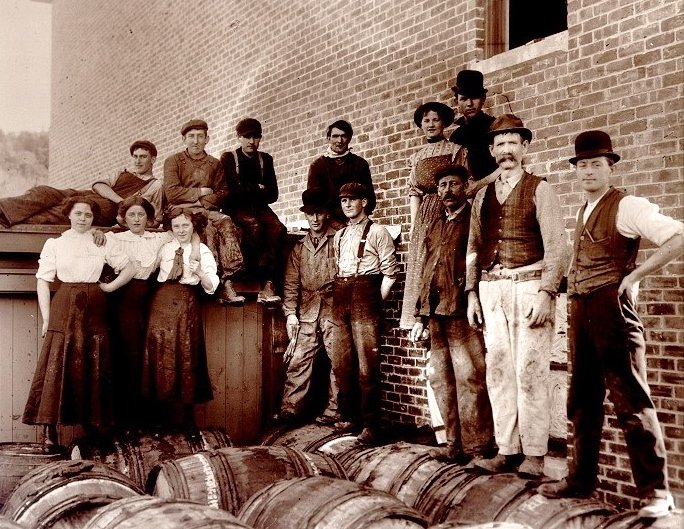 Bridget at Crosby's Molasses and More from Saint John, New Brunswick, has identified molasses as an important regional Canadian food and writes a compelling history of the journey of molasses to Canada and how molasses became part of the fabric of the East Coast food identity. "For generations molasses was the principal sweetener in households along the Eastern Seaboard, thanks to the North South trading with the Caribbean. As such, the sweetener defines the flavour of many traditional East Coast foods."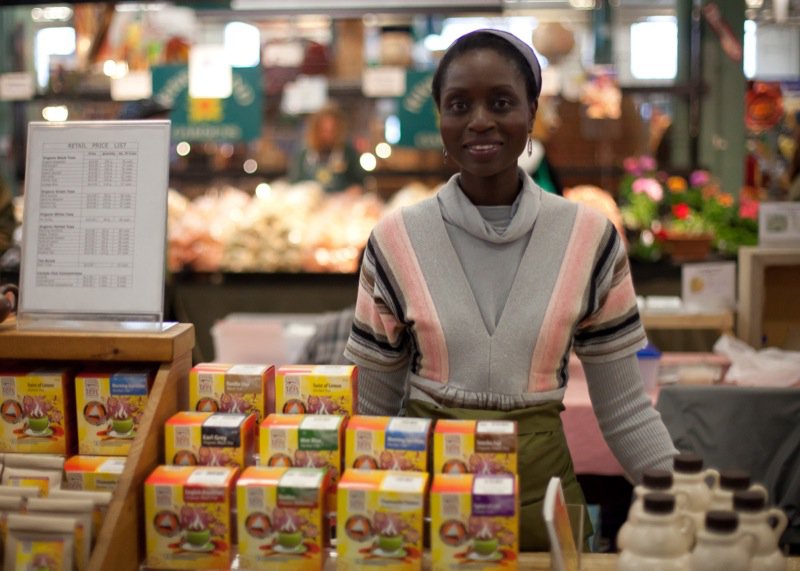 Liane at Eat My Words from Edmonton, Alberta has been busy writing for The Journal, but made time to identify Alberta Tea as a regional Canadian food which makes perfect sense to me, though it is something few of us would think of. Though Liane does have her own site where she usually publishes her posts, she is sharing her article on my site, as a guest this month as she shares the story of Edmonton entrepreneur, Fanta Camara,who has created a line of herbal drinks called Vitaly Teas.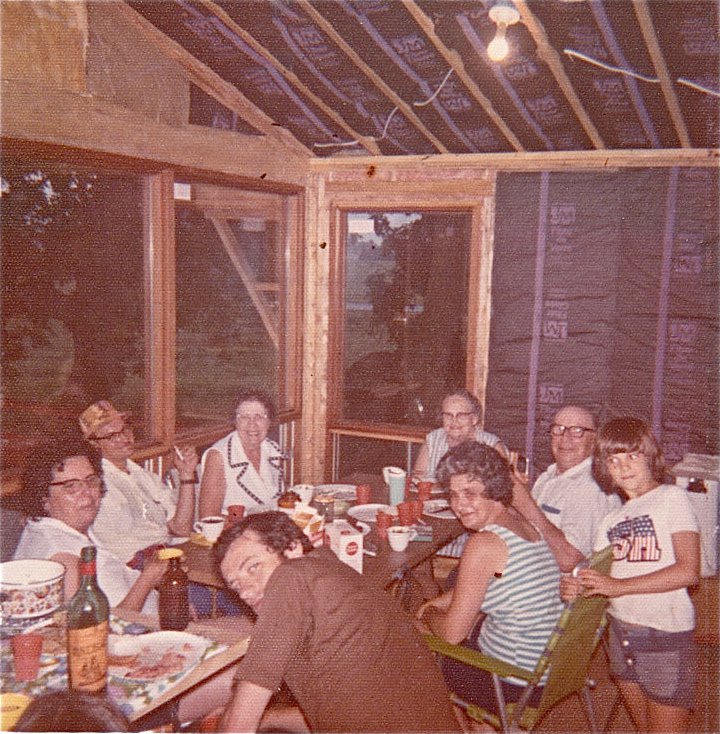 Carole Nelson Brown of The Yum Yum Factor shares her "secret shameful food past", growing up in London, Ontario, in the late '60's and early '70's. "If I am honest, my childhood was filled with memories of processed foods and all of the new fangled fast food options. One of the first McDonald's in Canada was opened in London; we are the home of The Pop Shoppe and were already an established test market so we ate terrible things that nobody else got to eat. They may not be the romantic food memories that I wish I could share, but they were specific to my hometown, to the time, and to my own experience." I can relate to the onset of convenience food and definitely witnessed the whirlwind of Fast Food landing on the planet.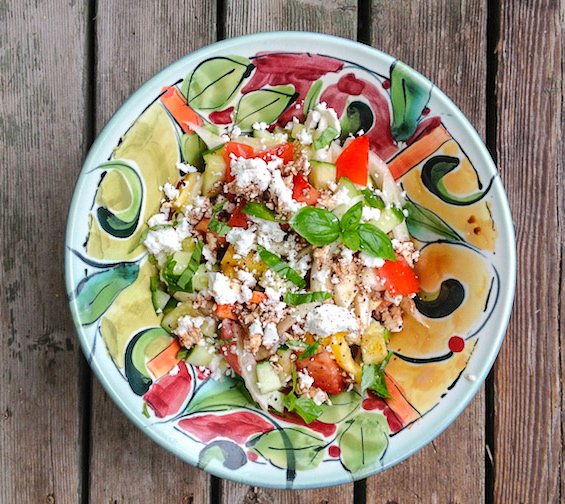 Charmian, The Messy Baker, from Guelph, Ontario, writes about the miracle of greenhouse grown English Cucumbers. Ever wonder why Ontario English cucumbers are available year round? This virtual tour shows you how it's done and ends with a recipe for salad featuring greenhouse vegetables.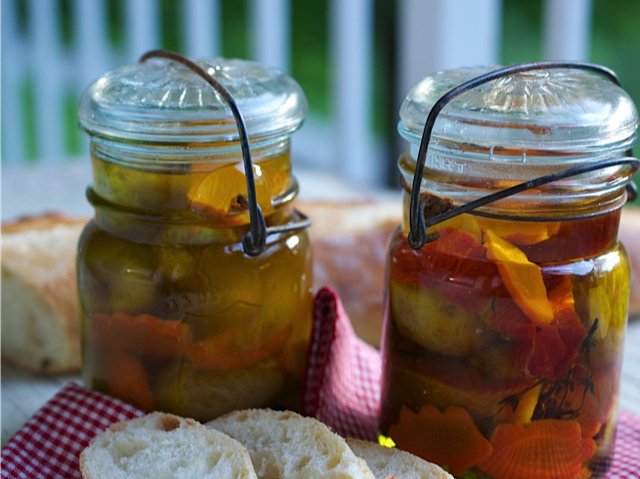 Valerie of
More Than Burnt Toast
from the Okanagan Valley in British Columbia shares a recipe for Salmon in Jar as she explores a returning industry in the Southern Okanagan desert. She identifies the
Osooyos Sockeye Salmon
as her regional food. The Okanagan Valley is often referred to as Napa Valley North, so where do fresh water Sockeye Salmon fit into the picture? Valerie offers a detailed history of this humble salmon, once widespread in the inland lakes in the Okanagan Valley Basin from the United States border to Lake Okanagan. In Osoyoos at the end of April this year, I had the pleasure of eating this fresh water salmon for dinner with a foraged green herbed sauce and brought home the smoked, canned and candied version from their indigenous people's
Okanagan Nation Alliance: a
n important Canadian food with a fascinating story.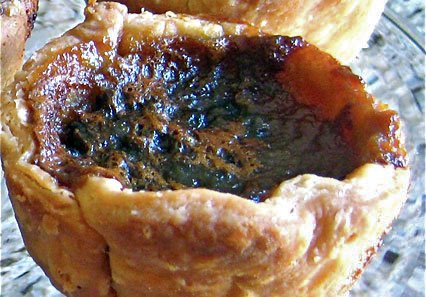 Dana, from Toronto, Ontario, wrote an introduction to the importance of butter tarts for a Northern Ontario woman's street cred: Butter Tarts in the Family on TCFE Facebook page. Interestingly, the butter tart, shortbread cookies, and the traditional dark Christmas cake were three measures the women in my childhood neighbourhood used to decide if you were worth your salt, or not. Well, how diverse your goodie tray was every Christmas was also a factor. The morning coffee klatch would gather at different homes up and down the back alley during the baking season to test "this year's wares". A woman who didn't bake her own Christmas goodies was simply unheard of. Now, I only have one friend who bakes Christmas goodies. I am so sad to see this Canadian tradition die.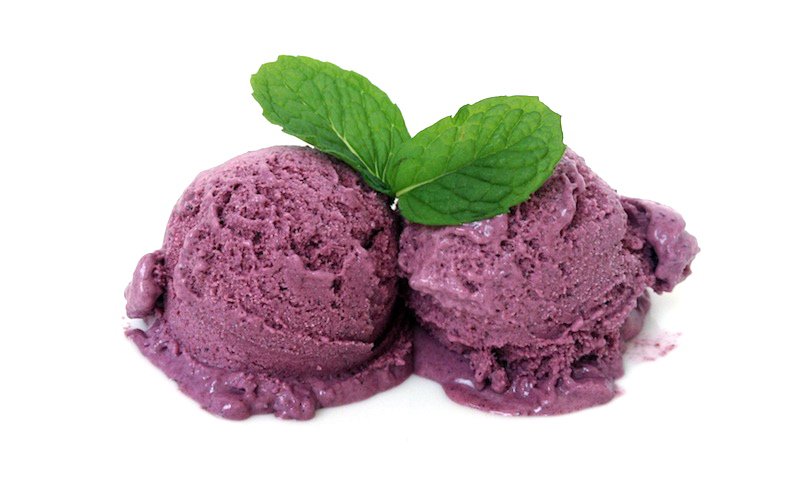 Genia of The Sweetest Crumb from Edmonton, Alberta, comments that "While you can't find Saskatoon berries in your local grocery store, these regional berries are worth a little bit of searching. Their distinct flavour is perfect for desserts, often being used in pies and syrups. To make something a little unique, I pulled out my ice cream machine and made a batch of amazing Saskatoon berry ice cream." I found her photo stunning, as I have made Saskatoon berry ice cream more than a few times, and never got that intensity of colour! Gorgeous.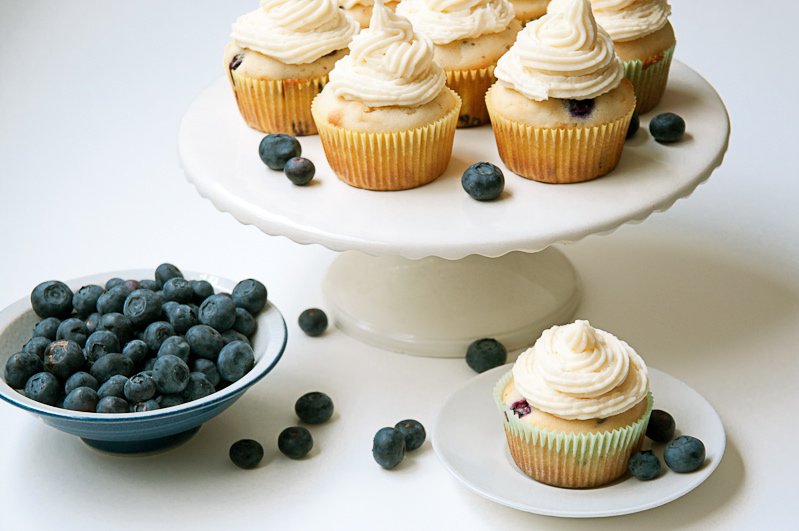 Heather at The Tasty Gardener from Toronto, Ontario, identifies the Ontario Wild Blueberry, a fresh and abundant fruit she discovered in her college years. She combines her two loves; healthy blueberries and vanilla cupcakes with these sweet tasty Blueberry Cupcakes with Buttercream Icing. Seriously? Who could resist.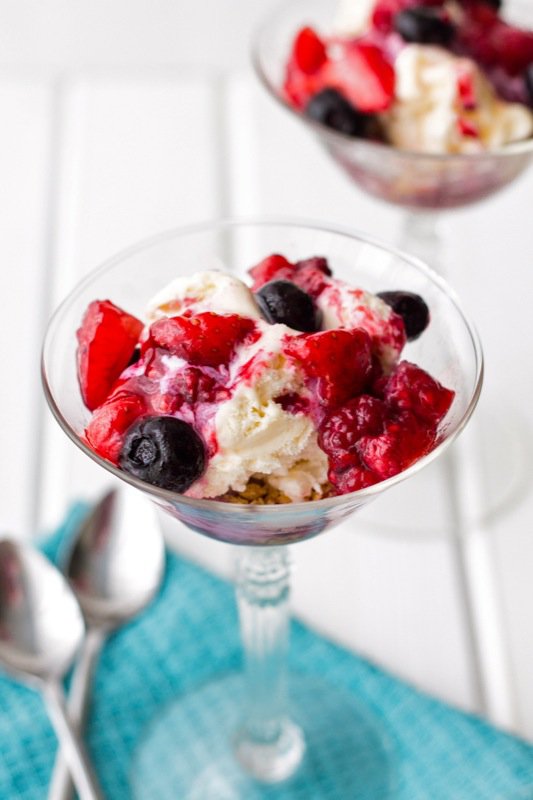 Hélène at La Cuisine d'Hélène from Ottawa, Ontario, writes about Maple Syrup. Growing up on the farm, her family always had maple syrup in the home; she shares a Fruit Parfait recipe with Maple Syrup.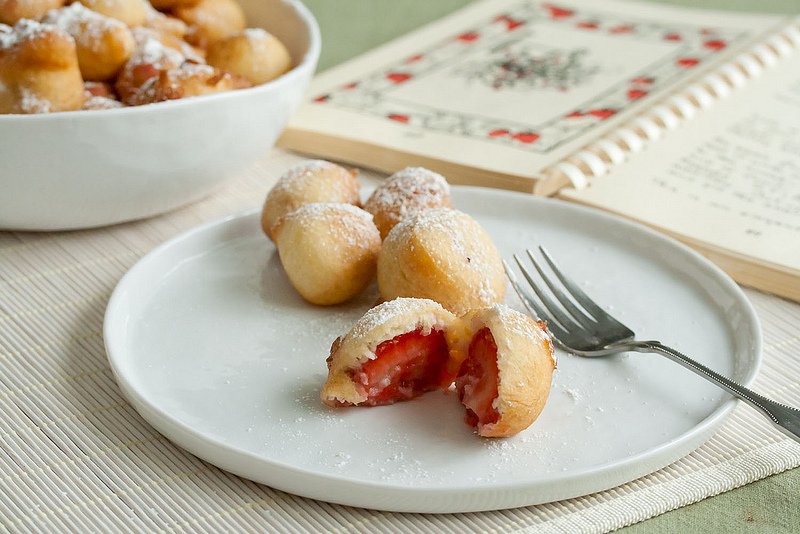 Isabelle at Crumb: A Food Blog from Toronto, Ontario, identifies Ontario strawberries as her regional food and writes about their little-known Canadian story. The old-fashioned recipe for Strawberry Fritters made with whole berries will have you running out to pick Strawberries, if you haven't already! Congratulations to Isabelle, as she has just returned from a honeymoon in Spain!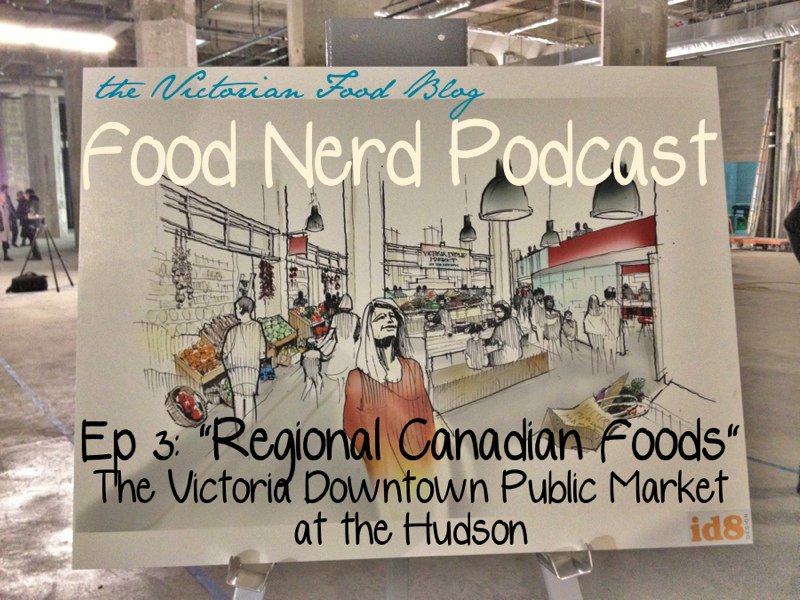 To explore Vancouver Island's regional foods, Jen at The Victorian Food Blog from Victoria, British Columbia, chats with Maryanne Carmack of the Victoria Downtown Public Market Society. They discuss the regional delights that will be available when Victoria's first permanent downtown public market opens at the end of August.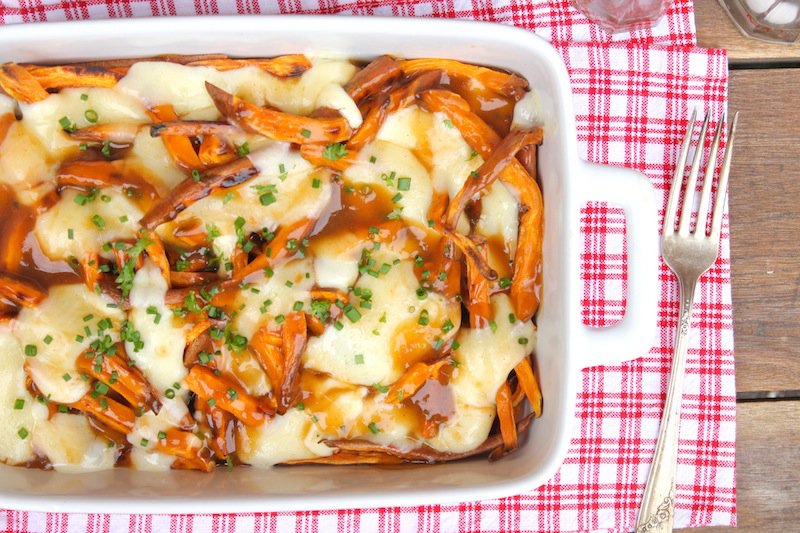 Jennifer at 'The best thing I ever ate…and then some' , Born and raised in Timmins, Ontario; currently living in Guelph, Ontario, wrote about poutine this month and included a recipe for a scrumptious sweet potato poutine, though got the topics mixed up, and is not identifying poutine as a regional specialty for Ontario. However, it is a delicious Canadian concoction, and her recipe is well worth a visit.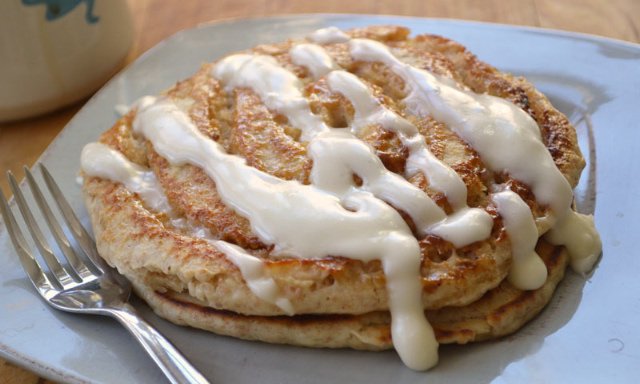 Julie at Dinner with Julie from Calgary, Alberta, has been working to weather the flood in the city, as well. With the "Greatest Show on Earth" happening in town this week, what a better time to celebrate the Pancake? Interestingly, she isn't the only Calgarian who has identified the pancake as an important Calgarian breakfast tradition this round. Let me add: this isn't just any pancake. This is a Julie Van Rosendaal cinnamon bun pancake. Be prepared to salivate all over your screen.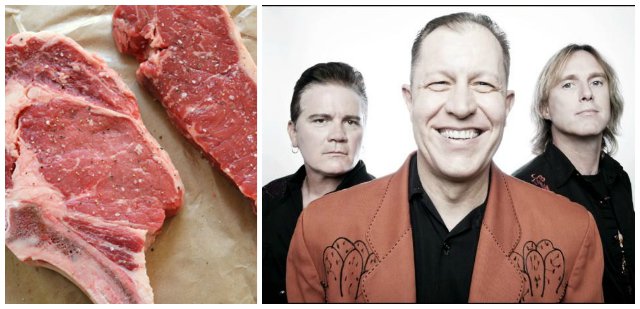 Julie and Elizabeth at Rolling Spoon from Calgary, Alberta, continue with their local Stampede Theme by identifying Alberta Beef as an important regional food.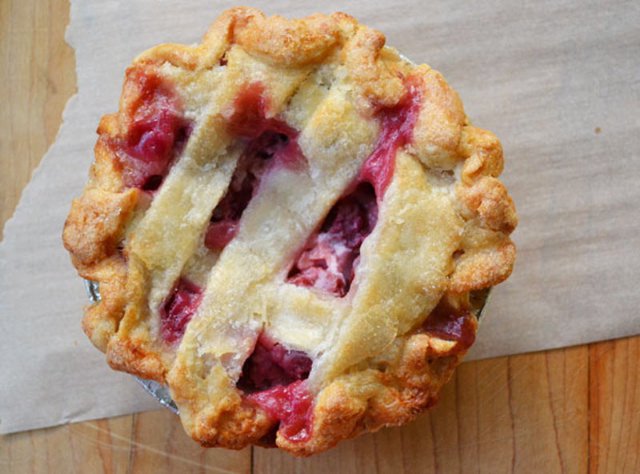 Julie at Parents Canada Magazine from Calgary, Alberta, with her third article supporting The Canadian Food Experience project identifies rhubarb as a local specialty and whips up this gorgeous little rhubarb pie with such beautiful ruby red 'barb! I am becoming convinced that lattice topped rhubarb pie is a national Canadian specialty from coast to coast. Do you agree?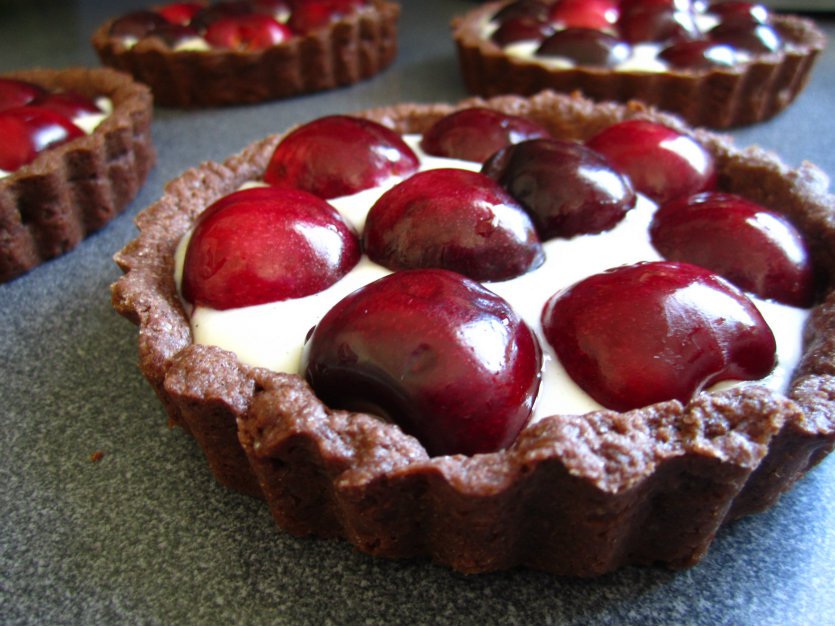 Mallory at Because I Like Chocolate from Calgary, Alberta, writes "To me, summer in Alberta means one thing; fresh sweet cherries. They may come from our neighbours in British Columbia, but we snatch them up like hotcakes. Cherries are great on their own but why not pair them with flavours like chocolate and vanilla for a fresh, summer tart?" We grow sour cherries all over Alberta, but the sweet ones come from the Okanagan Valley in British Columbia, next door. Oh, what a micro climate they have that we call the "Napa Valley of the North".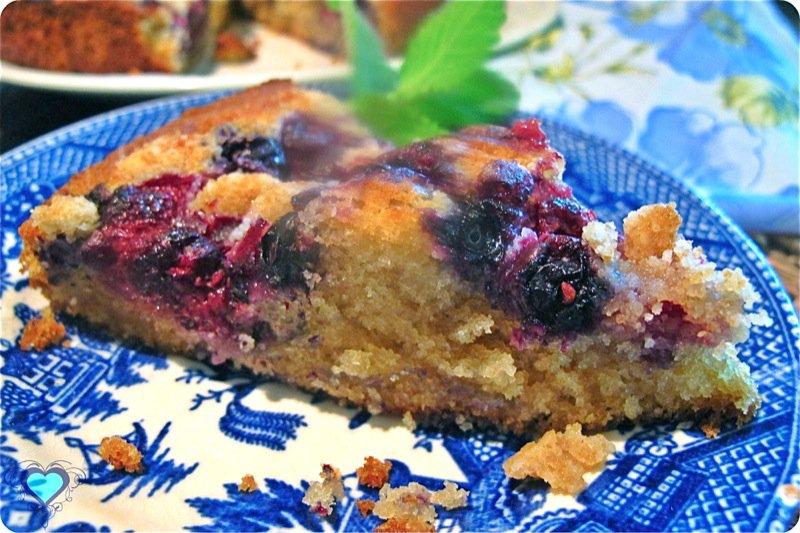 Kathryne at Food Musings from Winnipeg, Manitoba, has a beach house at Lester Beach, Manitoba. She writes, "The wild blueberries are plentiful and have been growing in the sandy soil at the sunny edges of the forest, for centuries. " She includes a recipe for Wild Blueberry Platz, a popular German Mennonite dessert. that is a specialty served at Lester Beach, predominantly populated by Mennonite Canadians. Who knew? Discovering these Canadian stories as they unfold through this project reveals a clarity in the richness of Canadian Culinaria that I knew was there… yet, these realities have surpassed my imaginings. Oh, Canada! I say.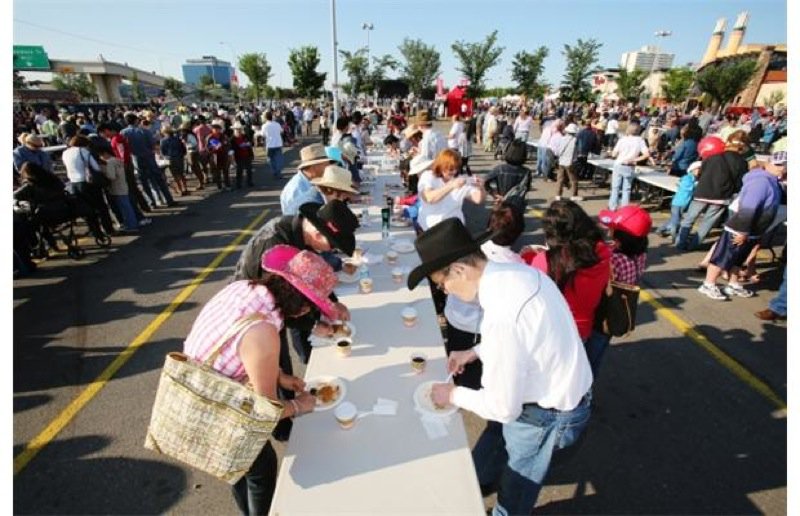 Ginni at Mindfully Spiced from Calgary, Alberta, wrote about the tradition and culture of the Calgary Stampede Breakfast, and about how important and unique this breakfast tradition is to her city. I am sure all are aware of the horrific flooding that Calgarians have endured this June, but, come "Hell or High Water", the Stampede must go on. Ginni says: "As times are tough right now, this breakfast is even more important as it's such an indispensable part of the culture of our city."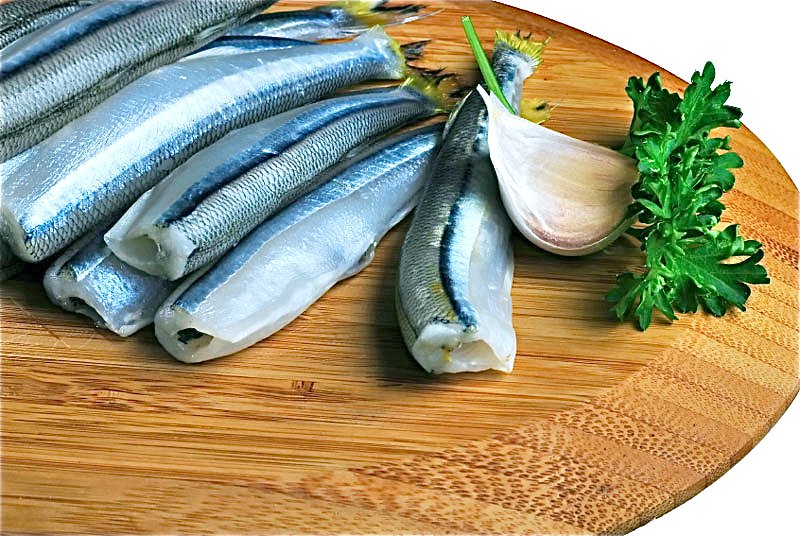 Rosemary at Quench Magazine from Brampton, Ontario remembers crispy Lake Smelts, "Seeing my parents cart those laden buckets into the house
was truly exciting. Of course, I wasn't the one who had to clean them." Hmm, she thinks she feels a craving coming on right now!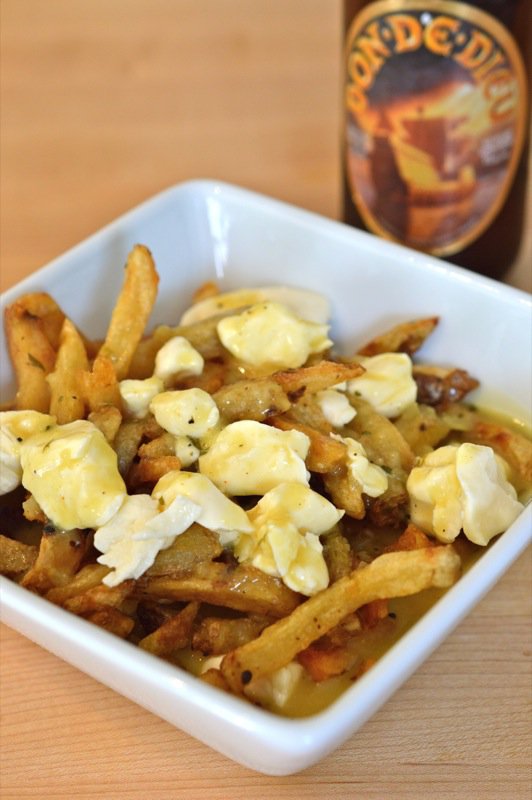 Lili from Trois-Rivières, Quebec, at Lili popotte, identifies Poutine as the dish that is specific to her area. Poutine is one of the traditional dishes of Quebec, particularly in July when it's too hot to cook! To learn how to make the authentic recipe, you must visit Lili's site.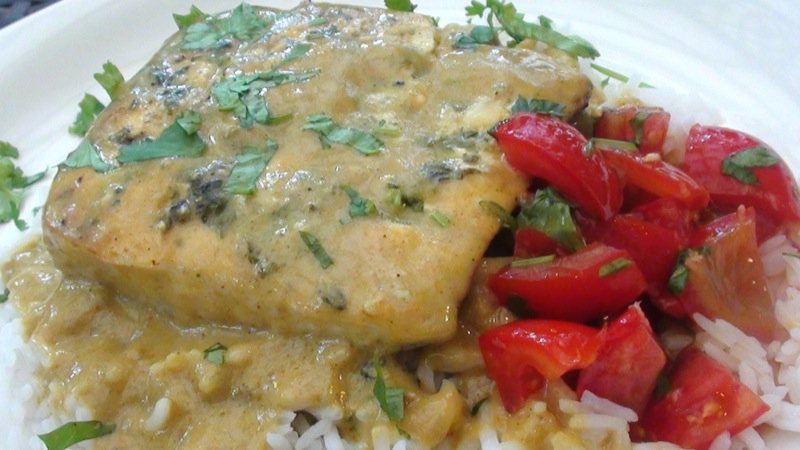 Lyndsay Wells, otherwise known as The Kitchen Witch, from Ladysmith on Vancouver Island in British Columbia has identified halibut as an important regional food. She has spent many years "working in the city longing for a less complicated life, preferably by the water. " Her dreams of full time cottage living by the water have become a reality, so Lyndsay is excited to share some of the bounty of her adopted Vancouver Island home with her original recipe for Coconut Curry Grilled Halibut. As always, she has prepared a "charming" video to guide you through working with one of Canada's famous sustainable fish.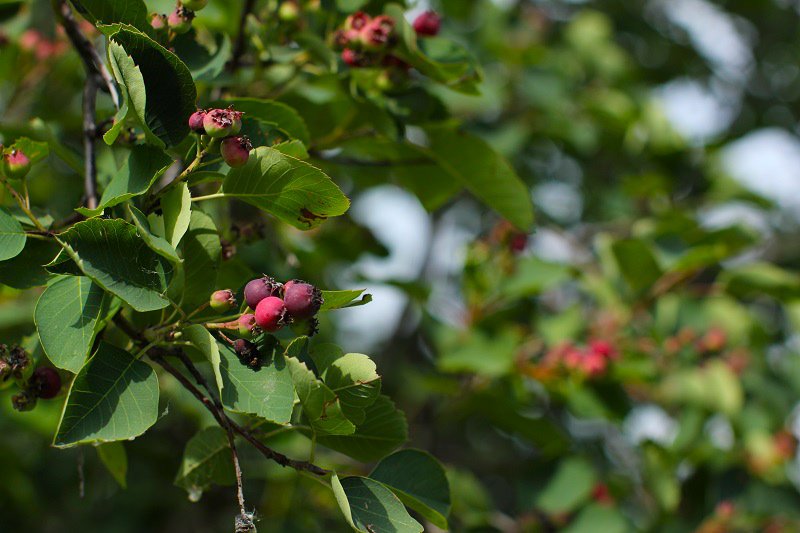 Margaret at Kitchen Frau from Stony Plain, Alberta, identifies the special prairie Saskatoon berry as her regional Canadian food and writes about how to turn it into a simple old-fashioned farming dessert. She has included is a gluten-free version of her recipe, transforming the berries into a lovely Saskatoon cobbler. This is a timely pick for those of us in Saskatoon country as berry-picking season is usually the end of July.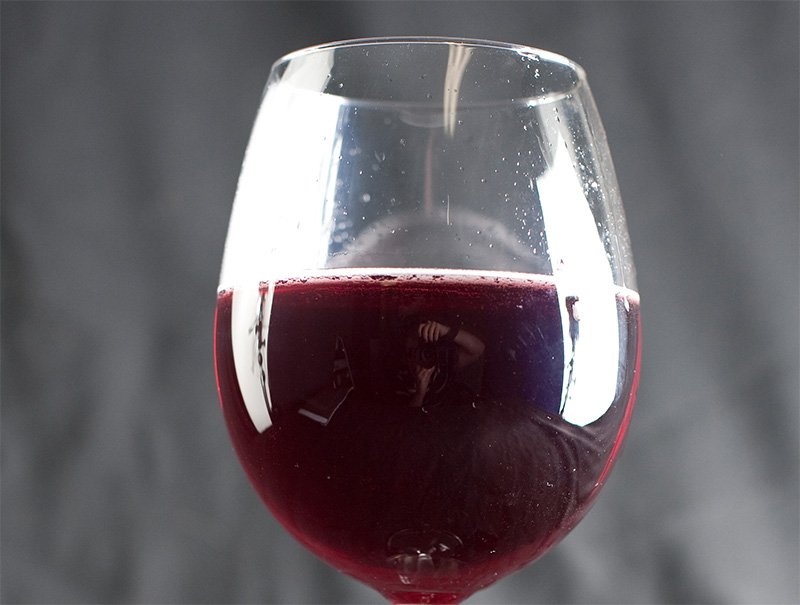 Marie at Celebration Generation is from Winnipeg, Manitoba, yet spent several years living in Newfoundland. She identifies Partridgeberry Wine as Newfoundland treasure. I have never heard of this berry until now. As I am visiting the Maritime provinces this Spring, I am delighted to have this berry on my list. You must visit her site to learn about the unique berry, and how to make Partridgeberry wine.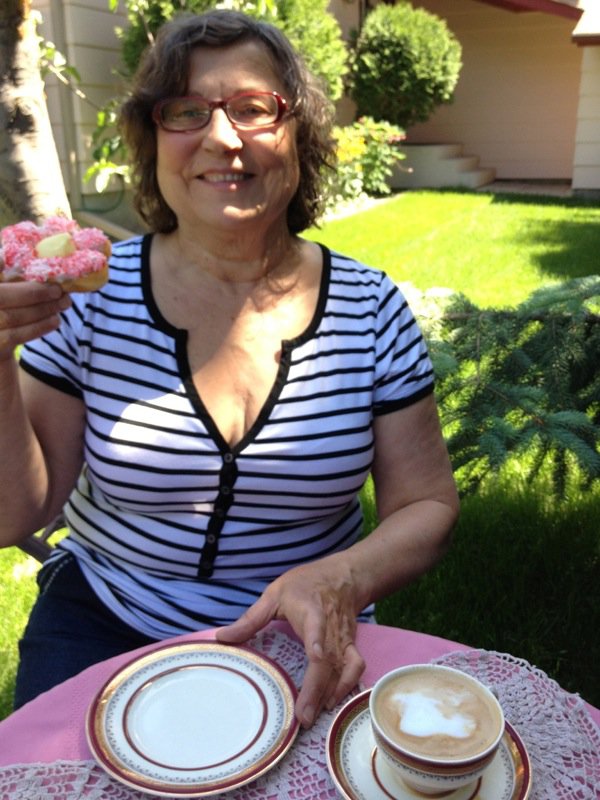 Marilyn at Hear and There from Calgary, Alberta, writes "The Globe and Mail reported on July 6th, "Two weeks to Deliver; some said it couldn't be done. But Calgary wasn't listening. What the world can learn from the people who pulled off the Greatest Outdoor Show on Earth, just days after the flood." In search of a regional dish, Marilyn turned to the vintage Canadian Cookbook by Madame Jehane Benoit. "Madame Benoit talks about her mixed feeling about being "served a superb slice of roast prime rib surrounded with baked beans in Calgary" and wondering how they possibly went together. She writes "one bite of each made me understand the why of this luscious Western Fare"." Thus, Marilyn shares a recipe for baked beans.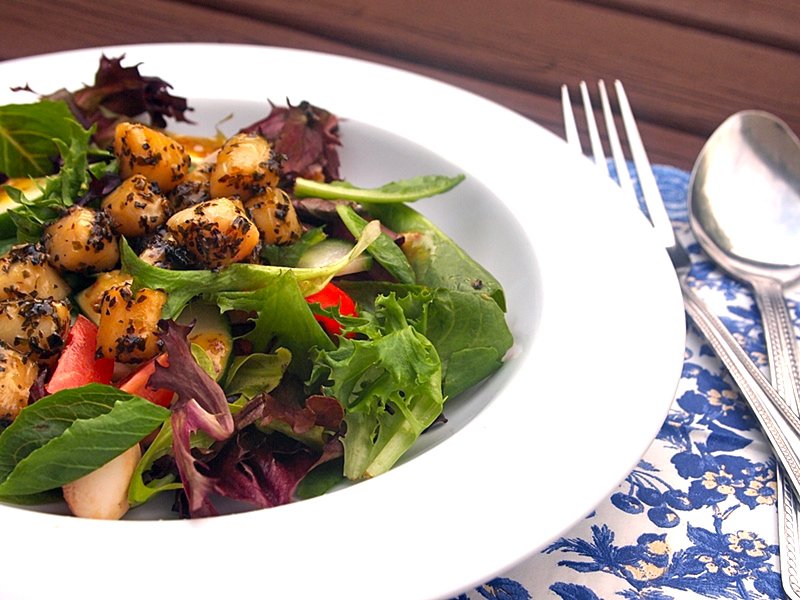 Maya at Maya's Kitchen from Halifax, Nova Scotia, writes about Mini Scallops, a Nova Scotian delight. "Living in Nova Scotia, one of the many benefits is having great seafood variety. Fresh from the ocean straight into our plate come these Maple Basil Mini Scallops seared in Canadian maple syrup. It was really hard not to be tempted to munch on these before they made it it to the salad."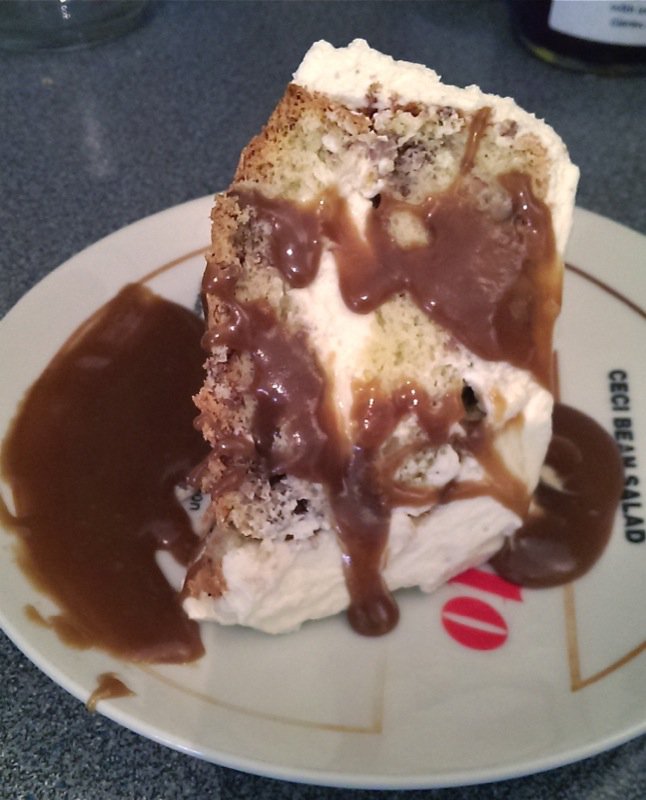 Mimi at Tummy Grumbles from Ajax, Ontario, writes about discovering a Winnipeg regional favourite: The Shmoo (also known as Shmoo Cake). I am sure you are as curious about reading this story as I was!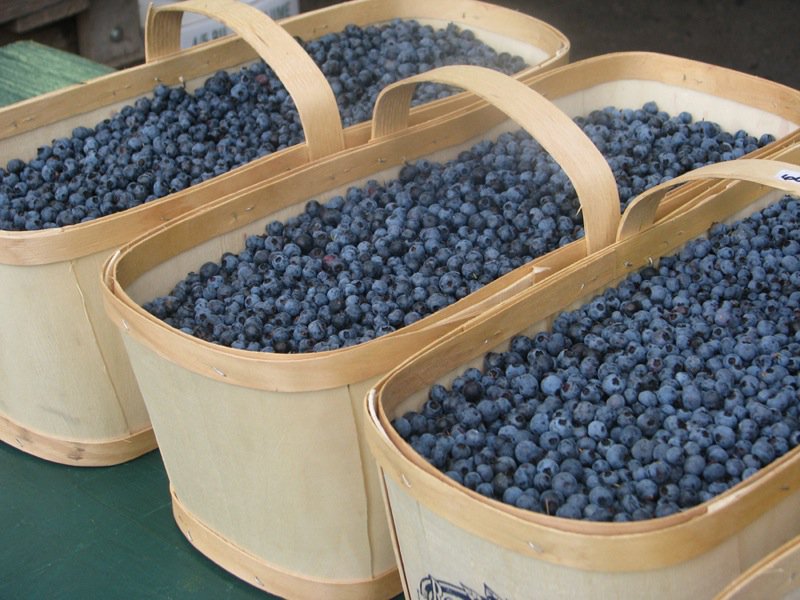 Liliana at My Cookbook Addiction from Laval, Quebec, writes about the wild blueberries from the Saguenay-Lac-Saint-Jean region in Quebec and includes a Wild Blueberry Bundt Cake recipe.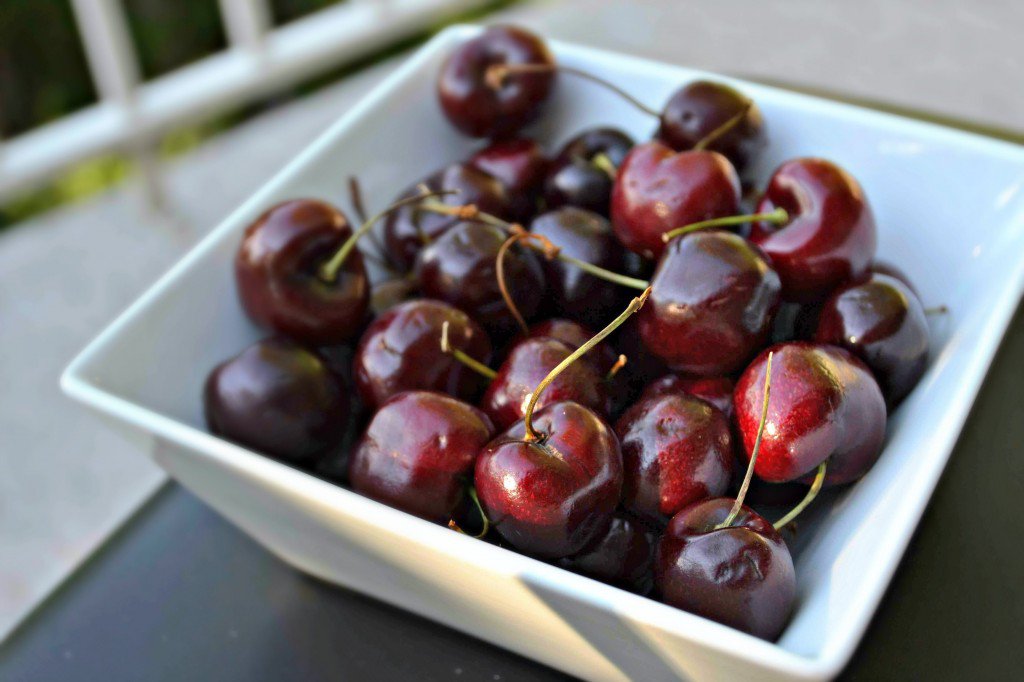 Dan at Dan's Good Side from Calgary, Alberta, is always on the go. This summer, while visiting the Okanagan, he was gorging on the incredible sweet cherries there and just had to write about them as, while in season, they are such an important food in that area. He has included a recipe for pickled cherries that are the perfect companion to a roast pork dish. You must try it.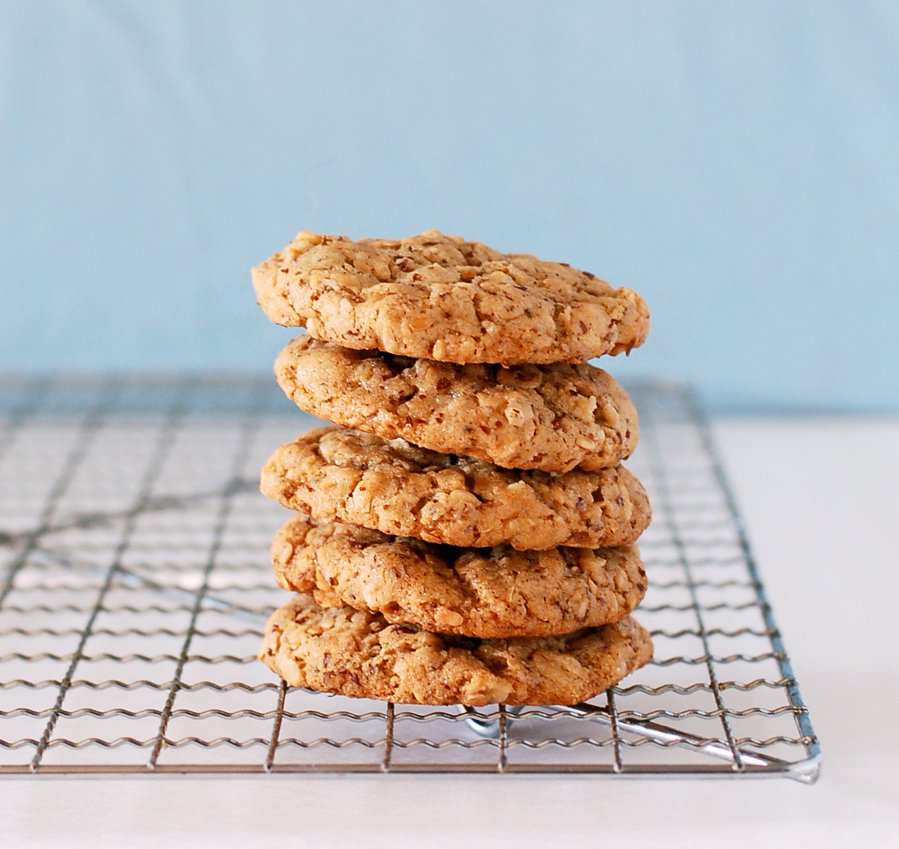 Nicole at Culinary Cool from Regina, Saskatchewan, writes about Flaxseed. This tiny little item has certainly reared its head the past 5 years in the food world as a super food. Saskatchewan is known for its grains and one of its most prolific products is flax. Nicole incorporates this super food into a yummy treat. You will just have to pop over to her site to see what it is!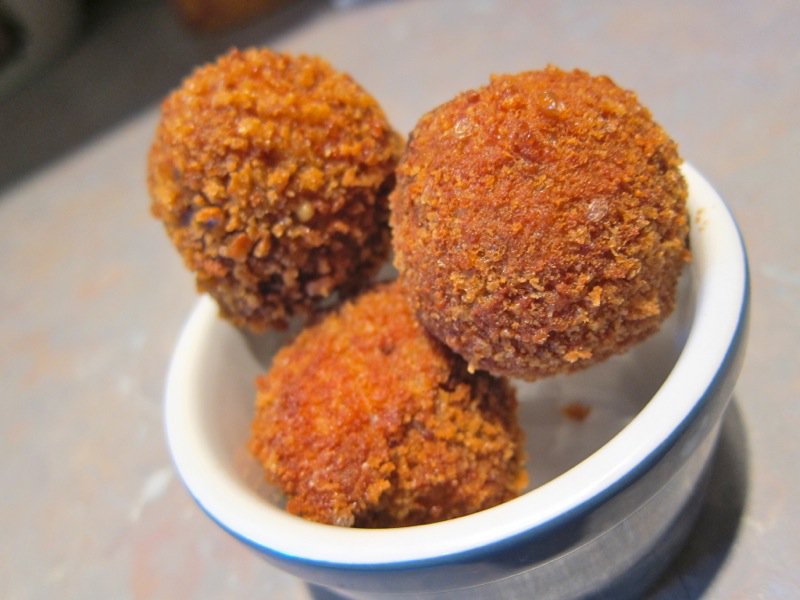 Head on over to Baconhound where Phil, from Edmonton, Alberta, shows you how to use a Western Canadian staple, Lentils, to recreate an Italian Classic. Your mind will be blown, or at least you'll be slightly amused, as you read how you can Canadianize homemade Arancini.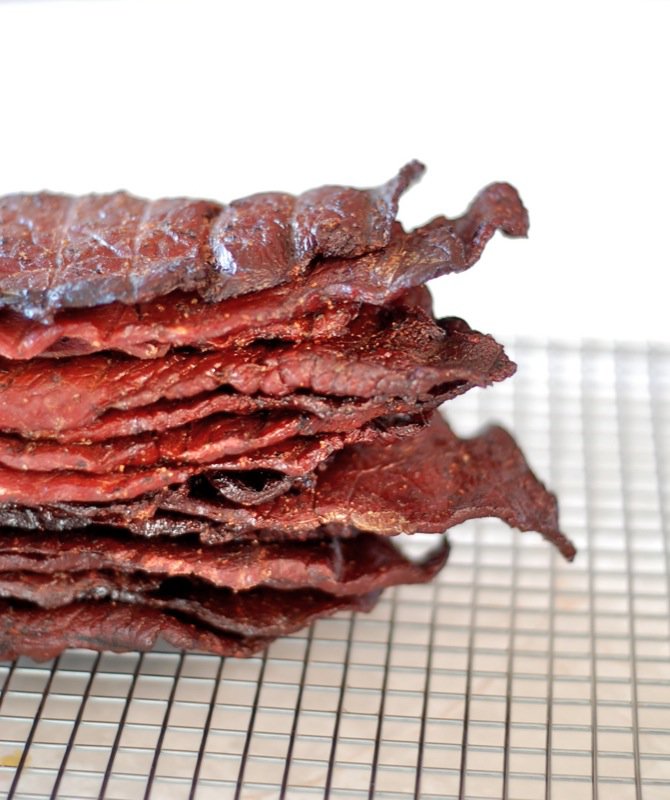 Redawna at Nutmeg Disrupted explores the role of our famous Alberta Beef upon the Canadian economy; she includes a variety of dishes and a fantastic recipe for a Traditional Beef Dip!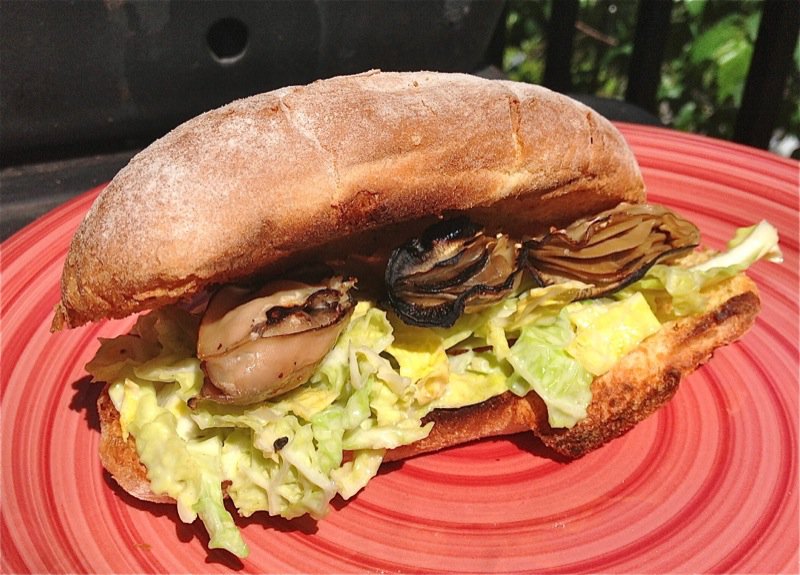 Sarah at Delish in a Dish, from Victoria, British Columbia, identifies the Fanny Bay oyster as an important regional food, and writes about how to grill them in their shell. "You will be surprised to learn how easy it is and how delicious they can taste." she promised. "They'll pop open when they're done and are a great introduction to oysters for those who are squeamish about eating them raw."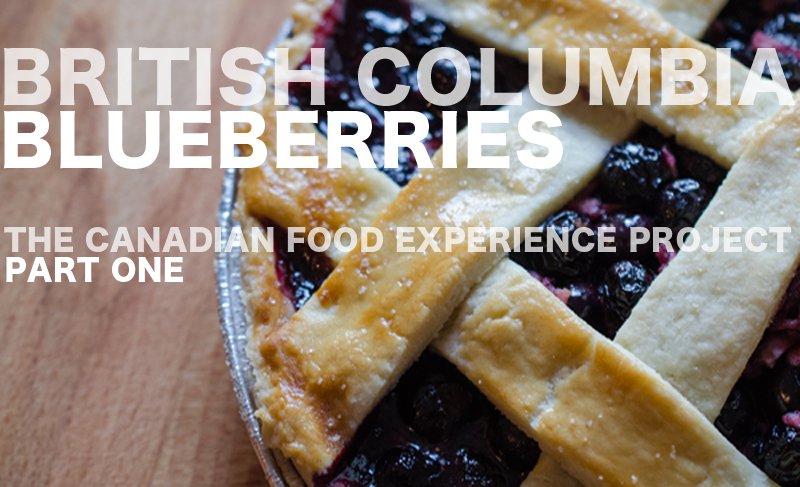 Adrian and Jeremy at The Food Gays from Vancouver, British Columbia, have identified the British Columbia Blueberry as an important regional food; their post, Nature's Candy, explores this bountiful berry. Head on over to witness their culinary prowess as they have created a little work of art on a plate.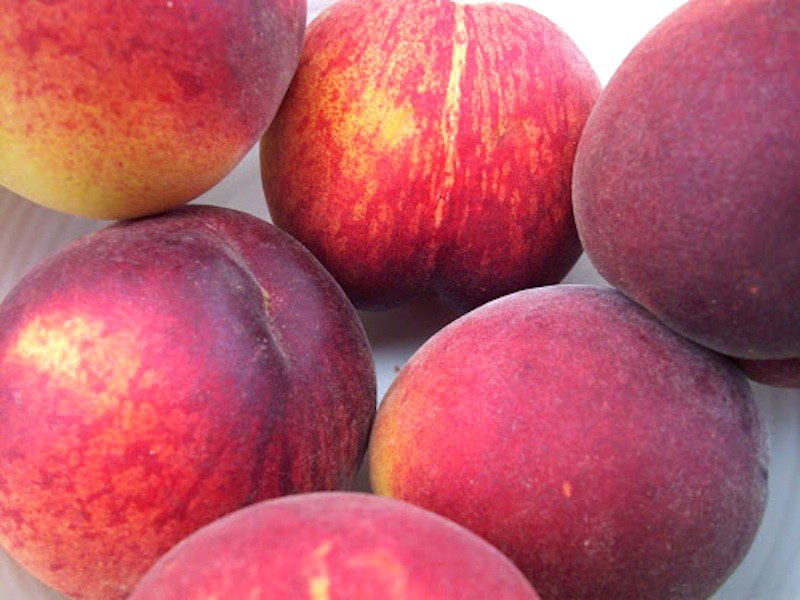 Niagara is only one of two Canadian regions known for growing this tender fruit that has mesmerized many with varied sensual eating experiences. Tiffany at Eating Niagara writes about the Niagara icon, the peach, and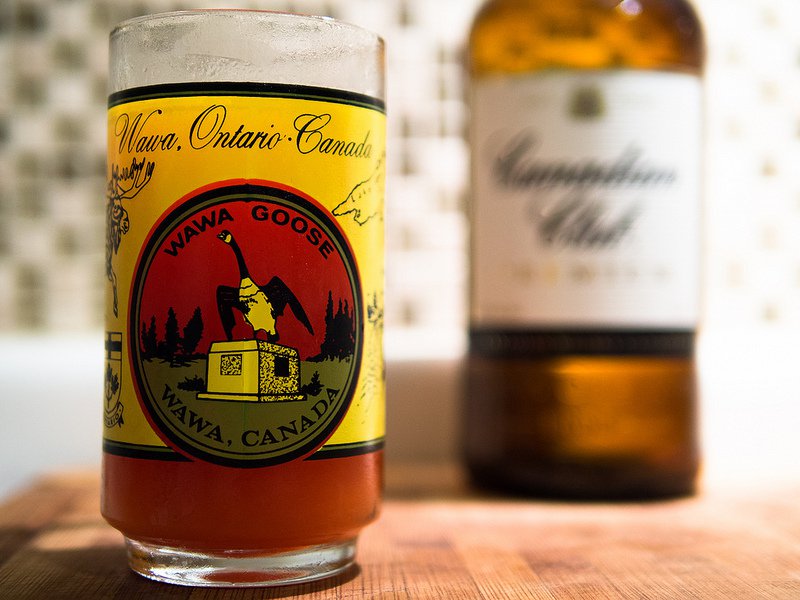 Joel from Toronto, Ontario, at WellPreserved shares some of his definitions of Canadian foods, then tosses them together and shakes out Canadian cocktail with maple syrup, strawberries and Canadian Whisky! Ah! Summer in Canada…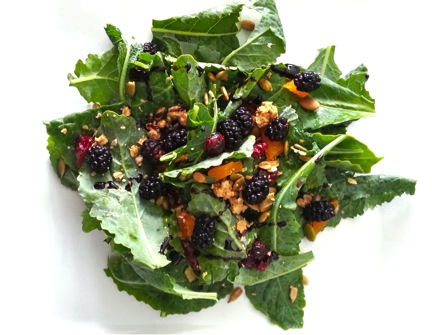 Cara at
Words to Eat By
from Toronto, Ontario, writes about
mulberries
. Cara grew up with a mulberry bush in the backyard of her parent's house. When they sold the home, she thought she would never again taste a mulberry…but that was not her destiny. See how she rediscovered the humble berry and created the "kale and mulberry salad with granola croutons." This post is dear to my heart as I never tasted a mulberry until I was in Belgrade one summer a few years ago. The huge oblong translucent whitish raspberry like fruit were clinging to a tree during an early morning walk my first day in the city. Plop! One fell on the ground. Vanja assured me they were edible. One taste of the sweet ethereal essence had me hooked. What is this? It was a few years before I learned the English name of this fruit, so I understand Cara's quest. I share her passion for this unexpected pleasure.
Barb at Just a Smidgen from Calgary, Alberta, identifies the wild huckleberry as her regional Canadian food, celebrating it with a Wild Huckleberry Pie. August 24th of this year, in the southern foothills of Alberta, Castle Mountain will be swarming with berry pickers (and bears) searching for the ever elusive Huckleberry. On this day and this one day only, festival participants can take the chair lift up the mountainside to pick wild Huckleberries. I can only imagine how precious this pie is when the berries can only be plucked on one precious day. Moreover, I live in Alberta, and had no idea about this tradition. I cannot wait to trek down and participate as I have never eaten a huckleberry.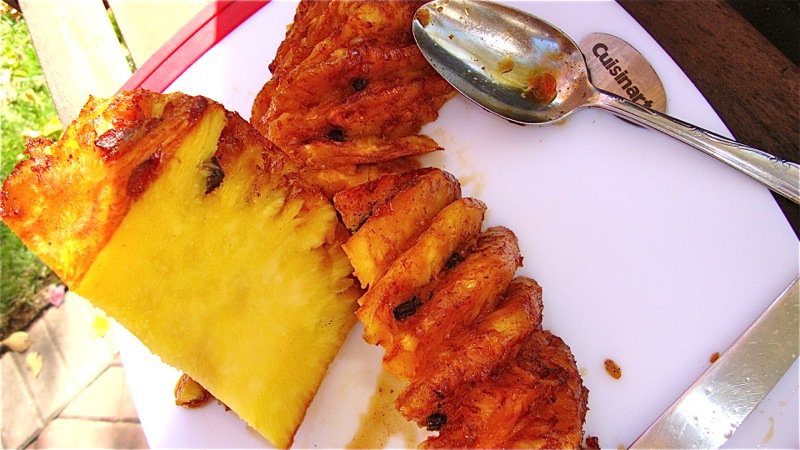 Hugh at Kaisen Kruzel writing from Sudbury, Ontario, identifies blueberries, now in season across Canada, and suggests that nowhere but Northern Ontario are they the dominant field fruit. Sudbury's landscape is ideal for vast vistas of blueberry patches and even hols a festival to celebrate the bounty.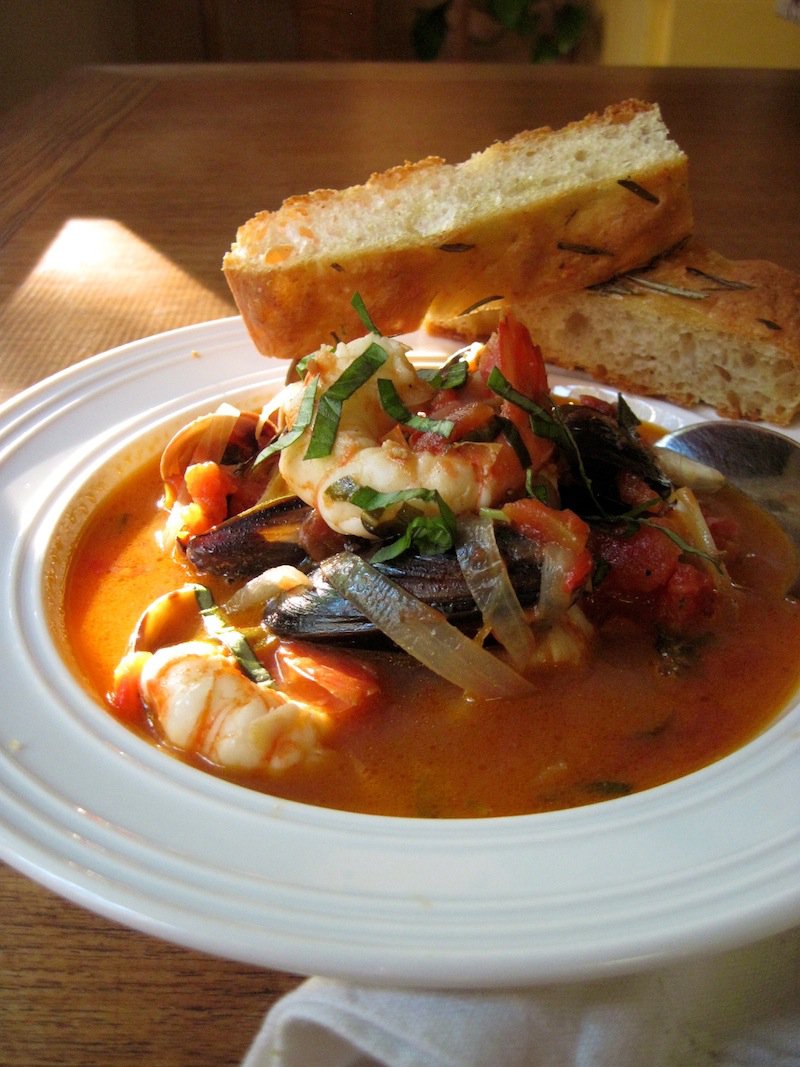 Korena at Korena in the Kitchen from Shawnigan Lake, British Columbia, on Vancouver Island, identifies the sweet fleshy BC Spot Prawn as her regional food. She serves a cioppino starring the wild BC spot prawns fresh from the waters near Cowichan Valley on Vancouver Island. Korena believes that her Cioppino, an Italian-American regional specialty from San Francisco, highlighting the BC Spot Prawn, is the perfect analogy for Canadian regional food.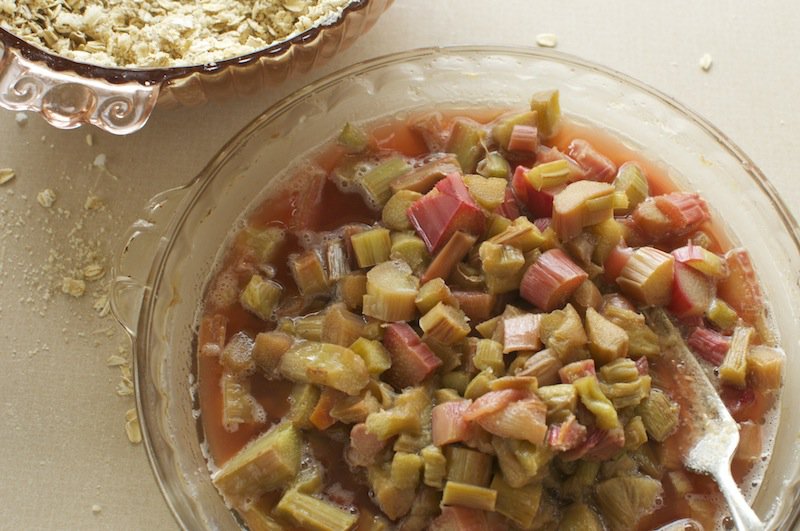 Laura at Cubits Organic Living from Toronto, Ontario, has just joined The Canadian Food Experience Project and identified rhubarb as a regional food in Prince Edward County. Laura's story is a fascinating one: from fine arts to farming and owner of the family business, the ethical seed company Cubit's. She believes everyone can sustainably grow healthy and delicious organic produce, and sells rare and heirloom seeds at her etsy shop.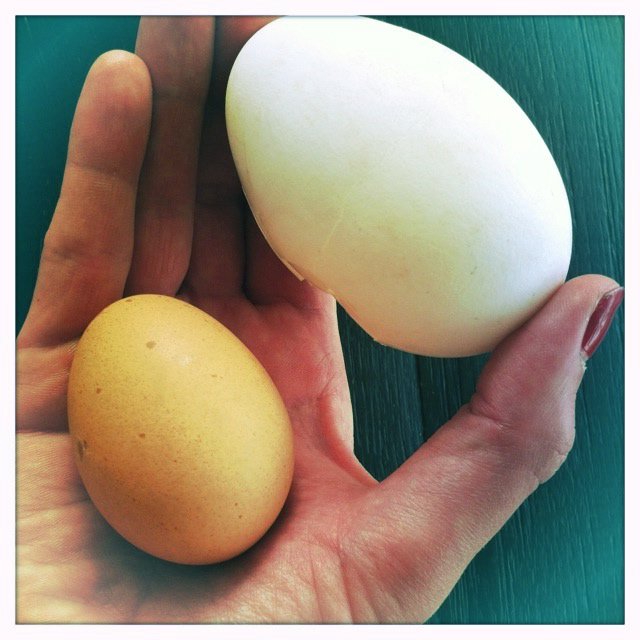 Megan at In a Big, Magic Pot from Toronto, Ontario, has identified Goose Eggs as a regional food and uses them to make meringues and custard for a delectable summer dessert.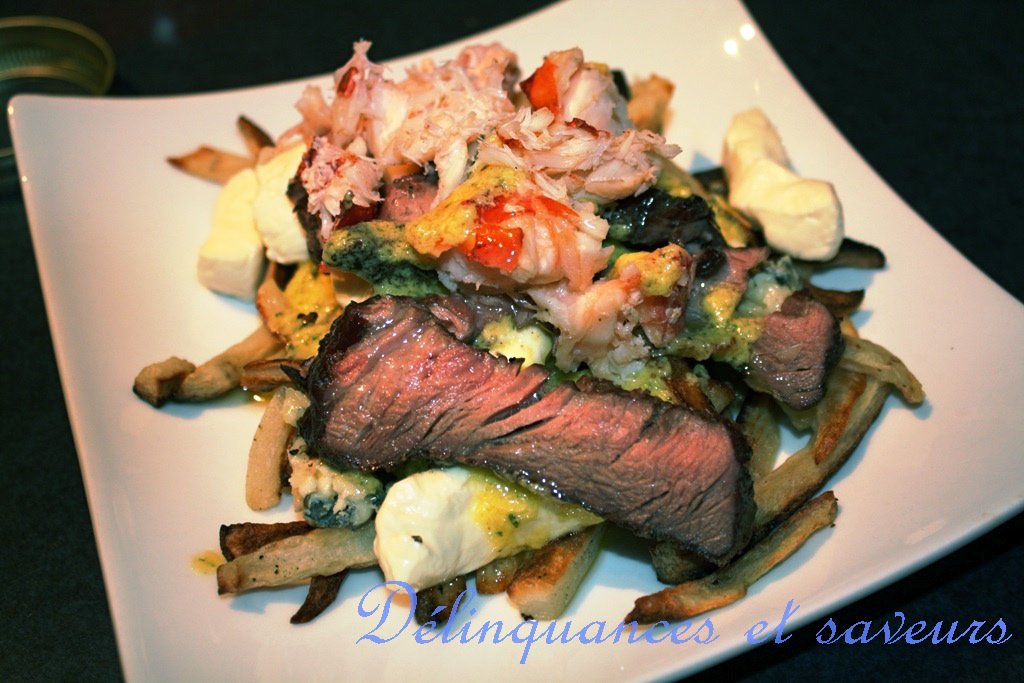 Nathalie at Delinquencies and Flavours from Shefford, Quebec, has identified poutine as a regional food in her area. Poutine is center stage and everywhere you go, now, it is somewhat difficult to find a traditional poutine as there are so many new versions of poutine rearing their heads throughout la belle province.
On aura beau chercher le plat le plus représentatif de chaque région, ce qui revient le plus souvent c'est la fameuse poutine! Elle est maintenant déclinée de plusieurs façon, la poutine a pris du galon!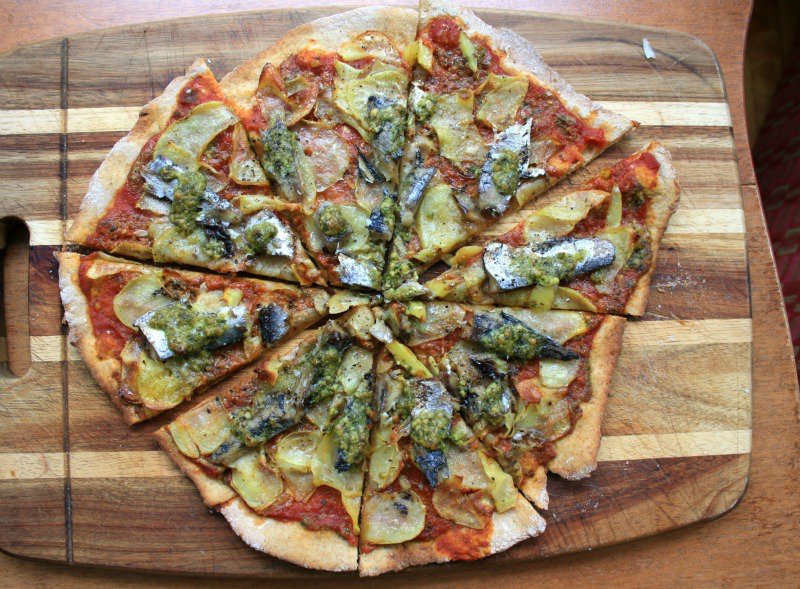 And last, but clearly not least, Bridget Oland at
Bridget's Green Kitchen
from Rothesay, New Brunswick, writes about sardines fished and processed locally and shipped around the world and about New Brunswick's "potato belt", home to McCain Foods and birthplace of the company's French fry empire. Now this is pizza is a first for me, and darned if I am not going to be making it on our next
Pizza Grilling day
. Not a fan of large industrialized food manufacturers, but am always interested in anything Bridget has to write!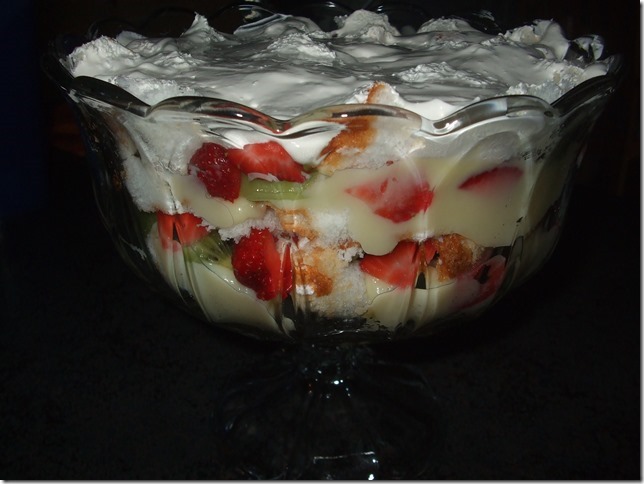 Rhonda at
Olive and Ruby
from Mississauga, Ontario, weites that In my family there are three types of people – the pork lovers aka the porkists, the vegetarians, and everyone else, and I firmly belong to the first group. When I think about life without bacon, pork chops, pork roast, jerk pork and bbq spare ribs, I shudder at what a cold and souless place the world would be. I am incredibly lucky to live in Southern Ontario where there are an abundance of pig farms where I can get lots and lots of pork and indulge in my favourite meal.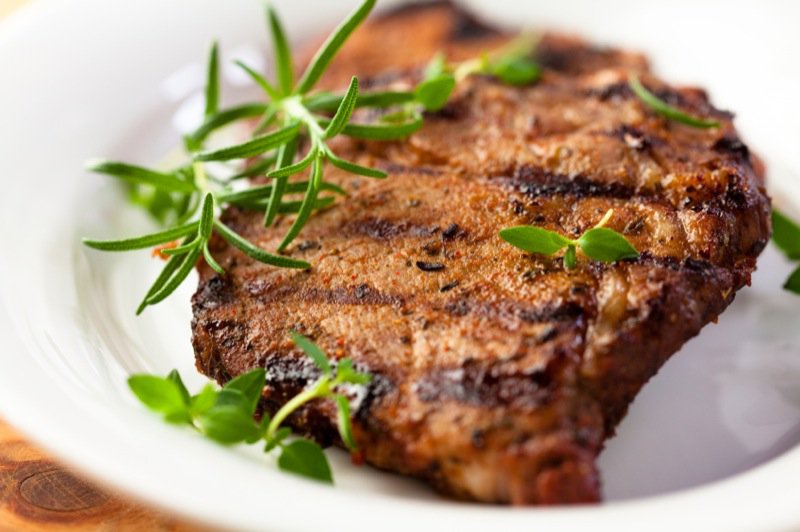 Did I say last? Nope, thankfully, Gisele Godbout at dans les casseole de GG from Restigouche, New Brunswick, has identified strawberries as a regional food and has prepared a gorgeous very simple summer trifle with angel food cake, vanilla pudding, and strawberries sweetened with honey: Bagatelle aux fraises et kiwis. YUM!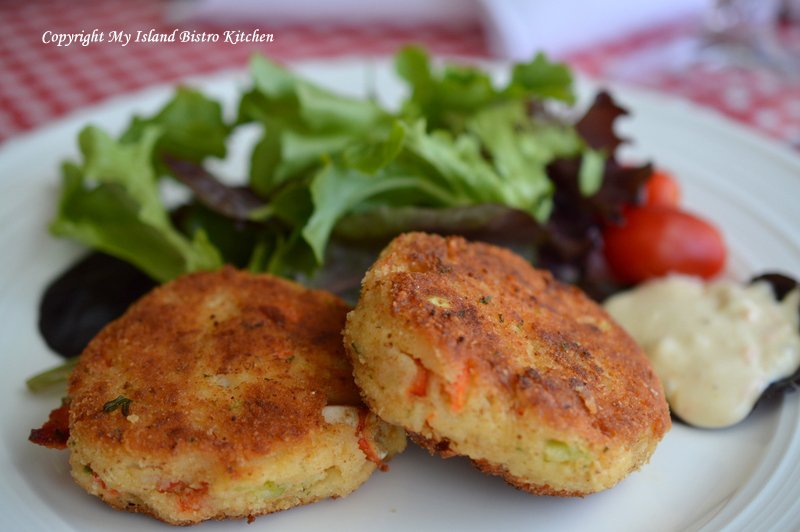 And yet another participant has joined our project. I am thrilled to introduce Barbara at
My Island Bistro Kitchen
from Charlottetown, Prince Edward Island. She is our very first participant from PEI. I was so delighted when Food Bloggers of Canada highlighted her work that I invited her to join, and she did. You know me by now. Of course, I am dancing!
Barbara has Identified Lobster as an important island food in her area and is constantly writing about local food, producers, and culinary events in PEI. Here, she shares her recipe for lobster cakes. Oh, my! The lobster fishery on PEI is very important to the Island economy. Lobster is a common food in many Island households and is most often eaten out of the shell with the tender meat dipped in melted butter. However, she likes to experiment with lobster and has developed this recipe for lobster cakes. I am thrilled, as lobster is a sustainable shell fish, and that is important to me. It is such a delicacy on the prairies. I cannot wait to visit PEI in May!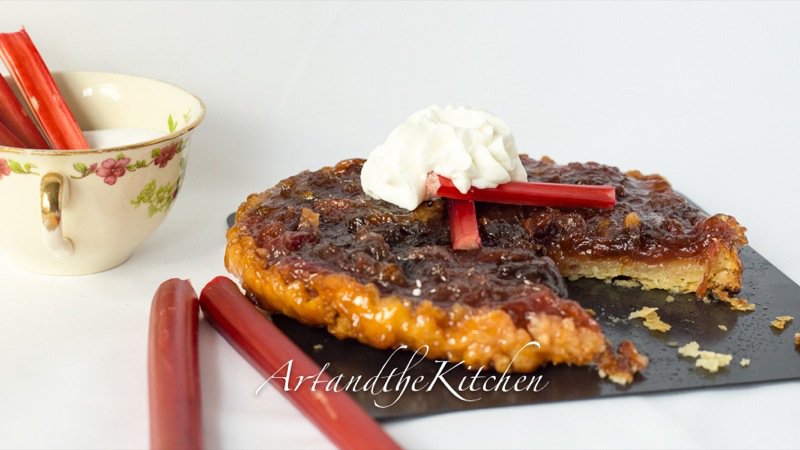 Still delighted that participants are sending in their articles to add to the round up. Laureen at
Art and the Kitchen
from St. Alberta, Alberta identifies rhubarb as a local Canadian food and has created the most delectable Rhubarb Tart Tatin. I am delighted to welcome Laureen to the project. She lives so close, yet we haven't met, and has a prolific following that she will now be introducing to our work.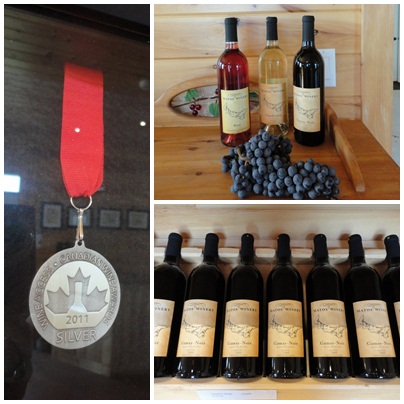 Barbara at
My Island Bistro Kitchen
from Charlottetown, Prince Edward Island, writes about local Island food and beverages, producers, and culinary events; she takes you on a tour of the award-winning
Matos Winery in St. Catherines, PEI.
This is one of only three wineries operating on the Island. "PEI is not known as one of the wine regions in Canada; thus, given its somewhat harsh climate with often testy cold winter conditions, anyone who can persevere and produce award-winning wines in a climate not normally associated with grape production is indeed a food/beverage hero"
Anna at Hidden Ponies from Abbotsford, British Columbia, living in the Berry Capital of Canada showcases a simple 3-ingredient jam with gorgeous fresh raspberries in all their natural beauty. This super quick jam is perfect on and in scones and fresh bread! Just look at those scones. I can taste the tart sweet berry just by looking at this gorgeous photo.
---
With over 80 participants in the project at this time, we have 65 included in this post. It is summer. Several have let me know that this month was not a possibility for them. Each participant is expected to participate in 9 of the 12 challenges and each is vital to the success of this project. Thank you so much for your contributions. XO Valerie