A Canadian Prairies Food Hero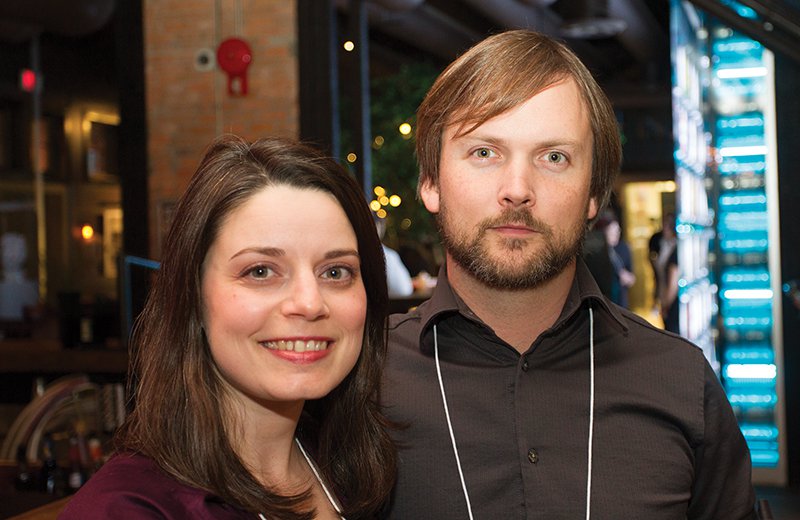 I have known Kevin Kossowan since 2009. Kevin walks his talk. When we met, he was a financial advisor working with his father in the family business. I vividly recall him saying, "Everybody asks me what I do." That is because he accomplished so much that no one could understand how it was possible with a full time job. "It is a lifestyle choice." He explained as he and wife, Pam, job shared at that time.
That enabled him time, as the quintessential and "self proclaimed cheap ass", to hunt, garden and gather food for his family year round which was enabling them to live at a very high standard on very little money. He had a wine blog at the time and wrote about tastings which was a complete bore to me. The summer of 2009 I came home from Europe to find a series of blog posts about his urban garden that were riveting. I wrote and asked him if I could come and see what he had done. He wrote and asked us for dinner. The friendship was born.
Kevin grew into an avid urban homesteader and almost immediately started his "From Local Farms" project where he visited Edmonton area farms and videotaped his interviews and discoveries. It changed everything. This was a self-initiated project that Kevin took on out of personal curiosity. He started with a small pocket video camera, drove all over Alberta for three years, interviewed various farmers about their beliefs and practices, then showcased their stories on his website. This was groundbreaking stuff. As farmers followed and watched his work, the feedback was unexpected: "I never have time to visit my neighbor or see what they are doing. I am learning so much from this project." And so was the general public. After this, Kevin TV was born. The information about Edmonton and Alberta food culture that has evolved through Kevin TV is staggering.
One example of his generosity and integrity is the work Kevin did for Smoky Valley Goat Cheese a couple of years ago. We have very few artisan cheese makers in Alberta, and Holy Gale was an exceptional fresh goat cheese maker. However, the business aspect of cheese making did not come as easily and she shared that she was going to have to close her business as she just was not making ends meet. Kevin designed her website, assisted her marketing practices, did tasting studies to determine her best focus as he worked with her to develop a business plan. In exchange, she taught him how to make and age cheese. His involvement raised her profile and made a significant difference in her company.
He has shared his hunting, fishing, foraging, wine making, cooking, charcuterie making and butchery knowledge in practical, detailed and economical ways. Kevin is one smart cookie. A Financial Advisor who has recently made a career shift through his artistic eye, acquisition of multi-media production skills and personal initiatives to contract work for various businesses and organizations in the food industry through his new business "Story Chaser". He is also a partner in his personal initiative, "Shovel and Fork", created at the same time to provide the public with hands on learning opportunities. As well, he is a partner in Lactuca, an urban farming operation that uses organic growing methods to produce a broad array of hard-to-come-by green varietals, many grown in his own yard.
For the most part, he is a story teller and videographer. He is a forager, and educator, and an exceptional home trained French bistro type chef. A meal at his place is the best food you will eat in this city. Hands down.
In October of 2012, Kevin was named Edmonton's Avenue Magazine's Top 40 under 40 as a Self Made Food Expert as his work and contribution to the local community became known.
In May of 2013, Slow Food Canada named Kevin Kossowan the Regional Food Hero for the prairie provinces at the Slow Food National Conference in Osooyos due to the work described above and as his work and contribution to Slow Food Canada became known. A video accompanied this award, which follows, and was produced by Kevin himself.
In July of 2013, Kevin was named a Director of Edmonton's Food Council where he will be in the position to not only set an example for others, as he has done so well, but to really make a difference regarding maintaining a local urban food supply for our city.
Kevin is only 35 years old. This is just the beginning. This past year he has worked with Alberta Culinary Tourism Alliance and the Alberta Department of Agriculture on several food related story telling projects. He has ventured through British Columbia and started telling regional Canadian food stories there.
Kevin's knowledge, skills, passion, perseverence and his keen generousity of spirit have each contributed to enriching Edmonton's local food community. That is why he is my Canadian Food Experience Regional Food Hero for August 7, 2013. The Canadian Food Experience Project began June 7 2013. Participants from coast to coast share our collective stories through our regional food experiences and we hope to bring global clarity to our Canadian culinary identity. A round up of all stories each month will be published on my site the 15th of each month.
And, happy birthday to me!
Thank you to Avenue Magazine for the photo of Kevin and Pam.