Delicious with both sweet and savoury foods!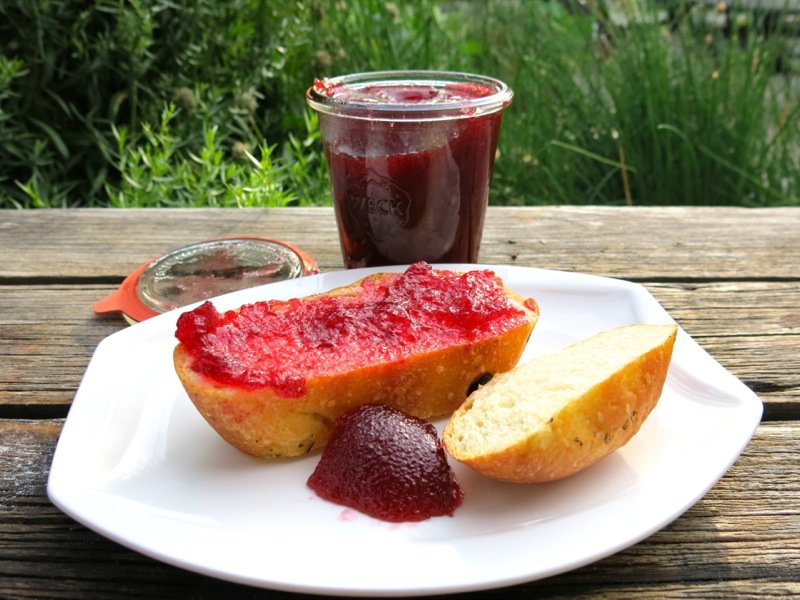 What colours Mother Nature paints through her summer bounty in berries and cherries.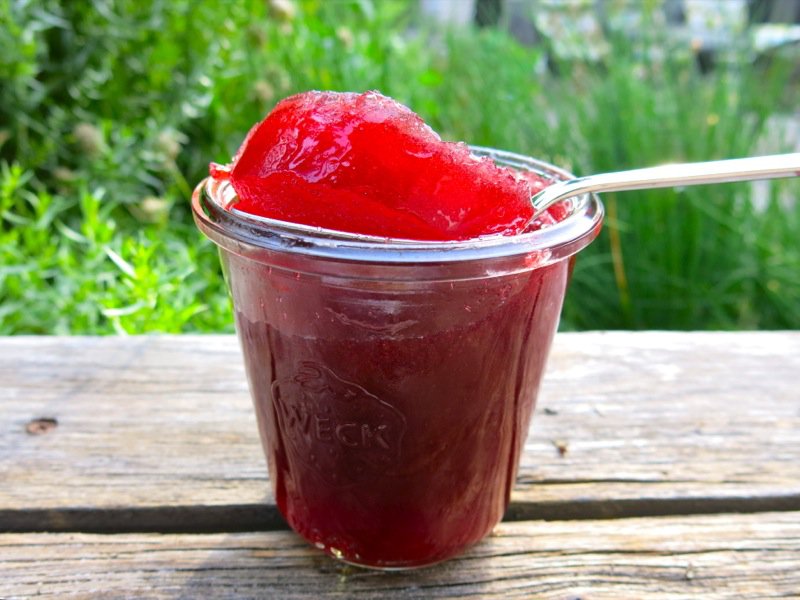 Everything I read was contradictory: you need pectin for Nanking cherries; you don't need pectin for Nanking cherries. My first time in 2011, as I was planning on sharing my experience, I decided to use pectin. Normally, I would take a chance and go with the "au naturale" approach. You can see, above, that it may be possible to make this jelly without pectin as this jelly, made with pectin, is a very tight jelly.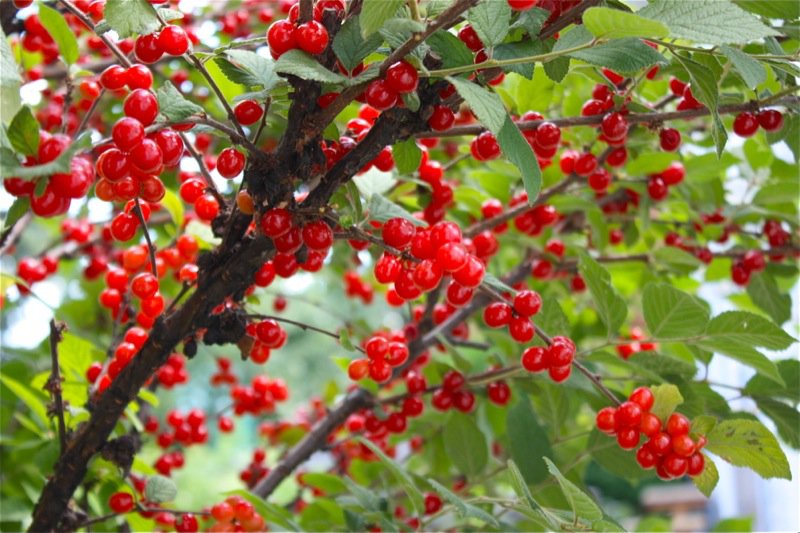 Nanking Cherries are really small. Unless you have seen them in person, it is hard to imagine how small. Bigger than a currant, for sure.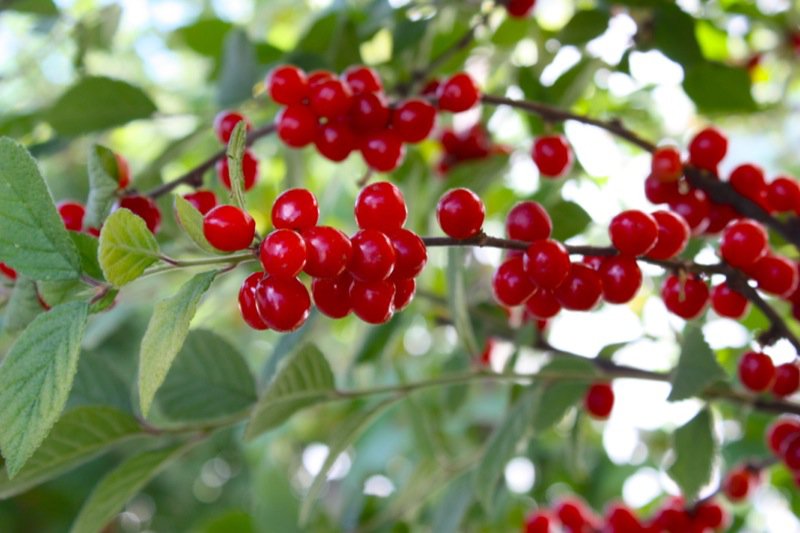 Smaller than a grape. Is it possible for you to see how loaded these bushes are?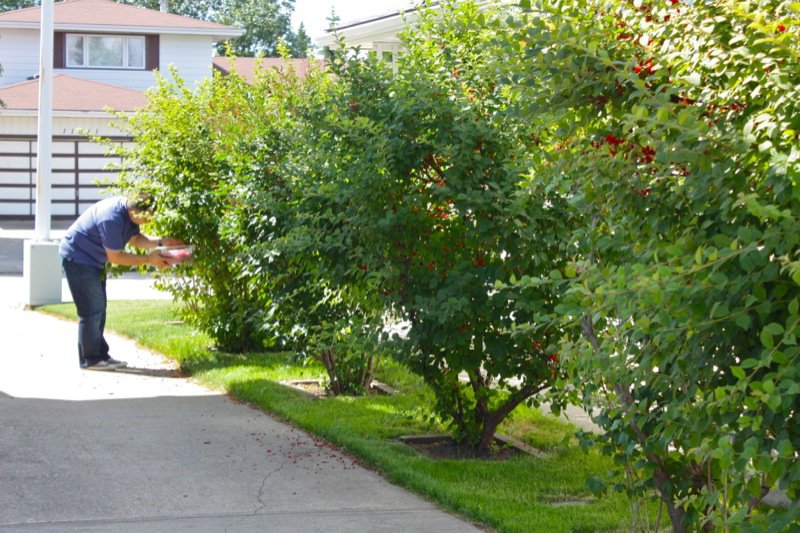 After about a half hour of foraging the hedges together, we had a generous amount. It was actually only 10 cups of berries, in the end, but looked like much more in this tub.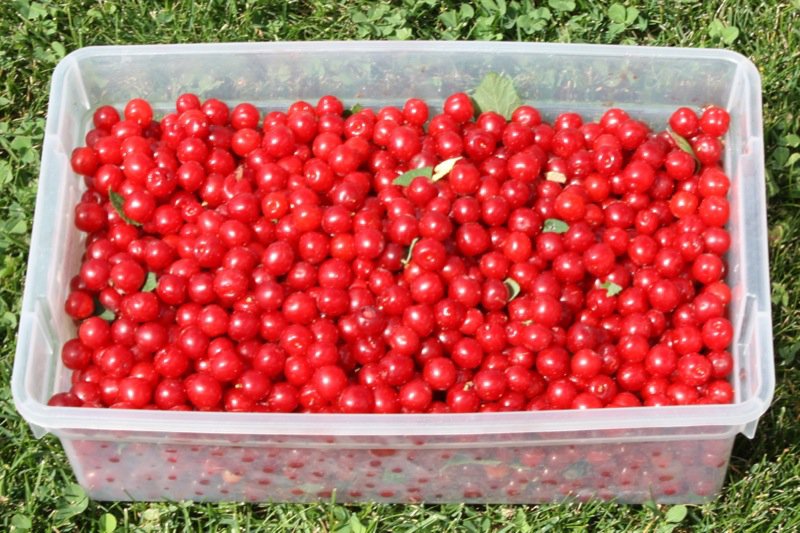 Above and below are the stunningly gorgeous Nanking Cherries we gleaned from Corey and Katherine's garden in July of 2013, and below we had about 3 cups from August 2011. I have to say that this year was my first successful Nanking Cherry jelly making experience and I am crazy over them. Corey and Katherine have practically an entire hedge of them and were definitely feasting on them this year as they have their renovations finished and are now relaxing in their gorgeously remodeled home with a park-like edible garden. I felt so fortunate to be gifted these precious gems two years in a row!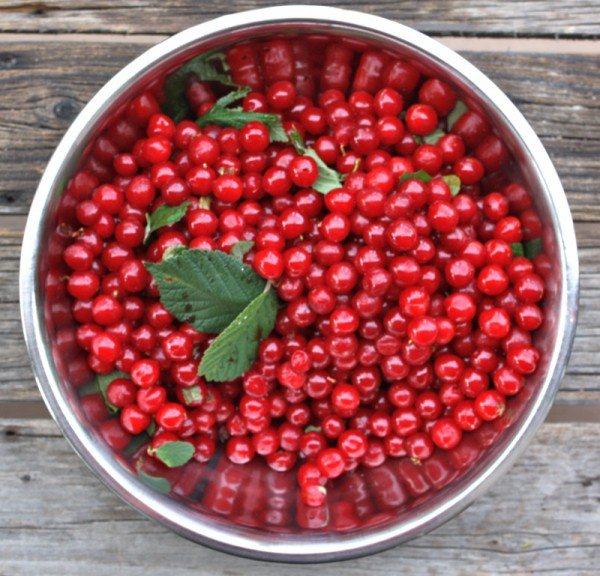 It actually looks like we could have had a little over 4 cups last year, but I certainly learned how to juice them better, this year.
Though we were careful when we picked them, it is amazing how much debris gathered into the bucket. Pour cold water over the cherries and the debris floats to the top and is easy to remove.
See how much there is, above, and how clean the water is, below, now that the debris is removed?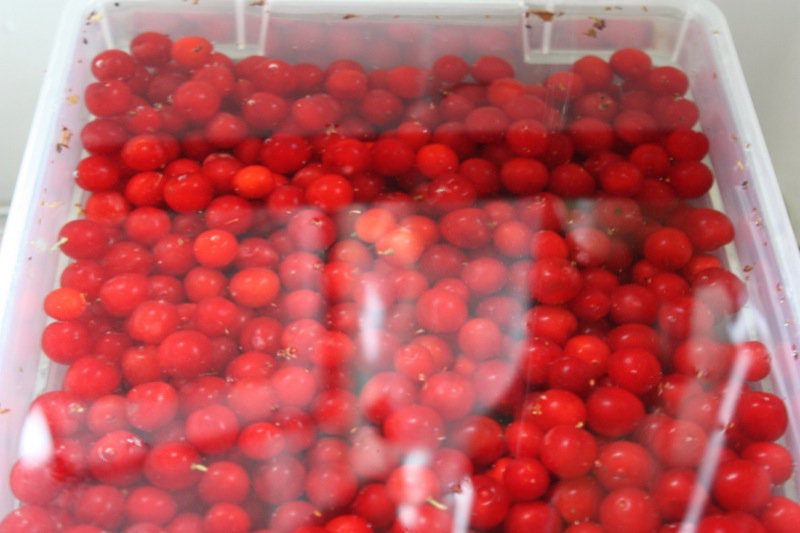 Ah, but don't stop there. Continue to gently stir the berries with your hands to reveal the hidden bits of debris under them and have it float to the top. See how much is there again, below? You will have to do this several times until you get it all.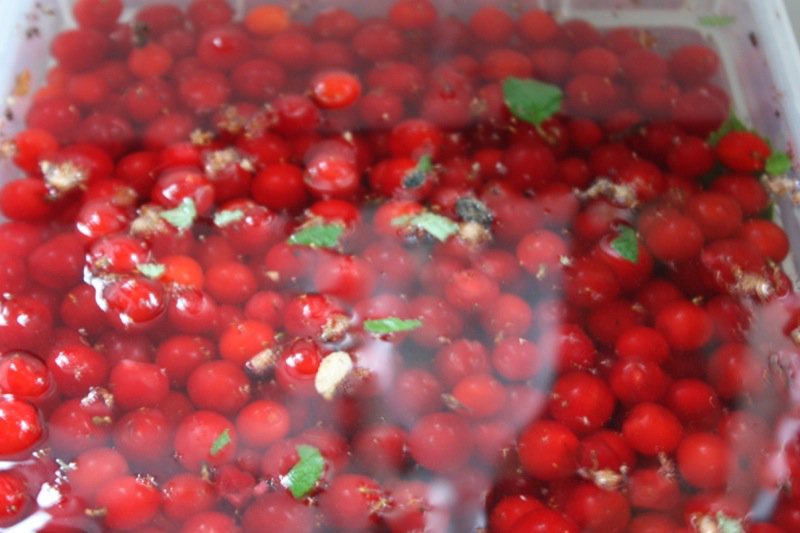 Any kind of fine mesh or sieved spoon will work well.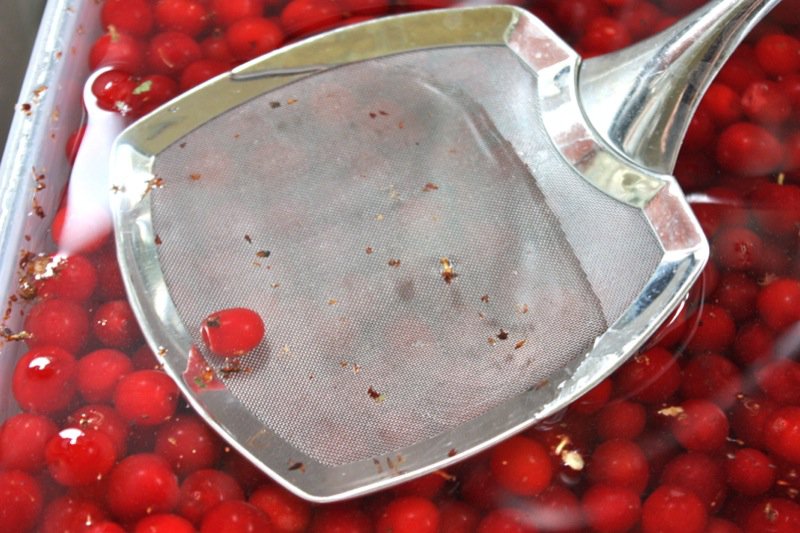 The cherries must then be measured.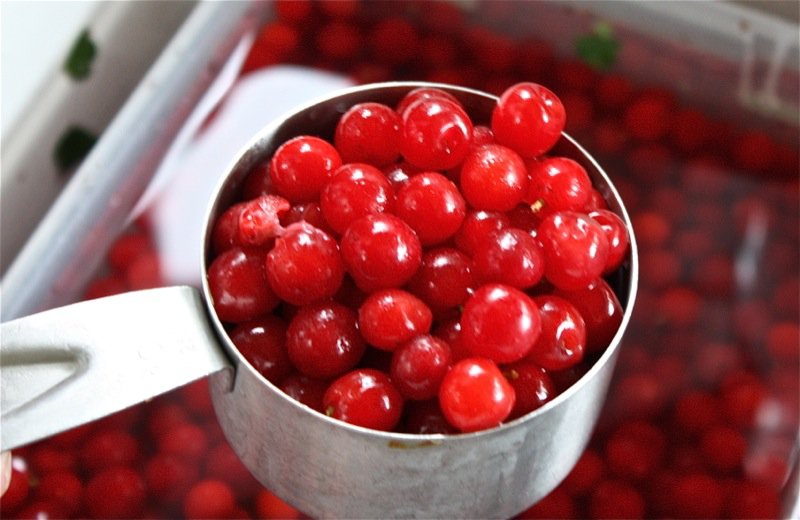 Though it looks like the same bowl used for the August 2011 cherries, it is a much bigger bowl, and you can see that if you look to compare the size of the cherries in the bowl. We certainly had more cherries this year, yet not nearly as much as I thought!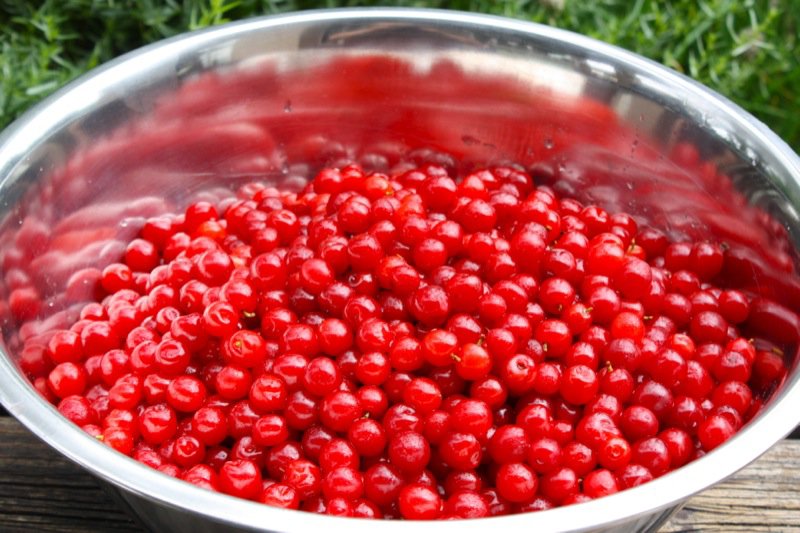 The vibrancy of this fruit as it glistens in the bowl is mesmerizing. As we plucked them from the bushes, the vivid translucent flesh of this miniature fruit left me in awe.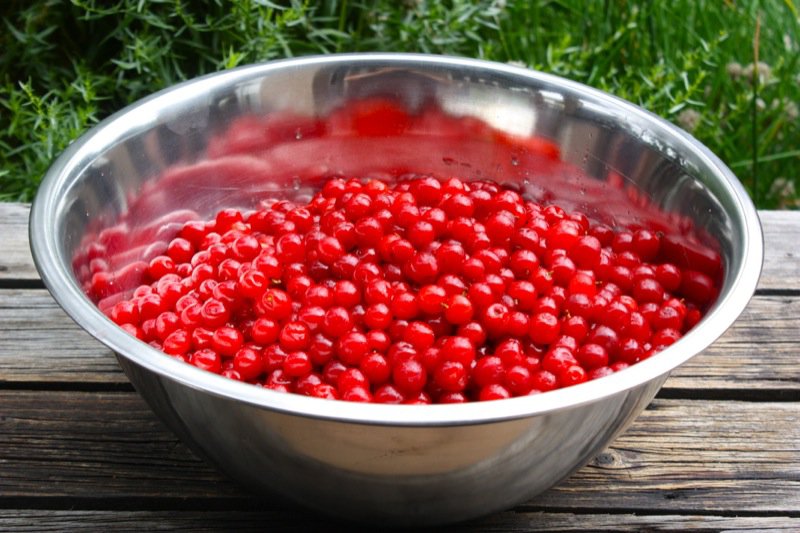 Are you getting a sense of how small they are? They have a good sized pit in them, too. I cannot imagine why or how those that pit them would ever find the time to do this.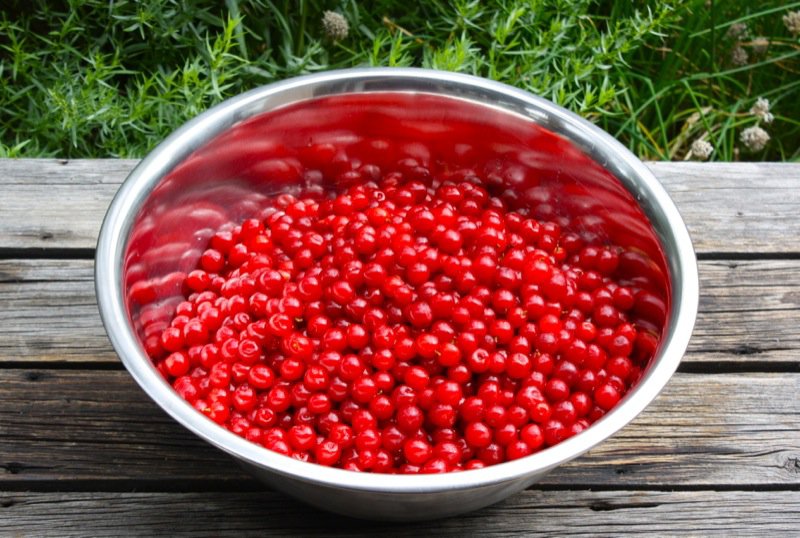 Into my stock pot they go to be heated and mashed to release their juices. I added one cup of water in the bottom to the 10 cups of cherries, and that was plenty to get them going.
Like 2011, I used the potato masher to mash the berries, but it was becoming evident that they were not "popping".
So, before the water was too hot, both clean hands in, I massaged all of the cherries to release their pits and to ensure all had popped and the juices were released. What an incredible difference this made to the amount of juice released from the cherries this time.
The pits are still there, but have sunk to the bottom.
Into my grandma Maude's old Chinois they go. Some people recommend lining this with cheesecloth. I don't and found the juice to be "clear enough" for what I was looking for in a jelly. Certainly using cheesecloth will only make the final product pristine and glistening.
Without touching them at all, I left the cherries drain overnight and was quite amazed at the result.
You can see there is a little opaqueness on the surface of the juice that does sink to the bottom, but it is a scant amount, really. I gleaned 3 cups of juice that made me about 4 and 1/2 cups of jelly. I was dumbfounded by how nondescript the juice flavour was. What is all this fuss about? Many people are crazy about Nanking cherry jelly. I was originally thinking I would just make juice as Vanja loves juices and juice syrups. However, as the flavour was so… subtle, I opted for the jelly to see what the fuss is all about.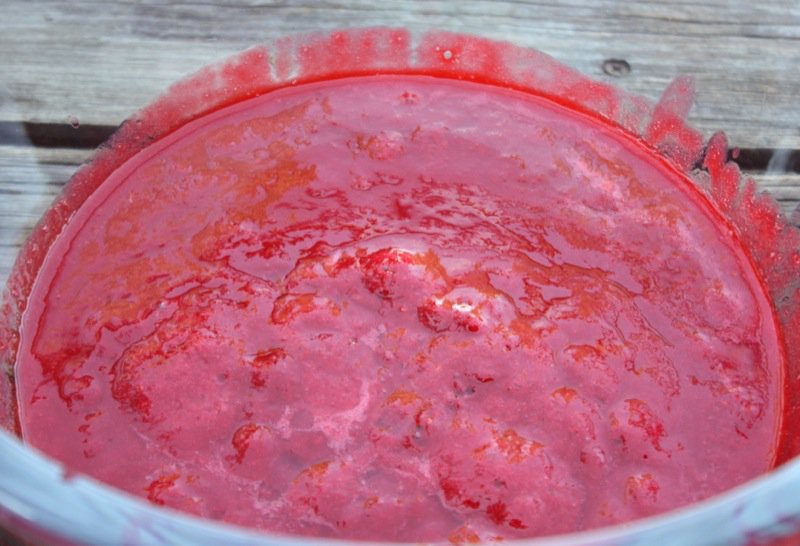 I left the juice sit in the fridge overnight again, only as I was booked the day I "should have" made the jelly, and you can see the layers in the bowl, below.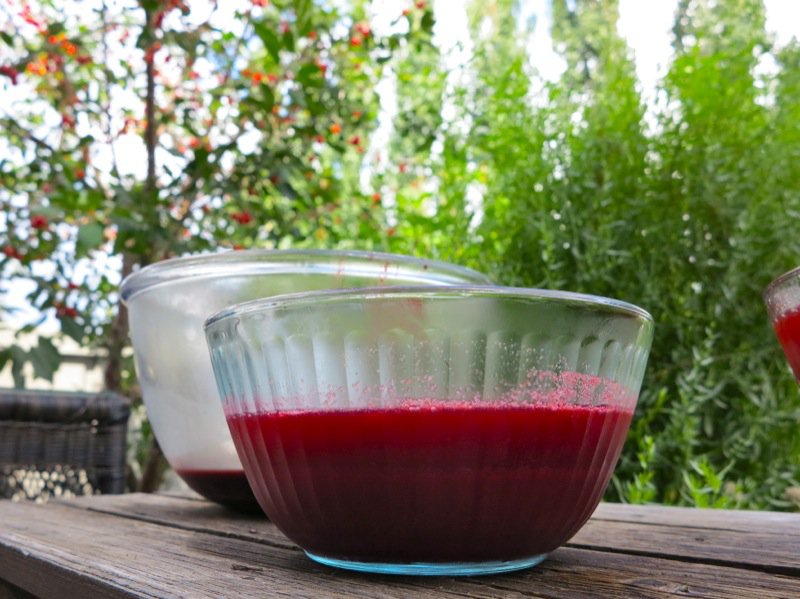 I had a lot of berries at the same time. 'Tis the season, so the juicing was fun in the kitchen, and then it was jelly and syrup making day.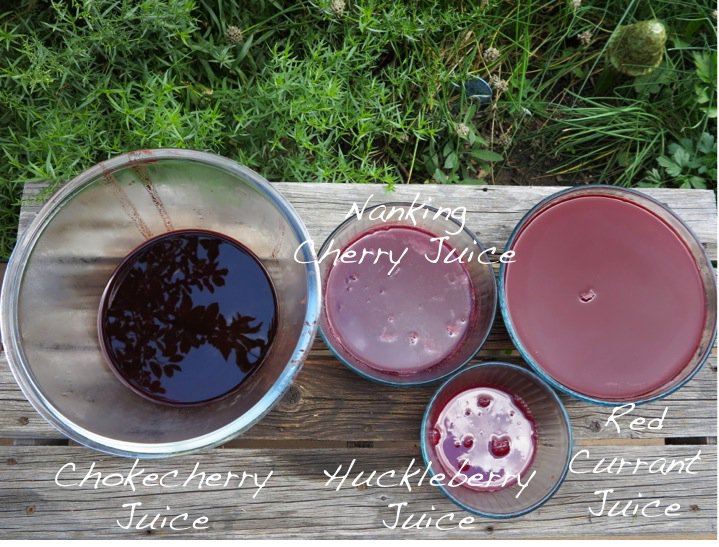 Now the easy part: 3 cups of sugar to 3 cups of juice; a shot of lemon and one bag of liquid pectin. Not all at once, but jelly making is seriously easy. Making the juice is the hard part.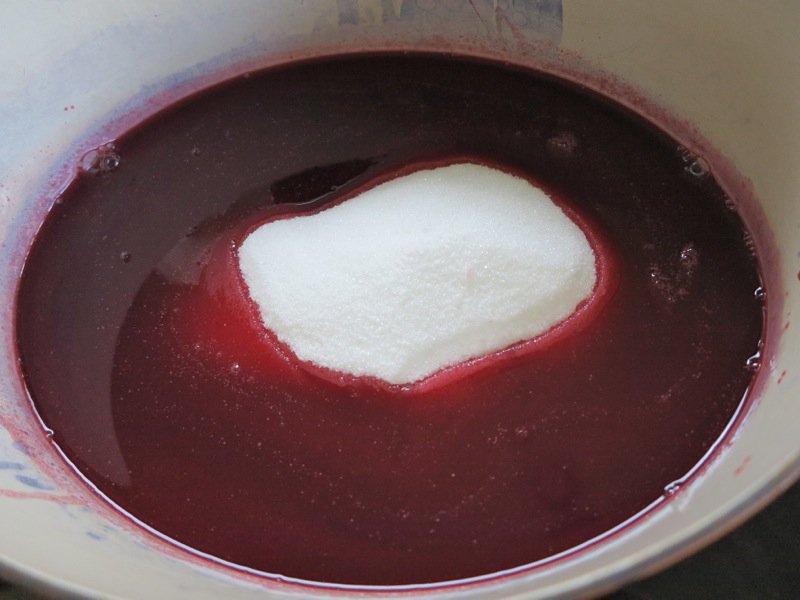 When the sugar has dissolved and the juice is brought to a strong rolling boil, add the liquid pectin and bring back to a strong rolling boil, stirring constantly (and have that strong boil while stirring) for one entire minute… then fill your sterilized jars and process them.
What three cups of Nanking cherry juice produce in jelly is about 3 and a half cups of jelly: below is what I gleaned from this batch.
You get a sense of the density of the jelly paste, below, as well, though it has a lovely smooth mouth feel and is easily spreadable.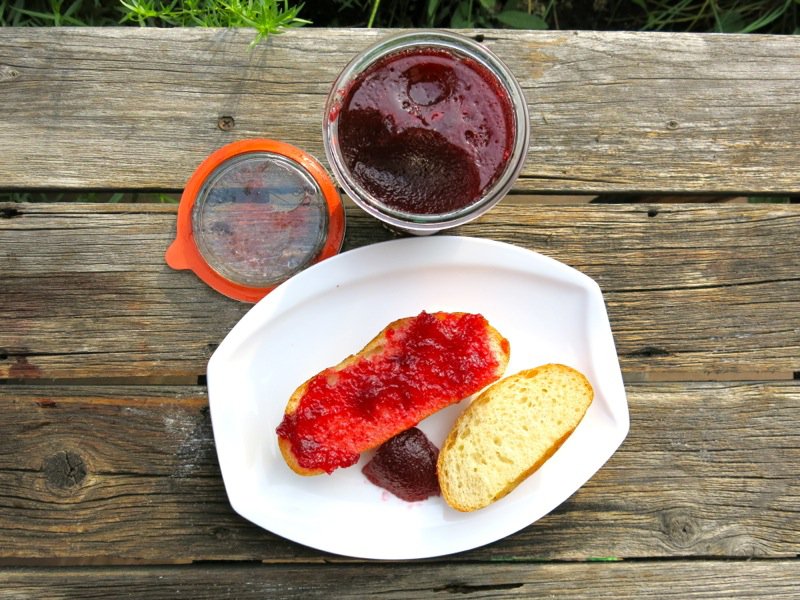 Some people think that processing jelly is the other hard part, but it is really easy, too: just a nuisance. I am not giving instructions for that here as the recipe is below. You can see how many berries I had last year in the pot, below. I just placed a skiff of water in the bottom of the pan and heated it until the cherries released their juices and then hung them overnight to gather the glimmering liquid, just as I did this year… but didn't massage them last year to ensure each one had "popped".
I didn't get much and there was really no need to squeeze. I would get cloudy jelly, but most of the liquid truly was in the bowl. Yikes. Not too much here. And I was surprised by the subtle flavour. The colour is so bold and vibrant, yet the flavour was almost indiscernible. Really. I mentioned this same reaction this year… I had forgotten that the juice flavour was so flat my first year.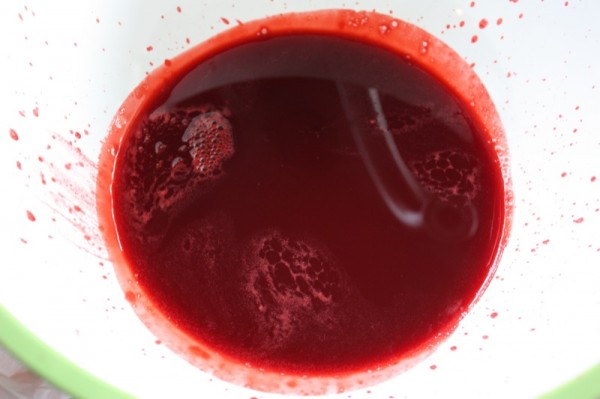 Back into the pan it went and I added the sugar until it dissolved, boiled it for a minute on high, then added half a pouch of pectin only as I had such a small amount and boiled it for a minute on high.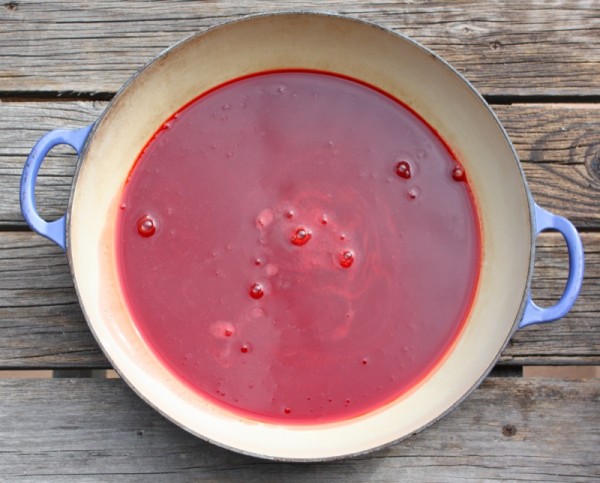 I was careful, but I still got a paste, not a jelly. Which was odd, as I had 1 cup of juice, added 1 cup of sugar and followed the instructions to a "t", yet gleaned only a 1/2 a cup of "paste" which was such a different experience this year, as I got more jelly than juice, not less.
To provide a very simple image of a savoury marriage, schnitzel and Nanking cherry jelly are a spectacular compliment to one another.
And the taste? Oh, my! That was a welcome surprise!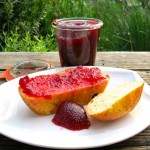 Nanking Cherry Jelly


This is a very delicious jelly that works in both sweet and savoury dishes. A three cup batch will make 3 1/2 cups of jelly.
Ingredients
Nanking cherry juice

same amount of sugar to juice

( 1 cup to 1 cup)

squirt of fresh lemon juice

(about a teaspoon or so per cup of juice)

one package of liquid pectin for every three cups of juice
Instructions
Clean berries and heat to a low simmer for about 2-3 minutes (at the simmer) until they release their juice; hang over night to glean juice (I had to use my hands to squish the berries)

Measure juice and add the same amount of sugar to a heavy pan

Add lemon juice

Bring to a boil, skimming any foam from the top; add pectin after it has boiled for 2 minutes and all sugar is dissolved

Boil for one more minute; ladle into hot, clean jars and seal
Recipe Notes
If you do a very small batch, you might get a paste!