Turkey Leg Roulade: Deboning the Leg and Stuffing it with Festive Goodness!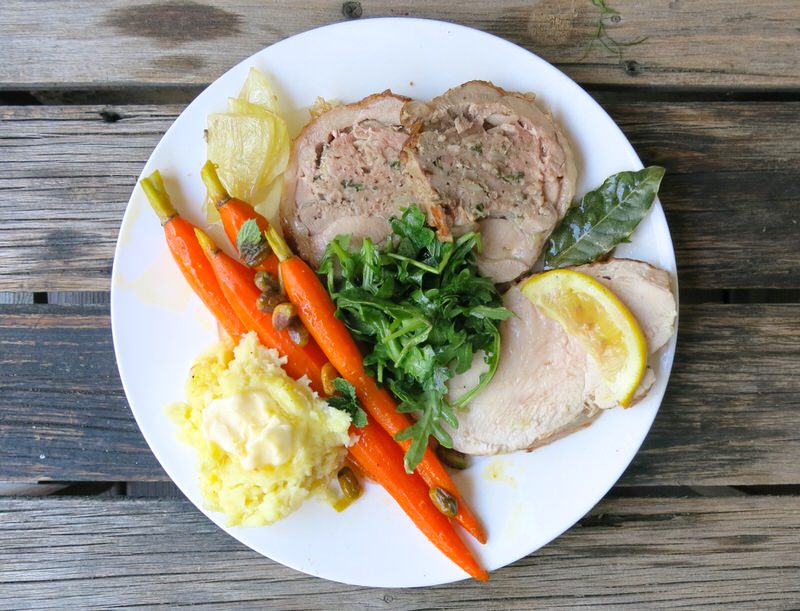 Turkey Leg Roulade? You bet! A modern take on our traditional Canadian Holiday Meal. Larissa Trifonova Prouse moved to Canada 10 years ago, and in 2012 found a holiday meal from the October issue of House and Home magazine that spoke to her.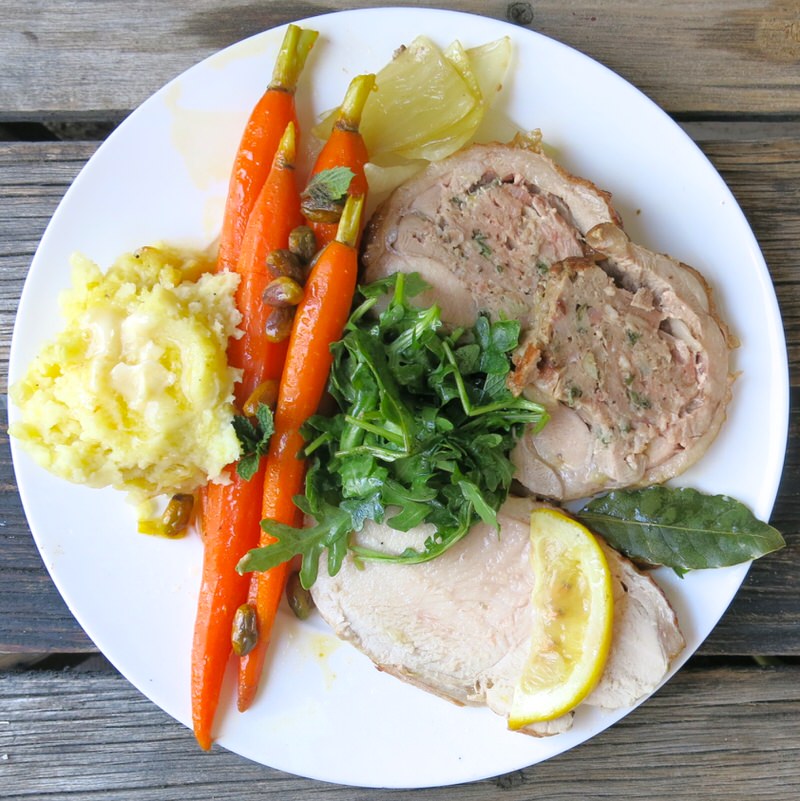 Cooking is one of her loves. Cooking dinner with her husband, Tish, every evening, is the favourite time of day for both of them.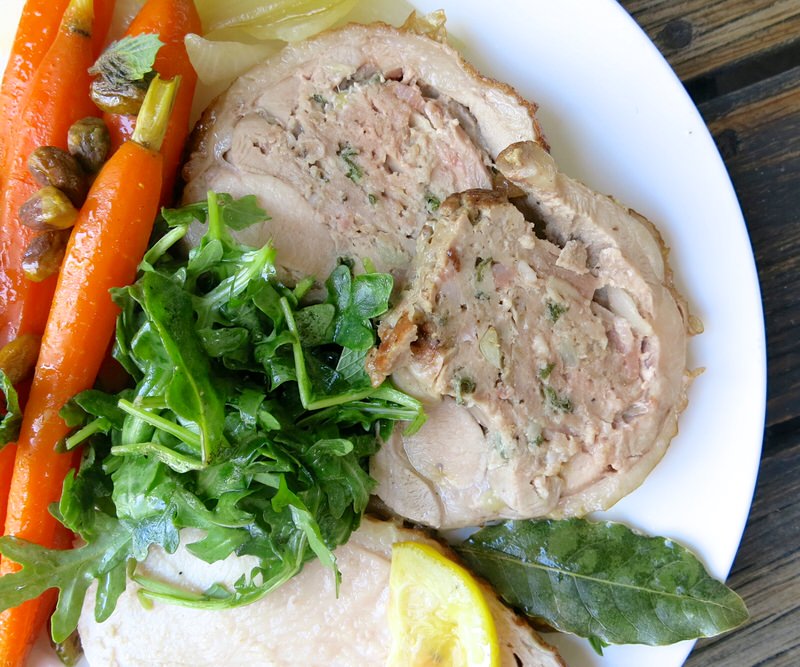 But, this meal, she owns. No one is allowed to help. Everyone, out! This is her gift to her family every holiday meal through the year, since 2012.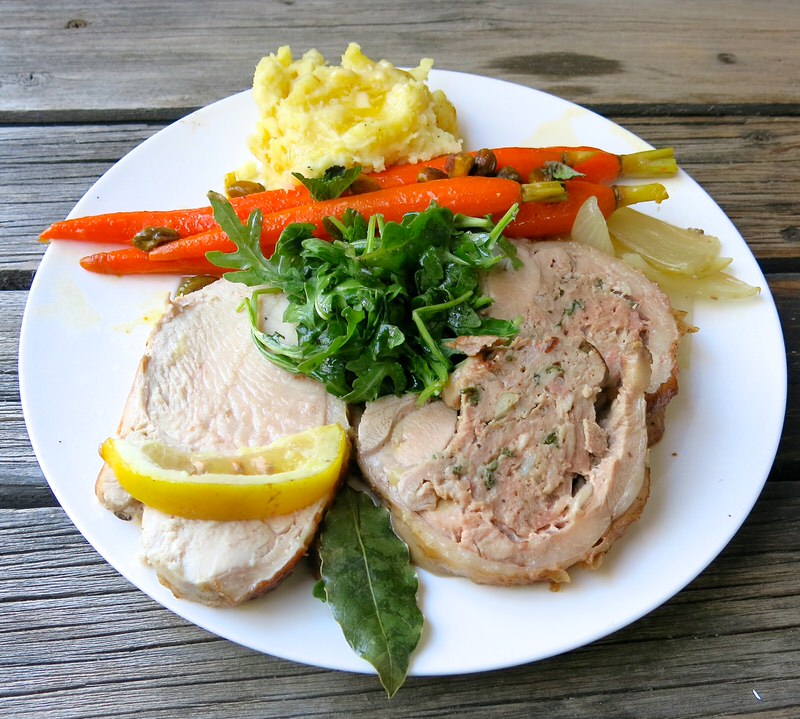 She taught herself how to break down a turkey and debone the legs and breast in about 20 minutes, flat. She is one determined home cook and I was so blessed to have shared a couple of days with her in my kitchen while she shared this labour of love with me: Turkey Leg Roulade with the most flavourful stuffing, moist Lemon Brined Turkey Breast, delectable Saffron Glazed Carrots with Pistachios and Mint and scrumptious creamy Horseradish Mashed Potatoes. I added a simple arugula salad for good measure. Larissa adds a seasonal green vegetable. Serve her Apple Beet Soup with Feta before the main, and you have a spectacular Festive Holiday Feast! Clearly, an invitation to the Prouse house for a holiday meal is a coveted summons.
Turkey Leg Roulade: Introducing Larissa Trifonova Prouse
The introduction of Larissa can be found here, in the first of this 5 post Festive Holiday Meal Series. Her husband, Tish was the catalyst for our meeting, and is currently an Edmonton City Council Candidate for Ward 6 Alderman. Check out his platform and site, here.

Recipes for Larissa's Festive Holiday Meal that are posted as part of this series:
Seasonal Green Vegetable is added (asparagus for Easter, zucchini or broccoli at Thanksgiving, brussels sprouts at Christmas)
Turkey Leg Roulade: Cooking in the Kitchen with… YOU!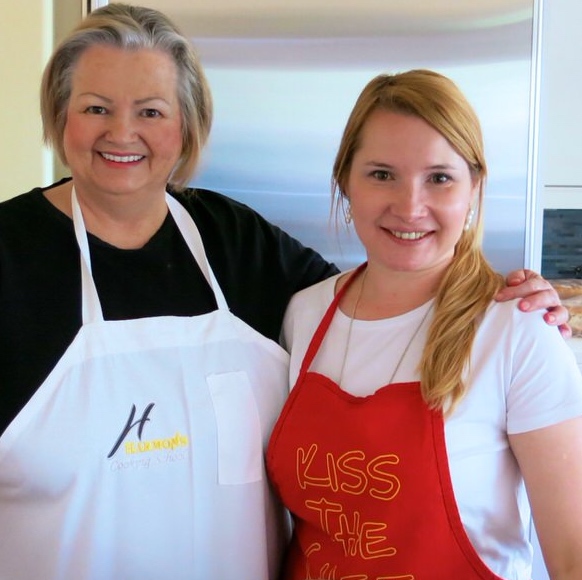 Some women like to shop or go to the spa. I love to cook in my kitchen with a friend – or someone learned who has a recipe to share, and a story to tell. Essentially, I want to glean heritage and traditional recipes – the best of the best – from our oldies and goldies that have so much experience in their heads. I want to cook with our babas and nonnas and grandmas and grandpas and learn to make what they are known for, or famous for, and share it with my readers. This is not exclusive to our elders, but definitely with them in mind. Of course, many, many younger folk, like me, for example, have much to share, as well.
#ACFValerieCookingwithYOU!
Larissa is participating in this project. The introduction of Larissa can be found here, in the first of this 5 post Festive Holiday Meal Series. Her husband, Tish was the catalyst for our meeting, and is currently an Edmonton City Council Candidate for Ward 6 Alderman. Check out his platform and site, here.
If you would like to, please let me know!
Turkey Leg Roulade: Breaking Down the Turkey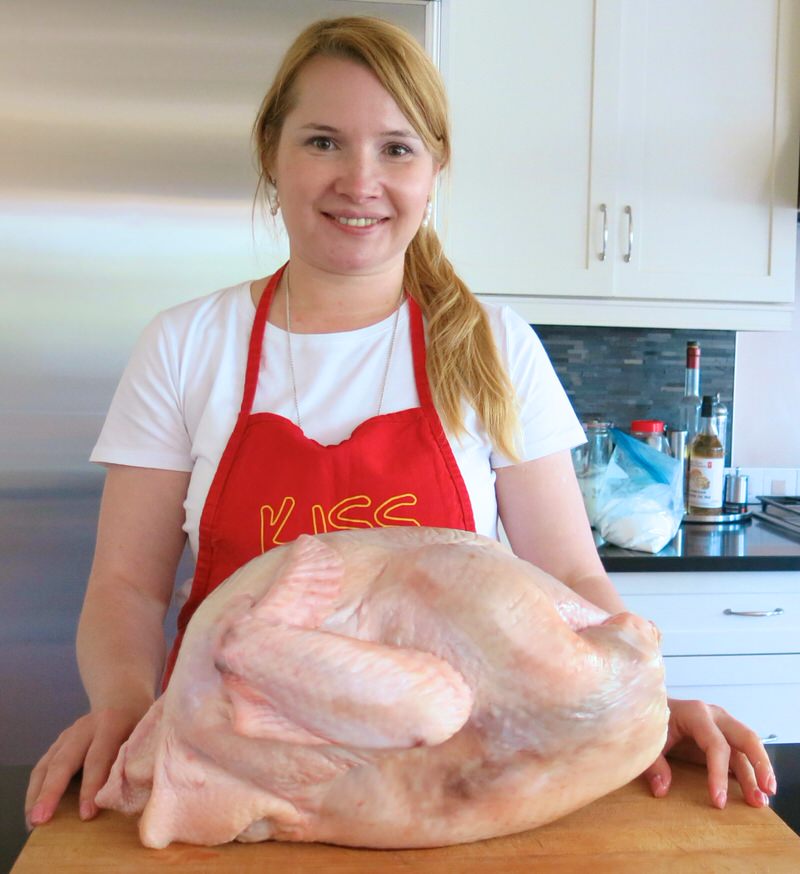 Larissa and I cooked together this past June. Fresh turkeys were not an option. I was in Blush lane to pick up my regular Sunworks turkey that I order fresh for every holiday meal, but the frozen version. Though they were out so I bought a Winter's bird. A beautiful bird, but even more than Sunworks prices.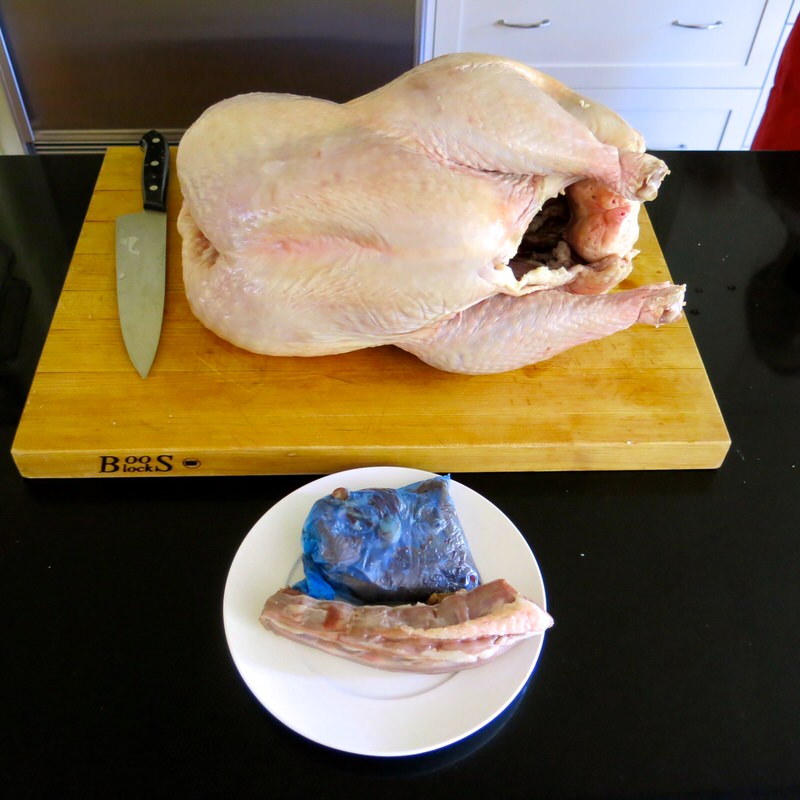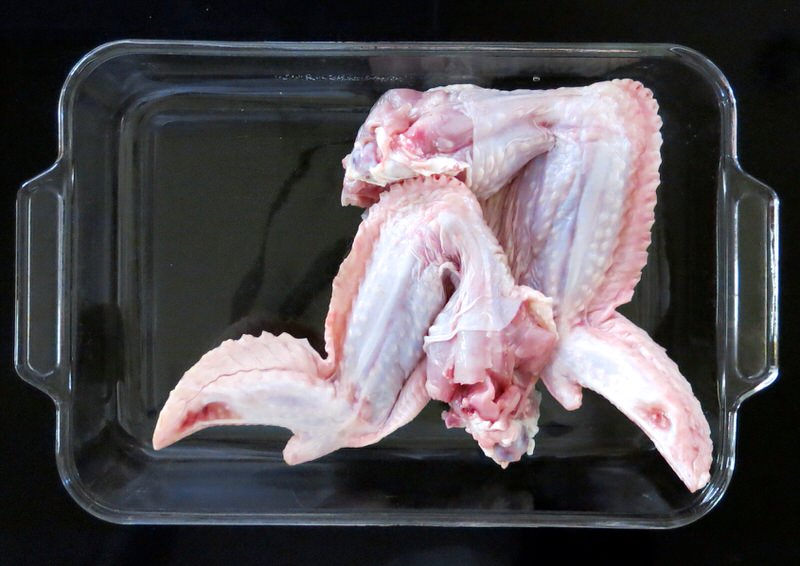 Off with its wings! Let's watch the process on video!
What a shame that I thought I was videoing the removal of the leg, and the first part wasn't caught on video. I didn't know that until much later. I deboned the second leg after Larissa left, all by myself. It could have been tedious. But, it really wasn't. I just put on some good music, expected it to take me 20 to 30 minutes my first time round, got comfy and started. Ten minutes later, I was done and did a very good job! That's a good teacher. Alas, I didn't know I should have video taped the second deboning.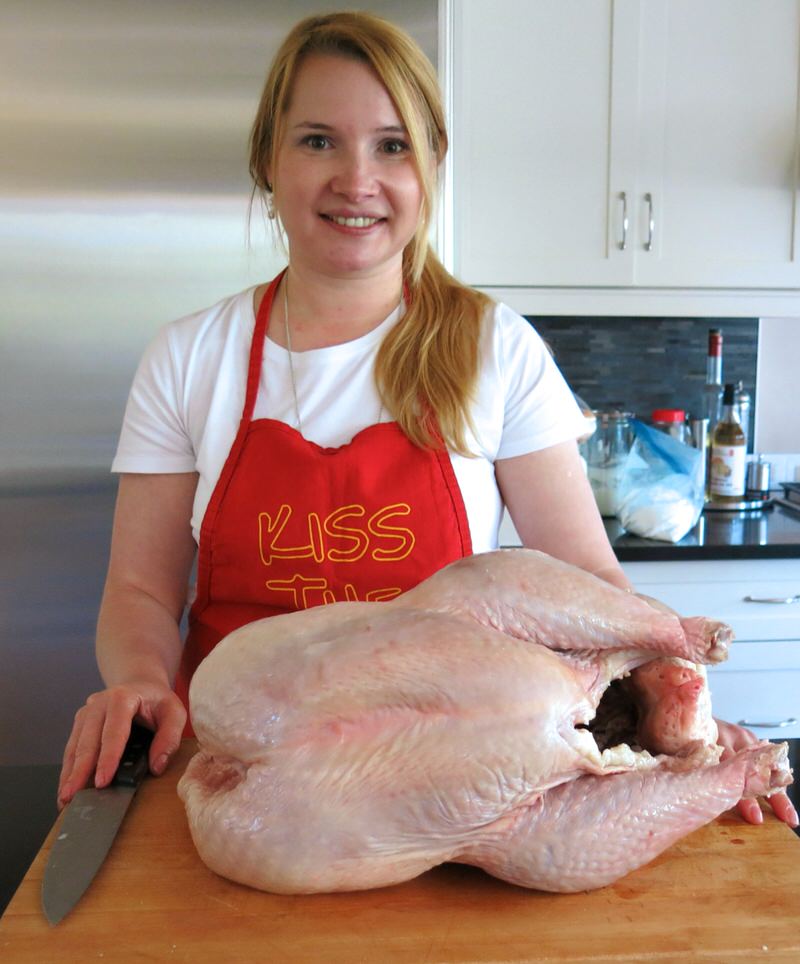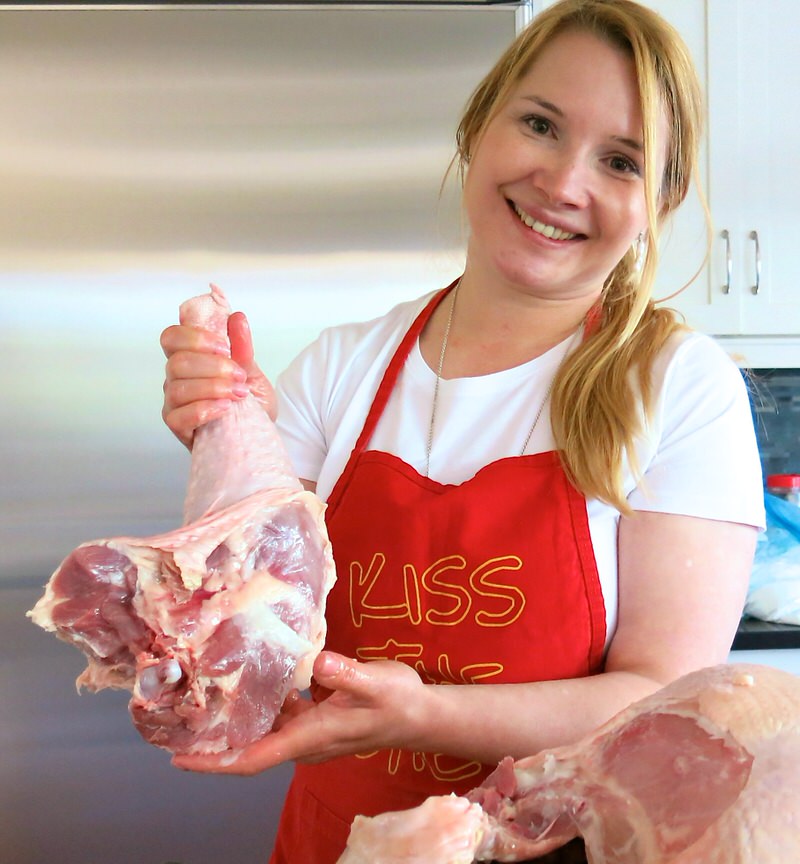 That is a great looking leg!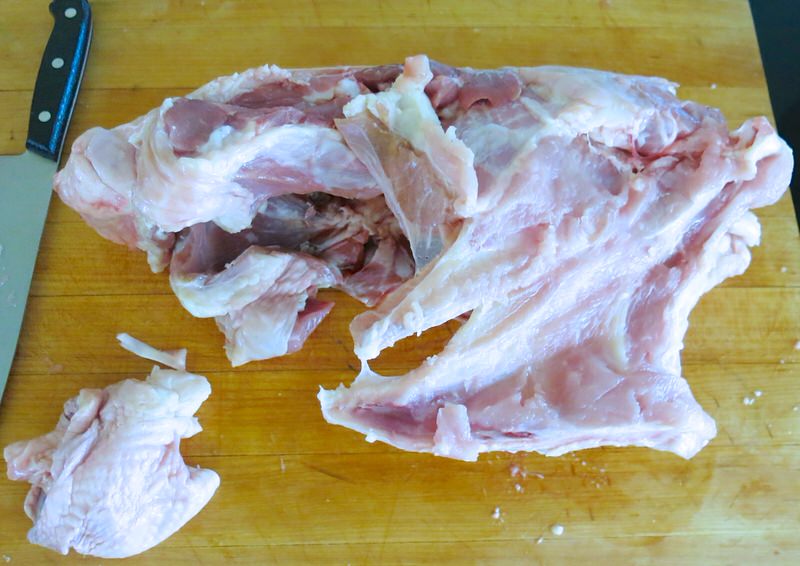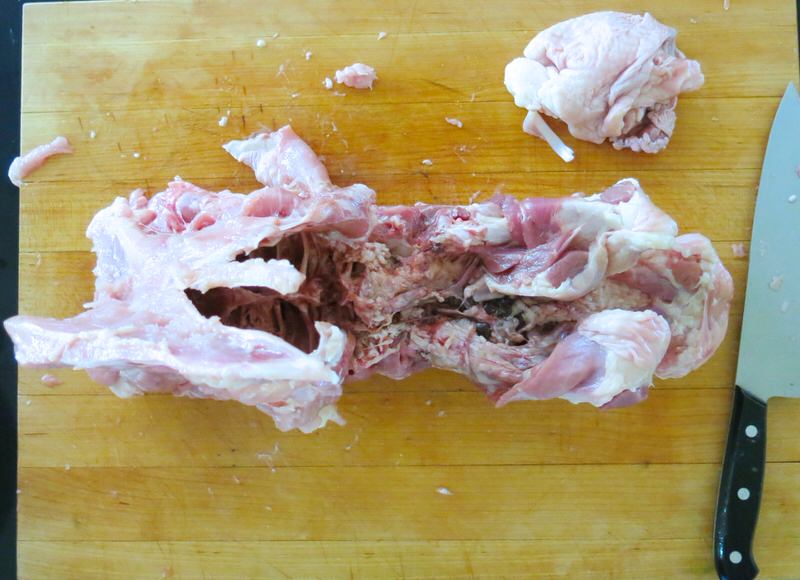 I actually made a massive batch of turkey soup with only half of the carcass. I froze the other half and just made it up the other day. There was definitely enough meat left on the carcass for a couple of family meals. It made delicious soup.
Turkey Leg Roulade: Deboning the Leg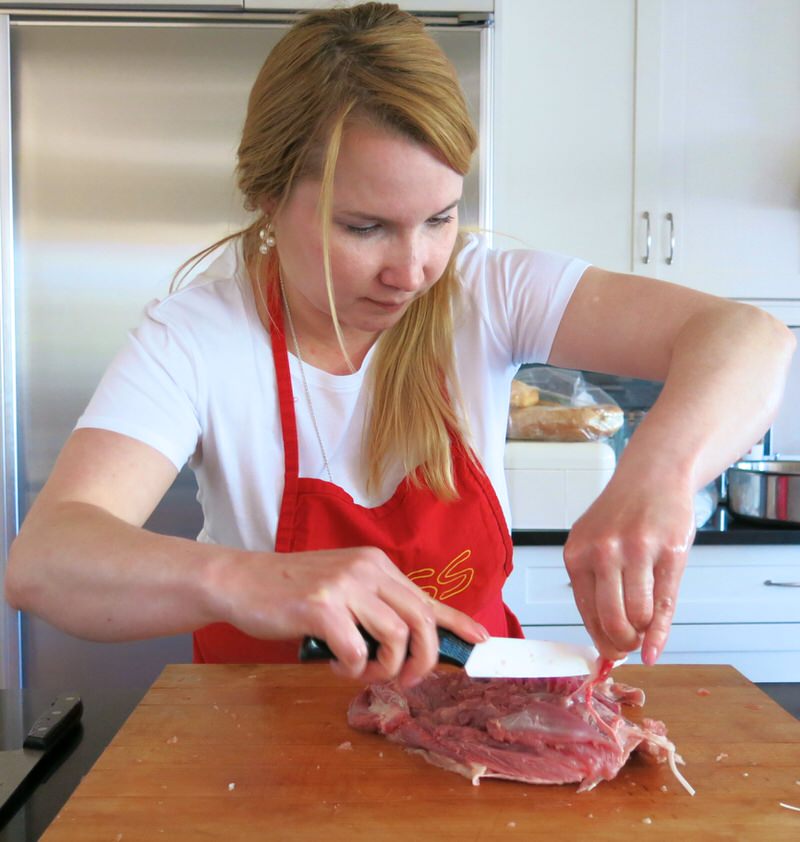 Sadly, I didn't take photos of removing the main bone in the leg, either. However, it is exactly the same as with a chicken and the large bones are the easy ones to remove. It is the many, many small thin, flat bones in the leg that need careful attention and a very sharp knife.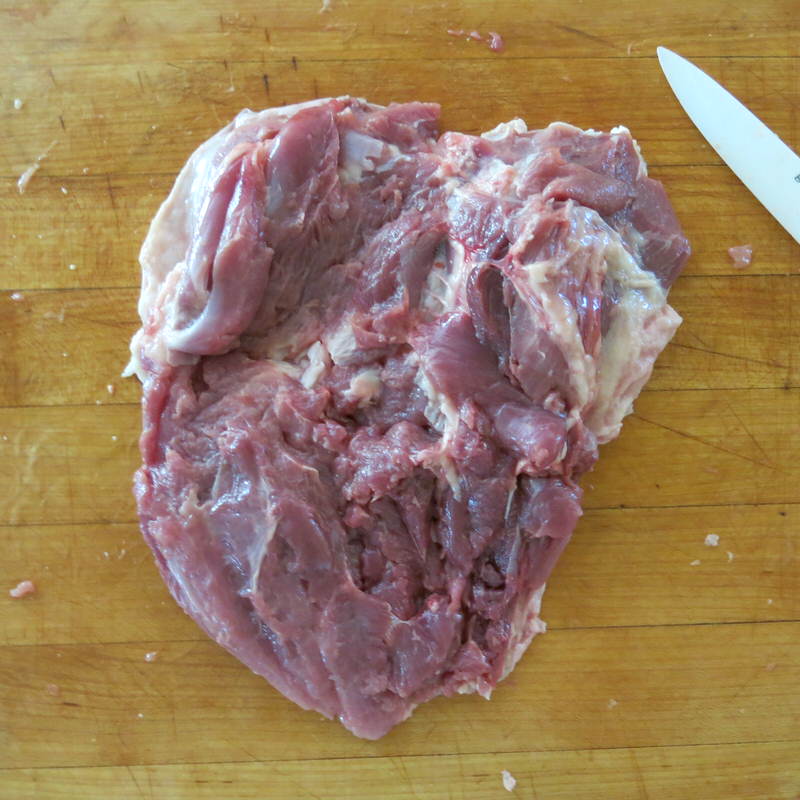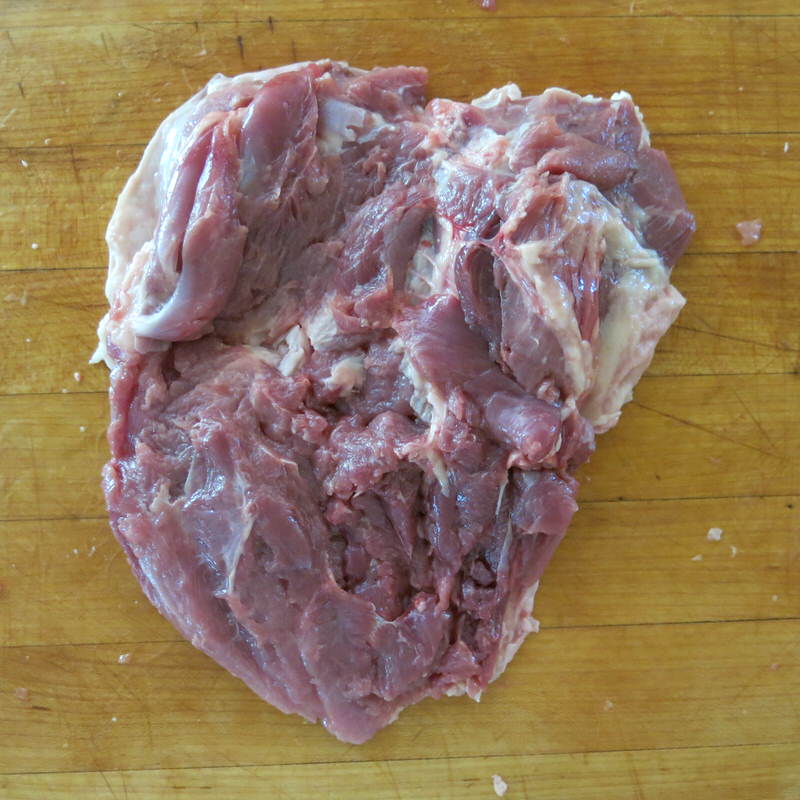 No pounding necessary. Both deboned legs were rolled and covered to rest overnight in the fridge as Larissa was returning the following day to make the stuffing for the turkey leg roulade and prepare all other recipes for the holiday meal. The breasts, below, were also chilled until time to put them in the brine solution for the correct number of hours.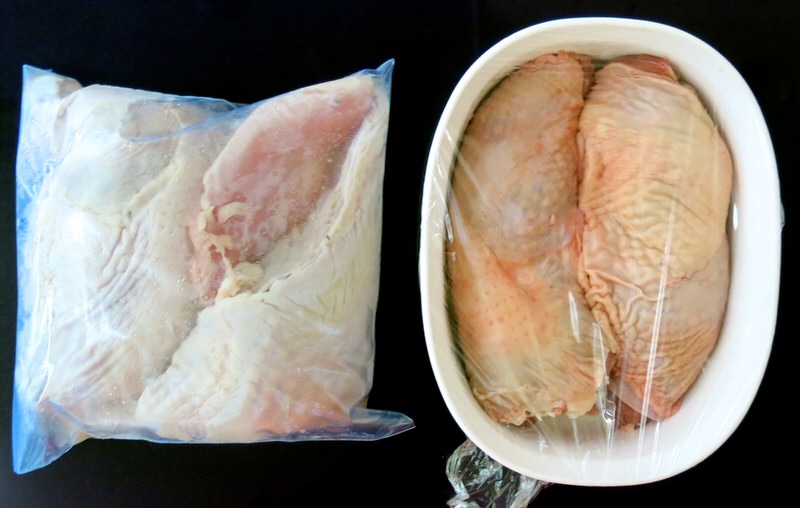 Turkey Leg Roulade: Making the Stuffing, Day 2


If you don't make a turkey leg roulade – which I highly recommend, at the very least, make this stuffing recipe into meatballs. It is so flavourful. Pancetta, ground dark turkey meat, onion, garlic, sage, olive oil, breadcrumbs and fresh nutmeg are easily available and in this combination, really delicious. I used chopped gluten free crackers instead of breadcrumbs as I was having a guest that could not tolerate gluten. Worked perfectly.

Sauté the onion, but don't brown it.

Add the garlic and coursely chopped fresh sage.

Above, mis en place, again, but this time, all prepared.

Combine all ingredients well and form into an oblong shape to stuff the leg.
Turkey Leg Roulade: Making the Roulade


There is nothing like a beautiful turkey. Yes, so much more money that the mass produced 35 dollar variety, but so much healthier, raised humanely and taste sooooo good.

When I first say Larissa lay the filling across the deboned turkey leg meat, I thought, "How in the world is she ever going to enclose the filling? There is just too much of it."

But, she doesn't even try to. That wasn't even on the radar. She worked to tie the string in proper butcher's knots around the meat with the top exposing the filling in a very decorative and compelling manner.

Yes, she is a little bit of a perfectionist. I was happy to have that in common with Larissa. What I was in awe of was how deftly she did this completely by herself. I would have waited til Vanja was home and asked him to help with a "finger here" or "there".

Aren't they just so pretty? Absolutely perfect centre stage for a festive holiday meal! One is bigger because all of the leg and thigh meat was removed with it in one piece. The other one left some thigh meat behind, so is smaller.
Turkey Leg Roulade: Freezing or Cooking the Roulade


The beauty of this preparation, is that you can serve one Turkey Leg Roulade and one Lemon Brined Breast for a meal and still feed 8 large people well. I could have fed ten. Then you have one breast and one roulade for the freezer and they freeze beautifully. Imagine, expecting unexpected company and pulling off this kind of a meal simply by removing these two items from your freezer the night prior.

Browing the Turkey Leg Roulade is first.

Absolutely gorgeous and ready for the oven.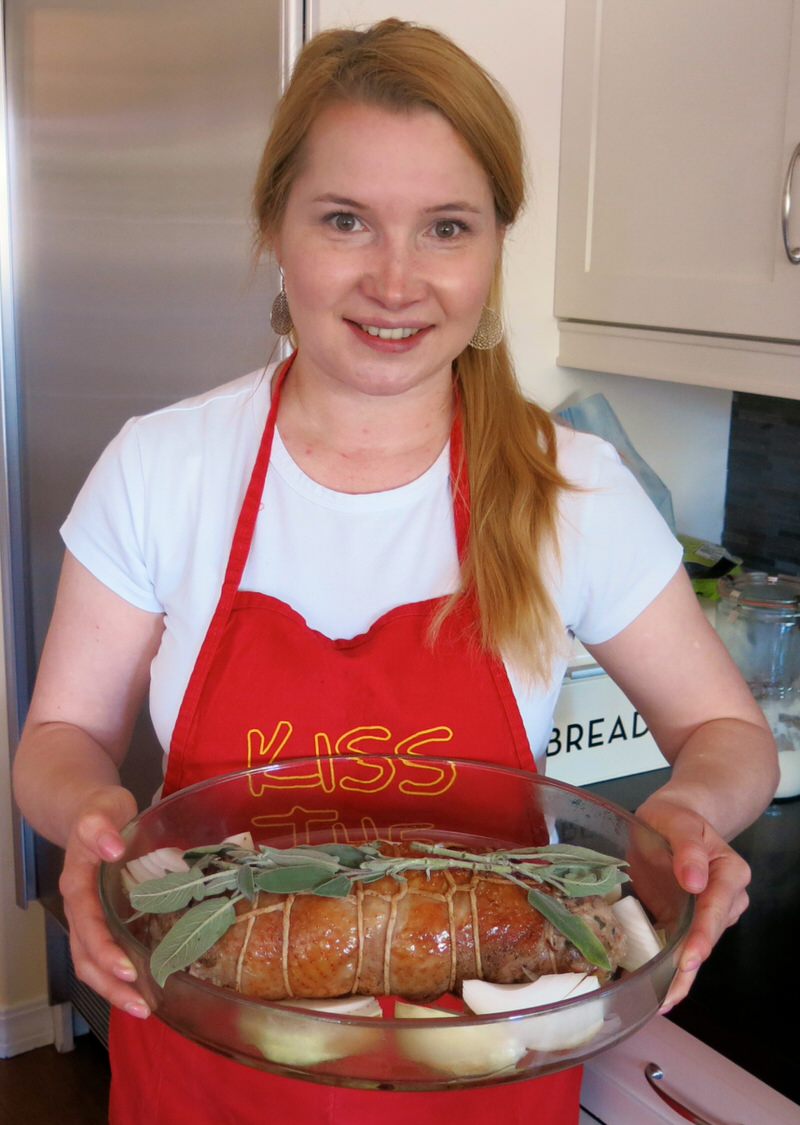 Turkey Leg Roulade: Presenting the Roulade with the Lemon Brined Breast


The breast is browned next, but you can read all about that in the Lemon Brined Breast article. Presenting the two is lovely on a board, as above.

Remove the strings, slice: voilá!

The Turkey Leg Roulade is the show stopper of the fowl in this meal, in my humble opinion.
Turkey Leg Roulade: Larissa Trifonova Prouse Festive Holiday Meal

Oh, what a meal it is. You can now understand that this family knows how to celebrate together. Colour. Texture, Flavour.

Really great food with family and friends gathered round the holiday table – making memories. Who could ask for anything more. Thank you, Larissa.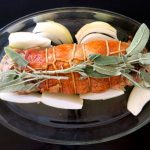 Turkey Leg Roulade with Pancetta and Sage
Ingredients
Ingredients for Filling:
3

tablespoons

vegetable oil

1

onion

finely chopped

1

garlic clove

minced

2

tablespoons

finely chopped sage

12

ounces

ground turkey

3

ounces

pancetta

finely cubed

2

tablespoons

dried breadcrumbs

I used baby rice rusks

pinch

of nutmeg

salt and pepper to taste

2

turkey legs

2 pounds each, deboned

2

fresh sage sprigs

3

small onions

halved
Instructions
Instructions for the Filling
In small frying pan, heat 1 tablespoon oil over medium heat; add onion and cook, stirring for 5 minutes

Add garlic and sage; cook 1 minute

Remove from heat; cool

In medium bowl, combine onion mixture, ground turkey, pancetta, breadcrumbs, and nutmeg; season lightly with salt and pepper; mix thoroughly

Season boneless legs with salt and pepper; lay on working surface skin side down to form rectangles

Working lengthwise, divide stuffing evenly down middles

Roll to form two 3x10 inch roasts; tie with butcher twine (stuffing will be visible down centre of each)

Preheat oven to 400; in large non-stick frying pan, heat remaining 2 tablespoons oil over medium high heat

Brown roulades until golden on all sides (about 12 minutes; mine took 6 minutes)

Transfer to roasting pan seam side down; add sage and halved onions decoratively

Roast until instant read thermometer inserted in middle reads 165F (45 to 55 minutes)

Rest 20 minutes; remove strings and slice thickly