This Asparagus Soup was inspired by BATCH and my SPRING BAG of asparagus!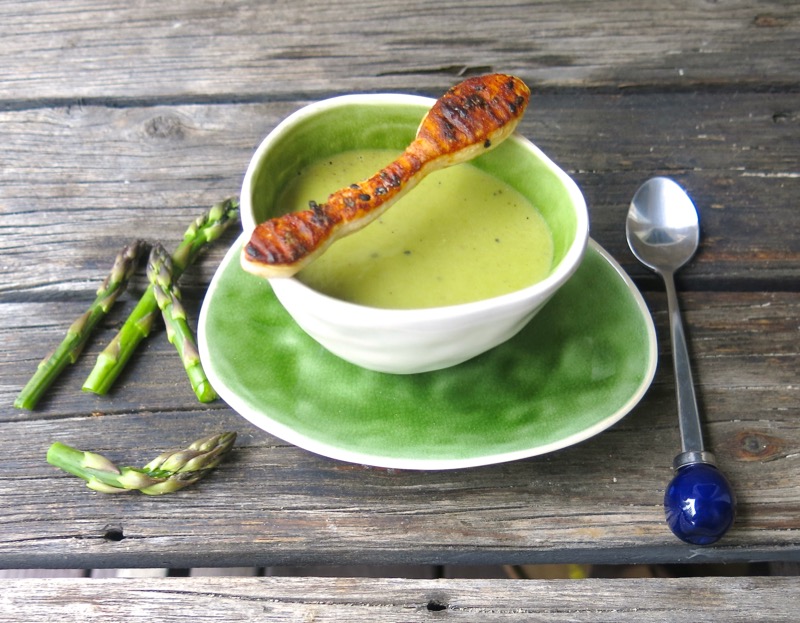 Every year, I head down to the Edmonton City Centre or Old Strathcona Farmer's Market early morning, and early in the season to get my weekly supply of asparagus from Edgar Farms. They are famous throughout our entire province for their ability to supply fresh local asparagus to most city markets during its growing season. I feast and feast and feast on the gorgeous local treasure until the end of the month when it is gone until another year. The season is so short and the product so divine, it is well worth putting my world on hold to savor it.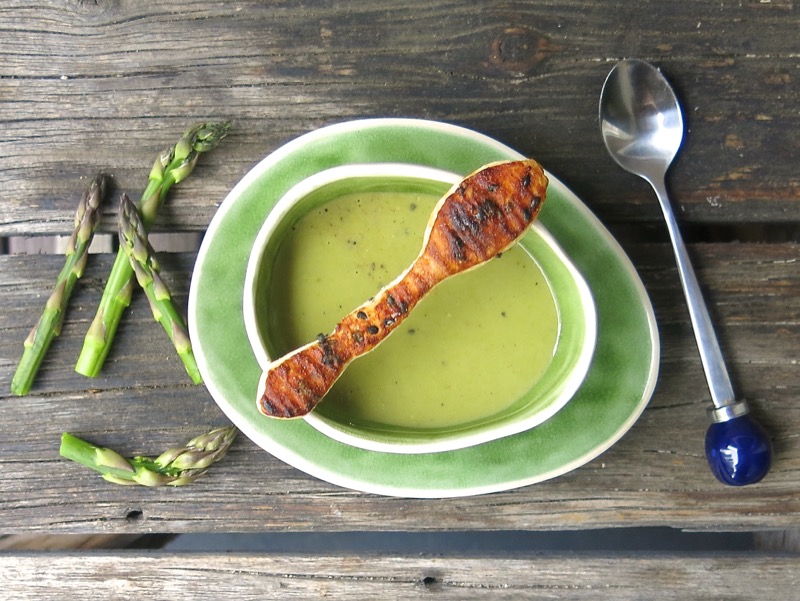 My love for asparagus goes back to when my wee chubby toes sunk into Grandma Maude's fragrant moist black soil in Clive, Alberta, while nibbling the pea flavoured fronds, as they tickled my nose. As the steamed fingers were served with the greatest of reverence, an early evening chorus of pleasured rhythmic guttural utterances would rise from her table similar to praise mantras of monks from their mountain monasteries in the evening dusk.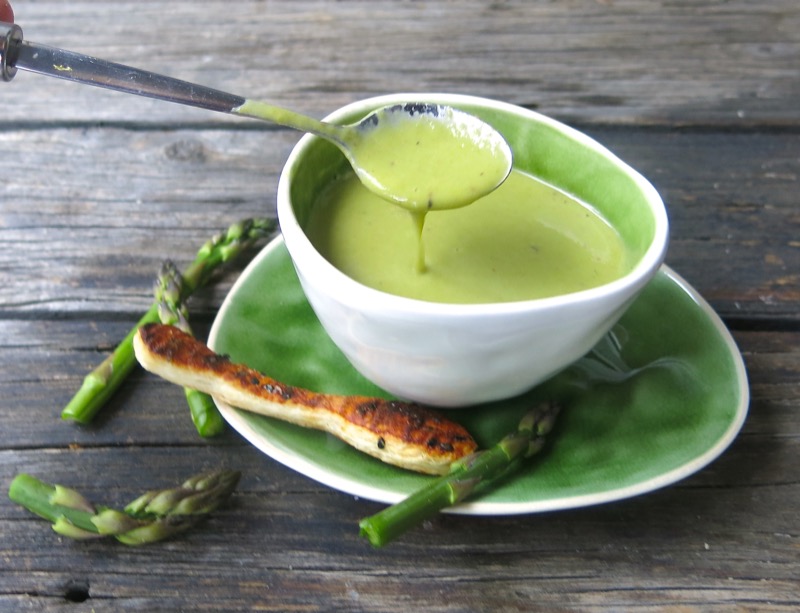 Sunday Dinner is the perfect time to test out my creation of this homemade preserved Asparagus Soup Concentrate on the family and it was a slam dunk! It is not a fresh asparagus soup. It is a concentrate, re-constituted with added ingredients that enables a seemingly fresh homemade soup later in the year with little effort. The finished soup is a delicate blend of flavours with a more subtle asparagus note than a fresh asparagus soup would present, yet renders a compelling appeal that consistency evokes that same strong pleasurable response.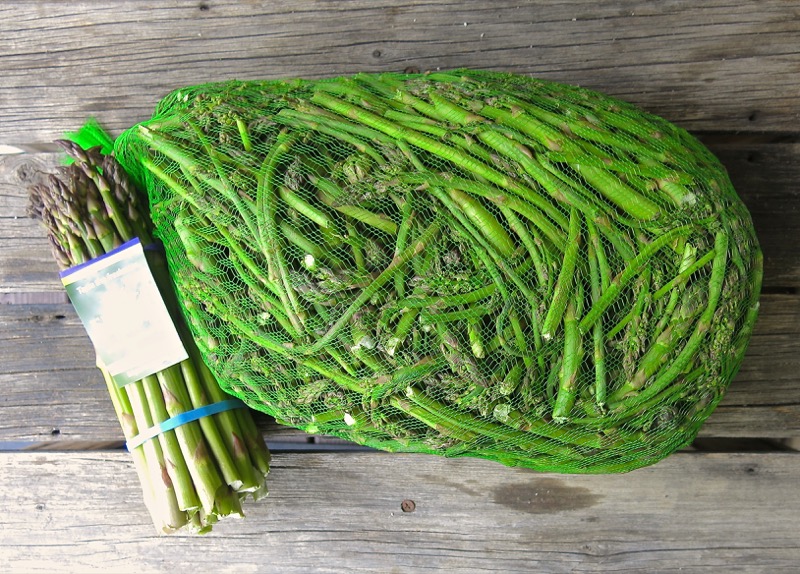 Did you know the sweetest part of the asparagus presenting the ultimate burst of flavour is below the tip? Almost mid stalk? That is the asparagus "sweet spot". I am consistently amazed when I see people throw away the stalks… or the mutant stalks. vegetables do not need to look perfect to be delicious. Let's get real. Thus, this bag of gnarly asparagus: a true delicacy! Time to make the soup!
Asparagus Soup Concentrate in the Thermomix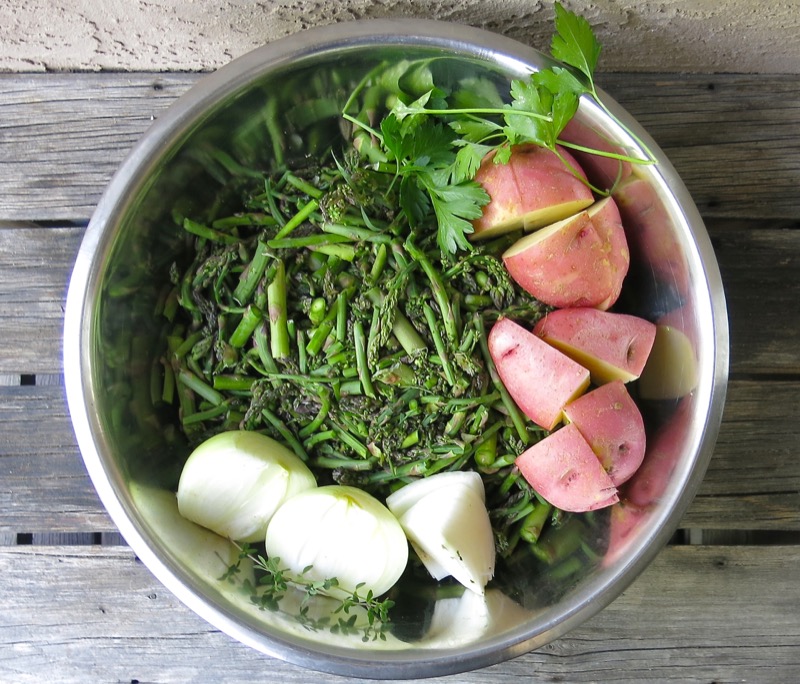 Concentrate ingredients are simple: Onion, potatoes, thyme, parsley and asparagus. If you want a sauce concentrate, leave out the potatoes… but I haven't done this, so the entire process would need to change. When raw, fresh asparagus tastes uncannily similar to fresh sweet peas. Cooking dramatically transforms the flavour profile to a bright, light strong and completely unique flavour profile. It is similar to a green bean. Not in flavour, but in the unique profile of the flavour and in the strength or powerfulness of the flavour. It is considered a delicacy when fresh as preserving consistently transforms the seasonal sparkle to a rather bland mushy version of the vegetable. This recipe preserves the vitamins, minerals and bright colour of the vegetable while capturing the essence of the seasonal flavour burst thickened with the potatoes.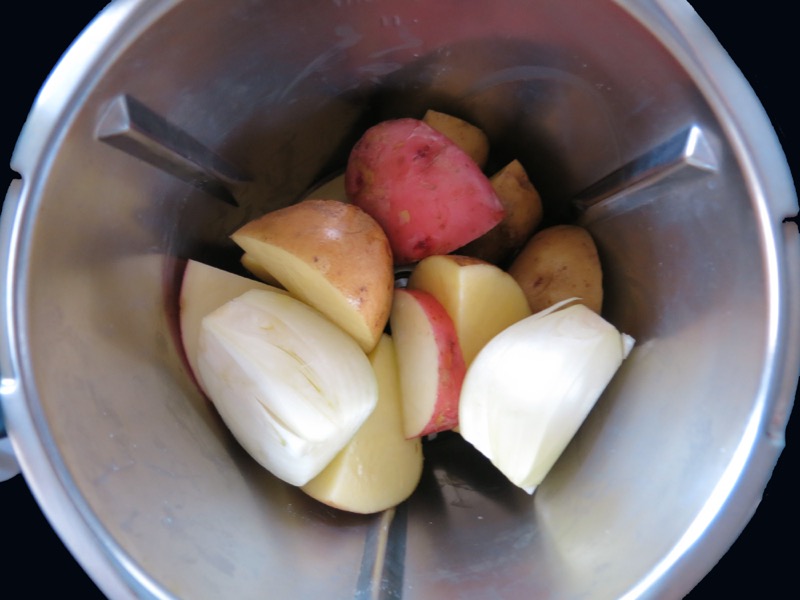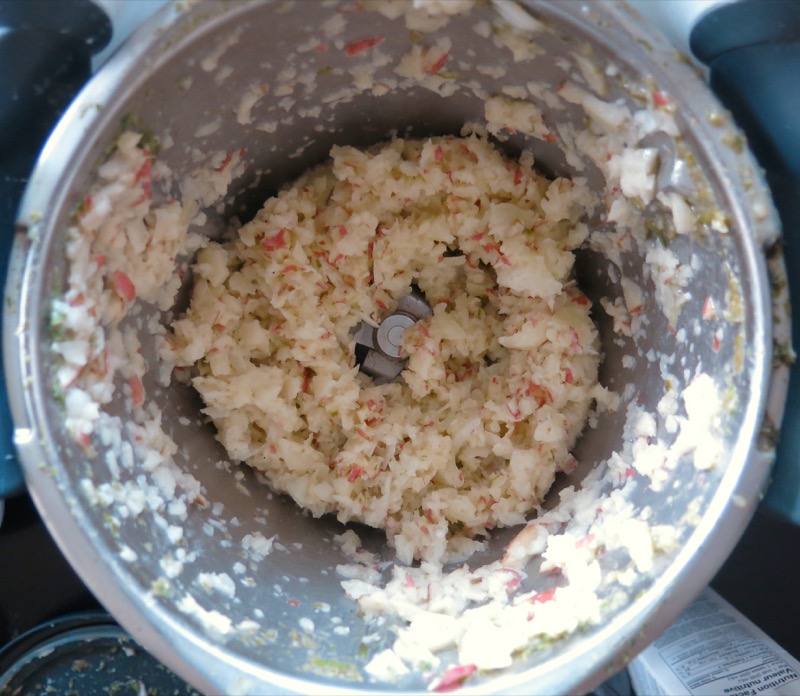 Potatoes and onion minced and pureéd until aromatic and thick, then set aside, below.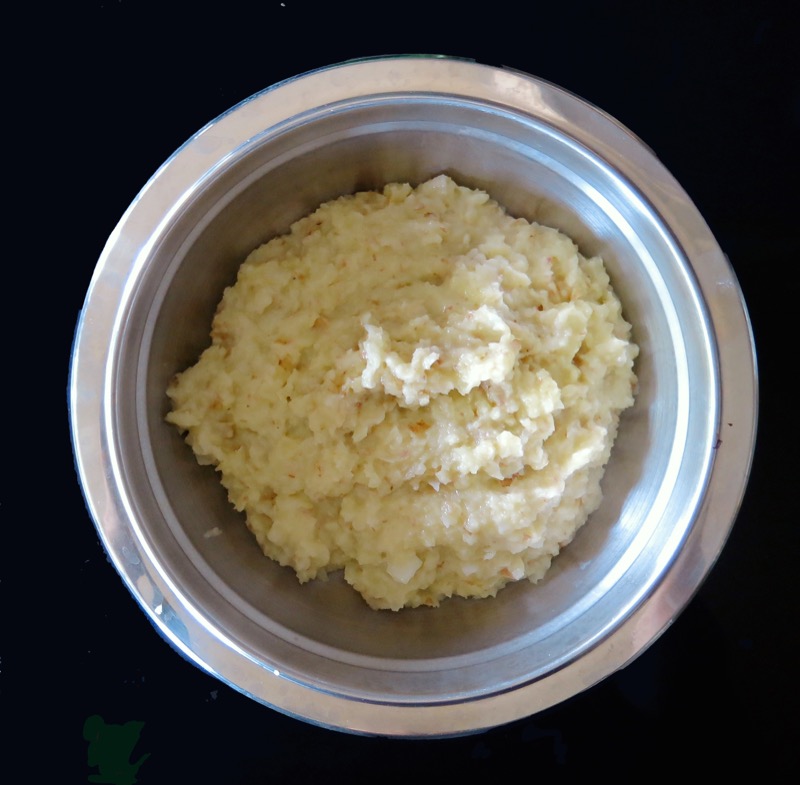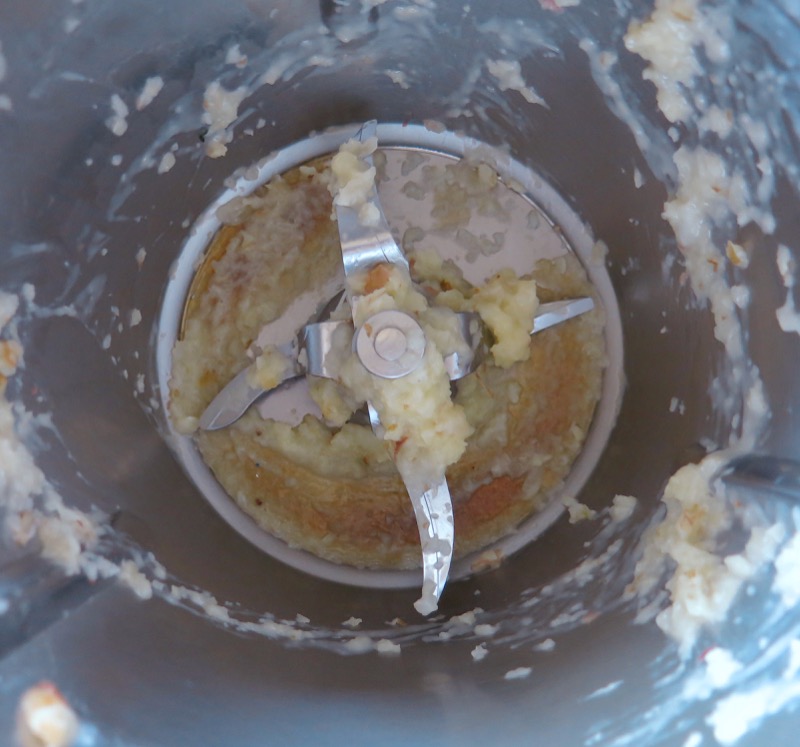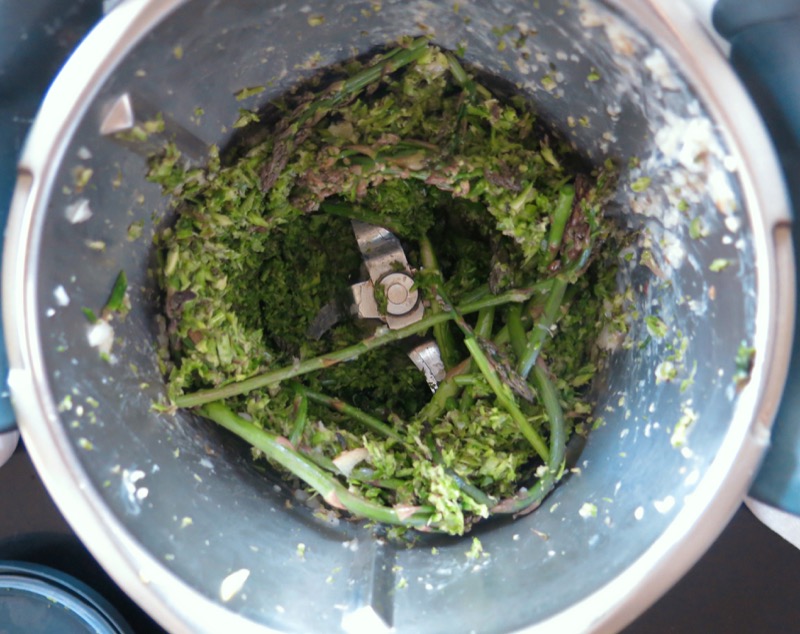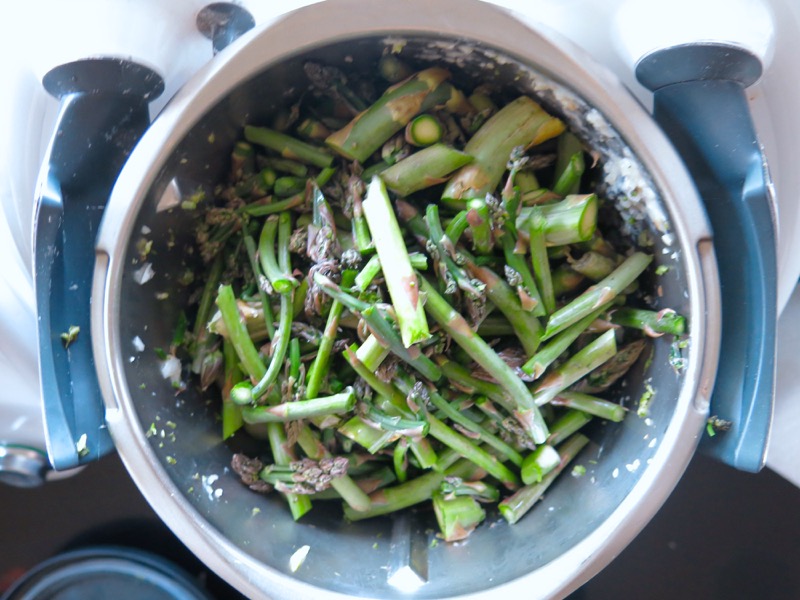 Beauty of the Thermomix, the browned bottom of the bowl need not be washed for the next step. Half of the chopped stalks go in for mincing. Other half is then added to the bowl.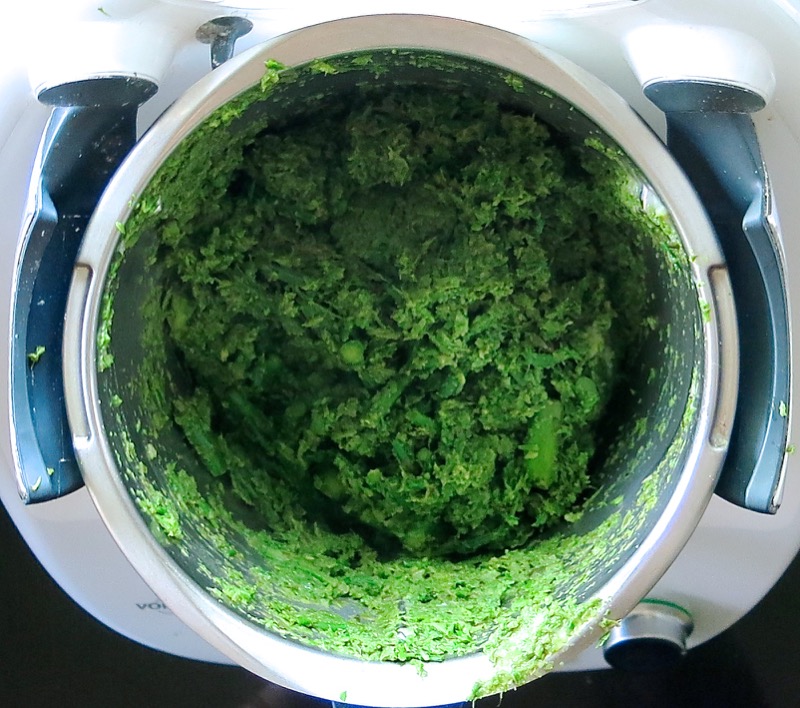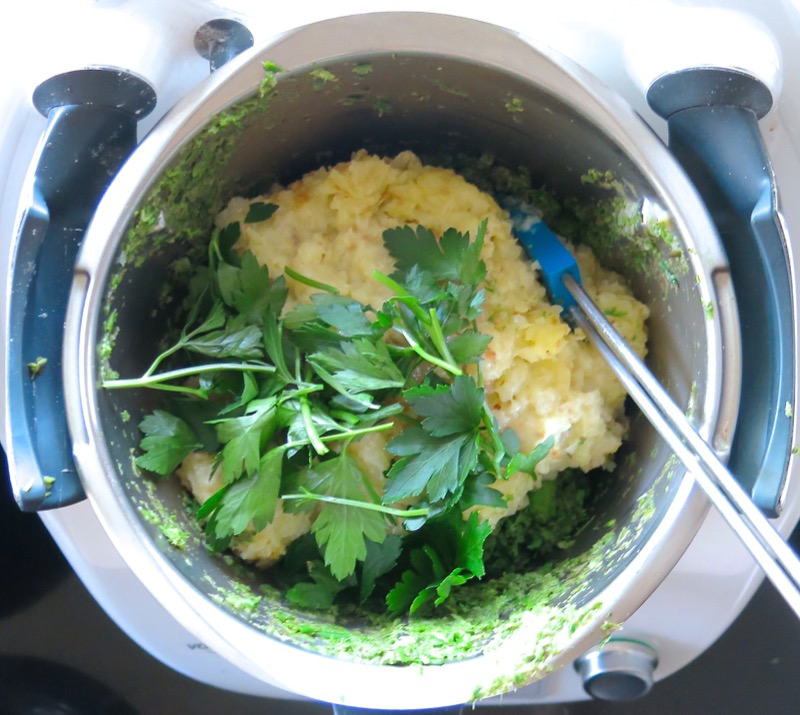 They are minced and combined well with the set aside potato onion mixture. At this time, the parsley is added.
There is a massive amount of the base ingredient, so I weighed and divided it into two portions.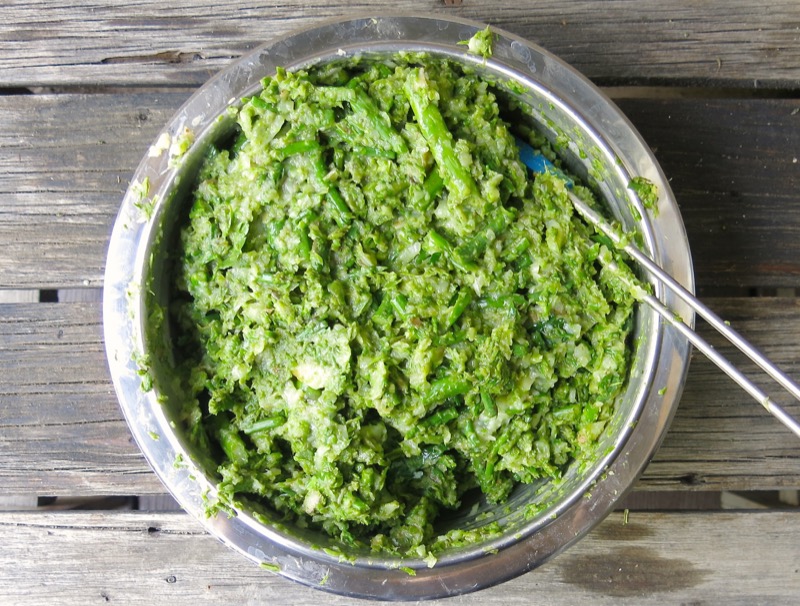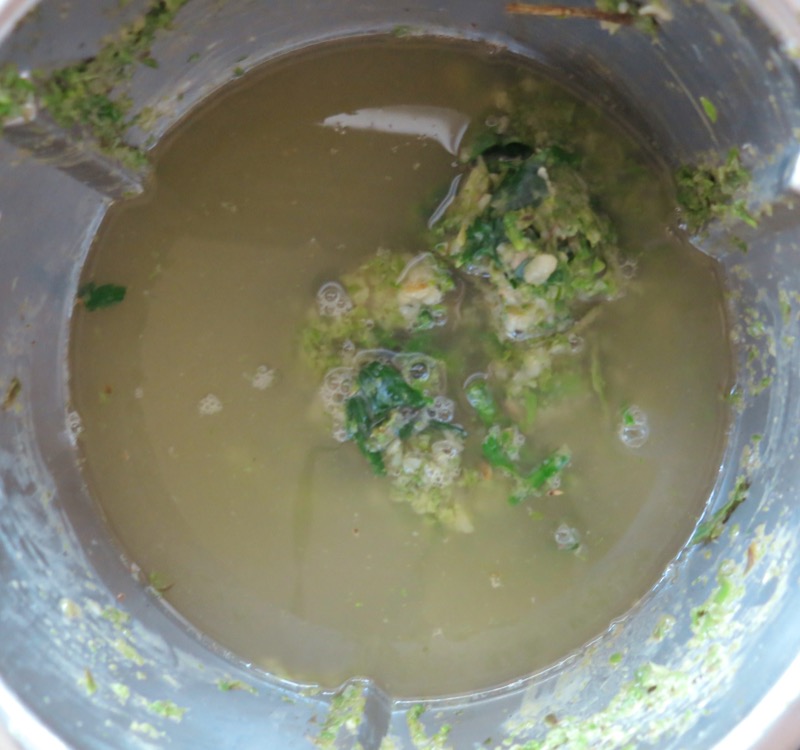 At this point, I prepared one portion of the Asparagus Soup Concentrate, and repeat the exact process a second time with the other half of the base ingredients.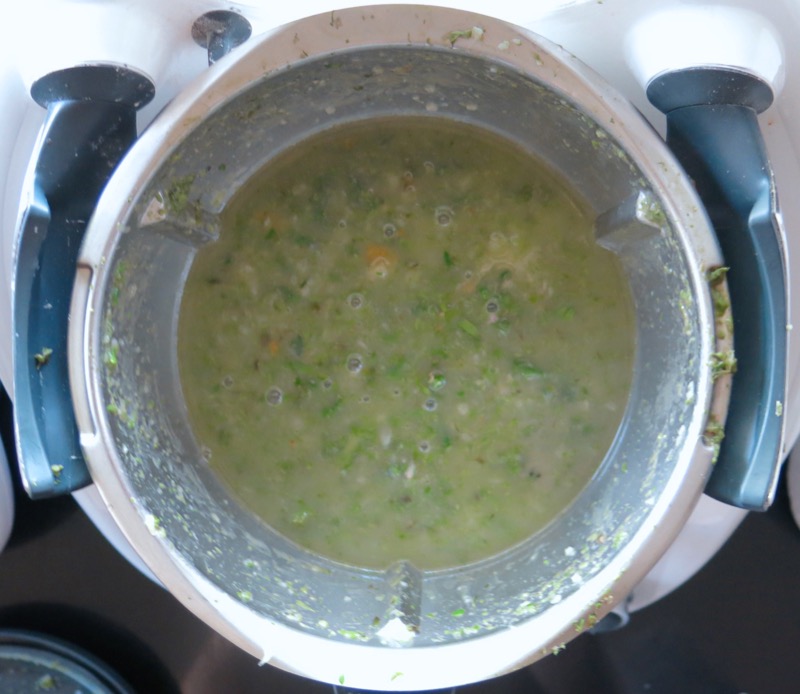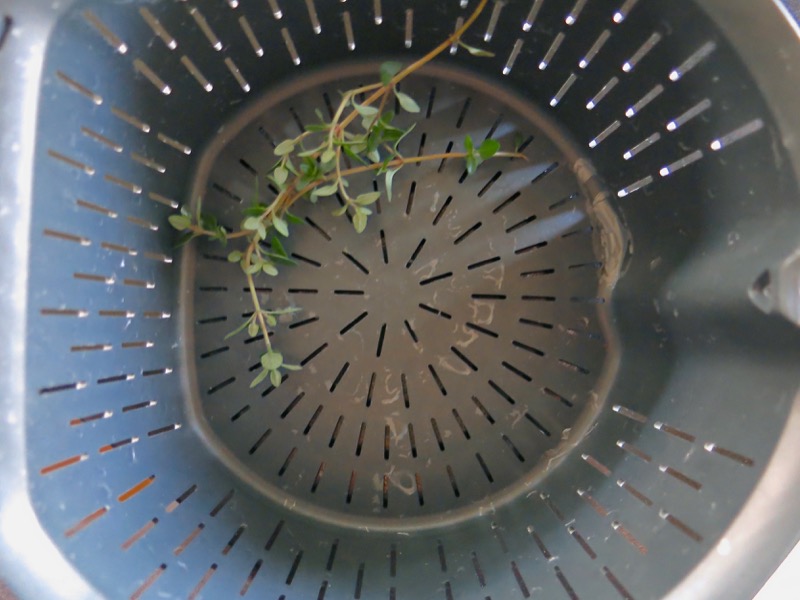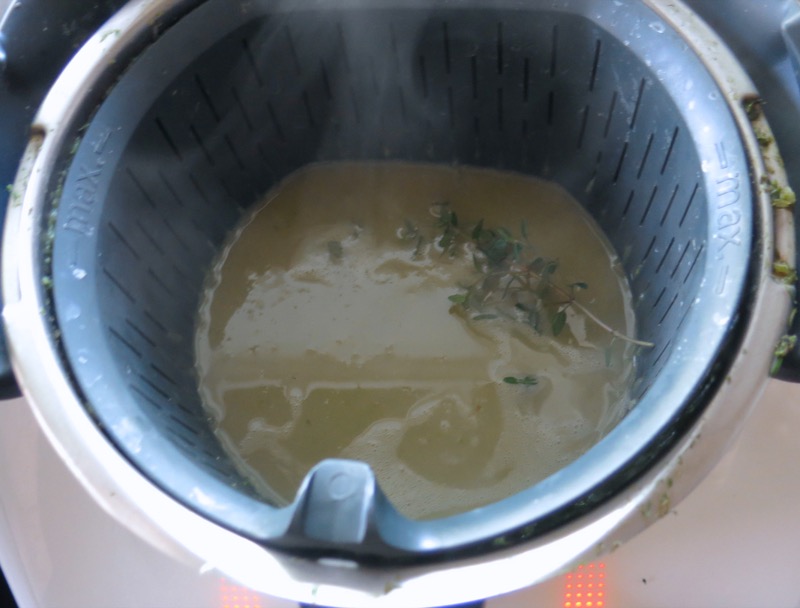 Stock was added to the bowl; thyme inserted into the simmering basket.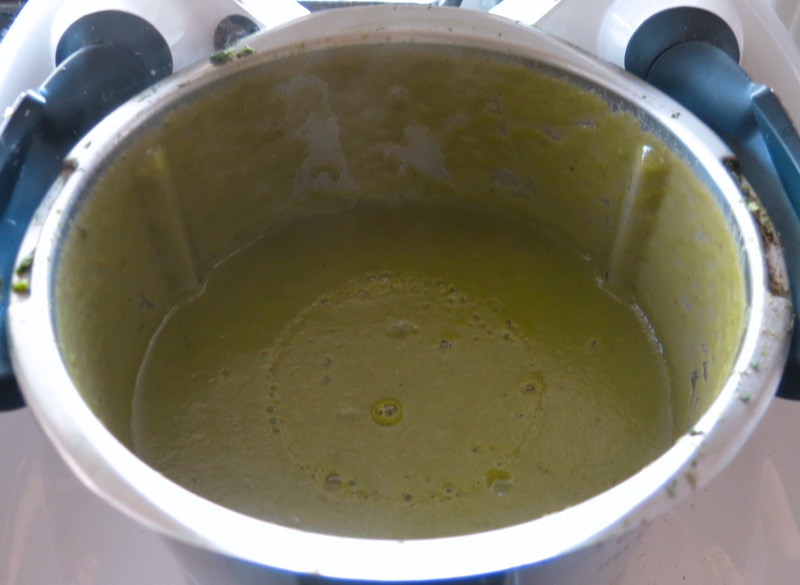 Once the Asparagus Soup Concentrate is cooked, then it was pureéd.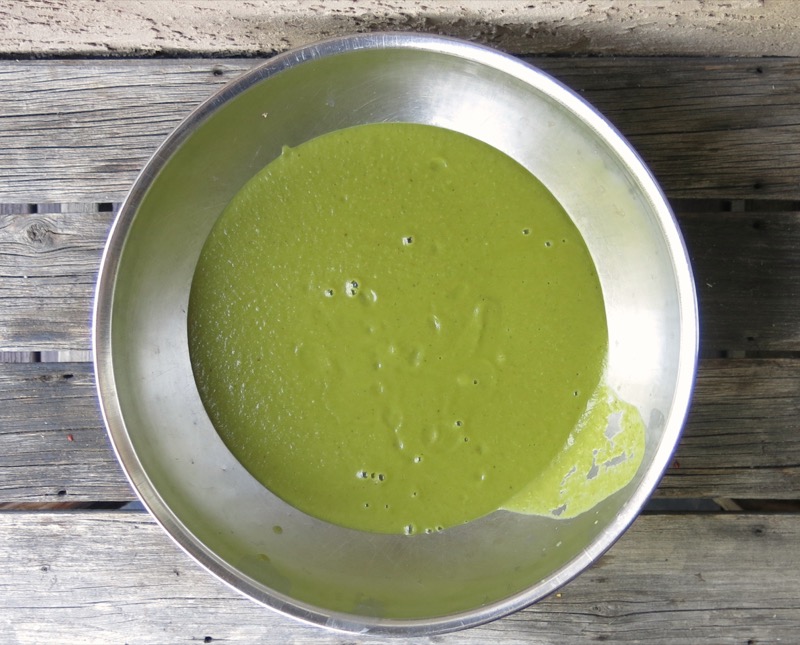 Look at the lively green goodness, above! That is the first half of the base ingredients made into the Asparagus Soup Concentrate.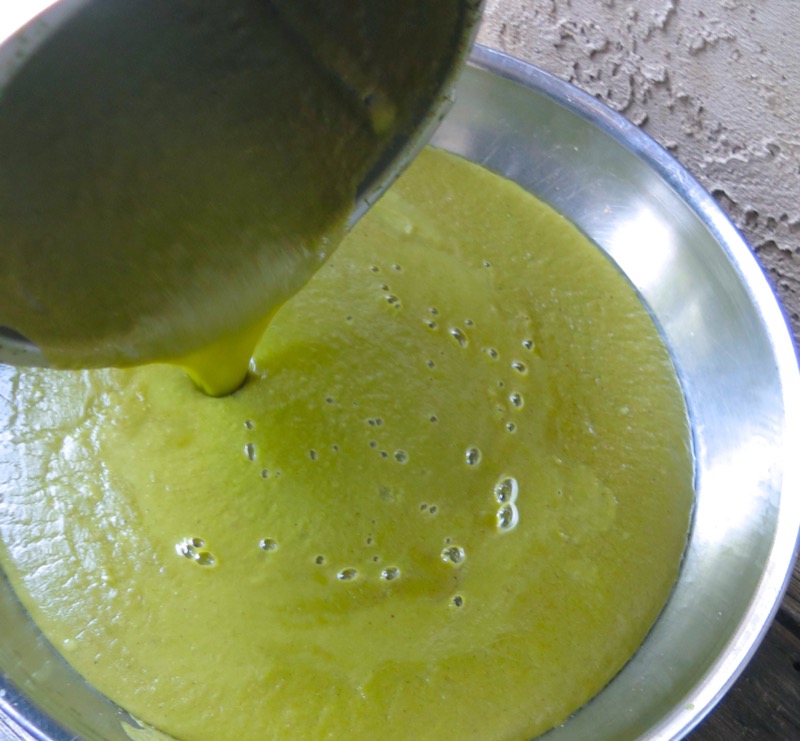 The second half is poured in, once made.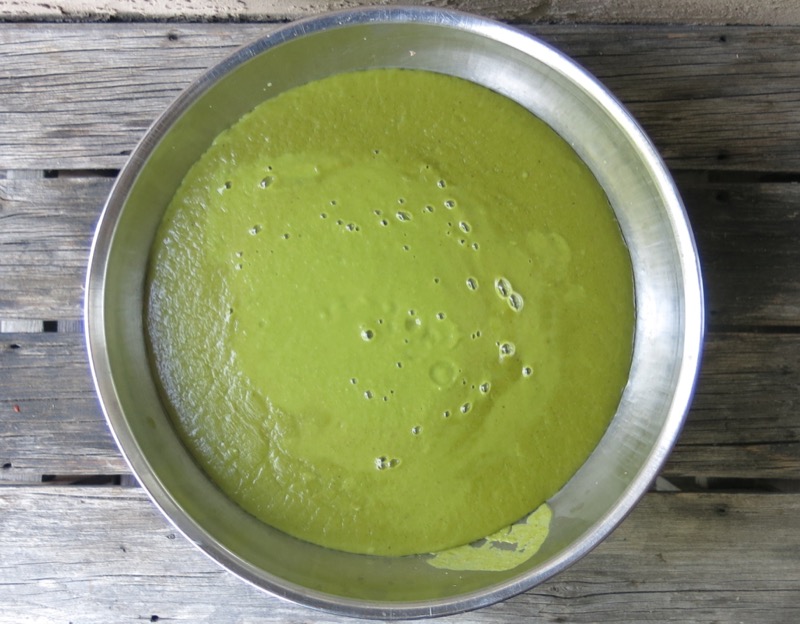 Above is a full batch of the recipe. Now, do note, the recipe I made is actually only half of the bag of the asparagus on the bench, but the ingredients from the entire bowl full of ingredients following that image. I repeated this entire process a second time to use the whole bag of "mutant" asparagus, making the recipe twice.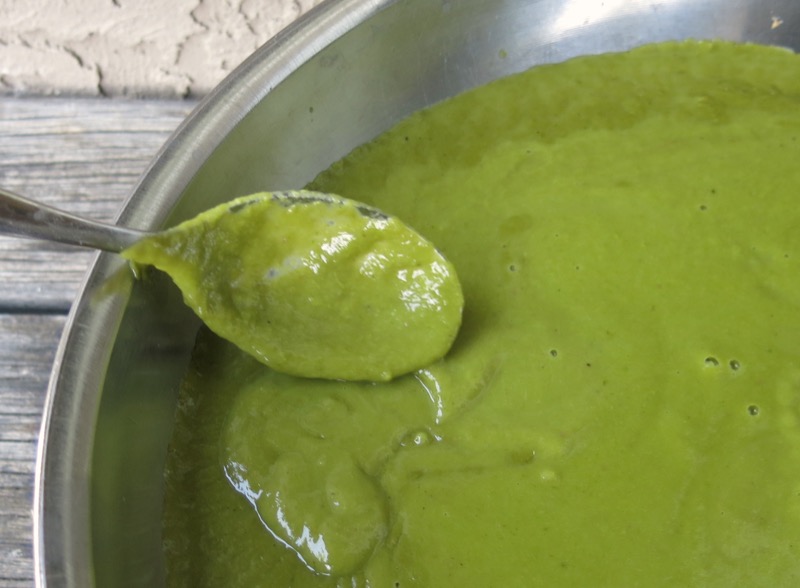 Above, the texture and thickness of the Asparagus Soup Concentrate. It clings to the spoon, and when it falls back onto itself, will remain on the surface for about 3 seconds before assimilating into the mass.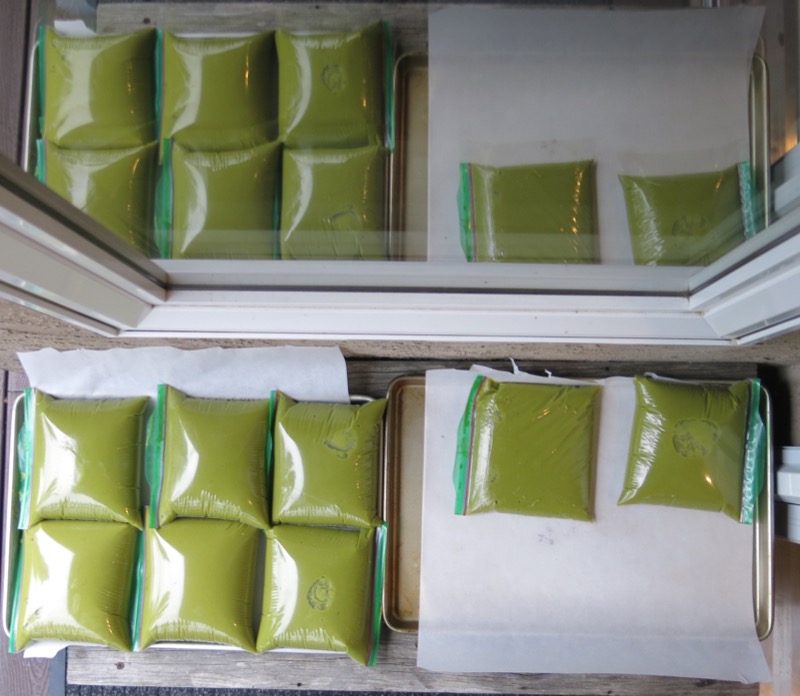 A double batch of the recipe, above. Each bag contains 3 1/2 cups of the Asparagus Soup Concentrate, but one of the bags contains half of that.

Above, the amount from one recipe of the Asparagus Soup Concentrate.
Making Asparagus Soup from the Asparagus Soup Concentrate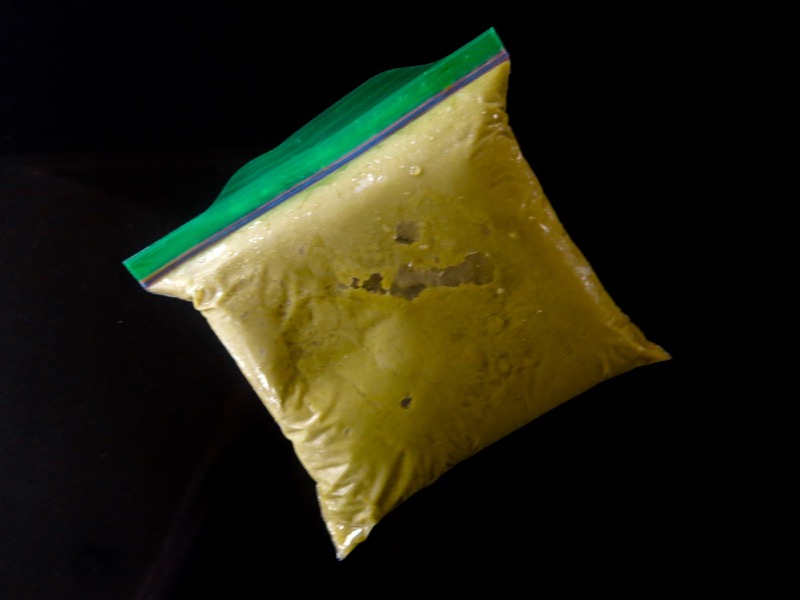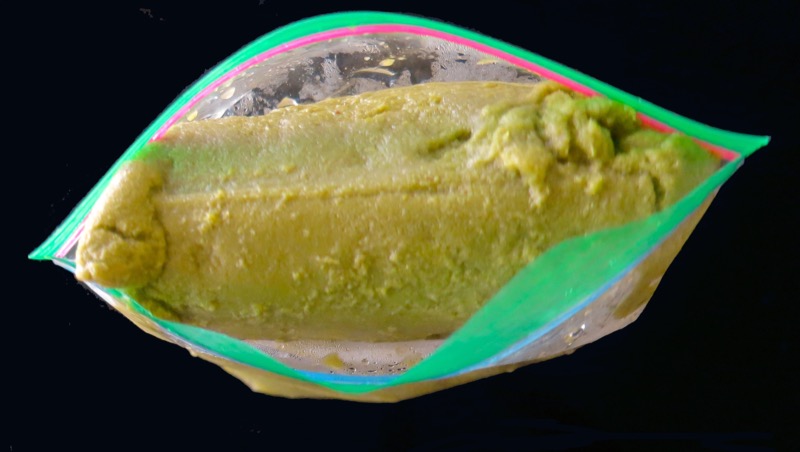 I thawed one package of 3 1/2 cups of the concentrate in the morning and placed it in the Thermomix bowl. Knowing that the soup was not completely thawed, I altered my process and blitzed it from 0-10 a couple of times to break the partially frozen soup apart. Weighing the first 4 additional ingredients into the bowl, I then followed the recipe instructions, careful to taste as I made the last three additions.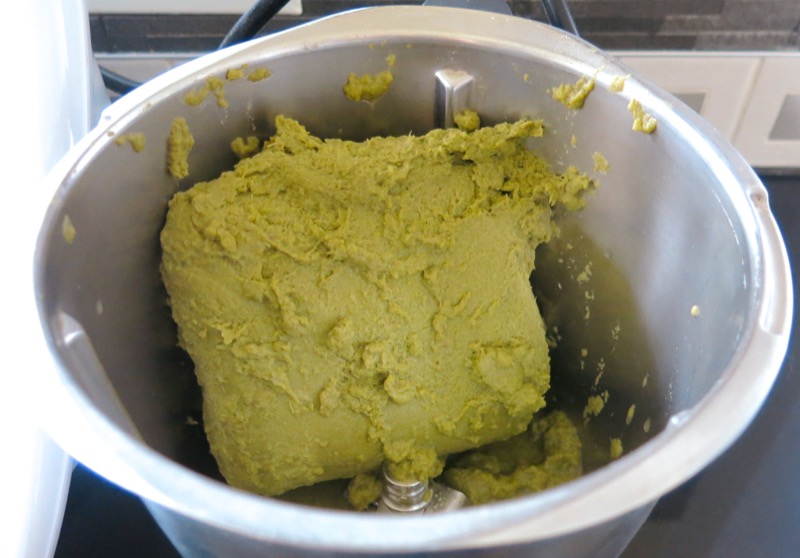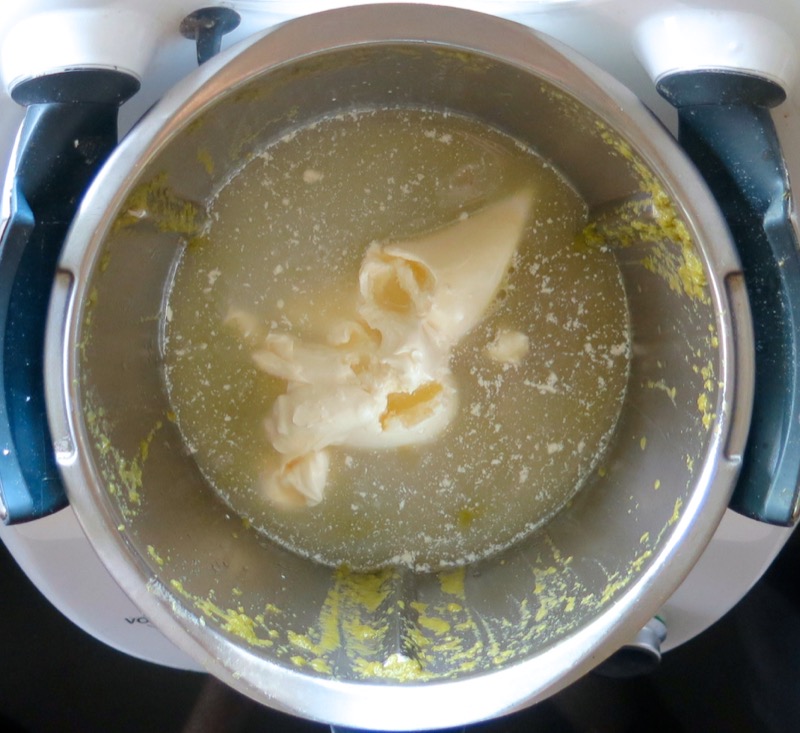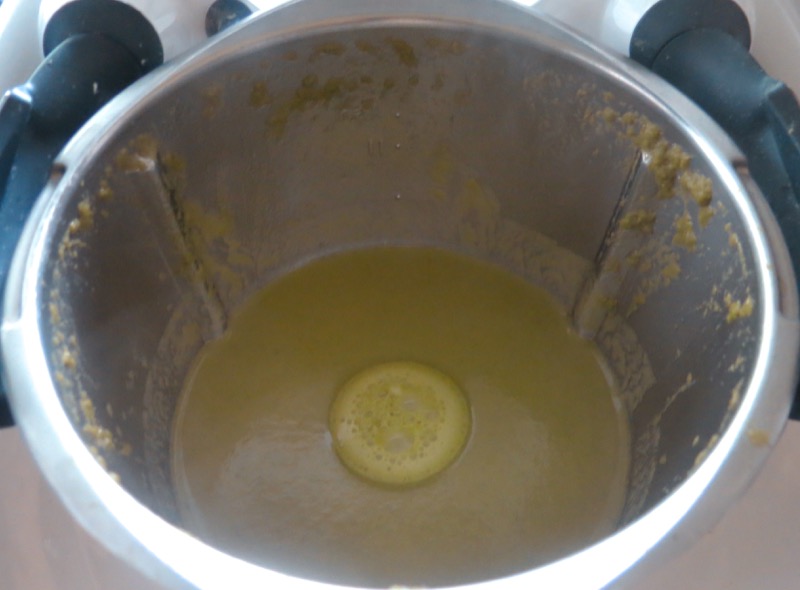 I used Marsala instead of sherry as it is a very close flavour profile, and I have it. After a taste with one teaspoon added, I definitely went for more! I also used weighed 1/2 cup of stock into my concentrate before adding more, to my desired preference. I like the soup to stick to the spoon, not too thin (and seemingly watery) and not the thick consistency of a vegetable pureé: the "just right" consistency for me. After the soup was heated completely through, I added the seasoning, carefully; tasting, then adjusting.
The crouton is also a homemade little ditty; an "edible cracker spoon" great for dips. In this case, I could have dolloped a little herbed cheese on it as the heat of the soup heats the cracker and would almost melt the cheese. How you present this depends upon one's mood, and I am most definitely in the mood for sunny weather and blue skies!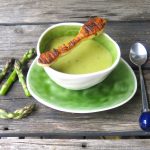 Preserved Asparagus Soup Concentrate
I use the Thermomix for this recipe, but if you don't have, one,
buy Batch
and make Joel and Dana's recipe. They are similar, but the process and amount made in the Thermomix is completely different.
Total Time
2
hours
5
minutes
Ingredients
Ingredients for Preserving
15

g

or 1 tablespoon cooking oil

200

g

or 2 small onions

, peeled and quartered

500

g

or 2 potatoes

, quartered

1.5

K or 6 cups vegetable stock

, divided (750gx2)

1.1

k or 2 pounds asparagus

, roughly chopped, divided (550gx2)

10

g

or 2 tablespoons flat leafed parsley

2-3

sprigs of thyme

salt and freshly ground black pepper

, to taste
Additions When Serving, per 1 freezer bag with 3.5 cups of concentrate
120

g

or ½ cup heavy cream

15

g

or 1 tablespoon butter

10

grams

or 2 teaspoons Sherry

salt and freshly ground black pepper

, to taste

1 ½

cups

stock

, to taste and thickness preference, per batch (start with ½ cup)
Instructions
Instructions for Asparagus Soup Concentrate
Weigh 15g oil, onion and potatoes into TM bowl; mince for 1 second on Turbo (2 times if necessary – don't over mix like I did in the photos)

Sauté for 5 minutes at Varoma on speed 2R; scrape down sides of bowl with spatula and repeat for 5 more minutes; set aside

Do not wash TM bowl; weigh 15g oil and 550 K asparagus into TM bowl

Chop for 2 seconds on Turbo; weigh in remaining asparagus and fold finely chopped and coarsely chopped asparagus together in TM bowl with hand spatula

Sauté for 8 minutes at Varoma on speed 2.5R until slightly softened (watch through hole in lid to ensure mixture is turning; if not, use spatula through hole in lid of bowl to encourage turning motion); add asparagus mixture back to bowl of onion potato mixture with parsley and mix to combine well, with hand spatula

Weigh 750 to 760g of thoroughly combined mixture back into TM bowl and set remainder aside (exactly half); weigh half stock into TM bowl (750g or 3 cups)

Add ½ Thyme (a couple of sprigs) to simmering basket and insert; simmer for 22 minutes at 90 C on speed 2R

Pureé for 60 seconds on speed 10, until velvety smooth (take 5 seconds to get to speed 10)

Season, and place 3.5 cups concentrate into 3 labeled and dated freezer bags; you will have a scant 2 cups left for the 4th bag

Repeat with remaining asparagus mixture; bag in larger freezer bags once frozen
When ready to make soup:
Weigh first 4"Addition Ingredients", and ½ cup or 125g of stock to one package concentrate into TM bowl (add more stock, until desired consistency and flavor, is achieved); heat at 90C for 8 minutes on speed two

Season to taste, thin again, if required; garnish and serve immediately
Recipe Notes
Yield:
One batch will yield 3 and ½ concentrate packages. There are 4-5 cups of soup per batch when made from the concentrate; that is two generous lunch portions, or 4-5 one cup starter portions
Garnish
- with chives and/or chive flowers or anything seasonal and pretty (for example: a center dab of yogurt topped with glistening pomegranate seeds dress it up for the holiday season)
- with Cracker Spoons (recipe here)
Dividing the Asparagus Potato Onion Mass
It is a good idea to weigh the total amount of potato, onion and asparagus mass after combining together, then dividing it by two as amounts do tend to vary, even when carefully weighing
Also delicious to use soup concentrate in rice dishes and casseroles to enhance flavour and nutritive value!