Pasqualina Flan: an Ode to the Famous Italian Torta Pasqualina
This Pasqualina Flan or flan di Pasqualina con Fonduta is sumptuous and sweeping the nation! Ok. Not yet, but if you could taste it, it would be!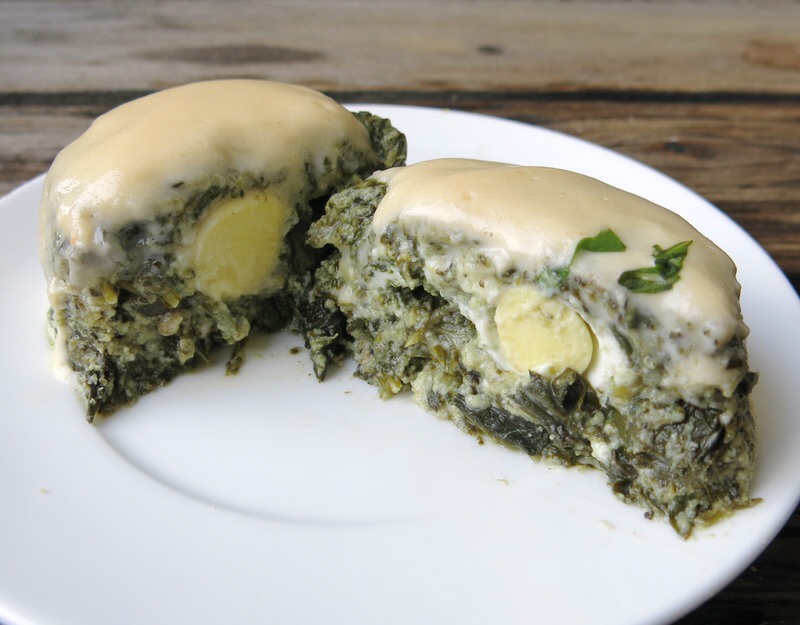 This healthy, rich, cheesy flan packed with flavourful greens hides a little quail egg treasure to remind us all of the rebirth of Christ over the Easter season and the gift of Spring: the birth of renewal and new beginnings. The best Easter Egg hiding place in the house is inside of the Pasqualina Flan!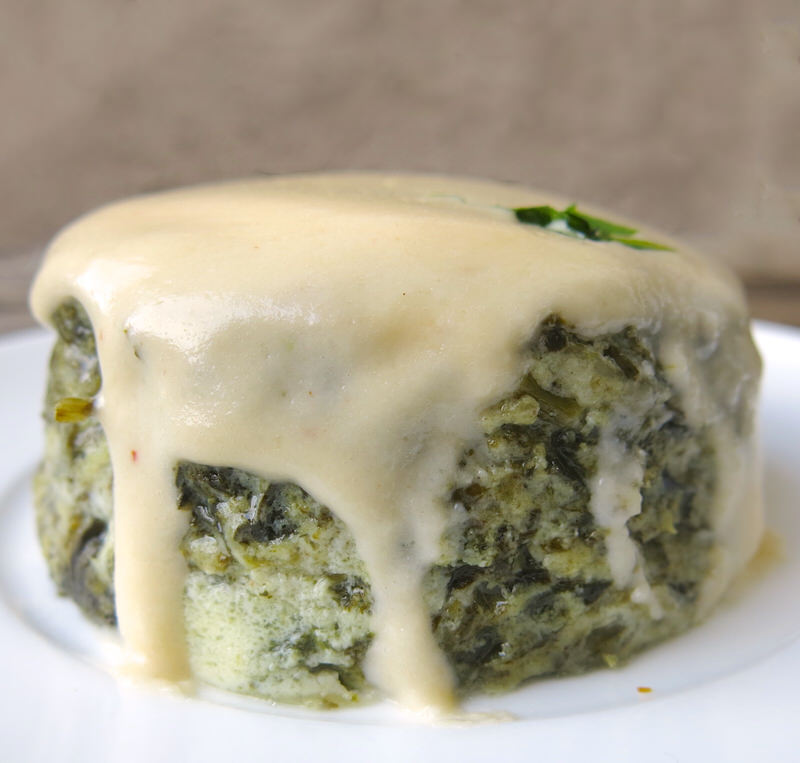 This dish is a noble nod to the mighty Torta Pasqualina.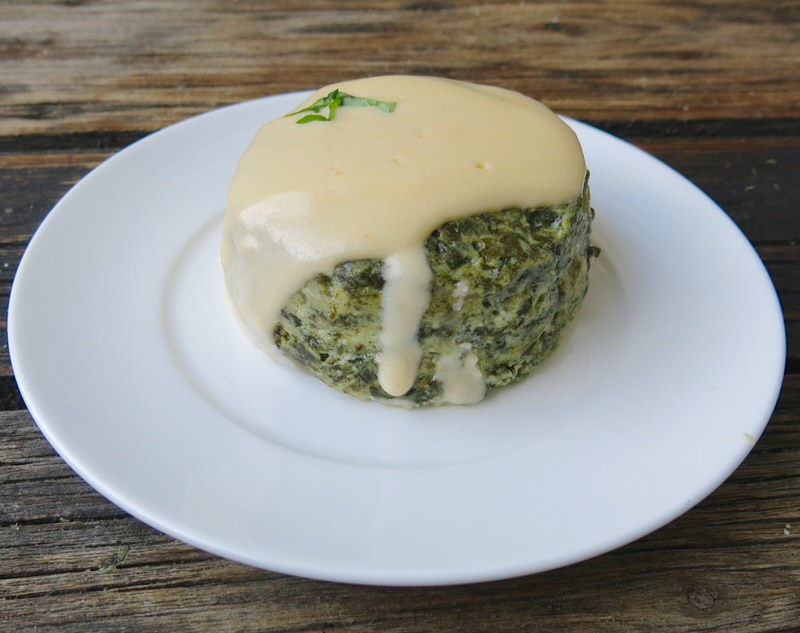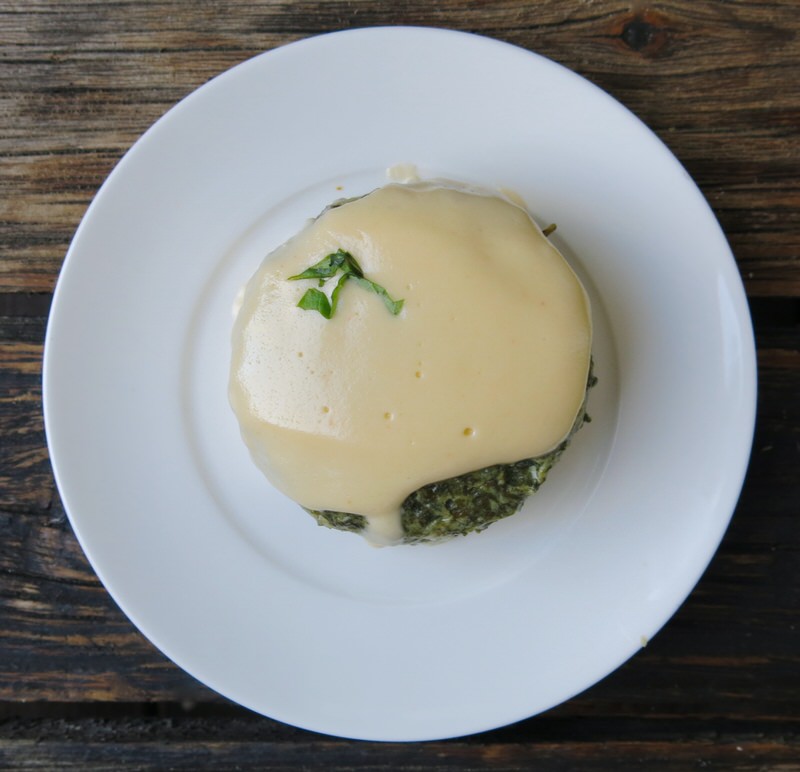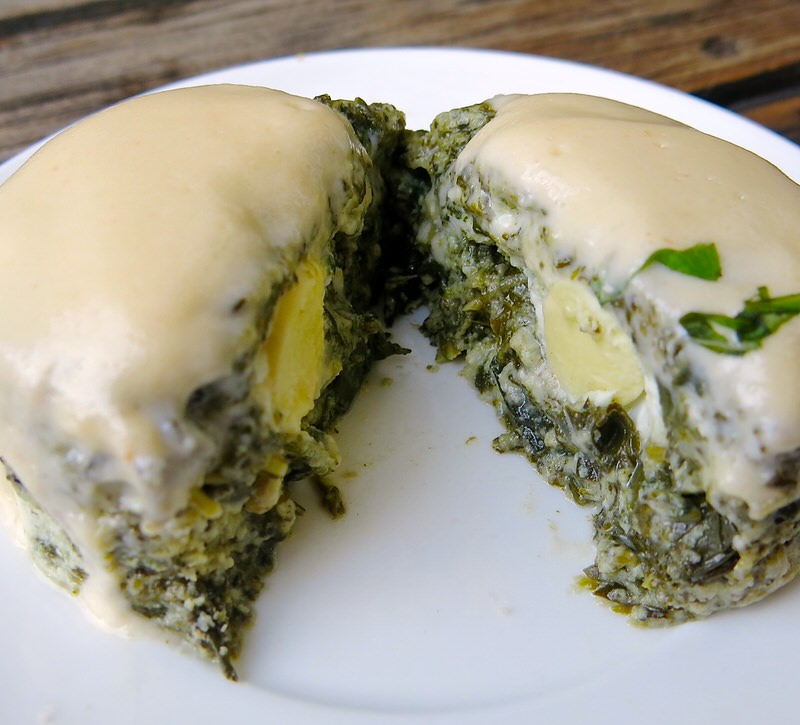 Mamma Mia!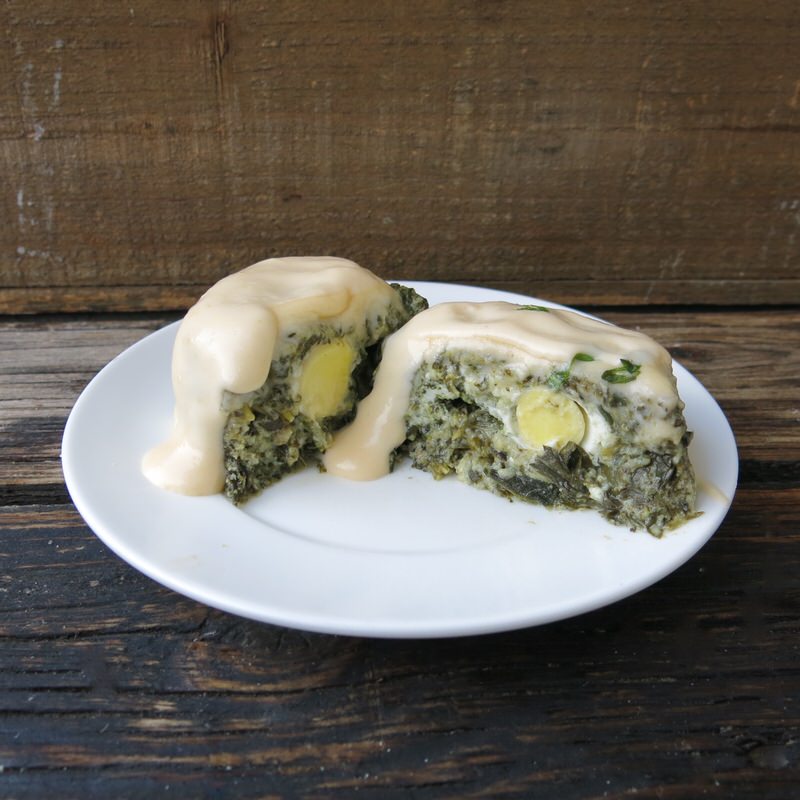 Making the famed Italian Torta Pasqualina (Italian Easter Pie) with Nicoletta and Loreto I was inspired to make Pasqualina Flans. I have been into flans and working on them since eating the most unforgettable flan in my life in La Morra, Italy, at More e macine. That is, until this one. I have been searching for the recipe for the flan di porri con fonduta, or Leek Flan with Fonduta Sauce below, ever since. It is seeing this photo again,that gave me the idea to bathe the Pasqualina Flans in Fonduta. Is my recipe in Italian then the flan di Pasqualina con Fonduta?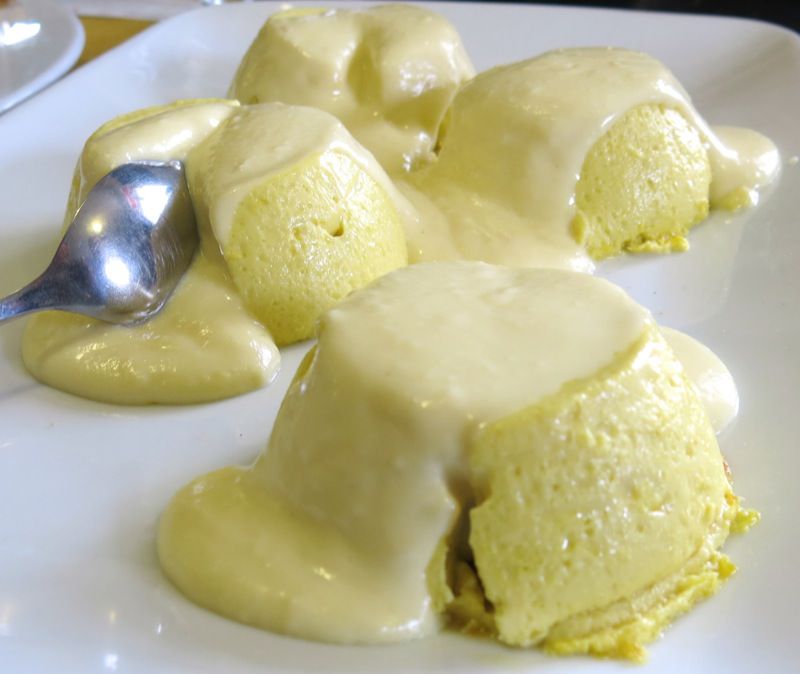 Motivation and inspiration are two beautiful gifts. The world has changed because of them, and for me, well, I made a flan.
Pasqualina Flan with Fondu Sauce or flan di Pasqualina con Fonduta: Making the Filling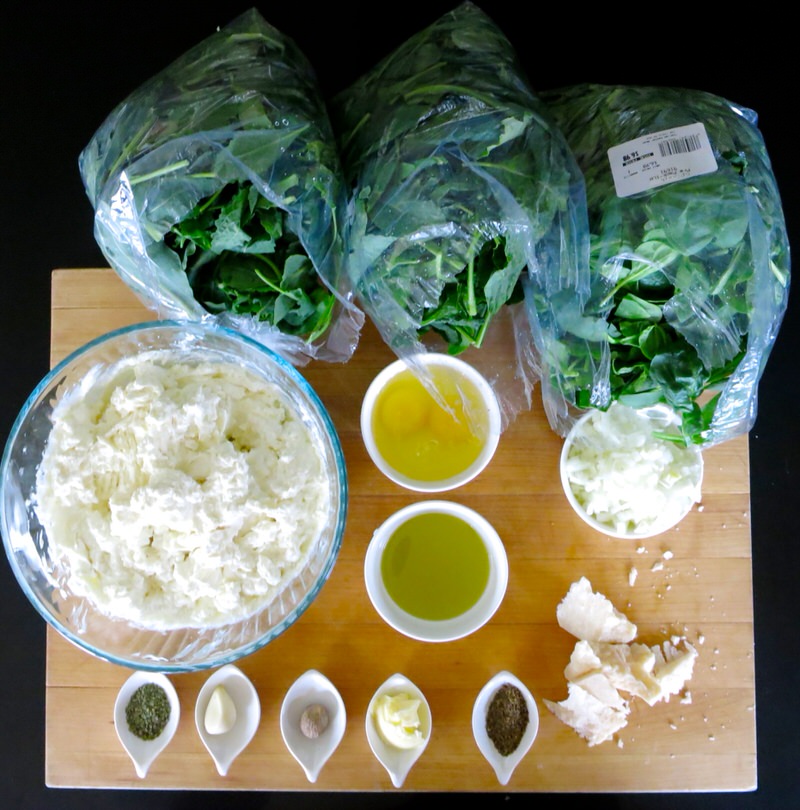 Mis en place. Always an important part of the process when making a detailed recipe, for me, and a best practice for all. I am sure I have all ingredients I need. No surprises, and the process from here on in is as smooth as silk. Also, If I am short of one thing, and have a little extra of another, now is the time I can make the executive decisions about ingredients. In the middle of the process, that kind of decision making can become chaos.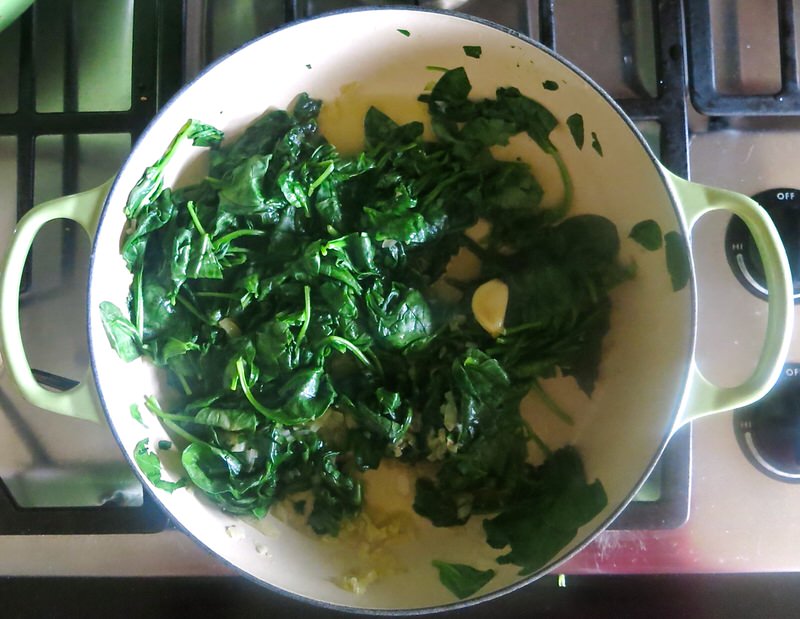 Exactly as for the Torta Pasqualina, the filling is identical. This time, I used baby kale instead of Swiss chard. The flavour may be discernible side by side, but it tastes exactly as it should.
The visual is always a surprise. So much spinach cooks into an almost negligible amount, but so packed with nutrients.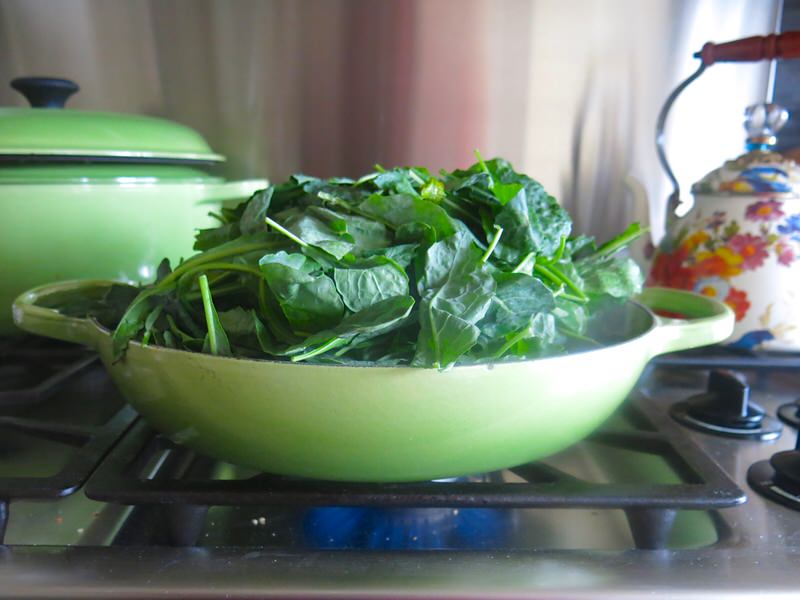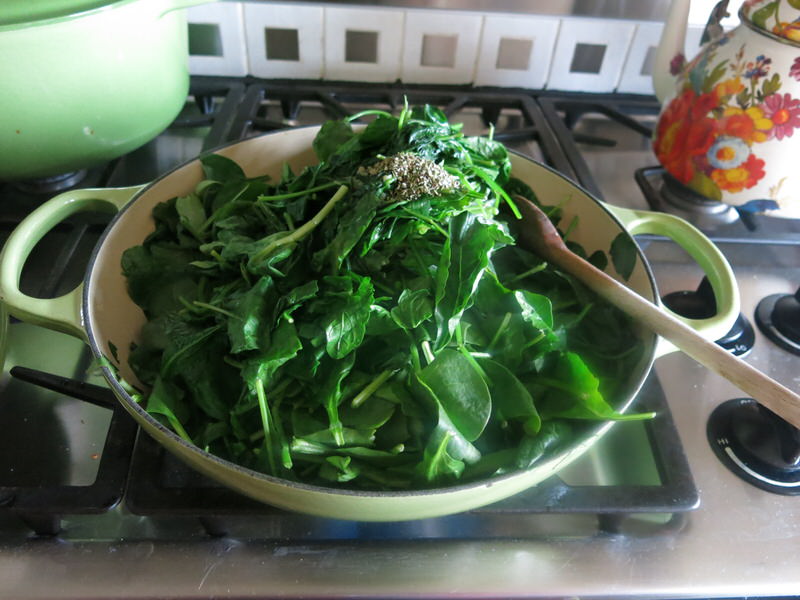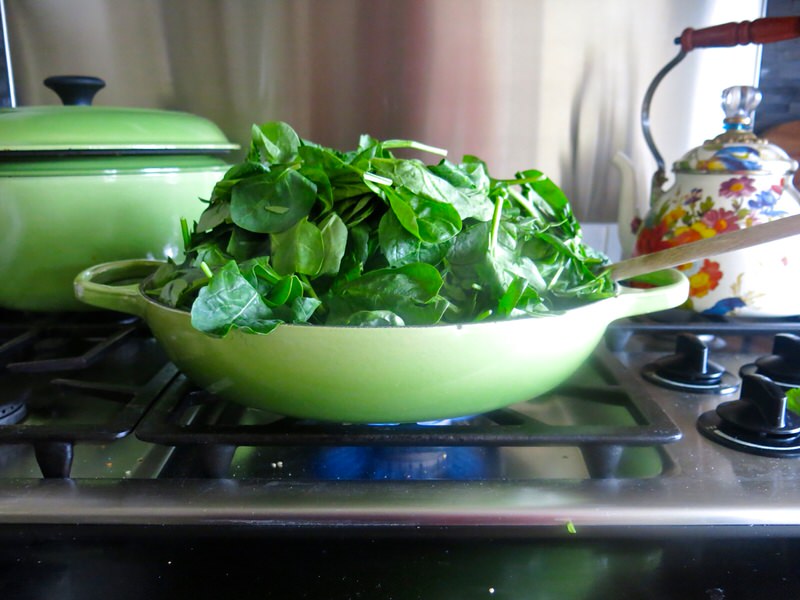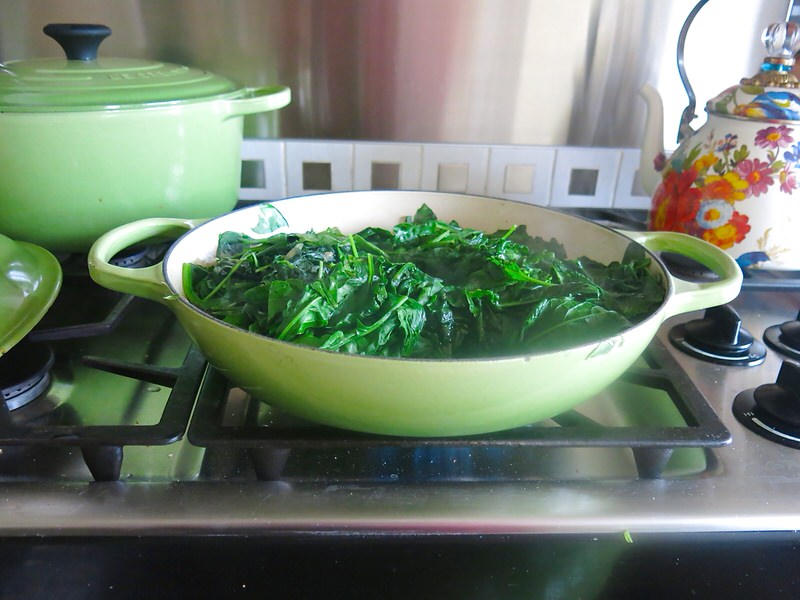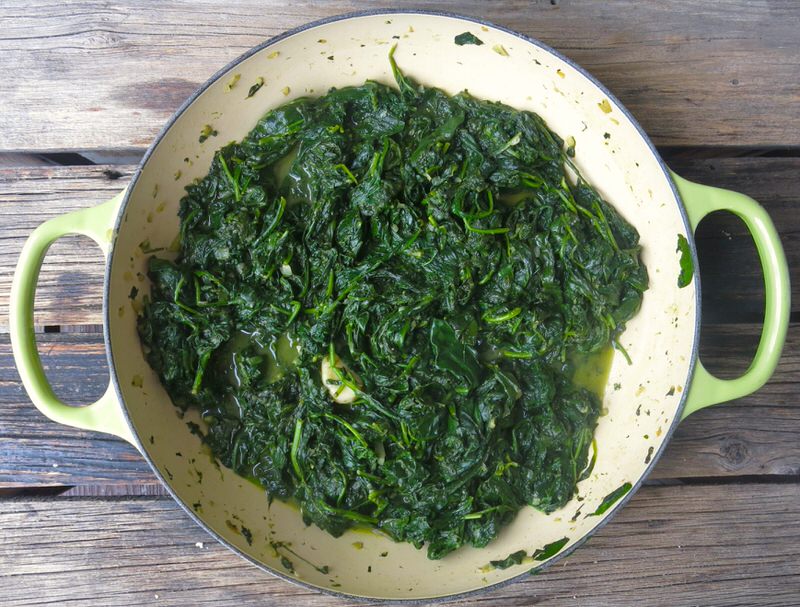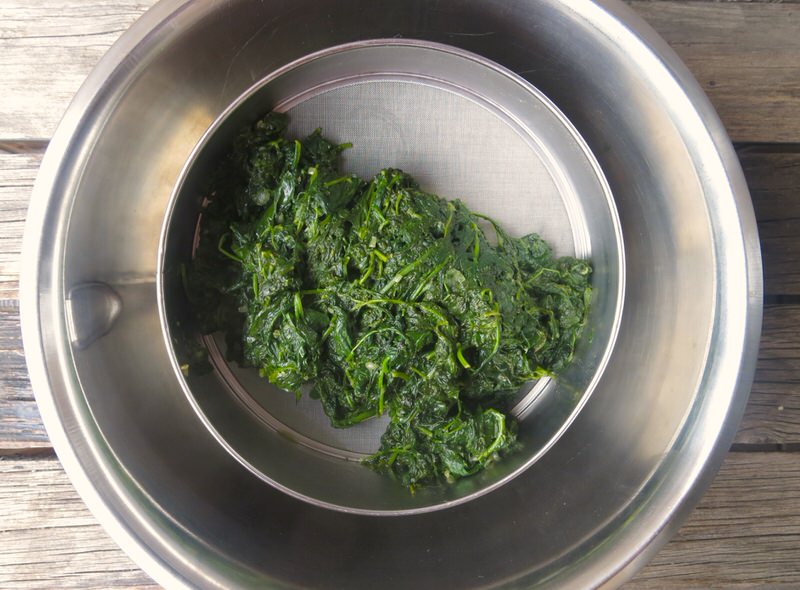 These greens are not only wilted. They are cooked gently, until very tender, then strained and cooled. Yes, that is one kilo of greens, to the left (and the right, for that matter!).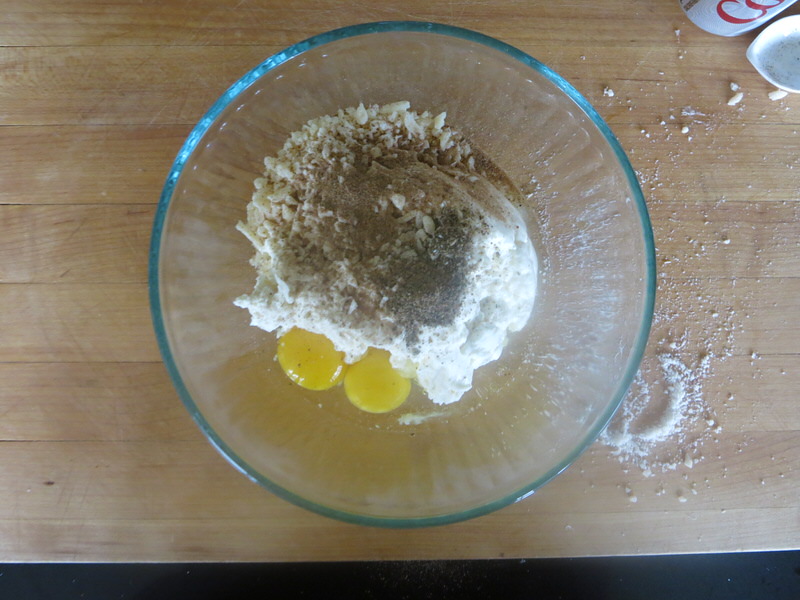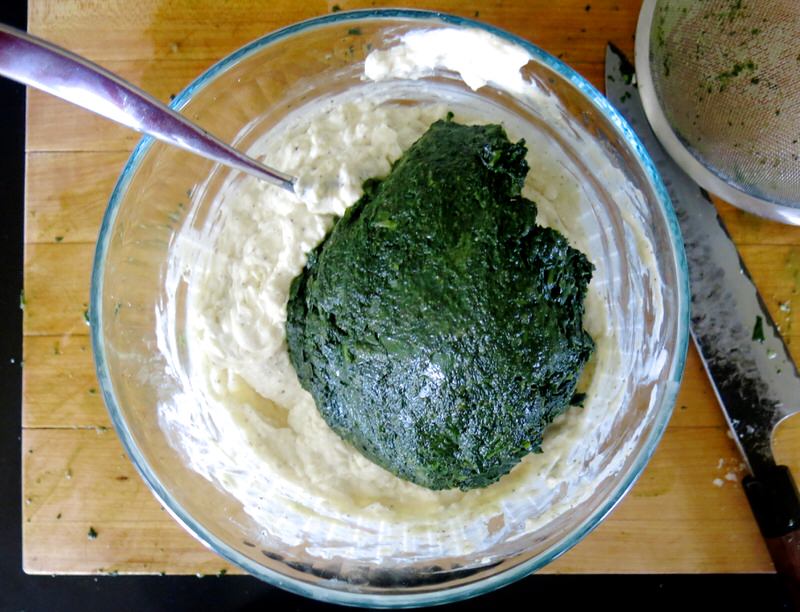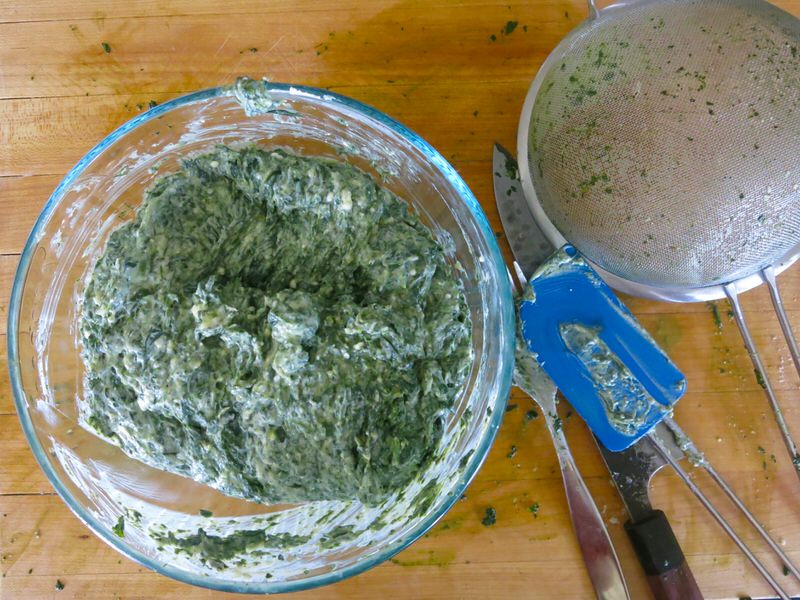 I prepared the cheese mixture differently. Exactly the same ingredients as in the Torta Pasqualina, but I just added the eggs and everything, mixing all very well to incorporate completely, while the greens were cooling. The greens were then chopped and added to the mix. Filling? Done!
Pasqualina Flan with Fondu Sauce or flan di Pasqualina con Fonduta: Potting the Flan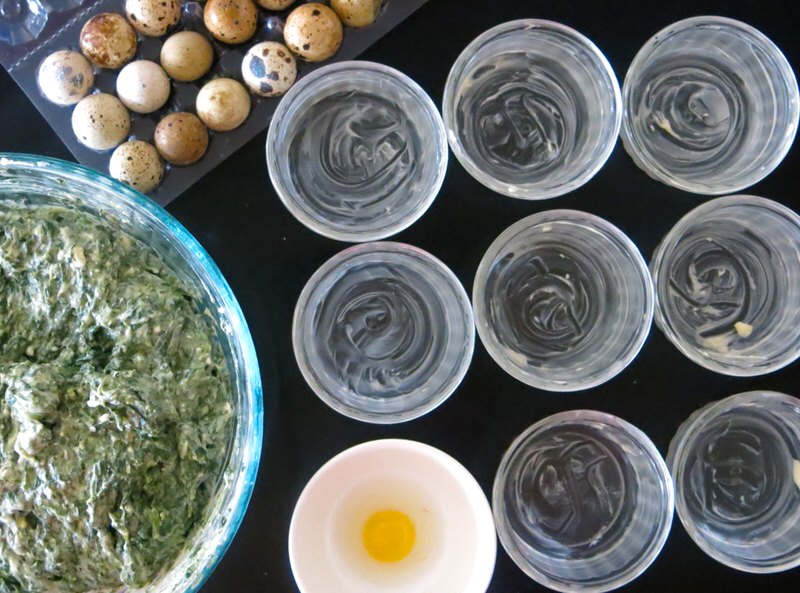 Butter 12 half cup ramekins well. Break each tiny egg into a separate bowl to ensure no shell as quail shells are softer and more often break into the egg.
Add 3 tablespoons of filling into each little pot. Insert finger into the centre. Make a well and plop the little egg, yolk, white, and all into the hole.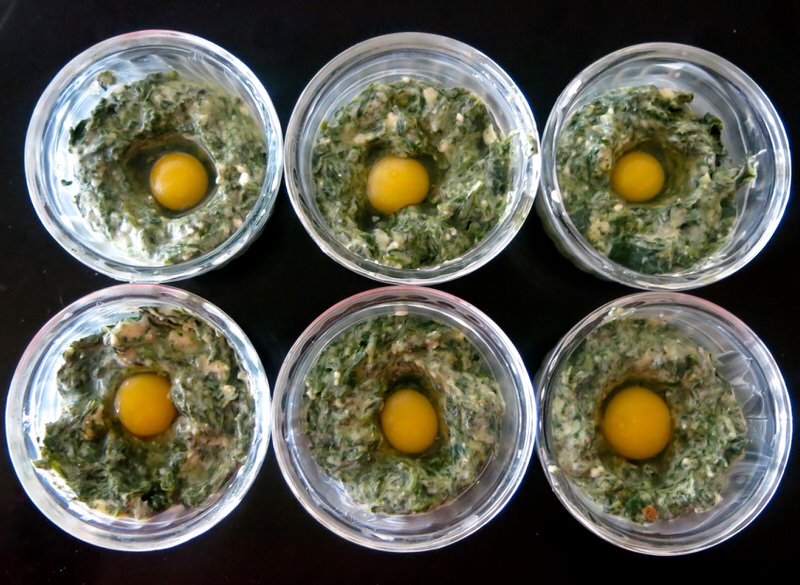 With your pointer finger, then, move around the side of the egg white to ensure non is over-flowing onto the filling and that all is well contained in its hole.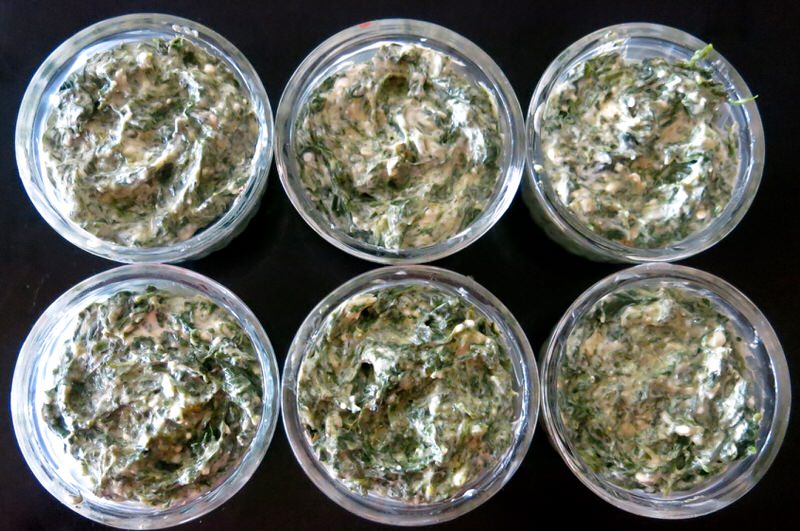 Cover each with another two tablespoons of the filling. When finished with all of the pots, divide any leftover filling among them.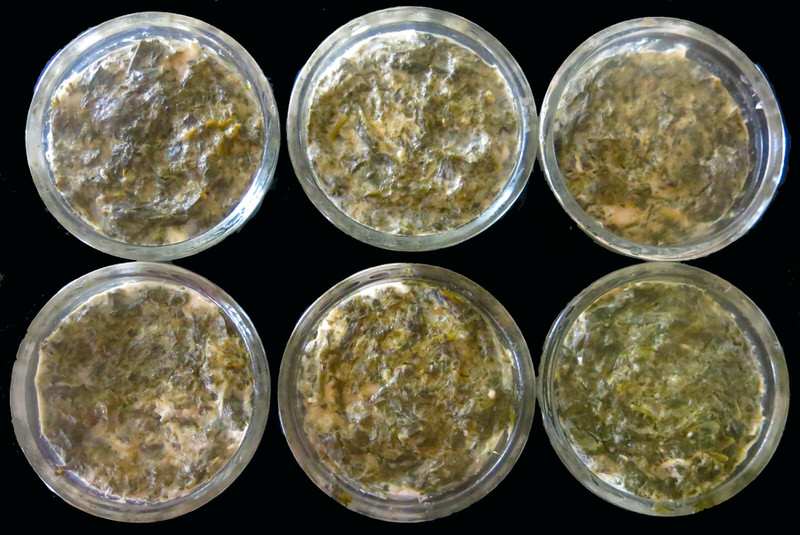 Above, I have added the image of the steamed pots. The do puff very nicely when done, but settle when cooling.
Pasqualina Flan with Fondu Sauce or flan di Pasqualina con Fonduta: Steaming the Flan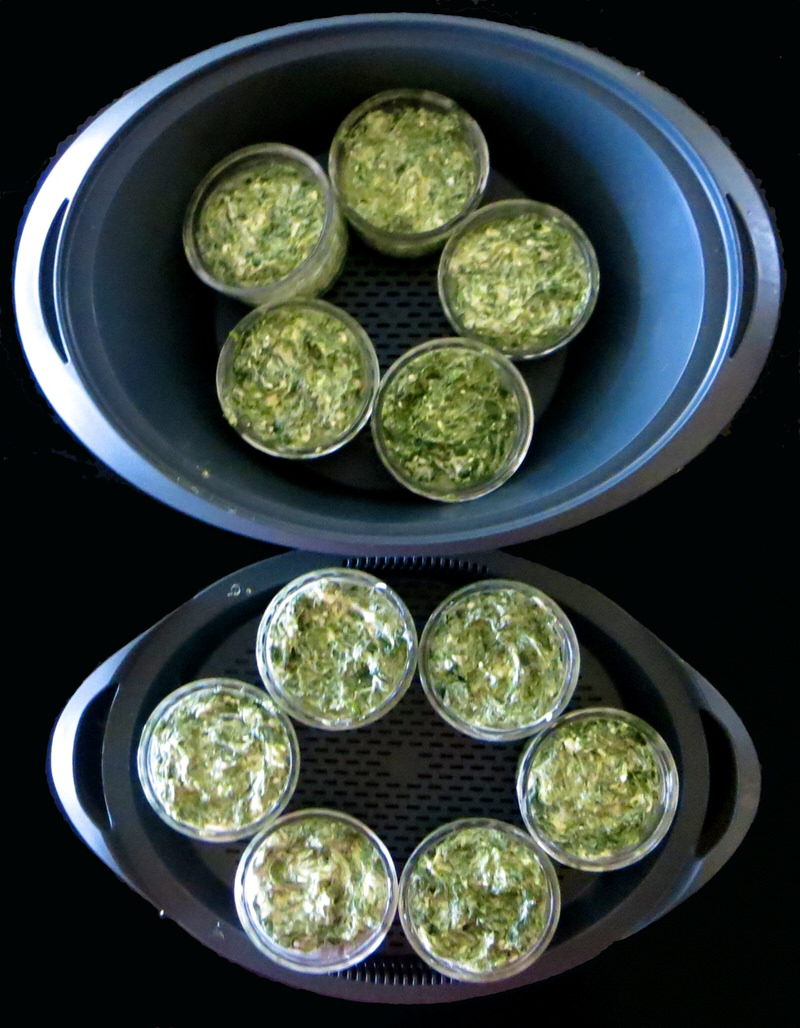 I steam mine in my Thermomix machine. Instructions are below for this method, and the bain marie method of steaming them in the oven.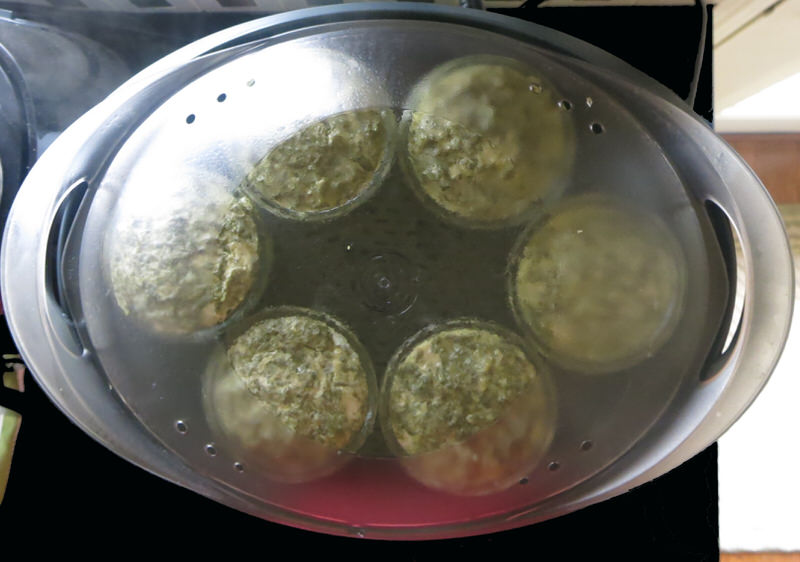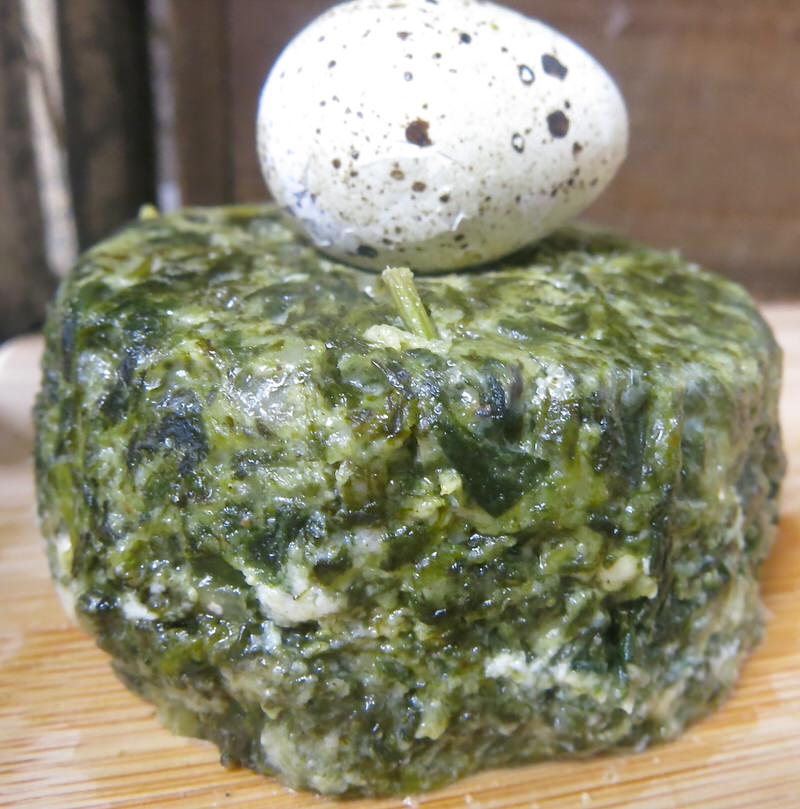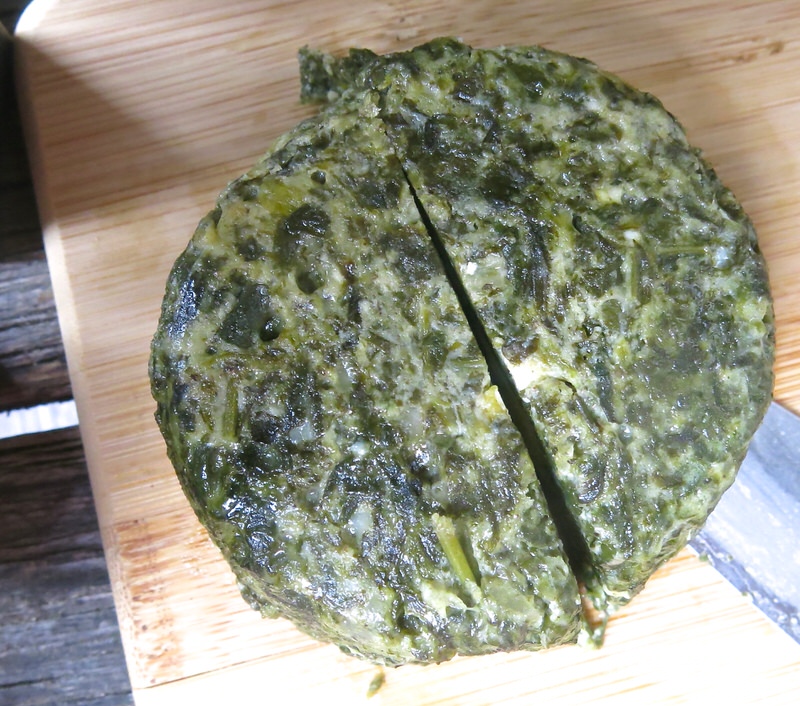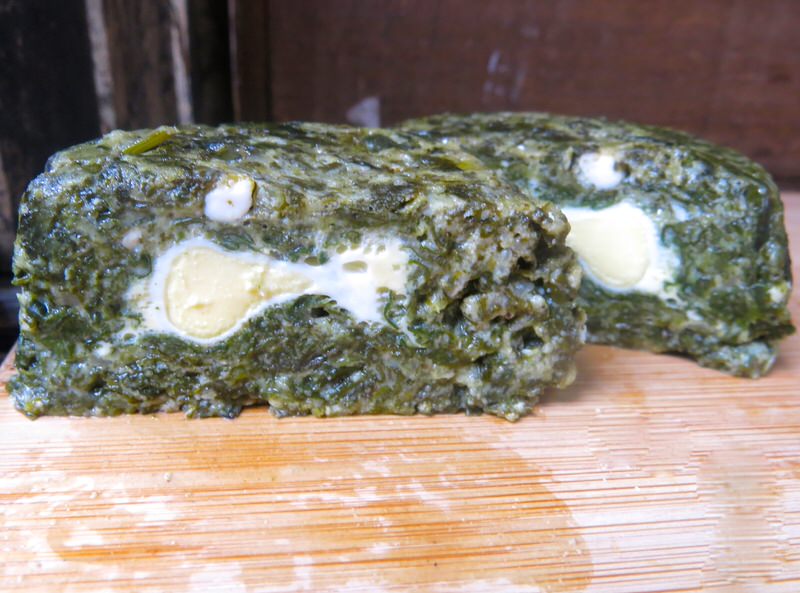 Loosen around the side of each ramekin and invert for immediate serving. OR, cool and refrigerate for serving later. The hidden treasure is always a joy!
Pasqualina Flan with Fondu Sauce or flan di Pasqualina con Fonduta: Making the Sauce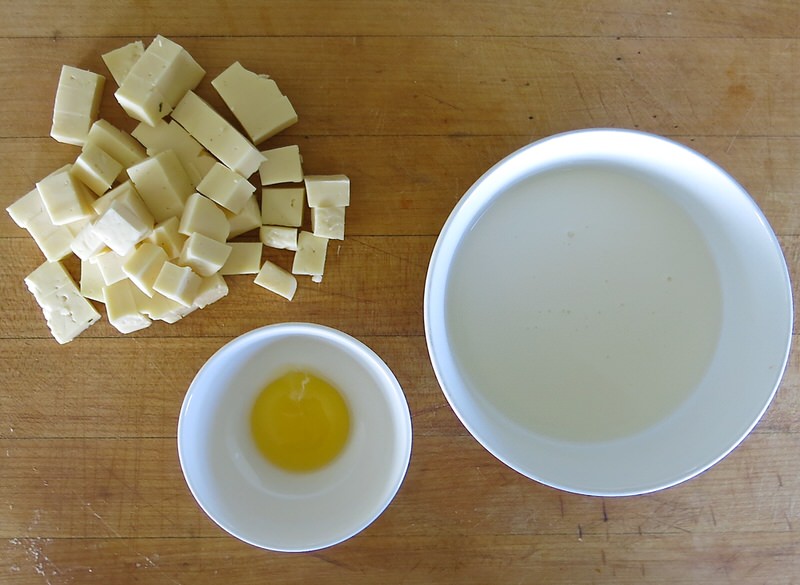 Typically Fonduta is from the Piedmont region in Italy. Fonduta Piemontese is made with Fontina cheese from the alpine reaches of the Valle d' Aosta, Italy's smallest region, but fontal, a non-appellation fontina, is often substituted. Fontal was first made in France, but is now also made in Italy in the Trentino region. In Italy, it is known as Fontinella, Fontella, and Fontal. It is also made in Belgium by the Kempico Company. I am not a fan of any of these cheeses. My first reaction after tasting a gorgeous authentic fonduta? "UGH!" the pungent essence of barnyard oozing from it was immediately off putting. Yet, together, somehow, the sauce and the flan were divine. As my family is not as adventurous as I am, I did opt for a different cheese. However, I would strongly recommend the original suggestion and am making it for my next gal pal potluck over baby potatoes. That is another typical traditional way it is served. Italian Fontina is completely different than the Danish Fontina. From fondere ("to melt"), this is Italy's version of fondue. "It's a warm and silky melange of fontina, cream, butter and egg yolks." Wikipedia. Fonduta is used as a dip for bread chunks and also as a sauce for various foods including boiled potatoes, pasta, polenta and rice.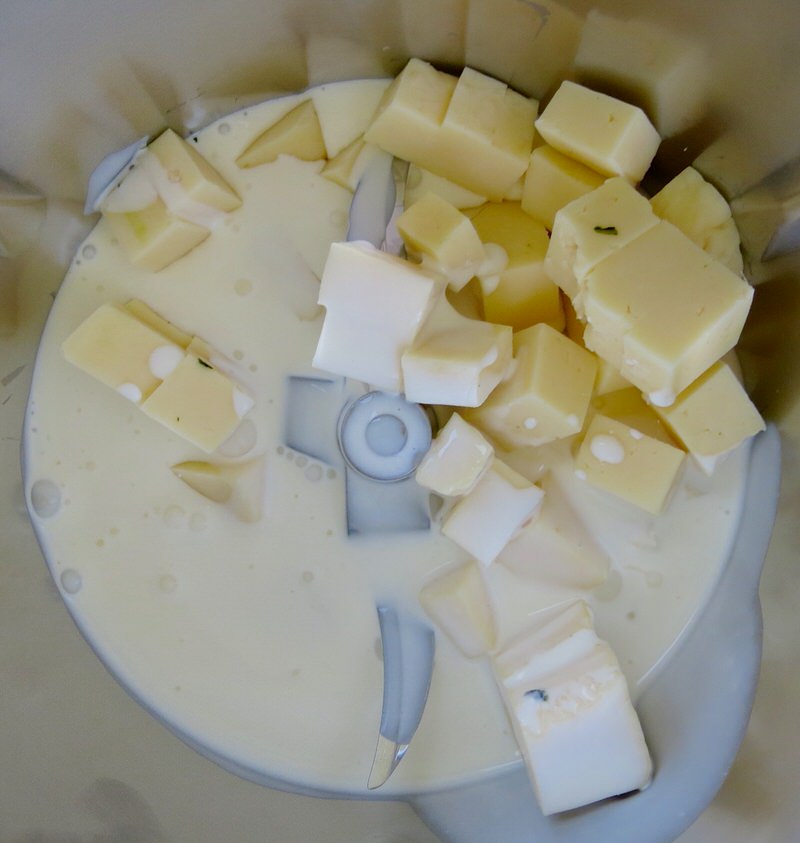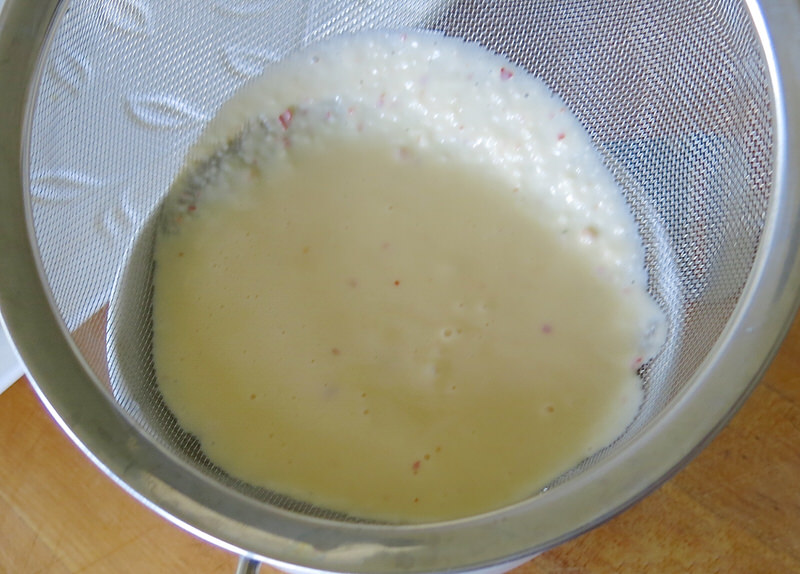 Cheese and cream are slowly melted usually over a double boiler. I used the Thermomix on low. The yolk is then added, the temperature increased and with stirring constantly, a lovely velvety sauce emerges.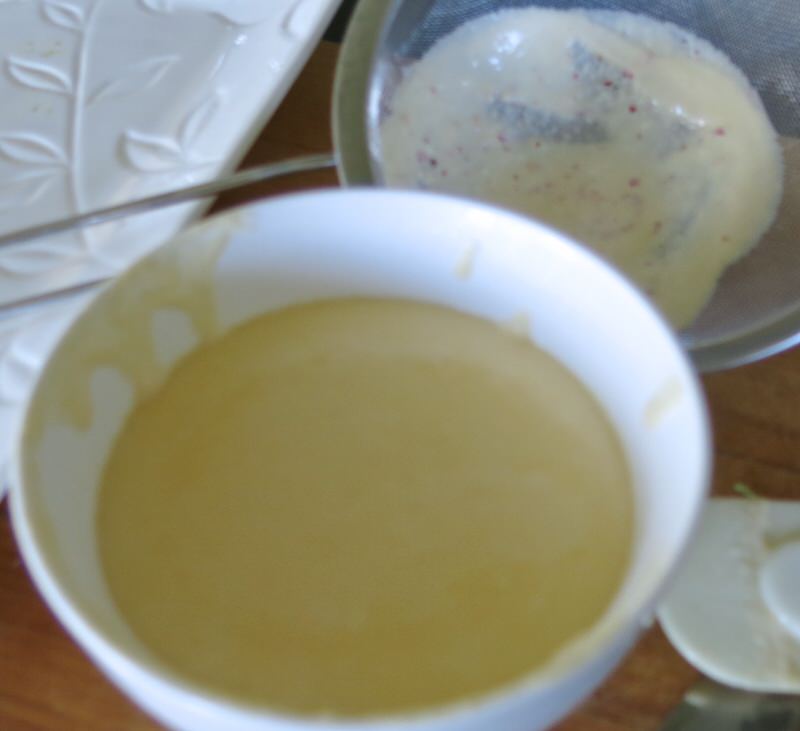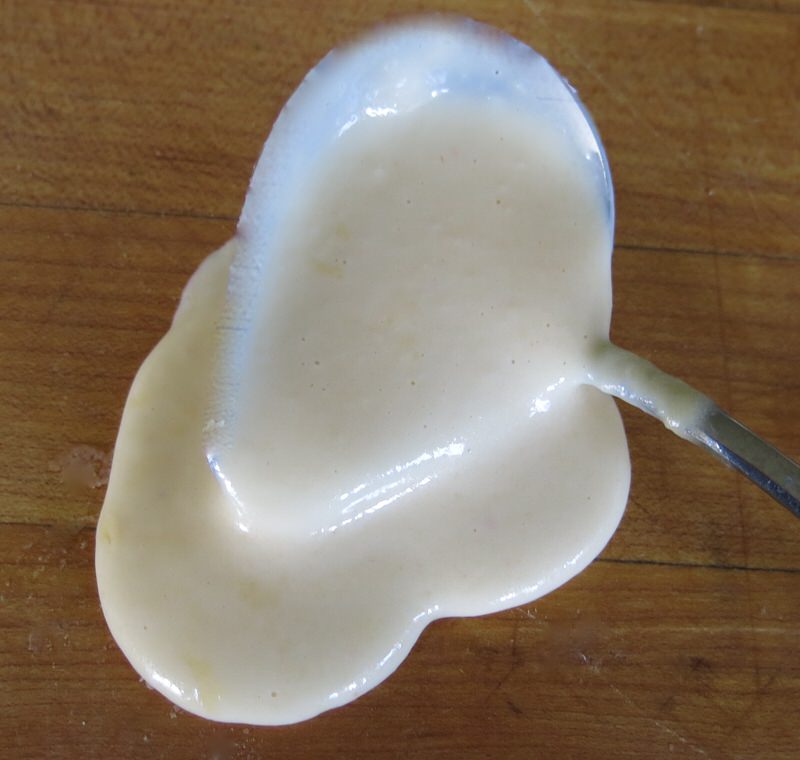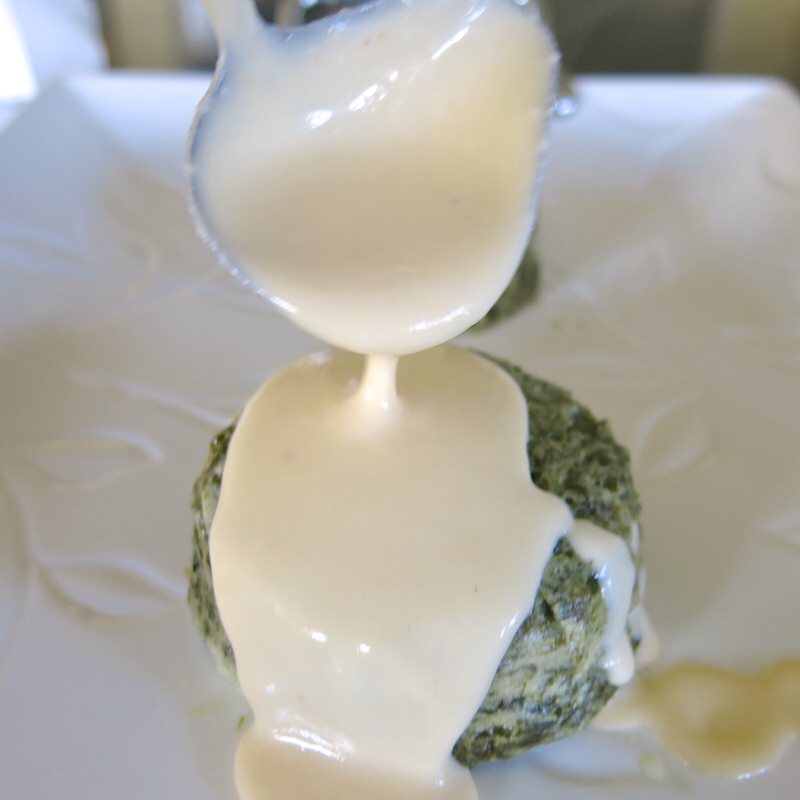 I actually used 2 yolks. One was not enough. Oh my. Why have I not discovered this sauce earlier in my life? Bliss.
Pasqualina Flan with Fondu Sauce or flan di Pasqualina con Fonduta: Preparing the Flan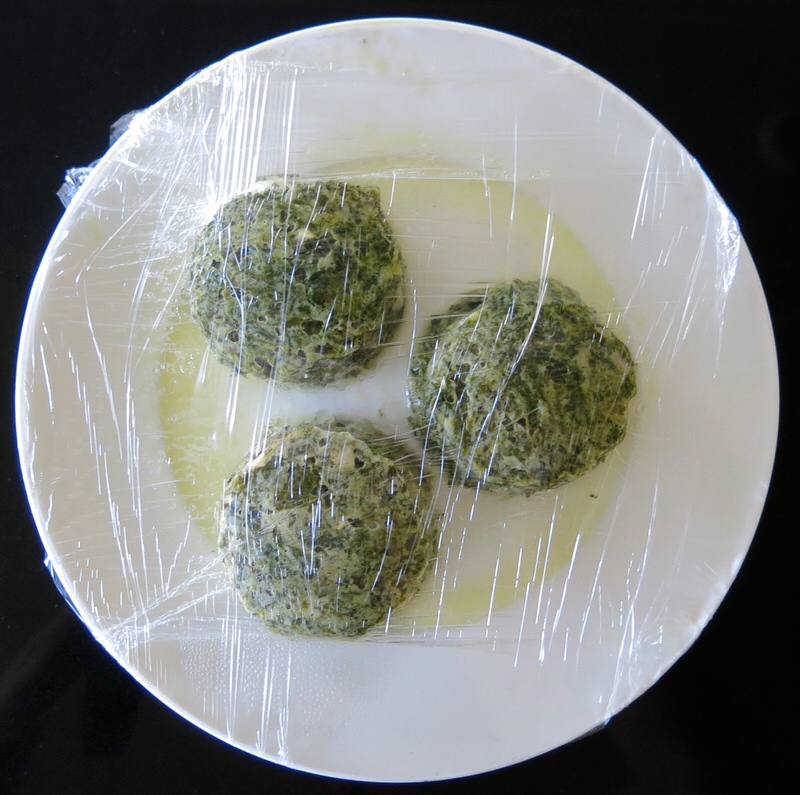 Flans covered with plastic are effectively heated in a microwave minutes before serving.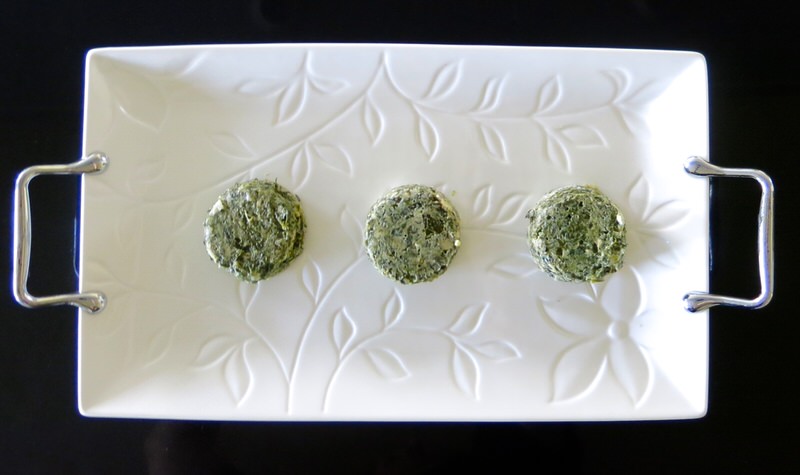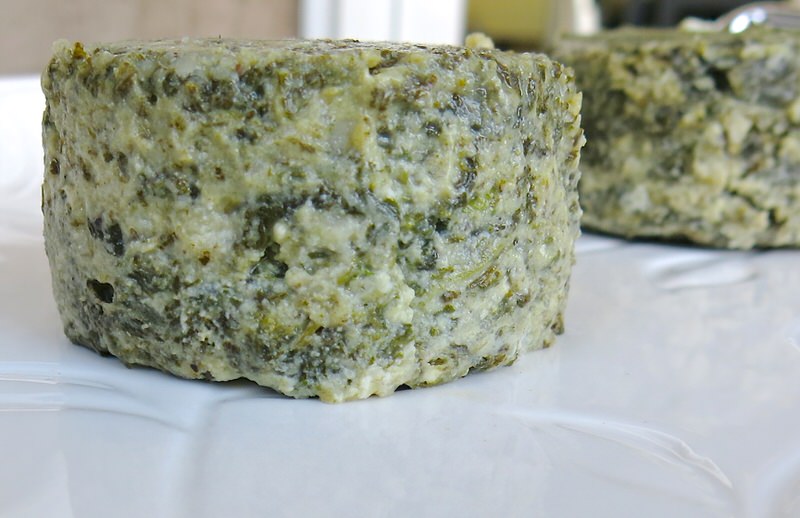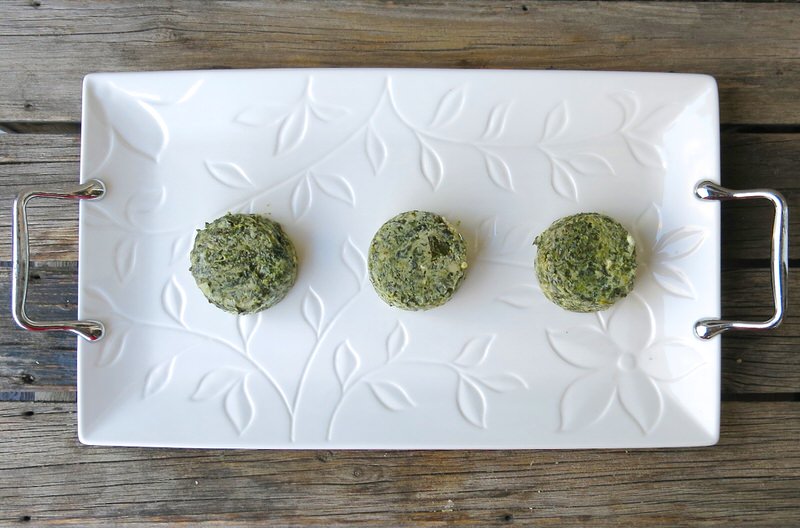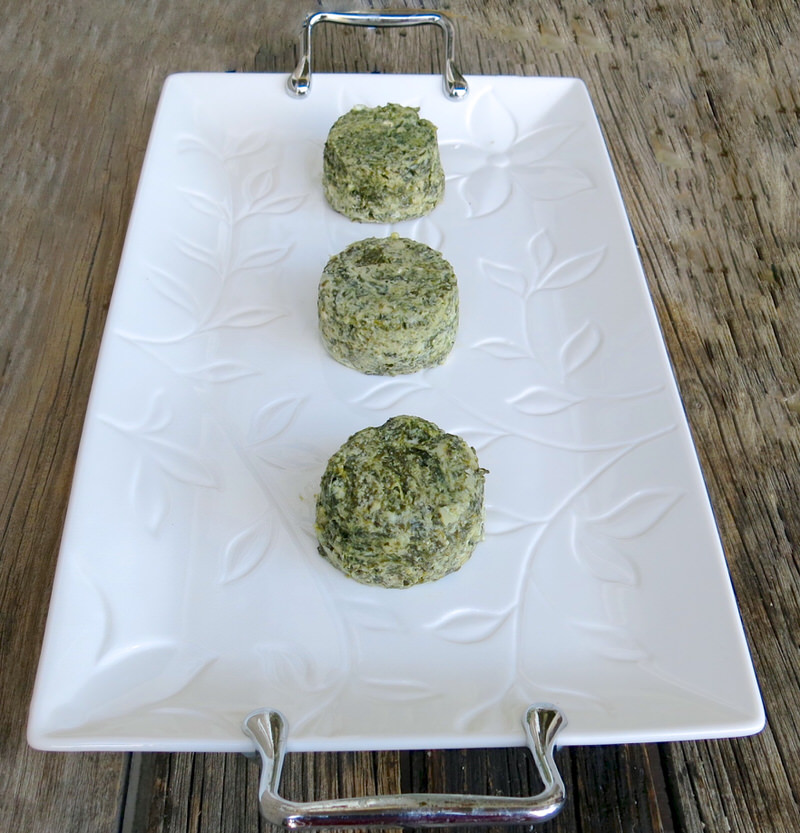 Plated, sauced, garnished and served – immediately.
Pasqualina Flan with Fondu Sauce or flan di Pasqualina con Fonduta: Presenting the Flan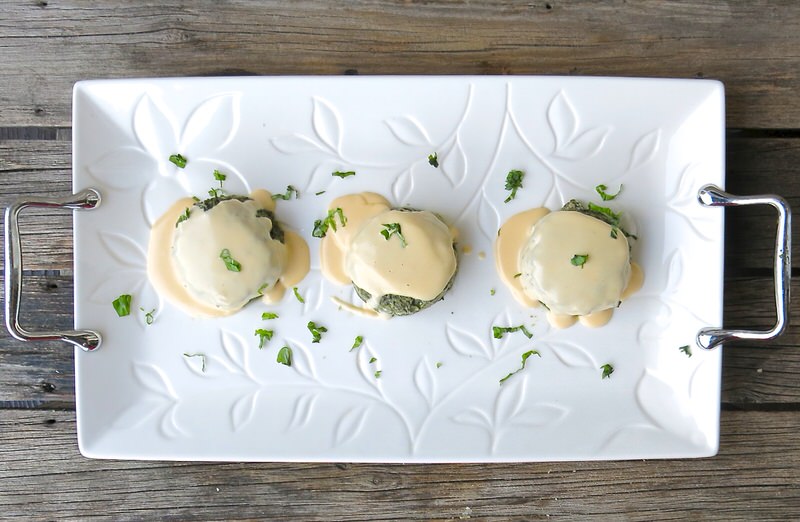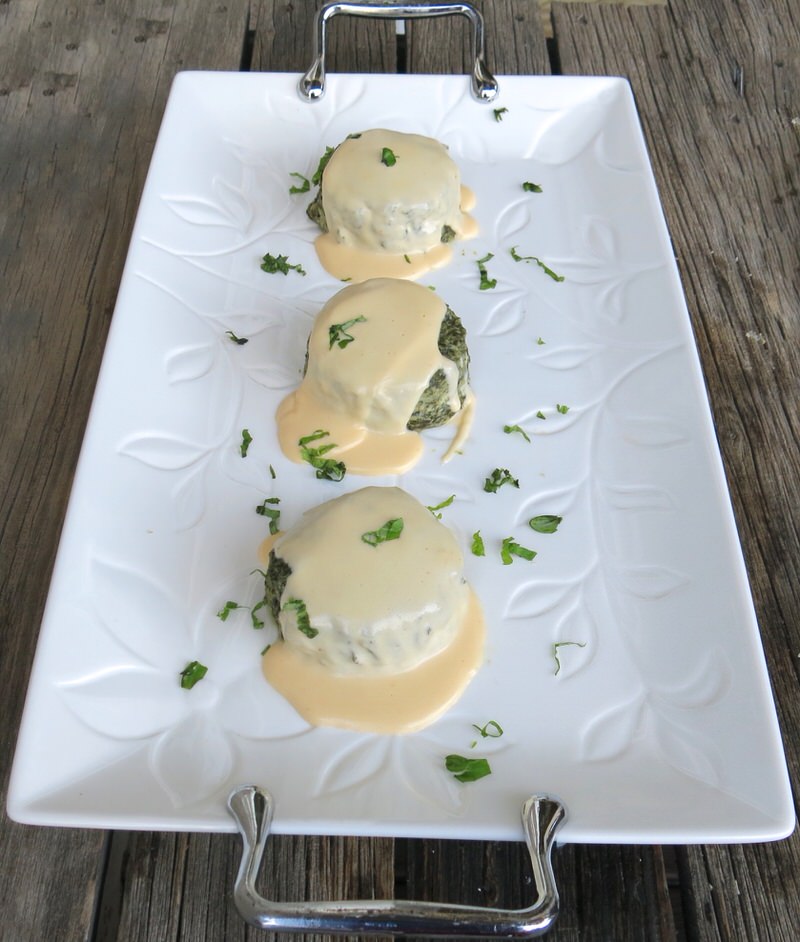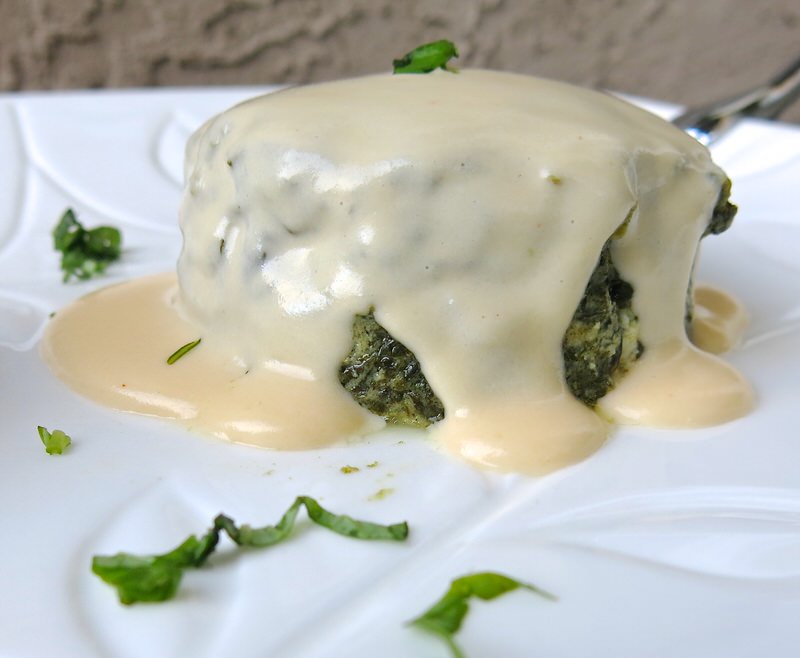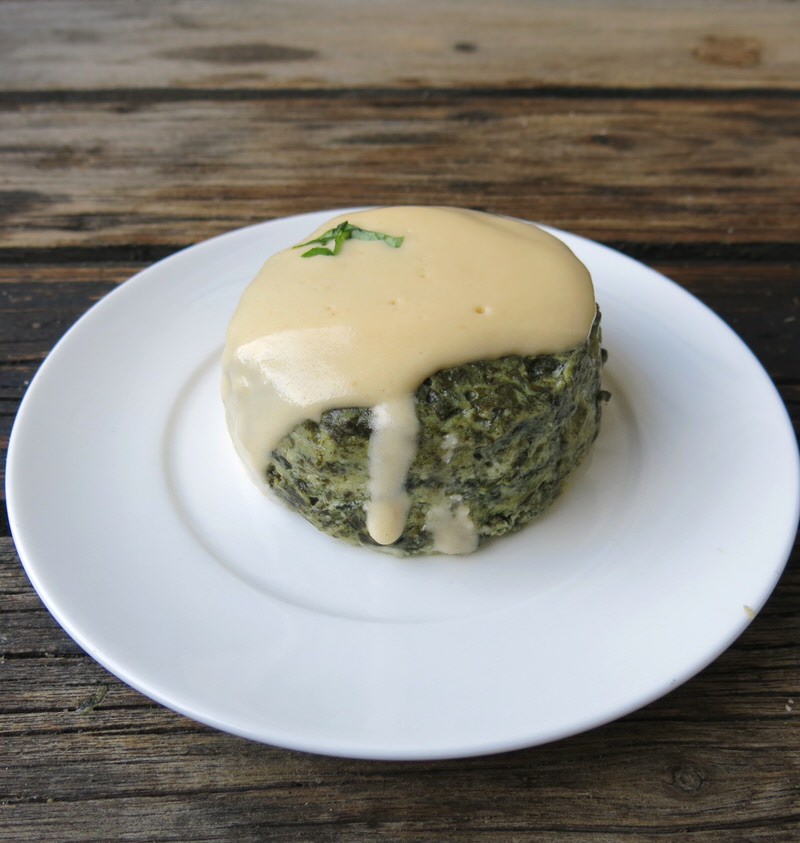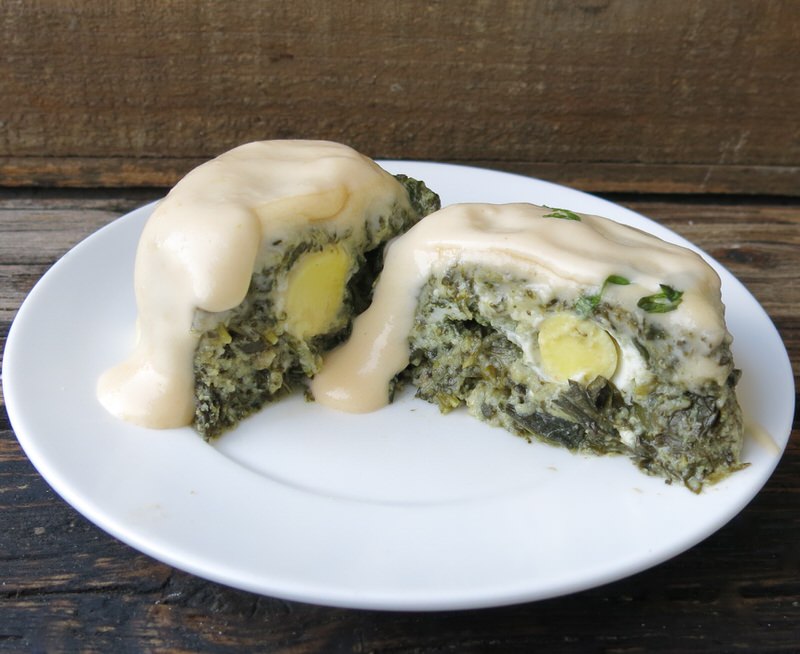 Extra sauce on the side is a good idea. It is hard to get enough. Once into the sauce, there's no getting out of it! Let me know if you make this for your family this Easter! I have made it for mine – a little early, but everyone went nuts over it. The Torta Pasqualina and these flans will be a part of our seasonal foods every Spring from here on in. Hallelujah!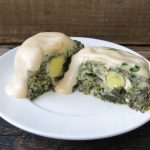 Pasqualina Flan or flan di Pasqualina con Fonduta


flan di Pasqualina con Fonduta or Pasqualina Flan for Easter with Baby Kale, Spinach and Quail Eggs with Fondu Sauce: Torta Pasqualina revisited with step by step images!
Total Time
1
hour
35
minutes
Ingredients
Ingredients for Flan:
1

kilo Spring greens: 500 grams organic baby spinach and 500 grams organic baby kale

100

grams

onion (½ medium)

, minced

1

clove

garlic

, whole

1

teaspoon

dried marjoram (5 grams)

3

tablespoons

olive oil (45 grams)

1

tablespoon

butter (15 grams)

600

grams

fresh cow Ricotta (2 ½ cups)

(see note)

2

organic know-your-farmer eggs

50-75

grams

Parmigianino Reggiano ( 1/4 cup)

, grated

½

teaspoon

ground white pepper

½

teaspoon

freshly ground whole nutmeg

(about ½ a nutmeg)
Ingredients for Surprise Inside:
Special Material Required
12

half cup ramekins

large casserole or two small for bain marie

(must hold 12 ramekins); ensure sides of ramekins can be immersed half way in water inside of container(s)
Ingredients for Fonduta Sauce:
200

grams

Italian Fontina

, removed from crust, at room temperature covered by plastic wrap, cubed (I prefer Danish Fontina - completely different and the traditional Fonduta is made with Italian)

200

grams

cream

1

egg yolk
Garnish
Flat leafed parsley or chives
Instructions
Instructions for Preparing Greens:
Wash and spin-dry spinach and kale leaves; mince onion

In large sauté pan, place 3 tablespoons olive oil, garlic clove and 1 tablespoon butter with the onions; sauté at medium heat until onion is translucent (2-3 minutes)

Add spinach, baby kale and marjoram to pan, in two batches; sauté until wilted then cook gently for about 15 more minutes, until all stems are tender

Place greens in colander; set aside to cool and drain
Instructions for Preparing Cheese Filling:
In large bowl, combine fresh cheeses (or ricotta and yogurt); stir to completely combine

Place eggs, pepper, nutmeg and grated Parmesan into soft cheese mixture; mix well until completely combined
Instructions for Making the Filling in the Thermomix
Instructions for Making the Filling in the Thermomix are detailed in a separate recipe, at the very bottom of this post

Putting it all Together:
Finely chop and gently squeeze cooled greens; add to cheese mixture, stirring to fully incorporate

Taste, adjust seasonings; set aside
Prepare Flan Ramekin dishes:
Butter each thoroughly
Instructions for Making the Pasqualina Flans
Preheat oven to 350F

Place scant ¼ cup filling, or 3 tablespoons filling into each ramekin; create hole in middle, one at a time

Crack quail egg gently into small bowl; pour completely into prepared hole in middle of filling

Using pointer finger, move filling around to nestle entire quail egg into filling without albumen spilling over top; repeat with remaining 11 ramekins

Using 2 tablespoons, or ½ quarter cup of filling, cover each egg; gently smooth filling over surface to edges of container

Repeat until all 12 ramekins are filled
Iinstructions for Baking in Oven in Bain Marie
Boil water on top of stove to fill bain marie; place ramekins into one large casserole or two small

Place casserole very near oven to avoid moving far filled with scalding water; pour hot boiled water to halfway up sides or ramekins

Place in middle rack of oven and steam bake (bain marie) for 50 minutes, or until each puffs in the middle and pushes back, like a cake, when touched
Instructions in Steaming with Thermomix
Set time to 50 minutes, temperature at Varoma and speed at 2; place ramekins in upper and lower shelf of Varoma, or until each puffs in the middle and pushes back, like a cake, when touched
Instructions for Fonduta (make while flans steam)
Add cheese and cream to saucepan over double boiler; slowly melt cheese over medium heat and stir until smooth and creamy

Gently stir in yolk, stirring continuously, until it is completely incorporated and sauce is thick, voluminous and velvety

Ladle hot over warm flans on serving platter; garnish with parsley or chives and serve immediately
Instructions for Serving Flans:
Cool for 10 minutes; loosen around sides of fan and invert onto serving plate

Plate immediately, ladle Fonduta over warm flans on serving platter; garnish with parsley or chives and serve immediately

Pasqualina Flan Filling in Thermomix
The dough and fonduta sauce instructions for the Thermomix are in the above recipe, but the Flan filling instructions in the Thermomix are here, separately, for clarity.

Servings
8
1/2 cup Servings
Ingredients
Ingredients for Flan Filling
All ingredients are listed in above recipe
Instructions
Instructions for Making the Filling in the Thermomix
Wash and spin-dry spinach and kale leaves; weigh in Varoma on top of Thermomix machine and set aside

Weigh 100 grams onion in TM bowl, halved; mince for 1 second on Turbo; push down bits from sides of bowl with spatula

Weigh 45 grams olive oil, place in one garlic clove and 15 grams butter into TM bowl with onion; sauté for 3 minutes at Varoma on speed 2

Remove garlic; add marjarom and greens into TM bowl 1/4 batch at a time: see Notes for specific instructions

Sauté until tender for 10 minutes, temperature at 100 and speed at 2; place greens in colander; set aside to cool and drain

Weigh cheeses, eggs, pepper, nutmeg and grated Parmesan into TM bowl; stir to completely combine for 30 seconds at speed 2 reverse

Place cooled and drained greens back into TM bowl; mince for 1 second on Turbo


Add all remaining ingredients for cheese mixture to the greens; stir to incorporate for 5 seconds speed 2-4; repeat, if required


Taste, adjust seasonings; set aside and follow instructions in the above recipe

Recipe Notes
Adding Greens to TM Bowl in 4 batches:
Batch One: chop for 5 seconds speed 5-7; sauté for 1 minute on V at R speed 2 pushing ingredients toward blade with spatula through hole in lid a couple of times
Batch Two: Saute for 1 minute on V at R speed 2 pushing ingredients toward blade with spatula through hole in lid once or twice and chop for 1 second speed 5
Batch Three: Saute for 3 minutes on V at R speed 2 pushing ingredients toward blade with spatula through hole in lid at beginning only and temperature won't get to Varoma (about 90C)
Batch Four: Saute for 5 minute on V at R speed 2; simmer for 10 minutes at 100 at R speed 2