In Search of the Famous Oahu Scampi

I confess, we rented a car and tootled around the island of Oahu for one complete day in search of the famous North Shore Food Trucks and the widely acclaimed Oahu Scampi. Not so easy as one might think. Traveling around the island is easy. Just rent a car and go. There are only two ways to get to the North Shore from Honolulu. Through the island, or around the island. Both offer points of interest. We did both over two days. The roads are well marked and it is easy to get to Point B from Point A. It is not as easy to find a food truck unless you stop and ask. Everyone has their favourite. That became clear. Thus, in the North Shore town of Haleiwa, the Blue Shrimp food truck is parked next to the 76 gas station on main street. Three locals had said that his is their "go-to" food truck for the very best scampi on the island. I was skeptical. I wanted scampi. The menu read scampi, but the truck promotes blue water shrimp. What are those?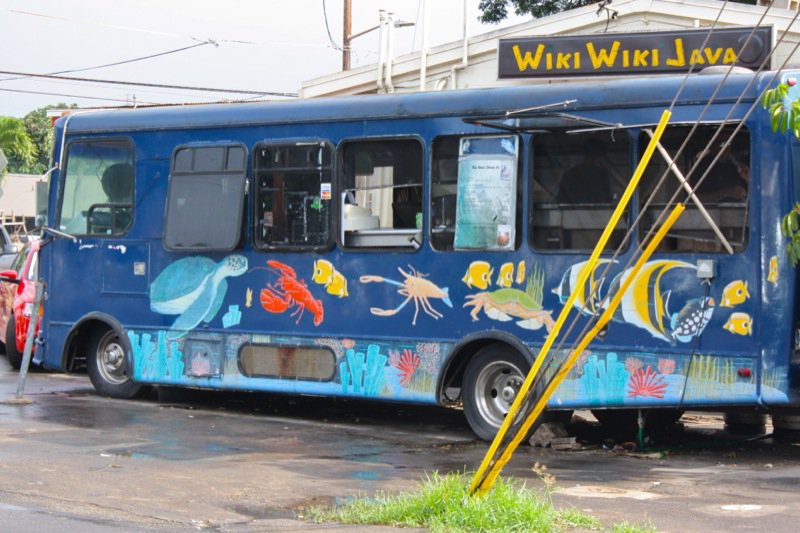 There was a place for seating in the back of the service station. Confession #2: we don't really do food trucks. Love the hype, and have tried a couple, but if I want to eat out, I want a nice environment. The food truck scampi fare seemed like the perfect outdoor meal option: a tasting on a tropical island. We could handle that! Around the side of the truck, a really grungy looking fellow ducks his head out. I ask, "Is this real scampi or is it blue water shrimp?" "Blue Water Shrimp, ma'am." "But, it says "scampi"?" He disappears and another pimped up version of double grunge bobs his head out through the window. "What was your question?" I explain that I have heard this is the best place to eat scampi in town, but that I am confused. "I know what you want. Two plates for 16 dollars." And we found our seats in the back of the service station performing a rendition of George Michael's Faith inside of my head: "ya gotta have faith"!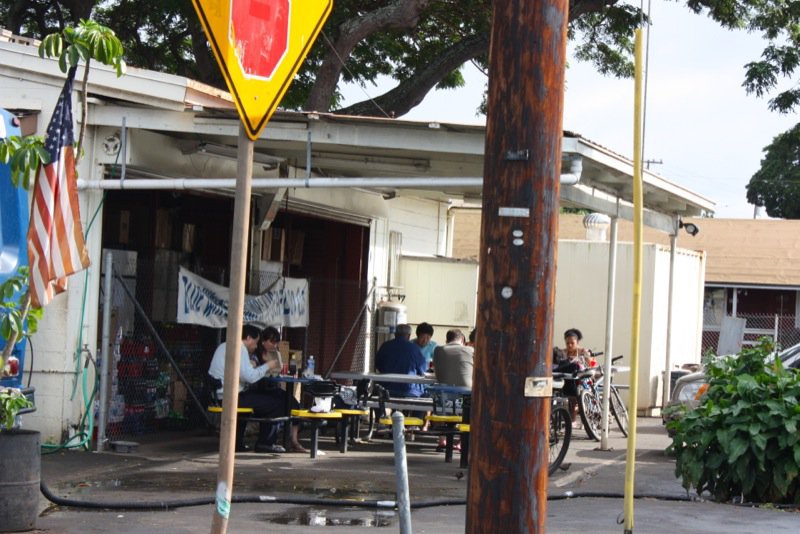 Sitting beside another couple, we chatted. Their food was excellent. They had been to a few food trucks. They liked this one the best. We were then served my "specially requested scampi" and it was exactly the same dish that the couple we sat with had just finished eating. He did know what I wanted: the tourist fare. The traditional two scoops of rice, sans macaroni salad. The scrumptious garlic bread and road stop Caesar salad are unusual on a plate lunch as was the sumptuous lemon garlic caper sauce slathered over the food. Hawaiian scampi is shrimp, not "real" scampi. That was my first realization. I was disappointed, but that lasted a couple of seconds. I know scampi as a type of lobster that is one of the world's finest delicacies and what I thought people were raging and raving about along these North Shores. Silly me. It didn't even cross my mind that there was a shrimp cooked in garlic butter called scampi that wasn't authentic scampi. But, that is what it is. A traditional garlic butter shrimp dish. Not the "real" Italian Scampi or the French Langoustine. A scampi lobster is the true Langoustine or true Scampi and that is really what I was expecting as this was a tropical island and a seafood explosion. Silly, silly me. Scampi are commercially caught in the North East Atlantic and in the North Sea. Should have known better. In any case, this was a delicious dish and you don't have to drive all the way out here to try it. Their website looks like it hasn't been updated for 2 years, but a recent article indicates other island Blue Water food truck locations. (Yes, I know know that Blue Water Shrimp is a company name, not the name of a variety of shrimp.)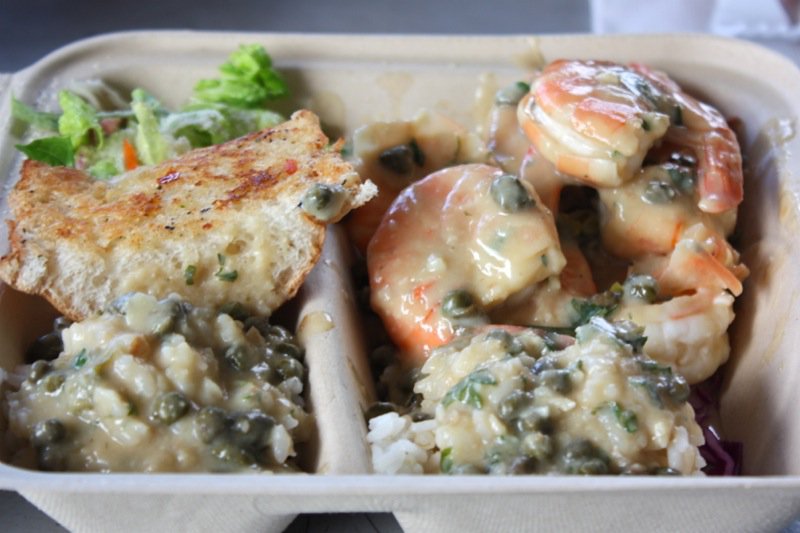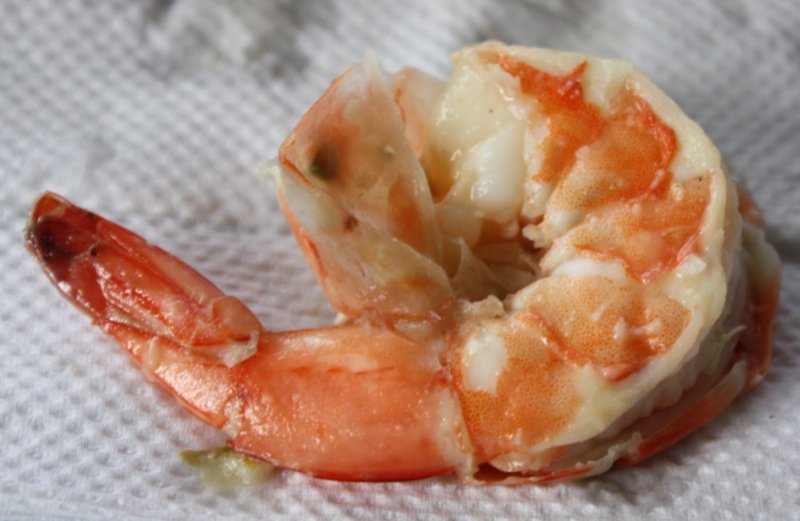 "Where do you source your shrimp?" "Huh?"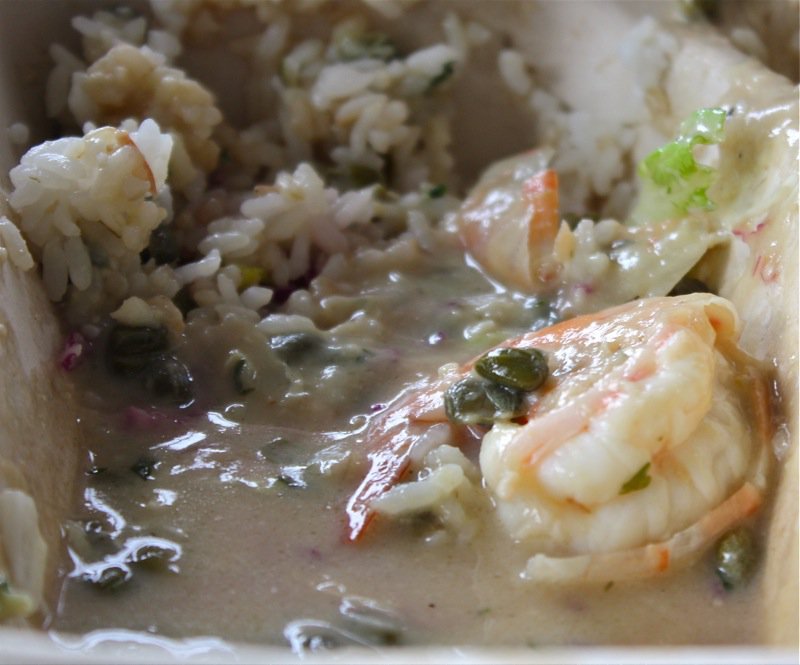 Back on main street, we learned there was a food truck park, so we headed there. It was drizzling outside and relatively empty.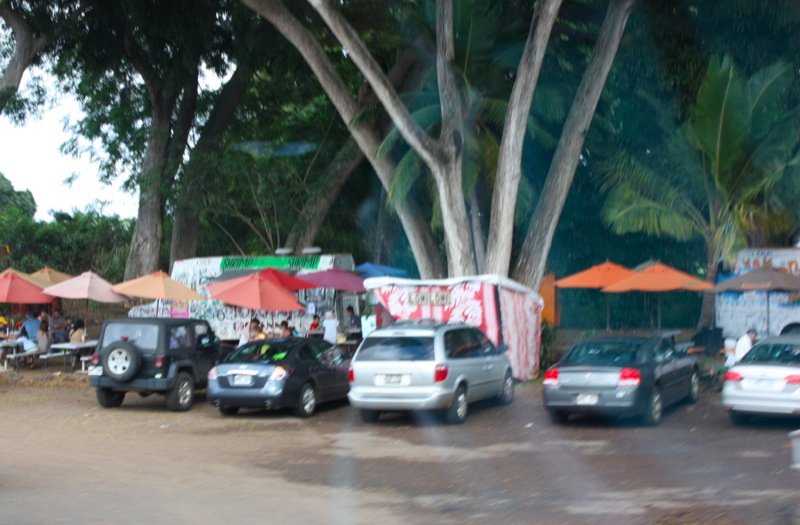 I was immediately struck by how ugly some of the food trucks were.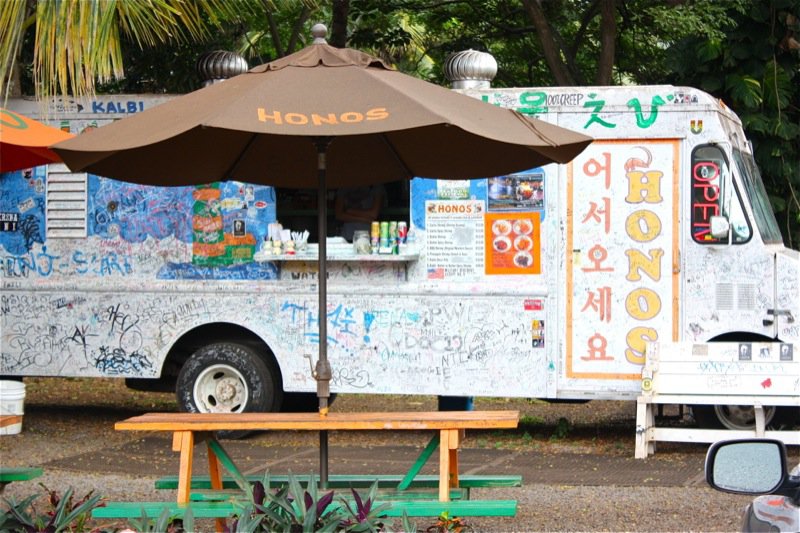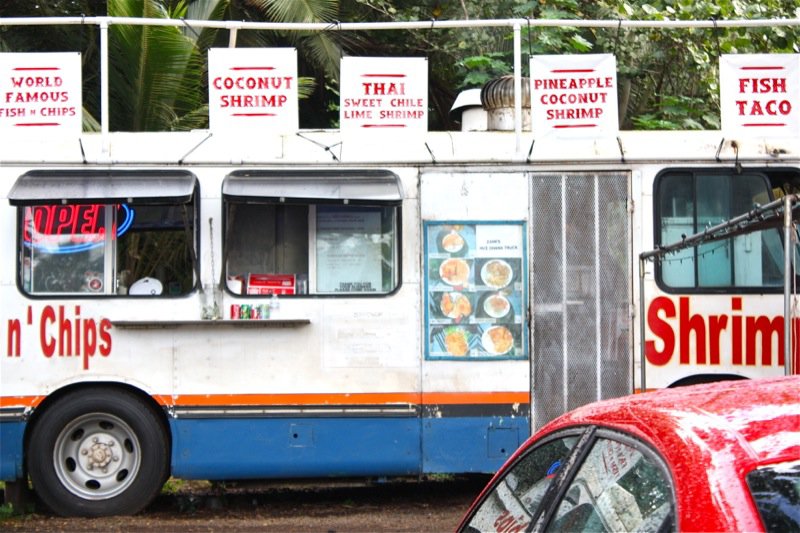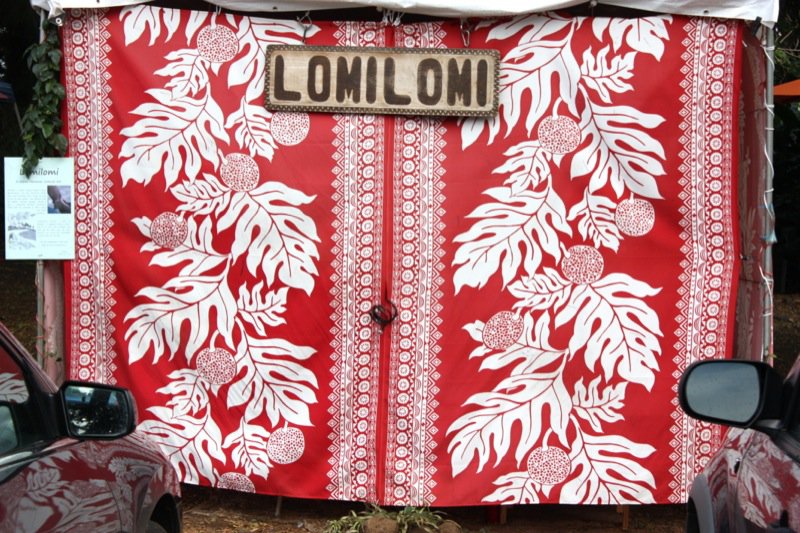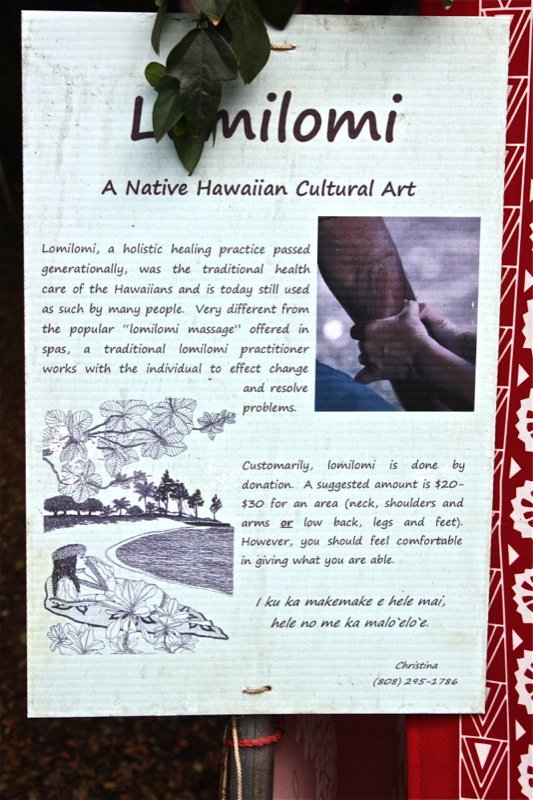 I appreciated seeing the integration of a couple of cultural offerings at the food truck lot. I also appreciated that Giovanni's menu clearly stated that the garlic scampi was a shrimp dish. Giovanni's original location at Kahuku was the first original food truck and where this North Shore food truck craze started, so we planned to try the shrimp scampi dish there, later. The menu is the same. There are posts on yelp and urbanspoon that offer varying opinions about which Giovanni's location is better. Apparently there is a lack of consistency, but clearly a cult following strong enough to support T-shirt sales. Notice they close at 5 pm daily.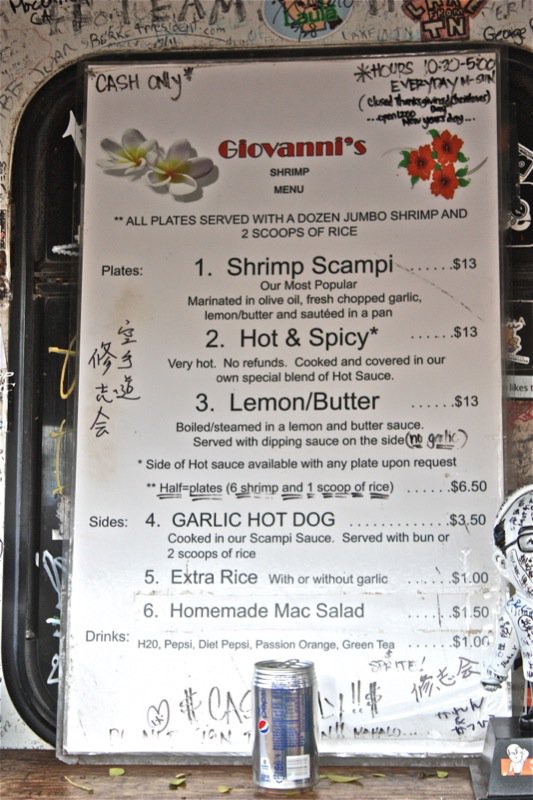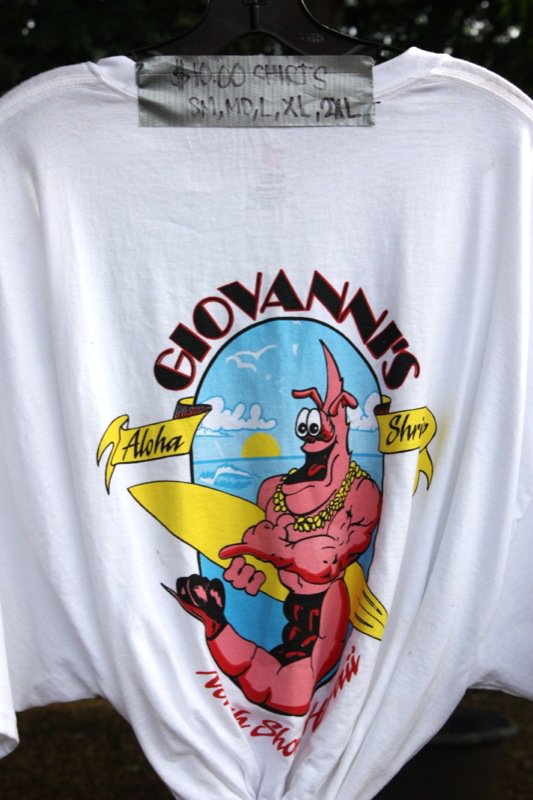 Please forgive my voyeurism as I completely enjoy watching a family out for dinner enjoying their meal and seeing what they eat when I travel.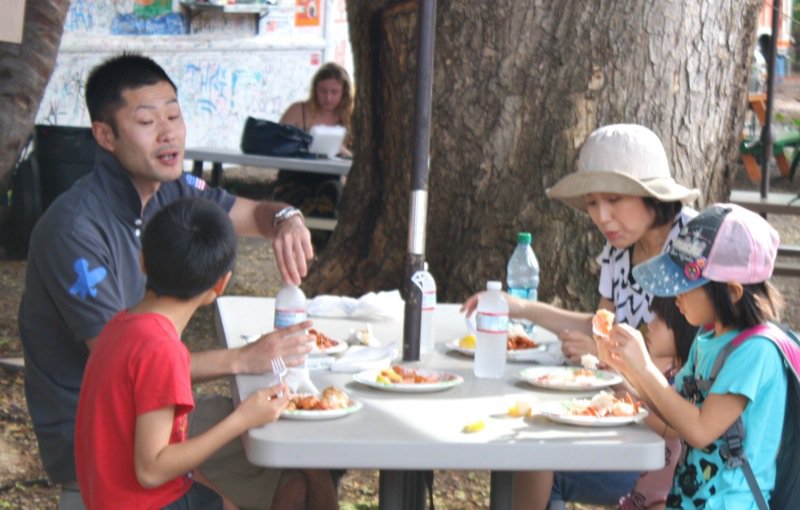 Remember, we are in search of the scampi food trucks, so this is what we are looking for here, and there weren't any others.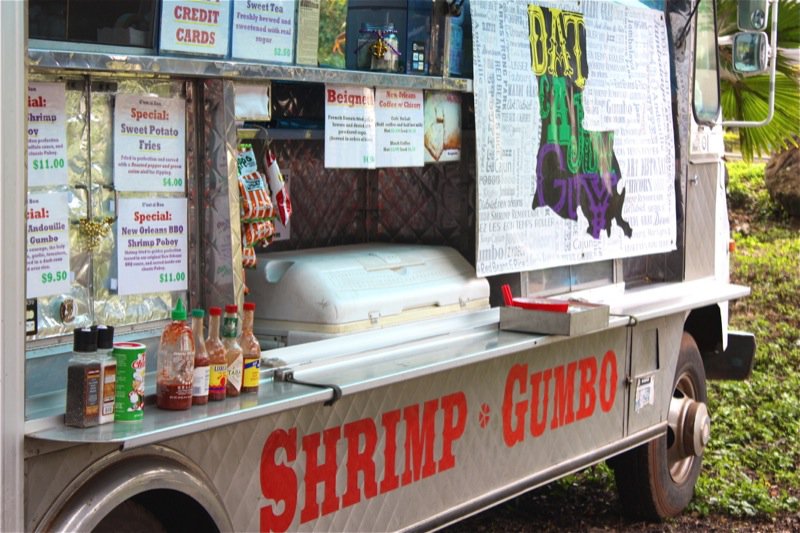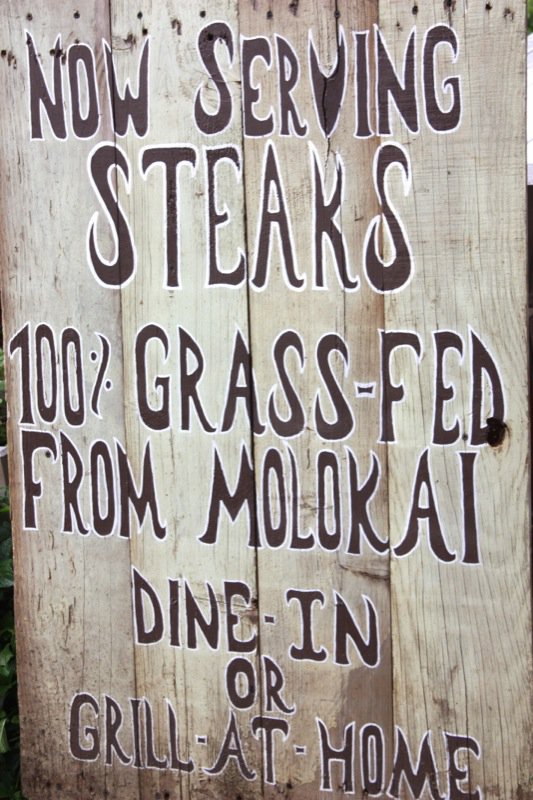 The food truck park is right across from the McDonald's at the end main street beside a little blast into the past artsy-fartsy 60's vibe strip of shops. I imagine, if I were much younger, there would be an incredible sub-culture here for traveling youth that is impossible to discover unless you are young and open to it all.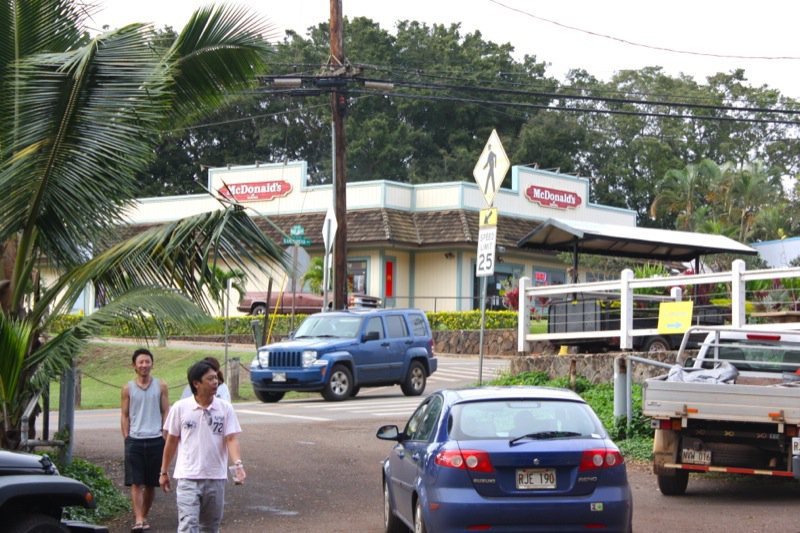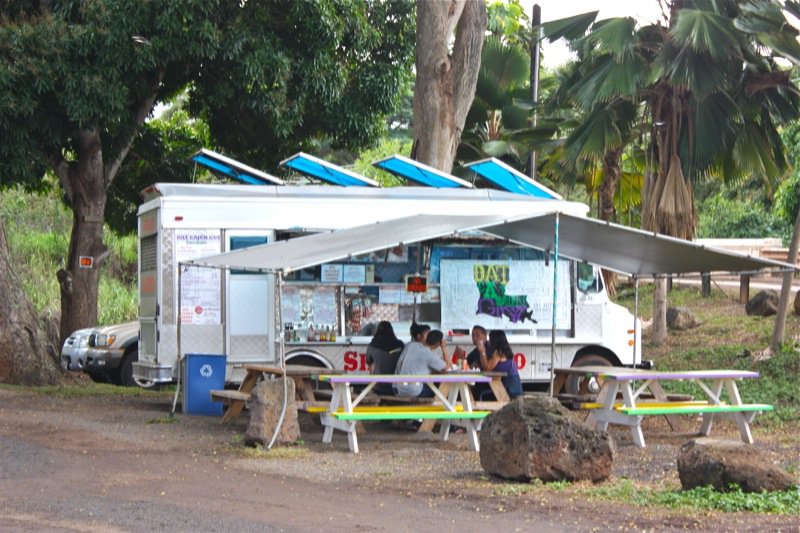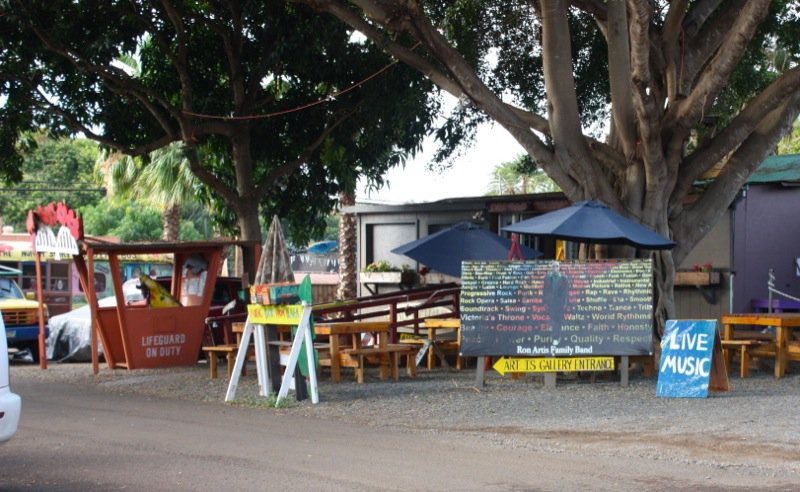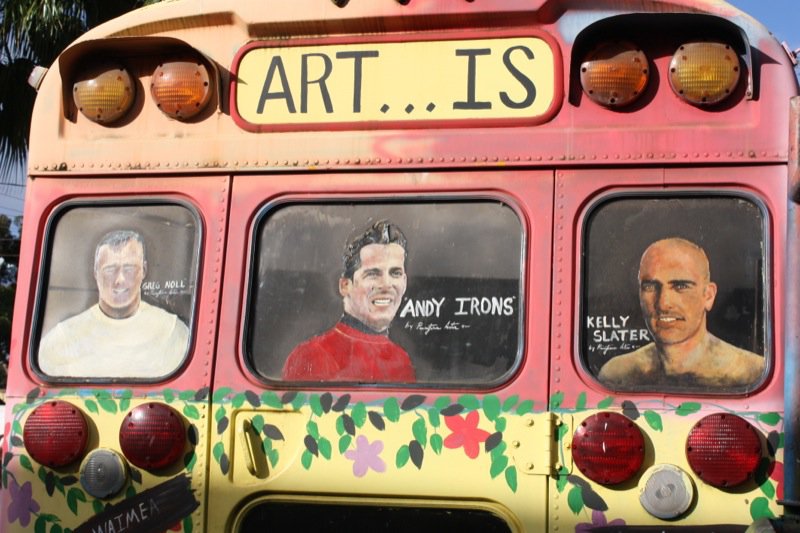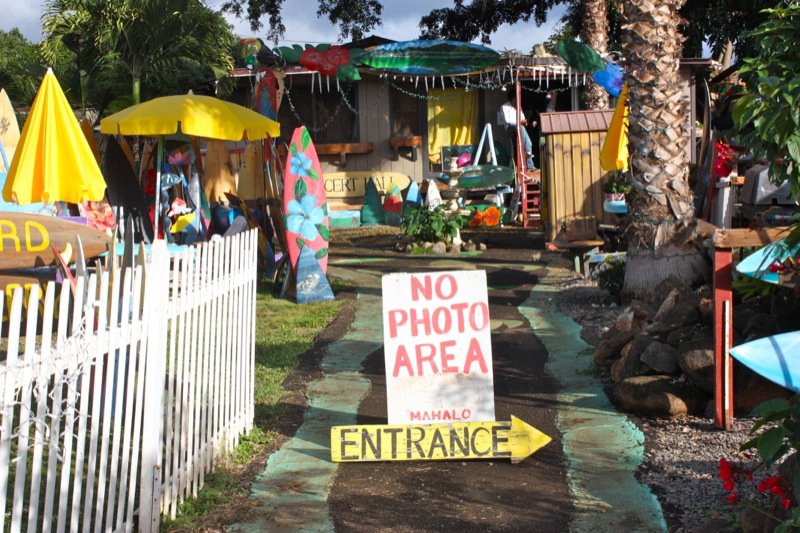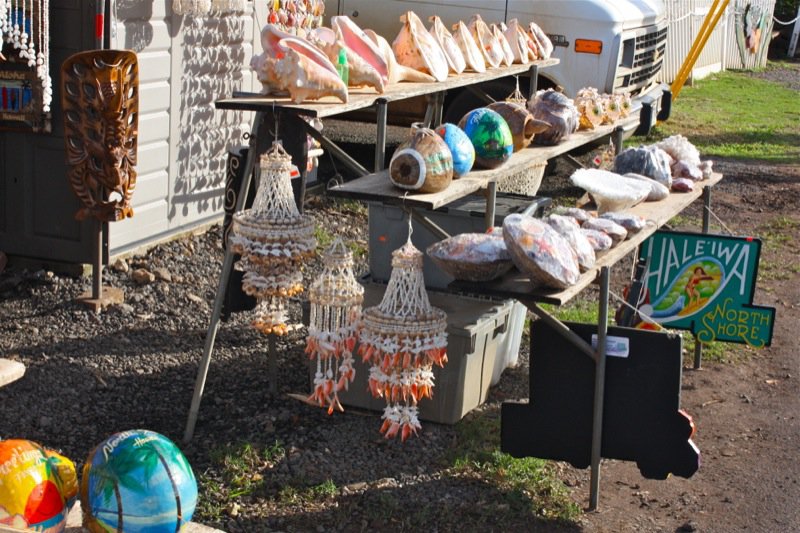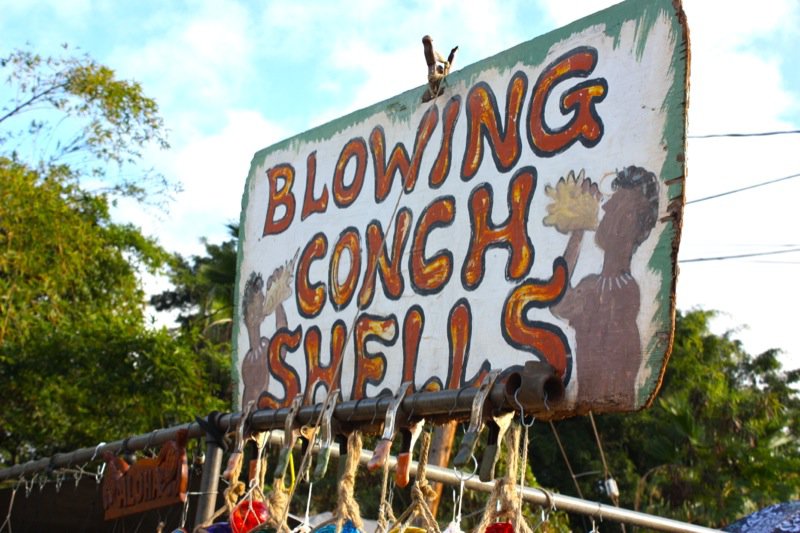 Main street view back toward the Blue Water Shrimp truck.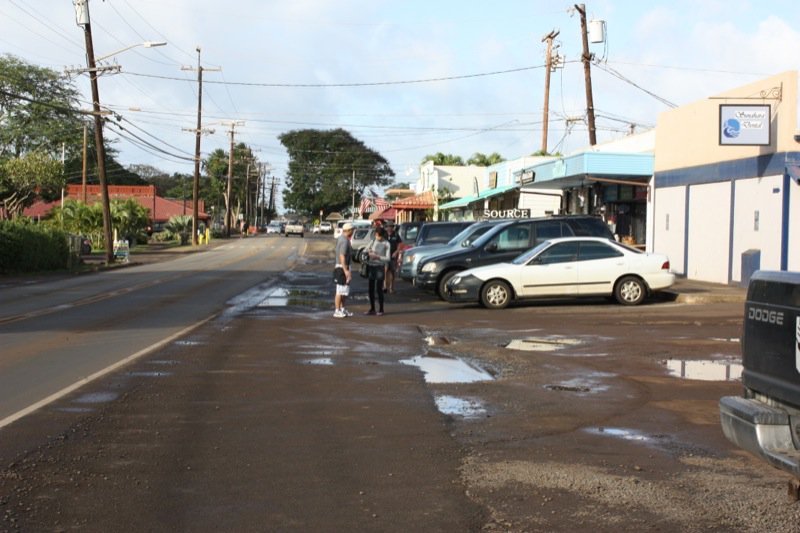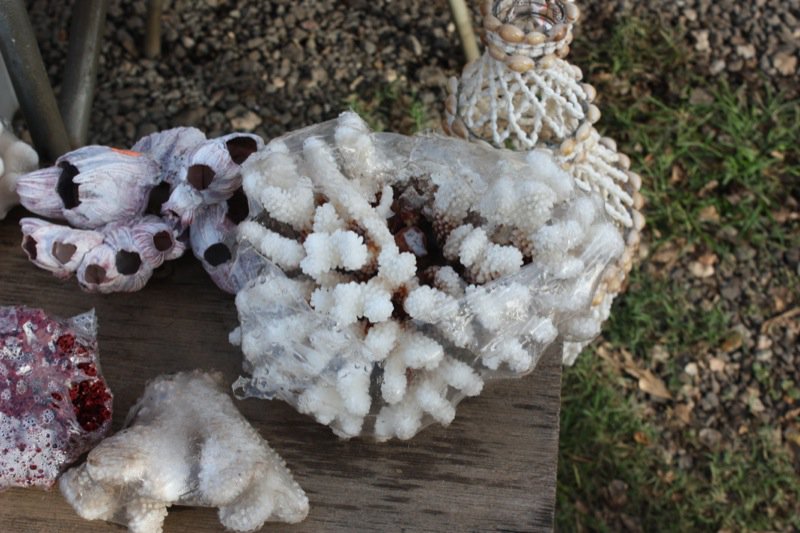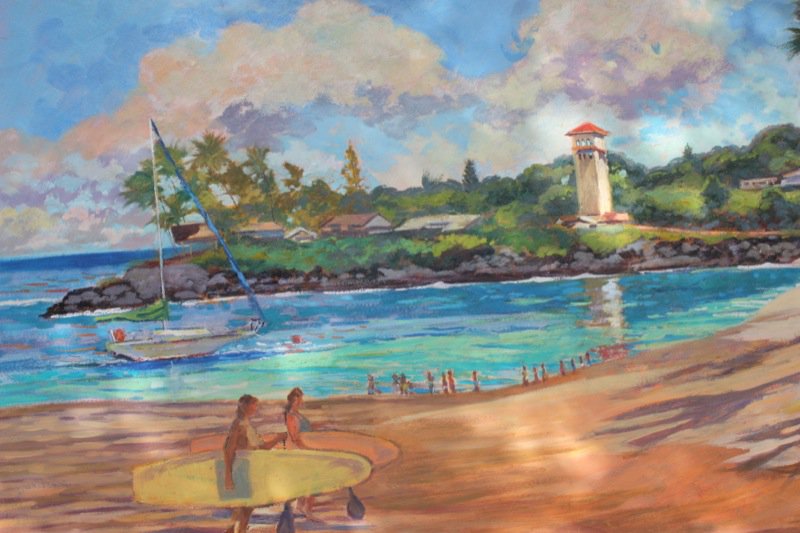 Still, a little further out, was another food truck the locals kept mentioning called "Maki's", so we thought we'd give it a go. It is all by itself on a round-a-bout corner on the way out of town.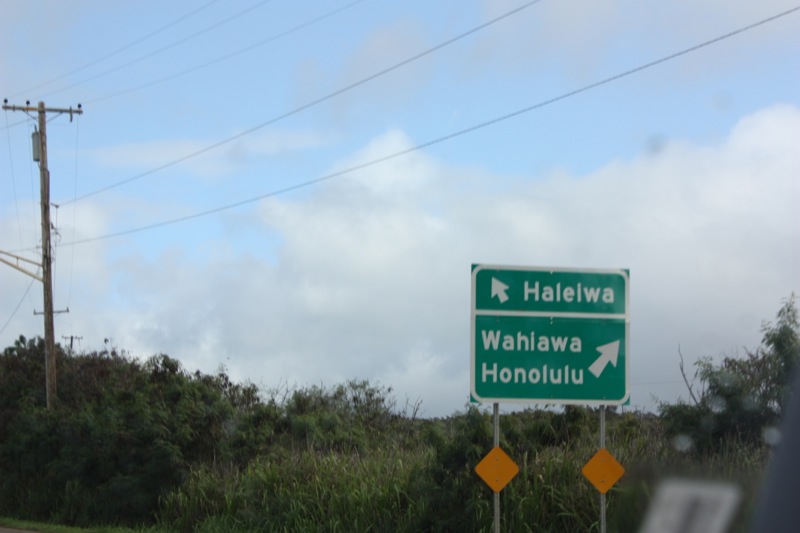 You will see the van. Then the truck on the lot behind it.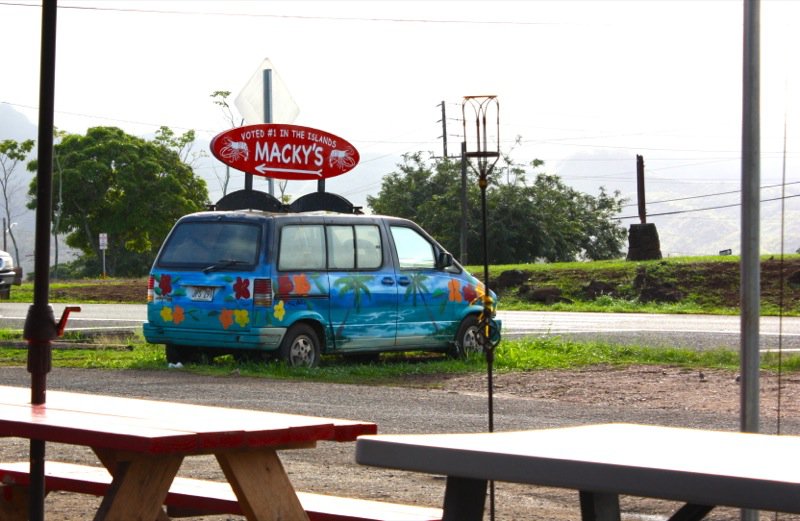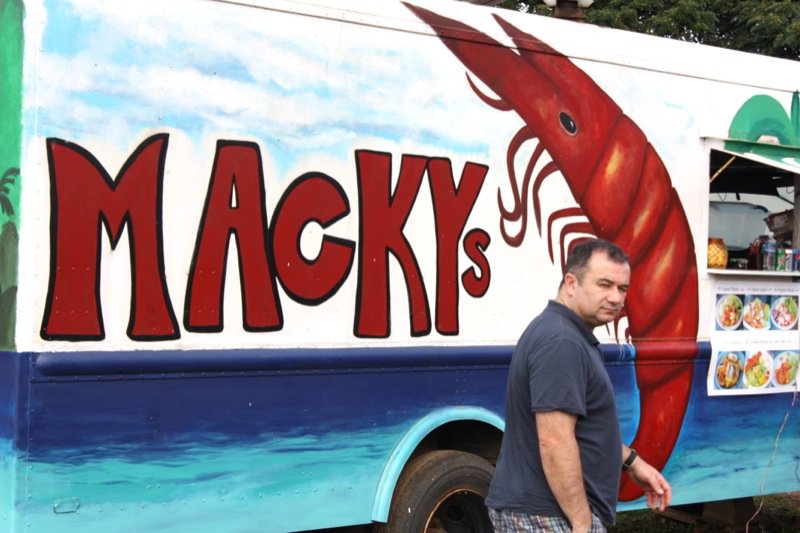 The butter garlic is why we came, but somehow, the coconut shrimp were calling our name, and this was Maki's specialty. We didn't know until we got there, but the specialty it was.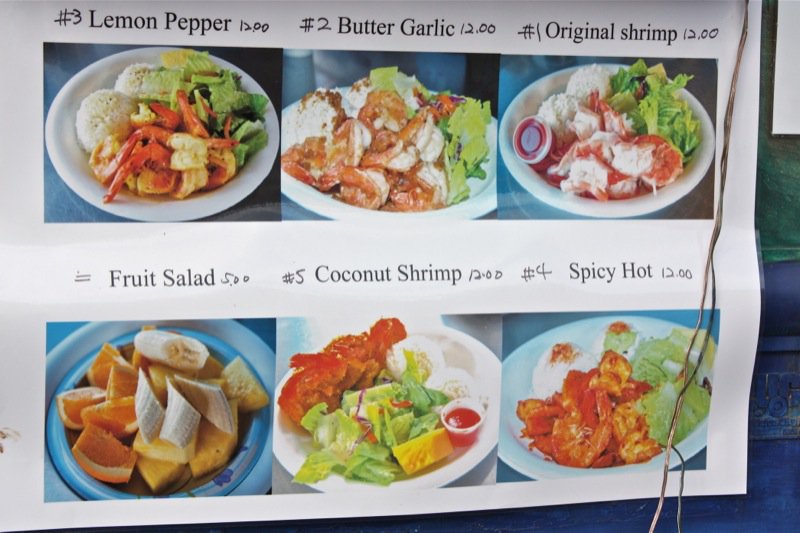 Apparently, some North Shore food trucks do serve a green side salad instead of the traditional scoop of macaroni salad with the plate lunch.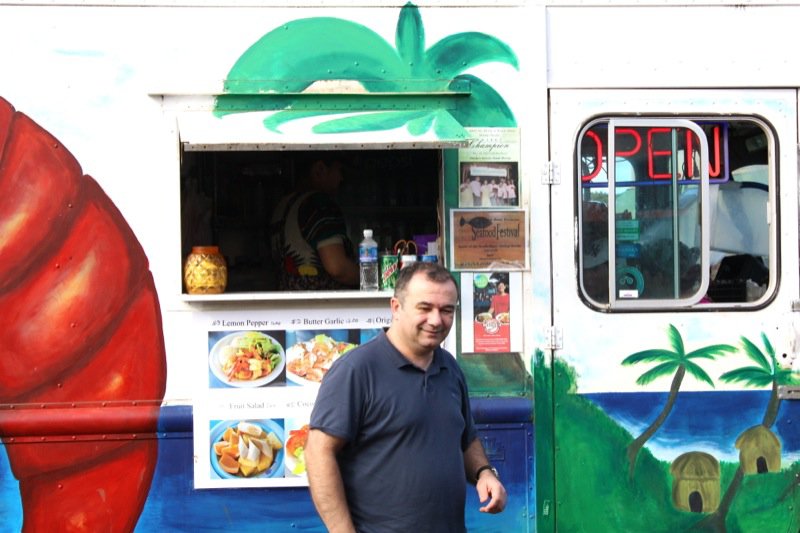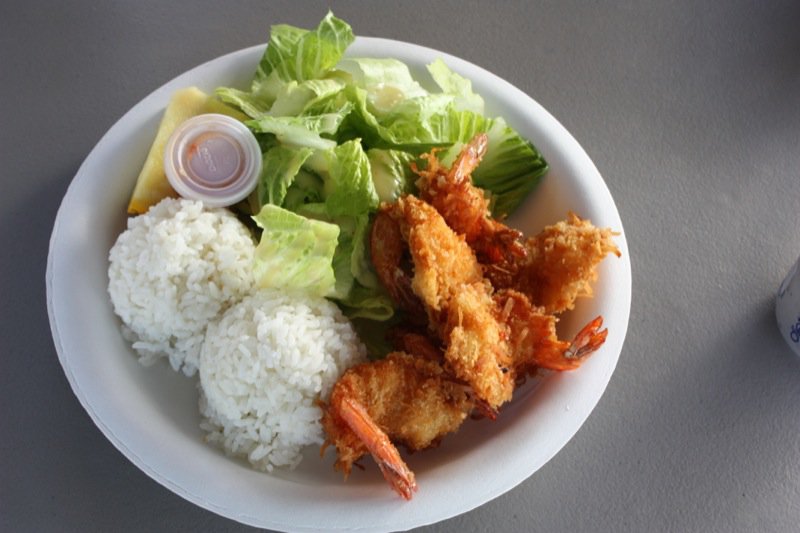 The salad was lettuce. The rice was rice. The shrimp was all about the deep fried coconut batter. It was a decadent bite, but definitely not one where the shrimp really mattered. The shrimp were actually obscure, but the coconut shrimp were an excellent crisp and crunchy, sweet and savoury, fat-laden treat. The batter was light and there wasn't grease dripping off of them. It just wasn't a "special" specialty that left either of us wanting more. And nothing on the lettuce? Really? Do you see the pineapple slice? That was outrageously yummy. One thing that you cannot imagine, unless you have been to Hawaii. The pineapple flavour and texture there is indescribable as the frame of reference to pineapple each of us has it the ones we have shipped to our supermarkets here. An apple is an apple. An apple fresh from the tree is better. A pineapple fresh from the plantation is better than better. There is another realm of flavour and texture that is completely new when tasting a pineapple from Hawaii for the first time.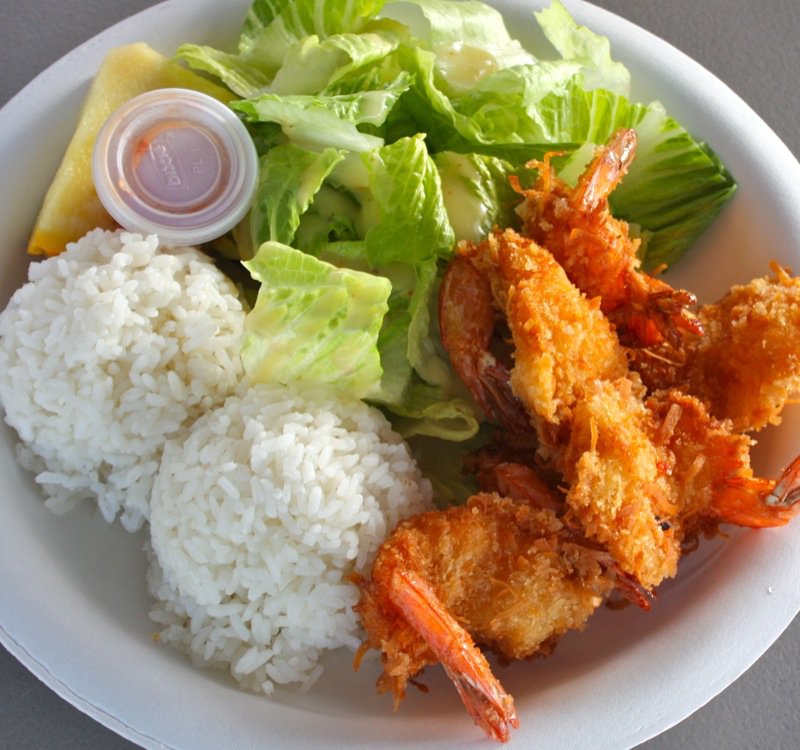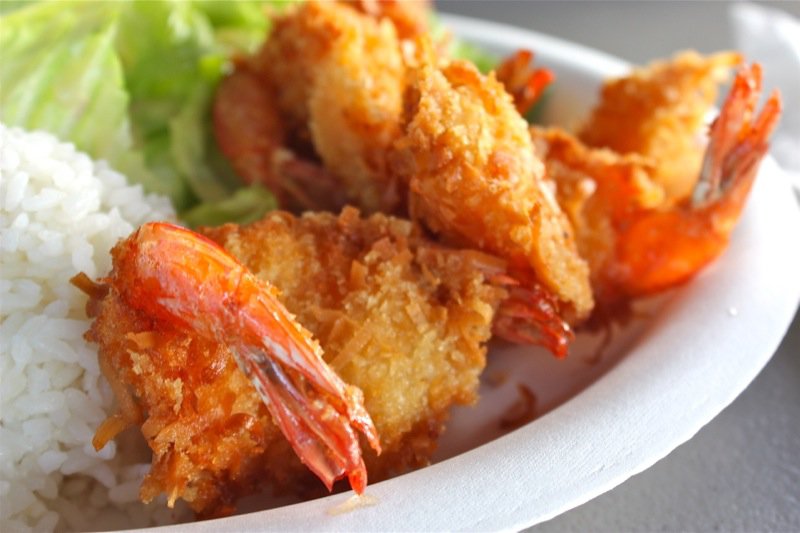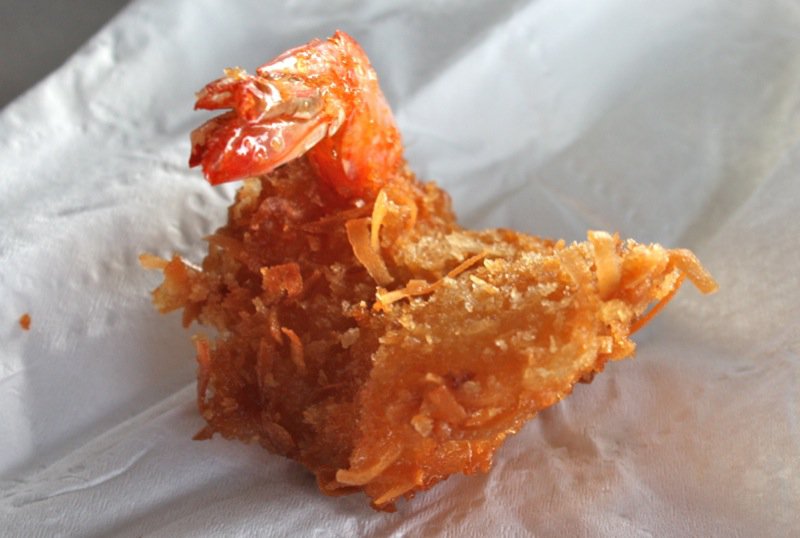 On the road again, and into Kahuku, we spied this little strip of tents and stopped to explore. There was really nothing there of interest, but that is what road trips are for. Stopping, stretching and exploring.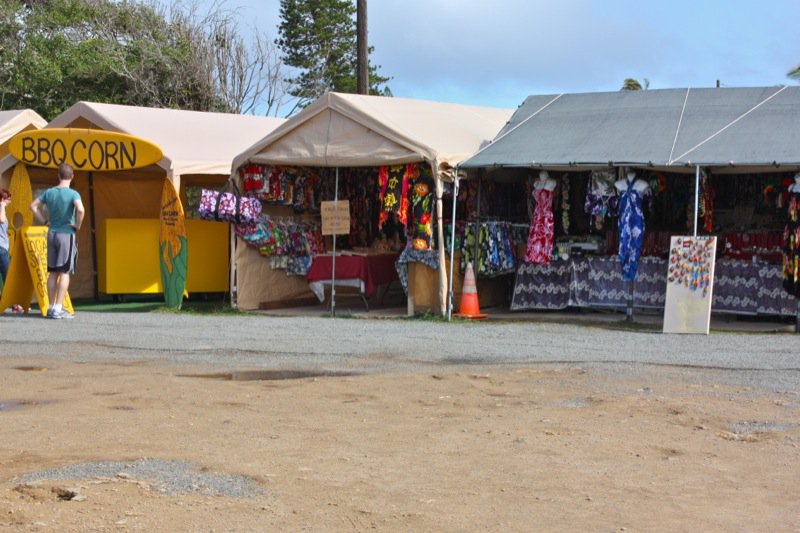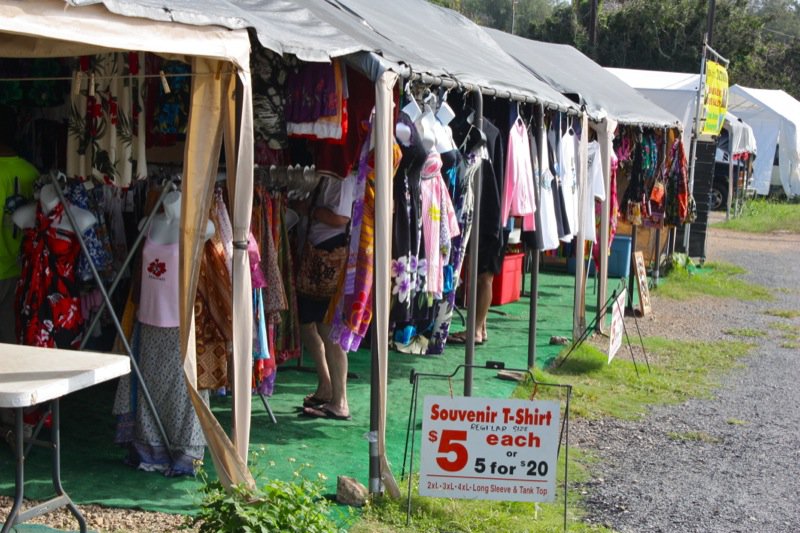 Kids would probably love this place for souvenir shopping and without realizing it at first, it is actually the same lot where the first ever Giovani Food Truck was. We were there… in Kahuku without realizing it. We found that happened to us a lot on this two days of travel.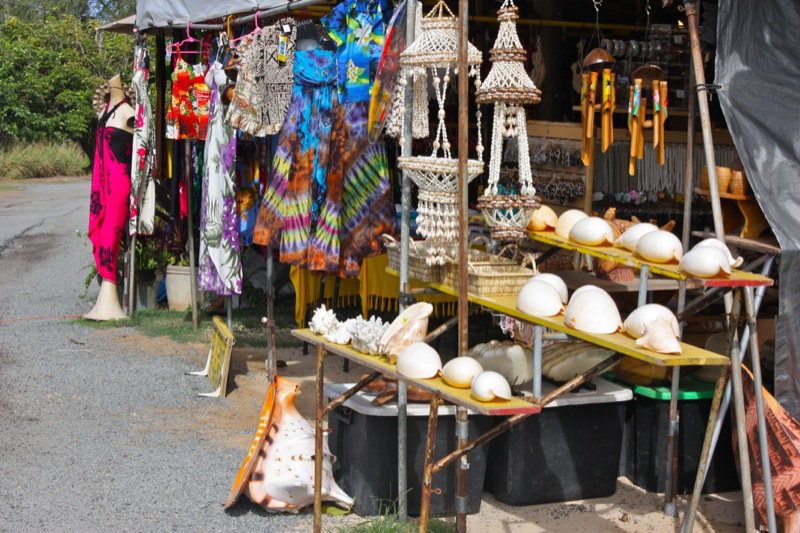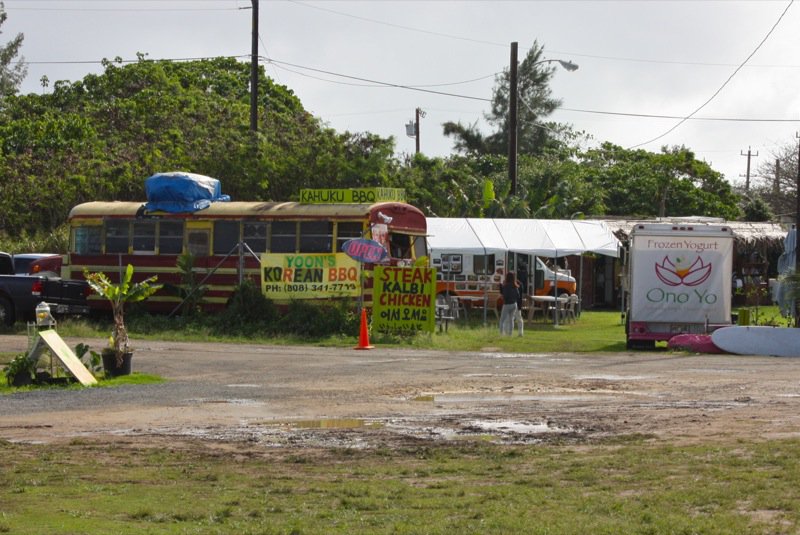 I just don't get the food truck decor. Graffiti can actually be a beautiful thing.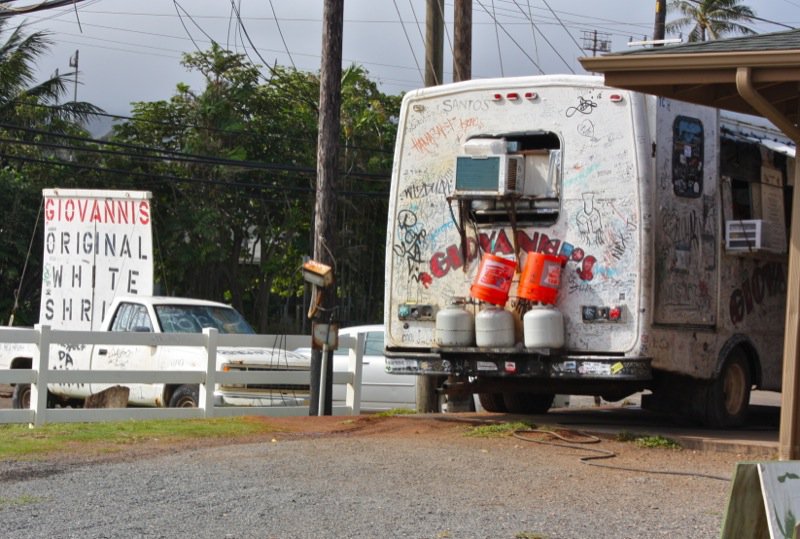 Same menu as Giovanni's in Haleiwa… just a little cleaner copy.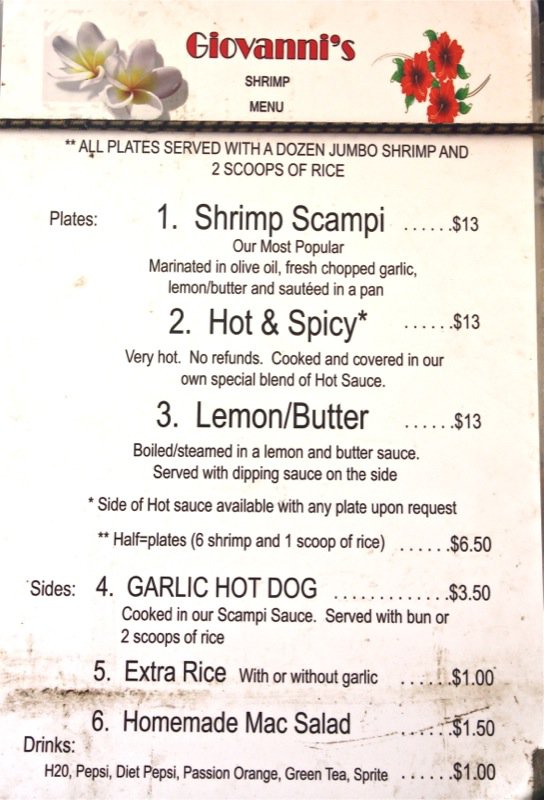 It really didn't take long to get here, and Vanja wasn't into any more shrimp. Corn it is.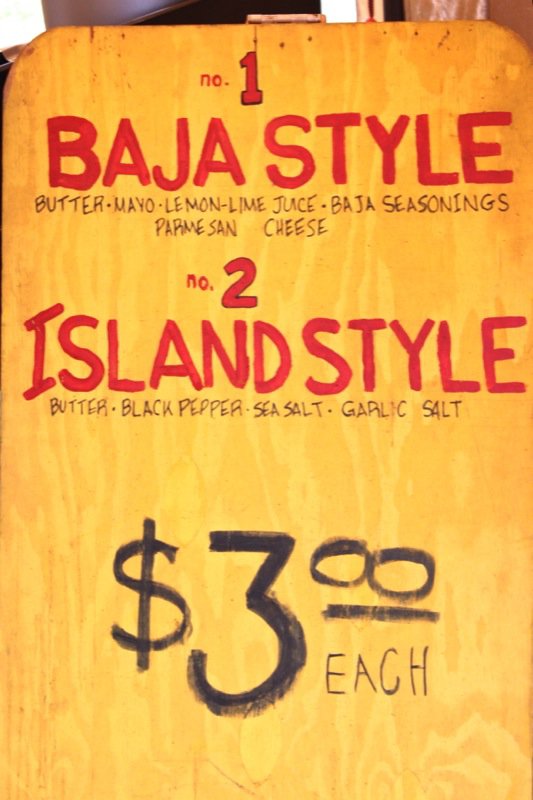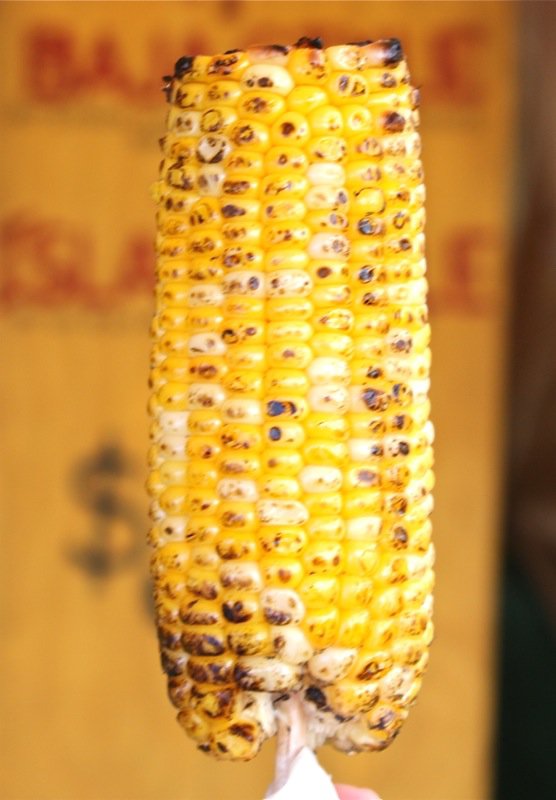 Surprisingly, our sinful habit of dipping corn in melted butter is not part of this culture. This is one place I would expect the food to be all buttered up when it wasn't which pleased Vanja, as this is just the way he loves it: mature, sweet corn, well charred and hot off the grill with a little salt. See him below with the traditional Hawaiian "hang loose" hand signal.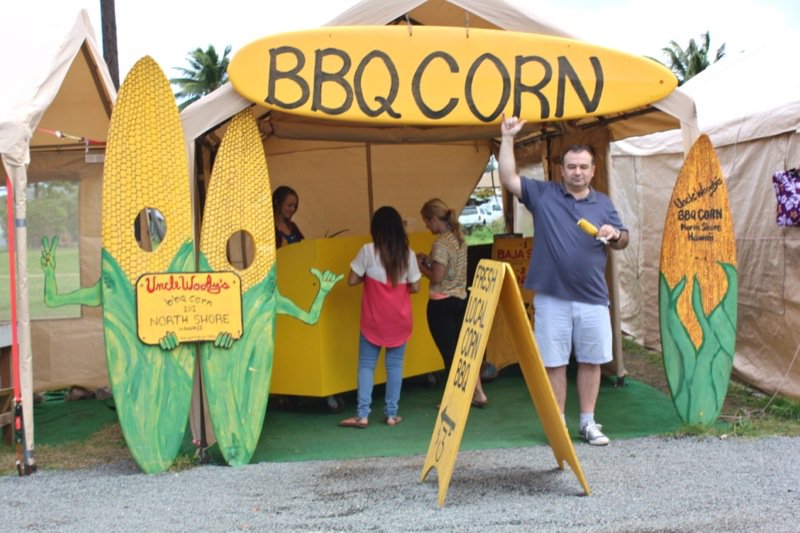 I went for the traditional lemon garlic butter shrimp scampi. Superb. This was unforgettable shrimp. Perfect in flavour, texture and quality. I was addicted. I was full, but could not get enough. The macaroni salad was optional, thank goodness. I did get the full plate lunch this time. I packed more than half of it in the care and munched on it the remainder of the day, licking my fingers and so tickled that the quest did offer one outstanding experience that was so completely gratifying, satisfying, and memorable on all levels. "Where do you get your shrimp?" "The big island." "What?" "Yeah, we have too many customers and can no longer keep up with the demand locally, so we have them brought over." Is that crazy, or what? What do you mean you can't keep up with the demand? This is an island. There are shrimp out there everywhere. Clearly, and sadly, an economic decision, and not a very green one.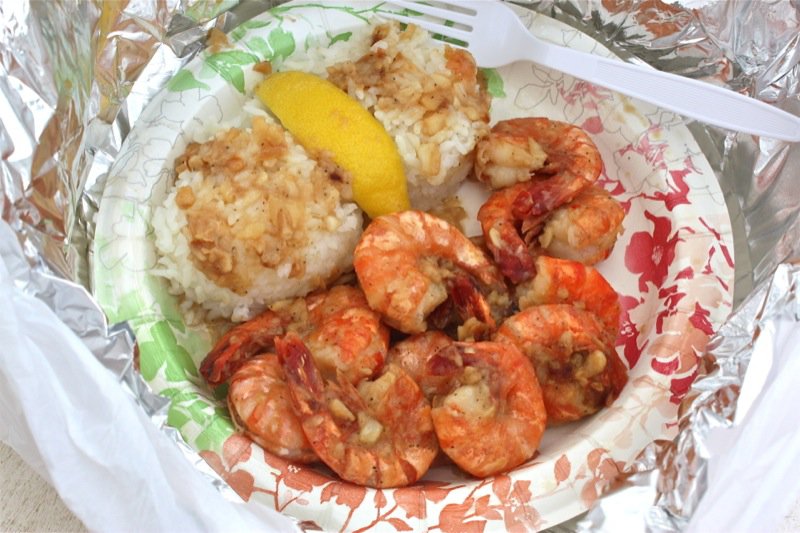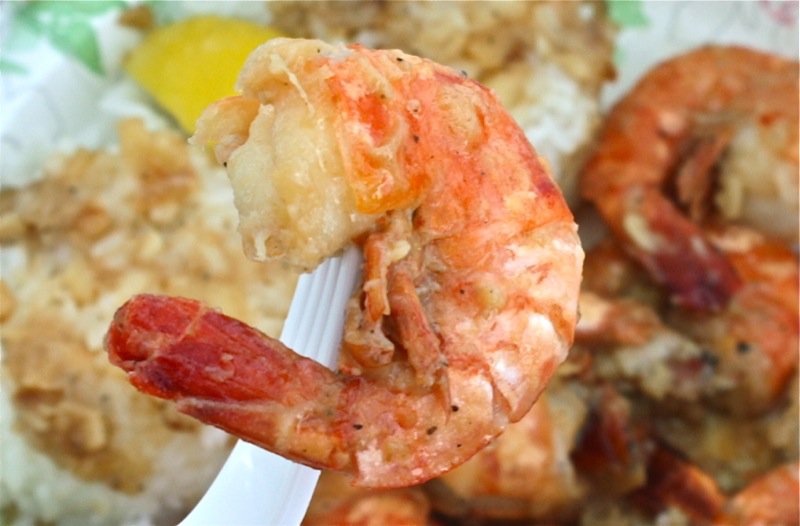 And on that note, there were other stops along the route probably more famous than any of the food trucks for the traditional shrimp scampi meal. Romy's right up the road in Kahuku is one and the shrimp are farmed right beside the restaurant. That is the one that Honolulu Hole in the Wall Food Tours recommended. I didn't realize that almost all the island shrimp are farmed shrimp, but that is a whole other topic for another day. Ted's is another, highly recommended on Sunset Beach. There you have it. Have you been? Please share your favourite shrimp scampi meal with us and where you would recommend.