A Traditional Marinated Southern Italian Seafood Salad served at the Feast of the Seven Fishes

Luciana first introduced me to this dish in the early 1980's. Best friends since grade 7, but never at her house for Christmas dinner, so had no idea what traditions she was enjoying at her family table until her annual Christmas parties began in the 1980's. Pull out all of the stops! What a showcasing of incredible Southern Italian cuisine. With her family hailing from Puglia, you can only imagine the food. This salad touched me on all levels.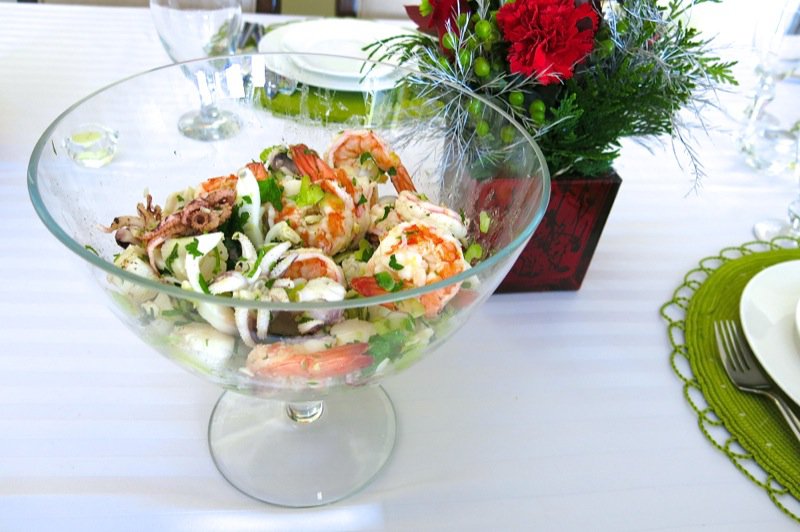 First, it is beautiful. Exotic, colourful, fragrant and filled with the most succulent morsels from the sea.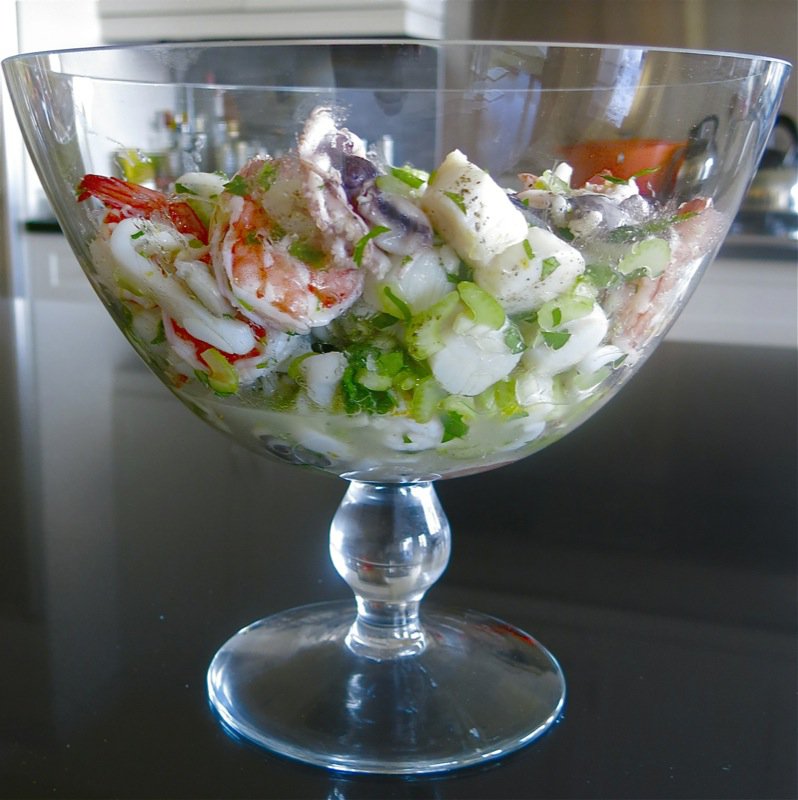 Every Canadian prairie person is seafood deprived. Christmas is the perfect opportunity to indulge. I had never seen a cold marinated seafood salad. The appeal was compelling. And the taste?
It wasn't just the taste. This is a succulent taste-texture experience. Each morsel of seafood in the salad is gently poached to perfection, then marinated. The texture of each is a lovely and lively experience within the mouth while the clean flavours of the sea with the lemon garlic parsley marinade simply flip your hair back. The experience is addictive: the variety of textures, tastes and flavours keep you diving in for more.
And of course, there is the fear factor. Octopus! Even beside the sea this is an exotic delicacy. This far from the sea, eating it could become a dare. Yet, it is so tender. Yes, chewy, but tender and textural and delicately flavoured by the ocean and the marinade.
The squid is so tender, as well. Not difficult to accomplish if you practice and taste as you cook.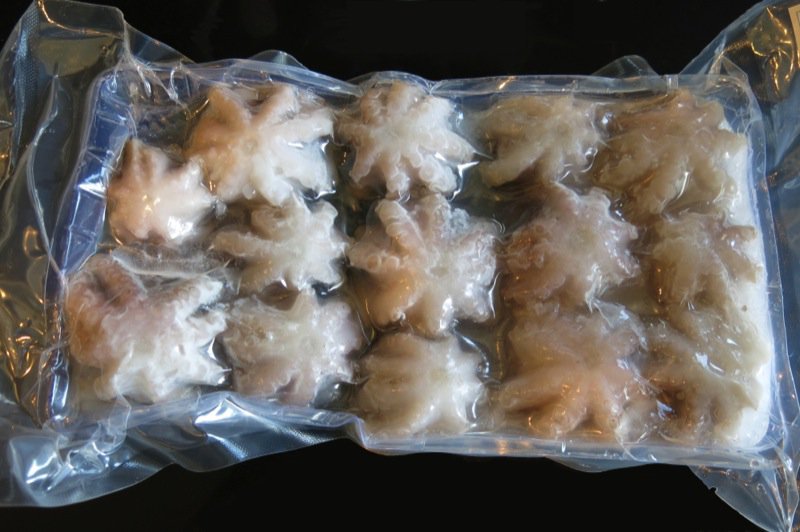 In Edmonton, Alberta, Canada, one will not find fresh baby octopi at any time of the year. Frozen, however, is possible, and once thawed and poached for less that 2 minutes, is almost as good as fresh. The key is to not overcook any of these morsels. The octopus really varied in size, so I poached the tiny ones first, then the medium, and didn't bother with the larger ones. They were just too big to add whole to a salad where every piece should be whole and bite-sized. These will discolour the other seafood if tossed together without the dressing.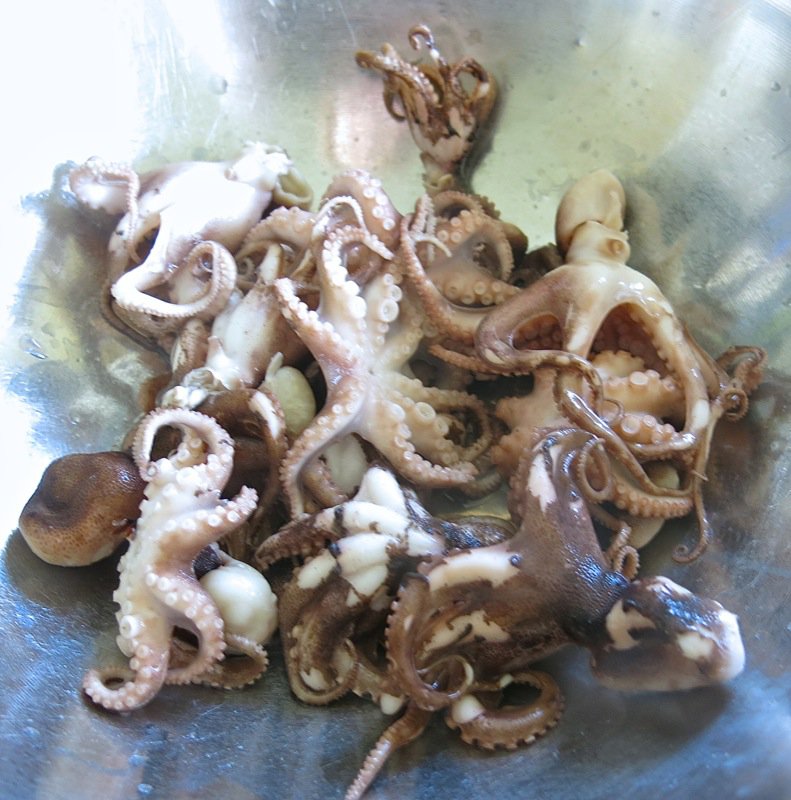 I taught myself how to clean squid long before the internet was available. I don't really know how, but I bought frozen squid, thawed it, and learned there was a transparent spine inside by slicing it first, I believe. So, clean the squid. Remove all of the innards. Peel off the skin. Cut off the head and use only the tentacles. Poach for less than a minute – seriously. Taste the rounds as you poach for different times and you will notice a vast difference in texture within as little as 15 more seconds, depending upon the size of the squid circle. I had small squid, which I prefer. I find them more tender.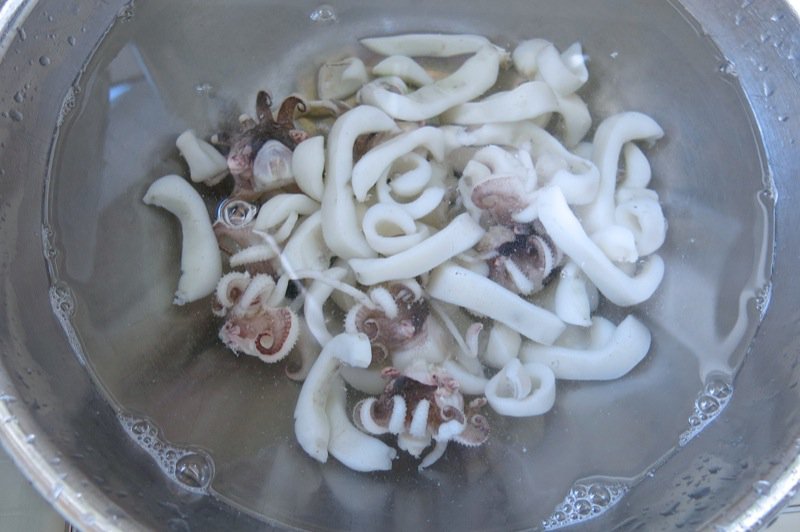 I try to keep all seafood a similar size. I like a good sized shrimp, the baby octopi only come in one size (which does vary vastly, but still, they are small) and the small squid is most tender, so that helps me decide what size of scallop to add. I don't add the huge Sea Scallops for that reason. Bigger is not always better. A nice, plump, medium scallop is perfect. Remember the old silver dollar? That size. A little larger than the toonie. Toonie size works, too, but definitely do not use small or large scallops.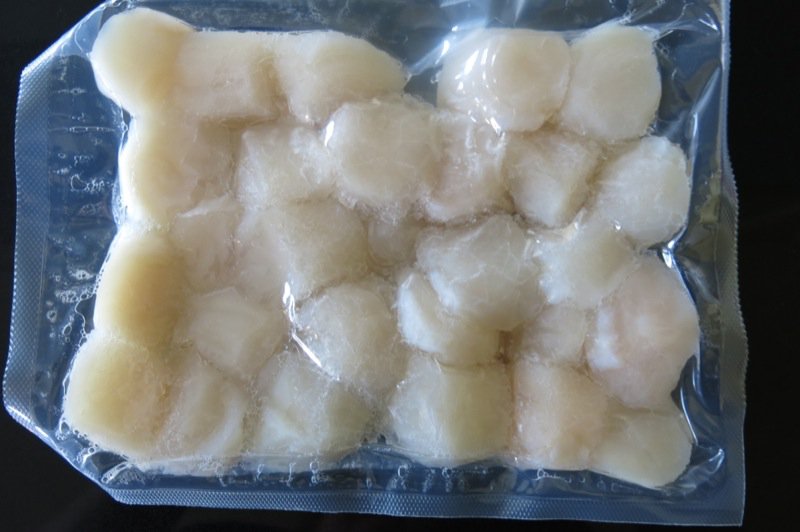 I have not made this salad in 15 years. I used to make it for about 10 plus years when I was having Christmas parties in the late 80's and through the 90's and for some reason, completely forgot about it. This year, as I was planning the Feast of the Seven Fishes meal for my family, I came across a photo of a an Italian Seafood Salad that brought me up short. I must! It was such a thrill to rediscover this old favourite as my children we then children and are now adults. They squiggled with disgust at the salad in the years I was making it, but this year, it was a huge hit. I was over the moon with joy.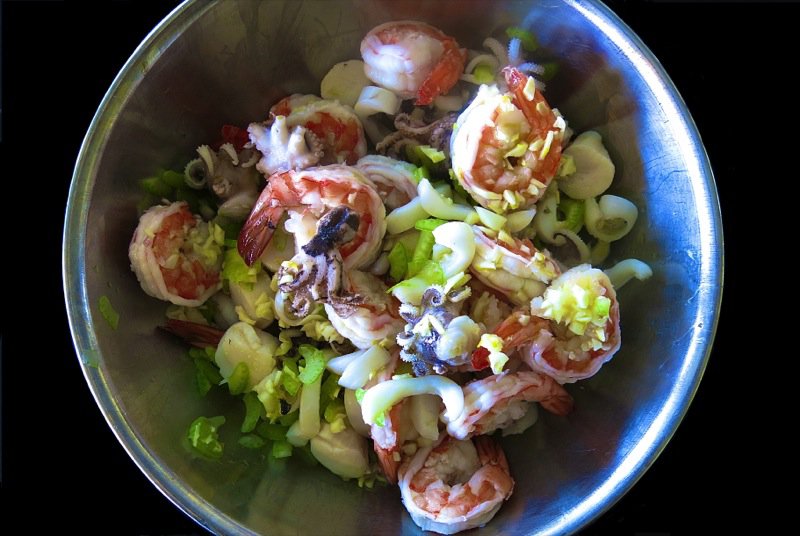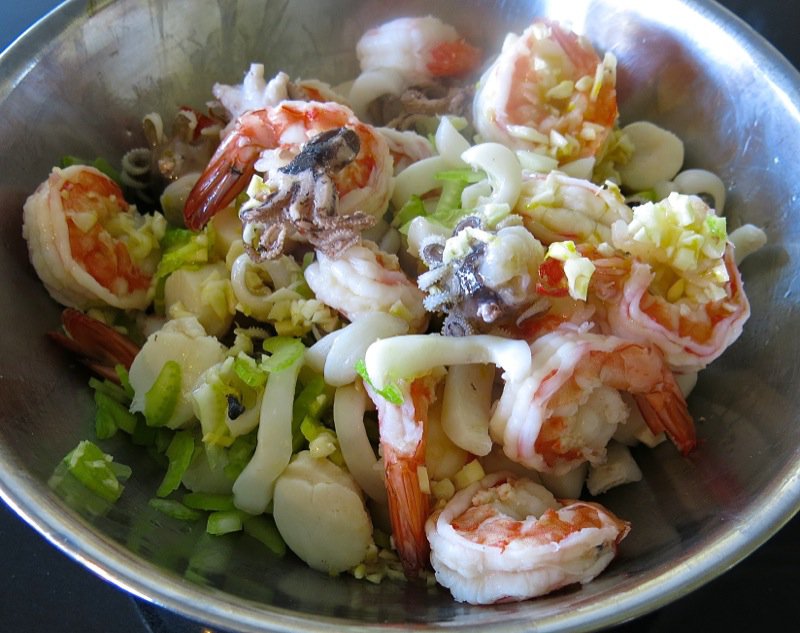 Luciana and her mom never put celery into their Insalata Frutti di Mare and Vanja doesn't like it, so it was a tough call. I had a lot of recipes to read this time. It had been so long since I made it, I needed to refresh my memory, and I had the entire world at my fingertips: the internet. I found most recipes included celery and that made a lot of sense to me for texture. Hmmm. Vanja doesn't like it, yet he will most likely turn his nose up at this entire dish anyway, so, celery it is. Slices paper thin and just a little. Lots of fresh, fragrant flat leafed parsley. He doesn't like that, either. No hope of him liking this dish, now.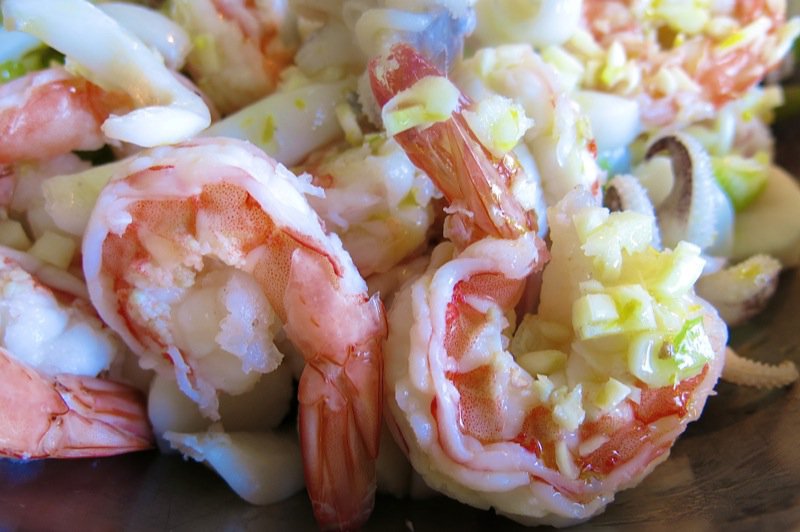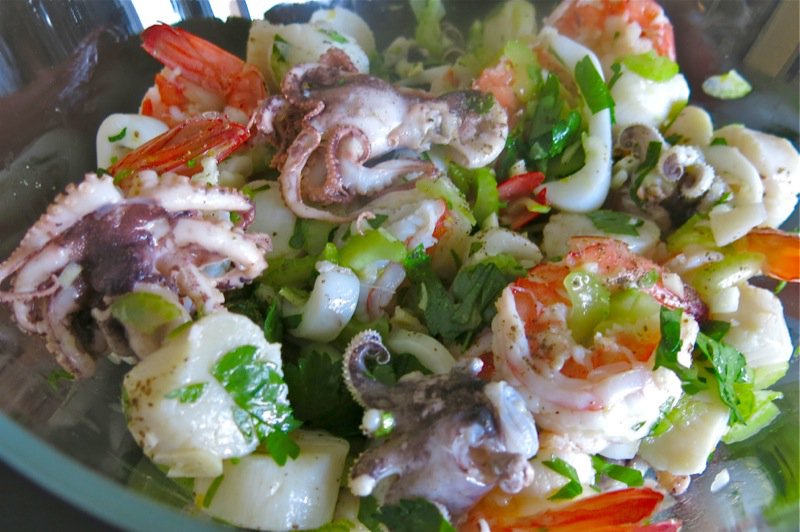 The dressing brings this Italian Seafood Salad to life. It is important to marinate it for at least 24 hours. My family said it was even better the second day and there was no more after that.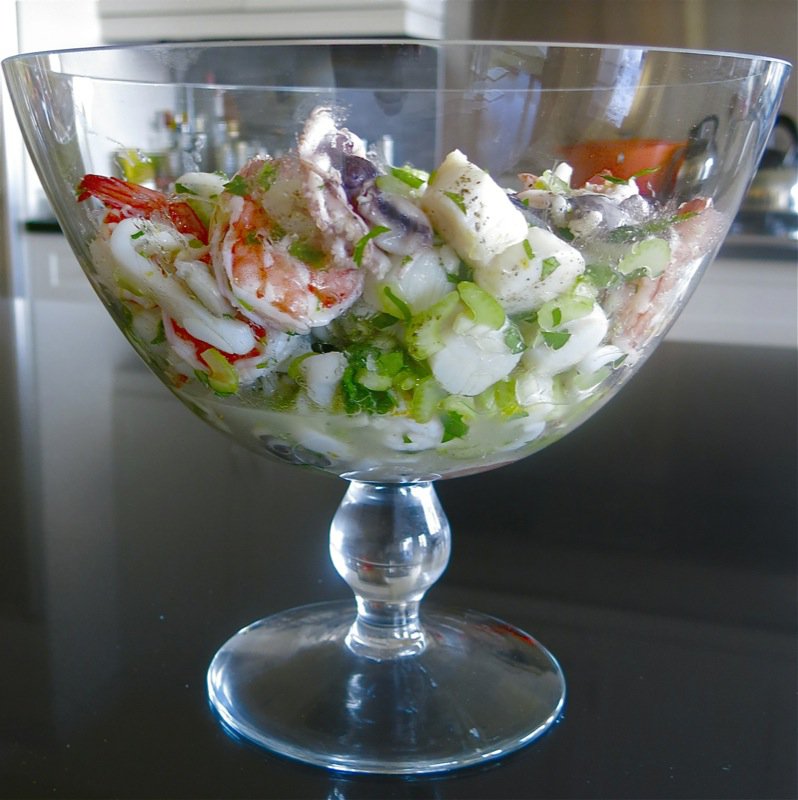 And guess who liked the salad? Vanja! He never ceases to amaze me. I cook my little heart out for him on foods I am convinced he will love and hear, "Meh! Uh-uh." And then, with complete disregard for his palate, I prepare a recipe with 2 ingredients he detests believing he wouldn't be open to enjoying the dish anyway, and he really enjoyed it. He expressed sincere enthusiasm. Maybe he even surprised himself.
In any case, this is a new family holiday recipe that will become tradition in our family. I feel it in my fingers. I feel it in my toes. Love is in the Italian Seafood Salad. And so the feeling grows. (Remember The Troggs? This song was #1 on the charts the year Luciana and I met…. way back when.)
We prairie folk don't eat shell fish unless we are at the ocean. But Christmas is a time to indulge and oh, what a lovely recipe to share with my adult children and the new generations to come. (No pressure, kids.)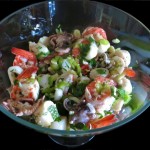 Marinated Poached Italian Seafood Salad: Insalata di Frutti di Mare


Marinated Poached Italian Seafood Salad or Insalata Frutti di Mare is a favourite dish from Southern Italy served for the Feast of the Seven Fishes.
Ingredients
For the Salad:
1

pound

or 0.5k large shrimp

, peeled and deveined

1

pound

or 0.5k medium scallops

1.5

pound

or 0.75k squid

, cleaned

1

pound

or 0.5k baby octopus

1

large stalk celery

, green and fresh

1

bunch flat leafed parsley

, fresh and fragrant, leaves only
For the Poaching Liquid:
2

litres of water or 1 liter of water and 1 liter of white wine

Pinch of salt

aromatics such as: bay leaf

, carrot, celery, onion and fresh herbs

slices

of fresh lemon

(if not using the wine)
For the Dressing:
3

lemons

, one zested and all juiced (3/4 cup freshly squeezed lemon juice)

3-4

large garlic cloves

, peeled and minced

1.5

teaspoon

salt

1/3

cup

fruity extra virgin olive oil

(the best you can find)

1/4-1/2

teaspoon

freshly ground black pepper
Instructions
Before you start:
Thaw all seafood, if frozen

Four pots with 1/4 of the poaching liquid in each, for faster preparation

Poach each in clean poaching liquid
Preparing the Seafood: read all instructions here before starting
The squid will need to be sliced into 1/4 inch slices; cut off the heads and discard the innards maintaining the tentacles

When the poaching liquid comes to a boil, immediately place one of the first four ingredients into the poaching liquid )The water does not have to return to a boil to start the cooking time; the seafood will begin to cook as soon as it hits the hot water):

Shrimp: as soon as each turns pink (almost immediately) poach for 1 minute to 1 minute 30 seconds; depending upon the size of your shrimp (taste one)

Scallops:: as soon as each turns opaque (almost immediately) poach for 1 minute; depending upon the size of your scallop (taste one)

Squid: the rounds will be cooked almost immediately, if baby squid or, about 40 seconds; taste one as this will depend upon the size, but be fast for best and most tender results (as soon as they hit the water and turn opaque, really)

Octopi: as soon as each turns opaque and purple (almost immediately, similar to squid) poach for less than 1 minute for the smallest of the baby octopi to 1.30 minutes for the largest of the small baby octopi (which I didn't end up using in my salad: taste one)

Using a small sieve, remove each from hot water immediately and lay on clean cloth to cool and dry (I do not stop the cooking process in an ice bath)

Once all fish are poached, pat dry; do not toss together, yet
For the Dressing:
Mince the garlic; add one teaspoon of salt to the garlic on the cutting board and use a fork to emulsify the garlic

Combine the juice and zest, the emulsified garlic, the olive oil and the pepper
Putting it all Together:
In a large bowl, combine all cooled poached seafood with the dressing, parsley leaves and celery

Taste; add the remaining salt and more pepper, as necessary

Seal well and marinate in the fridge for at least 24 hours
Recipe Notes
Some people add aromatics to the poaching liquid. I have actually done that and didn't find it made any difference whatsoever. The seafood is cooked so quickly in the liquid and spends so much more time in the marinade, that any flavour that seeped into it during the poaching process was negligible after marinating. I have never added wine, but have that same attitude about using it.
It may seem the seafood is not cooked long enough, but better to be under cooked than over cooked as the dressing is full of citrus and any underdone morsels will finish "cooking" by the dressing