Make this Fried Green Tomato Recipe ASAP: it IS that good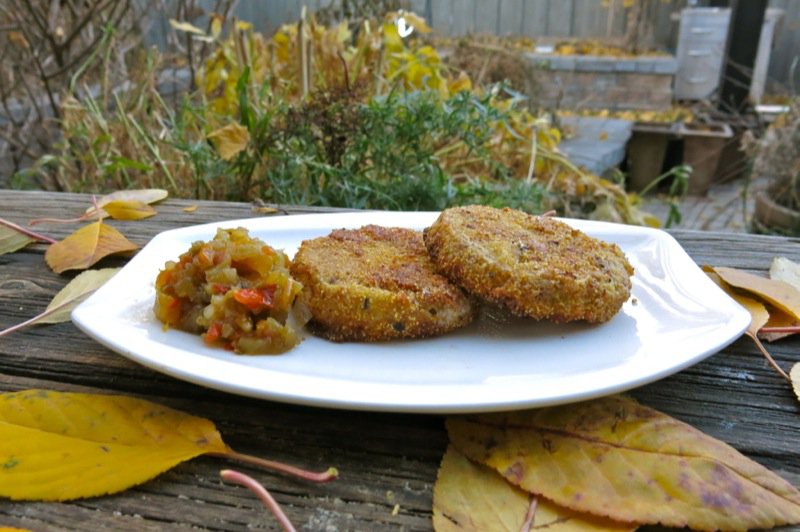 I am certain that many of you still have green tomatoes tucked away somewhere cool and dark, hoping they will ripen. This was a lousy year for tomatoes in Edmonton. My 2011 harvest was incredible. The last two years have produced disappointing crops for the urban gardener in zone three. Particularly hard on me, as the tomato is my very favourite food in the whole wide world. Yup. They are so gorgeous, delicious, nutritious, economical and can create a multitude of divergent recipes. I am certain I would be happy my entire life if I only had tomatoes as my staple and enough supporting ingredients to work wonders with them.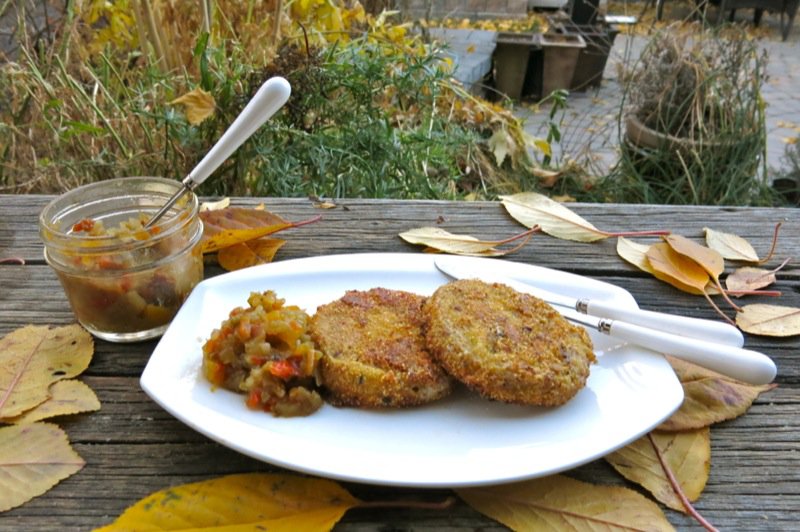 However, I have never eaten a fried green tomato. Ever. Read the book. Taught the course. Imagined them. Dismissed them. Revisited the symbolism of the unripened fruit and the coming of age that evolves simply by seeing other than the expected possibilities. Even in green tomatoes… ripening. But, sometimes they just don't ripen. As in life, when things don't develop as expected, there are other possibilities. If one just takes the time to look at them differently. Friend Green Tomatoes. The symbolic reference of one of the deepest friendships known in literature between Idgie and Ruth. A ripe tomato is symbolic of a woman about to lose her virginity. What does that make a fried green tomato? Possibly symbolic of the love between two lesbian women who never do "ripen", but find meaning and deliciousness in their love for one another and their life together. And for me? The simple possibility that my coveted heirloom tomatoes, unripened, will find purpose in my pantry.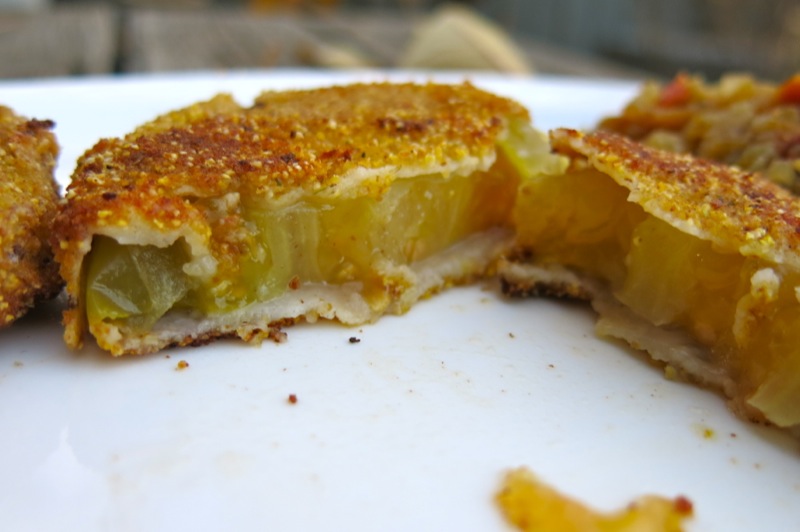 And oh, what a taste it was, it really was. Clearly, one can predict the flavour of a fried green tomato, right? Wrong. There is an intangible quality of flavour that is completely unexpected: a novel little je ne sais quoi coupled with a gutteral that-hit-the-spot kind of satisfaction.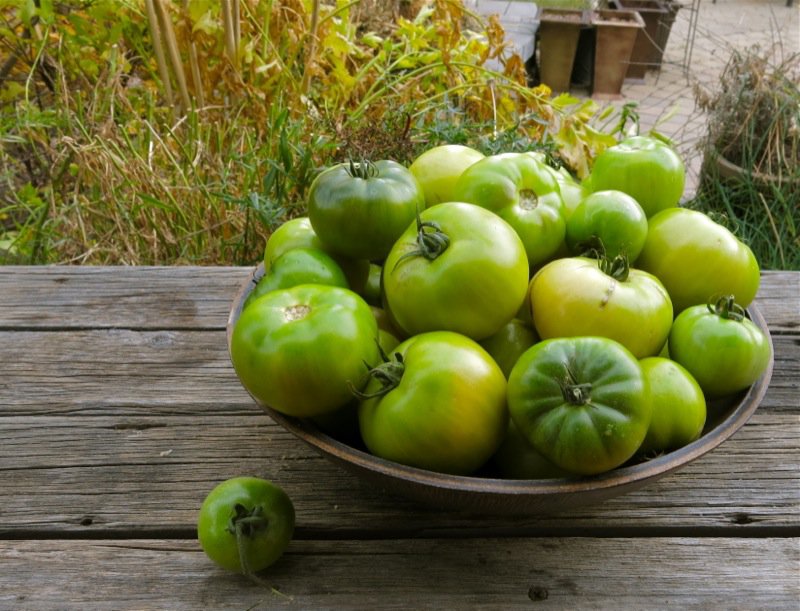 Of course, I was expecting none of this when I prepare the tomatoes. Buttermilk and cornmeal appeared to be necessary ingredients in any classic Fried Green Tomato recipe.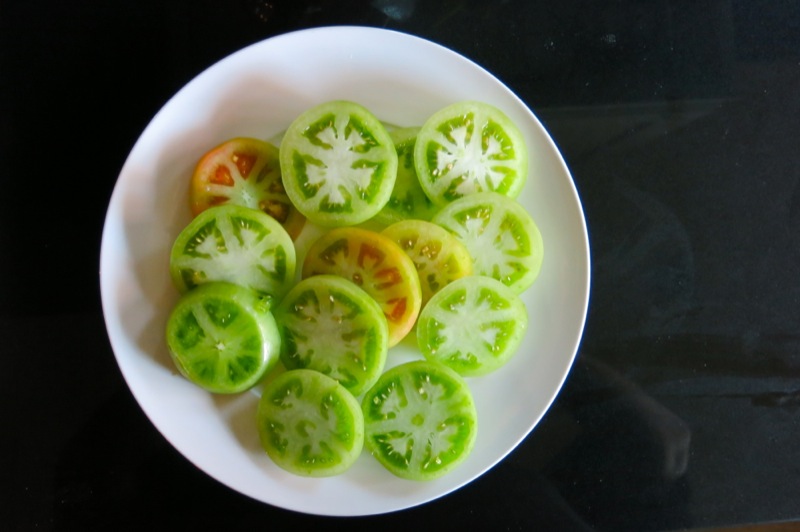 I told you. I have a love affair with tomatoes. All kinds. All shapes. All sizes. All colours. I find them beautiful. Next time you slice one, look at the flesh. You will see there are actually little sparkles embedded in the flesh of every tomato. You have to look at it in the right light. They are there.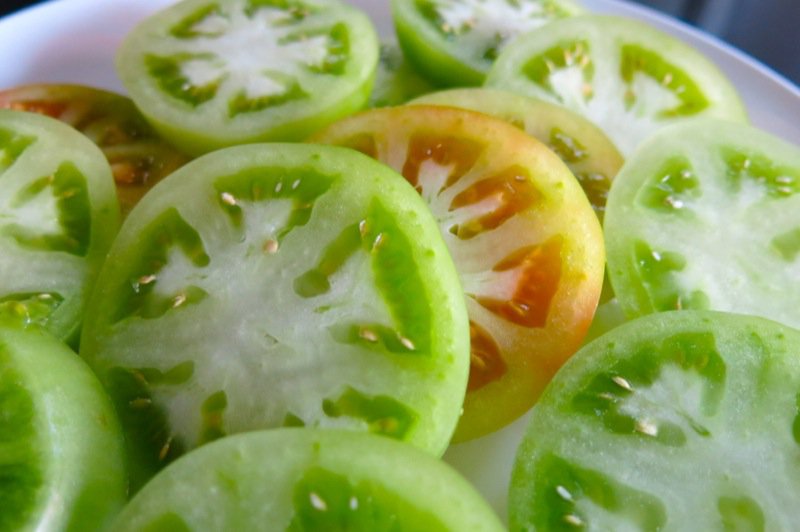 The skin. The flesh. The translucent gelée. The seeds. There are so many parts of a tomato. The gelée is too often discarded, yet the part of the tomato most coveted as it contains the umami taste. When dried, or oven roasted, it is the concentrated gelée that pushes the flavour of these little jewels over the top.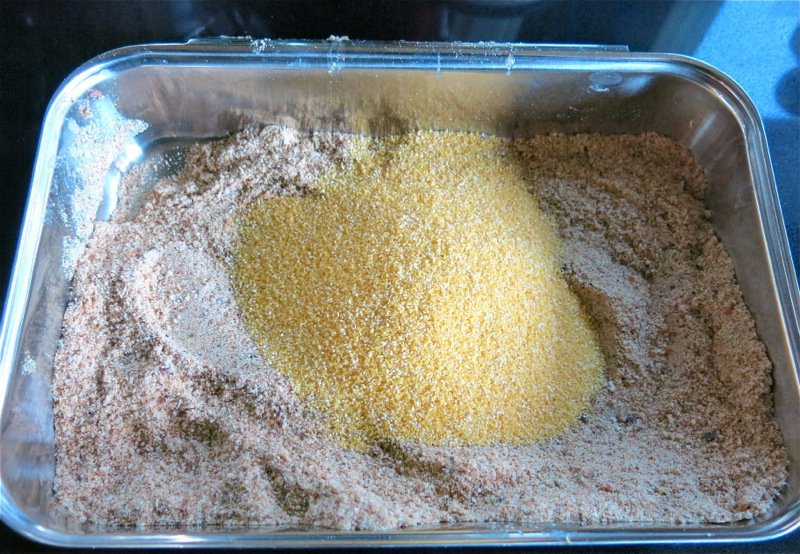 I usually make my own "Seasoned Italian Bread Crumbs" by drying stale bread, puréeing it, adding dried oregano (just a bit), salt, pepper and a bit of dried basil to the mix. I always keep it on hand. To this, I added the cornmeal for that added crunch and corny flavour. Ha. Ha.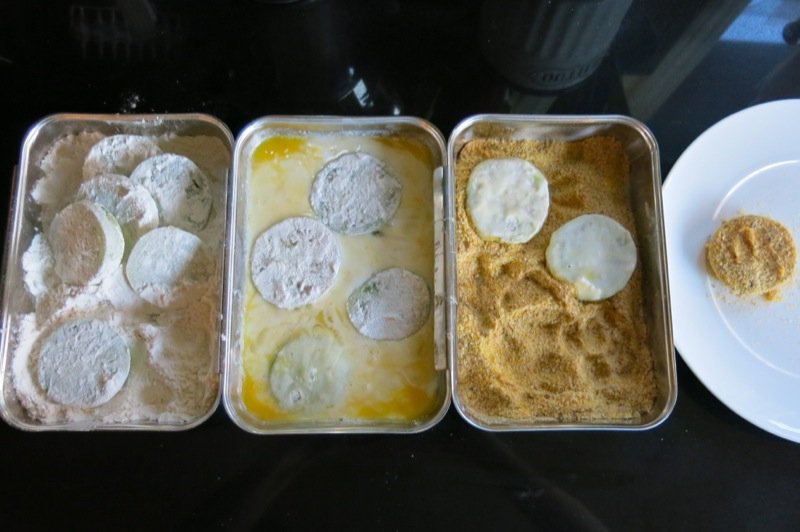 I used my fingers. Floured some up. Battered some up. Covered them in crumbs and set aside to "dry". Not really. Just until I am finished dredging them all.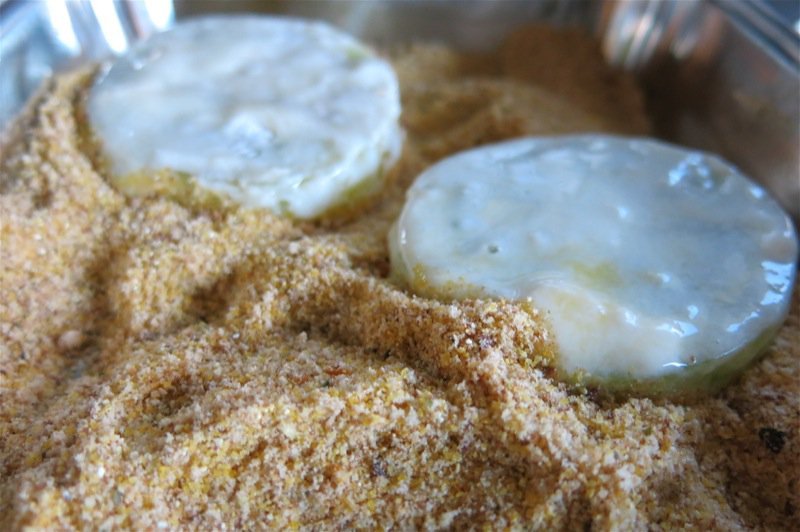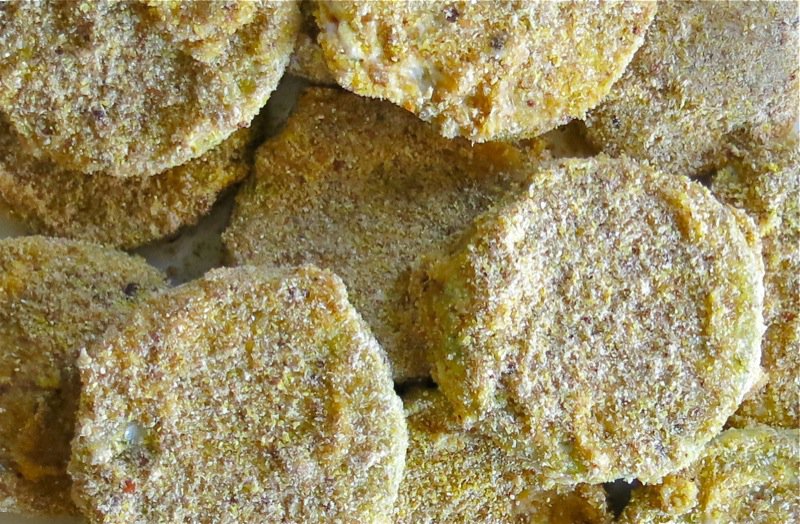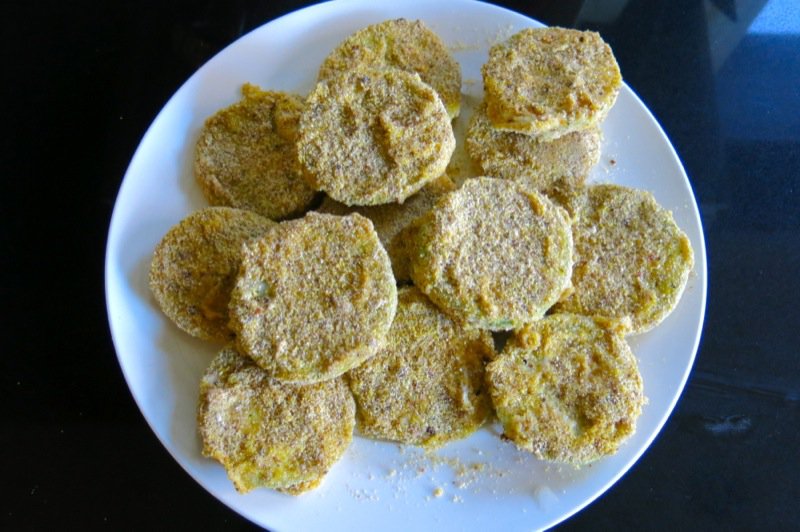 Whoever thought of frying green tomatoes? I suppose it makes sense. We seem to fry everything, eventually. Yet, look at the amount of food that only 4 medium sized green tomatoes produced. That is a hearty snack for 4 people. Two is plenty. I ate three. I wanted another. I plated the Fried Green Tomatoes with my Green Tomato Sweet and Sour Relish, yet know they would be deadly with my Green Tomato Ketchup. I was out. I actually preferred them plain. Yowsers. Yummy yowsers. Crunchy. The tomato inside had give. It was cooked, but not close to being mushy, at all. It was fruity and savoury and seasoned perfectly, if I do say so. The buttermilk and cornmeal certainly added a little somethin' somethin'. This dish is a rockin' snack. Seriously.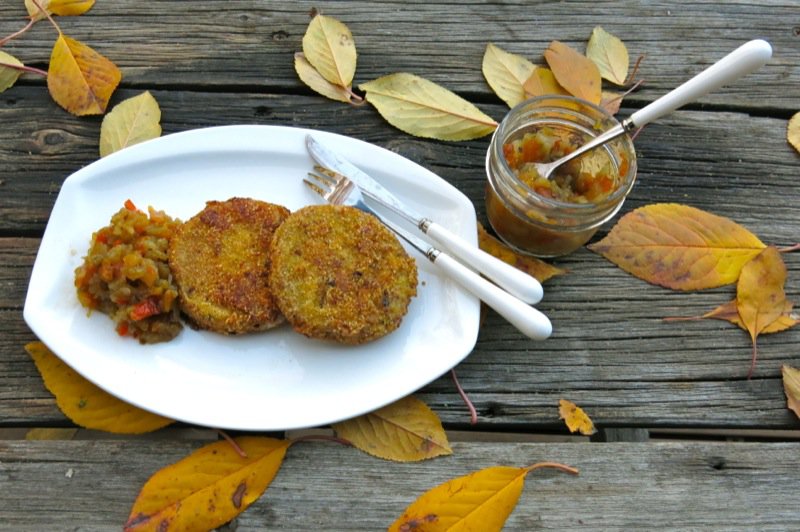 Cold are warm, this recipe for Fried Green Tomatoes does not get soggy. I think the flour, bath, crumb process is the reason for that. The seasoning in the bread crumbs with the addition of salt, pepper, and Vegeta. I fried them on the grill outside to keep the splatter out of the kitchen.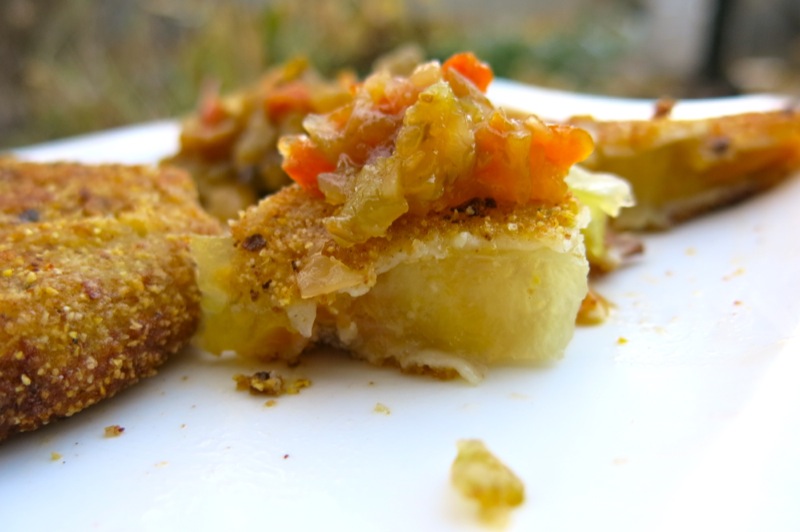 Simple. Satisfying. Spectacular… in a very unassuming presentation. Just like the novel and the famous unstoppable friendship between Idgie and Ruth. A gorgeous Heirloom garden fruit not even close to its prime, still spectacular in a completely unexpected way. Fried Green Tomatoes. Now, I get it.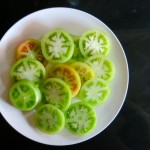 The Best Ever Fried Green Tomatoes
Not a Southern Belle, but a frugal gardener. Making fried green tomatoes with my unripened beauties created one of the greatest culinary surprises in my kitchen. Who knew that a green tomato could be this delicious?
Ingredients
4

large green tomatoes

, washed and sliced 1/4 inch thick

1

cup

of flour

, seasoned with 1 teaspoon of salt and 1/2 teaspoon freshly ground pepper

2

large free range

, organic eggs, beaten

1

cup

buttermilk

1

cup

finely ground

, seasoned Italian bread crumbs

2/3

cup

cornmeal

vegetable oil or butter for frying
Instructions
Prepare the three trays for dredging the tomato slices:
seasoned flour in the first one

beaten eggs combined well with the buttermilk in the second one

breadcrumb cornmeal mixture in the third
Instructions for the Tomatoes:
Cover each slice completely with the flour followed by the egg mixture and finished in the crumb mixture

Lay each on a parchment covered cookie sheet until done

Heat oil or butter in frying pan; fry a few at a time until brown on both sides (about 3 minutes a side if not immersed in oil)

Serve with Green Tomato Ketchup or Green Tomato Relish