This Italian Mama knows her biscotti!

I have only had biscotti two times in my life where it was unforgettable. The first was from the hand of Luciana's mother, Vittoria. The second time, many years later, was that of Carmella, Nadia's life-long childhood friend who brought some for us to enjoy when we were making salsa a couple of years ago. I have not been able to enjoy biscotti since. None compare. When Luciana called and asked me to make biscotti with her this year for Christmas, with her mother's own recipe, you can imagine my delight! Getting a recipe from either of these gals is not an easy task.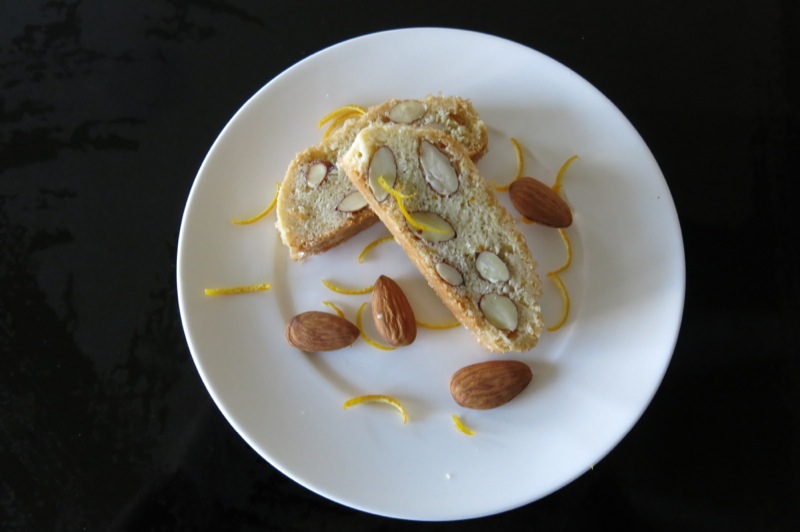 Vittoria is a traditionalist. Almonds with orange peel. That is the biscotti she used to make and though there are so many adaptations to this recipe, I have no desire to make any other kind and neither did Luciana. Only this one.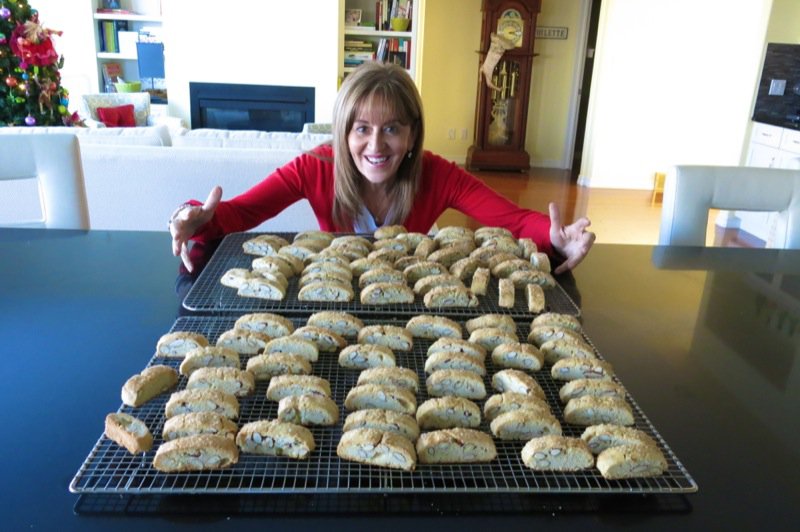 Luciana and I used to bake together every Christmas for years. Oh, the parties we would throw, the food we would make and the fun we would have. I am talking big production baking and cooking days. The work was such fun with the two of us doing it… in those days it was always at Luch's as she had the nicest kitchen. I really miss those festive holiday food preparations, but we did ourselves proud yesterday. Look at all the biscotti, mamma!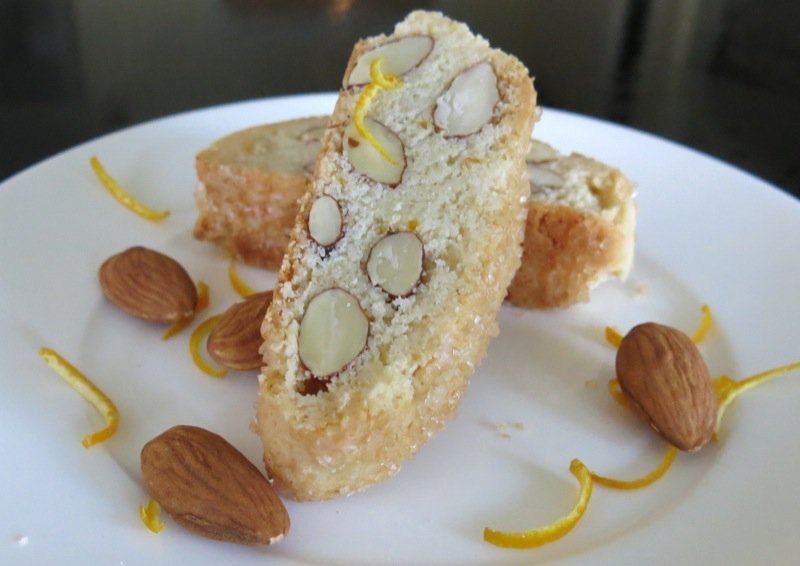 This recipe makes a very tender, crisp, though not hard, biscotti that is addictive. This biscotti you do not have to dunk to bite into.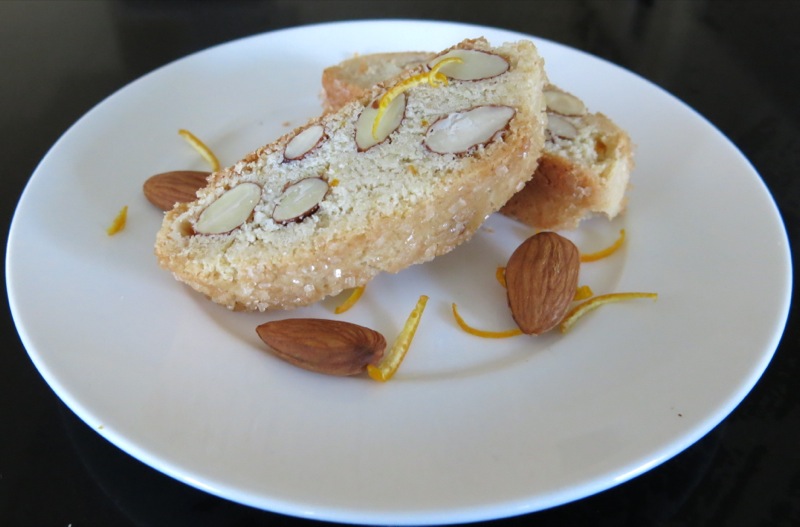 We were so busy chatting and catching up, that the first batch seemed to take forever. I had the mis en place ready to go for the second batch, and we were both shocked at how easy these nummy for your tummy mamma mia della cucina biscotti are. Seriously.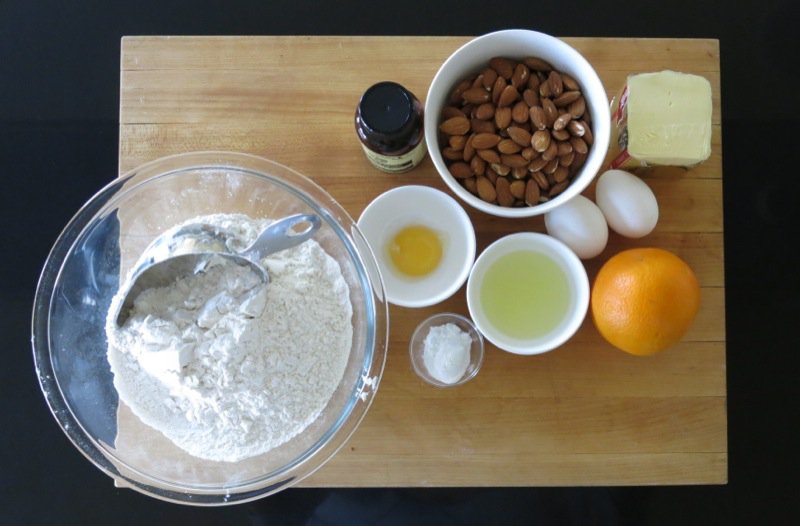 Cream the butter and sugar, like any cookie dough. Add baking powder, eggs, vanilla and whip to combine.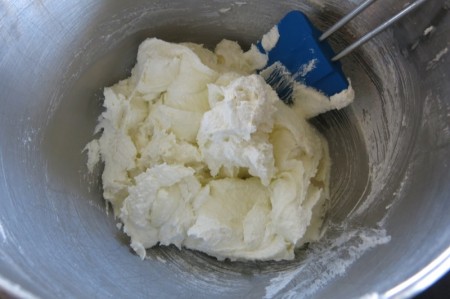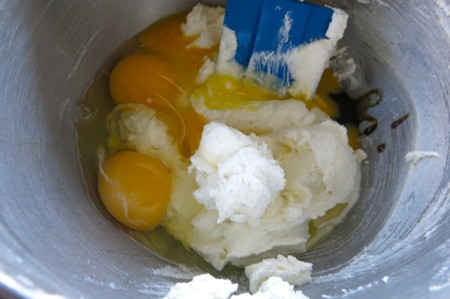 The only part of the recipe that is time consuming at all, is preparing the orange peel. Both of us were well aware that we could use the rasp and have the biscotti scented with orange zest in no time. However, as Vittoria is the traditionalist, we knew we had to peel off the zest, and slice it into the finest shards, by hand. Try to avoid getting any white pith with the peel, as that is bitter.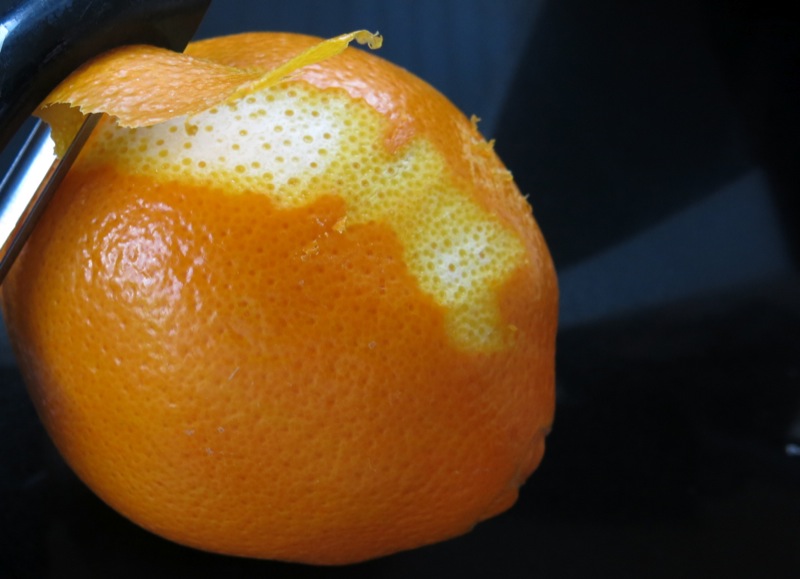 Can you see the improvement from the first orange peel to the second? There isn't a bit of pith in the second batch.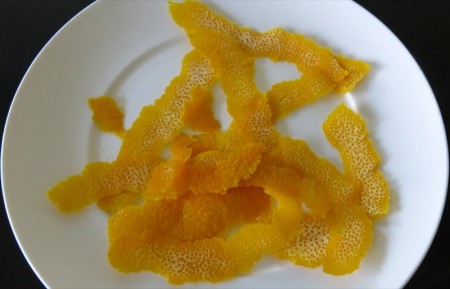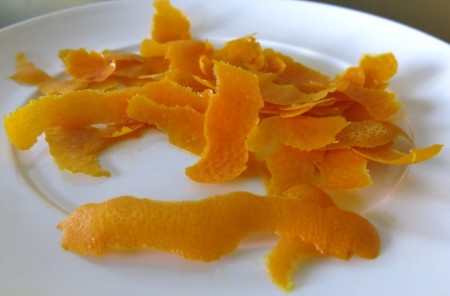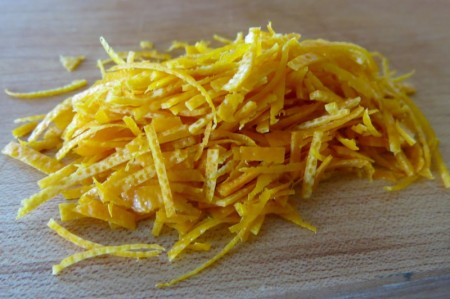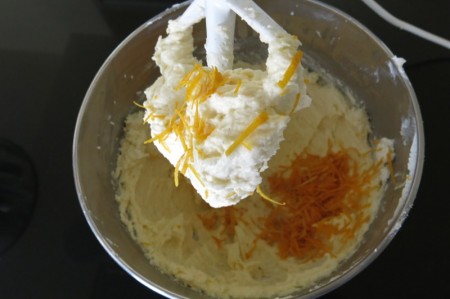 I layered the peeling pieces 3 deep and sliced them, as above, adding to the wet batter just before the flour to avoid breakage by the paddle or whisk.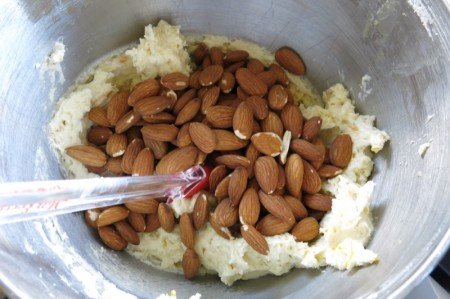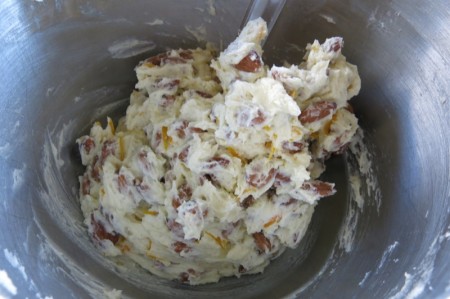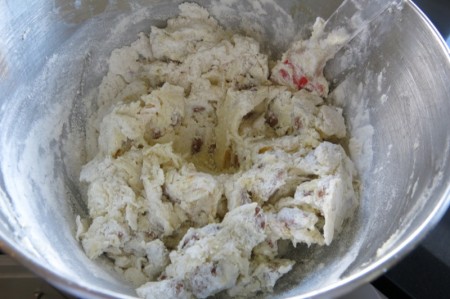 The dough is soft, supple and lovely to the touch. I knew immediately that this biscotti was going to be scrumptious.
I do weigh my divisions. The large mass was 1360g, so each portion was 340g.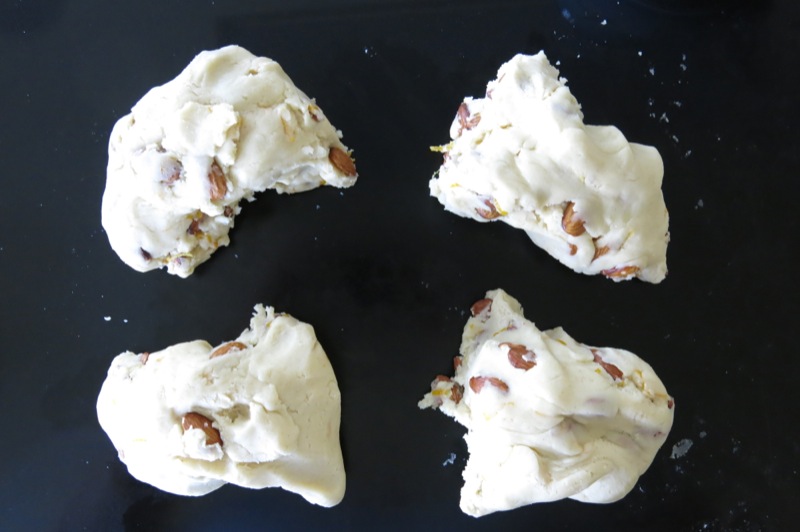 Just like rolling a log when playing with play-dough or plasticine, roll each portion into a log. Anyone remember plasticine? (There's an old word for you.) If you want the long over-sized biscotti that are sold in coffee shops, simply form this batch into two wide logs. Picture the 4 logs below joined together to make only 2.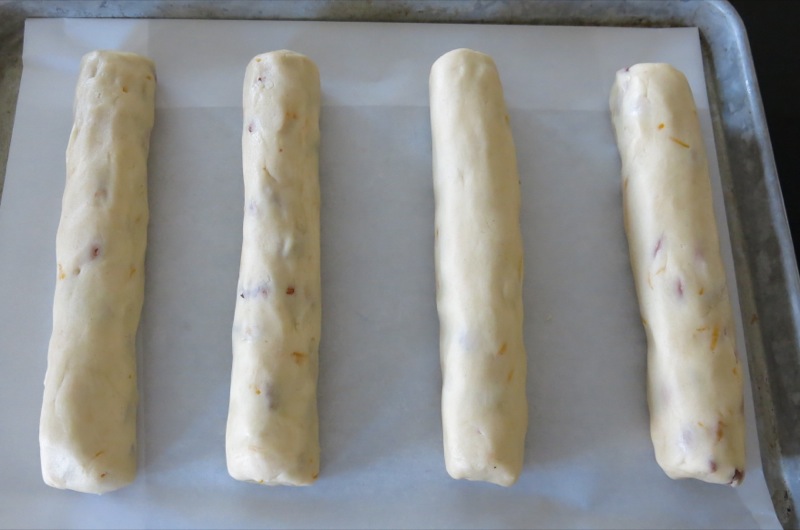 To make the traditional shape, you simply flatten the logs, ever so carefully, to maintain an even length and width and height. It isn't so hard, but important to note.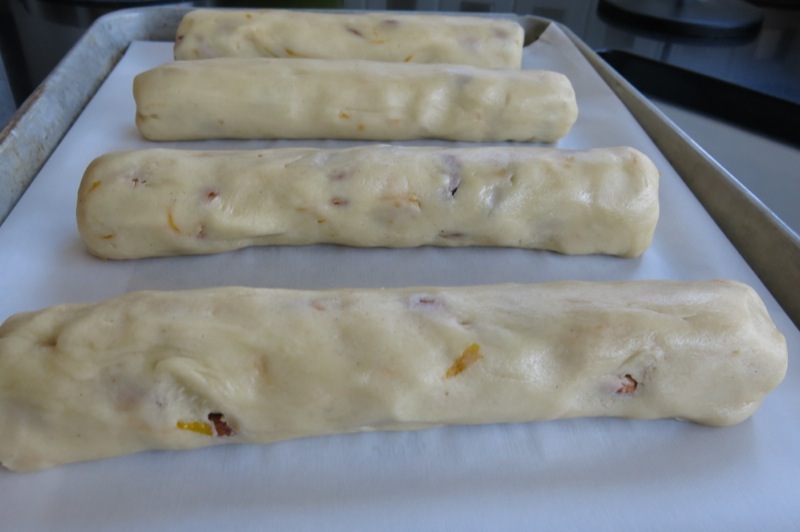 They have been flattened, below.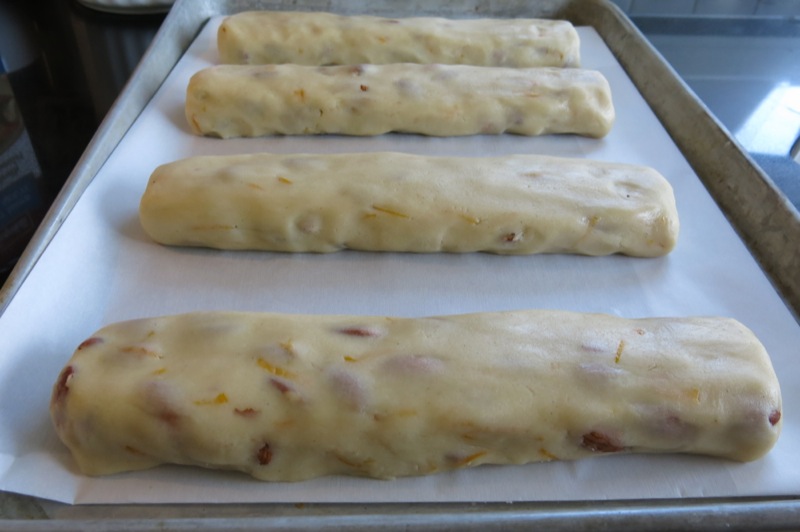 I like sparkly sugar on everything any time of the year, but particularly at Christmas. However, Luciana did two logs with sparkle sugar, and two with out. Both were lovely.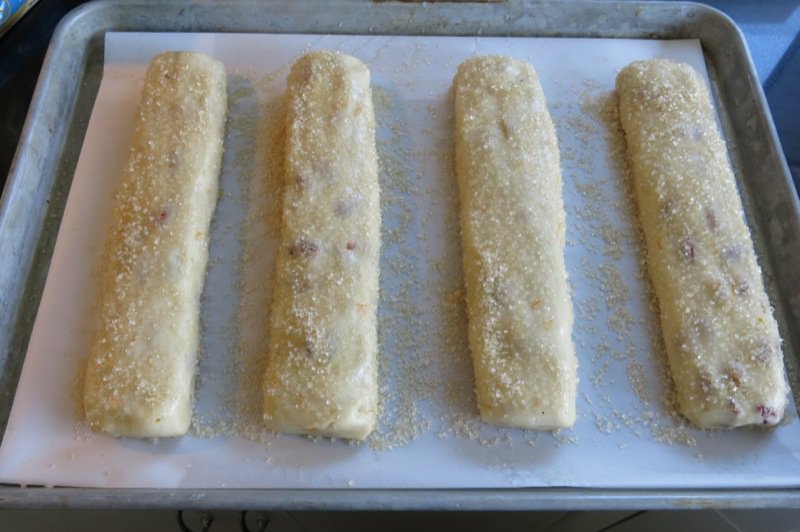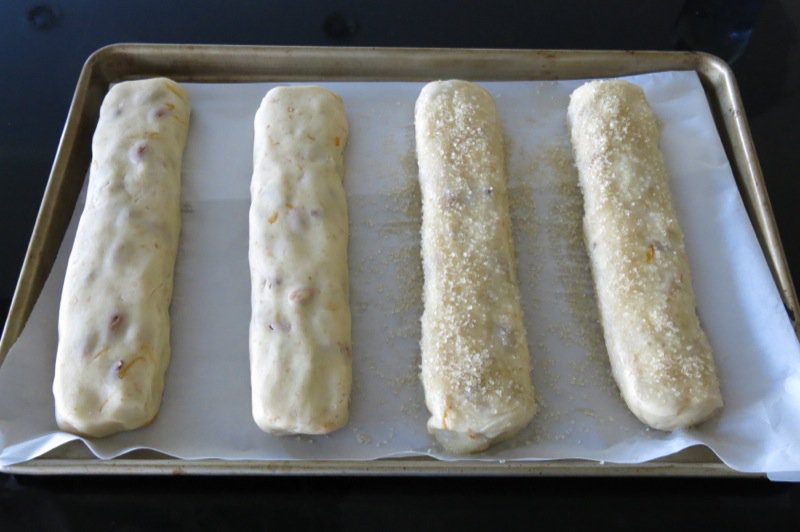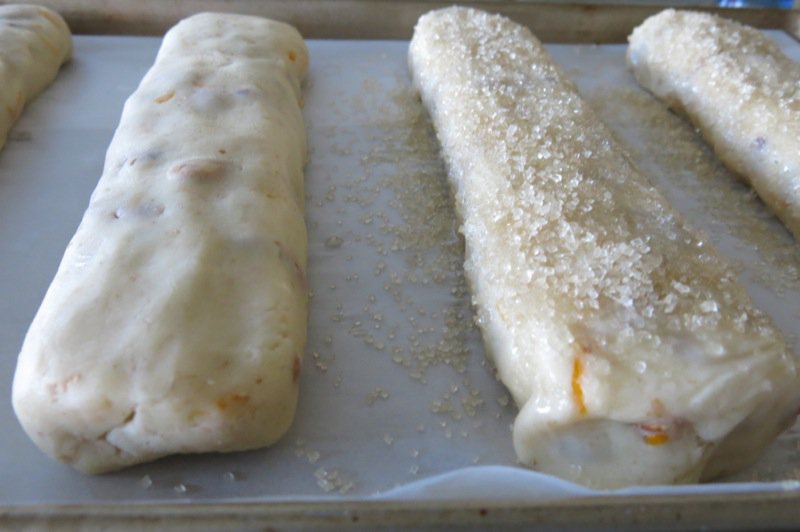 I panicked for a moment when I saw they had cracked. But, of course, they do. Expect that. Biscotti cracks. It is a rustic cookie and the cracks add to its beauty.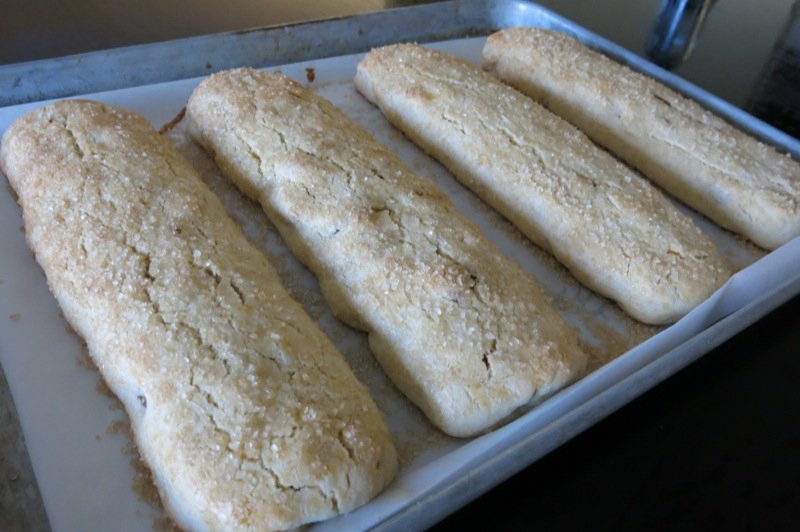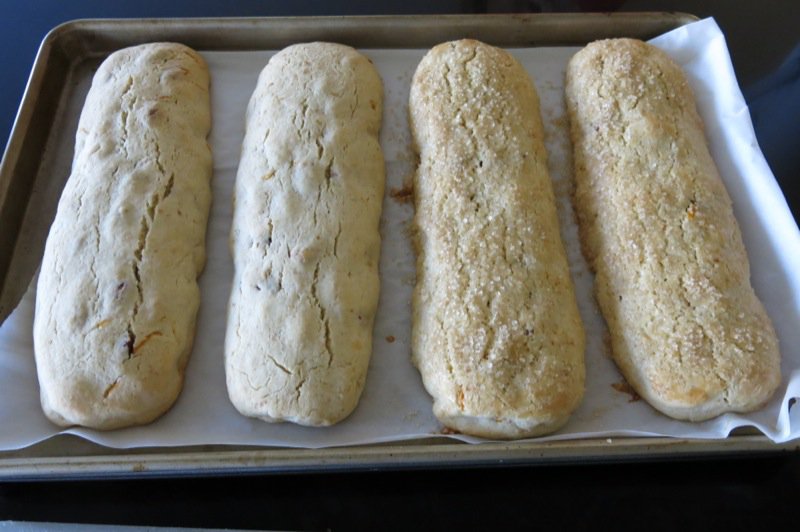 Luciana was happy. I know she was thinking of her family around their Christmas breakfast table with Vittoria's biscotti, for the first time in a long while, and a cup of espresso.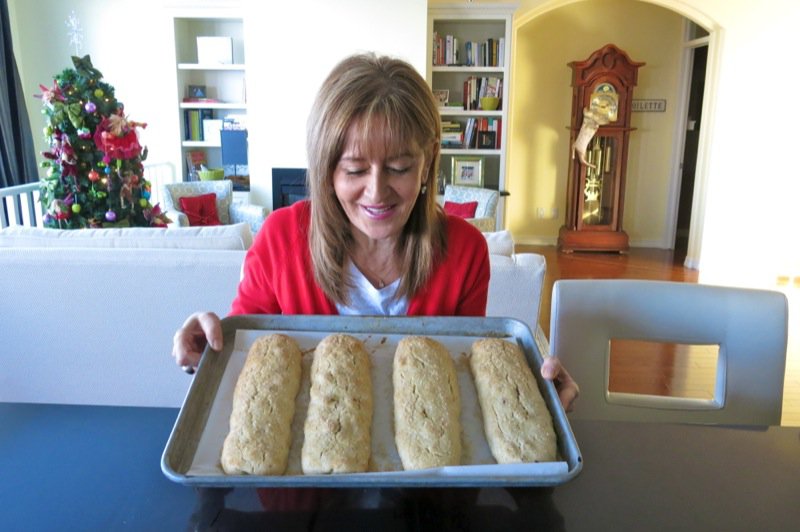 Yup. That is the look of approval. We did good.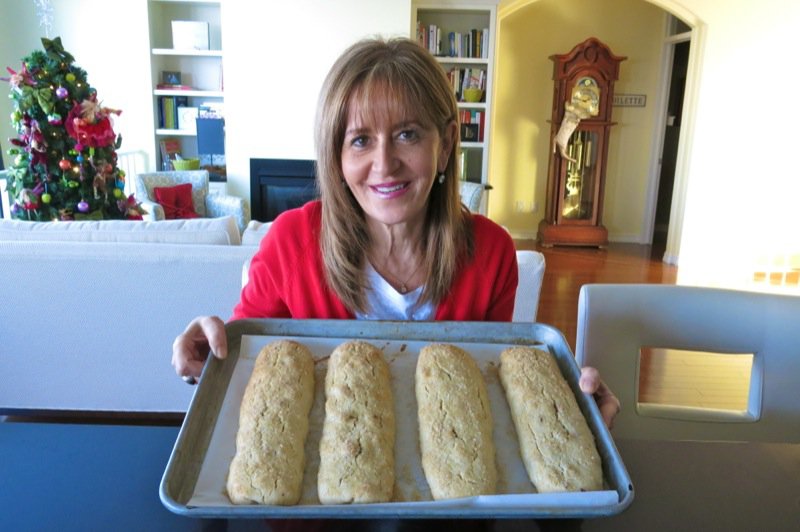 Luciana has an older sister, and a younger brother and sister. Her parents came from Puglia to Canada as newly weds in the 1040's and worked in the mines of Northern Alberta, then settled in Red Deer where they raised their family and Antonio worked for Border Paving. I met Luciana just before heading to junior high school, after elementary school. She was so spunky, we just hit it off. Honestly, she hasn't changed a bit over the last 40 some years, in my eyes. She was a beautiful little Italian doll with olive skin, dreamy brown eyes and the sweetest smile. Still has all of that goin' on as well as that voluptuous little figure she grew into. I feel so blessed to have grown up with her friendship and within our families through the years. Her dad celebrated his 90th birthday a couple of years ago, and is perkier than most at 60. Her mother doesn't do the cooking anymore, for family holidays, as there are plenty of children and grandchildren to take that on for her. Thus, our day in the kitchen making mamma Vittoria's biscotti. The girls and I spent a Christmas with the entire family quite a few years ago when we used to be alone at Christmas as mom and dad lived in Arizona six months of the year, back then. That Christmas with this extended family is one of my favourite memories. This family loves each other. And, they eat good food. Really good food.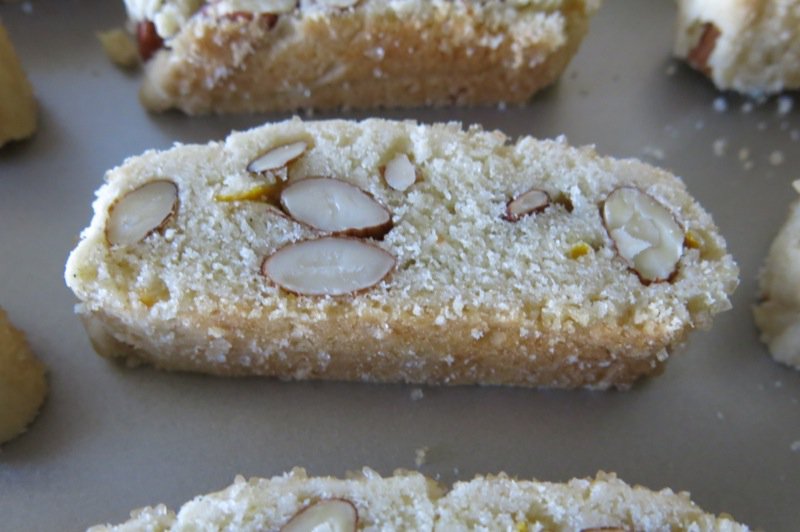 Cutting the cookies from the logs is easy with a sharp knife when they have cooled to room temperature. Both are key. To bake the second time, they must be sitting up on the tray, as below. It is also important to turn the cookie sheet in the oven during the middle of the baking time to avoid extra browning of the cookies on one side of the pan. Below is a pan of cookies before the second baking.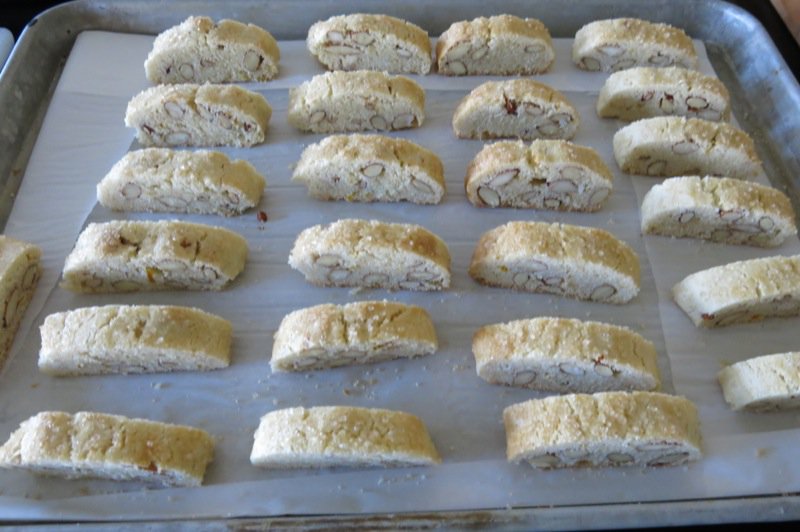 Before baking again, the cookies are very fragile, but delicious. We ate all of the ends we cut off and we quite pleased with ourselves. This batch didn't get turned in the oven. Can you tell? Below is the batch of cookies after the second baking.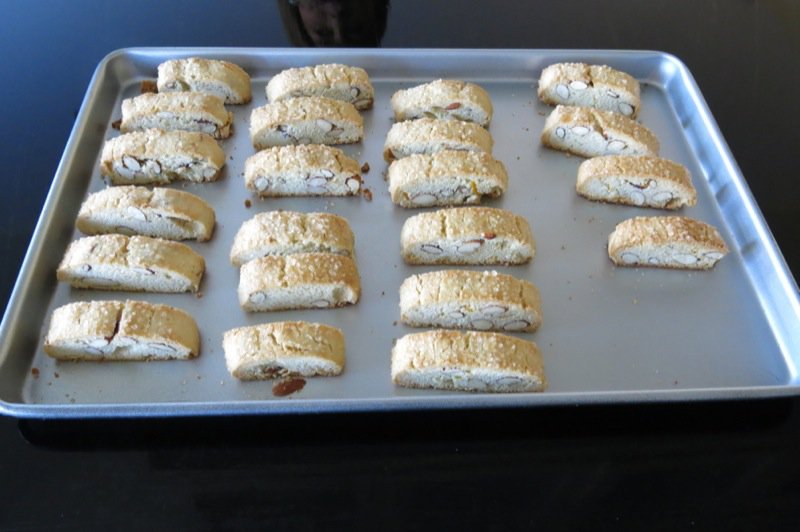 You can see that the cookies on the right, above, have browned more than the others. Close up, below, it is evident that this is too brown, but only a little and it was still yummy. "Delicious" still spells success, right?
"Look at all that biscotti!" Tell me what you really think, Luch! See what I mean? Nothing has changed!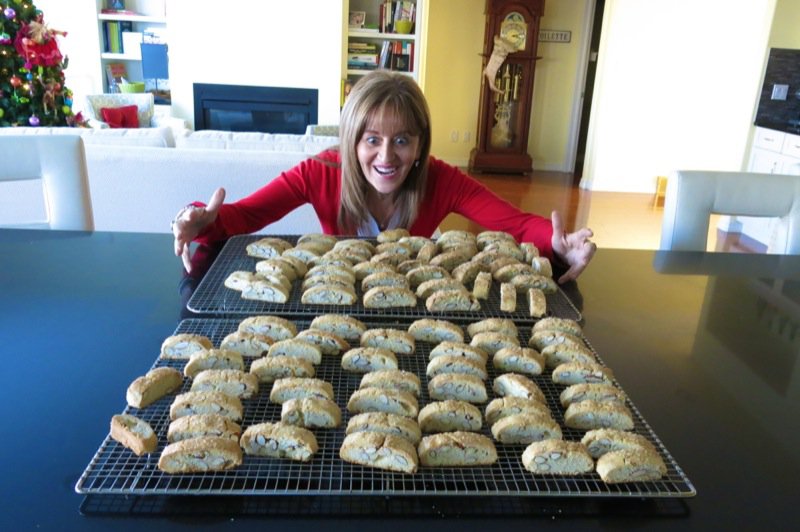 Last Christmas, my friend Nadia brought me a bag of her homemade biscott made with Carmella's recipe. I ate it all myself. Not all at once, but I didn't share. This year, I am not eating any of it as it is too precious. I have to make a second batch so I can eat some! This is not enough for my crew at Christmas. I can tell already. It certainly isn't enough for Luch's crew. What has happened to us? We used to start at 8 am and go until midnight. We could have made 16 batches in one day in the old days, easily. Two was enough today.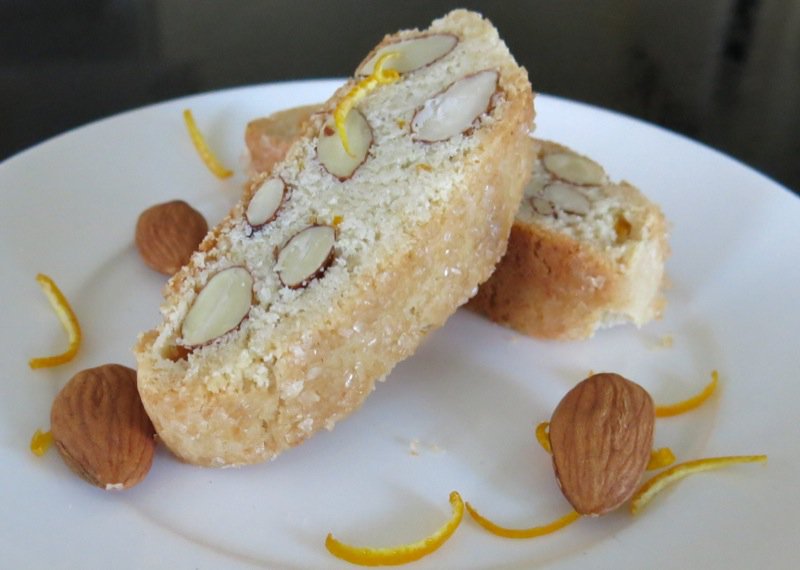 We had tea. We enjoyed the last of my Italian Wedding Soup for lunch. We giggled recalling our decorating antics every year at Christmas. But regret nothing. Not any of the parties, the baking, or the over the top decor. Oh, what fun we have had through the years. And each of us have raised two beautiful daughters. A couple of years ago, Luch's daughters came over with her and we made poppycock together.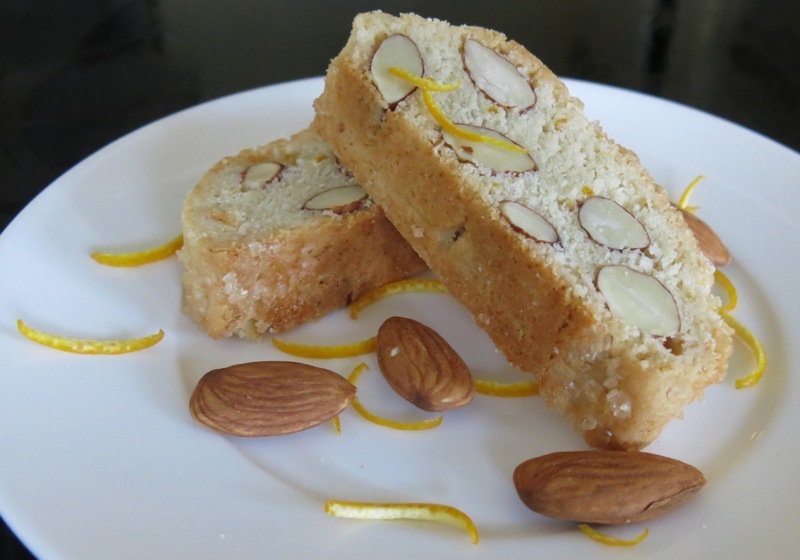 I was really hoping we could do something like that again this year. And maybe we will. There is still time.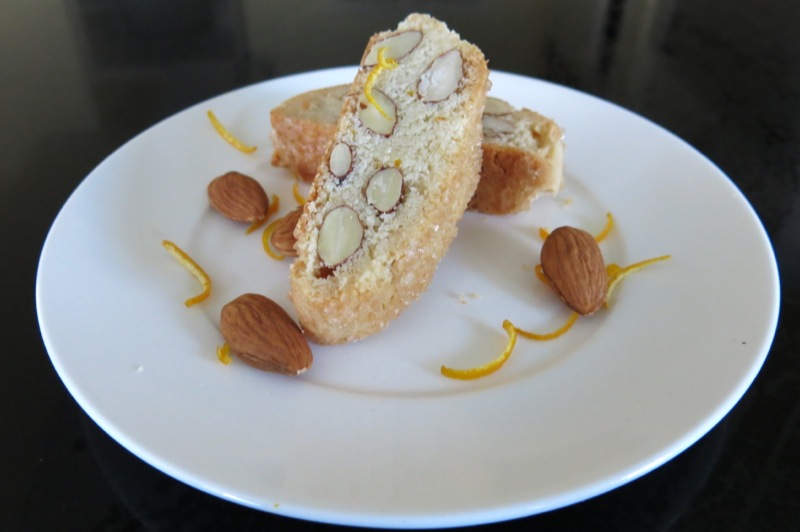 Meanwhile, I am pretty sure Luch's biscotti went right into her freezer. I confess. Most of mine did, but I had to sit and enjoy these two. Oh, my.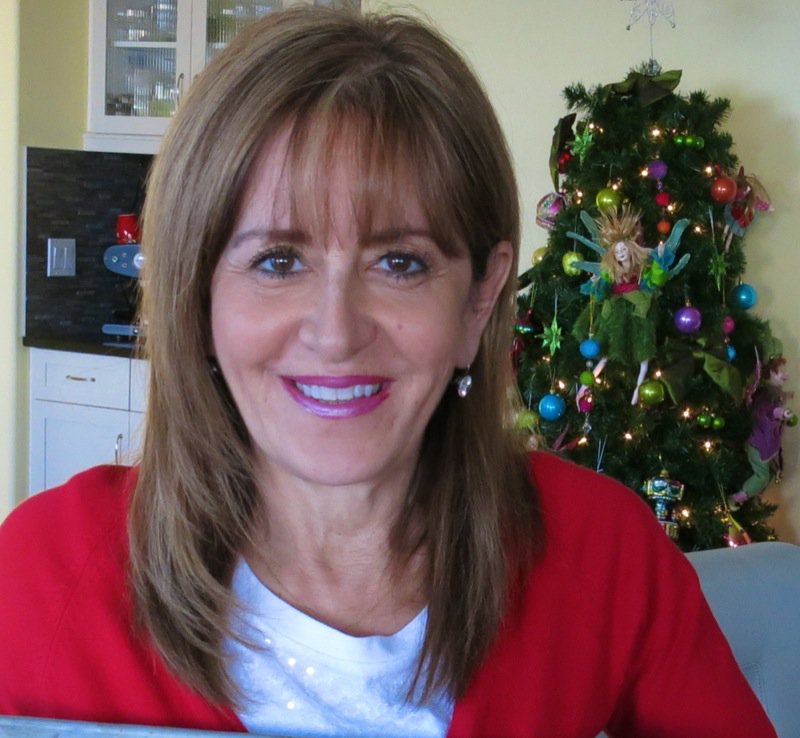 Counting my blessings? Always. To maintain a friendship for 45 years is rare. I am so blessed. We must bake together again, Luch. Weekly? I'll dunk to that. Where's my espresso. Just a minute…

Addition: Luciana took her cookies home for her mother and father to taste and "test". Did I do your recipe justice, mamma? Antonio smiled and said, "I might not have helped your mother bake her cookies, Luciana, but I know her cookies." He took one bite. "MMMmmm. This is good." And then he took another, very thoughtfully. "Luciana. These cookies are exactly like your mothers, except you didn't do one very important thing. I just know you missed this step, 100%." What, step, pappa? What did we miss? "You did not toast the almonds. That brings out the flavour in the nuts. You must toast the almonds before adding them to the biscotti. Then they will be exactly like your mother's!"
So, we have changed the recipe. Toast the almonds!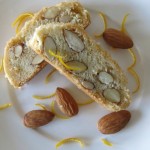 Vittoria's Traditional Italian Biscotti with Almonds and Orange Zest
This traditional almond orange biscotti recipe is not your generic hard as a rock twice baked biscuit. This is a tender melt-in-your-mouth from Vittoria's classic Italian kitchen to yours.

Ingredients
1

large orange

2

cups

whole bark on almonds

1

cup

butter, room temperature

1

cup

sugar

1

tablespoon

baking powder (sifted through the sugar)

2

whole large eggs

1

yolk (white optional, below)

3

cups

flour

1

teaspoon

salt (sifted through flour)

1

teaspoon

excellent quality vanilla or vanilla paste
Instructions
Instructions for Orange Peel and Almonds
Using peeler, peel orange without any white pith; slice peels into slivers or threads then slice into 1-2 centimeter lengths

Toast whole almonds, watching very carefully and stirring constantly until fragrant and starting to brown
Instructions for Biscotti
Place butter in large bowl, adding 1 cup sugar, and baking powder; mix at medium speed until thick and frothy and sugar is completely dissolved

Whisk in eggs, egg yolk, and vanilla extract

Sift salt and flour into large bowl over wet ingredients; add almonds and orange peel and fold ingredients together by hand with wooden spoon until completely combined (the mixture will be very thick)

Weigh dough mass; divide by 4 and portion into 4 equal pieces; shape into 4 loaf-like logs (each weighs about 340 grams)

Place each log onto parchment paper covered cookie sheet; gently flatten with palm

Optional: whisk water and egg white; brush each loaf with mixture and sprinkle tops of loaves with 2 tablespoons of regular or course sugar (we preferred it without sugar)

Bake at 350F for 20 minutes; watch that they don't brown too much as they will be baked again.

Remove from oven; do not remove from cookie sheets until completely cooled as loaves are very delicate at this stage and will break

Adjust oven temperature to 325F

Once completely cooled, carefully place on cutting board and cut into ½ inch slices with a very sharp knife

Place slices on cookie sheet standing up, not laid on side; bake at 325 F for 7 minutes, turn sheets around in oven and bake 7 more minutes, ensuring cookies do not brown further*

Remove to a wire rack to cool
Instructions for Using Thermomix
Weigh butter, sugar and baking powder into TM bowl; cream together for 5 minutes at speed 4 until thick and frothy and sugar is completely dissolved

Add vanilla, salt, eggs and yolk to TM bowl; whisk together for 30 seconds at speed 4

Remove ingredients from TM bowl into large bowl; continue as per #4 above
Recipe Notes
*every oven is different; 8-9 minutes of baking before turning sheet may be required