The Canadian Harvest in Alberta and The Canadian Prairies
Most of us no longer live in the country. Most of us are no longer farmers. The harvest season on the prairies has changed. School was out for the harvest. Everyone worked on the farm to get the produce and grains in for the winter. Thrashers moved from farm to farm threshing the grains which means loosening the edible part of the grain from its scaly, or inedible chaff. It is a step in grain preparation right after the golden grasses were harvested which separates the loosened chaff from the grain. When my mom was young, threshing was done by a threshing machines that was hand-fed and horse-powered. They were very small by today's standards and it was a slow and laborious process. Feeding thrashers was a big deal in the harvest season. They would be out at sunrise and in for breakfast of steak and eggs and fresh bread mid morning. Some would eat a huge steak, 6 eggs and half a loaf of bread mom recalls. The work was grueling physical labour, and an intrinsic part of the rural lifestyle during harvest season. When they finished the work at one farm, they would take their thresher, and move on to the next.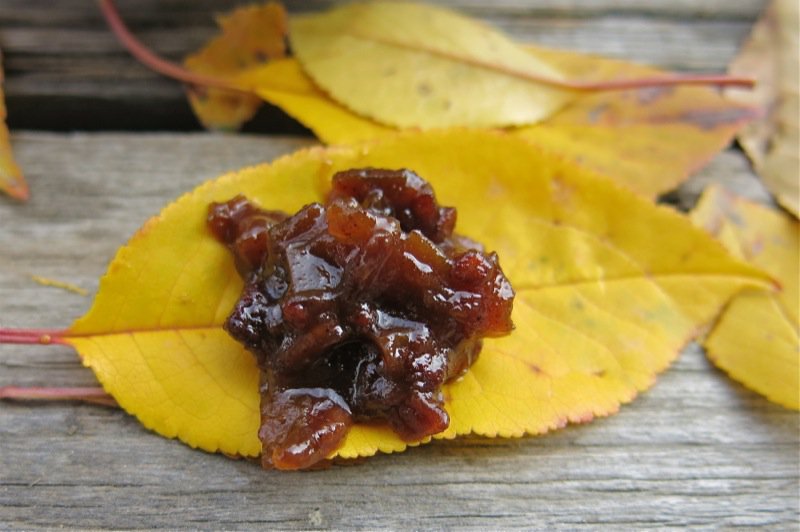 That is why we give thanks. Thanks for the weather to hold for the harvest. Thanks for the farmers still farming our prairies. Thanks for the nutrient rich, delicious and nutritious produce that our Canadian prairie farmers grow. As an urban gardener, I am also thankful for my own harvest and my favourite food on the planet: the tomato. As I grow as many as I can in our short zone three growing season, that means I have a considerable amount of green tomatoes to harvest each year. This is the year of my "ah-ha" moment for the unripened green tomato. Every other year, I was deeply upset that so many gorgeous heirloom tomatoes would not be enjoyed as there wasn't the time for all to ripen on the vine. Instead of relish and ketchup this year, I sliced them and tasted them. Nope for raw. Yup for cooked. A big yup.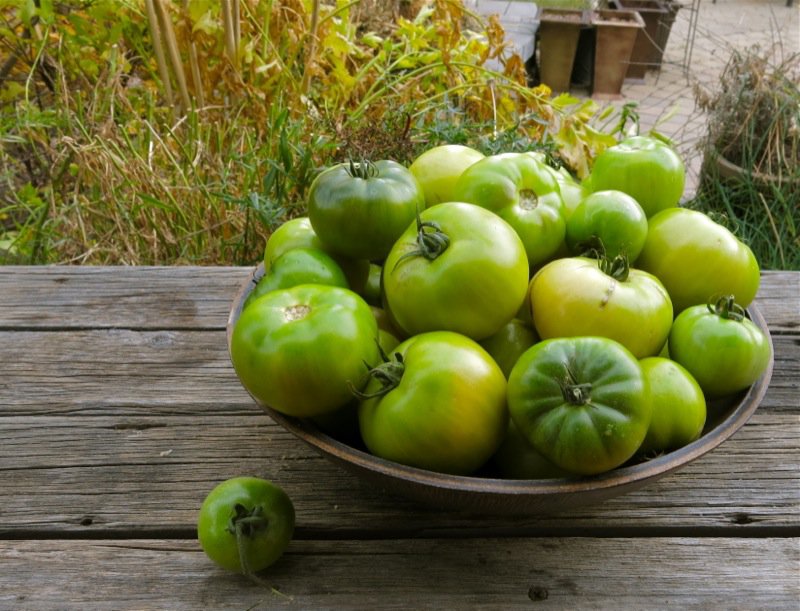 The light bulb went on with my fried green tomato recipe. Then I created a Savoury Green Tomato Meat Pie that you are going to love. Yummers. I still have more that I am now hoping do not ripen so that I can make a sweet Tomato Pie. Oh, my! Either way, it is a win win! Above is the basket of gorgeous heirloom tomatoes I harvested to rescue from the frost. Below is the last basket of vine ripened tomatoes from my 2013 tomato harvest. The Green Zebras are so vibrant in flavour.
Green Tomato Mincemeat? I have never heard of it, have you? Certainly, it is not a Traditional Canadian Prairie recipe, yet mincemeat made with suet is a Traditional Canadian Prairie recipe. (Anyone know where I can get some suet. I need a local supplier.) I want to make both mincemeat recipes and have a Tasting to compare the flavour and texture of each recipe. One batch of this green tomato mincemeat recipe calls for 8 cups of green tomatoes. I made a double batch. It was not my intent. I burned the first batch just when the mincemeat was alllmooost done. I stepped out to do something for what seemed like 2 minutes. This recipe needs to be very carefully attended at all times, but particularly near the end.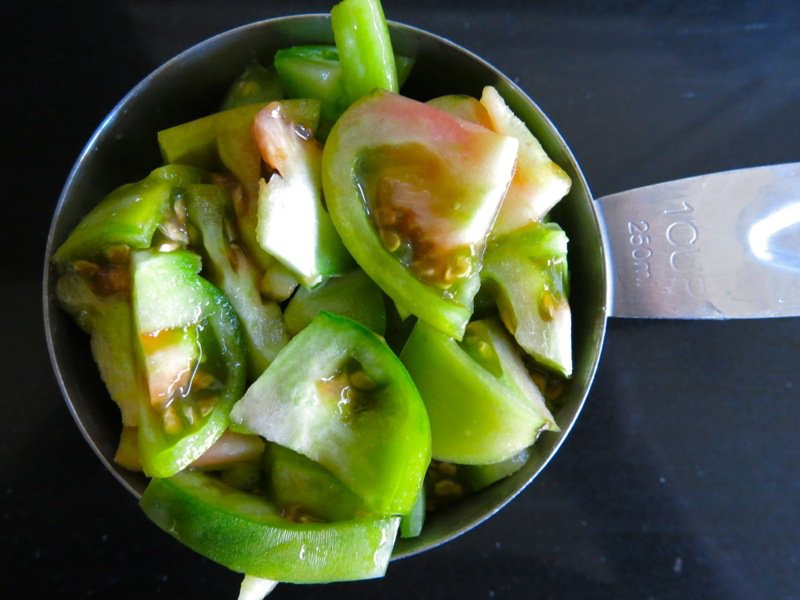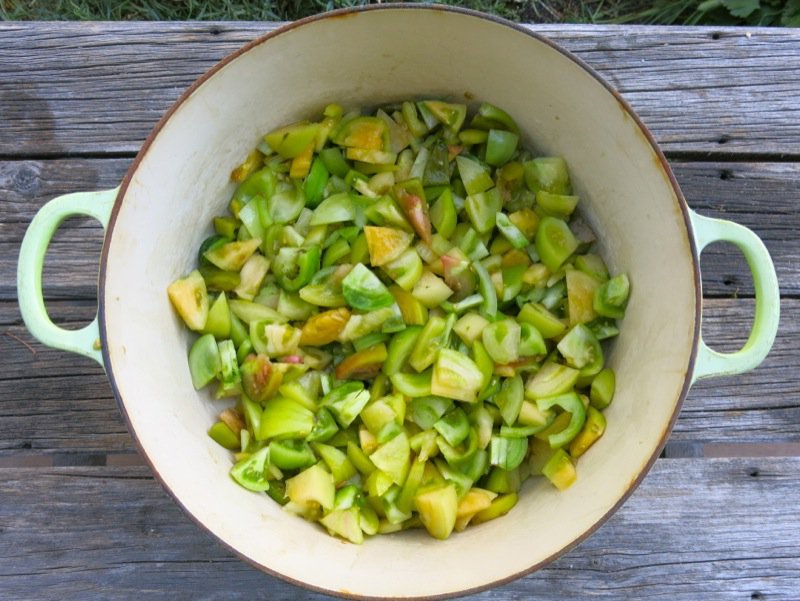 Above is 8 cups of green heirloom babes in all their succulent glory and below with the addition of tart apples and a combination of candied fruit.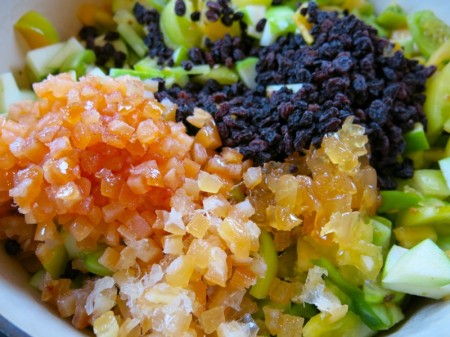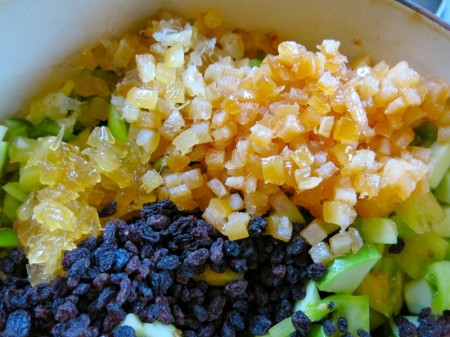 Combined with brown and white sugars, apple cider and home pressed Nectar of the Gods Apple Juice, the seasonal spices perfume the air and I swear I could hear a faint, but jolly, "Ho! Ho! Ho!" in the distance.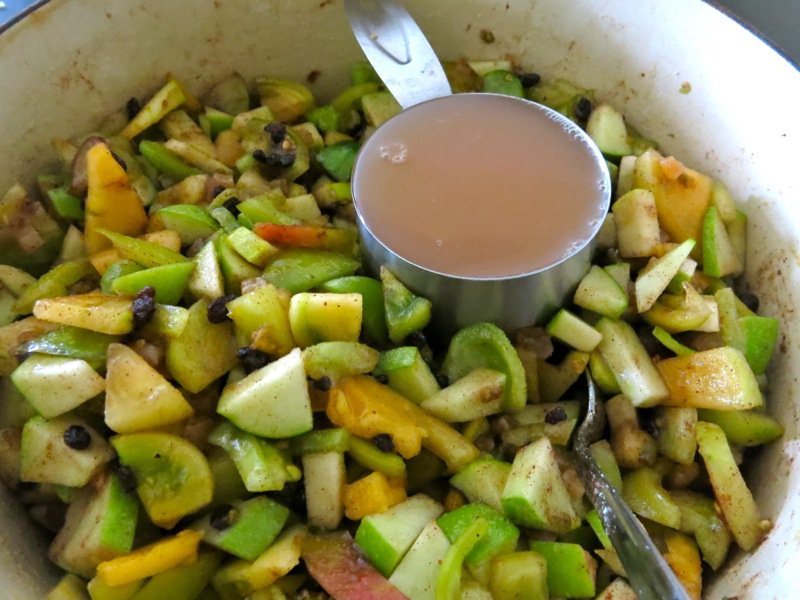 I could actually imagine that this concoction would turn into mincemeat. It was already delicious. Below is the beautiful one-batch pot that didn't make it to the preserving jars.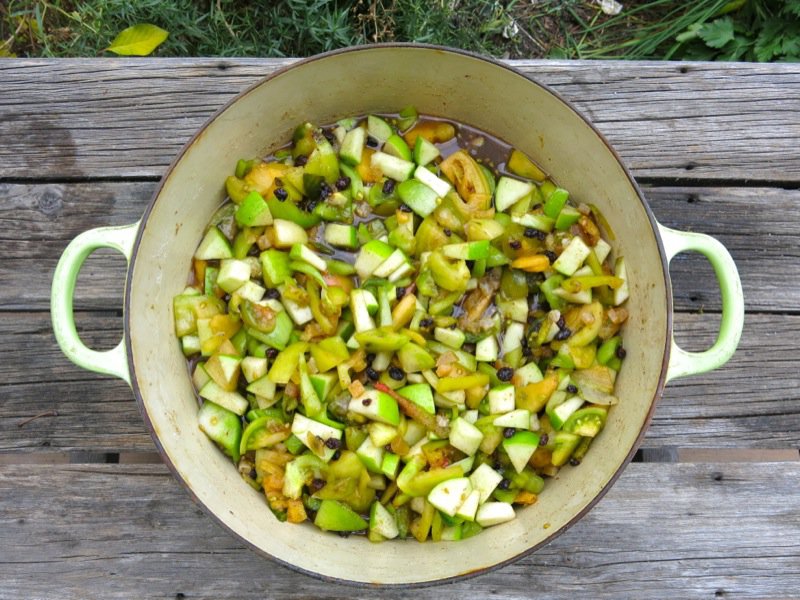 Light is vastly different each season and during each time of day. This was a warm autumn afternoon. The joy of the harvest was in the air. The mixture was vibrant and warm toned. The breeze was nippy, but the sun was golden and warm.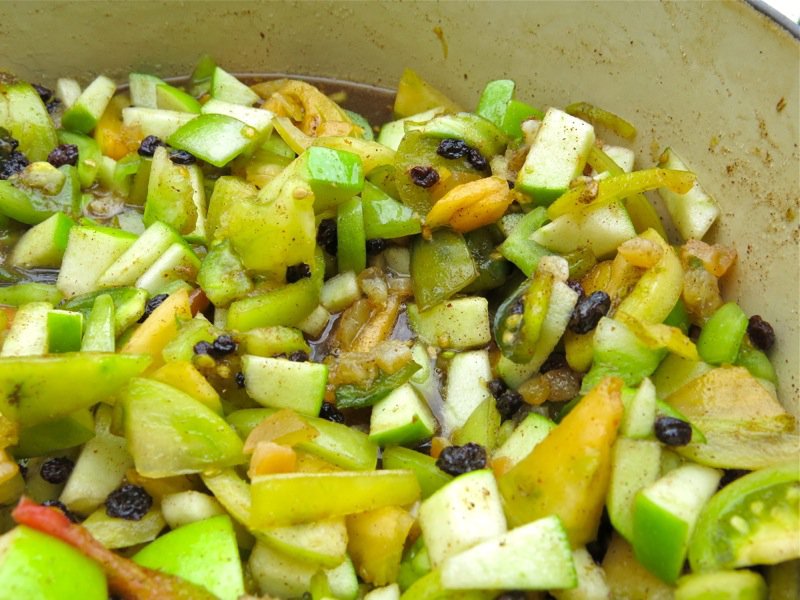 Below is the new double batch, thank you very much Elaine! Breathless with excitement over the first Green Tomato concoction I witnessed magically turn into a dark brown deeply flavourful rich ooey-gooey green tomato mincemeat, almost like magic, I was devastated when it burned. And that was the end of my green tomatoes. How ironic! I madly tweeted to find more. Elaine picked up some gorgeous ones at the market and saved my day. I never thought I would pay for green tomatoes!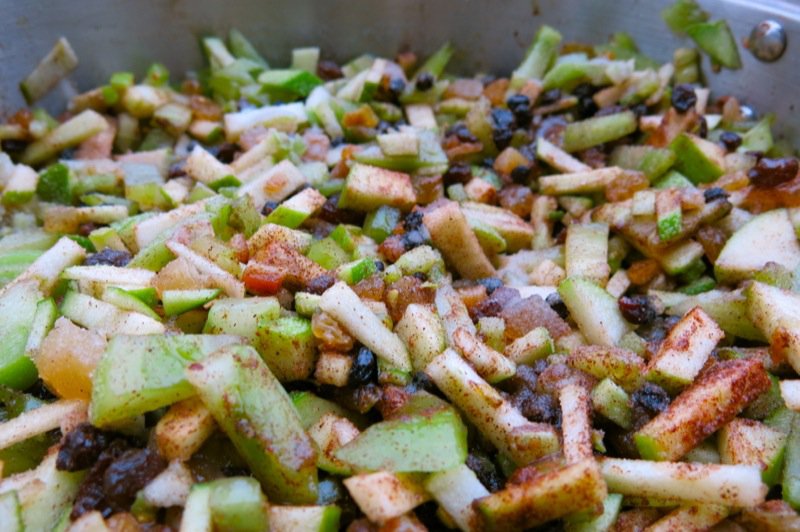 The light has changed two days later when I reconvened to reconcoct this curious green tomato mincemeat recipe. It is a colder greyer day and the mood of the colour the light reflects from the lack of mid-day sun is reflected in the more somber and serious appearance of this new double batch of green tomato mincemeat. I confess that without making it before, I did create my own recipe from what I know about making traditional mincemeat, the flavours, textures and portions of what I thought would work best for my palate.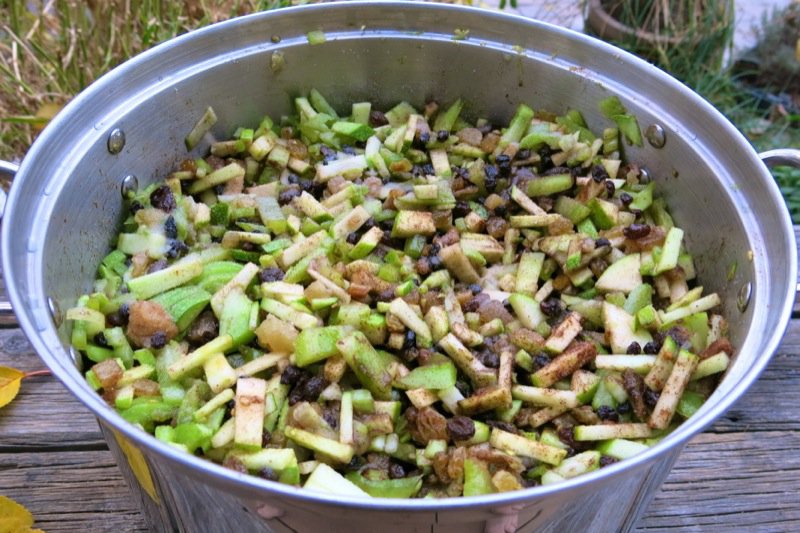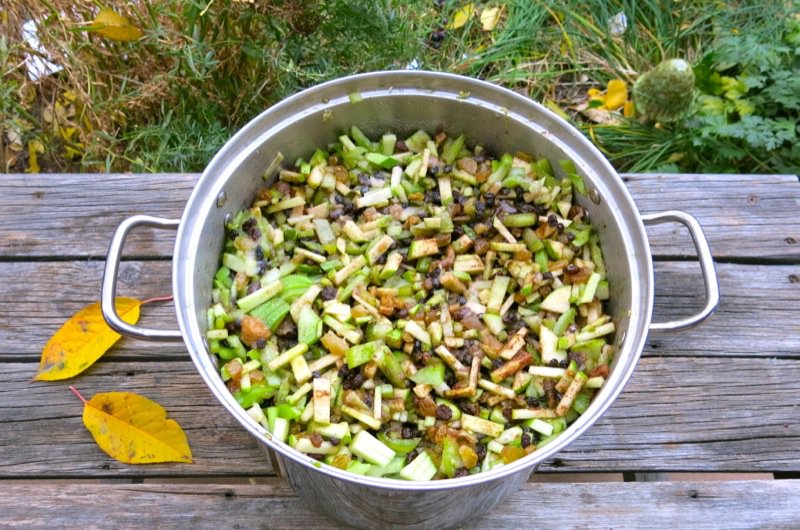 I did chop the ingredients smaller this round and used my stock pot for the double batch.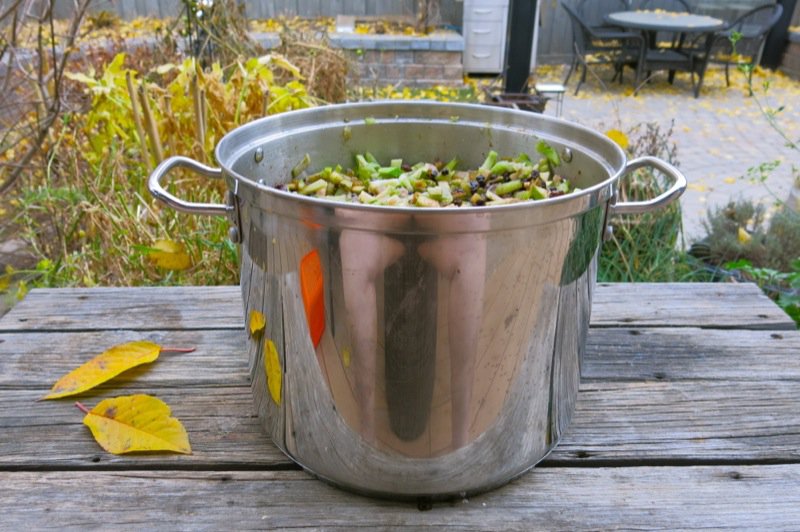 There are a lot of juices in the batch that don't cover the ingredients, but are near the surface. It will take a few hours to cook this down as these juices and the ones that will ease out of the apples and tomatoes need to evaporate to distil the flavour and create a thick mincemeat.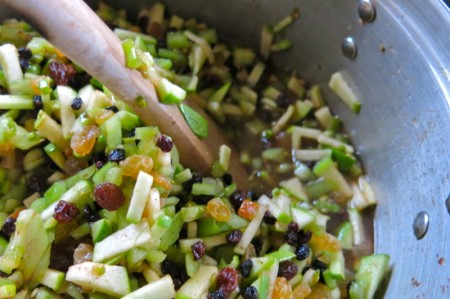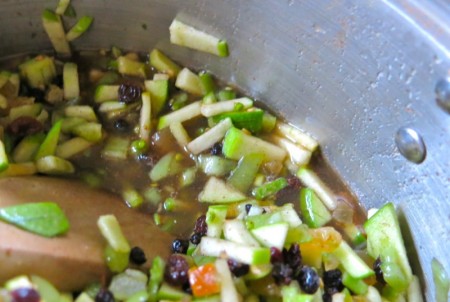 Three hours later, maybe five, here we are. I actually didn't time the cooking period. This is about where I shut it down for the night so that I could really focus on the end process.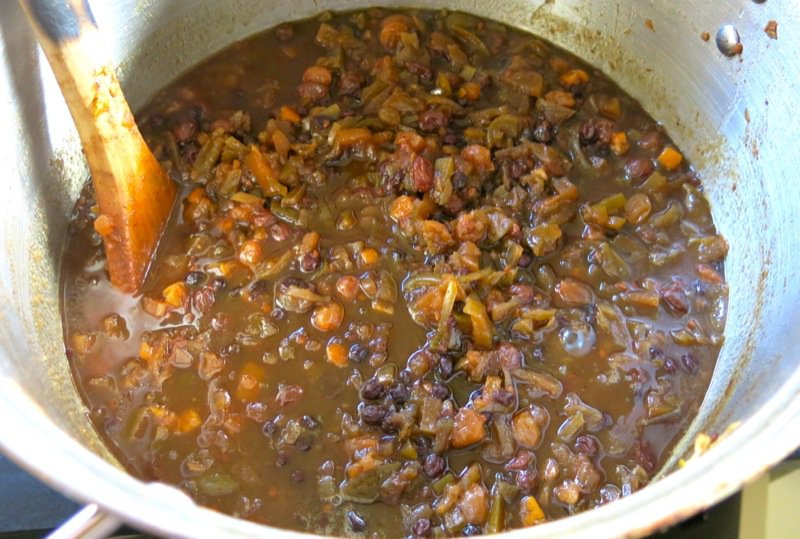 The next morning I continued to simmer the batch until it was as thick as I felt mincemeat should be, stirring all of the time for the last 20 minutes to avoid any sticking to the pot or scorching of the sugars.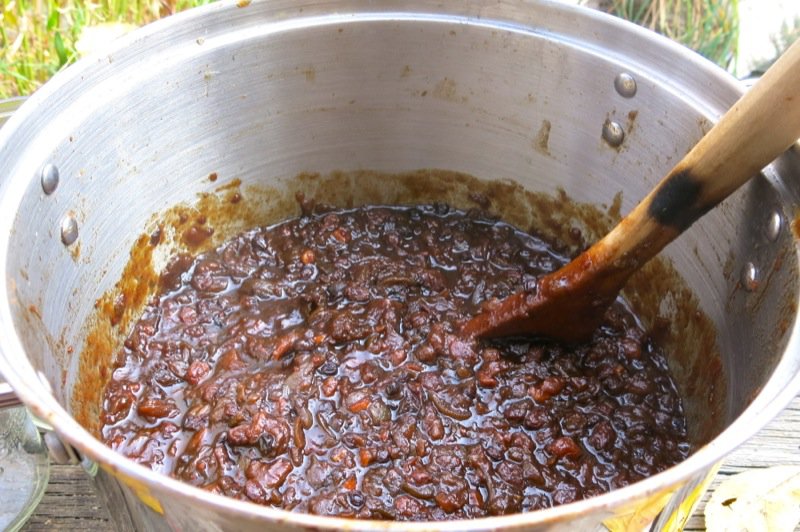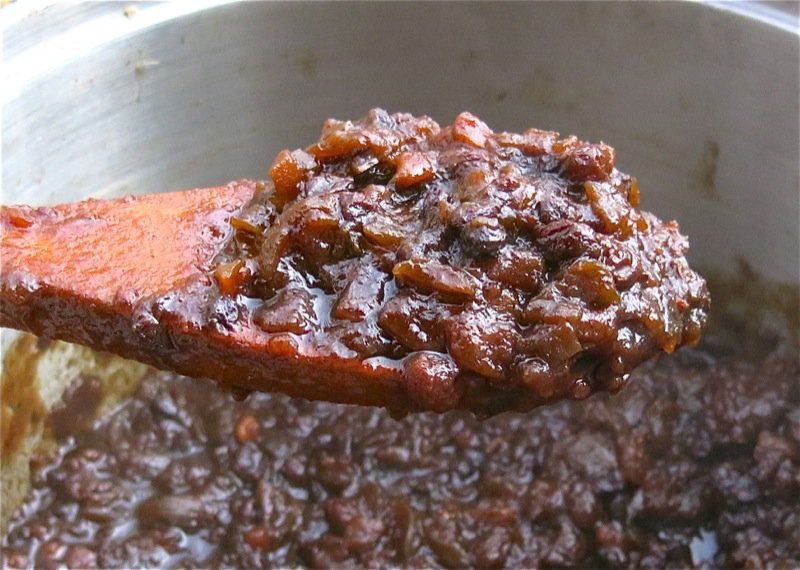 Do you see me wagging my tail? I was just amazed by the appearance, flavour and texture of this beautiful green tomato preserve. Green tomato mincemeat. Who knew? Obviously, many people, but not any in my neighbourhood. This is a fantastic recipe and will make great little hostess gifts over the holidays. Wiggle-waggle!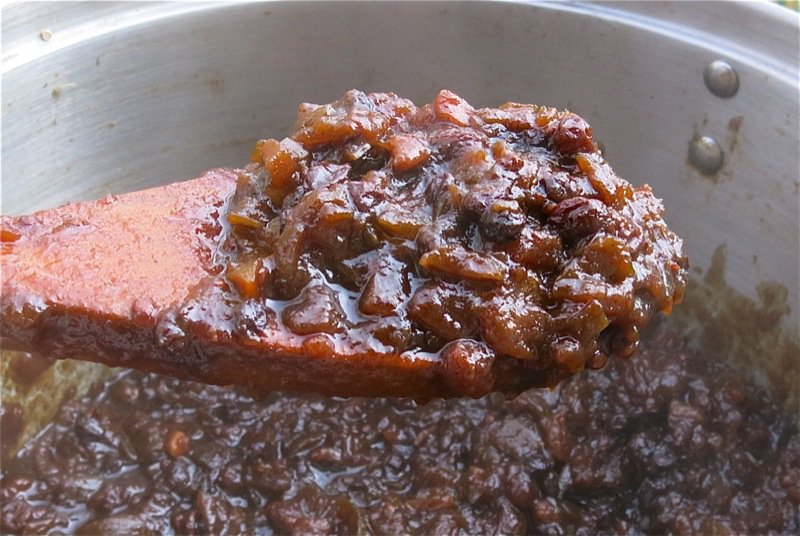 I estimated three quarts, maybe four. The batch produced 4 quarts with a little extra. I simply packed the steaming hot green tomato mincemeat into sterilized jars and sealed them. Left the jars on the counter until room temperature, then stored in my second fridge.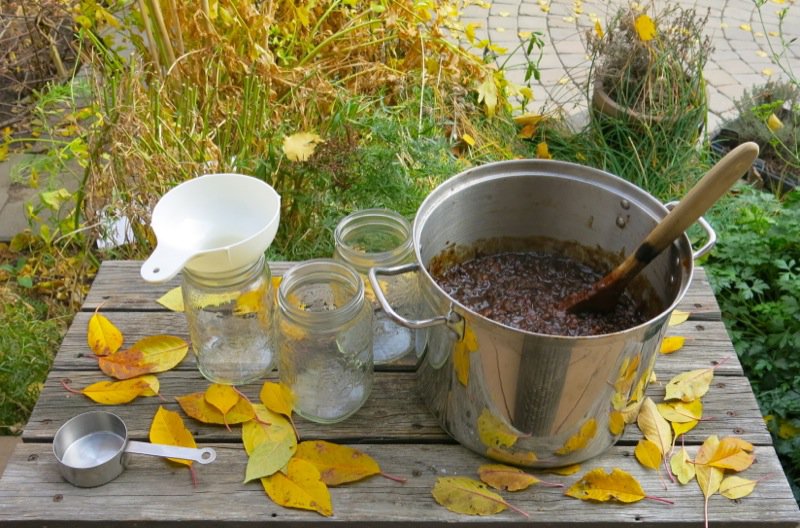 What a gorgeous day for celebrating the bounty of the season. I revel on my little stool beside my bench in the back yard enjoying the colours of the autumn season, the vibrancy of summer long gone.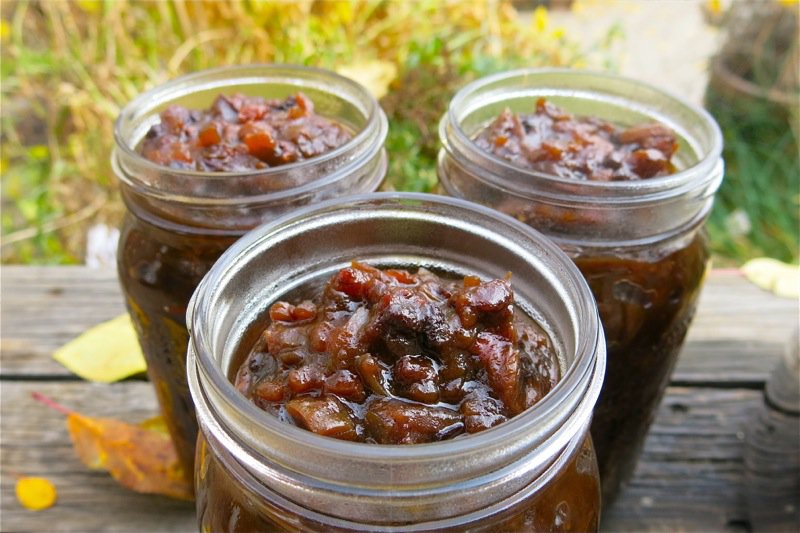 The texture of the green tomato mincemeat does amaze. I could sketch a study called: Green Tomato Mincemeat, I am so mesmerized by it.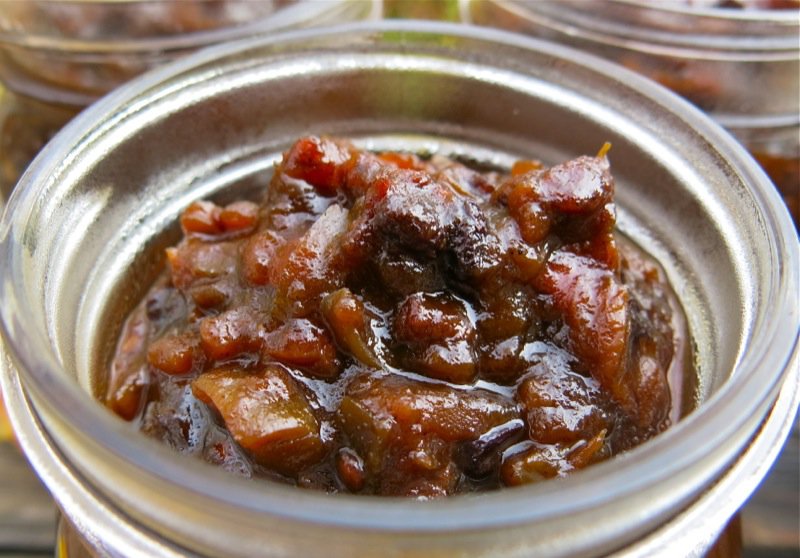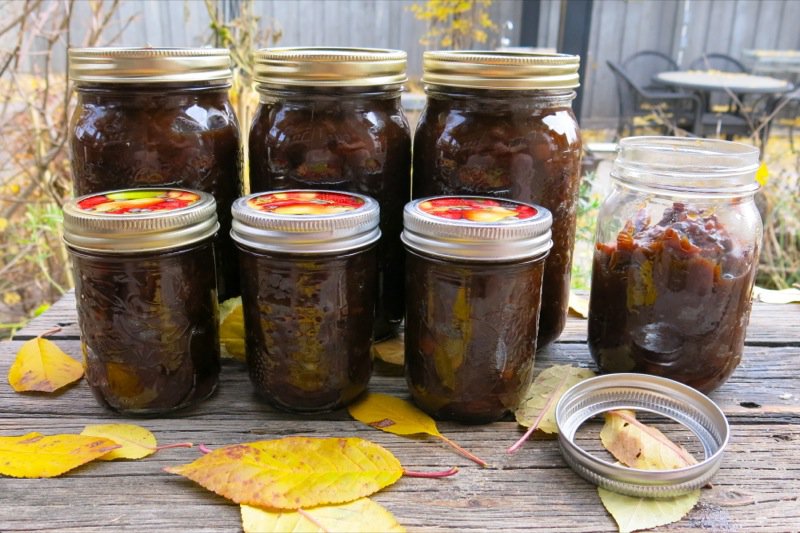 Of course I made mincemeat tarts! I will publish another post about them, but had to know whether green tomato mincemeat was delicious in a tart. The resounding response? Yes! I will add that a little bourbon, brandy, rum, or another spirit adds to the celebration of the Christmas season soon to be upon us… as does a sprinkle of fresh orange zest just before serving.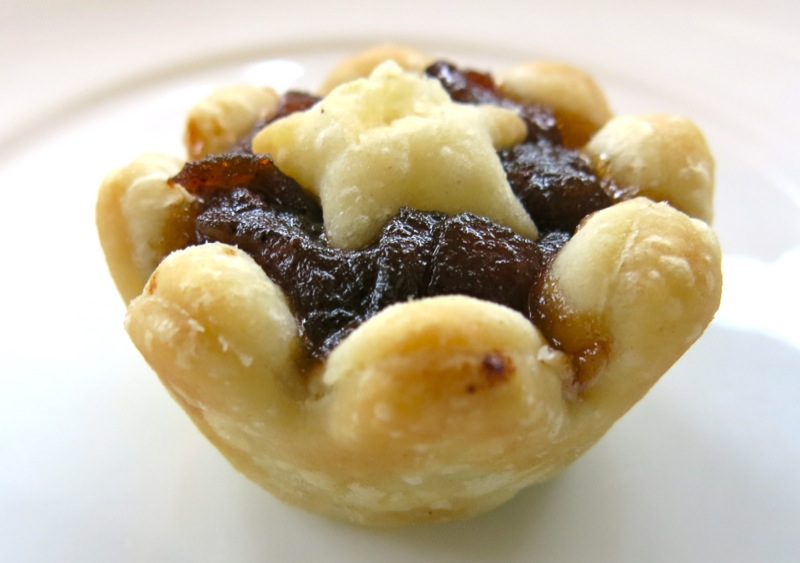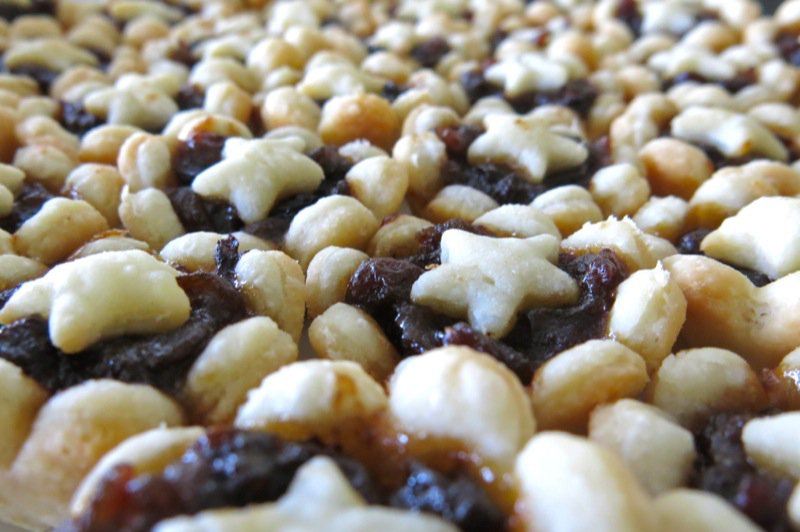 The harvest season is about preparing for winter and the holidays. I could not resist as I consistently think of Christmas during my harvest preparations. Bring on the magic of the next season to come! Winter!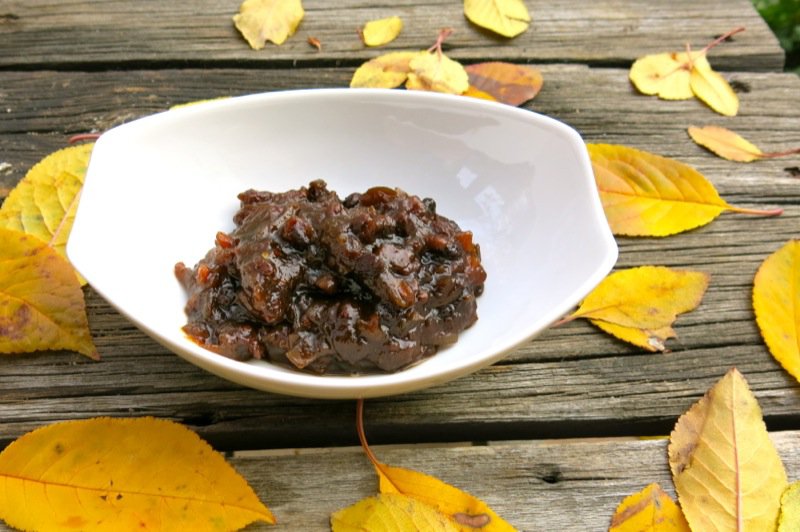 If you have made green tomato mincemeat, I want to know. How does your recipe differ than mine? What else do you love making with your green tomatoes?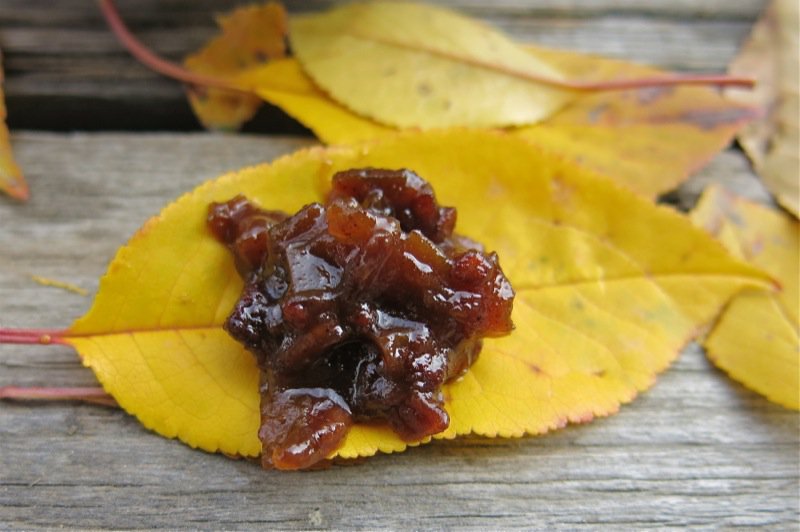 The Canadian Food Experience Project began June 7 2013. As participants share stories across the vastness of our Canadian landscape through our regional food experiences, we hope to bring global clarity to our Canadian culinary identity through the cadence of our collective Canadian voice. The topic our sixth challenge is The Canadian Harvest in (each region) so my topic is: The Canadian Harvest in Alberta and The Canadian Prairies. Please join us! It is never too late to participate.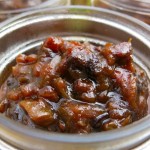 Green Tomato Mincemeat
Makes about 6 X 500 ml jars Green Tomato Mincemeat is a savvy and delicious way to use green tomatoes at the end of the harvest season: excellent for gift giving during the holidays.
Total Time
3
hours
20
minutes
Ingredients
8

cups

(2000 ml) cored, quartered green tomatoes

4

cups

(1000 ml) cored, finely chopped apples

2

cups

(500 ml) raisins

1

cup

(250 ml) dried currants

1/2

cup

(125 ml) mixed candied fruit

1/4

cup

(50 ml) candied orange peel

1/4

cup

(50 ml) candied ginger

2

tsp

(10 ml) ground cinnamon

1

tsp

(5 ml) allspice

1

tsp

(5 ml) salt

1/2

tsp

(2 ml) ground cloves

1/2

tsp

(2 ml) mace

1

cup

(250 ml) lightly packed brown sugar

1 1/2

cups

(375 ml) granulated sugar

1

cup

(250 ml) apple juice

1/3

cup

(75 ml) apple cider vinegar

1/4

cup

(60 ml) lemon juice

1/2

cup

(125 ml) brandy, optional
Instructions
In a large stainless steel saucepan, combine all ingredients except brandy; stir constantly

Bring to a boil over medium-high heat, then reduce heat, boiling gently, stirring frequently for 1 1/2 hours until mixture thickens

Stir in brandy, if using, and remove from heat

Meanwhile, place 6 clean 500 ml mason jars on a rack in a boiling water canner; cover jars with water and heat to a simmer (180°F/82°C)

Set screw bands aside; heat SNAP LID® sealing discs in hot water, not boiling (180°F/82°C)

Keep jars and sealing discs hot until ready to use

Ladle hot mincemeat into a hot jar to within 1/2 inch (1 cm) of top of jar (headspace)

Using nonmetallic utensil, remove air bubbles and adjust headspace, if required, by adding more mincemeat

Wipe jar rim removing any food residue; centre hot sealing disc on clean jar rim, screw band down until resistance is met, then increase to fingertip tight

Return filled jar to rack in canner; repeat for remaining mincemeat

When canner is filled, ensure that all jars are covered by at least one inch (2.5 cm) of water

Cover and bring to full rolling boil before counting processing time

When processing time is complete, remove canner lid, wait 5 minutes, then remove jars without tilting and place them upright on a protected work surface

Cool upright, undisturbed 24 hours; DO NOT RETIGHTEN screw bands

After cooling check jar seals: sealed discs curve downward and do not move when pressed

Remove screw bands; wipe and dry bands and jars

Store screw bands separately or replace loosely on jars, as desired

Label and store jars in a cool, dark place
Processing Time:
At altitudes up to 1000 ft (305 m) process filled jars 15 minutes
Recipe Notes
Just before using each jar of preserves, add the zest of one fresh orange into each 500 ml amount
Add a tablespoon or two of brandy to the preserves just before baking into a pie, a tart or drizzling over ice cream for another festive touch
For best quality, use home canned foods within one year
The Canadian Mincemeat Tart is traditionally topped with a five corner pastry star to represent the North Star that led the Wisemen to the stable where baby Jesus was born. The fragrant spice mixture in the recipe is reminiscent of the gifts to Baby Jesus.