These Oven Roasted Potatoes will indulge your craving for french fries every time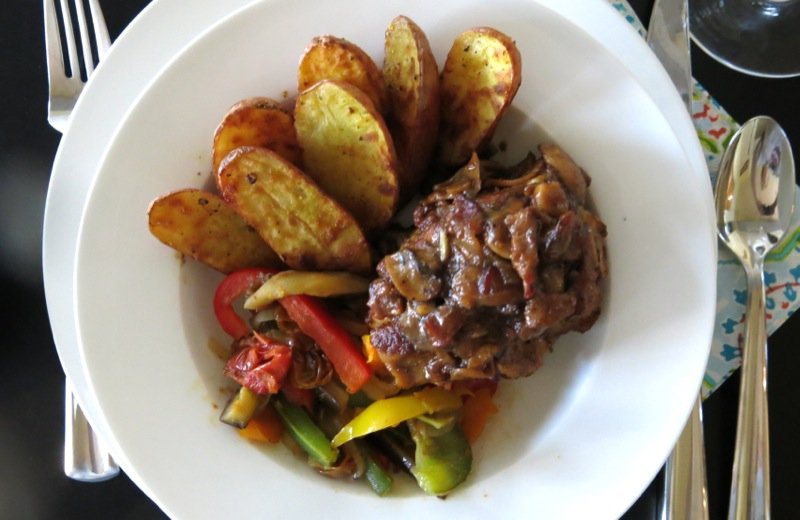 Would you believe I was over 40 before I knew how to make oven roasted potatoes? Honestly, I had no clue. I had tried to make them too many times to count. Of course, I had roasted potatoes with meat that would be golden and beautiful, but on their own, no. I tried to do it the same way that I roasted the meat. That didn't work. Google did not exist then, either. Well, it did, but was nothing like it is now. So, out of sheer frustration one day, I sliced my favourite red banana potatoes in half, put them in a paper bag with seasonings and oil, shook it up and placed them on a parchment covered cookie sheet under the broiler. In 5 minutes they were gorgeous. Raw. But gorgeous.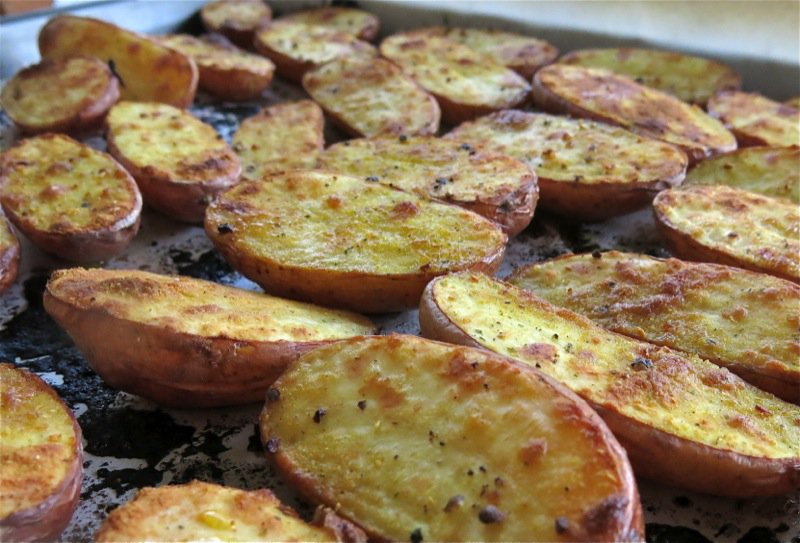 I baked them to finish them and they were actually delicious. Yet, there must be an easier way. Next time, I sliced them in half, placed them on parchment paper and drizzled with oil and sprinkled with seasoning. I turned the oven up to 500°F, placed them on the top shelf of the oven, as if broiling, and set the timer for 15 minutes… but, I was watching closely. At 20 minutes, they were gorgeous. Seriously. Tender inside. Crispy outside. I felt that I had discovered a secret few knew.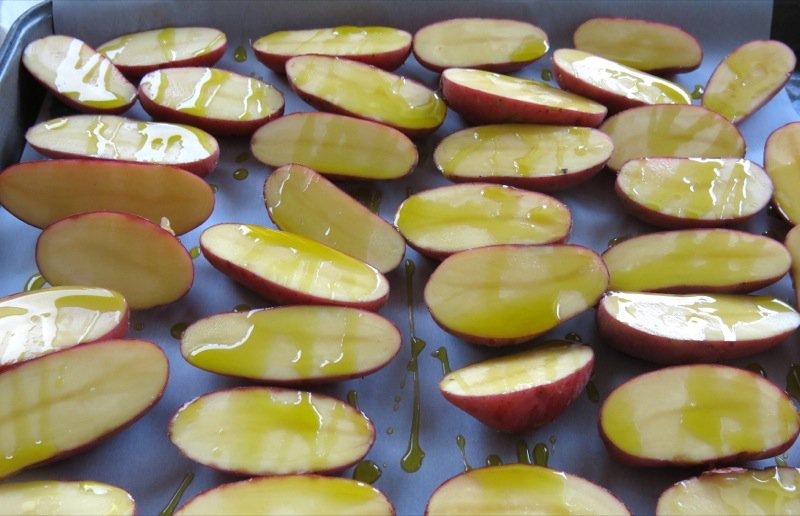 With large waxy potatoes, I would slice them lengthwise, and after 20 minutes on one side, turn them over for 5 minutes on the other side and that is all it would take to have 2 crispy golden sides for roasted potato slices. This is the most delicious, nutritious, and economical way to make potatoes with the greatest appreciation from my happy little family. But, you all knew this, didn't you? I have harbored this secret for years now, as my belief really was that I was the last to know how to make a perfect oven roasted potato.
Munching on one at dinner the other night, my daughter said to me, "Have you ever included this recipe on your website?" I tend not to include simple recipes for simple food and that is so wrong. Thus, my offering to you today.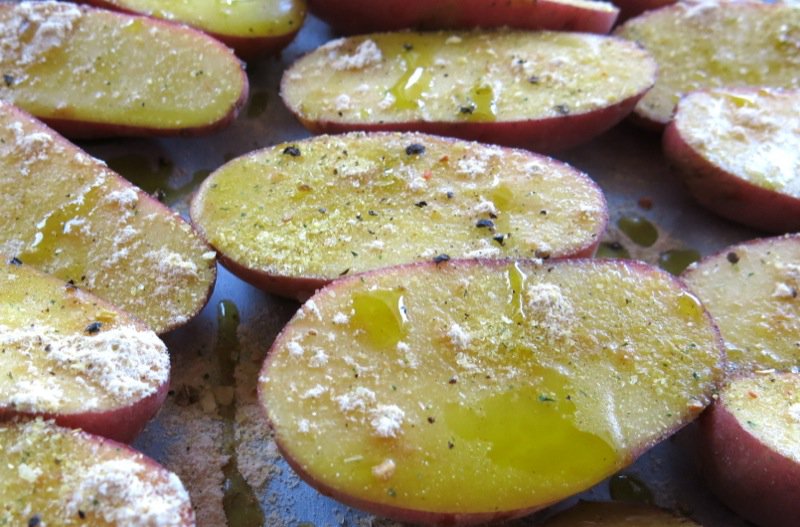 Below is a photo of roasted potato slices (vs the roasted potato halves). They tend to roast a little differently as they are turned over the last 5 minutes.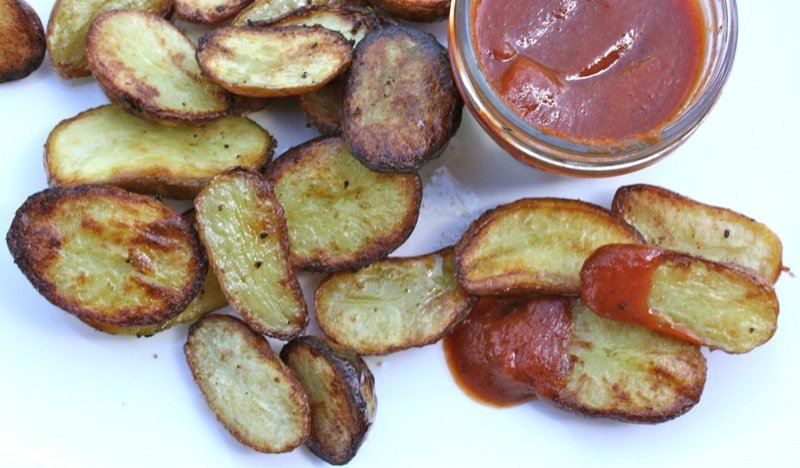 I believe the halves are a bit healthier as both sides aren't drizzled in oil. We have never done a side-by-side taste test, but the platter is cleaned no matter whether I roast the halves or the slices. Gone- gone- gone either way.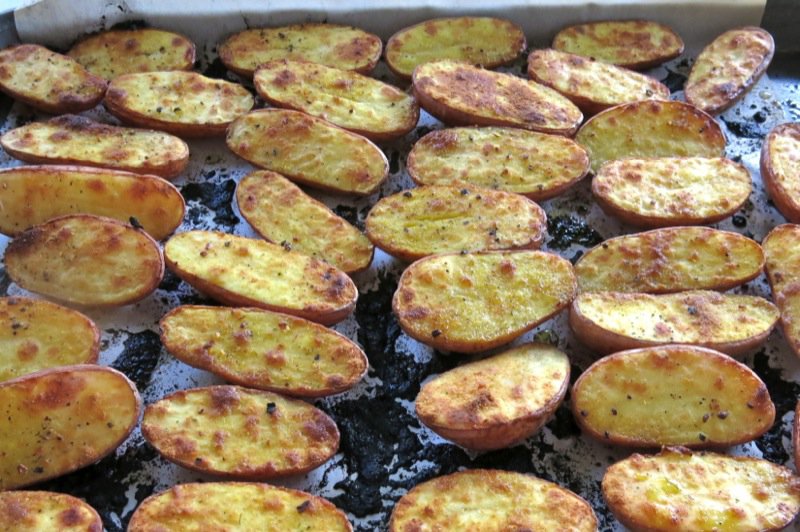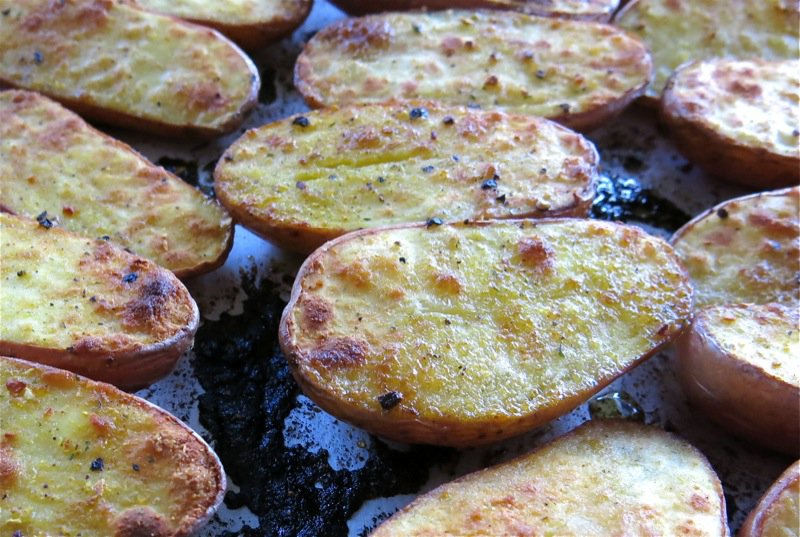 I used a good quality olive oil, Vegeta, salt, freshly ground pepper and garlic powder on my usual recipe. If I am having guests and Vanja isn't home, I get to use herbs and "green stuff" and really elevate this home food to bistro fare.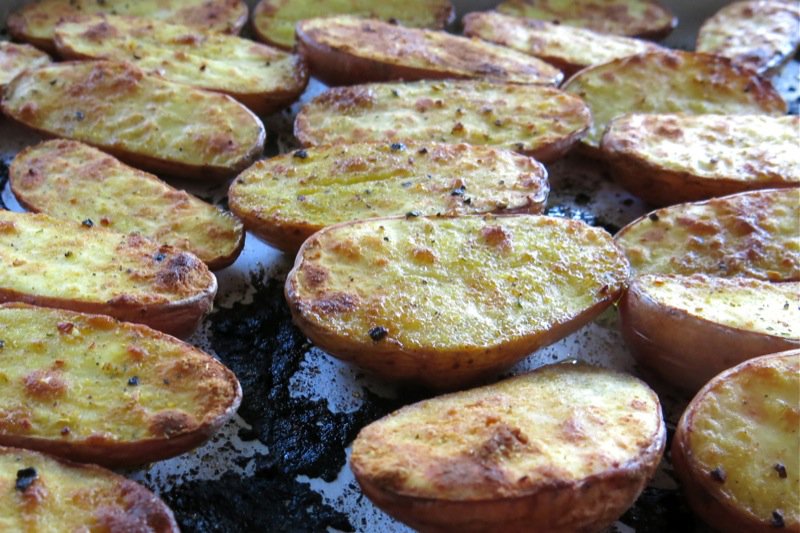 No matter what, this Quick Oven Roasted Potatoes recipe is consistently lip-smacking and indulges that fry craving. Yet, they are nutritious, delicious and effortless.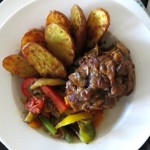 Quick Oven Roasted Potatoes
Ingredients
One kilo potatoes

, halved if small, sliced 1/4 inch if large

1/4

cup

olive oil

2

tablespoons

salt

2

teaspoons

freshly ground pepper

1

tablespoon

garlic powder

1

tablespoon

Vegeta
Instructions
Pre-heat oven to 500°F

Cover a cookie sheet with parchment paper

Place potatoes on cookie sheet, close together, (face up, if halved)

Drizzle with olive oil (use only half if sliced)

Sprinkle seasonings on top, distribute as evenly as possible, and save half for other side if sliced

Roast for 20 minutes in top rack of oven; test for doneness and turn if sliced for 5 more minutes, or serve immediately if halved
Recipe Notes
A tablespoon or two of Herbs de Provence, rosemary, or any hardy herbs work beautifully with this recipe