What is could be better than a steamy cup of Lavazza Espresso in the morning?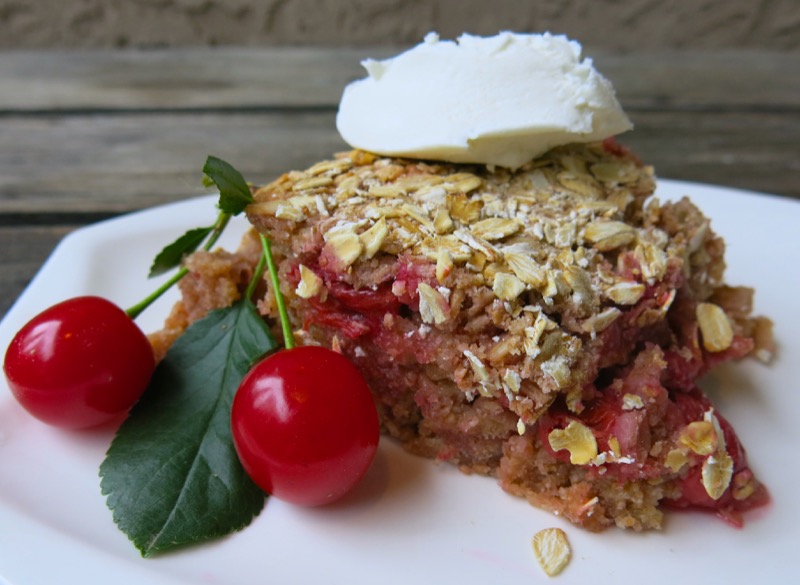 A delicious, nutritious, economical and homemade "fresh from my own garden" breakfast with a steamy cup of Lavazza, that's what!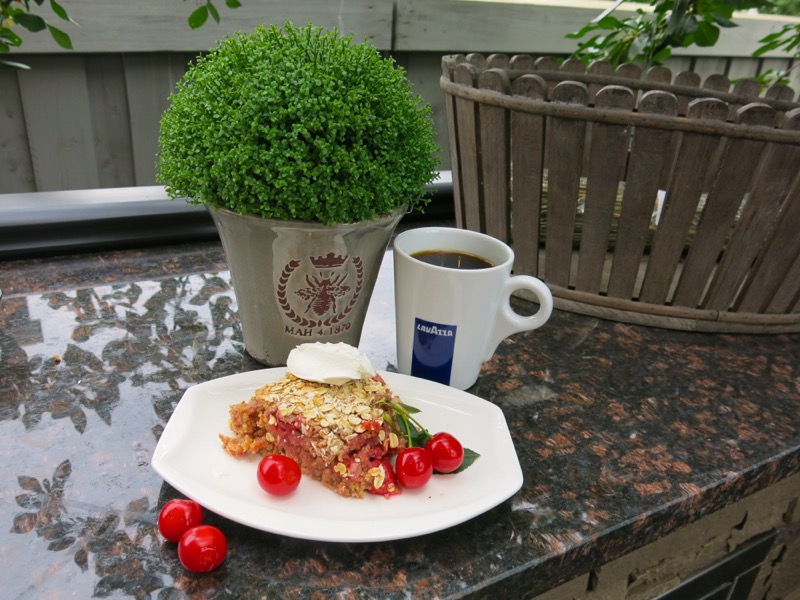 Oh, how I love the abundance of summer and the bounty a small urban backyard garden can provide. This is the last of my Evans Cherries and I knew I was creating something a little more savory with them to pair with Lavazza again, this month, after the mind blowing "out of body" pairing created with the Black Beast Cake in Europe in June. Like cherries and chocolate, cherries and coke, some say (not me), I find that cherries and coffee are phenomenal together. A tart and bitter little match that when united, vow to woo you, will wow you, and somehow, each brings out the best in the other. Now, is that not the perfect marriage?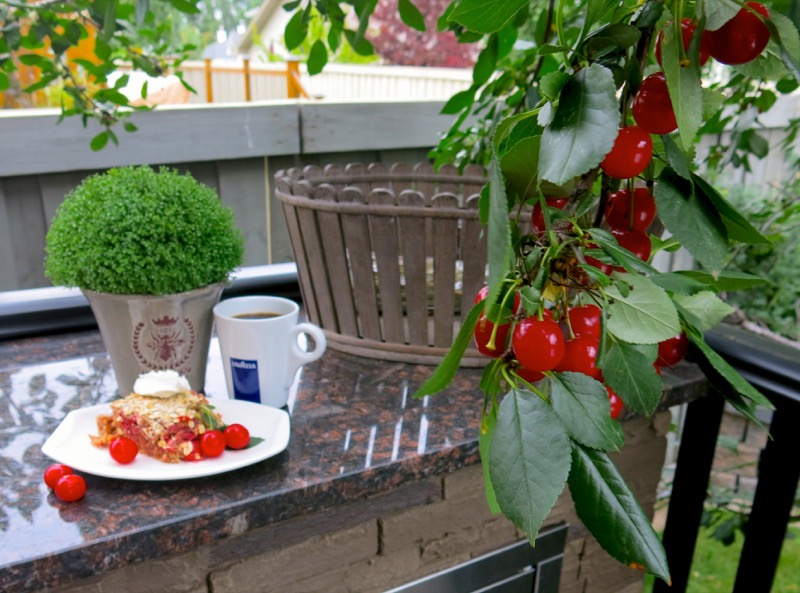 Above, served like a cake, it is likely best described as a "Breakfast Bake". (Thank you, Su!)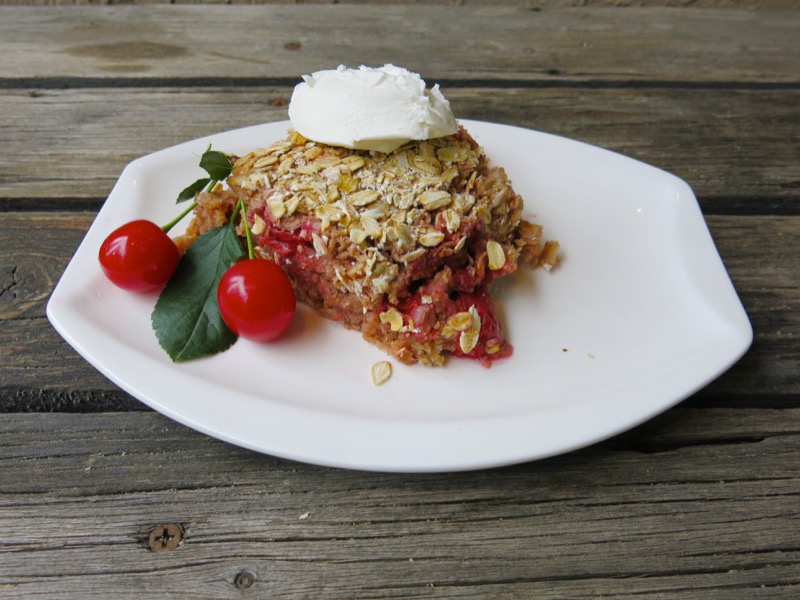 Not cak-ee, or muffin-ee. More dense. Ingredients formed a dough, not a batter. But, not bread-ee, either. Similar to a "stick to your ribs" morning breakfast cereal, I preferred it best hot, cut into chilled pools of runny yogurt, steam rising, fragrant, addictive. That combination of hot and cold lightens the density of the bake, still revealing the pleasurable nuttiness of the freshly ground wheat berries coupled with the moist tongue rolling texture of our deeply homey prairie wheat.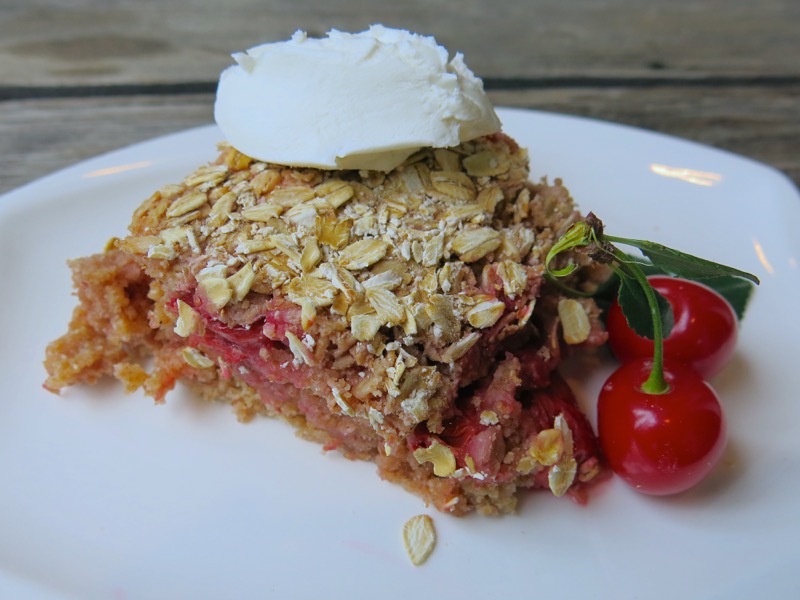 I don't usually eat breakfast. I am a coffee, water and juice gal. Later in the morning, around 10 am, I am ready for a little homemade yogurt and a little "somethin' somethin'". This did it for me. Yet, it would be the foundation of a very active day. This is the kind of breakfast that energizes you; it completes you. (thank you Tom Cruize) and will carry you well into the evening before needing anything more.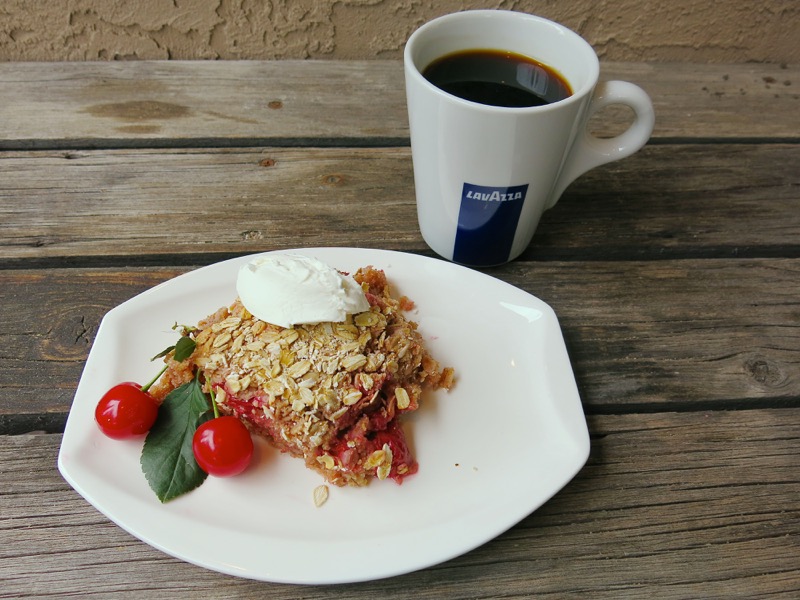 And with the Lavazza? A little sip. A little taste. A little sip, a little taste. The big cherry tang met the big coffee bang and somehow I found myself rise up. Rise up. Yes, I rose, in my own kitchen, coffee in one hand, spoon in the other… (suddenly a 100 pounds lighter with a whispy white dress on) a little swirl, then a twirl, into a flutter of motion with emotion, dancing the "soon to be popular in your neighbourhood" Tart Cherry Lavazza Coffee "Tang-go-oh-oh-oooo!"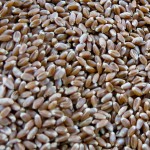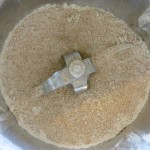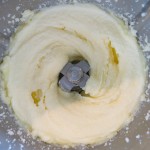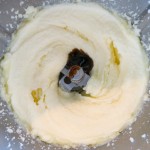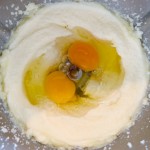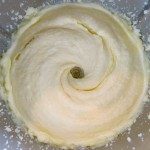 Simplicity reinvented. Again. That is the TM5 Thermomix. I cannot get enough cooking time with this iteration of the Thermomix machine. It is such a blast with the guided chip. This recipe, of course, is my own, so I use the machine on Manual Mode. Scaled in the wheat, set the time and speed: milled the flour and set it aside. Scaled in the sugar, butter and creamed them effortlessly. Added the eggs and vanilla; seconds more of the same. Gorgeous fluffiness.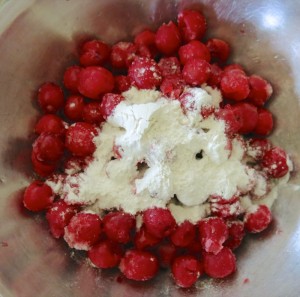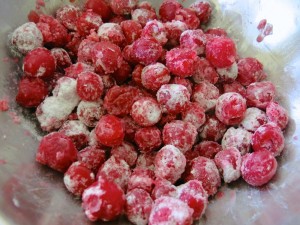 I had frozen my pitted cherries, but this recipe will work with fresh or frozen berries. They were tossed is flour to capture their juices.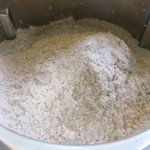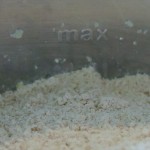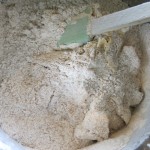 Dry ingredients were sifted together, stirred and kneaded into the wet ingredients.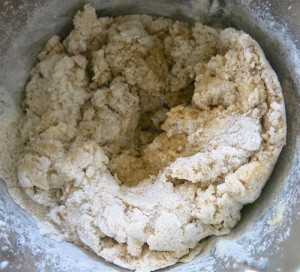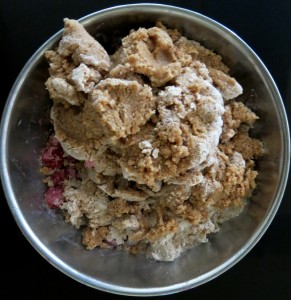 The dough is very stiff.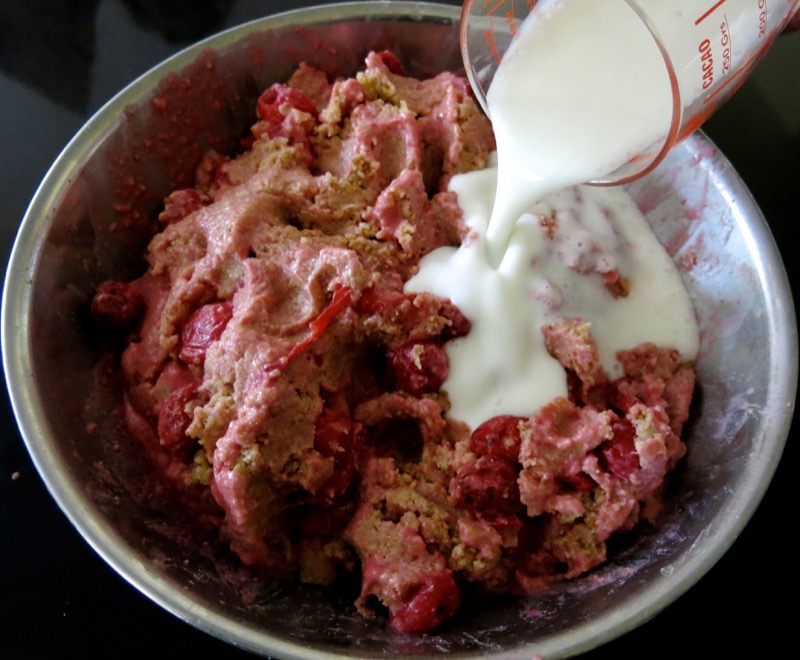 Added to the cherries with the buttermilk in a bowl; it was just that easy!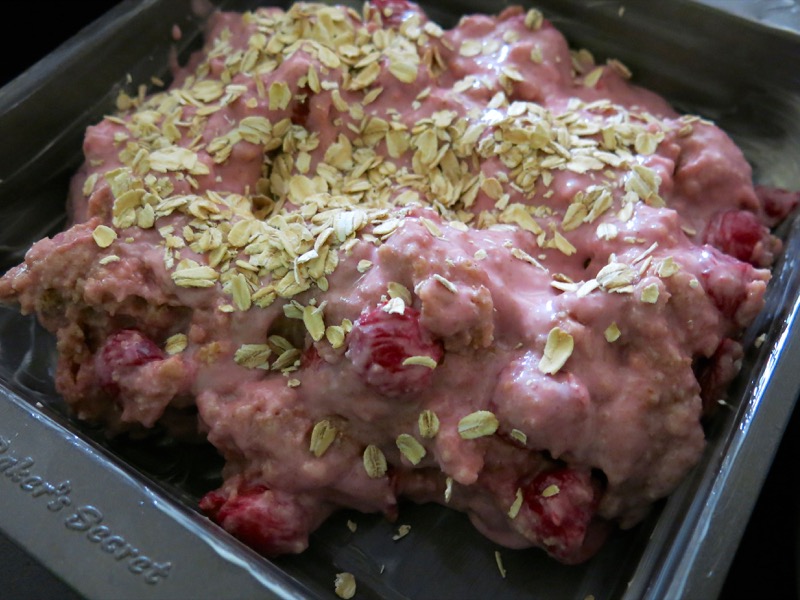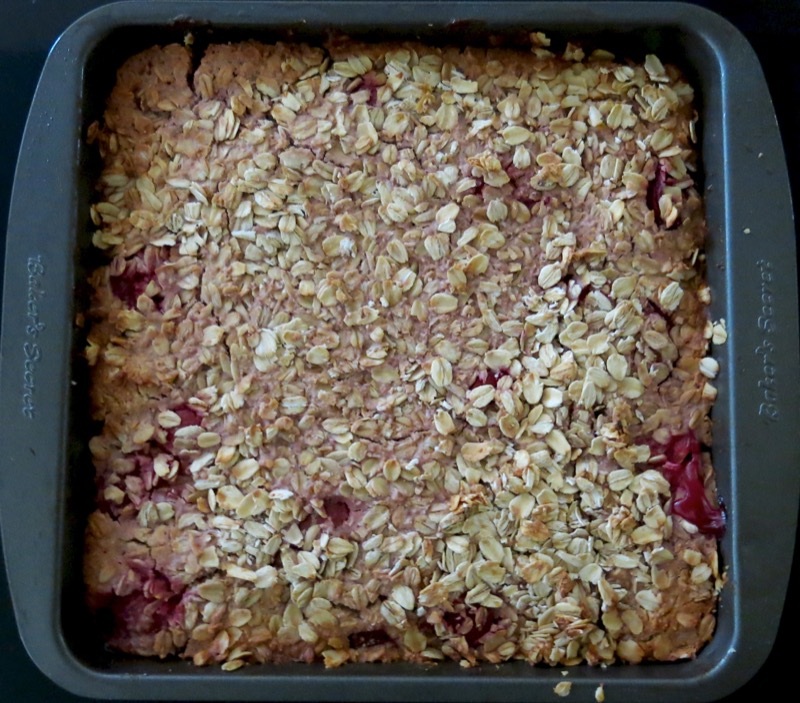 Into the oven, above. Out of the oven, below. Toppings could vary. Homemade granola with a sprinkling of large golden sugar crystals would be my pick, but this day, I used slow cooking rolled oats.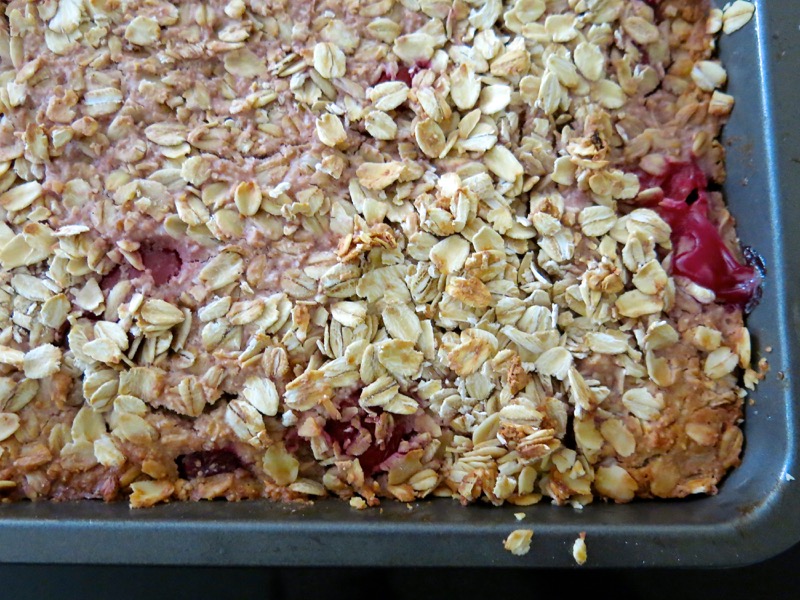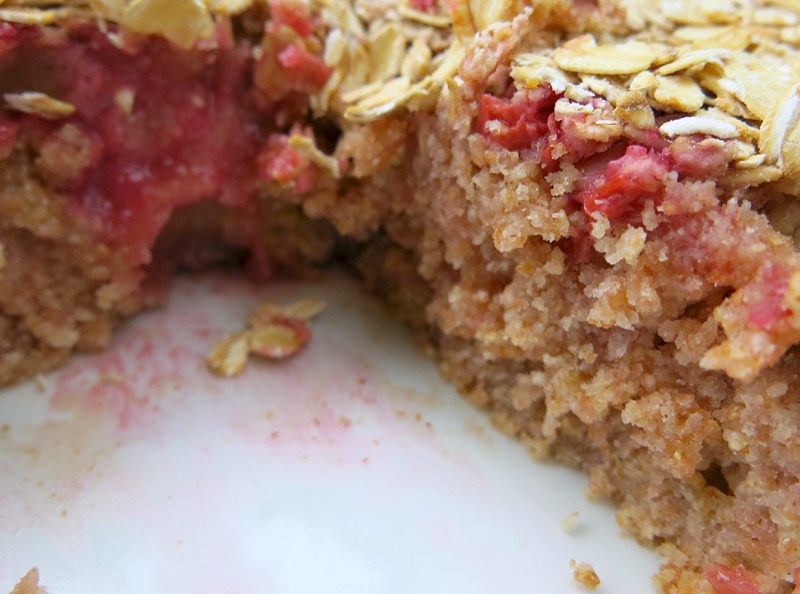 I love freshly milled whole wheat flour. It is so dense, moist, flavourful and healthy!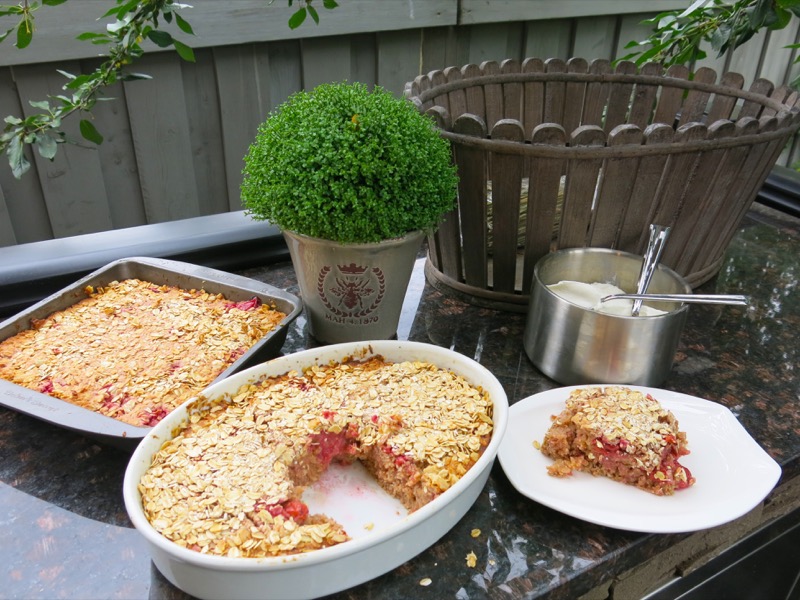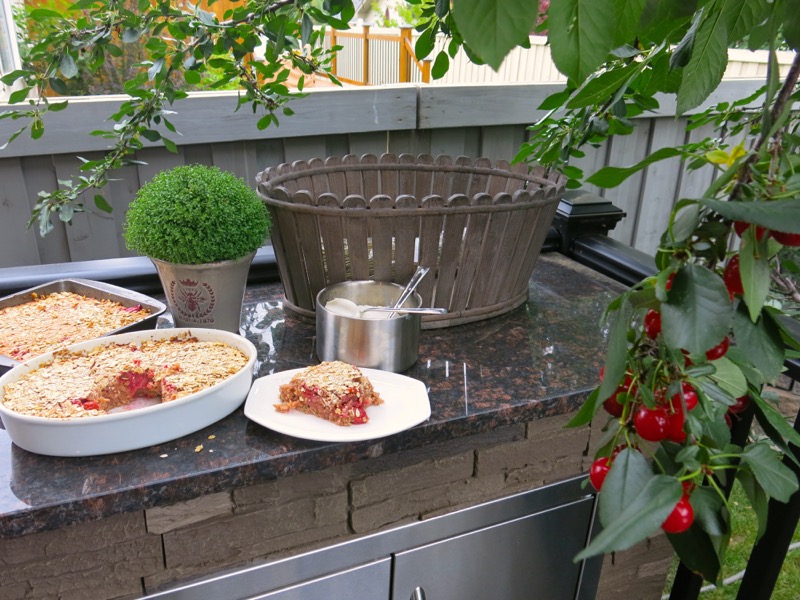 Left a few cherries on a low branch for little visitors that drop by! One of these sure puckers them up in a hurry!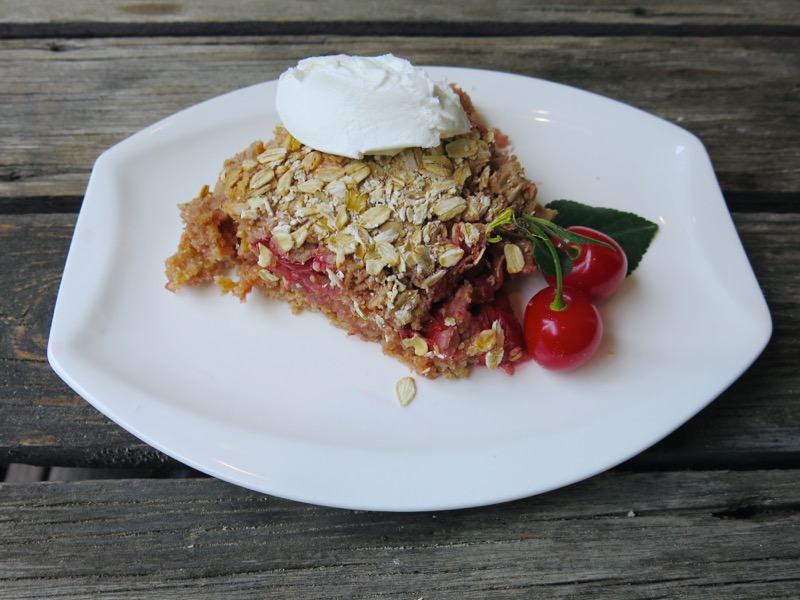 In a bowl, mashed and steamy, among pools of thick yogurt or milk, so creamy… this little number is mighty dreamy!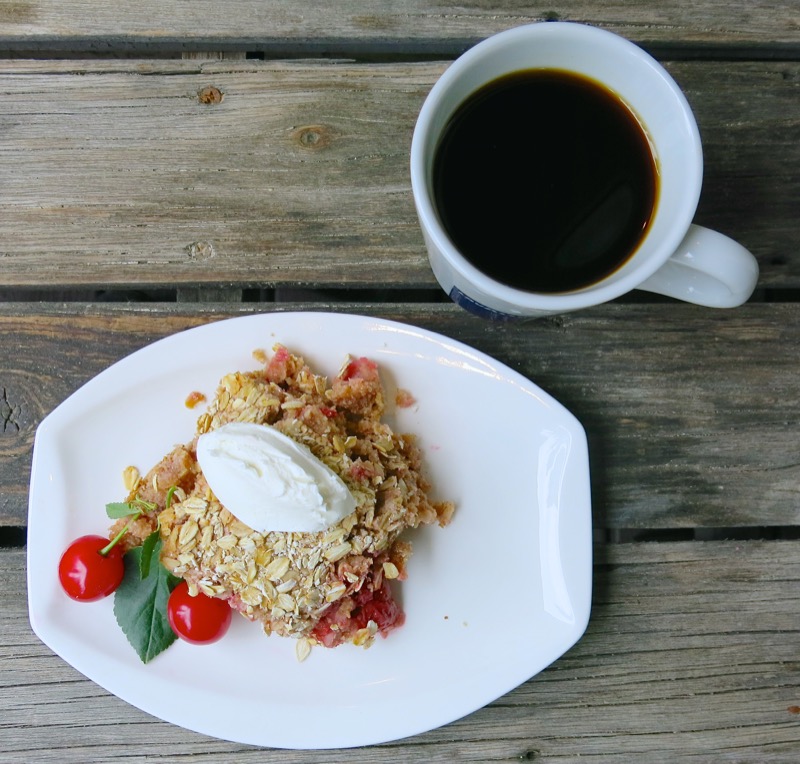 Perfect with the espresso. Purrrrr-fect!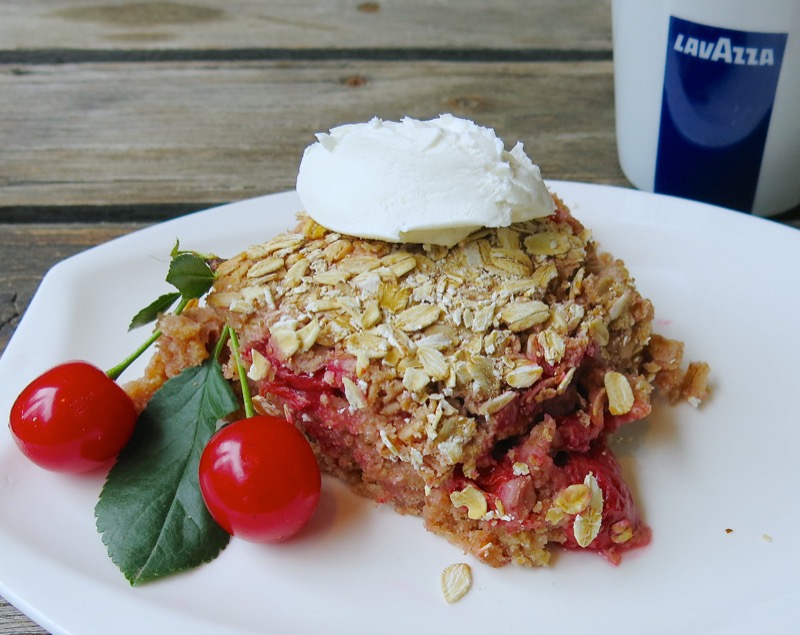 Shop Lavazza!
Take a minute to browse the online store. Please use this link as it is designated to me for my US readers, and this link, designated to me for my Canadian readers (shop Canadian!) I am curious to see how many of my readers actually take the plunge and will investigate the offerings there. Their customer loyalty opportunity is a nice perk! (Don't even bother to pardon the pun!)
National Coffee Day is coming up!
September 29 is National Coffee Day and local my favourite Edmontonion coffee fanatic, Suzanne Dennis (@super_su), is going to be demonstrating how to make the perfect cup of coffee next month, to celebrate!
This month, #LavazzaLovesTennis!
Lavazza Series Posts:
This is my third, but I will be listing each of the 6 I plan to write this year at the bottom of each post if you are a coffee fanatic like me.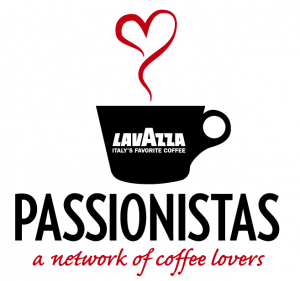 Lavazza Prize Opportunity for A Canadian Foodie Readers:
There will be an opportunity for a prize package for my readers at the end of this series. I am just waiting to hear what will be included and we will know next month. If you comment about your favourite coffee memory, recipe or brand, you will be in the draw!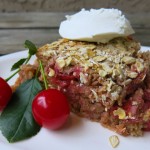 Sour Cherry Breakfast Cake
Ingredients
150

g

or 1 cup white flour

235

g

or 1 cup whole wheat flour

10

g

or 1 tablespoon baking powder

5

g

or 1 teaspoon salt

110

g

butter or 1/2 cup unsalted butter

, room temperature

220

g

or 1 cup white sugar

Zest from 1 lemon

1

large egg

1

teaspoon

vanilla paste

1/2

cup

buttermilk

1

tablespoon

flour

2

cups

sour cherries

(frozen will work, as well)

1/4

cup

slow cooking oats to cover

1

tablespoon

coarse sugar for garnish
Instructions
Preheat oven to 350F; butter 9 x 9 pan

Scale flour, baking powder and salt into the TM bowl; whisk for 10 seconds on speed 3 to combine and set aside in another bowl

Scale butter and sugar into TM bowl, add lemon zest; cream together for 1 minute 15 seconds at speed 3, or until fluffy

Add egg and vanilla; set time at 10 seconds and speed 4 until just combined

Toss fresh cherries with 1 tablespoon flour

Add dry ingredients into the TM bowl with the wet ingredients (no cherries or oats) ; scale in the buttermilk

Mix together to combine for 30 seconds from speed 5 to 7 with the spatula through the hole in the lid, moving the dense dough to combine

Remove ingredients to another bowl; gently fold in the cherries with spatula until fully incorporated

Push dough into prepared pan; cover or sprinkle with oats, sprinkle with sugar and bake for 40 minutes, or until toothpick comes out clean

Eat hot in a bowl with cream or whole milk... mmmmm, or...

Cool and enjoy with your favourite Lavazza flavour!
Recipe Notes
Sour cherries are, well, tart! You may like a little more sugar on top!