Sleigh bells ring, are you listening?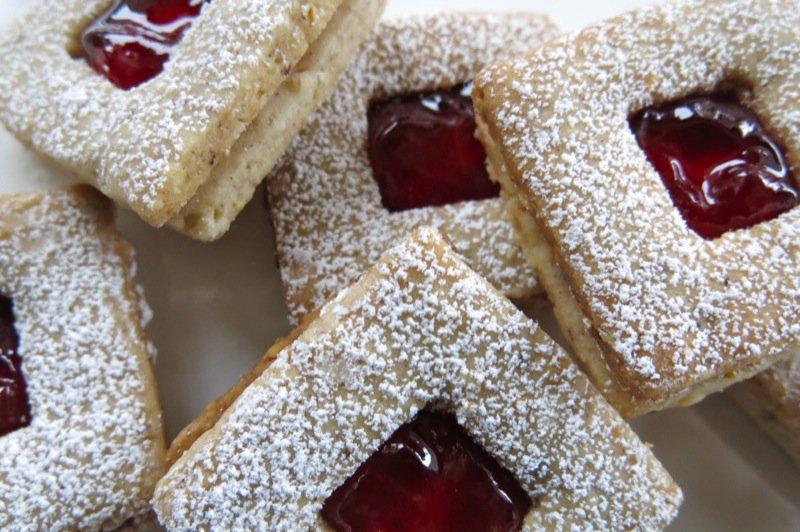 There is magic in the air. December 1. An entire month to revel in the joy of life. How did it come to pass that with the onset of this season, there truly is that undeniable magic, every year, through all time?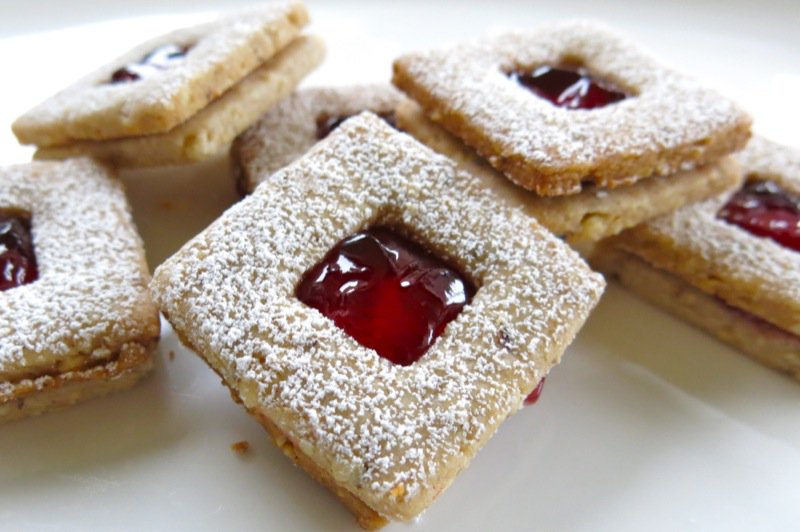 It is the promise of family togetherness. And, the love that is intensified and amplified that each of us share for one another. It is the possibility of dreams coming true… as they do, and are so often surpassed, when young, for the many fortunate amongst us. And the thrill of giving. The Spirit in the air is tangible, yet an enigma, all at once.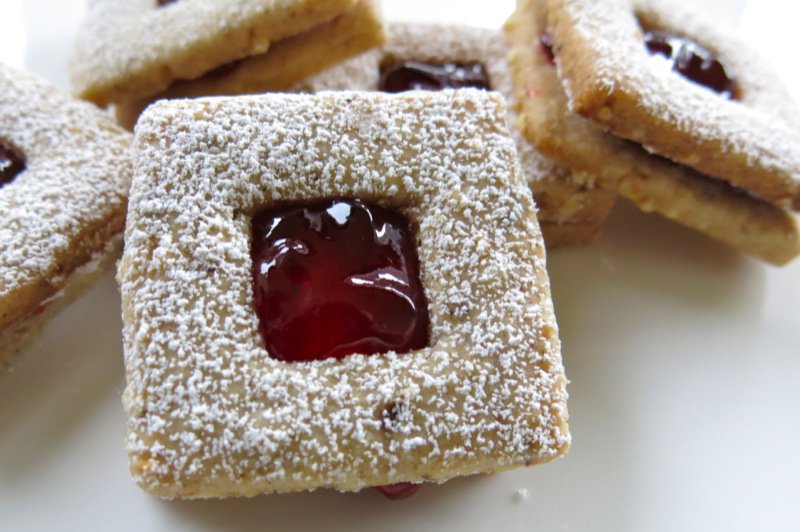 As I prepare for this season each year, I know I bake so much love into each morsel I prepare that my anticipation is also tangible. And what is it that I want? Everyone home. Together. Time to slow down. Each day to grow slowly into sundown. Meaningful conversation. Experiences of each of our lives shared amongst one another and celebrated or honored. I want our home to be the safe haven my family home was. A refuge. A sanctuary. The place I longed to be.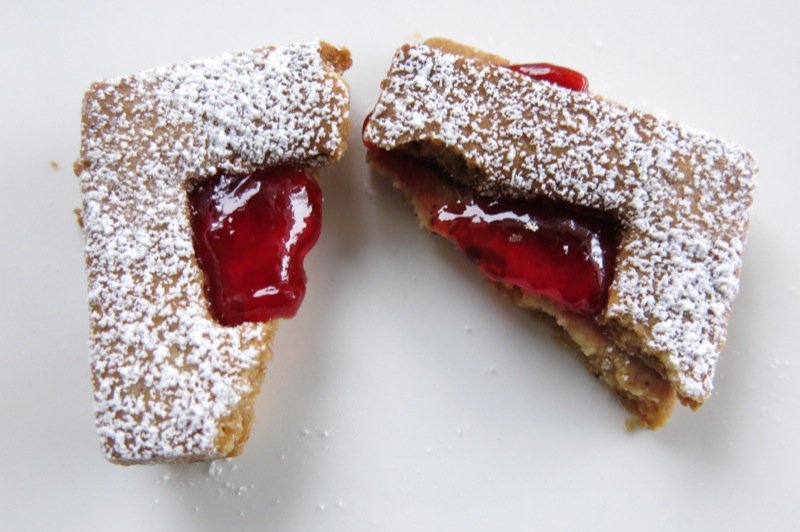 Where there was a whole lot of love baked into each morsel. There is nothing like mommy food, is there? Breaking cookies together through the holidays is definitely something I cherish. This year, I have made Linzer Cookies again. It has not been a traditional cookie on our goodie plate, but I believe may become one, as Ragan has already expressed appreciation and pleasure when tasting these Linzer Cookies. Knowing that I grew the berries and made the jam in the fall intensifies my personal satisfaction.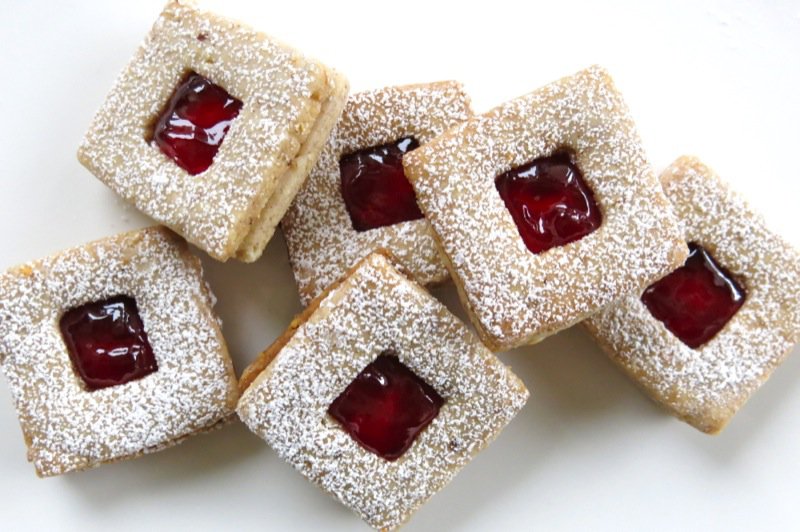 I used red currant jelly instead of the traditional raspberry jam, this year. I had an abundance of it and its tart sweetness paired with the toasted hazelnuts is a happy moment in the mouth as is the bejeweled glamour the ruby clarity offers on the plate.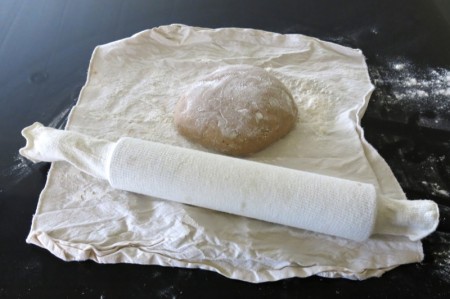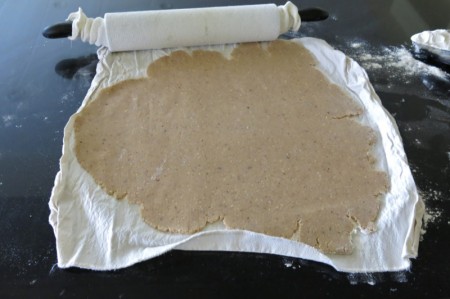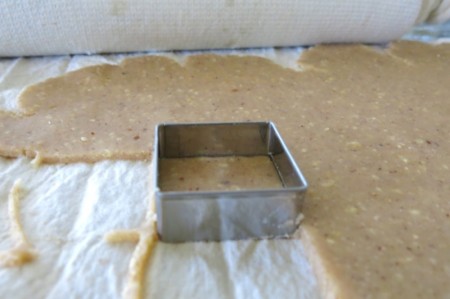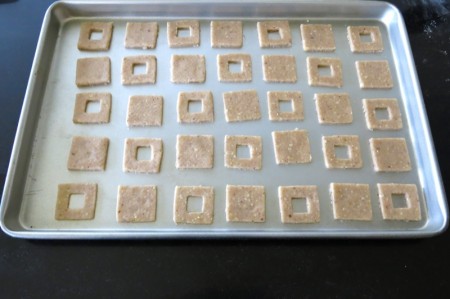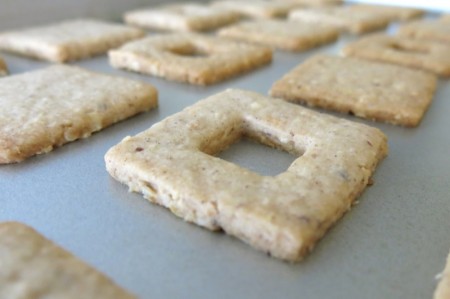 The process, after making the dough, is straightforward. Roll out the dough. Cut out the cookies. Remember to have the same number of tops and bottoms. Bake them and match them up. Can you see that there is a dark cookie, below? There were a couple of batches that came out extra toasty! Fortunately, that extra flavour is coveted by my dad. The cookies are not sweet as the jam that is sandwiched between them adds that needed bit of sugar. Because of that, the bottoms would serve as marvelous crackers. Seriously.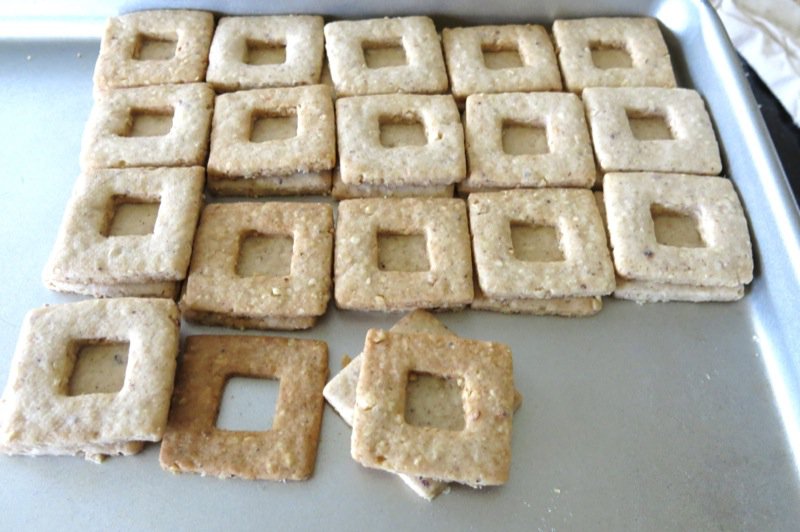 This recipe makes a lot of Linzer cookies! More than I remembered. I would make a half batch next time. I froze the second half into four discs to use for crackers or for tart shells, or even for more Linzer Cookies a little later in the year.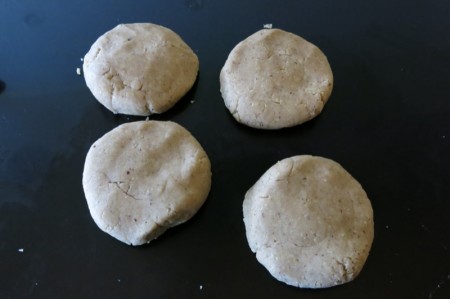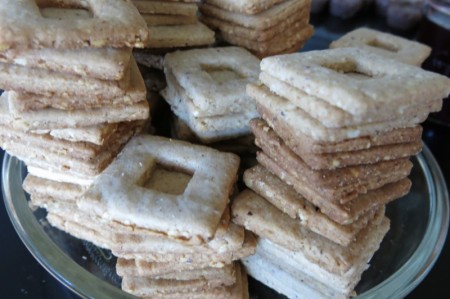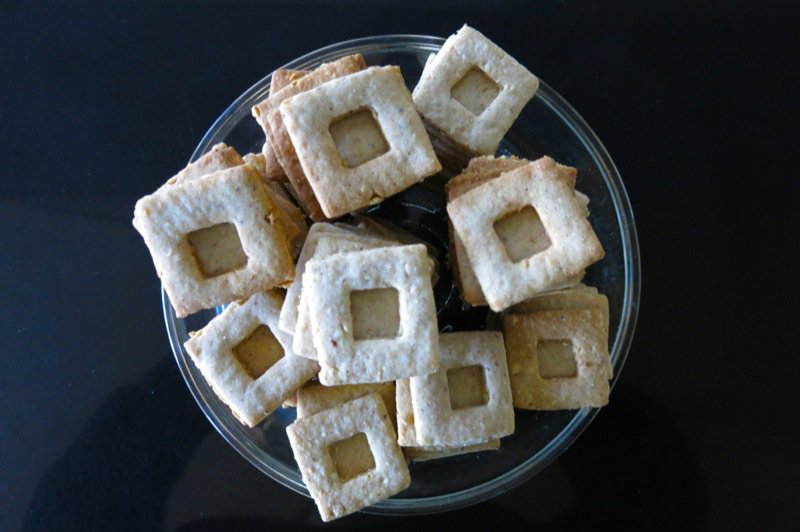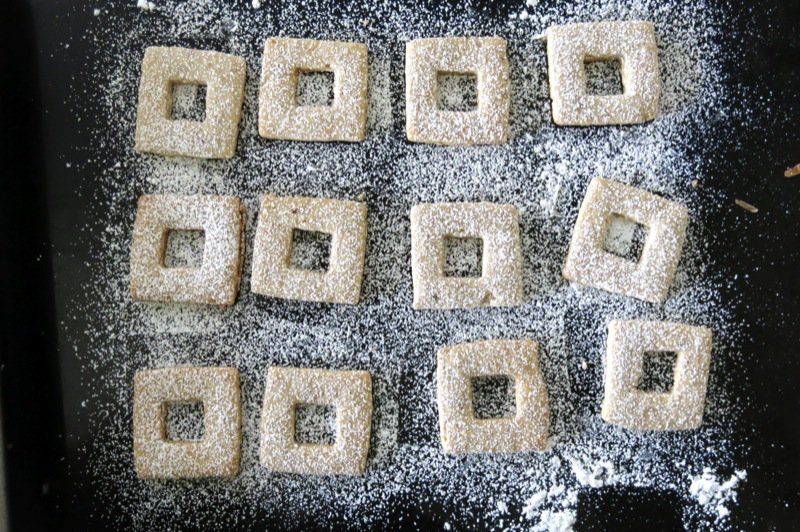 I read a lot more fiction as a child than I do as an adult and those stories and images still live within me. Christmas stories of times past mingle with my own childhood holiday experiences and the sentiment evoked from images as simple as the one below compels a yearning for family holiday nostalgia. Christmas carols were playing when I bakes these cookies: Sarah McLachan's Wintersong. (Nat King Cole's old Christmas record is another standby.) The Christmas lights twinkled (isn't that what they do?), fireplace lit and cozy lights warmed the room. The Linzer cookies baking in the oven called the name of everyone I love to come… come… come home. Shake off the snow. Sit. Let me warm your body and soul and feed you… and feed you.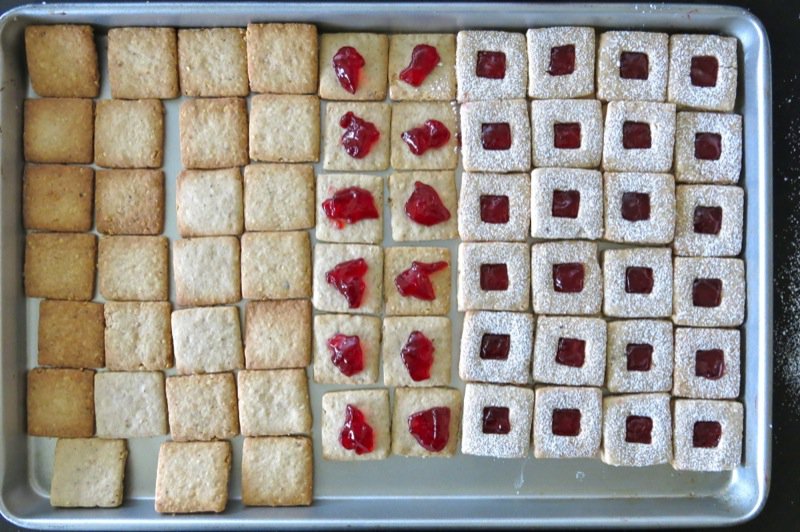 The icing sugar goes onto the top before it is placed over the jelly covered bottom, not after.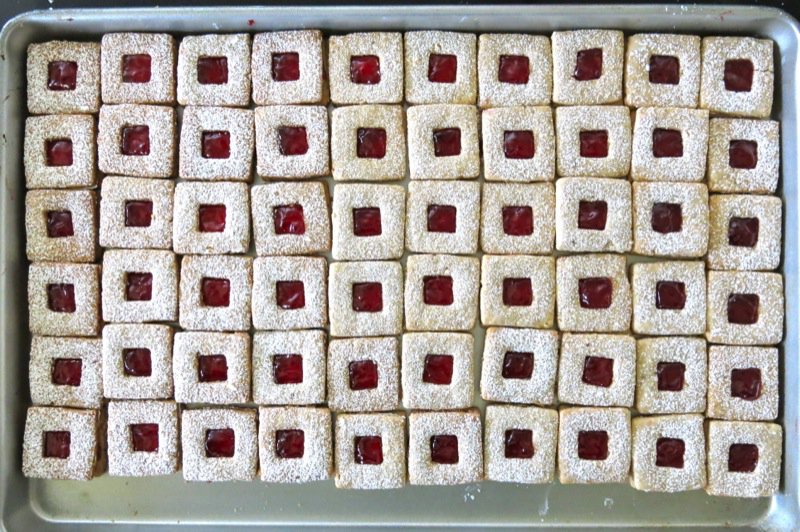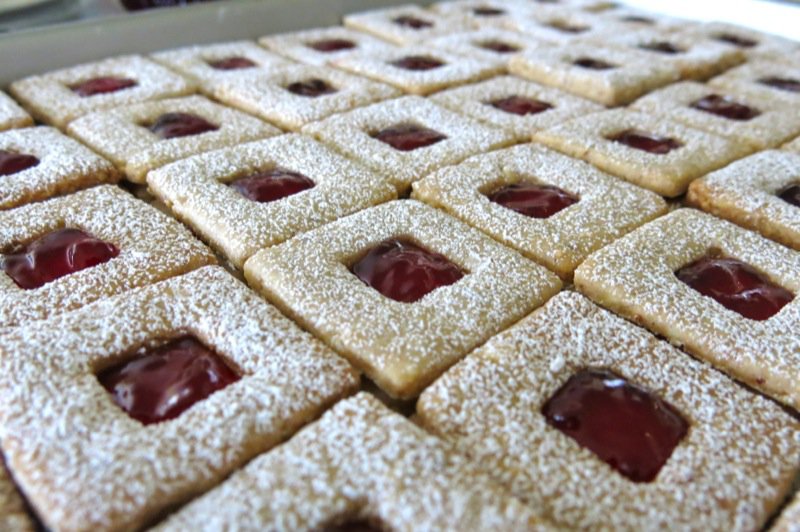 It has been such a pleasure to have Ragan baking with me once a week this season. I so look forward to our time together. It has been two Saturdays so far. We work together from 9am to 3pm without stopping and accomplish a great deal. She organized the mis en place for every recipe, I then put each recipe together and refrigerate the dough to be rolled out or baked later in the week when she is working. (She also makes the clean up effortless.) Last weekend, we made more biscotti, then prepared the dough for 4 different tarts shells, as well as this dough and the dough for the Turtle Cookies. This weekend, we prepared the dough for three different cookies and the mis en place for 3 more recipes I have been working though today. I look forward to her coming home after work to taste the fruits of our labour once baked and always value her opinion. She is a creative thinker and a Pinterest junkie, so there is no end to the ideas we share in our kitchen.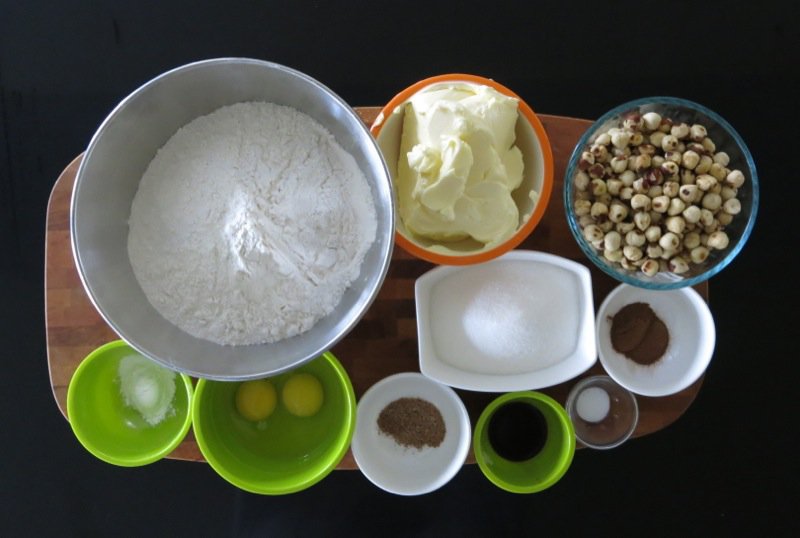 Peeling hazelnuts used to be my nemesis. One of many. But, I discovered that fresh hazelnuts make all of the difference. You can tell. They will be plump and glossy with nut fat and fragrant and simply irresistible. I have detailed the process for getting the bitter skins off the hazelnuts and it is really effortless with fresh nuts. It is almost impossible with dried, wizened nuts.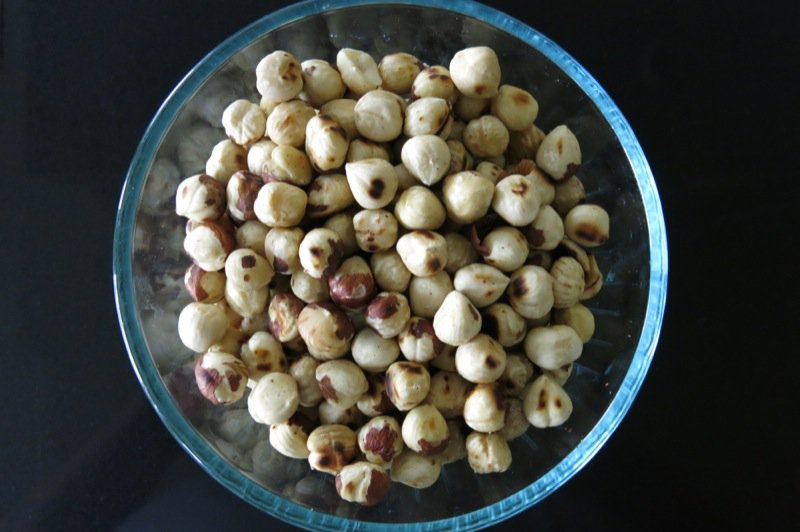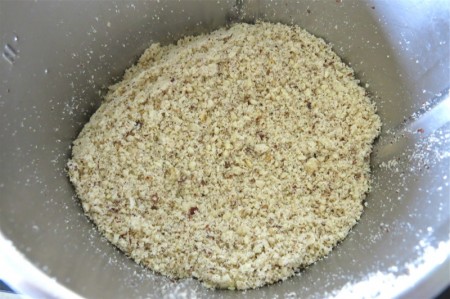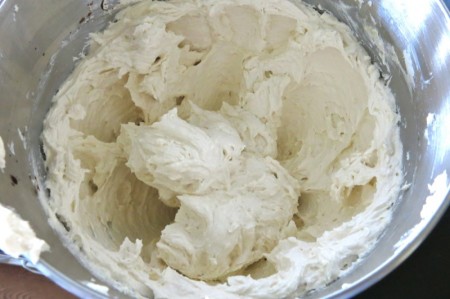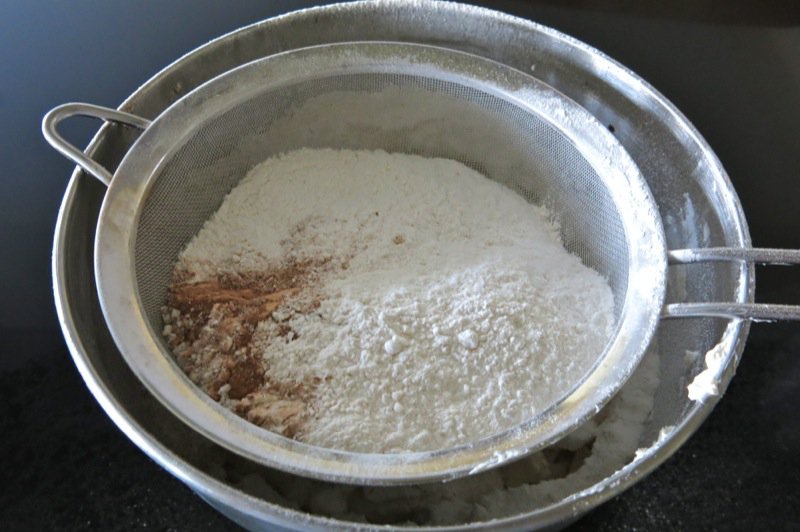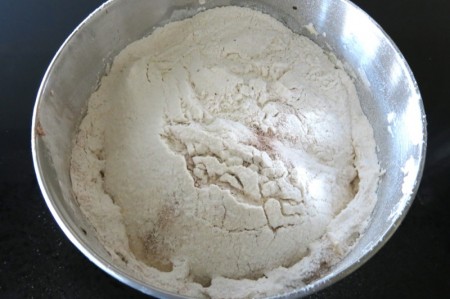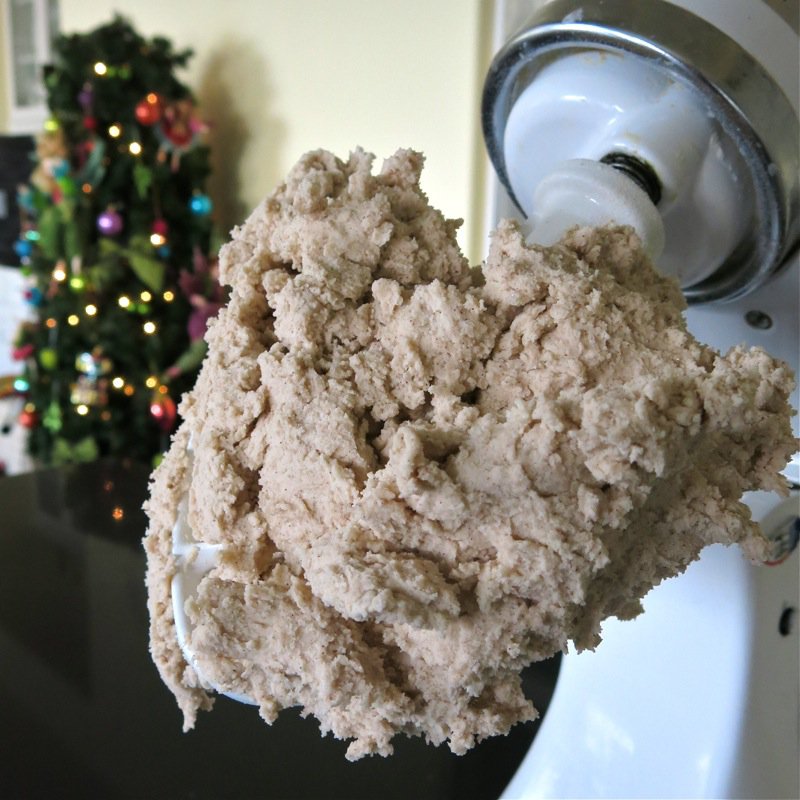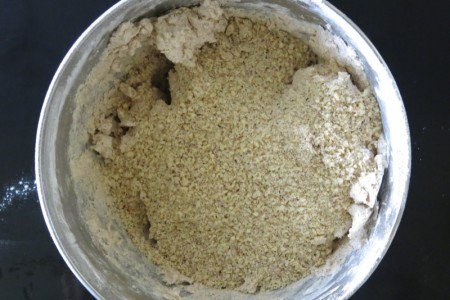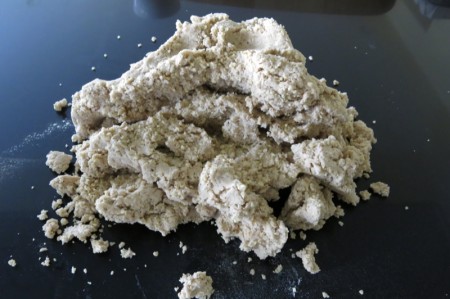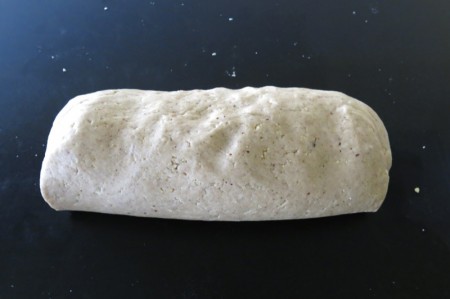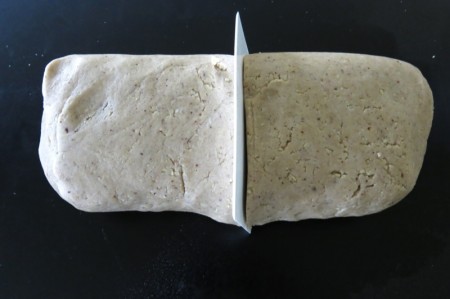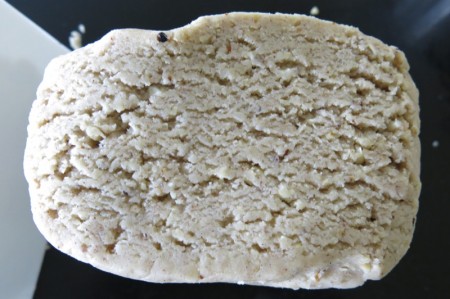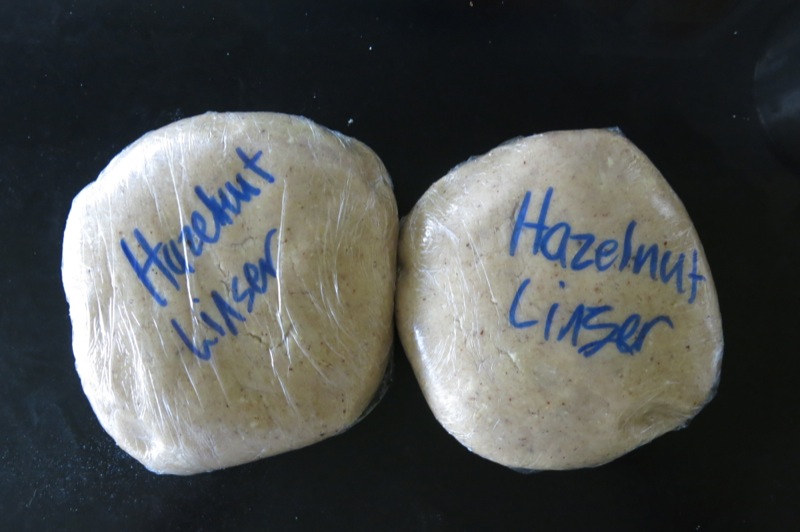 Beginning bakers have the visual step by step check, above. How I wished to have photos to compare my baking to when I began baking.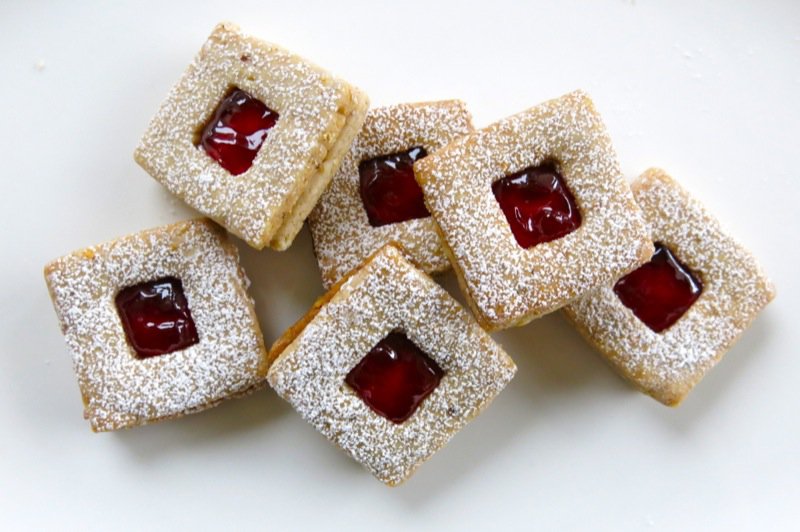 Another little tip: Don't do it all at once. Break up the baking process so it is a complete joy instead of a tedious chore. I make all of the doughs. I bake the cookies from one or two of the doughs. I then decorate or put together each cookie at a different time. Each experience is shrouded in that magic. The kitchen may be a little (lot) messier than I would like. The evening meal isn't the main item out of the kitchen on these days, but there is magic in the kitchen. Magic in the home. No one minds. There is anticipation in the air – yet, it doesn't get any better than this. No need to anticipate. Now is the time. This is it. This is all there is, and it is definitely enough.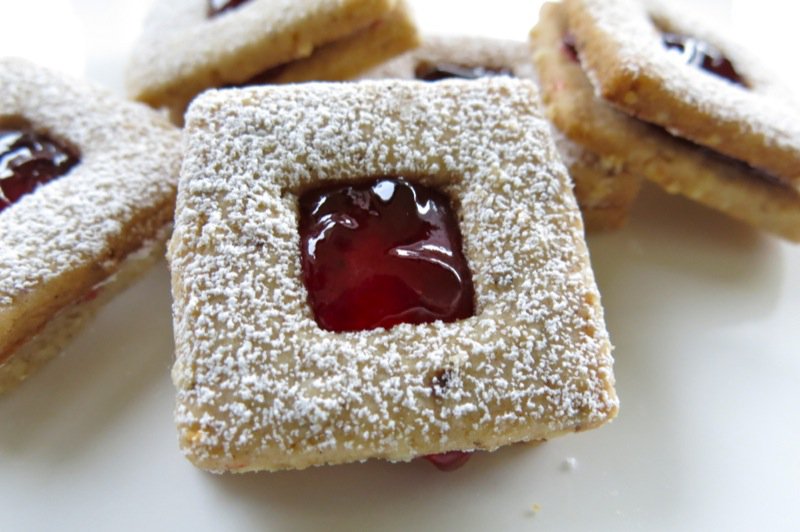 Christmas has just begun… well, December has… so there will be more, much more… from my house to yours.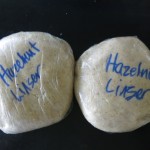 Raspberry Linzer Cookie Sandwiches
Ingredients
2

c

unbleached hazelnuts

(outer skins rubbed off)

1

pound

butter

1

c

sugar

2

large eggs

2

t

vanilla

4 ¼

c

flour

2

t

BP

2

t

cinnamon

½

t

nutmeg

½

t

salt

Seedless raspberry jam for filling

Icing sugar for dusting
Instructions
Prepare Hazelnuts:
Preheat oven to 375°F

Place hazelnuts on baking sheet; toast for 10 minutes

Remove and immediately place in clean towel; rub vigorously to remove skins

Cool completely; grind finely in food processor
Cookie Dough:
Beat butter and sugar until fluffy; add eggs, one at a time

Add vanilla; beat another 3-5 minutes

Whisk dry ingredients together; add to wet ingredients until "just" combined

Form into two flattened discs, wrap with plastic wrap; refrigerate

and cut shapes, as many bottoms as tops; tops will have a decorative hole cut into them

Bake at 350°F for 7 minutes; match tops to bottoms

Freeze in tightly wrapped container

Before serving, dust tops with icing sugar; add a small dollop of jam to bottoms, placing dusted top carefully over bottom to expose red jam in centre cut