With thanks to Dr. CaSo for the Twitter suggestion answering: what can I do with my abundant lettuce harvest?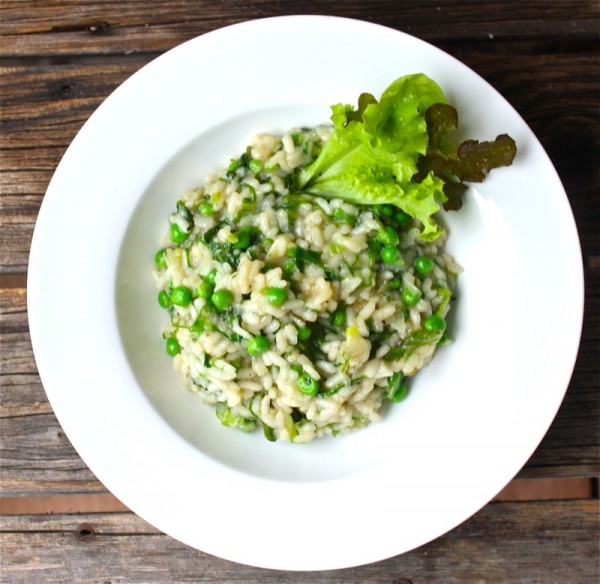 Lettuce risotto? Really? But there were many, many recipes for it. And, it was really delicious. Vanja, the ultimate carnivore, loved it. Alas, you will see, it isn't as soupy as risotto should be.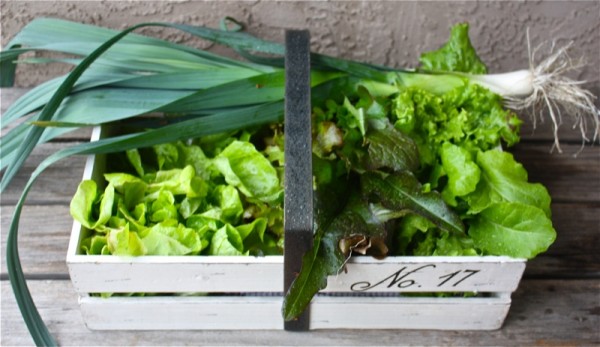 I was tickled pink to gather the leek from my garden. I made this about a month ago now, and look at how big that leek is! Actually, I was thrilled with the abundance of fresh greens from my small city lot.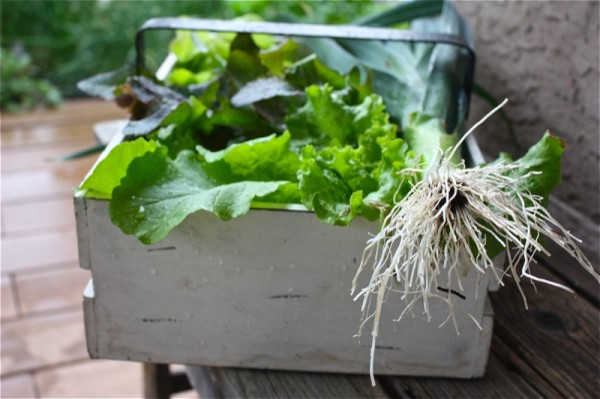 One leek goes a long way. I planted one for every week of the summer; well, one for every week for four months. I love them and find I use about one a week.
Allan Suddaby suggested Lettuce Soup, so I made that at the same time. Yes, our meal began with Lettuce Soup and the main was this Lettuce and Pea Risotto. And…I am still married!
Half of the various leafy greens was for the soup, and half went into this risotto.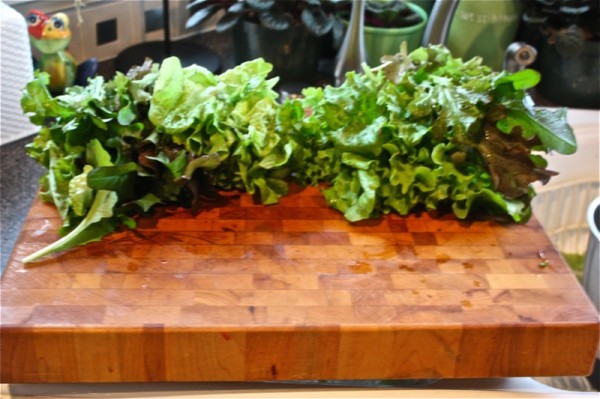 I finely shredded the lettuce for the risotto. I don't grow peas. My space is just too small, but I managed to get the cup or so I needed from the market.
After sautéing the leek and the rice, adding the broth at intervals, when the risotto was almost done, in go the greens for the last little bit.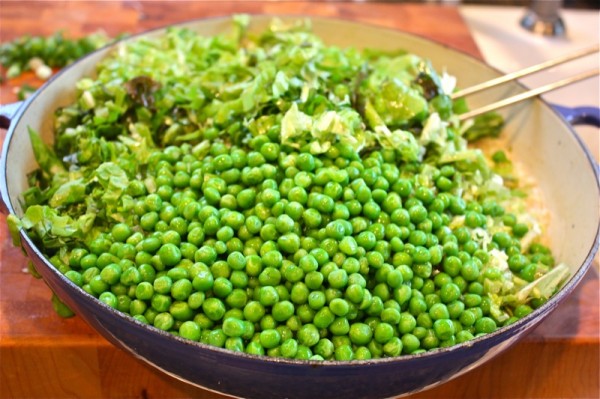 And the cheese.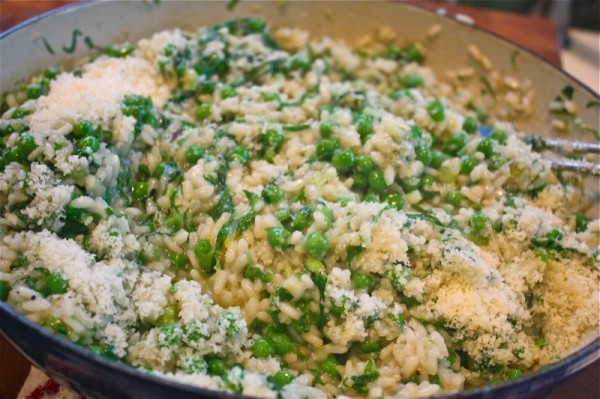 The rice was the perfect el dente "doneness", but the soupy consistency evaporated as fast as I set it on the table to serve. Clearly, I needed more liquid.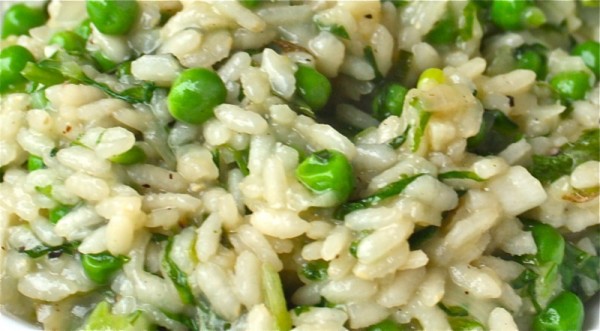 To understand what I was going for, look at Kathryn Joel's asparagus risotto that she prepared for us at our last Edmonton Slow Food Meeting. See that deliciousness in a bowl?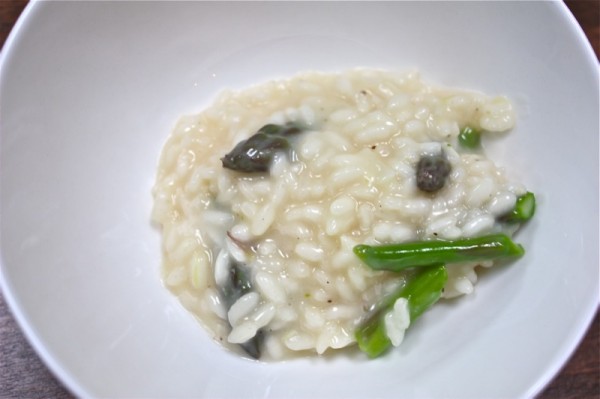 Well, I must admit, mine was also really flavourful. Who knew? Lettuce and pea risotto: nutritious, delicious, and economical. It doesn't get any better than that.
Well, maybe it does. Remember, the idea came from Dr. CaSo on Twitter. That is what I love about social networking! There would never have been Lettuce and Pea Risotto in our house without it, and maybe with a little tutorial from Kathryn, it will be creamy and lovely second time round. 😉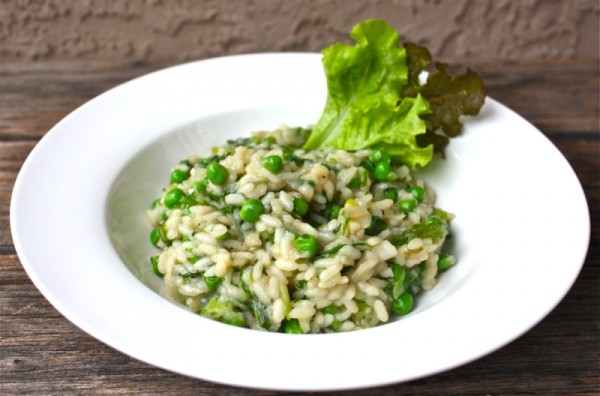 Lettuce and Pea Risotto Recipe
Ingredients:
30-45ml, or 2-3 tbsp olive oil
2-3 cloves garlic, chopped
1 leek, finely chopped, greens included
350g arborio rice
1L organic or homemade chicken stock
mixed lettuce greens equivalent to two large bunches of romaine
200g, or a cup fresh garden peas, shelled
salt and freshly ground black pepper
50g of butter
100g grated fresh Parmesan
Instructions:
Pick over, wash and finely shred lettuces
Bring the stock to a boil then turn the heat down to simmering
Heat olive oil in a large, heavy-based pan and add leek; when it has started to become translucent and soften, add the garlic and cook for 30 more seconds, until just fragrant (do not allow the leek or garlic to brown).
Add the rice to the pan; stir well with wooden spoon until each grain of rice is coated with oil; pour in first ladle of hot stock
Stir risotto until stock is absorbed; continue to add the stock at intervals in this manner
About 15 minutes into cooking time, when rice is almost done (still just a little bit chalky in the middle) add shredded lettuce and peas
Stir gently to mix the vegetables through the rice; it will seem like you have added far too much lettuce, but it will wilt and give up its juices to the rice
The risotto is ready when all the liquid has been absorbed, the peas are just tender and the rice is cooked (ideally about 3 minutes after you ve added the lettuce); it should be creamy, not dry
Season to taste, stir in the knob of butter and the Parmesan and serve immediately
Note: Replacing peas with asparagus tips is also yummy!