Scuffles aka Cinnamon Twists: Inspired by Liz's Family Favourite Christmas Cookie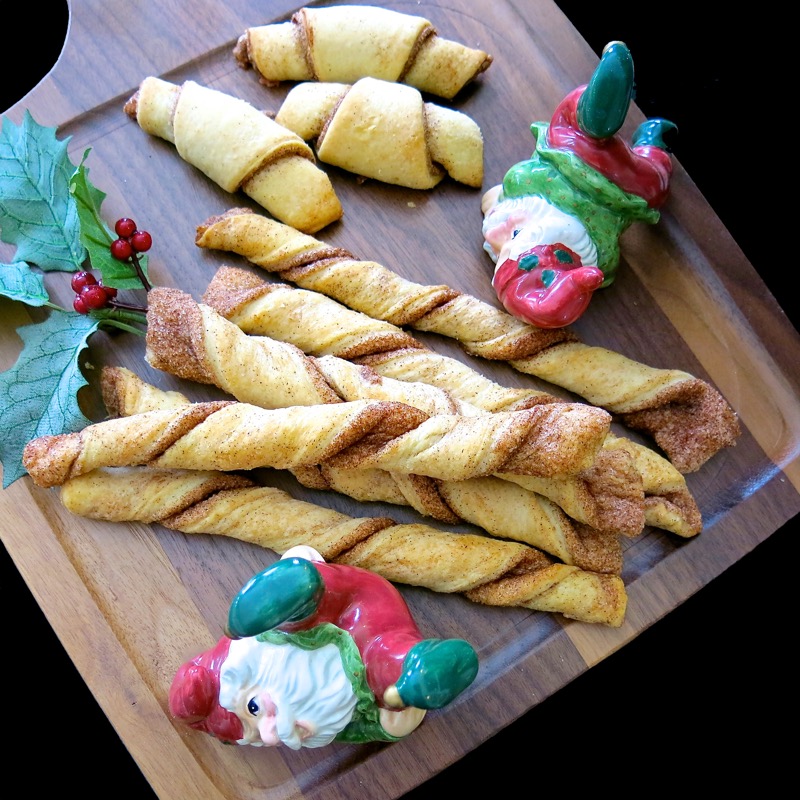 I started playing Bridge last year. Always wanted to, yet was intimidated. Marie invited me to play with a group of gals that play what they call "Kitchen Bridge" where there is more visiting than other kinds of bridge. I love it. I love the gals. It is the highlight of my week. Truly! And, I got this recipe for Scuffles aka Cinnamon Twists from Liz at Bridge!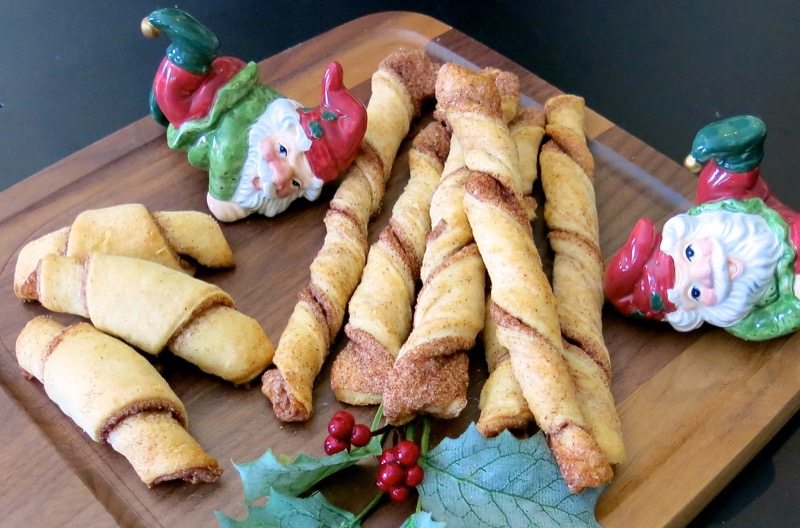 Last year, Liz was telling me about her family's favourite Christmas treat that she makes every year, without fail. She called the pastry cookie "Scuffles". I thought I had heard the name of every traditional Christmas Cookie, and particularly Ukrainian ones, living in Edmonton, but had never heard of these. I went home and googled "Skufs" with all sorts of spellings as I had in my head that is what she had called them. I could not find any information. I was intrigued.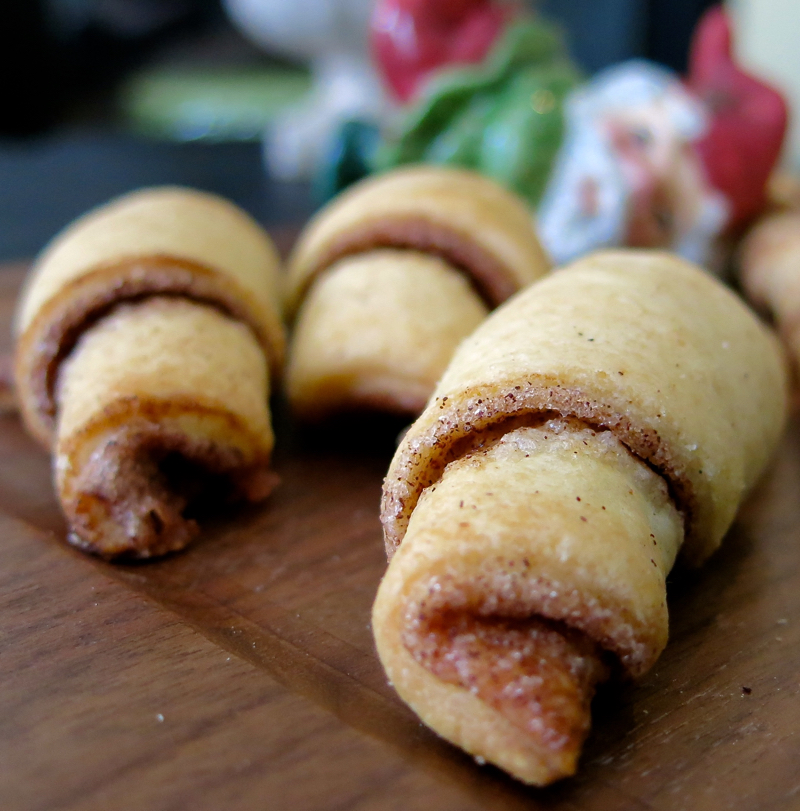 This year, I asked her for the recipe again. She corrected my memory of their name and brought it for me. I was tickled pink. That was just last week. Keep in mind that I had never heard of these little ditties, nor seen them. I did know that they were rolled like my Rugelach, as she described the process and I showed her my photo of that cookie. Yet I had never tasted, nor seen any Scuffles aka Cinnamon Twists. Ever.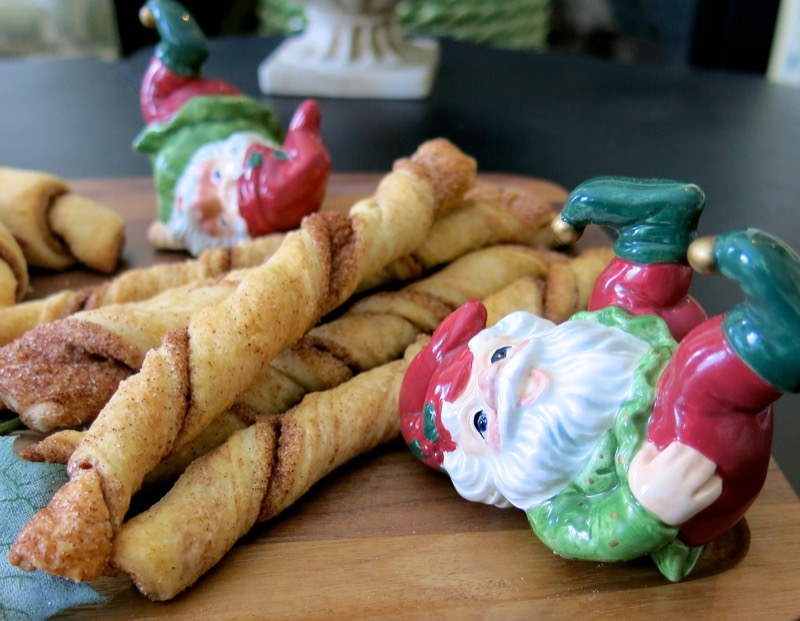 When I got home, I did some research. There was so much information on these lovely little "cinnamon toast" type pastries that I was busy for a bit. The same recipe can be made into cinnamon twists, which I did with a portion of my batch, out of curiosity. But there isn't any "origin" information, other than they are one of the oldest recipes known that has survived through to the modern era. Likely as they are a holiday recipe, very simple to make and loved by all.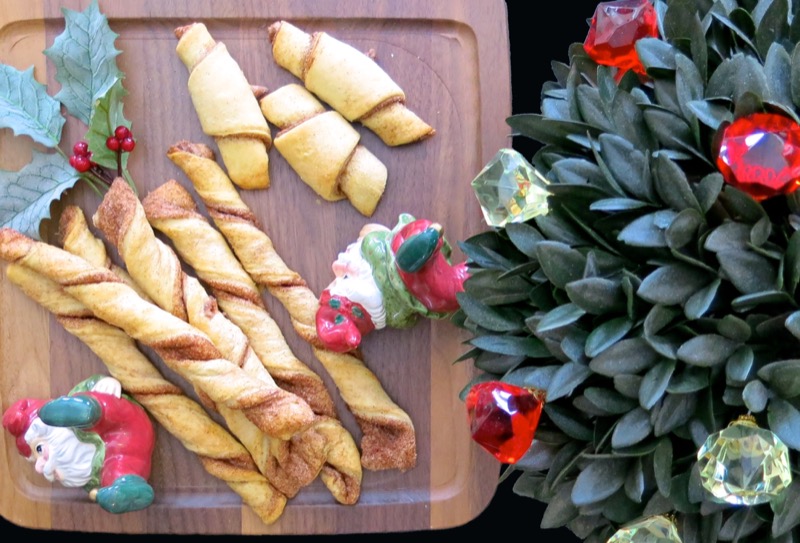 Scuffles aka Cinnamon Twists will definitely not go on the cookie platter, and Liz said they are not really a cookie, though they are often referred to as such. They are more pastry-like and great for a holiday breakfast, brunch, with a coffee, afternoon tea, or straight from the freezer! They are too rustic in some ways, but more importantly, more appropriate as a snack in their simple splendour. I was reminded of my youth and the cold Wintery afterschool days standing over the toaster buttering bread for cinnamon toast. Does anyone do that anymore? I made some just last week for the first time in years and years, after getting this recipe. What a nostalgic moment, and I will be enjoying scuffles this holiday season and more cinnamon toasts, too. I wonder why I completely forgot about them.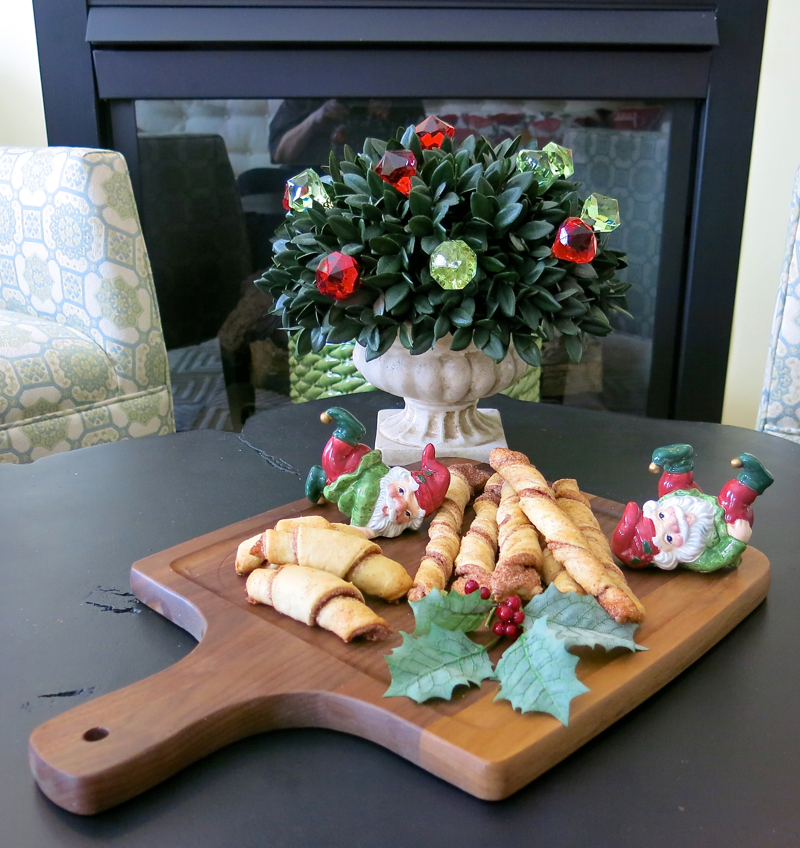 Scuffles aka Cinnamon Twists? I do prefer the scruffles shape to the twist. Also, they are softer and have a better mouthfeel to me. The twists are a fun compliment to them, though.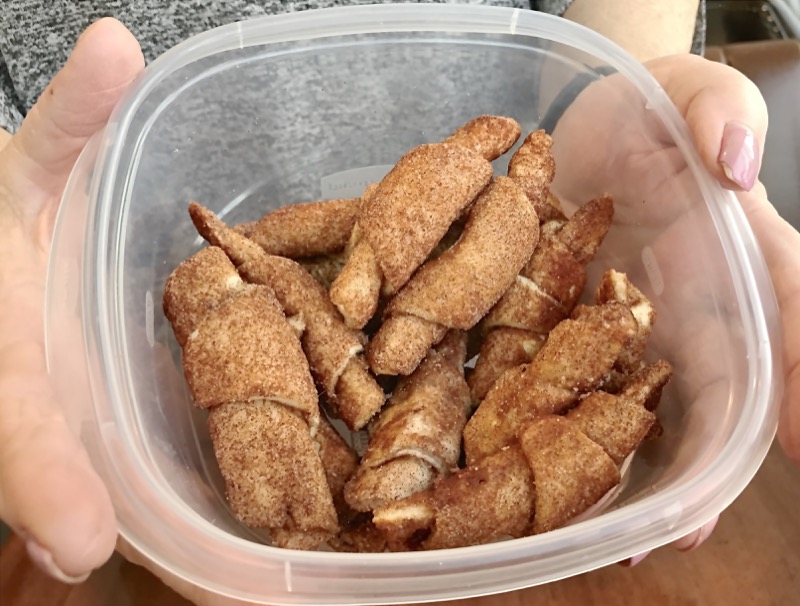 I was so tickled to show Liz a photo of my Scuffles! Not that I didn't have questions and go through some problem solving while making them. I told her I had a little "scuffle with my Scuffles" when I spied the container she brought to share with us yesterday, above. Look at her beauties. Can you see the difference? I made mine the day prior. We'll talk about that, later. (And likely, if you have made scuffles, you'll leave me a comment and give me a hard time!)
Traditional Ukrainian Scuffles aka Cinnamon Twists: Making the Dough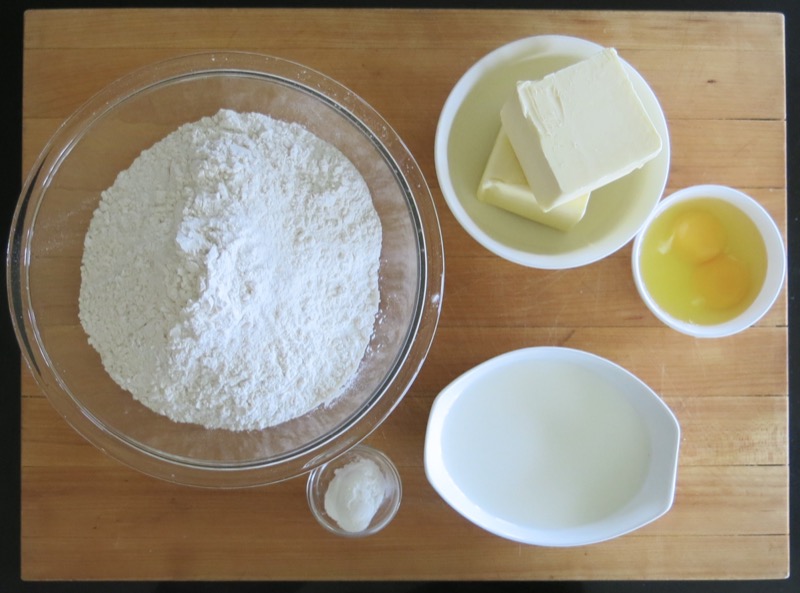 Mis en place for the dough, above. Simple and supple. This is really a beautiful dough. I will add that Liz never makes one batch. One batch makes 64 nice sized little Scuffles. I would say three is a serving. Why? Each of us managed to snorfle down three at Bridge!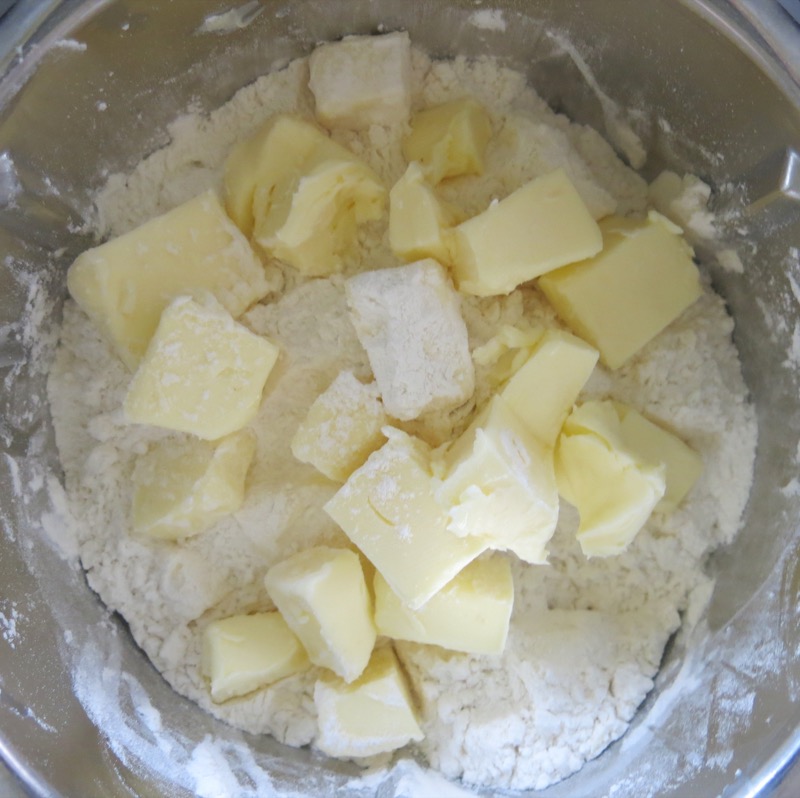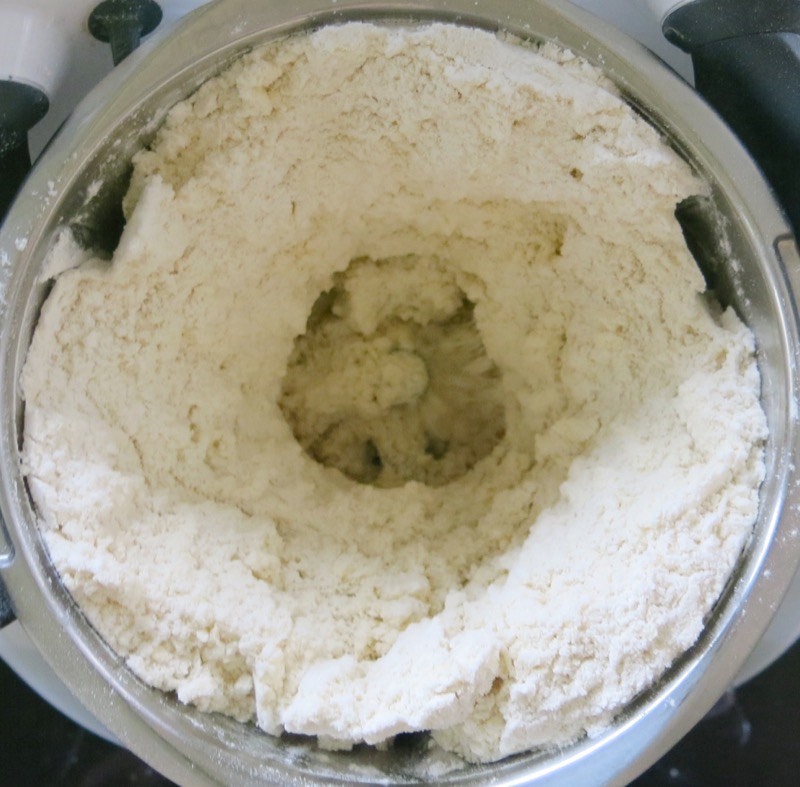 Everything I make, I make in my Thermomix. I have one. It is much easier, but instructions for making with one and without one are in the recipe, below. Cold butter and dry ingredients in and whiz until mealy textured.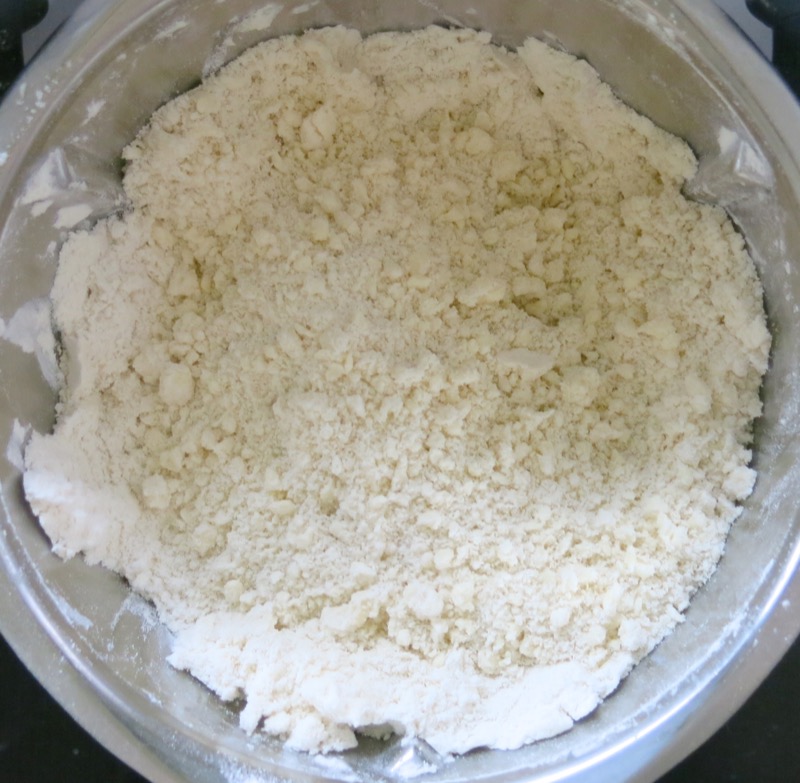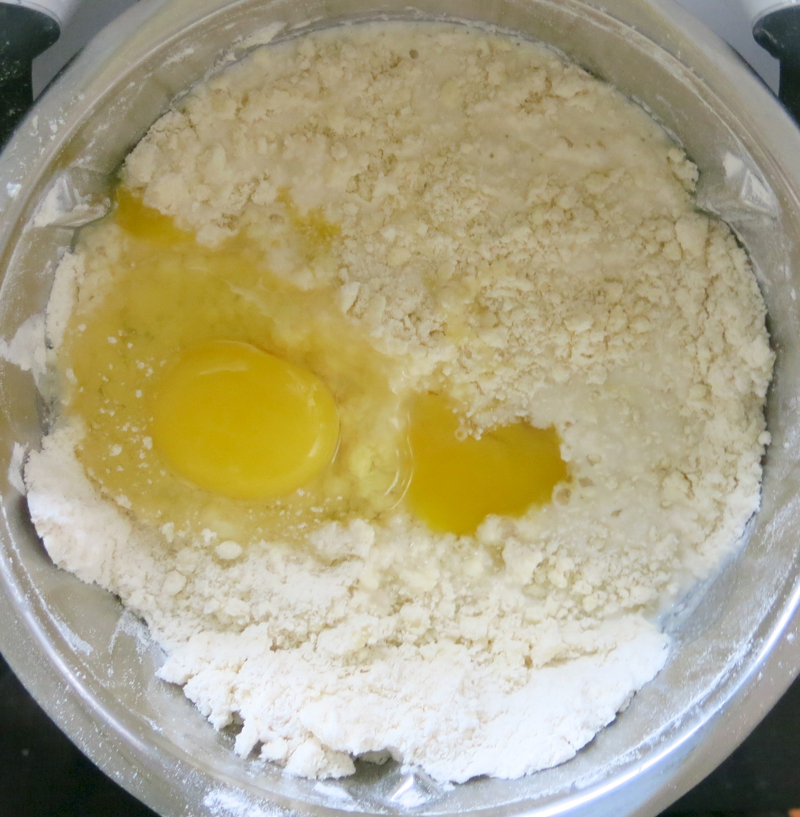 Add milk and egg and bring together until just clumping.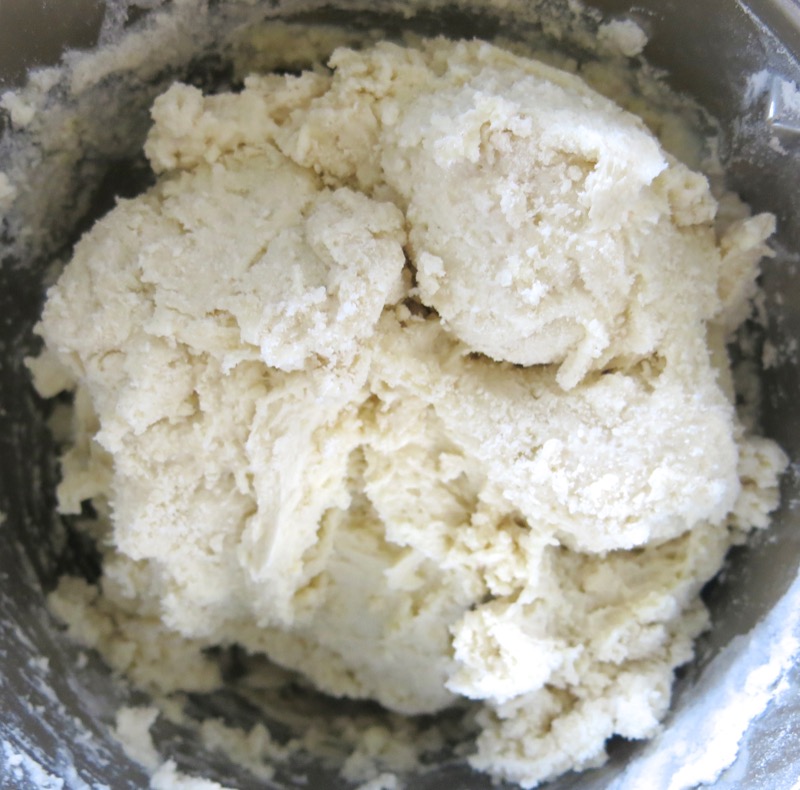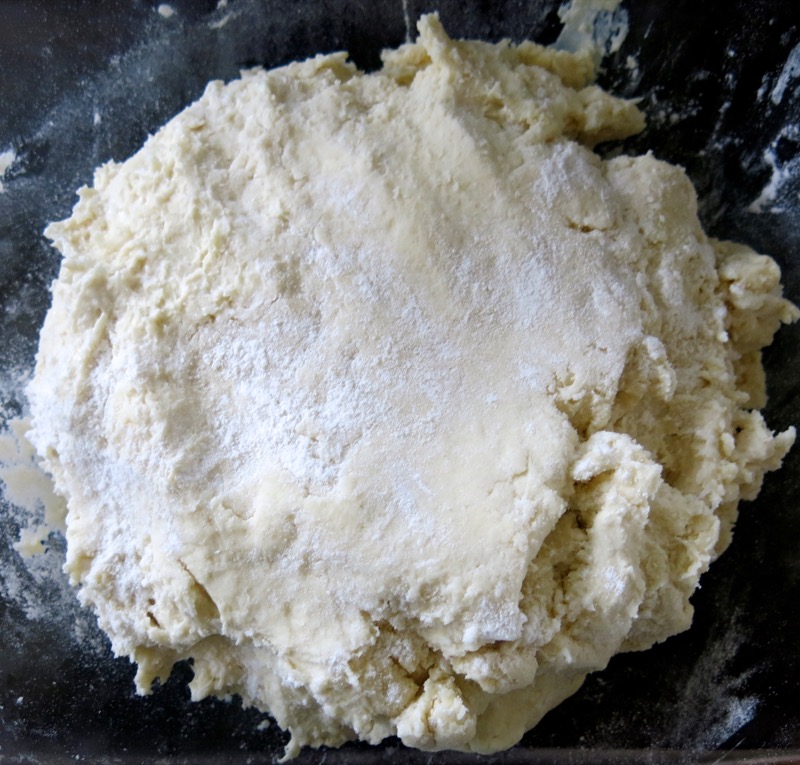 Place cohesive mass on countertop.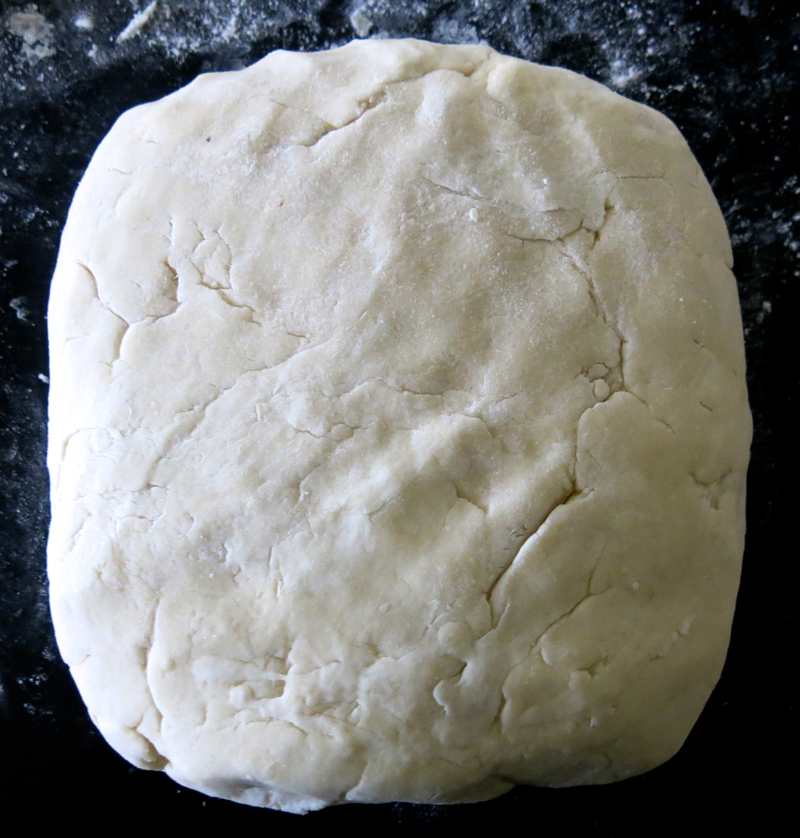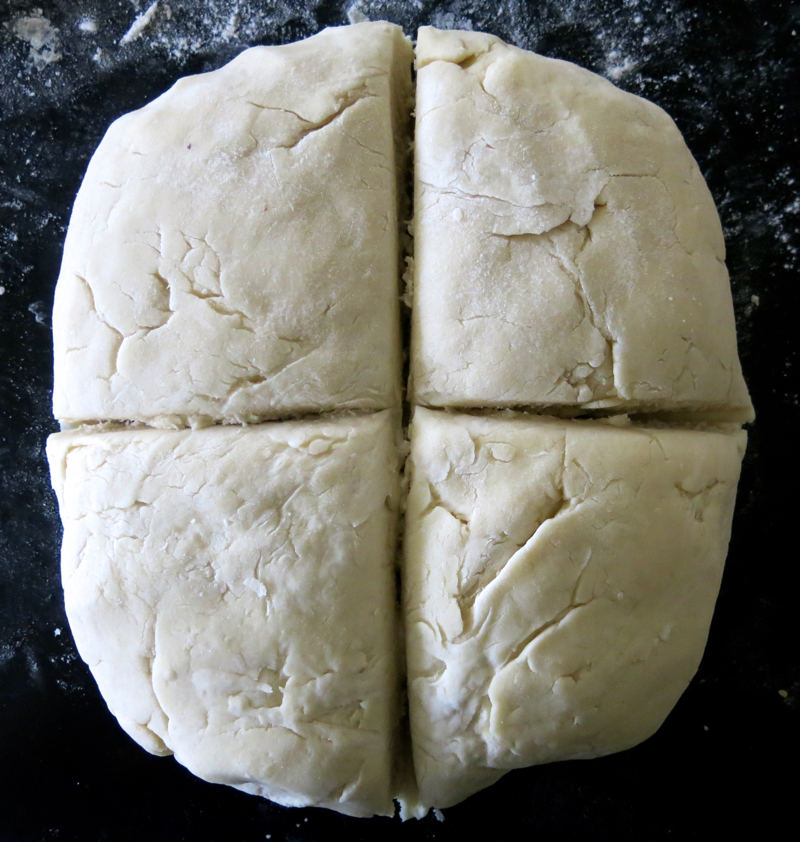 Divide into 4 portions. I actually weighed the mass and divided the dough into 4 portions of equal weight, or 1/4 weight of the whole.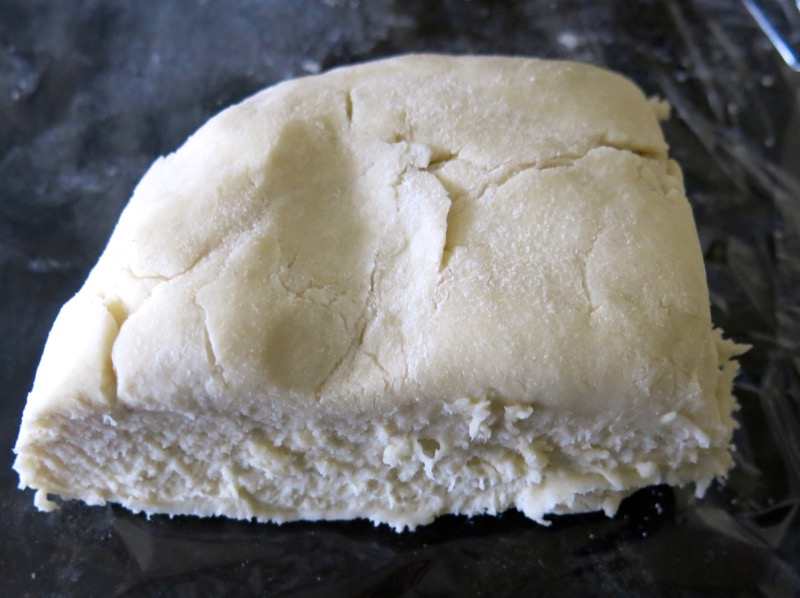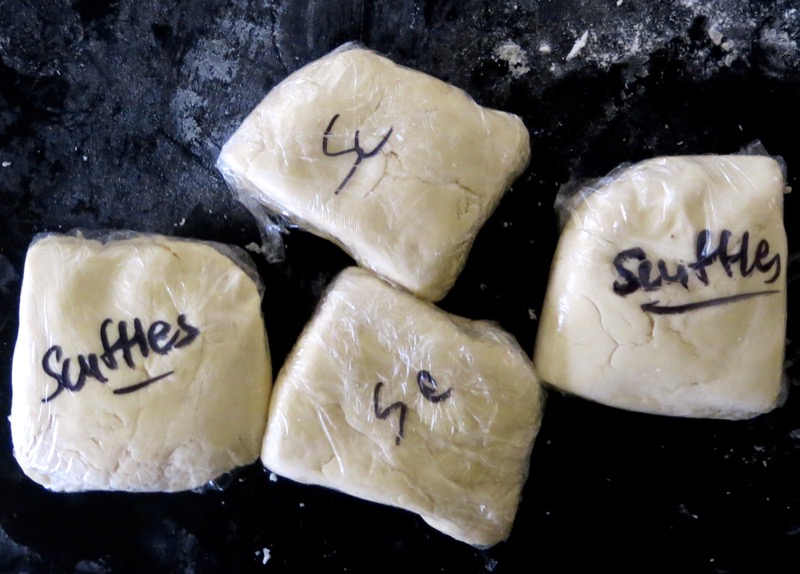 Cover with plastic wrap; chill and rest. Rest the dough. Rest yourself.
Traditional Ukrainian Scuffles aka Cinnamon Twists: Rolling the Dough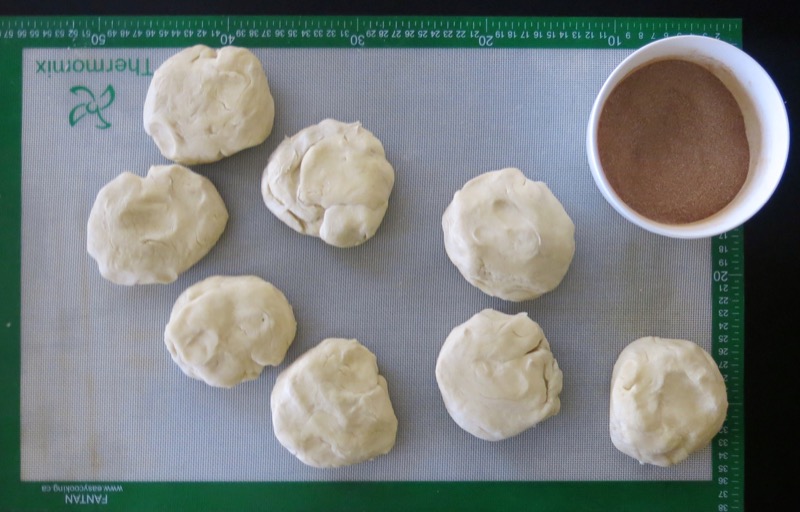 The following day, or an hour later, divide each disc into 2 equal portions by weight, creating 8 discs. I kept the ones I was not working with refrigerated. The granulated sugar and cinnamon were now completely combined to use as a base to roll the dough out on.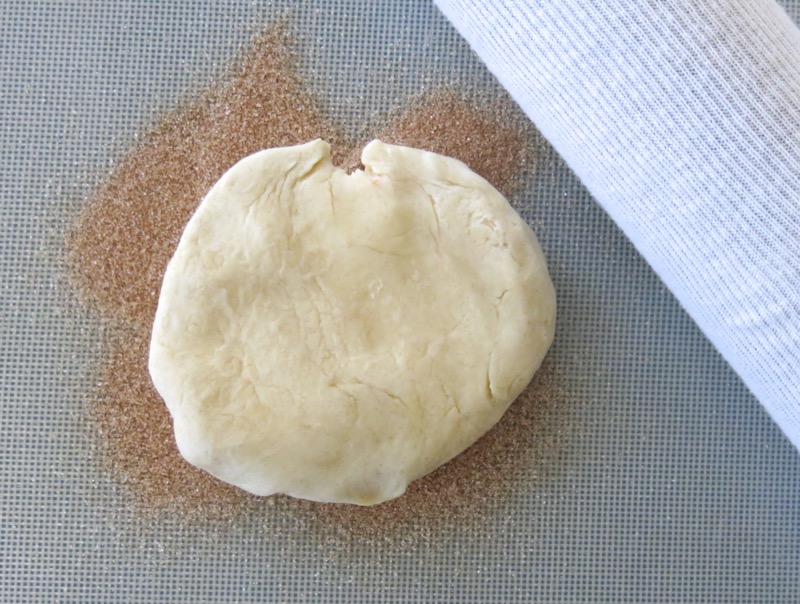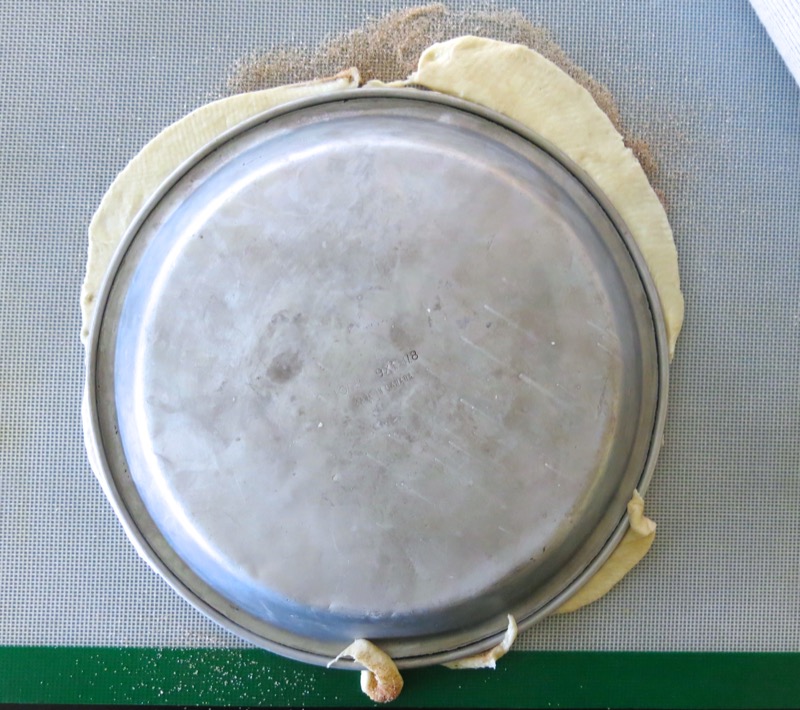 Simple, but what a learning curve. I turned one disc of dough over onto it like it was flour before realizing, "No. I cannot do that!" It was a tough little shift in my dough rolling paradigm to be rolling dough out onto cinnamon sugar, believe me. However, it did roll effortlessly into a circle and is a beautifully supple dough to work with.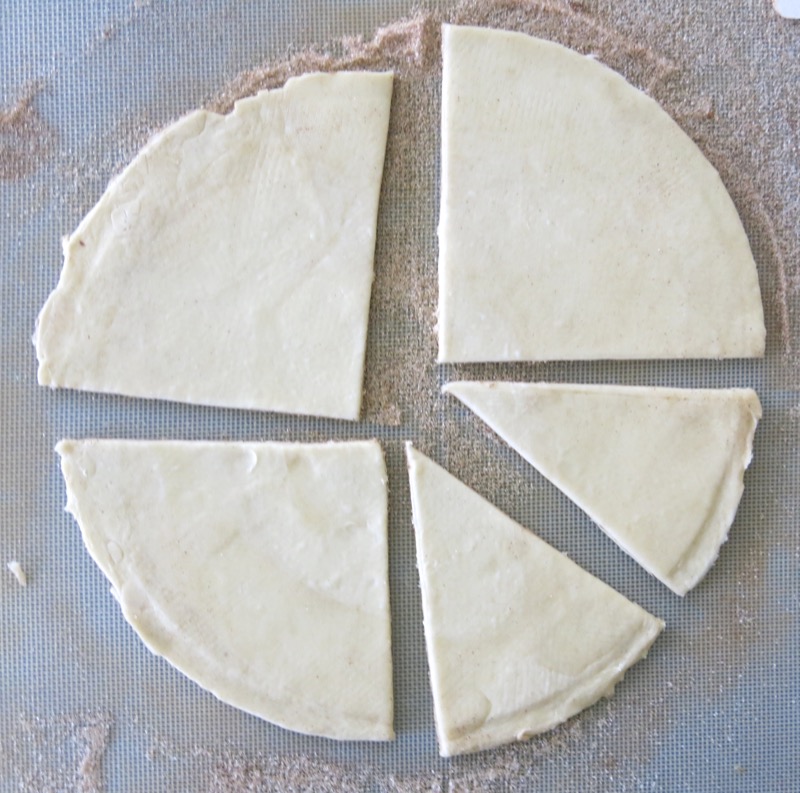 Cut into a round, each round is then portioned into 8 triangles; thus 64 scruffles per batch of Scuffles aka Cinnamon Twists.
Traditional Ukrainian Scuffles or Cinnamon Twists: Making Scuffles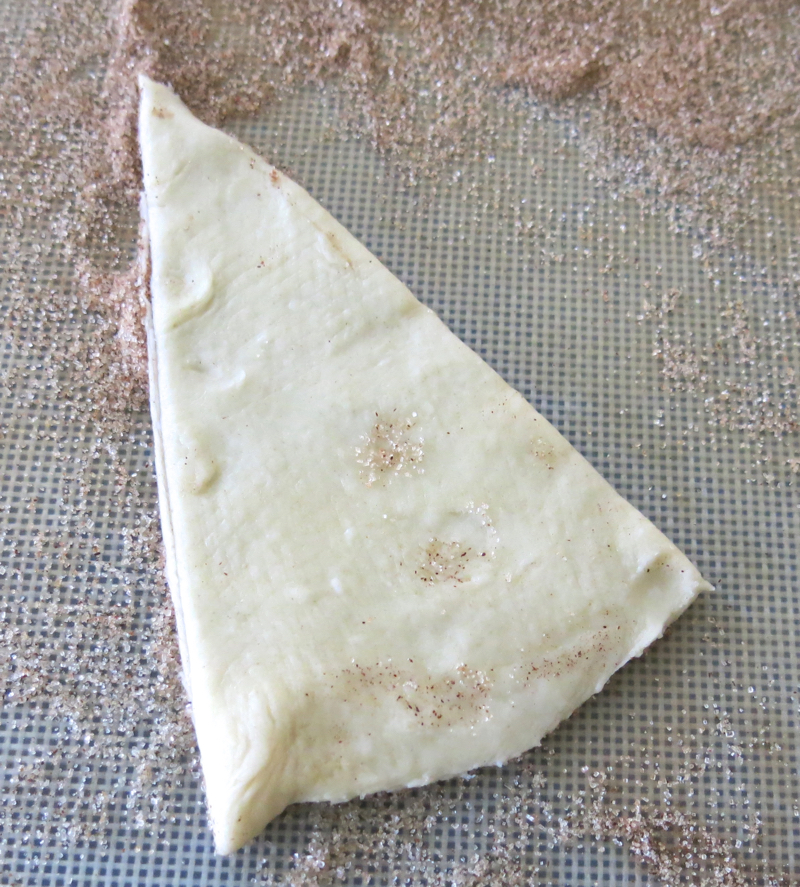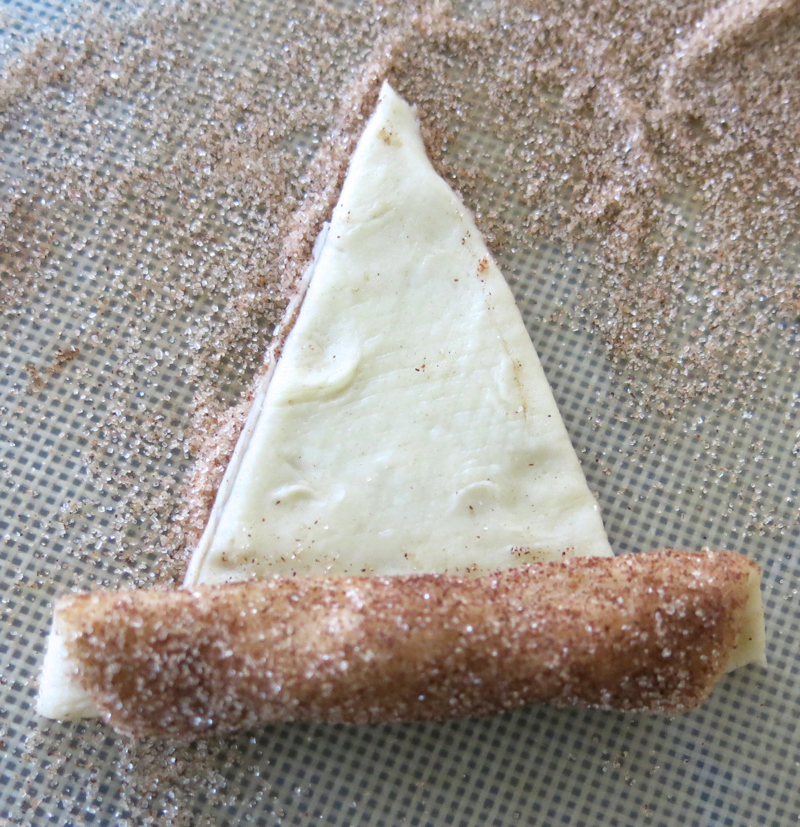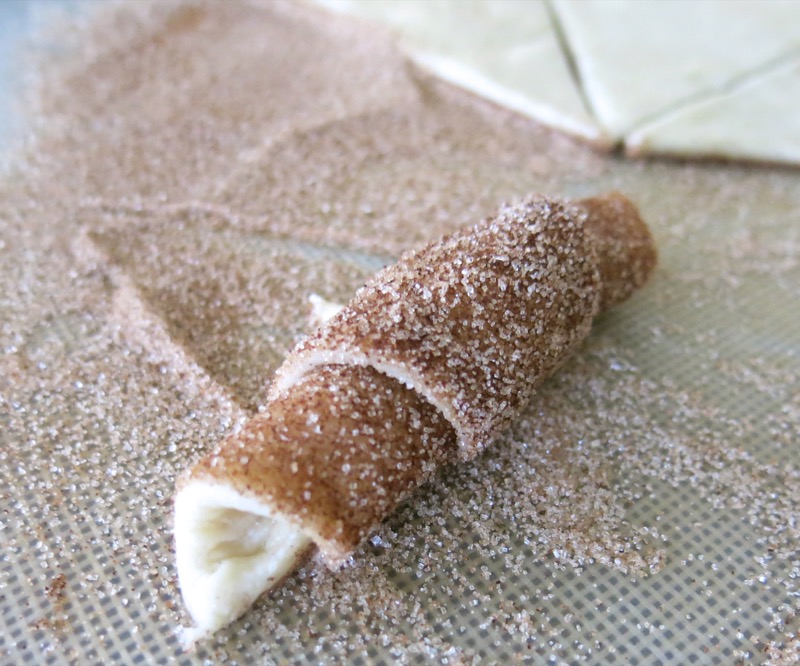 Time to roll the scruffles. Seemed logical to me to do it this way, above. I did this for the entire first disc: 8 scruffles. Then a wave of "Oh, no!" washed over me. The cinnamon should be on the inside. Liz said they were like little cinnamon bun pastries. Instructions don't say how to roll them really. I googled "scruffle cookies" and brought up the images. Either it was the light, my frame of mind, or the specific search words I used, but the images came up with the cinnamon inside. Not like above. I decided to do a test. So, I added one rolled the other way: cinnamon in, for the first batch into the oven.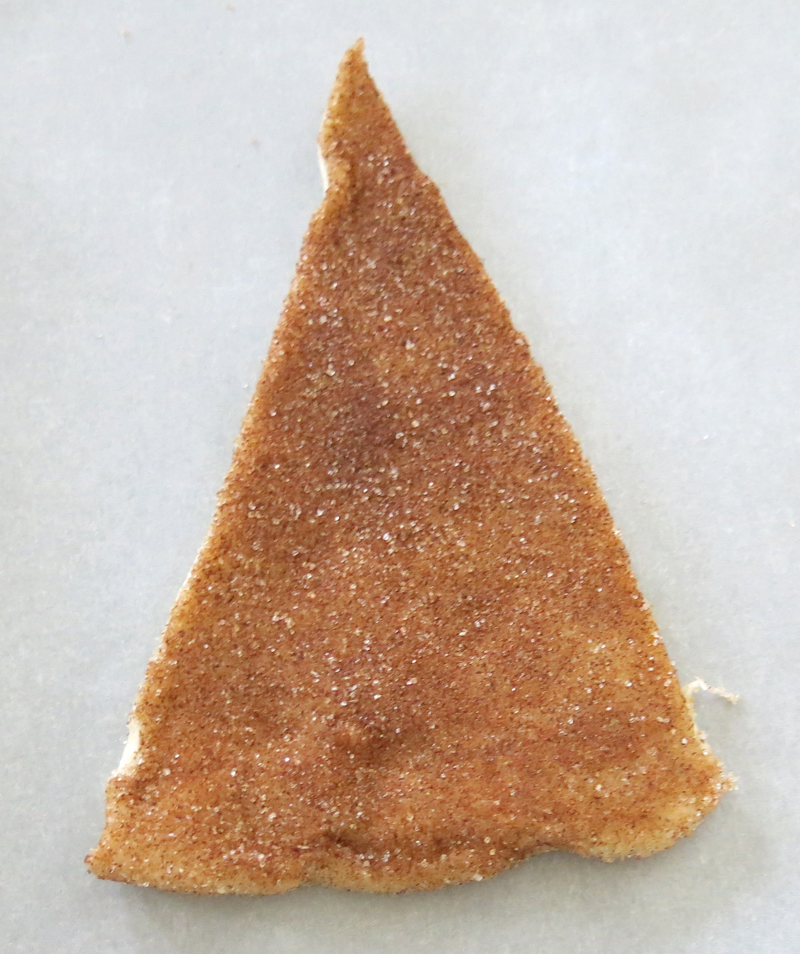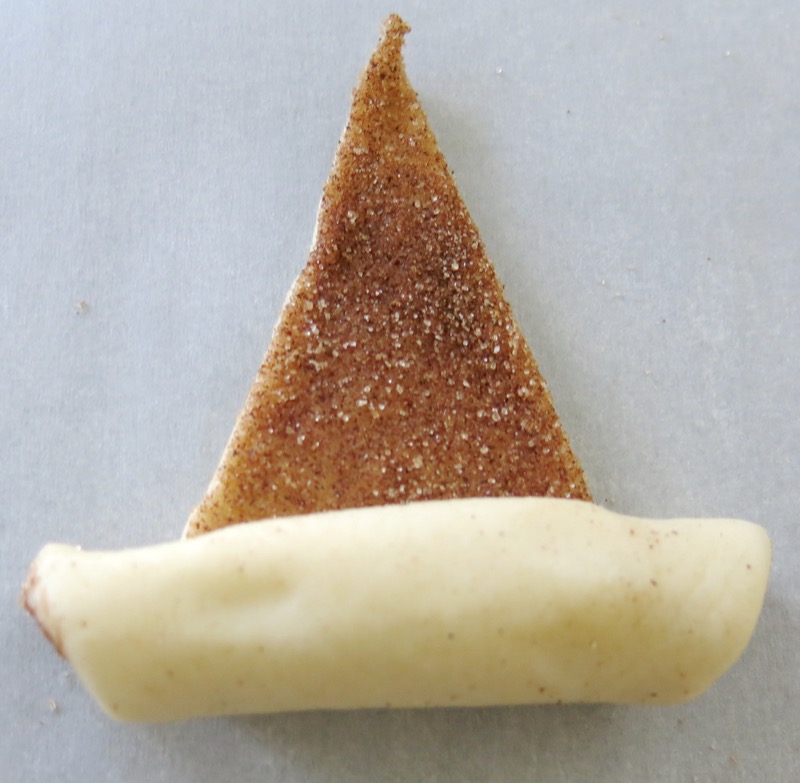 Rolling this way, above, was easy enough, but I had to move to a clean spot, and flip the triangle over so the sugar side was up, then roll. They looked better. Likely, as that was what I was used to doing with my rugelach. But, before barging on, like I know everything, I waited until the first batch baked, then cooled. The ones with the cinnamon outside were dryer and harder. The mouthfeel on the ones rolled with the cinnamon on the inside was more appealing and they were more tender and moist. It seemed logical to roll them with the sugar out, but they must be rolled with the sugar in was what I concluded.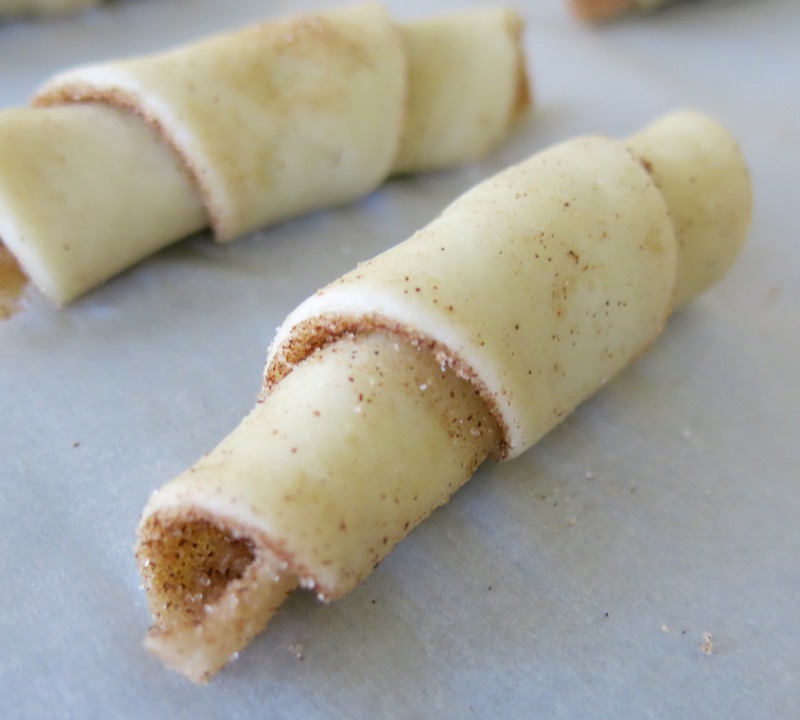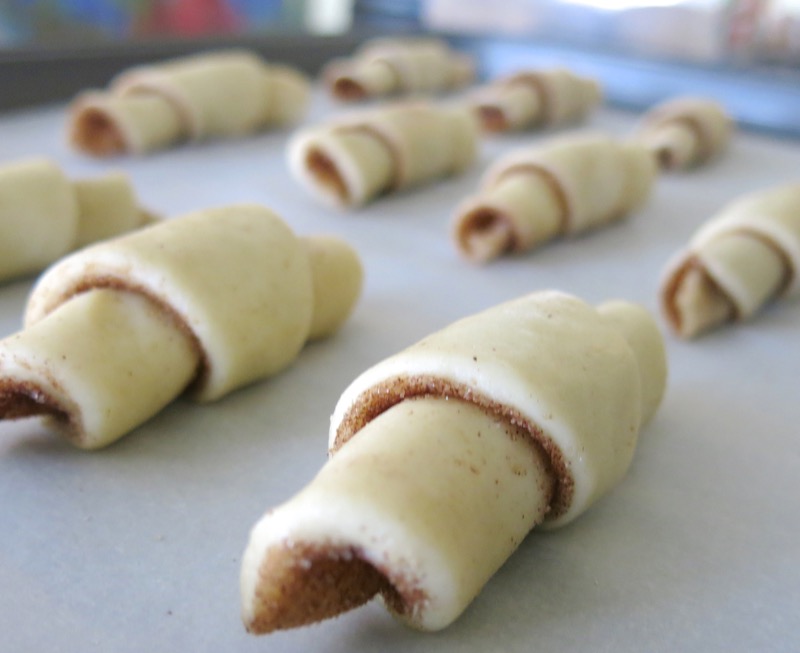 I completed the next 6 discs of dough with the sugar on the inside.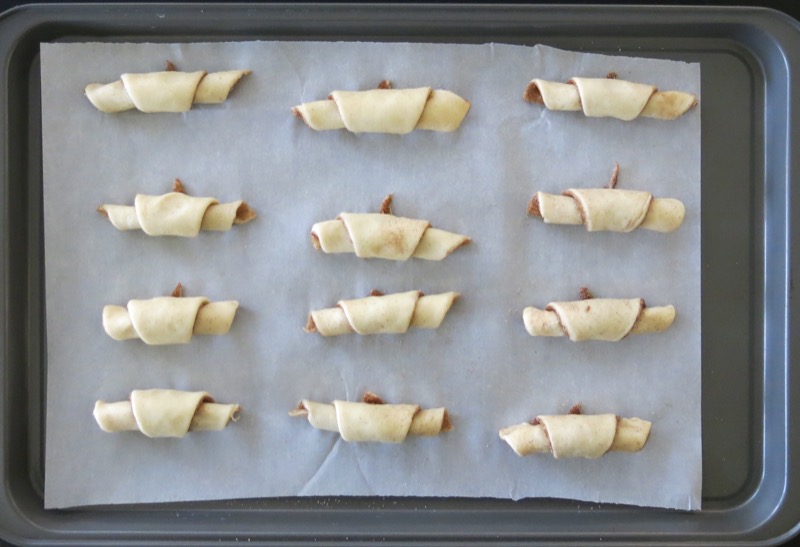 Traditional Ukrainian Scuffles aka Cinnamon Twists: Making Cinnamon Twists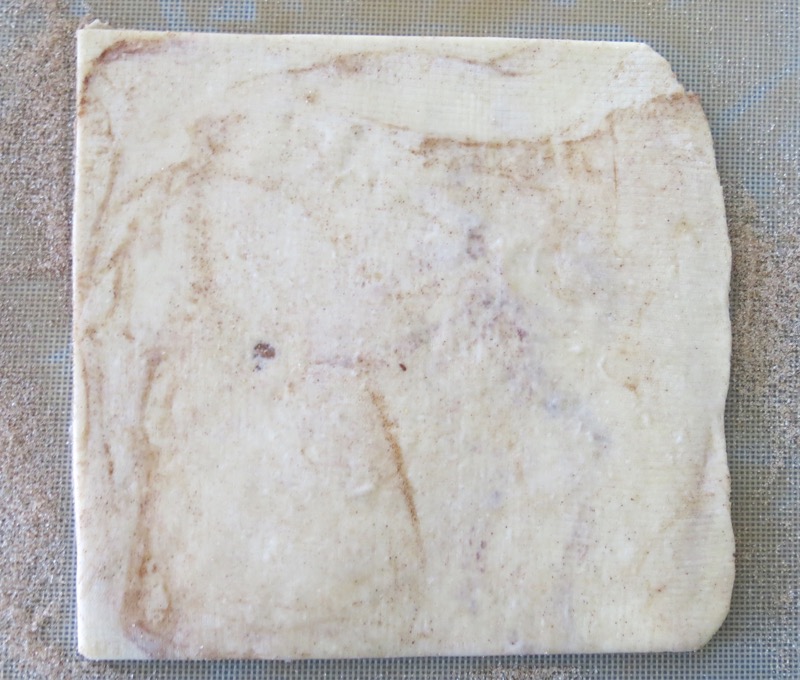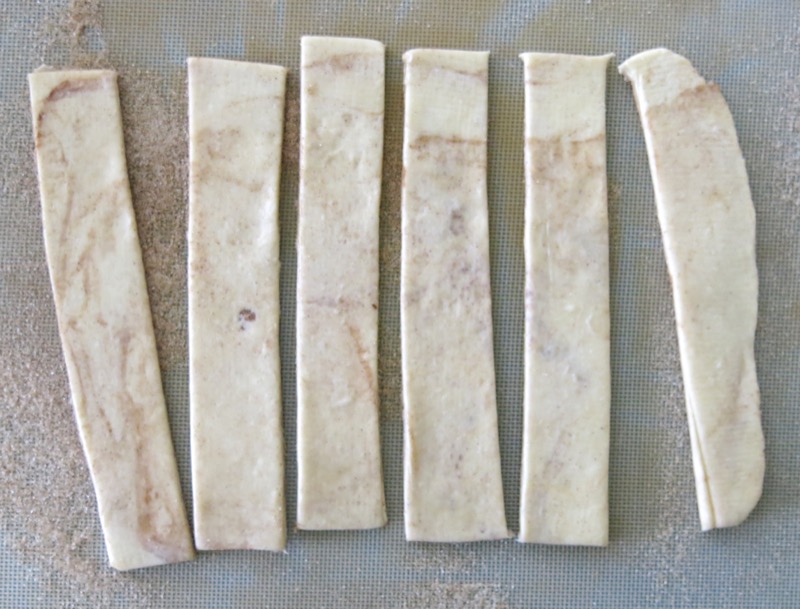 The last disc of dough was the first disc I had used when I placed both sides of the dough into the cinnamon sugar. I simply folded the dough back into itself and chilled it again, deciding this would be the disc I would use to make the cinnamon sticks. Instead of a round, roll the dough into a square, and trim it.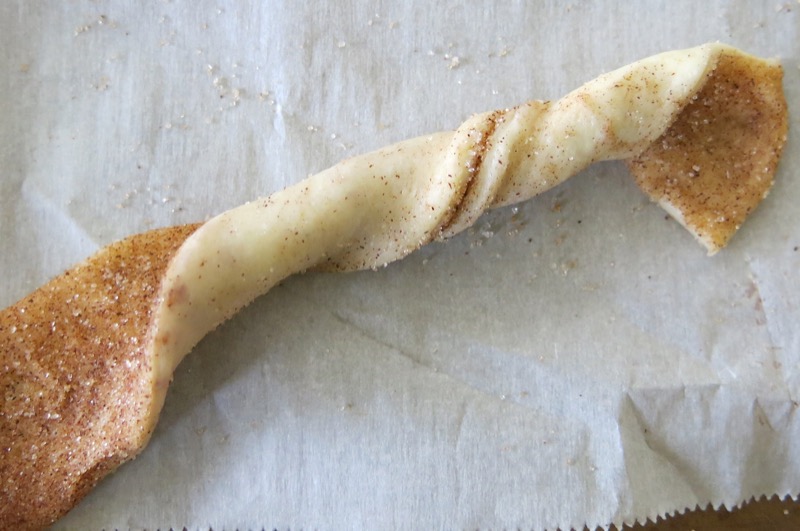 Instead of 8 triangles, 6 rectangles seemed logical.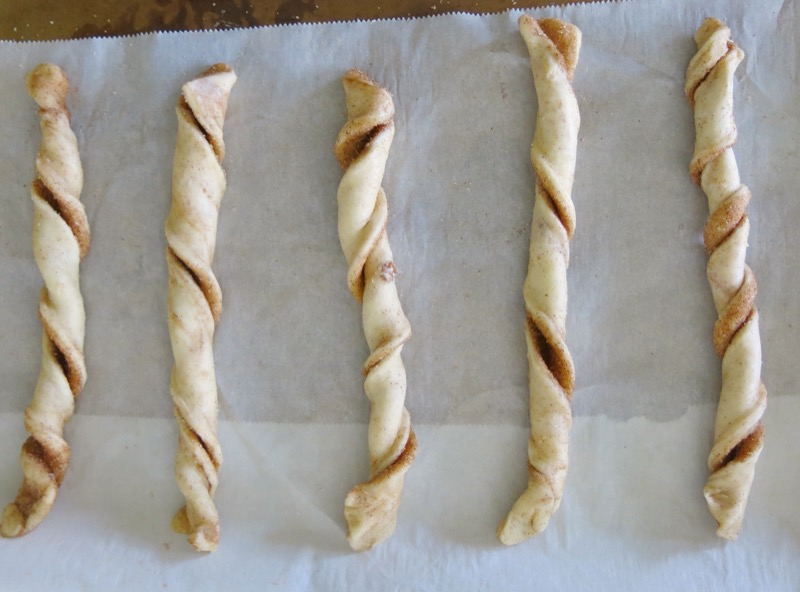 Again, the same question presented itself: cinnamon sugar side in, or out. Or, should I just twist them in a very haphazard rustic fashion and leave both sides exposed? Nope. Cannot do that. Decided to go with sugar in, again.
Traditional Ukrainian Scuffles aka Cinnamon Twists: Baking the Dough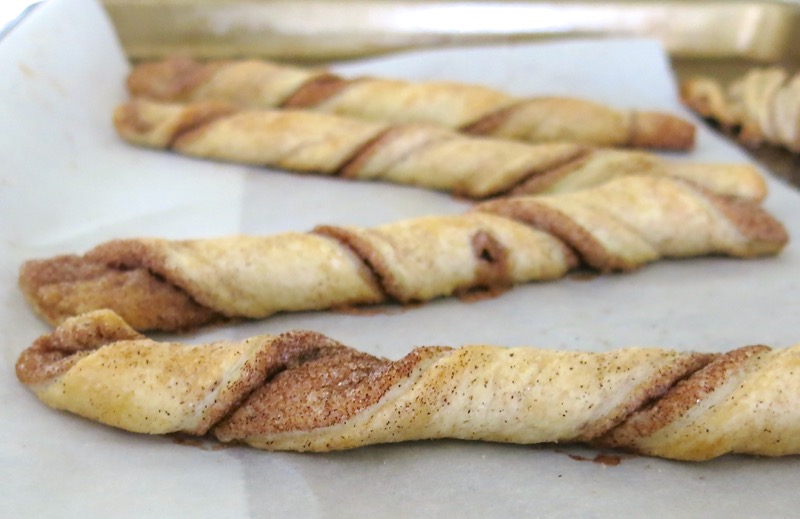 I was really pleased with the cinnamon sugar inside result for the cinnamon twists. They are pretty and tasty.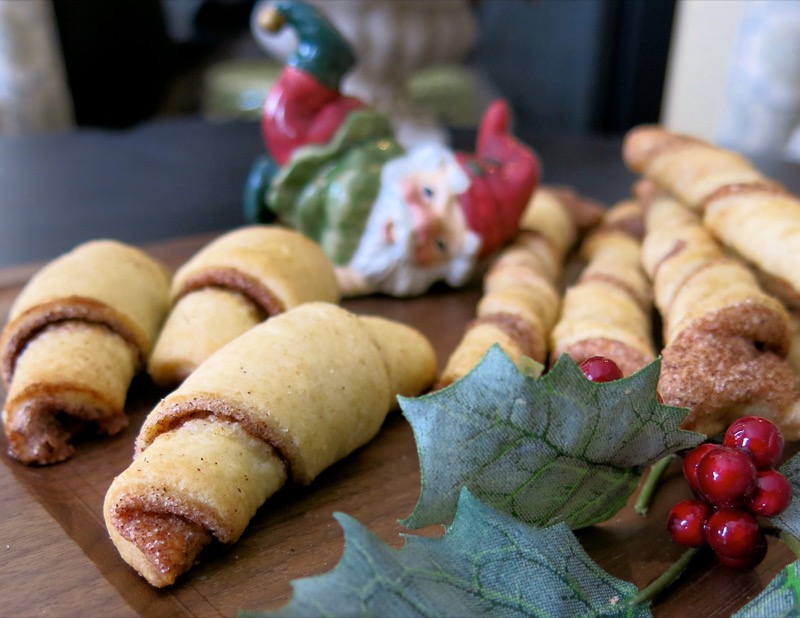 The scuffles looked much prettier than I expected. I thought about brushing them with egg, or doing the cinnamon sugar on both sides, with a lighter sprinkle on the outside. Leaving it makes it much more like a bun type of pastry. The amount of butter in the dough is a part of the magic. The flavour is addicting due to that combination: butter, sugar and cinnamon.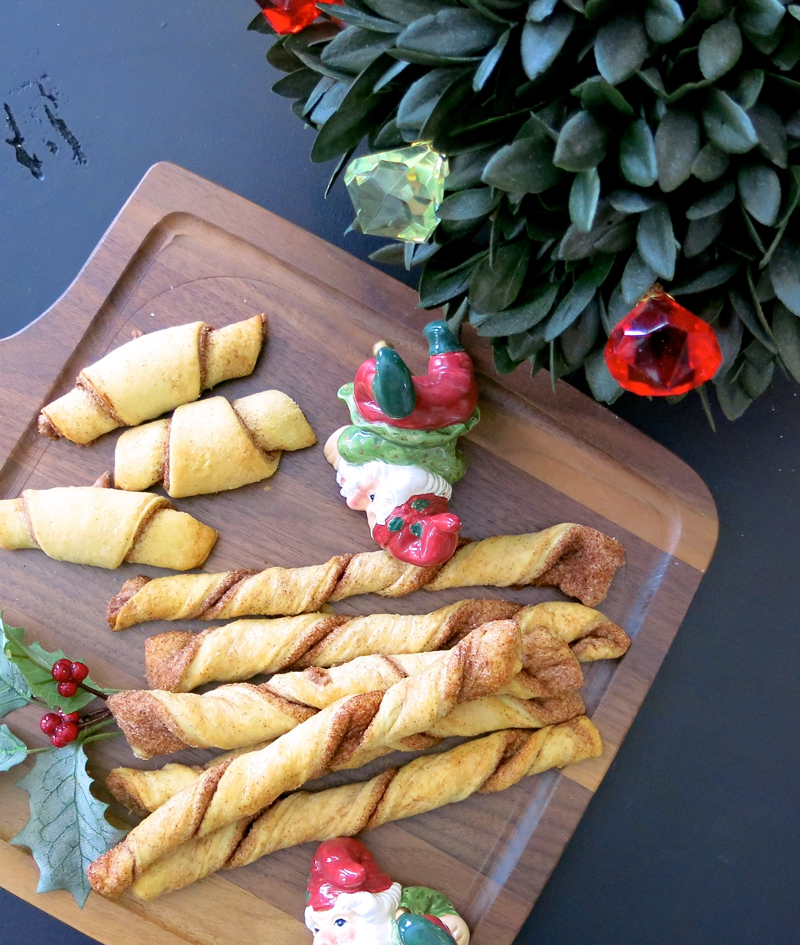 As they are small, you think, "Oh, a couple are OK!" But that couple soon becomes far more than a couple. These are addictive. I cannot wait to introduce them to my family over the holidays. However, I have them well packed now, and frozen until then. They freeze very well.
It was at this moment that my heart sank. Look at beautiful Liz from Bridge with her homemade scuffles, above. "She did them inside out!" I said to Marie in disbelief. Marie looked at me like I was a bit crazed. I had no idea how to roll them, so I had done a Google search, I explained. "Liz, is this the way your family has always made them?" I asked in earnest. "Of course! Was there any other way?" And hers were delicious: moist, soft, Buttery. Lovely mouthfeel. Not at all like the ones I had rolled with the cinnamon sugar outside the day prior. Possibly, storing them together in a plastic container had softened the exterior?
Back home I went. Into Google Search again. Had I lost my mind? Maybe… only one image as dark as Liz's or mine, but almost all were rolled like Liz's: cinnamon sugar out. Alas! All is not lost. My scuffles may be inside out, but they are delicious and I am thrilled that I learned about them, how to make them, and have more than an inkling that they will be on our "must make every year" list from here on in. With this little embarrassing cookie-making moment woven into the fabric of the story to tell. "Gazm had a scuffle with her scuffles and didn't know which way was out!"
Traditional Ukrainian Scuffles aka Cinnamon Twists: Packing and Freezing Scuffles and Cinnamon Twists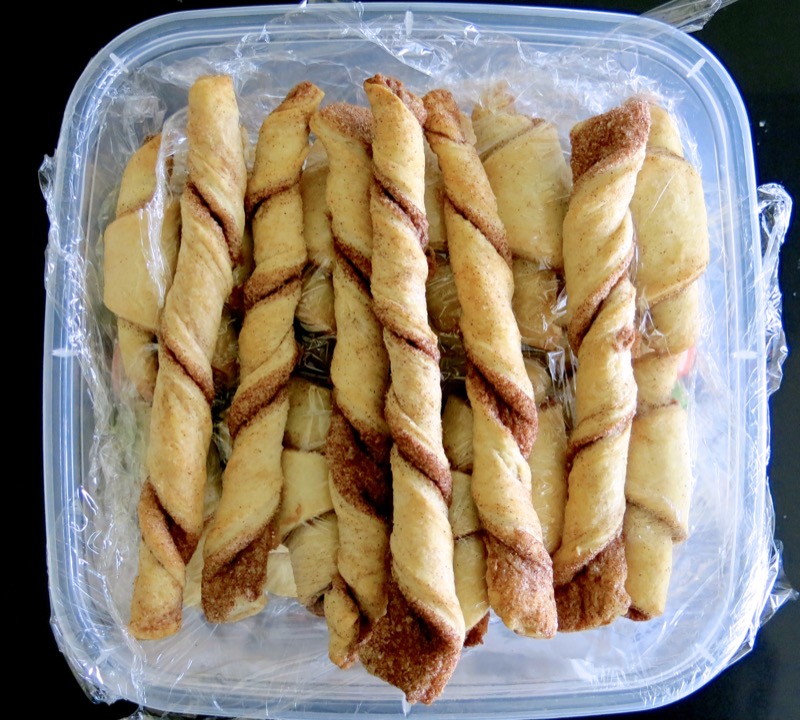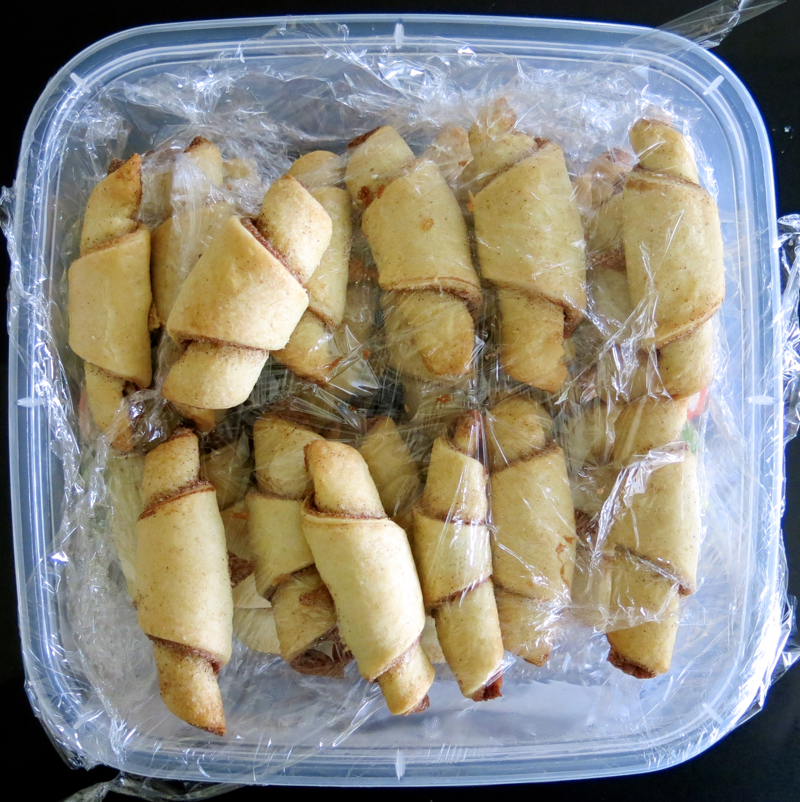 Have you ever made either before? Tasted them? Heard of them? If not, now is the time. Seriously.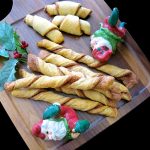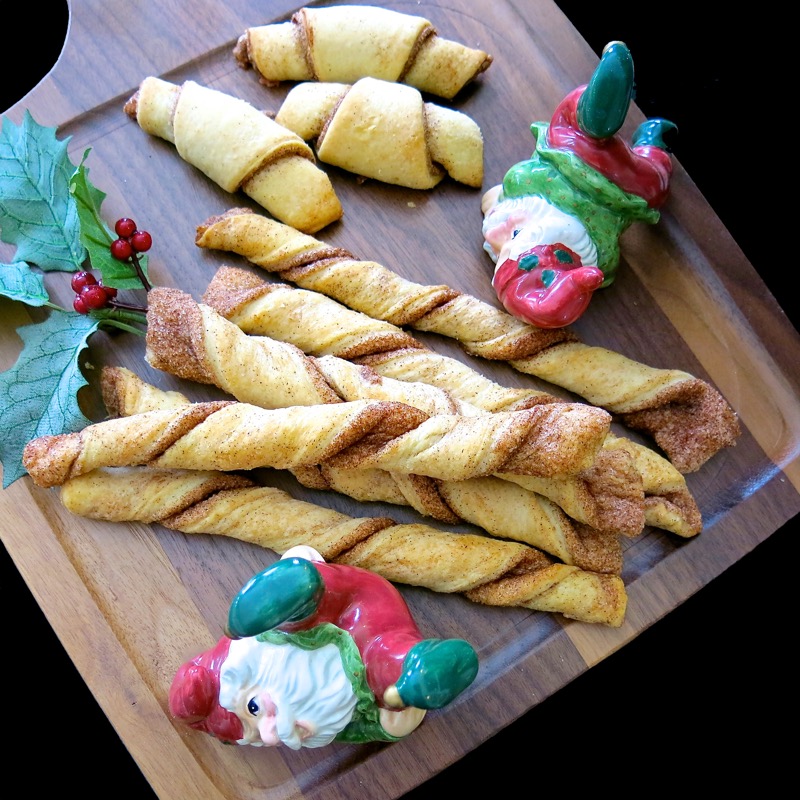 Scuffles aka Cinnamon Twists


Traditional Ukrainian Pastry Cookies called Scuffles aka Cinnamon Twists: a great addition to our Christmas morning brunch! Easy to make; delicious to eat! The ingredient list was given to me by my gal pal Liz, at Bridge. There were no instructions for making the dough, so I have written what worked for me, as well as how to make the cookies using the Thermomix machine. Great big hug to Liz.
Prep Time
1
hour
30
minutes
Total Time
1
hour
48
minutes
Ingredients
Ingredients for Dough:
5

cups or 550 grams

flour

2

teaspoons

baking powder

1

pound

or 454 grams butter

1

cup 220 grams

whole milk

2

large eggs
Ingredients for Garnishing Sugar:
1

cup or 220 grams

granulated white sugar

8

teaspoons

cinnamon
Instructions
Instructions for the Pastry:
Add flour and baking powder together in large bowl; mix to combine

Cut butter into flour mixture until crumbly; add milk and eggs, stirring just until dough comes together to form a ball

Divide into 4 discs; cover each securely with plastic wrap and refrigerate for 1-2 hours, or overnight until ice cold
Instructions for the Pastry in Thermomix:
Weigh flour and baking powder into TM bowl: mix to combine for 5 seconds at speed 3

Weigh cold butter cubes into flour mixture in TM bowl; use hand or wooden spoon to mix butter cubes inside TM bowl with flour (without machine running)

Mix to combine from 0-10 for 15 seconds until coarse crumbles (similar to oatmeal)

Weigh milk and eggs into TM bowl; combine for 30 seconds at speed 3 to 8 until mixture just comes together in clumps (be sure to not over mix)

Divide dough into 4 discs; cover each securely with plastic wrap and refrigerate for 1-2 hours, or overnight until ice cold
Instructions for Rolling out Dough:
Combine sugar and cinnamon; sprinkle generous amount on work surface

Divide dough into 8 equal balls; refrigerate seven and place one on top of cinnamon sugar

Roll dough out 1/8th-inch thick into circle (as you would pie crust) on sugar/cinnamon mixture

Divide circle of dough into 4, then into 8 triangular pieces: a pizza or pastry cutter works great for this

Start at the wide end of your triangle and roll triangle toward its point similar to rolling a croissant; place each on cookie sheet and bake at 350 degrees for 18-20 minutes
Recipe Notes
Dividing the Dough I actually weighed the entire mass, divided it into 4 discs of equal weight to refrigerate, then divided each disc into equal portions by weight, again.
Cinnamon Sugar This recipe has 8 teaspoons of cinnamon: one for each of the 8 dough balls to be divided into 8 pieces yielding 64 cookies.