These are the Real McCoy!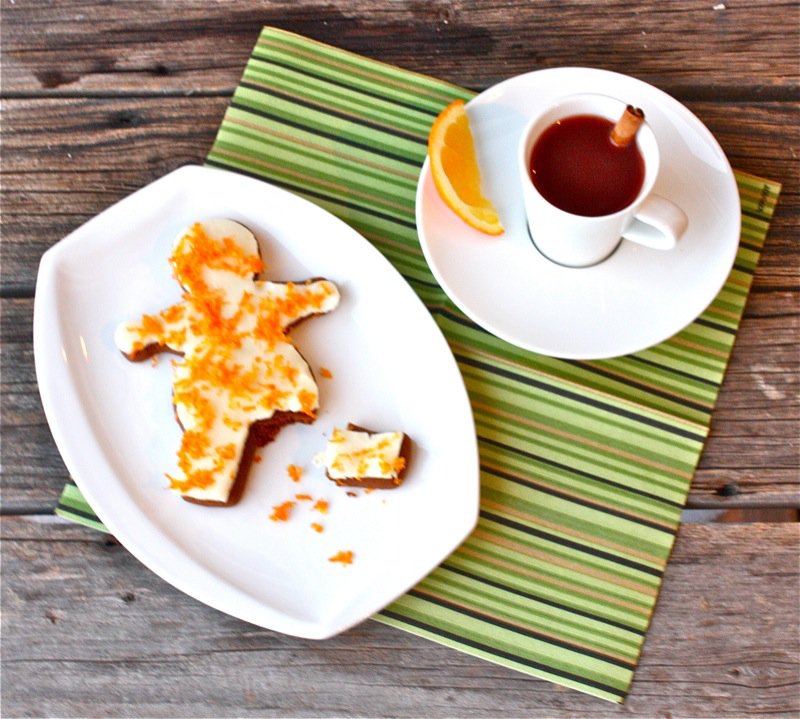 The biggest, fattest gingerbread men, ever! Perfect for that late night snack with a cup of homemade apple cider.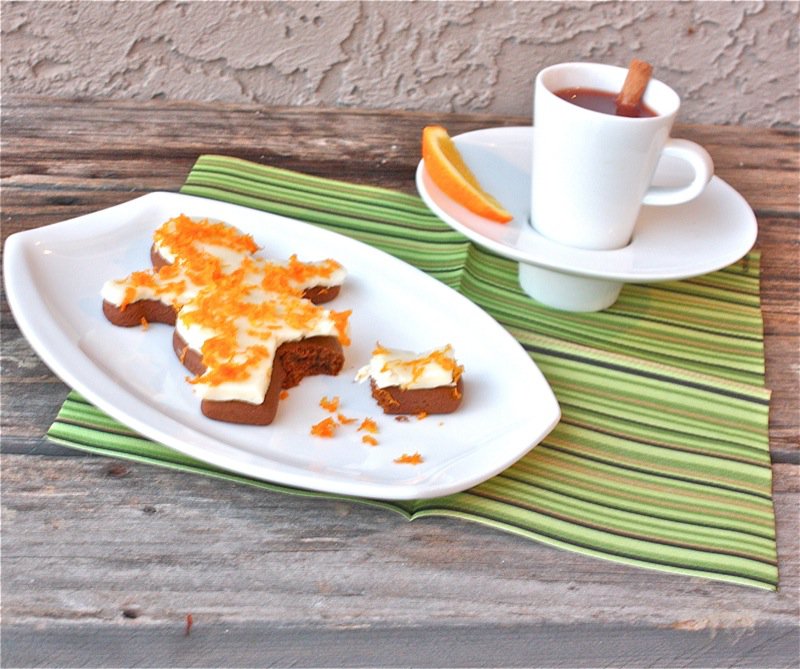 Grandma Maude used to make these cookies, often, but not in the shape of gingerbread men. She would make huge rounds of this gingerbread and then slather each with a generous amount of butter icing with orange zest in it. This is the flavour of fall in Alberta. Then I started making them for Christmas. My first attempt was a house. It was the biggest, fattest house you ever saw. It took me forever and I never made another. After that, the recipe was destined to gingerbread men. I made them for my students when I taught elementary school and we would nibble on them as I read the story about the gingerbread man all chanting together: Run, run, as fast as you can! You can't catch me, I'm the gingerbread man!
I still chant that when I make my cookies. Doesn't everyone?
Truly, this is the best recipe you will find for these cookies. It is not sweet and it truly a bread type of cookie. The icing takes this traditional treat to a whole other level. We are addicted to them in my family. Every year, we must have these at Christmas. They are so wonderful in the morning or any time of day… with milk, coffee, tea, and cider!
Here are your pictorial instructions. I used the Thermomix and folded the flour in by hand, but the instructions for making them in the traditional manner are also below.
Grandma Maude's Great Big Soft Gingerbread Cookies: Making the Dough
Cream your room temperature butter and sugar.
Add the egg and the molasses.
Add the wonderful spices.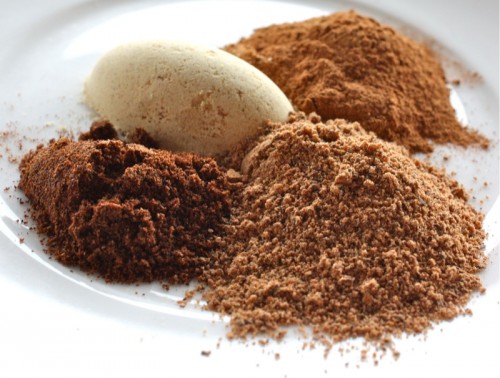 Don't for get the salt.
Add the baking soda to the sour milk; add the vinegar, next, and stir.
Pour the sour milk with the soda and the vinegar into the mixture and mix together.
Transfer the batter to a bowl.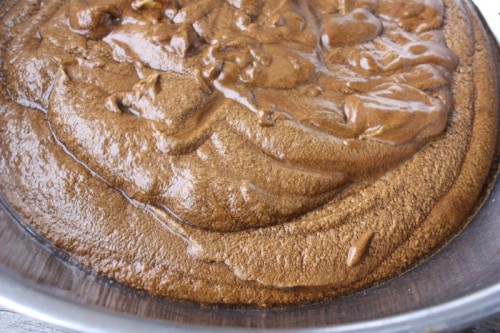 Add four cups of flour and fold into the batter.
You will see the batter is still sticky.
Add the fifth cup of flour and fold into the batter.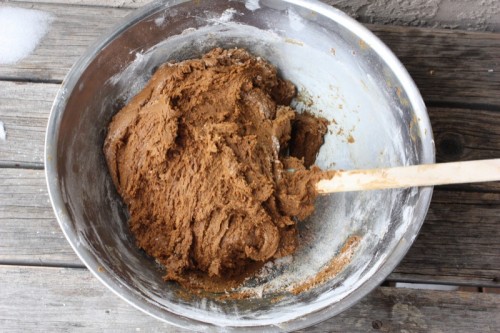 The batter should become a dough and will easily hold its shape without being too sticky.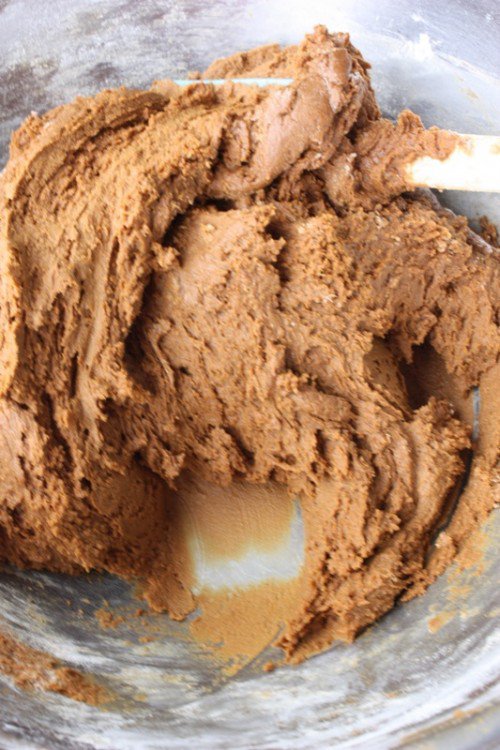 I can form a ball with it though it does stick to my fingers. This is the correct consistency. Not too sticky. Wrap it up and chill it until firm enough to roll.
Grandma Maude's Great Big Soft Gingerbread Cookies: Rolling out the Dough and Cutting the Cookies
Roll on a lightly floured surface and cut into shapes; bake for 10 minutes at 350°F. If the cookies are really fat (thick) it may take 12 to 13 minutes. Keep an eye on the oven. They will not indent when you touch them when ready to come out.
Somebody is excited to have some playmates!!!
Now, this is what I am talking about.
Grandma Maude's Great Big Soft Gingerbread Cookies: Decorating the Cookies
What I do to ice these is to chill the icing after making it. Then I used powdered sugar on parchment paper and another on top to roll out the icing to a thin layer. Cut it out the same shape as the cookie, remove the excess icing, and refrigerate again. Remove from fridge and peel the form away from the paper. Brush the cookie with water or sugar water and lay the layer of icing on top of the cookie, pressing in and twisting it a bit to ensure it adheres.
Below, left, is a pile of icing forms layered between parchment.  Right… Run, run, as fast as you can….!
So big and fat and yummy!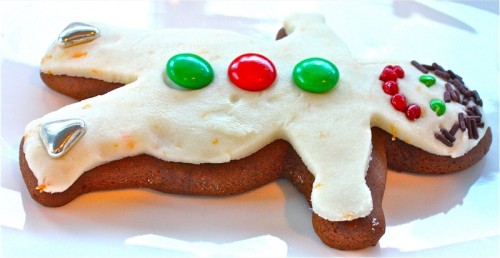 The adult verstion is a little different. Extra orange zest and you have a lovely fragrant cuddle on your plate.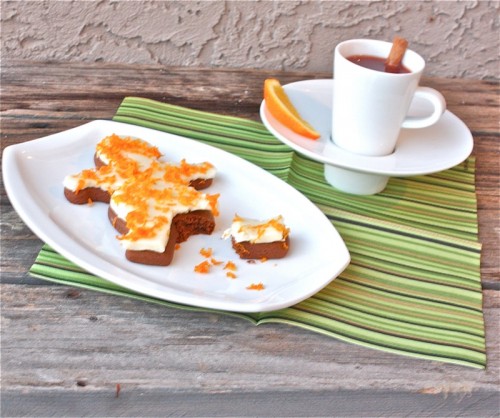 Grandma Maude's Great Big Soft Gingerbread Cookies
This recipe has been in my family for generations. It is a big fat soft, not crackly, cookie that is truly a cookie-bread as it is not at all sweet without the icing.
Author:
Valerie Lugonja (Maude Hecht)
Ingredients
Ingredients for the cookie:
1 cup white sugar
1 cup shortening ( I use butter)
1 cup molasses (I use the dark "Old Fashioned" molasses, not the "Fancy")
1 cup sour milk (sour it with a Tbsp. vinegar)
add 2t soda to sour milk just before adding to batter
add 1t soda into vinegar just before adding to batter
1 egg
1 tablespoon vinegar (you may need an extra one if you need to sour your own milk by adding a tablespoon of vinegar)
1 teaspoon each of cinnamon, cloves, and ginger
½ teaspoon nutmeg (but I added a teaspoon)
½ teaspoon salt
4-5 cups flour
Ingredients for the Icing:
3 cups icing sugar
1 cup soft butter
zest of one or two oranges
enough orange juice to mix into a fondant or play dough type consistency
Instructions
Instructions for the cookie:
Cream shortening and sugar
Add molasses and egg, and continue to cream mixture
Add two teaspoons of soda to the sour milk
Add one teaspoon of soda to the tablespoon of vinegar
Add milk, vinegar, spices, and salt to the molasses and egg mixture
Move the batter into a bigger bowl, if necessary and fold in the flour
Refrigerate batter one hour, or over night to enable a rolling consistency
Remove dough from refrigerator and pre-heat your oven to 350 F
Roll dough between two pieces of very lightly floured parchment paper
Cut into shapes and carefully move each shape onto a parchment covered cookie sheet
Bake for 15-18 minutes, or until the bottom is light brown and the cookies are puffy on top (the cooking time will depend upon how thick you have cut them)
For really big, fat gingerbread men, leave dough about ½ inch thick (much thinner for other cookies) and bake for 18 to 20 minutes.
Ice with Orange Butter Icing
Instructions for the icing:
Mix all of the above ingredients until well combined and the consistency of fondant or play dough
Chill for 15 minutes
Roll some thinly onto parchment paper, and refrigerate again for 10 to 20 minutes
Cut into the same shape as the cookie, lay onto the cookie (you may need to brush the cookie with a bit of sugar water for the icing to adhere (it will depend upon the temperature in the room)
Decorate the layer of icing on the cookie
Instructions for the Thermomix:
Instructions for the cookie:
Scale sugar and room temperature shortening into the TM bowl; insert butterfly and cream for 2 minutes at speed 3-4 (shortening must be room temperature or the butterfly may be damaged)
Scale molasses into TM bowl and add the egg; continue to cream mixture or 30 seconds at speed 3-4
Add two teaspoons of soda to the sour milk
Add one teaspoon of soda to the tablespoon of vinegar
Add milk, vinegar, spices, and salt to the molasses and egg mixture in the TM bowl; combine for 10 seconds at speed 2-3
Remove the butterfly; clean all ingredients off of it and place into the TM bowl
Scale in 4 cups of the flour; combine slowly from speed 0-7, until just combined
Move the batter into a bigger bowl to knead in the remaining flour
Continue with the recipe above at number 7
Notes
I have actually done a taste test using all three kinds of molasses and the very best flavour, colour and texture was developed by using the darkest and most bitter molasses.