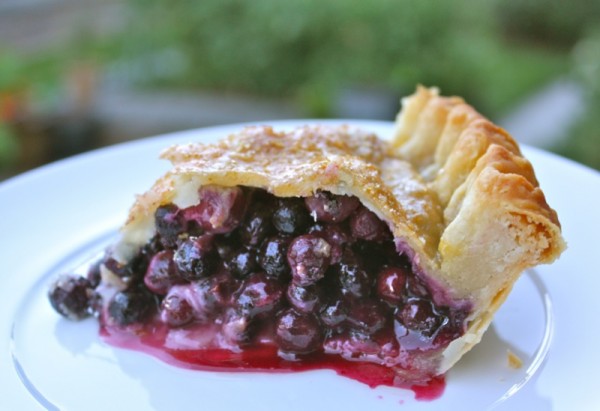 …as urbanization has endangered this wild native prairie berry.
A warm fragrant slice of flavourful Saskatoon berry pie with creamy homemade vanilla ice cream is a prairie ritual. Though one that is rare, and revered due to a variety of factors, but mainly the difficulty of locating wild berries to forage fruit from and the lost art of pie making. Just look at that incredible lush piece of love and history on a plate! Oooo! The flavour of these berries is like no other. Never pass up an opportunity to taste a Saskatoon berry!
As the nodding onion is protected by Slow Food International's Ark of Taste, so is the wild Saskatoon berry. I do grow my own, but I was delighted when at a meeting at Fort Edmonton Park a few weeks ago, to come across an entire hedge of these wild bushes exactly like we used to find as children in the countryside with our parents. I couldn't resist. I had harvested quite a few from my own garden, but this was an intrinsically special opportunity that was so compelling I pulled over, found a Holt's Shopping bag in the trunk, and started picking. I could not stop until every berry on every bush was gone. Seriously. Wasting a wild Saskatoon would be unthinkable!
"[These] berries are under serious threat in Western Canada due to loss of habitat caused by housing and industrial development. As the plants are lost, so is the historical knowledge and practice of gathering the berries carried out for generations by First Nations people. Protecting the wild Saskatoon berry is important not only for the continued existence of the plant itself but also, perhaps more importantly, for the continued existence of the historical knowledge and practices associated with the gathering of this wild food." Slow Food International
The name itself is derived from the Cree word "Mis-sask-quah-too-mina", sounding very similar to "Saskatoon". The city of Saskatoon was actually named after the berry. The berries were a staple for both Aboriginal people and early settlers. They were enjoyed fresh, or steamed and mashed and then left to dry into a brick-like consistency to enjoy over the long winter. Pieces of these berry-bricks were then chipped off as needed and added to soups, stews, mixed with fat or simply boiled to reconstitute them. An excellent read about the history and the health benefits of the berry is here.
The bushes blossom in May and some berries are ready to pick by the end of June and most near the end of July. By the end of the first week of August, most of these berries are finished. Native birds love them and growers do have difficulty keeping the birds away.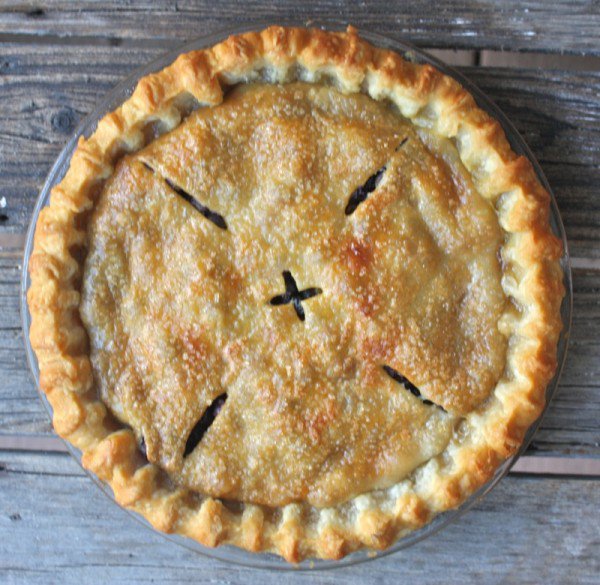 My mother would not teach me how to make pies as a young girl. She didn't want to "waste" any precious ingredients. 🙂 But, I convinced her to teach me later in life, and have practiced and learned how to make a pie just as good as hers, and her mothers…. a darn good traditional prairie pie and an important family legacy. I actually have a slide show to the right of her teaching me how to make her pastry and there is a link to more detailed instructions on the recipe below.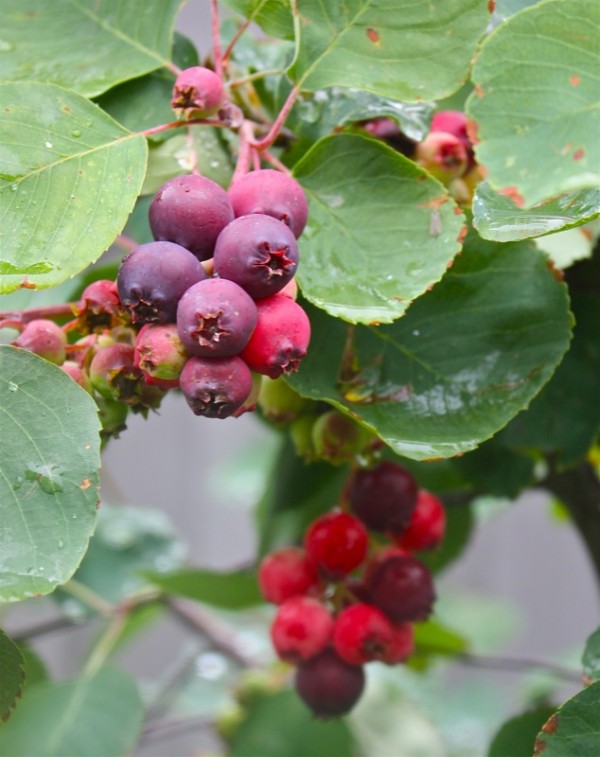 Saskatoon berries are a Superfruit which is a fruit that contains high sources of antioxidants. Antioxidant rich fruits have anti-cancer, anti-aging, and anti-heart problem effects on human body. The benefits of antioxidant have contributed against cardiovascular and inflammatory diseases, and act as a protective guard to our immune systems. The aboriginal people used the roots, stems and berries for medicinal purposes, too.
Saskatoon Berry Historical Facts
(from www.prairieberries.com)
Klamath Indian legends relate that the first people were created from Saskatoon bushes
Okanagan Indians distinguished eight different kinds of Saskatoons, varying in their suitability for eating fresh or drying.
Pemmican was a mixture of dried lean meat (bison, moose or deer) which was ground, mixed with melted fat, Saskatoons and molded into cakes
Young shredded shoots mashed dried fruit, and dry leaves were used to make a tea
The Thompson and Interior Salish tribes used the fruit to make a dye
I make large batches of pastry, and freeze them, so I took out two discs, each portioned to be enough for one generous crust.
I find frozen berries make a gorgeous pie. Honestly, unless I do a side by side tasting with a fresh berry pie and a frozen berry pie, I believe there is no difference. I freeze my berries on a parchment layered cookie sheet, single layer, overnight and then store them in labelled zip-lock bags ready for pies and jams! I added 1/2 cup of sugar and a couple of tablespoons of flour to the bowl with the berries and then zested one lemon to brighten the flavour.
Daubs of butter are a must to created a lustrous flavourful sauce.
Cover, crimp, and it is just that easy!
I did brush the top with egg and sprinkle with Demerara sugar for a crunchy top crust. YUM! And then cut some air vents.
Ooooh, baby! I was really happy with this beauty! What was the occasion? A gal from Bologna, Italy had written to info@Slowfoodedmonton.com and asked to meet with one of us while she was in town in August. I met with her, and invited her to a potluck dinner at my house to introduce her to a little prairie hospitality! Several foodie friends accepted the invitation and we cooked up a taste of the Alberta prairies for her.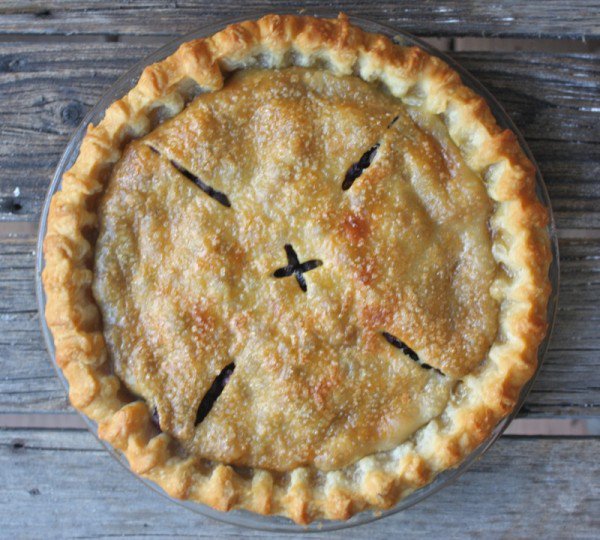 I made this pie, the apple pie, and a rhubarb tart, too! The tart and the potluck dinner for Martina will be posted soon! It was an incredible evening, and another serendipitous happening in my life as Vanja and I are going to Italy this fall. Bologna was on our agenda, and she has insisted we stay with her. I am still working on Vanja to accept her generous invitation. How lovely!
Canadian Prairie Saskatoon Berry Pie Recipe
Ingredients:
5 cups of Saskatoon berries (I used frozen wild ones I foraged)
1/2 cup white sugar, plus 1 tbsp
3 tablespoons of flour
zest of one lemon
2 to 3 tablespoons of butter
one egg
Demerara sugar for crust
Instructions:
Pre-heat the oven to 425°F
Roll out the bottom pastry and place in pie plate
Sprinkle bottom pastry with a tablespoon of sugar (I do this for a crunchier bottom crust)
Place berries, sugar, flour and lemon zest in a bowl; toss gently to combine and fill the pie plate with the berries
Daub with butter
Roll our the top crust, cover, crimp and brush with egg; sprinkle sugar on top, and vent
Bake for 15 minutes at 425°F, then for one hour at 350°F
Cool on wire rack
Note: If the crust is browning too quickly in your oven (an you must keep your eye on this) lay a piece of foil gently over the top of the pie when desired browness is achieved, and continue baking