or Six Month Remembrance Ceremony in Kozarci, Serbia, August 5, 2014

Ah, how Pava loved roses. She grew beautiful red ones in her own garden. Still, Petar snips them and has them in a vase at the table for every meal.

Up at dawn, Cici and Vesna feed the chickens, pigs, water the garden and complete all household chores in the cool of the day. By 8 am, they are taking their "midmorning" break, sipping their morning Turkish coffee in the gazebo. The big fat rooster struts around the yard announcing "It's time to get up!" and the family filters in, one at a time, stretching, yawning, and chatting in quiet tones, aware of the fragility of the day ahead.

It is overcast, but humid and very muggy. Petar is wearing the same pants from the suit he was married in 53 years ago. They fit like a glove and he looks very debonaire! At 10:50, we gather, and by 11 am the procession starts: car, after car, to the grave site a few blocks away. The same grave site that everyone walked to just 6 months ago, as is the custom here.

This special 6 month anniversary is called "Sest Meseci Pomen" or "Six Month Remembrance". The 40 day anniversary was honoured only by the immediate family. This one is traditionally recognized by everyone who came to the funeral. Above, Vanja is greeting one of his father's brothers.

Some who couldn't make it last time, were able to this time. Some who were able to last time, were not able to this time, as is always the way. But, the numbers were very similar. And Vanja was deeply touched as every single family brought flowers.

Flower Shops are very profitable business in this area of the world as they are expected to be given in a specific style for the funeral, by all whom attend. The shops print ribbons with names and dates and sayings and sell ribbons with traditional sayings. At a Pomen, the bouquet style is a little different, and sometimes, all attending do not bring flowers. This time, they did.

We gathered at the gate, waiting for all to arrive, then proceeded on foot. There was no direction. No announcement. No organizing person. Everyone just knew what to do as such rituals are well known to all.

Petar and his two sons led the procession down the somewhat unkempt path to the site where Pava Lugonja lay beside her sister, Zora. The granite stone will be erected just before the one year anniversary, which is also tradition. The stones are lavish and icons of the loved one past. They are usually granite with photographs on them and the graves are tended to by the family, usually with flowers planted and gifted regularly. This is a country who pays respect to their dead, often.

Once all gathered, it was quiet. Dragica was driven to a closer entrance, and as soon as she found her way to the end of Pava's site, she started to speak to her sister. She talked and talked and talked to her. Everyone was silent, listening. Her tone was quiet, as if they were sitting next to one another, having a visit. She wasn't crying, but there was an obvious sadness to her tone. Of course, I didn't understand much. Only the part where she was telling Pava about everyone who sent their respect who was not able to come. She listed each by name and said something like, "And Goran loves and misses you and is sad he couldn't come. And Gordana loves and misses you and is sad she couldn't come…. ". Until all names were chanted.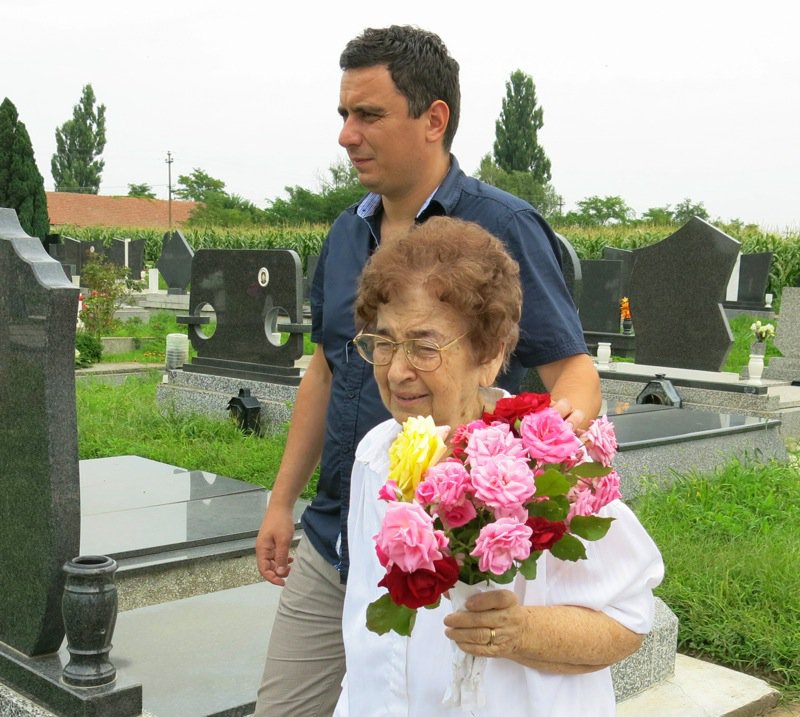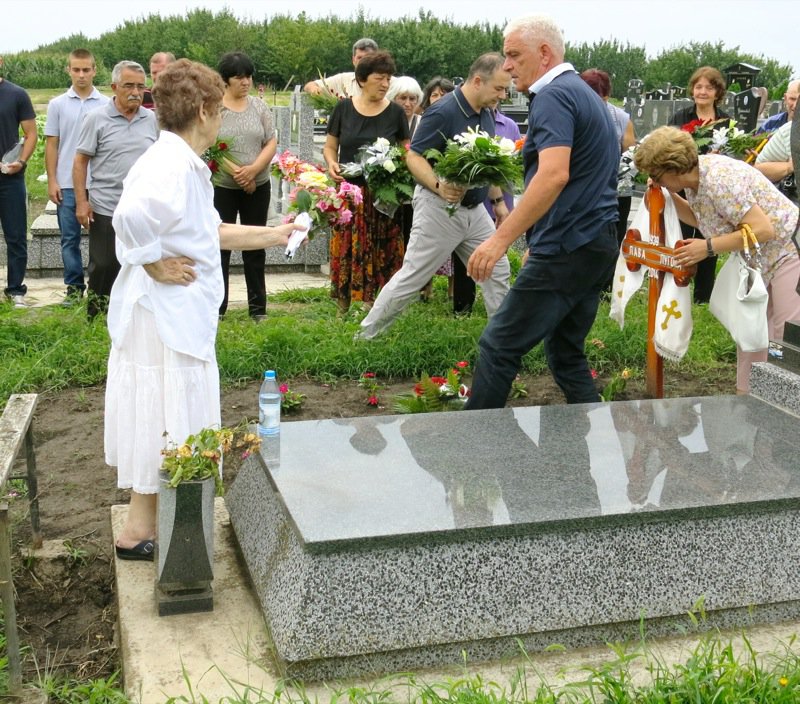 While she was talking, people began to move quietly, passing Cici their flowers to lay on her grave. He organized them so they completely covered her.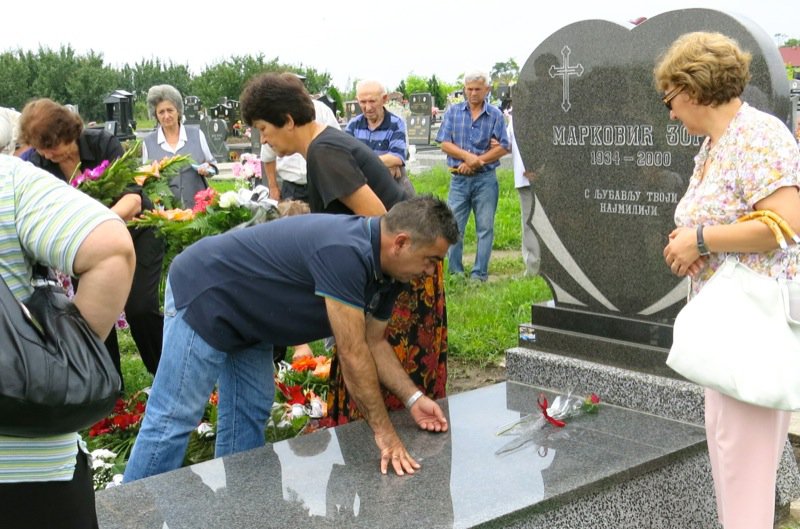 They kissed her cross. Knelt, lit a candle for her, and said their own quiet prayer as Dragica was talking.

And then she was finished. She had a drink of her water, and sat down.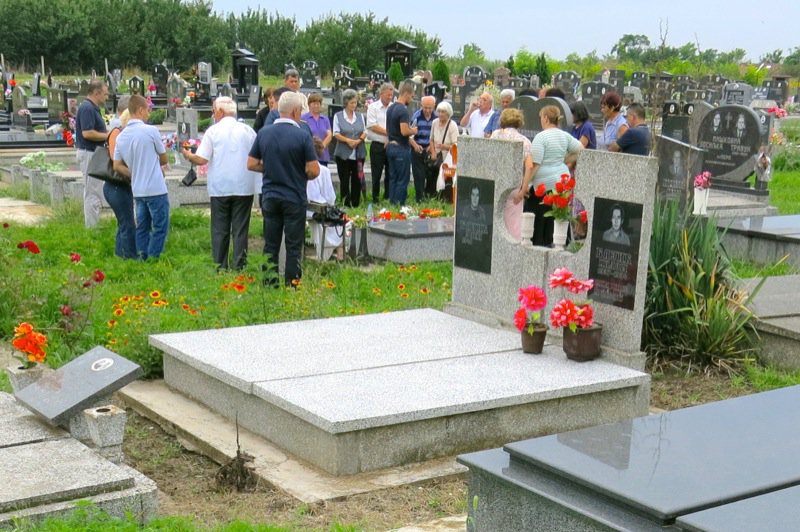 And Vanja called a moment of silence. All stood perfectly still, heads lowered for a good minute. Vanja then he said, "Slava Joj." Which means "eternal grace". Everyone repeated it.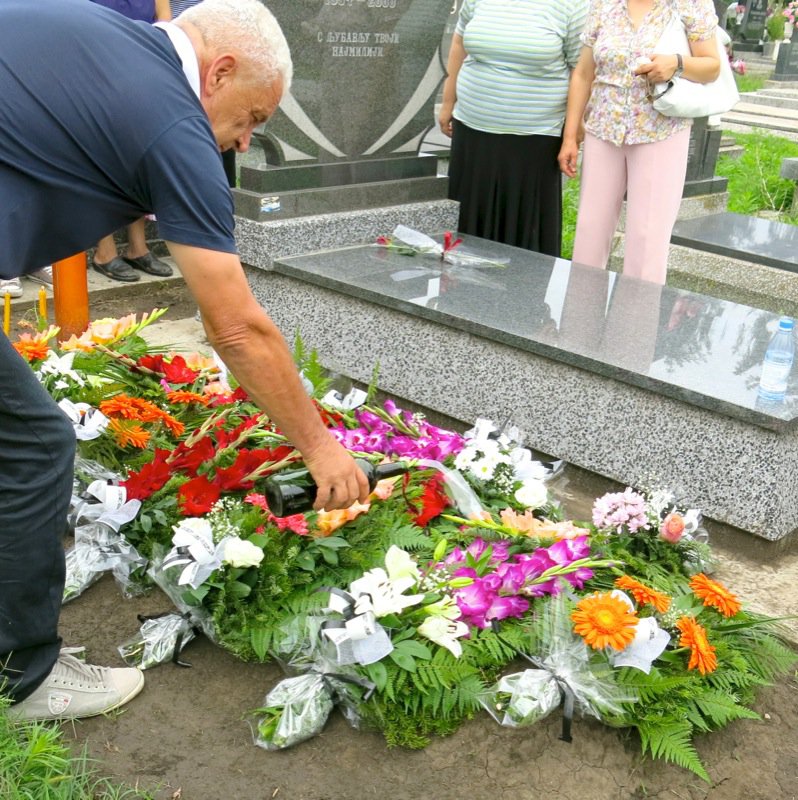 At this time, Cici poured the red wine, in the shape of the cross, over the flowers covering Pava's grave.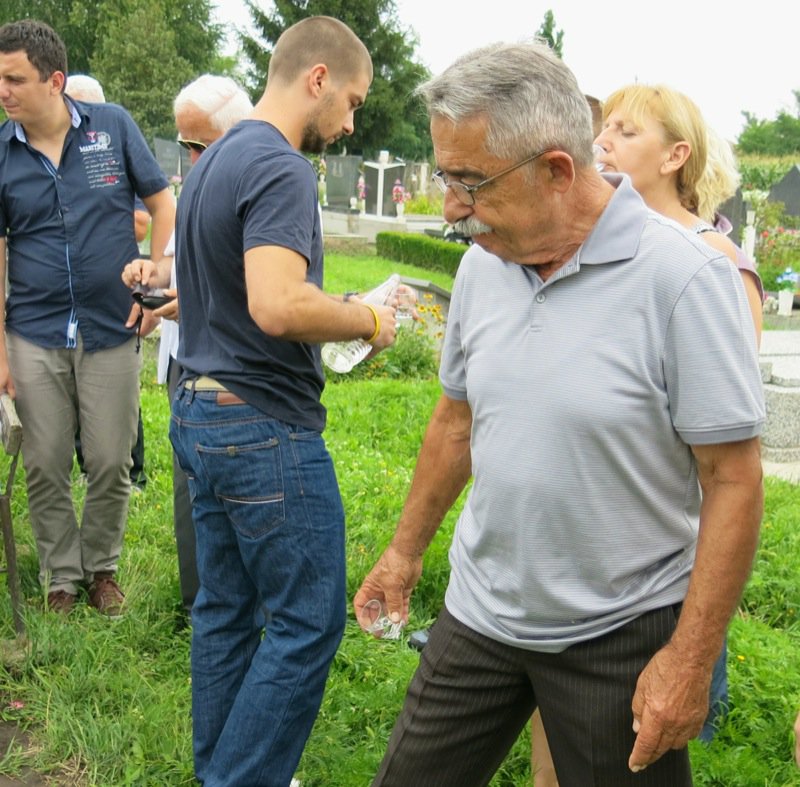 Then, everyone was given a shot glass and a little sljeva. Each person took a tiny sip, one by one, and threw the rest over her flowers to share it with her …

and with that, the informal, yet ritual laden service of remembrance for our dear Pava Lugonja was over.

Vanja invited all in attendance back for a noon dinner at the same restaurant Pava and Petar celebrated their 50th anniversary, and the same place that the funeral meal was served at.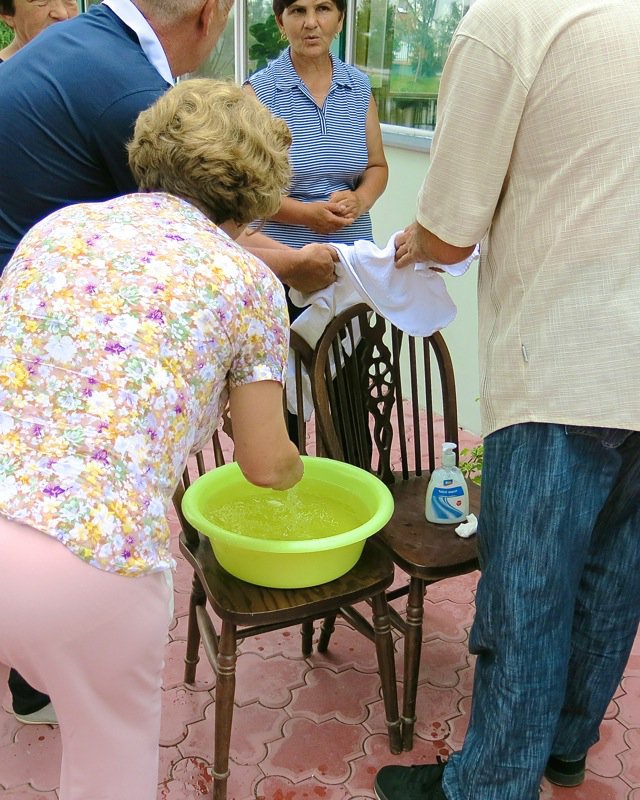 Almost everyone came. I wasn't at the funeral, but Vanja said it was in the same location inside of the restaurant with about the same amount of people. Interestingly, and as a custom of grace and courtesy, there was a basin placed outside of the restaurant for hand washing to avoid a bathroom lineup. I skipped that option. I was prepared to leave immediately, as everyone smokes, and I just cannot breath. But, Pava's spirit was definitely in the room. Someone must have reminded everyone about me, as there was no smoking until after the meal. (Which is extremely unusual. These people are serious smokers.)
The plate turned upside down at the end of the table represents our missing mother, Pava Lugonja: wife, sister and friend. I appreciated this is overt ritual of respect.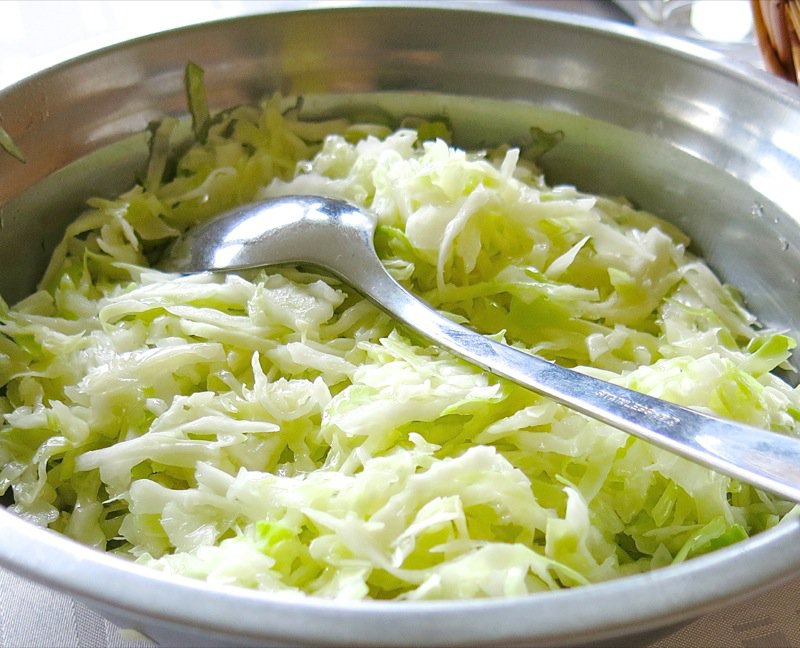 The meal was extremely delicious. I didn't expect such a flavourful experience . This food was like it had been home cooked. It was definitely a rustic, peasant lunch, and absolutely perfect for this occasion. Except, Vanja forgot to order dessert. Imagine!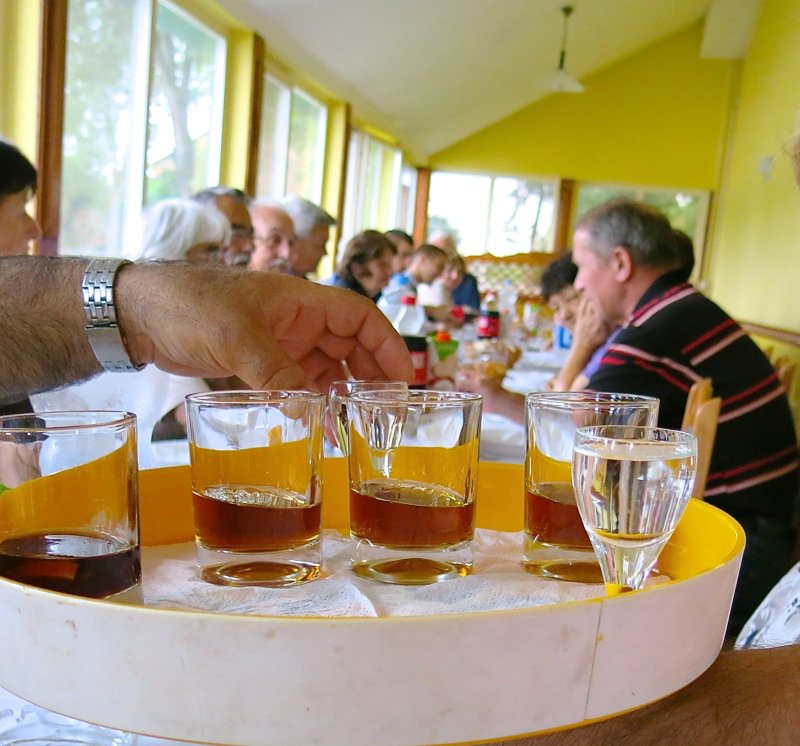 First, the Sljiva, Cognac and Pelinkovac ( sweet liqueur), always served straight up was offered upon arrival; beer, juice and sodas were also available.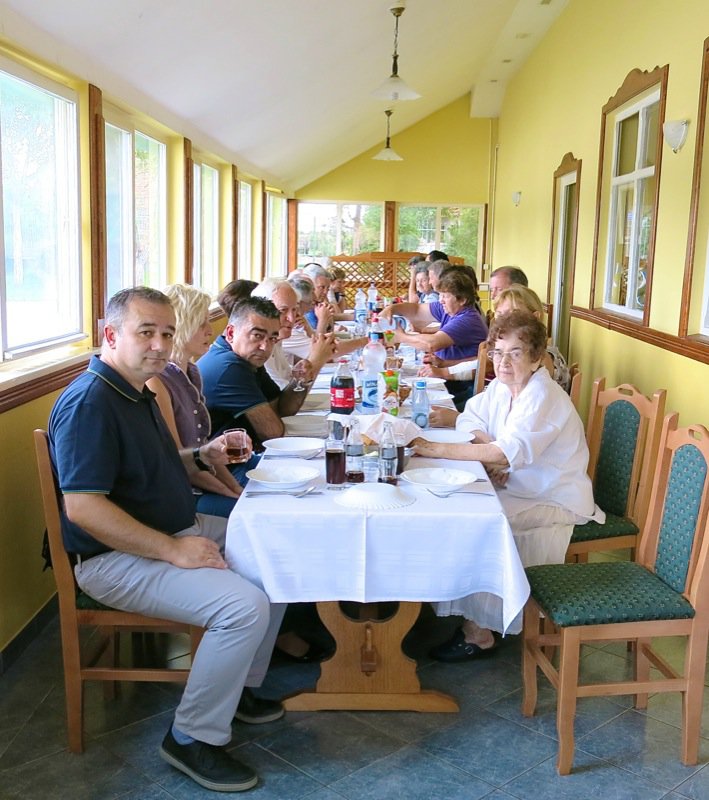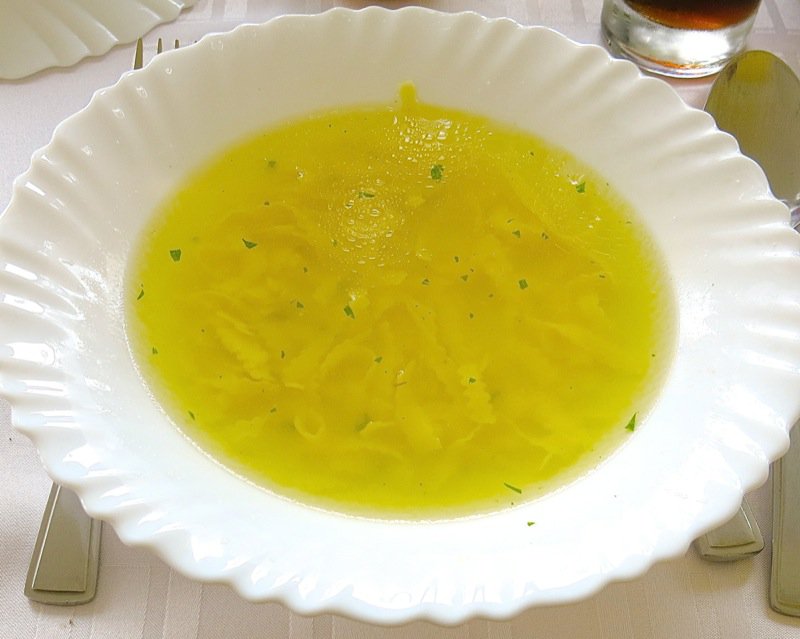 The Traditional Serbian Chicken Soup was, of course, served first. The flavor of the chicken in this country is unforgettable. I use three to four carcasses at home, and cannot get a soup with a broth this rich and savory.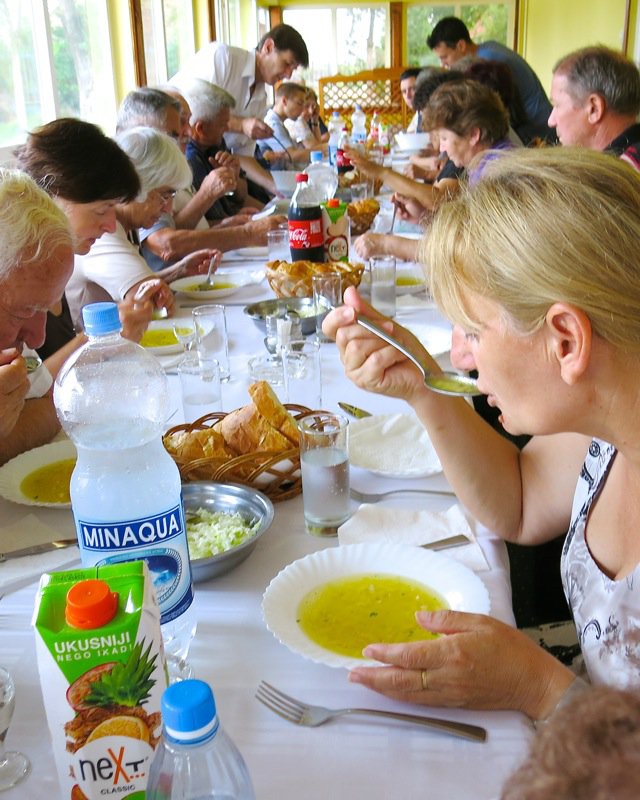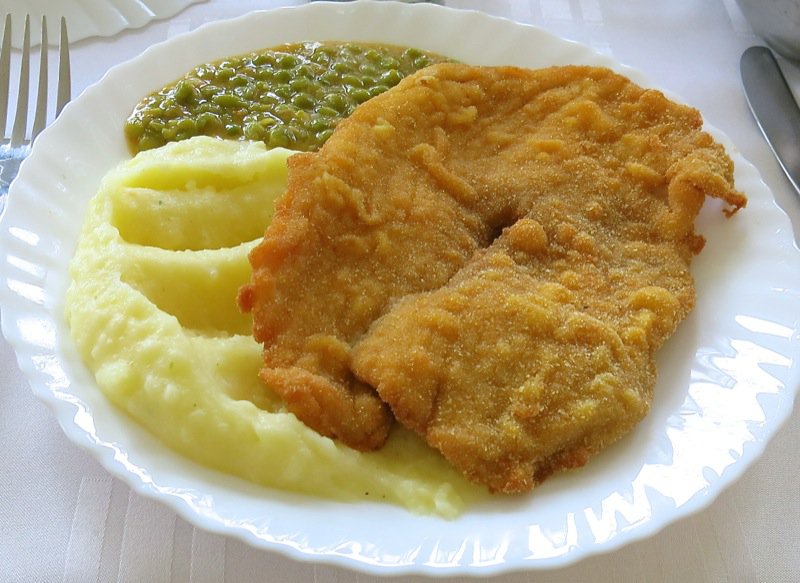 A huge portion of veal schnitzel followed, accompanied with delicious mashed potatoes laden with butter, a traditional Serbian pea dish and a crunchy, well seasoned coleslaw with the ever present bread.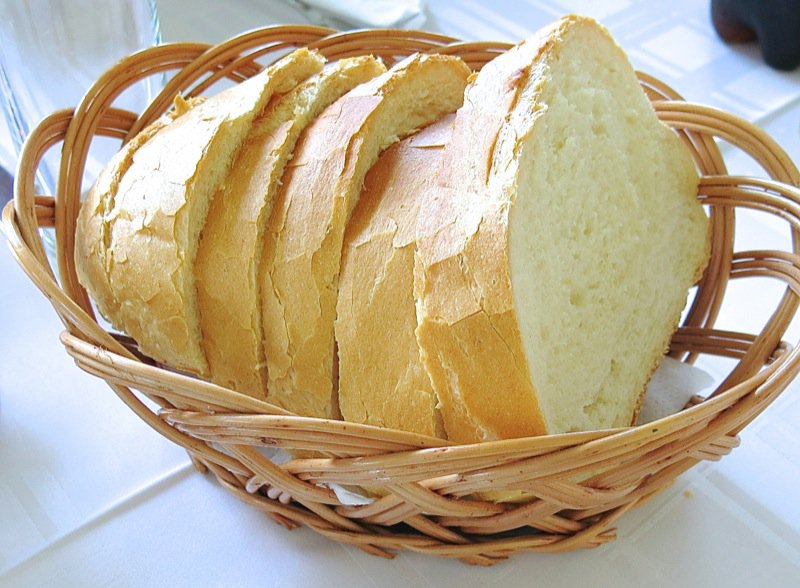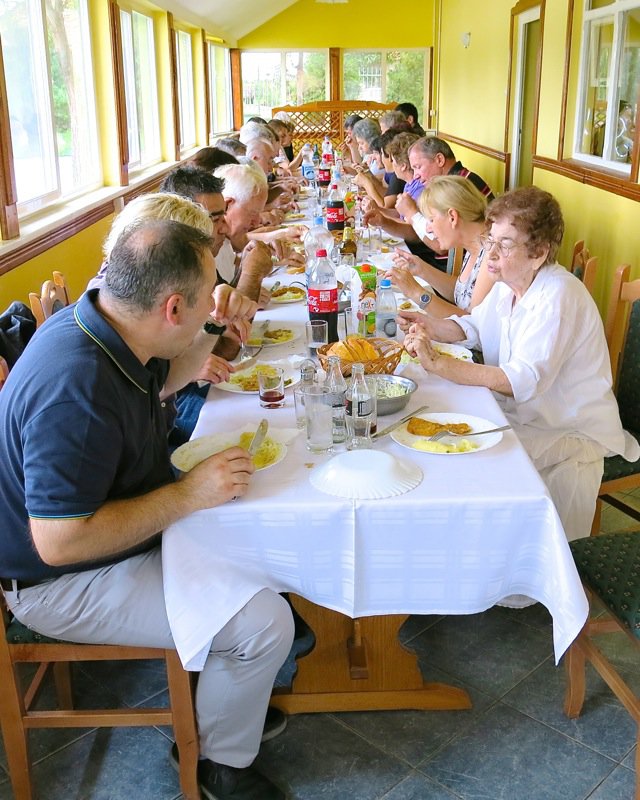 Turkish coffee, beer and drinks were served following the meal.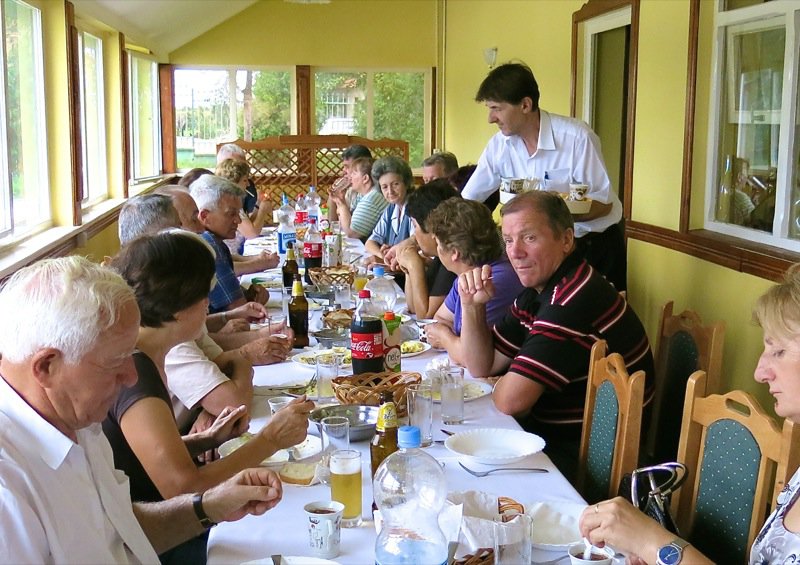 As soon as the coffee was served, I knew I was in trouble, so took a walk with Vanja to enjoy the lake, found a little place to sit and then he went back in to drink his coffee and visit with everyone in the now very smoky restaurant.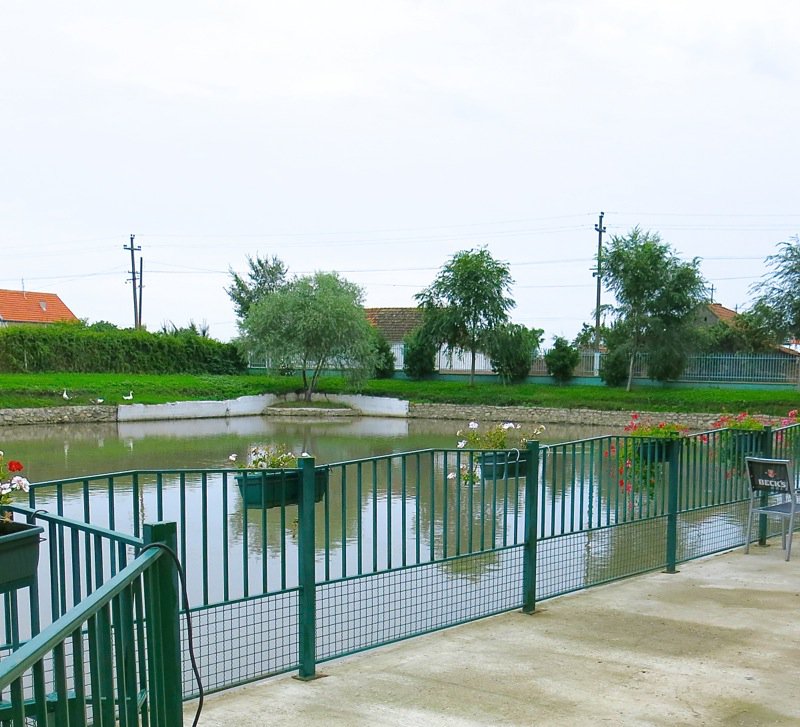 Not very long later, the parking lot was full of a mob of people hugging and kissing and laughing and crying. We were back at Cici and Vesna's shortly after 2 pm and though we had intended to stay another night, plans changed, due to the "Official Flood Administrators" that had stopped by Petar's house in Bijeljina this morning (Monday), leaving word they would return at 7:30 am the following day.
About 4 pm we piled into the car to head back home…. as always, stopping to see Veljko first, to say good-bye, then Dragica, and lastly, Dragana, Zora's daughter… so, an hour later, we found ourselves on the highway, heading "home". Hearts full of the love shared this day and enough memories of Pava to last several lifetimes…we talked, we laughed, but mostly, we thought and just remembered….