Happy Belated Birthday, Igor!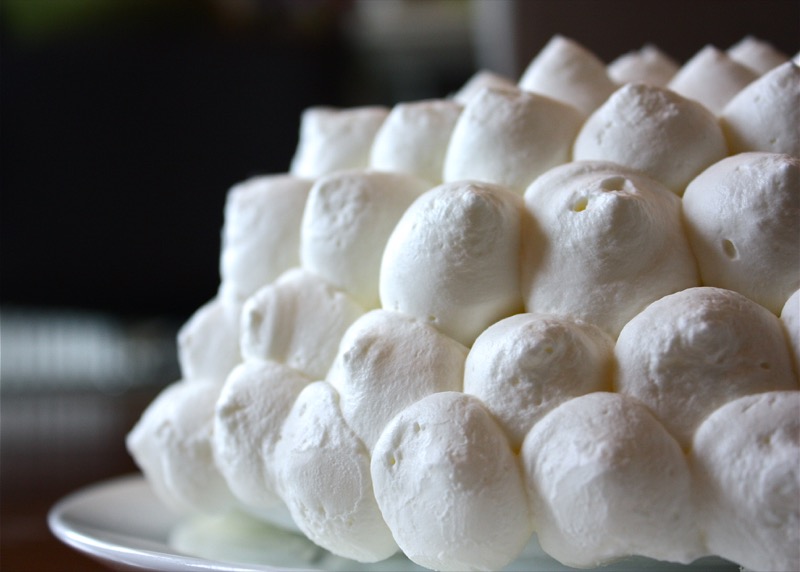 The Bomba Torta. Not a cake I had heard of until visiting Vanja's homeland for the very first time, and meeting his mother. There was one hiding in her fridge for his birthday celebration. Oh, how she prepared and fussed every time we came, but particularly this time. It was the first for me, his first in a few years, and it was his birthday in a few days. She hadn't had the privilege of celebrating his birthday with him for many years, and as a mother, I could understand her joy.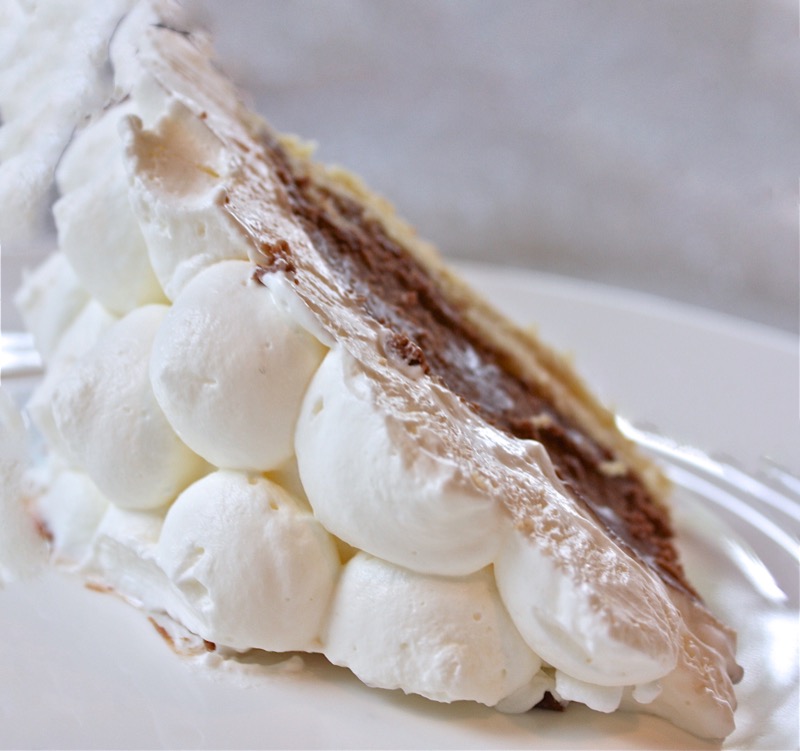 It looked nothing like this cake on the outside, but it was almost identical on the inside, except the chocolate there is different. So, the taste was different. The terroir is different, and there is no such thing as whipping cream there. Seriously. No such thing. There is Slag, which is like our Dream Whip. Nothing else. Of course, there are cows everywhere, and heavy cream on the farms, but not in the stores, and no one uses it in their houses like we do. They make cheese with their milk and so many other things. But not ice creams and whipped creams. Butter is a delicacy and usually bought at the store, if used at all.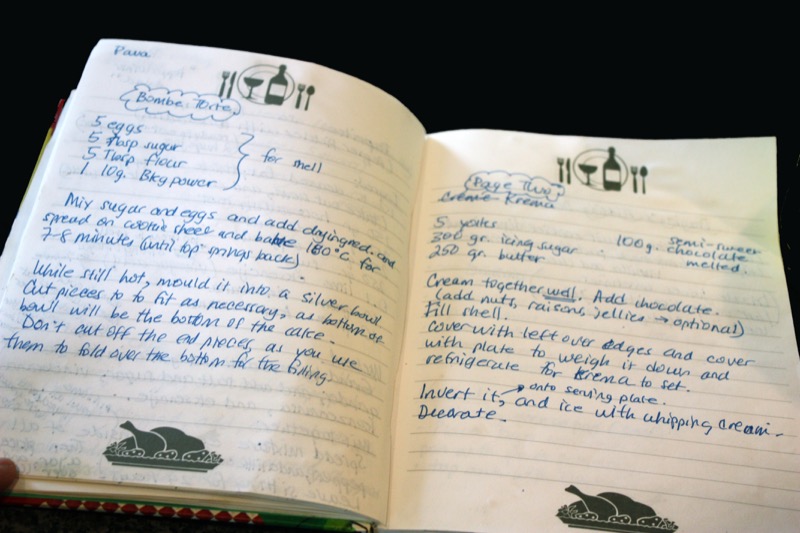 I immediately had her tell me her recipe and I wrote it down. Vanja translated. We didn't speak the same language, but we loved one another. And, understood one another more than most could fathom.
Pava Lugonja's Bomba Torta: Making the Shell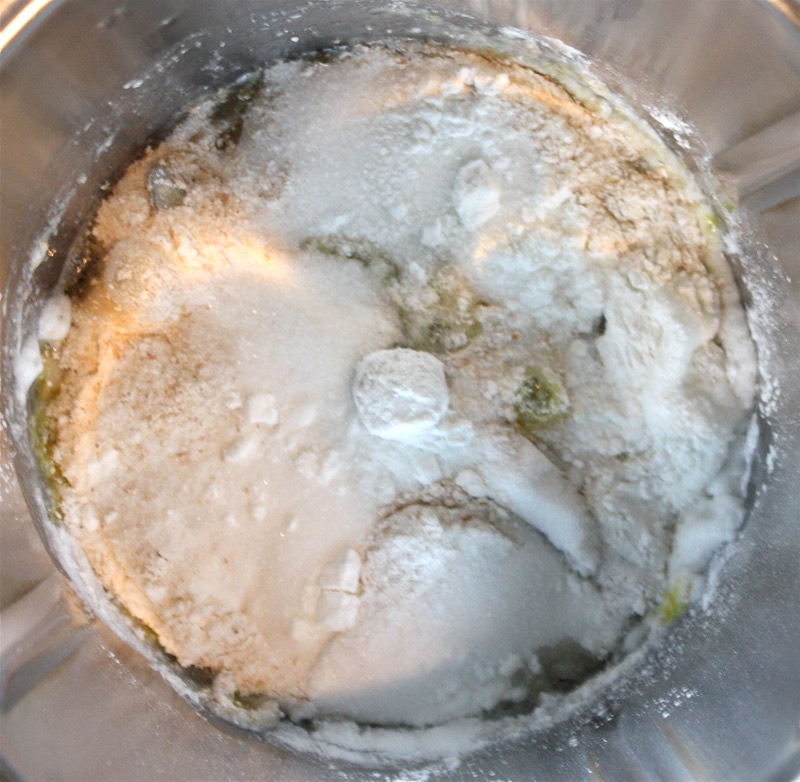 Of course I used my Thermomix. I use it for everything I do, but wrote the recipe as Pava gave it to me, and she certainly did not have a Thermomix.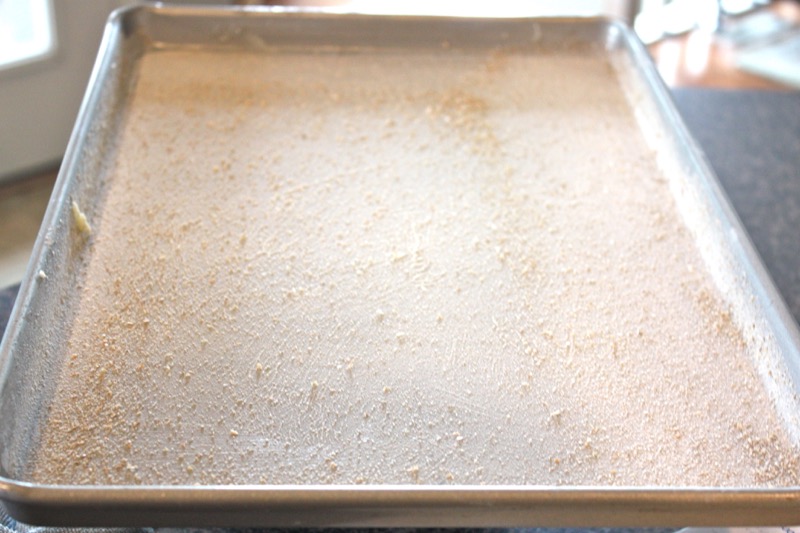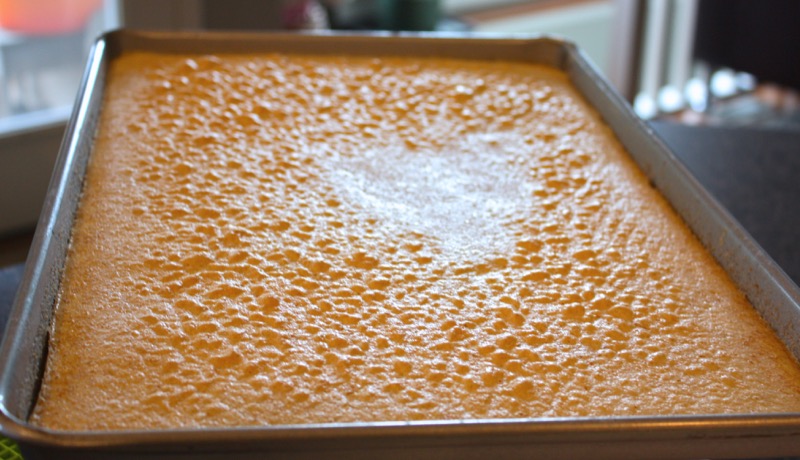 Dust the parchment paper, spread out the batter and bake. Watch carefully as it takes only a few minutes.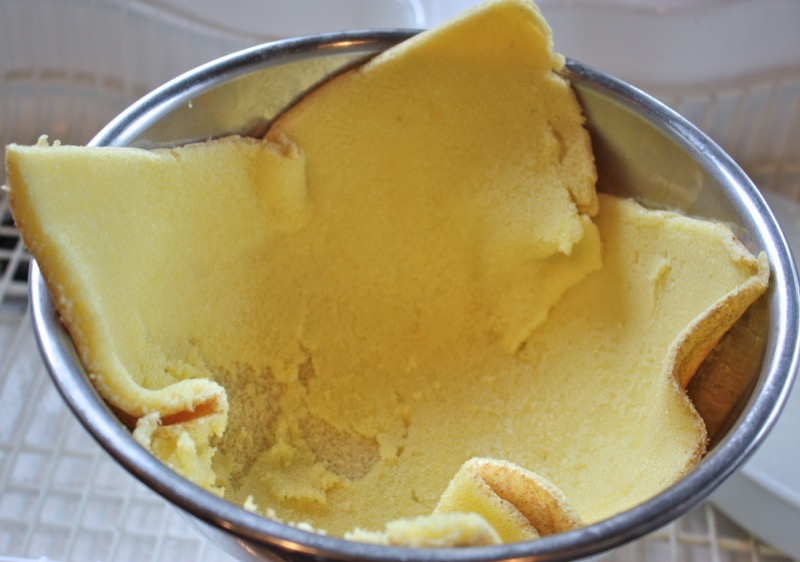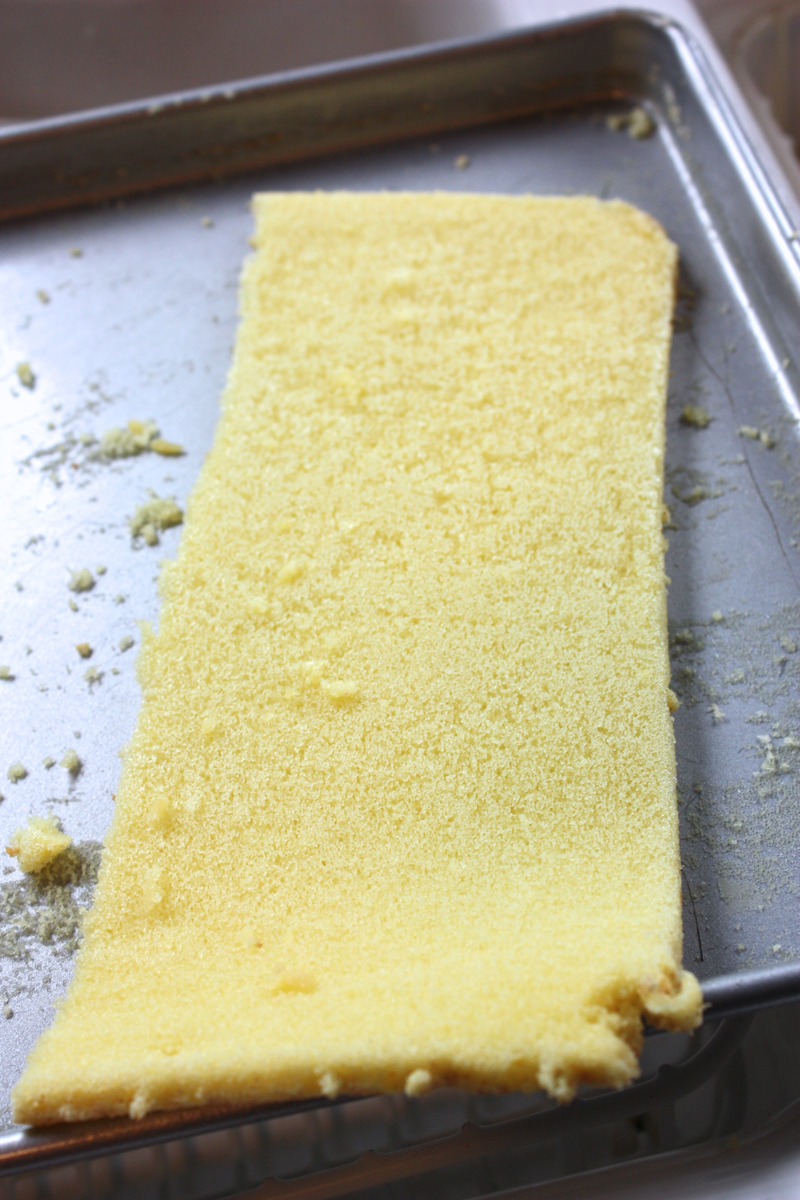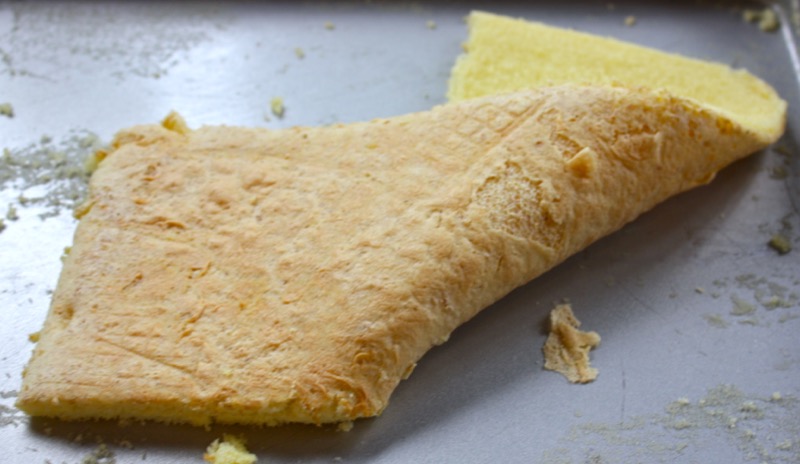 Pava Lugonja's Bomba Torta: Making the Filling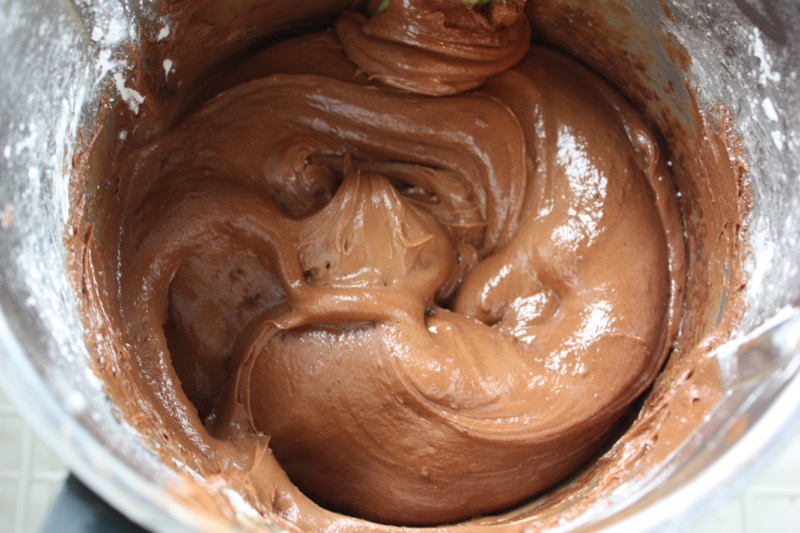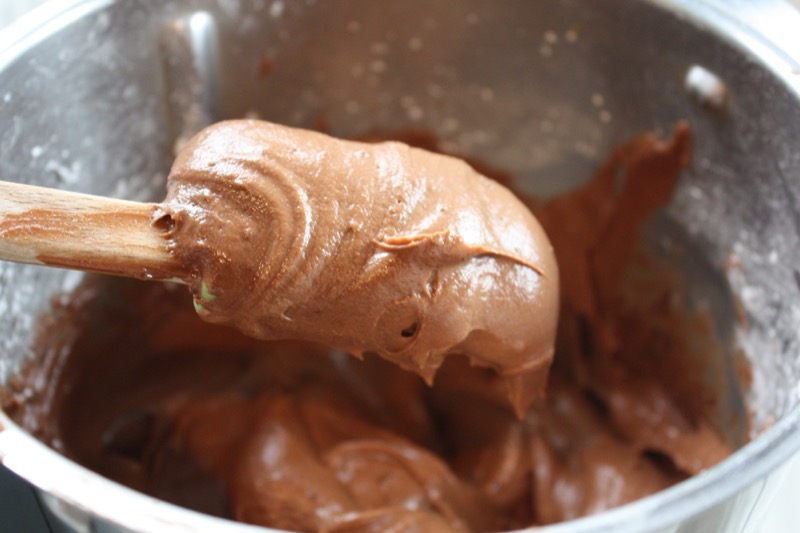 Again, all in the Thermomix. Voluptuous velvet chocolate filling. Irresistible.
Pava Lugonja's Bomba Torta: Putting it all Together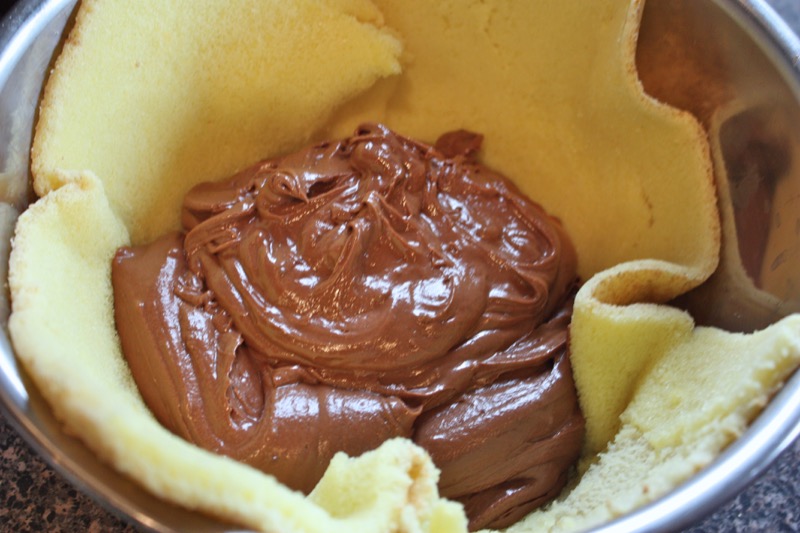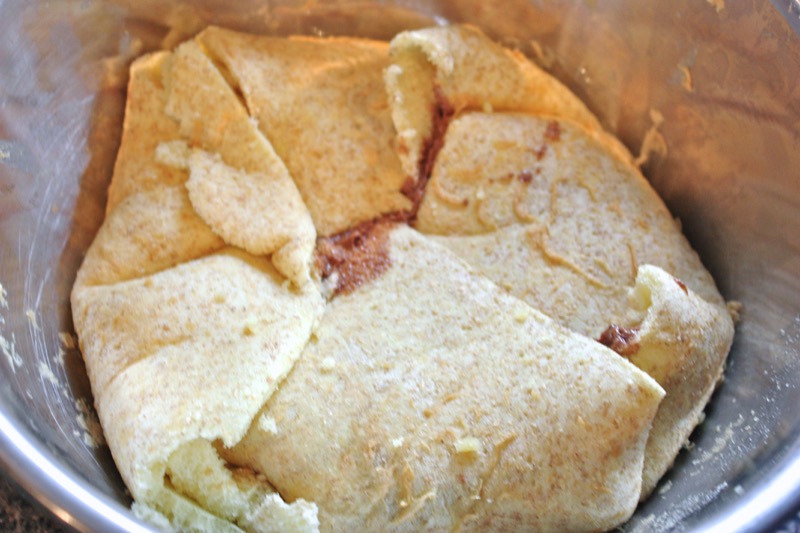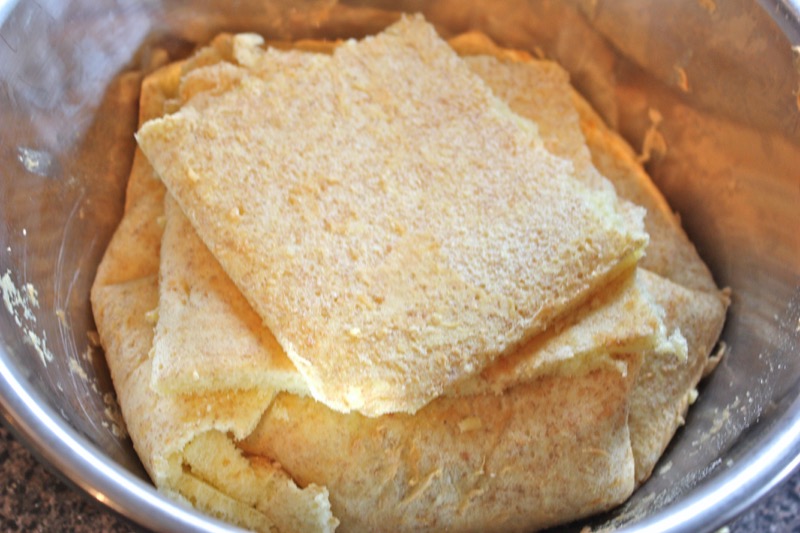 Place the shell in a round or domed bowl while still warm and pliable. Don't cut off the edges. Fold them over the filling and top with leftover bits of shell.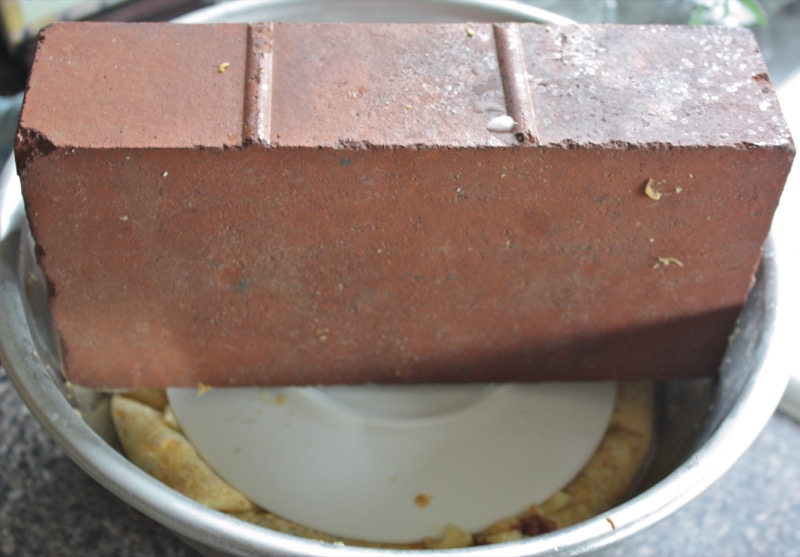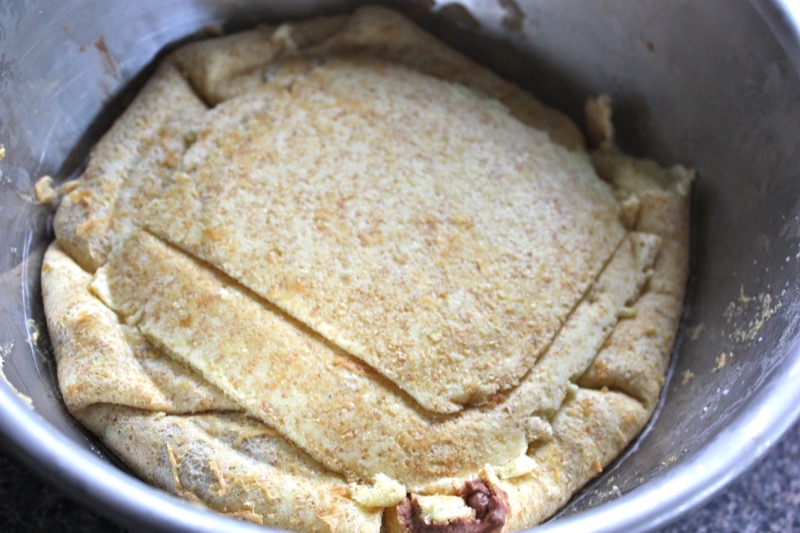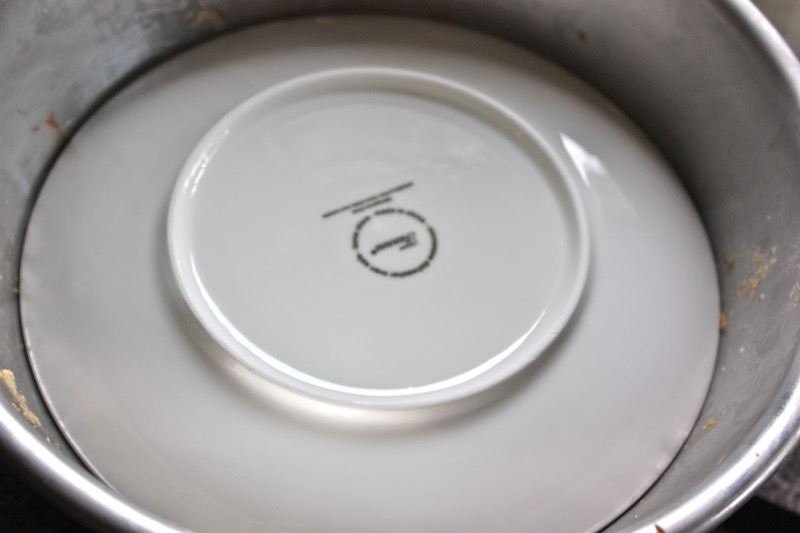 Weigh the Bomba Torta and refrigerate for at least 24 hours.
Pava Lugonja's Bomba Torta: Decorating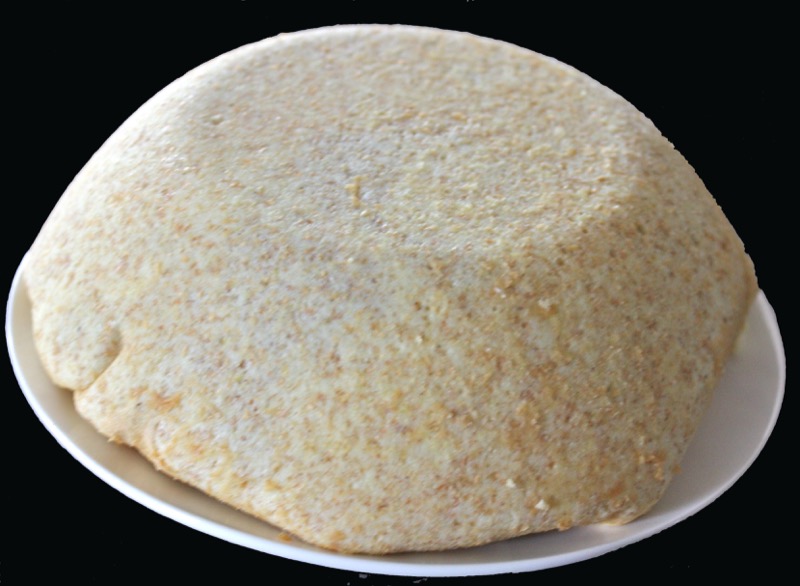 Invert.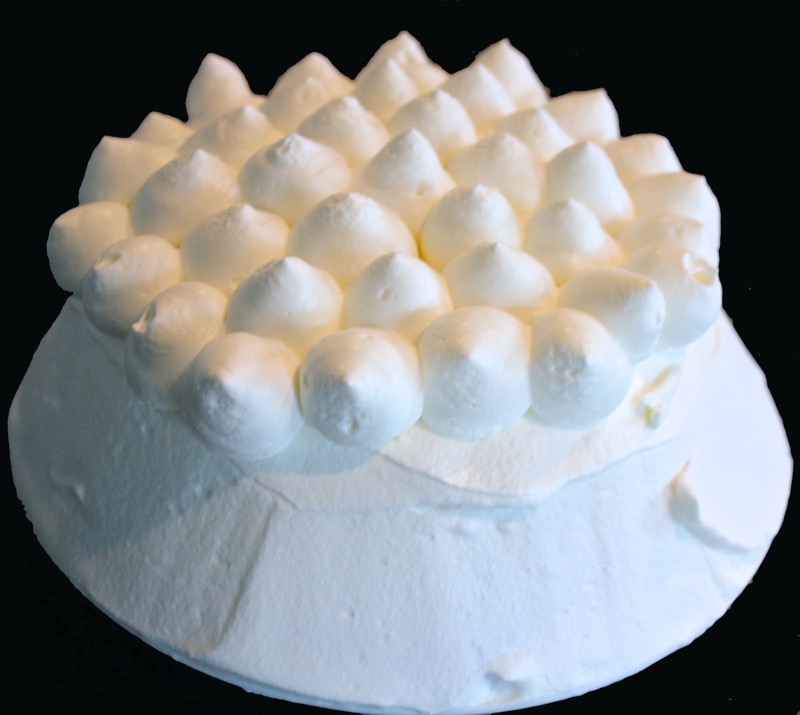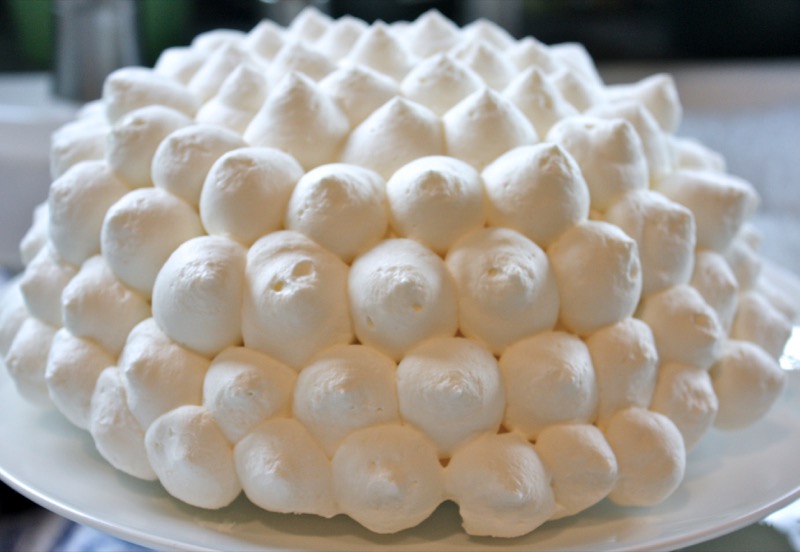 Whip the cream and decorate with candies or other garnishes. This time, I used a pastry bag with a large tip and make thick marshmallow type bobbles all over it. Usually, I spread the cream over it, as Pava did with milk and sugar, and then add candles and sprinkles.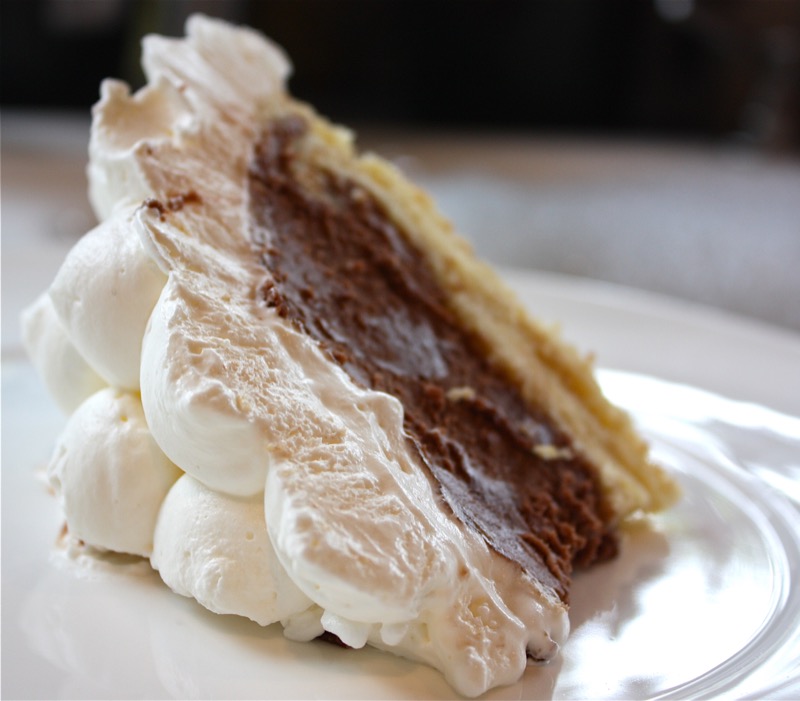 Certainly, Pava was a diva! She was as dramatic as I am in her kitchen and presented every specialty with flair. This cake just didn't "get served". It got presented with a theatric presentation, family fan fair and a figurative drum roll in honor of her work and the family member it was lovingly made for. I loved that about her. I understood that about her.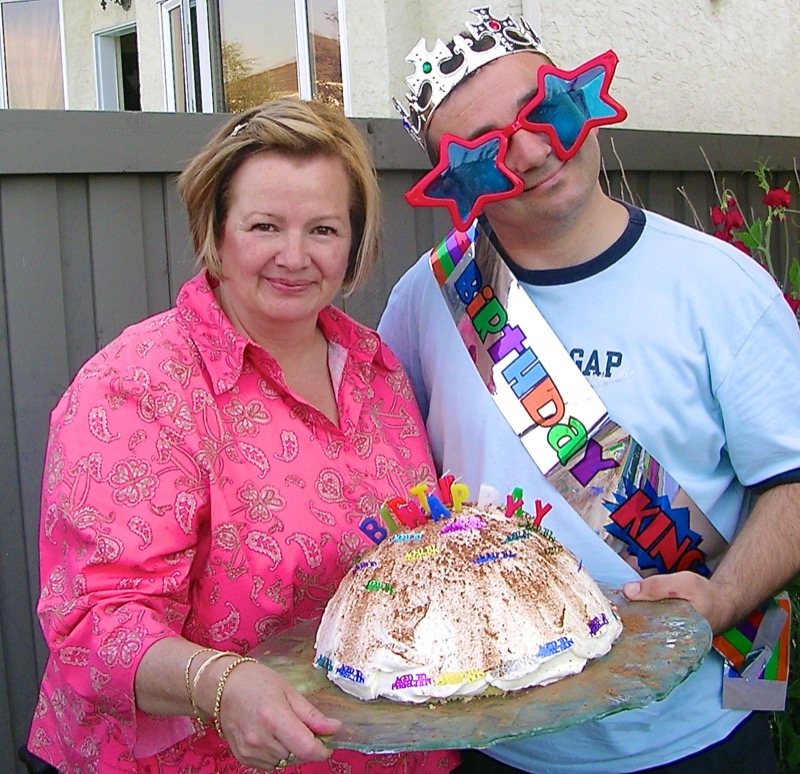 The first time I made it was for Vanja's 40th Birthday Pig Roast Celebration in 2006. We had been together 8 or 9 years by then, so it was more than about time! He was shocked, she was thrilled and it was an all round perfect surprise.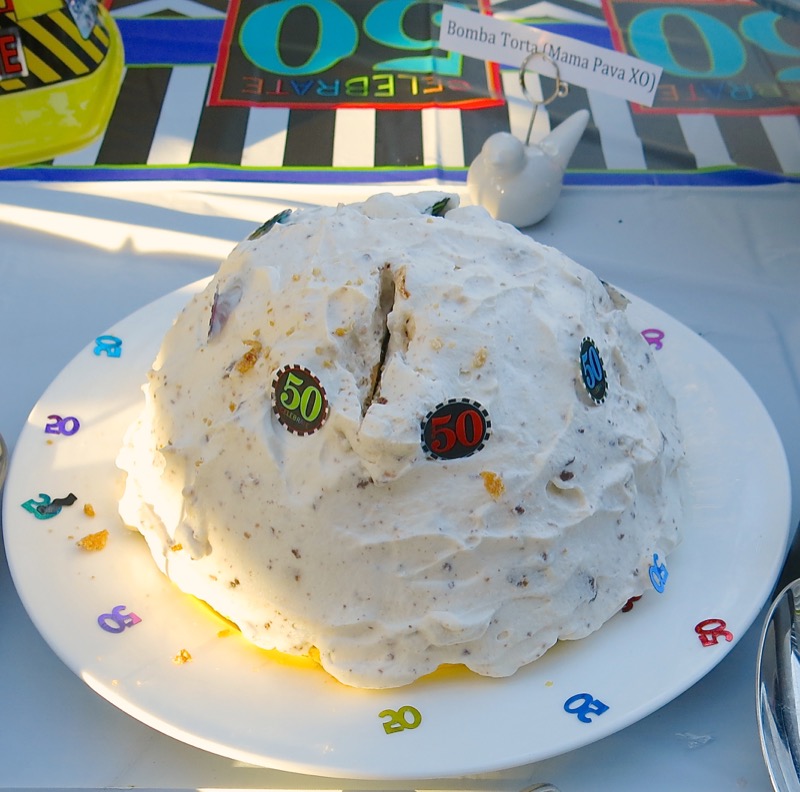 I also made it for his 50th Birthday Pig Roast Celebration this past July. The one above is the same size as the one made here, and in the recipe. It is actually very small, if you don't decorate it with such flair, as I did for Vanja's brother, Igor, below.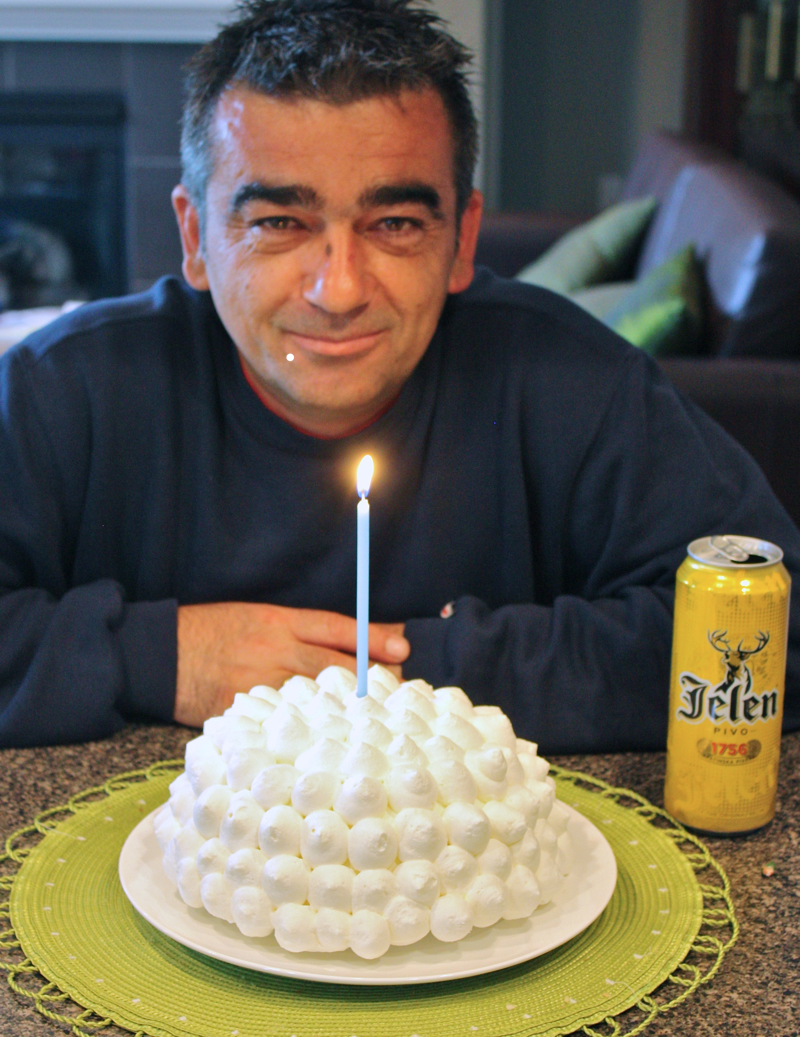 Igor has visited us a few times. The last time, he lived with us for 7 months. Time flew. Everyone says, how could you have a family member live with you for 7 months and not go nuts? Not sure. Maybe I am already nuts? No. I think Igor is just easy to be around. For sure, Vanja and I spend much less time together. I did miss our time, but I understood the situation, as well, and am so happy we had this opportunity.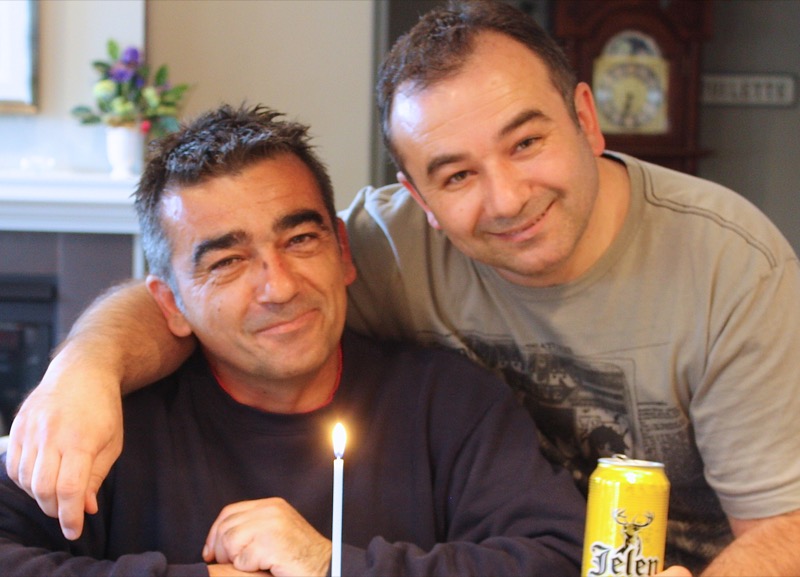 And so it was, so many years ago, when Igor stayed her, we celebrated his birthday together with Pava's Bomba Torta. She was still alive at that time, and delighted. Oh, I love to make her happy. I had never published the recipe, and now is the time. Does anyone have their own version of the Bomba Torta or a recipe for a dome cake they would like to share here?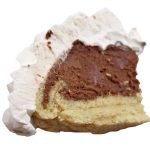 Pava Lugonja's Bomba Torta


This was the Lugonja Birthday Cake. It is a traditional cake in the former Yugoslavia and Balkan area in Europe. There are many different varieties of this cake, and this is hers.
Total Time
1
hour
8
minutes
Ingredients
Ingredients for the Shell:
5

eggs

5

tablespoons

sugar

5

tablespoons

flour

2

teaspoons

baking powder
Ingredients for the Filling:
5

egg yolks

350

grams

icing sugar

250

grams

butter

100

grams

semi-sweet chocolate

, melted
Ingredients for the Frosting:
2

cups

whipping cream

, whipped
Ingredients for Garnish:
candy or decorations of any kind
Instructions
Instructions for the Shell:
Beat sugar and eggs together; fold in dry ingredients

Spread on parchment covered cookie sheet; bake at 180C for 7-8 minutes, or until top springs back

While still warm, mould it into round bowl; cut pieces to fit, as necessary

Leftover bits will be used to cover bottom of torta; do not cut over end pieces as they will fold over the filling
Instructions for the Filling:
Cream yolks, sugar and butter together well; add chocolate (nuts, raisins, jelly candy, etc.)

Mix until combined well
Putting it together:
Fill shell with filling; fold shell edges over the filling and cover bottom with leftover pieces

Cover with a plate and add a weight; refrigerate overnight, at least

Invert and decorate
Instructions for the Frosting:
Beat whipping cream until thick and spreadable; cover the cake completely

Decorate with candies etc.

Refrigerate until ready to serve
I really enjoy making this cake, but honestly, do not like the "cake" or shell part of the recipe. It is a brilliant recipe. Easy to remember, to make and works like a charm. But the taste? Well? Meh. Even maybe… Meh-yucky-meh. However, that is how it is. I would love a better shell recipe, but wonder if it would be as pliable as this one. Suggestions welcome.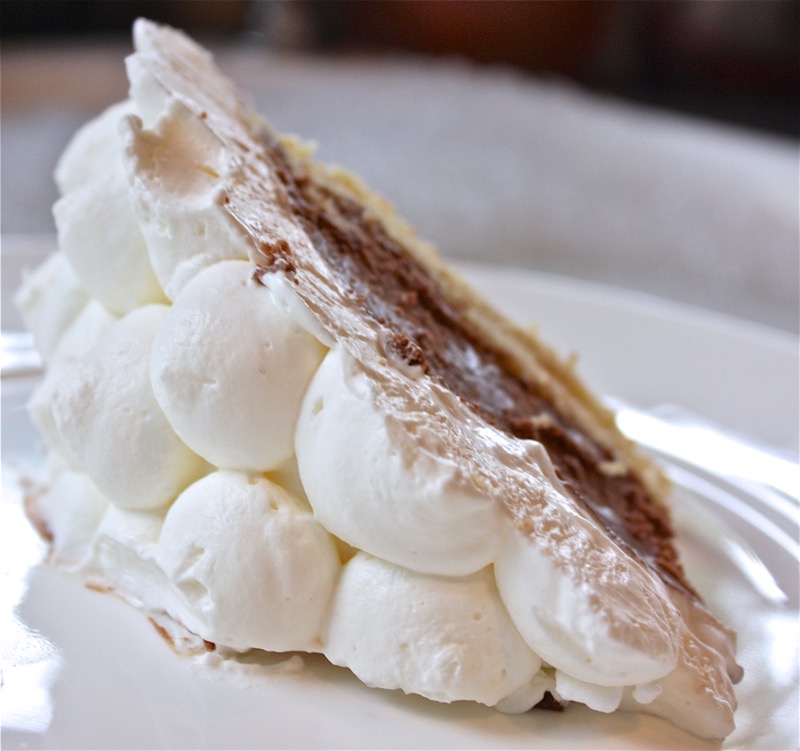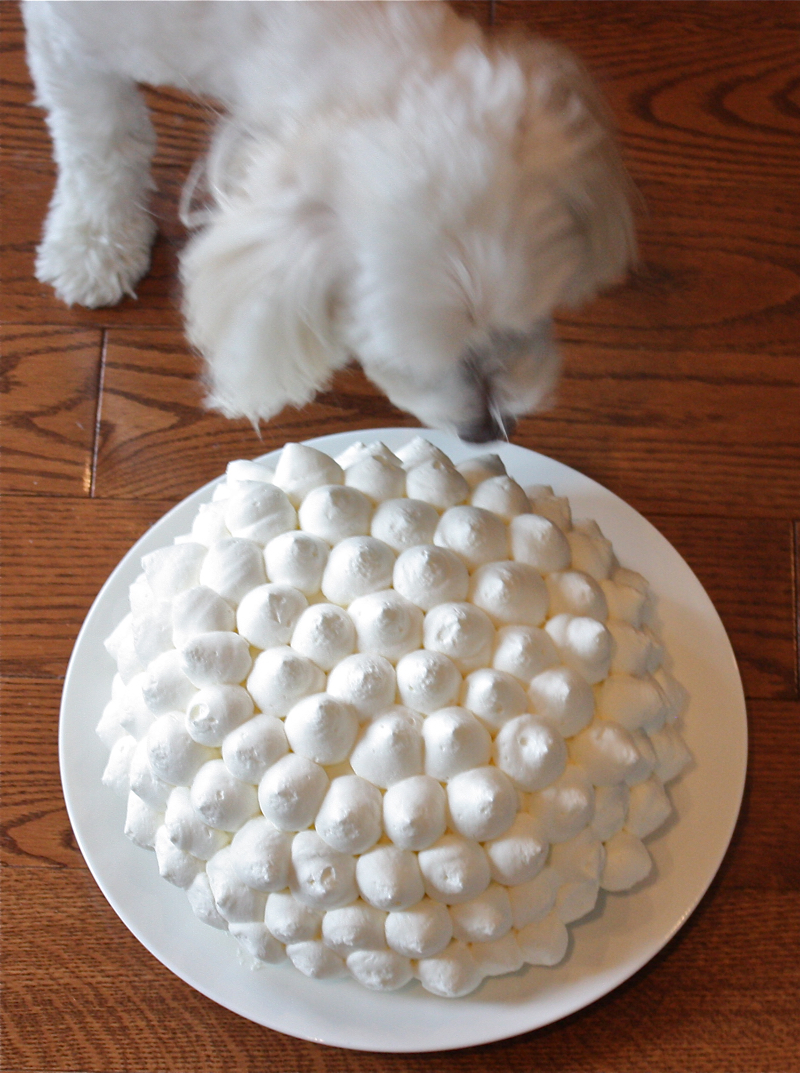 I never did tell Igor…..