The Last Sunka of the Lugonja Legacy: Petar Lugonja's Sunka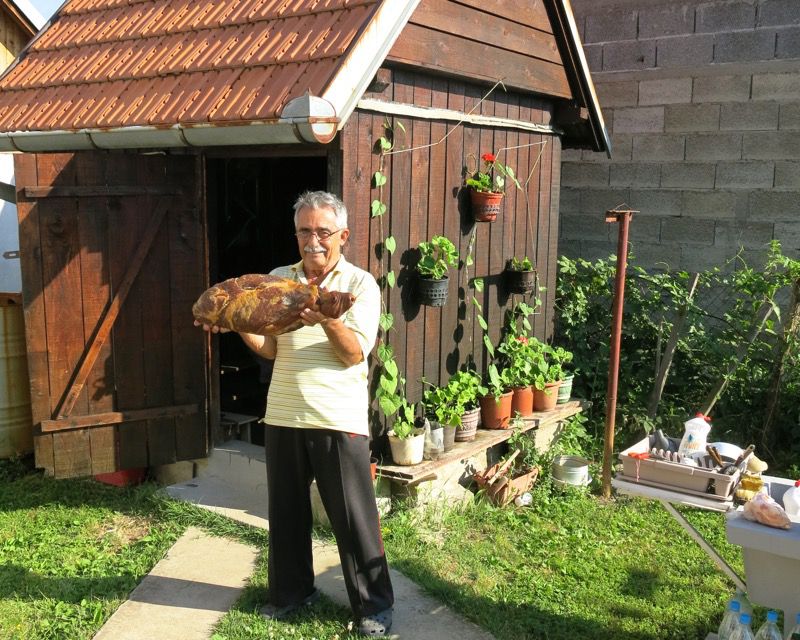 Such deserved pride on the face of this humble man. Arriving this year, is bittersweet. Vanja's dad has not been well. The hope is that we will get him relocated in Belgrade before Winter. Most likely, Igor will do the relocation bit. We will do the finding apartment bit, while here, we hope. My fingers are crossed. It is a tall order, but he is finally ready. So, now is the time. His last little piggies were raised last year. I got to know them well. He holds the huge hind leg of one of his own home raised three little piggies: dry cured and smoked in the smoke house just behind him. It was stuffed in a bag in his fridge waiting for the yearly ritual of cutting into and tasting this primordial treasure.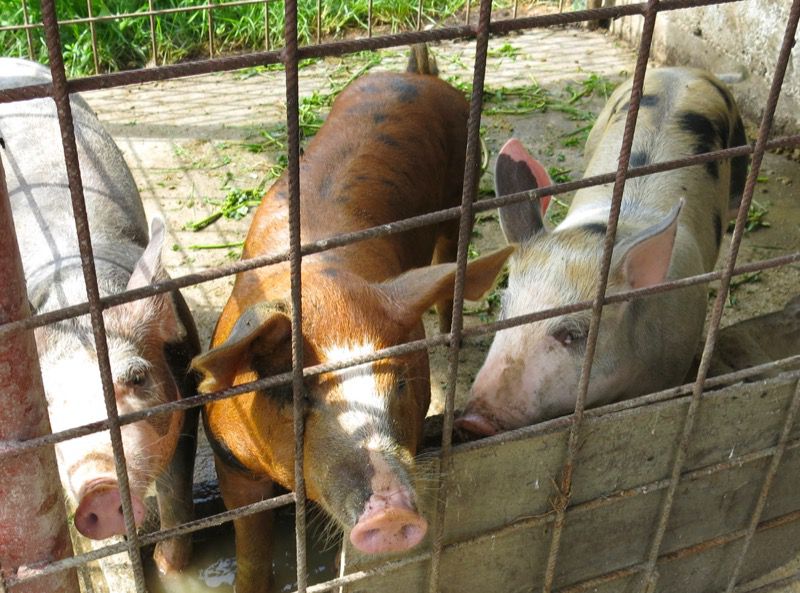 "Oh little piggies, how I love thee. Let me count the ways. " He would say, in his own words, "I will take such good and loving care of you while alive, and you will take such wonderful care of me when you are dead." How they loved him and responded to his chants early each morning and before bed at night. He would revel in pulling a mixture of the freshest blend of grasses from the field for their afternoon snack and feeding each by hand.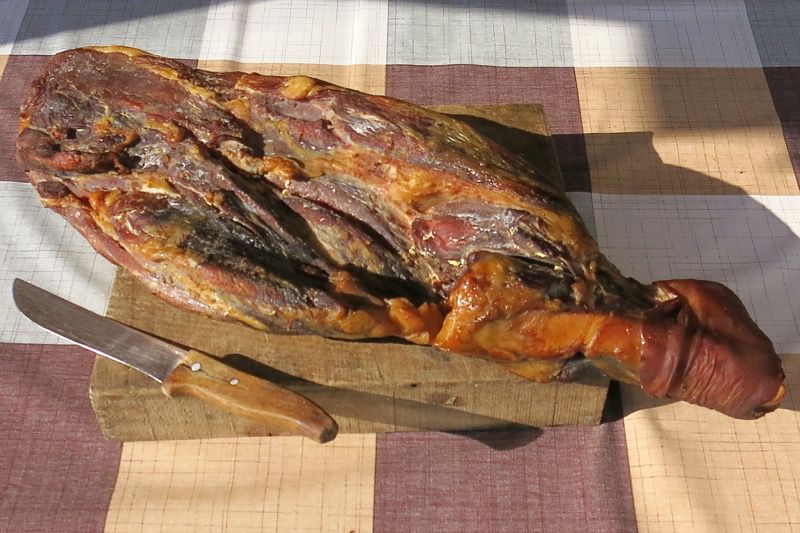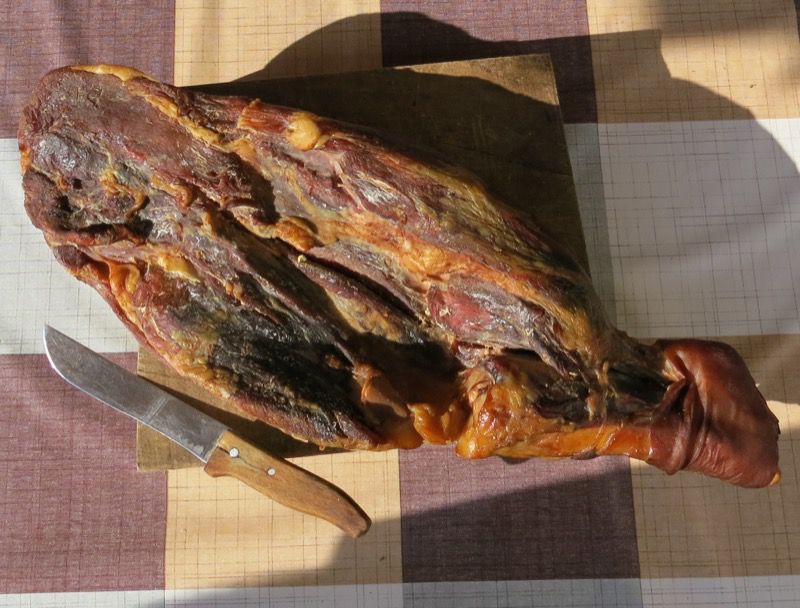 No one's sunka is better. I have been coming to the Balkans for several years now, and everyone in the countryside raises their own pigs and has a smokehouse. I have tasted many a homemade sample of sunka and none is better than Petar's. His is seasoned to perfection and the flesh is tender… delicate, so soft as it melts on the tongue. It must be tasted to understand. The traditional smoke flavour is there, and each person's holds that similar "recognizable essence of sunka". Petar's begins with the baby pig, the feed, the love and coddling – to the kill and the cure. Every aspect of the process affects the flavour and texture. He will tell you that. He will also deny that a man's character in the Balkan's is measured by his sunka, though his chest rises and his shoulders pull back as she stands that entire inch taller when praised for his sunka. He is a legacy. The making of this sunka has been passed down through the generations of his family from back and back and back – too far back to remember – and too far back to deny its providence. As the sun rose over the hills of Kupres and warmed the land when he was but a tiny tot, he was learning to fend for himself and his young brothers and sisters. He learned how to cure and smoke meat while knee high and has shared this knowledge with two sons, and two grandsons. None of which will continue this family ritual.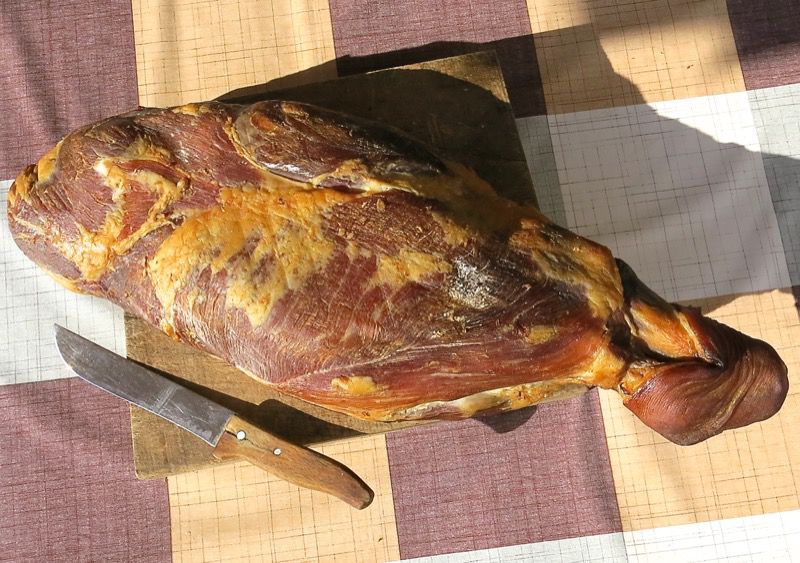 There is so much more than a leg of smoked cured pork on that table, no? And, now it is done. My heart aches, yet rejoices in the fact that I experienced this ritual, shared in the celebration and I, too, understand the importance of this passing on. As I also understand the catastrophic affect upon the future of our humanity as each of these sacred family rituals dies a natural death across our globe. Our connectedness is lost. Our past is too far gone to taste, to know, to remember, recall and learn from.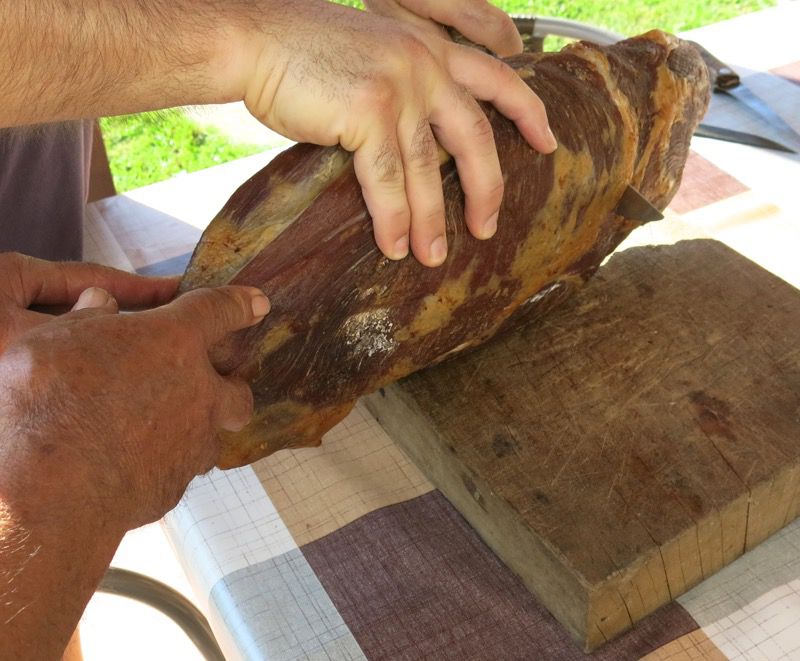 Yet, today, the hand of the father with the hand of the son hold on.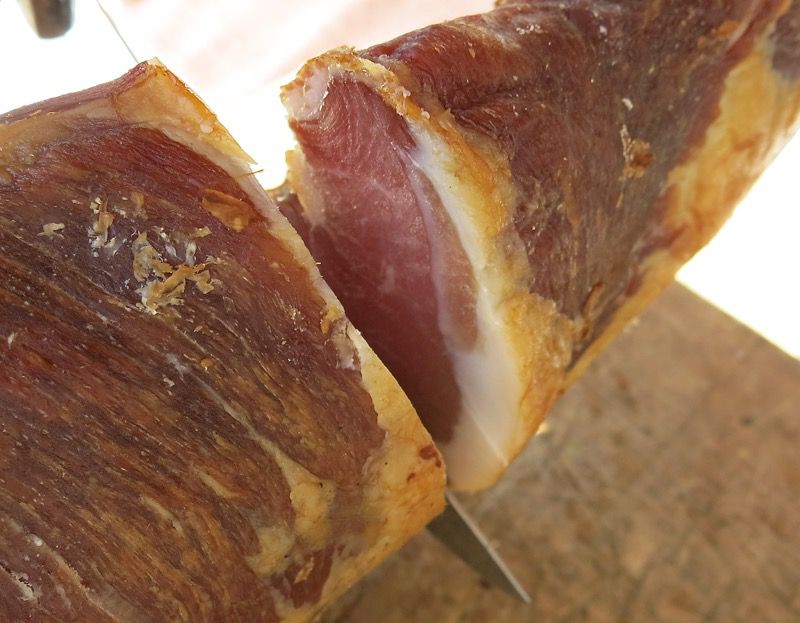 Still, the father guides his grown son through the muscle and flesh of this sunka to reveal the treasure within and together join in the pleasure of the colour, taste, and aroma of their shared past.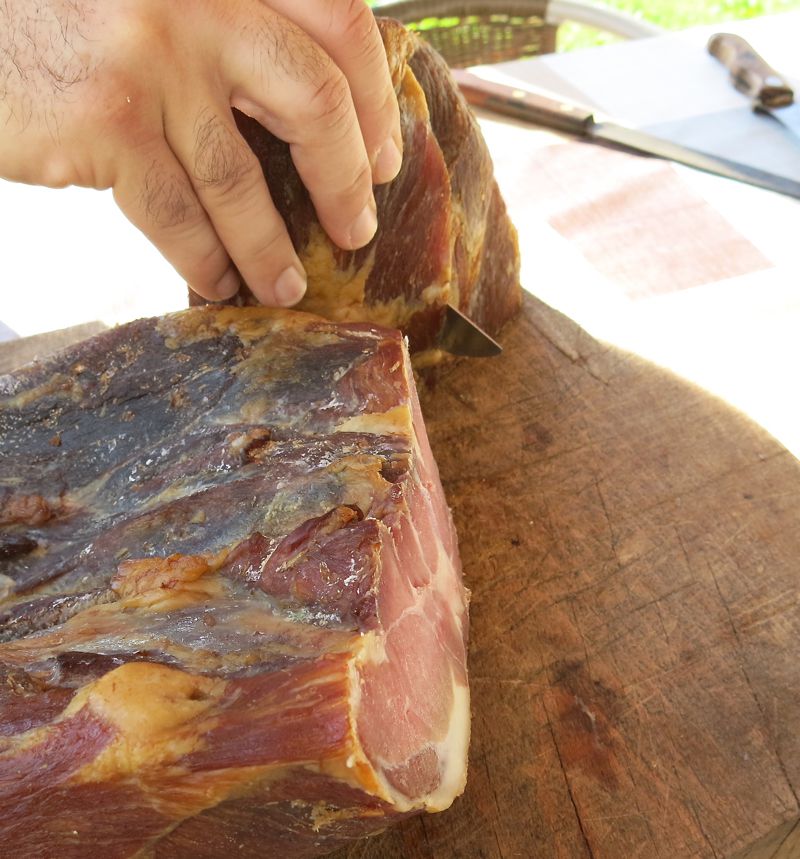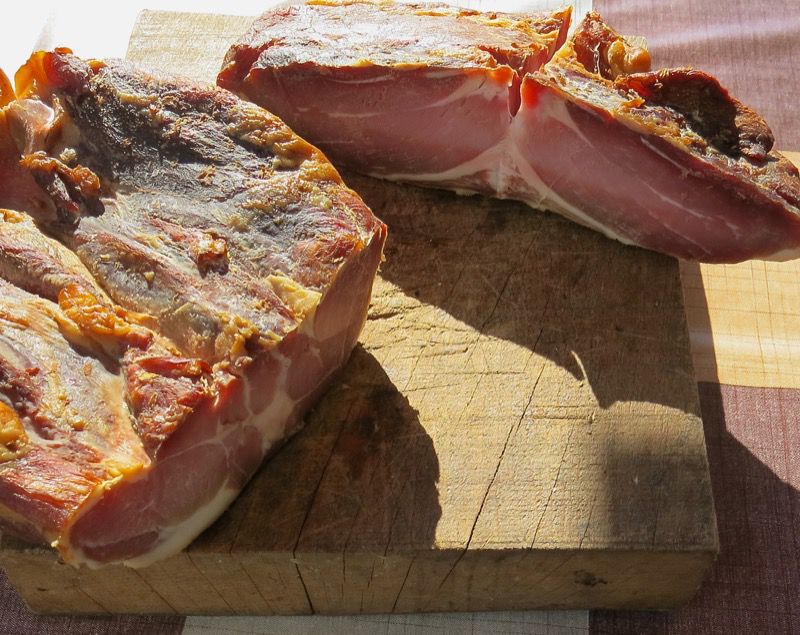 There is no hurry. This moment, every year, is long awaited. Big brother looks on. All are gathered round.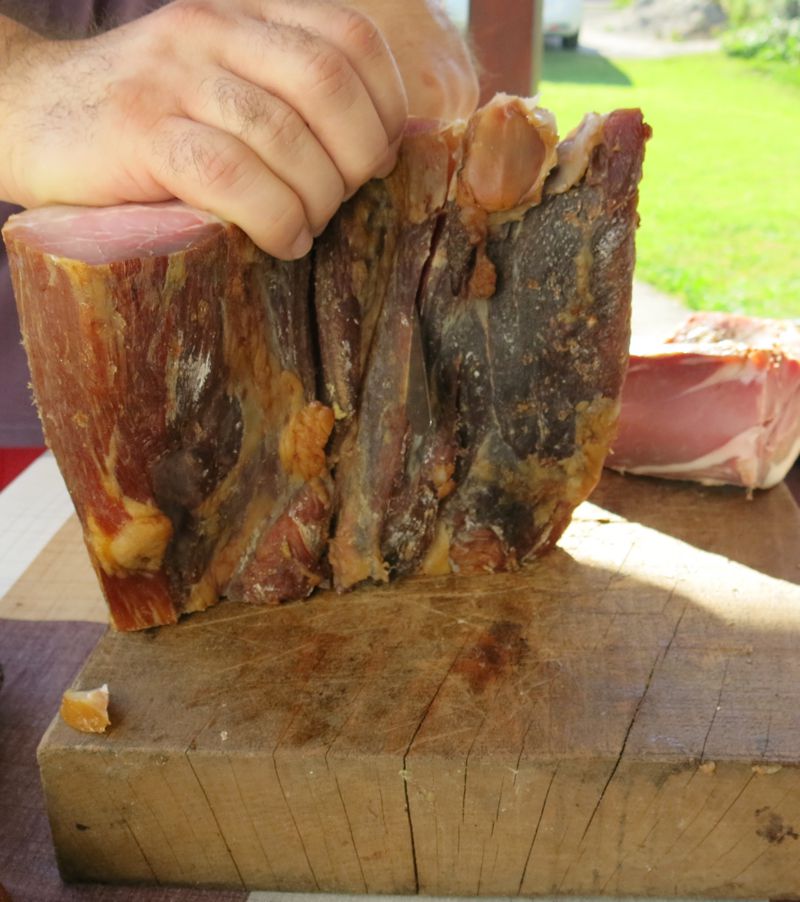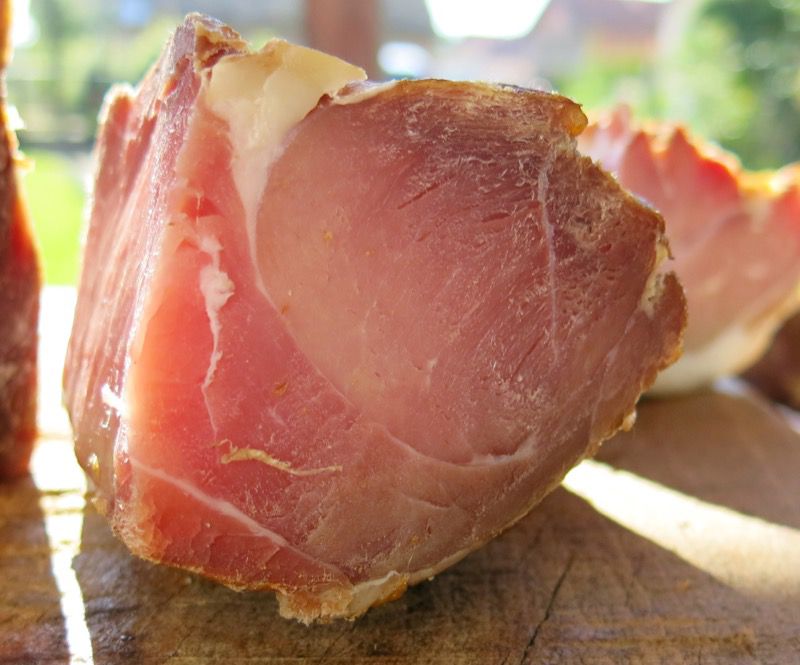 "Ah. Look at the colour. How lean this piece is." The fruits of his labour rest on the old cutting board while all approve.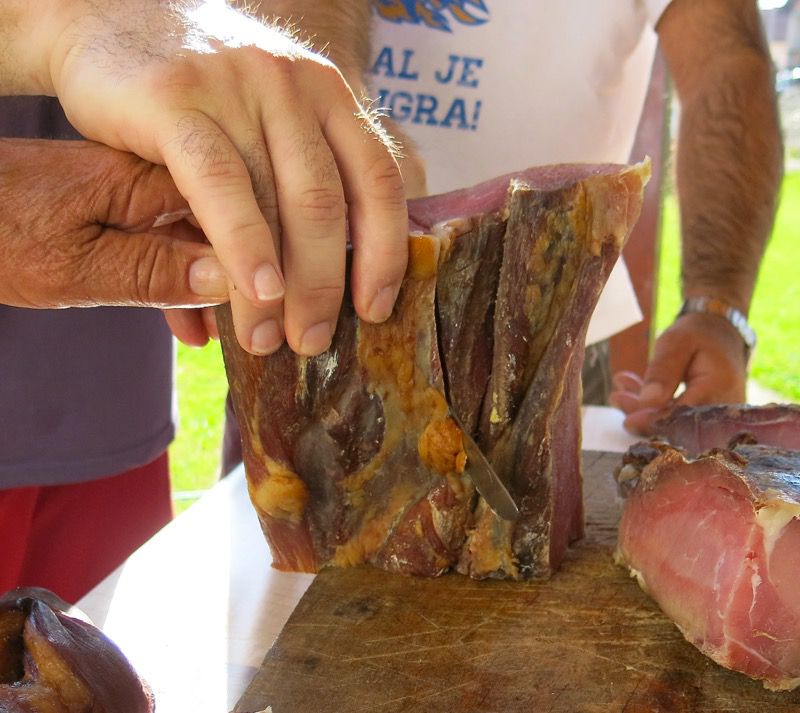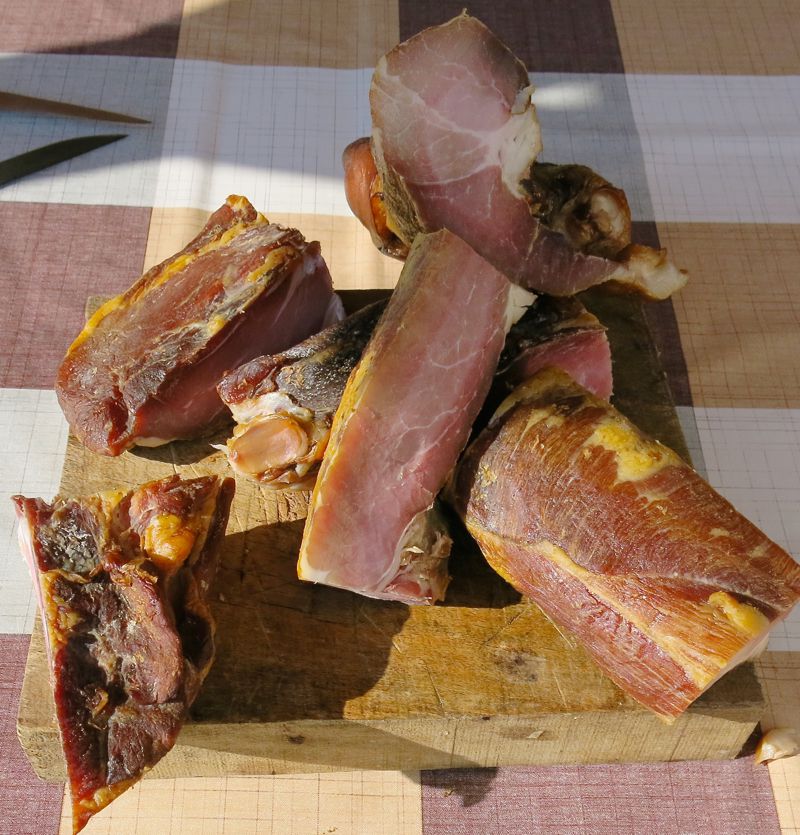 Piece by piece is sliced for repackaging and enjoying, usually until Christmas, when the new pork is cured. Not this time.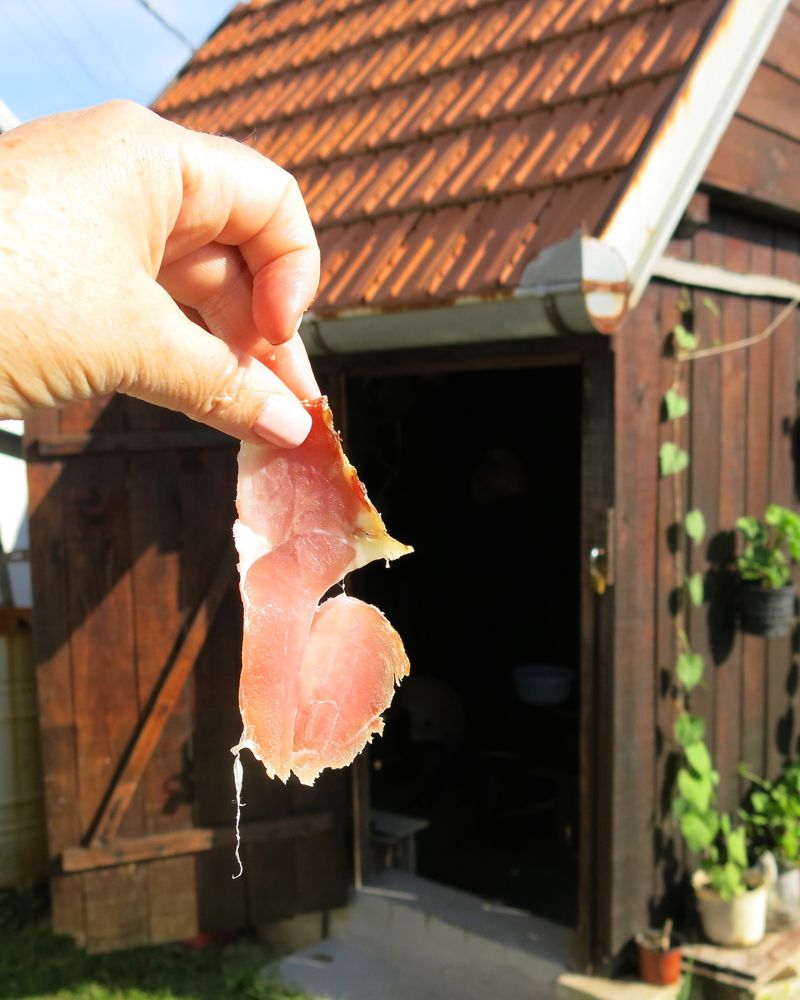 I don't eat meat, but I eat sunka. The light reveals my almost transparent slice just before it melts upon my tongue.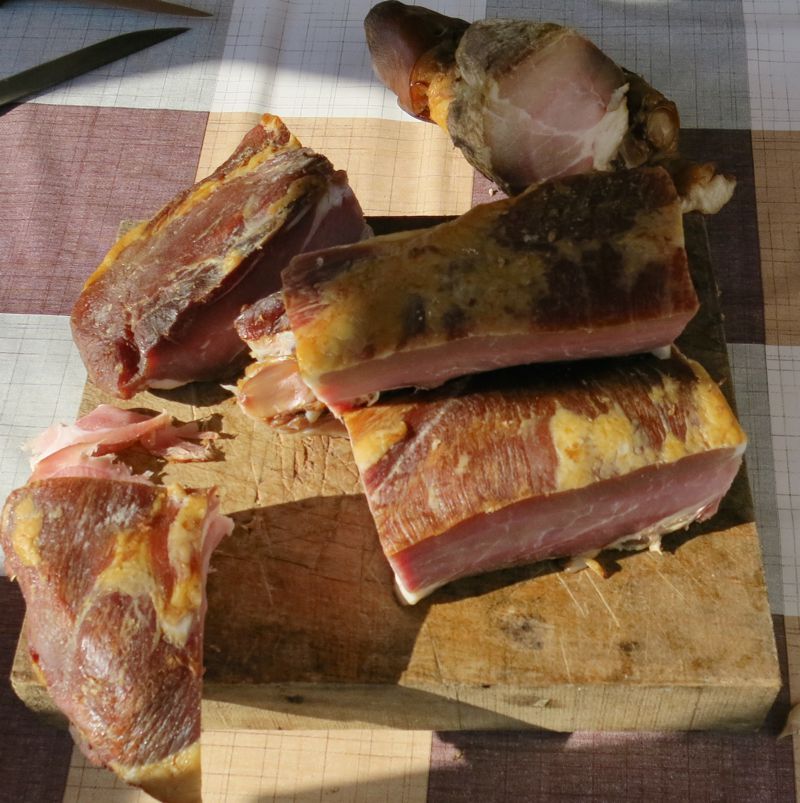 Oh, if we could only bring some home. This, we would never risk. It is too precious.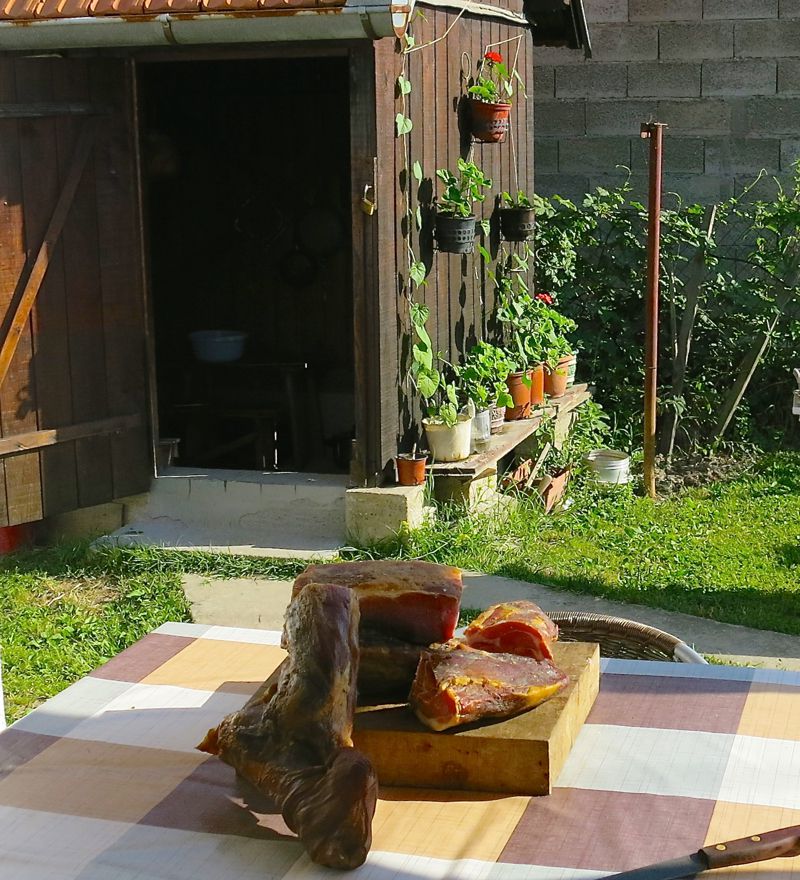 Maybe, next year, on this very table, there will be another leg of smoked pork from another family recipe. We can only hope that another family could use this home, the smoke house, the pig house, the shed, garden and land to the full extend this family has. We can only hope that another family will carry on the rituals of their ancient past into the future of their sons and daughters yet to come.
But, now is the time for another change. And the time to enjoy the sunka!