First meal and best meal of our entire trip was at i kriti in Athens!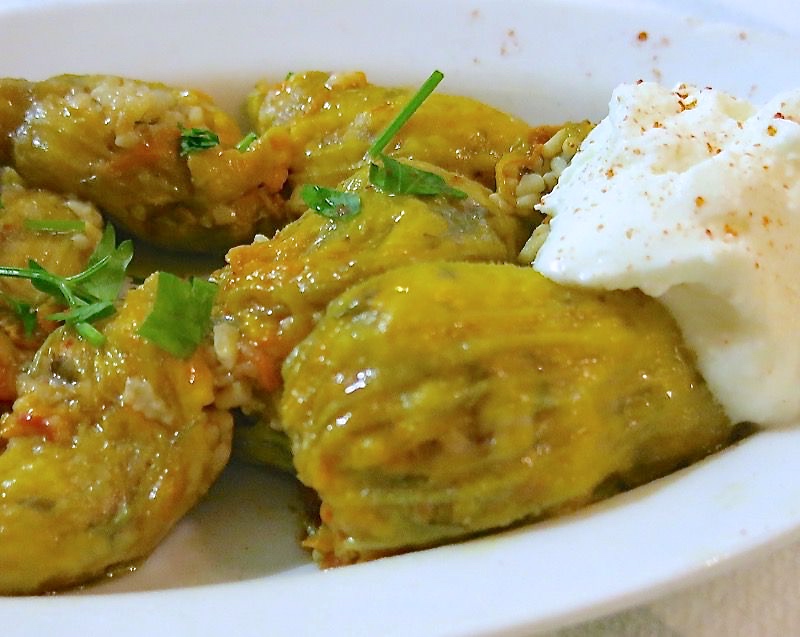 Above, my absolute favourite bite during our entire trip to Greece. After a day in Amsterdam, a couple of days in Belgrade and two weeks in Bijeljina with Vanja's dad, we were ready for an adventure! We look so forward to the family holiday every year, but also cherish the exploit that is almost always attached to it. This year: Greece! We had planned an itinerary 2 years ago for a getaway to Greece while visiting the family, but I never made that trip. Mom was diagnosed with cancer and dad got very ill with his COPD just prior to our departure date, so I opted to stay home with them and consider myself so blessed that I was able to.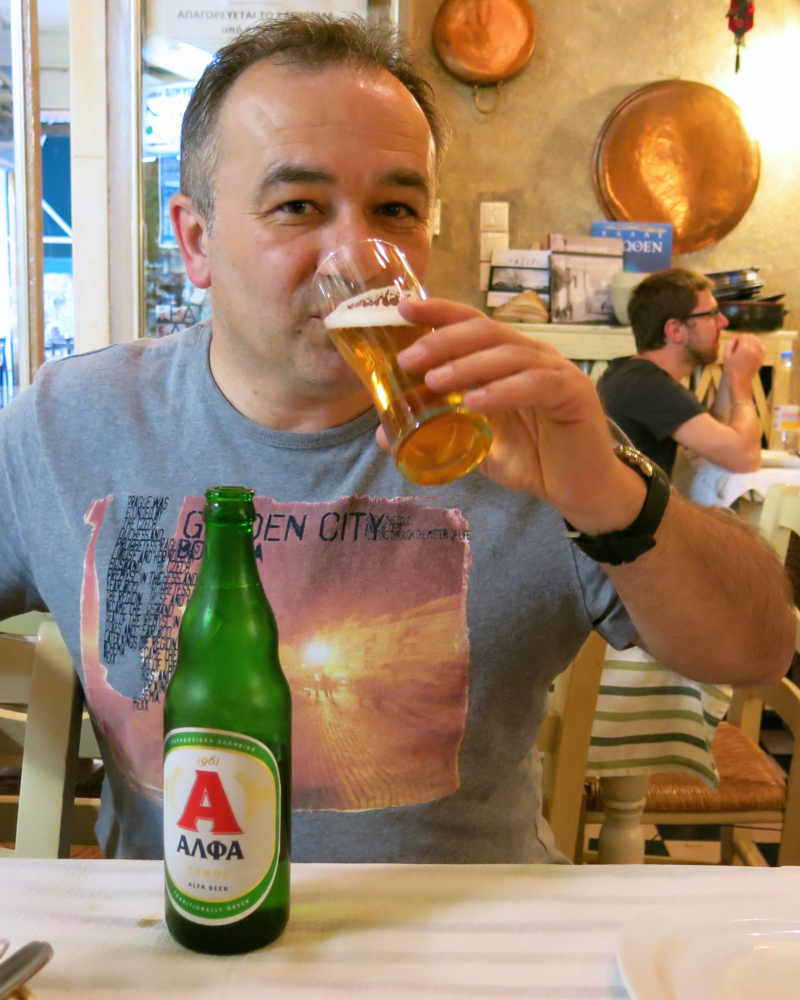 Thus, here we are again. This time, we made it; however, not with our usual carefully researched itinerary in hand. Oh, what a year it has been. I was just happy to get the flight booked, but not so comfortable flying by the seat of our pants the entire trip. Arriving at our hotel late in the afternoon on the last Friday of June, hot and steamy, I was eager to get out and taste the culture! But, where to go? Not a clue. Seriously. I felt like a fish out of water. It was truly very stressful for me to be in such an incredible place without thoroughly researching where to go and what to do to ensure I wouldn't be saying to myself when I got home: "We should have…."! I had to give all of that up and just be thankful for the opportunity and cherish whatever unfolded before us. Googling restaurants near our hotel, I discovered i kriti, read some reviews, and took the plunge.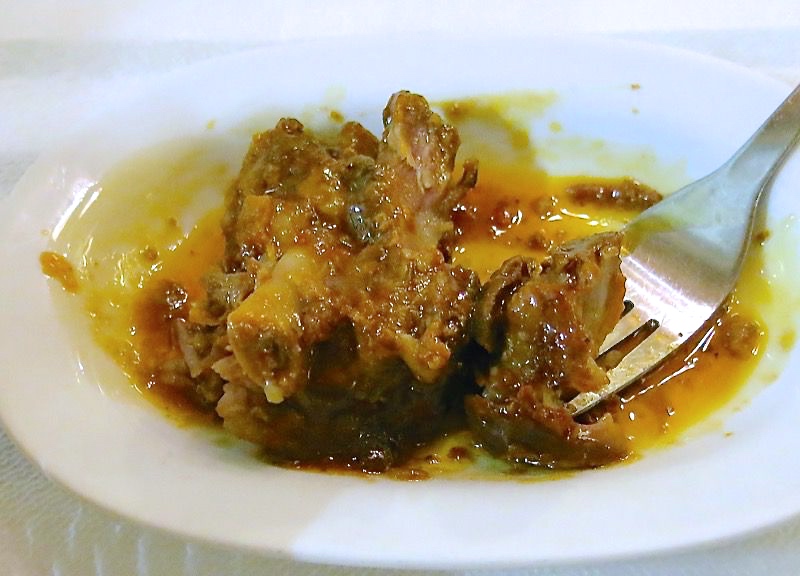 The taxi driver didn't even know how to find it from the address, but he pulled up to within 25 meters of it, unknowingly, pointed us in the wrong direction, and off we were. Redirected within minutes, we found a small square and just off of it the hall you see below. i kriti is on both sides of it: the non-smoking room with the kitchen and office to the left and a much larger double sized room to the right for the smokers. They also have tables, as you see, in the courtyard between the two that is outdoors, and at the entrance to the "hall" in the garden.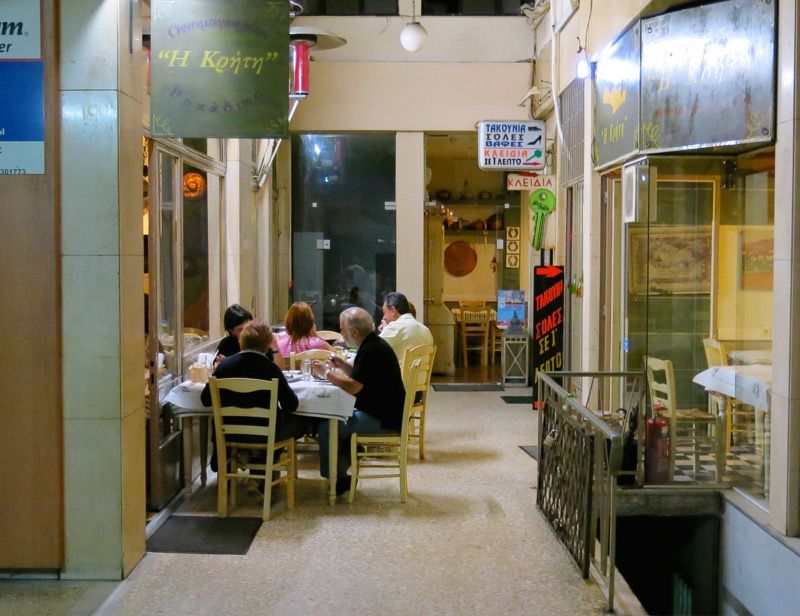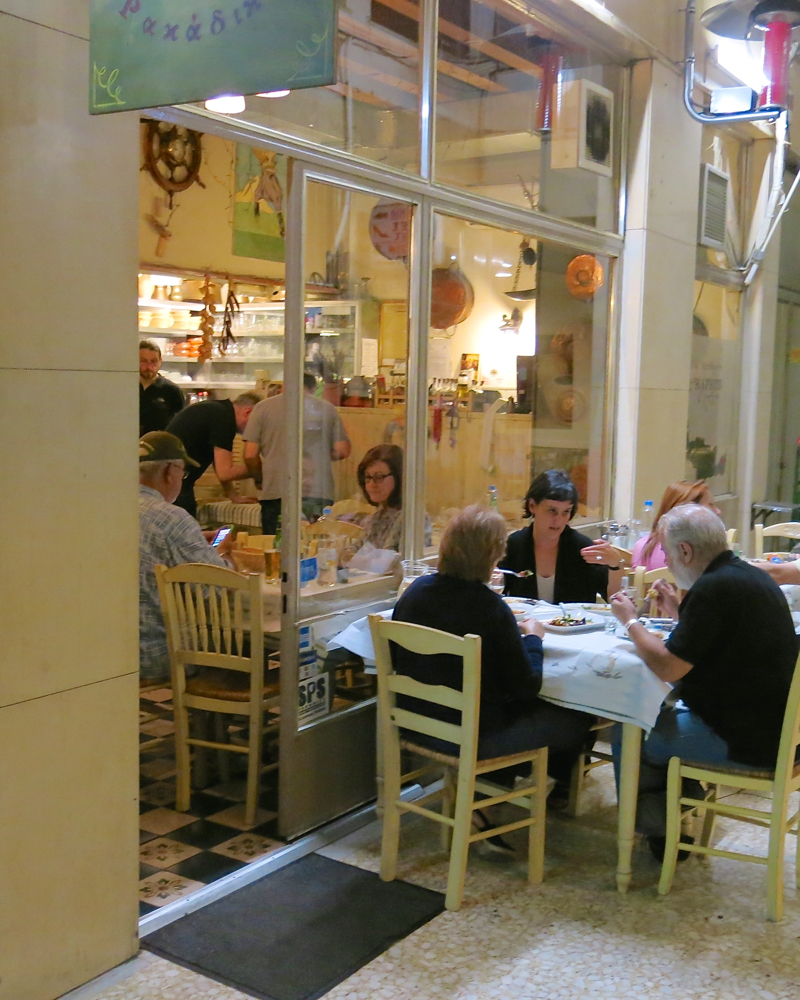 Above, we sat in the non-smoking area to the left just behind the couple (man with the hat) after attempting the garden (too smokey, even outdoors).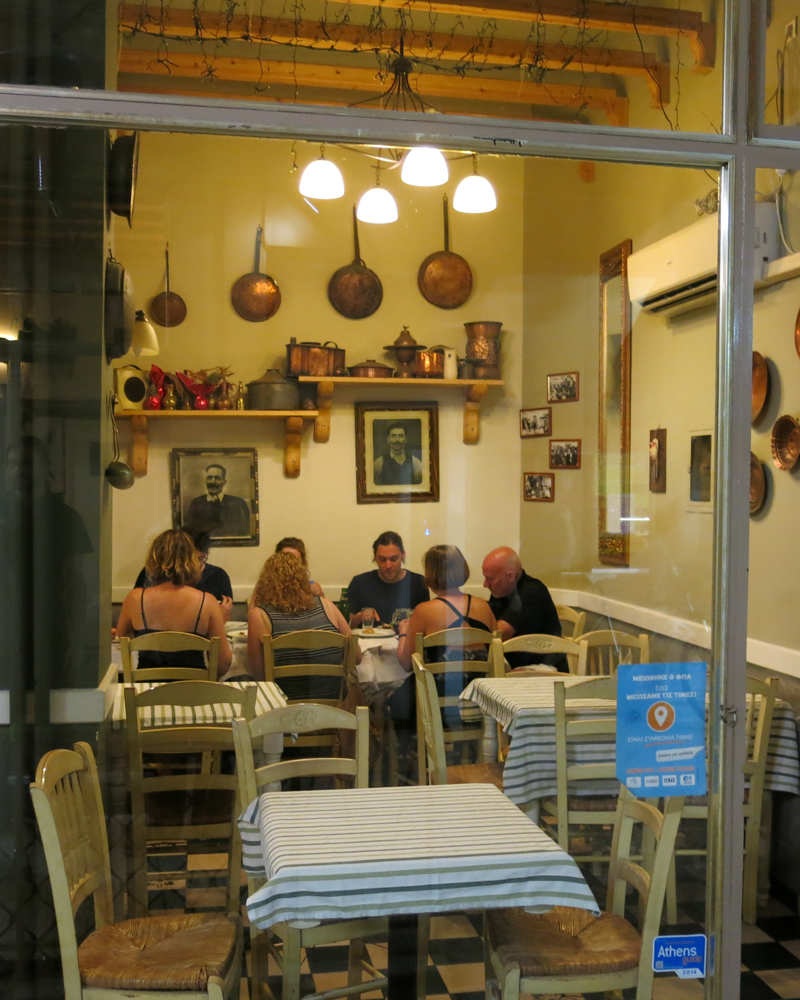 Each space was filled with charm and before the usual Greek dinner hour (9 in the evening), there was lots of privacy at when we arrived at eight.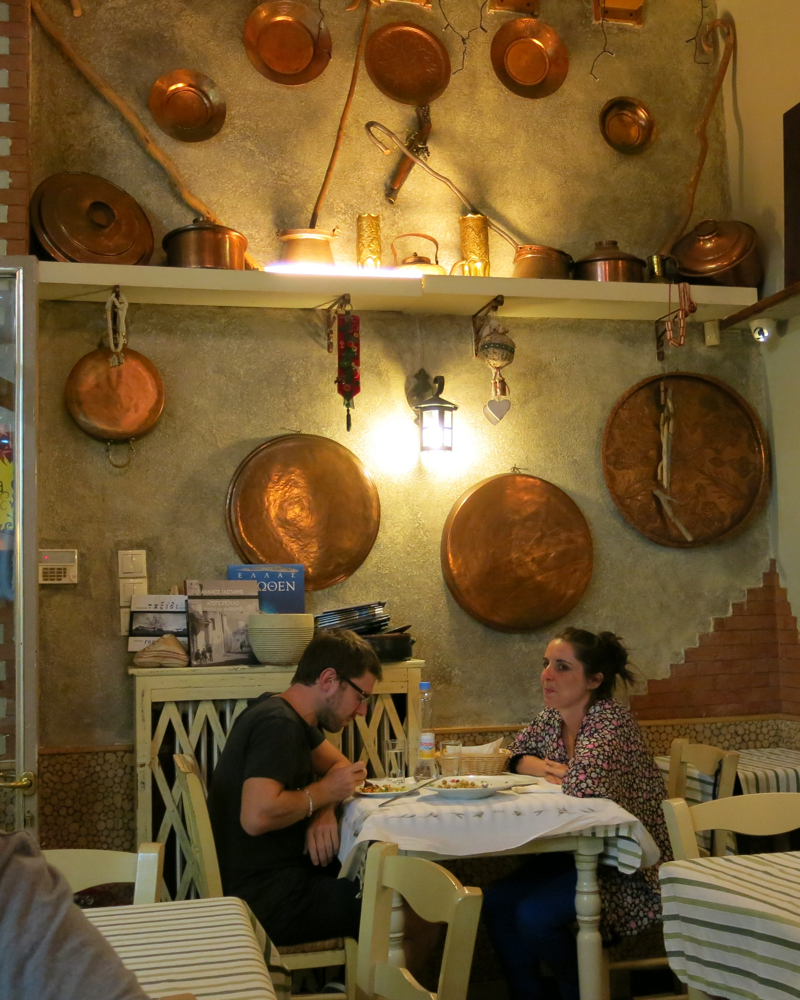 Seated, Vanja enjoys his first sip of Greek beer: another travel tradition. He loves trying local beers and we take a photo of each wherever we go. The menu offers fascinating choices. I am a meze gal, myself. Vanja? You guessed it: a pork fiend. "What is it that they are having outside of our window? It looks like ribs?" Ah! Our waiter is exception. Crouching beside us, " Slow cooked pork ribs traditional from the island, in tomato but with a little spice. " Vanja hesitated when he mentioned spice, and the waiter was concerned. "Just a minute." He brought back the "small sample" for Vanja to "taste" that you see under the beer photo. This dish was unforgettable, as well. The most succulent home-style ribs I have tasted. And I ate most of that small sample, it was so tender and delicious. What makes it truly exciting? I could not replicate this in my home kitchen. There were spices, herbs, processes – something going on within this old style dish that I had no idea about whatsoever. Of course, I am taking up the challenge. I must learn!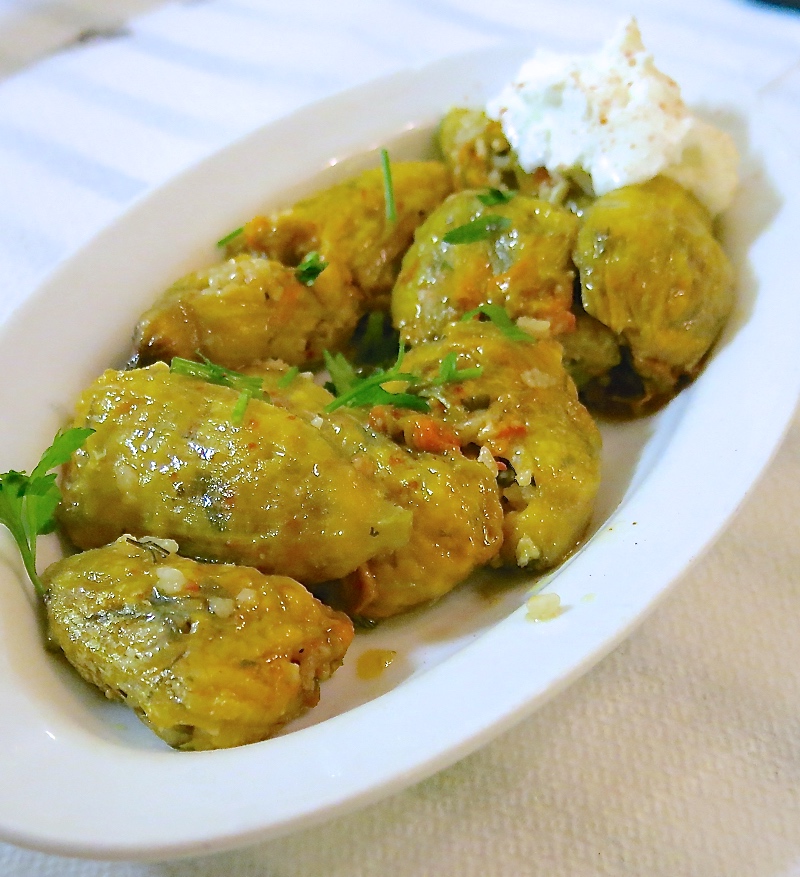 I had read the zucchini flowers were a must order, but didn't see them on the menu; however, they were there, just not identified as flowers. I am a zucchini flower fanatic, maybe because they are novel to the Canadian prairies, maybe because they remind me of the hills of Italy and the simplicity of that cuisine, maybe because I grow them and experiment with recipes for them and delight in each little work of art that presents itself on the plate. I did not expect anything like these zucchini flowers at i kriti. Pure, unexpected pleasure. This dish is the antithesis of the Italian version. This is a complex little ditty filled with "many, many ingredients" I was told when I asked. "Too many!" Of course, I wanted the recipe. I didn't expect the Dolmati-like filling: rice, tomato, onion, dill, mint and a sour citrus tang. I believe it is sumac. That is my best guess. You know what I will be doing in my kitchen when I get home next week! I have already spent hours reading recipes for these and again, I must learn and conquer!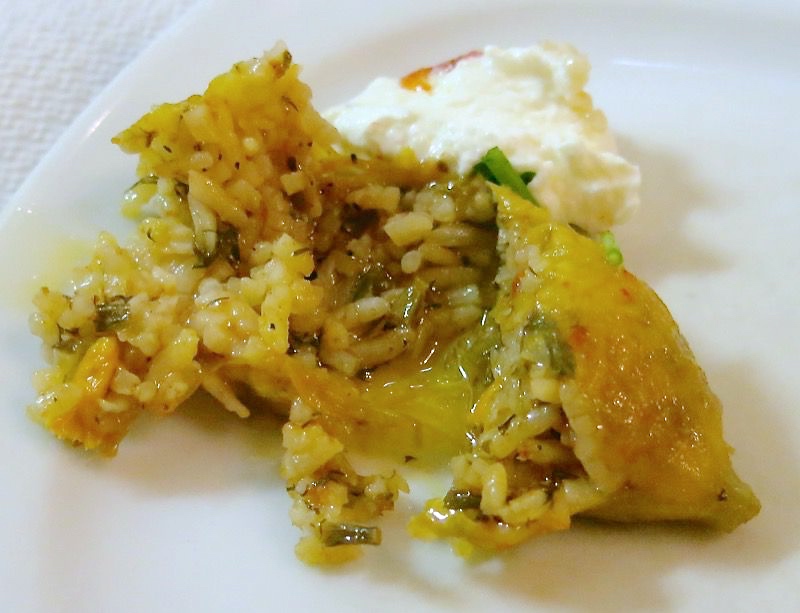 The texture was sublime and added to the deep pleasure sensation. I couldn't eat them all, but managed to finish them before bed (of course I took them home) and cannot imagine life without them. Seriously. We fully intended to be back the next night for dinner, so I did not know that this would be my first and last zucchini flower. It was the best thing I ate in Greece the entire time we were there. The zucchini croquette that came on the meze platter my last lunch was a close second, with an unexpectedly similar flavour profile.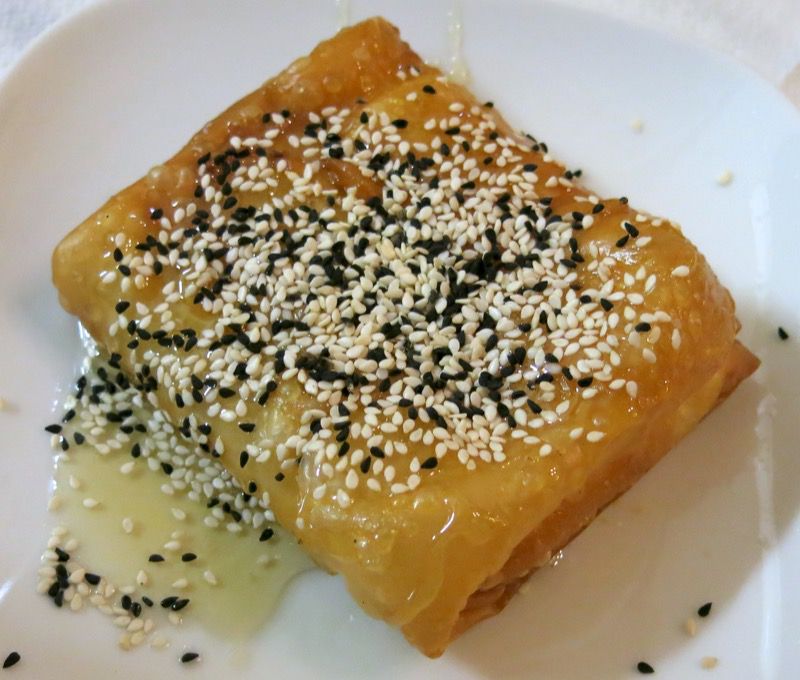 I ordered three meze plates. The second was the fried feta. Again: Surprise! I did not expect it to be wrapped in a phyllo type pastry, covered with honey and sesame seeds. Melted feta is almost buttery in flavour, salty and with the crunchy pastry and golden sweet honey, the taste experience made a powerful impression.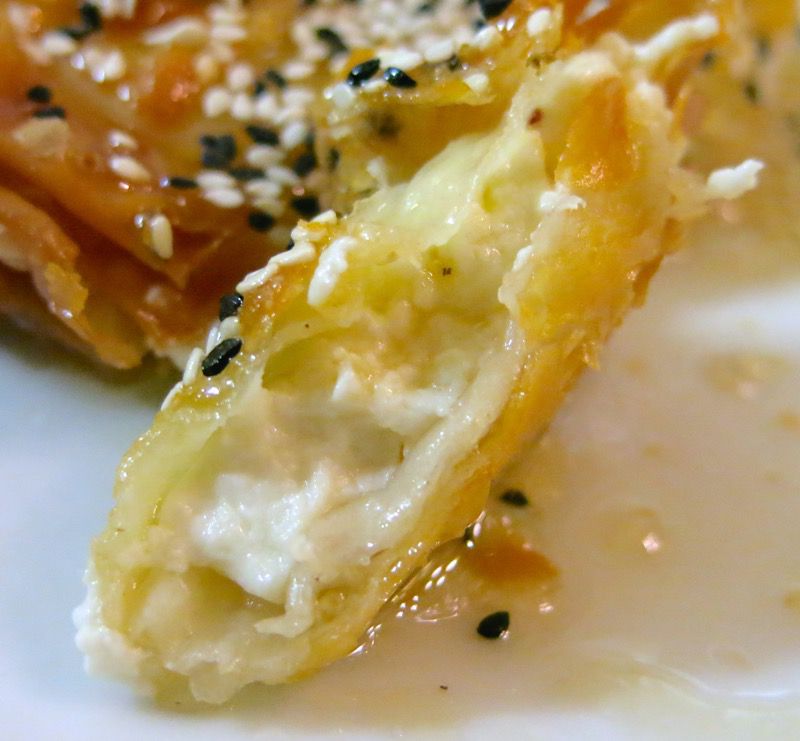 It was almost too hot to eat, but too delicious to show restraint.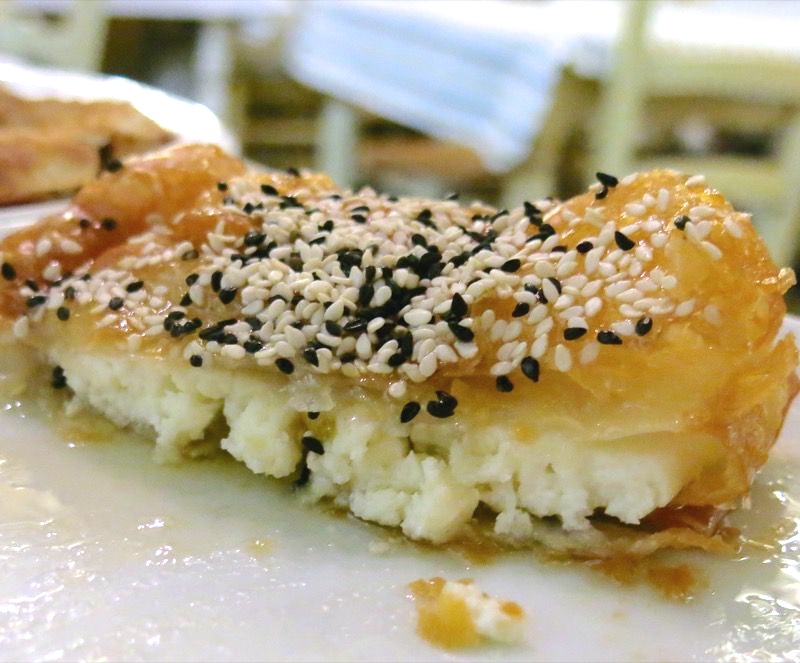 Also scrumptious later, when the feta is cool and crumbly, but not as unexpected in flavour.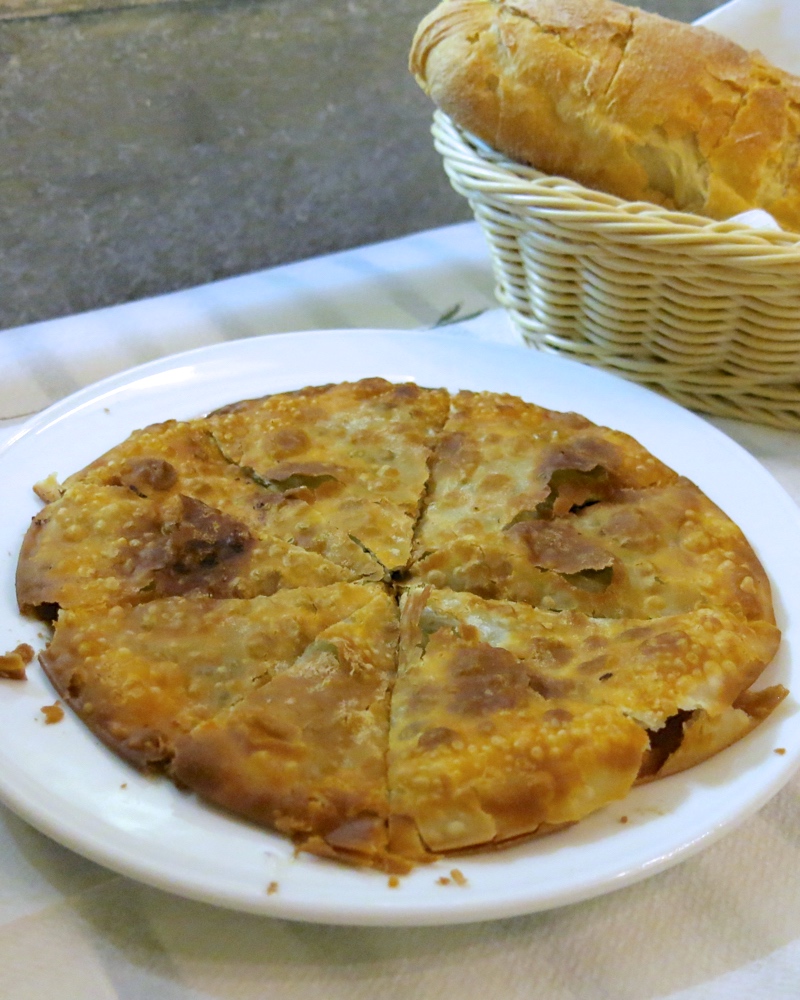 What is next? Everyone has heard of spanakopita and Greek phyllo pies, but this was a Cretan restaurant, so I did expect something different. Yet, the word pie had me expecting something that wasn't flat. Eagerly taking our waiter's advice, I chose the fennel pie. The flavour was "in your face" fennel: a wild, strong, unruly fennel flavour that was new and impressive and tickle-your-toes delicious. Another very simple dish.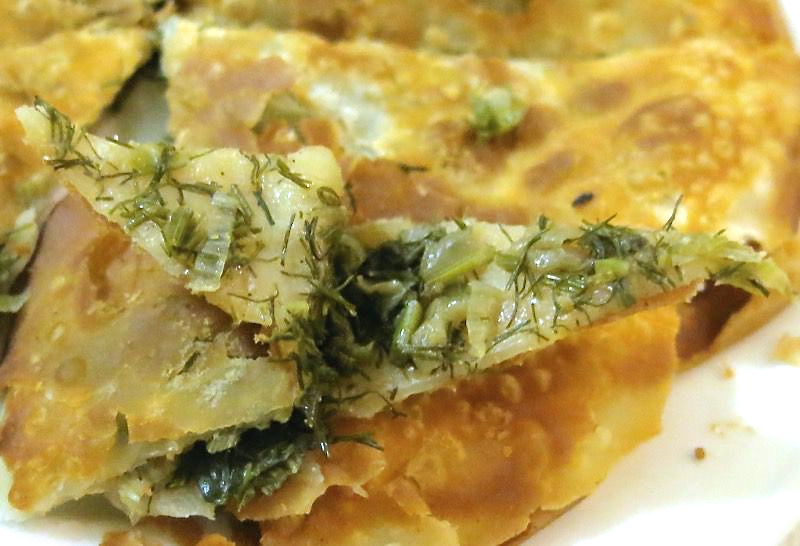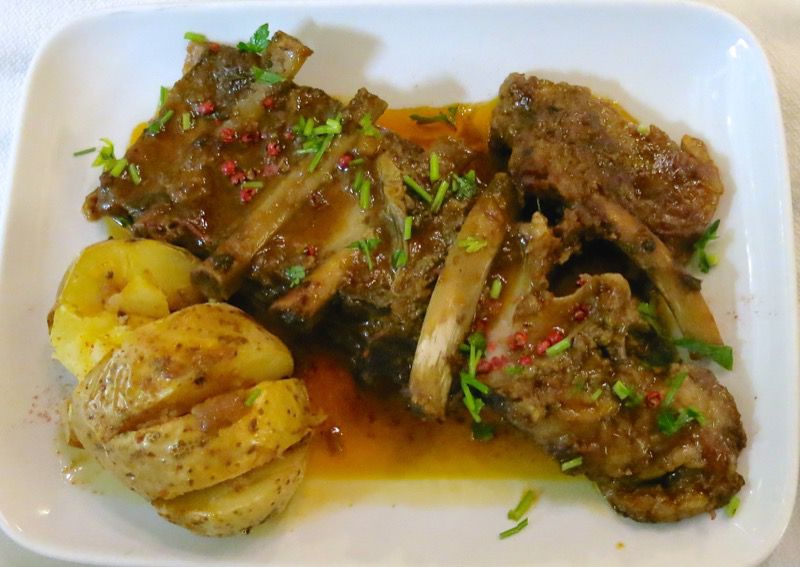 Drum roll please! As warm and welcoming the staff-owners of i-kriti were, they were absolutely secretive when it came to sharing any information about what was in each dish. At this point, I stopped asking. Of course, I wanted to know:"What are the pink berries?" etc…. but, I just had to taste my way blindly through the luscious landscape.
This was an unforgettable dish for Vanja, as well. There are very few meals he recalls with guttural pleasure. This was one.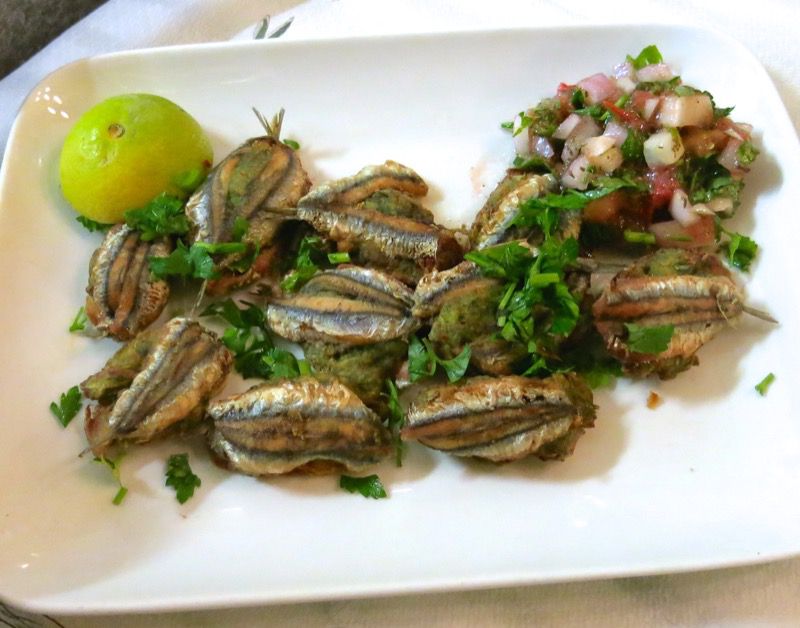 Since eating fresh anchovies in Vernazza a couple of years ago, I have craved more and when our waiter suggested I order the signature stuffed anchovies (and they are a main), I was all in.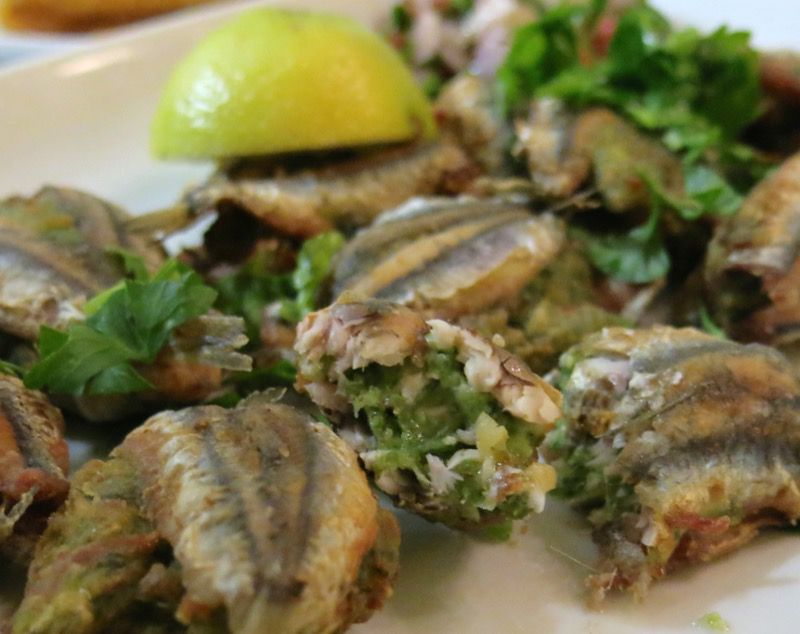 There was one on the top, one on the bottom, and a lovely stuffing in the center. He called it a sauce, but it is definitely an herb stuffing. A lovely presentation and the anchovies were tasty, but the stuffing had another unidentifiable herb in it that was off putting only to my palate. I have had it before, could not identify it, and I know it is not a flavour I like, yet I could still taste the deliciousness of the dish. The fresh herbs and fresh little fish, clearly made with a lot of tender loving care, were the favourite of our waiter, and I was really happy to have this taste experience.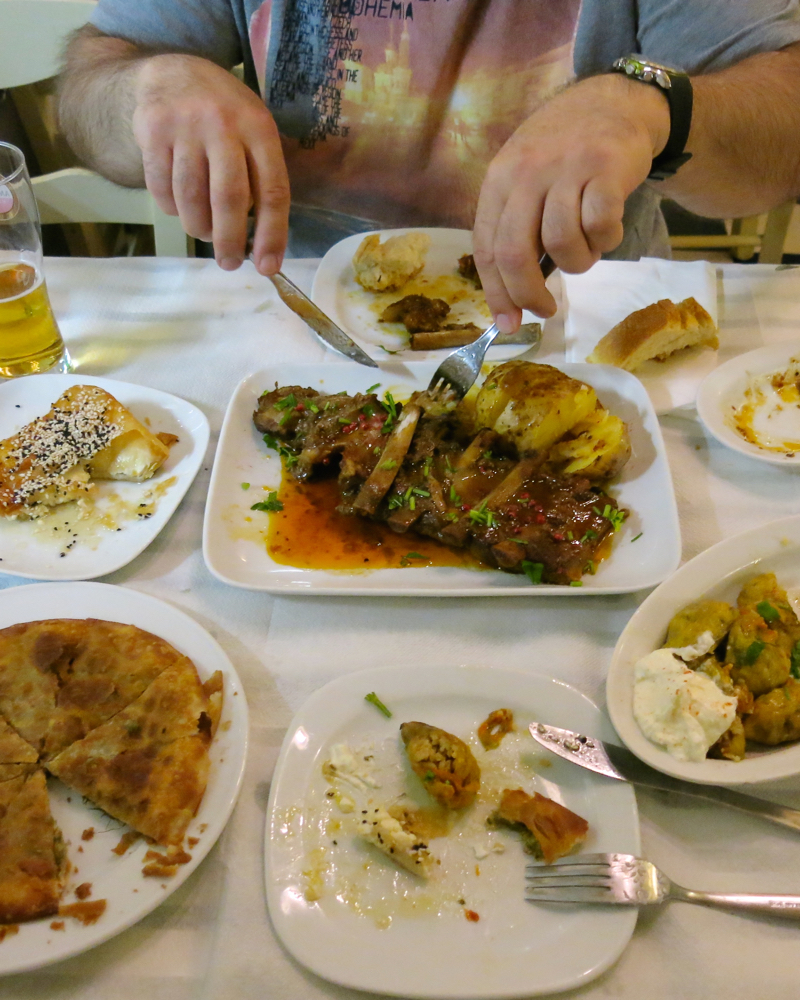 I am so fortunate to have such a wonderful travel partner who lets me indulge in my little culinary fetishes. Of course, I ordered far too much food. Vanja is so kind. He sees my enthusiasm and the thrill of the taste experience for me, and never puts a damper on my choices when we are away on vacation. I am truly blessed.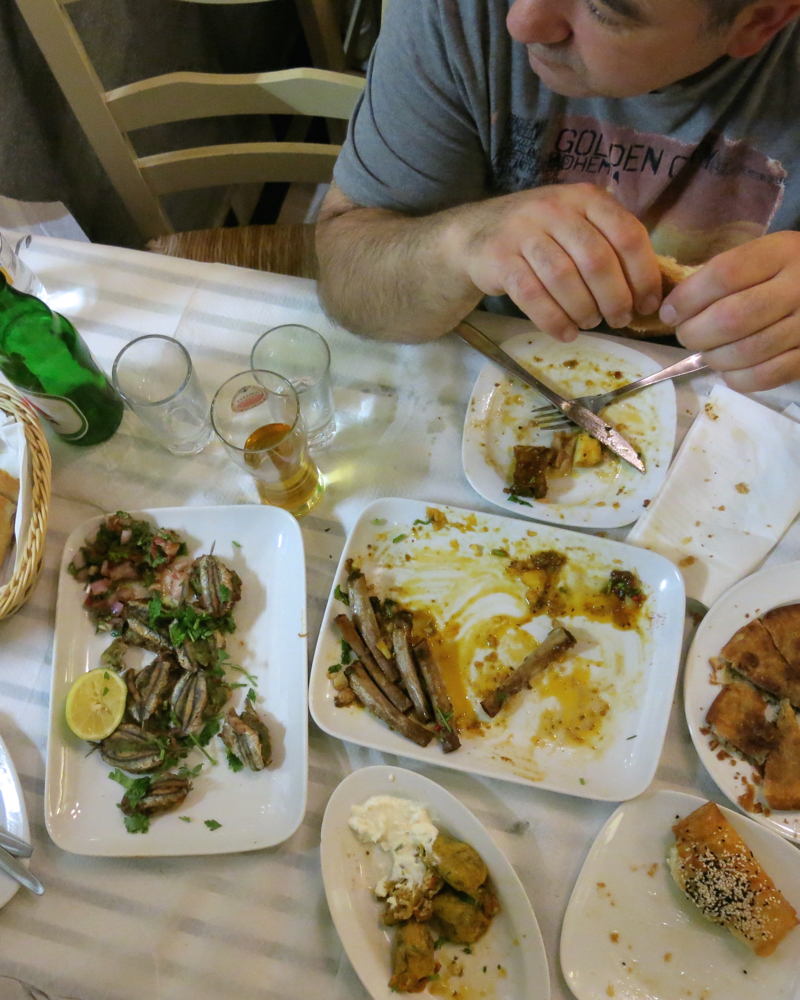 He was surprised he finished the ribs! I was surprised I was able to eat half of the flowers and cheese! Our tummies were all tuckered out from so much food, when a delivery of piping hot cheese filled honey drenched packages is gifted to us. "Thank you so much, but we just cannot!"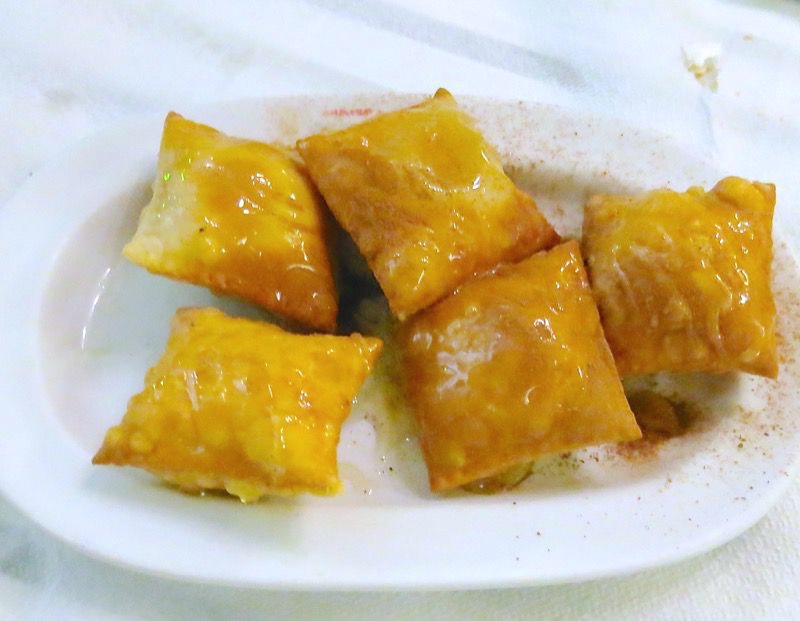 "Oh, you must!" And, we did… but just a bite or two. The delicious little ditties were sprinkled with cinnamon, and under other circumstances (after a lighter meal?) would be so tasty.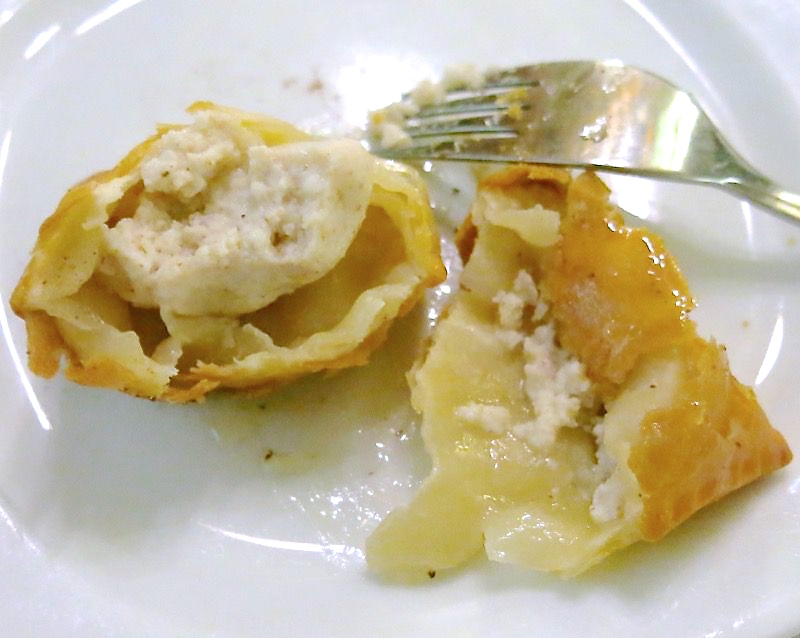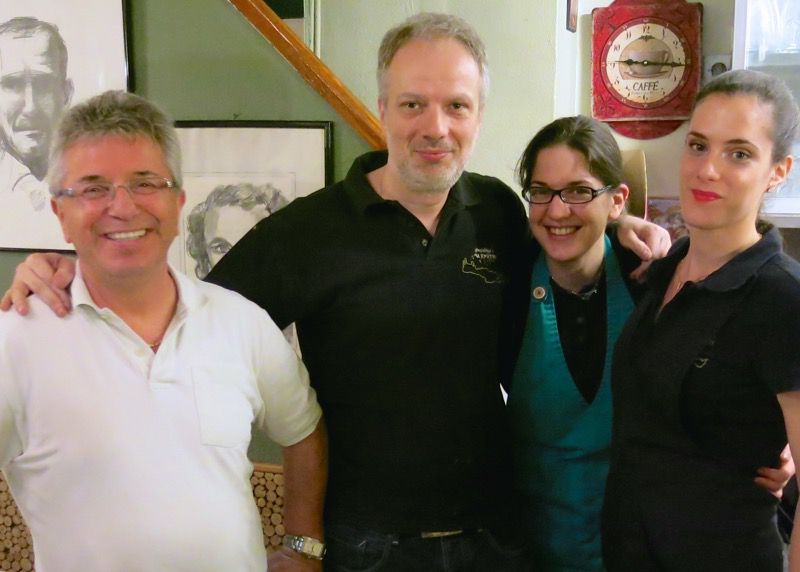 This 26 year old family run Cretan restaurant was in the Omonia area when it was in its prime. Since 2003 , the area has hit a decline and it is clearly run down and unkempt, but don't let that deter you from finding the door to this cultural culinary haven. I had to gather the family to thank them for this dining experience. The father, is to the left. His wife was not there at the time. He has two daughters that work with him. One is with the glasses, and her husband was our waiter. The other gal is a cousin. That you. Each of you. And your entire family, for providing us with this truly memorable, very flavourful and inspirational dining experience our first night in Athens.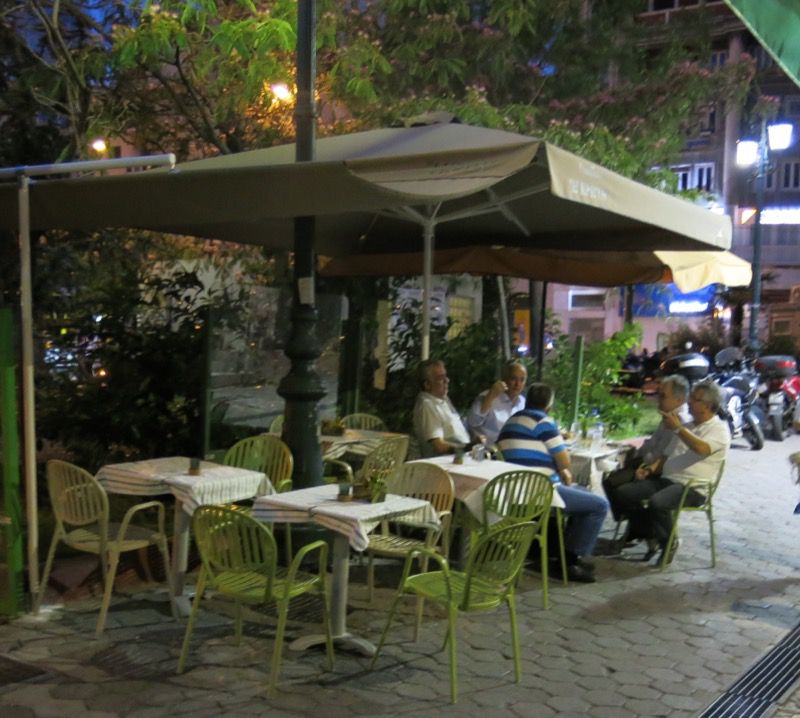 The garden tables, above.
And tomorrow? A culinary food tour of Athens, of course!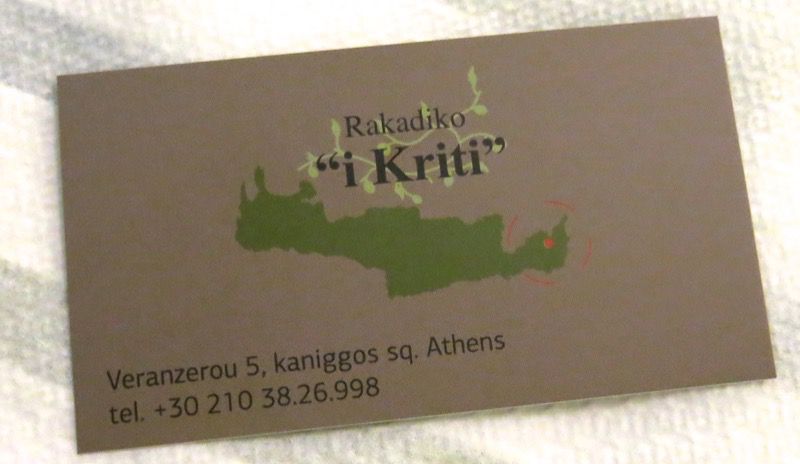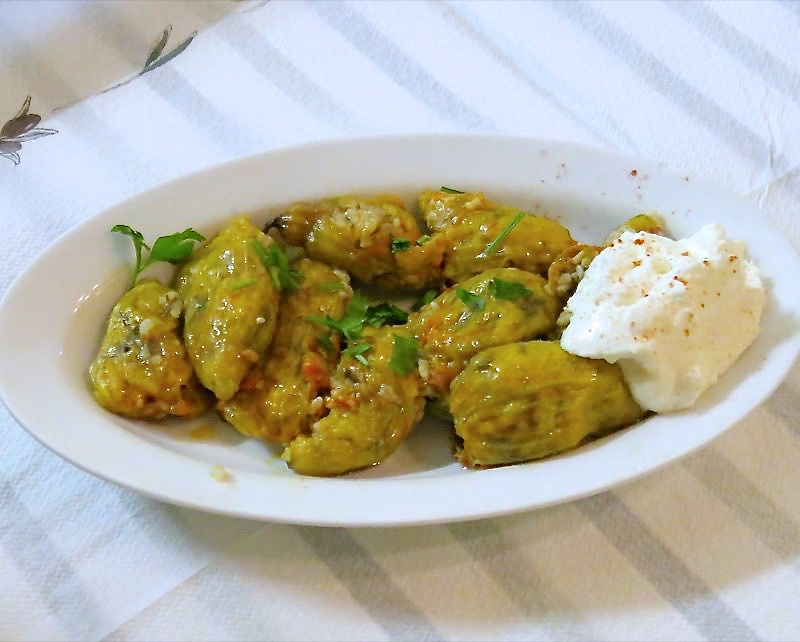 If you know anyone who has a sensational recipe for these, please share it with me. (On my knees in Edmonton, almost). Still dreaming of this dish.