Celebrate International Coffee Day on September 29: TWO CONTESTS!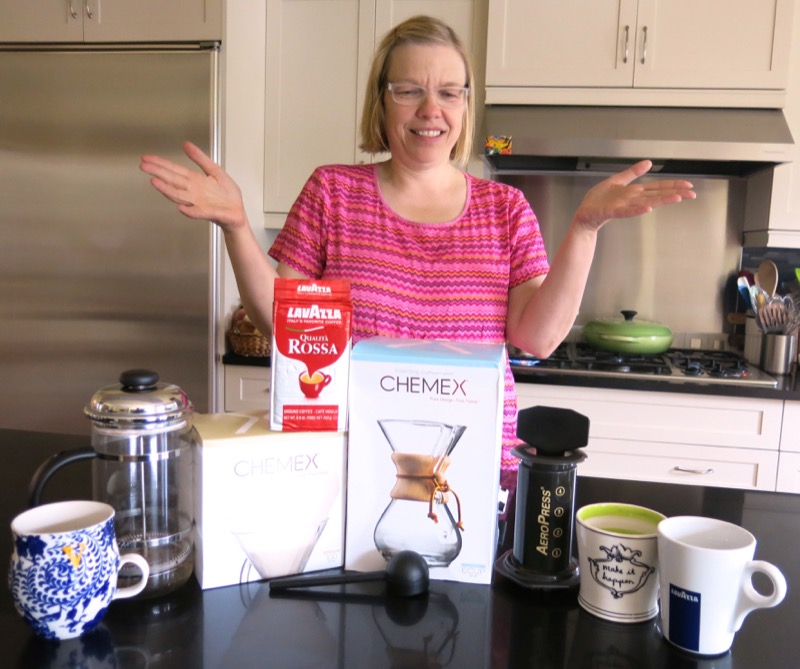 Now, who would declare an International Coffee Day? Origin is unknown, but you won't find Italy on the list of countries that celebrate. That's because every day is a coffee celebration at Lavazza! And, at our house, as well. Above, Suzanne Dennis brought her favourite coffee making tools to share with me how to make the best cup of coffee "on the go" as well as "at home" for International Coffee Day.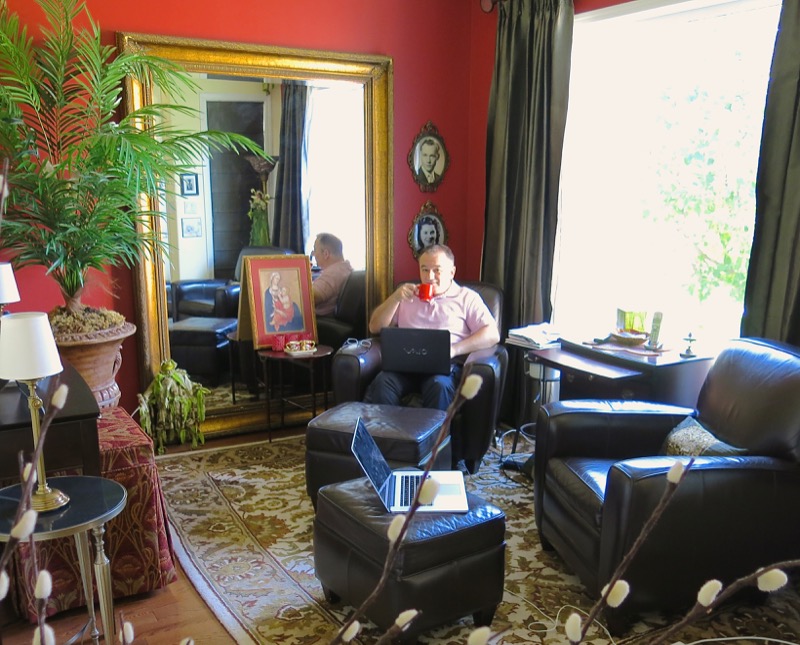 Vanja simply cannot manage his day with his signature carefree, happy and congenial manner without his morning coffee. It is that important.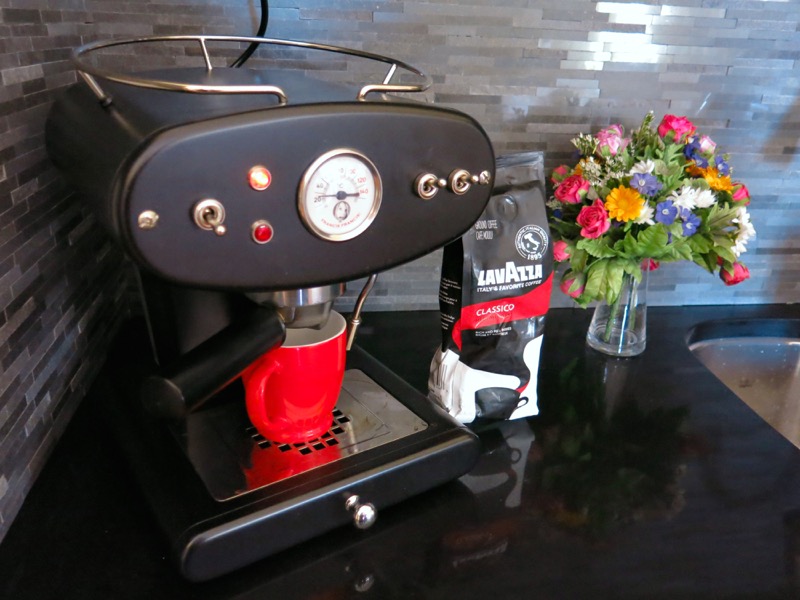 Vanja's advice on a Great Cup of Morning Coffee:
starts with the quality of the coffee, the roast and the grind: it can take a few trials to find the one for you and your machine (we know his is Lavazza Rosa!)
the quality of the machine is important (good healing elements, heating trays, and strong pressure and pump)
the temperature must be at 80 minimum
cup must be warm (he warms up his cup with hot water from the machine, first)
find the right grind for your machine (recommended when you buy your machine)
tamping must be even and firm as temperature and pressure extracts the most goodness out of the coffee and creates the crema
most important secret ingredient…. read on….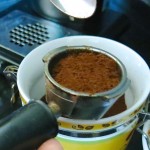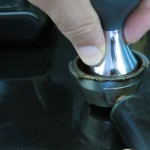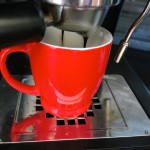 Look at that gorgeous crema!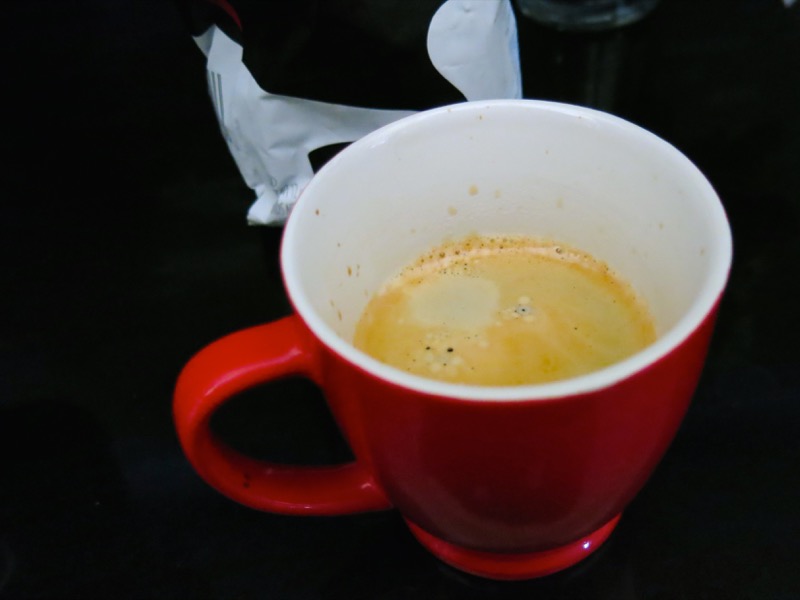 ….you must have, take and make the time to enjoy it!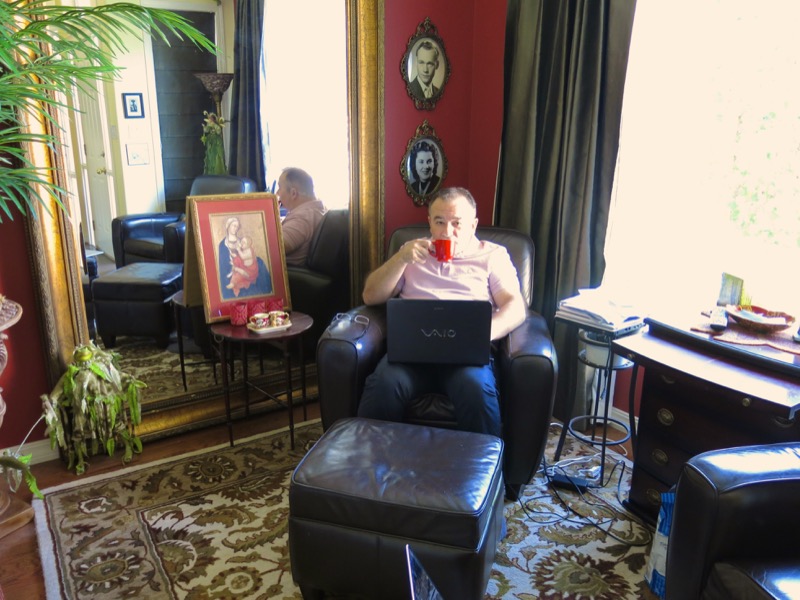 Finding a great cup of espresso can be a problem when we travel, as there are still many places around the world that do not serve espresso, or when they do, it is terrible. So, to celebrate International Coffee Day with Lavazza, I went on a quest to discover a way we could travel with an espresso back up plan packed in our suitcase!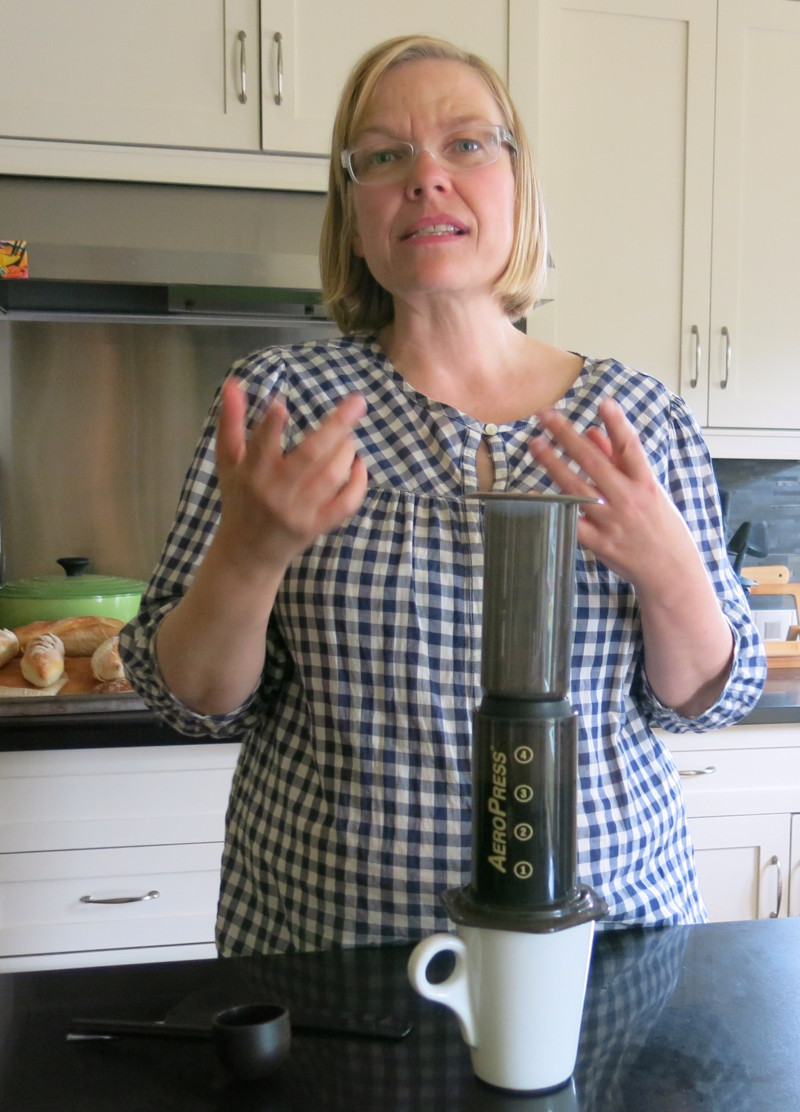 Not an easy quest, but one that my dear friend, Su Dennis, a well known Edmontonian food aficionado, shared with me. Sue has become quite the coffee expert and you can see how seriously she has taken this process. Through coffee tastings and courses on how to make the best cup of coffee she had a lot to teach me, so I had her over last month for some baking and coffee tasting to glean it all from her.
Before we start….
Happy Birthday, Lavazza! 120 years! Incredible. The best cup of coffee starts with the coffee. I am working with Lavazza because it is Vanja's favourite coffee and its core values are dear to my heart. The company started in 1895 as a family business and has provided its first sustainability report in 2014. "Our story is the story of a family and of a business. It is a typically Italian story and yet a unique one, because it stems from the vision of Luigi Lavazza: a pioneer who already thought in terms of constant improvement and innovation, 120 years ago." The longevity of the business, the ethics and values of the company, and the facts in the sustainability report add a strong dose of integrity to our morning cup, daily.

Shop Lavazza!
Take a minute to browse the online store. Please use this link as it is designated to me for my US readers, and this link, designated to me for my Canadian readers (shop Canadian!) I am curious to see how many of my readers actually take the plunge and will investigate the offerings there. Their customer loyalty opportunity is a nice perk! (Don't even bother to pardon the pun!)
International Coffee Day is September 29!
September 29 is National Coffee Day and local my favourite Edmontonion coffee fanatic, Suzanne Dennis (@super_su), shared her tips and tricks with us today.
Please tweet @acanadianfoodie @super_su @lavazza #lavazza and share how you will celebrate!
Lavazza Series Posts:
This is my third, but I will be listing each of the 6 I plan to write this year at the bottom of each post if you are a coffee fanatic like me.
Lavazza CONTEST for A Canadian Foodie Readers:
There is a great prize package for my readers to be awarded December 20, 2015, at the end of this series. Thank you for your patience regarding waiting to see what the prize will be (Hopefully a few pounds of coffee and a couple of mugs in time for the holidays)! To be entered into the draw, please do one or more of following per entry. If you have already liked either facebook page, sorry, but it will not count as an entry.
AeroPress and Lavazza: "Homemade" Espresso while Traveling
Have you heard of the AeroPress? I had not, but it is not my new favourite traveling coffee maker away from home! Like me, I am sure you will be blown away to learn about the effectiveness and following of this little device. Thank you, Sue!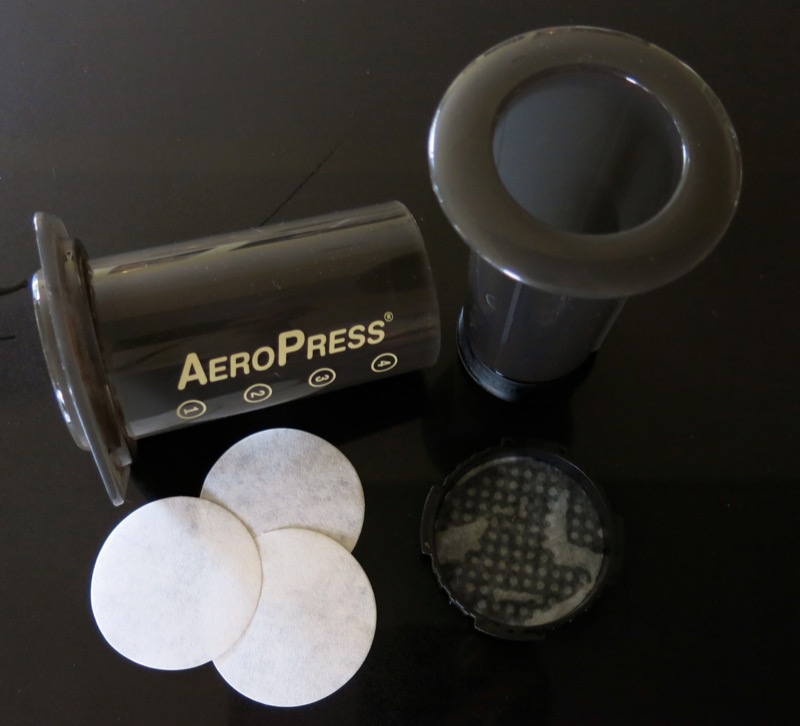 In a nutshell, all you need is above. The stir stick and spoon are missing.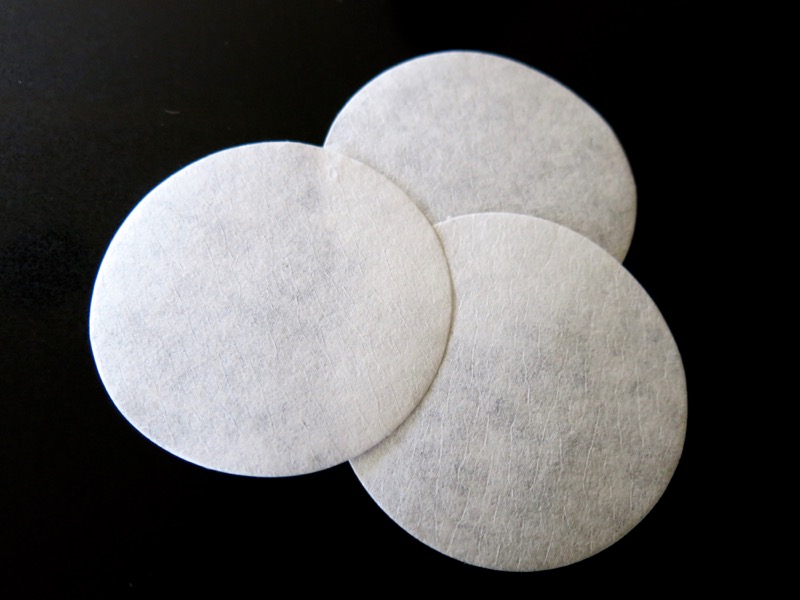 A hearty pack of filters come with the machine, or you can buy a stainless steel filter, but that is not made by the company.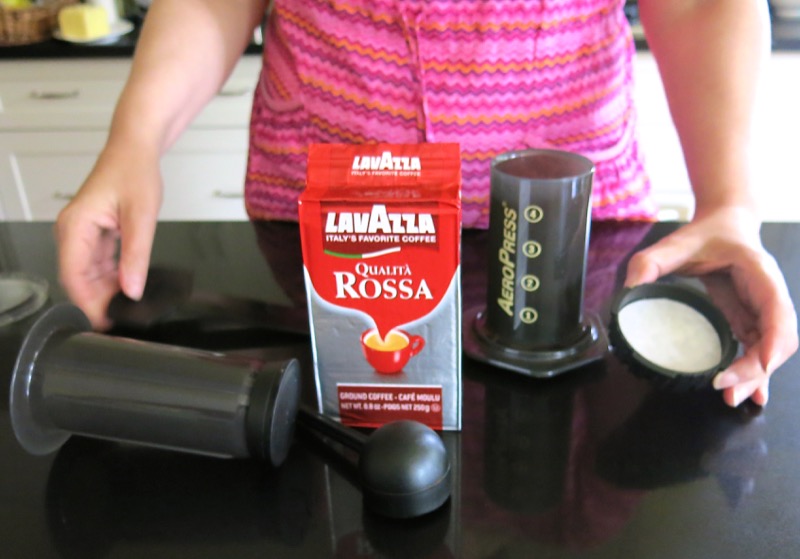 As we begin, Su says"…just be sure to mention….that I am NO EXPERT! I have found what works for me, and I do it….all coffee peeps will probably die when they see how I have bastardized their super specific methods…." Ah-hem. I beg to differ. Sue is a passionate, and incredible teacher.
Wet the filter and put it in place.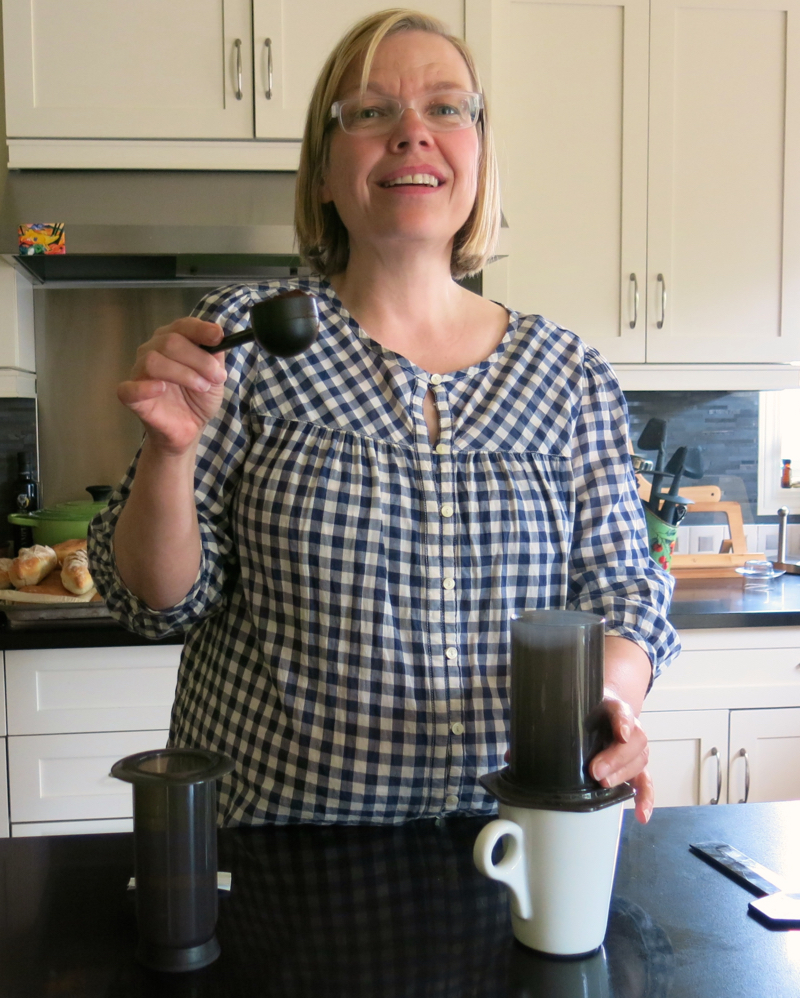 Attend an AreoPress Class or watch a few "how to videos" after you win or buy your AeroPress espresso making traveling companion!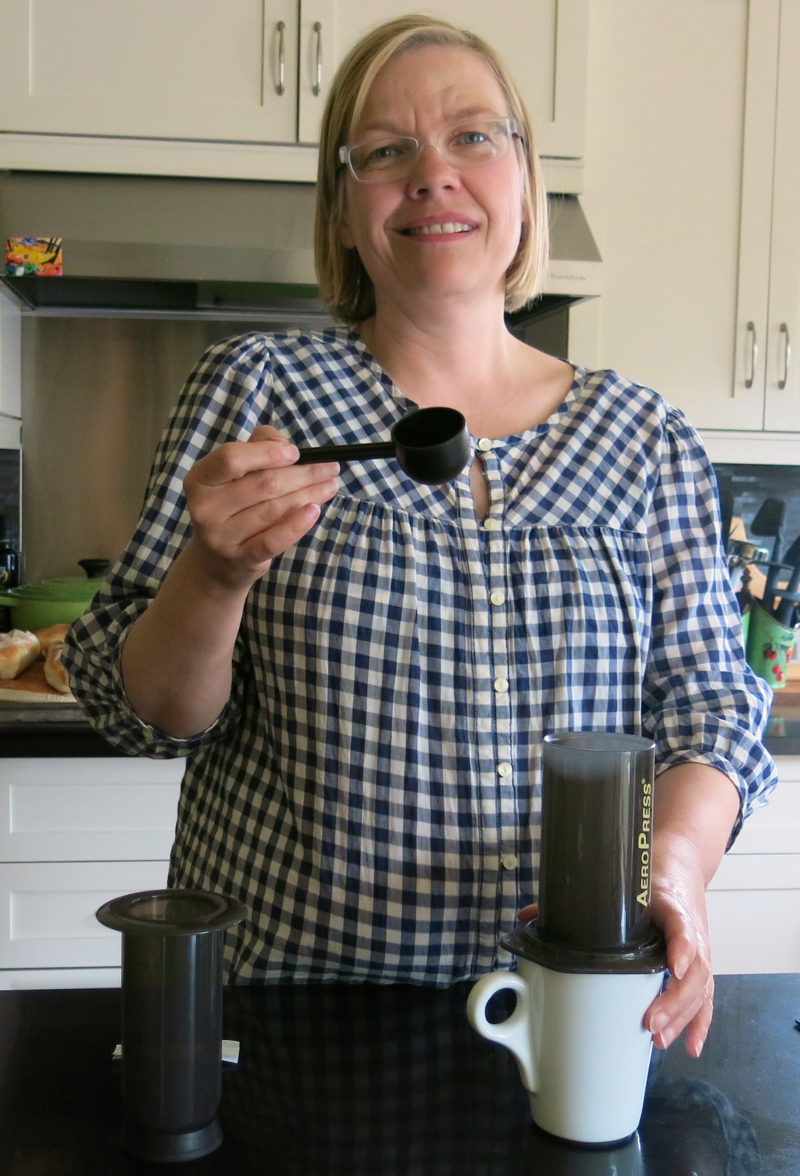 The filter is in place, the press is placed over the mug. Make sure the mug will fit the amount of water you place into the press!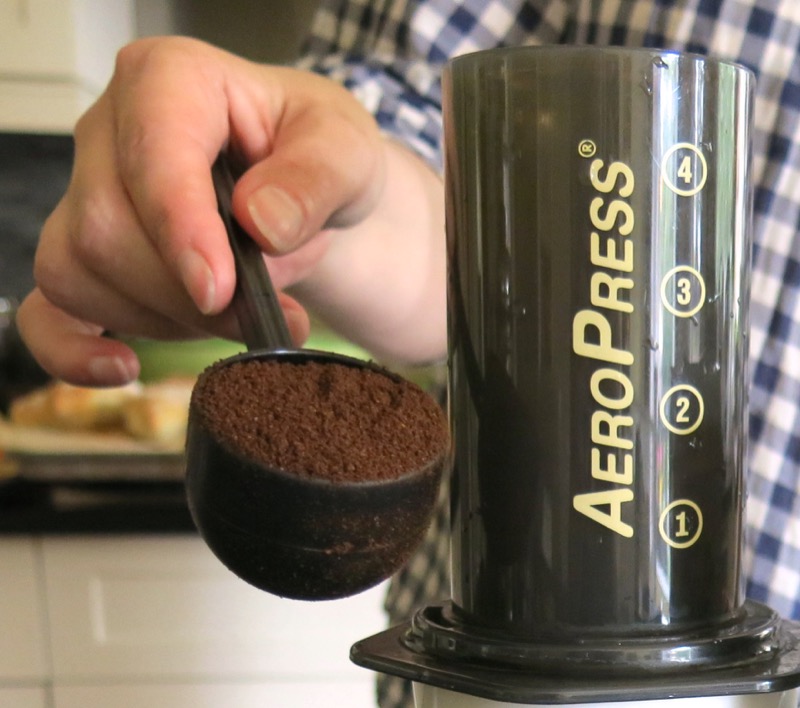 The scoop is very important. One scoops of exceptional coffee grounds between a filter and french press grind, leaning to the coarser grind for one good cup of espresso.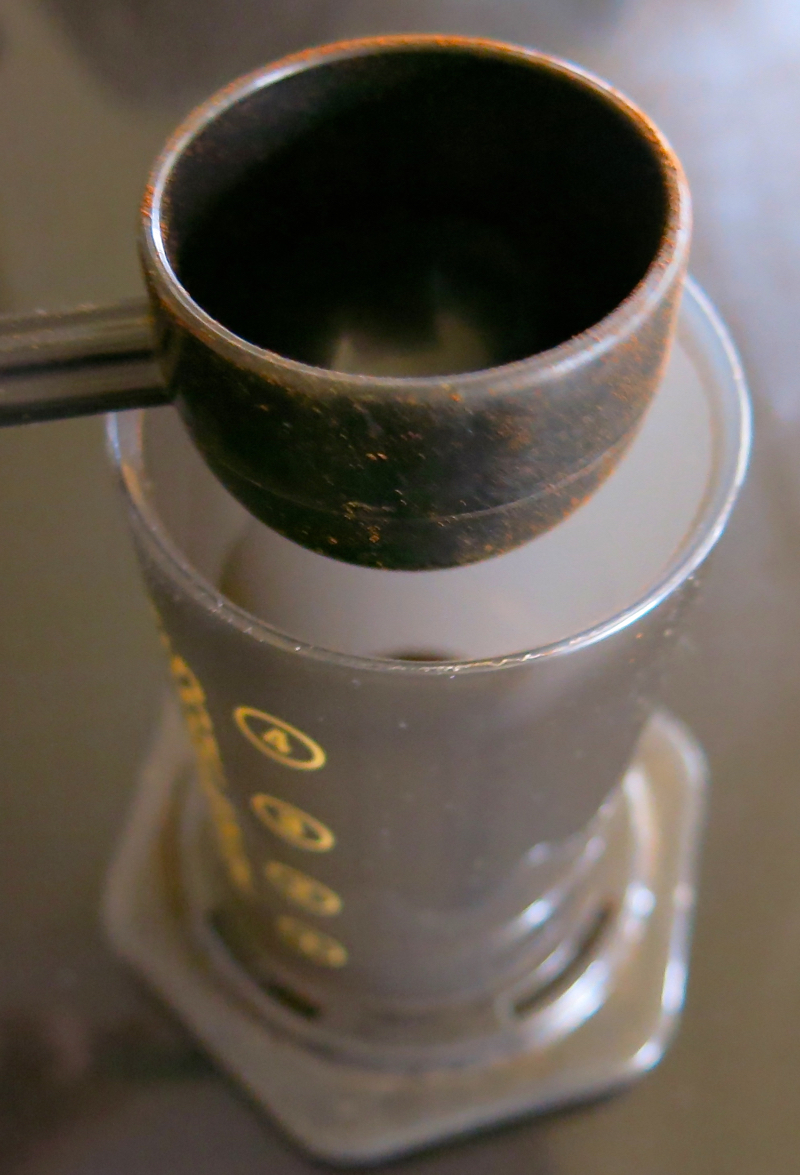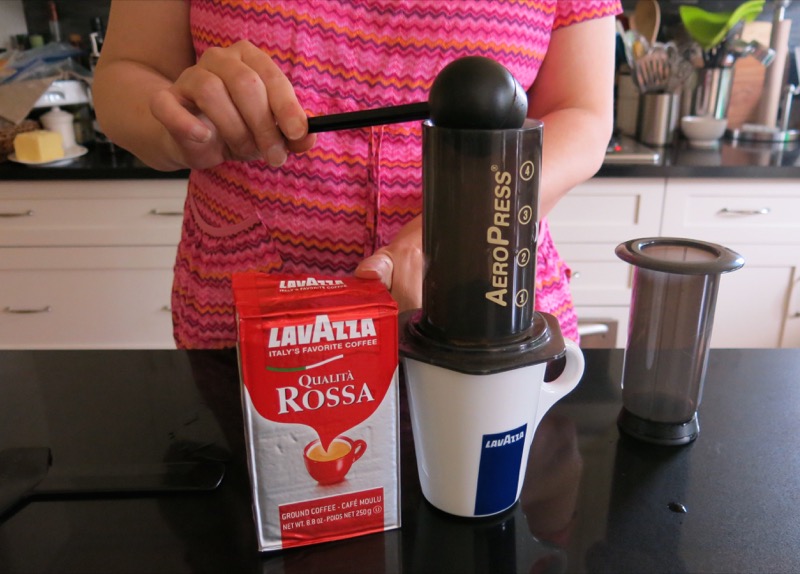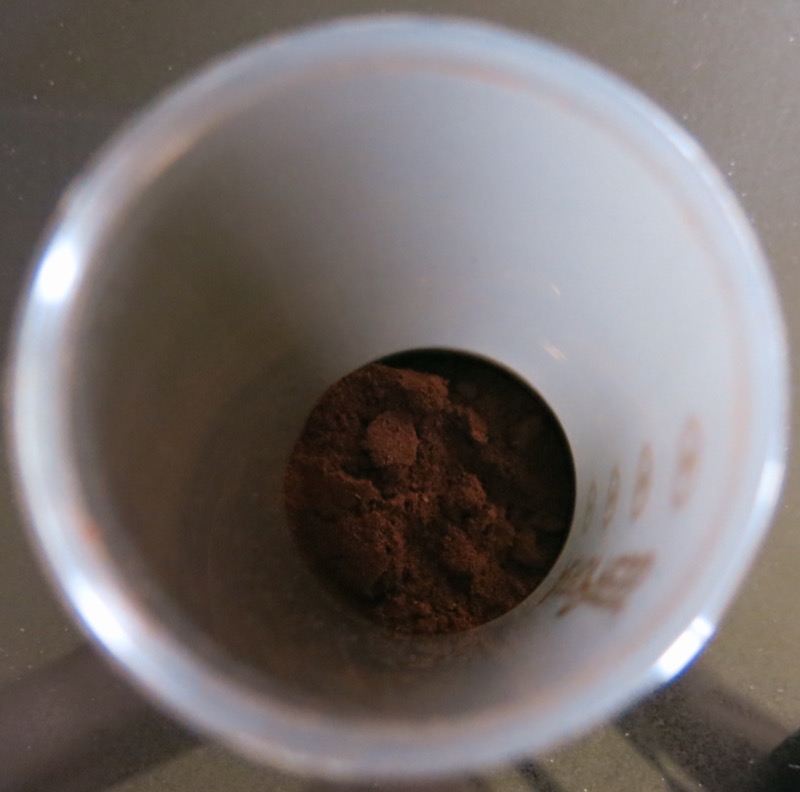 Su insists the water boil, and then cool for a minute until it is no longer boiling. Others insist 92-95º Celsius makes the best espresso and 92º Celsius is the boiling point. Most agree with Sue.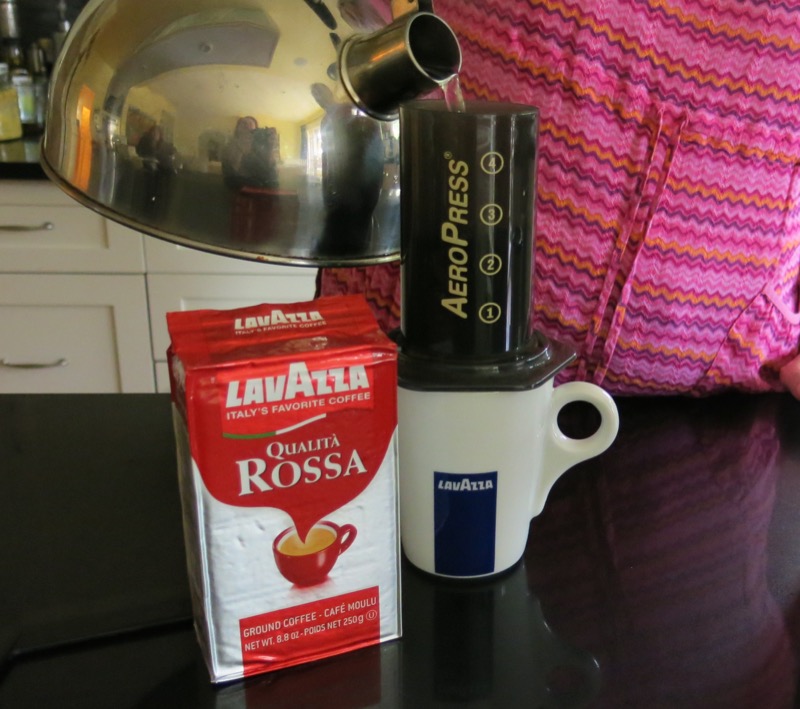 Stir very well just after you have poured the water; steeping time for an espresso is about 2 minutes.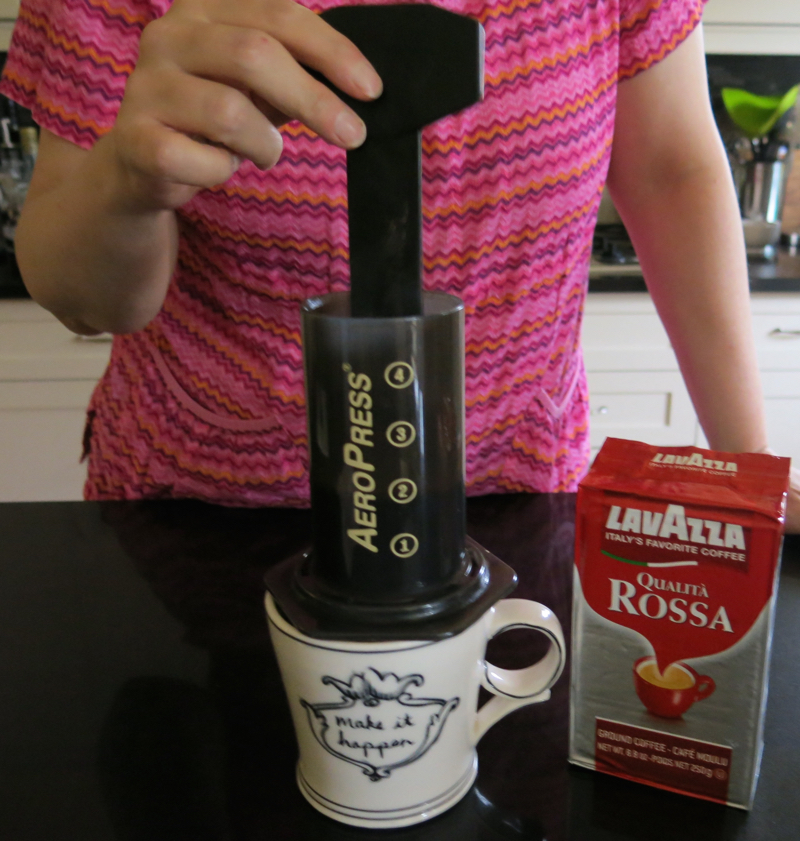 Some use the AeroPress upside-down (or inverted ). We did not do that here. Stir again after the two minutes. If inverting, put the filter in the filter holder and screw on tightly, then turn the AeroPress over and press into the cup. The advantage of the inverted method is total immersion brewing the same as the French Press though many cannot taste any difference between the two methods, some can. There is no residue, inverted or not, with the AeroPress, that I have noted with a French Press: that somewhat gritty mouth feel from the bottom of the cup.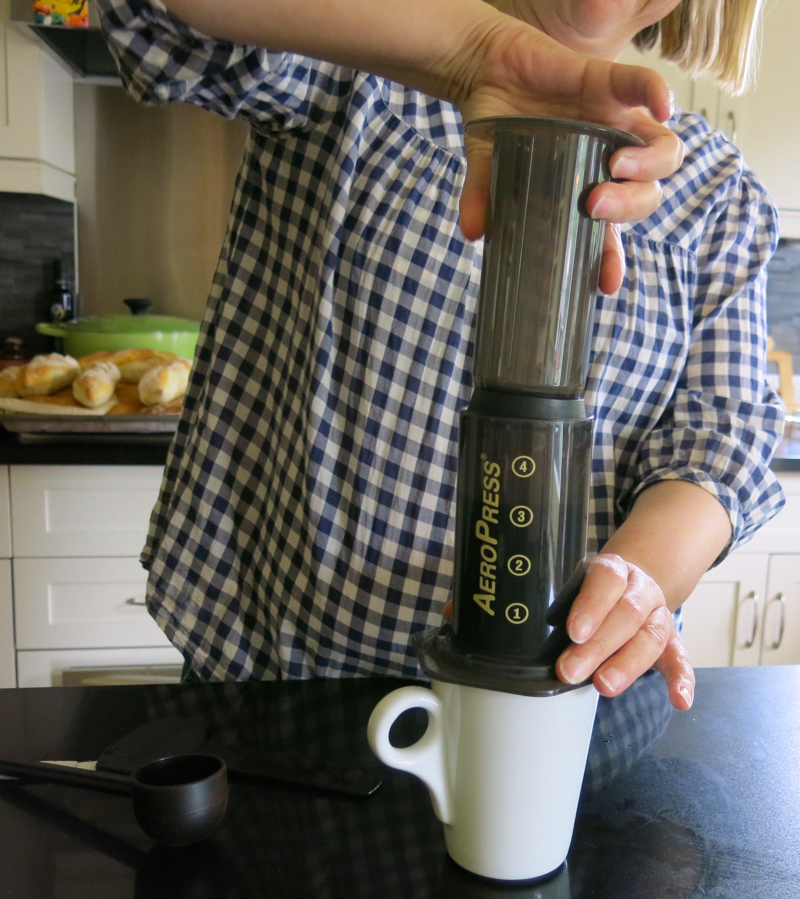 Su is very focused during the steeping and pressing. "It is important to seal the air out of the chamber right after stirring for the best steep."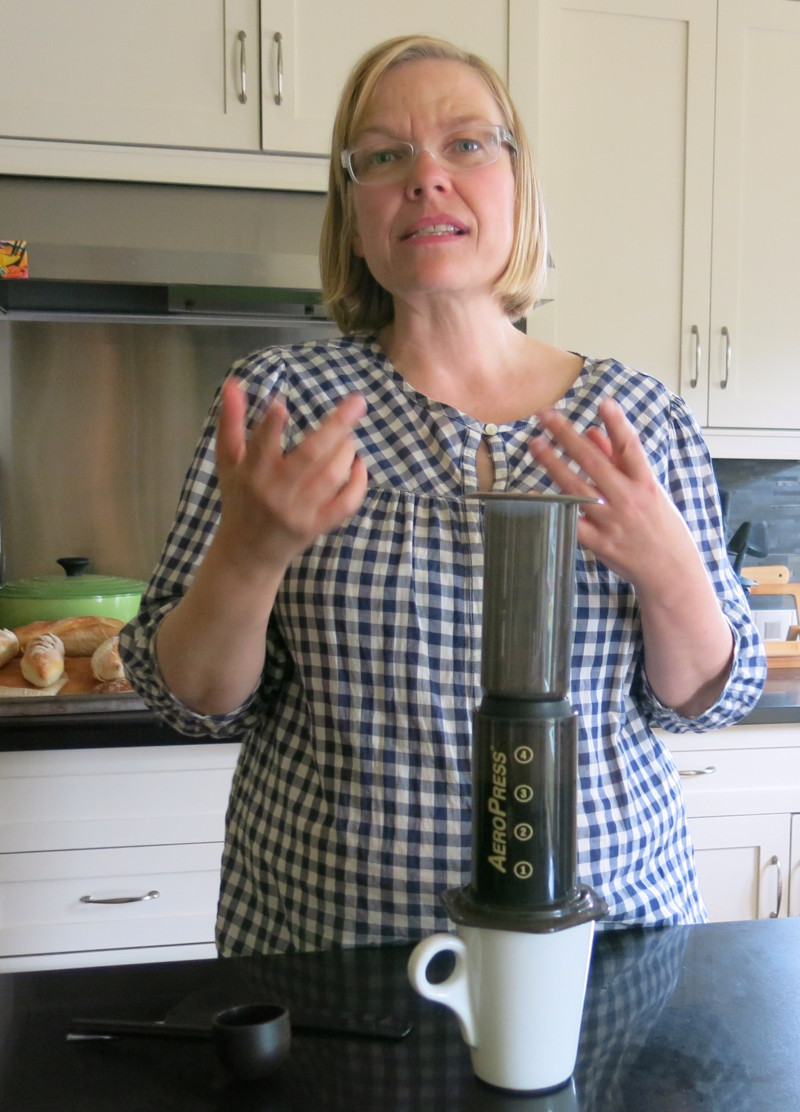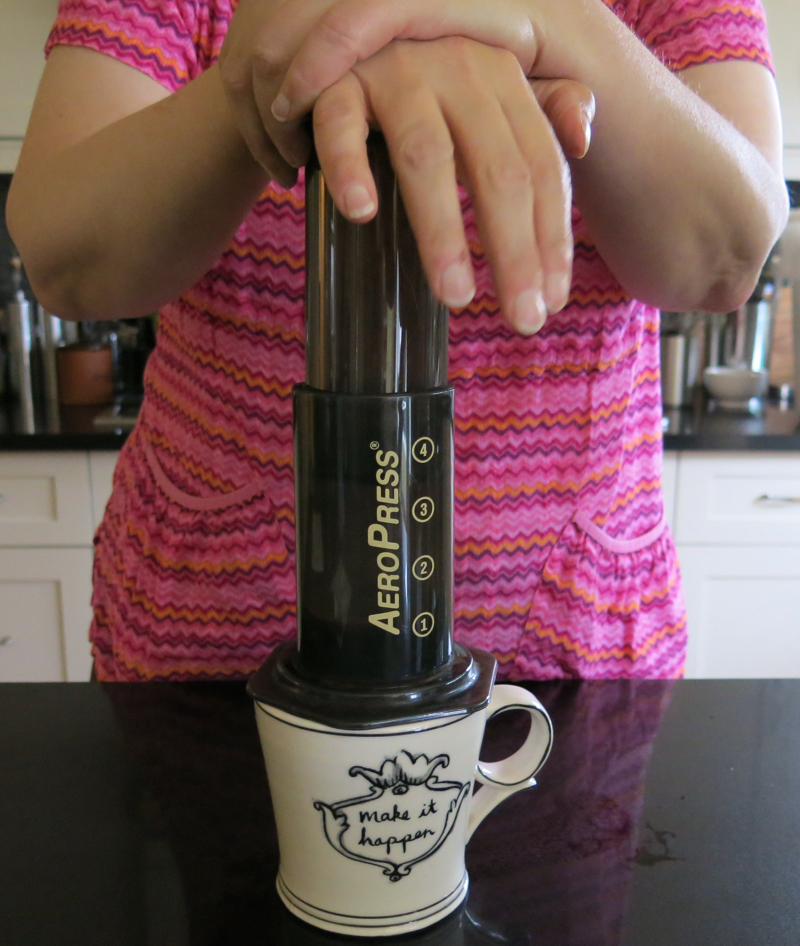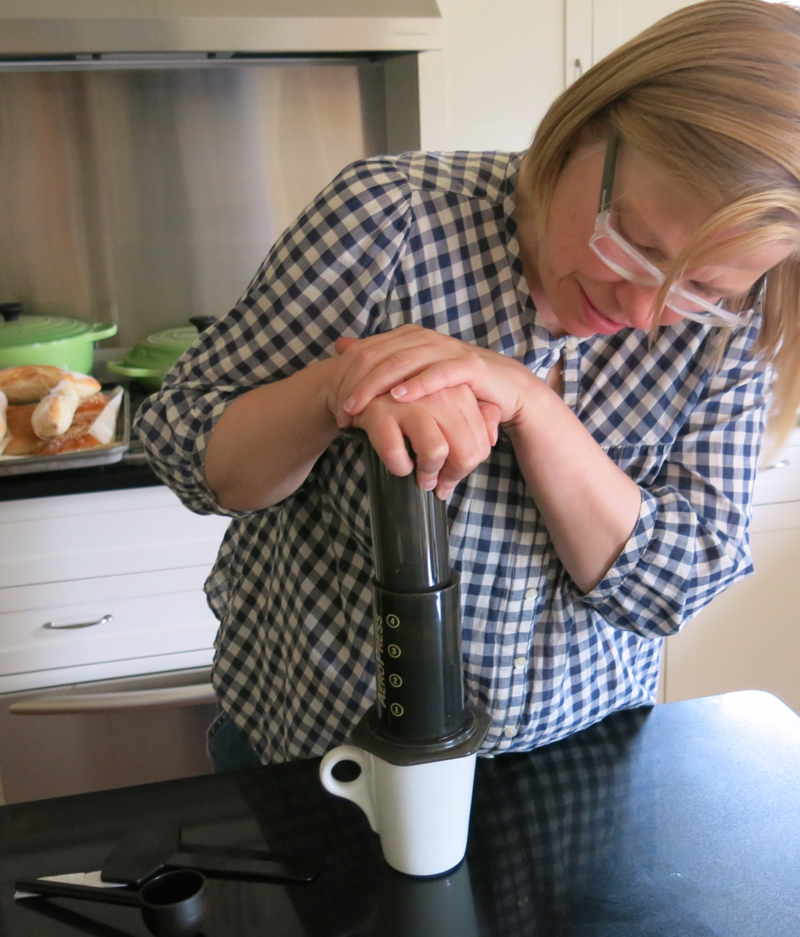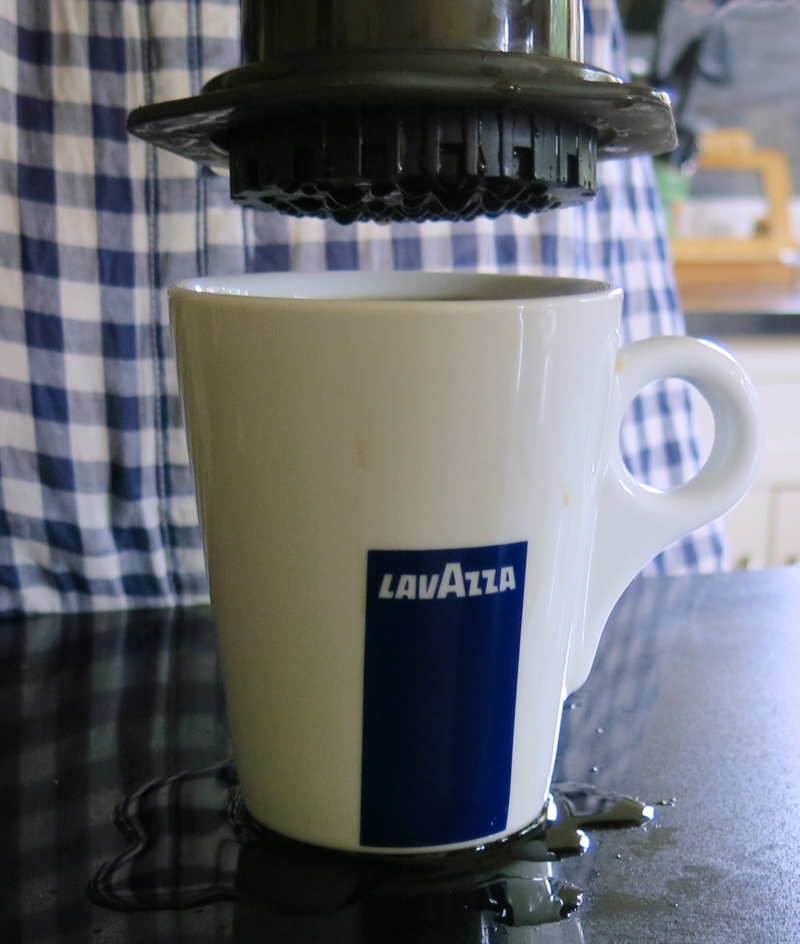 Recall what I said about being sure the cup could hold the amount of water you place in the chamber?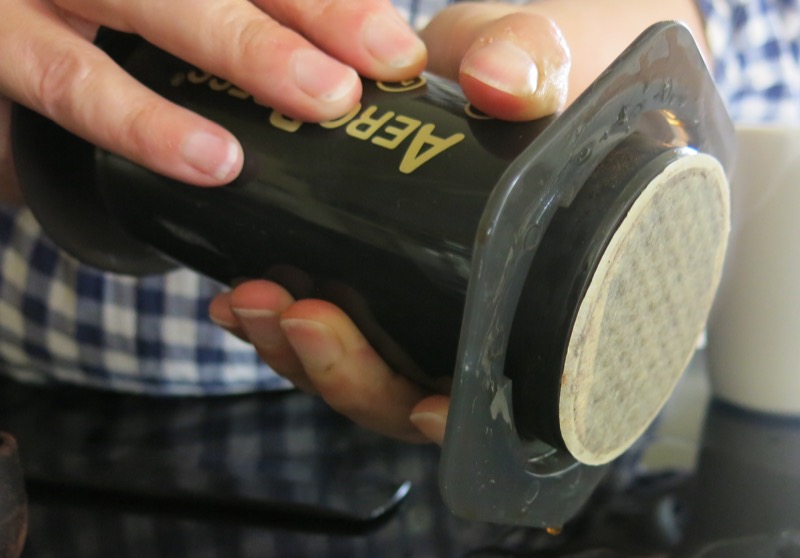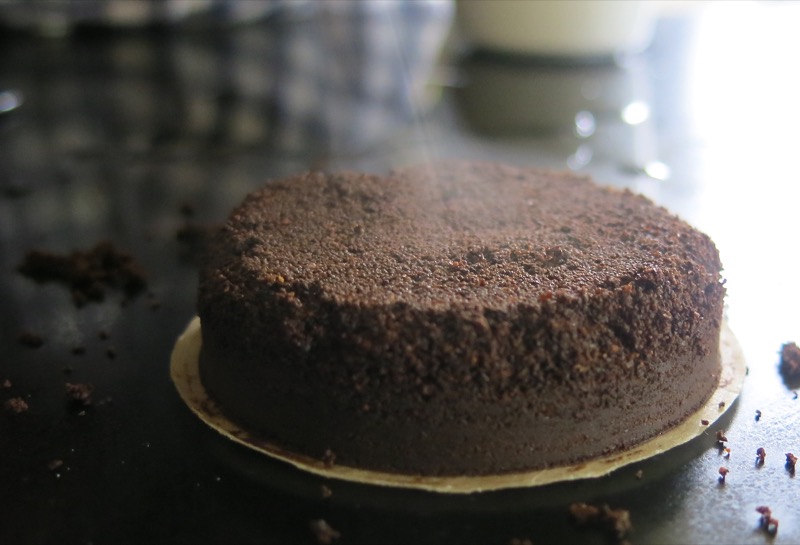 The clean up is super slick.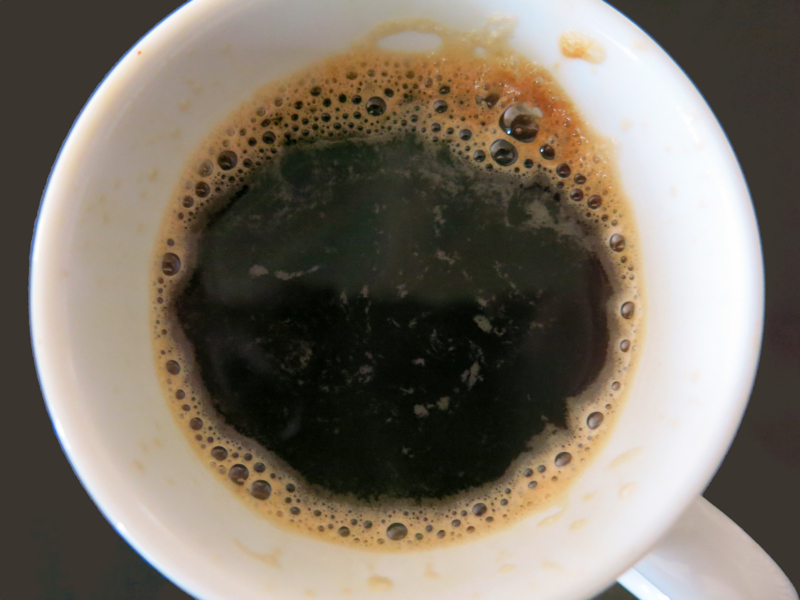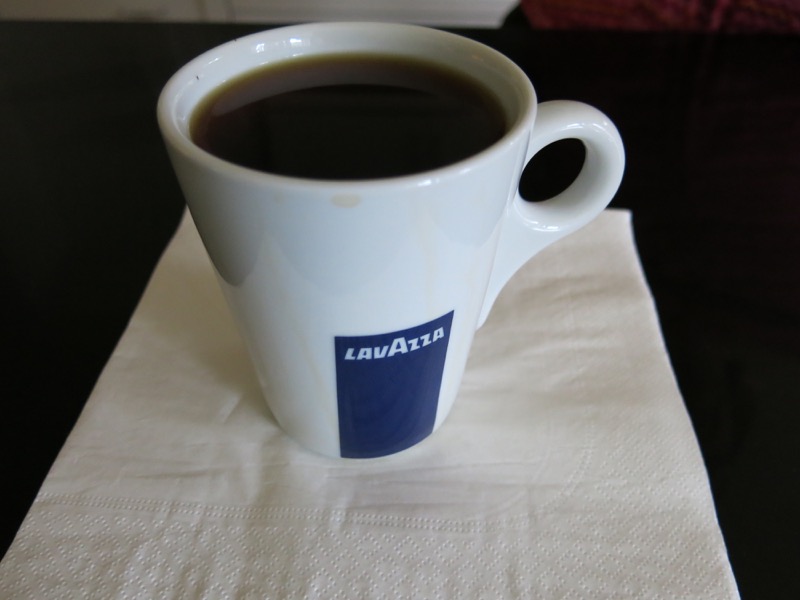 Want to buy an AeroPress? You can find where here. Or, you can win one! Simply leave a comment about how you will celebrate international coffee day below.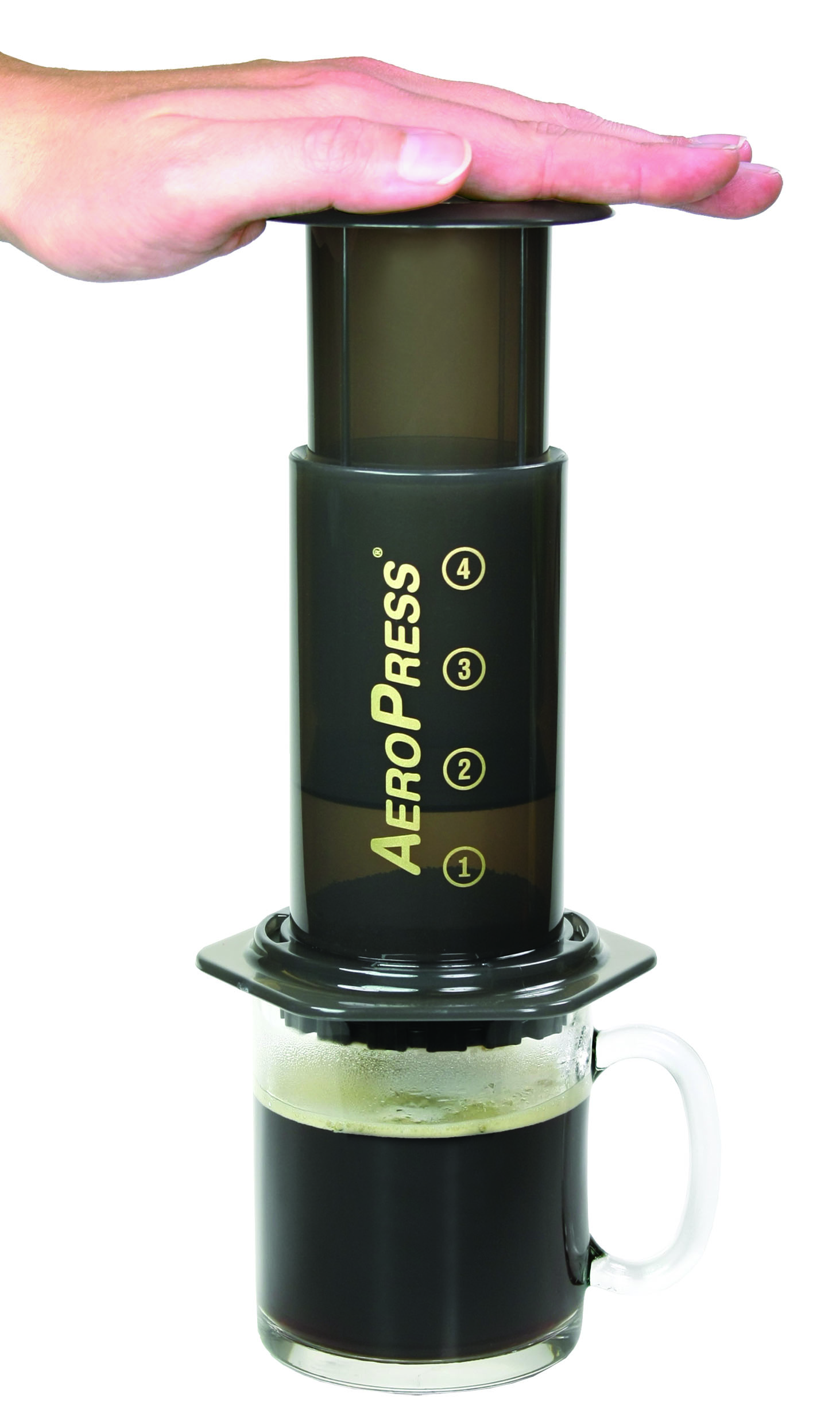 For additional entries into the contest:
tweet: I love Lavazza and I want to win an AeroPress @acanadianfoodie @lavazza #lavazza
like the Lavazza Facebook page
like the AeroPress Facebook page
Now, I could have simply inserted the video below, and missed all the fun explaining how the AeroPress works. However, you will find a plethora of information on the AeroPress on YouTube. I was overwhelmed and enthralled for quite some time. A grassroots AeroPress World Championship was founded by fans in 2008 to determine who can make the best cup of coffee with the AeroPress! Pack you bags and head for AeroPress in Dublin 2016! There is a whole group that believe the coffee in the AeroPress is best made inverting the press, though a taste difference couldn't really be discerned, the driver is that this is a "less messy" method. There is a lot of 2 filter advise on how to make a prefect cup of espresso. Either and any way, the AeroPress is touted by many, many more than myself as the best traveling espresso machine one can fine, anywhere. More importantly, by watching the videos, and practicing at home, we have been able to create an almost perfect cup of espresso with this little contraption. The AeroPress Timer App might help with that. Yes, there is even an AeroPress app. Talk about peace of mind while on the road with my "I need an espresso to have a happy day" husband. Who knew? Not me! Thank you, Sue!
Chemex and Lavazza: not likely "Homemade" Espresso while Traveling, but excellent!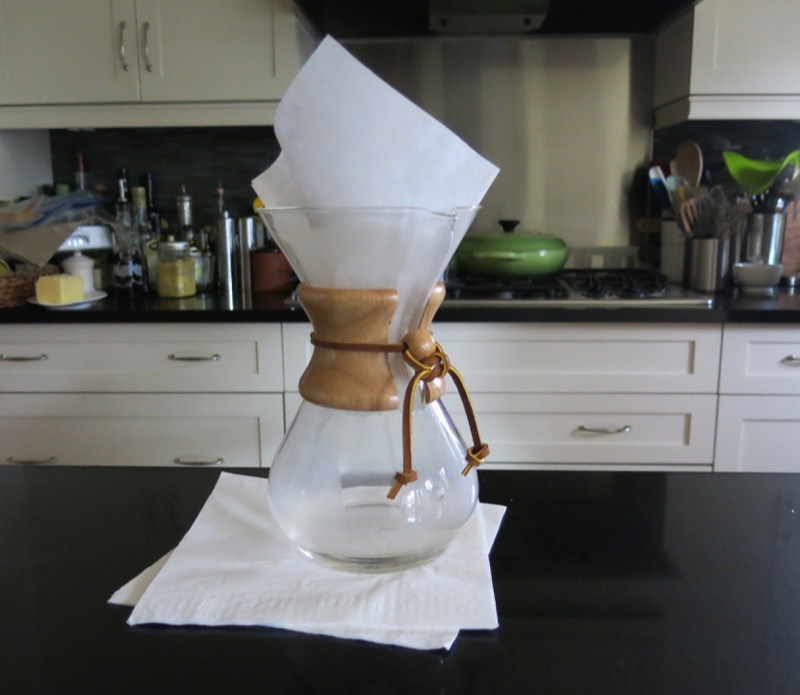 At last year's Food Blogger's of Canada Conference 2014 in Vancouver, I bought a Chemex coffee maker after a coffee tasting session as the coffee made in it was exceptional and the gals presenting the session provided me with too many reasons to purchase this little work of art. Isn't the Chemex beautiful? Though this will not be a demonstration about how to make a great cup of coffee while traveling, it will be another option for an intimate coffee experience at home with another like-minded coffee aficionado.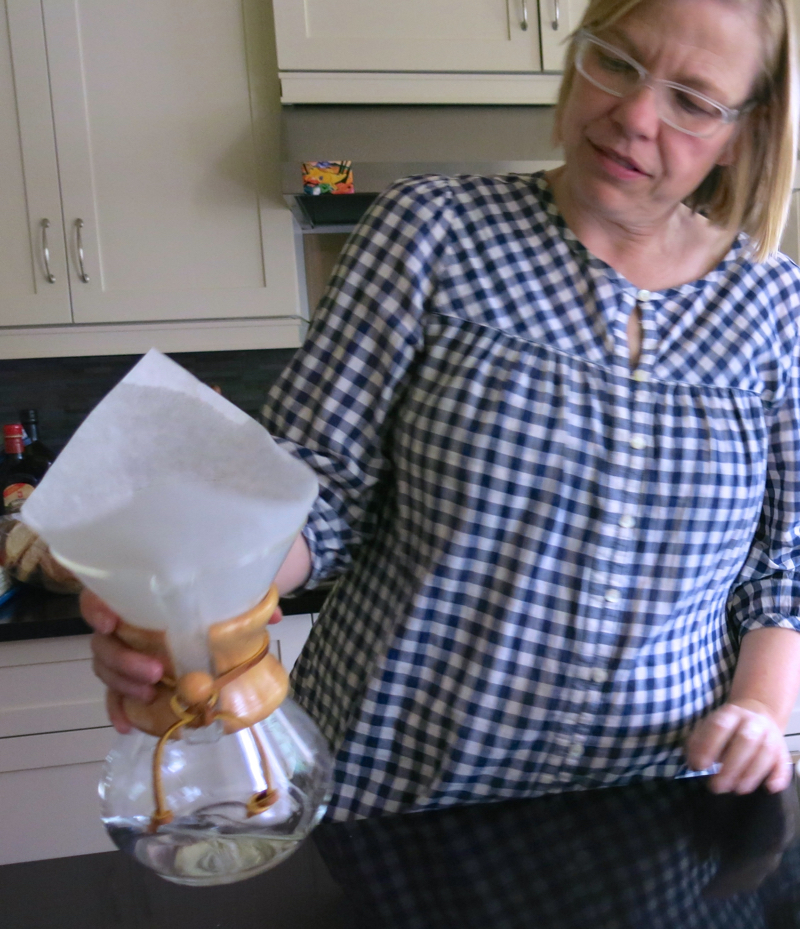 Chemist, Peter J. Schlumbohm, combined a modified glass funnel with the modified Erlenmeyer flask to create a one-piece drip coffee maker to be made of heat proof, laboratory grade, borosilicate glass. This became the Chemex he designed in 1941 and evolved into the work of art we know today, three years later as his goal was to create an attractive, simple vessel. The wooden "steam stopper" prevents the steam from coming into contact with the upper portion of the neck, remaining cool and is used as the handle. The Chemex has been recognized as an outstanding example of American Design. The coffeemaker and his water kettle are in the permanent collection of the Museum of Modern Art in New York, the Smithsonian, the Philadelphia Museum and the Corning Museum. The design is aesthetically gorgeous in its simplest form.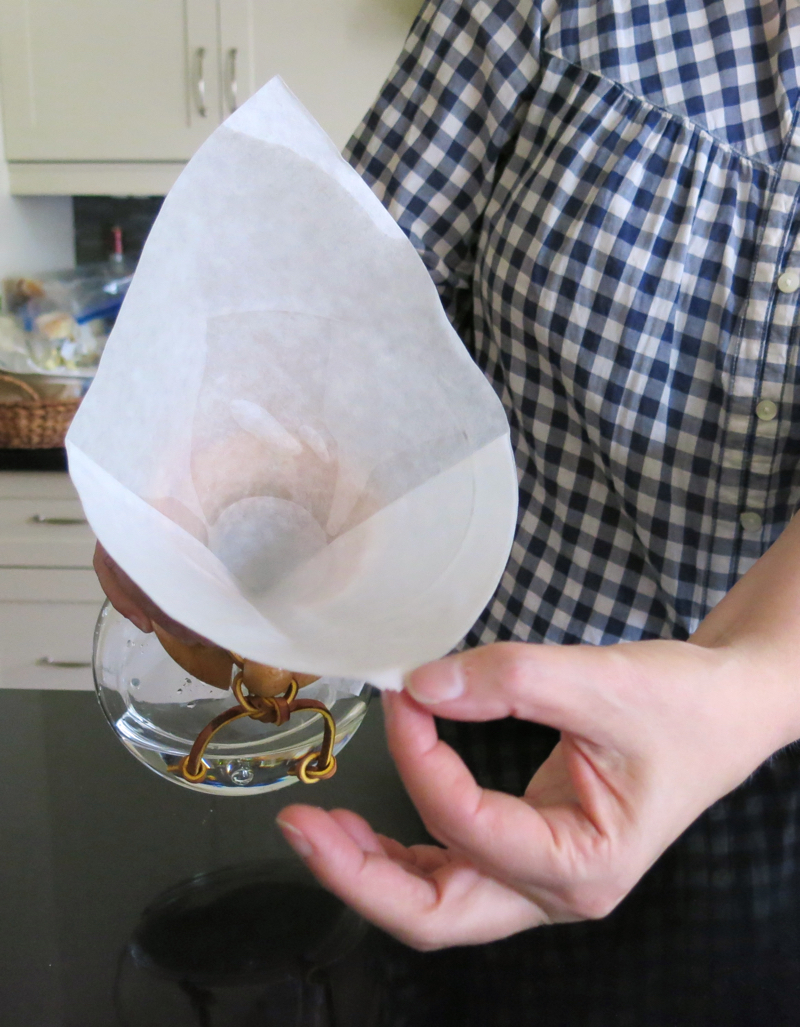 As with every coffee making device, the instructions are very specific: Place the Chemex filter into the cone shape so that one side of the cone has three layers; the thick (three-layer) portion should cover the pouring spout when the filter is placed on top of the Chemex, as Sue demonstrates, above.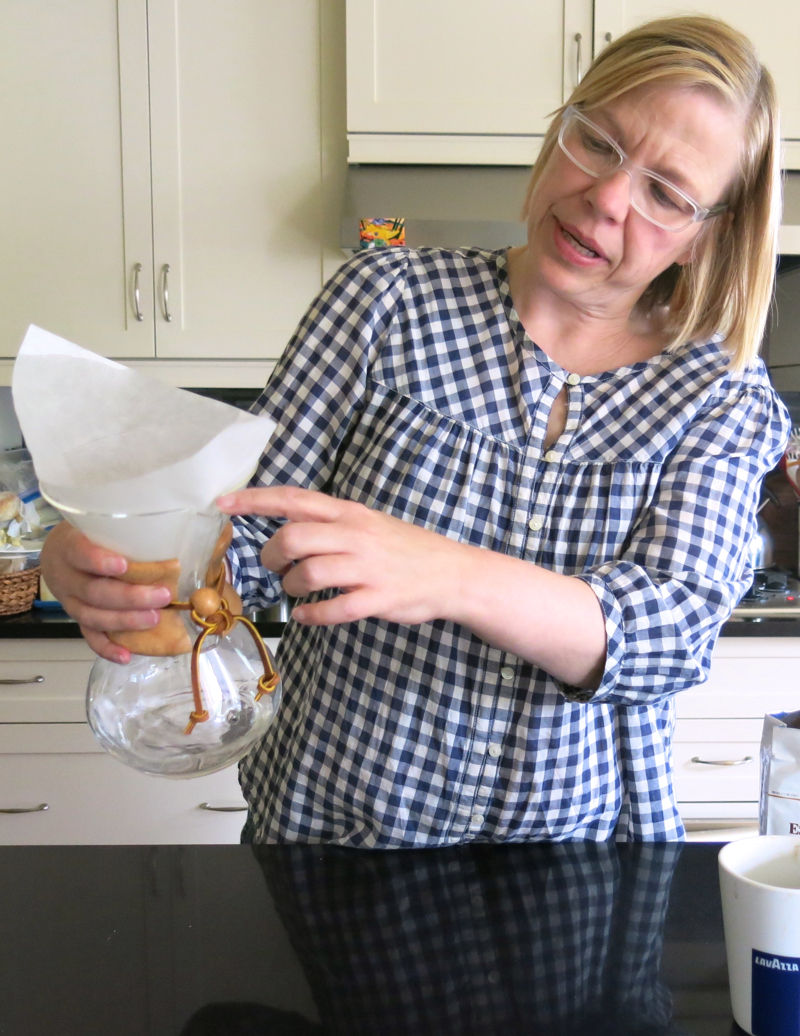 Schlumbohm modified his original laboratory funnel "by adding an "air channel" so the air displaced by the liquid dripping into the vessel could easily escape past the laboratory filter paper". Su points that out, above.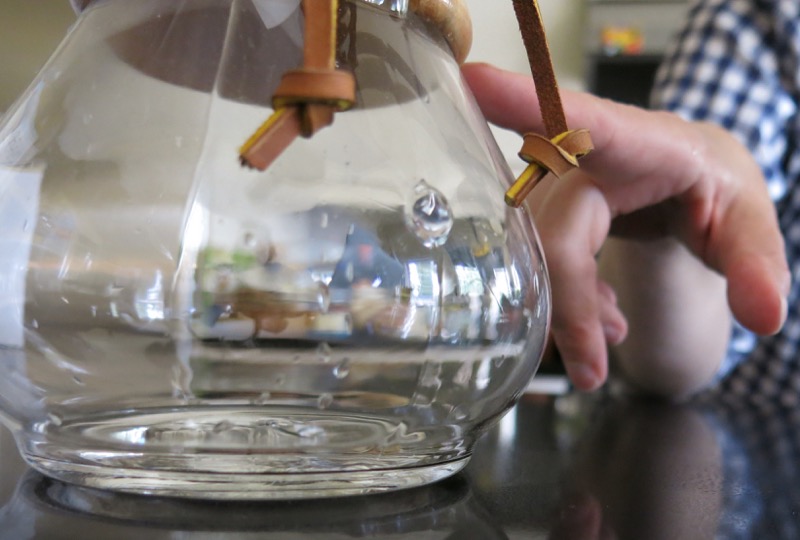 To the wall of the Erlenmeyer flask he added a protrusion, which looks like a bubble or a "belly button." It indicates one half of the volume that is below the bottom edge of the handle. Apparently, everyone calls it a "bellybutton" and I thought I was so smart.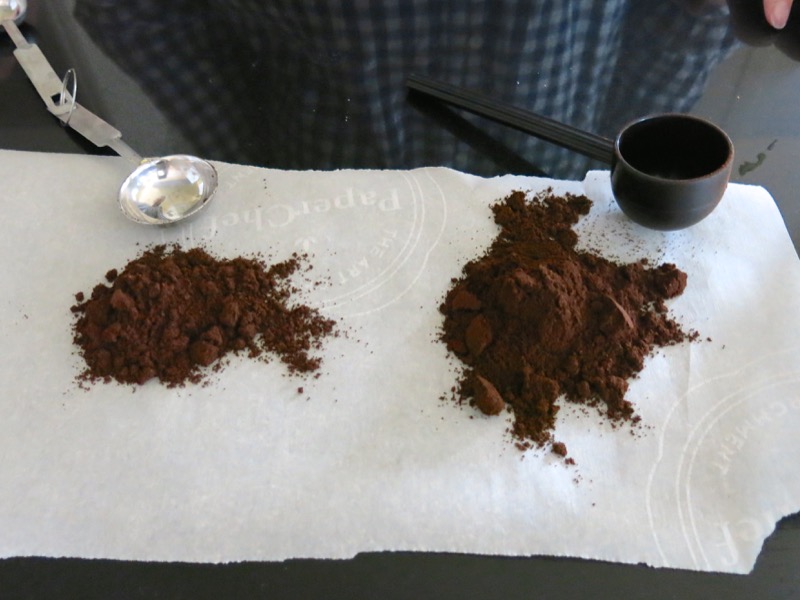 Curious to understand the amount in the coffee scoop that came with Su's AeroPress and that she uses for everything, we compared it to a tablespoon.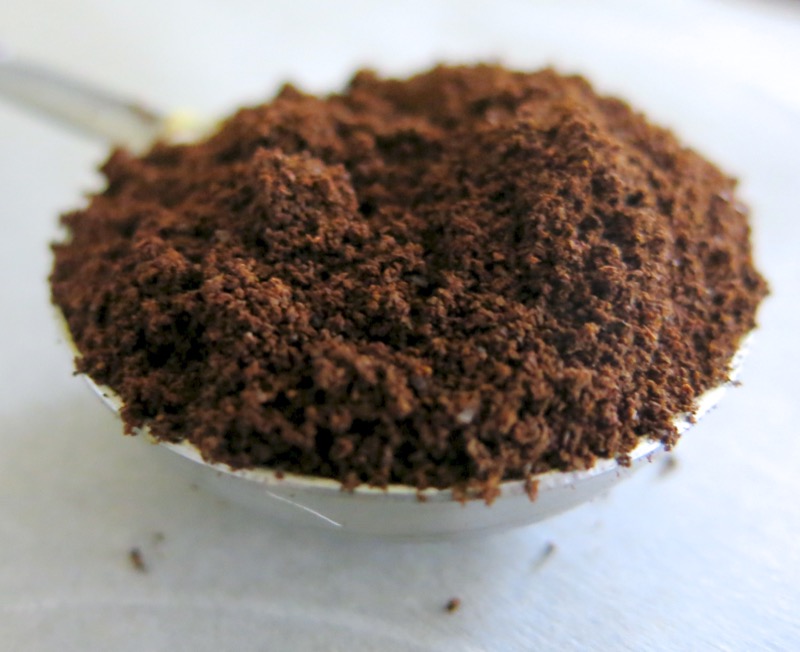 It is considerably more than a tablespoon!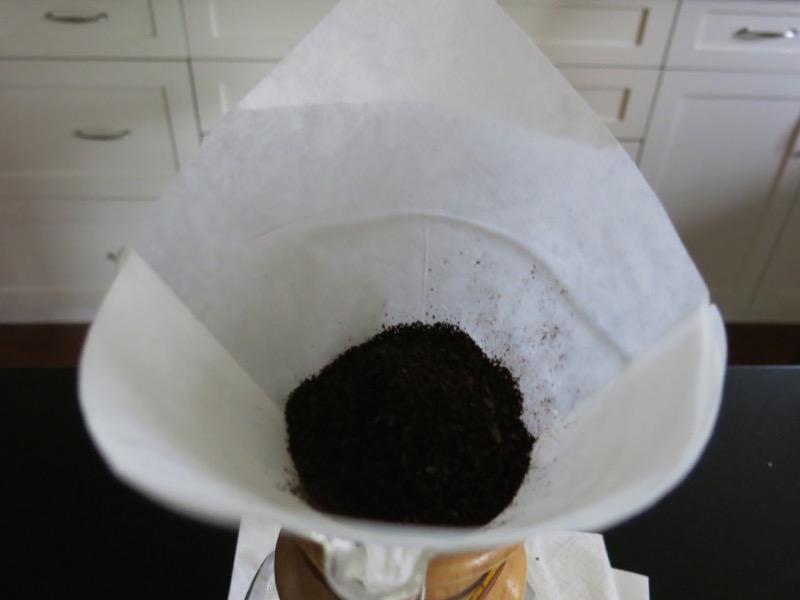 Su likes her coffee strong, so adds about 2 of her spoons per cup of coffee she plans to make.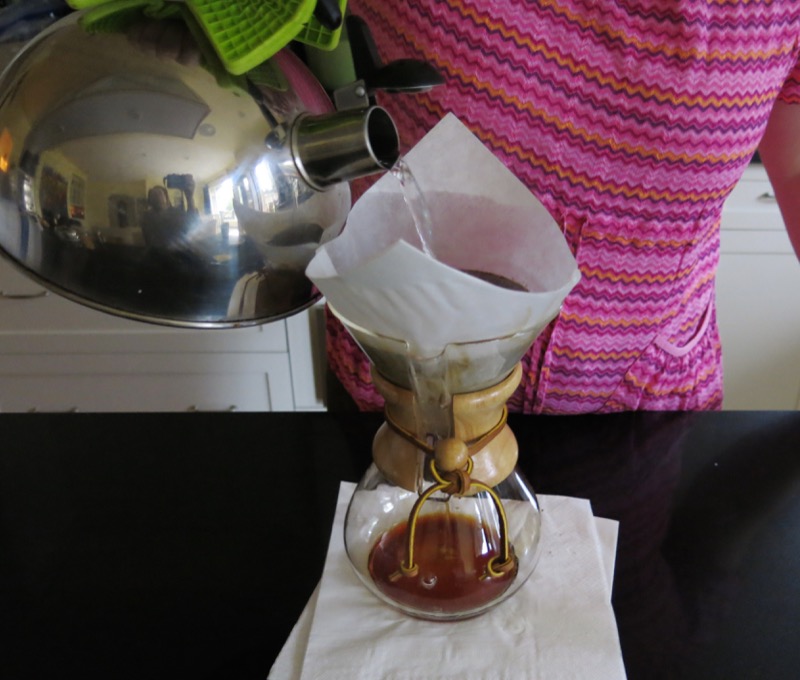 The Chemex people share Sue's advice about water temperature: "Just before water boils, remove your kettle from stove top and let water settle." So, no boiling of the water. Sue began by pouring enough water over the coffee in the filter to just saturate coffee grounds.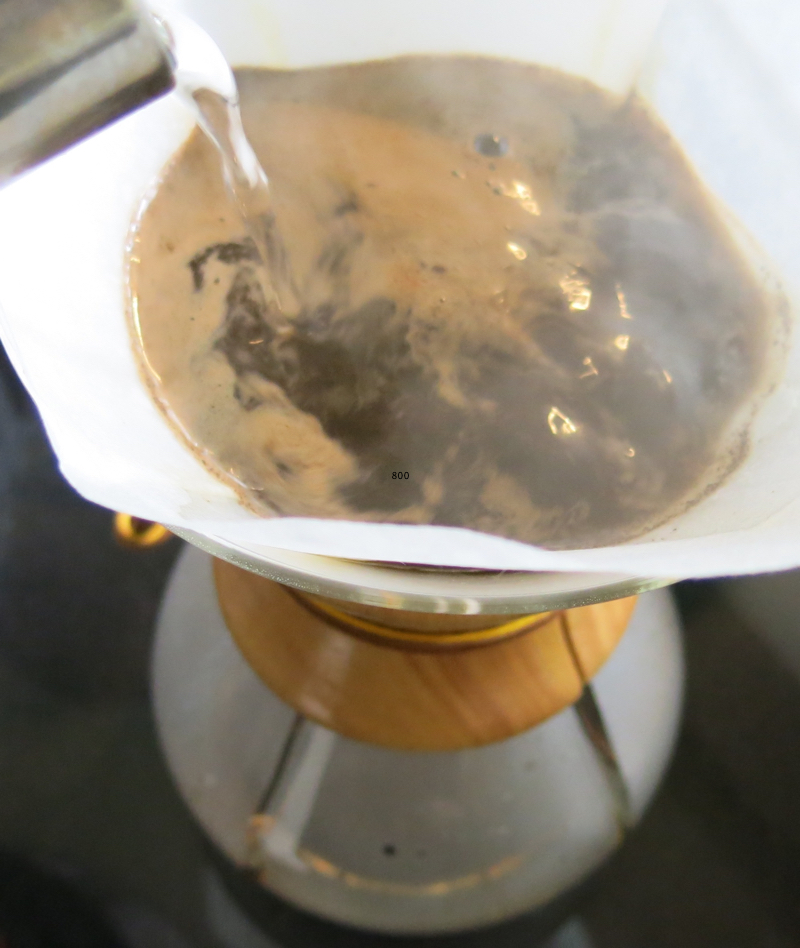 She did let the grind "bloom" for 30-45 seconds, then continued to brew the coffee by pouring water slowly over the grounds in a circular motion.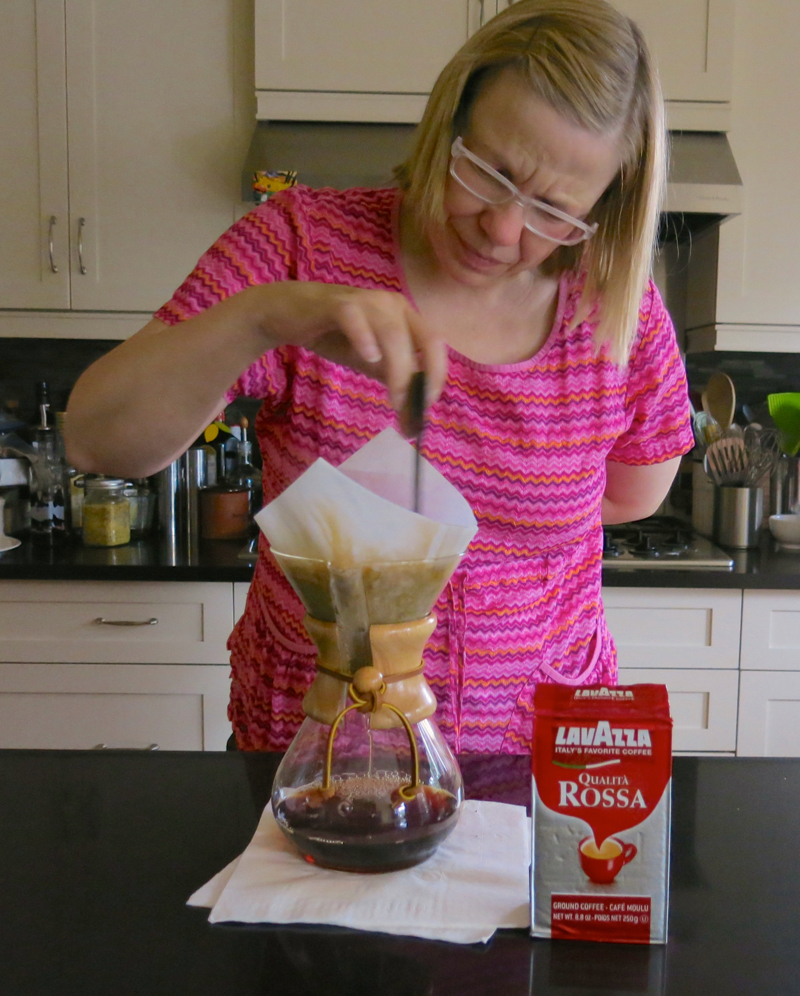 Stir. Wait 4 minutes.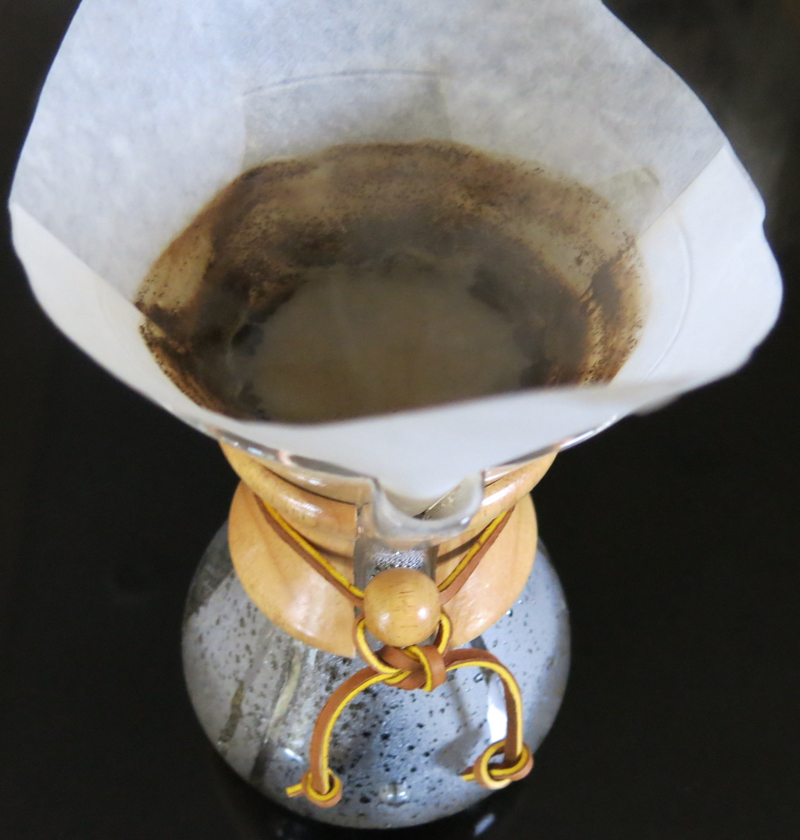 One… two… three…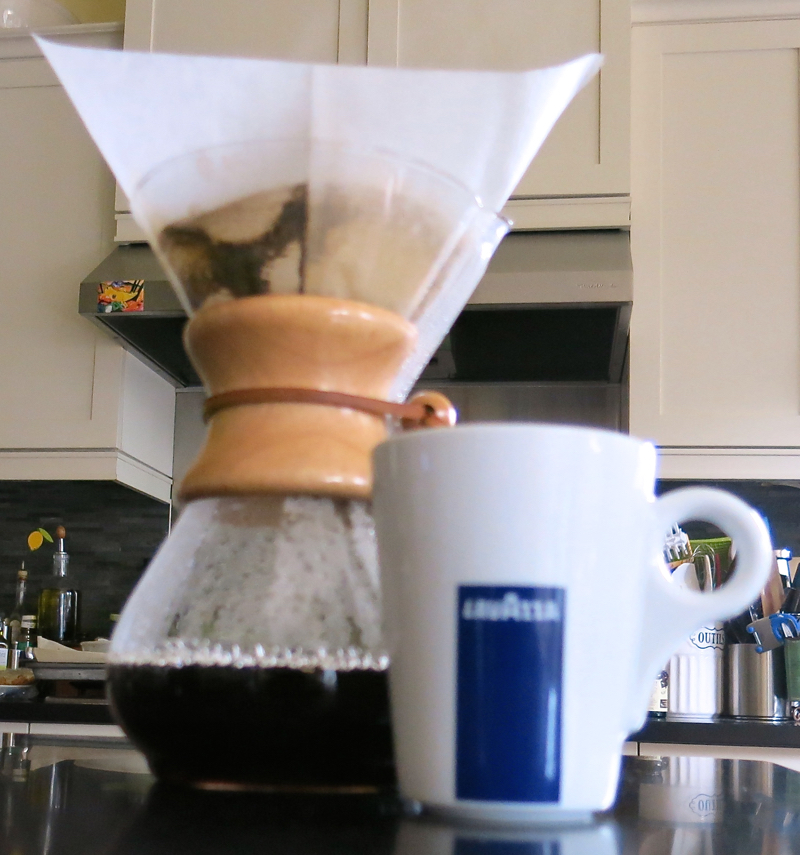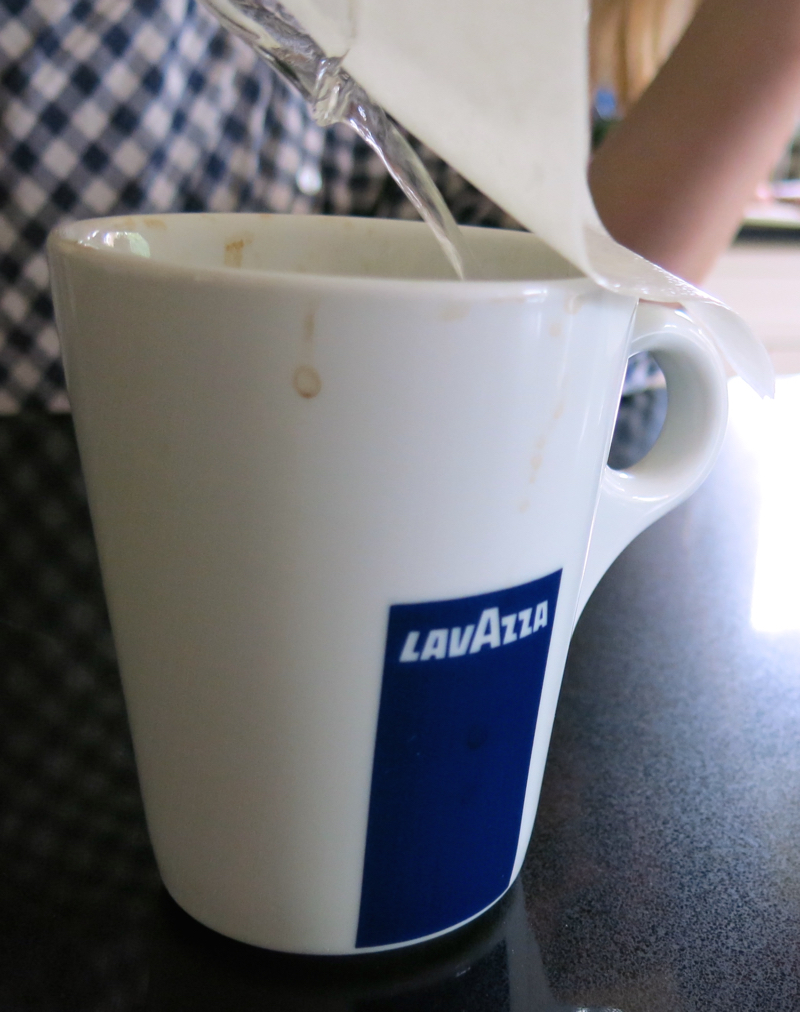 Four minutes is a long wait while watching coffee brew. The pour and enjoy! The Borosilicate glass the Chemes is made from today is non-porous and will not absorb odors or chemical residues. The pour-over process enables the coffee to be covered and refrigerated for reheating without losing flavor. This is phenomenal!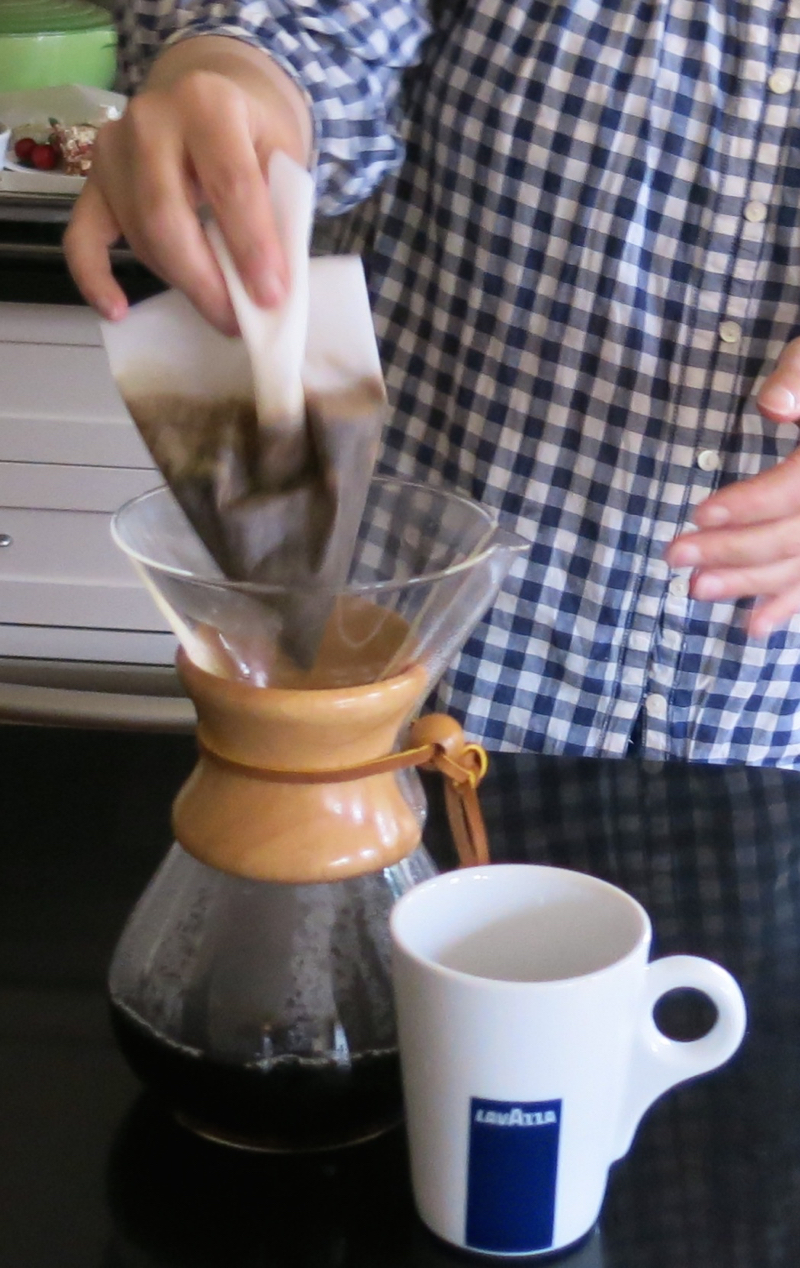 Su removed the filter and kept serving the coffee!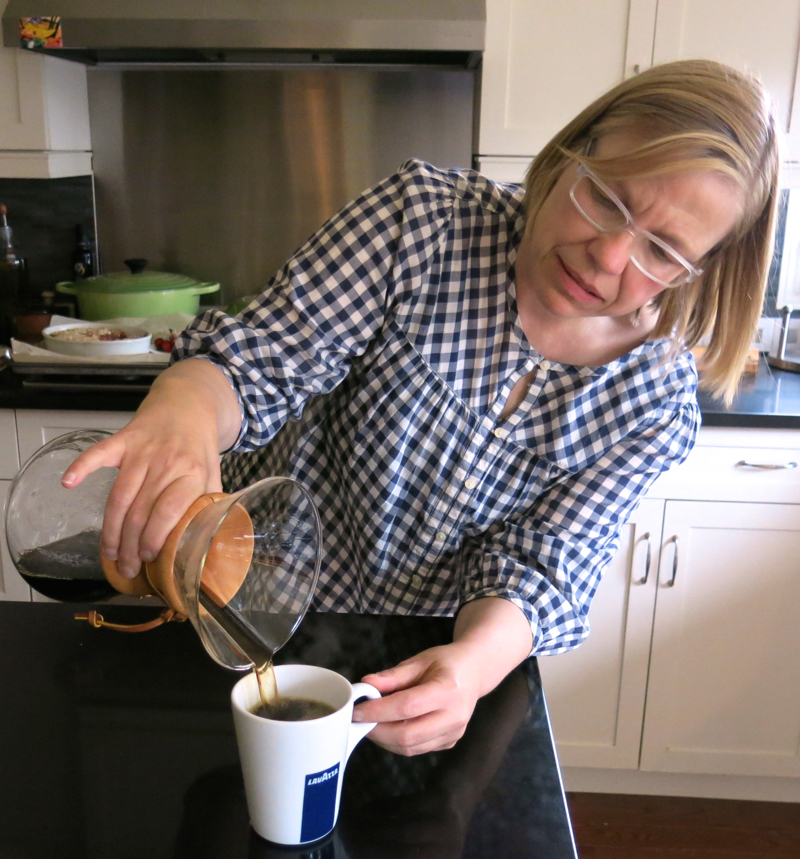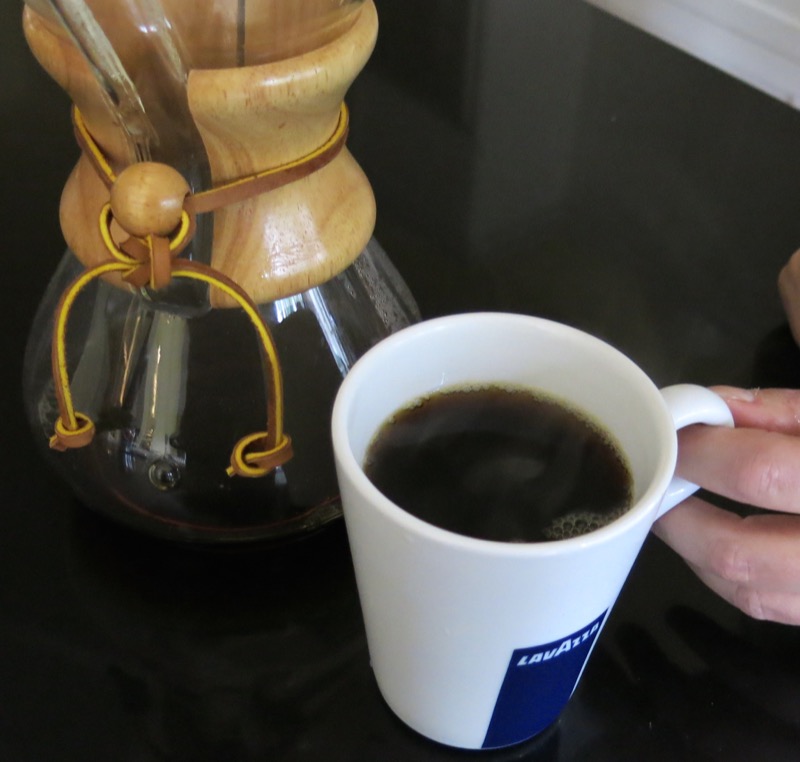 French Press and Lavazza: "Homemade" Espresso while Traveling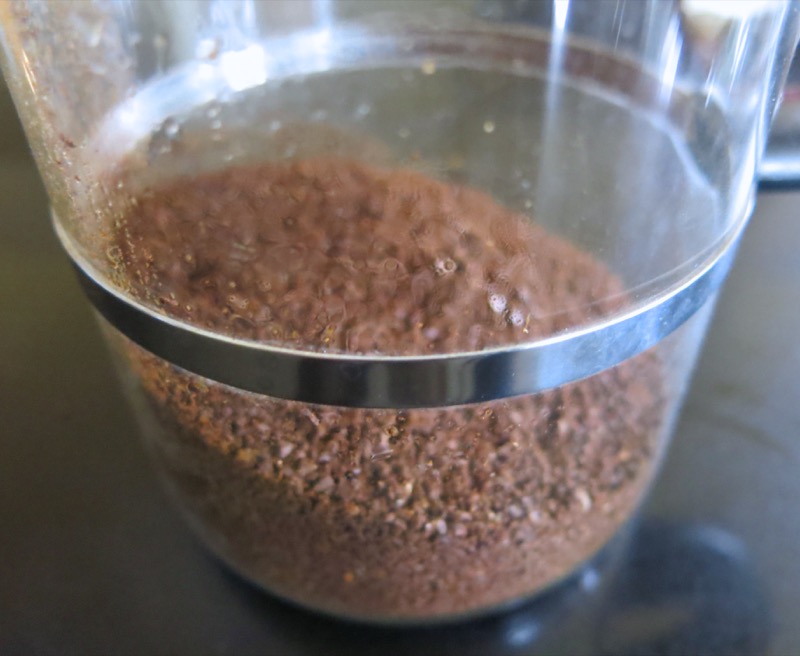 Again, not a likely travel solution, but one that begs discussing. French pressed coffee is Sue's everyday coffee at home. Lots of coffee in the press.
Hot, not boiling water fills the press, and she stirs, hypnotically with a very fixed and determined focus.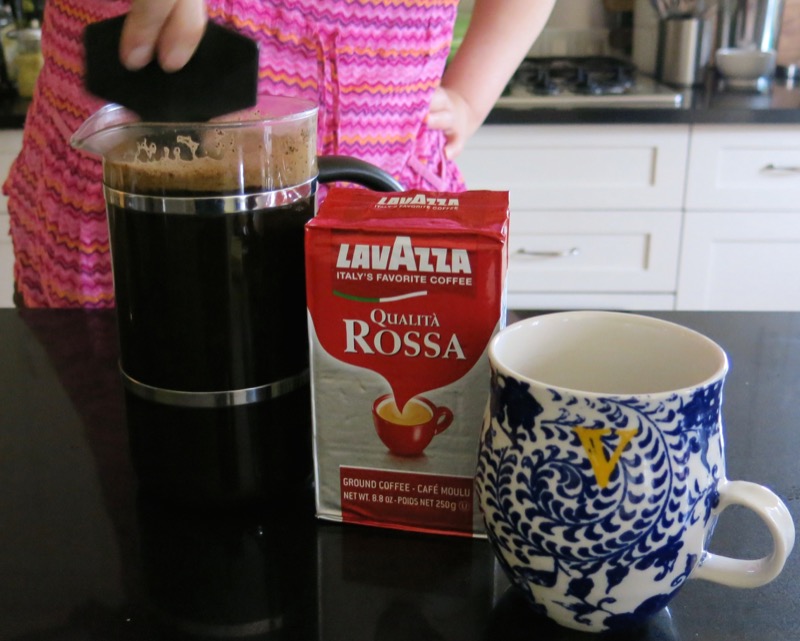 Closes the press to create a vacuum, she lets the coffee steep.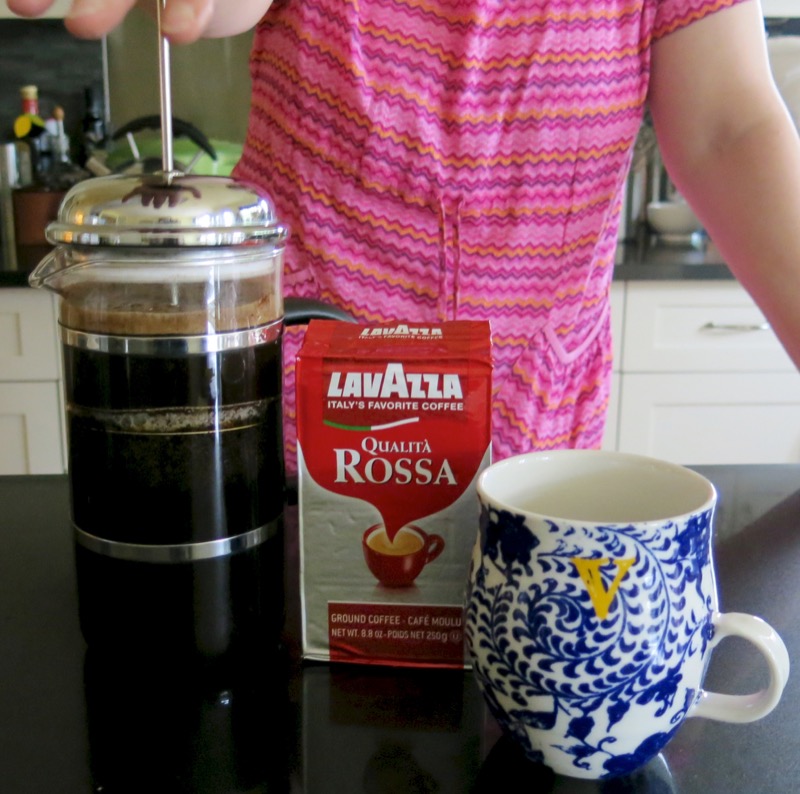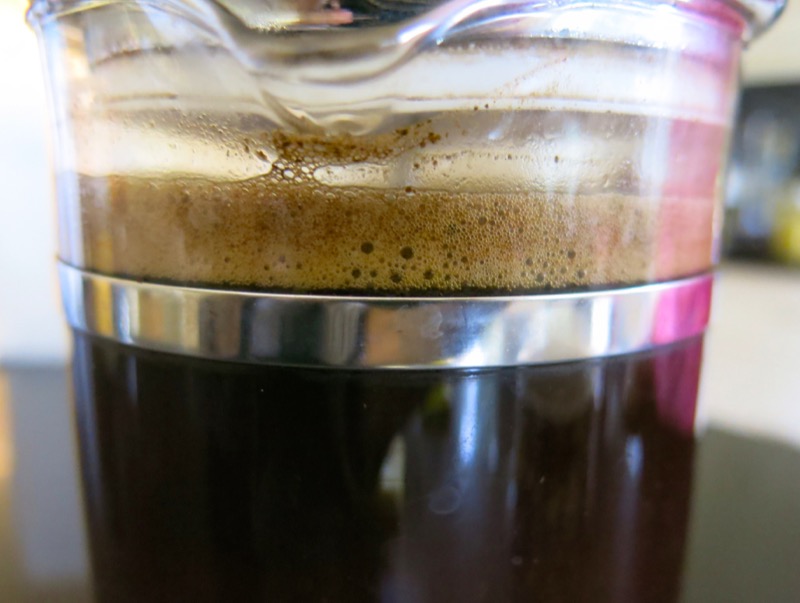 Not for 4 minutes, but a good 2. Look at that lovely foam!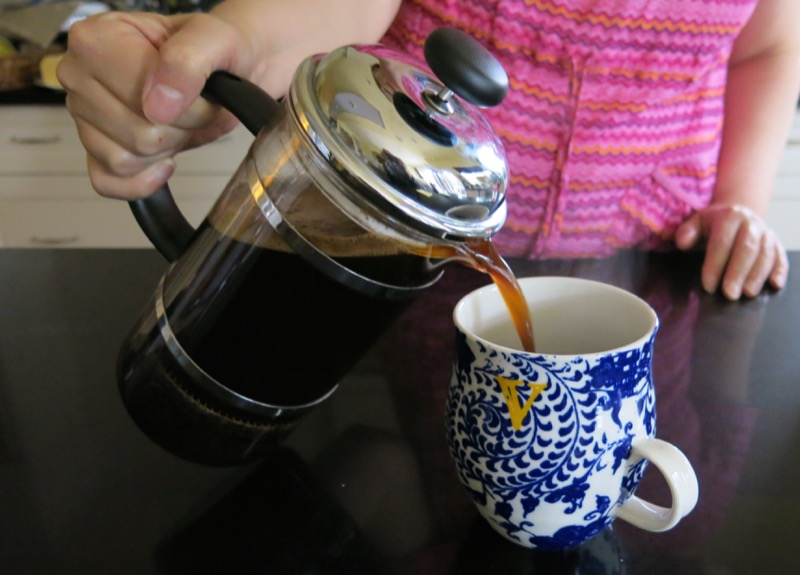 She pours herself a cup or two before heading out to work every morning from her carafe.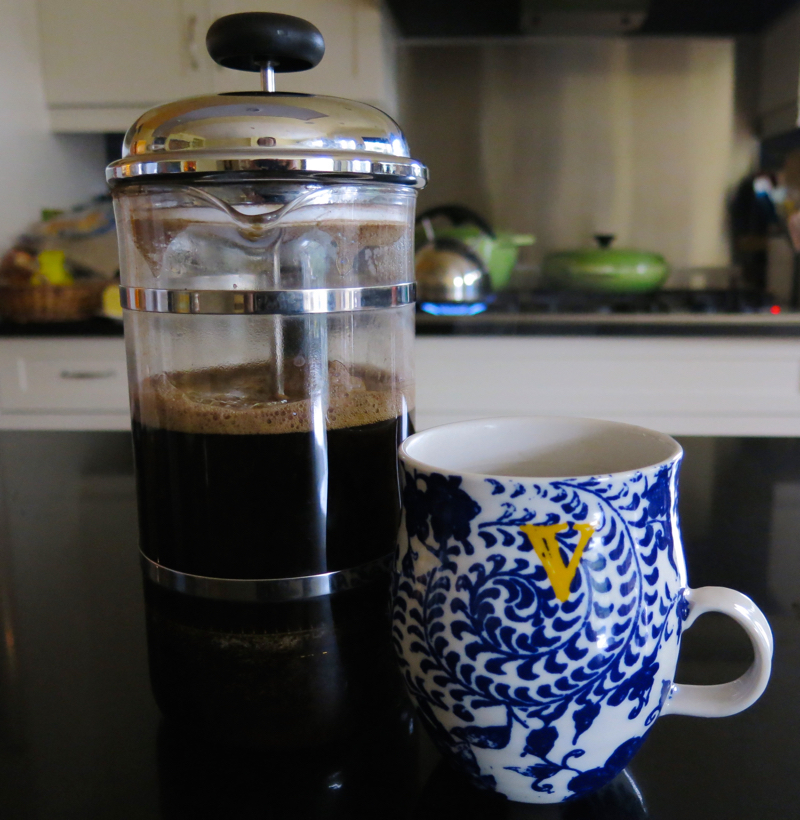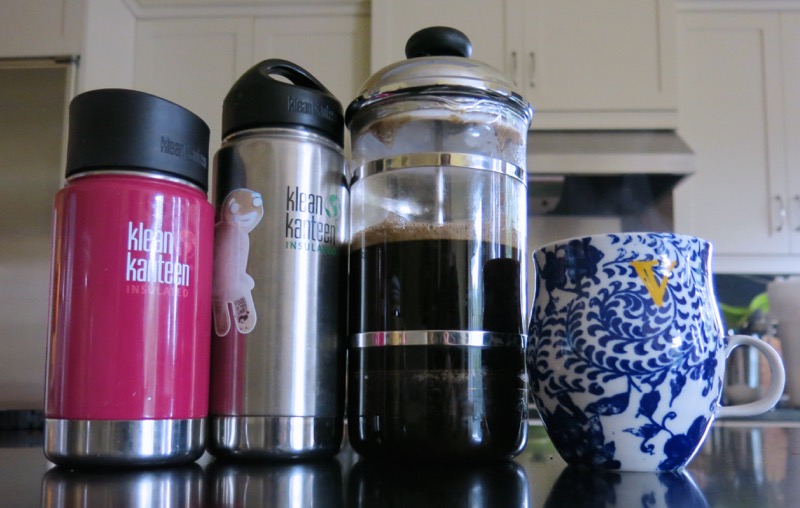 Then fills her large thermos to take to work. Yes, there is plenty of coffee at work, but it is not this tasty. And, if she didn't get to two cups before leaving the house, she has the smaller thermos for an extra treat in the afternoon. This gal knows how important it is to enjoy the simplest things in life and to be sure to "make it happen". It isn't hard. It just take a moment to get organized and the pleasure continues to unfold throughout the day. Just like Vanja, Su completely believes that you must have, take and make the time to enjoy that wonderful cup of coffee every day, and more than a few times!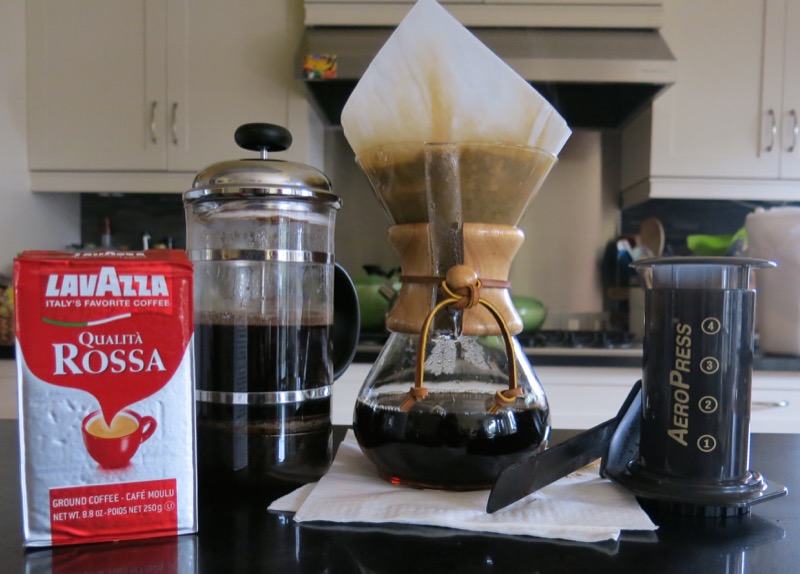 That's a wrap! Wrap it and pack it to go. Never be anywhere without a delicious fresh cup of Lavazza. Life is too short not to savor.