Come and sing the song of summer with me: T-O-M-A-T-O!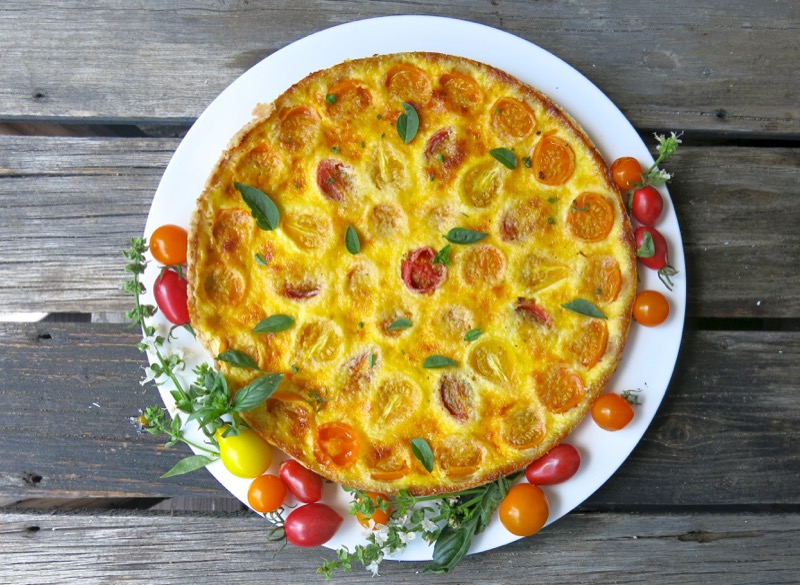 T-O-M-A-T-O–oh-oh-oh! My favourite food in the world (next to ice cream) is the tomato. It is so exceptionally versatile and so delectable in its simplest fresh form.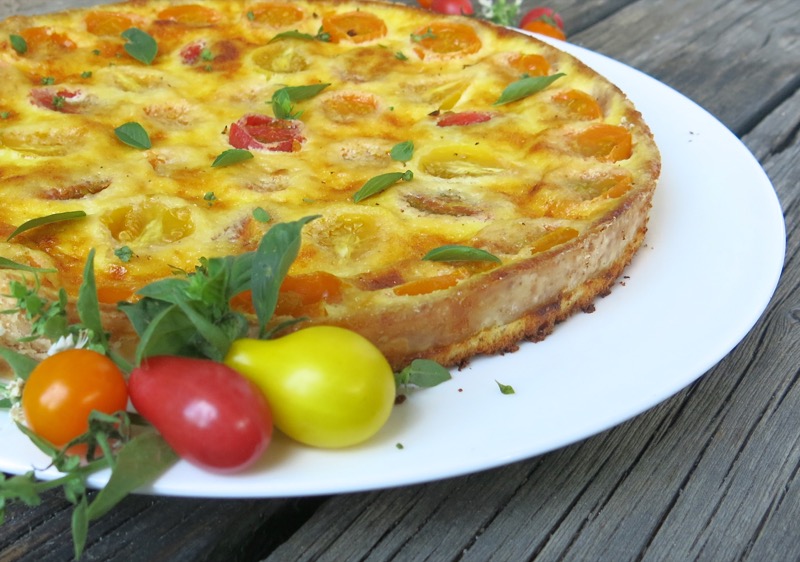 I have not had a bumper tomato harvest since the summer of 2011. Oh, my, what splendor that year! The diversity of colour, texture and flavour from our small urban garden was phenomenal.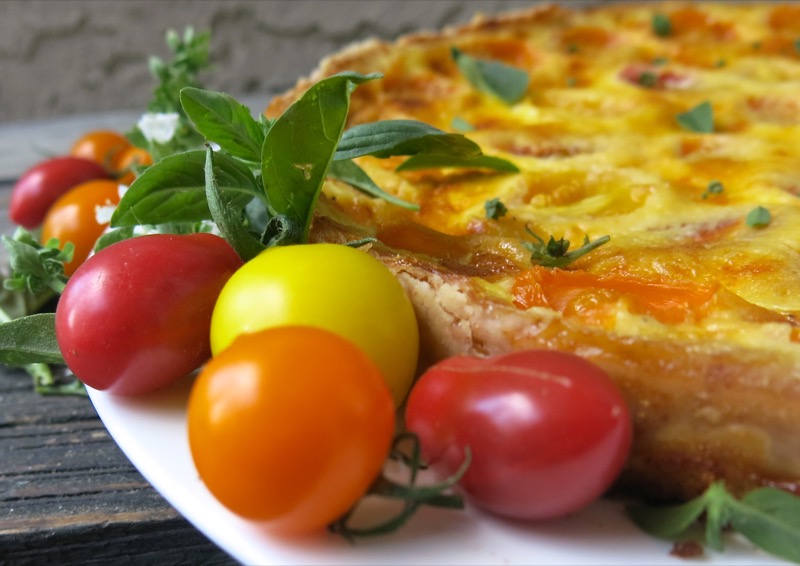 This is the first summer I have been home and tending to my tomatoes on my own, since that year, and I did expect a greater bounty. I will definitely add compost next year. It makes such a difference. It is now difficult to find such variety of heirloom tomatoes that grow well in our Zone 3 climate. Inspired Gardens used to provide me with the greatest variety of tender seedlings until they went out of business. I would hunt for others from everywhere. Sadly, so many of the smaller nurseries that cater to diversity have closed and it is truly difficult to find my very favourite heirloom varieties available in anything but seed. (I cannot grow tomatoes from seed. I have tried countless times. I know my limits.)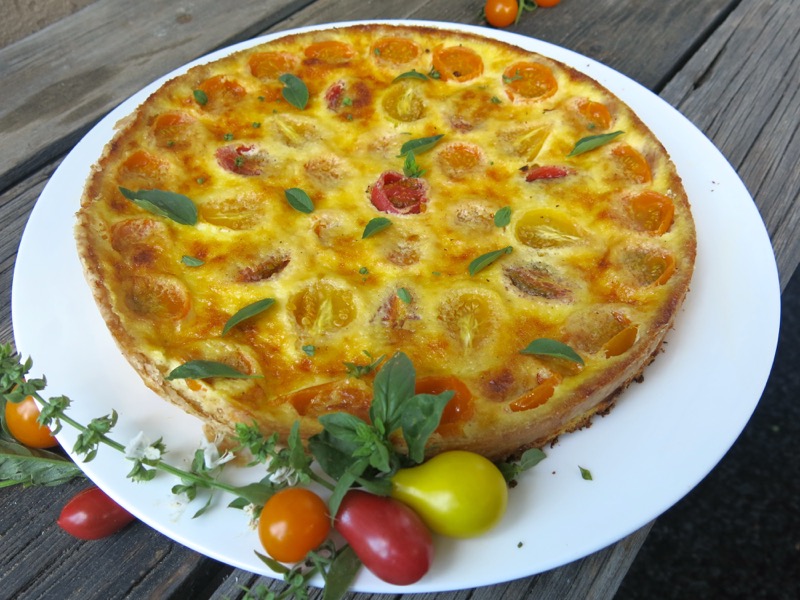 Yet, I will not complain. We still grew too many this season to eat them all fresh! Just not enough to dry or oven roast.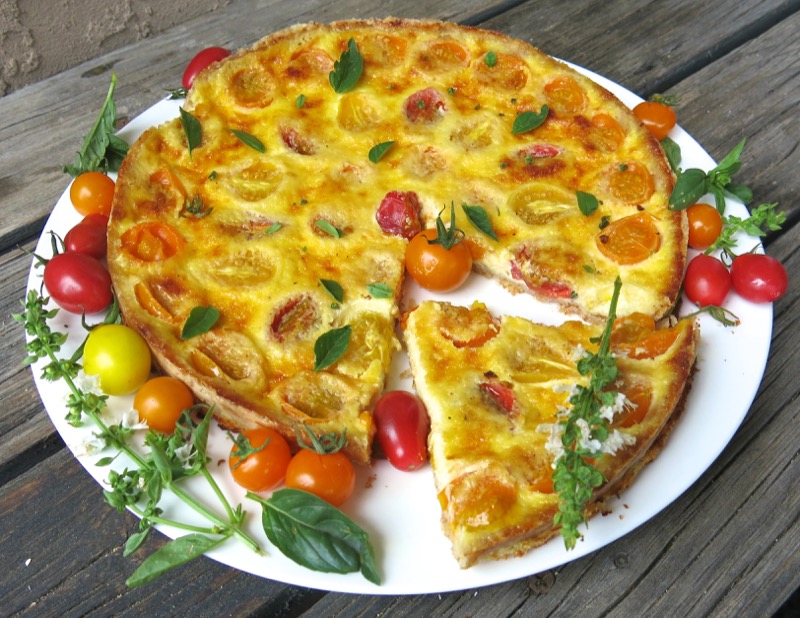 Each early morning, as I weed and pluck, I hear a chorus of sweet little cherry tomatoes chiming in unison "Oh me, oh my, just bake us in a pie!". Who am I to deny such a poignant plea? I surrender!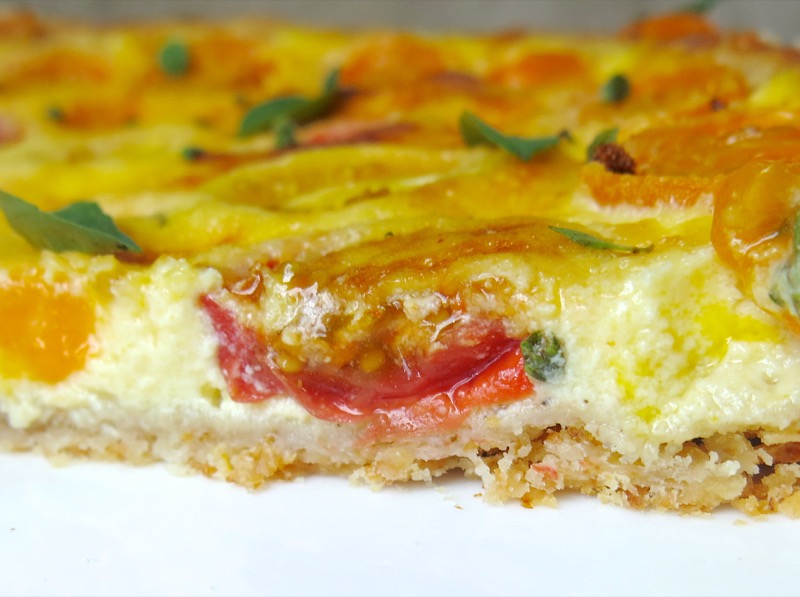 Whole wheat crust; check. Gorgeous, organic farm fresh eggs; check. Lovely thick farmer's cream; check. And how about a little cheese? No? How about a lot of cheese! With, or without cheese, this is a very simple and easy recipe that anyone can make. And, it is guilt free pie! Seriously. The healthy combination of freshly milled whole wheat, whole organic eggs, luscious thick cream, whole milk, bold farm fresh Gruyère and garden fresh juicy baubled tomato jewels was simply "too-good-for-me" to cause a scintilla of guilt. It even tasted healthy! Scrumptious and healthy. Now there's an odd combination for a tart!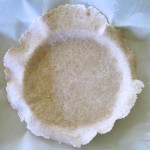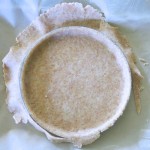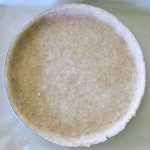 I do my pastry in large batches and freeze the discs so making a pie or tart is a pleasure, instead of an ordeal. Making a big batch of pastry is also a pleasure, when freezing it all.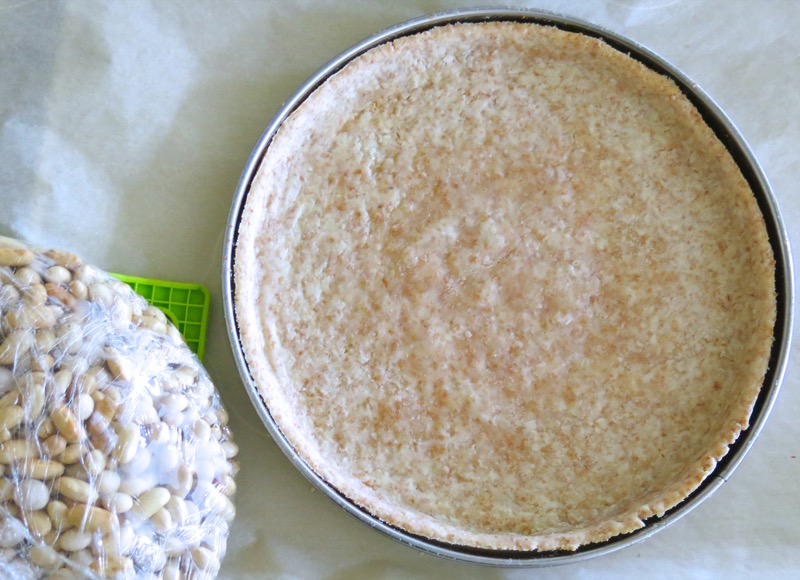 Rolling the pastry and plucking it into a French Tart ring is not difficult. More instructions on blind baking the pastry follow.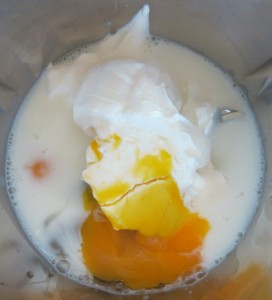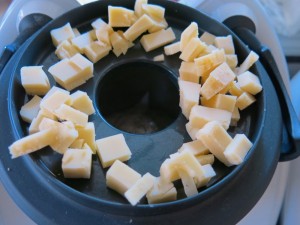 The filling is light and lovely without the cheese, and with the cheese, it is bold in flavour, a little more dense in texture, but still cloud-like.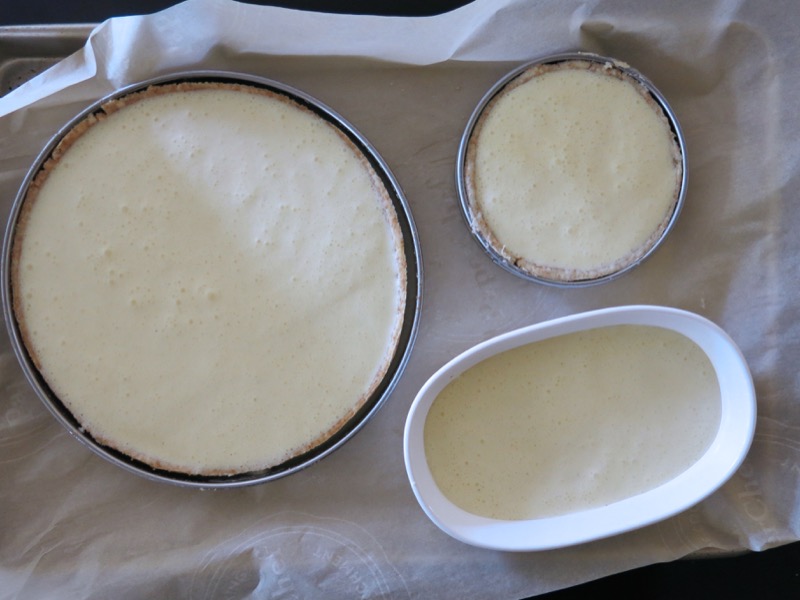 A Traditional Quiche Lorraine would have bacon added to the bottom of the tart with the filling poured over it. In this tart, the filling is poured directly onto the partially blind baked crust with the cherry tomatoes then carefully plopped into place.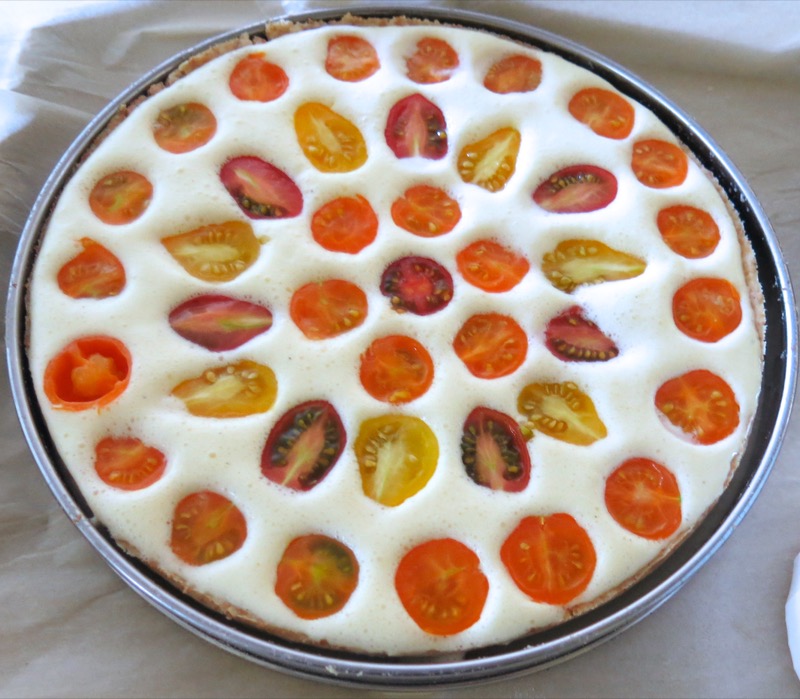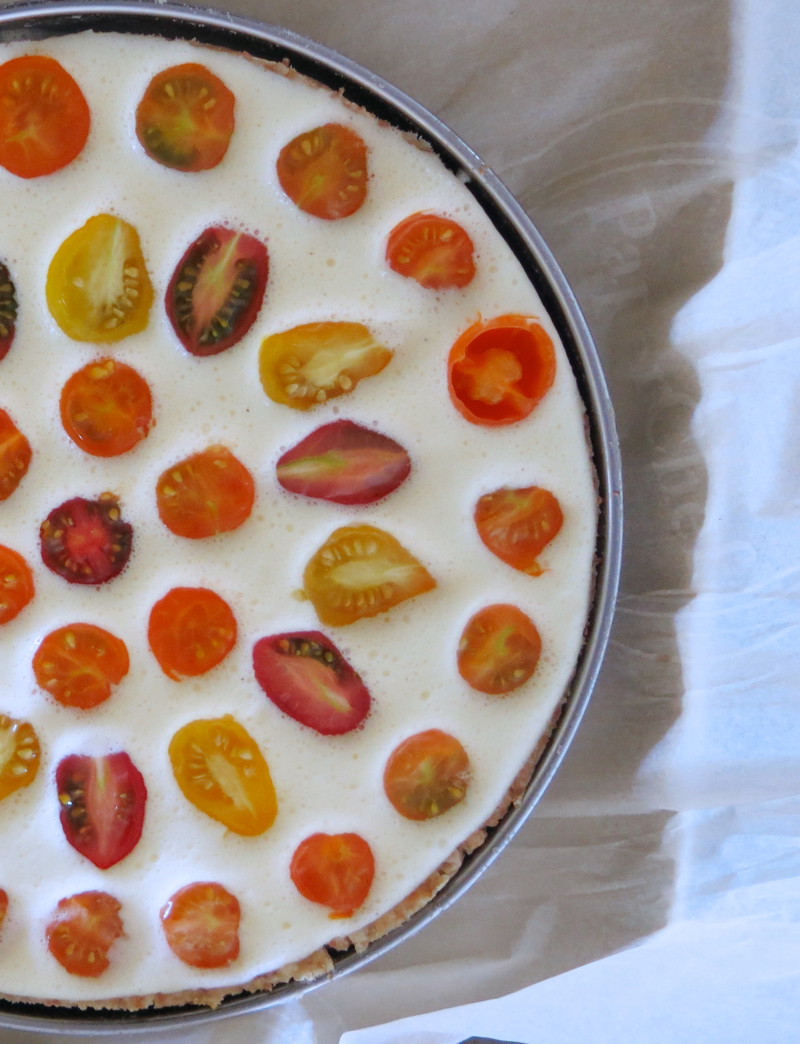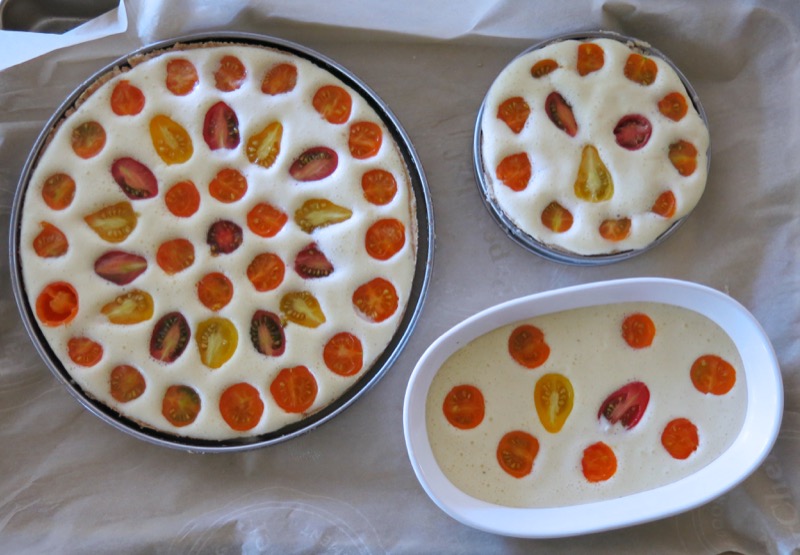 I used the leftover filling in a small casserole without a crust. It was delicious, too.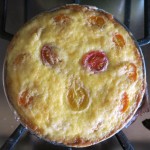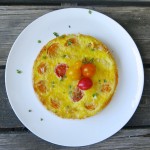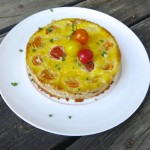 The good-sized individual portion went to mom for a nice little lunch.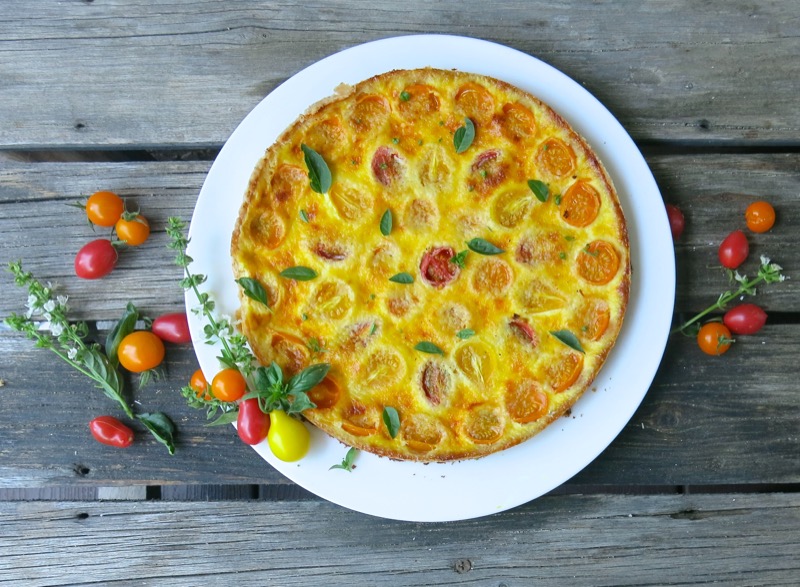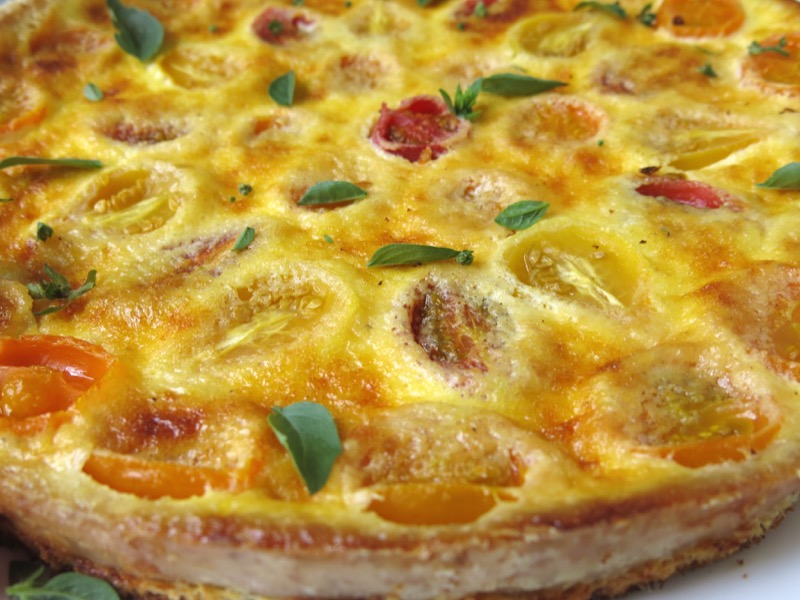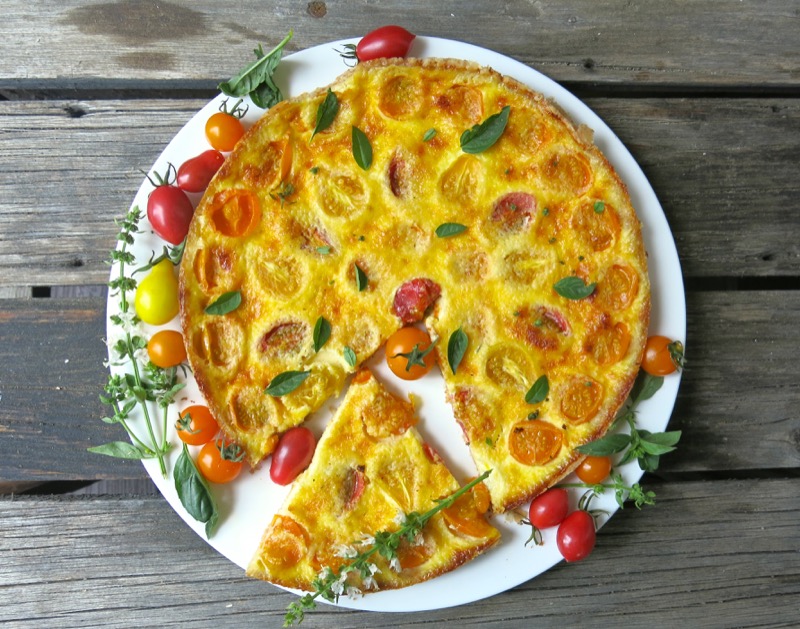 And the large tart stayed home. It lasted one day. If it was baked in a deeper traditional quiche pan, it would only make the one tart and take a little longer to bake. I wanted to make a tart, not a quiche, so chose the shallow ring. I preferred it warm, but it was also delicious at room temperature. That surprised me! I sprinkled a little black Hawaiian finishing salt on top, along with the basil flowers and tucked right in. Too good for words. You tell me when you make it. Can you find the words?
Blind Baking Pastry Photo Essay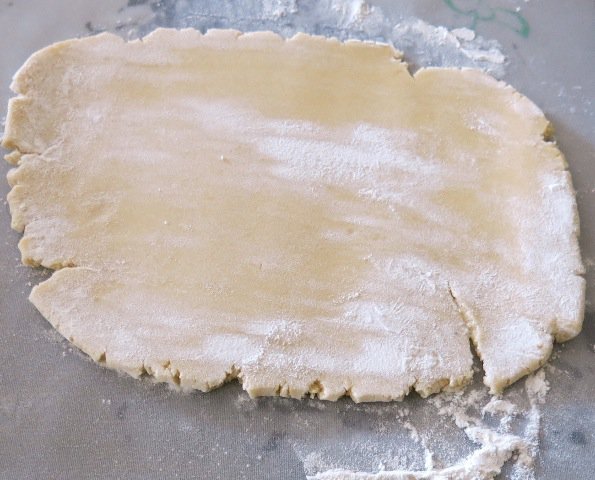 Roll out the pastry; thicker is usually better than thinner on the sides.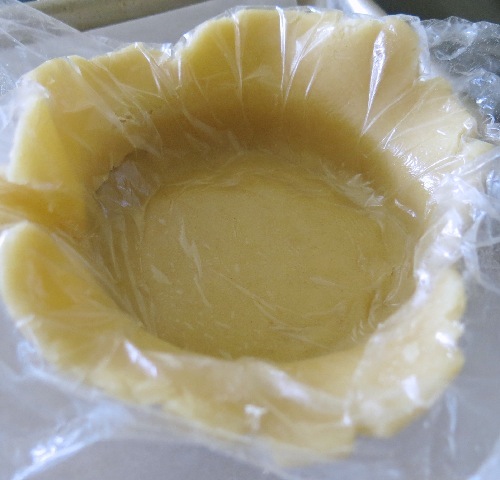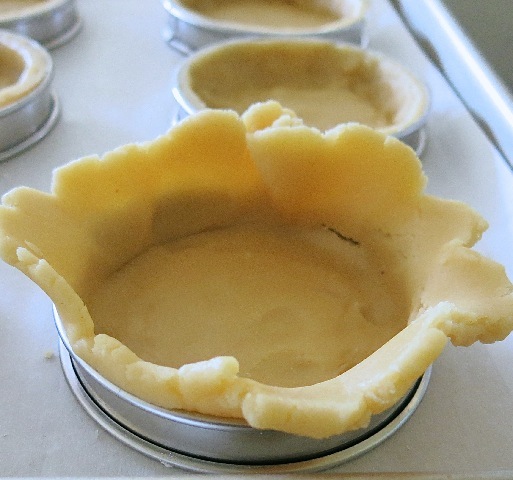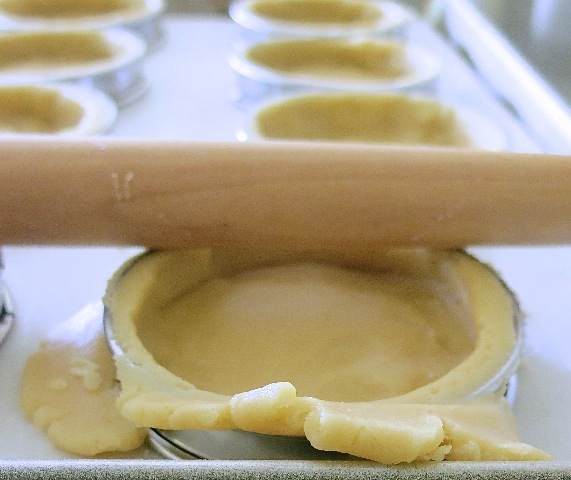 Roll it on plastic wrap and turn it into the rings on the wrap. Use the rolling pin to tidy the edges.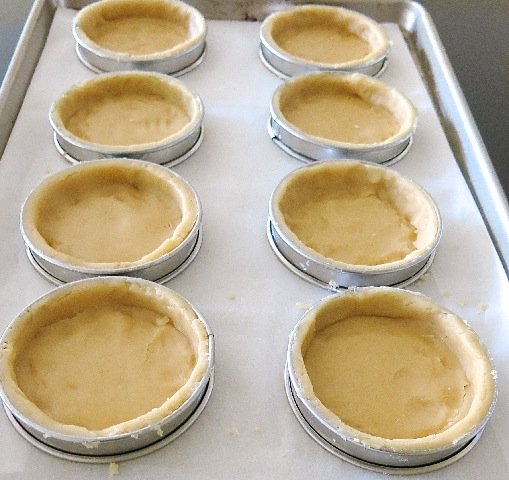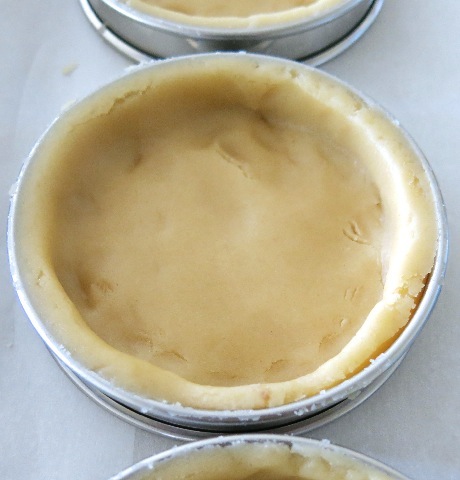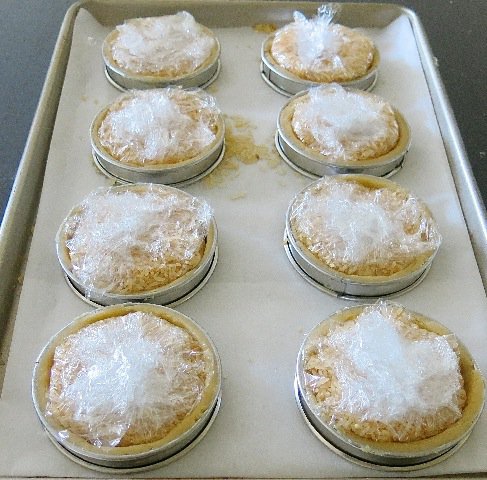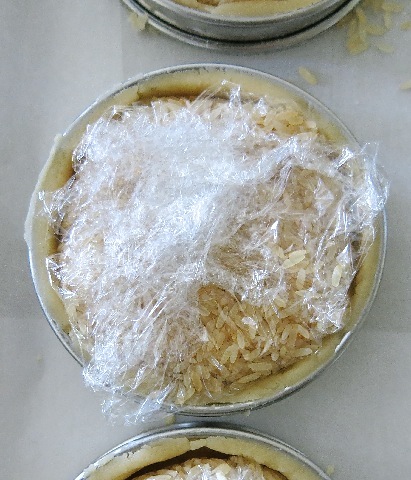 Cover each with plastic wrap that is food safe. No, it will not melt. Fill with rice or beans. Cover with the wrap and blind bake for 12-15 minutes, depending upon size of shell.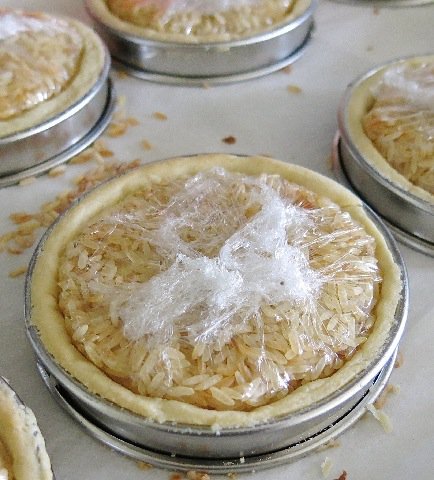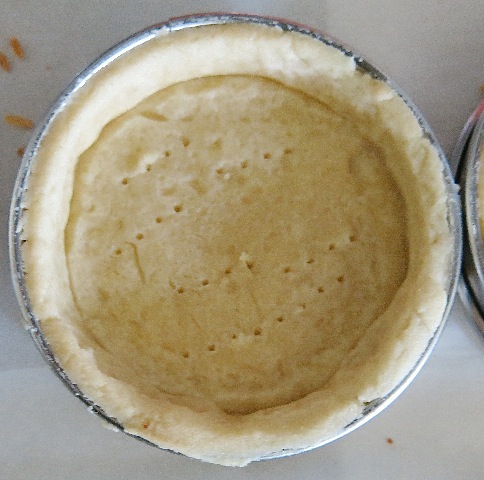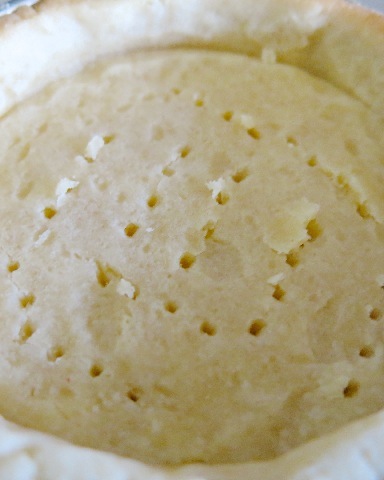 Remove the rice or beans; place pastry back in the oven to complete baking, empty, or fill and finish the baking process.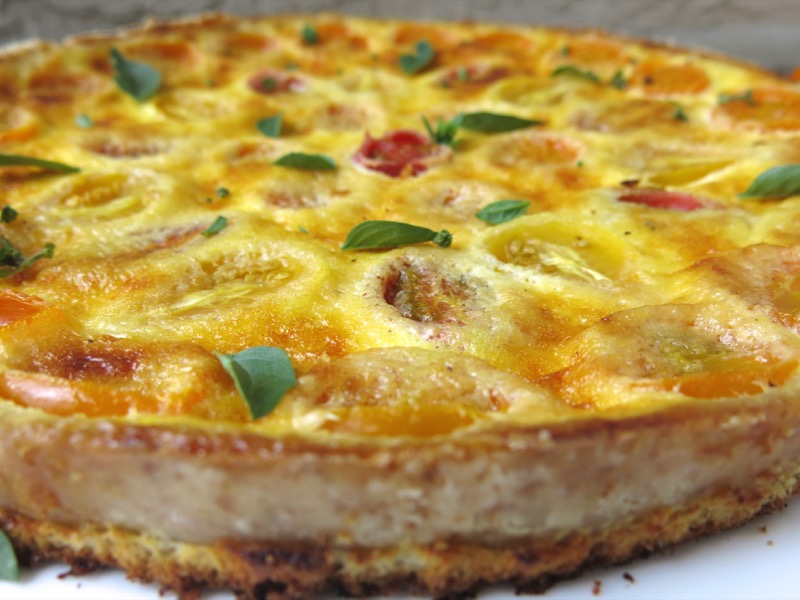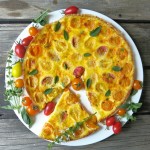 Summer Tomato Tart


This is a gorgeous vegetarian celebration of summer; a beautiful Sunday Brunch or lunch dish for family or company
Total Time
1
hour
30
minutes
Ingredients
Ingredients for Pastry:
One disc of homemade frozen Tenderflake Pie Pastry
Ingredients for Filling:
cherry tomatoes; halved

100/150

g

of Gruyère cheese

200

g

or 4/5 cup whole milk

250

g

or 1 1/4 cup whipping cream

2

eggs

2

egg yolks

salt

freshly ground pepper

fresh basil for garnish
Instructions
Instructions for Pastry:
Follow instructions as per the recipe; place rings onto parchment covered cookie sheet

Preheat oven to 375F

Roll pastry over the rings to prepare to partially blind bake; dock base of pastry with fork

Place plastic wrap over shell; fill with rice or beans, cover with plastic

Place in oven for 15-18 minutes, until just beginning to brown

Remove from oven; cook and prepare filling
Instructions for Filling:
Preheat oven to 360F

Beat eggs, milk, and cream together with the salt and pepper

Pour everything into the pie shell, sprinkle with cheese

Top with halved cherry tomatoes, cut side up, in a decorative centric pattern

Bake for 30 – 40 minutes (until cooked)

Garnish with gorgeous finishing salt and tiny fresh basil leaves; serve immediately

Also good at room temperature
Recipe Notes
A whole wheat pastry, or one with a little thyme or another herb added to it would be a lovely alternative to the standard Tenderflake recipe.
There will be more filling than needed for one 10 inch tart mold; see photos. I made a small individual mold and had enough for a crustless dish, too.