Fairmont McDonald Hotel's Chef Jiju Paul's Deadly Fresh Artichoke Dip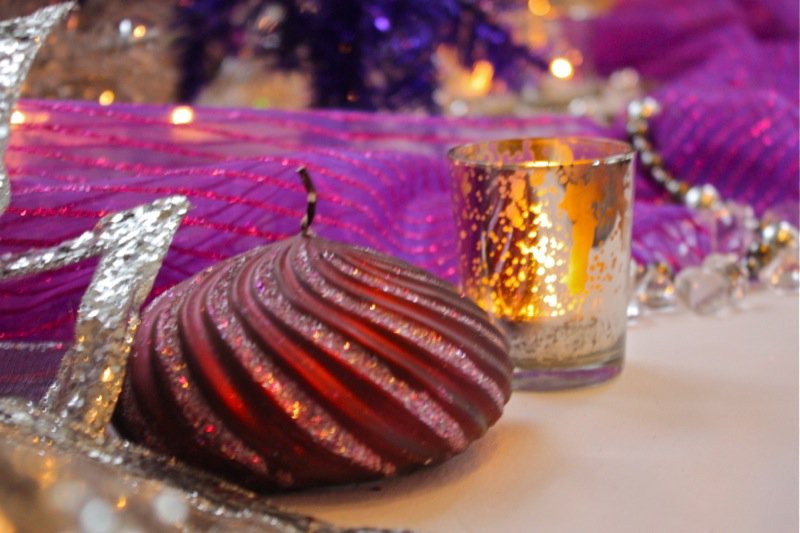 "Whaa-aaa-aat?" I can hear you now! "Tis NOT the season!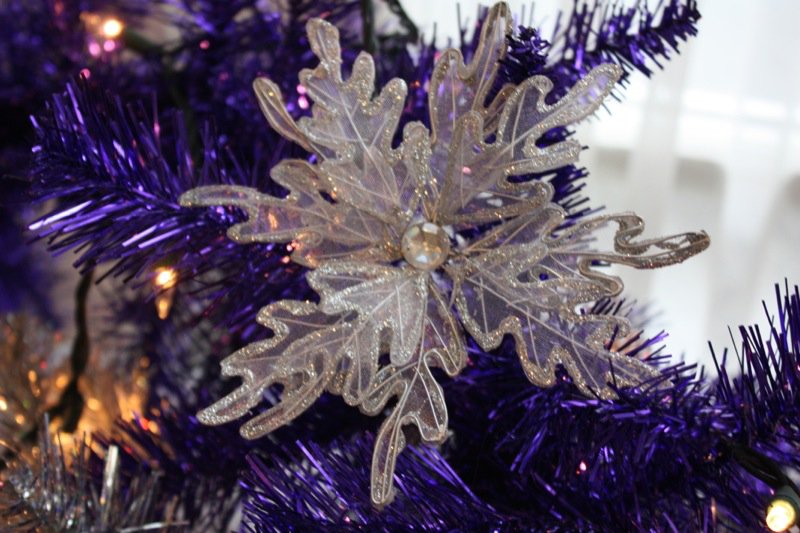 Ah, but it is! June 20th tickets go on sale for the 20th Anniversary version of Christmas in November! That is THURSDAY. (Today, maybe…even!)
Judy Schultz, the original founder of the most magical event in the prairies (well, mountains?), has been lured back to Alberta to host the first two sessions! Marna Praill has been the grounds keeper and head gardener at JPL for 22 years and is presenting at CIN again this year. Teresa Spinelli will present with Chef Keoma Franchechi from Massimo's Restaurante, in Edmonton. Edmonton's own Gail Hall has presented at 22 of the 25 years. Calgary's own Julie van Rosendaal has presented at 10 of them. Rumor has it that her young son was conceived at CIN 2004: duly noted by participants at the 2005 event when three month old babe was in tow. Apparently, nothing is sacred at Christmas in November, yet everything is utterly divine.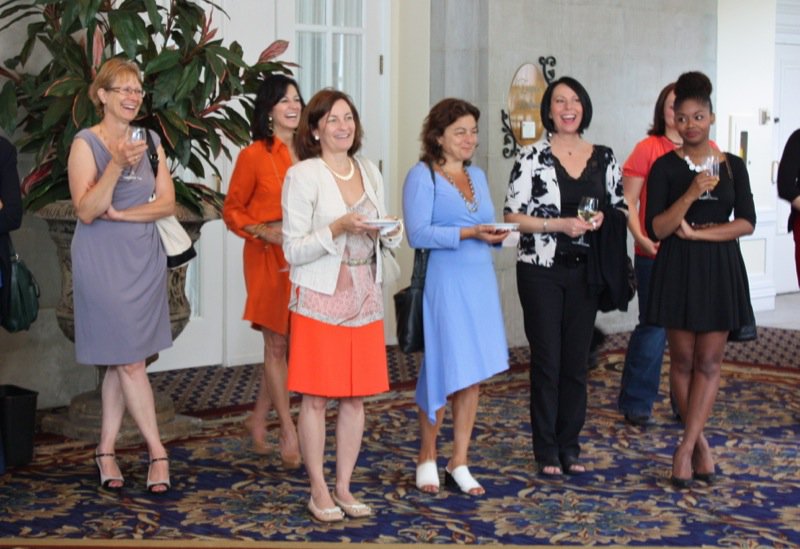 Elizabeth Baird returns this year….
The short program outlining the festivities for 2013 was aptly hosted by Judy. It was Julie's tales and antics, however, that got the crowd in the mood. Well, that, and the wine. At CIN, everybody starts drinking at noon. Wine with lunch, anyway. And the lunch? Beyond your imagination. I promise.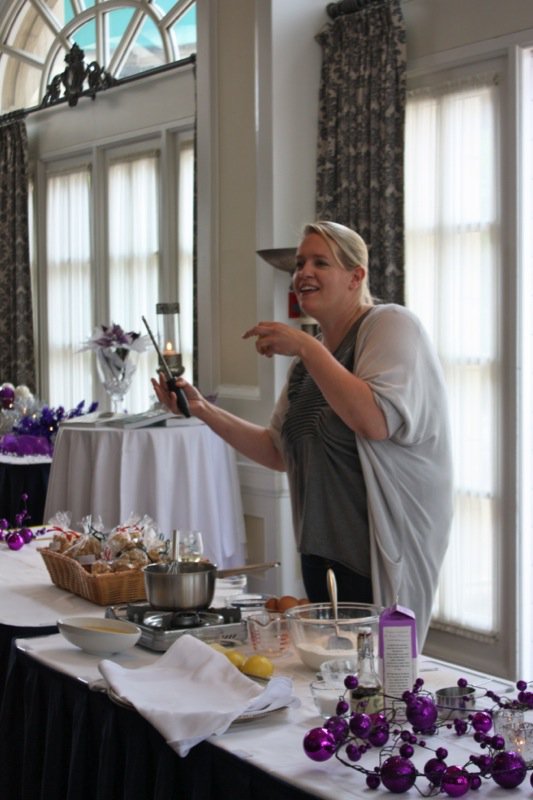 I know. I have been there. The food, the entertainment, the classes, warmth, hospitality and service are second to none – and I have been to a lot of places. The little demonstration Julie presented today at lunch provided a little window into the ethereal enchantment of Christmas in November. There is magic. We come. By the hundreds. We meet, learn, eat, drink. We walk. We talk. We are cocooned in luxurious mountain cabins. Pampered. Edified. Did I say we eat? Drink?
And we go home.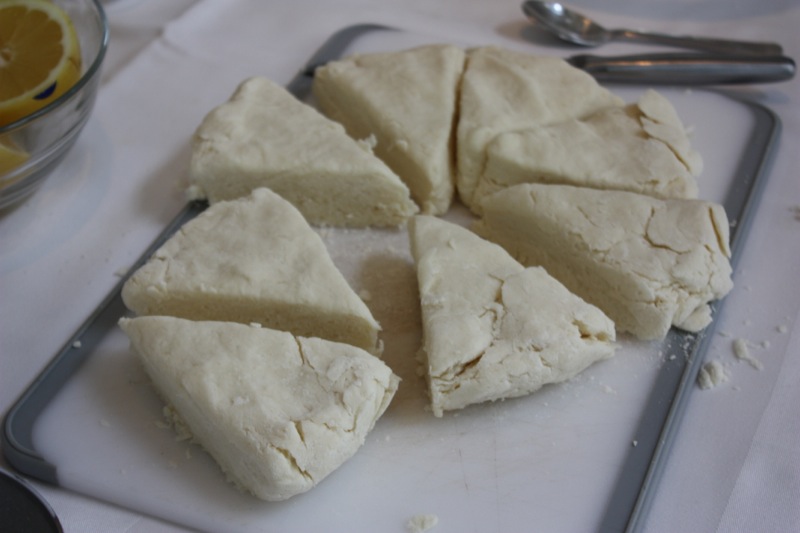 Changed. Refreshed. Revitalized. Renewed… and sometimes renowned! Definitely motivated and inspired…. just like I am now… to make Julie's cream scones. No butter. No muss. No fuss. Simple delicious decadence. CIN is a community of sharing the tricks and the licks… a community that comes together once a year to learn, laugh, eat and repeat a few days in a row.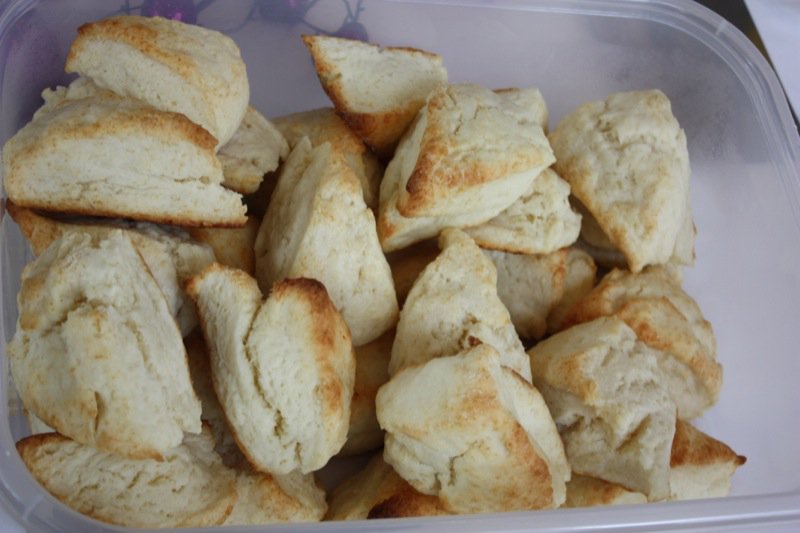 Bring your mother, sister, family – husband (Julie did!)… you will long to go back, like many do, every single year. I know I am going this year, and I cannot wait. Twenty five years is an incredible feat for any event. That is saying something. Register. Discover the magic! (And I am not even getting paid to carry on like this… if I was, I would probably resort to doing it in a more dignified fashion!)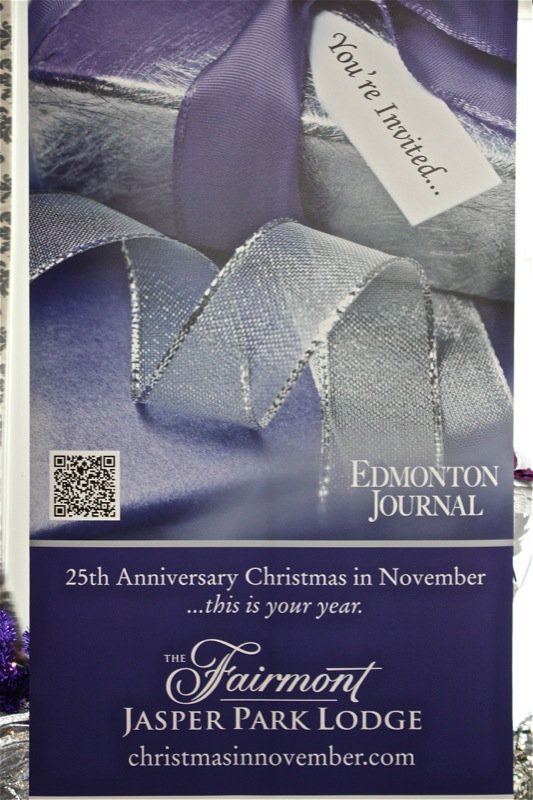 Fanny was a service provider at today's lunch. She is extraordinary and the perfect person to showcase the quality of service to expect at the event.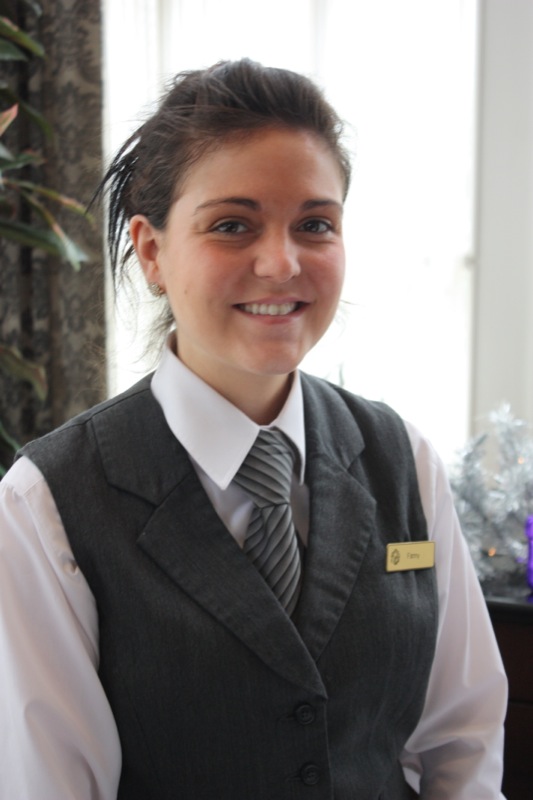 Hors d'oeurve were served on platters and beautifully displayed. Each, delicious. On the sidebar were cheese, crackers, fruit and the most extraordinary Artichoke Dip: we raved and smacked and even double dipped. Yup. That is how yummy it really was. I asked Fanny if it would be at all possible for the Chef to share the recipe. Nothing daunted Fanny. She brought me the recipe before I left. Thank you to Chef Jiju Paul, and to Fanny, for this recipe.
Make it. You will be so happy. You may not share, either.
Christmas in November 2013 25th Anniversary Fresh Artichoke Dip
Ingredients:
1 small white onion, finely chopped
2 large cloves fresh garlic, minced
2 tablespoons butter
1 cup cream cheese, room temperature
100g Parmesan Cheese
50g Romano Cheese
50g fresh herbs (Chef did not disclose)
2gm paprika (Chef used hot)
salt and pepper to taste
1 cup frozen chopped spinach, thawed and well drained
1 cup fresh artichoke hearts, cooked and chopped
100g mozzarella cheese, shredded
100g cheddar cheese, shredded
Instructions:
Preheat oven to 350°F
Sauté onion in butter until translucent, add garlic for 30 seconds; cool
Lightly butter a small baking dish
Mix first three ingredients together in medium bowl; add onion and garlic mixture with fresh herbs, paprika and salt and pepper, to taste
Gently stir in chopped artichoke hearts and spinach
Transfer mixture to prepared baking dish; check seasoning
Top with remaining cheeses
Bake 25 minutes until bubbly and lightly browned; serve immediately with toasts or crackers

My past Christmas in November posts from my time there in 2010. Forgive my detail and rambling. I could not bear to not capture every word.