Matthias Reissner's German Brown Bread recipe led us to Homemade Diastatic Malt Powder!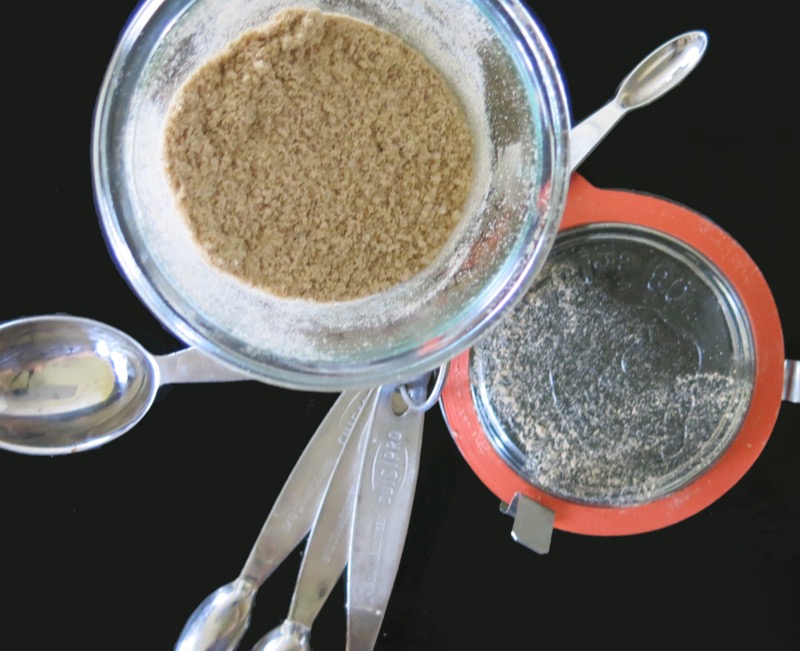 It is such a beautiful thing. Really easy to make and a profound addition to any homemade bread dough flavour, texture and crunchy crust. Who knew baking could lead one down such heady paths?
The remainder of my batch is relatively small, as I shared with all of my Thermomix Consultants. That was part of my Christmas gift to each of them. Matthias created this phenomenal recipe for German Brown Bread which requires a Rye Sourdough Starter and Diastatic Malt Powder. He demonstrated the bread making at our Christmas Meeting and I gifted each with a batch of Homemade Rye Sourdough Starter and this amount of Diastatic Malt Powder that he taught me to make. Thus, all were set to go straight home and make his recipe! (Don't think anyone has yet, but me? Hopefully, we will hear from each, soon…. one by one…. that these little helper-gifts aided their German Brown Bread making experience!)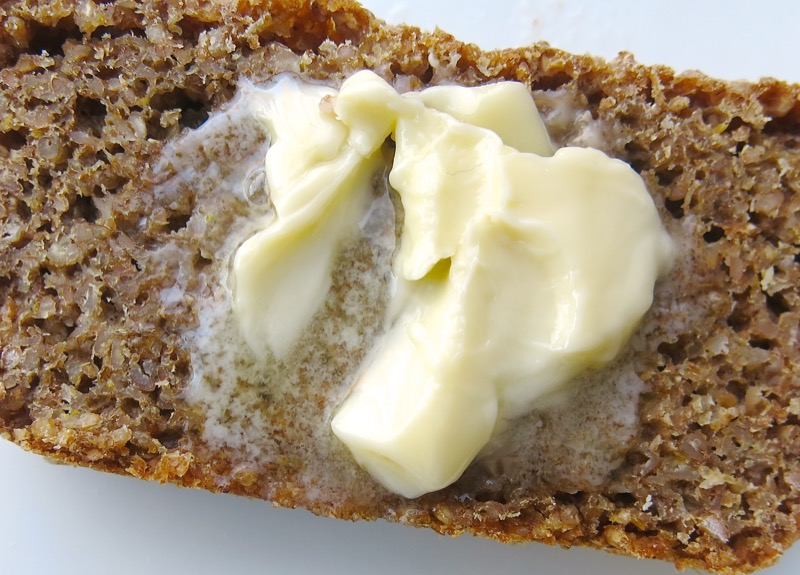 Meanwhile, I have made it several times since. I am practically addicted to the taste, texture, crunch and wholesomeness of this loaf! It tastes like the breath of life itself!
So, what is Diastatic Malt Powder, you may ask? I certainly did! Never heard of it before. I was hoping it was the same key ingredient for Malted Milk Shakes and Malted Chocolate Balls. Nope. That is another kind of Malt Powder. Not so vastly different than this one. But, different enough as it is non-diastatic malt powder and added to ingredients as a sweetener and flavour enhancer. It does not possess the magical power of Diastatic Malt Powder which ultimately enable a "super-feed" for yeast in dough.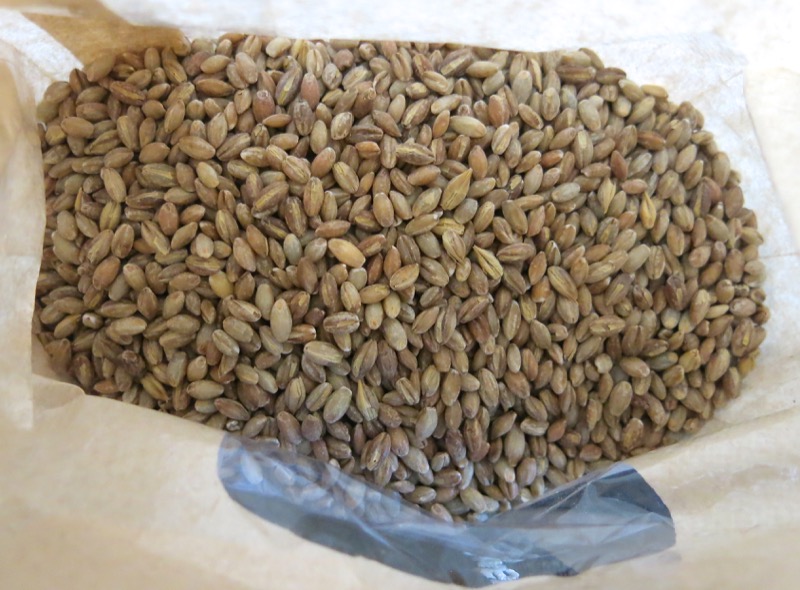 Diastatic malt is a grain product that has sprouted, been dried and ground into powder. Sprouting the grain (most often barley, as it is much more cost effective than wheat) activates enzymes inside of the grain. Active enzymes are called "Diastase". Diastase enzymes breaks down starch into a simple sugar called maltose that yeast loves to gobble up; maltose is made in abundance by the enzymes. This release of sugar from flour due to the addition of diastatic malt powder, enhances the growth of yeast as it feeds upon the sugars. This process promotes a golden crunchy crust, stronger rise and firm spring in a loaf. Surprisingly, this ingredient will also punctuate and heighten the flavour of the grains in the baked bread. Generally, one teaspoon is used in the recipe, per loaf.
Diastatic means having the properties of diastase (an enzyme that breaks down starch into maltose), thus "Diastatic Malt Powder."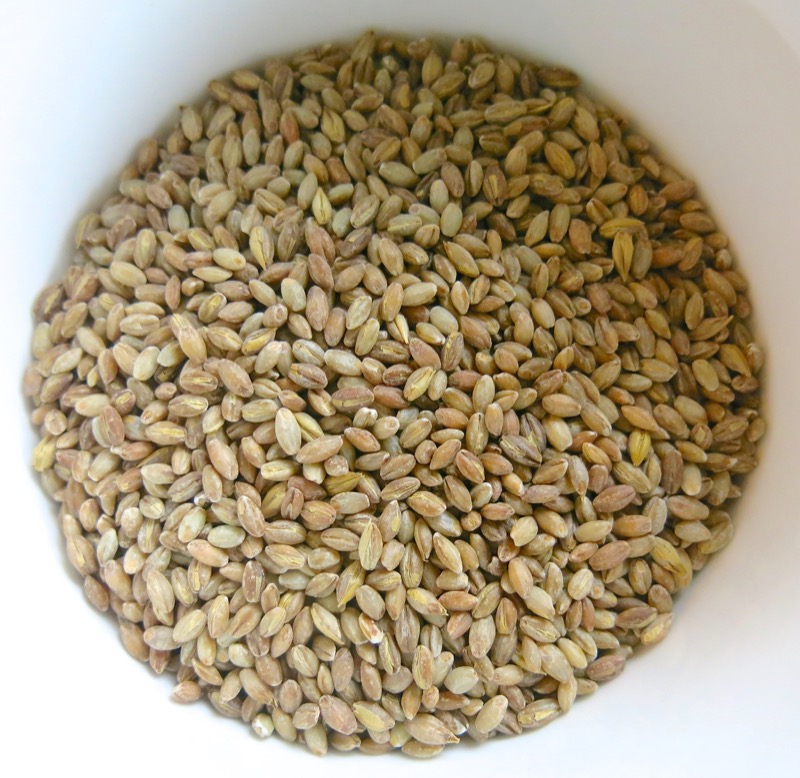 Though scientific in nature, and seemingly complicated, this can be made in three easy steps:
Sprout grain
Dry sprouted grain
Grind dried grain into powder
To make this Diastatic Malt Powder, one needs organic raw hulled barley or wheat seed. We were going with barley. Where or where? My favourite Farmer John, of course! Oh, what a labour of love that was on both our parts. I phone and ordered the barley seed. He was so busy that he forgot to put it in the load for the Saturday market, so I just brought home a bag of his gorgeous organic barley that I use in soups and risottos. He was sure it would sprout.
Step One: Sprout Grain
Day 1: Wash and soak the barley overnight; strain it and cover tightly for 12 hours.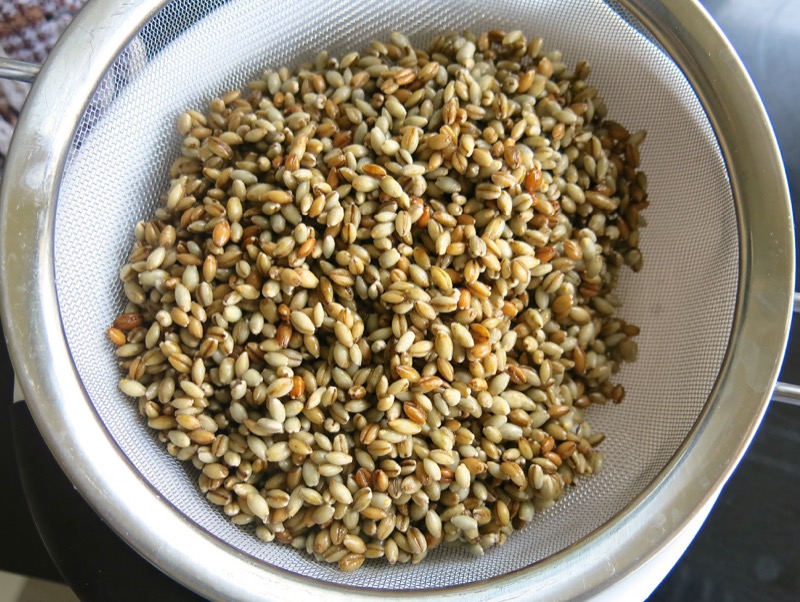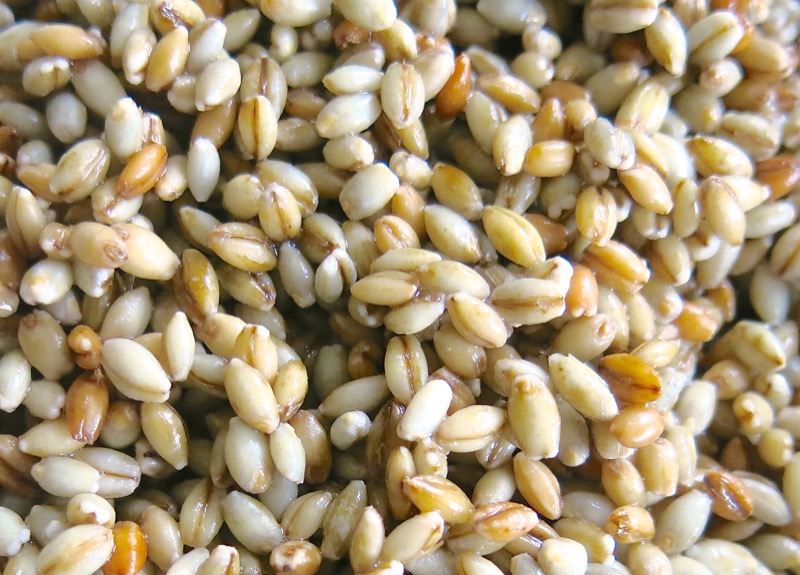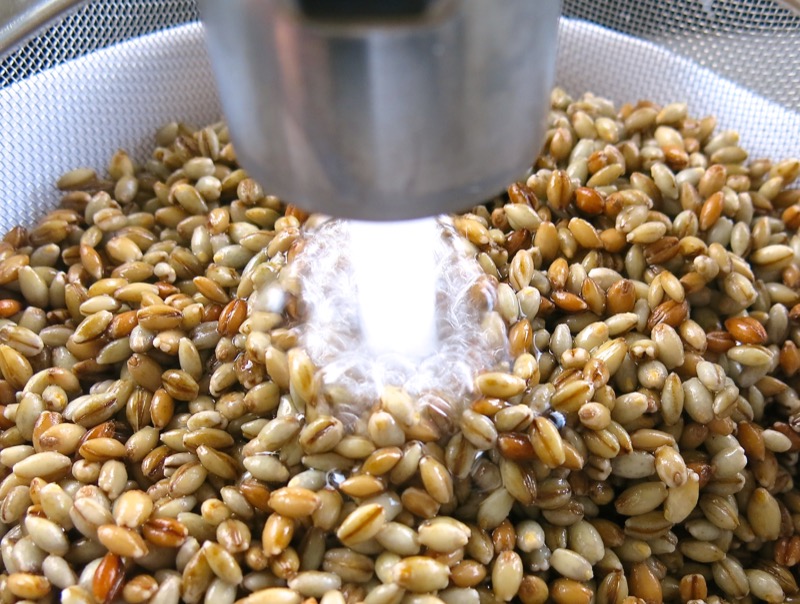 Wash every 12 hours, strain and cover tightly until grain sprouts.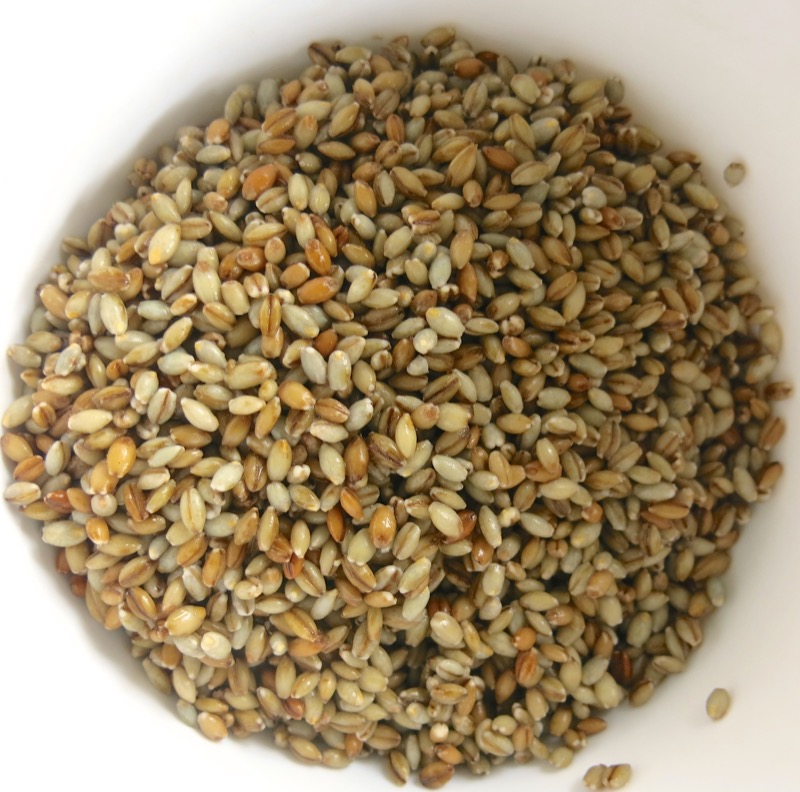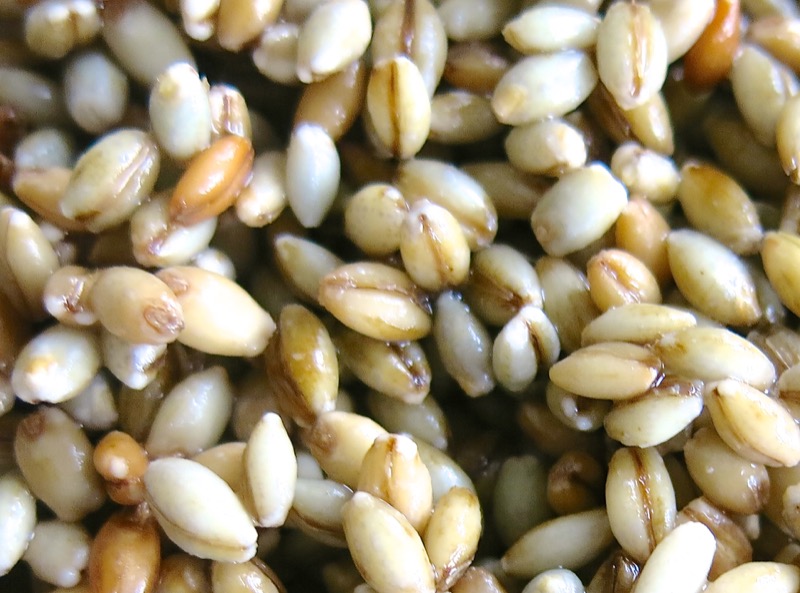 See the sprouts? I didn't either. That's why the organic hulled barley I bought from Farmer John MAY have worked. I thought the sprouts would look like Monkey tails, not little white knobs. Oh, my. So, after 5 days of working to get sprouts, I called him and he brought barley to the market that was not hulled or cleaned. Nope. That's not going to work. We picked up another back of cleaned barley a couple of days later, different time, different place. Five days and a whole lotta money later, no sprouts.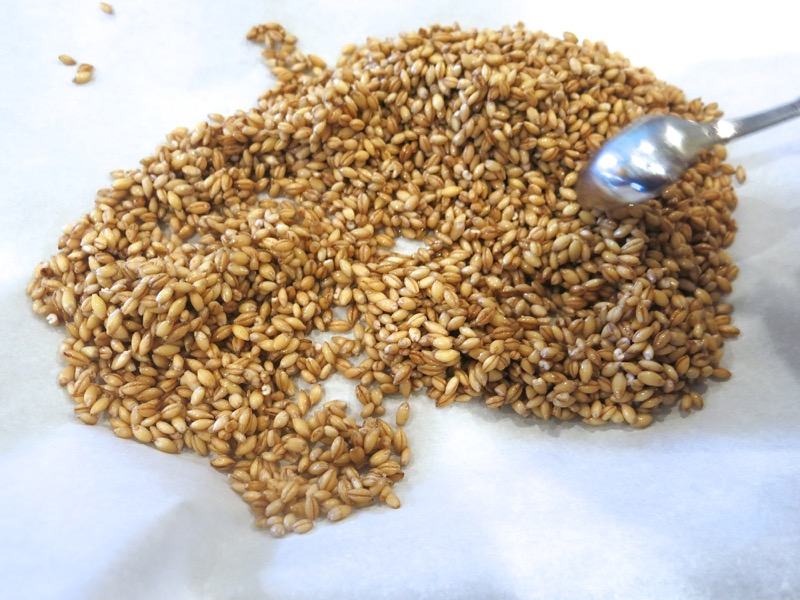 Now, at this point, John had gone considerably out of his way to provide me with barley that would sprout (and likely had); we had gone considerably out of our way to make it happen with his gorgeous seed. But, nope. So, I asked Matthias where he got his. Planet Organic. Three dollars and 50 cents later, I had a huge bag of organic (not locally grown) hulled barley. The day of the Thermomix Consultant Meeting and Christmas Party it was to be "sprouted" and I showed Matthais, full of disappointment, how – yet, again – my barley did not sprout! He looked at me like I was nuts!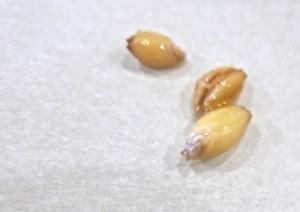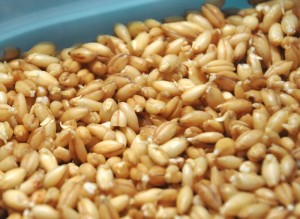 "But, Valerie! It has sprouted! Can you not see that. There! Look! And there, and there! It is perfect!" Of course I looked and saw nothing. "Where?" Judith, his wife, pointed out the three kernals above, left. "Look at the while bulge in the center of each berry." She said, and pointed to more, "And look at the tiny white purple sprout at the end, here."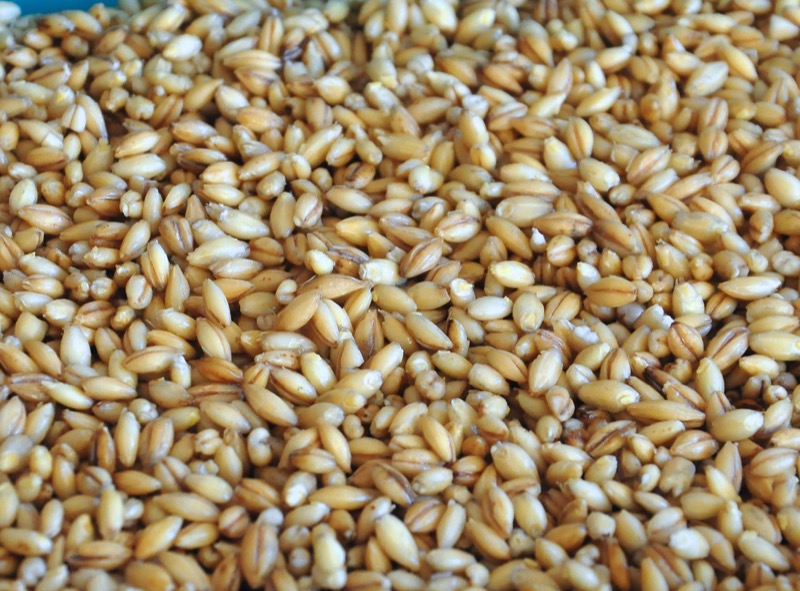 Really? This is what sprouting barley looks like? Yes, it is! Well, that was easy then! Well, it will be for you. You can thank me for sharing my truck load of ignorance with you so you can learn from it and enjoy success the first time you sprout gorgeous organic barley.
Step Two: Dry Sprouted Grain
It was a 4 hour meeting. I had the grains air drying for a good hour or two after Matthias and Judith told me that they were ready for the oven. Judith then placed them single layer on the lined cookie sheet for me.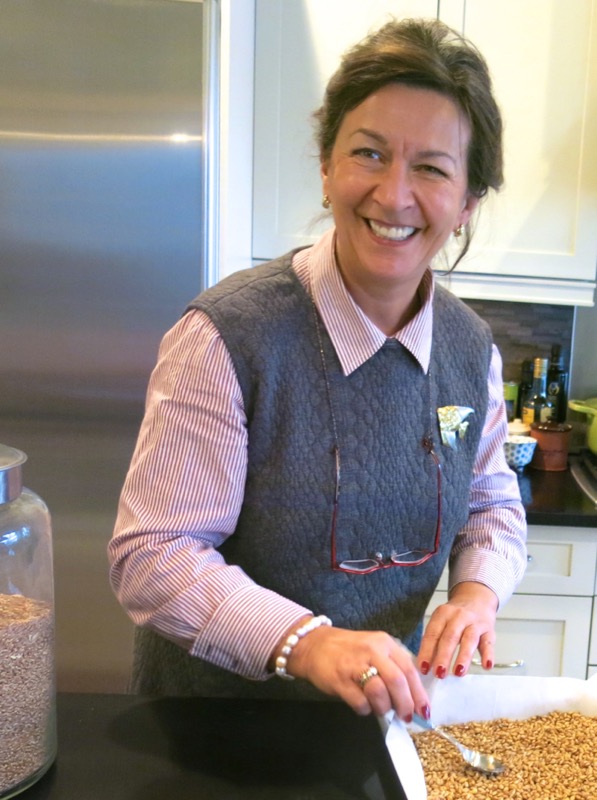 The enzymes may be damaged or die at 55 ºC or 130 ºF, so do not heat above 40 ºC or 104 ºF. They can be dried at room temperature, spread on a baking sheet lined on baking paper in a window sill, but it may take a couple of days. That way, you will be sure all enzyme properties are in tact. The grains are ready when they are dried completely and have turned rock solid again.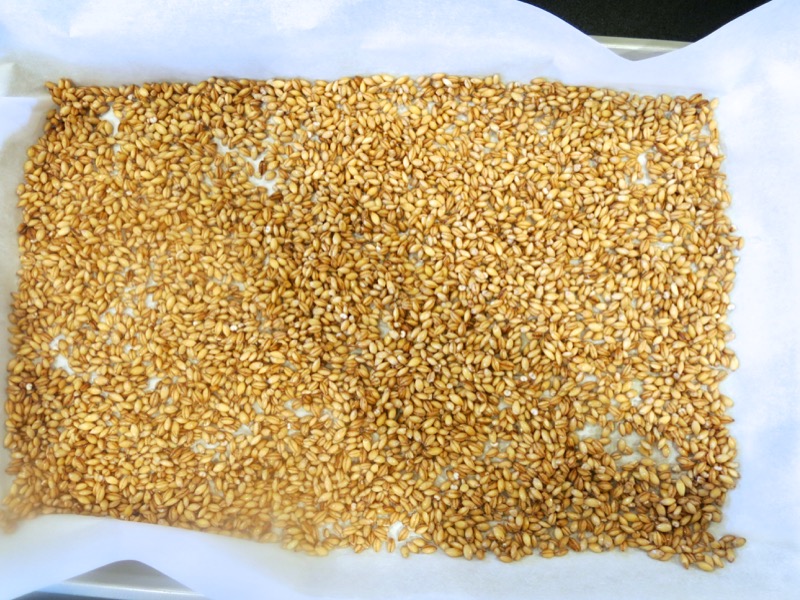 Not for too long. As soon as it started to smell very tasty, out it came. They were once again rock solid.
Step Three: Grind Dried Sprouted Grain into Powder
Into the Thermomix for milling. (Above photo is Mattias Reissner's photo, with permission.)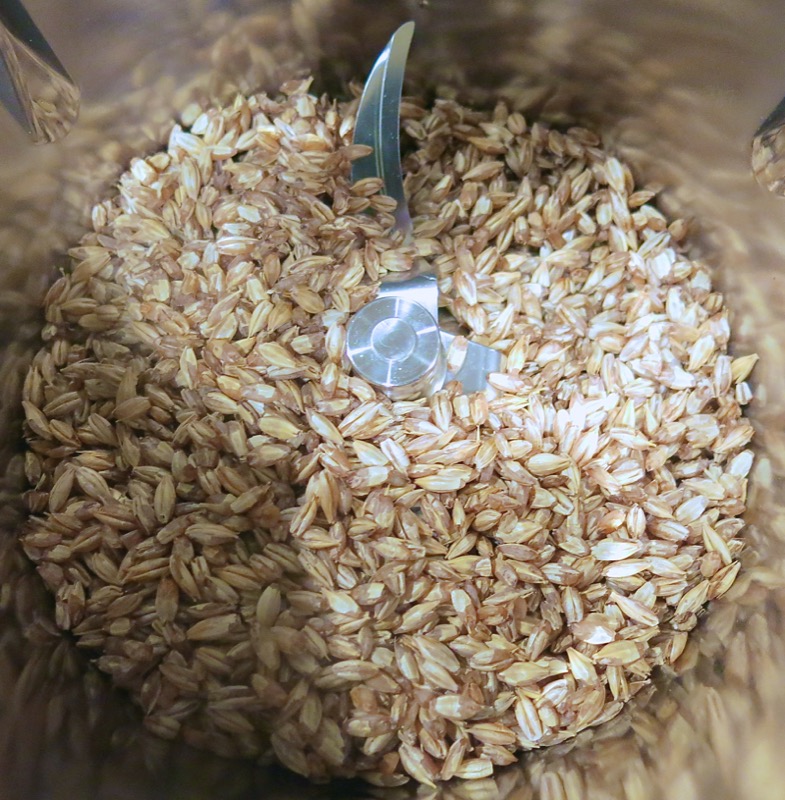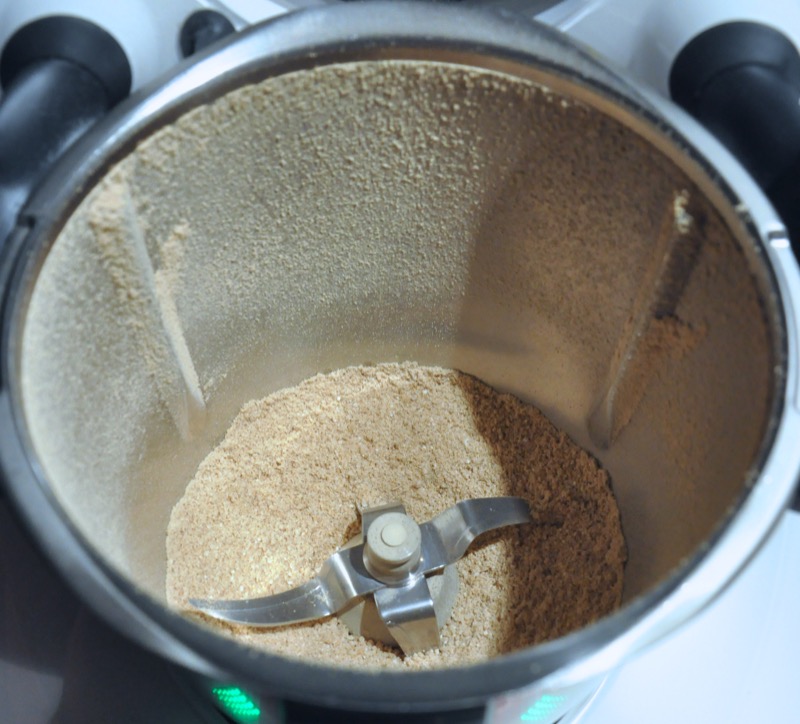 And, voilá! Gorgeous, homemade Diastatic Malt Powder that will last for months sealed well in the fridge with only a little needed per recipe. (Above photo is Mattias Reissner's photo, with permission.)
This is the amount that an entire batch will make. (Above photo is Mattias Reissner's photo, with permission.)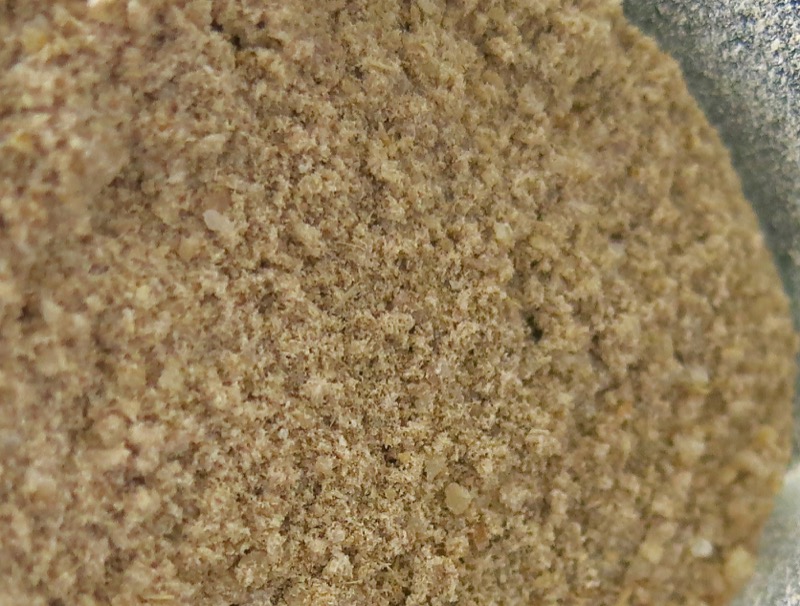 Below is one quarter of the batch and still enough for a few great loaves of bread!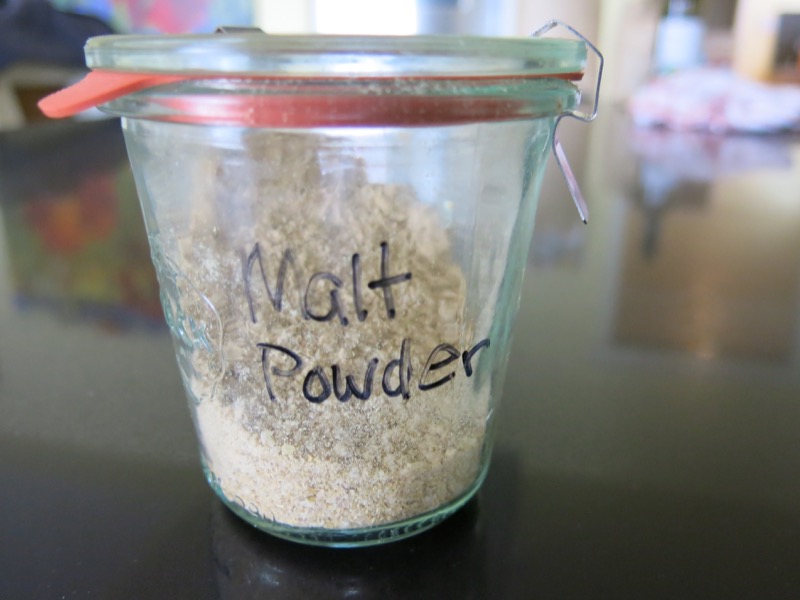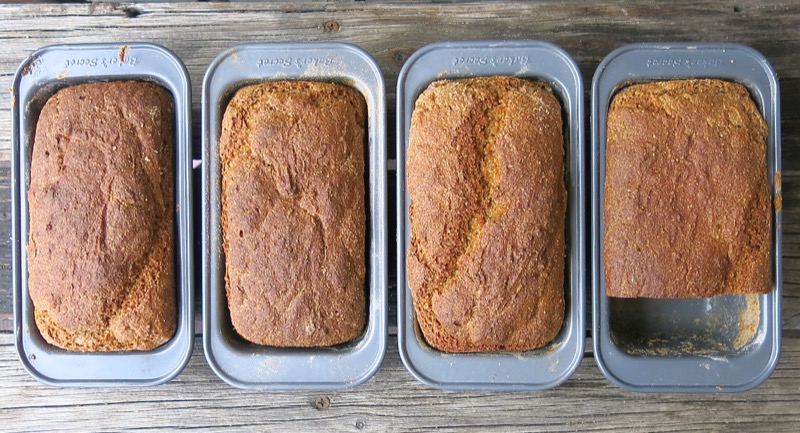 The crust, the flavour, the loft… I could go on, and certainly did in my post about German Brown Bread. I cannot wait to use this in my Baguette Recipe to see what happens there… or any of my other favourite bread doughs!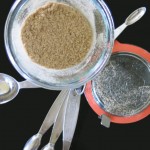 Sprouted Barley Malt Powder or Diastatic Malt Powder


Matthais Reissner is an engineer and a passionate baker. This recipe is one of the necessary components for his famous dark German Rye Bread.
Total Time
3
days
5
minutes
Ingredients
200

g

organic hulled barley seed

water
Instructions
Place 200 grams organic barley in small, flat container; cover with water

Place a mesh screen or weight over barley to ensure grain remains underwater; soak for 12 hours, or overnight

Strain water from barley; allow 12 hours rest covered with plastic wrap, or lid, at room temperature on counter (you will repeat this process 2 more times)

Rinse grain with water; again allow 12 hours rest covered with plastic wrap, or lid, at room temperature on the counter

Again, rinse grain with water; allow 12 hours rest covered with plastic wrap, or lid, at room temperature on the counter

Barley will begin to sprout; distribute in single layer on parchment paper covered baking tray (barley cannot be covering one another)

Dry at room temperature, turning every 6 hours or so, until rock hard once again (see notes for additional drying options)

Place dried barley in TM5 bowl for 1 minute at speed 10; store in seal-able glass container in the refrigerator (will keep well for several months)

Congratulations! You have made your own organic diastatic malt powder ready for use!
Recipe Notes
Do not heat above 40 ºC or 104 ºF or the enzymes may be damaged or destroyed
If you choose to dry at room temperature, turn every 6 hours so the bottom of all grains are evenly dried; this can take up to 2 days
If you have a food dehydrator or oven which can be set to 40 ºC or 104 ºF, you can put the baking sheet in the preheated oven 3 to 4 hours
This will store for several weeks, well sealed, in the fridge
It's easy, fast to process and inexpensive; the perfect condiment for bread baking
Matthias won't do his bread without it anymore
Please do chime in if you have ever used this, made it, or heard of it. Let's chat bread making!