Nan's Bread Recipe used for making Traditional Newfoundland White Bread and Toutons!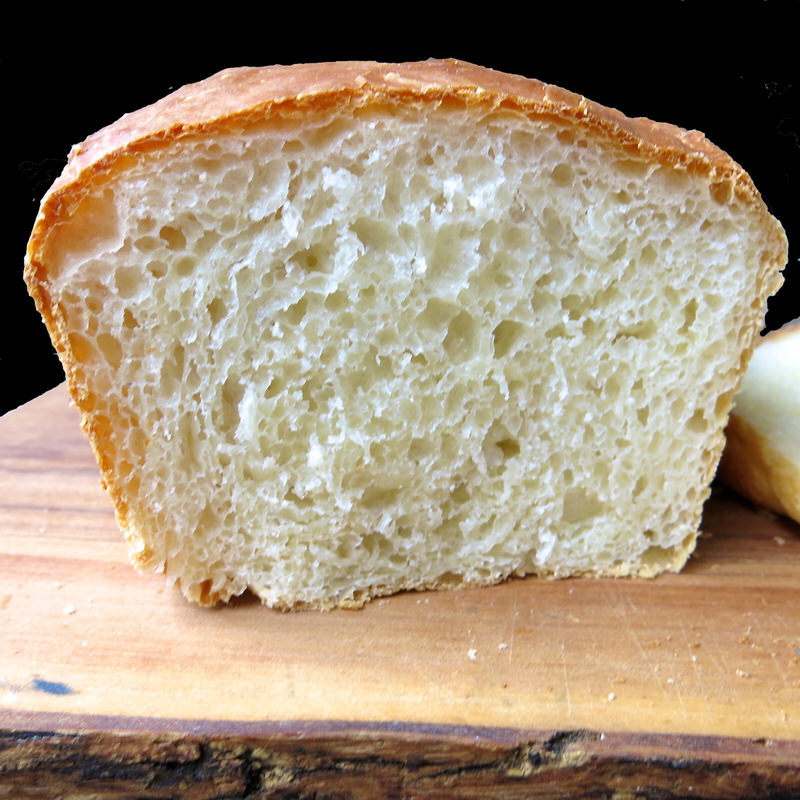 What a gorgeous loaf of Traditional Newfoundland White Bread! Another iconic Canadian regional Newfoundland heritage recipe shared with me via the most generous and in many ways, like minded, Emily Mardell.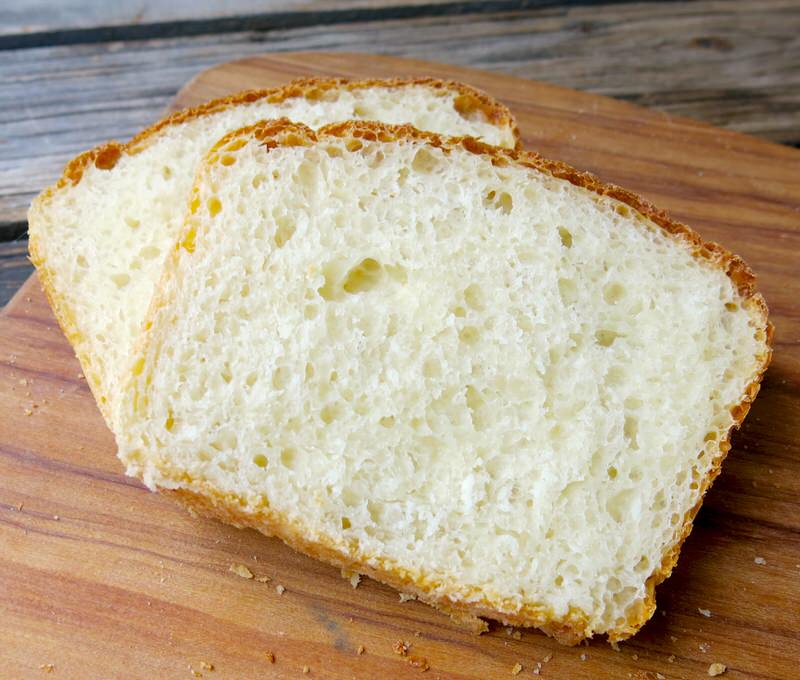 Bread is a cornerstone within my early Alberta Prairie identity, and I share that with all who passed before and are of my generation. Formerly known as "The Bread Basket of Canada", the Canadian prairies used to be one of the top three wheat producers in the world. Now, it is number 6 with China, Russia, India, USA and France each in front of the line, accordingly. Growing up surrounded by prairie grasses, combines and graineries, homemade bread was part of our family culture. Not as it was for my mother, however. We were city dwellers and homemade bread was a holiday specialty. Eating and baking homemade bread was a way of life when she was a child.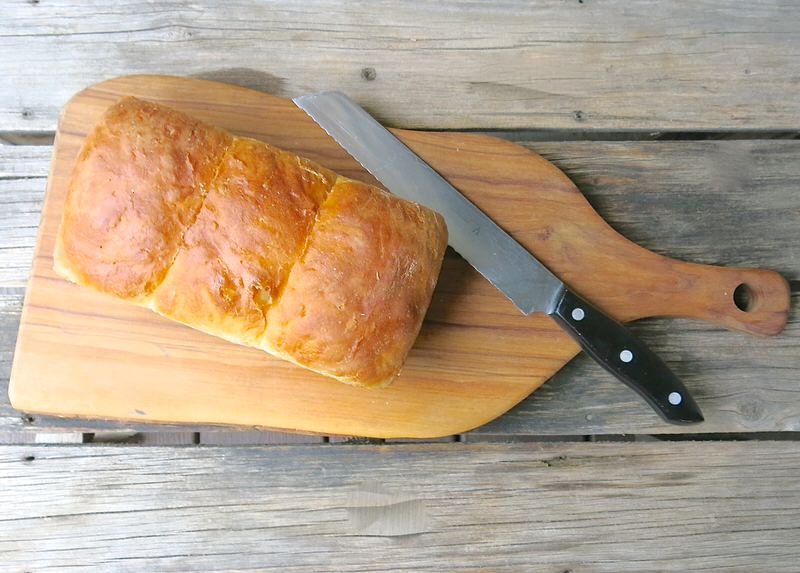 Traditional Newfoundland White Bread: The 3-sectioned Newfoundland Loaf

In Newfoundland, it is still a way of life in many outport communities as making homemade bread is almost necessity. It was most definitely a necessity only a few years ago, and a massive tub of bread would be proofing early in the morning near the heater or a fire.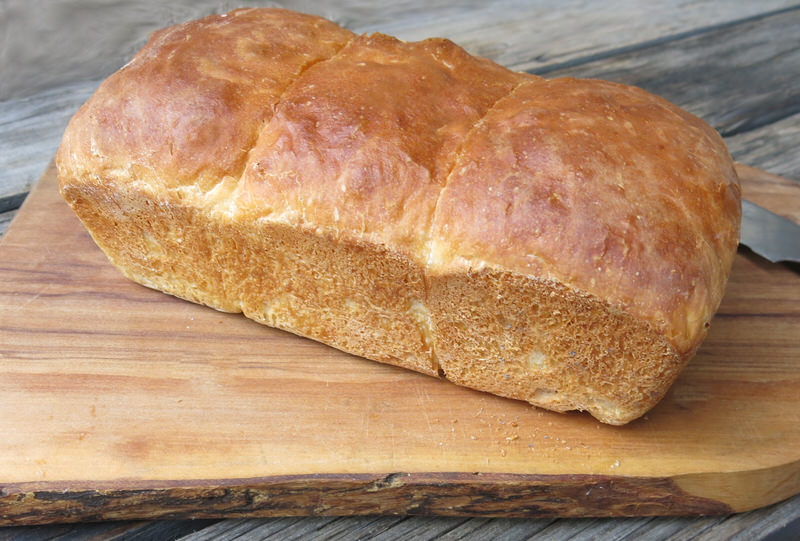 Early in the morning, industrious mothers would slice off wedges of the gorgeous proofing dough and fry it for their little ones and those hard-working for a hearty "stick to your ribs" morning meal before the bread was ready to bake. That fry bread is known as the Touton which is the regional Canadian heritage recipe that I was yearning to learn to make. Thus, as this dough is part of the touton making process, I found myself revelling in it and learned another traditional Canadian regional recipe!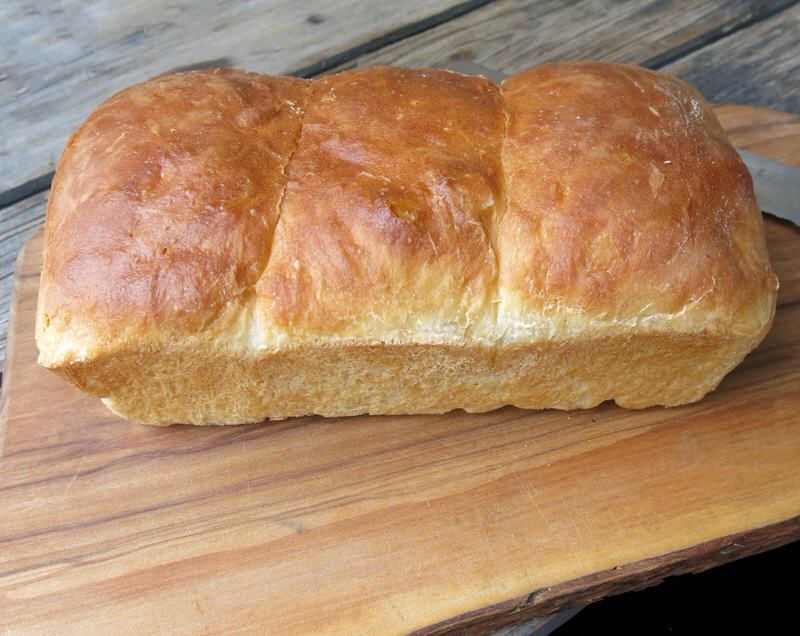 A beautiful, supple, soft sweeter dough made with milk, usually in massive oversized loaf tins that I've only seen in Newfoundland, with three signature balls of dough identifying the signature loaf: the classic presentation within the province. Though, noone really knows how the 3-section shaping came to be, it continues to be made this sway as when the three portions are pulled apart, the 4 slices on either side of the tear called "the kissing slices" are the most coveted of the loaf. It is commonly sold at Newfoundland bakeries in the three ball loaf shape. A Saltscapes article suggests the three balls represent the holy trinity. Don't mess with tradition, or those 4 favoured slices of this traditional Newfoundland white bread.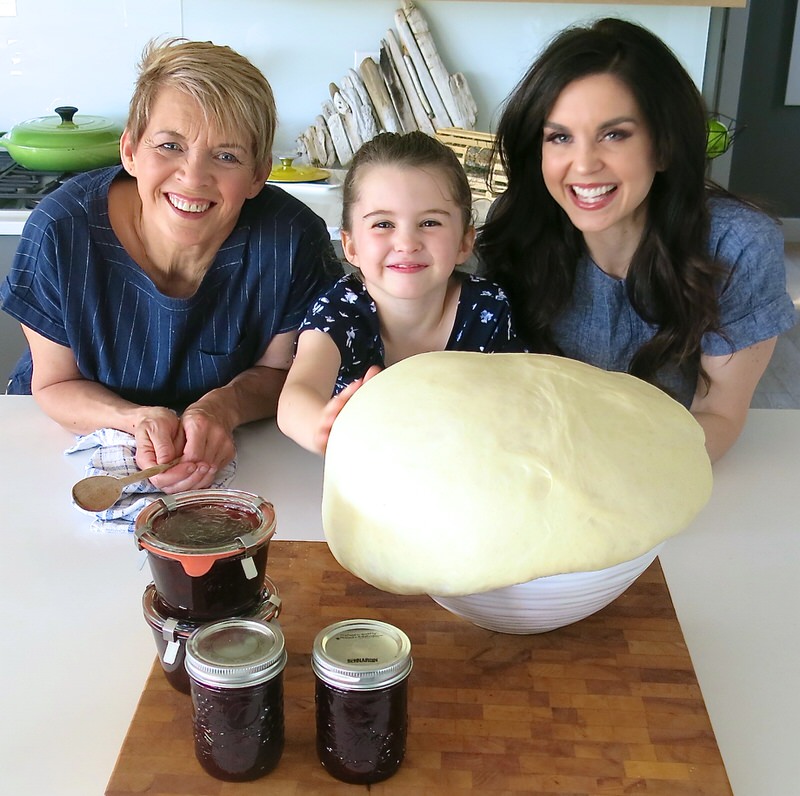 Joy said she just made "one batch" of dough pictured above. Ha! That tells me a whole lot about the work ethic of Emily Mardell's mother, Joy Burt. Joy's "batch", above, would make four generous Newfoundland loaves of traditional white bread. Each Newfoundland loaf would be considered "gi-normous" to the rest of Canada. One medium loaf uses 5 cups of flour, or 635 grams. In any case, she is used to making 4 loaves at a time. Likely three, with one portion for toutons. Oh, what fun we had making Toutons in the GetJoyfull Kanvi Kitchen with Emily Mardell's mom Joy, Emily's daugher Cela and Catherine Bangel from Bangel PR and her two daughters.
Traditional Newfoundland White Bread: Making the Dough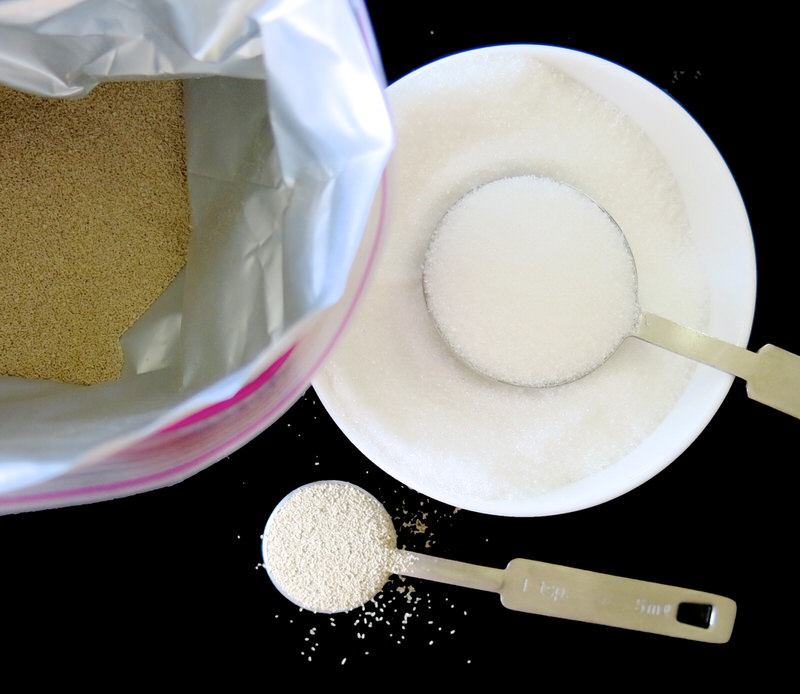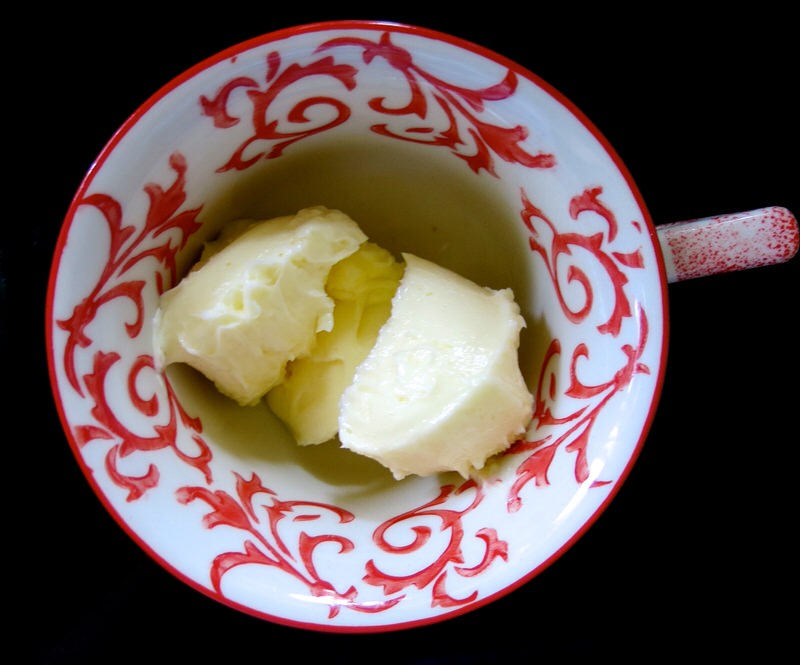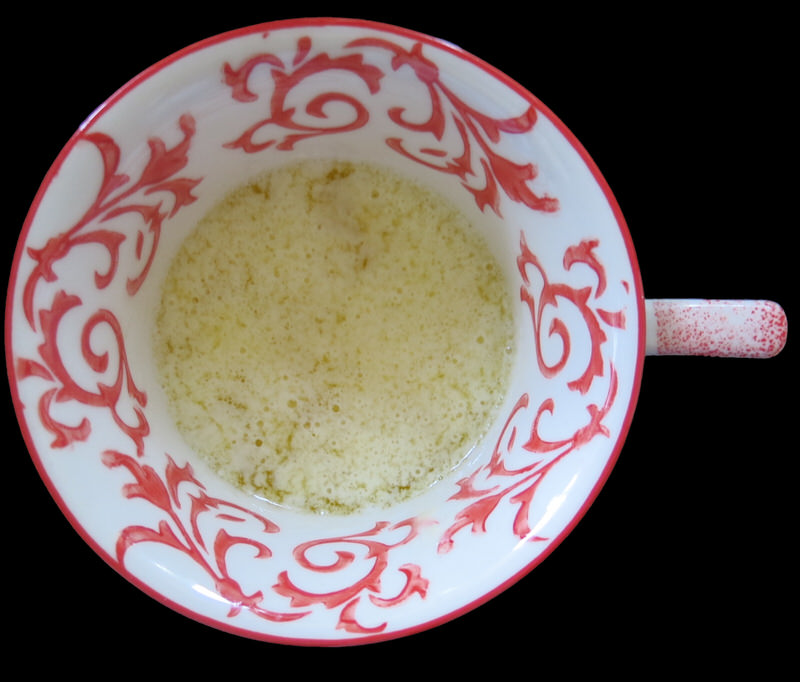 The instructions follow for making this traditional Newfoundland white bread dough in the traditional manner, but I own a Thermomix, so I adapted the recipe to make in my revolutionary kitchen machine. Why not? It turned out perfectly. Making it first the traditional way is key to understanding the texture and process to recreate with the machine. Butter melted, yeast measured, above.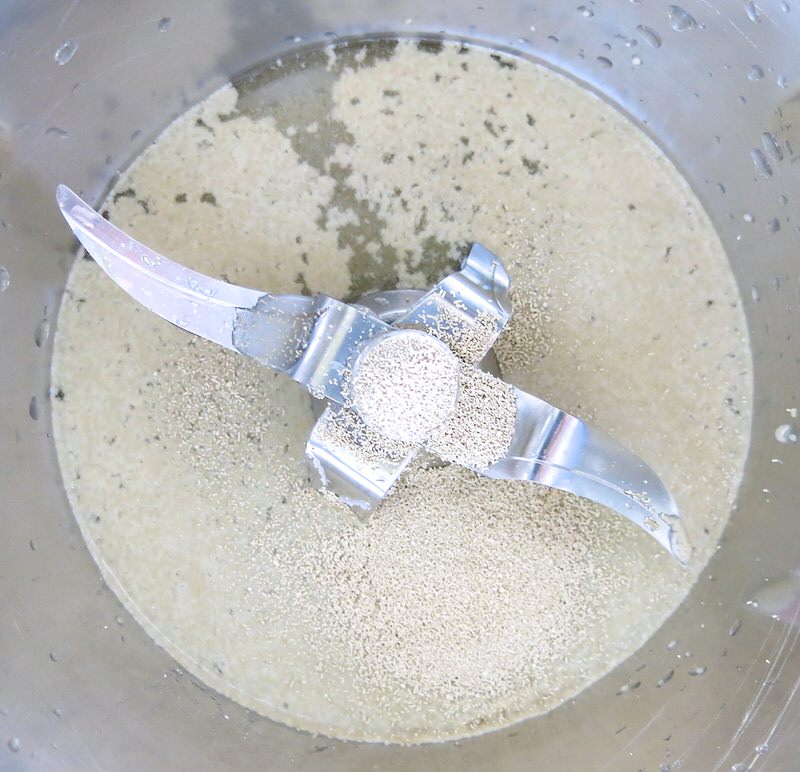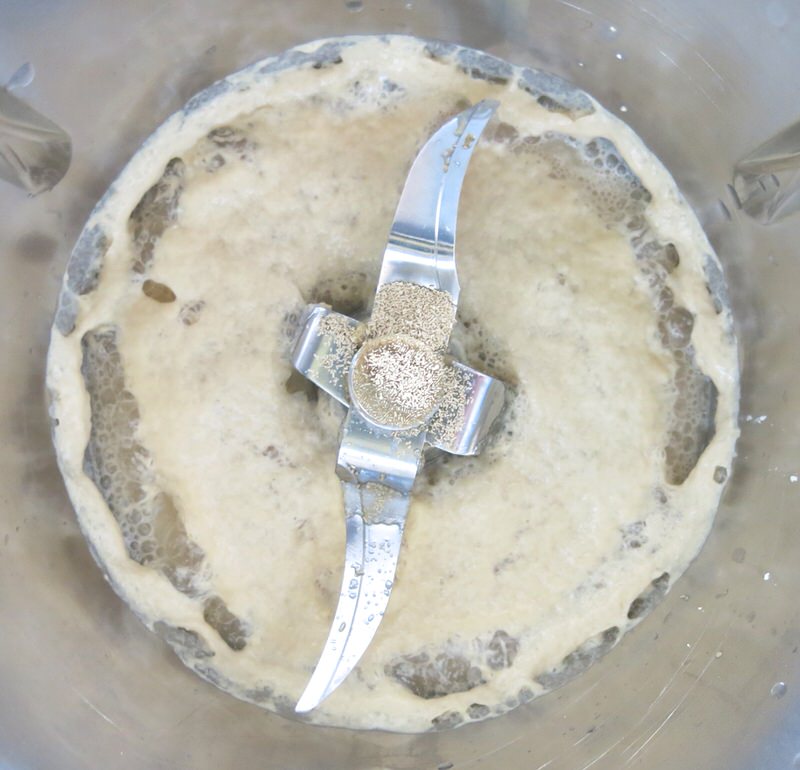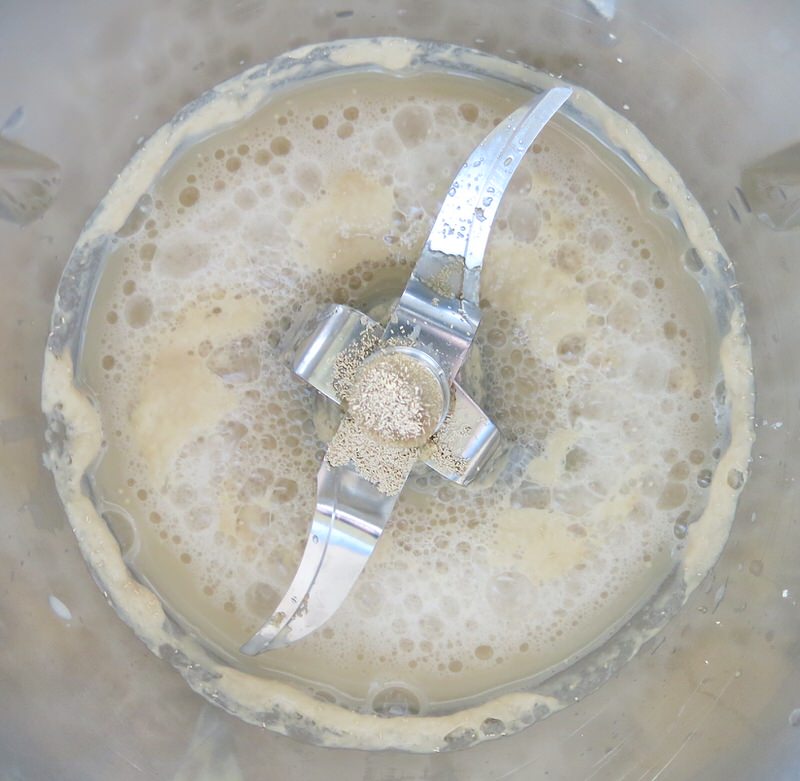 Into the TM bowl goes the yeast, sugar and tepid water. Let it rest. Let it grow. The beauty of the Thermomix, is it can grow with the 37 C temperature on soft stir for 5 minutes, then rest for 10 minutes as it doubles in size. A little whisk to combine, and it is good to go.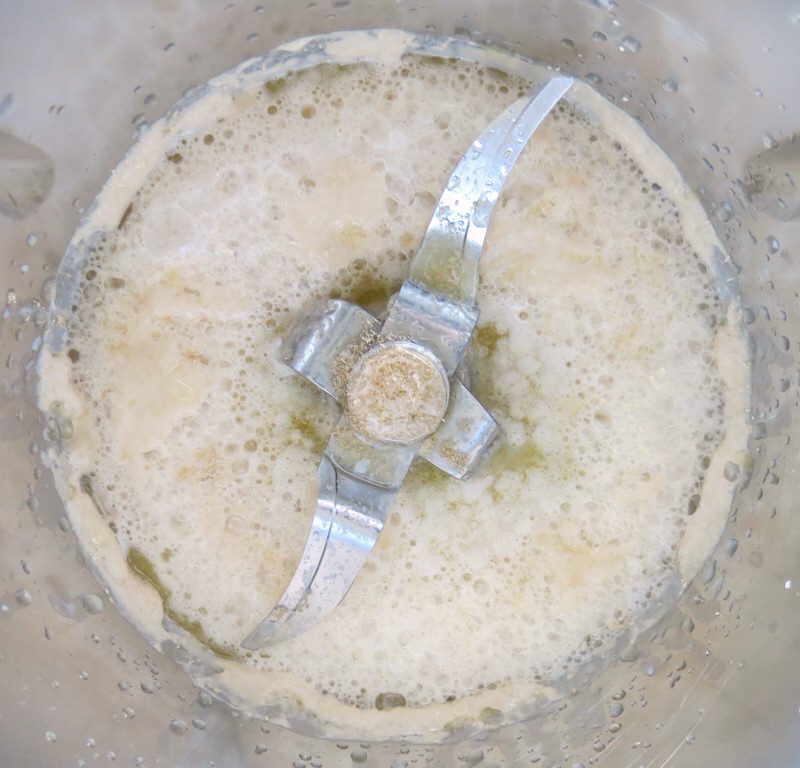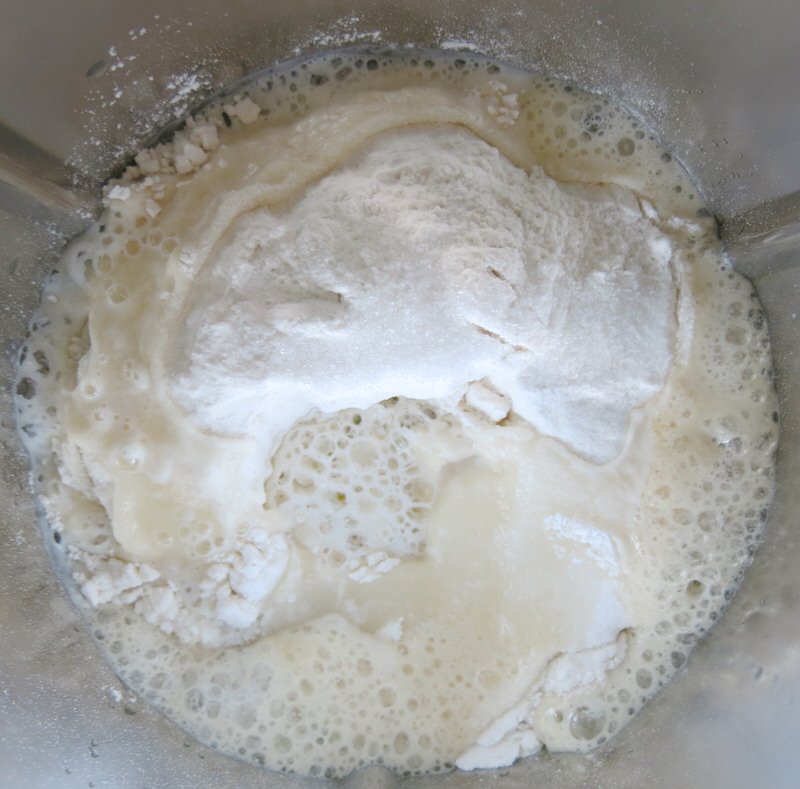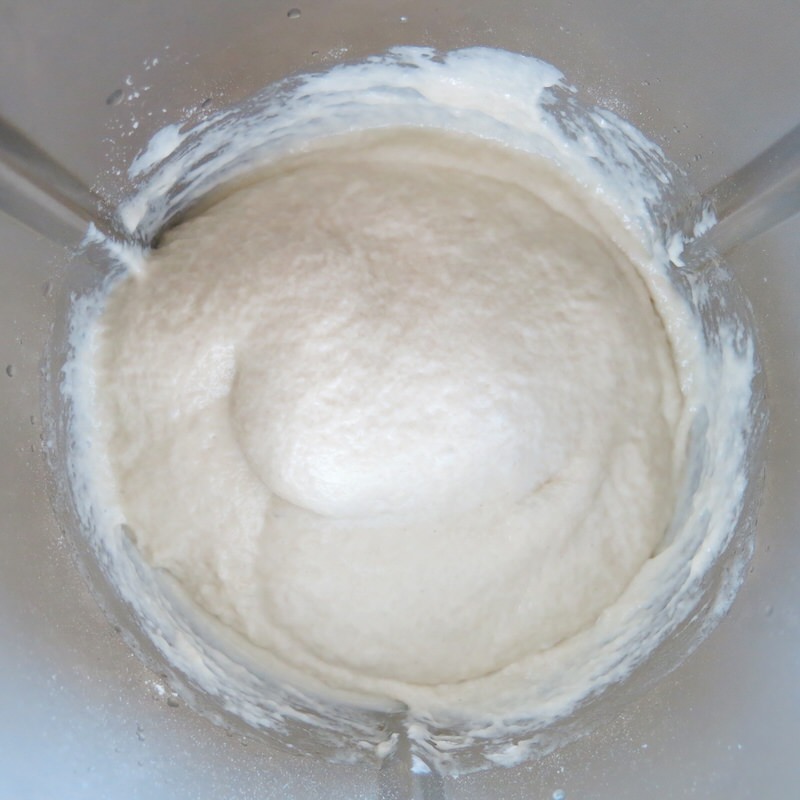 Above, the salt, milk, melted butter and some of the flour and more sugar are added to the mix. The dough is then rigorously stirred until smooth and elastic.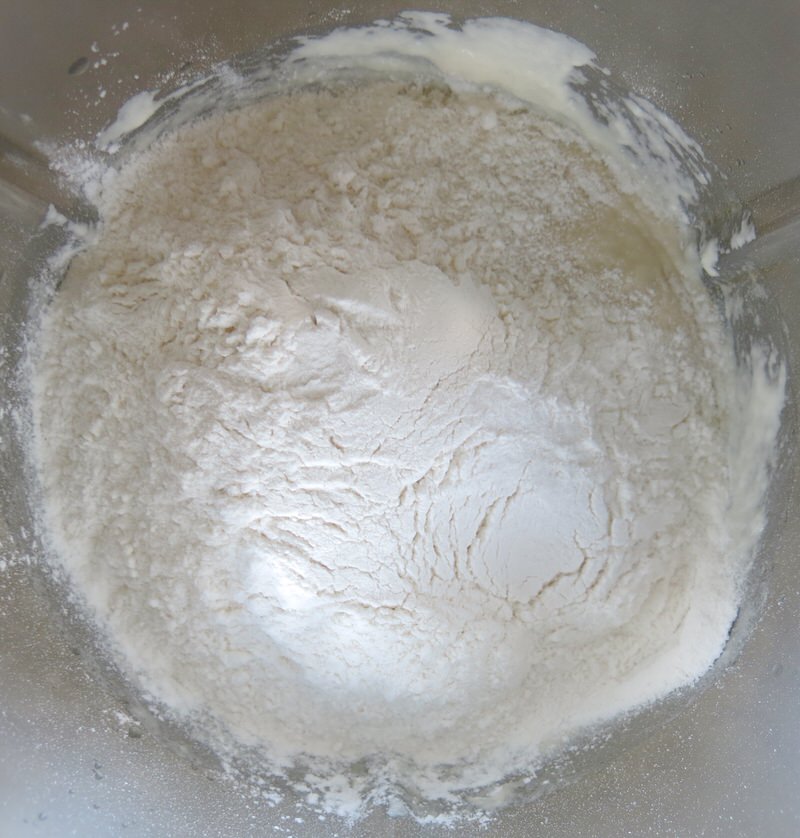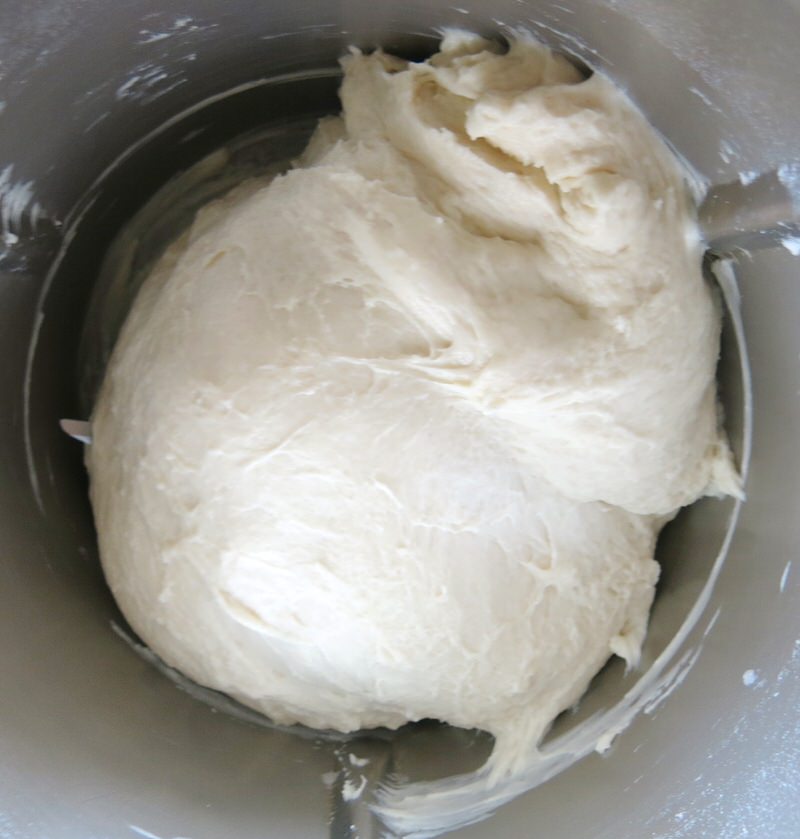 At this point, the remainder of the flour is added and the dough is kneaded until it comes clean from the sides of the bowl. Voilá!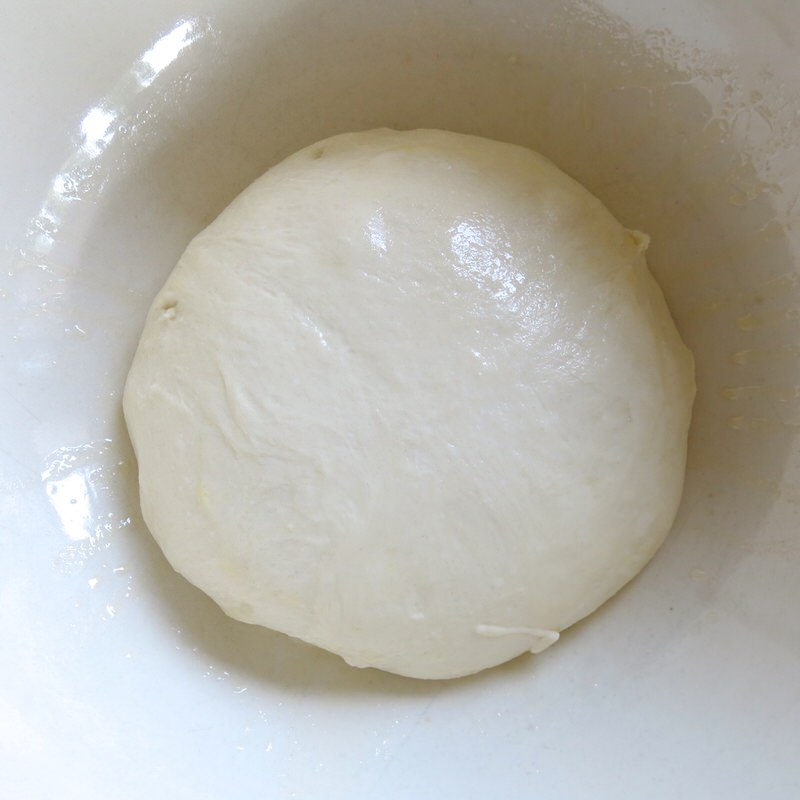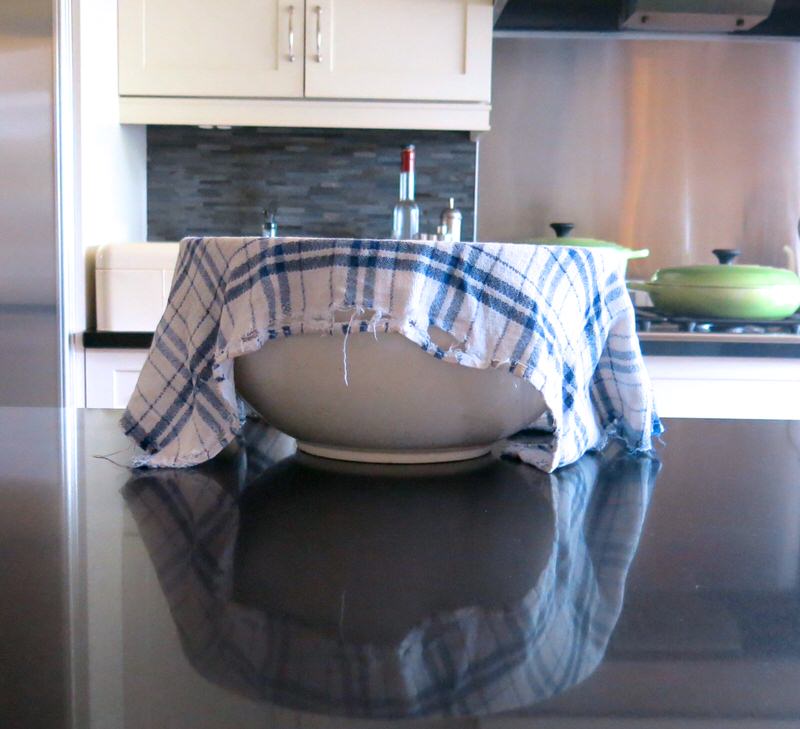 I used the remainder of the melted butter to grease the proofing bowl, topped it with a damp cloth, and put it into my oven to proof. Any warm, still location will work well.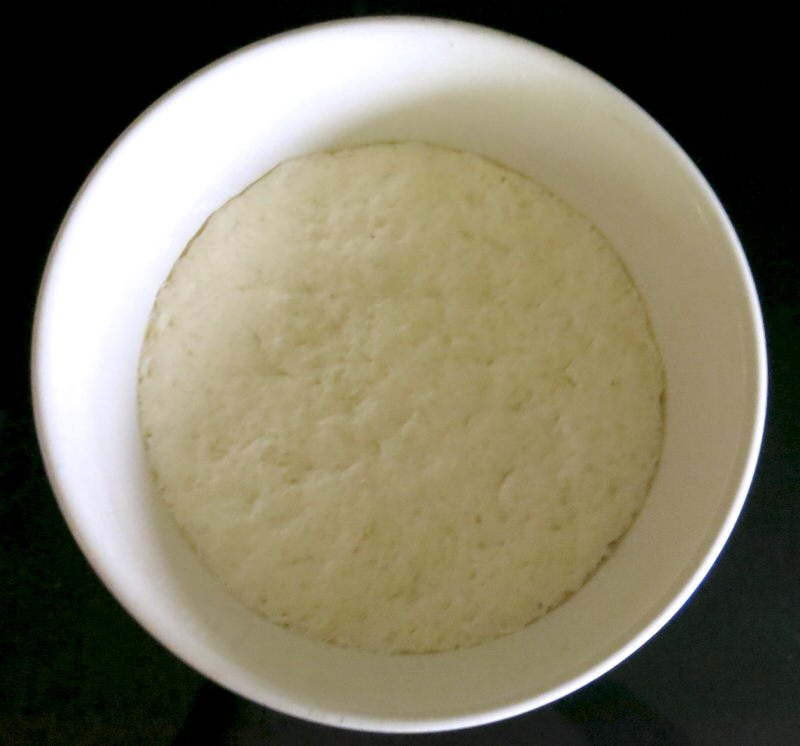 Traditional Newfoundland White Bread: Shaping the Loaf

Woops, I was out in the garden a little longer than I expected, but no problem. It over proofed a bit. I weighed the dough as I wanted to reserve some for touton making. Usually, a single loaf of bread is 500 to 700 grams of flour. This was the amount for a newfoundland medium single loaf, thus my plan was to sneak off about 1/4 of the weight for the toutons to leave 3/4 of the dough to make a loaf. However, doing this, my loaf doesn't quite have that over-abundant traditional Newfoundland "three-loaves-in-one" look. My three balls grew together a bit more than usual. Likely due to the over proofing and the missing amount of dough used for the toutons.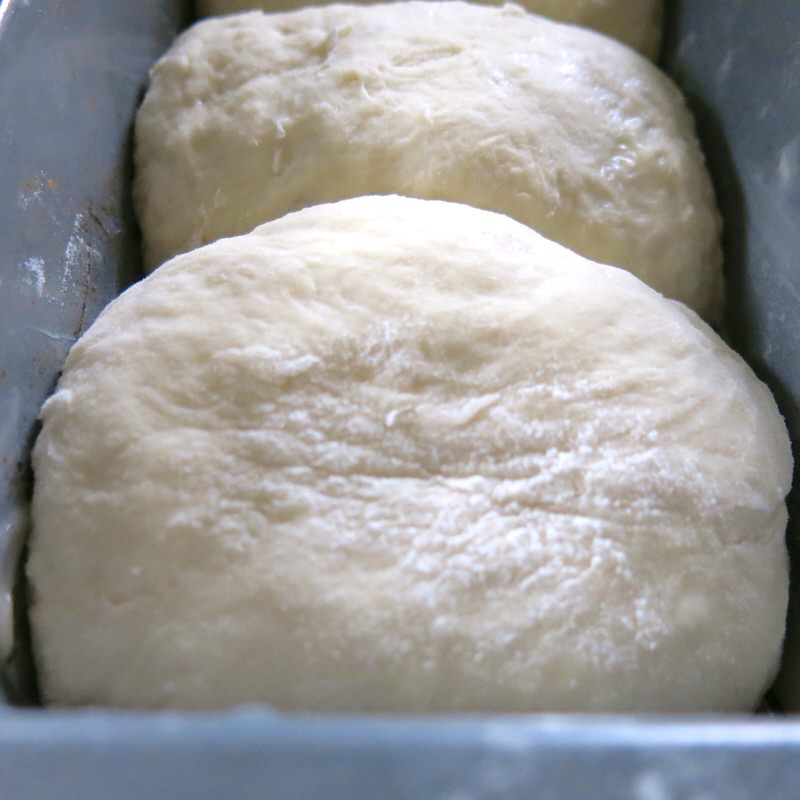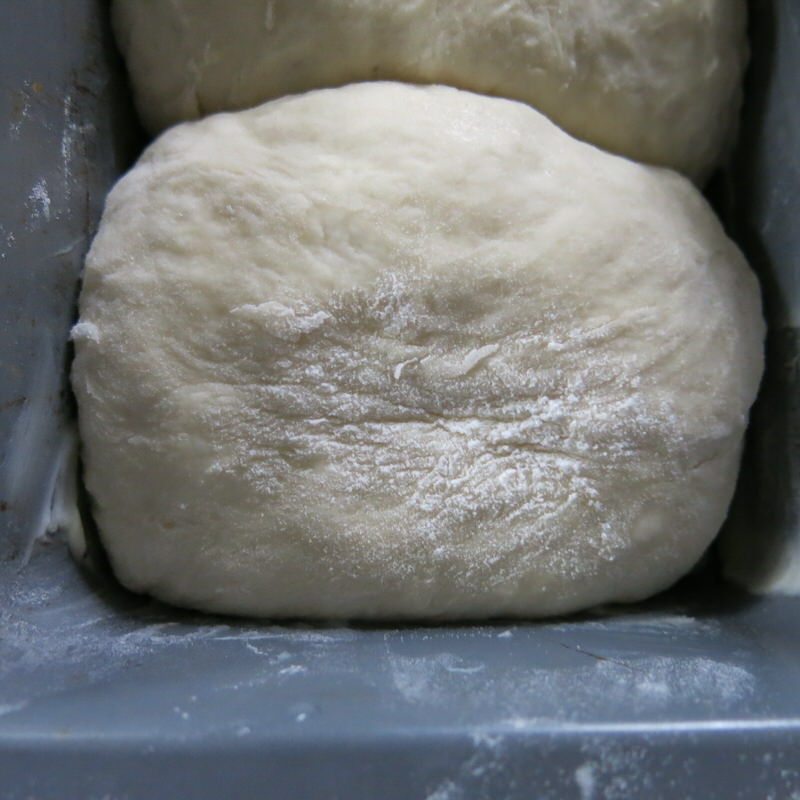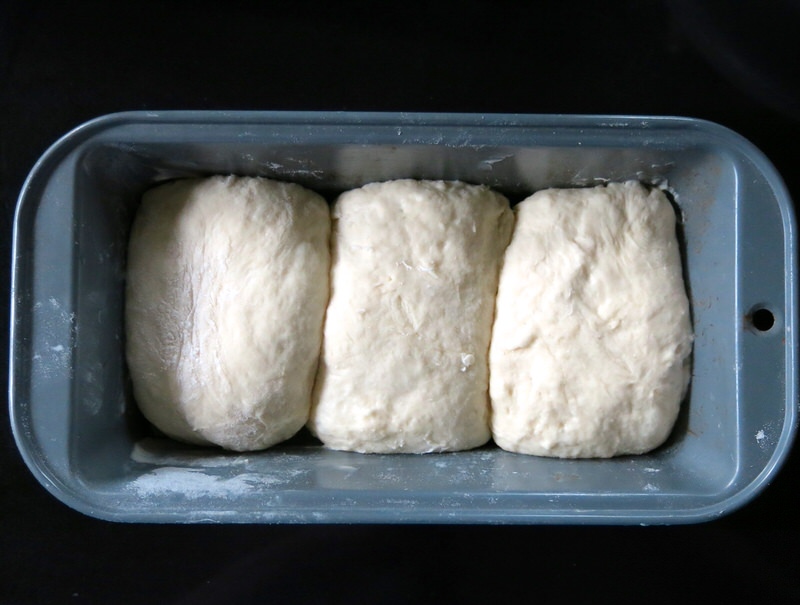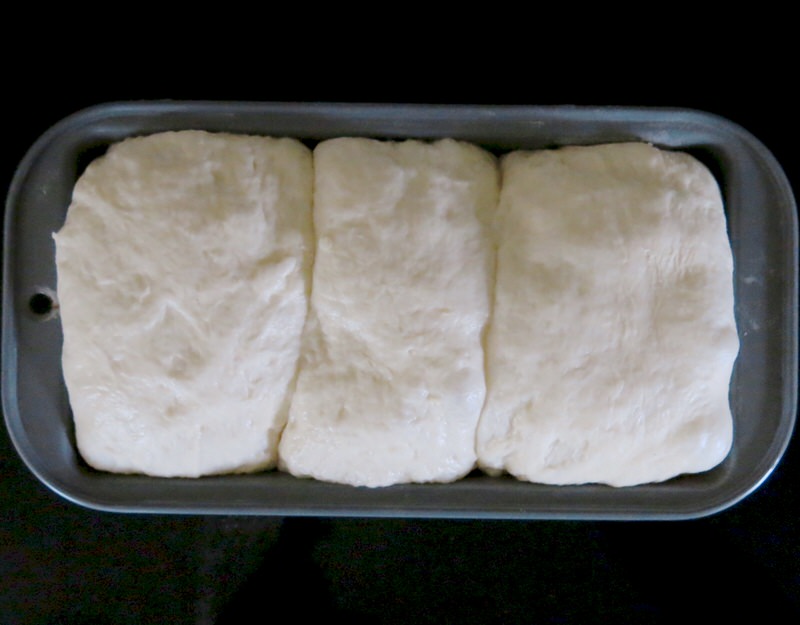 Traditional Newfoundland White Bread: Baking the Bread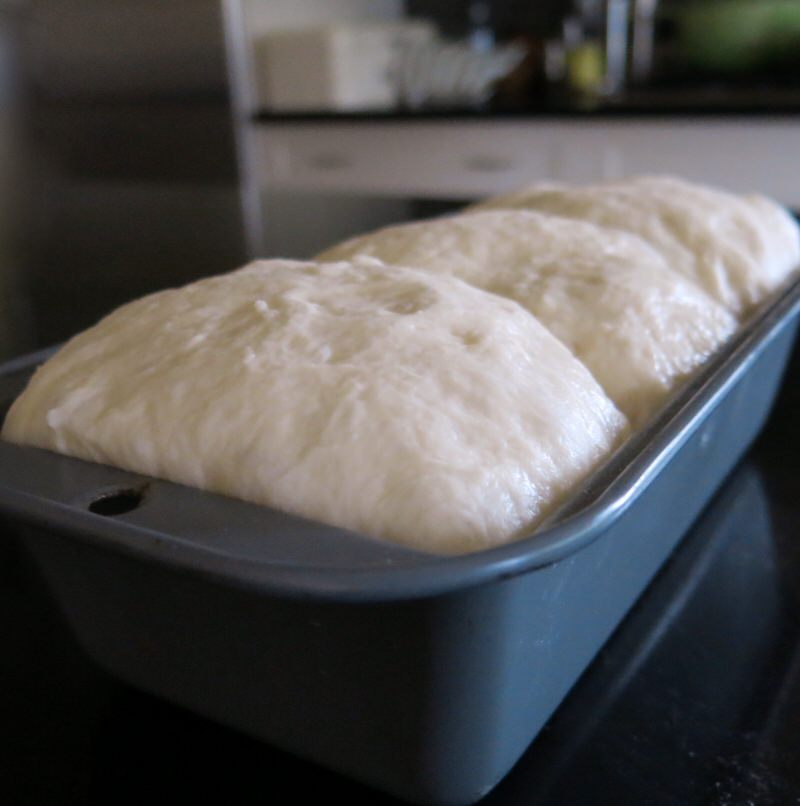 In Newfoundland, the dough would be proofed with 2-3 inches hanging over the loaf pan. This was not the case. This is not a big loaf, nor is it a large pan. One of those Newfoundland sized bread pans would find a loving home in my kitchen! Apparently, the "traditional white bread" pan is no longer available anywhere to buy. Cherished pans passed from mother to daughter create that longer, larger wider loaf well-remembered by the older folk within the community. The dough did rise well and baked into a golden crusted loaf of yeasty heaven, but doesn' thave that traditional "three-loaves-in-one" look that I was going for.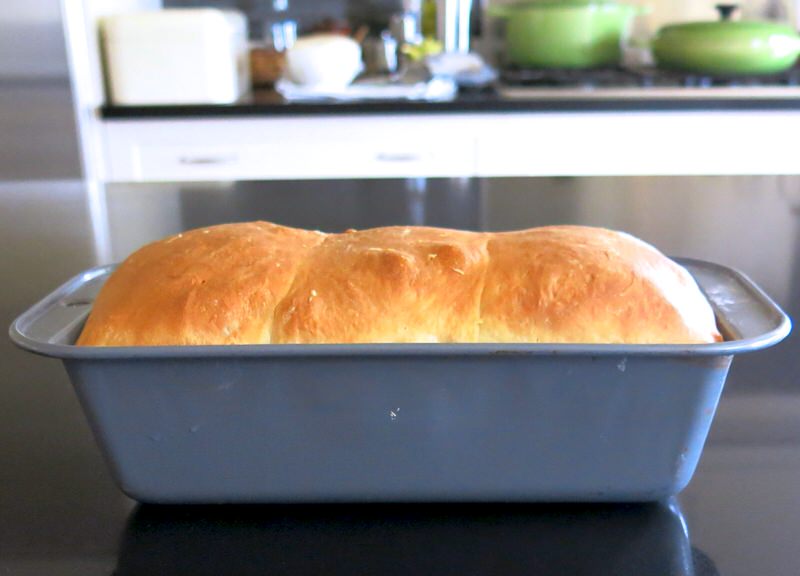 I'll have to wait til next time I make it to understand the appeal of those 4 coveted inner "kissing slices" of this bread.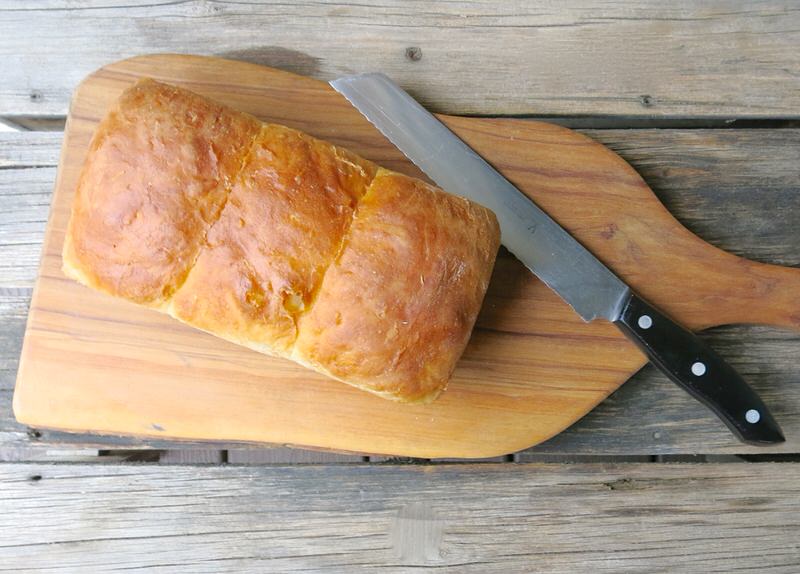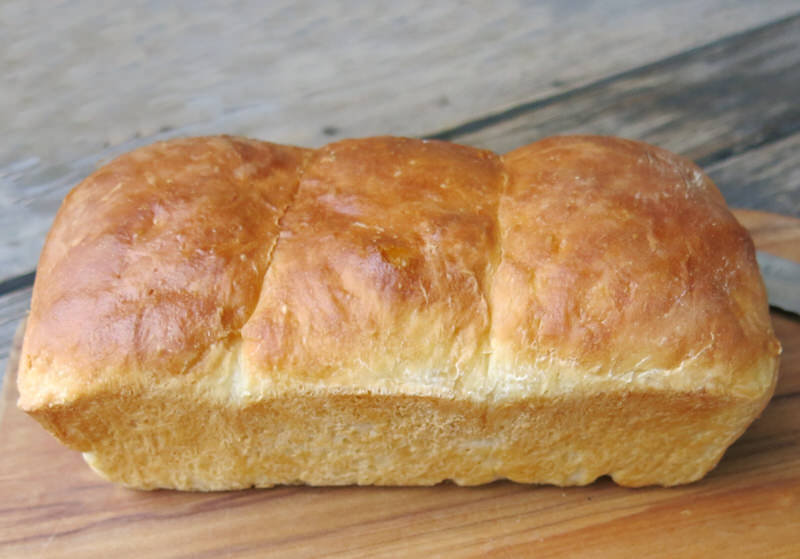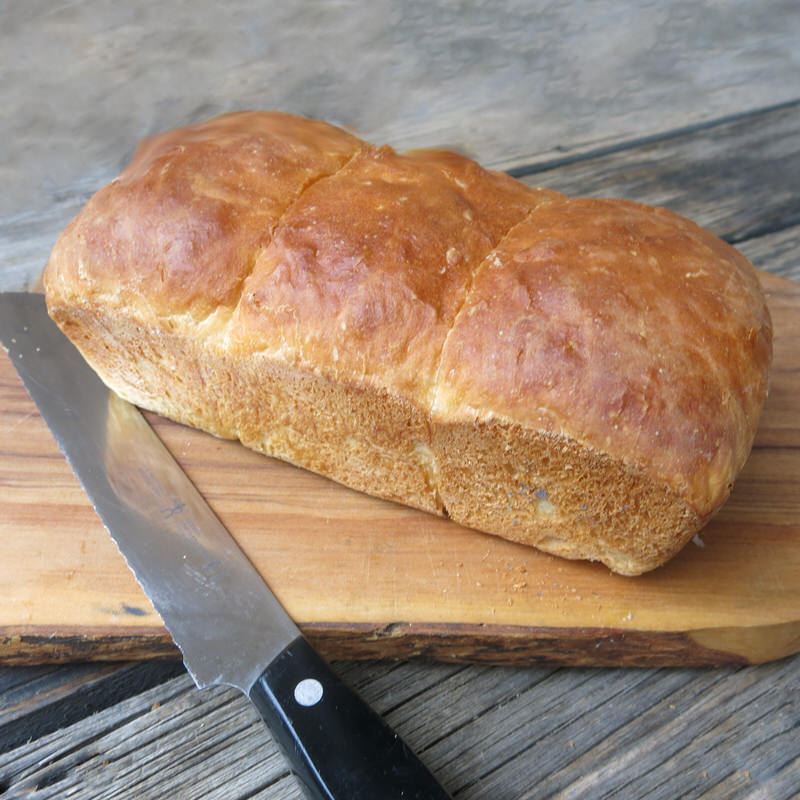 Traditional Newfoundland White Bread: Serving the Bread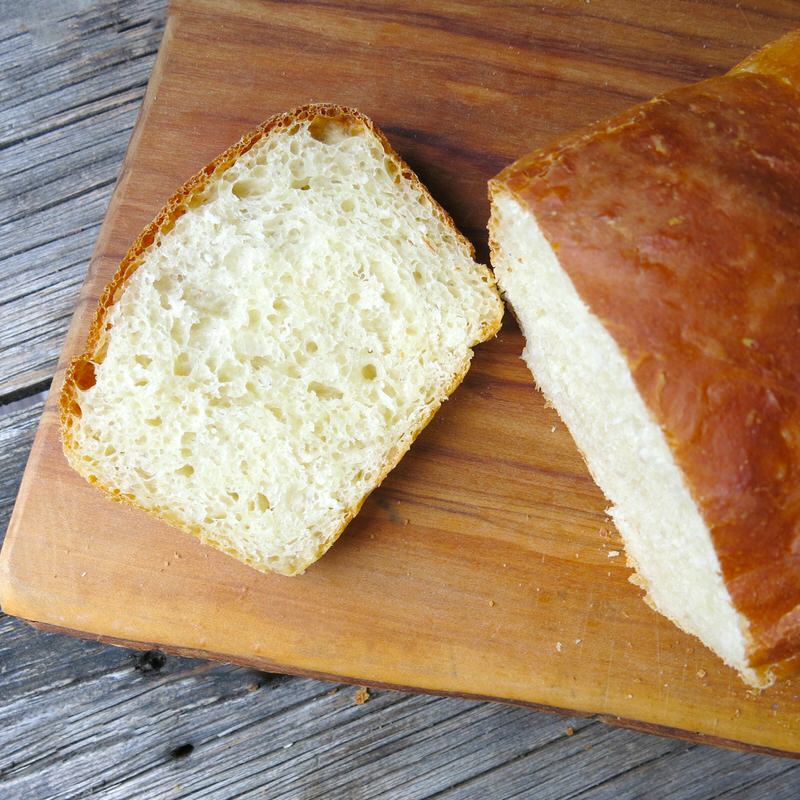 Slicing into the loaf left me feeling a sense of accomplishment. Though my "bubble top" wasn't poofy enough, the crumb was gorgeous and the scent, heady and provocative.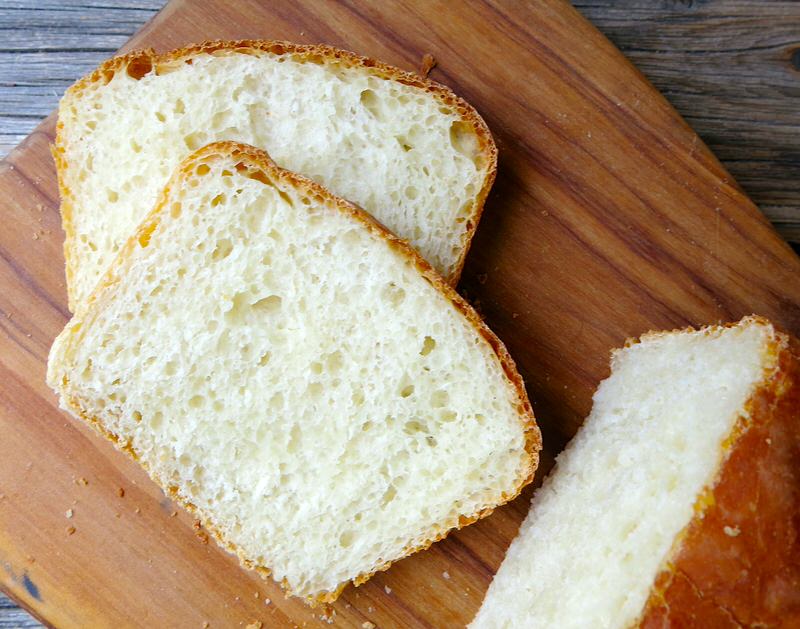 These were not limp, light, flimsy little poofy slices of white bread. This is a bread of substance. This is a bread that can stand on its own. This is a bread with a reputation, an identity and a strong sense of place. It would be recognized anywhere in this country or any other as "ours" from a Newfoundlander. Toasted, one piece is a significant portion, chewy, full of yeasty-milk flavour, and satisfying. It is not one of those "dissolve-in-your-mouth" breads too many think of when "white bread" is mentioned in this new age of processed and refined foods. It may not be crunchy outside, or hollow inside as so many artisanal loaves we have all come to know and love. No. This is home food. This is family food. This is an iconic Canadian regional heritage recipe from Newfoundland that had grandmother after grandmother after grandmother's hand thrust deep into the roots of the family tree kneading a tapestry of the wholesome Atlantic life into each loaf, passing so much more than just bread on to those that followed in their footsteps.
Traditional Newfoundland White Bread: Making Toutons for my own Mom, Helen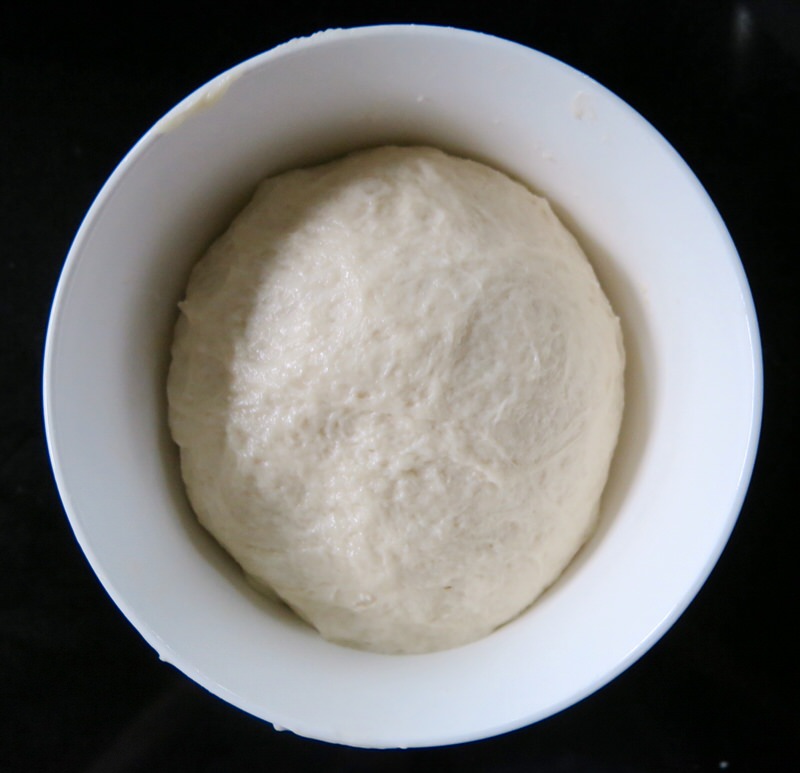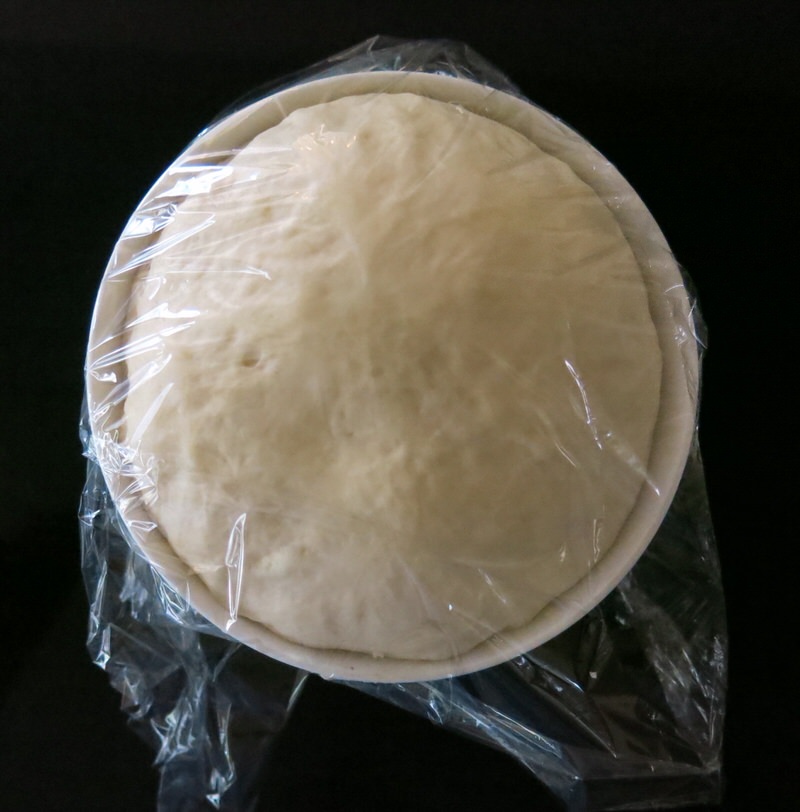 The portion of dough I stole from my Traditional Newfoundland White Bread loaf was the perfect amount for Sunday Supper dessert: Toutons!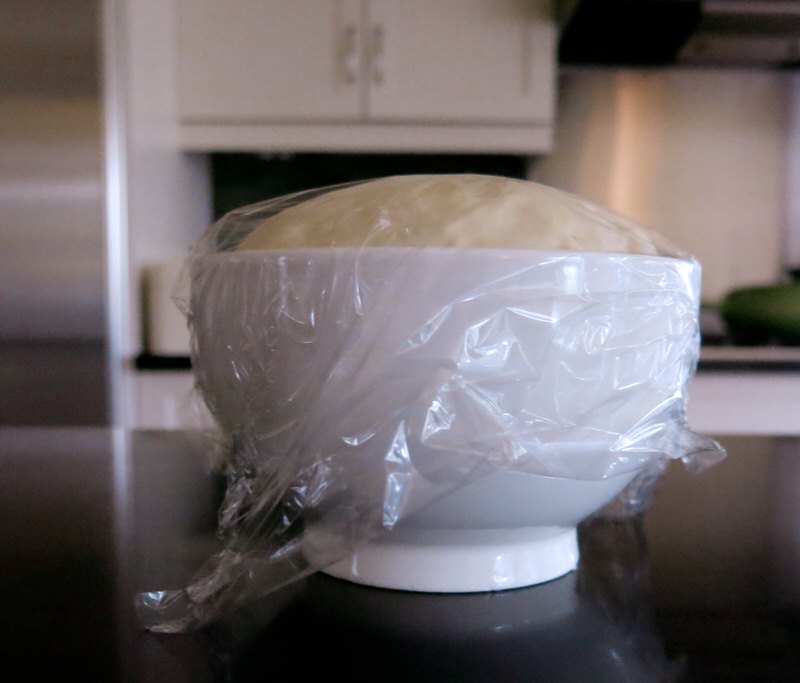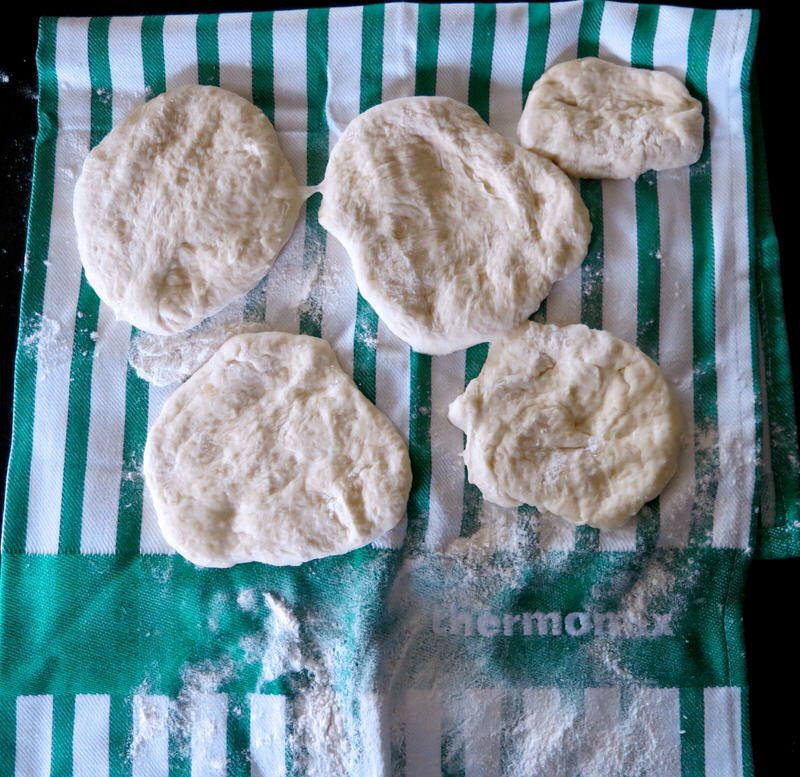 Portioned after Joy's lesson, on a lightly floured cloth, oil hot.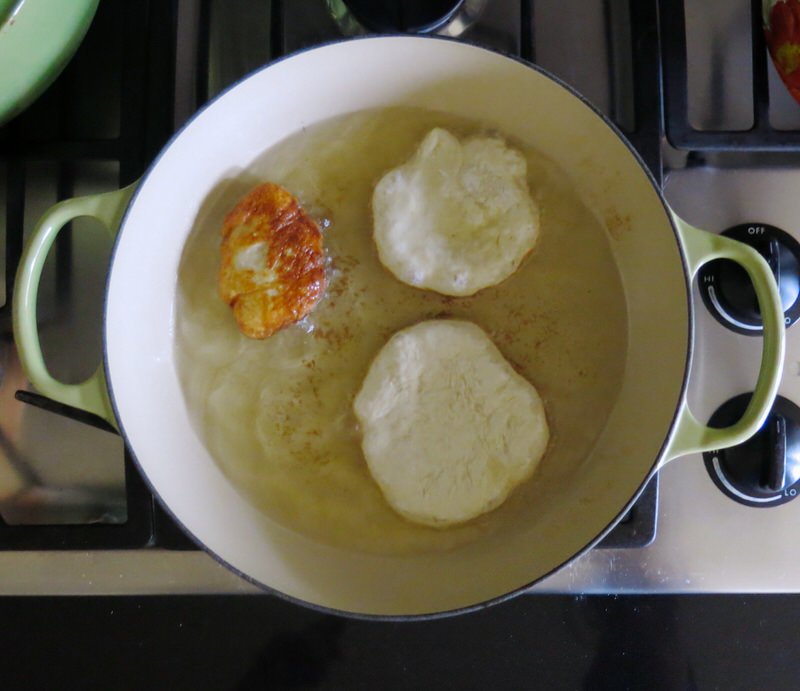 Maybe a little too hot, but they still turned out lovely.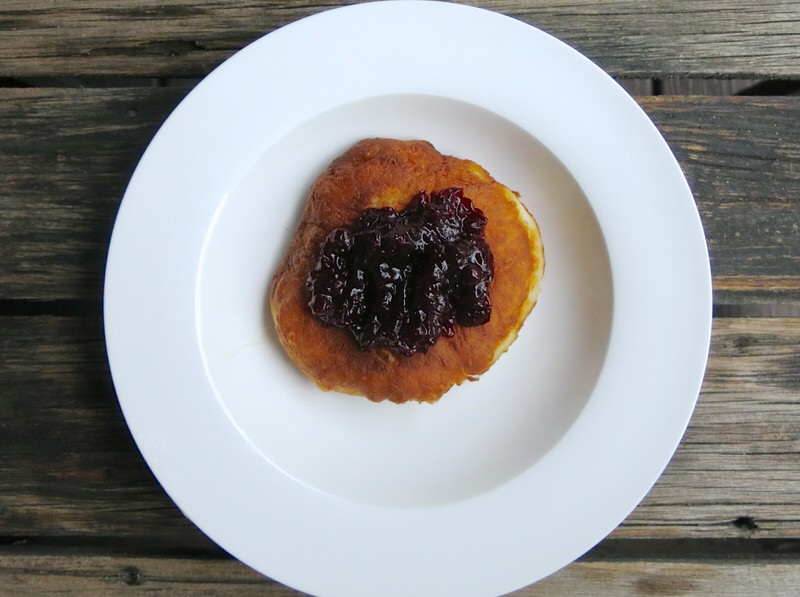 Sharing the homemade Partridgeberry Jam and my new Touton making experinece with my mom was such a pleasure.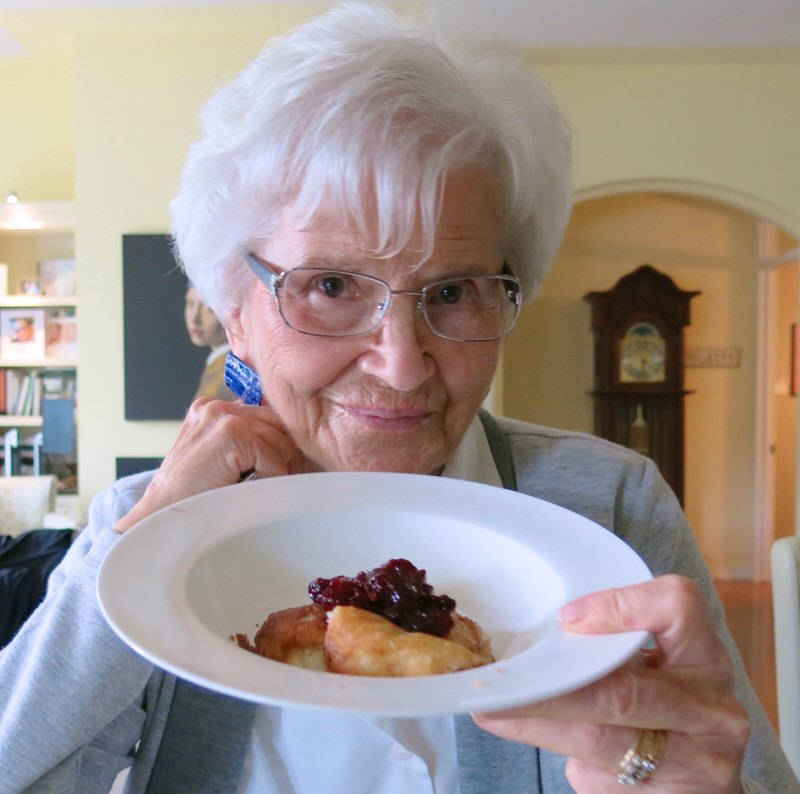 Fortunately, it was a chilly Sunday after several very hot days, so a little fry bread hit the spot.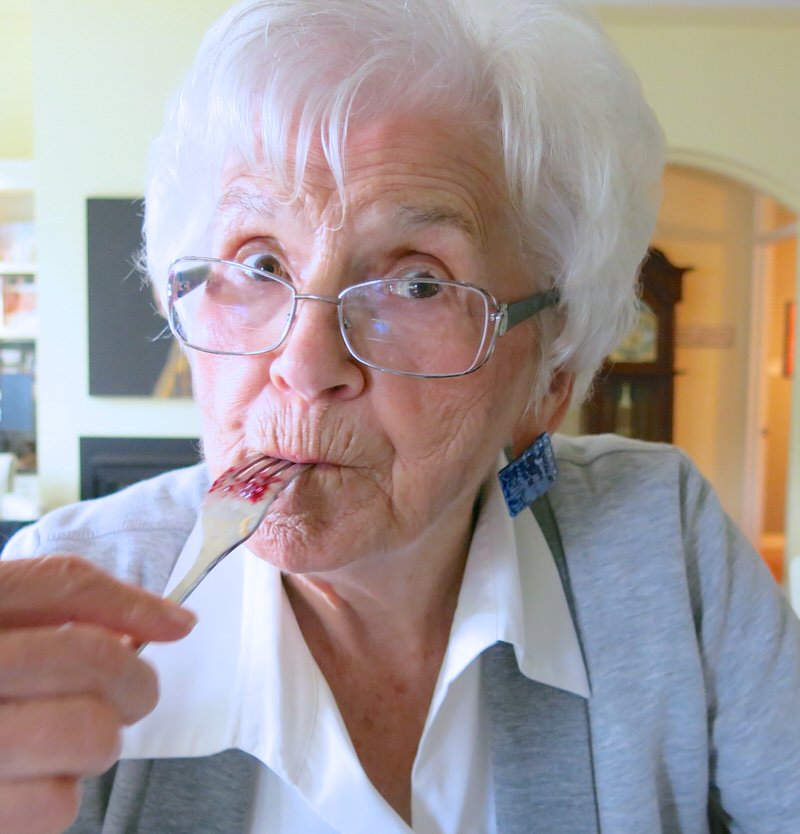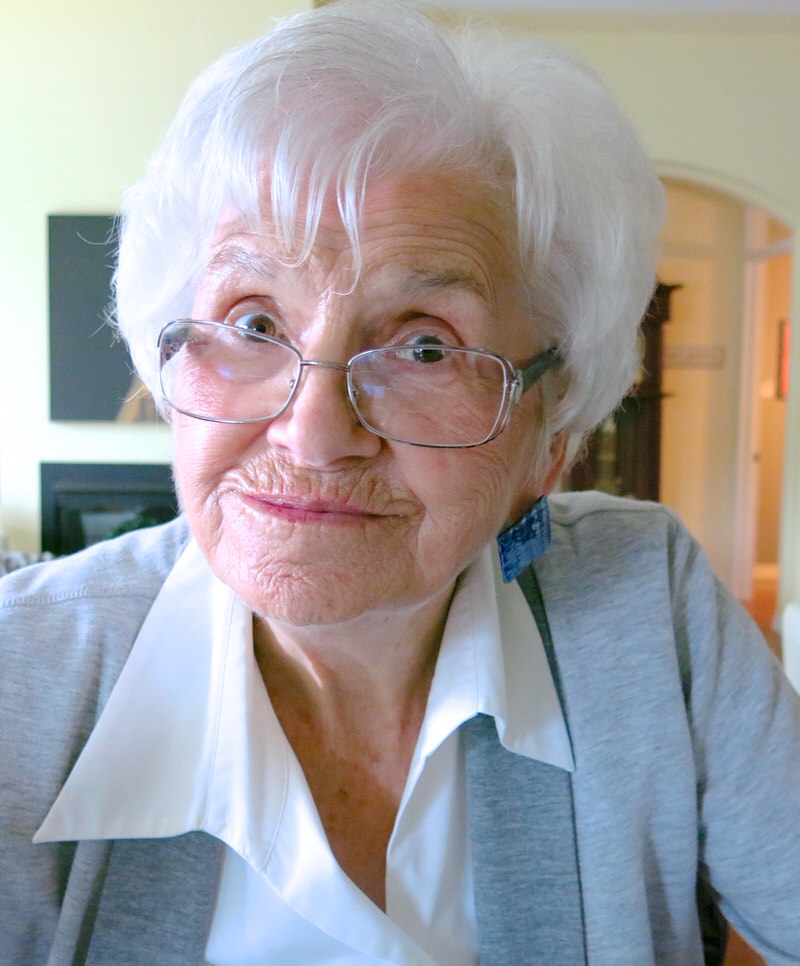 Did she like it? She never takes anything home. Refuses consistently. But, she didn't say a word when I packed one to go with her. "Oh, my, there is nothing like fried bread dough, is there," she said amongst several moans of pleasure as she enjoyed her little treat. I was so happy as I know that I will be making this Atalantic bread and these Newfoundland toutons many more times in our little Canadian house on the Alberta prairies. Somehow, that just feels right. Oh, Canada!
Recipes from Project 2017: Cooking with Emily Mardell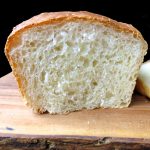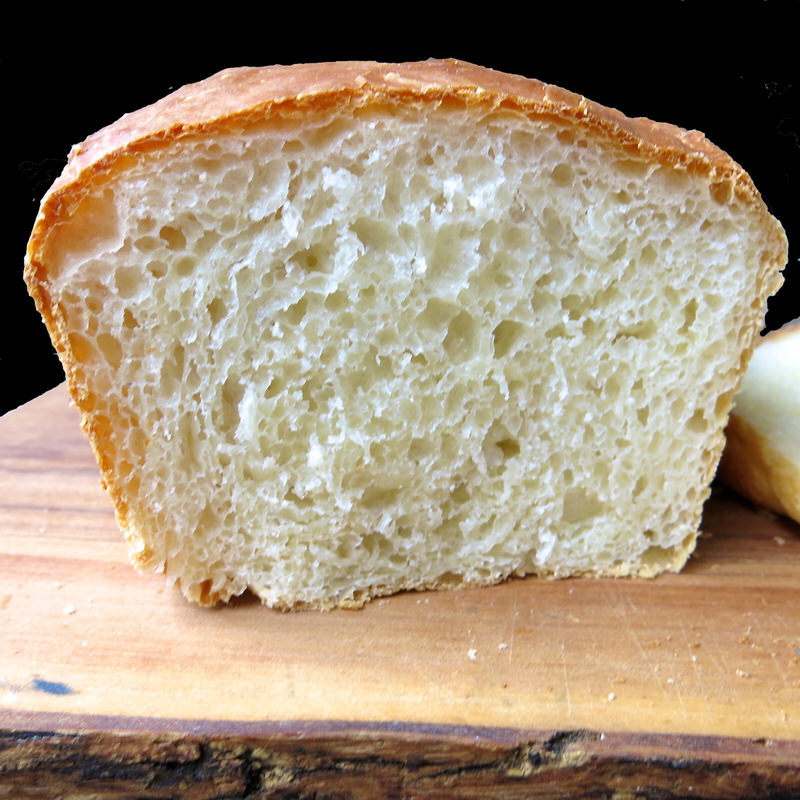 Traditional Newfoundland White Bread aka Nan's Bread from Newfoundland
This recipe is Emily Mardell's grandmother's Gigi's, bread recipe, thus "Nan's Bread". In Newfoundland, homemade bread is made regularly in remote areas, and while it proofs, the sections of the rising dough are sliced off, formed into circles and fried for breakfast. These are called Toutons, and traditionally eaten with Fancy Molasses and butter.

Total Time
4
hours
40
minutes
Ingredients
5

cups

or 635 grams All Purpose Flour

1

package

or 7 grams traditional active dry yeast

not instant yeast

2

teaspoons

or 10 grams of fine salt

good quality

3

tablespoons

or 45 grams sugar

3

tablespoons

or 55 grams butter, melted (need only 45 grams, use the rest to grease proofing bowl)

1 1/8

cups

or 290 grams milk, lukewarm
Instructions
Instructions for Making by Hand
Dissolve 1 tablespoon of sugar into half cup lukewarm water; sprinkle yeast over surface of water. Let stand for about 15 minutes until yeast foams well, then stir to combine.


Combine 3 cups of flour, 2 tablespoons sugar and salt into large bowl; add prepared yeast, melted butter and warm milk. Using wooden spoon, mix for 4 to 5 minutes until mixture is smooth.


Slowly incorporate remaining 2 cups flour; mixing gradually until soft dough forms and leaves sides of bowl. You may need to use a little more or a little less flour: add only enough flour to form a dough that releases from sides of bowl and remains slightly tacky but able to be handled with your bare hands.

Turn the dough out onto work -surface to knead; knead for 8 minutes, then form into ball and place in large greased bowl.

Cover dough; proof in warm place for one hour until double in size.


FOR TOUTONS: Slice off portions of dough, shaping them by hand into rustic circles; lay on cloth until ready to fry.

Punch dough down; knead a few minutes by hand before resting for another 10 minutes.

Grease 2 medium loaf pans; divide dough into 4-6 equal portions. Form each division into a ball, placing 2 or 3 balls of dough in each loaf pan.


Cover with clean tea towel; proof until about 2 inches above rim of loaf pan (approx. 2 hours, depending upon room temperature).

Bake at 350 F for 30-40 minutes depending on size of pans, or until loaves are golden and sound hollow when tapped.

Turn loaves onto wire rack to cool; brush tops with melted butter to soften top crust.
Instructions for Thermomix Machine
Weigh 15 grams sugar and 120 grams tepid water into TM bowl; add packet of yeast and stir for 5 minutes at 37C speed soft. Rest 5 minutes.


Stir yeast mixture, to combine; 5 seconds at speed 2.

Into same TMbowl over yeast mixture, weigh 45 grams melted butter, 290 grams lukewarm milk, 375 grams flour, 30 grams sugar, 10 grams salt; stir rigorously to combine until smooth for 1 minute at speed 4 (little longer or higher speed, if required)


Weigh remaining 260 grams flour into TM bowl; set knead for 4 minutes until dough completely releases from side of TM bowl.

Grease large bowl with remaining butter; form dough into ball and place in prepared bowl covered with damp cloth and proof in warm place for one hour to ninety minutes, or until double in size.

FOR TOUTONS: Slice off portions of dough taking care to retain as much air as possible, shape each by hand into rustic circles; lay on lightly floured cloth until ready to fry (Rest 10 minutes after shaping before frying)


Punch down remaining dough; rest 10 minutes.

Grease 1 large loaf pan; divide dough into 3 equal portions and form each into a ball. Place 3 dough balls into each loaf pan.

Cover with clean damp tea towel; proof until about 2 inches above rim of loaf pan (approx. 2 hours, depending upon room temperature).

Bake at 350 F for 30-40 minutes, depending on size of pan, until golden hollow when tapped.

Turn loaf onto wire rack to cool; brush tops with melted butter to soften top crust.
Recipe Notes
Emily's Grandmother, Edna, or GiGi, as they call her, taught her to make "Nan's bread." As a young girl, she'd spend Sunday's puttering around the kitchen, listening to music, and kneading dough with her Gigi.
For Emily, the best part about making "Nan's bread," was cutting slices of the proofed dough to fry! Traditional Newfoundland touton are made with this recipe.
In a traditional Newfoundland "outport" (or remote) kitchen, everyone made their own bread. Often daily, as it was a staple food for a large family: fresh, filling and inexpensive.
Once the bread was 'panned' or risen, pieces of dough would be sliced off and fried for the morning meal or a snack. This treat is known as "toutons" or "damper dogs" and have remained a regional family favourite and apopular restaurant dish in Newfoundland.Toutons, More Specifically:
Toutons, More Specifically:Wedges are sliced from the large proofing dough, shaped into discs, quickly fried in a bubbling layer of rendered
Wedges are sliced from the large proofing dough, shaped into discs, quickly fried in a bubbling layer of rendered saltpork back fat. The "scruncheons" created from rendering the fat would be removed and reserved for later. Dough discs were fried until golden on both sides, crispy outside and puffy inside traditionally served with a dab of butter and a very generous drizzle of Fancy Molasses.  The scruncheons were often added back to the plate with the toppings.Today, the salt pork is most often replaced with canola or other oil. (Toutons are also delicious served with Nan's baked beans! But, that's a whole 'nother story!)
Today, the salt pork is most often replaced with canola or other oil. (Toutons are also delicious served with Nan's baked beans! But, that's a whole 'nother story!)
AFTER NOTE
Lou, in the comments, below, indicated she had been given an oversized pan from her grandmother in Quebec measuring and kindly send the photos, below.
It's wonderful to share this kind of Canadian food history. If a reader happens upon this post with any photos or sizing information about the traditional "oversized" Newfoundland bread pans, it would be so valuable to all readers and I would be delighted to add this information to this post, with photos, if available.
Lou wrote: "I used [the pan 2nd from the bottom] unlined, it's well oiled and seasoned. The one pictured at the bottom was recently returned to me. Can you believe it was washed in the dishwasher? I'll have to re-season that one. I believe my grandmother got them when she married (1920), so they may 100 years old. I'll try to research that but they were well used when I received them in the late 70s!
Thanks for sharing, Lou!