Fresh Fruit Salad: Refreshing as a Summer Snack or the Grand Finale!

Raised on seasonal food, Vanja craves fresh fruit salads as soon as the summer sun rises over the horizon to blister a day. A fresh fruit salad was a treat in our Alberta prairie home, not a consistent summer memory. When mom made it, she would use pineapple tidbits instead of fresh pineapple, likely due to its cost and accessibility. Sometimes, she would throw in a can of fruit cocktail. Judy and I would fight over who got the lone red cherry. Cherries rarely appeared in our summer fruit salads as they were a such a short season delicacy that we feasted on baskets of them when in season – much too special to add to anything.

I didn't make fresh fruit salads a staple in the lives of my own children. Fresh fruit was in abundance in our home, but as there were just three of us, the amount of fruit necessary to make a tasty well rounded fresh fruit salad seemed "too much" for "just us". But, I have learned it is most definitely not. Children and adults eat much more fresh fruit when in a fresh fruit salad. There is something magical about the mix of flavours and textures that makes it a bit addictive. Throughout the day, when there is a fresh fruit salad in the fridge, the fridge door swings open with the frequency of an old saloon door from days long gone.

Presentation is key, and the wide mouthed jar is my preference as it takes less space in the fridge and when fruit is layered, it tends to keep better. Above, my jar is too small to fit all of the fruit I had planned, and the crisp, juicy cubes of watermelon worked well in the bottom of the service bowl. No one knew it was there, and that didn't matter. Tossed with the fruit in the jar, it adds so much to the flavour, and texture! The wide mouthed jar idea is an unexpected "wow" factor when presenting. No one counts the layers and analyzes the variety of fruit. If a couple of fruits don't fit in the jar, toss them into the bottom of the service bowl just prior to serving. Keeping the sliced fruit separate until service prolongs the life of the salad.

It started to rain in the middle of my photo shoot, so I emptied the jar and tossed the fruit rather quickly!

Garnishing with mint is essential not only visually, but it adds such unexpected refreshment! I have to tell my guests to eat it; I now also suggest guests sprinkle a pinch of thinly sliced mint into their serving and combine it with their fruit. I try to add a small bowl of shredded mint on the side.

Nothing more is necessary, yet a dollop of thick fresh homemade yogurt is a decadent compliment.

The wide-mouthed jar presentation idea first came to me in Bosnia, 2014, when visiting Vanja's dad immediately after the flood. We cleaned and cleaned and revived Petar's home, then celebrated with a Serbian Grilled Meat Platter and I served the Fresh Fruit Salad as the Grand Finale that evening!

Home grown fruit is gleaned from the yard and made into a seasonal salad there, all summer long. The addition of the exotic fruits is a rare specialty as the country is still recovering and in the countryside, few have money to buy anything they don't grow on their own, unless it is a necessity. This salad was a huge sensation! Look at Vanja's dad, below!

Above, the salad in Bosna with their home grown peaches, black berries, cherries, pears and apples: below, the salad I made last week.

When was the last time you made a fresh fruit salad for your family or guests? This is our new standard, in the fridge daily, summer treat!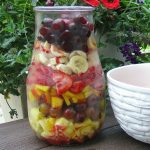 Fresh Fruit Salad
Ingredients
1/2

fresh pineapple

, cleaned and diced into small bites

1 500

g

basket of fresh strawberries

, cleaned and halved or quartered, depending upon size

1 500

g

basket of fresh blueberries

, cleaned

500

g

seedless green grapes

, cleaned, stems removed

500

g

sweet cherries

, pitted and halved (high quality frozen sweet cherries work)

250-400

g

basket of blackberries

, washed (optional)

1

Granny Smith Apple

, cleaned and diced, skin on

1

Red Delicious Apple

, cleaned and diced, skin on

juice of one lemon

3-4

large bananas

, sliced

juice of another lemon

1/2

cup

granulated sugar

500

g

basket of fresh raspberries

fresh mint

whipping cream or homemade yogurt

, optional
Instructions
Layer each fruit, as listed in above ingredient list, in a large pedestal bowl; ensure the colour of each layer is visible on the outer edge of the bowl, as you continue each layer

Sprinkle granulated sugar over the entire layer, then add the rasperries on the centre of the bananas as the crowning glory of the dish

Refrigerate overnight, or for 4-6 hours until icy cold and sugar has dissolved

Present to guests; dump into a huge bowl, gently toss

Serve with fresh mint and whipping cream
Recipe Notes
Essential Fruits for Flavour and Texture
Sliced Fresh Sweet Strawberries
Diced Sweet Fresh Pineapple
Whole Green Grapes (or Red Seedless Grapes, but green add visual appeal)
Cherries (Fresh Pitted or high quality frozen)
Fresh Firm Sliced Bananas
Sweet Fresh Diced Watermelon
Sweet Diced Apples or Peach
(A black fruit if in season (blue berry, blackberry, Saskatoon) for visual appeal, as well)
Garnish with Mint
Chiffonade mint as a side to add pinches to individual servings as the powerful flavour addition of the mint doubles the pleasure for those who love mint
Presentation
I prefer to serve in a gigantic wide mouthed 2 litre or larger jar with the fruit layered for presentation, then "dump" gently into a large bowl for serving, garnished with mint
However, some jars are not big enough for all layers, so I have a couple fruits in the bottom of the serving bowl, not in the jar, then just add them to the toss (watermelon is perfect in the bowl, not the jar)