Keto Strawberry Panna Cotta: The Perfect "On Program" Celebration Recipe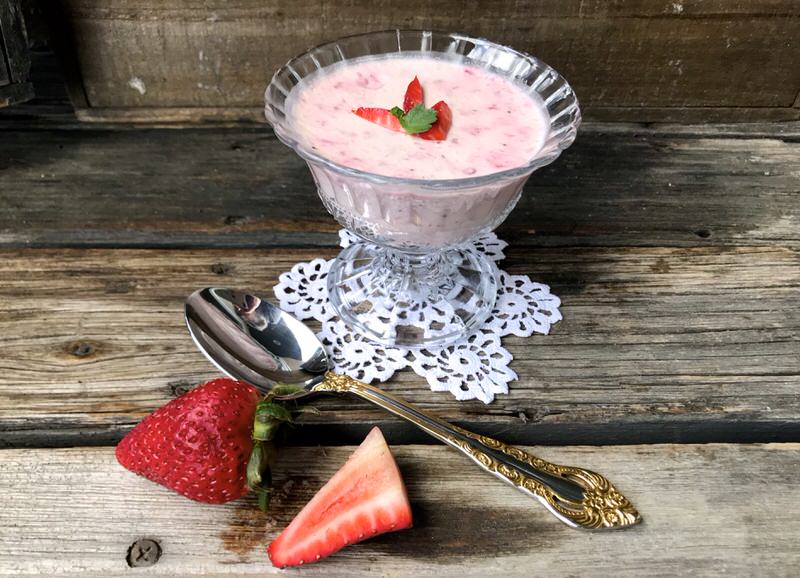 Keto Strawberry Panna Cotta would have never been on my radar for any dinner any time of the year, until now. Easter was late this year. April 21, to be exact: mom's 89th birthday, so we were celebrating with Easter Dinner the day prior.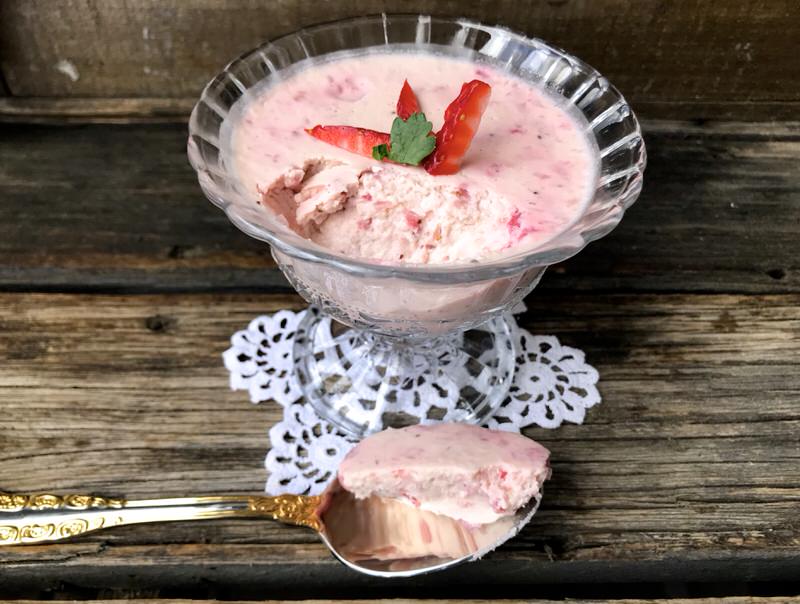 With my daughter, Ragan, my husband and I, all on Evolv Health Total Reboot eating program, our Traditional Easter Dinner would not be a wise choice for this year's meal. And, what about Great Grandma Maude's Strawberry Pie? We all look so forward to the grand finale of our Easter Feast as her pie most definitely hailed in Spring and bright and light.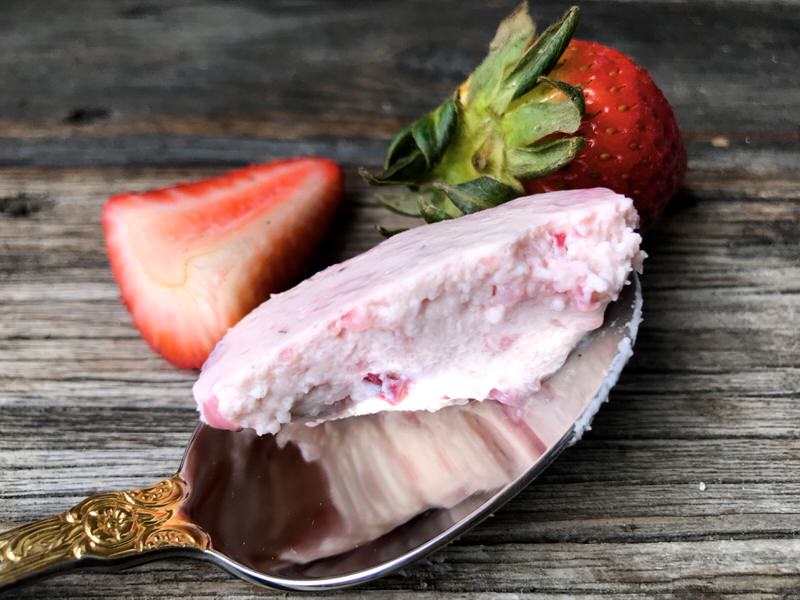 Ragan said she'd take care of a Spring Finale for our meal and she sure did. Each of us almost licked the bowl. The perfect treat that rewarded those of us faithful to ourselves and our eating program and delighted my mom, as well. Just scrumptious!
Keto Strawberry Panna Cotta: Mise en Place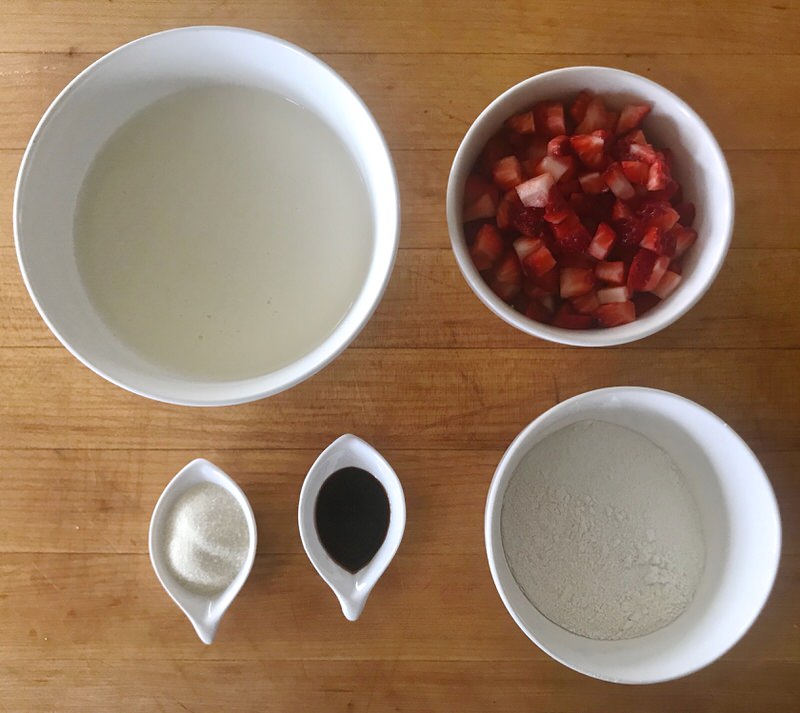 And so easy! Certainly, we are not making more than we need. This is a new way of making food in our house, no doubt about that. Fresh, organic, fragrant strawberries (unfortunately not yet in season, here) with farm fresh organic heavy cream, grass-fed gelatin, good quality vanilla and Swerve.
Keto Strawberry Panna Cotta: Preparing the Ingredients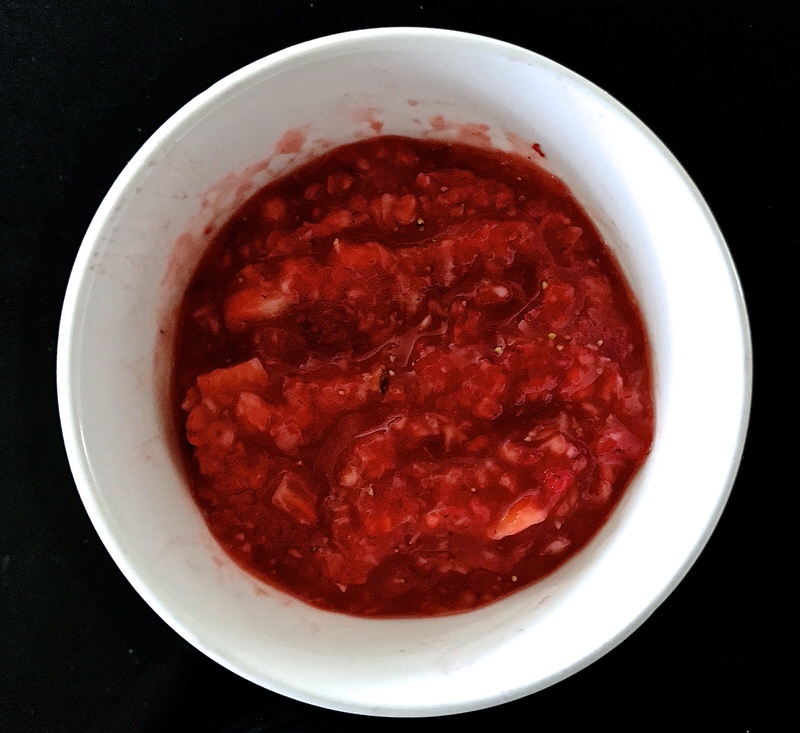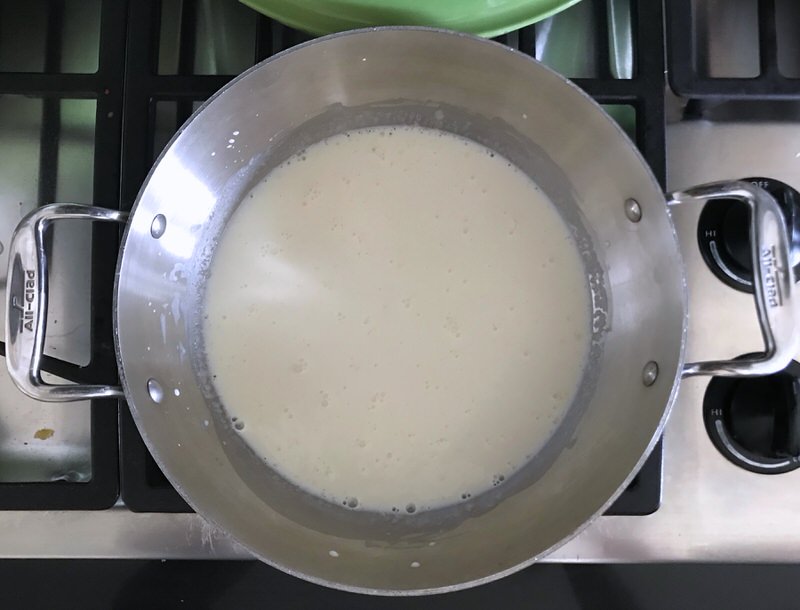 Purée the berries and heat the cream. Easy, right? Pour gelatin over warm cream and whisk constantly until dissolved.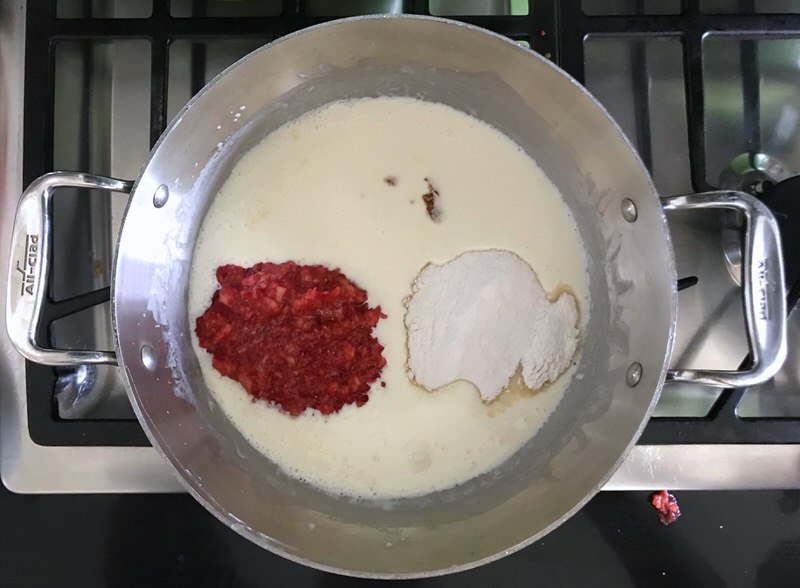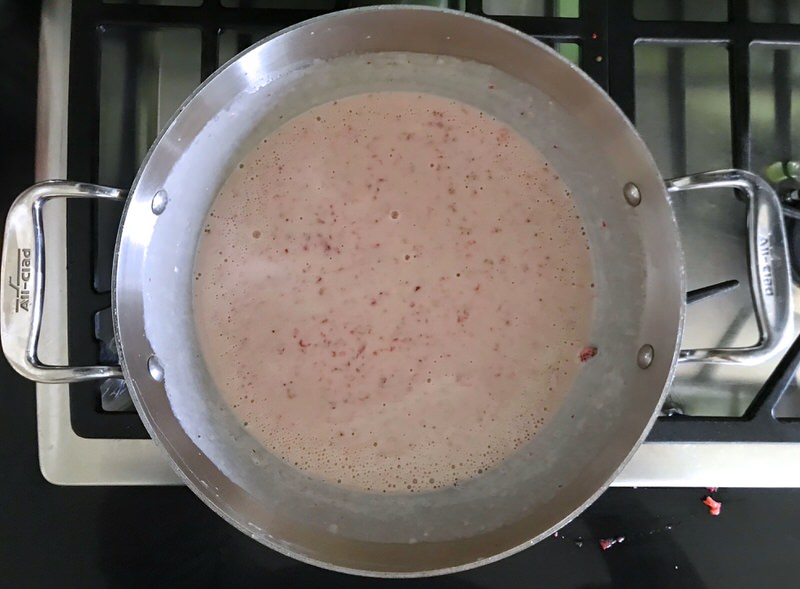 Add Swerve and berries to prepared cream and stir to combine. Seriously, how easy is that?
Keto Strawberry Panna Cotta: Making the Panna Cotta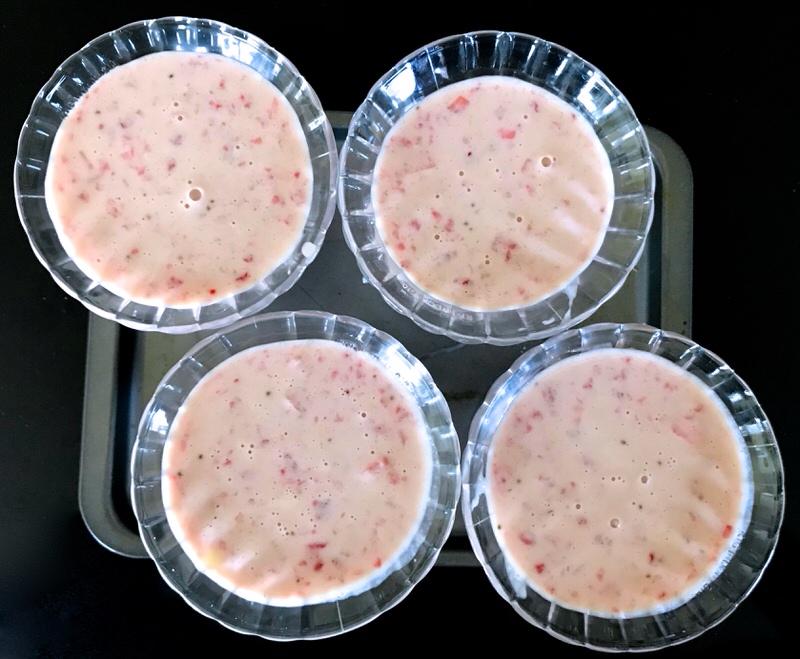 Pour into a mould or into dessert dishes. It is key to measure if you are on the Evolv Integrated Health Total Reboot for your gut health. Extra isn't a good thing and not enough is simply terrible!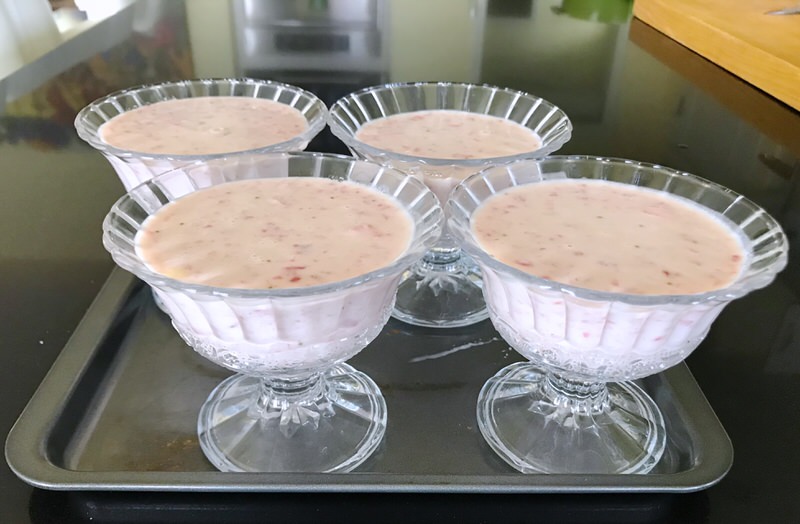 Refrigerate a minimum of two hours and be prepared to be completely proud of yourself. Each serving is a rich creamy Celebration of Spring!
Keto Strawberry Panna Cotta: Serving the Panna Cotta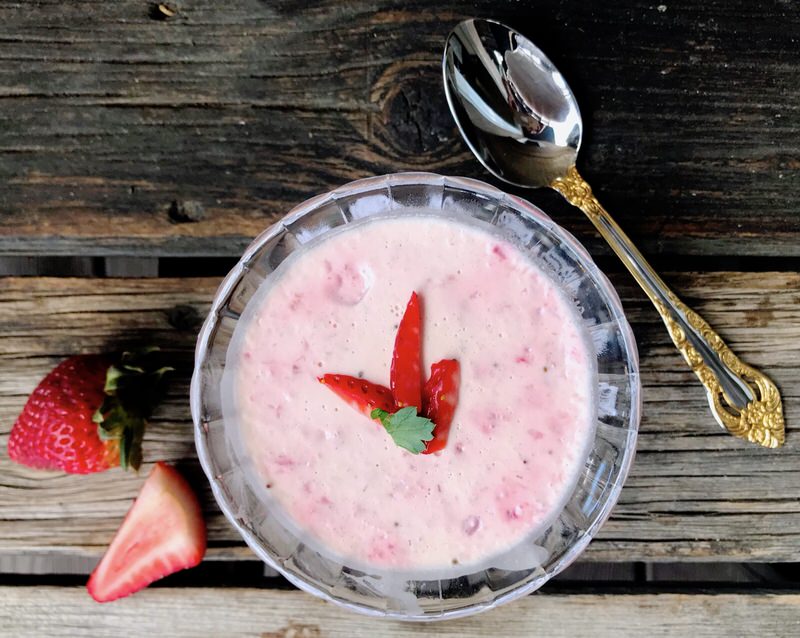 If unmoulding the panna cotta, a sprig of mint and a fresh berry fanned out on the side with a rosette of whipped cream is a stunning presentation. When in a little bowl, like above, it is more about the cutlery, the service plate and the bowl. Either way, there's no turning back. I do believe you'll be experimenting will all sorts of berry flavours through the entire summer and this just may be a Sunday Supper staple. Let me know if you make it or have a recipe you love that you will share.
Sincerely hope you are enjoying Project 2019: Evolve Health Reboot recipes as much as we do at our house! If you want to join me in our quest toward complete revitalization, let me know in the comments below.
This recipe is one of many from Project 2019: Evolv Health Reboot – Join Me! Carbs 11% (8.4g) fats 85% (29.6g) protein 5% (3.6g) calories – 287 a serving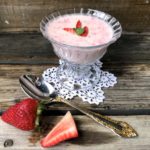 Keto Strawberry Panna Cotta
Everyone will love this sweet little ditty but it is especially great as a celebration of Spring or Summer for those on the Evolv Health Total Reboot program
Ingredients
1

cup

fresh organic strawberries

chopped

1 1/2

cups

heavy whipping cream

1 3/4

tsp

grass fed gelatin

⅓

cup

Swerve

confectioner's if possible

½

tsp

good quality vanilla extract
Instructions
Lightly grease 4 small 4 ounce ramekins or use small dessert cups if you don't plan un-moulding the panna cotta

Puree strawberries until smooth

Pour heavy cream into medium saucepan; sprinkle gelatin over cream and whisk well to combine

Turn heat to medium and bring to a simmer whisking until gelatin dissolves

Remove from heat and whisk in strawberries, Swerve and vanilla extract; divide among ramekins or dessert cups and refrigerate until set (2 to 3 hours)

To unmold, set each ramekin in hot water for 15 to 30 seconds; cover with serving plate and flip onto plate (you may need to shake ramekin to loosen panna cotta)

Or, simply serve directly from lovely little dessert cups; enjoy!
Recipe Notes
Carbs 11% (8.4g) fats 85% (29.6g) protein 5% (3.6g) calories - 287 a serving