The Breville Barista Express in Cranberry Red was Vanja's 5oth Birthday Wish!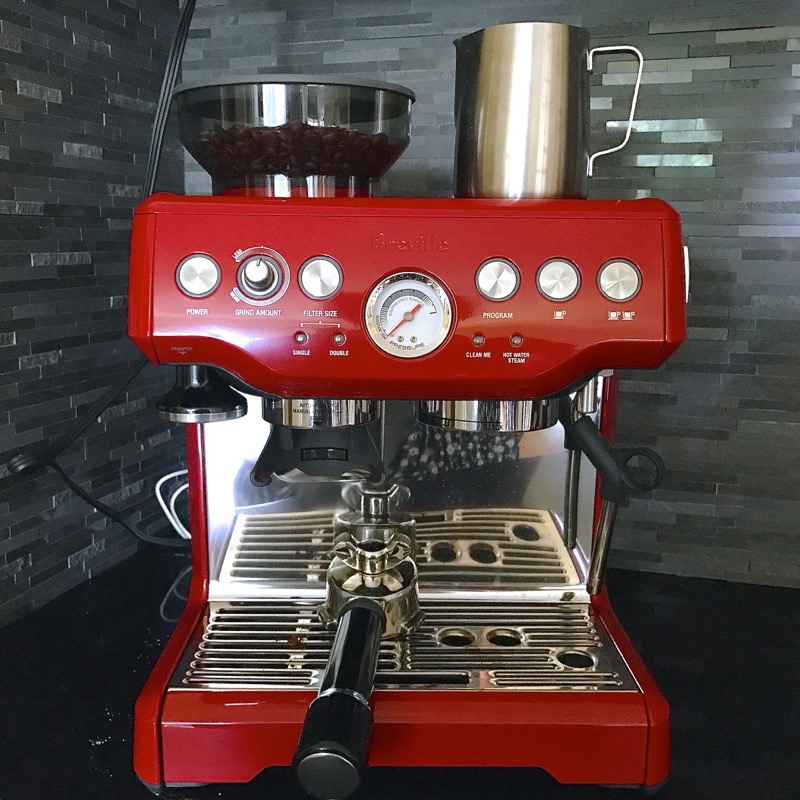 And it is top of our Christmas 2016 gift recommendation! Vanja turned 50 July 23. Yes, we are 11 years apart. Yes, he is the younger one. Lucky me! When we moved into our home 14 years ago, our friends gifted us with a Francis Francis x1 espresso machine. It made great espresso and as importantly, was gorgeous to look at. However, it is on its last legs, and Vanja has been investigating espresso machines. My regular readers will know that he is an espresso aficionado. He had to taste the espresso from the Francis Francis machine before buying it. "It is not only about the espresso, Valerie. It is also about the machine, and the person making it."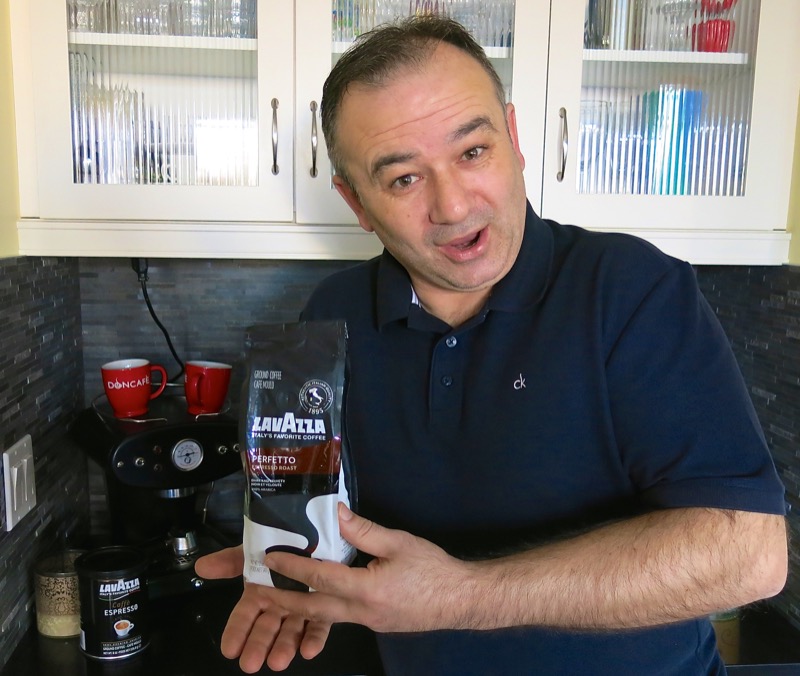 So, he had a taste from the Breville Barista Express, Cranberry (available here) machine last year at a demonstration somewhere, and the taste experience was so powerful, he has never forgotten it. During his research, he found that this machine had won the consumer award in 2013 for Winner of Best New Product—Coffee or Tea Preparation and Serving Equipment (SCAA). There was no consumer award in 2015 for this category.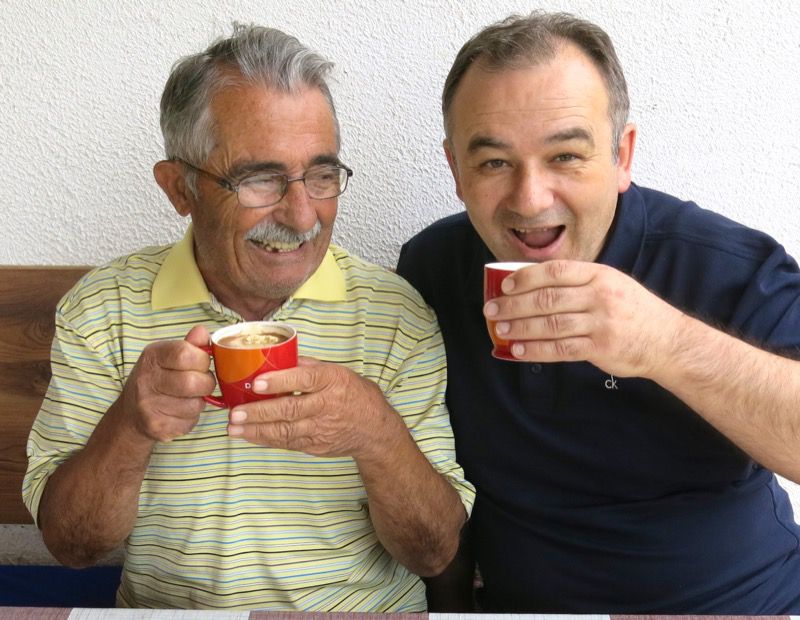 He was brought up on Turkish Coffee or "cooked coffee" and it is a fundamental ritual within the homes and blood of every Balkan boy. That time every morning is sacred. His father is up at 6am, or earlier, depending upon the plans for the day, to cook the coffee. He would then wake up Pava, when she was alive, and then come and get Vanja, when we visited. I was usually awake, but would never participate in the drinking of the cooked coffee. Only in the ritual of the together time as the dawn broke over the horizon each summer morning. I would have my "Kanadijanski Kafa" which was instant something or other that was possible from a megastore nearby. Espresso is now his morning brew of choice. And, not just any espresso. It has to be "perfect" as it sets the tone of his entire day. He believed the espresso from this machine would do just that.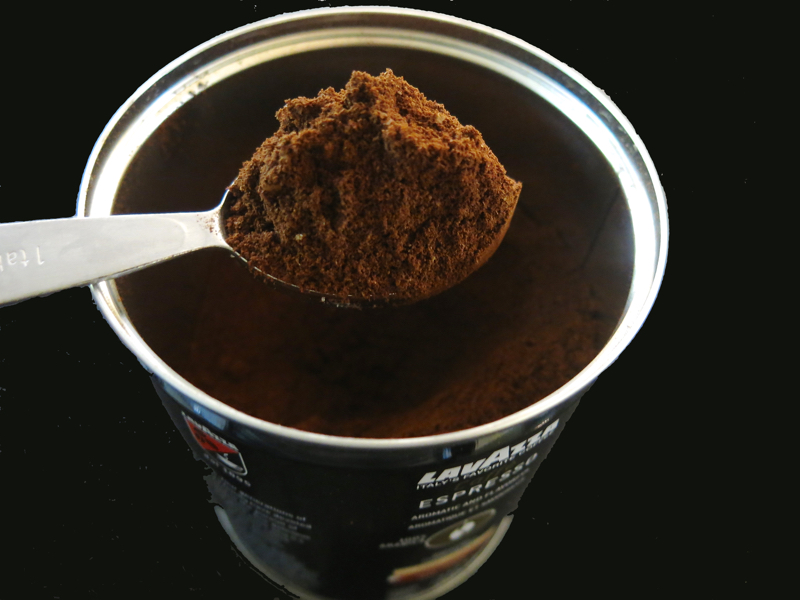 Though he certainly enjoyed the espresso from his last machine, he now wanted a machine that would grind the coffee beans just before making the espresso. What a luxury. This option brings an entire new opportunity into our morning ritual. A luxury that has only the last few years become possible and affordable in at-home espresso machines. Now, we can both enjoy the experience. Getting to know the variety of beans and flavours possible via the roast and terroir will be a welcome project.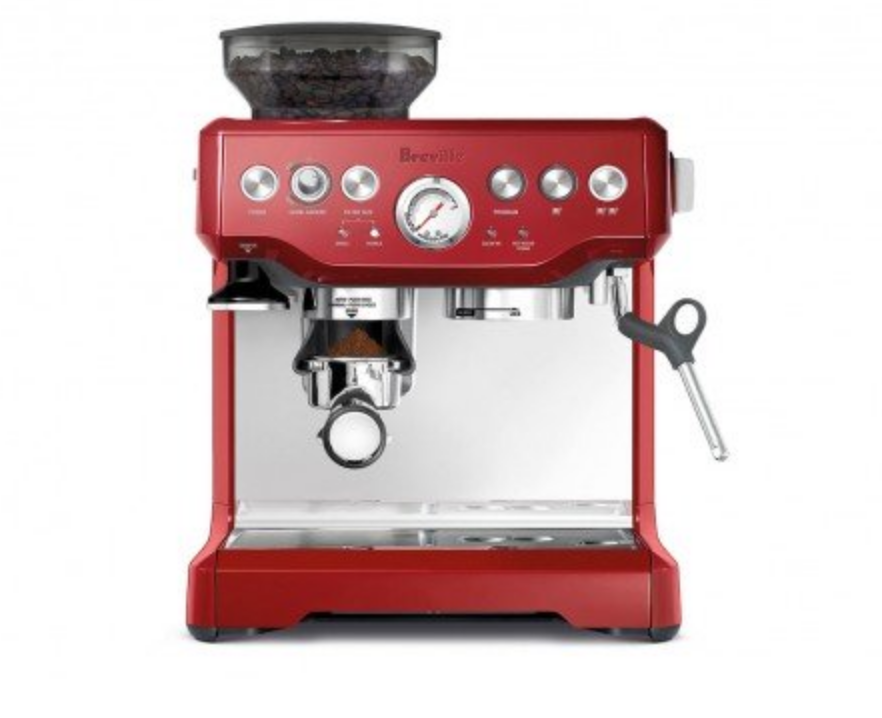 And, of course, it had to look good. Form and function are of equal importance in our home and this is one good looking machine, agree? For Vanja, part of the form was all about the red: Cranberry red. It does come in Stainless and Black. But there is nothing more vibrant and welcoming in the morning than a happy, glossy, good morning Canadian cranberry red. But, I could not find one, anywhere, to gift him with for his birthday.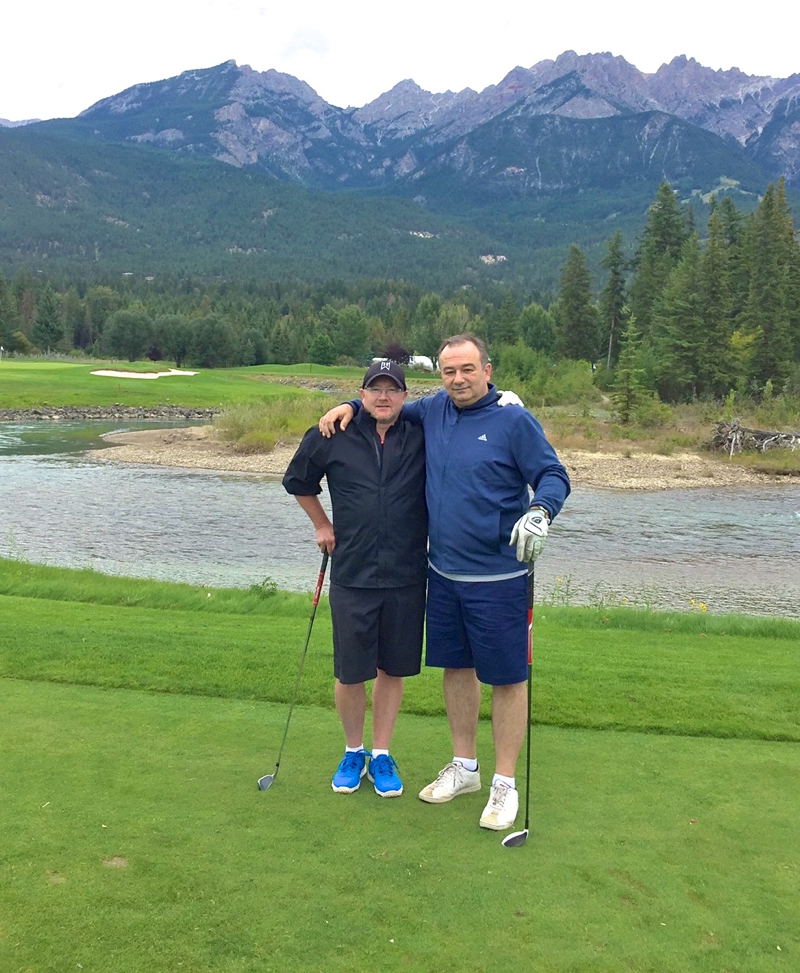 So, I made arrangements for a golf holiday for his birthday with some dear friends in Fairmont, BC. We had an incredible time, but he still needed and wanted the cranberry red Breville Barista Express. (available here) What to do?
Meanwhile, far before our trip and his birthday, "the cat got out of the bag" when one of my gal pals asked my daughter at Amy's Shower what he might like for a Birthday Gift. Blush! How embarrassing. First, he didn't even want a party, but I didn't listen to that. I thought he would be horrified if he knew it was mentioned that he was eyeing this machine. However, the Amazon gift certificates were generous and plentiful at his 50th "non-birthday" pig roast. What an incredible group of dear, dear friends… not because of the gift, of course, but because of the thoughtfulness. And when he went to purchase it, there was not any cranberry red Breville Barista Express machines available, anywhere in Canada at that time (now available here) . So, I called the company.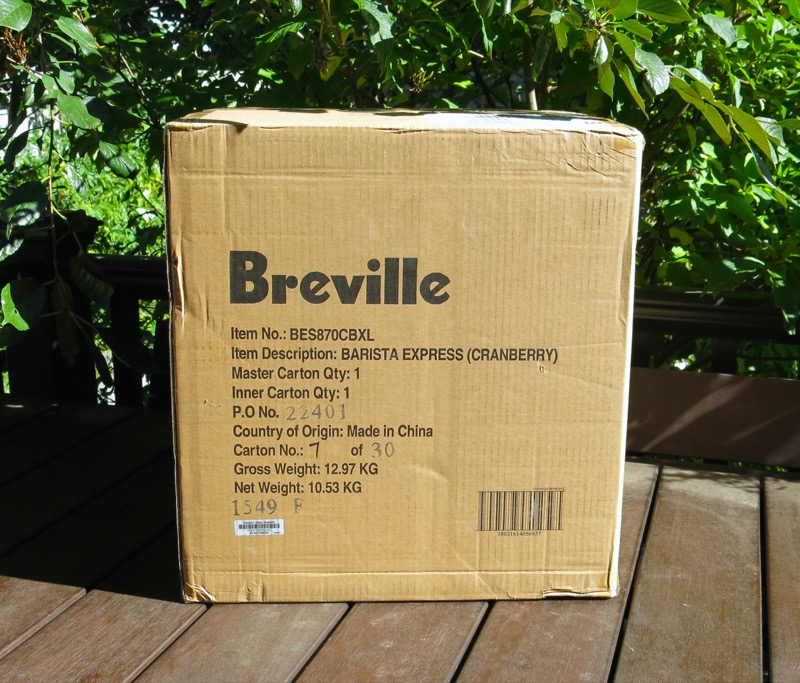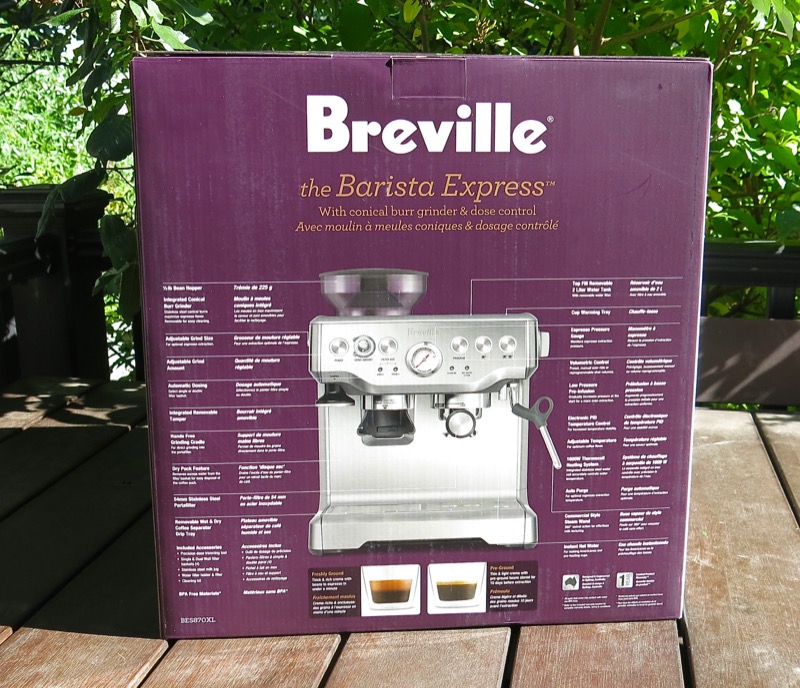 And, look what has just arrived!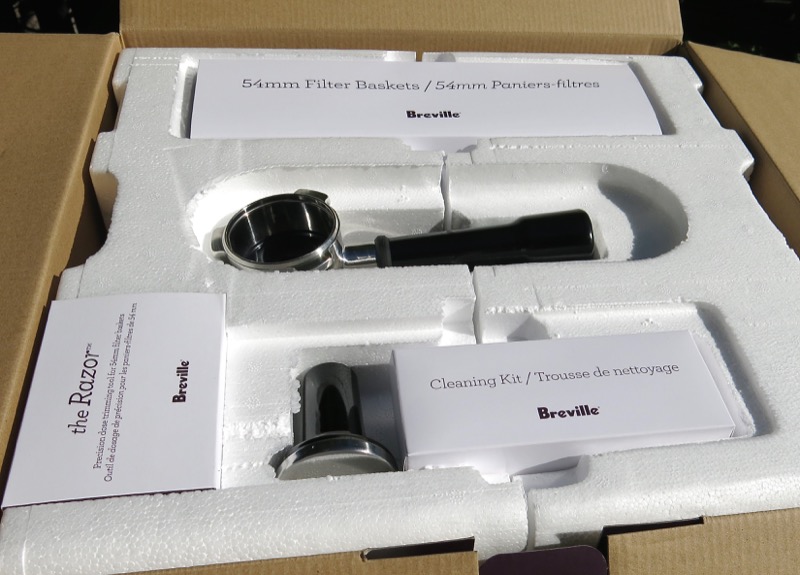 Oh… accessories….!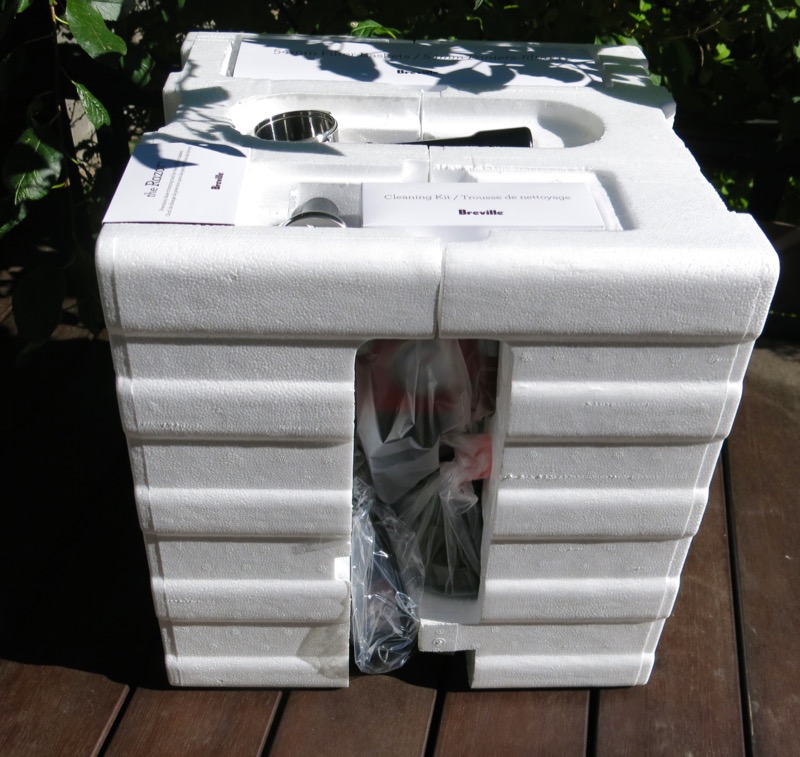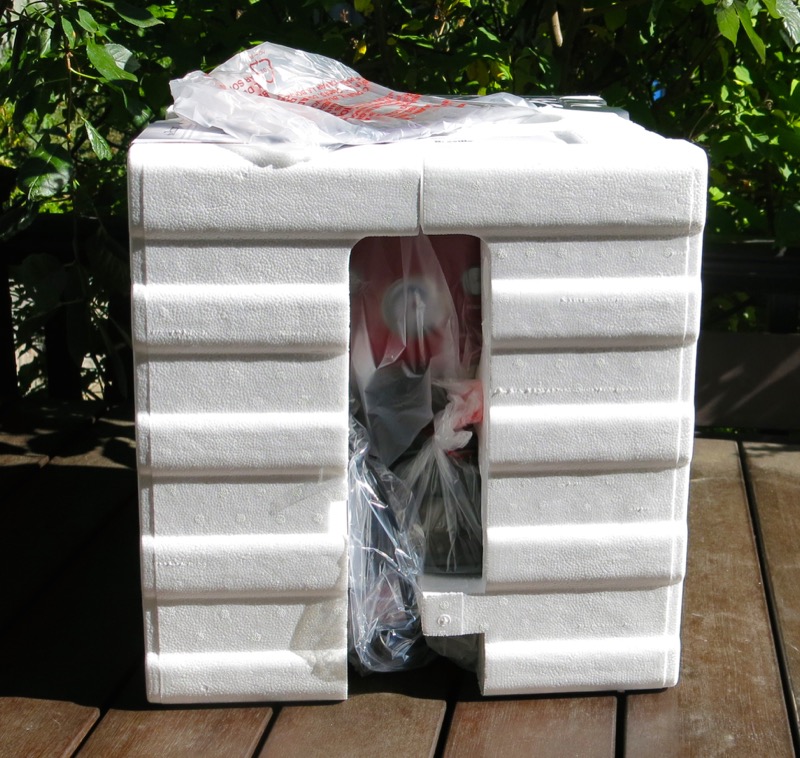 Slowly, the machine was hatching out of its styrofoam shell….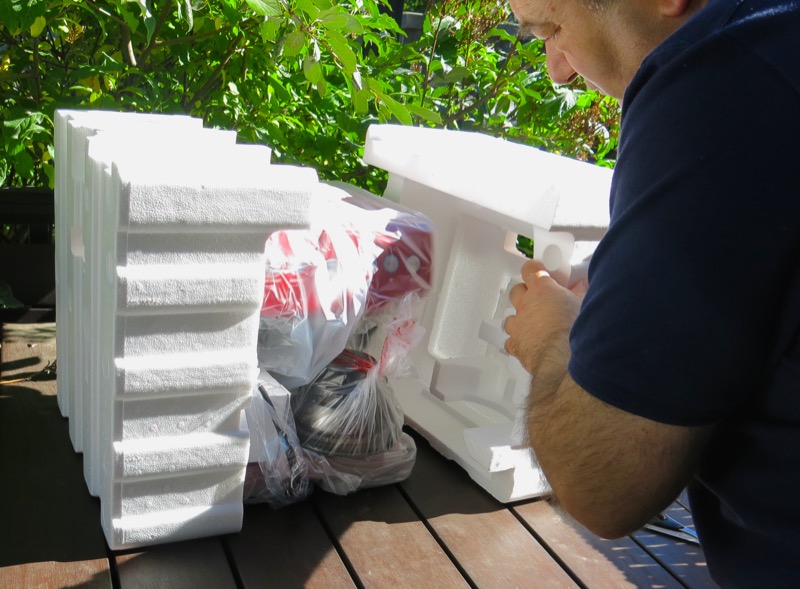 Oh, my. This was one of the few moments that our age difference was completely evident. He was vibrating with excitement. (OK, I was too, even in my matronly Gramsy manner!)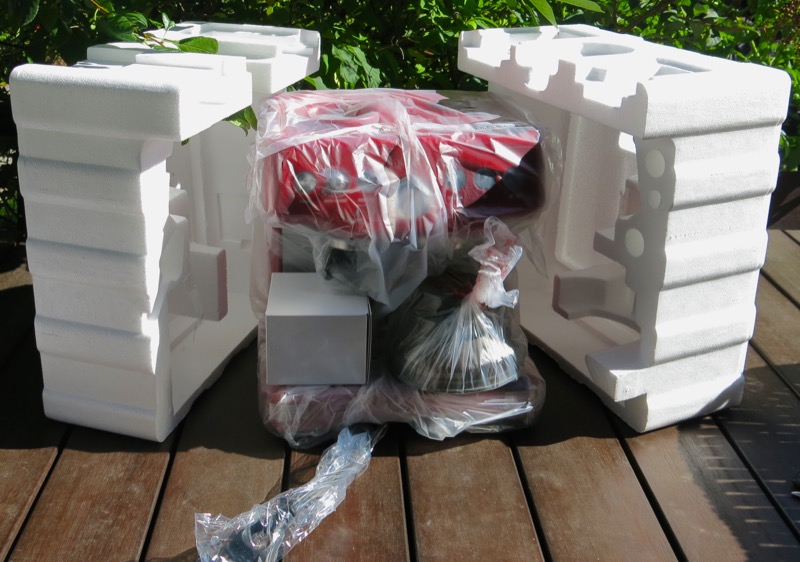 Stunning. I love the colour. It did not disappoint. What is "the Razor"?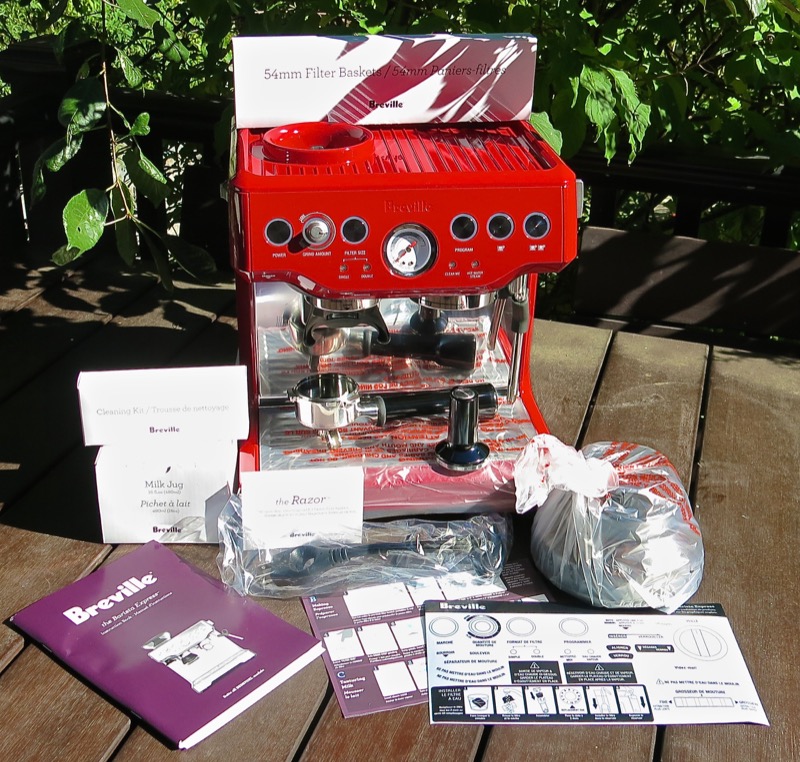 So much to learn! "It'll take a bit of a learning curve, Valerie." was his first comment. The next one was, "This is so much easier than I thought it would be! Look!" and he proceeded to show me how to set it up, clean it, load the beans, grind them, and then he made his very first cup of double espresso topped with whipping cream just they way he likes it. Blathering bliss. Seriously? I was tickled almost as red as the machine with such delight to see how happy he was with a kitchen appliance.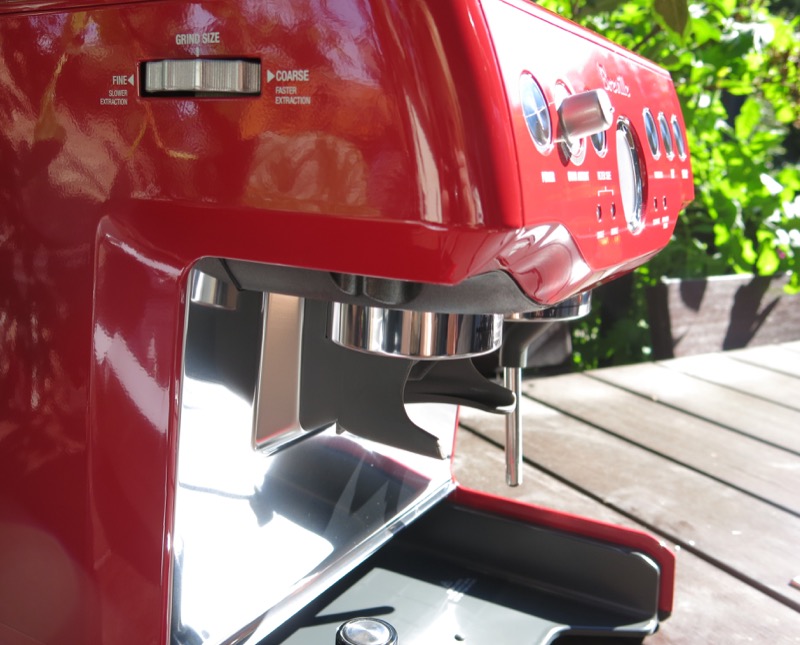 Albeit, a pricey one, yet I am a firm believer in "you get what you pay for" and "do your research before you buy". The Breville Barista Express will last a good 10 years, and unlike our previous one, is repairable if the far distant future. Look at the grinder gage on the side, above. Already, I can smell the aroma of fresh beans ….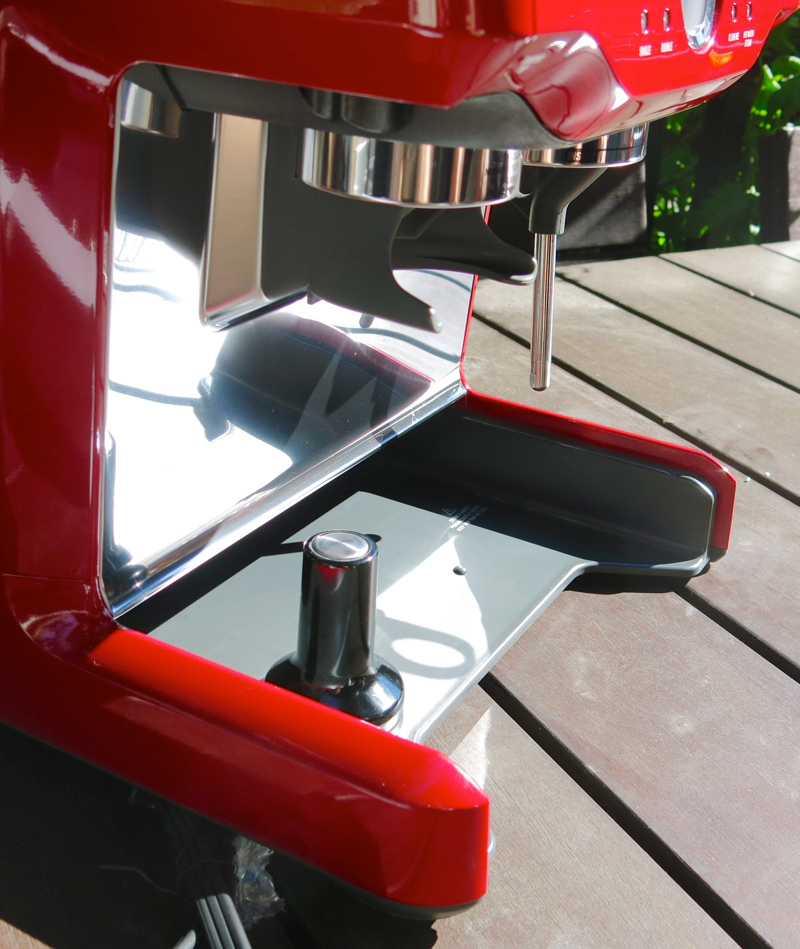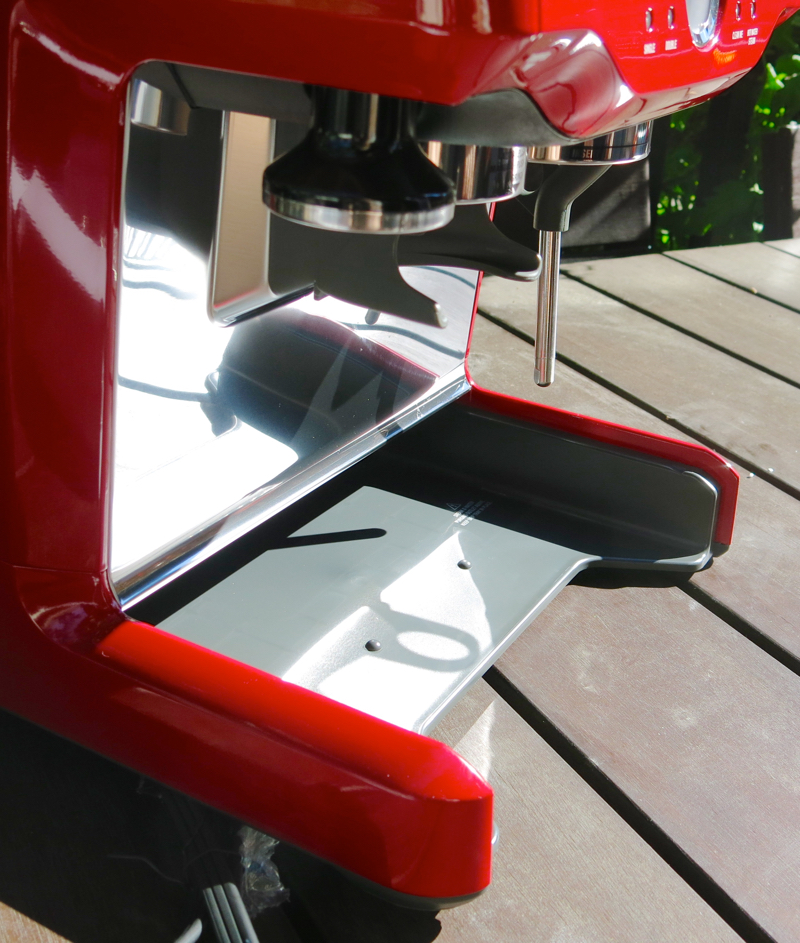 See the Temper above, left, on the base of the machine, and in the next photo, where it can be stored via a magnet, above? Yup. Little things. It is the little things that paint that sideways grin on one's face, no?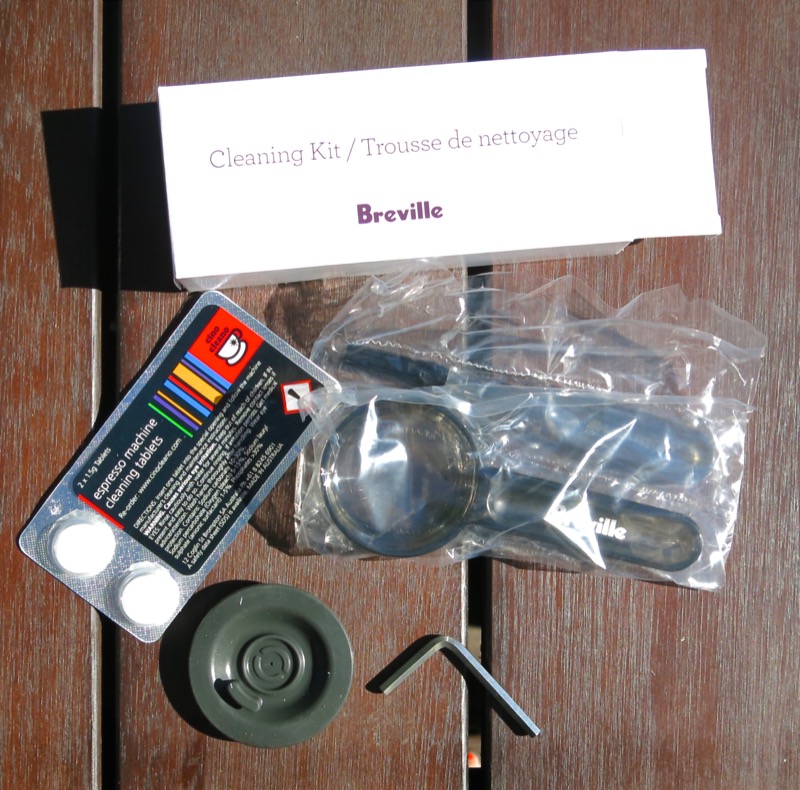 So much to learn and to go through. It did take Vanja two bags of beans and 8 tries to get an acceptable cup of espresso. First bag of beans were oily and bitter. The second bag were fruity and lovely. There is a little learning curve to getting the grind just right and making the cup to suit you, but that information will follow!
Yes, I have partnered with Breville Canada to promote the Breville Barista Express, Cranberry (available here) until December. Why? I asked them if I could because I really wanted the cranberry red machine for Vanja and it was not available and will not be until November. The cranberry red machine is a holiday specialty product that Breville Canada will have available for purchase on their website at that time, meanwhile, the silver is currently available and black models coming soon. The company has given us the cranberry machine in exchange for my providing four very informative, practical, straight forward informational posts for my espresso loving readers. Also, the holiday cranberry will be available in a few weeks at these retailer sites: London Drugs, BestBuy.ca and Tannex or you can buy it now from Amazon.ca.
---
Breville Barista Express Series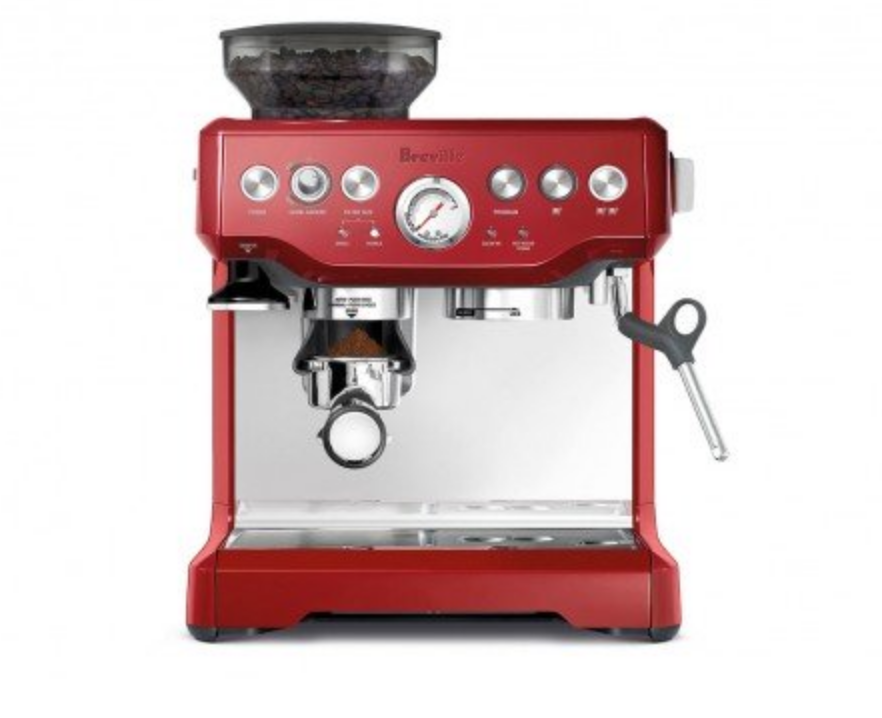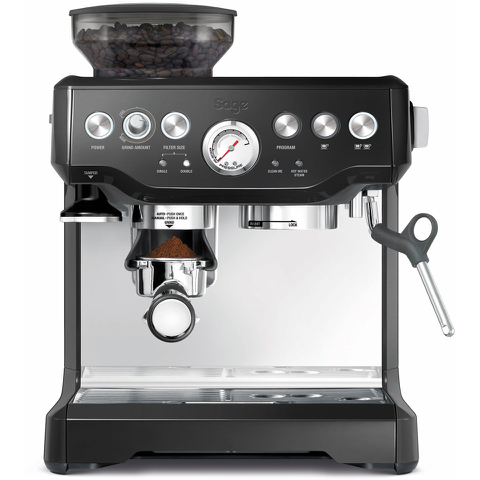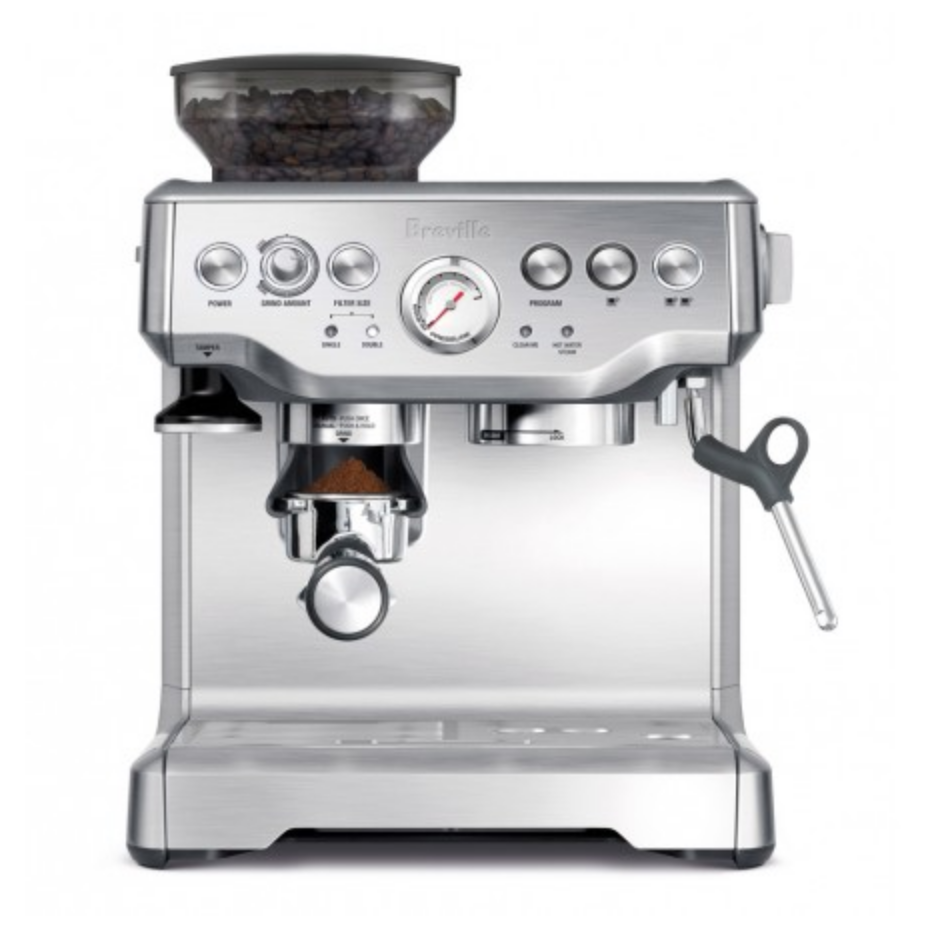 ---
Why the Barista Breville Express?
First, the appearance drew Vanja's interest, but was not the
Overall bang for your buck at the mid-range price point

it is the highest rated machine with all the features on the "want list" and the appearance was appealing
over 873 reviews on Amazon with 75% a 5 star rating

Built in Conical Burr Grinder: Burr grinders are far superior to blades, result in a consistent grind and offer a marked improvement in flavor.
Design: Commercial-like and very professional looking in appearance.
Features:

the amount of grind is controlled and adjustable
includes a hot water dispenser for making tea or Americano
the heater has 1600W thermocoil: integrated stainless steel water coil accurately controls water temperature and electronic PID temperature control for increased temperature stability which is important as the Francis Francis never seemed to get hot enough to make a latte

Colour: Cranberry Red!