Vanja's Garlic Schnitzel: Another Recipe from the Minute Steak Series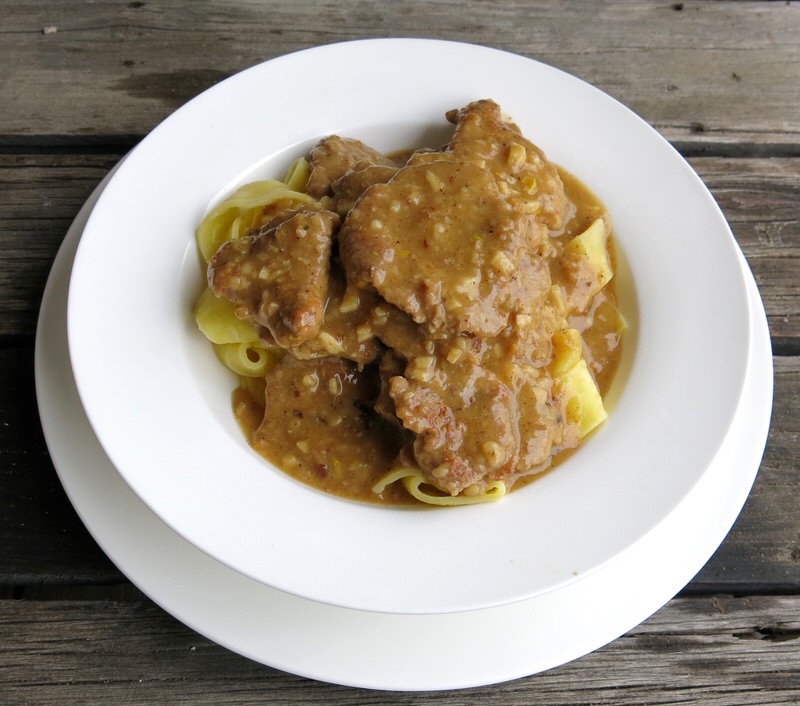 Vanja loves minute steak done simply which is like this, but only dipped in flour, not the whole 9 yards: Flour, eggs and crumbs. Of course, I make the milk gravy with it, but usually a Mushroom Gravy. However, one day he asked me if I could do a garlic gravy with the floured and fried minute steak. Completely out of my league on that request, I had him describe how his mom would make it and then I got busy to make him a very happy man.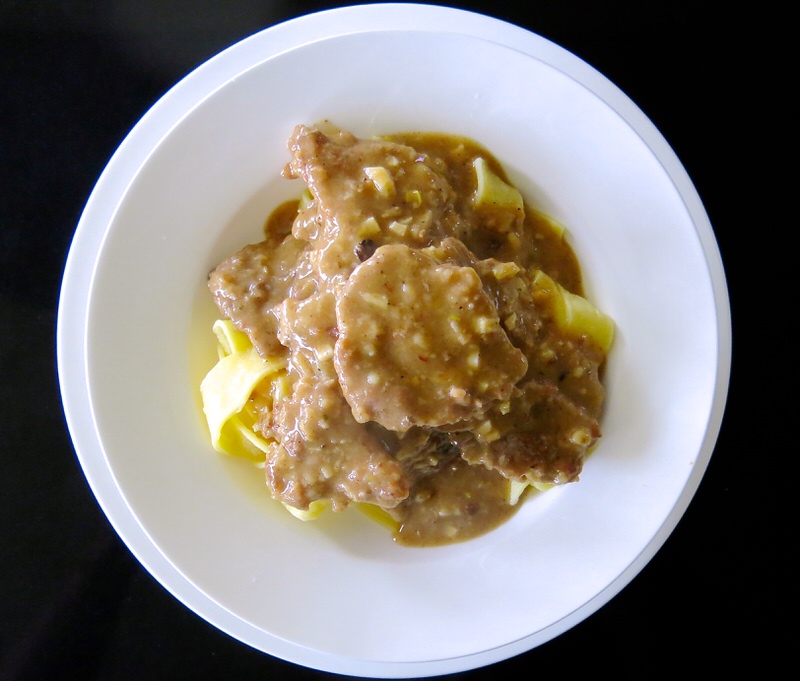 Vanja and I are not eating flour or noodles right now, but this recipe needs to be published and is a great addition to the Minute Steak Series I published in 2016.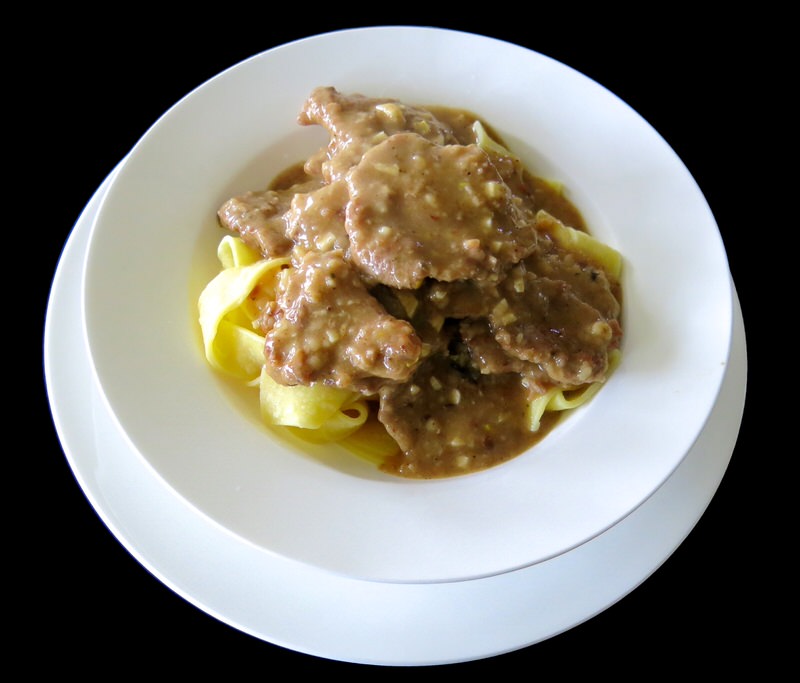 Vanja's Garlic Schnitzel: Preparing the Minute Steak or Cube Steak
We buy our grass-fed beef from a farmer, so prepare our own minute steak from the Schnitzel cuts we have the butcher do. In the United States, Minute Steak is also cube steak. I pound out my own.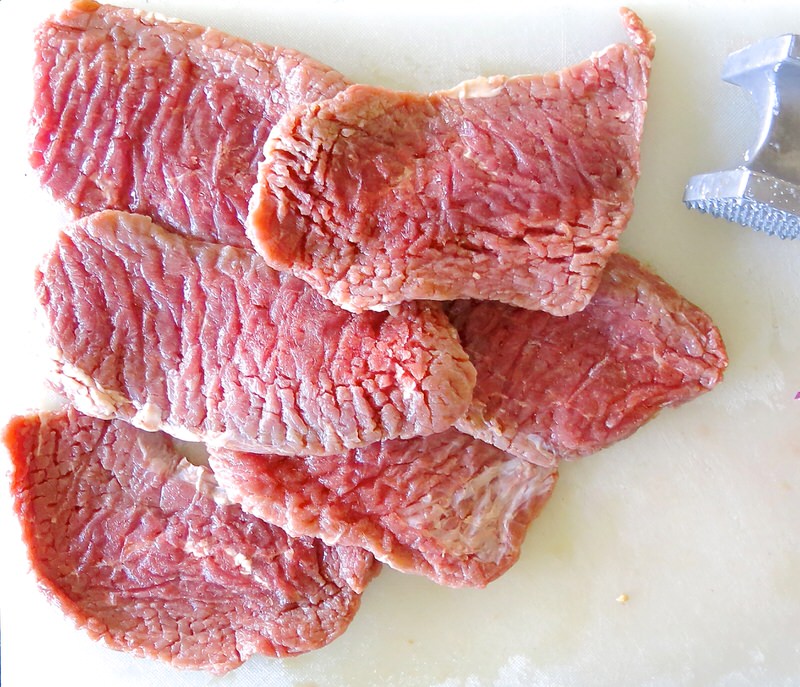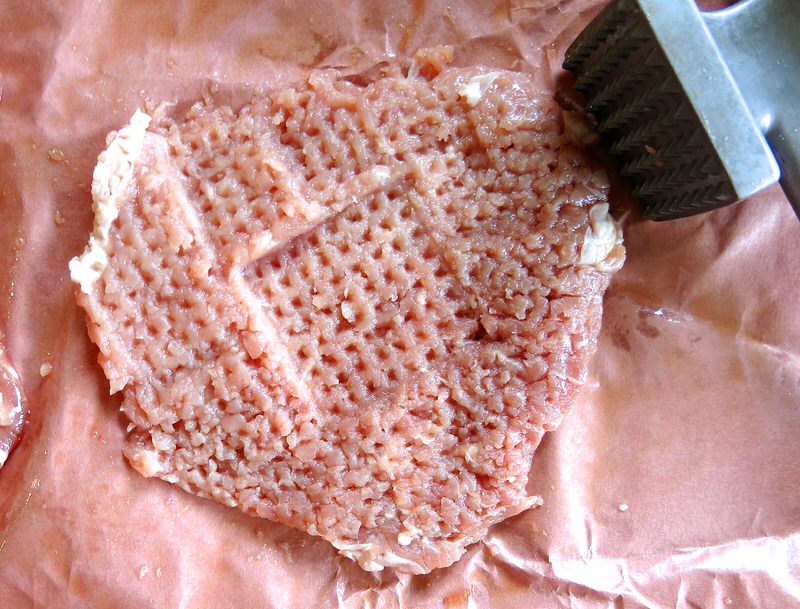 See how much bigger that grew with the tenderizing pound.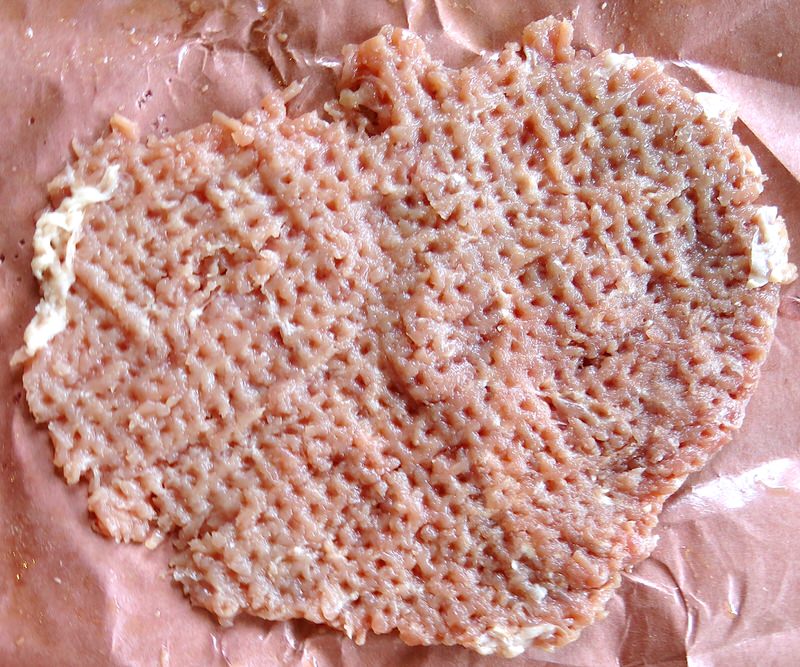 Not too much effort and this beautiful grass-fed beef is ready to go.
Vanja's Garlic Schnitzel: Flouring and Frying the Steak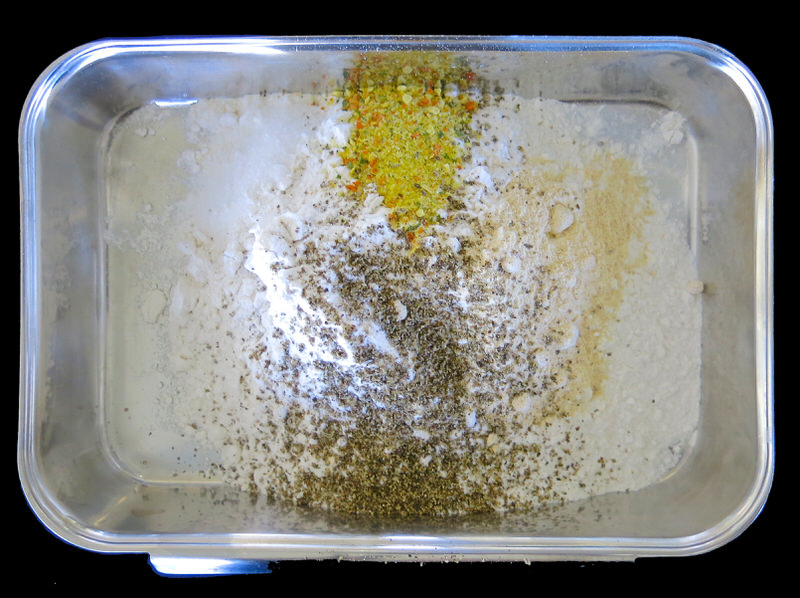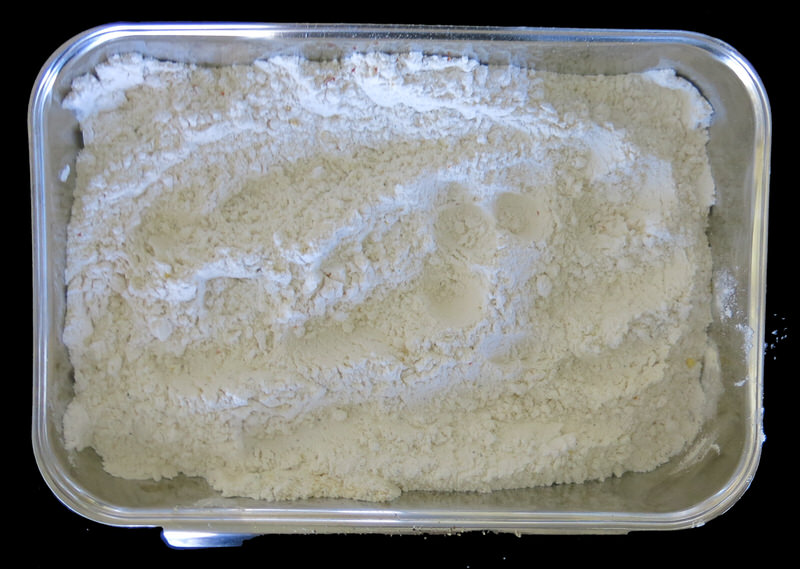 Flour is seasoned and well combined.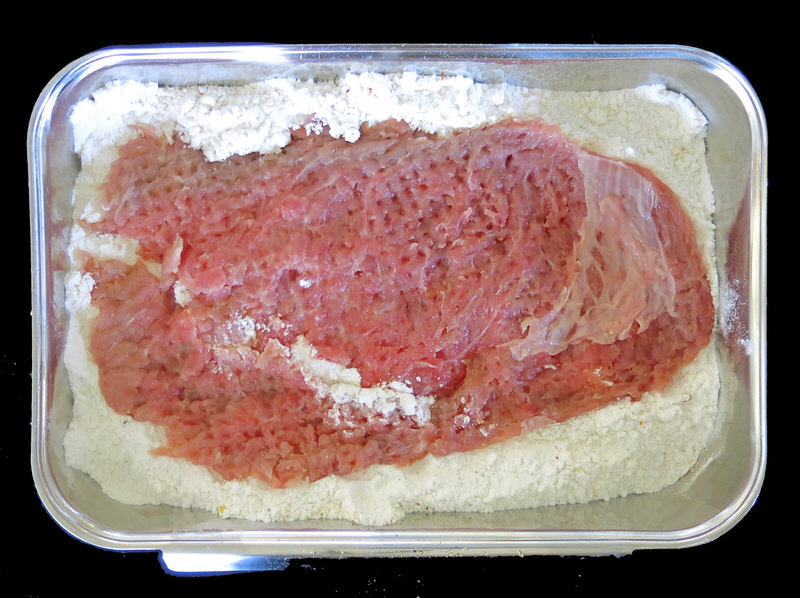 Minute Steak of grass-fed beef Schnitzel meat is dredged well in flour and set aside.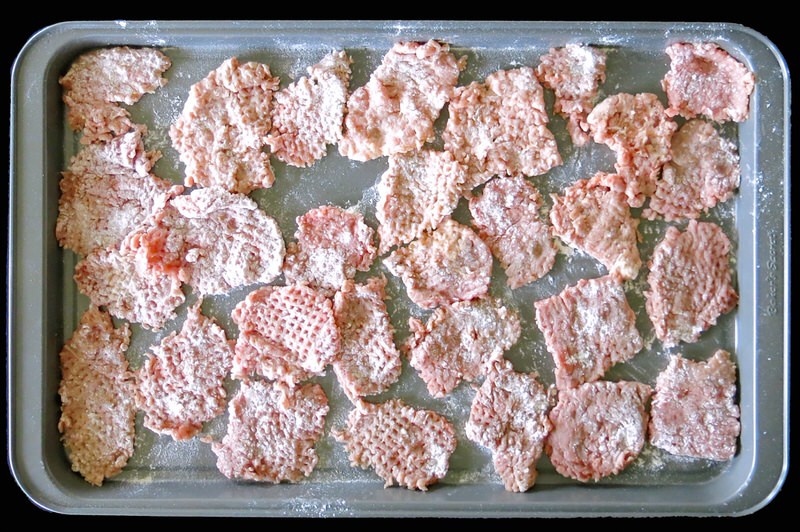 Above, very small pieces, as in one package of our meat; below, a close up.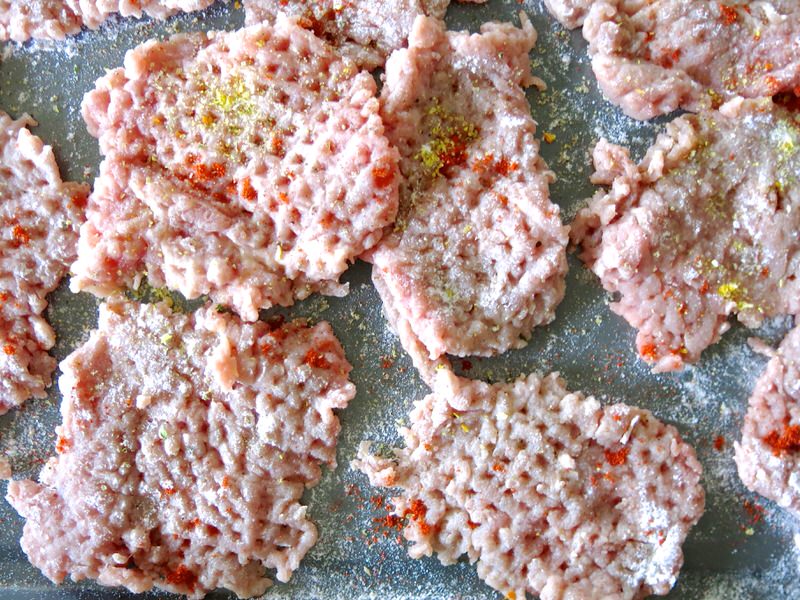 Good quality olive oil with a little butter makes for a good mix in the pan.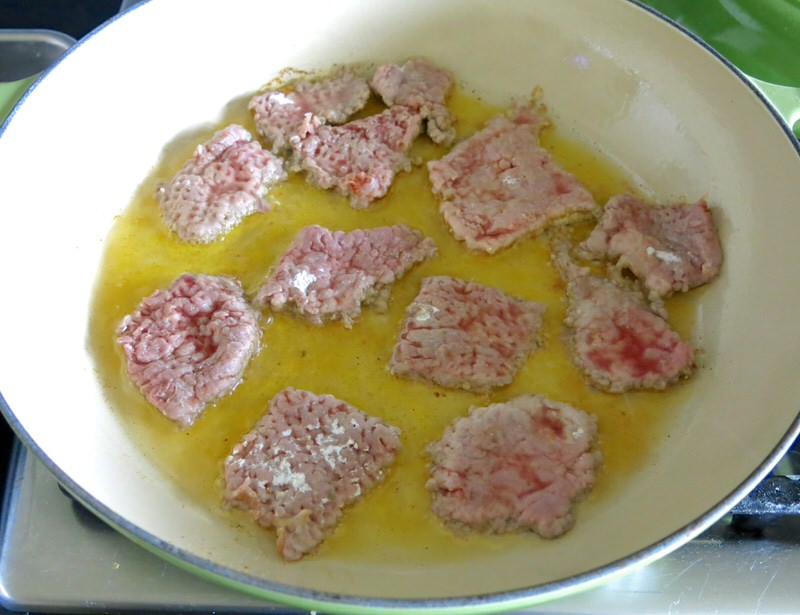 Heat to medium-high in a heavy skillet and fry in batches until well browned.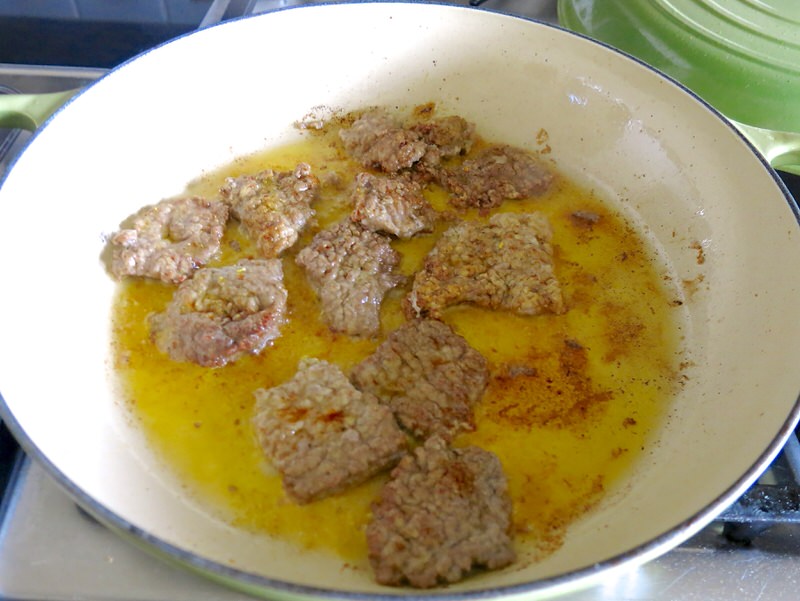 Set aside, when done. Above, the smaller pieces, below, a batch I fried another day with bigger pieces.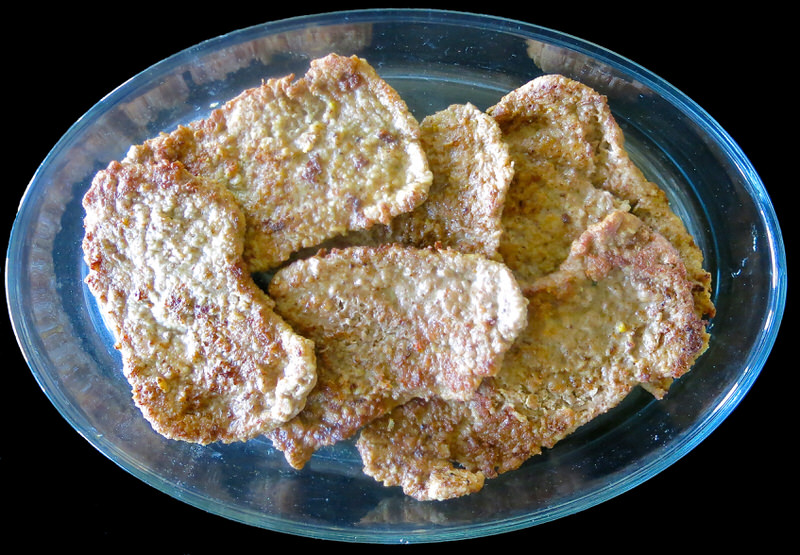 The smaller schnitzel's below, once fried, and out of the pan so the gravy can be made.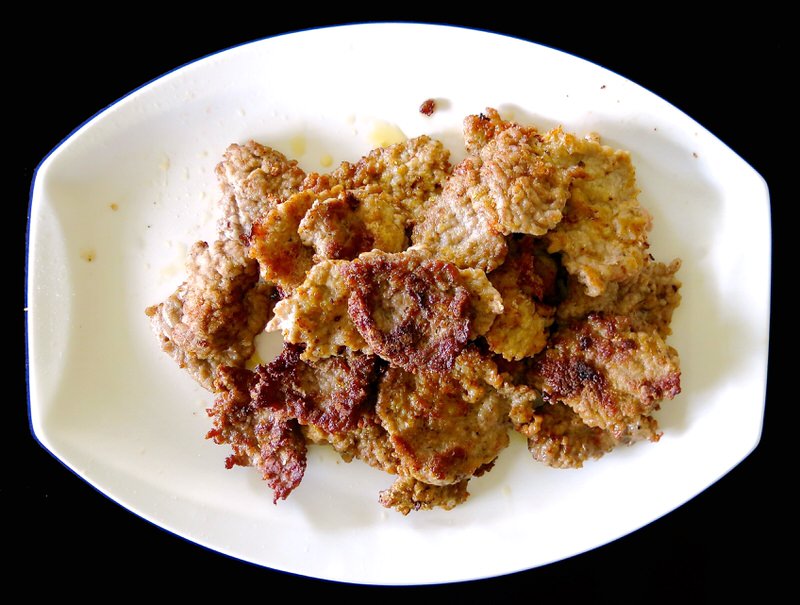 A close up.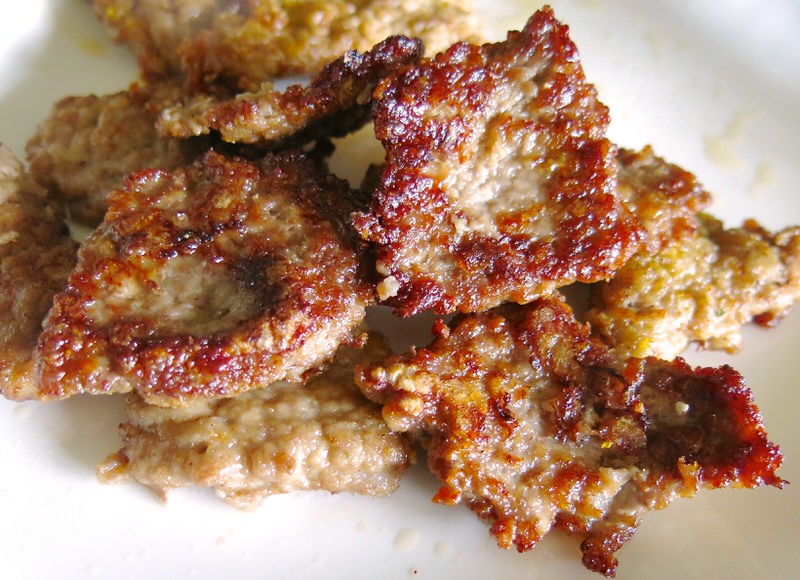 Delicious as it is, for sure, but with the garlic gravy, get ready….
Vanja's Garlic Schnitzel: Preparing the Garlic Gravy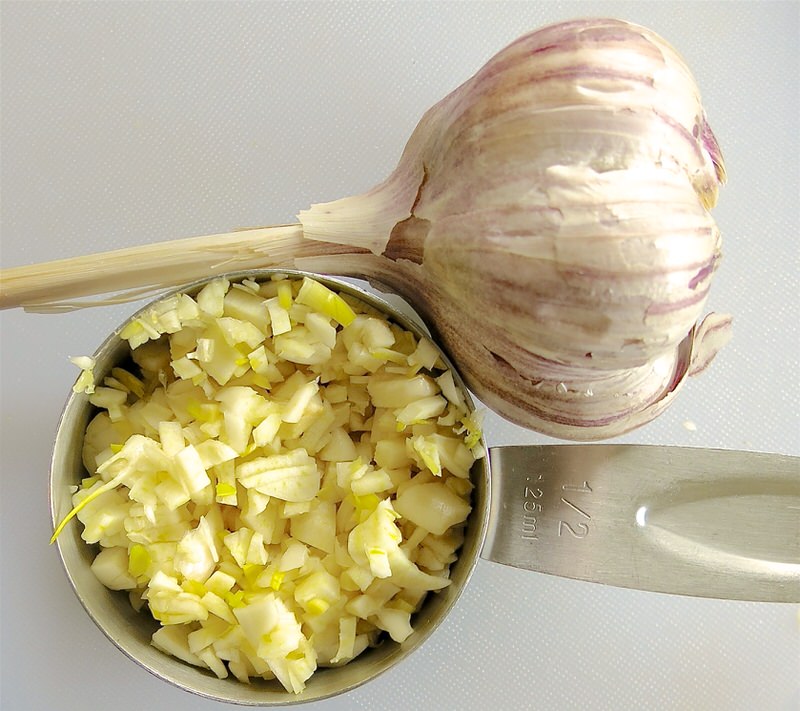 When using garlic, really great garlic makes all the difference. I always use organic New Oxley Garlic from Jackie in Southern Alberta.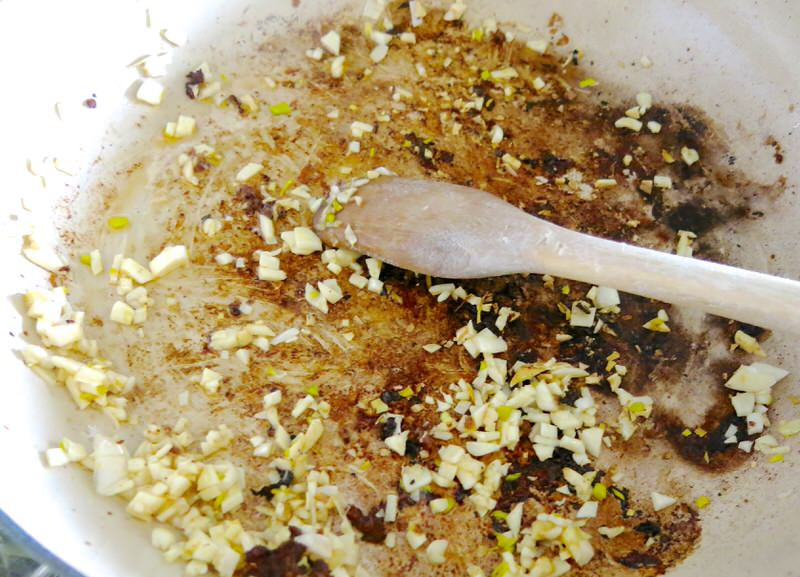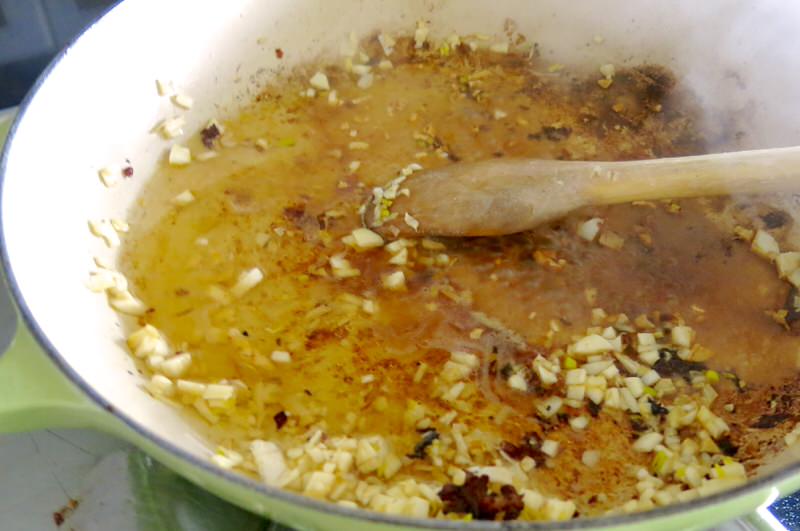 Strain the grease, add garlic to the browned bits in the bottom of the pan with a little water to release that golden goodness.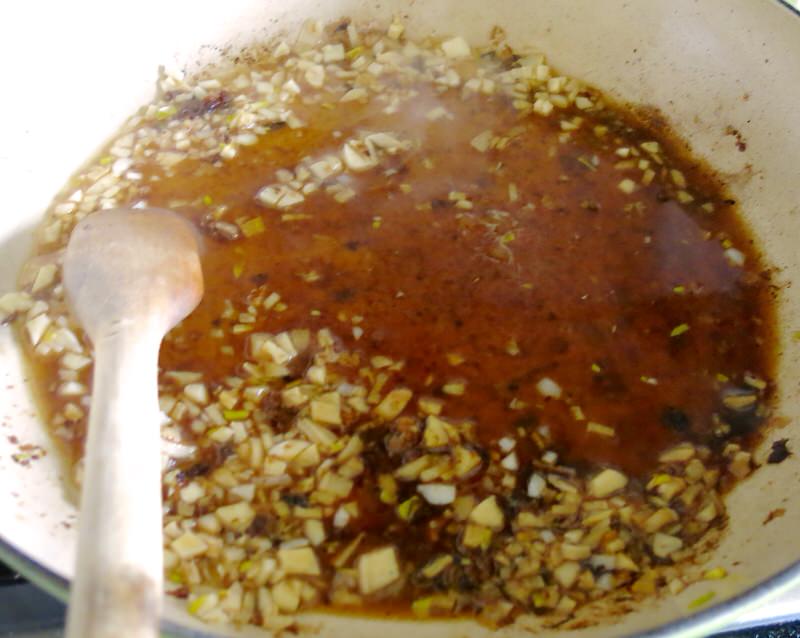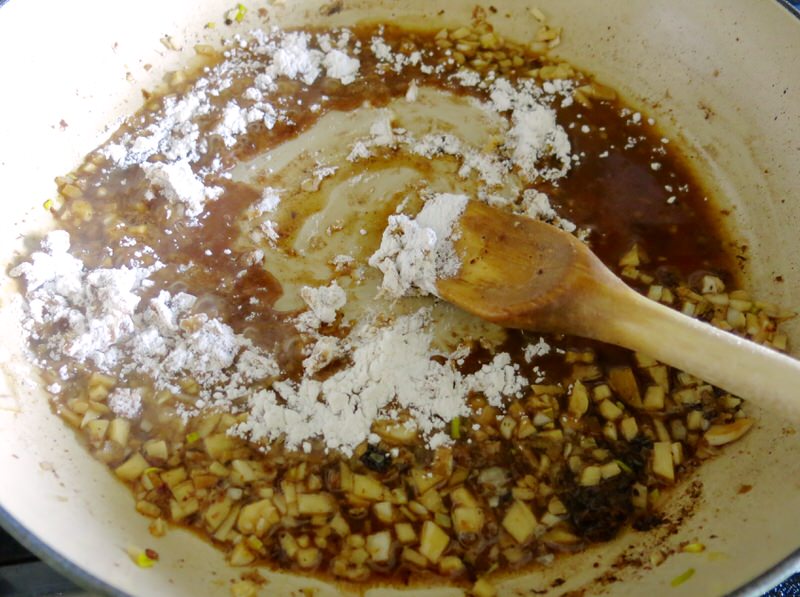 Keep working at it until all bits are incorporated into the rich gravy base; add some butter or olive oil and flour and stir into a garlicky roux.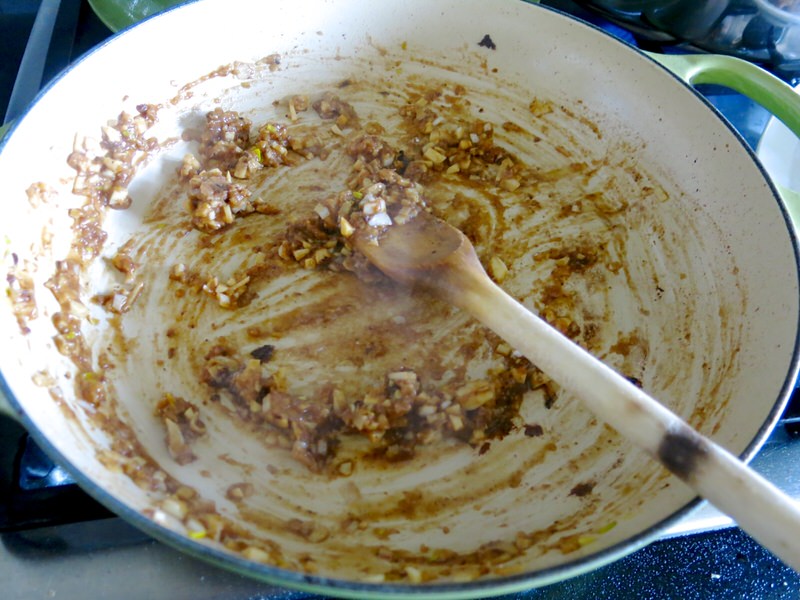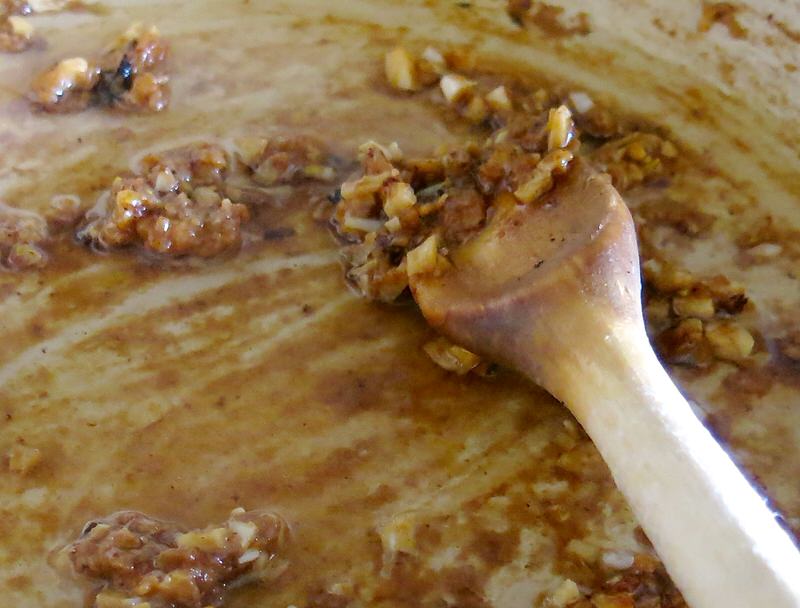 Heat at medium to cook the flour as it absorbs all liquid, above left. he, add water and stir to desired consistency.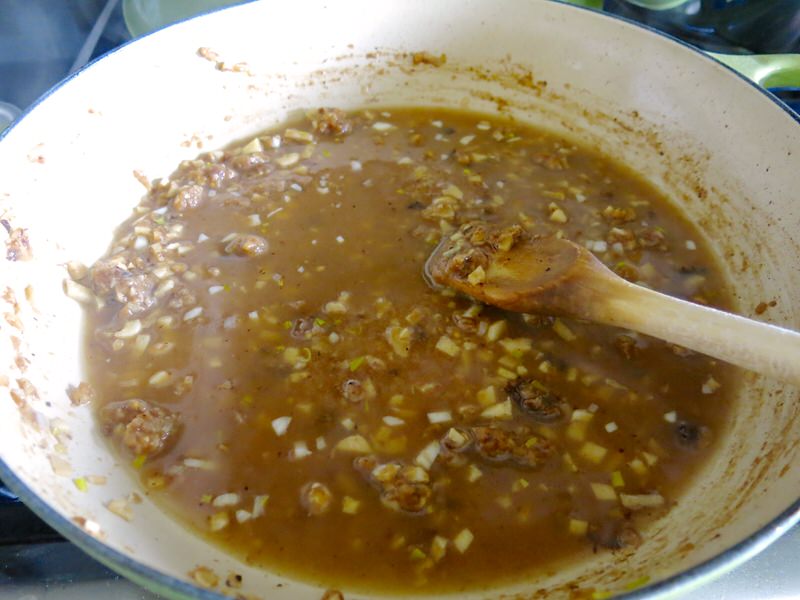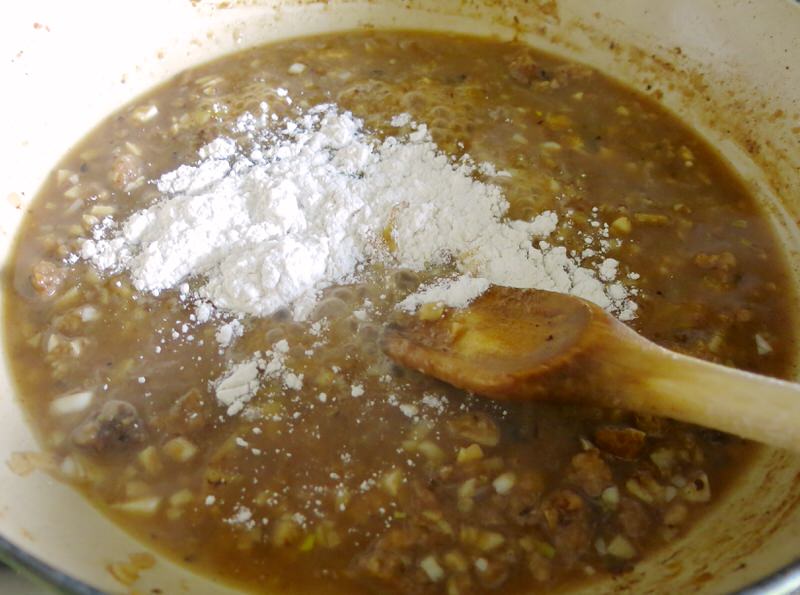 Taste. Very strong, and not enough gravy? Add more flour to create a greater volume of gravy.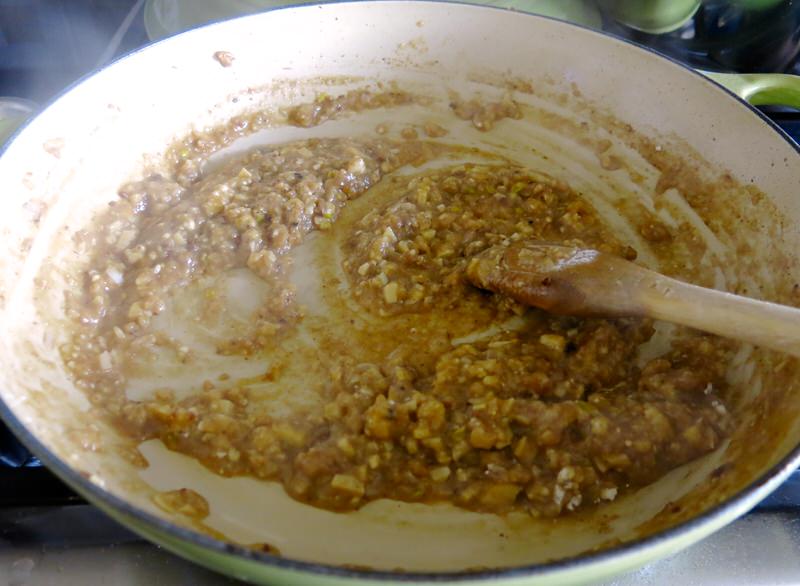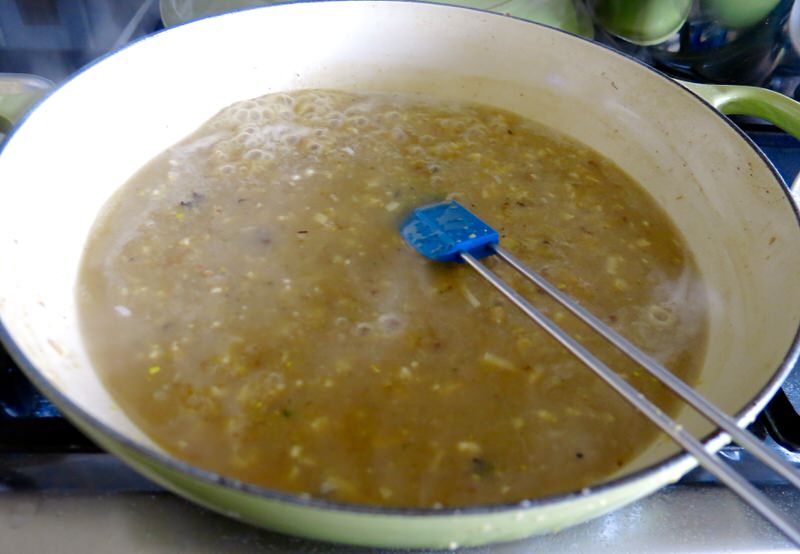 Look at that thick, rich, garlicky roux! Now, add water until desired gravy-like consistency. Season to taste.
Vanja's Garlic Schnitzel: Putting it All Together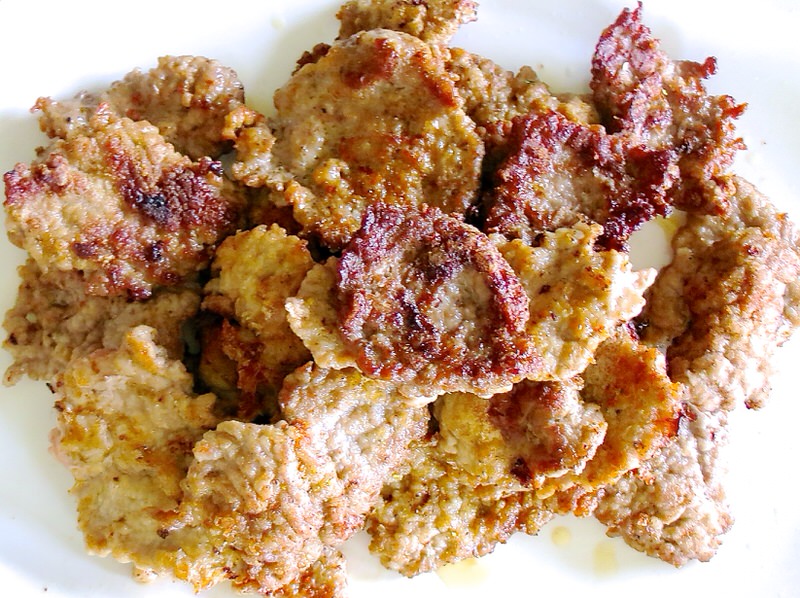 Add the set aside golden schnitzel into the flavourful gravy and heat to meld meaty goodness with garlicky wonder.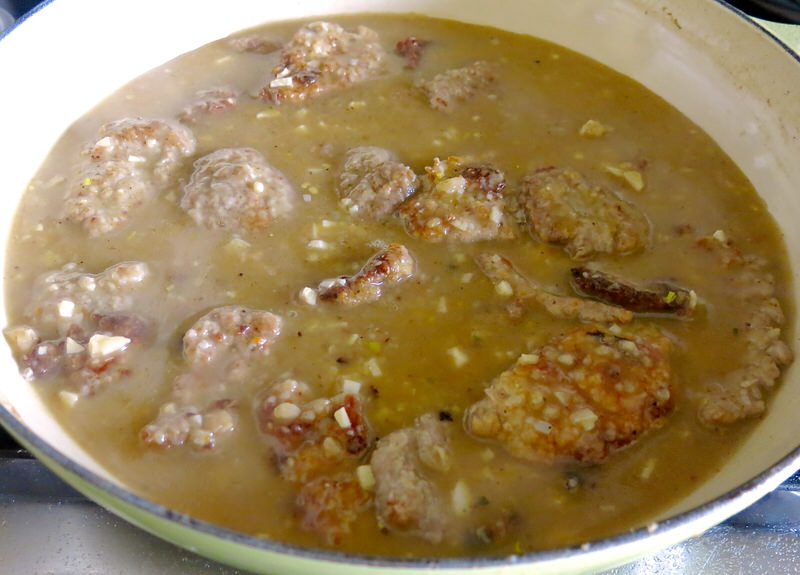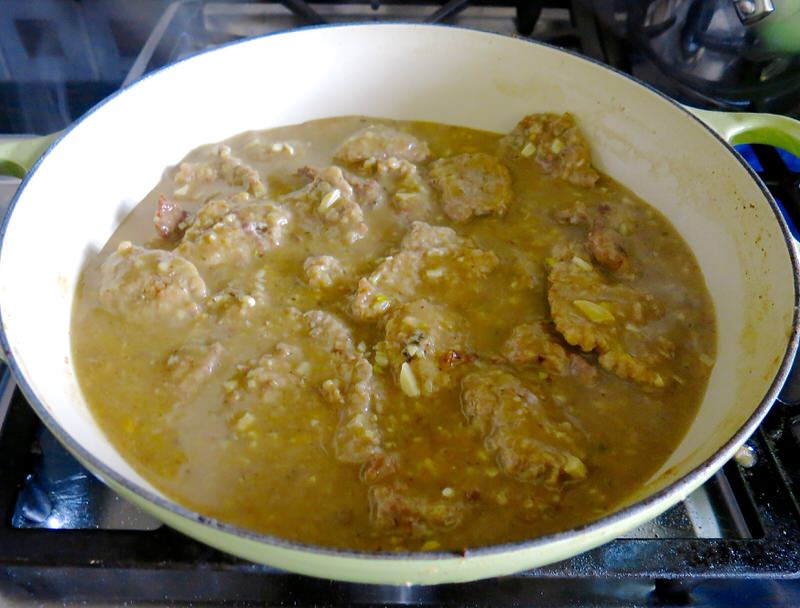 What do you serve this with? Something to soak up that gravy, of course! Mashed potatoes or big fat pasta noodles!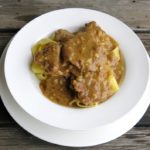 Vanja's Garlic Schnitzel
One of Vanja's favourite weeknight meals that remind him of his home. A part of my Minute Steak Series.
Ingredients
Ingredients for Schnitzel
1

kilo Grass-fed beef schnitzel

minute steak, or cube steak

1

cup

all purpose flour

1

tablespoon

Vegeta

Freshly ground black pepper

2

or more tablespoons olive oil

2

or more tablespoons butter
Ingredients for Gravy
1

tablespoon

butter

¼

cup

finely minced garlic

about 1 head

¼

cup

butter or olive oil

3

cups

or more water

¼

cup

flour

½

teaspoon

salt

or to taste

¼

teaspoon

freshly ground black pepper

or to taste
Instructions
Instructions for Preparing the Schnitzel
Pat dry schnitzel pieces; lay on parchment lined cutting board

Using a meat tenderizer, pound surface of each schnitzel evenly till double in surface area

Prepare dredging pan with flour and seasonings; carefully dredge each schnitzel with flour mixture until complete coated and set aside

When all are dredged, clean work area and prepare for frying
Instructions for Frying the Schnitzel
In a heavy skilled, heat a mixture of butter and olive oil on medium high heat; test readiness with a drop of water: if it sizzles, time to fry the schnitzel

Do not overcrowd the pan; place 3-4 schnitzels in at a time, depending upon size

Fry 2 minutes per side, or until golden in colour; set aside to drain on paper towel

Fry remaining schnitzel in the same manner
Instructions for Making the Gravy
Remove all grease from pan and return to heat set at medium; add butter and garlic and sauté for 30 seconds to 1 minute

Add 1 cup of water to deglaze the pan; once the pan is deglazed and most water evaporated, add flour and cook, stirring constantly into a paste or a roux

Add the remaining 2 cups of water slowly, stirring and cooking, until desired thickness in gravy is achieved

Season to taste
Instructions for Putting it all Together
Place set aside schnitzel gently into garlic gravy; heat together at low simmer for 10-15 minutes to meld flavours

Serve on a bed of fresh noodles or mashed potatoes with a crisp green salad on the side