Healthy Eating: Philips AirFryer with Rapid Air Technology Really Delivers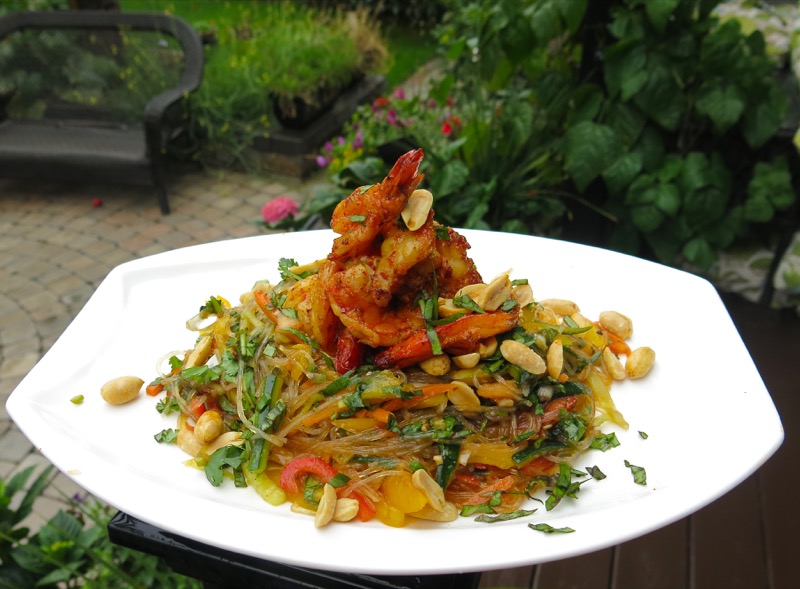 Though away for a month in Europe, the minute I got back, the Philips AirFryer was back in action. I did not expect to enjoy using this machine, nor expect to use it as often as I do when I agreed to do a review of it. This salad is exceptional. Fresh! Packs a powerful flavour punch. Delicious, nutritious and economical. Yes, even with shrimp.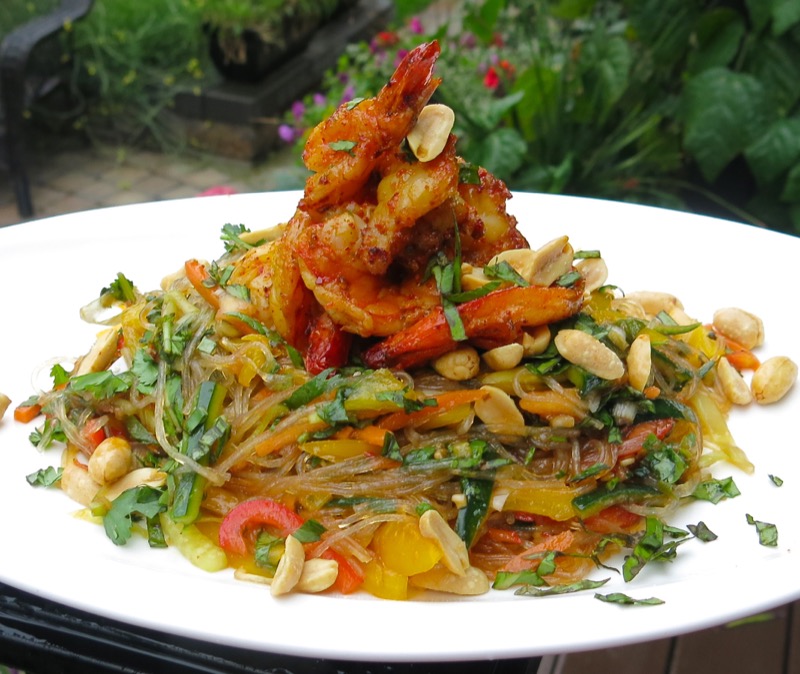 Take a look at that flavour bounty! This is the time I want to make a point to my readers. If you are considering an Airfryer. This is the one to buy. Sincerely. Take a look at the additional comments in my Disclaimer at the bottom of this page.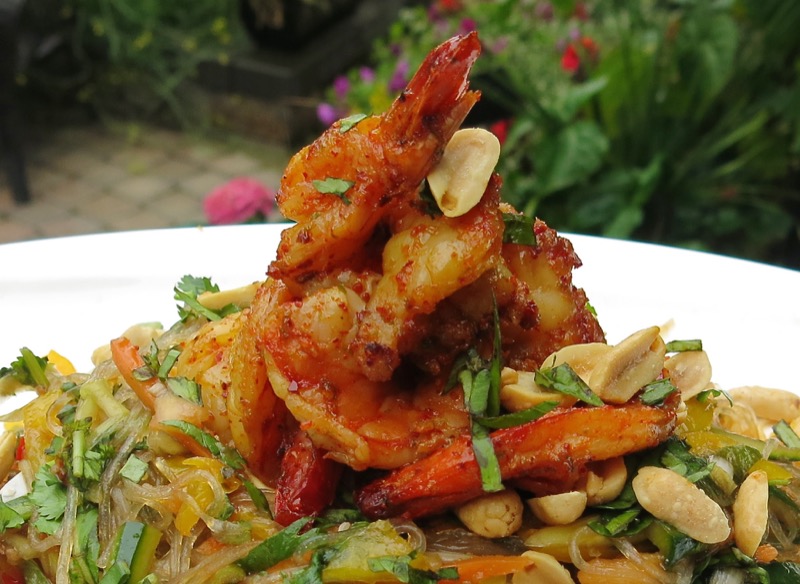 And the crispy "deep fried" like shrimp. Air fried past perfection. Crunchy on the outside, succulent within.
Philips AirFryer: Tiger Shrimp Marinade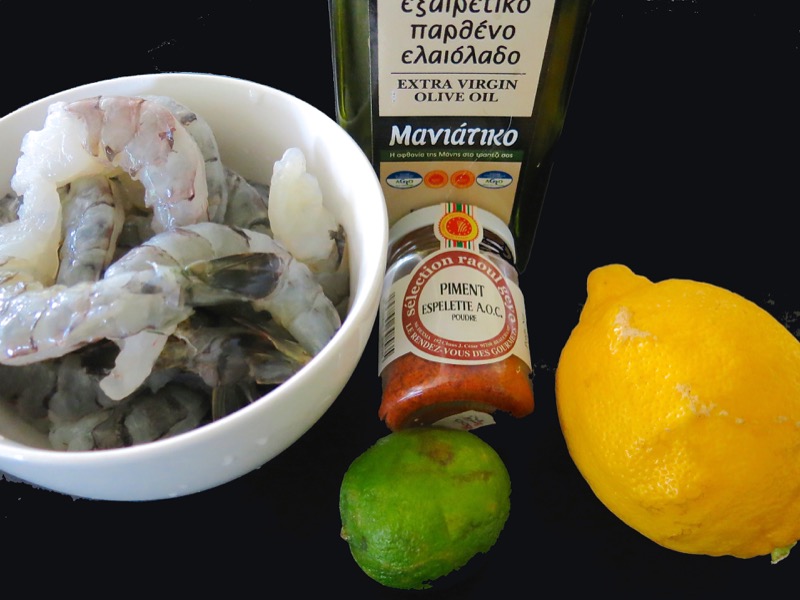 Simple marinade with an incredible flavour profile. I hunted the piment d'Espelette down when in Paris last. It is a mild pepper from the Basque region in France, cultivated in the French commune of Espelette, Pyrénées-Atlantiques and is considered "mildly hot" on the Scoville Scale. For me, it was too spicy. Everyone else loved it, as do most, and why it is a hugely popular specialty ingredient. They are now grown in California. Of course that means they will taste differently, but you will be likely to find it. Or, use Ancho or another pepper that you like and can tolerate.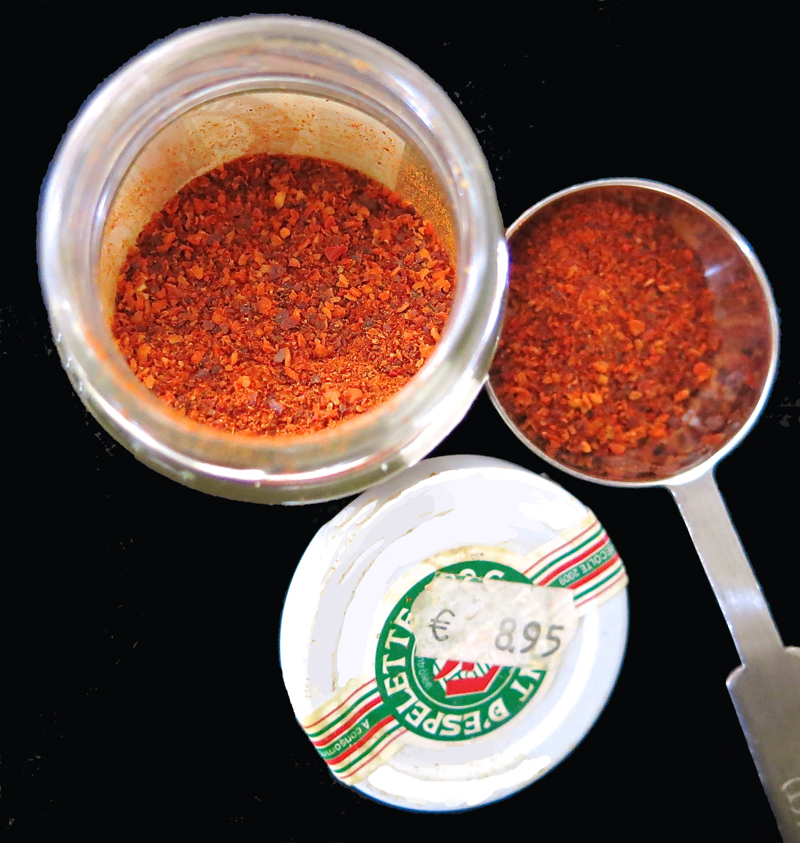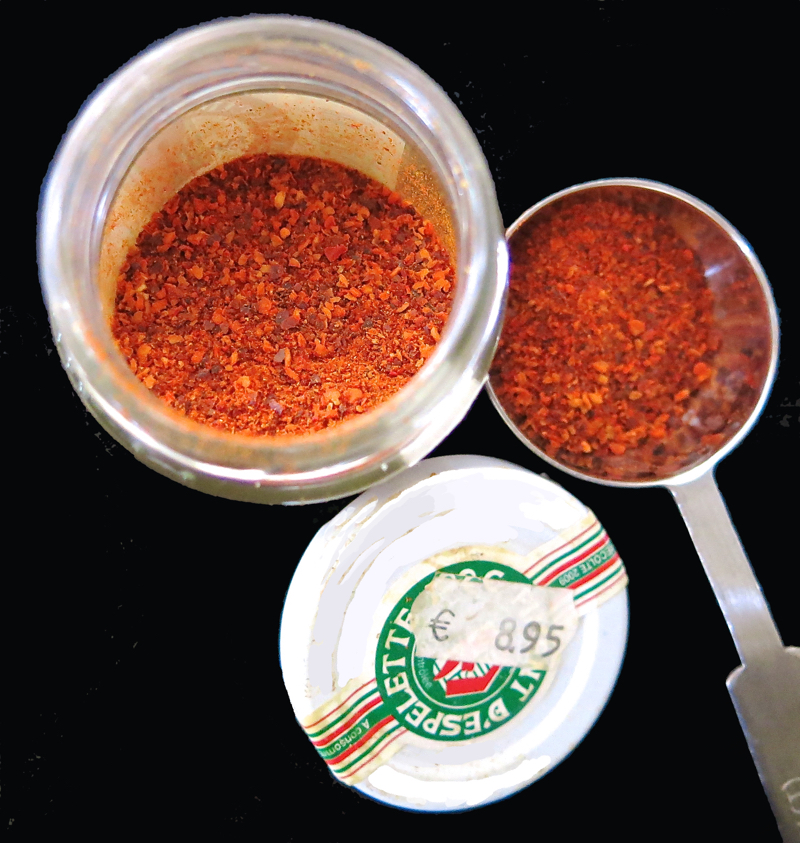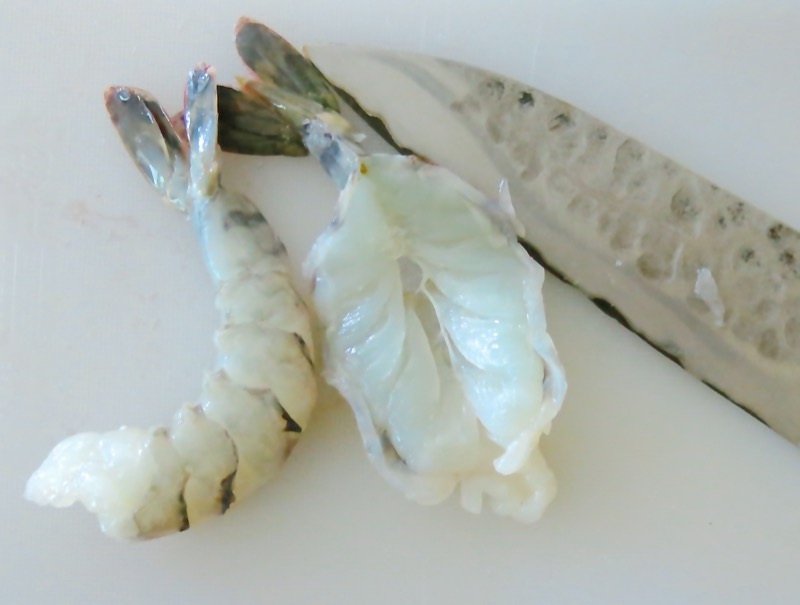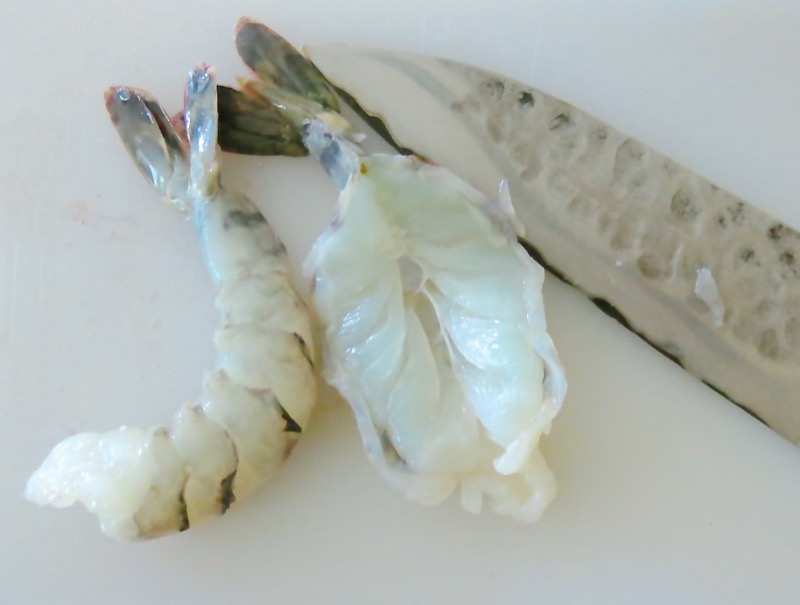 Butterflying the shrimp makes all the difference. Mix the marinade up in a small bowl and drizzle into a bag with the shrimp, moving everything around to ensure the shrimp get completely coated. Set aside to marinate while preparing the vegetables.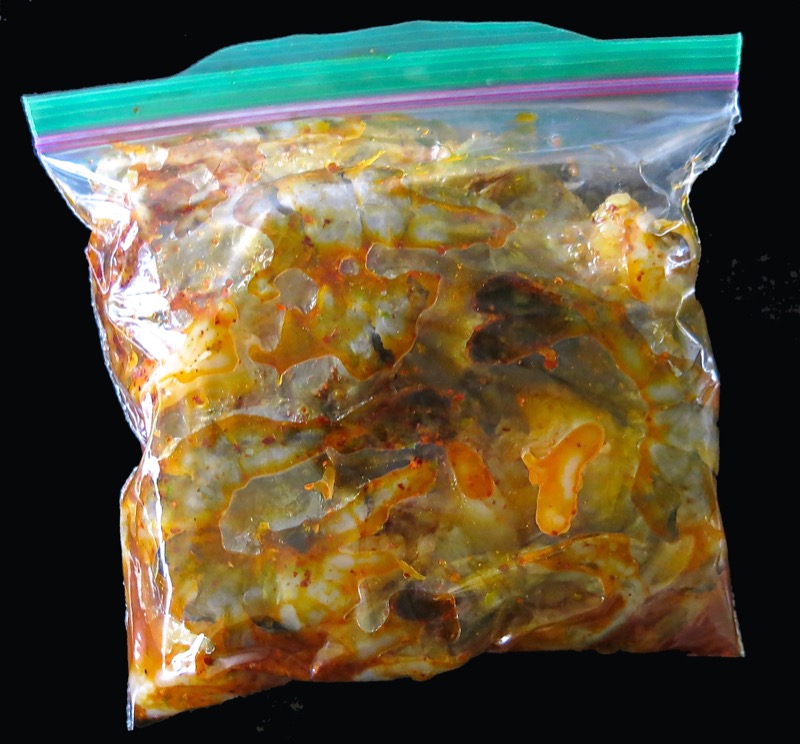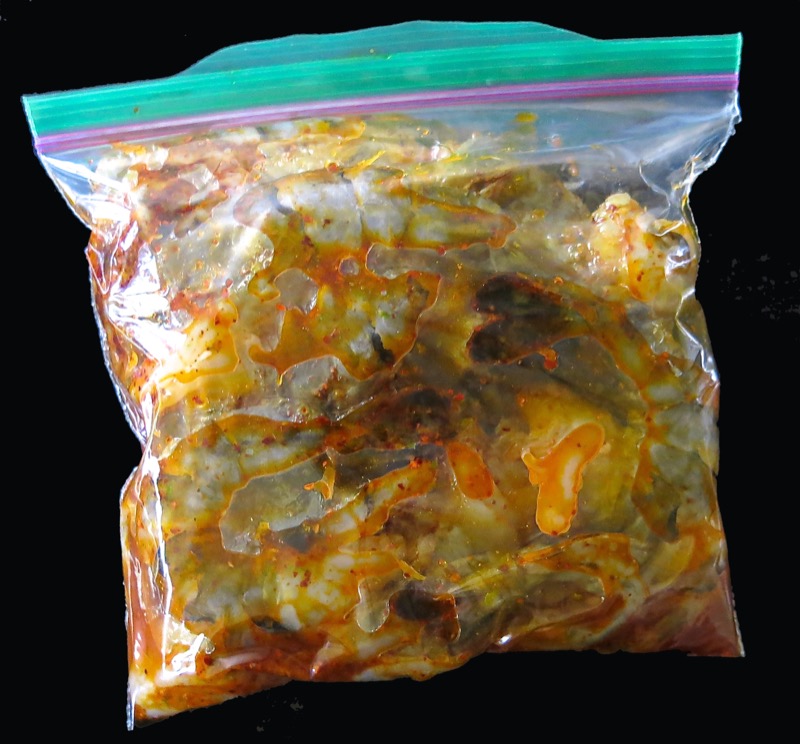 Philips AirFryer: Tiger Shrimp and Glass Noodle Salad Vegetables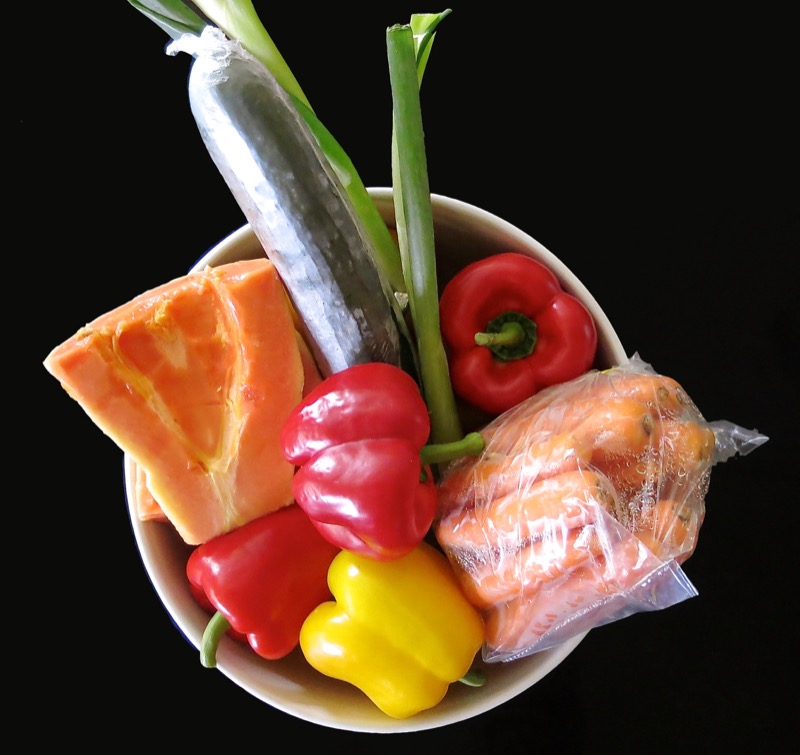 Simple ingredients with the addition of a couple of surprises that add to the nutritional value of the salad: the papaya, far left, is one. Matchstick them all. This will take a bit of time, but not as much as you might think. Put on some great music and time yourself!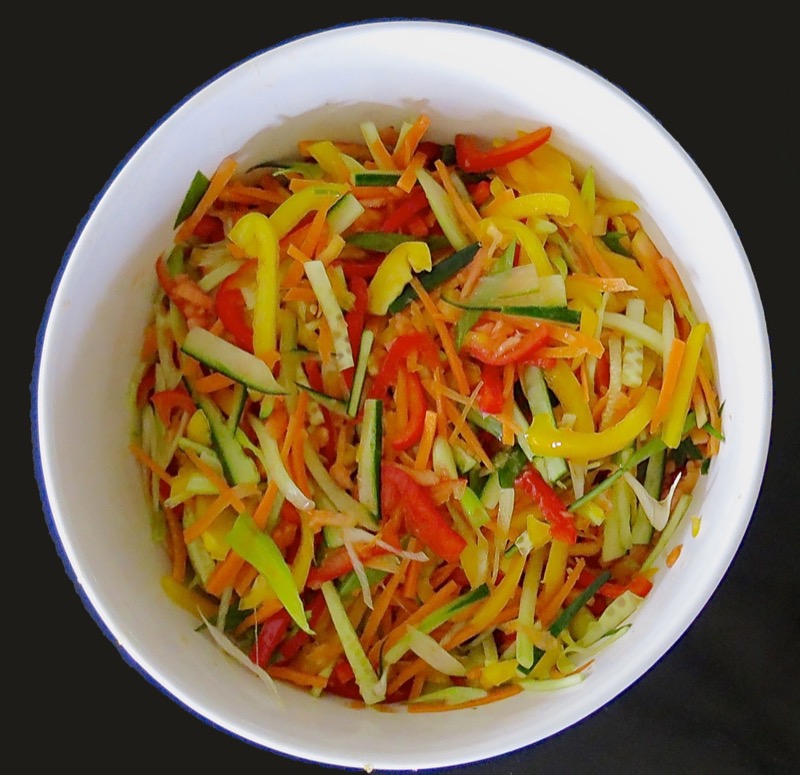 Stunning. It is the similar size with the varied flavours and textures that create a pleasurable textural mouth feel and irresistible flavour… marrying the components well to create a new unified fresh taste.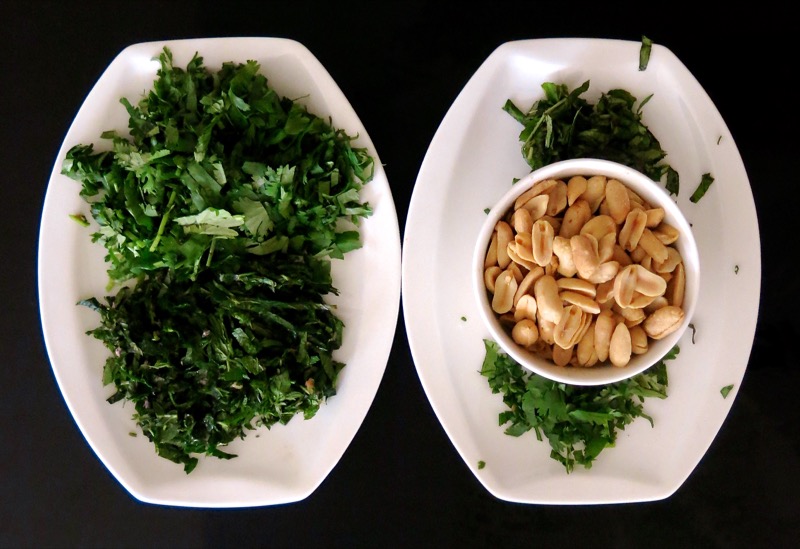 Of course, the herbs and nuts are "the bomb" of this dish!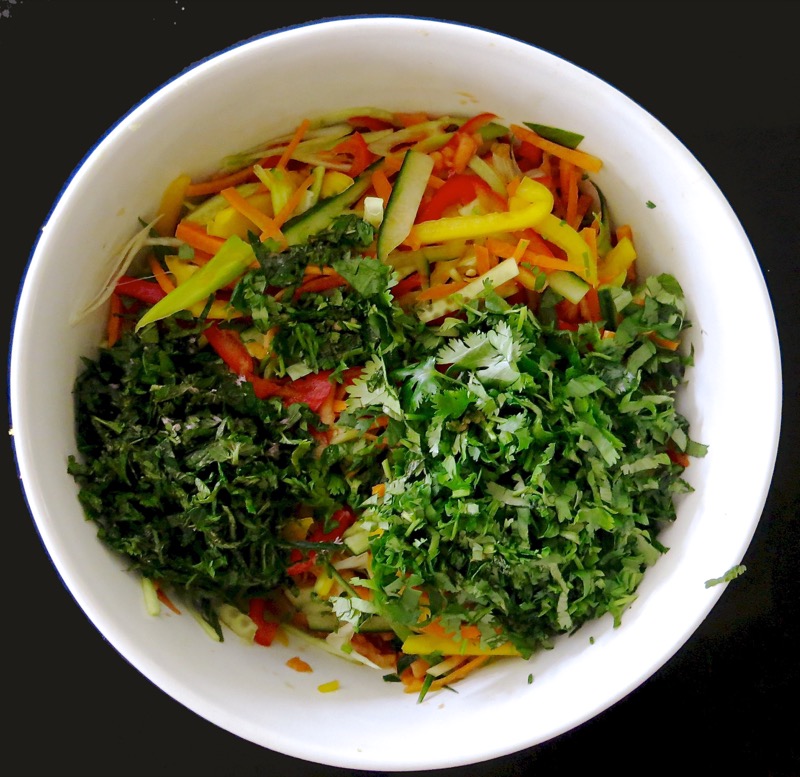 Time to soak the noodles and prepare the dressing.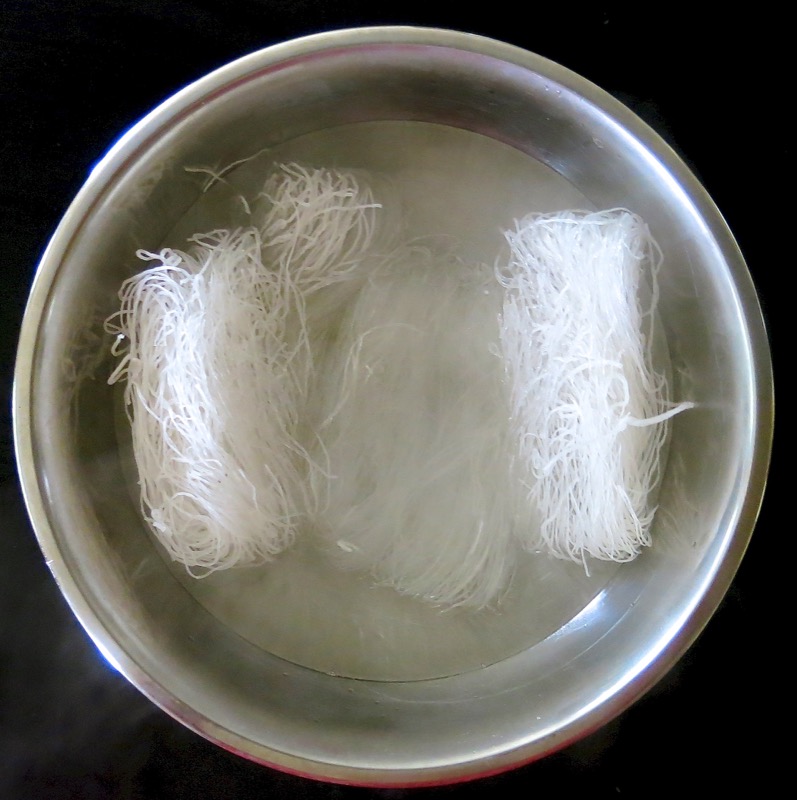 Philips AirFryer: Tiger Shrimp and Glass Noodle Salad Dressing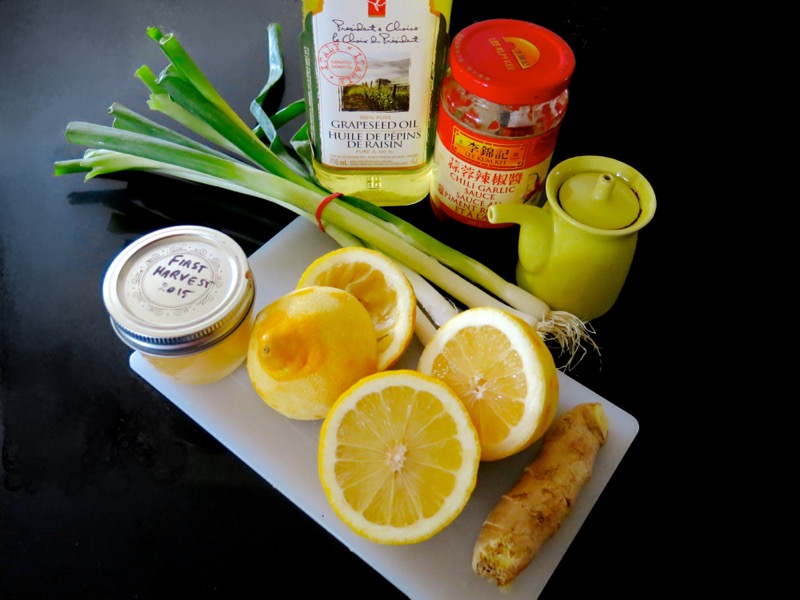 Ginger, chili garlic sauce, honey, soya, green onions and grapeseed oil: are you puckering up and salivating yet?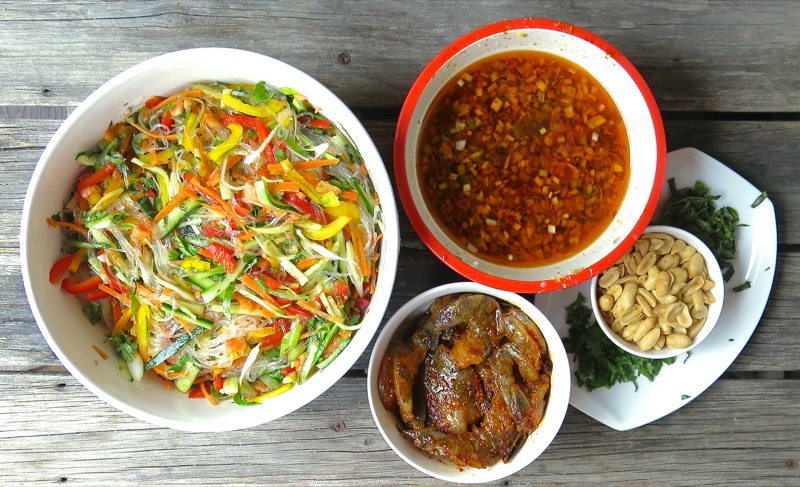 All components all dressed up for the party: the vegetables in their uniformity, the shrimp saturated in piment d'Espelette goodness, the dressing for the salad and the herbs and nuts!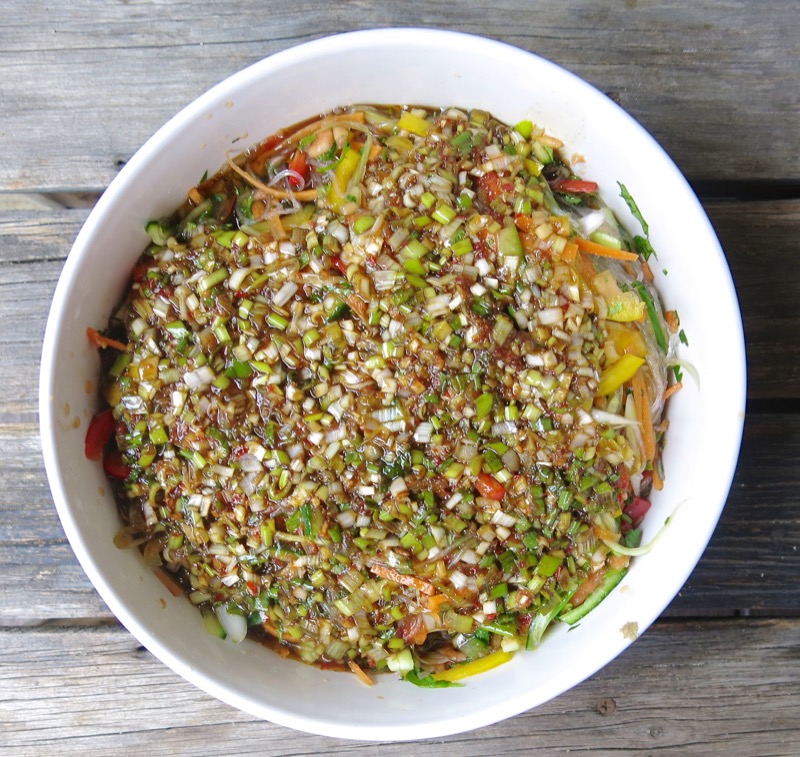 Dressing added!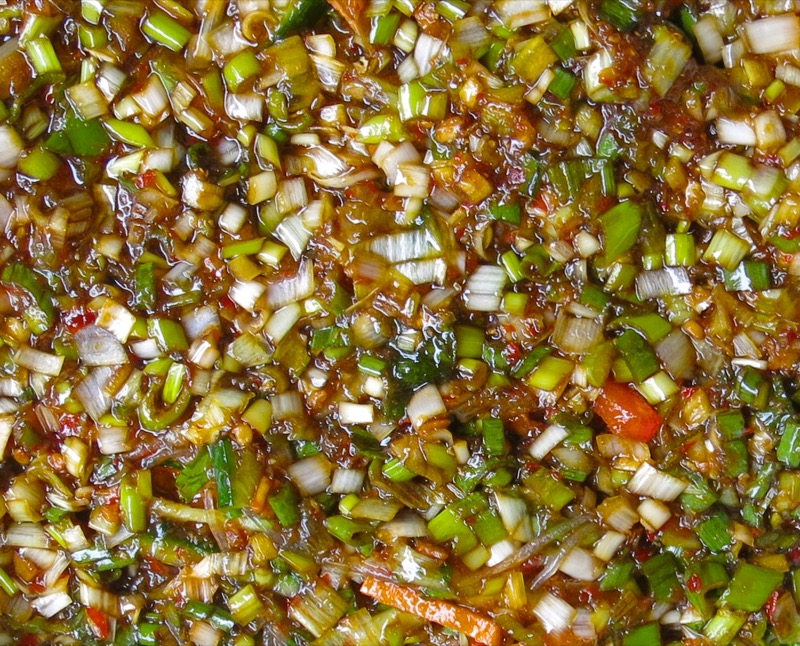 Ready to toss with the noodles in a moment, but first, the shrimp!
Philips AirFryer: Frying the Tiger Shrimp

Into the air fryer they go, and out they come: vibrant crisp crunchy crustacian captivation.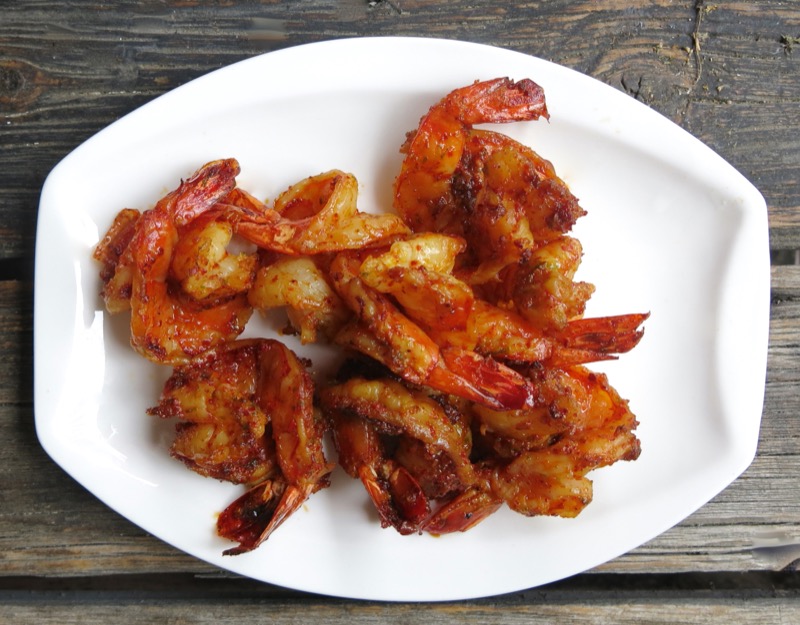 Seeing this shrimp makes it so easy to imagine how gorgeous wings come out in the Philips Airfyer!
Philips AirFryer: Putting the Tiger Shrimp and Glass Noodle Salad Together
In go the noodles: toss, toss. Ah! The fragrant aroma of citrus, mint, ginger….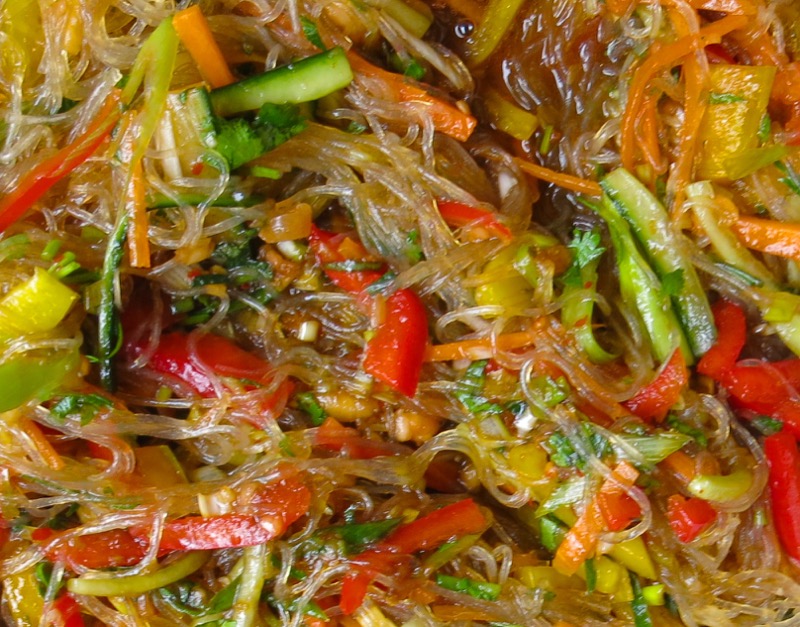 Lauren was so surprised to hear there was papaya in the recipe, and a lot of it, too.

The crowning glory punctuated the plate with a presence that is second to none.

Oh, my. I did not mention that famous Chef Gordon Ramsay has endorsed the Philips Airfryer, loves it and developed some recipes for it. This is one of his recipes! You can watch him make it in the video at the end of this post.

My favourite one and only grandson loved it, too!

Especially the shrimp! Imagine that!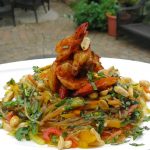 Tiger Shrimp and Glass Noodle Salad


"It's worth seeking out piment d'Espelette for its complex flavor and subtle heat, but hot [or mild] paprika can be substituted".
Ingredients
Ingredients for the Marinade:
2

tablespoons

piment d'Espelette

1/4

cup

(2 fl. oz./60 ml) plus 2 Tbs. extra-virgin olive oil

18

large tiger shrimp

, deveined and butterflied, tails intact

Grated zest of 1 lemon

Grated zest of 1 lime

Salt and freshly ground pepper
Ingredients for the Salad:
1/2

lb

.

(250 g) glass noodles, prepared according to the package instructions, drained and chilled

1

English cucumber

, peeled, seeded and sliced on the diagonal

4

baby yellow bell peppers

, seeded and thinly sliced

4

baby red bell peppers

, seeded and thinly sliced

1

carrot

, peeled and julienned

2

green onions

, white and light green portions, thinly sliced on the diagonal

2

cups

peeled

, seeded and julienned green papaya (about 1 small papaya)

1/2

cup

(1/2 oz./15 g) fresh mint leaves

1/2

cup

(1/2 oz./15 g) fresh cilantro leaves, plus chopped fresh cilantro for garnish

1/4

cup

(1 1/2 oz./45 g) roasted peanuts, chopped

2

Tbs

. julienned fresh basil leaves
Ingredients for the Salad Dressing:
Juice of 2 lemons

1/2

cup

(8 fl. oz./250 ml) soy sauce

2

Tbs

. plus 2 tsp. honey

2-

inch

(5-cm) piece of fresh ginger, peeled and finely grated

4

green onions

, white and light green portions, thinly sliced

1

Tbs

. sweet chili sauce

1

cup

(8 fl. oz./250 ml) grapeseed oil
Instructions
Instructions for Marinade:
In a small bowl, stir together piment d'Espelette, 2 tablespoons olive oil, lemon and lime zests; add butterflied shrimp and season with salt and pepper.

Refrigerate for 4 to 24 hours.
Instructions for frying shrimp:
Preheat a Philips Airfryer to 390°F (200°C)

Place 6 shrimp in fry basket, cut side down; insert into air fryer

Cook for 4 minutes; transfer to a baking sheet to cool

Repeat with remaining shrimp.
Instructions for salad dressing:
While shrimp is cooking, in a small bowl, whisk together lemon juice, soy sauce, honey, ginger, green onion and chili sauce; slowly whisk in oil until emulsified.

Set aside
Instructions for assembling the salad:
Toss glass noodles, cucumber, bell peppers, carrot, green onions, papaya, mint and cilantro to combine; add dressing to taste and toss to combine

Taste and adjust seasoning, if necessary

Divide salad among 6 plates; place 3 shrimp on top of each

Garnish with peanuts and basil; serve immediately
Recipe Notes
Rice noodles can be substituted for the glass noodles in this recipe. Glass, or cellophane noodles, have different characteristics than rice noodles. Glass noodles are made from mung bean starch (also called bean threads). They are gelatinous and translucent. Rice noodles are white and opaque. Despite theses differences, they can often be substituted for each other in recipes.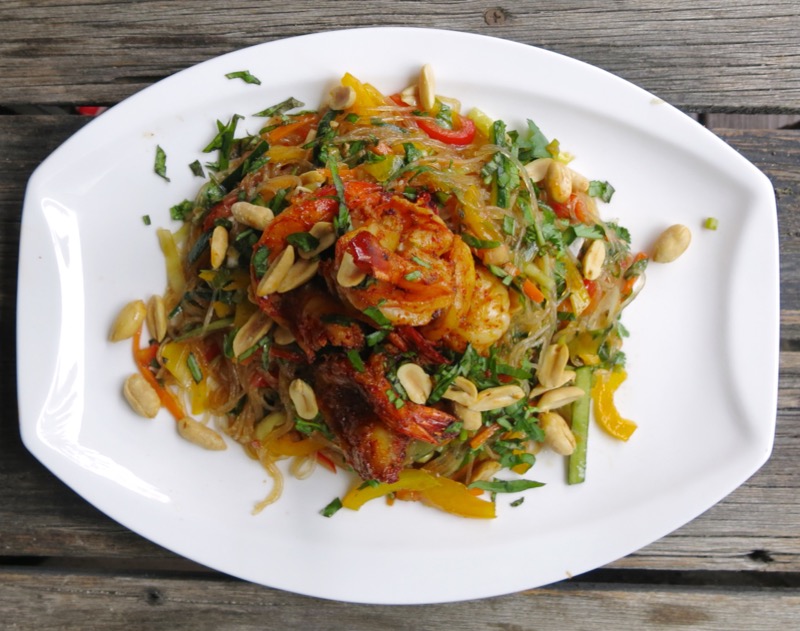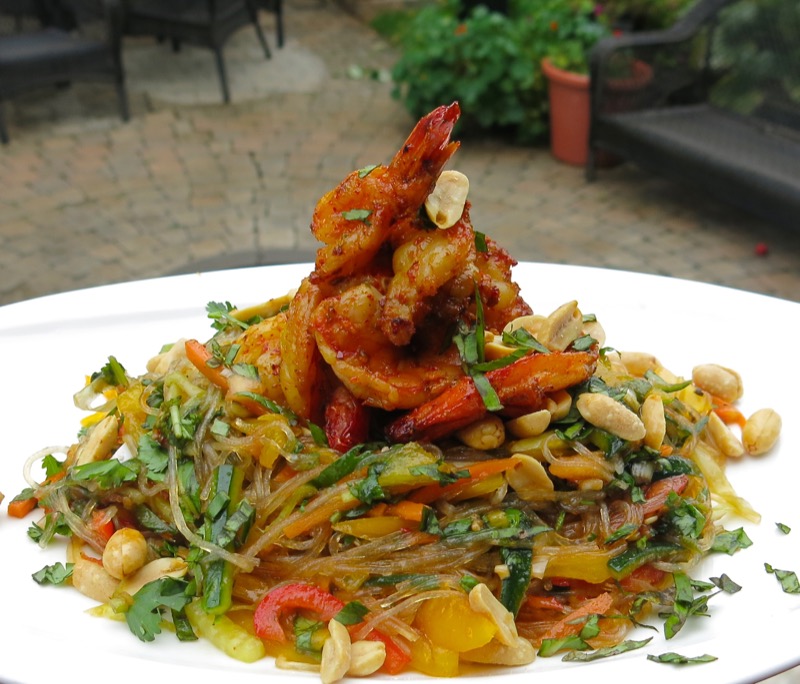 The Grand Prize Philips AirFryer Giveaway from Philips Canada!
The giveaway includes the following…. mailed to your home (will take approximately 2 weeks to arrive) after November 25th, 2016!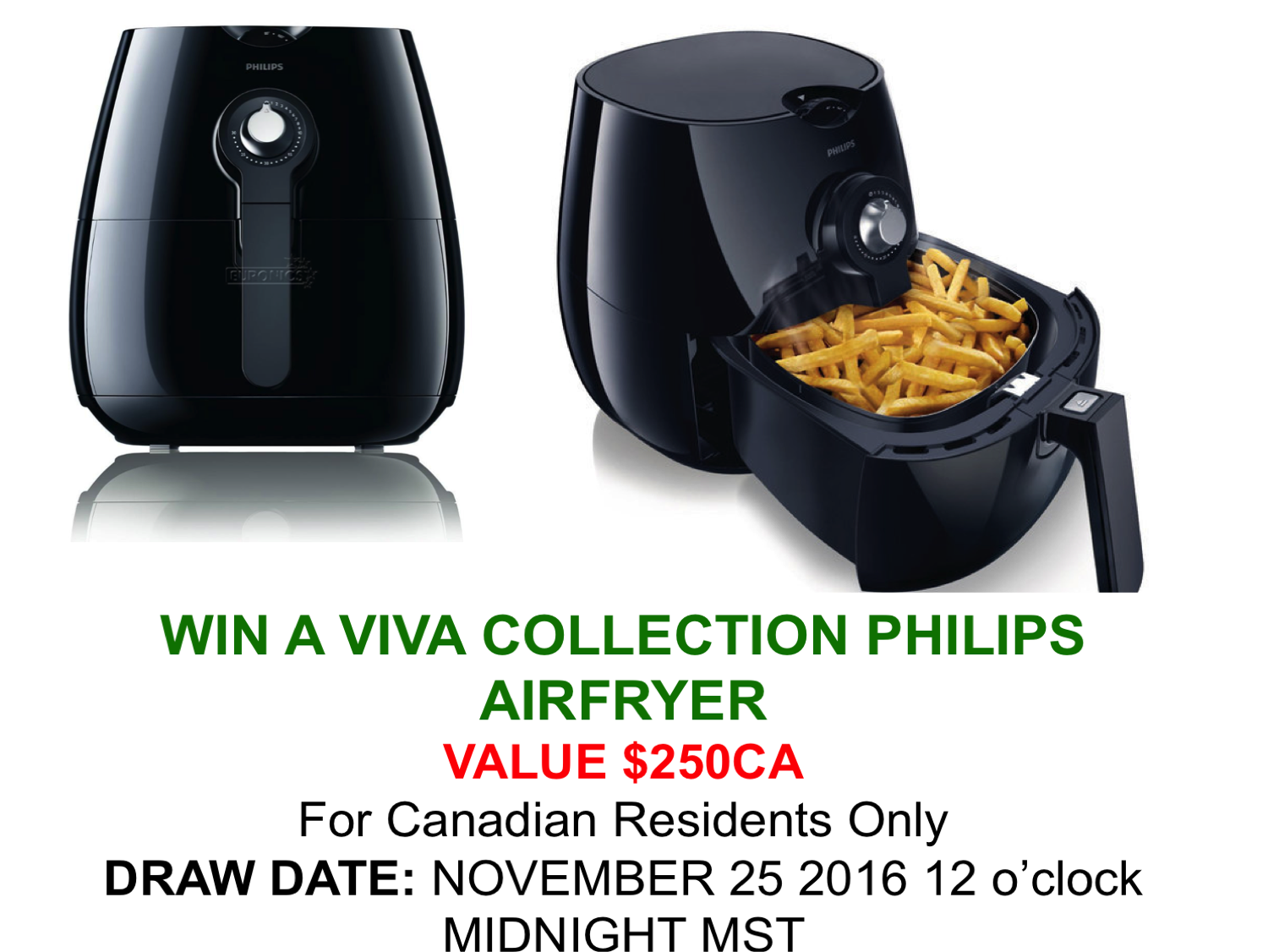 CONGRATULATIONS TO

Amy Heffernan

@

kissifer19!
She has been notified via email that she has won and thank you to all participants, particularly the diligent 10 that posted daily! Happy Holidays to all!
The Deets for the Philips Viva Collection non-digital AirFryer September 16 to November 25 2016!
Contest closes at 12 midnight MST November 25, 2016 and the winner will be announced the next morning via Facebook, Twitter, Instagram, SnapChat and in the last Philips AirFryer post published Wednesday, November 16, 2016.

The Deets:
arrangements will be made for the prize package to be mailed to your door by Philips
contest will close at 12 midnight November 25 2016
the winner will be announced November 26, 2016 via email and the winner's name will be at announced with CONGRATULATIONS at the bottom of the last Philips AirFryer post published Friday, November 4, 2016
all names will go into a hat (this is the way we do it at our house) and my husband will draw the winner; each name will go in for each entry as outlined below
yes, you can enter your name more than once (read below)
To enter the contest, you must do #1 or #2 or #3; the other ideas are opportunities for extra entries:
Write a comment about your healthy eating plan or regular diet on this post, or either of the other two Philips AirFryer recipes that I will be writing (one in October 7, and one November 4, 2016)
OR write a comment about a great recipe you would like to make from this Philips AirFryer Recipe Book instead. (Check it out; there are some incredibly inspiring recipes there.)
OR write a comment about a great recipe you would like to make from the Philips AirFryer Pinterest Page instead
Follow me on Twitter: has to be a new follow to count, sorry
Follow Philips Canada on Twitter @philips, also has to be a new entry to count
Tweet the contest and include @acanadianfoodie and @philips in the tweet so I can count it as an entry in the draw; you can tweet daily (each tweet counts as an entry into the draw): sample tweet (you can use) here: GIVEAWAY: Philips AirFyer Viva @philips by @acanadianfoodie VALUE 250 CA! #healthyeating #healthyholidays http://wp.me/p2OMxc-hSq ENTER NOW
Like my Facebook page: (and I am talking the page, not this post) has to be a new "like" to count, sorry
Like the Philips Facebook page: has to be new to count
Follow me on Pinterest; has to be new to count OR follow one of my boards on Pinterest
Follow me on Instagram; has to be new to count OR comment on the post about the Giveaway on Instagram by referring it to a friend
BONUS: You can get another entry if you share the link to this post and this contest on your own personal Facebook page and include "Valerie McKinney Rodgers Lugonja" in that post with the link; you can do the same with posts Oct 7 and November 4, as well
BONUS: I am NEW NEW NEW to SnapChat, so if you follow me there, that will be worth 1 entry and a comment on the giveaway snapchat will be worth another
NOTE: please make sure you leave an e-mail with your comment below so that I can reach you to let you know if you are the winner, otherwise, you will not win!
That's an opportunity for A LOT of entries. I hope you take advantage of this opportunity as I KNOW this prize is definitely worth it.
The Short Series of Philips AirFryer Giveaway Posts from A Canadian Foodie Fall 2016
Disclaimer:
Have you figured out that this is a sponsored post, yet? It is. Thanks to the Philips Canada for the opportunity to test the AirFryer and introduce my readers to Rapid Air Technology. Not only that, I really love this machine. I did not expect to, and I really do. The company has chosen to use food writers and influencers to do their marketing this holiday season, not TM ads like Actifry and the other competition is using. I so want to tell you: BUY THIS ONE if you are considering an airfryer, and even if you don't think you are, you should consider it! My daughter has an Actifry and it gets stuck and she never uses it. Read the reviews on all of the other machines. This one is THE BOMB. Obviously, I am not being paid enough to shout these praises, but, hey – if you are reading this, you are one of my readers and I completely believe in a community of support within the world of our home kitchens! Let me know if you buy it! You will love it. I can honestly promise you that!