Thermomix Green Thai Chicken Curry: Talk About Eating the Rainbow!!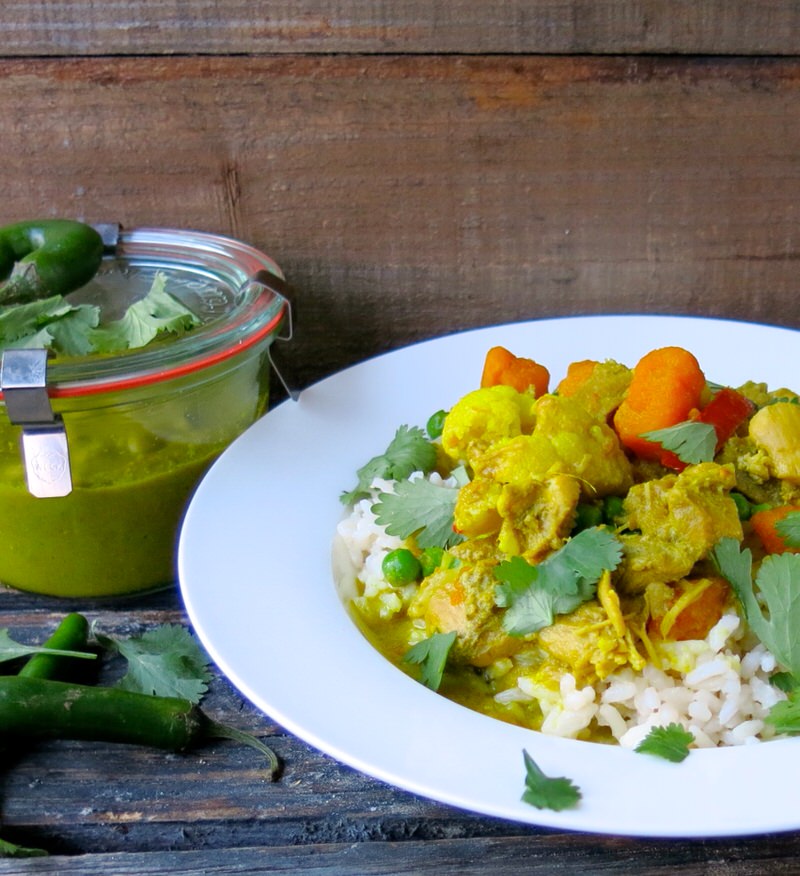 Thermomix Green Thai Chicken Curry made with my mild version of homemade Thermomix Green Thai Curry Paste is an exotically fragrant, flavourful and irresistibly addictive bowl of colourful comfort food.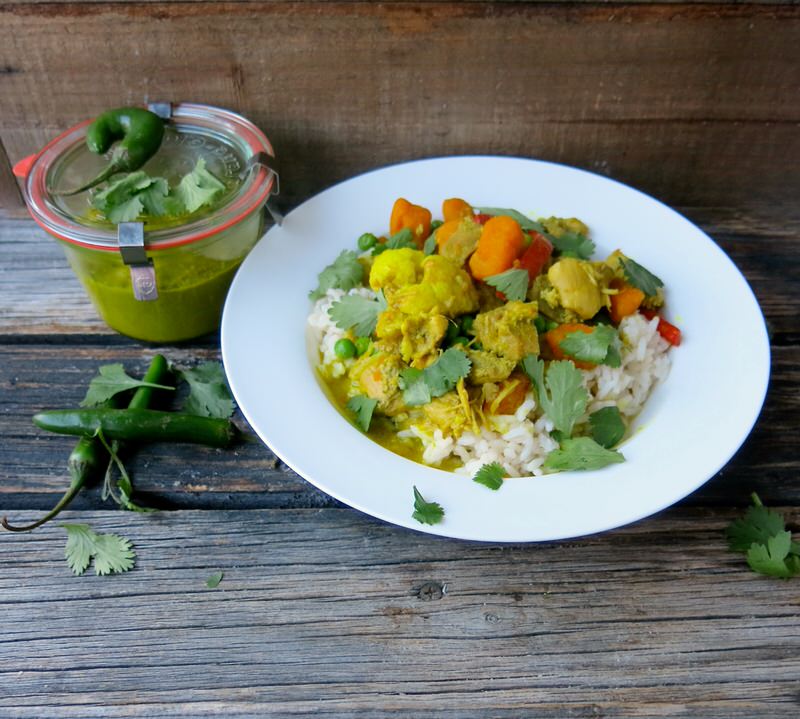 The Thermomix Green Thai Chicken Curry turned out exactly as I was hoping it would. My mom and daughter thought they had died and gone to heaven. We three love Thai food and curry dishes. It was actually my younger daughter, Lauren, who lives in a land so far, far away with my precious grandbabies who actually introduced us to this food for the first time. She lived in Thailand for 3 months as she was selected by the University of Alberta for their Play Around the World project there. She came home and taught her mama a thing or two in the kitchen after that and I have been a fan ever since.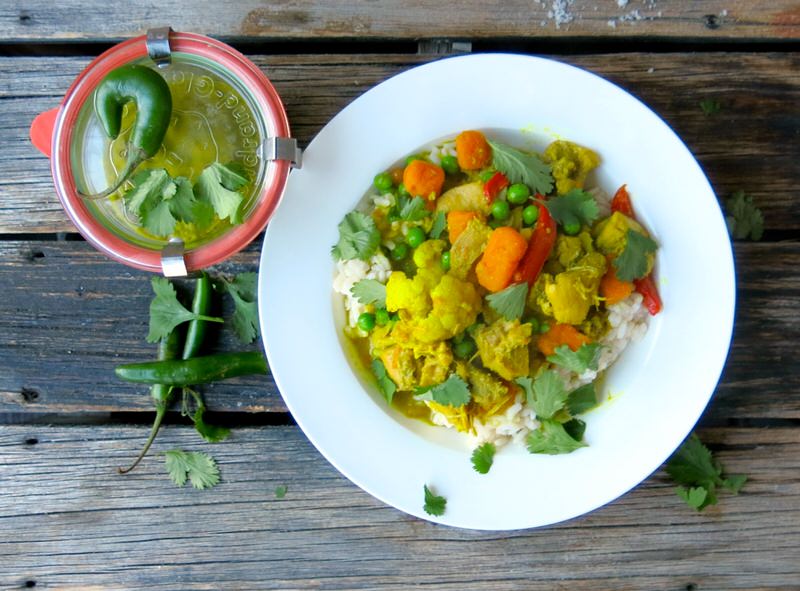 However, I happen to be married to an uber carnivore that isn't too adventurous in the flavour department. Nope. He sniffed this dish and his handicapped palate told him to not venture near. Poor soul. More for us. Yet, that is why I don't make such dishes often. However, Sunday Dinner is a ritual at our house. Everyone looks forward to the meal, and this time, I did make him an alternative meal to suit his fancy, but afforded myself the opportunity to dance around the kitchen in blissful rapture as the winter sun slowly set preparing this bejewelled treasure.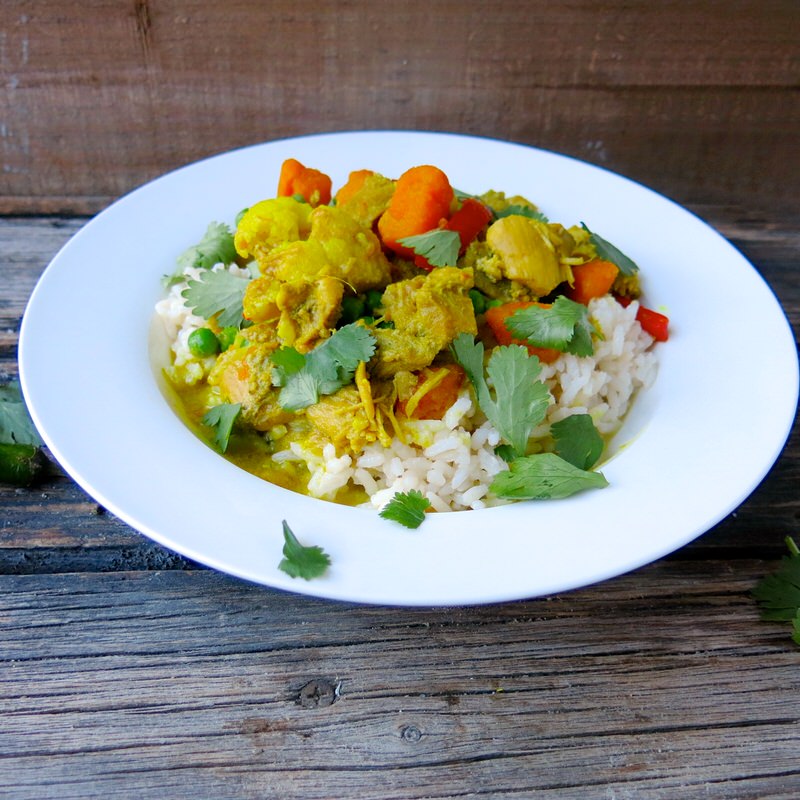 Don't even think of serving this with coconut rice. That would be too rich and too much. There is enough flavour in this curry to last you almost all week long and enough sauce to soak into a fragrant Jasmine rice. Exactly what the doctor ordered for a dull day. Be it a weeknight with family or a weekend with friends, this meal presents with panache. And so easy to make.
Thermomix Green Thai Chicken Curry: Mis En Place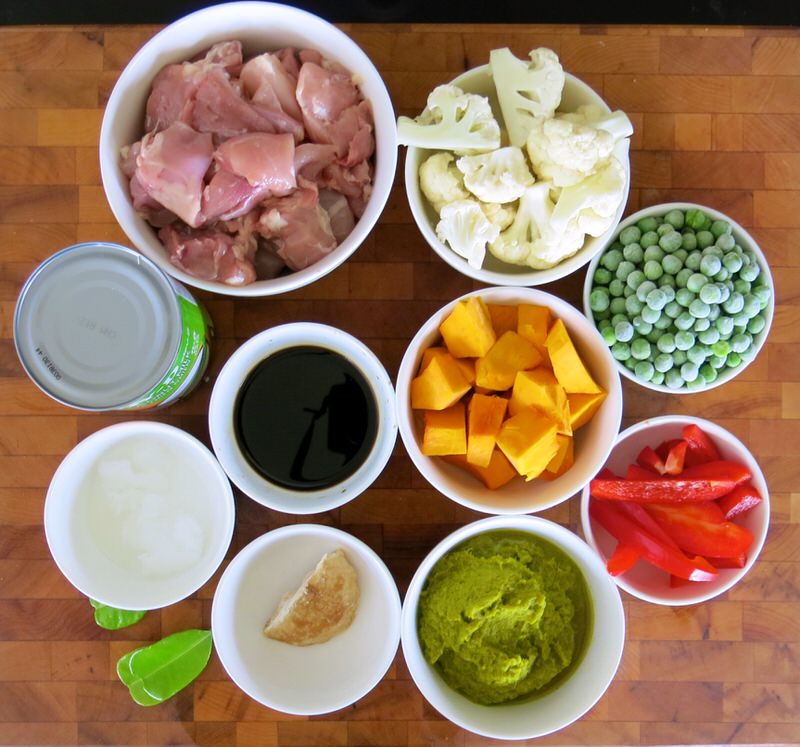 Just in case you needed to know what all ingredients are, I included a labelled version below. The palm sugar contributes a considerable exotic sweetness. After that, it is the curry paste and the shrimp paste that provide the foundation with the coconut milk bringing it all together.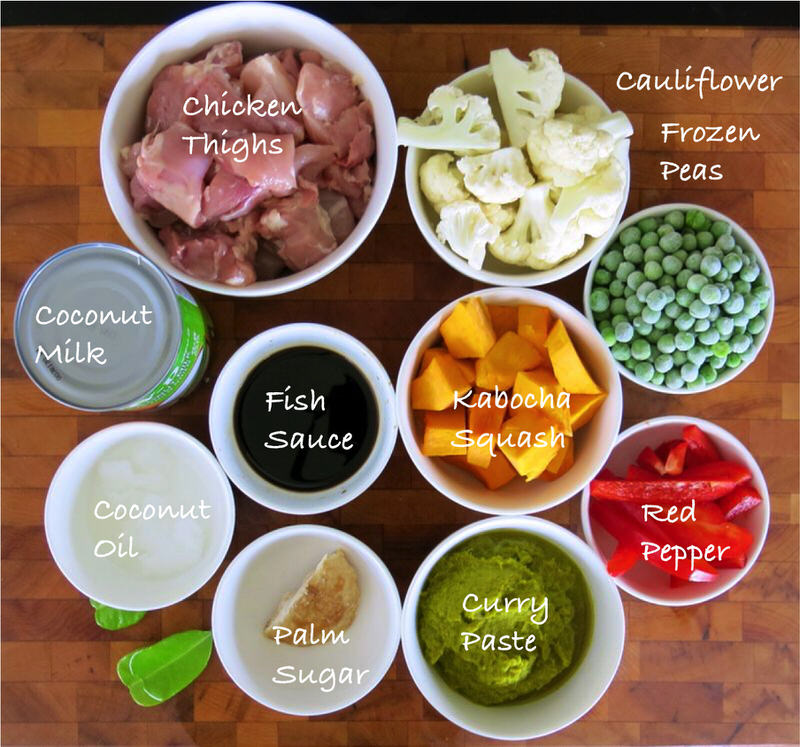 Thermomix Green Thai Chicken Curry: Introducing Kabocha Squash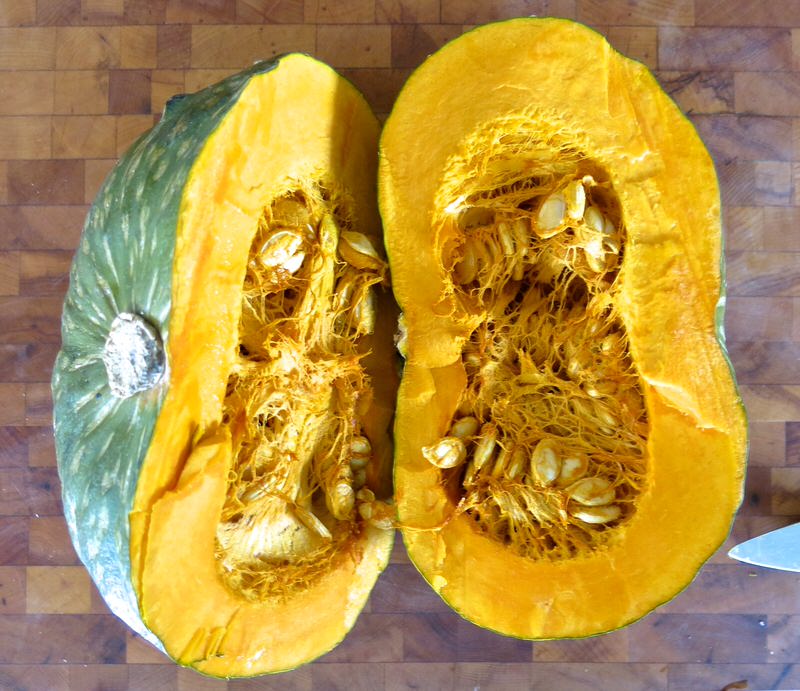 Is the Kabocha Squash critical to the dish? No. But it is a lovely textured squash that holds up to the cooking. There is a lot left over but it is easy to use up. Butternut squash will work, too. But, try the Kabocha. Then you know. It is sold by the mountain at T&T and if my fellow Asian Canadians like it that much, hey – I'll give it a go.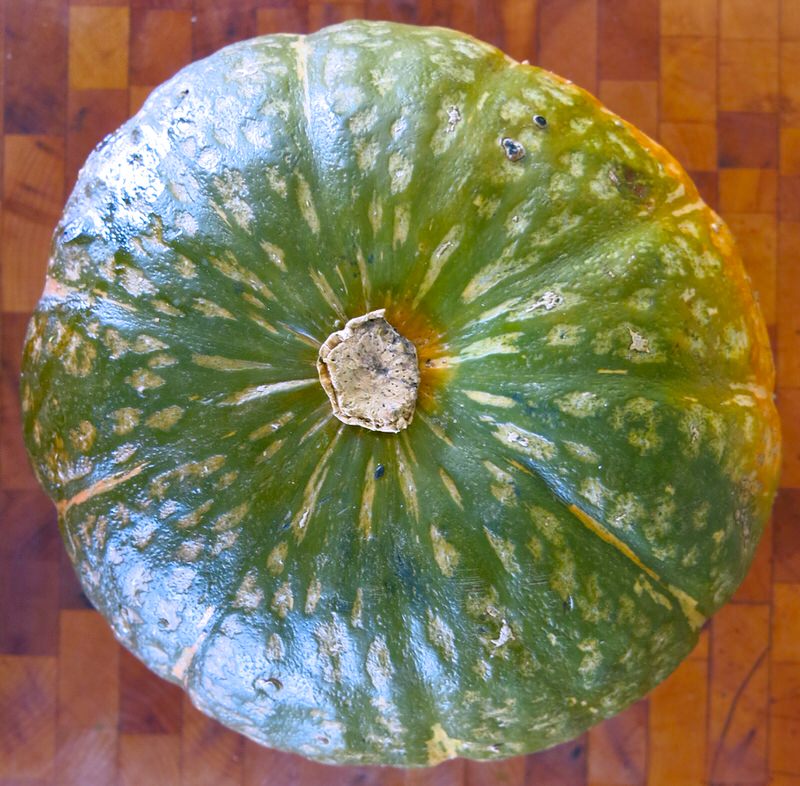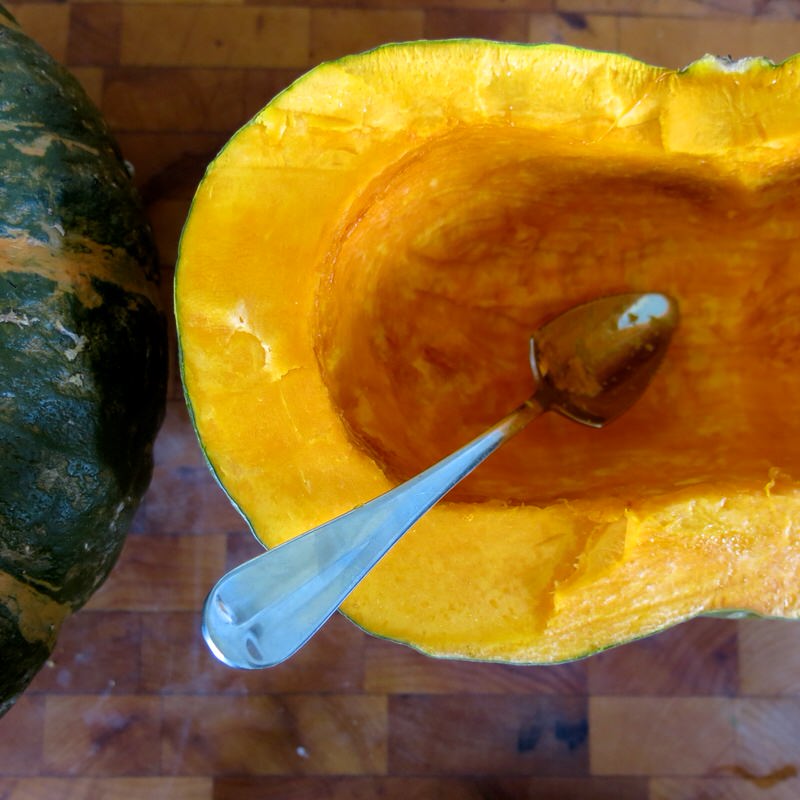 Really happy I did. Wished it was sold in quarters. Love using my grapefruit spoon to scrape the innards out of a squash.
Thermomix Green Thai Chicken Curry: Easy as 1-2-3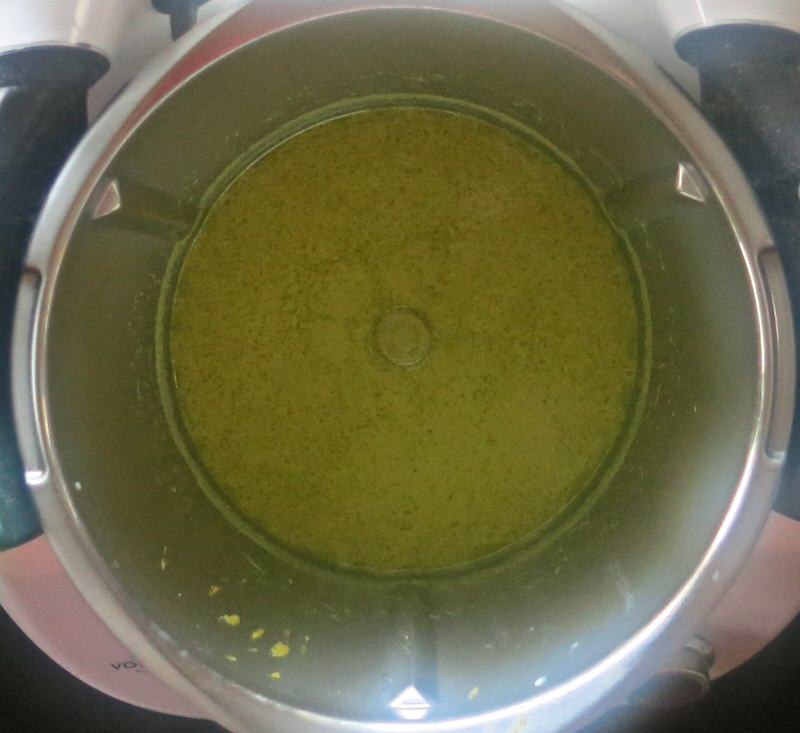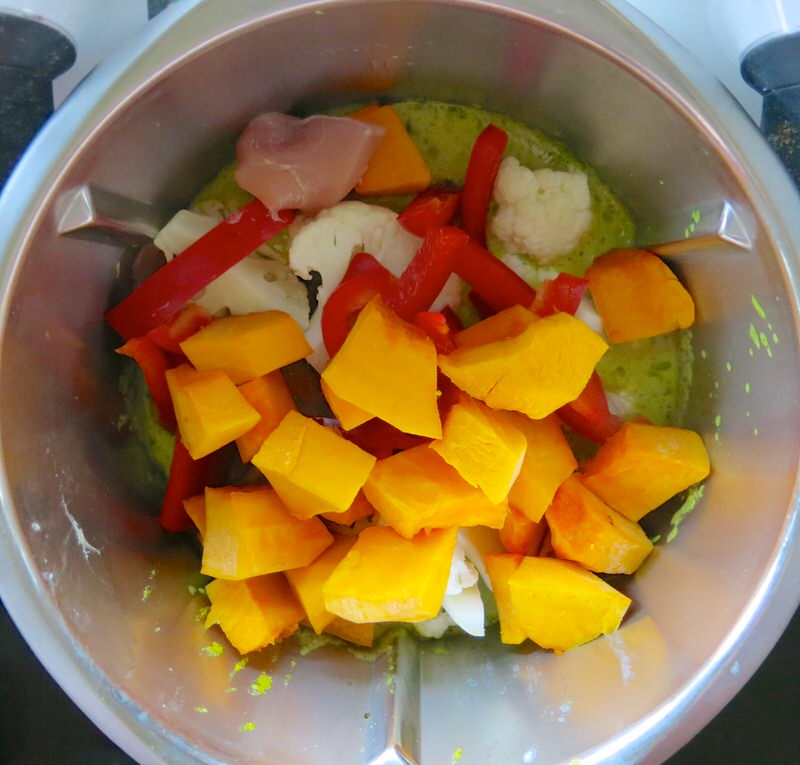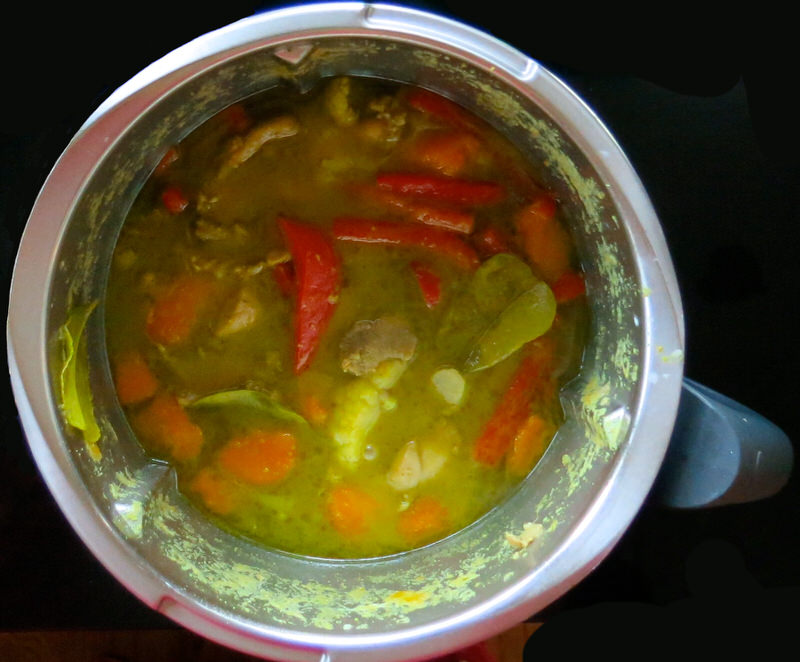 So, if you are making your own curry paste, that takes one minute. If you don't believe me, read this. After that, it is the same kind of process. Assembling the ingredients takes more time than making the recipe. Image one, above left, Green curry paste, coconut oil and coconut milk into the TM bowl and cooked for 15 minutes. After that, it's all in but the frozen peas and 15 more minutes to cook. That's it. The chime rings, fold in the peas and serve this gorgeous meal!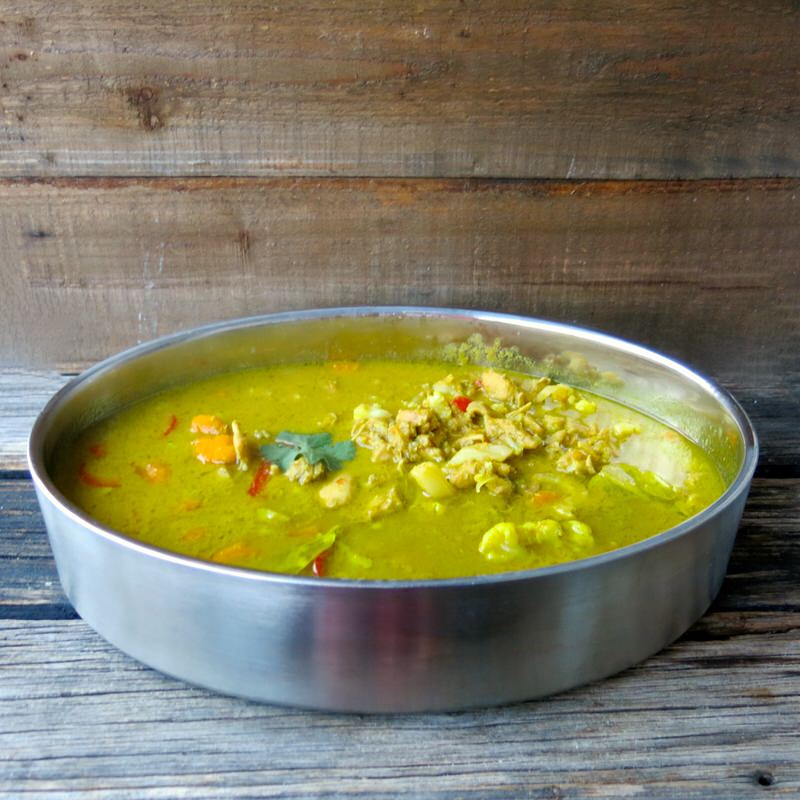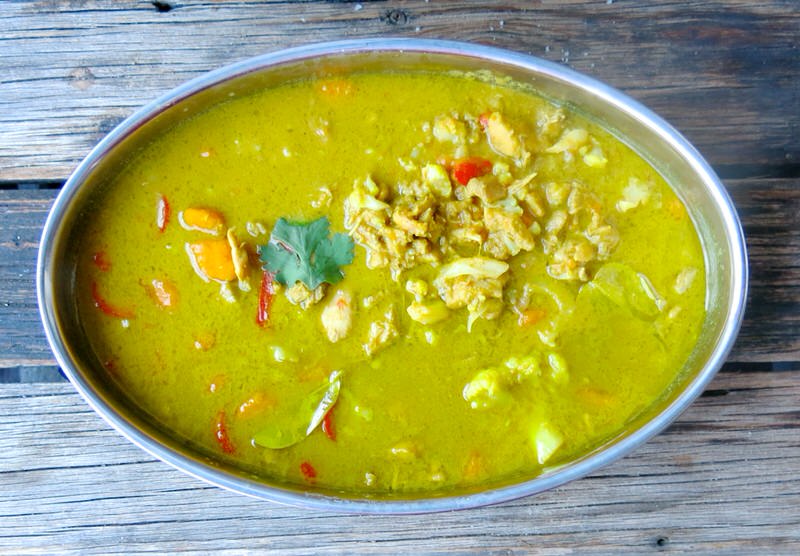 Too much sauce? Oh, no there isn't. Ask anyone that loves Green Thai Curry. You can never have enough sauce.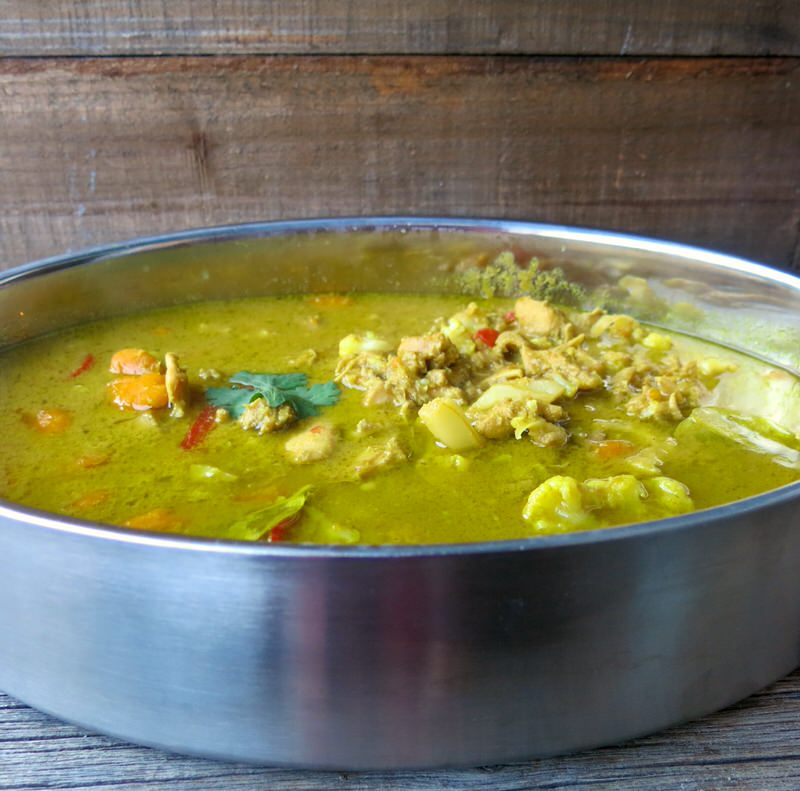 Thermomix Green Thai Chicken Curry: Serve Over Fragrant Jasmine Rice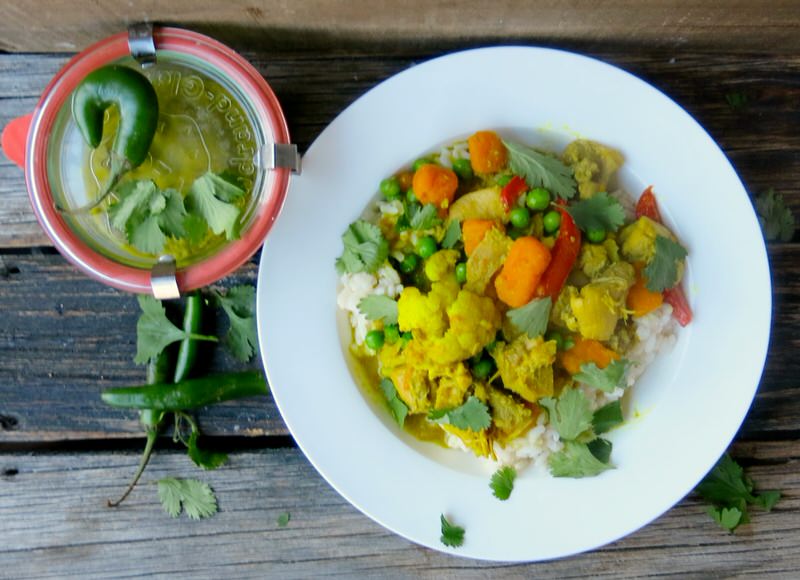 You really cannot see, but the rice is smothered in the sauce. My dinner guests are filling their bowls and I am out here taking a few shots as this gorgeous plate of food struts its stuff.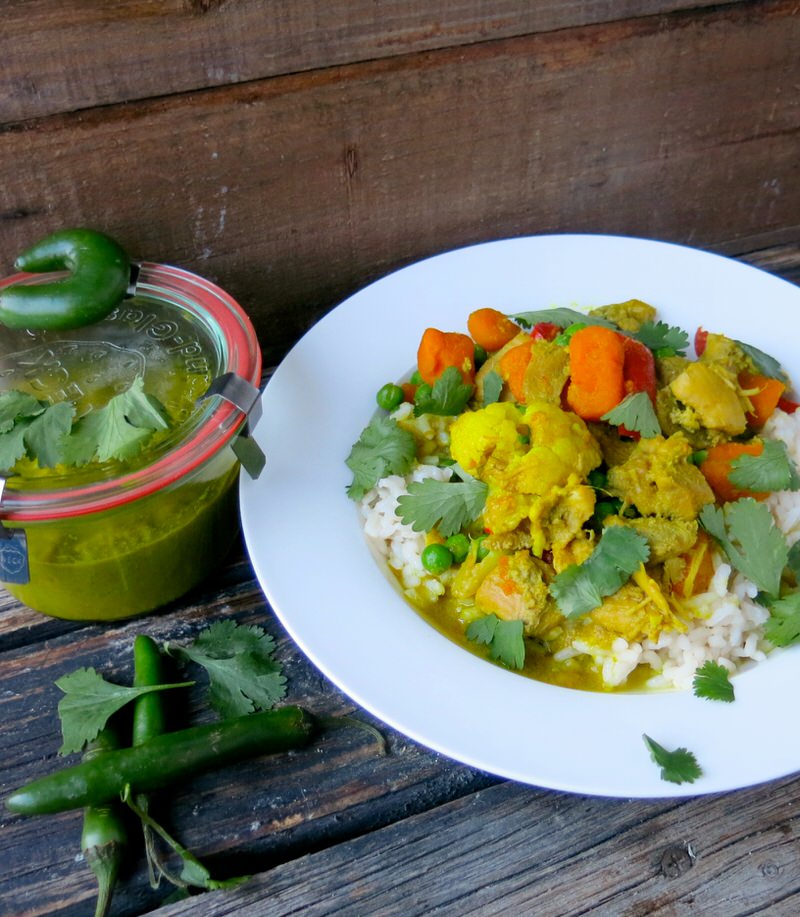 Honestly, I definitely enjoy how the food I make looks and smells and tastes far more than how much I enjoy eating it.
I know my "chubby body" tells a whole other story there, but that is the absolute truth. Tell me if you make it. Tell me if you love it.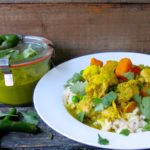 Thermomix Green Thai Chicken Curry
This recipe is very easy to make once all ingredients are assembled. Talk about eating the rainbow! Delicious weekday family meal or great for a special company dinner. Yes, it is that versatile!

Ingredients
30

grams

or 1 ounce coconut oil

185

grams

or 6.5 ounces curry paste

385

grams

or 13.5 ounces coconut milk

500

grams

or 16 ounces thighs

55

grams

or 2 ounces fish sauce

30

grams

or 1 ounce palm sugar

2

fresh kaffir lime leaves

385

grams

or 13.5 ounces cauliflower

florets

70

grams

2.5 ounces red bell pepper

strips

170

grams

or 6 ounces Kabocha squash

bite size cubes

100

grams

or 3.5 ounces frozen green peas

cilantro leaves for garnish
Instructions
Weigh oil, curry paste and coconut milk into TM bowl; set time to cook for 15 minutes at 100C or 212F on speed 1

Weigh in next 7 ingredients (chicken, fish sauce, sugar, leaves, cauliflower, pepper and squash); set time to cook for 15 minutes at 100C or 212F on Reverse speed 1

Transfer to serving dish; fold in frozen peas and garnish with cilantro

Serve over fragrant steamed Jasmine rice
Recipe Notes
The Green Thai Curry Paste used in this recipe is also made in the Thermomix very easily and makes all the difference.