Get ready for this: four ingredients and guests will beg for the recipe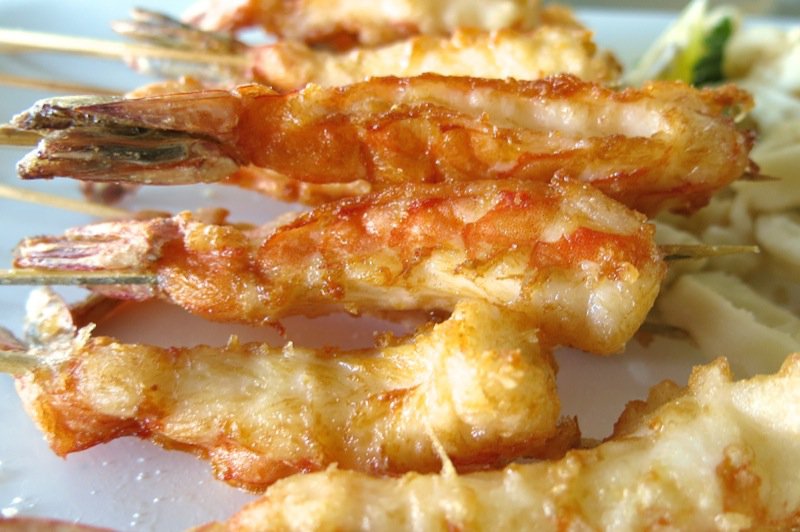 This has been a revered recipe by my friends for about 10, maybe 15 years now. Hard to keep track. Dare I even call it a recipe?
Our family love the insects of the ocean and shrimp is a number one crowd gatherer at our house. If you have not yet done a shrimp tasting, you must. Do it now. Buy every kind of raw shrimp you can lay your hands on, invite a crowd, prepare a simple tasting chart (appearance, nose, taste, texture, sweet to salty, etc) and prepare them all in the identical fashion, then chomp away.
You will be surprised. Bigger in not always better. This may well be my mantra for 2014. White shrimp vs black, tiger prawns – try them all. We have found our favourite and the experience was unforgettable.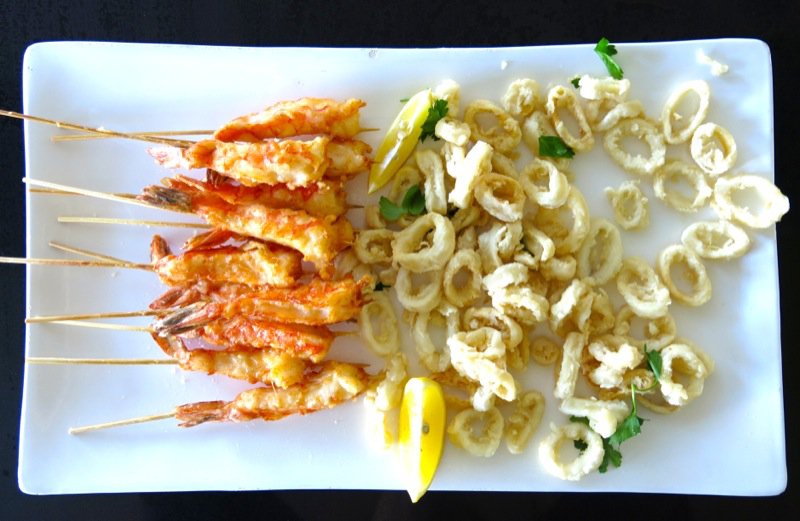 The good news is that when you aren't comparing one shrimp to another at the same time, whichever one you are eating is bound to taste delicious. This recipe is the one that everyone asks me to make. Oh, no. They no longer ask for the recipe. Few of my friends even cook anymore. Even a recipe this simple is too much work for some people. However, if you are still reading this post, you will be thrilled to have this recipe.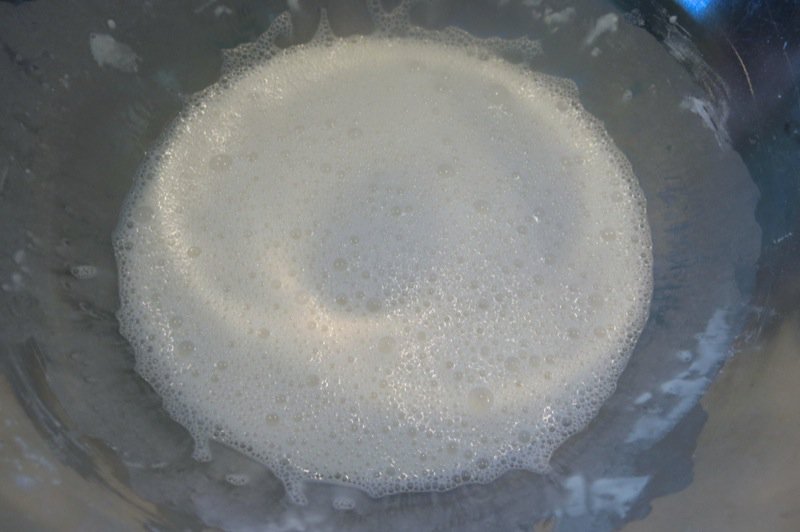 You must clean and de-vein your shrimp. A great shrimp knife has been a favourite tool of mine for several years. Yes, many packaged shrimp do come with the back shells open – but many do not and you will need your shrimp knife for this and for deveining. Then, rice flour and club soda: equal parts of each. 1:1 ratio. That's all she wrote. That's it. Clean your hands and walk away. Seriously.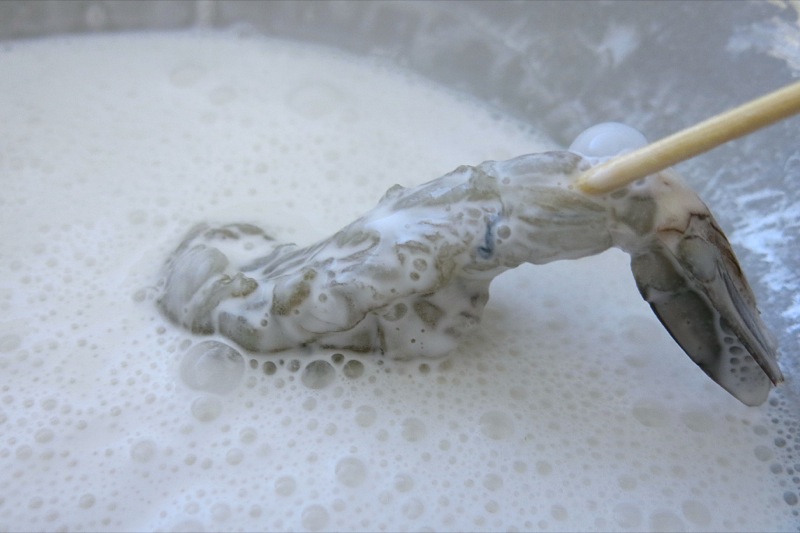 A little guilty in that it takes a fairly long while to clean and devein a couple of kilos of shrimp if you are really going to have a good shrimp fest. But, for a smaller affair or our Christmas Eve Feast of the Seven Fishes, it only took me about 30 minutes to prepare thrice as many as you see in these photos. Leaving the tail on is important because it looks nice and it is crunchy and delicious.
Skewering the shrimp properly is also important. Start just under the tail on the underbelly side and through the body and out the top. The shrimp will be secure and look nice once cooked.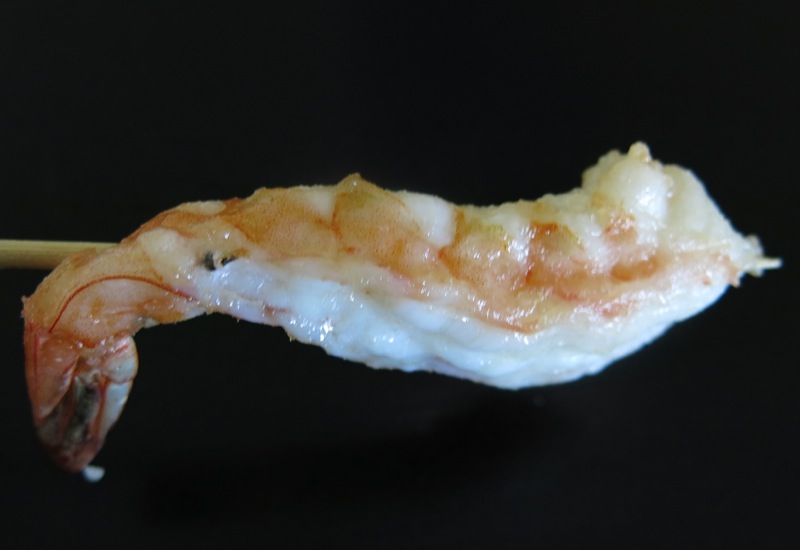 These shrimp take less than 2 minutes to deep fry once the temperature of the deep frier is ready. Watch for that. Don't put in the next batch until the temperature is back up to where you need it. I only fried 8 at a time and I have a standard deep frier.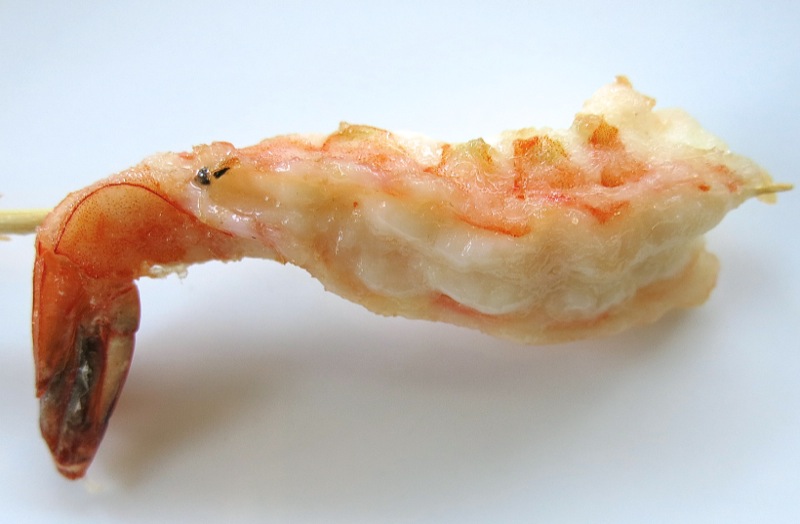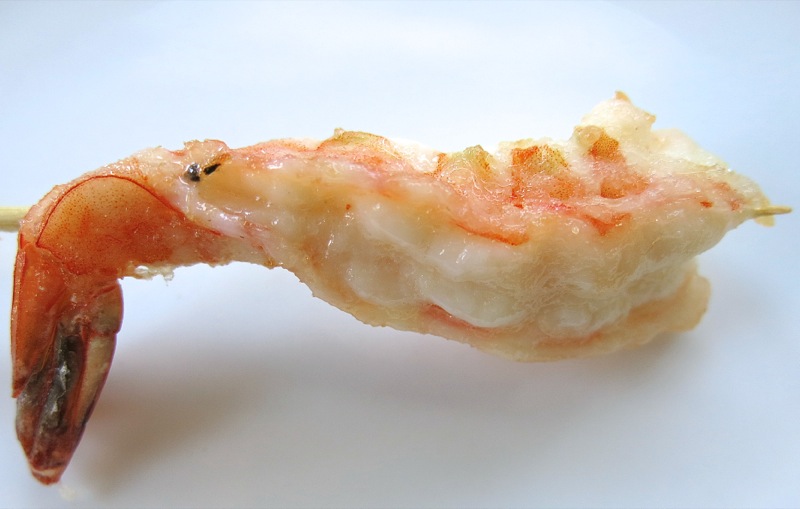 Most expect a thick visible batter on a deep fried shrimp and that is the beauty and the success of this technique. This is an ultra-light tempura batter and the shrimp is fried until cooked, not until golden as that would be an overcooked chewy mess. You can see there is a bit of a translucent crust and there is a discernible crunch when eaten warm.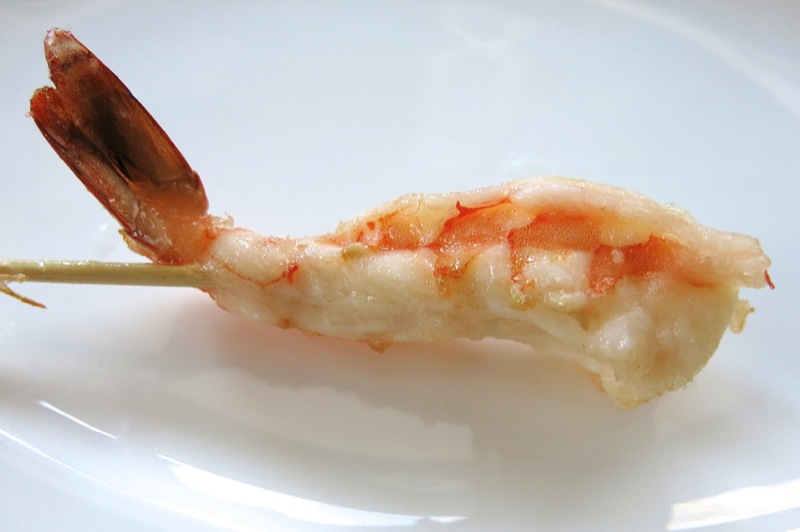 Another unexpected surprise? These are also delicious at room temperature. Not soggy. Not crunchy. Simply delicious.
What took these Deep Fried Shrimp Skewers over the top this year was the garlic dipping butter I prepared for The Feast of the Seven Fishes. I will include it in the recipe, below. I usually just serve these hot from the frier on a platter, white gloved, of course, to the crowd as an appetizer. This year, we were seated. It was a family dinner and the garlic butter dipping sauce I had prepared for the lobster knocked the shrimp right out of the park.
Believe it. Dad ignored his lobster. More shrimp, please.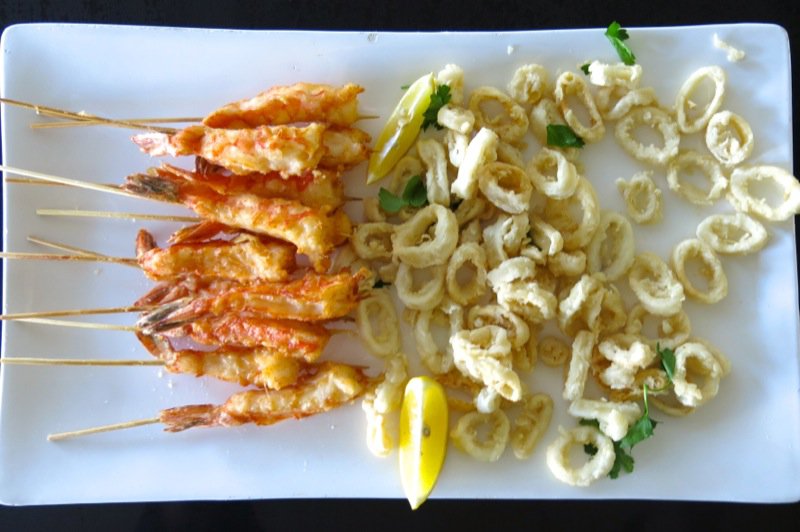 As I cook and present while the family eats, the food comes to the table hot, as it should… made the Calmari first as part of the appetizer course. The shrimp and Baccala were served second, followed by the lobster and crab. As long as the family wanted more shrimp, I kept it coming.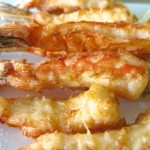 Perfect Deep Fried Shrimp
This is a very simple recipe that is a family staple and made for most celebratory meals and always at Christmas in our home.
Ingredients
1

cup

rice flour

1

cup

Club Soda

GMO free flavourless oil

(Canola, Grapeseed etc)

1

kilo raw shrimp

(size: 20 per pound, optional)

Wooden skewers
Instructions
Clean, peel and de-vein the shrimp, leaving the tail on

Place each on a wooden skewer: start under tail on under belly and go up through the body of each hrimp and out through top; keep body straight and shrimp cool as you work

Line them on a parchment covered sheet and refrigerate until ready to cook (no more than a few hours)

Heat oil to 375 F

Combine soda and flour

Immerse shrimp on skewer in batter; fry a small batch at a time, dependent upon the size of your deep frier

Place on paper towel briefly; serve immediately
Recipe Notes
The shrimp will take a good 30 minutes to clean and de-vein and 5-15 more minutes to skewer.
Fried in batches of 8 for less than 2 minutes per batch, the total cooking time is about 15 minutes as it takes time for oil to return to temperature between batches.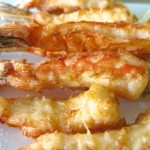 Garlic Butter Dipping Sauce
This very simple classic seafood melted garlic butter dipping sauce is excellent with lobster, crab and shrimp. Go nuts.
Ingredients
1

cup

unsalted butter

6

cloves

garlic

, minced

2

teaspoons

salt
Instructions
Place salt on top of garlic on a cutting board; using a fork, emulsify the garlic by working the salt into it

Melt the butter; add the garlic salt mixture to the butter to taste (a little at a time)

Serve in small, individual dipping dishes