When I think about Afternoon Tea, I picture a scone, clotted cream and a lovely loose leaf or very special tea in my lovely china cup. But I have discovered that there is so much more to Afternoon Tea!
My website developer, Philip, has introduced me to the most decadent places to experience this age-old custom as well as the components of an exquisite Afternoon Tea which is quite a delightful surprise.
Where Does Afternoon Tea Originate?
Afternoon Tea was originally enjoyed by ladies climbing the echelons of society in the 19th Century including Anna, the 7th Duchess of Bedford. Her Royal influence helped it evolve with Queen Victoria making it a formal occasion when she enjoyed the delights of the afternoon treats and made it known as a 'tea reception'.
The receptions were on a larger scale than the previous Afternoon Tea with as many as 200 guests invited open-house style, to visit between 4 pm and 7 pm, coming and going as they pleased, creating a more casual atmosphere for what had been quite a formal event.
The time of day one partook in this emerging fashion depended on one's social class! The upper class would typically serve a 'low' or 'afternoon' tea around four o'clock before they would take a stroll around, Hyde Park.
While the middle and lower class would still be working and return home famished after 6 pm. Drinking tea for these people was more of a necessity than pleasure as they would then enjoy what was called High Tea with a mug of tea, bread, vegetables, cheese and occasionally meat.
Although Afternoon Tea was a social event for the upper class, High Tea is still popular for all in Scotland in the UK even now.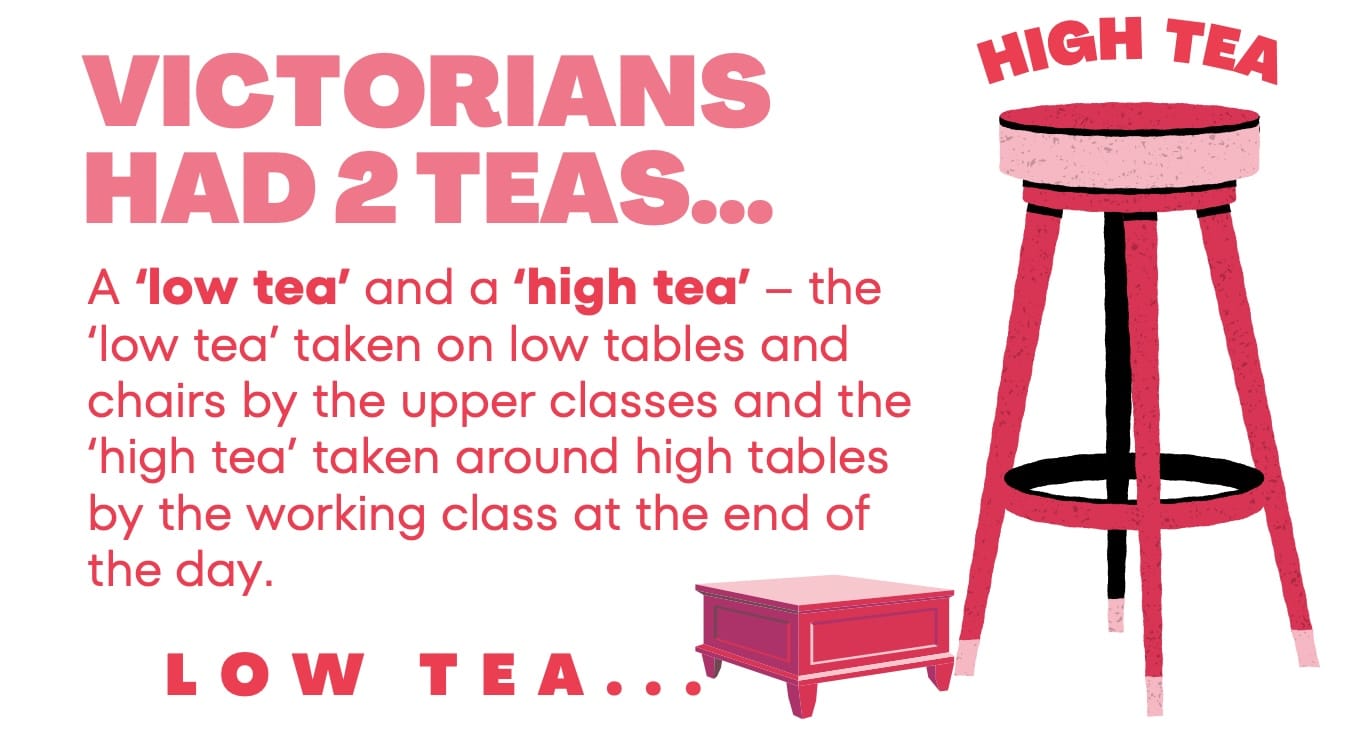 Why High or Low Afternoon Tea?
Did you know that the naming of the type of tea is derived from the height of the tables on which the meals were served? High Tea is served at the dinner table, and as Afternoon Tea was taken much more as a leisurely event for the upper class, it meant it could happen on sofas and chairs: hence, the 'low' element of it. In Canada, interestingly, we unknowingly refer to Afternoon Tea as "High Tea" due to the formality of the event and by not understanding the origin of each, or the culture from where they came to be.
Over time, the upper class developed their own version of High Tea as servants weren't available and could be enjoyed as an easy relaxed meal. High Tea included a mix of meats, fish and fruit.
So What is Afternoon Tea?
Philip tells me that the beauty of afternoon tea is that it can be anything you want it to be, as long as it loosely resembles sweet and savoury treats in the afternoon. However, in Canada, that might mean spring rolls, enchiladas, samosas or any other sampling of a vast multicultural repertoire we've all come to know as yummy grazing goodies, so I'm happy he adds more clarification which definitely defines these two teas within the context of the lovely British culture.
Afternoon Tea and High Tea are not part of our daily food culture in Canada, but certainly, Afternoon Tea is part of our Canadian food culture and a treat.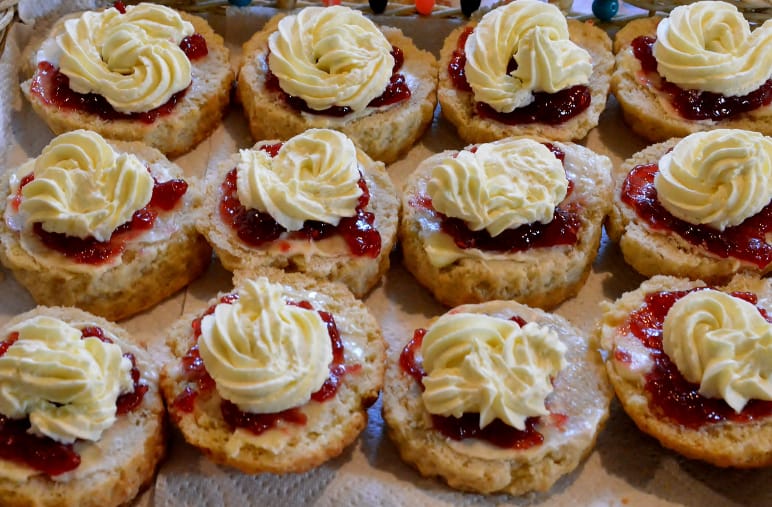 A typical Afternoon Tea can be:
Freshly prepared sandwiches on white bread
Warm scones with clotted cream and jam
Homemade cakes and pastries
Tea and coffee
What are the sandwich fillings?
Cucumber
Egg mayonnaise
Smoked salmon with cream cheese
Ham and mustard
Which type of tea?
Earl Grey
Chamomile
Mint tea
Green tea
Darjeeling black tea
As Afternoon Tea offers such a vast variety of amazing delicacies and flavours to appreciate it comes as no surprise that some of the most beautiful locations in the world now offer their version of Afternoon Tea.
Fairmont Empress in British Colombia
First off is the beautiful Fairmont Empress in British Colombia. I was most fortunate to have Afternoon Tea here with my mother after having it on my bucket list for over 40 years and it didn't disappoint!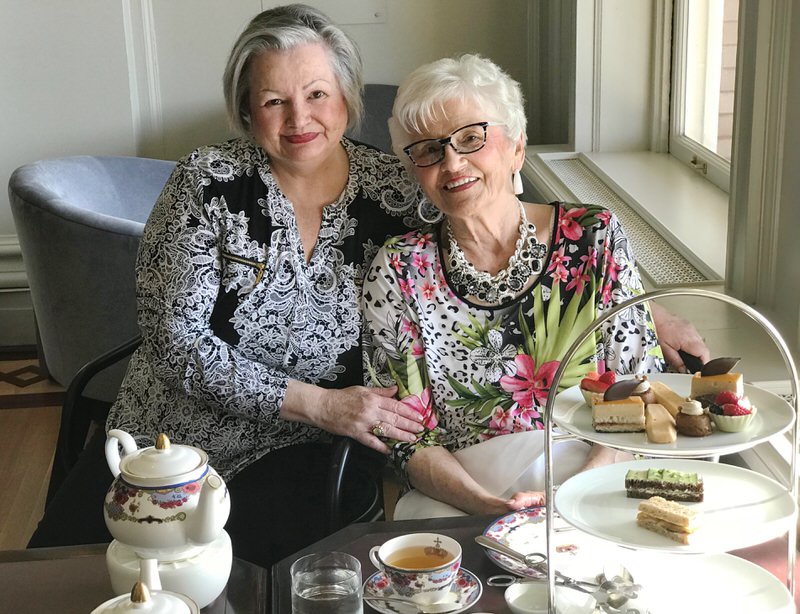 The Empress is renowned for its high tea, having served it for more than 110 years and serving more than 500,000 cups a year to thirsty customers!
Hosted in the historic Lobby Lounge with antique decor, live classical piano accompaniment and silver service, you're rewarded with beautiful views of the Inner Harbour when you take high tea.
Tea at the Empress includes a creative array of tea, (try The Empress Blend created just for the Fairmont!) sandwiches, traditional English scones served with house-made clotted cream and strawberry lavender jam, and pastries. I'm typically not a tea drinker, but the fragrant exotic offerings at an Afternoon Tea completely win me over every time.
Should you want to add a twist to your Afternoon Tea experience, you can add a glass of Champagne!
Tiffin, Grand Hyatt, Hong Kong
On the other side of the world, Asia offers the Grand Hyatt in Hong Kong with their fine offering of afternoon tea.
Not only does the hotel offer expansive city and harbour views at the Tiffin, but the array of treats on offer is mouth-watering!
Delights such as mousse, profiteroles, frangipane and pear confit are complemented by the dessert stations and an ice-cream counter, and that's without mentioning the traditional element of scones, jams, creams and sandwiches!
The tea menu is impressive too with a huge range of teas including kombucha, sparkling tea and a Tiffin signature cocktail to name a few. You'll be sitting for a while just choosing which tea you have!
Raffles, Singapore
A luxurious stop for the rich and famous, Raffles in Singapore is a palatial building that is famous for being the home of the Singapore Sling cocktail and its classic, colonial-era afternoon teas.
A nod to Singapore's multicultural heritage, the hot buffet features delicious curry puffs, dim sum and scones — a mix of Malay, British and Chinese delicacies. A three-tiered tray stacked with old-fashioned English cakes and sandwiches is also placed on each table.
Raffles is perfect for chic celebrations or a leisurely luxury catching up with friends in the grandeur of floor-to-ceiling Victorian pillars and soft daylight streaming through the skylight!
The Victoria Falls Hotel, Zimbabwe
Travel to Africa to discover a beautiful five-star hotel with a prime location overlooking Victoria Falls, Zimbabwe, an acclaimed Natural Wonder of the World and enjoy their afternoon tea.
A traditional Afternoon Tea is served up at the Victoria Falls Hotel in Zimbabwe on an outdoor terrace with stunning views of the Victoria Falls Bridge. Afternoon Tea is accompanied by all the traditional accoutrement, as guests are transported back in time in this elegant, historic location.
You'll be presented with homemade cucumber sandwiches, warm scones with jam and cream, miniature bite-size savoury treats and a variety of delicious pastries all served on an array of silverware, bone China, and vintage cutlery and crockery.
With the stunning views and the friendly hotel staff, this is one not to be missed!
Brigit's Afternoon Tea on a London Bus
Our final destination in the search for afternoon teas around the world is London, and this one is a real twist to the Afternoon Tea guide! Philip has shared with me the elegance and class of scone dining, whereas this offering adds personality and fun to what some consider a rather stuffy event as it's on a British red double-decker bus! Imagine that!
Afternoon Tea with an attitude!
Brigit's Bakery gives you a classic Afternoon Tea while on a tour of London. The vintage Routemaster bus shows you the streets of Central London, taking in some of the City's best sights while partaking in Brigit's Afternoon Tea.
Freshly prepared sandwiches of classics like cucumber, smoked salmon and turkey await you for the savoury selection with an assortment of mini homemade cakes and tarts for the sweet element.
Drinks include hot and cold drinks with the choice of a glass of something sparkly as an added extra.
Imagine the sights you'll see alongside the delectable tastes you'll experience and all on a bus!
Part of the reason Philip and I had this conversation and he shared all of his experiences with me is that he is starting a new business called WonderDays. The company is a new gift experience provider in UK aiming to to help everyone escape the everyday and make memories that last forever by selling supercar driving experiences, bungee jumps, helicopter rides and hot air balloon rides. Just to name a few. With something for all budgets, tastes and family sizes, plus free, instant exchanges if you change your mind, WonderDays gives you stories to tell, not stuff to show.
What an amazing selection of afternoon teas from all around the world. Thank you, Philip!
I would love to hear from you if you've experienced one (or more!) of these stunning and unique locations!