Happy Valentine's Day, Dear Readers! This one is for you!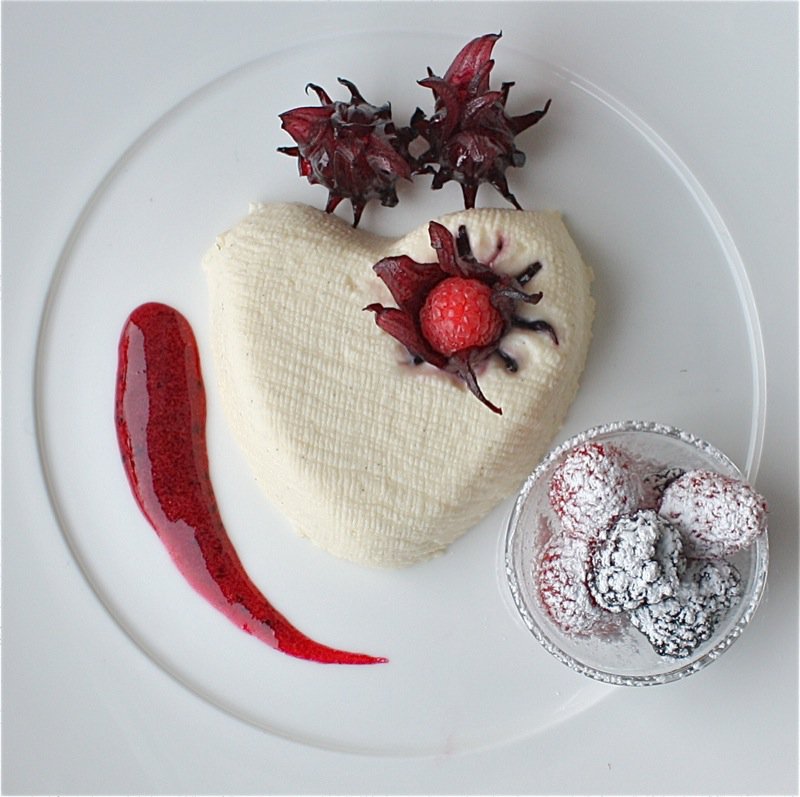 I have always wanted to make this recipe. What has stopped me? Fear of the unknown? With the commitment I made to "Invite a Blogger to My Table" last month when Valerie and I made Portuguese Tarts together, I decided to get this delectable little number checked of my ever-so-long list and "just do it".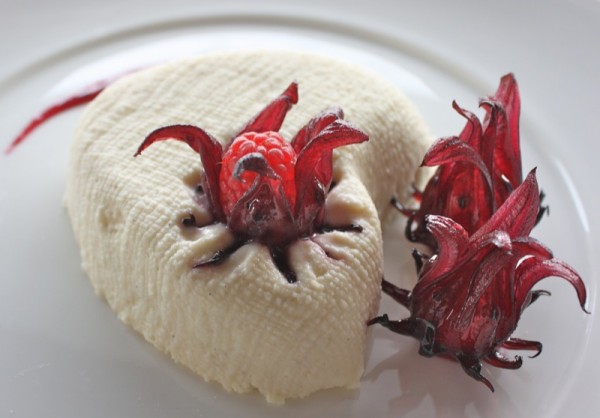 The first time I heard mention of coeur à  la crème was probably somewhere unenchanting, like in a magazine at the dentist's office. Probably a Martha Stewart magazine. I really cannot be sure. But, I am sure that this is a dessert that I have romanticised about, fanticised about, and already had developed a taste and texture profile for it in my little noggin.  I didn't realize I had gone so far until I went to  unmold it. More on that, later.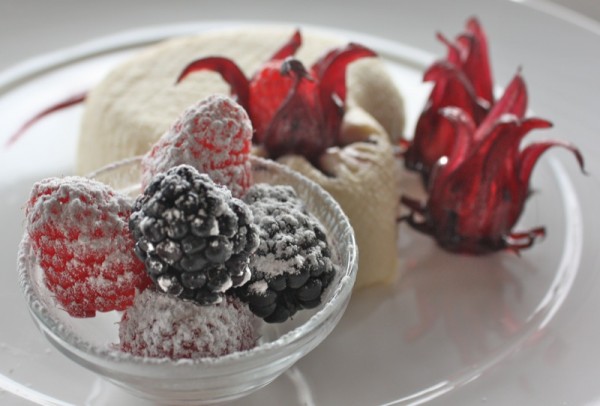 With Valentine's Day approaching, I was tickled. I was going to woo Vanja; no, double woo Vanja with this delectable delight on Valentine's night: Woo-Woo!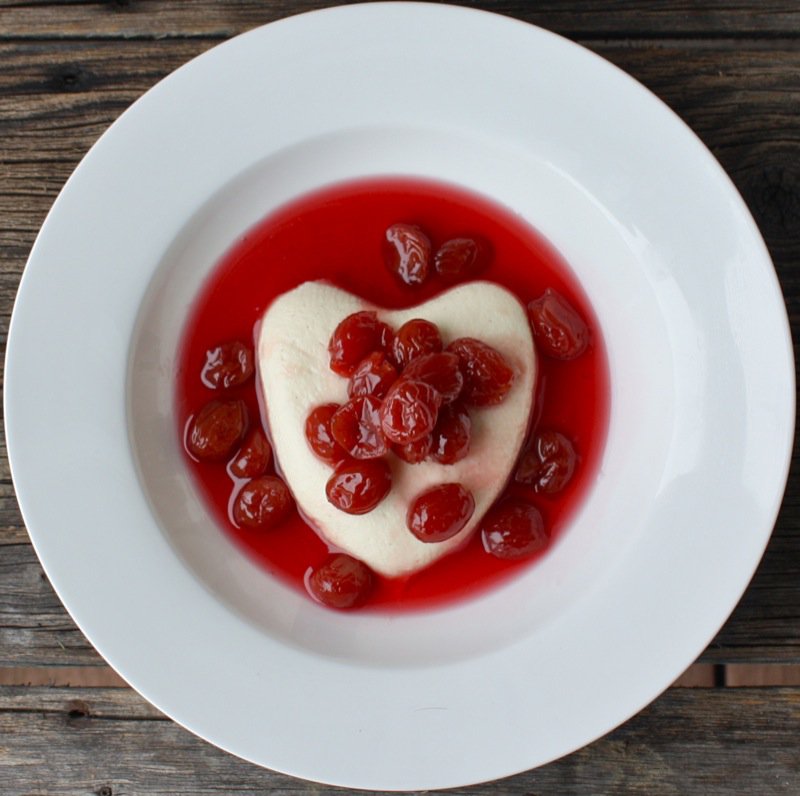 And is it not pretty? Come on! It is so pretty. And rustic and elegant and tantalizing. Isn't it? They are hibiscus flowers in the top photos garnishing the heart of all hearts. And, my own home grown preserved sour cherries from the local Evan's Cherry tree. I know you want it. Admit it.
Be ye not afraid! This is the easiest dessert I have made in my life, other than eating an apple. Truly.
However….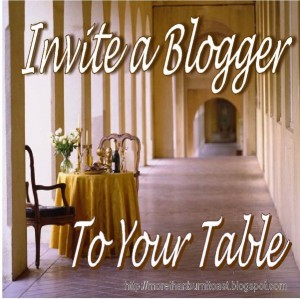 Invite a Blogger to Your Table
This is a new and innovative collaborative initiative by Val at More Than Burnt Toast that I participated in a bit ago with Val herself when she invited me to her table to make Portuguese Tarts. That was such a great learning experience! I have now invited Heavenly Housewife and Val to MY table and we will be each posting our own sauce with the traditional recipe of Coeurs à  la Crème in time for Valentine's Day! HH'a is here and Val's is here.
PLEASE JUMP IN AND INVITE A CYBER FRIEND TO DO THIS WITH! It's a blast!
Here are her "rules":
Your choice of recipe can be anything you would like it to be. Is there something you have been wanting to make and need feedback and encouragement from a friend to create on your blog? Is there a special dish that you just have to share sweet or savoury? Do you just want the fun of collaborating with other bloggers to come up with a tasty dish you feel you and your readers might enjoy. This is a fun event that creates friendships throughout the blogosphere. Invite someone you have followed for years or a perfect stranger. It is up to you!
Choose a dish to prepare and invite 1 blogger to create that dish with you. You can source your recipe from a cookbook, magazine, blog or any other source. Your dish can be sweet or savoury; easy or complicated.
Decide upon a date that you can both mutually post your recipe within a 4 week time frame.
Link back to More Than Burnt Toast somewhere in your post as the creator of this event: http://morethanburnttoast.blogspot.com/
Please feel free to use the Avatar/Badge above "Invite a Blogger to Your Table".
Once you have made your dish with your blogging friend or friends and posted it, you can choose to STOP or CONTINUE on and "invite another blogger to your table" to make something DIFFERENT on a mutually agreeable date within the next 4 week time frame.
Cut and paste these instructions into your post and contact a friend. Let magic happen and let's get cooking!!!
Back to the topic at hand: the ingredients are so simple: cream cheese, crème frâiche, powdered sugar, vanilla, lemon and salt. I made my own crème frâiche which is the ultimate in the world of crème frâiches and is deadly and to-die-for and you must try it. I am making my best effort. My very best effort would have had me make my own cheese. Next time, I will. I really wanted to use Holly's chèvre, but I didn't have any on hand or anyway to get any fresh, so I used Philadelphia.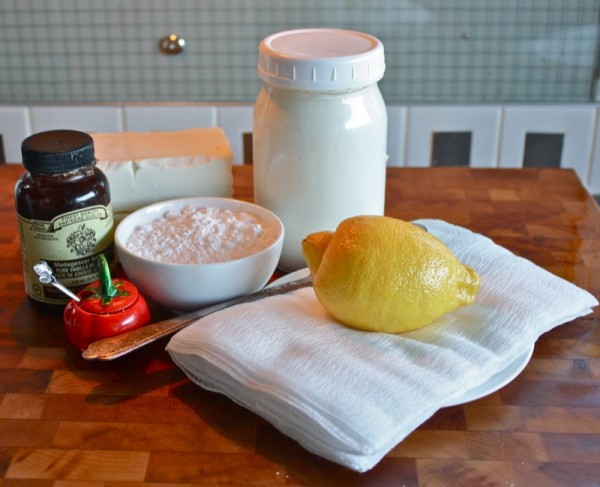 Both Heavenly Housewife and I ordered our molds for this very special occasion and when they came we wrote to each other vibrating with excitement! Years. I have wanted them for years. I even saw an antique one on ebay in France about 150 years old I almost bought for this post. (I kind of regret letting it go… )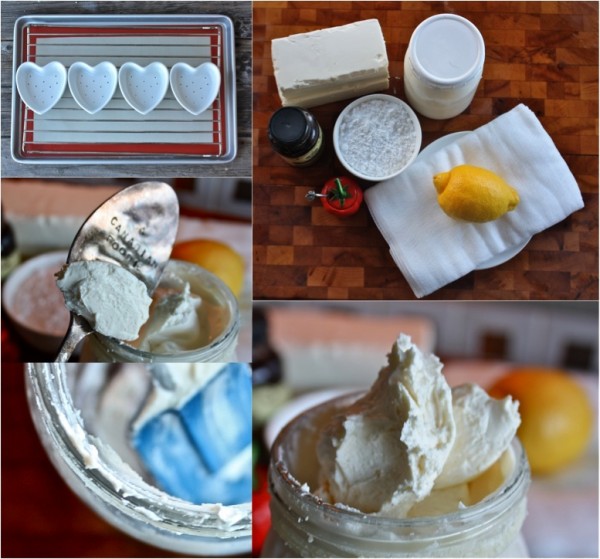 I wasn't sure why I should push it through a sieve, but I am a follow directions kind of gal. At least, the first time.
Did you see how lumpy it looked on the spoon above, even after straining it. Is wasn't, though. It just looked lumpy. I am not sure why the instructions say to wet the cheesecloth. Maybe so the filling fills the mold with greater ease. The instructions say to let it rest to set a minimum of four hours, and preferably over night. Maybe the word "fort" was left out by accident? A fortnight would make more sense to me!
That is only because I had imagined the texture, the consistency, the feel of these little parcels and the reality was not aligned. They did "set" in 4 hours and I could absolutely "unmold" them to hold their shape then. I checked. But, very little liquid had been released, and as I make yogurt cheese on a regular basis, I had expected a considerable amount of moisture to escape these tender little hearts. That did not happen. After twenty four hours, again, the mold came out beautifully. The heart tasted exactly like the filling that went into it flavour and texture wise.
What was I expecting? Magic? Well, yes. I was absolutely expecting a transformation. The kind I get when I hand yogurt overnight and in the morning I get cheese. It feels different and tastes different. That is what I expected from this simple French delicacy. I waited 48 hours and then "did it". It was definitely a firmer consistency, but nothing like the one inside of my imagination. It is beautiful, though, with the cheese cloth markings: rustic and romantic. (The black dots are the vanilla bean seeds.)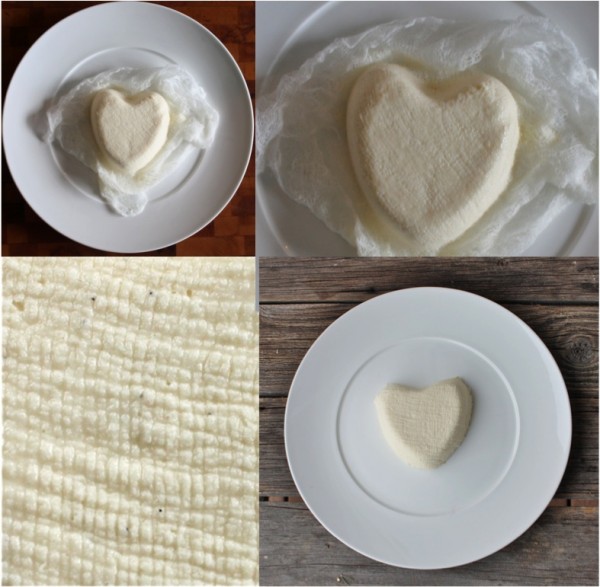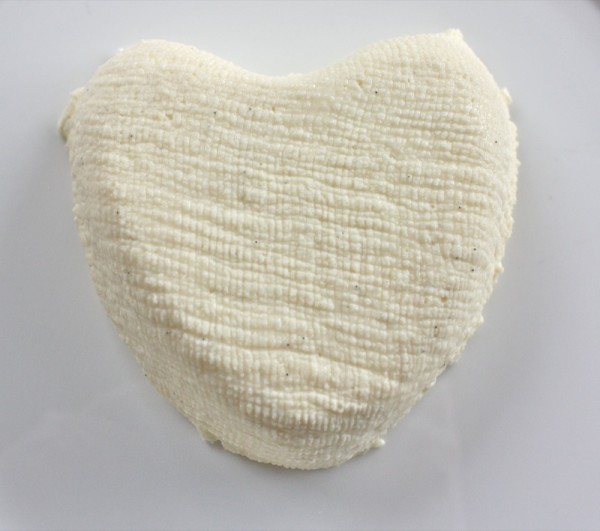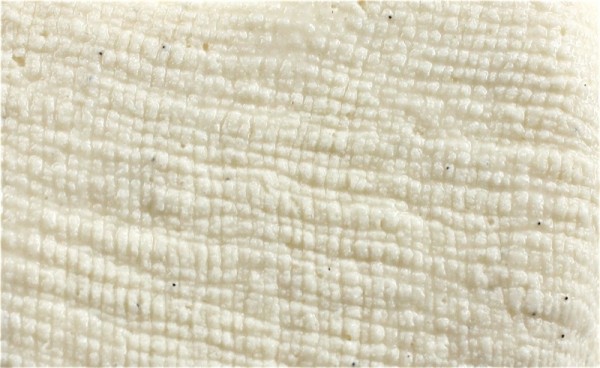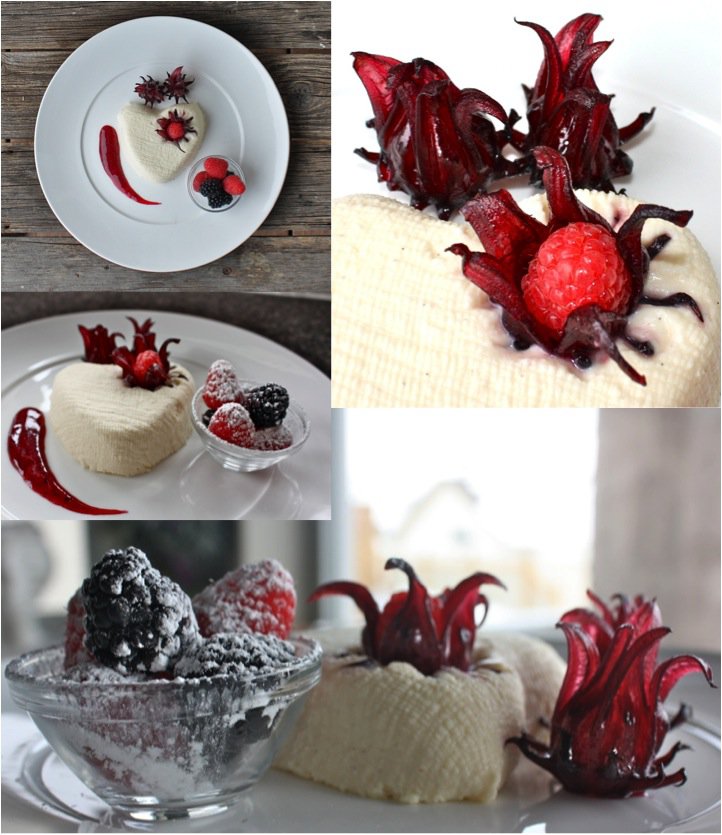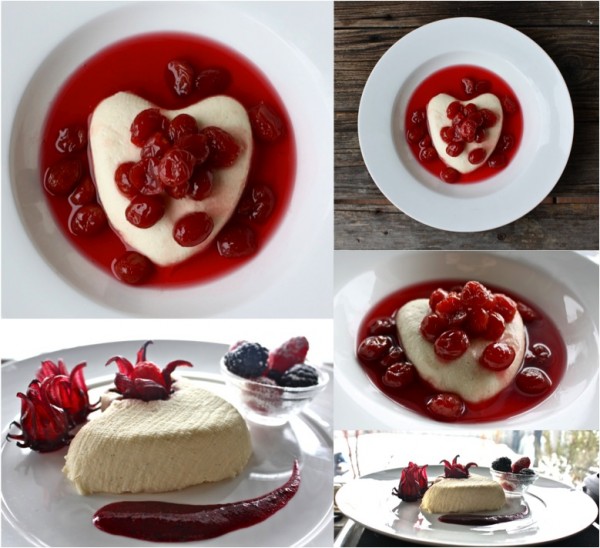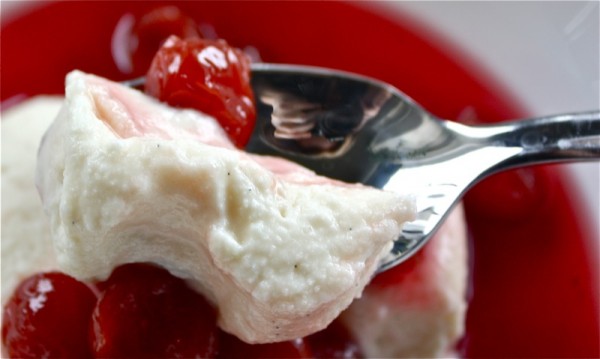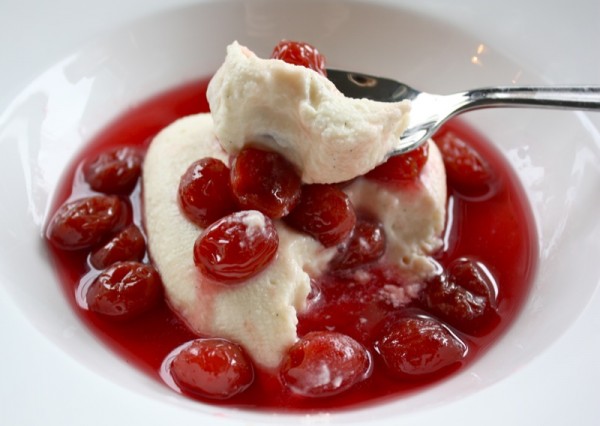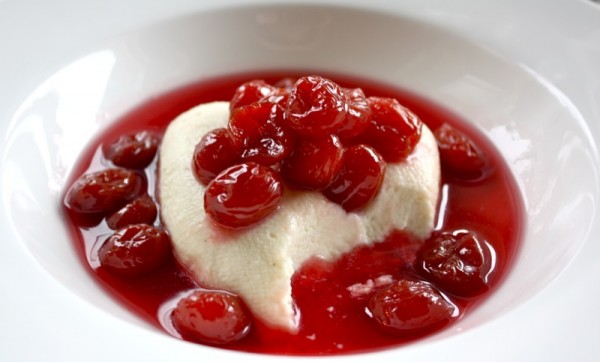 Now you can see the texture. It is a very soft, loose pudding like texture. Nothing cheesy about it. I could not taste the vanilla. I could not taste the lemon (well, with one teaspoon, didn't really expect to), but I could not taste my homemade lovely lush beautiful buttery crème frâiche! Now, that was disappointing. I could taste a very delicately sweetened cream cheese: plain old cream cheese. Maybe I was having an off day.
But, when I whirled and swirled it triumphantly (hiding my own impression) in front of Vanja after dinner to do the double voo-doo "Woo-woo", he looked at it skeptically, one eyebrow raised (you know the look) took a taste, and just shook his head uttering something like. "Uh-uh. Nope… uh-uh…" all the way into his favourite chair.
I was left in the kitchen standing with my heart in one hand, loosely pulling the "Woo-Woo" chain with the other. Deep sigh.
But, don't let me discourage you! I am not even going to let me discourage me! My friend came over today, and "oohed and ahhed" her way through almost two of them. She said it was a very special treat. The hibiscus flowers remind us both of choke cherry syrup. I love that!
I will make others. I can see a yogurt cheese one coming up, and a chèvre one, and some savoury ones, too. But I would need a large mold for that. Maybe. Anyway. I never give up.
I now have a project I am working on, like Bènè's cake. and I will not stop until I succeed!
So, here's a little love letter to each and everyone of my readers, today. Thank you for reading and enriching my life. Your feedback completes the circle. I learn from you and hopefully, you learn from me. I have learned so much from reading the sites I read and interacting with the wonderful cyber and local friends I have made through this work. My heart runneth over. Truly.
(But, not if you let it set for 48 hours!) XO
Coeurs à la Crème Recipe

Ingredients for coeur à la crème:
4 (10×10-inch) squares cheesecloth
1 (8-ounce) package cream cheese, room temperature
1 cup crème fraîche or sour cream
4 tablespoons powdered sugar, divided
1 teaspoon fresh lemon juice
1/2 teaspoon vanilla extract
Pinch of salt
Instructions for coeur à la crème:
Rinse cheesecloth under water; squeeze until just damp
Line each of four 3- to 4-inch coeur à la crème molds with 1 square of cheesecloth (I used double thickness)
Using electric mixer, beat cream cheese, homemade crème fraîche, 4 tablespoons powdered sugar, lemon juice, vanilla, and salt in large bowl until smooth (about 4 minutes)
Press through fine strainer; divide among molds; fold cheesecloth over
Place molds in shallow baking dish; cover with plastic wrap; chill at least 4 hours and up to 1 day
Unmold onto serving plate and garnish with sauce
Cassis Raspberry Blackberry Hibiscus Flower Garnish

Ingredients:
fresh raspberries
fresh blackberries
1/2 cup cassis syrup (same recipe as sorbet, but not frozen; just strained)
fresh mint or hibiscus flower to garnish
Instructions:
Garnish the coeur à la crème with the a variety of the above
Mush the berries into the syrup; drizzle over individually plated coeur à la crème, garnish with mint and flower
Sour Cherry Soup Garnish

Ingredients:
Instructions:
Lavish cherries on top of the coeur à la crème
Pour over with syrup
The White House version is in the video below that Valerie mentions on her post. Exactly the same recipe we used, too!
httpv://www.youtube.com/watch?v=v80ssN_c8X8