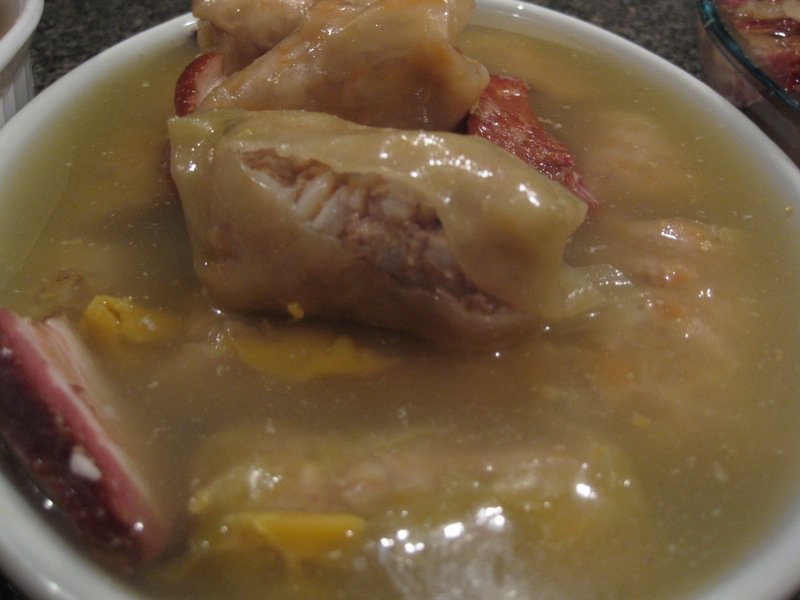 Anyone from Central Alberta or the Edmonton area has eaten cabbage rolls and loves them. They, pyrogies, and other Ukrainian delights have become a fundamental part of our festive prairie cuisine. This happened through the influx of
Ukrainian settlers in the late 1800's
in the north-western prairie area now known as Alberta. You will almost never attend a casual prairie wedding, or a festive meal (like Christmas), without the addition of a large pan of cabbage rolls.
This is, of course, accompanied with the most in-depth, and often heated discussions of how good they are, and which way to make them is best: with meat, or without; small, or big; tomato sauce or not. When the at-home-chef gets a compliment from an "outsider" that is truly a compliment! People do not hand out such compliments freely in the west. They must be earned through years of practice and with the sweat on one's brow that demonstrates evidence of passion for the family and for the food the family partakes of. The recipes that pass through the fingers of time lay at the table of each future generation as a testament to the love and devotion of those that came before.
In our home, it is called "Sarma" and made with sour cabbage and double smoked ribs and bacon from our local Hungarian grocer. Two or three times a year Vanja and I make a trip to the Budapest Deli on 118th Avenue. Just to step into the tiny little shop, hear the door bell gently tinkle our arrival and smell the smoky fragrance of the meats hanging on the back wall is reason enough to make the trip. Yum. Of course, Vanja knows his smoked meat. Being from the former Yugoslavia, he has slaughtered his own pigs, butchered the meat, prepared the brine, and made his own prosciutto and smoked prosciutto. There is nothing like Vanja's home-cured meat except maybe Vanja's dad's home-cured meat! As Slav Heller, a fellow Slow Food member wrote to me, "Al

l the greatest foods haven't been invented in up-scale restaurant kitchens and certainly not in the big business food labs. They have evolved through people's effort to preserve foods or make them edible, and taste is secondary…" Yet, they are delicious, or we have acquired the palate that believes that is so. It is these very foods that resonate within my heart strings.
Vanja's father was the "Maker of the Sarma" back home. It was his special honor. Now it is mine.
Please see my slide show under

A

Prairie Christmas

for pictoral instructions for making the Sarma. It is melt-in-your-mouth fantastic!
Sarma

(Smokey Sour Cabbage Rolls)
Ingredients
1 kilo fatty ground pork (well, not super lean, anyway)

1/2 large onion or one whole small onion, chopped

3 cloves of garlic, minced

1 Tbsp. of very fresh sweet paprika

one medium to large head of sour cabbage

1/2 rack of double smoked pork ribs, slices and separated

a 4 inch slab of double smoked pork bacon, sliced
Procedure
Mix the first seven ingredients all together until well blended

Rinse cabbage leaves (depending upon how salty) and then separate and place in a bowl

Cut out tough vein from leaves and roll 2 to 4 rolls per leaf

Place open edge down in a dish

When all are rolled, use the extra leaves to cover the bottom of a large pot

Place rolls close together on the bottom of the pot and make sure each layer includes some ribs and some bacon slices

Layer rolls until 1/4 of the pot remains and then fill with water, covering all rolls

Place on lid, and bring to a slow rolling boil for a minimum of three hours

Cool, and then re-plate the rolls into casserole dishes and freeze for future use, covering with extra leaves, and ensuring each dish has the remaining juices from the pot in it (with lots of ribs and bacon bits)

Save some to eat, of course, with fresh baked bread. YUM!
Lip-smacking and finger-licking home food perfection.
[nggallery id=13]