in Lunenburg, Nova Scotia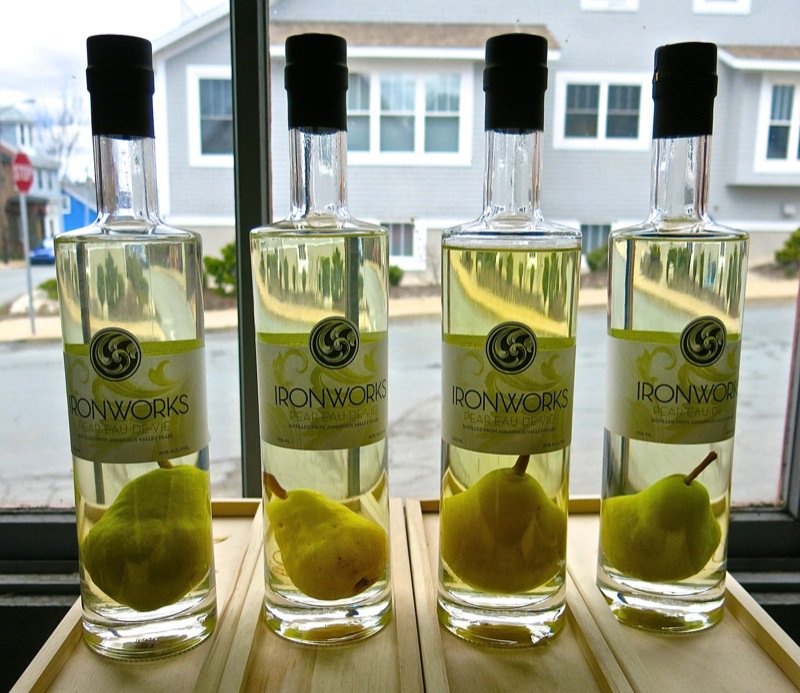 Shelah and Ashlee from Lunenburg Tours took us across the street from our Lunenburg Pudding Tasting to Ironworks Distillery. Lindsay and Dana said this was a must see during our time here, and Shelah suggested if for our itinerary, as well. Look above and wonder why. I don't even drink anymore and was stunned by these beautiful bottles of Pear Eau de Vie. Want.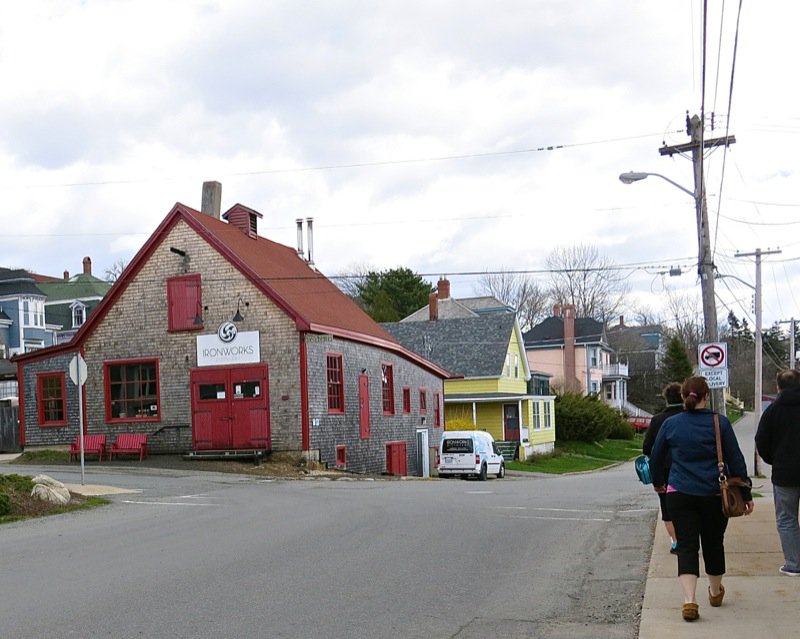 The building was a working blacksmith's shop until 2004 and in the summer of 2009 was purchased by Lynne MacKay and Pierre Guevremont who distilled their first vodka by September of that year. This is a happy, kind of magical story.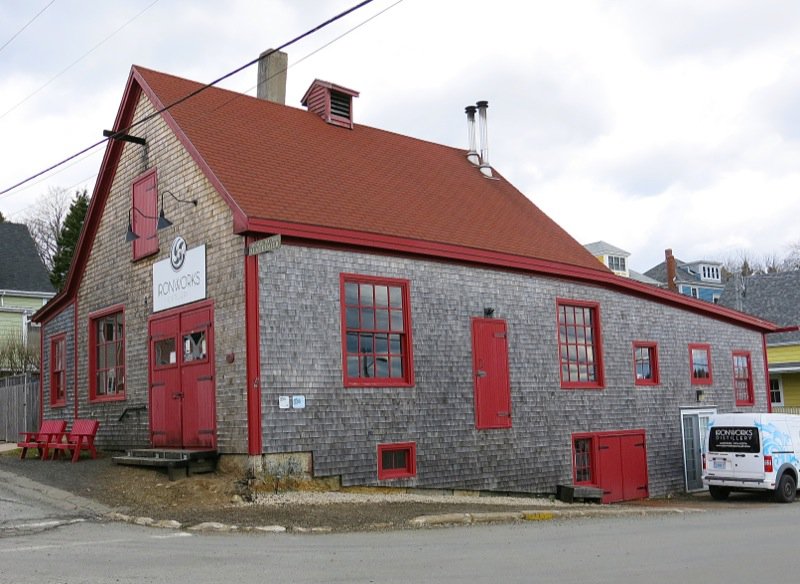 I really won't retell it. It is on their website, but this couple had never distilled anything before and since that first batch in 2009 they have just won 5 Gold Medals! The World Brandy and World Rum awards that were revealed London, U.K. this year:
World's Best Dark Rum – Gold: Ironworks Bluenose Rum
World's Best Brandy – Gold: Ironworks Aged Pear Eau de Vie
World's Best Apple Brandy – Gold: Ironworks Apple Brandy
World's Best Fruit Brandy – Gold: Ironworks Aged Pear Eau de Vie
World's Best Brandy Design – Gold: Ironworks Apple Brandy
Now, that is one industrious couple. I was so eager to be here – and taste that Pear Eau de Vie!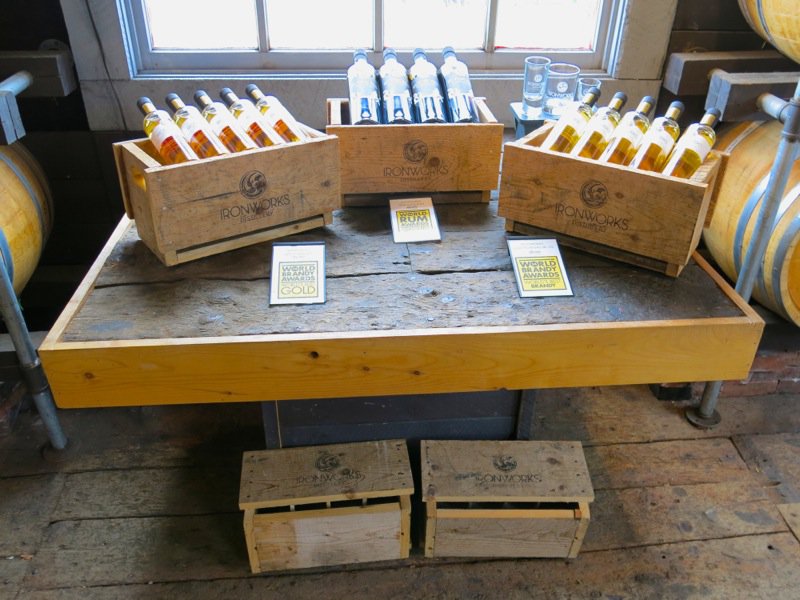 Though the shop wasn't yet open for the new season, the aroma of something brewing was intoxicating upon entry. The old world charm of the heritage building was captivating. Everything just felt so right, and like an authentic step back in time, all at once.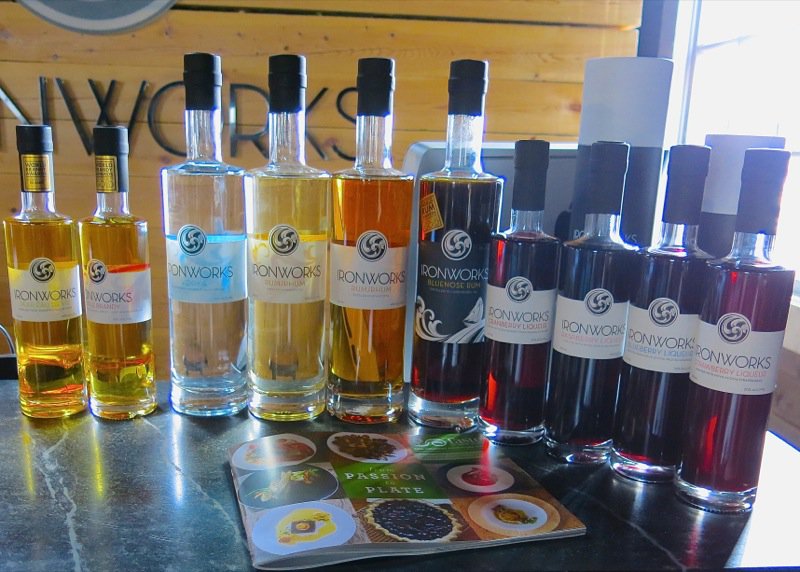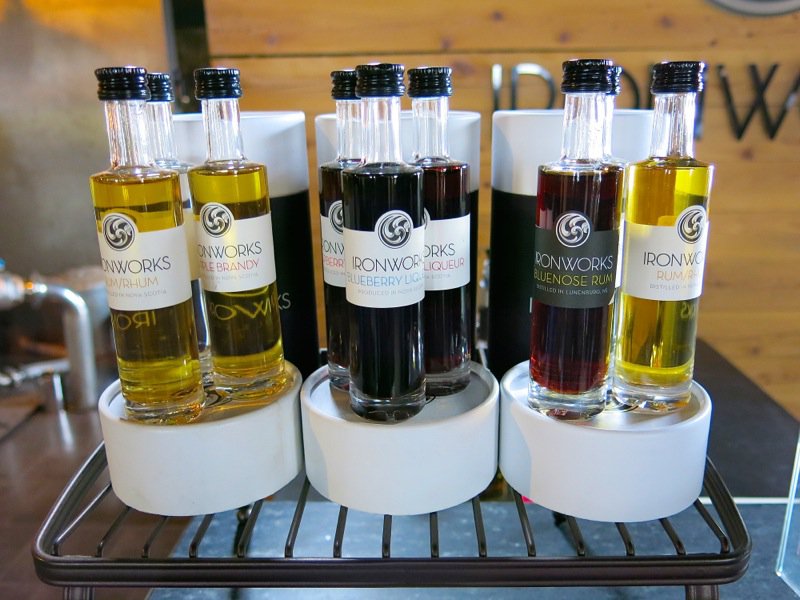 I did not expect such a wide selection of flavours. I was aware of the awards, but had left the experience to be more of a surprise. I wanted to taste them all. The clean modern lines of the bottle paired perfectly with the rustic aged interior and the classic logo.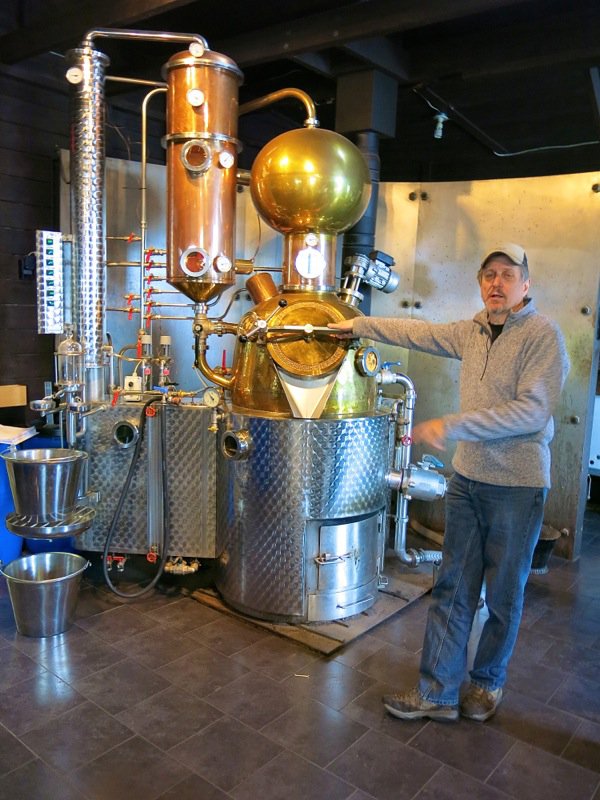 Now this is a distillery. I have certainly seen my share of home distilleries having visited Serbia as often as I have. They are also shiny and copper, but nothing like this grandpappy!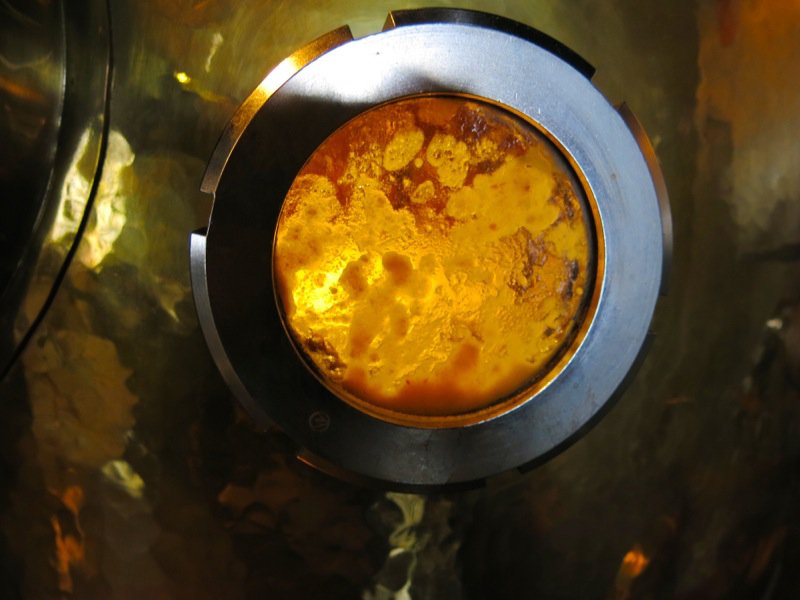 The window in the side needed a little aroma release button attached.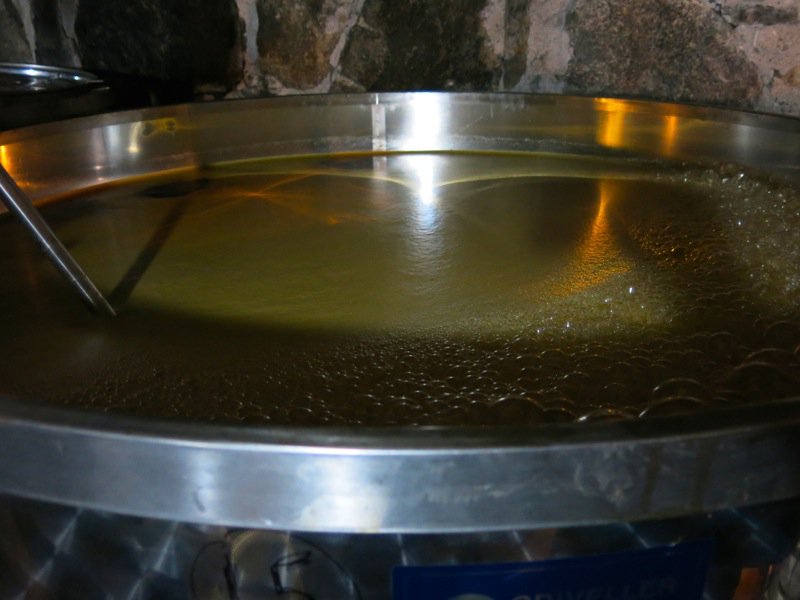 I felt very fortunate to be getting a tour of the operation. Downstairs to the fermenting room. There were several vats at various stages of development with bubbles festering promise of future festivity.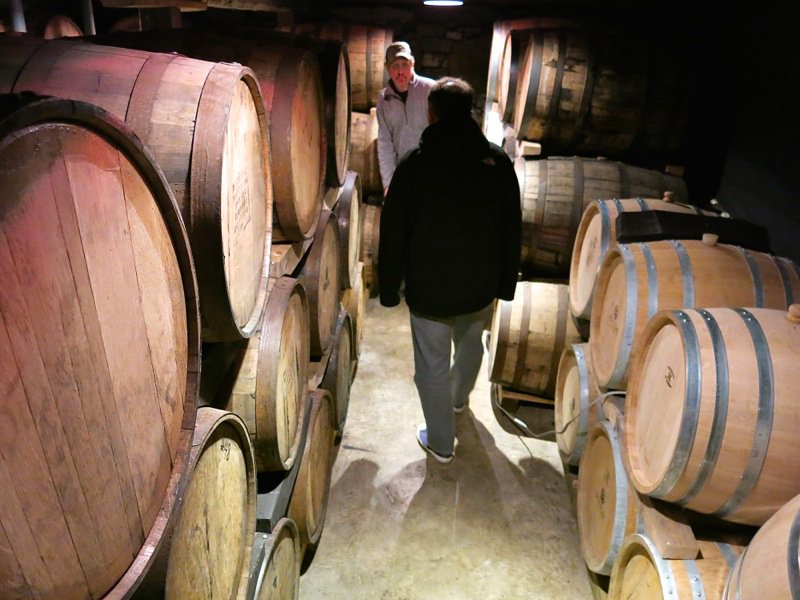 Now, through a little door, down a couple of steps into a cool, underground, aging room.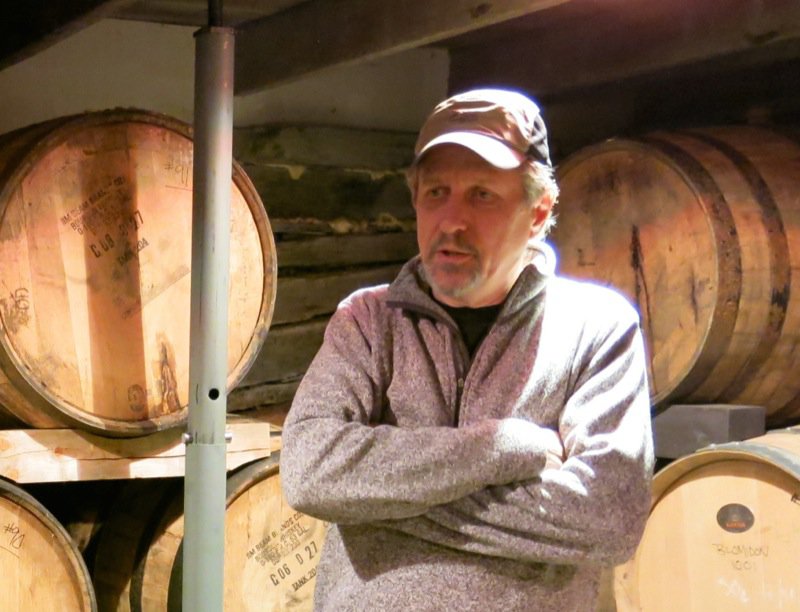 Vanja and Pierre had quite a little discussion about the process. Vanja had just made a huge batch of plum brandy or Slivovitz last year while home with dad. Below, Pierre demonstrates how the wood flavours the liquor by showing the soaking or seeped into the wood lines from a strip of a barrel.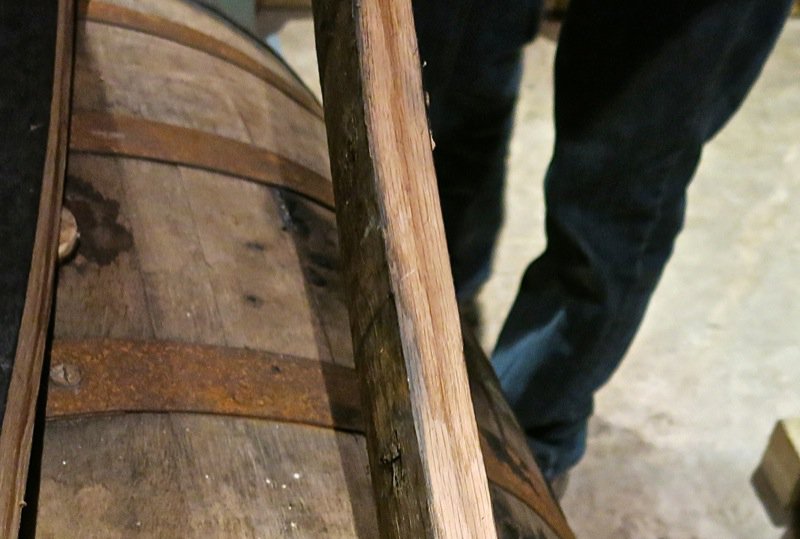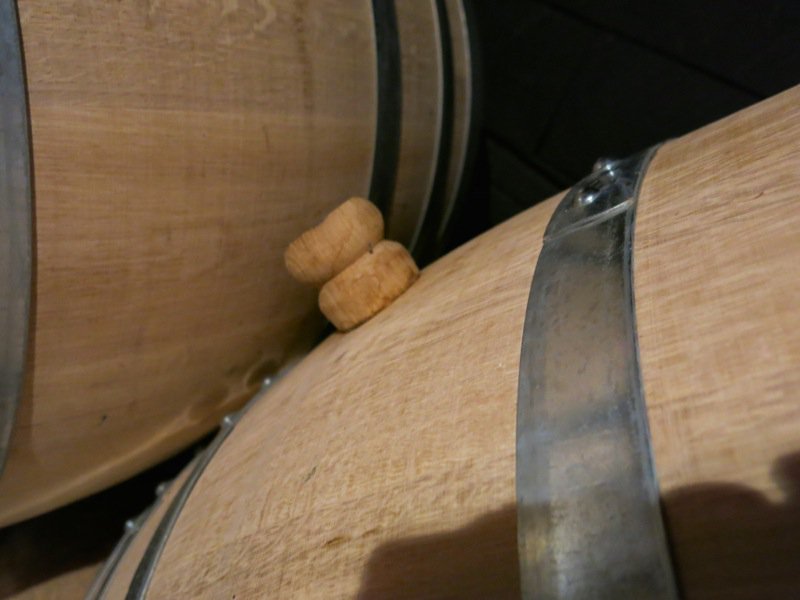 "What's this little knob?" Pierre did tell me. I forget, but that is where they put the dropper into the barrel to extract the liquor for testing.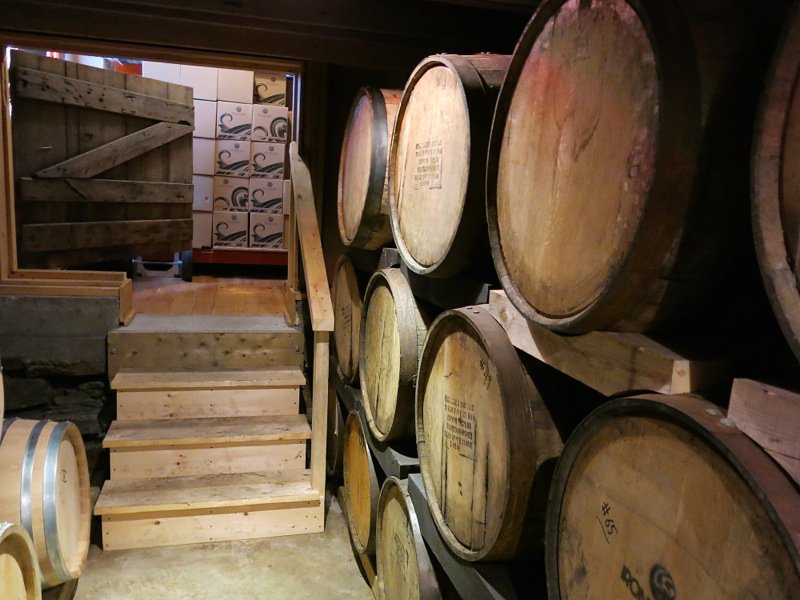 Up the stairs and back through the labelling and bottling and working room, below.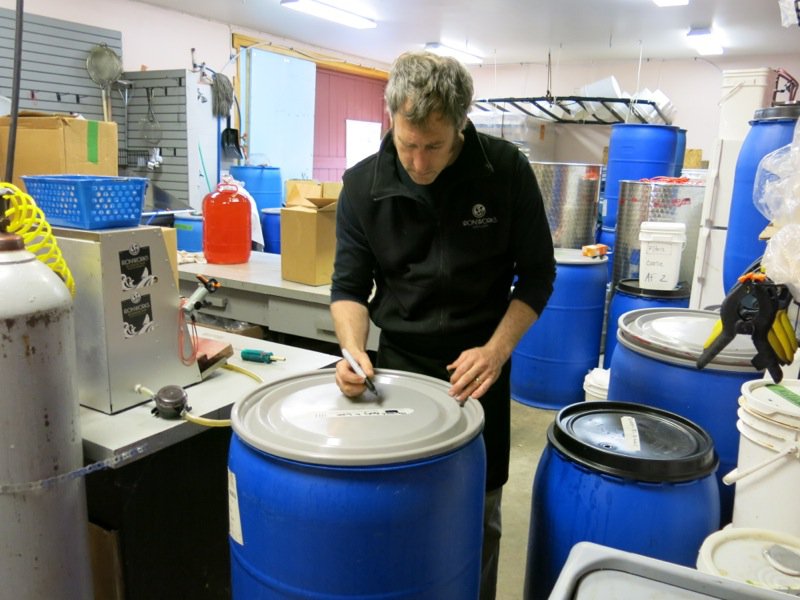 It is the first week of May, and rhubarb is already up in this area, with a vibrant jug of ruby red rhubarb juice dressed up and ready for the distillery. I tasted their Rhubarb liquor, and it was incredible. No one makes liquor from Rhubarb. Wine, maybe. So Canadian and mighty tasty! This is a company that fits into this local community, uses all local product and "just gets it", as Shelah said.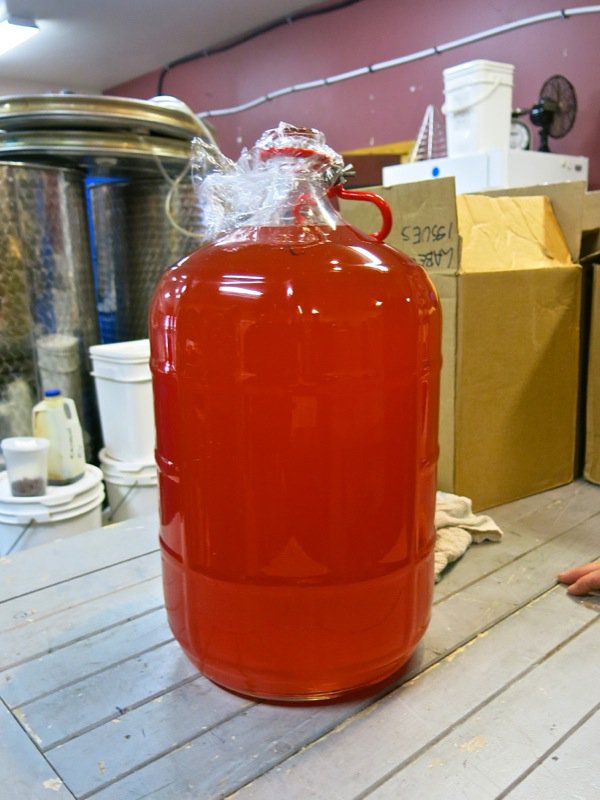 Yet, nothing captured my attention like the Pear Eau de Vie. Ashlee and Shelah were all over the brandy. We bought a bottle of that. Apparently, that is a must. And if that is the case, we must. Now, I wanted the Pear Eau de Vie. We tasted the barrel aged version. It was lovely. Much like the home distilled pear Slivovitz in Serbia, but with much less fire and much more flavour. Vanja really enjoyed it. We bought a bottle of that, too.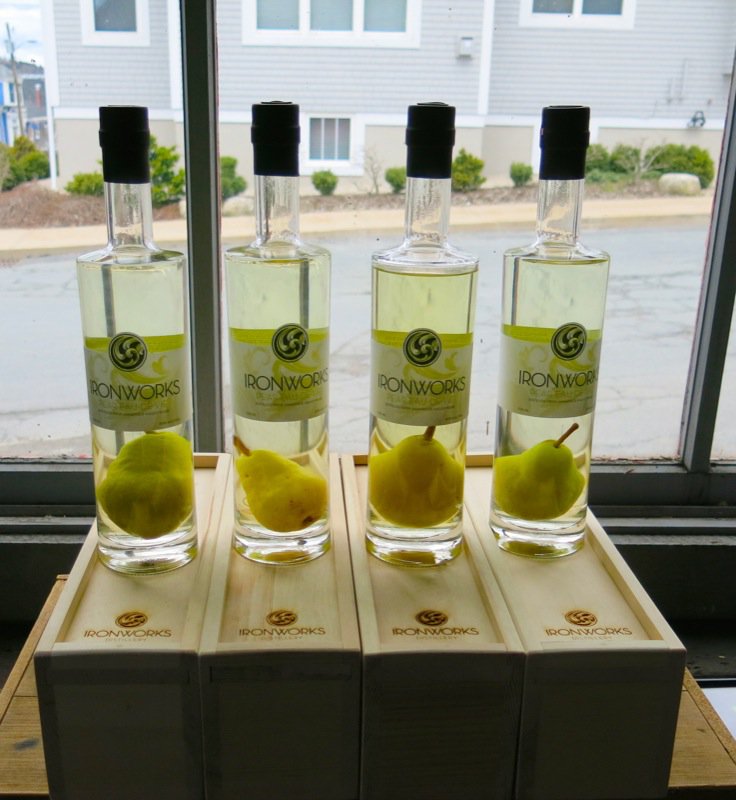 But I still really wanted a bottle of the Pear Eau de Vie. Vanja looked at me. "This is only our second day." We were traveling 20 more. He was right. I don't even drink, except the occasional ice wine. Or, maybe the occasional Pear Eau de Vie…., but at 110 a bottle (and worth every penny) in the beautiful wooden box, I decided not to indulge this whim. (regret) The photos below are from Ironworks Facebook and Website pages. I am just blown away by the idea of visiting an orchard and seeing the fruit grow into bottles!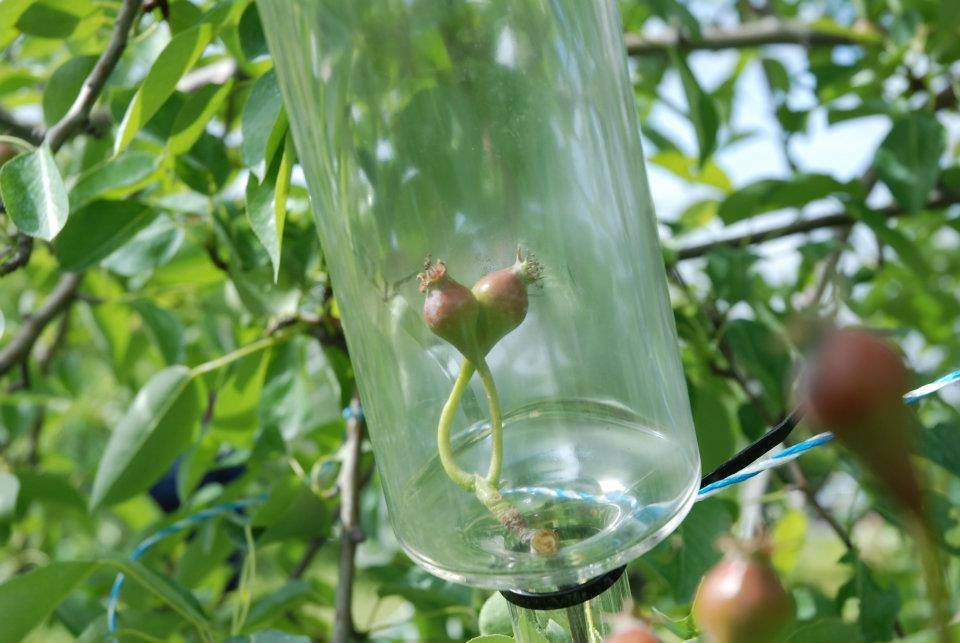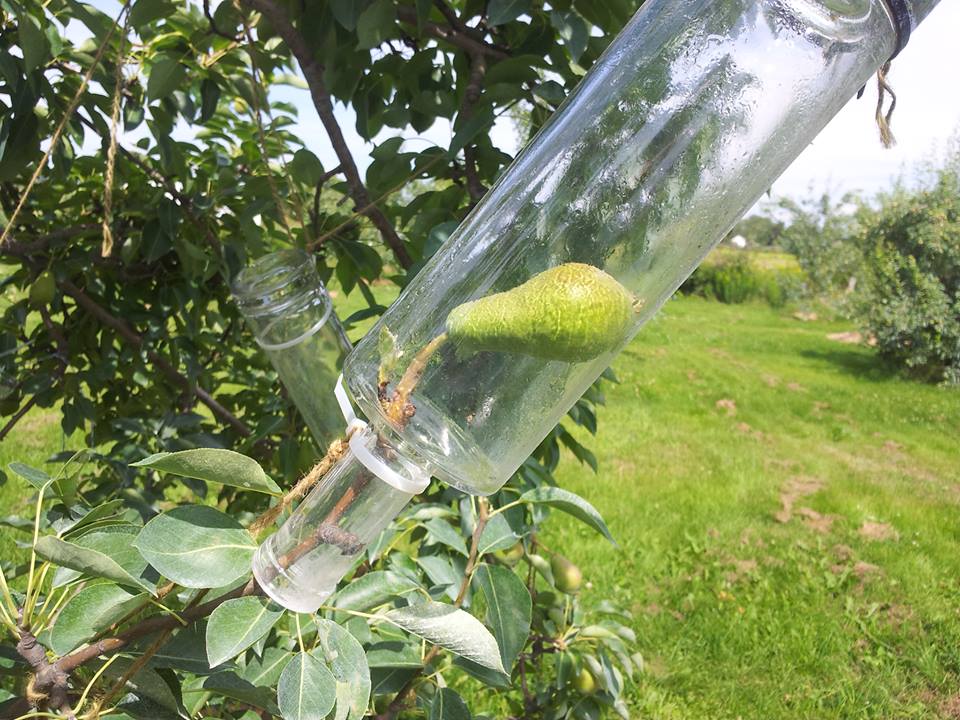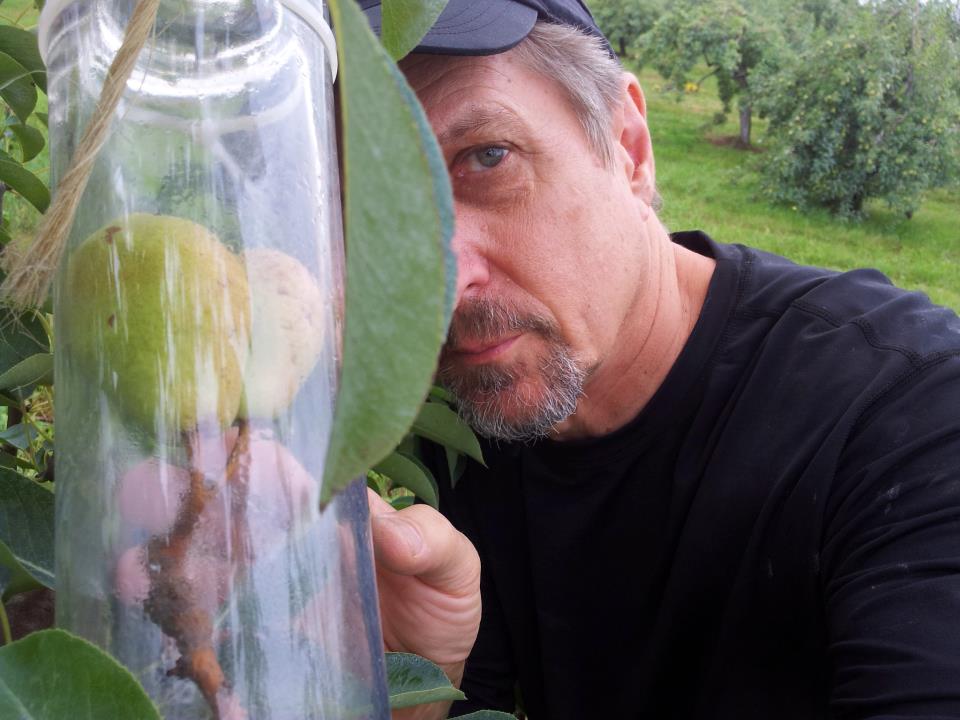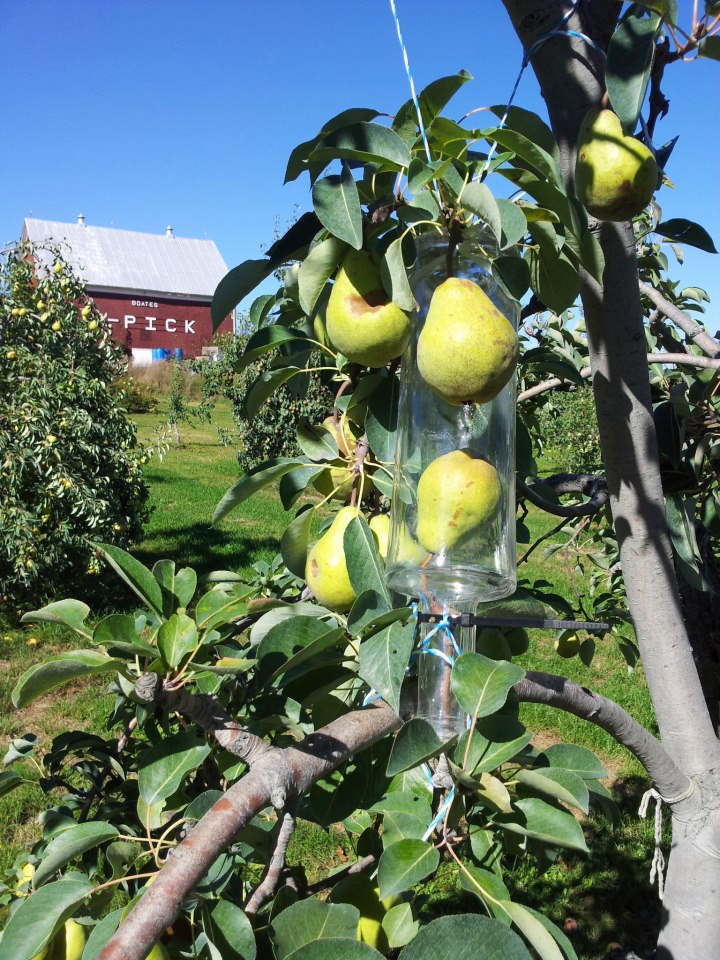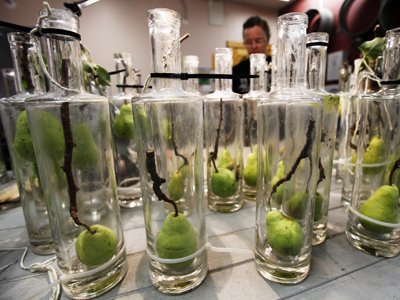 Back from the orchard at Boates Farm, the bottles are carefully cleaned before adding the 100% pear brandy made pears from Boates Farm. I can only imagine the work involved.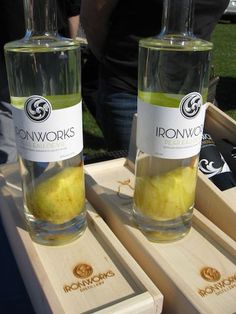 But, look at this stunning Canadian product! The video, below, from Taste of Nova Scotia, gives you a real sense of the distillery and this product.
Pierre was such a gracious host. Their products, I later learned through my continued travels, are sold everywhere throughout the province. Don't miss picking something up from them. Really. Everything is bright, tasty, lively and unique to the flavours of the region. The Pear Eau de Vie did win the 2012 Innovative Product of the Year Taste of Nova Scotia Prestige Award. Vanja was right as we had so much to bring home, yet I still long to taste it. And the Feast On gals were right: this is a must stop when in Lunenburg.