Hosted by Valerie and Vanja
Last night fellow slow foodies traipsed from as far away as Barrhead and Grand Prairie to our west end home through the winter's eve to celebrate the abundance of the truly delicious food we have in the middle of winter in our city. And, to share their culinary prowess with one another. The main attraction was the suckling pig. And, though this little fellow was a bit past the suckling stage (look at those teeth), he was still succulent and fatty and flavourful just like a little piggy should be.
I set up appetizers and had the punch and a drink ready to go because with this crowd it is all about the food. Thus, cocktails were from 6-7. I was thrilled mom and dad were able to make it. They definitely remember when a tomato used to taste like a tomato. Dad is a cheese aficionado and could not say enough about the Sylvan Star Baby Gouda It is really good cheese. It is only made once a year at Christmas. I bought a whole one at Planet Organic along with a slice of their award winning Grizzly Sharp. Yum. This is particularly good served with dried apple rings (as first served to us at Janice Beaton's Farm).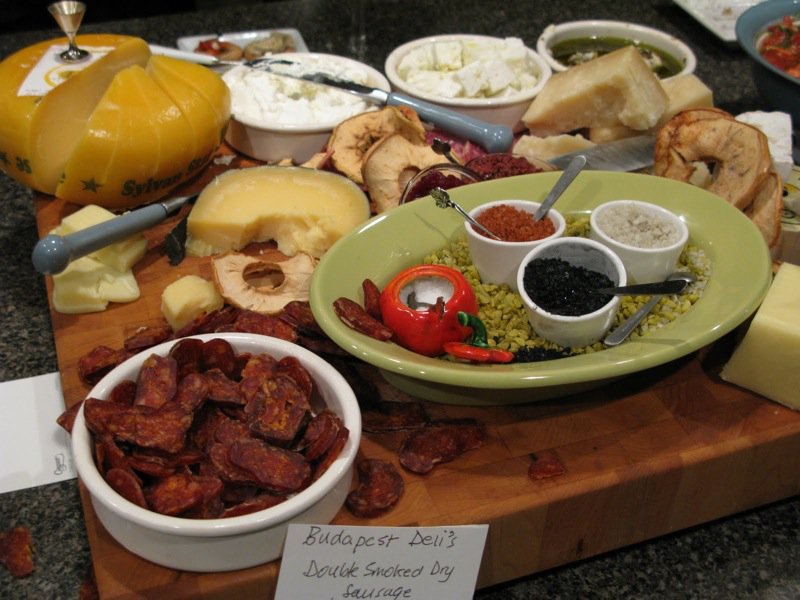 I served a variety of salts with my Yogurt Cheese Balls, and was so excited to finally get my hands on Fairwinds Farm goat cheeses also at Planet Organic. Run, do not walk… run to Planet Organic and buy some. They had been out twice when I was there earlier in December, but was able to get them all on Thursday. Their chèvre is luscious! People that don't like goat cheese like this chèvre. There were more than a few surprised faces at the appetizer counter last night. I eat a lot of feta, and theirs is also top notch. I served it with some really good olive oil and a few condiments. One I particularly like is the cassis mustard I brought back with me from France. I love it with the feta. The meat was from the Budapest Deli, and the Double Smoked Sausage was a hit. They do a fantastic job with their smoked and preserved meats, as well as with their sour cabbage.Â
I could not resist making some Tomato Bruschetta. Love garlic. Love basil. Love bruschetta. The tomatoes were from Doef's Greenhouses because Gull Valley had no one at their booth Saturday morning at the Strathcona Market. I also made an eggplant dip or salad, Salata de Vinete, that I learned to make many years ago from a friend, as well as the Roasted Red Pepper Salad that has definitely become one of our household staples. Foolishly, I made a whack of bread. I knew that Colleen and Vince were bringing some, but wasn't sure they'd bring enough. Wrong. They brought an incredible variety of crunchy, crusty, deeply flavourful bread freshly baked in their outdoor oven earlier in the day. Everyone took some time to huddle around the bread at one point of the evening. I make some really good bread; I do. But, mine looks anemic beside theirs. You just cannot get a home oven to the heat where a great loaf of bread can realize its full potential. The outdoor oven that Vince built in their backyard certainly does this. And, they have the knowledge, too.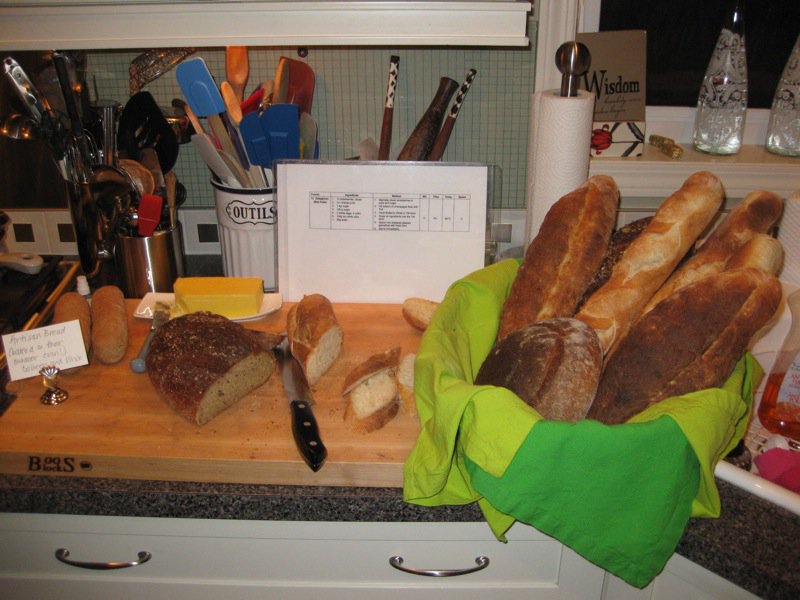 So, after a really nice few minutes with mom and dad, the doorbell started ringing, and our guest arriving. What a wonderful, warm eclectic group of people. I did not get too much time to visit throughout the evening, but every time I spoke with someone, I learned something new. I love evenings like that!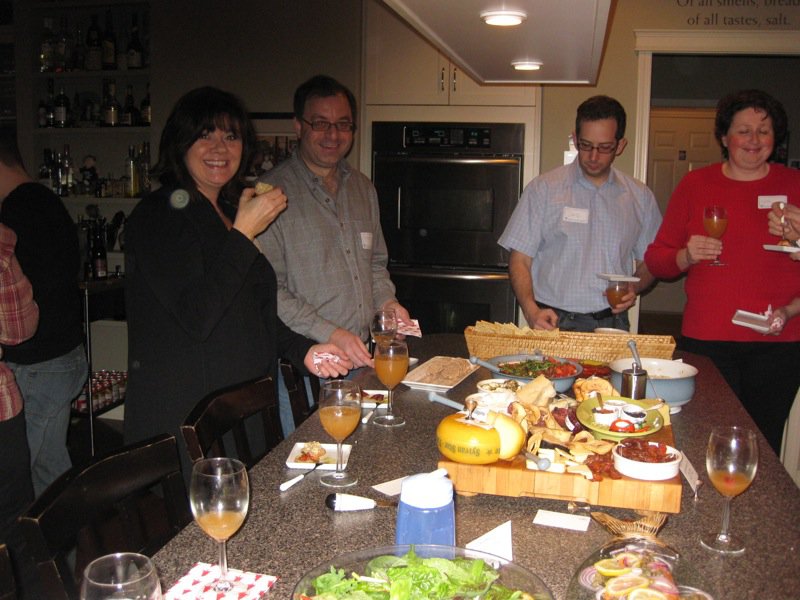 Then Vanja arrived with our little piggy, still steaming hot from the spit. I wanted him "presented" but there were just too many people in the house, so I announced his arrival, and a few curious, daring souls ventured to the garage to take a peek. Many had not seen a roasted pig before. I now see a delectable meal with the crunchiest skin when I see one, where I used to see the "wee-little-piggy-who-ran-all-the-way-home".
Now this is one good looking pig! Look at that colour. Roasted pig on a spit is traditional holiday fare for those from Vanja's homeland (the former Yugoslavia), so a man he knows has built two stone ovens in his garage. One does three pigs on a spit, and one four. Our little fellow was the 107th pig he had roasted since December 22nd. All of his pigs come from Douglas and Gerald Maschmeyer at Hillview Acres Farm near Bruderheim.
Vince is all decked out to carve the pig… and there are the men eagerly finessing the carcass. We actually got the meat into the house, and all of the other food on the table, still warm for the buffet service.
The pig was "presented" and the crowd cheered: "Where's his apple?" "Aw, come on! A roasted pig without an apple?" How could we have been so boorish? Where was the apple? Instantly, I grabbed one from the fridge, and went to put it into the pig's mouth. The apple was too big. The pig's mouth was too small. The pig's mouth was too small? Well, open wide, little piggy! In my attempt to open his little mouth to receive the apple, I cracked his jaws. Woops! But, now we have the apple!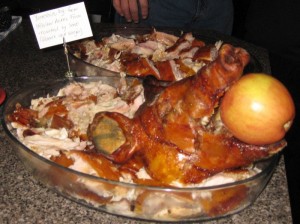 And you can almost see him smiling up at us he is so happy with his little treat!
Barb and Jeff brought a Rabbit Stew with apples and Calvados that was really scrumptious from here. She promises to send the name of her local producer. Amy brought Sausage and Rice Risotto that everyone was raving about. She, too promises to send the recipe, so watch the comments section. It was a full meal unto itself! Tara and Steve brought Roast Goose with such fragrant stuffing, and Braised Purple Cabbage all of which were robust in flavour and deeply satisfying. However, they arrived later than intended, so missed the runway phoodo shoot.
Matthew and Anna brought the organic Lover's Liver and Onions. Vanja was thrilled as I never cook it for him, and said it was the best liver he has ever eaten. Maria and Jeff brought the Potato Gratin with Sylvan Star Cheese and it was gone so fast that I only got a lick off of a spoon. YUM. Matthew and Anna also brought the Tridoshic Dal (Veggie Mung Bean Stew) which was an aromatic vegetarian main. I should have "snuck" some for my lunch today. They did bring the recipe, but must have taken it home with them, so I will ask them to please post it in the comments following this post. Renita's roasted Buttercup Squash was lush and sweet and comforting and earthy. I did pack away some of this. I am making some soup just for me with it tonight. YUM.
Andreas and Mary Ellen brought their best-in-the-city Mixed Heritage Greens and a variety of their gorgeous Roasted Beets. These are like candy to me. I can never get enough, and you can see I almost didn't get a picture of any, either. Sharon and Mack brought the most lovely, light and moist Two-bite GE&H Duck Frittatas with Valbella Bacon and Mushrooms.
Twyla ad Steve brought a Red Cabbage and Apple Slaw with Bake-apple Vinaigrette which did pair perfectly with the pork. Jo and her friend brought a nice cheese assortment, and Jerry brought some Bison Sausage from First Nature Farms, I presume! It was so special to have him here with Alexis, a young man from France, who will be working with and learning from him on his farm for a few months.
And once the apple was in the piggy's mouth, the Trumpet had been Trumped, so to speak, and dinner was served! No one needed any prompting to get to the table of this crème de la crème homemade, hand produced local fare. What a way to celebrate the Winter Solstice!
I really missed out at the end of the evening as David and Nicole brought a gorgeous black chocolate Bavarian Torte that was so dense, so moist, and really a grand finale for our evening. Mike brought a really yummy yogurt and apple dessert that was certainly the sophisticated version of a fruit yogurt! I had my Chocolate Salami for a back=up, a couple of plates of Christmas goodies, and also served GE&H Duck Egg Zabaglione over our garden raspberries. But, Sharon (Only Here for the Food) did catch the dessert table, and you can view it on her site!
And people did not eat and run! They stayed, joked, played, visited, and ate some more. I was so pleased to get to know my fellow Slow Foodies. I hope this is the first of many Solstice Suppers… and it is at least the first of two, as Colleen and Vince will be hosting the next in their back yard this June. They will be cooking in their outdoor oven! What fun… so, if you want to participate, learn about Slow Food and join.
Hopefully, recipes and sources will "pour in" and I will update this article accordingly. For now, the dishes are done, the house is cleaned, and I am now off to set out the leftovers for dinner!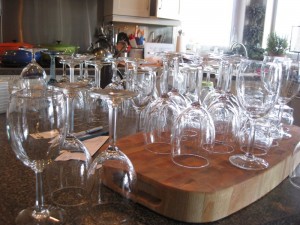 What a beautiful beginning to 2010!
Beavie did have fun with our dinner guest the next morning. No doubt about it!