Eliza has a baby! Now that is a reason for some serious chocolate!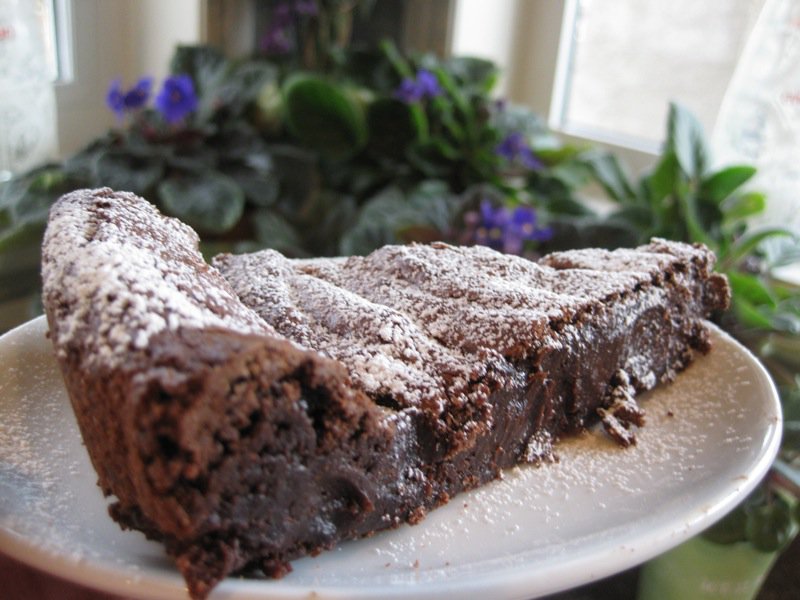 Just looking at the fudgy chocolate slice on that knife reminds me of Eliza's baby shower, and I am salivating, and remembering e moment of my first taste as I write. Memories are wrapped away until a smell, or taste, or song digs them out of the darkness and back into the light. Food is the place holder for many memories – especially when the indulgence is new. The place holder is suddenly emboldened and impresses all surrounding sensory aspects into it. Thus, Eliza's baby shower is metaphorically imprinted into the fudgy chocolate on the knife. I am there, with decadent chocolate swelling in my mouth and coating it shut while washing the dishes, cleaning the counter, and listening to the lively chatter in the room of the many young mothers, and young women. I savour the luxurious guilty pleasure thrust into my mouth from the side of the pan before lunging it into the sink. I cannot talk. The bite is too big.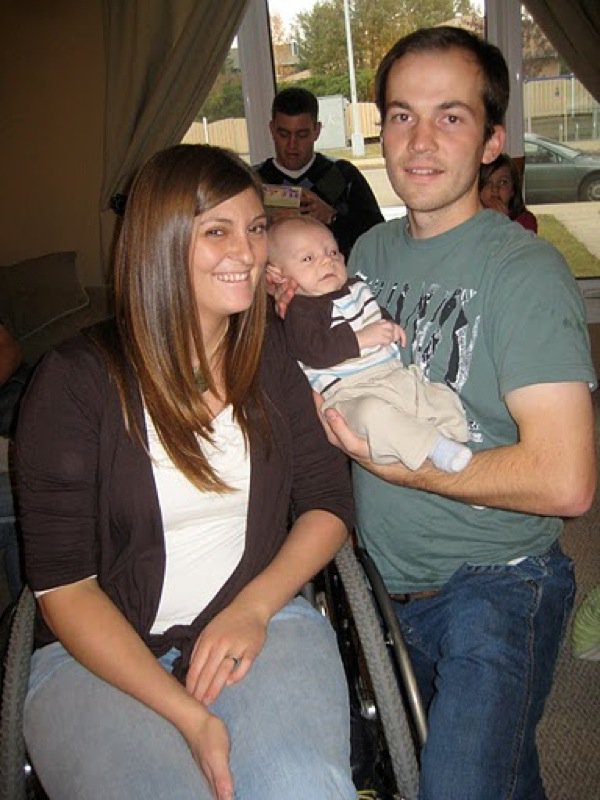 This is the miracle baby. I have known Eliza's mom, Petra, since we were in junior high school. We have been dear friends and had the pleasure of watching our children grow, together. Eliza lived with my daughter, Lauren, in University. That's after the snowboarding accident that broke her back when she was 19. She is my hero. I remember when she was born: her big, round inquisitive eyes swallowing the world as she stretched her little delicate neck to take it all in. Then as a toddler running through her house with the cutest little bare feet, frizzy hair, and always a little dress of some sort pulled over her head. Maybe backward, maybe forward, maybe tied, maybe not, but always a little dress. Her hair was wispy like angel hair, and she was constantly brushing it out of her face. Her little voice was one of those sweet candy-coated-girly-voices that would stop the public. Three big brothers, then Eliza. Finally. But there was no stopping her then, and no stopping her now, either.
She has married a wonderful, ambitious man working to keep up with her, and they gave birth to their first child this year. This is Petra's – hummm – what is it, Petra? Your 10th grandchild? I think he is her tenth. I had not even realized that, yet. Ten grandchildren, and each is bright, and beautiful, lively, lovely, and loved. Here I am making Eliza eat the Dolmates I brought and then I forced some of the brownie on her, too. I love these kids. Petra had 8 children. The television program "Eight is Enough" was big when she started having her family, and I think she just worked her way into living it.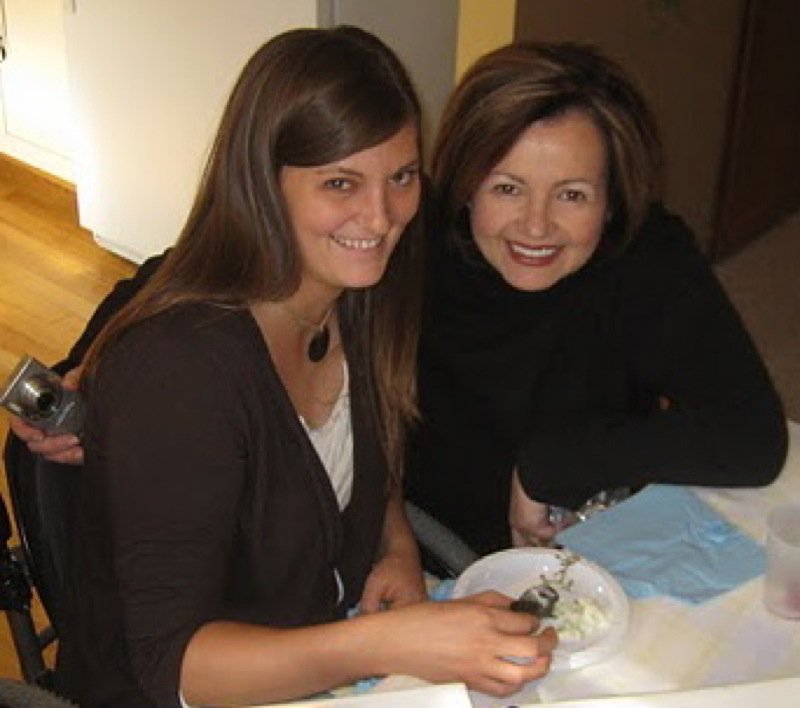 But, when you have three boys, you want a girl, and then, when you have four children, you want more children. At least, that's what she told me at the time. I just thought she was crazy, and at the same time, loved living vicariously through her family episodes. There was a break between the first four and the next four. And, the next four happened exactly the same way. Petra says she has a special relationship with God. It is really hard not to believe her when her second little family was as perfect as the first: three boys, and a girl. She called them "The Potato Soup Family" as for many years, that is all they would eat and all she could afford to feed them. All I can say, is that was the most satisfying and gratifyig potato soup that I ever ate. There was always a big pot of it on the stove, but honestly, the boys were usually too busy running everywhere to stop for a minute and eat any.
I remember being so disappointed one visit when I was there, and there was no potato soup on the stove. She said that they still ate it all of the time, just not twice a day anymore. I missed her soup. Eating at Petra's was like eating at the Sermon on the Mount. There were only 5 fishes for hundreds of people, but somehow, those 5 fishes fed all. I will never know how she was able to work the miracles she worked in the kitchen. Her food was to-die-for, and there was always extra left after the entire mountain had eaten. Being at the table with these people is edifying. Who needs food?
Well, I was thrilled that I was invited to this shower with all the young gals. Thrilled. I pulled a tray of Dolmates out of the freezer, made some tzitziki, and this brownie, and off I went.
Let me back up a little. I made Jamie Oliver's Brownie from his Cook with Jamie cookbook when I got it last year for Christmas (2008), and it immediately became a favourite. YUMMERS! I converted it to the Thermomix, immediately. Easy Peasy, he would say.The recipe follows with scaling int he chocolate, grinding it, adding the butter, and melting it. Then, all other ingredients, except the eggs. How easy is that?
Add the eggs one at a time. Beautiful.
Then the dried sour cherries. I have adapted the ingredients, for sure. Way more of these than Jamie suggests. Deadly with this heavy dark chocolate concoction.
Oh, and who is wagging his little tail in my kitchen again? SHOO! Beavie! You know better than to stick your little nose in my chocolate batter!
It is thick, and holds it's shape. I run a knife around the bottom from the outside to the inside in a circular motion to ensure there are not air bubbles, and that motion leaves a nice shape on the exterior surface.
And there he is again! Get your little muckers out of my Thermomix bowl. Beavie always complains that I clean my bowls too well. I cannot stand to throw anything out. (Except maybe an eager little beaver getting his two front teeth into everything in my kitchen!)
These are two different brownies. One held the swirl better than the other as I smoothed one more than the other. A final dusting of icing sugar, and voilà ! Beautiful!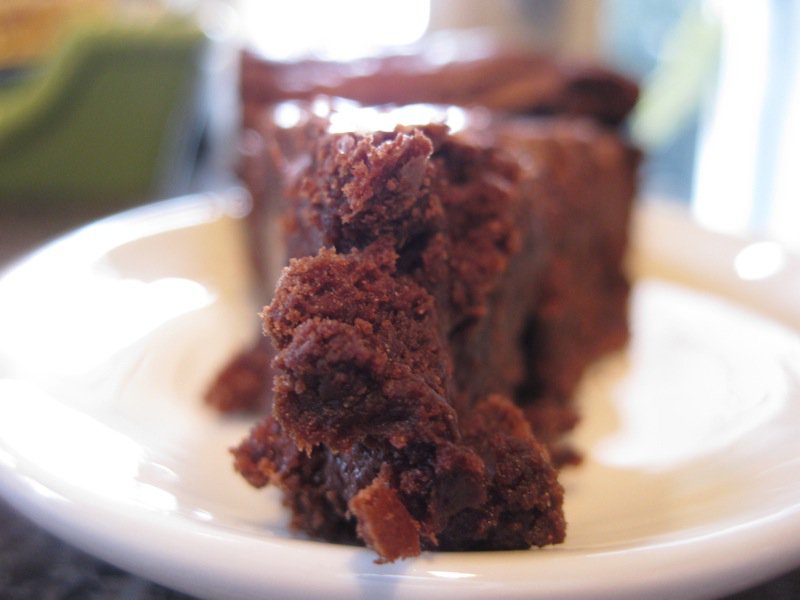 Gooey and chewy and fudgy and so chocolatey that you will feel guilty eating the whole piece, but you won't regret it!
What a great gal that Petra is! Holding up my chins for me when I smile in this pic! See how much mom and daughter look alike? Gorgeous.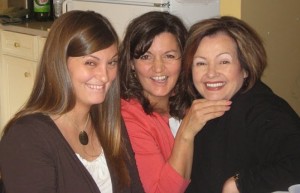 Gooey Chewy Chocolate Brownie Recipe
Ingredients:
190g excellent quality dark chocolate 70% or higher
280g butter (room temperature, or it will just take longer to melt)
365 g sugar
105g Valrhona cocoa powder
70g flour
4 free range organic eggs
5g vanilla extract
5g baking powder
150g dried sour cherries
Instructions:
Place chopped chocolate pieces in the TM bowl, and grind for 6 seconds on speed 7
Add butter; cook for 2 minutes at 60°C on speed 1
If butter and chocolate have not melted, cook another 30 seconds to 3 minutes (if the butter was really cold) at 60°C on speed 1
Add remaining ingredients, except eggs and cherries; mix for 1 minute on speed 2-3, stopping at the 30 second point to scrape down the sides of the bowl with the spatula
Set the timer for 1 minute on speed 3; add the eggs, one at a time; scraping down the sides of the bowl as needed
Add cherries; spread into a 20 cm greased pan; bake in a 350°F oven for 20 to 25 minutes; do not overbake
Dust with icing sugar; allow to cool completely before slicing
Garnish with crème fraiche, orange zest, or both!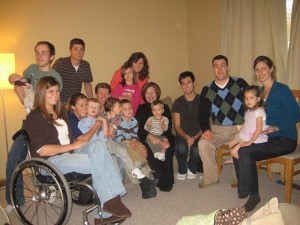 And, to the far right: Drew and Heather and one daughter. Beside Drew, is Lane, then me nd Petra. Fron the otherside, Eliza's little family, then Evan and his wife and Petra's David buried under all the grandkids. I think that makes 5 children in this photo with wives and husbands. Not all of the children are here… and below, Eliza's gal friends. Below that, all who attended the shower (the old ladies with the young gals!)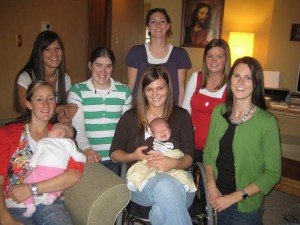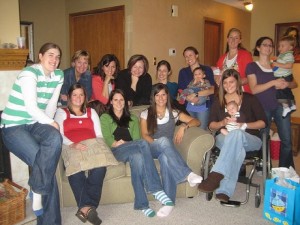 It took a while for me to get the photos from Petra Рnot this long Рbut, I have since made the said bownie with my newly acquired recipe for Cr̻me Fraiche. BINGO! Talk about the perfect pair.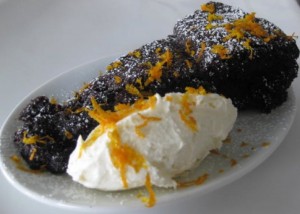 So, with a recipe shared, and a memory remembered… I have the perfect opportunity to thank my dear friend, Petra, for enriching my life. I love her dearly. I love her sisters. I love her children. I am thankful to be a small part of their ever so busy lives. Does she look like a grandma of 10? Whoo-hoo baby. No siree bob! She does not. Did I mention that she says she has this special relationship with God? I think it shows!