Knife Handling Skills and a Tasting all in one!
Top Three: Granny Smith, McIntosh, Golden Delicious
Middle Three: Red Delicious, Sonya, Fiji
Last Row: Spartan, Ambrosia, Royal Gala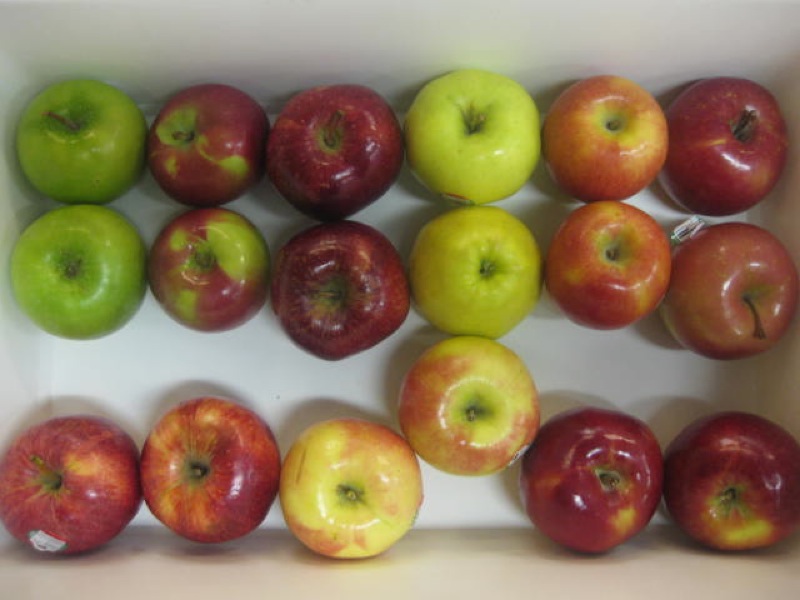 Top, left to right: Granny Smith. McIntosh, Red Delicious, Golden Delicious, Sonya, Fiji
Bottom, left to right: Royal Gala, Ambrosia, Spartan
Nothing is more compelling then perfectly ripe, flawless, gorgeous, fresh, juicy, crisp, and plump apples. Their perfume is intoxicating, and, as my students filtered into the room, they were immediately captivated. "Where did you get these apples?" "Oh, my gosh! These are gorgeous apples!" "What are you going to do with so many apples, Mrs. Rodgers?" There was no other carefully planned strategy employed to get them interested in my planned learning activity. Providing students with an irresistible tasting experience that appeals to their senses is a critical part of the process necessary to motivate them to change what and how they eat.
Everyone was eager to participate in the peeling and the tasting of these apples; the aroma was compelling, and each pulsated irresistible appeal.
After a thorough washing of hands, and apples, the paper napkin was set out for the garbage. Garbage should never go on the cutting board. A bowl works well for this too. Then, the position of the knife hold was discussed.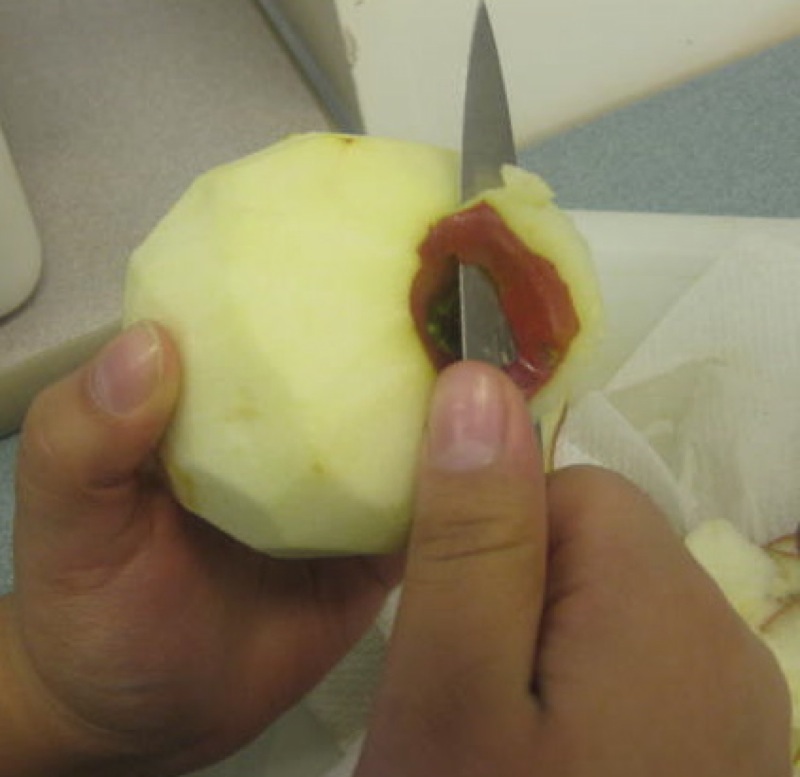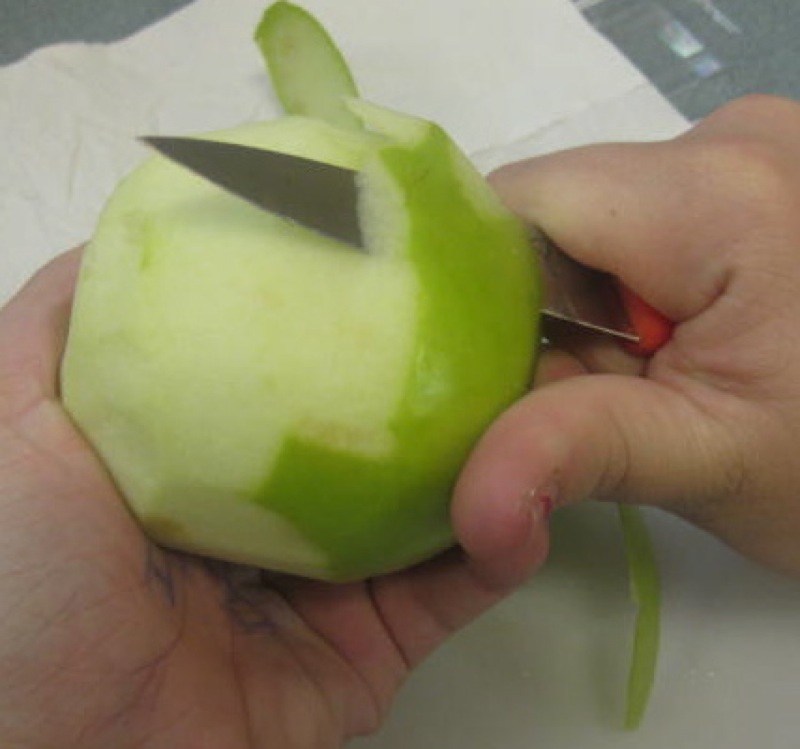 See below how high the hand is on the knife handle, and actually holding onto the upper part of the blade? This is necessary to have control of a paring knife for peeling an apple. The next critical aspect of the hold is the use of the thumb on the hand holding the knife. It must be on the apple, and guiding the cut, as on both above photos.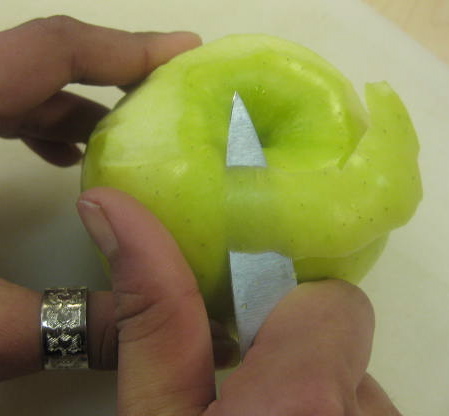 It amazes me how quiet and focused students are when using a knife. They understand it is dangerous. They don't want to hurt themselves, and they do enjoy learning knife skills. Everyone really focuses and helps one another.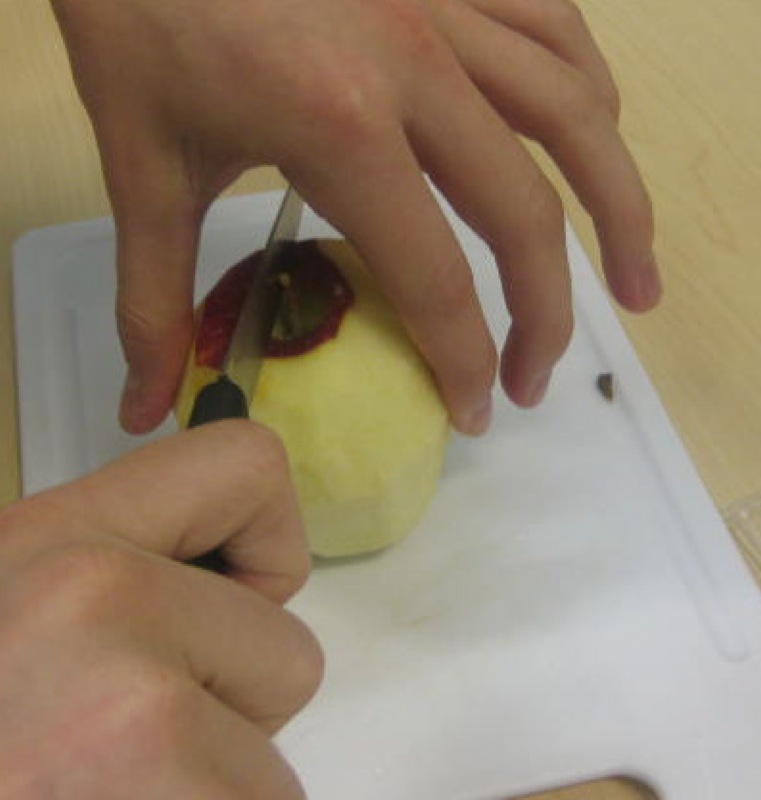 Holding your hand, as above, while cutting the apple is also important. You will not get hurt if you have a firm hold of the apple, and your knife under your hand.
The student is holding the quarter of an apple properly in his hand. He is coring it carefully and then slicing it. The pressure he is using on the left photo is a pressure that will not cut his hand as he is holding the apple and resisting his knife with it.
Here is another closer look of how to hold a quarter of an apple to use the knife to take out the core.
Once the apples were cored, and sliced, knives washed and put away, and peeling eaten or thrown out, the Tasting begins!
As this is a grade 9 class of 14 year olds, we used two measures:
a tart/sour to sweet scale (5 being super tart, 1 being super sweet), and
a crispy crunchy to mushy scale (5 being super crispy, 1 being mushy)
The flavours of each apple were really difficult to describe for both myself and my students, but we worked our way through it. Flavour was definitely discussed with each tasting.
Process:
Apples were washed, cored, and sliced.

I took them back and forth the scale on the tastings

Students were in groups and each student within each small group had selected a different apple

I directed the sharing and tasting experience, and the students shared their apples with one another for the tastings
Tasting:
Granny Smith:

5 on the crunch scale and 5 on the tart scale. I referenced this score as a baseline for the students to place their other taste experiences.

MacIntosh:

3 on the crunch scale and 3 on the tart scale. Again, a reference for the students as a baseline.

Golden Delicious:

2 on the crunch scale; this was a very soft bite, and 1-2 on the sweet scale. By now the students had the idea. The flavour notes were not "appley" most students mentioned. What were they? "Hmm…the texture and shape are appley, but the flavour is kind of artificial something."

Red Delicious:

4.5 on the crunch scale, yet disintegrated rapidly in the mouth through chewing: "almost dissolving", and a 2 on the sweet scale. Again, though most students felt this was "more appley" than the Golden Delicious, it was still not that appley, and had a dry and bitter after taste.

Royal Gala:

First reaction by many was "yum". 4 on the crunch scale and 2-3 on the sweet scale. This apple was appley! Most students said that is had a balance of sweet and tart, and that it was "delicious".

Fiji:

2-3 on the crunch scale; our samples were very soft, and a 2 on the sweetness scale. Interestingly, this apple, as sweet and mushy as it was, students determined also to be very "appley". "I had no idea that there were this many flavours of apple!"

Sonya:

1-2 on the crunch scale and 1-2 on the sweetness scale. No one liked this apple. It had a very off putting, sour-bitter aftertaste that was very unappealing. I had never heard of this apple, but found it in massive quantities when I was shopping for samples, so added it to my "batch".
The Spartan and Ambrosia were not part of the tasting, but were offered as comparative reference tastes after the tasting. I could not find enough of them to buy to include them in the sampling.
A fantastic learning experience. Really. And, quite an "ah-ha" moment for many as they began to understand the fun of flavours and fresh and food!