February 2010 Tasting: A Love Affair with Chocolate and a Serious Tasting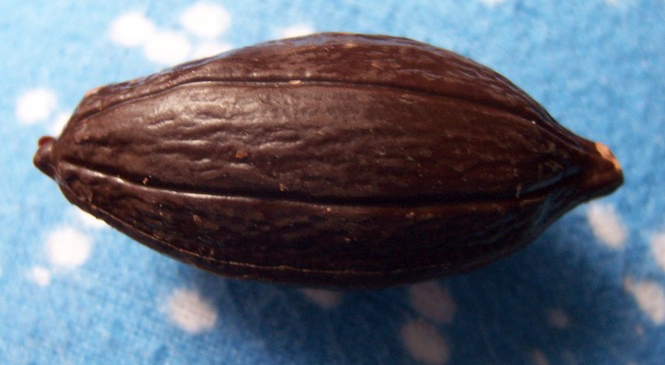 I am all set up, and waiting for my one invited guest to join me in the tasting of all of the samples that I ran around the city getting the day prior. I got this idea after I missed Kerstin's Chocolate Country of Origin Tasting Competition a couple of months ago, and really wanted to continue my Chocolate Tasting education.
In the summer of 2007, Vanja and I were in Brussels for a couple of days, so I planned a Chocolate Tasting Walking Tour for the two of us long before we left Canada.I read and researched where I wanted to go, the chocolate making process, the history, and finally, even the chocolate specialties from each location we would stop by. I pulled open the Google Map starting at the location of our NH Hotel in Brussels (NH Stephanie: reasonable and outstanding!) and then plotted the trip from there.
To the Petite Sablon for the early morning antique market where I bought a gorgeous Bakelite chocolate Easter egg mold.
The one I bought is in the left side of the photo, in the middle. I love it! To frame it, or use it? Use it!
Then to the Grand Sablon to see these three chocolatiers:
Wittamer, one of the oldest (above, far right), definitely world class, and a very small business, though recently under new ownership.
There are actually two shops side by side: one is the Patisserie, and the other, the Chocolates. I had never seen such confections. I had been through France and Italy, but was spell bound. I was pulled between Vanja's extraordinary tolerance of my pursuits, and the intensity of the sensory overload that walking into this shop induced. Double click on each photo above to get a close up look at one of the Patisserie window offerings. And, no, I did not buy one. Not one. We had not eaten. It was too impossible to choose.
Then, their Chocolate Shop. Honest to goodness, walking into it sent me into a woozy swoon. There were shapes and colours, and flavours that I have never heard of. I chose one I had read about. Then, a small assortment of 6. This was only the first stop. One person was ordering pounds to be shipped to friends; most were buying much larger amounts in decorative boxes. I was asking endless questions and the gal guiding me through my little purchase was ever so patient: generous with her time and knowledge. I wrote an extensive journal during this trip, and hope to find it!
Again, double click on the above photos to see the detail. Did you see the shoe? It sold for 30,00€. I recall thinking that this quality of chocolate was not at all expensive considering what I pay for a piece at a chocolate store at home.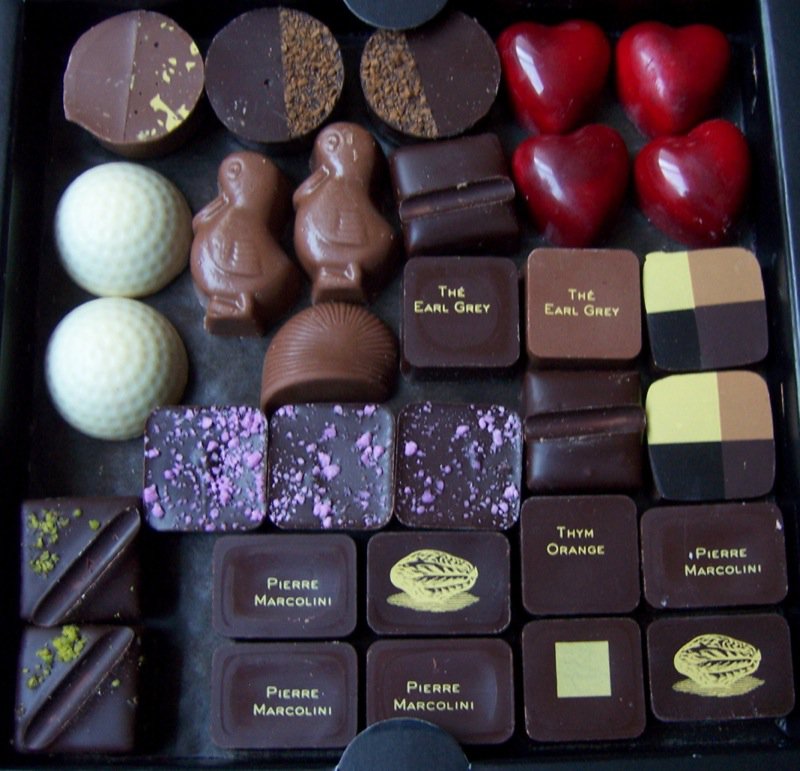 Pierre Marcolini, at that time the best in the world, was next. The grandeur of the entrance was impressive. A massive flag of flower petals hung over the entrance way. And no, I was not allowed to take photographs inside. Each store had such different personalities. Wittamer had every reason to be snobby and aloof with their glorious presentations, impeccable reputation, fabulous interior, and firm history of incredible chocolate making. But, it was a warm, friendly and lively atmosphere that immediately inspired comfort and perusing. Marcolini was the snob on the block. No doubt about it. No photos (not uncommon, actually); an extremely quiet, sober, and formal atmosphere. There was no possibility of feeling comfortable here. Vanja actually opted out of coming in with me here. He could feel the pretention from the street, and chose to sit this one out. One could definitely feel regal or noble if one had a bit of acting ability within! They did not sell by the piece. The smallest box was 30€. Ouch. But, I had to. I did sneak a photo of the grand entry when coming back down the stairs with my flash off. I am such a devil! And, after my purchase, I was offered a sample of a patisserie they were featuring that day. I think Vanja found me on the floor, pastry cream slathered on my face, icing sugar dustings everywhere. The combination of texture and flavour left me positively weak-kneed!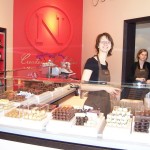 Neuhaus, the oldest chocolate house in Belgium, and really excellent quality chocolate and pralines, but the focus this company places on commercial sales puts their chocolate in a different league than the first two. It was at the end of the Grand Sablon. A very empty and small place, yet their chocolate has immense international notoriety. I bought their specialty pieces. Not all, but a couple of the ones I had my eyes set on from my research. I was feeling quite guilty about the last boxed purchase, and everywhere we went in this small elite circle,the instructions were very specific: Keep the chocolate in a cook dark place; not cold, not warm; it muse be eaten within 10 days. The crème fraiche manon from Wittamer had to be eaten within three days, and I had already discovered were extremely sensitive to this summer sun. I was trying to take care of my precious packages!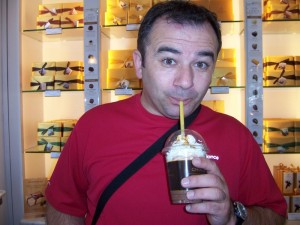 And lastly, Godiva, right next door to Neuhaus, most definitely the least impressive kid on that block. It was completely empty, and I noted that they had found a little niche for themselves. I really wanted to taste their chocolate drink. It had been touted very well by reviewers on my searches. Vanja isn't too into chocolate (I know!), but didn't take convincing to try the drink. It was OK. I was disappointed, and felt guilty, again, encouraging him to enjoy something I was confident would be a delicious refresher. Would you need to put that much whipped cream on a really good chocolate drink? But, their little chocolate berry cups were adorable, and really smart. Filled with a white chocolate cream ganache, and a few berries, this was something no one else was offering. I bought one later in the day when we were stopping at The Grand Place to have a drink. It was absolutely perfect. I vowed to make them, and I have only done this in a pastry tart cup, so far!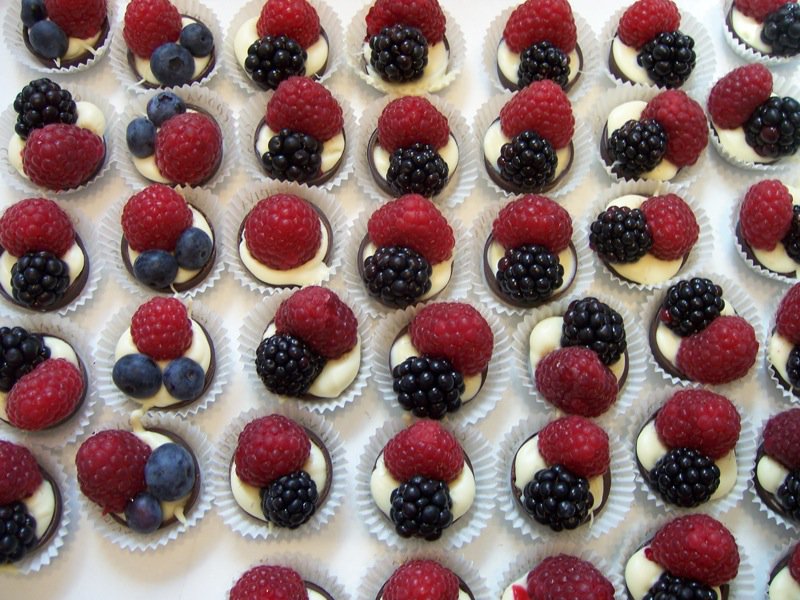 Mary's, also under recent new ownership, would be in the premier category, and was also often best in the world; certainly a favourite of the reigning Royalty. Her shop was definitely off the beaten path, but still within walking distance of the tour I had planned, and a must. No one was there, and that did surprise me. It is situated in a very discrete little store on a side street, and not in a tourist area. The prices were the highest of the day, and the generous, and rare, sampling of marzipan I was offered, ended in a purchase of a small block of it, as well as other delicate delectables. I picked out my little goodies, and we continued our tour.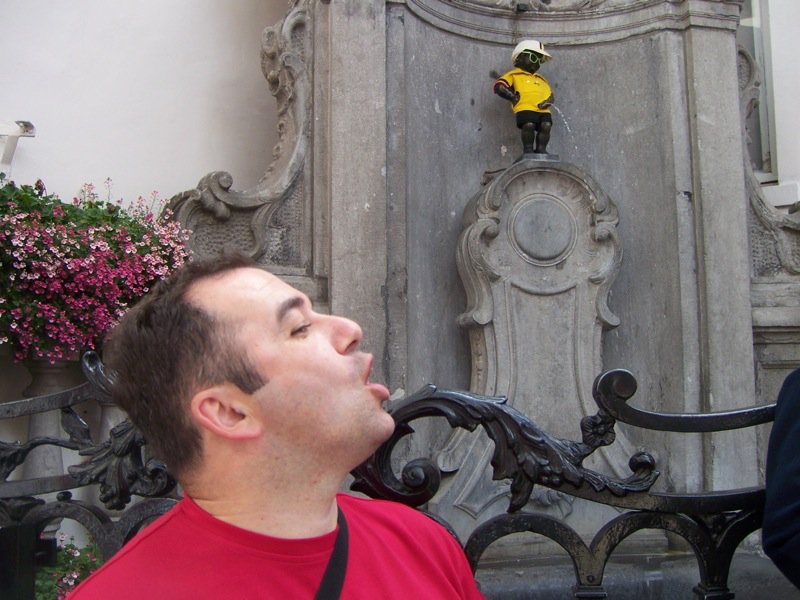 I know Galler was also somewhere on this route close to Leonida's, both more toward the old town area where Vanja stopped to take a refreshing drink from the ever-so-willing Manneken Pis. (Looks like one of them had better get better aim!) I was enchanted by some of Galler's offerings, below.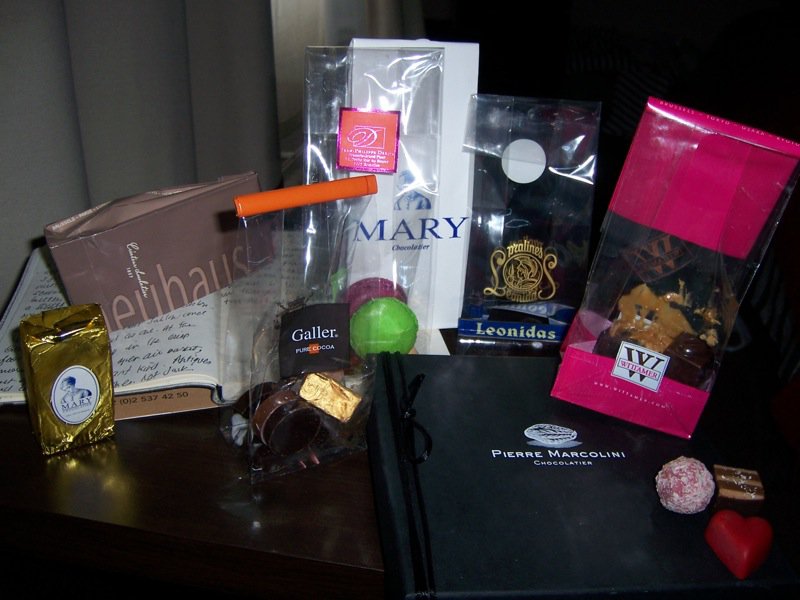 The room was cool, and air-conditioned. I washed my hands, then gleefully unpacked my treasures. Like a little child with sticky fingers, I was pulling apart the melted bits, trying to get each to regain its original integrity for a little camera shot. Not really working, but no matter. Now the camera is sticky, and the table (it was washed first), and then I dove in… see the notebook tucked under the photo above. We had purchased a dark chocolate marzipan, pistachio marzipan, gianduja, and a dark chocolate ganache from each place. I tried to get a violette, too, but only Galler and Marolini had them. These were for the comparisons.I took careful, and thoughtful notes. All in the journal I cannot find. What I do remember, is the Galler violette stood up to the Marcolini violette, and that was my favourite of all. The Mary's dark chocolate marzipan was the best, and that Whittamer's crème fraiche manon was To-Die-For!
I am in search of the cocao bean mold that Neuhaus uses for their signature dark chocolate ganache. It was deadly. And compelling.
You can tell I was at Mary's last. They are not melted! And, Godiva's were good, but the price point was as high as those that do not use lecithin and have a much shorter shelf life.
The sad thing about visiting one of the chocolate capitals of the world, is that there is only so much chocolate one can eat. I have never had chocolate like I had that day. Never. And I only got through a taste of each of the 4 samples and two other "pralines". And I have definitely invested in some inviting taste experiences in my life. I did not even possess the vocabulary to describe it.
I could not eat these chocolates. Sadly, many of them turned into melted little puddles and ended up in the garbage. Is that legal? Certainly, it should not be. I did get a nibble off of most of them. For sure. And the experience was so unforgettable that I have since wanted to teach my palate more.
That brought me to out tasting today. Quite a little tour to get here, wasn't it?
I invited Tara, a friend from Slow Food Edmonton, whom I admire and respect, to participate in this Tasting with me. So few would find something like this fun. I knew she would, and I knew her expertise would be invaluable to the experience for me. Neither of us knew it would be such an intense experience. I was exhausted afterward, and we were both overdosing on caffeine. This was really surprising to me, considering we actually ate very little chocolate.
In preparation for this little self-directed workshop, Vanja and I picked up 10 samples of single origin chocolate from Chocolate Exquisite at Oliver Square. While we were there, Dennis, the owner and a fellow Slow Food member, came out from behind the wall and was clearly passionate about his work and had a lot to say about chocolate. More than we had time for that afternoon. He has apparently tasted over 70 different kinds of single origin chocolate and selected 18 for his collection. He kindly selected 8 of these for our tasting, and each was distinctly different in flavour.
The second stop was Kerstin's Chocolate's, also Slow Food members. Unfortunately, they didn't have samples of single origin chocolate, I was told. Only their bars. I had purchased huge amounts from Cyrus in December, so I was pretty certain they had some, but didn't see it, at first. We were directed to their bars. These were far too big for what I wanted. The gal was sweet enough to offer me a sample of any, or every, bar. That isn't what I wanted, either, but I bought four for the Tasting, then found the bags of callets at the back. They hadn't any different kinds than I already had at home, so I was pleased with my four finds.
Last stop: Sweet Lollipolusa. Not in Manulife Place, but Commerce Place, right next door. I was fortunate enough to meet Chocolatier, Brett Roy, when I stopped by, and it was obvious that this man is passionate and entertaining. Not one single origin chocolate anything in the store. I asked about any couverture (chocolate coating at 32% minimum cocao solids) samples. He uses Valrhona callets, too, and kindly wrapped up samples of three of his favourites for me. While he was doing this, the other fellow was explaining the chocolates behind the glass. I got tired of listening and drooling, so just bought a box.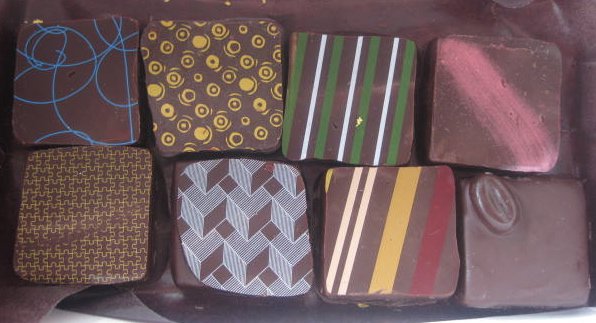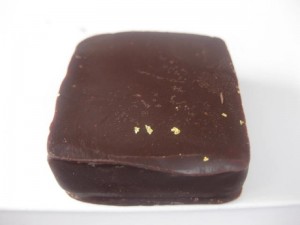 This dark chocolate ganache was my favourite. No! I did NOT eat them all. Tasted, yes; eat, no.
But, when he got me a taste of the Scotch truffle, my eyes rolled back into my head, I made noises like an alien in heat, and was actually embarrassed when he took a tissue and started wiping the cocoa off of my face that I had somehow smudged all over it, in the process of "daintily" popping a piece in my mouth. Geeeez! I cannot finesse anything anymore! An entire bottle of McClelland's Islay goes into one batch made with 72% chocolate from the Criollo and Trinitario bean, and so, I bought some. Two small boxes more. These are huge, and somehow, the size fits. Go now. Buy them for all of the Scotch lovers amongst you. Did I mention I don't even like Scotch?
They looked like giant marshmallows to me, but, nooot eveeen close.
So, that was exhausting. And, we still haven't started tasting yet. OK. Here we go. Glass of water in one hand, camera, paper, pen … all laid out. And, the chocolate tasting wheels. This one was our favourite. Double click on it to get a good view of it. We agreed to taste from highest percentage of chocolate liquor to the lowest. Initially, we intended to taste some milk chocolate, but that didn't happen. We were champions to master what we mustered!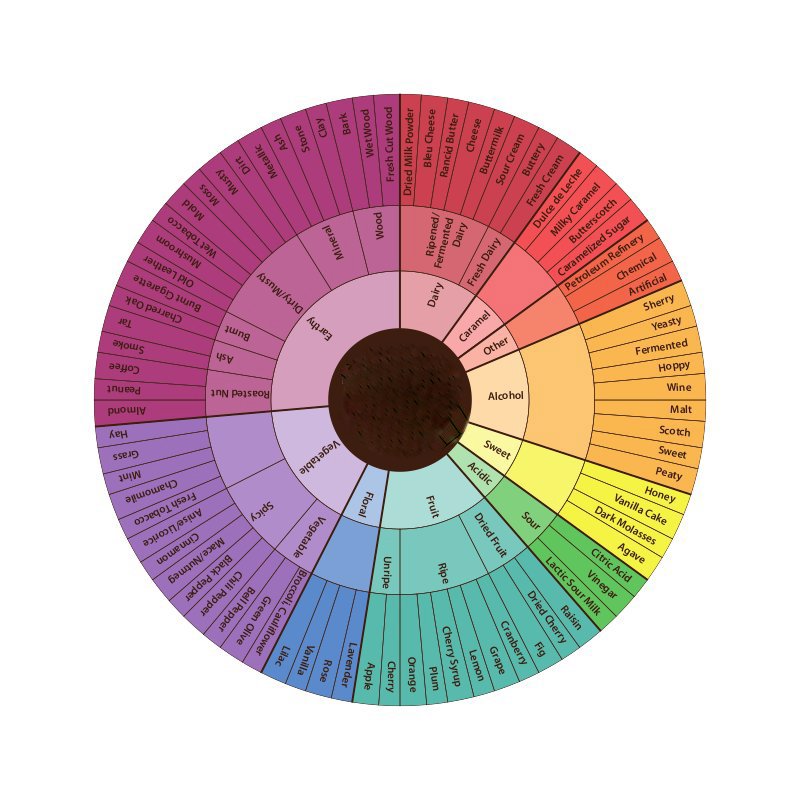 Single Origin Chocolate comes from three beans:
Cacao beans come in three varieties: the Criollo, the Trinitario and the Forastero. The Criollo is the rarest, mainly from South America, and represents only 1% of world production. Some exceptionally rare Criollo is harvested only by dugout canoe deep in the Amazon rainforest. Its cacao is fine and sweet, with complex flavor notes.The most common bean at 80% of world production, is the bitter, and intense Forastero, grown largely in West Africa and South America, The Trinitario contains qualities of both beans, is grown throughout the world, and produces about five percent of world production.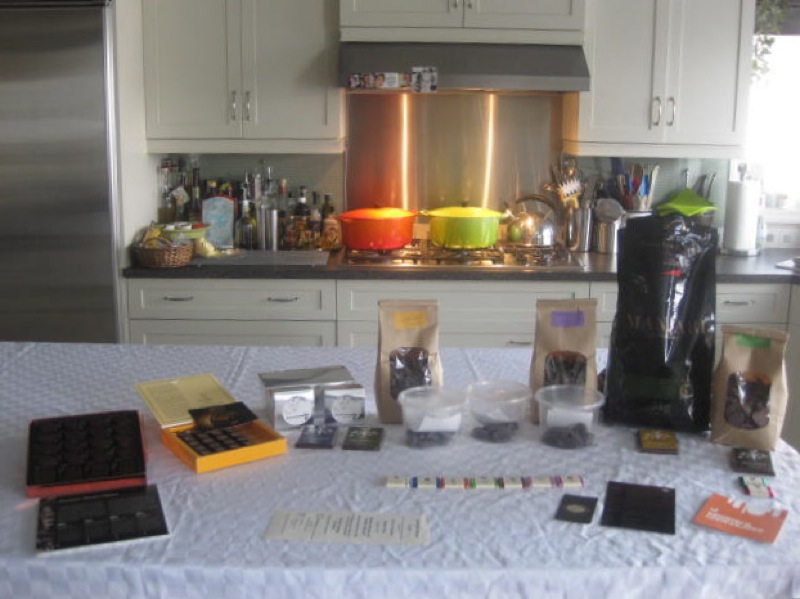 The first sample was instantly earthy. We both agreed upon that. Then, we agreed upon a nuttiness. I thought almond; Tara, hazelnut. We were both surprised at the depth of flavour we were able to capture with the morsel of chocolate we each sampled. The information on the back of the package was never looked at. But, in this case, it is fairly meaningless, anyway.
São Tomé, Africa:
1. Tamarina Estate: Grande Noir 85%
In the 1800's, the first African cacao plantations were planted on the island of São Tomé, along the Equator off the coast of central Africa. The Tamarina estate lies to the north of the island, near a beautiful beach lined with coconut and tamarind trees.
Each of these tiny ninety cent morsels really contained quite a solid sampling. Tara and I shared one, and there was usually some left over, unless we went back for another reminder or comparison later in the Tasting. It's possible size would be about an inch my an inch and a half.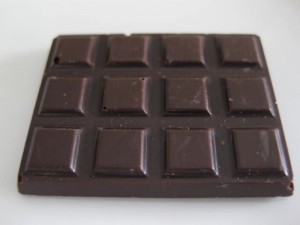 Now for the rare Tanzanian sample. The first comment each of us made was how vastly different this sample was from the first. We were both startled, really, as we didn't expect such variance. We both agreed this one was more intense, though lower in percentage. We learned that a high percentage is not a guarantee of intensity. I found it had a strong fermented milk flavour. Tara also found it very milky, but to her, it tasted of milk and toast. Both of us agreed, after reading this label, that there was no fruitiness to be found in our sample. Vanilla, neither "… to which it owes its specific and unique taste." Could that have been the milk?
Tanzania: Tanzanie 75% rare
I didn't mention that the week prior I was in Calgary, and Bernard Callebaut had just put out a box of single origin chocolate for Valentine's Day that I picked up. I was excited about this.The wafers are the courveture only, and then the single origin chocolate is used in each row to make an unflavoured chocolate ganache. Deadly delicious, and a beautiful tasting on its own. The notes under each are very informative, but again, we found our experience was somewhat different than the published blurb.
The Palmaritos had a fresh taste, like rain and grass. Tara could taste clay. That denotes a negative flavour to me, but she said it was not a bad taste at all; it was just a very earthy clay taste. The notes described in the literature comment about the licorice and spices are the flavour reference for this chocolate. Nope. Not to us. The Araguani was again different. It took time and concentration and a definite flavour memory to capture the flavours of these samples. I was consistently surprised that we would often say the same thing. This time, Tara found this taste of wet tobacco. I, too, found that held musty, earthy, and possibly tobacco flavours. I say "possibly", because I do not mean anything smokey, and I have never held, smelled, or tasted a tobacco leaf. But, it tasted how I imagined one might smell, in a good way. (And, I did say this was a serious tasting, didn't I? Nothing should ever be too serious!) Valrhona writes that Araguani is a balance between warm notes (raisins, chestnuts"¦) and liquorice notes allow it to linger exceptionally long on the palate.
Dominica Republic: Los Palmaritos 75% rare
Venezuala: Valrhona Araguani  72%
The 72% Ecuador (second from the left) from Kerstin's Chocolates was intensely dark, definitely metallic, somewhat acidic and bitter. I couldn't find anyone else's opinion on this sample. We could not do any more tasting after we finished the initial samples, and because Kerstin's are so large, they were placed aside accidentally, therefore Tara did not participate in the tasting of this sample.


Venezuala 65% (blue), Ecuador 72% (light green), the next had almond in it, and the last was a milk. We never got to the later two.
Ecuador: Ecuador 72%
The next sample was much sweeter and embraced the flavours of plum, or dried plums and figs to both of us. Smoke, and undergrowth? Absolutely not. This was a clean, densely sweet and fruity sample. Interestingly, Valrhona's sensorial analysis laboratory is one of the most exclusive in the profession. More than 160 people from the chocolate making industry constitute the tasting juries for raw materials, products in the course of development or finished products. So, when they are writing their summary of a tasting, that means that there was agreement by a lot of their professional tasters. Valrhona claims ownership of the original chocolate Tasting Wheel system. Other wheels have been developed by other companies, like the one we primarily used.
Cuba: Cuba 70%
My immediate reaction to the Villa Gracinda was that it was spicy. My first spicy sample. Tara said the same thing, and then we worked to identify the spices. Nutmeg? Yes, but more intense. Maybe mace. And definitely some cloves. We would not disagree with the description written on the label for this piece… too much.
São Tomé, Africa: Villa Gracinda 67%
It is on the island of São Tomé, on the Equator off the coast of central Africa, that the first African cocoa plantations were planted in the 19th century.
Below, Ashanti is a blend, eventhough I initially wanted to sample only single origin chocolate, but it is Brett Roy's favourite (from Sweet Lollipoluza), so I wanted to try it. Neither of us could distinguish any clean flavour notes. Only that is was very creamy and sweet. It was peaty with a bit of honey taste, to Tara. I have no frame of reference for "peaty", and that was probably the problem with my ability to capture the flavours in words, to a degree. I prefer a darker, more intense chocolate with fruitier notes. This one was vague, to me, yet according to Valrhona is true to its warm lands origin, captivating with its full body and round savours, intense in chocolate with delicate hazelnut nuances and entangled spiciness of liquorice, cinnamon and Tonka beans. Hmmm? Must be very delicate! The Caraibe is also a blend that is quite popular, and suggested to us by both Kertin's and Sweet Lolipooloosa. We both found it very dark, deep and intense in flavour. For me, it tasted "cold", or had the sensation of "cold", and Tara could relate to that. We both agreed that there was a mildly bitter dark molasses flavour. Valrona writes this blend of Grands Crus from small plantations along the Carribean Sea has an exceptionally long nose and the soft aromas of nuts on the palate.
Blend: Ashanti 67%
Caribbean Blend: Valrhona Caribe 66%
Now, this next tasting was very revealing. The first sample, below, was from Chocolate Exquisite at Oliver Square, as are all the similar small, single origin bars. Both of us immediately responded with a guttural sound of some sort that indicated something unexpected. This was sour. A very distinct difference from any of the other samples. It was acidic, and tasted to both of us of dried fruit, primarily raisins. And then we discovered that Bernard Callebaut had a Concepcion Plantation sample he called "Conception" made from the same single origin chocolate, but his was so much more appealing to both of us, and somewhat more complex. We went back and forth between the two, and there were definite similarities, but we were both caught completely off guard by the comparison (the opportunity for such a comparison) and that the Callebaut stood out as the superior flavour and texture sample, by an obvious bit. (bite!)
Cuba:
Concepcion Estate: Conception 66% (obviously I cannot spell Callebaut (as seen on all notes!)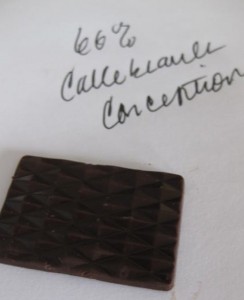 Venezuala 65% (not shown below, but way above in the Kertin Chocolate quartet photo: image is the blue one to the far left) was another sample tasted only by me, again. This is a really smooth, moderately sweet, milky (though 65%!), and a balance of flavours: milky, spicy and somewhat acidic. The Alto el Sol had a really warm flavour of brown sugar and sherry to us, again, very different than denoted by the wrapper from Chocolate Exquisite at Oliver Square. I know this sample is made by the preferred bean, and it was warm and rich and really lovely, but not bit of acidity to us.
Peru: Alto et Sol Estate: Alto et Sol 65%Â made with the rare Criollo cocoa beans
Venezuala: Venezuala 65% (image is the blue one to the far left, way above in the Kertin Chocolate quartet photo)

The Mangaro 65% was fruity with an apple and sour cherry background, quite similar in some ways to the Manjari, yet vastly different in others. It had condenced honey milk aftertaste. The Manjari 64% is one of my favourite single origin tastes. Our first sense was that this sample was predominantly fruity with citrus notes and maybe a bit of peach in the background with a subtle bit of sweet red pepper. Valrona writes that Manjari possesses acidulous notes of red fruit followed by the nutty flavours typical of this original variety of Trinitario cocoa tree from the north of Madagascar.

Madagascar: Mangaro 65% (Trinatirio Bean), and Valrhona Manjari 64%
Our first impression with the Grenade 60% was warm sugary caramel, but moments into the tasting, and not too many moments, the taste became a burnt rubber taste. Tara said it tasted like she imagined petroleum would taste. We could not get it out of our mouths fast enough. The "delightfully subtle hints of herbs and flowers" were nowhere on our horizon, and we always went for another taste trying to find what the writer wrote. Nope.
Grenada: Grenade 60%
ENOUGH! UGH! We were so worn out after this experience that we collapsed on the couch and tried to calm our highly caffeinated nerves. But, it was a great learning experience. I will think differently whenever I taste great chocolate, and I am almost motivated to make my own tasting wheel with my own taste memories as reference points.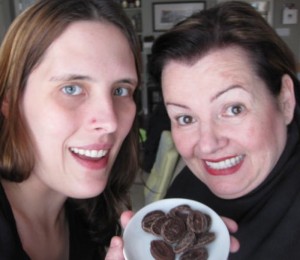 Can you tell we are both propped ready for take off?
Let's put it this way, if you have read (and I mean read to this point of the post, you are definitely a die hard chocolate aficionado. Welcome to our very small and intimate circle. I will share more as I travel, and experience and taste. But this is definitely…ok, past definitely enough for now!
Even Beavie has fallen asleep…. long, long ago.