From Fresh Cheeses to the unveiling of the Caerphilly: The Callingwood and Redwater from Smoky Valley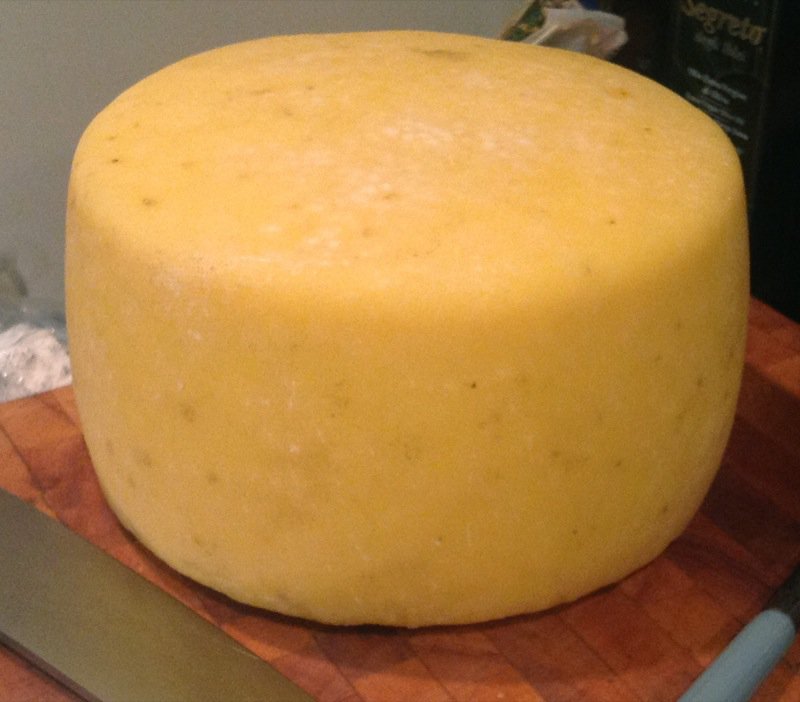 Mr, Sun, sun, Mr. Golden Sun, please shine down on me! Repeat! Recall that childhood Raffi hit? I break into song whenever I think of this incredible cheese. Ian Treuer has worked with Leslie and Alex at Smoky Valley Artisan Cheese to develop two new raw milk cheeses in their already incredible line up that will be coming out just in time for Christmas! With Ian's cheese making knowledge, and Caerphilling making expertise, they created The Callingwood Caerphilly made using a traditional Welsh Caerphilly recipe with raw cow's milk that reflects the terrior of thier artisanal cheesemaking region. They are playing with the idea of smoking some of it. The golden sun above, is The Redwater which is made in a similar fashion inoculated with ARN was not aged to the point Leslie wants it to be, but it was deadly delicious. Not a Chaerphilly flavour as the ARN changes the taste, but the cheese is one I would definitely buy! You must stop by their booth for a taste! I am looking forward to tasting The Callingwood Caerphilly, too!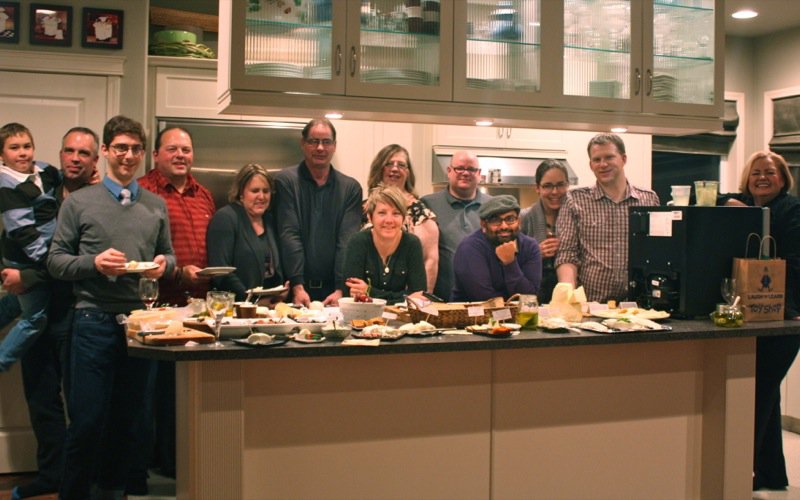 Photographic prowess this evening was blurred by my lactic coma. My parents also attended! Look at the cheesy smiles!
Nigel Webber and Allan Route from our local and renown Culinary Arts Program at NAIT, make cheese. NAIT Culinary Arts will be offering a full fledged cheese making program very soon which I will be attending! We were hoping to get some NAIT students involved in this project, but Allan and Nigel are definitely interested and have not yet been able to attend a tasting. However, this time offered us three of their homemade brie, each made at different times, which provided a lot of fun for a little brie tasting session! Ian labelled and dated each.
From left to right, above and below: 16th October 2012, 23rd October 2012, and 27th of October 2012. The textural and flavour changes within each Brie were considerable. The Tasting was on November 26th, so the youngest cheese was a month old, far right. The oldest brie was 11 days older than that, far left. I was actually surprised that the oldest cheese was not the gooiest. None of them had any ammonia flavour that is often associated with an aged brie. The texture of the middle one was divine, but the flavour of the older one was most complex, yet still buttery and lush. There were actually two of each round given to us, so we had a lot of fun with draws at the end of the evening and three luck tasters each took home a round of NAIT's incredible Brie. Cheesepalooza will be making Brie sometime in the Spring and it is still unfathomable for me to imagine being able to make a cheese like this! Yes, what did I just do? Caerphilly and Farmhouse Cheddar! Oh, my! One would think by now I would know I can do anything. (We have all had enough failures to temper that thought!) Take a closer look at the bries, in the same order, left to right below. Looking is all you can do unless you come to a Tasting! 🙂
Theoretically, this was a mozzarella tasting. Deb, Addie and I got together the Sunday prior to "whip up" some Mozzarella for the Tasting. Far left, below, 30 minute mozza made 5 days prior, still very good. Not for long, though. In the middle, Traditional Mozzarella made by Deb and stretched just before the tasting by moi. To the right, another 30 minute mozza that was definitely edible, but the citric acid was put in at the wrong time.
Sailer Rick consistently knocks it out of the ball park and had me swoon with his contribution to the tasting. Cannot WAIT until his post is up so I can see how he made his two incredible Burratas! He also brought whey ricotta, cultured butter and mascarpone! Oh, and smoked cheese with two rubs on top and a homemade bread cracker! The smoked cheese wasn't homemade, but he wanted us to see what he could do with a smoker and cheese! WOWSA! His burattas were not at room temp, but so close, I thought the fillings would just ooze out. Nope. With a little nudging from the nuke-o-matic, they did ooze. Decadent deliciousness! I could have licked the plate.
Larry was in town for this tasting and brought his mozza (with the basil in between, below) as well as a Crescenza, in the middle. Loved it. We all did! And the best part was meeting his cheesy little buddy, our youngest Cheesepalooza participant!
Drum roll, please… just a slow rumble here: Addies gorgeous Caerphilly! He was very generous with his cheese bits, while I was not!
Can you see how stingy I am with sharing my Caerphilly? I have a piece wrapped to give to the fellows at NAIT, and the other small quarter is to share for the tasting. Vacuum packed. Eyes only!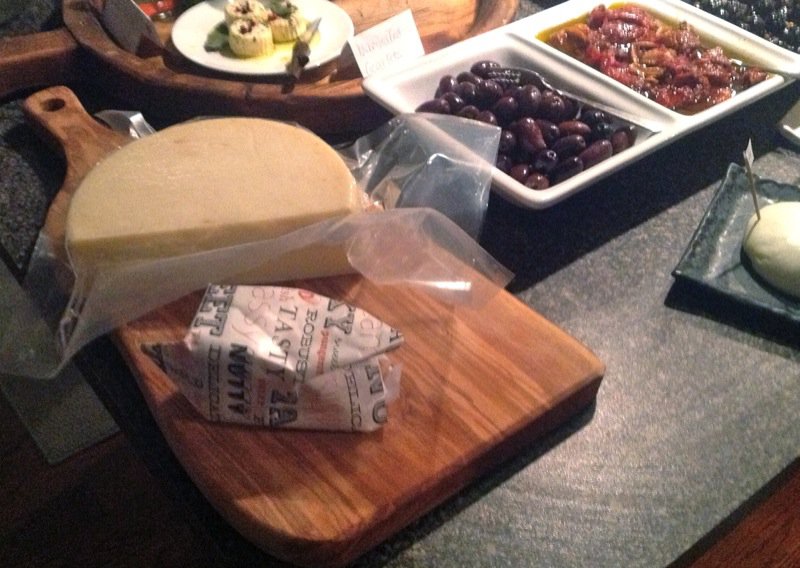 And now, the pièce de resistance: Smoky Valley Artisan Cheese's The Redwater! Ta Da! Made with raw cow's milk in the tradition of the Caerphilly with the addition of ARN! You heard it here first! A collaborative Cheesepalooza creation, to be launched with their Callingwood Caerphilly very soon. Look at the gorgeous texture of this cheese, below.
Leslie and Alex also brought the original Holly's Alpine, plain, caraway, and sagaanaki cheeses for sampling! Below, are Larry's chèvre balls. I was amazed at how similar the flavour was to my yogurt cheese balls. The texture was also similar!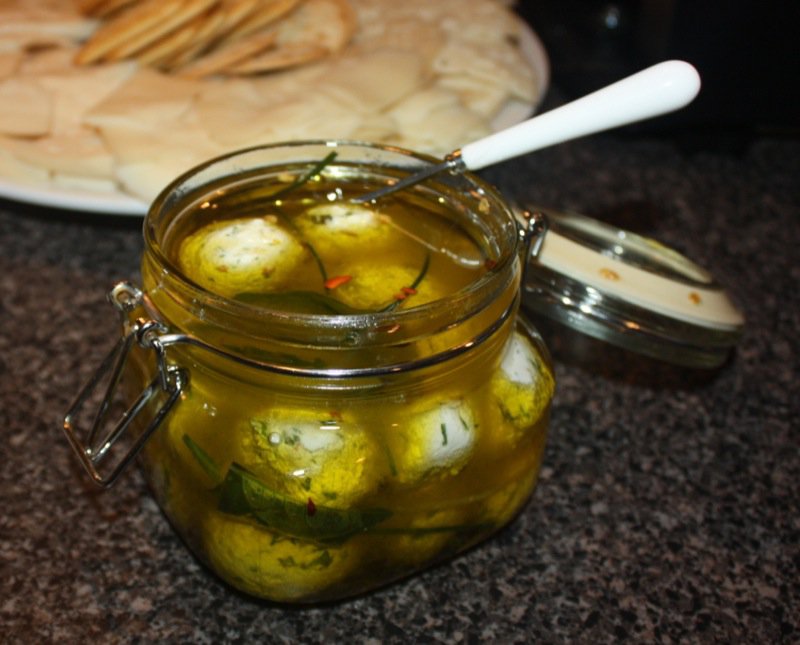 Different people come to every tasting, so I make and haul out my old favourites: My yogurt cheese balls, and this time, a Mini Cabécou made with the small individual moulds from Glenngary. I also showcased Ian's marinated recipe with my goat chèvre . There aren't any photos, but I also had cow chèvre and goat chèvre for tasting. The sheep chèvre was still hanging on the sink faucet and didn't get finished in time for the party!
Ntala was able to attend for the first time, and what an incredible sharing of goat cheese she brought! The one with the cumin seeds was bright and lively with a glorious creamy bite. Her goat Gouda was textbook perfect. I cannot wait to make cheese with her at her place. She just got back from a cheese making workshop in British Colombia and is a wealth of information. Each of the four cheeses were in-cred-i-ble!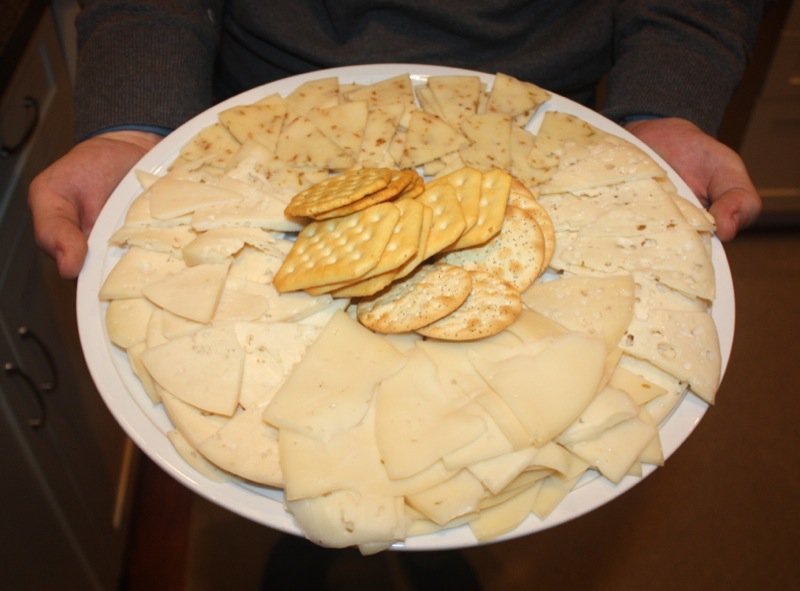 Addie also brought his very old Cabécou: the one we made in September together, to see what the shelf life was like, as Mary's recipe recommended that it be eaten within three weeks. We all found it delicious and did have my new little Cabécou to compare it to. There was a difference, but both we delicious. You can also catch a glimpse of Addie's homemade bread in the basket behind. Can he make a mean loaf of bread!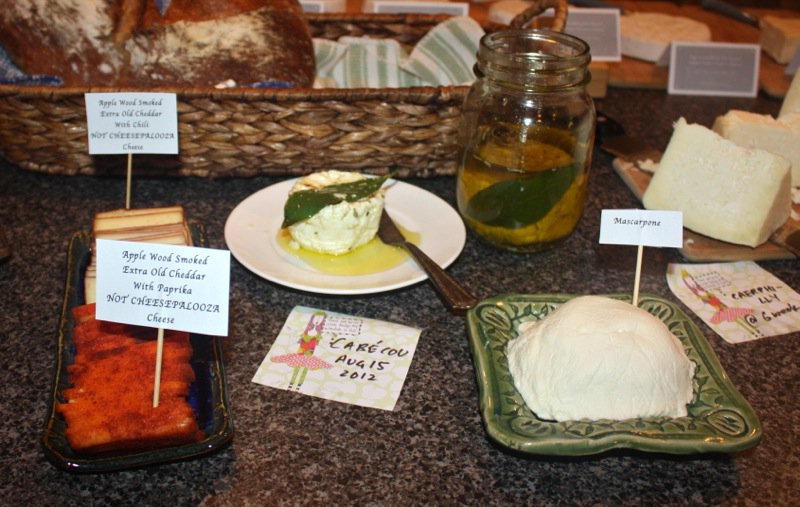 Because Ian was taking the photos and mine turned out as they have, some of his contributions were too blurry to include. Below is his Secret Squirrel, which was completely unforgettable: gorgeous soft creamy and gooey at times delectable tangy cheese that bites you back, but in a really tingly, exciting way. Ian is now into semi-lactic cheeses and this one was a triumphant celebration of his tender efforts. Beside it, is Chloe. This is a cheddar that he made in honour of his daughter a couple of months before she was born, named it after her, and plans to share it with his family when she turns one in two weeks. We got a very lucky first taste. I was in absolute awe. This cheese was aged only one year and held the depth and breadth of a wizened round of the finest Parmesan Reggiano. The flavour was different, but the tasting was as profound, for me. The other is a Smoky Valley Goat Brie that Ian took home and aged. Loverly! I am missing his first cheese, to the left of the Secret Squirrel, but I am going to take you on a few moments of Secret Squirrel glory through the following images.
Needless to say, we had lots of cheese to taste, people to meet and fun to have! The photos are pretty terrible, but the cheese was incredible. This epic recap of this lovely evening is not only to keep a record for ourselves about our project, but to encourage others that are nearby and local to attend! There is never an obligation to bring cheese. If you have some you have made and can, wonderful. But, come and let's meet one another, taste what we have, and embark on this learning process together!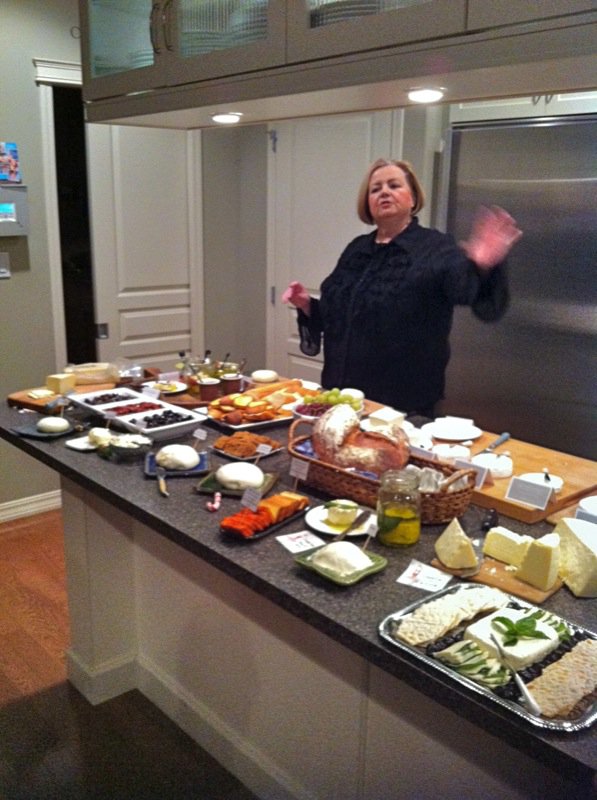 A little fun bonus, and completely unplanned, were the draws at the end of the evening. I must have been laughing, or simply in that shaky lactic coma, as all of those photos are very blurry. But:
Ntala brought a lovely cheese to gift.
Smoky Vally offer a cheese to gift.
We drew three names for the three NAIT cheeses.
Nadine Riopel, our local renown Savvy Do-Gooder offered up a copy of her newly published book for the draw: The Savvy Do Gooder, (an absolute MUST read for anyone, particularly any local Edmontonian) and lastly,
I offered a lovely gift given to be by Tre Stelle Cheese with the caveat that I purchase some of their bocconcini and write about it. This I have still to do. (I rarely accept offers like this, but adore bocconcini, am working at learning to make it; they have no preservatives in theirs (with the exception of the whey) and it is Canadian, and yummy!)
And our youngest Cheesepalooza Participant drew all of the names for each draw. So much fun! My mom is modelling her win of the Tre Stelle prize the following day. No, it was not fixed!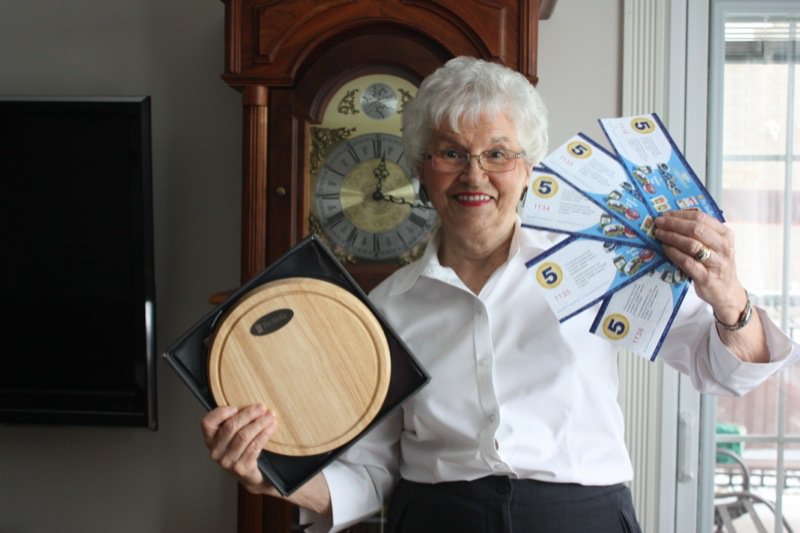 Please contact Leslie at Smoky Valley Artisan Cheese if you want to participate in any of her monthly cheese making workshops. They are so worth it!
Hope to see more out for the January Cheesepalooza Tasting! Date yet to be determined! Let's make Cheese!