Sous Vide BBQ Ribs: buying a Sous vide machine is so worth it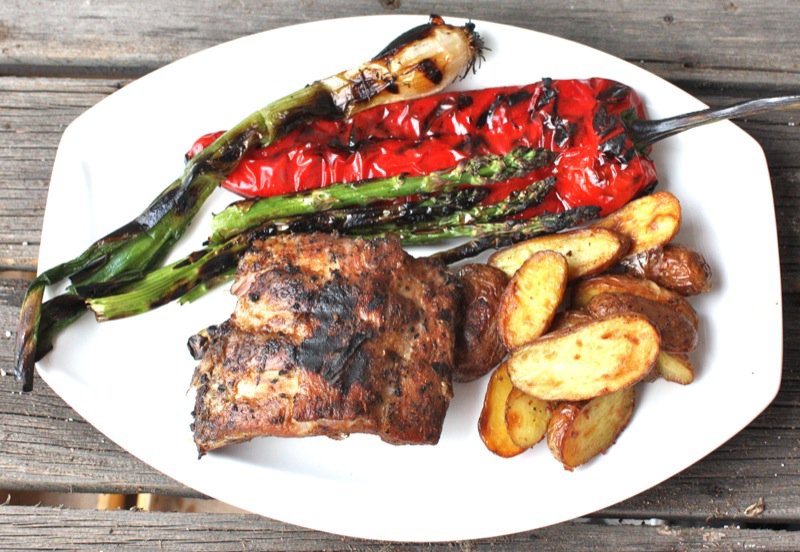 Sous Vide BBQ Ribs are definitely fall-off-the-bone tender. V. and Vanja said that these were the best ribs they had ever eaten in their lives. I will say that I have made some pretty mean ribs and was taken aback by their exuberance. Both spontaneously genuine; it was apparent watching each devour the tender flesh that these ribs were special. So special, in fact, that I have no close-up photo of the meat as it is cut into.
This is the first time I started to feel that wanting feeling… I had marvelled over what this machine was capable of the past few days reviewing it and using it; now I am feeling that wanting feeling…
I started by cutting the ribs into portions with three ribs in each and brining the ribs in a 7% salt and 3% sugar solution for 24 hours in the fridge. Just before they were rinsed and patted dry to receive the rub, I mixed up a batch of it. I have never made a rub before. I am surprised, too. I investigated many rub recipes and then adapted the one from Douglas Baldwin according to my readings.
Sous Vide BBQ Ribs: The Rub
I started with 3 tablespoons of fresh paprika. I bring it back with me from a little independent spice store in Belgrade every year. They pack it in a paper bag for me, and by the time I am home, the bag is translucent with the oils from the freshness of this lovely sweet paprika. I have found none other as good anywhere. I then added 3 tablespoons of ancho chile powder made by grinding dried ancho chiles in my Thermomix. I love the deep flavour of this dried chile. Garlic powder (as fresh garlic develops an off-putting flavour when cooking sous vide, according to Douglas Baldwin), a small portion of cumin seeds, basil leaves, a bit of brown and white sugar, and the addition of salt and pepper rounded out the rub. The recipe follows.
With the ribs well rinsed and patted dry, I pushed each into the rub, and it coated the ribs beautifully. I was impressed.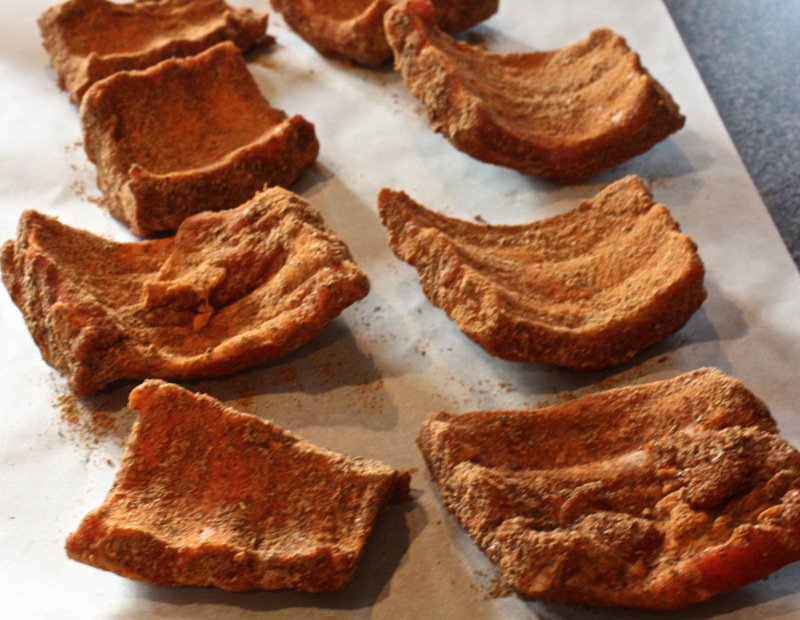 Sous Vide BBQ Ribs: Vacuum Pack
Each was vacuum packed into individual bags. The colour of the rub intensified as the moisture from the meat dissolved it.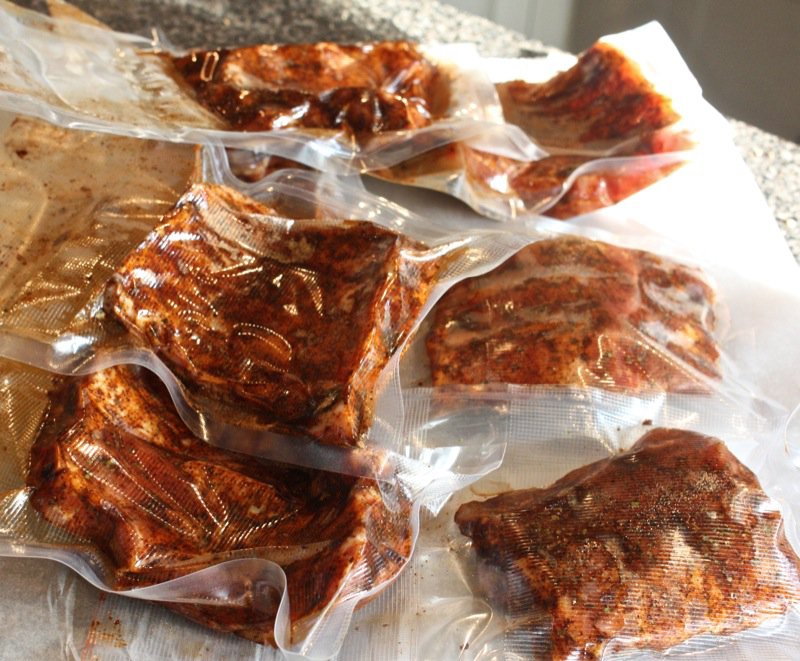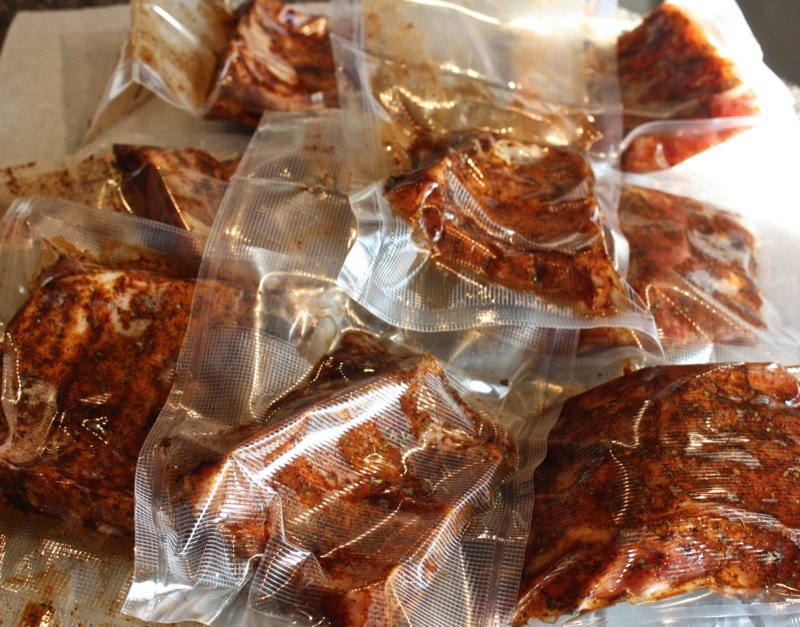 Sous Vide BBQ Ribs: In the Waterbath
I was excited before they even went into the water bath. They looked really gorgeous. Beavie was cheering me on from his seat of honour on the window shelf in the kitchen.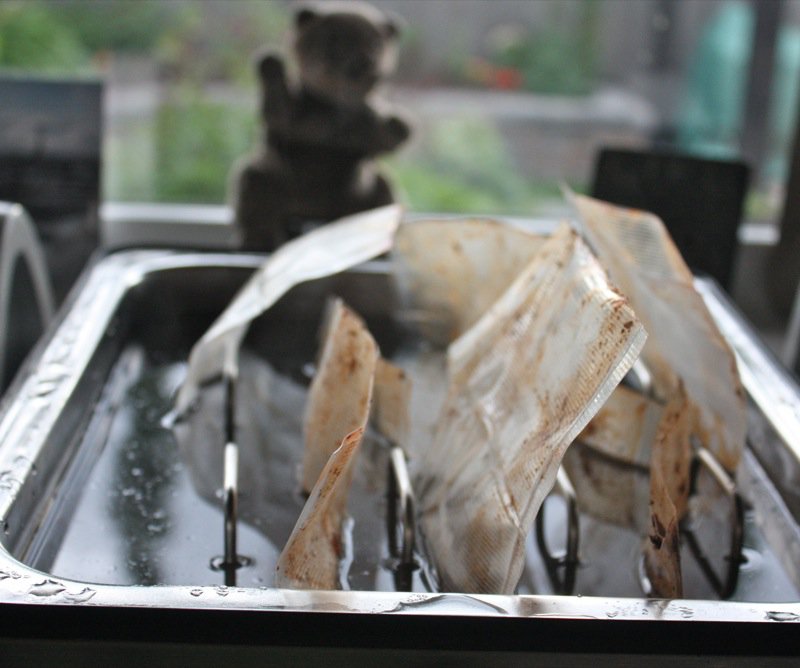 This time I changed the position of the racks. These were put into the water at 155ºF for 24 hours. When the time was up, they were put into an ice bath of 50% ice (at least) to 50%, or less, of water to cool quickly, then placed in the fridge for dinner that evening.
Sous Vide BBQ Ribs: After the Ice Bath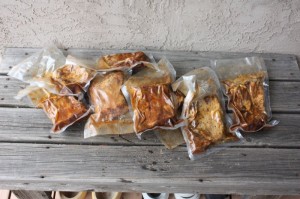 Sous Vide BBQ Ribs: Out of the Vacuum Pack
They just out of the vacuum bags after being chilled and just before cooking. Beautiful colour, and the gel was so flavourful. I saved it for a sauce.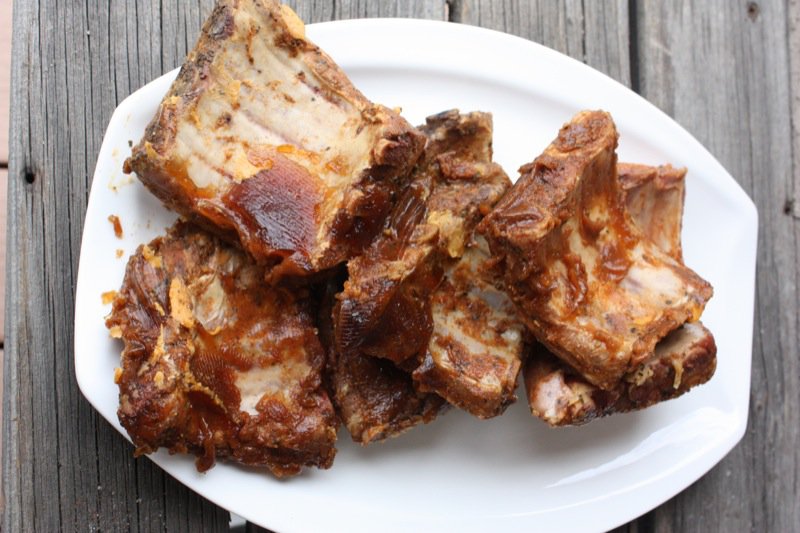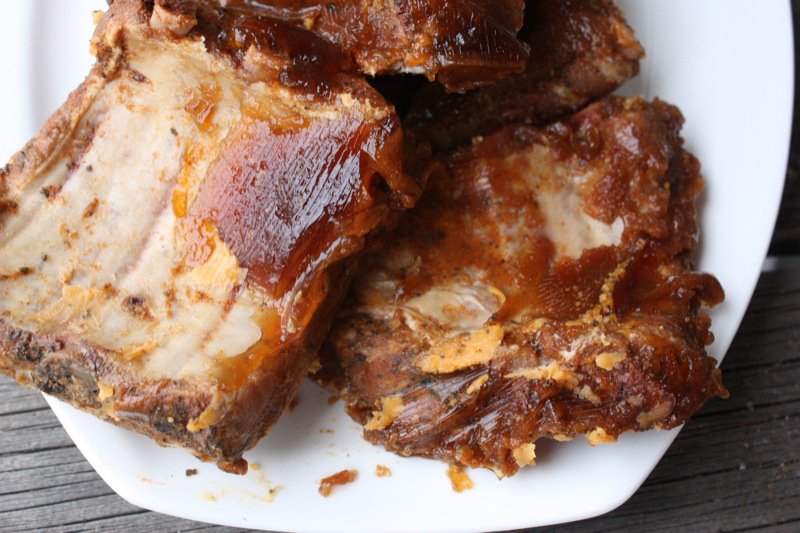 Sous Vide BBQ Ribs: After Grilling
I heated the barbeque to its highest temperature (over 700ºF) with the lid down, and then seared the ribs for about 1 minutes, or less, on each side.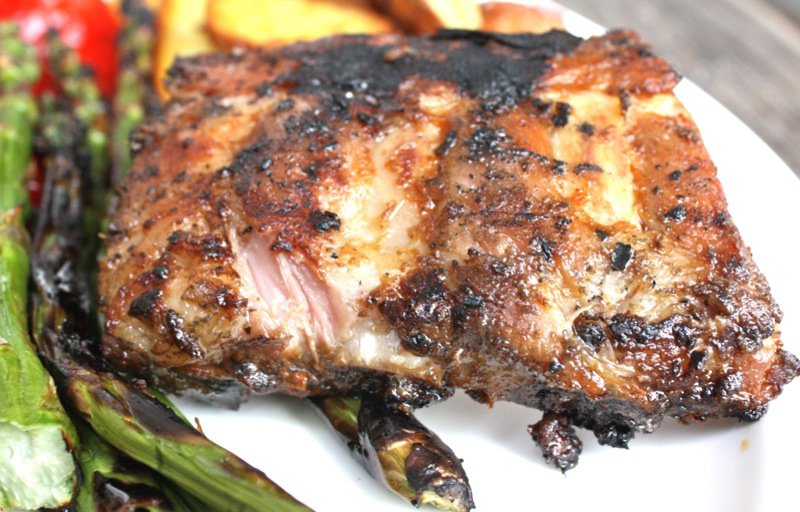 Before I seared the ribs, I roasted the gorgeous sweet peppers, and the asparagus from Edgar's Farms, and the onions from Kuhlman's. I was also roasting Greens Eggs & Hams red potatoes in the oven (450ºF with olive oil and garlic, turned at 10 minutes, and roasted for 20 minutes). This was truly the first nice weekend day we have had all season. I think there was one two or three months ago, but I wasn't ready for it then. I have been very eager to grill during a weekend!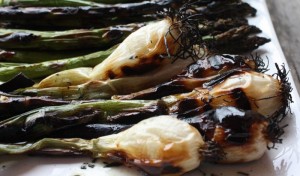 The onions received praise, too, as they were an unexpected treat on the grilled veggie platter.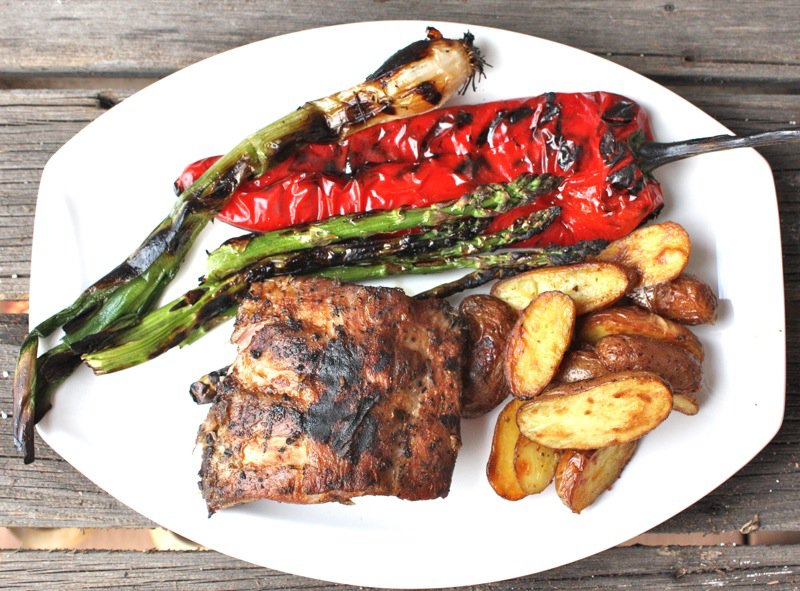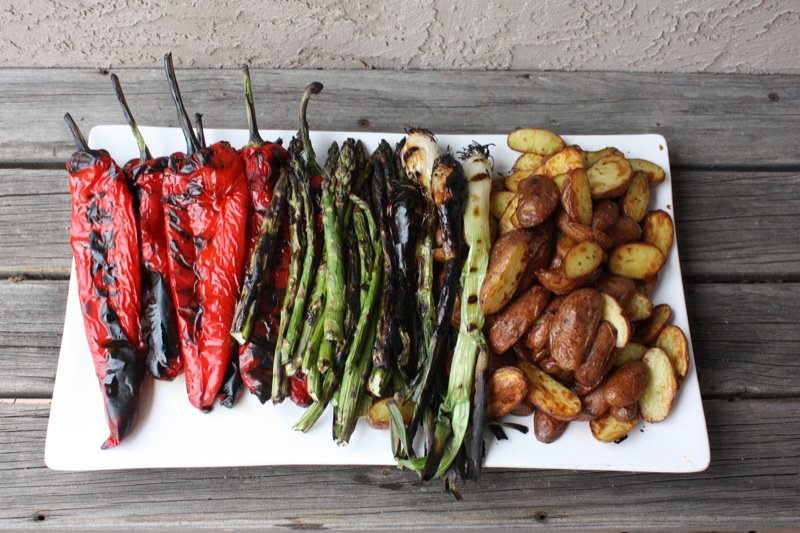 The salad included Greens Eggs & Hams Greens (yes, they cost more, but are hand washed and last a long time in the fridge), Sundog Farm's pea tendrils, toasted spiced walnuts and my garden chives with an oil and vinegar dressing. Simple, fresh, and full of crisp Spring flavours.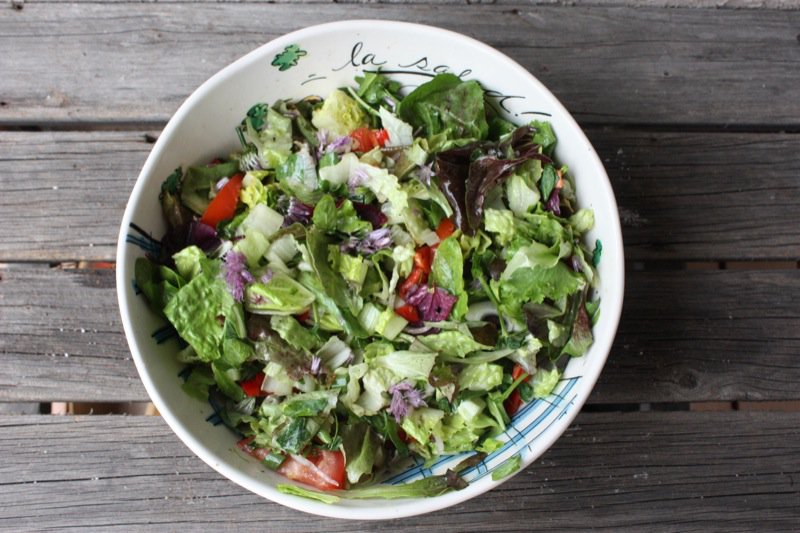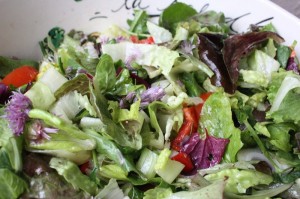 An incredibly simple meal to prepare, yet one that was definitely a tribute to the grilling season which has finally begun here! Let's hope the rain happens only during the week from now on!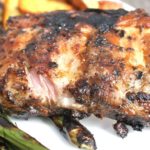 Sous Vide Barbecue Ribs
This is a lengthy process so I usually do a lot at a time. I do at least 4 racks at once. That means that when the first batch is in the water bath, the second batch is in the fridge in the vacuum packed bags waiting turn. It is so worth it, though. These are tender, finger-licking, flavourful and ready immediately upon thawing. Worth buying a sousvide machine for this recipe alone!
Ingredients
Ingredients for SousVide Barbecue Ribs
4

meaty racks of know-your-farmer baby back pork ribs

2

batches brining solution

1

batch of rub

Lots of Ice
Ingredients for Brining Solution: (enough for 2 full racks)
100

grams

salt

30

grams

sugar

1

litre water
Ingredients for Dry Rub: (enough for 4 racks with some leftover)
¼

cup

plus 2 Tablespoons Hungarian paprika

¼

cup

plus 2 Tablespoons garlic powder

¼

cup

freshly ground dried ancho chiles

¼

cup

white sugar

¼

cup

brown sugar

¼

cup

salt

¼

cup

dried basil

1

Tablespoon

Vegetta

lots of freshly ground black pepper

2 tablespoons or so
Instructions
Instructions for Preparing Ribs:
Cut each rack of ribs into portions which will fit into each vacuum pouch ( 3-4 ribs per piece or about 3 slabs per rack)

Rinse each portion and pat dry
Instructions for Brining Solution:
Mix brine in container that will hold ribs and fit in fridge (a 7-10% salt, 0-3% sugar water solution or 70-100 grams salt and 0-30 grams sugar per 1 liter)

Place ribs in brine, submerged and covered, in fridge for 12-24 hours (I chose the higher brine for both salt and sugar)

Drain, rinse and pat dry to prepare each portion for rub
Instructions for Rub:
Combine all rub ingredients together in larger bowl; mix well to completely combine

Generously season each rib with rub; place each on parchment covered pan until all pieces are covered
Instructions for Vacuum Packing Ribs:
Fill SousVide Oven with water; preheat to 176°F (80°C) water bath for 8-12 hours or in 155°F (68°C) water bath for 24 hours (I chose the lower temperature and the longer time)

Carefully place each portion into vacuum pouch without getting anything on edges of bag (this will destroy the seal); follow manufactures instructions to seal each portion

Place sealed portions on parchment covered pan
Instructions for SousVide:
Arrange bags of ribs in water bath using rack provided to ensure water can circulate around each package; cook for 12 to 24 hours, depending upon your chosen temperature

Prepare sink filled with ice and cold water just prior to completed cooking time; rapidly cool rib packages in ice water

Freeze or refrigerate at below 38°F (3.3°C) for three to four weeks
Instructions for Cooking the Ribs:
Remove ribs from fridge for an hour prior to serving; pre-heat grill

2. Remove ribs from bag discarding liquid just prior to cooking; place on pre-heated extremely hot grill (Ribs are already cooked, so purpose of grill is to heat and char, only.)

Serve immediately and prepare yourself for the guttural utterings of swooning guests