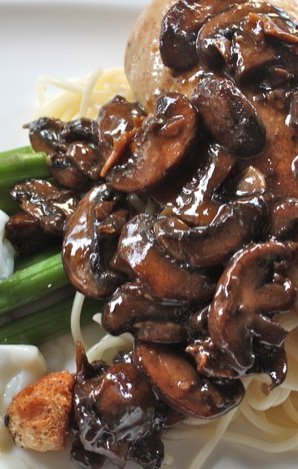 I could not find many sous vide chicken recipes. I thought it might be because chicken is so tender anyway, yet scallops are tender, and I had no problem finding a recipe for them. Does anyone know why this is? I did find one, and this is it. I have always wanted to try Chicken Marsala, anyway, as I love Marsala. So, this would be a great time to try it. However, when I read the recipe, the Marsala part was the mushroom sauce and was made in a frying pan. So, I decided to make this as the main for Cathy's birthday that I was hosting. It would be a beautiful dish for a gal's dinner.
Before I get into the process, this sous vide method did made a difference with the structure of the chicken as it did with the scallop. Chicken, when over cooked, can also be stringy. Though this breast of sous vide chicken looks anemic as I haven't seared it yet, the texture is completely tender and succulent and moist and velvety. What a triumph! However, can you see the embossed markings on the outer area from the vacuum bag. Not very attractive. They did not come out with the searing, so I tried to cover them with the sauce. I was successful as they can be seen here, magnified, but were not visible to the naked eye, once seared and sauced.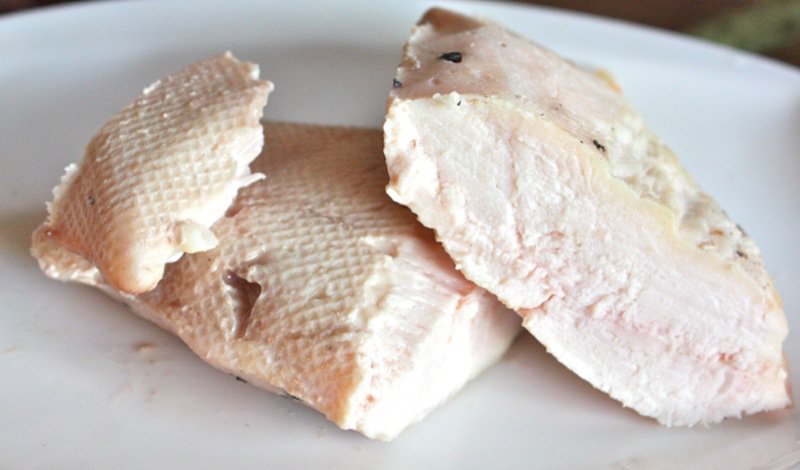 An early trip to the OSFM netted me some prime fresh organic breasts from Sunworks Farm. I rinsed them well, patted them dry and seasoned each with salt and pepper and a sprig of thyme.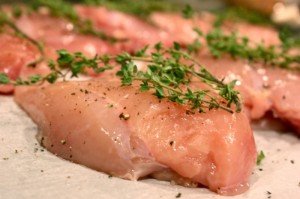 Vacuum packed without fat, into the water oven they went for 2 hours at 141 ºF., then into an icy water bath as I was using them the following day. Otherwise, they could be taken from the bag and seared at once, for service.

I chose to make the sauce before searing the chicken as I felt it would have to be kept warm too long and that would defeat the sous vide cooking purpose – in my mind, at least.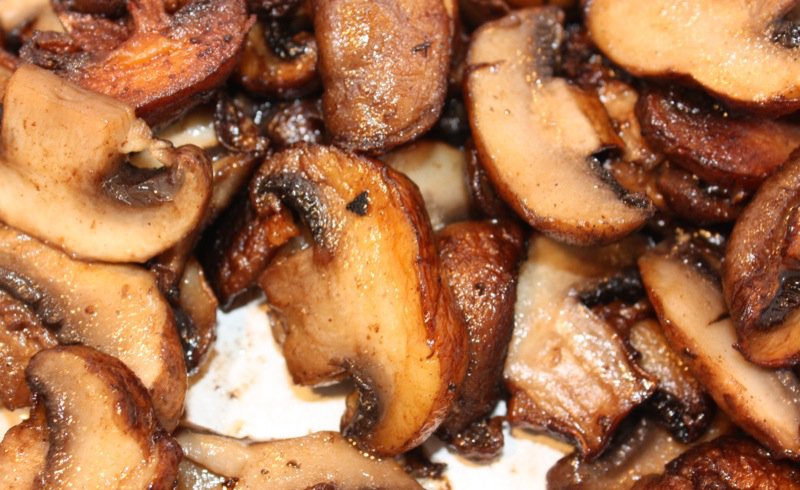 Once the sauce was finished, it didn't taste incredible. It was, according to my palate, "OK". That would not do. My guests had arrived, and were visiting away. This was a simple recipe: lovely butter fried Cremini mushrooms, Marsala and chicken stock. I seasoned the sauce. Still no "wow" factor. Hmph! So, I got out some dried porcini mushrooms which always bring a wow factor to any mushroom dish, and reconstituted a full ounce of them. Added them to the sauce with the water (strained) that they had reconstituted in. Cooked it for a few more minutes and: WOW! This sauce was now knock your socks of nummy!
Time to plate the dish. I did that with another sous vide recipe that I made from Thomas Keller's Under Pressure: Sous Vide Cooking titled: Soft Boiled Hen Egg with Green Asparagus, Crème Fraiche au Fines Herbs, and Butter Fried Croutons.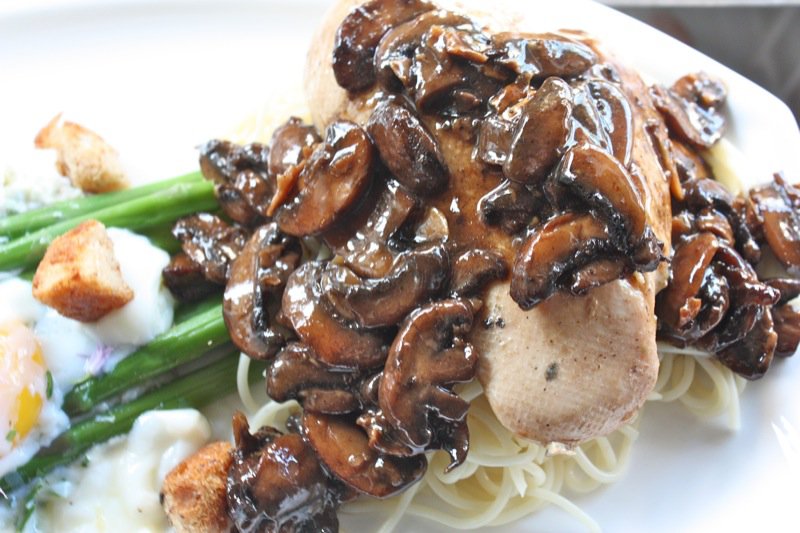 I was thrilled with the sauce recipe after I added the necessary porcini mushrooms, and the dish went over well.
httpv://www.youtube.com/watch?v=kzHDR3dlH7E
Sous Vide Chicken Marsala Recipe from Cooking Sous Vide (I doubled it)

Ingredients:
4 chicken breasts

1 or 2 sprigs of fresh thyme

1 cup flour

3 cups of sliced mushrooms like baby bella, crimini, oyster, or porcini

¾ cup Marsala wine

¾ cup chicken stock

3 tablespoons butter

4 tablespoons chopped Italian parsley

1 ounce dried Porcini mushrooms (my addition), reconstitured in 1/4 cub boiling water

Instructions:
Pre-heat the water bath to 141F; lightly salt and pepper the rinsed and dried chicken breasts and place in a pouch

Add thyme to the sous vide pouch and then seal; place in water bath and cook for 11/2to 2 hours

Heat some oil in a sautépan over medium-high heat;

remove breasts from bag, pat dry, dredge in flour and sear for about 1 minute per side (just enough time to develop some colour); I did not add the flour when I seared mine, and I seared them after the sauce was completely made


Remove breasts and place somewhere warm

Add 1 tablespoon of butter to the pan and melt; add sliced mushrooms and fry until brown and releasing their liquid (about 4 to 6 minutes); I did mine in batches as I doubled the recipe


Lower the heat to medium; add the Marsala wine to the pan and simmer for about 1 minute to cook out the alcohol, scraping the bottom of the pan to dislodge the browned bits stuck there

Add the chicken stock; simmer for 5 to 10 minutes to reduce the sauce; season to taste

It was at this point that I added the dried porchini, and the liquid, and cooked it until the consistency you see in the photo (about 5 more minutes)


Plate the breasts on top of some angel hair pasta; stir 2 tablespoons of butter into sauce and spoon evenly over the chicken breasts

Sprinkle with Italian parsley and serve